Best Multi-Tools Reviewed & Rated
last updated:
Jan 31, 2018
We understand how frustrating it must be trying to purchase a multi-tool that best meets your needs in a market flooded with literally thousands of them from all sorts of brands. From novices who have no prior experience with multi-tools to experienced outdoor enthusiasts looking to upgrade on an existing multi-tool, you have to read through hundreds of reviews attempting to compare features, specs, qualities and applications before committing your money. It is in light of such apparent frustration that we have taken it upon ourselves to help with the search by conducting extensive research and testing different multi-tools in order to come up with a list of top-ranked multi-tools. We guarantee that the products highlighted on our list are some of the best in design, ease of use, functionality and durability. We can therefore confidently say that irrespective of your need, our selection will meet your expectations.
Our Top 3 Picks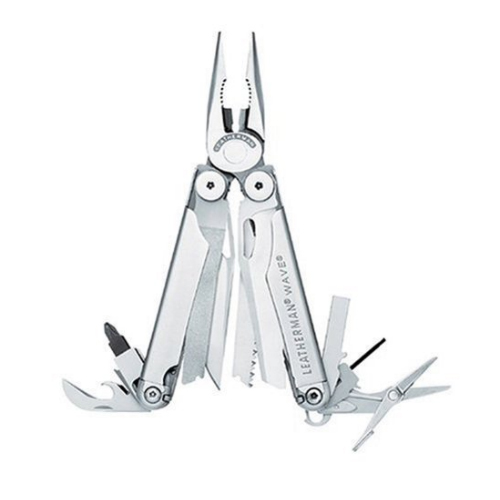 Leatherman Wave

Our rating
Longevity
Price:

See Here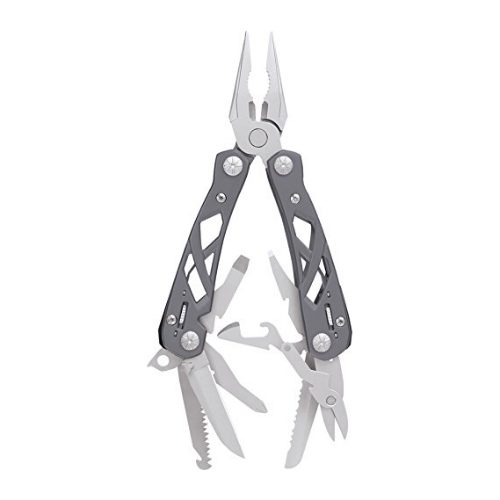 Gerber Suspension

Our rating
Ergonomic
Price:

See Here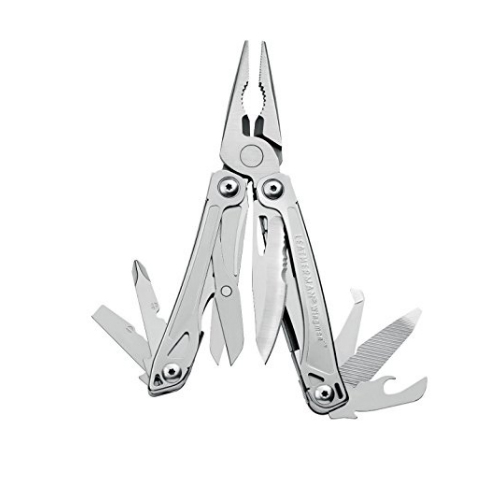 Leatherman Wingman

Our rating
Lightweight
Price:

See Here


Criteria for Choosing Best Multi-Tools
There are thousands of multi-tools out there, some from reputable brands and others from little-known companies, which makes it all the more difficult to select a multi-tool that best suits your needs. Fortunately, we spent endless hours combing through the numbers in search of the most pocket-friendly, easy to use, practical and solidly-built multi-tools. We based our search on four main criteria: functionality, ergonomic construction, portability and lastly, build quality.
Functionality
A good multi-tool should be able to meet the expectations of the buyer adequately. It should have diverse uses and features allowing the user to carry out a multitude of applications with the same multi-tool without resorting to additional tools. In the case of a multi-tool, it needs to have a comprehensive collection of tools the user will find most useful while fishing, hiking, hunting, or camping. It is a lot more prudent to get a multi-tool with a few useful and appropriately designed implements than one with forty uses poorly jam-packed together. While the usefulness of a particular tool varies from one person to the next, there are some that are useful across the board.
Ergonomic Design

An ergonomically designed multi-tool is one that is easy to use and comfortable for a considerable amount of time without experiencing straining on the hands or developing blisters. They similarly have easy accessibility and are packed with useful features aimed at making one's work as easy as possible. An ergonomic design also significantly reduces the effort that is applied during the project, meaning that within the first few minutes of using a tool, you should be in a position to tell whether it is ergonomically designed or not. The ability to assess the usability of a multi-tool nonetheless comes naturally with repeated use and if you can't tell, you could get some professional assistance.
Portability
A useful tool is one you can bring with you to wherever it is that you want it. In case you cannot use it when you want it because it is not available, it effectively becomes less than useful. You need to put considerable thought into how you will be moving it from a particular place to another and the amount of effort that will be employed in the process. If the process of moving from one location to another is cumbersome and takes up a lot of effort, the availability of the tool may be limited. The same logic applies to the weight of the tool, considering that it is challenging moving around with bulky and cumbersome tools. Your multi-tool should be lightweight, compact and fitting into most available spaces like pockets, backpacks and glove compartments with ease. If a multi-tool is heavy and bulky, you may have to resort to carrying it in a sheath or attaching it to your belt.
Quality of Construction
As you would expect, multi-tools vary vastly in build quality, as can be revealed by a quick assessment of the products' hinges and locking system. Established brands make a point of using only the most robust materials and their products undergo vigorous quality checks at the end of production just to ensure the final product is not only durable but also usable for the purpose for which it is intended. Rugged yet lightweight multi-tools are all-around tools, capable of handling a plethora of projects without suffering any significant depreciation in quality and performance over time.
10 Best Multi-Tools

1. Leatherman 830039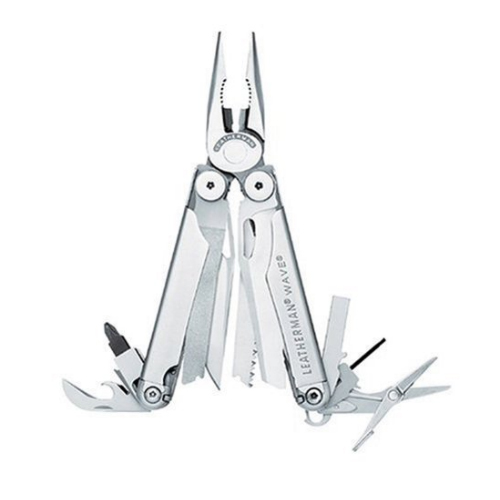 You can always tell how productive and useful a product is by its popularity in the market and by how much it outsells its closest competitors, as is the case with the Leatherman Wave 17-Tool Stainless Steel Multi-tool with Sheath. This multi-tool has slowly and steadily evolved into full-size multi-tool against which the performance of all other multi-tools in the market is gauged. The Leatherman Wave 17 multi-tool comes with a level of sophistication, construction quality and functionality that is hugely and conspicuously lacking in such competitors as the Swiss Army Knife, Gerber, Hoffman, among others. A perfect way to describe the Leatherman Wave 17 would be that it is a truly all-purpose, all-around multi-tool with a very pocket-friendly price tag. When the multi-tool is fully closed, its dimensions come to 1-inch by 1-inch by 4-inches, which is slightly bigger compared to the other multi-tools in its class. It also has a total weight of 8.5 ounces and therefore sufficiently light to allow you easily stash into your pockets or clip it to your belt or store it in your backpack, and you're sure it won't take up too much storage space.
Expand to see more
It comes with 17 tools, all of which offer you an unmatched functionality and practically and feature a creative and innovative design, allowing for the perfect locking of all the tools. All the tools on the Leatherman Wave are a testament to the exceptional brilliance and engineering of the Leatherman brand, culminating in the creation of an efficient and functional tool. Some of the tools that come with the Leatherman Wave 17 are the clip-point whose razor sharpness is vital for the effortless and quick penetration of a broad range of materials and a serrated knife ideal for cutting ropes or wires. The others are wire cutters, lanyard ring, a Philips and Flat Tip Eyeglasses Screwdriver, among others.

One of the most outstanding highlights of the design of the Leatherman Wave 17 multi-tool is the fact that it is possible to gain access and use the knife blades, saw, and file without having to open the pliers. The convenience and intelligence of the design go a long way in enhancing the performance of the main tools such as the screwdrivers and knife blade. For increased convenience, it is possible to lock all the blades and individual tools following the addition of a locking mechanism in a way that not only greatly enhances your performance but also makes the Leatherman Wave 17 multi-tool safer to use.

It oozes simplicity and practicality, making it quite straightforward and easy to use, irrespective of the project you plan on undertaking. Only the most relevant and necessary tools are included in the Wave, and they are all convenient, allowing to open and close any of them with just a single hand. All the tools are constructed from ultra-strong and very durable stainless steel. The brand offers you a limited 25-year warranty to cater for the replacement and repair of parts that malfunction out of natural use. The only drawback of the Leatherman Wave 17 multi-tool is its weight, forcing many people to attach it to their belt when using it as an EDC.
Top-notch construction quality for longevity
Made from ultra-strong stainless steel
Very versatile and flexible with a total of 17 tools
Cost-effective
Noticeably heavier and large
2. Gerber Suspension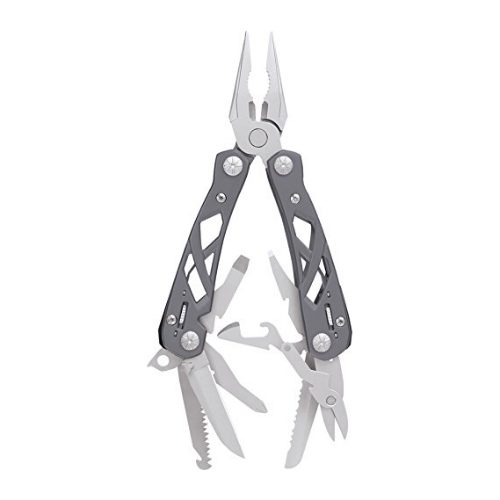 The Gerber Suspension Multi-plier is one of those multi-tools that are simply a natural and indispensable part of your tackle box, tool bag, or the glove compartment of your car. The multi-tool features an innovative and patented locking system and comes with a total of eleven tools that you will be using a lot more frequently than you'd think. The whole package, including the tools, sport an all-stainless steel build that will reliably support all your outdoor activities, irrespective of the intensity of the project you decide to pursue. Plus, it offers almost all the features and specs found on some of its more prized counterparts, like the Leatherman.
Expand to see more
The Gerber Suspension Multi-plier comes with a distinct plier/hinge design that effectively gives the user optimal squeeze power to the pliers. The design is surprisingly quite functional, enabling you to work comfortably for extended periods of time due to the incorporation of the curved handle design. Other than the pliers, it comes with 14 other tools that include a bit driver, one straight knife blade and one serrated knife blade, a saw, an awl, Philips and flathead screwdrivers. There are other standard accessories common to most multipliers such as a bottle opener, scissors, as well as a wire cutter. While there are claims from some complaints made by users from reputable websites such as Amazon.com indicating that engaging and disengaging the locking mechanism can be a bit of a challenge, we tried this on our test multi-tool, and it held up quite nicely. Upon locking a tool into position, you can use it comfortably, meaning that it is pointless worrying about the possibility of it crashing down out of the blue.

It is loved for many reasons, one of which is its price. In spite of being a budget pick, it still manages to pack several useful features and functionalities at a very pocket-friendly price. Additionally, the multi-tool comes with a lifetime warranty, allowing for an out-of-pocket repair and replacement of naturally wearing out parts and components. As already mentioned, the multi-tool comes with a comfortable handle that significantly reduces the strain on one's hands when undertaking projects that necessitate serious squeezing. Among the accessories, the tool comes with is a useful and convenient nylon ballistic sheath for holding the multi-tool whenever you are hiking or hunting or not just using it. It comes with an extra pocket for storing additional bits you may have brought with you on the expedition.

Like most multi-tools, the Gerber Suspension multi-tool has a few drawbacks you need to be aware of to assist you to make an informed decision. The multi-tool has a weight of 9 ounces, which according to some people, is a little heavy. In our opinion though, the weight is really not an issue. Also, you may experience a little difficulty engaging or disengaging some of the tools and the lock spring. Other than these, using the Gerber Suspension Multi-Plier is a real joy.
Lightweight and compact design for easy portability
Offers butterfly opening for quick and effortless access to inner tools
Reasonably and realistically priced
Ergonomic design makes for easy handling and manoeuvrability
Cheaply constructed saws and blades
3. Leatherman Wingman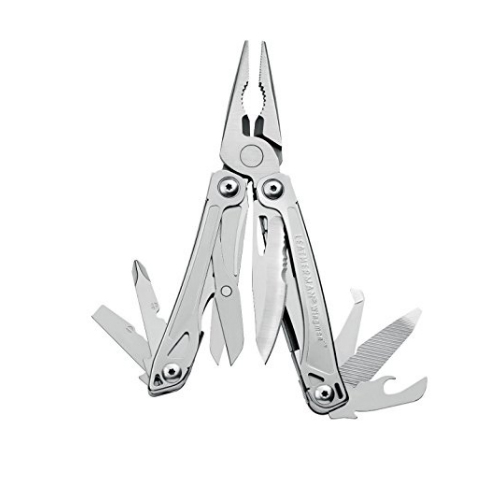 The Leatherman Wingman and Leatherman Wave are almost replicas of one another, both in size and price, only that the Wingman is slightly smaller. The Leatherman Wingman multi-tool is approximately 3.8-inches in length when closed and weighs about 7 ounces, making it fairly more compact and lightweight compared to the Wave. The design and engineering of the multi-tool make it an ideal everyday carry tool due to the fact that it is a high utility, versatile, and portable item you can use on almost any project at any place of your choice. While it is still noticeably lighter than the Leatherman Wave, a majority of people prefer clipping or attaching it to their belt when moving around by making use of the integrated pocket clip.
Expand to see more
It comes with a bunch of relevant and useful functions hugely lacking in most multi-tools of its class. For instance, it has pliers that incorporate a return spring that works amazingly well by reducing the strain on your hands while increasing the efficiency vital for prolonged use. The pliers are factory-fitted with wire cutters which are also accurately machined for efficiency. Other than the pliers, the Leatherman Wingman also comes with a package opener, which, while is very indispensable, is a little quirky. There is a single blade constructed from mid-grade steel that can last for several years with proper care. Because the edge of the blades is a combination of both straight and serrated design, you will be forced or required to frequently re-sharpen it so that it maintains an optimal cutting condition. The main blade comes with a chisel grind, implying that the edge is one-sided. The easy reconditioning of the straight part makes for a hassle-free operation while the serrated sections will necessitate acquiring unique skills.

It has two screwdrivers, one being a Philips and the other a Flathead. The file can easily double up as a screwdriver, though. Surprisingly, the screwdrivers hold up quite nicely on most types of bolts in spite of this being a budget multi-tool.

The Leatherman Wingman lacks the broad selection of fancy tools like its more expensive counterparts and includes just a ruler and a very basic package opener.

The main difference between the Leatherman Wingman and the Leatherman Wave, other than 1.5-ounce weight variation, is that the latter lacks a saw blade and a bit driver. A major highlight of the design of this multi-tool is the ability to access the scissors and knife without having to open the pliers as they are located on the outside of the multi-tool. The remaining tools, however, can only be accessed by opening the multi-tool as they are positioned on the inside. Consequently, the design means the Leatherman Wingman can function primarily as a knife. The design also makes it possible for veteran users to open the knife and scissors with just a single hand, something that requires practice if you are new to the world of multi-tools. You should, however, note that deploying the scissors is a little fussy, requiring that you extend them all the way to until they slide in the locking system, after which the spring installs.
Comes with a realistic and reasonable price tag
Lightweight and quite compact design
Exceptional selection of tools
Solidly and durably constructed pliers
Lack of bit driver options
No saw included with the package
You have to purchase a sheath or belt holster separately
4. Leatherman Skeletool CX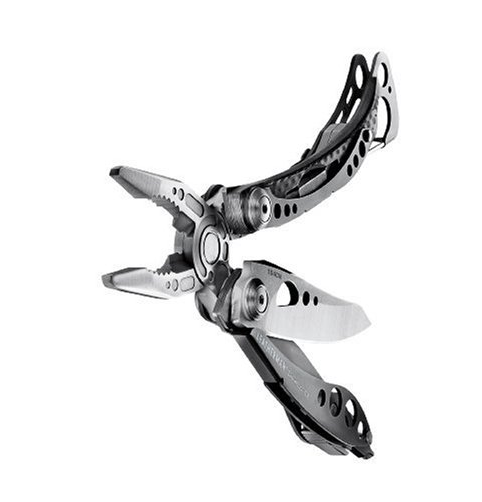 The Leatherman Skeletool CX Multi-Tool comes with an extensive collection of tools that are perfect for a multitude of outdoor activities and is additionally renowned for hitting the sweet spot between a readiness for emergencies and a lightweight and compact design for increased portability. With a weight of just 5 ounces, the multi-tool will not drag you downhill while on a hunting expedition or take up too much storage space in your purse or backpack, which means carrying it is quite a breeze. For increased versatility, you can add or remove bit drivers without making the multi-tool too weighty or bulky.
Expand to see more
It has this incredible ability to integrate several essential tools into a single, easy-to-carry, easy-to-use and lightweight package. Some of the more vital tools included in the package are a straight knife blade for cutting and tearing, a universal bit drive allowing for the utilization of the other screwdrivers, two Philips screwdrivers, a carabiner and two wire cutters. The last two tools come handy when you have to cut fishing lines or bend/straighten fish hooks and to open cans, respectively.

The Leatherman diverted from tradition with this multi-tool, opting to use some strong materials for its construction. The use of carbon fibre on the handle, for instance, ensures the entire tool is not only lightweight but also resistant to the wear-and-tear occasioned by working in sometimes dense environments. The multi-tool, on the other hand, features an all-stainless steel construction, allowing you to use on a wide array of projects without worrying about it breaking. To finish off the construction, the Leatherman Skeletool CX Multi-tool is coated with the Tungsten DLC, making it not only stronger but also damage-proof, in addition to making more aesthetically appealing.

Using it is quite a breeze, considering the simplicity of its construction. You can easily access the knife even when the handle is closed, and it comes with a locking mechanism which acts as a safety feature to keep you from harming yourself in case of a slip. However, you will have to open the handle to access the other tools placed within and because the multi-tool comes with bit drivers, switching from one bit to another is a very straightforward endeavour. The design also allows you to quickly and simply change the bits on the multi-tool.

The one feature that really endears the Leatherman Skeletool CX to most people is its lightness and small stature. Venturing out on an expedition requires that you keep weight to manageable levels and bringing a heavy and bulky multi-tool along with you is not very helpful. The use of carbon fibre helps the multi-tool maintain a weight of approximately 5 ounces, which is greatly helped by the fact that the multi-tool only packs the most essential and helpful tools, thereby avoiding redundancy and replication of functions. The only drawback of the Leatherman Skeletool CX is that it might be a little cumbersome for novices and older outdoor enthusiasts to switch between the different functions using the provided release button.
Lightweight and compact
Very easy to use
Cuts materials with battery smoothness
Features industrial-grade materials making it strong and durable
Butterfly design allows for easy and quick access to inner tools
A little cumbersome to use
5. SOG PowerAssist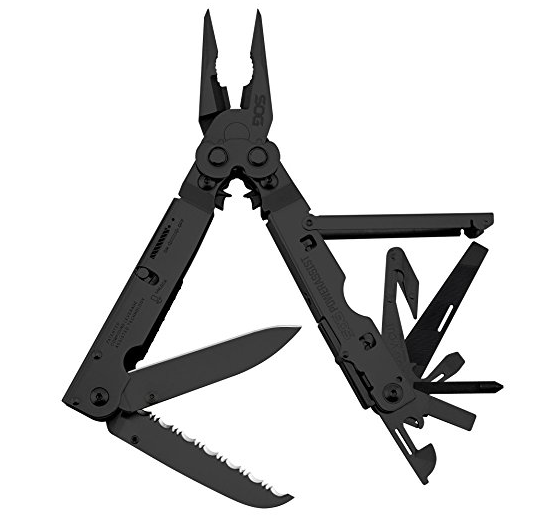 The SOG brand has a reputation among tool geeks and outdoor enthusiasts for more manufacturing innovative and game-changing
tools
compared to other brands in the market. All their products, including the SOG PowerAssist Multi-Tool, perfectly demonstrate the application of tactical experience in designing, which has been replicated by military and responder agencies all over the world. Opening the SOG PowerAssist Multi-Tool to its full length of 7-inches requires a simple flicking of the wrist. With a weight of 9.6 ounces, which is comparatively heavy, the multi-tool is just 4.8-inches in length when fully closed. The multi-tool sports the brand's patented compound leverage technology that does an incredible job doubling the cutting, crimping, and clamping ability of the multi-tool, ensuring you use substantially less effort in the process.
Expand to see more
It features an all-stainless steel construction, renowned for being durable, lightweight and very compact. While most of the tools can easily be accessed from the outside, you have to tug away some to reach the ones at the centre of the handle. The design has the advantage of safeguarding the core tools but limits quick and easy accessibility especially in the case of an emergency. Some of the tools the PowerAssist packs are a bottle opener, a can opener, V-Cutter, flat head screwdriver, Philips and a file. As you may have noticed, the PowerAssist lacks some very essential tools like the blade, which is quite useful for field work like cutting ropes and such. The multi-tool has a Piano Lock System that enables you to effortless flip the tools open from the handle in an instant, even though the ones at the centre will still require manual pulling out.

The pliers on the SOG PowerAssist are considerably larger than those on other tools, offering you increased precision and accuracy, working with a reliable exactness every time. They also have a more expansive cutting area, giving you additional space for cutting and stripping away large pieces. The multi-tool comes with two assisted blades offering you exceptionally impressive cutting power, no matter the thickness of your cutting material. Even with the handle closed, you can still access the dual blades from outside with just a single hand and will be immediately locked upon being fully engaged, making it possible for you to work without risking an injury.

To summarize, this is ideal for a broad range of challenging projects around the house as well as on the camping site. It features a reliable and robust construction capable of taking on any tough material or task you through its way. Furthermore, the design of the SOG PowerAssist Multi-Tool makes it easy to easily access the tools on the outside without having first to open the pliers and knives.
Good value for money
Offers a comprehensive collection of useful and practical tools for a budget multi-tool
Sturdy and durable having being constructed from 420C stainless steel
Highly customizable allowing for ease of use and versatility
Reliably safe with its implement locking system
Razor sharp blades
Comes with a convenient carrying sheath
Poorly made and blunt scissors
Some tools require frequent re-sharpening
6. Victorinox Swiss Army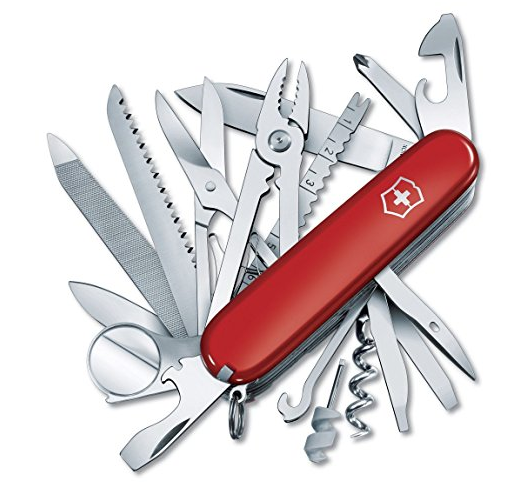 The Victorinox Swiss Army Swiss Champ comes with a mind-blowing 33 implements, which are more than enough for any project you can literally think of, and yet manages to remain compact and lightweight enough to fit comfortably in your pockets or purse. With a length of 3-1/2-inches, you can use the Swiss Champ at any place of your choice, from tightening bolts within the confines of your house to cutting ropes on camping, hiking, fishing, or trekking expedition. Plus, all the gears on the Victorinox Swiss Army SwissChamp are made from the ultra-strong and long-lasting stainless steel, which is renowned for resilience and resistance both to corrosion and rust. As a result, you will be using this multi-tool with a peace of mind wherever you go, and with its lifetime warranty, which you may never use considering its build quality, you don't have to worry about the tool breaking down in the middle of an operation.
Expand to see more
Some of the implements on the Victorinox Swiss Army SwissChamp include but not limited to a large and small blade, scissors, pliers that also double up as wire cutters, a file and a saw, a can opener which can as well be used to open bottles, magnifying glass, screwdriver, and tweezers, among others. And since the pliers and scissors are spring loaded, you can effortlessly engage them with just one hand. You have a choice of black and red colours to choose from, though the multi-tool is easily recognizable by its red colour version. The only downside to having 33 tools at your disposal is having to carry a slightly bulky tool weighing just 7 ounces, but considering the tool's versatility, the trade-off is definitely worth it. Plus, should you find carrying 7 ounces a little discomforting, you can always get a belt sheath to help with the extra weight.

The handle of the TOOL is made from polished cellidor scales while the individual tools are primarily constructed from stainless steel and are sharpened using a laser giving them a cutting edge that would effortlessly rip apart a whittle wood. The exceptional engineering of the multi-tool allows for the perfect fitting of all the thirty-three tools into a compact and easy-to-carry package. And because they are constructed from stainless steel, they have the durability and toughness that with proper care, can see them last more than a lifetime.

With all 33 implements packaged into a single tool, you're sure IT comes with a multitude of functions that would be difficult to itemise here. Other than being ideal for various outdoor projects like fishing, hiking, trekking, camping and the like, you can similarly use it to groom yourself! The multi-tool has a plethora of tools dedicated specifically to personal grooming starting with the scissors, toothpick, and tweezers. Since IT brings them all together in one small package, you no longer have to spend several minutes every morning looking for one particular tool within your drawer.

In conclusion, the Victorinox Swiss Army SwissChamp can be put to a multitude of uses with its 33 implements. Other than using it for camping, hiking, trekking, of fishing, you can similarly use it for personal grooming. It features high-quality and durable tools made from material is resistant to corrosion and rust, and with proper care, will last more than a lifetime.
Comes with a comprehensive collection of tools – 33 in total for exceptional versatility
Features a robust and top quality construction making it quite durable
Easy to use
7. Leatherman OHT with Sheath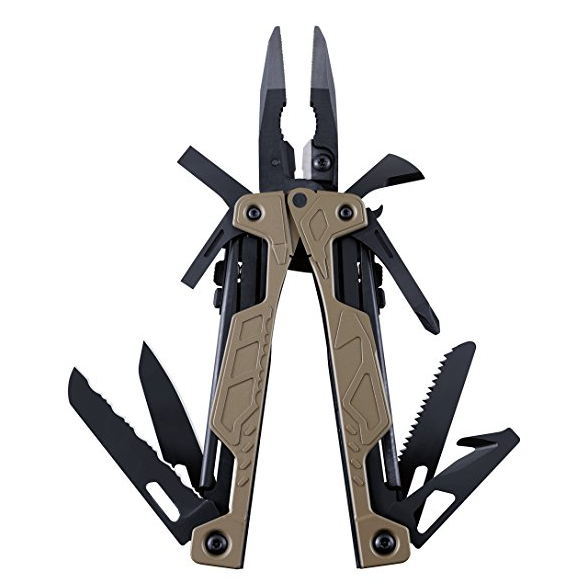 Most rational outdoor enthusiasts put a lot of emphasis on durability and strength of their preferred multi-tools, and for a good reason. You are never in a position to accurately predict the conditions out there, meaning that you have to be prepared for anything. Which is why it is important to get a practical and functional multi-tool, one that you can easily operate with just one hand and with little effort, as this significantly increases your accuracy and precision. One hand operation is a particularly vital quality in first responder professionals like firefighting where quick accessibility to a tool can mean the difference between life and death. The Leatherman brand has one such multi-tool, the OHT with Sheath, which is worlds apart from the rest of the pack for being one-of-a-kind standard multi-tool offering a one hand operation.
Expand to see more
It has a richness of features that will instantly appeal to die-hard outdoor enthusiasts. The multi-tool comes with several useful tools that are ideal for a multitude of outdoor activities. The tools include regular and pliers which are needle nose, wire cutters, regular and serrated knives, a saw, a strap cutter, a cleaning brush, a can and bottle opener, a wrench, a set of four screwdrivers, and lastly a lanyard ring. Because the tools are spring loaded, there will be experiencing considerably less strain on your hands, which will, in turn, reduce the possibility of suffering any fatigue or developing blisters all over your hands. Furthermore, the spring load feature eliminates the need to repetitively readjust your hand as you use the pliers and wire cutters. Ease of use is further increased by the fact that the Leatherman engraved pictures of the tools on their respective handles to make finding them easy.

Unlike other several multi-tools, it is not necessary to open the pliers first to have access to tools outside of the product. For instance, the knife can easily be accessed from the handle, and because it is spring loaded, all you have to do to use it is flip it open with a single handle. The OHT with Sheath, as the name suggests, comes with a sheath that is both robust and long-lasting, having been constructed from commercial-grade nylon. The sheath has a strap for attaching the bag to your waist or whatever place you deem appropriate, making it possible to carry it conveniently and relatively easily as you go about your activities. The sheath comes with an additional pocket for storing any accessories you may have on you such as driver bits. Even without the sheath, you can keep the multi-tool comfortably in your pockets or purse as it is compact at just 4-1/2-inches when closed.

The entire OHT with Sheath is made with the durable and resilient 420 HC stainless steel, ensuring that whatever conditions you subject it to, it will never rust, bend or easily lose its sharpness. Consequently, in addition to keeping re-sharpening endeavours to a bare minimum, the high-carbon steel will similarly guide against corrosion, meaning that the tool can do with occasional and minimal maintenance.

In all, the OHT with Sheath is a unique multi-tool allowing you a one-hand operation for quick access to vital tools in the handle. The multi-tool furthermore comes with the industry-standard locking system aimed at keeping you safe by ensuring once an implement is opened or closed, it remains in that position. The butterfly design also allows you a quick and easy reach for the inner most tools without having to tug the outer ones, which is handy when you have to respond to an emergency.
Comprehensive feature set
Superior construction quality
Comes in a lightweight and compact design
Requires minimal maintenance
8. Victorinox SwissTool RS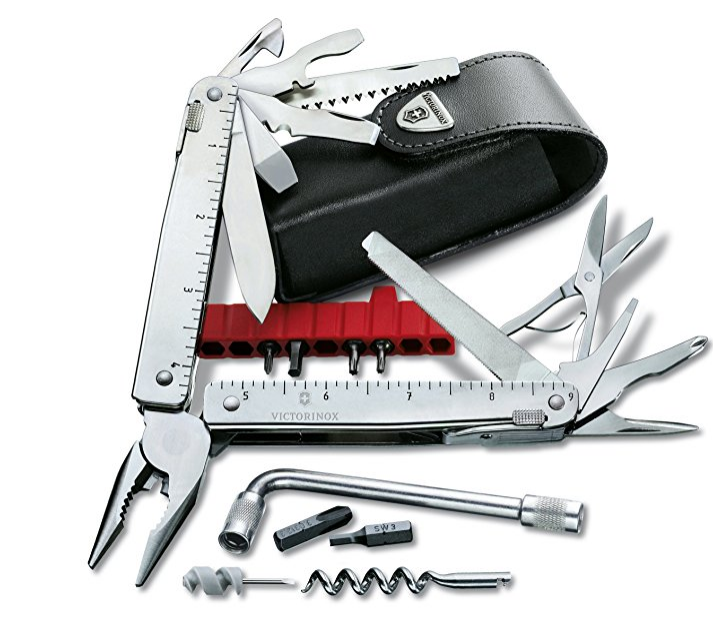 There isn't a single brand on God's green planet whose name is more synonymous with portability and versatility than Swiss Army. With the dawn of the technology age, the Swiss Army brand swiftly shifted from manufacturing pocket knives to the current multi-tools that we know today. The brand boldly continues to set new standards in an industry that would later be joined by the more established and popularly known brands such as the Leatherman. The Victorinox SwissTool RS is a perfect demonstration of the creativity, originality, and expertise of the Swiss Army brand. Its sheer strength allows you to undertake almost any activity you want and you don't have to ever worry about it letting you don't or not rising to the occasion.
Expand to see more
All the tools in the Victorinox SwissTool RS package are spring loaded making it quite easy for you to engage and disengage them with just a single handle. You can similarly tug one tool relatively effortlessly to access another tool, especially the ones located in the centre. The design allows you to quickly and smoothly reach the inner tools in case of an emergency, earning it the moniker "rescue tool." A feature that vastly separates it from the rest of the pack is the fact that accessing any tool of your choice, especially the inner ones, can be done from the outside. The butterfly design of the SwissTool RS eliminates the need for first opening the outer tools to use the inner ones. The multi-tool comes with a useful lock system that ensures that once opened, and the tools stay open outside the handle until you fold them back yourself.

It brings together a total of eighteen tools. These are wire benders, pliers, two rulers - measuring 9-inches and 230-millimetres, a plank of wood saw, a wire crimping tool, three screwdrivers, reamer, cap lifter, scissors, crate opener, large blade, lock release, wire stripper, nylon pouch.

The entire body is constructed out of the ultra-strong and durable stainless steel, and you're offered a limited lifetime warranty with every purchase. All naturally occurring defects resulting from the standard use of the multi-tool will be catered for by the company. However, the mainstream of previous and current owners of the Victorinox SwissTool RS have never required a bit repair or replacement, which is an indication of the superior build quality of the multi-tool. The SwissTool RS is bundled with a useful nylon sheath for the convenient and hassle-free carrying and storing of the tool whenever you're not using it. Carrying the multi-tool without a carrying sheath would still be quite easy considering that it features a lightweight and compact design, allowing you to slip it into your pockets.

It is also incredibly easy to use. It comes with a locking mechanism meaning that putting or folding the tools back into the handle will first require releasing the lock. This addition aims to ensure your safety particularly when using the blades and saws, plus all the tools are sturdily constructed, meaning that with some care, they can definitely last more than a lifetime.

Ideal for emergency and rescue purposes
Comes with a nylon pouch for convenient carrying of multi-tool
Constructed from durable and industrial-grade stainless steel
Has a locking system for improving usability and safety
Can be operated with a single hand
Comes with a lifetime warranty
9. Gerber Center-Drive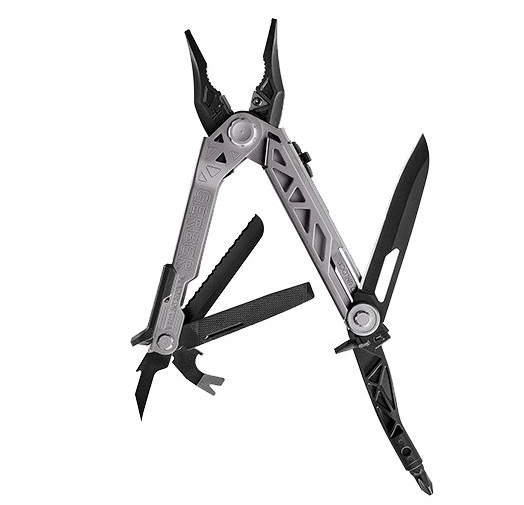 As more experienced users of multi-tools will attest, it's hard finding a cost-effective yet functional multi-tool to use on different materials or bring with you on hunting expeditions. Typically, you come across unruly, complex, and cheaply constructed multi-tools stuffed with several gimmicks making them entirely unusable. That is until you meet the Gerbere Multi-tool, which is packed with numerous life-changing innovations, which, other than differentiating it from the other multi-tools, elevate from simply being a useful multi-tool to everyone's first consideration when shopping for a new multi-tool or looking to upgrade. Some of the tools on the Center-Drive Multi-tool arecarbide wire cutters, an awl, spring-loaded needle nose pliers, bottle opener, a magnetic driver, pry bar that also functions as a nail puller, files, a serrated blade, a tool lock, as well as standard pliers. All brought together, the Gerber Center-Drive Multi-tool registers a weight of roughly 9.5 ounces with a length of 4.7-inches when closed and 6.6-inches when open.
Expand to see more
As you may have noticed, it packs considerably fewer tools compared to say the Leatherman Wave 17, and preferred instead to opt for a few useful tools. You can comfortably and quickly open the multi-tool with a single hand as the brand opted for a one-handed slide opening mechanism instead of the butterfly opening style. Using any given tool simply involves pushing it up until you hear the slide lock into position, exposing the pliers and allowing you to operate the spring-loaded handle. Furthermore, due to the non-traditional design of the pliers, you can easily access hard-to-reach spots and remain with adequate space to allow for the gripping of bolts in the middle.

Carbide wire cutters are located at the base of the Gerber Center-Drive Multi-tool and because of their triangular shapes, you can effortlessly rotate them the moment they start dulling, making it possible for you to extend their lifespan three-fold. Plus, they are quite easy to replace as soon as their useful life comes to an end. There is a screwdriver measuring 4-inches in length that provides you with plentiful of torque that enables you quickly unscrew stubborn nuts and squeezes with relative ease into tight nooks. The design of the multi-tools leads to the creation of an offset design that extends by an estimated 3.2-inches, thereby placing the driver at the centre of the handle, allowing you to rotate the screwdriver easily. The knives and serrated blade are made from high-carbon steel. While the knife can be accessed from outside of the tool, the blade is accessible from the inside. Lastly, it comes with a fabric sheath with two pockets for storing the multi-tool itself and the other for an additional bit holder.

In all, this is as effective as it is versatile, enabling you to take on a multitude of projects at the same time. It comes with a tool combination and design that just out-classes its competitors in the market. Its most prominent highlight is the Center-Drive screwdriver which is not only long but also capable of holding a standard 0.25-inch bit perfectly firmly. It also has a one-handed opening design and spring loaded mechanism that just makes one's work quite comfortable.

Comes with a tool locking mechanism for all the tools
The bit driver has an ergonomic design and compatible with standard bits
Innovative design
Presence of hype which is undesirable
10. Leatherman Charge TTI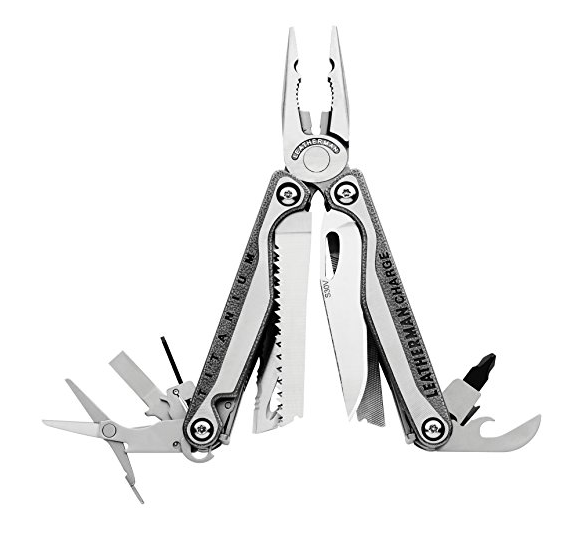 If you want an all-around multi-tool reeking of superior construction using high-quality materials, functionality, ease of use and versatility, look no further than the Leatherman Charge TTI from the customer-trusted Leatherman brand. When closed, the package is just 4-inches long with a weight of just 8.89 ounces. These dimensions mean that the Leatherman Charge TTI is one of the very few lightweight and compact multi-tools in the market today, with just 19 essential implements on offer. With the addition of extra bits, you get to increase that number to more than 19, making as versatile as any other top model multi-tool. Additionally, the tools are ideally placed and aligned with exact precision, ensuring there is a perfect balance between ease of use and functionality.
Expand to see more
The thoughtful design of the Leatherman Charge TTI places all the frequently used tools on the outside for easy and quick access, especially in emergency situations. And because of the largeness and well placement of the thumb notch together with the fact that the outer implements are spring loaded, you can engage them with just a single hand without experiencing any strain on your hand or fingers. Some of the 19 tools you get with this multi-tool are a tapered needle-nose, inset crimper, commercial-grade wire-cutters, and a regular and serrated blade, among others. Both blades come with an out-of-the-box sharpness ideal for cutting a wide array of materials such as plastics, cords, and even wood. A noteworthy highlight of the Leatherman Charge TTI is its S30V which, having been constructed from powder-made steel, is capable of retaining its cutting edge six times longer compared to blades made from stainless steel.

iT has two saws, the first of which is constructed from heat-treated steel giving it the ability to cut through different abrasive materials like wood with battery smoothness. The second saw is made from hardened metal and has dual sides, one functioning as a file and the second side functioning as a diamond that is sufficiently hard to sharpen carbide steel. The multi-tool similarly comes with a bunch of other inner tools you can only access by first deploying the outer pliers. The scissors, for instance, are razor-sharp and solidly constructed and ready to cut through any material. Ideal for making precision cuts, the scissors has both a flat and Phillips end and is ideal for tightening or loosening small bolts.

The ergonomic design of the Leatherman Charge TTI multi-tool ensures it fits perfectly and firmly into your hands. The grips come with rubberized parts that are easy on the hands and do a great job preventing you from feeling any significant fatigue or developing blisters. The multi-tool also comes with a useful sheath or pouch to allow for convenient carrying while hiking, trekking, fishing, or camping.
Comes with a comprehensive list of very versatile tools
Features superior craftsmanship and engineering
Comes with sturdy and durable materials for longer shelf-life
Has nineteen implements and 43 features
The 420HC and S30v blades are capable of holding edge for six times longer than standard ones
FAQs
Q: Can a multi-tool rust?
A: Most tools on a multi-tool are made from stainless stain which can rust if kept in damp and wet conditions for a prolonged period. Stainless steel is nonetheless resistant to corrosion but for it to maintain its optimal cutting condition, thorough and regular maintenance will have to be performed every so often. For instance, you will have to make a point of cleaning the multi-tool immediately after use and before storing it. You can also oil it.
Q: What is the procedure to follow when cleaning my multi
-tool?

A: The intensity and frequency of cleaning are determined, to a large extent, by the type of task you use the multi-tool for. In case you have used the multi-tool in salty water conditions, you need to thoroughly rinse it in fresh water, ensure it dries completely before finishing off with a water displacing product of your choice. If, on the other hand, you used the multi-tool for removing any debris, give it a thorough cleaning in soapy water to keep rust and corrosion at bay. Lastly, removing an accumulation of tar will most definitely involve cleaning the product with mineral spirits.
Q: How do I keep my blades sharp?
A: Given the differences between serrated and straight blades, caution should be exercised when re-sharpening. Straight blades are quite easy to maintain as they can be re-sharpened using any standard sharpening tool in the market. Serrated blades, on the hand, necessitate the use of equipment that is specially designed for sharpening them.
Conclusion
Owning a multi-tool, in a lot of ways, makes you kind of invincible, especially if you have one that perfectly matches your needs, is simple to use, comes with a lot of versatility and is reasonably priced. Our list of ten of the best multi-tools features multi-tools selected on the basis of construction quality, portability, ergonomics and most importantly, functionality. These are tools that have undergone extensive testing and accessed thoroughly on their usefulness in different settings. They are therefore a representation of both extremes of the spectrum and everything that falls in between. While you can never go wrong with any of them, try to first assess your needs so that you end up with the most suitable multi-tool.
Subscribe to our newsletter