Best Blow Guns Reviewed and Rated
last updated:
Mar 31, 2021
A blow gun is composed of a nozzle or a tip, and is attached to air lines for the control of air discharge and/or manual actuation. It is primarily used for removal of debris, non-contact drying and cleaning, and general industrial or laboratory applications.
You will find blow guns mostly in mechanic shops, assembly lines, construction sites etc. Most blow guns are made of plastic or metal and include an ergonomic handle or grip. They also have a sturdy metallic nozzle for producing a continuous stream of compressed air.

Air blow guns with in-built fail-safe pressure mechanism can shut off automatically if the lip is blocked or the gun is dropped. Internal pressure relief valves blows off additional pressure before discharge. In the US, blow guns should meet Occupational Safety and Healthy Administration (OSHA) standards, although there are some that exceed the standards. Manufacturers indicate whether a blow gun is suitable for vacuum attachment, or high volume applications, or threaded discharge port.
To ensure that you get the most out of your blowgun, purchase a high-quality and durable blow gun that you can depend on everyday. Our selection of the best blow guns in the market from top manufacturers is second to none.
Our Top 3 Picks
[srpshortcode id="4927″][/srpshortcode][srpshortcode id="4928″][/srpshortcode][srpshortcode id="4929″][/srpshortcode]
Types of Air Blow Guns
Air blow guns differ in terms of actuation style and nozzle type. Standard safety straight nozzles deliver an upstream pressure equal to the dead-end pressure, so they are ideal for general-purpose applications. Flat nozzles are used for creating an air curtain or blowing-off large surfaces. Small-diameter nozzles are suitable for inserting into tight openings.
Nozzles with flexible tips can be directed to the application surface while nozzles with rubber tips do not scratch surfaces. Also straight extended nozzles are designed for difficult-to-reach surfaces. A Venturi nozzle with a large diameter contains small openings that allow the discharge to draw enough air for increased airflow. Air screens are used to reduce particle blowback.
In terms of actuation, most blow guns are actuated by the thumb and have an air supply hose that is in-line with the discharge lever. There are also triggers or pistols -style blow guns, in which the actuator is located at a right-angle to the air hose. Other blow guns are button actuated.
10 Best Blow Guns
1. Capri Tools 2 Way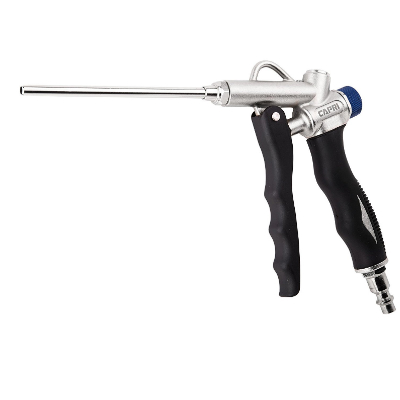 The Capri Tools 2-way blow gun is one of Capri Tools best-selling product. It is our top pick due to the huge number of positive reviews and great result tests, which is a clear indication that it meets the needs of the customers.

With a maximum air pressure of 150 PSI, the Capri Tools 2-Way can blow water, debris, dust from all types of machinery and materials. The 150 Max PSI and the detachable extra-long (4.5") nozzle allow you to access hard to reach areas and also get into tight spaces with ease. The tool comes with a flow control knob, which allows you to control the air flow that works best for the task at hand.


Expand to see more
The blow gun is ergonomic and constructed with an attractive, yet durable aluminium frame. In addition, the top and the bottom 2-way inlet (1/4" NPT), allow you to connect the air hose from the position that suits your needs. For efficient connections, the bottom is compatible with Milton Quick connector (1/4 inch).

Features and Specifications

Size: 7.5 x 5 x 0.2 inches
Weight: 8ounces
150 Max PSI
Air Inlet: 1/4" NPT
Air Flow Control Knob
4.5" Extra Long Nozzle
Aluminum Frame

Price/Value

Due to its excellent performance, the Capri Tools blow gun offers great value for your money. It also comes backed with a one-year warranty. Although it's a bit expensive, its performance is top-notch.

Conclusion/ Verdict

If you're looking for a high-quality blow gun that can help you perform multiple tasks with great efficiency, then the Capri Tool 2-way blow gun is what you are looking for. Featured at the top of the list, this blow gun can perform almost all tasks without failure; from blowing a computer to heavy machinery.
The ergonomic grip is very comfortable
Performs multiple tasks efficiently
Very powerful and sturdy
Requires less effort to operate
Very loud
The valve is exposed to debris, thus allowing leaks
[srp_anchshortcode id="4927″][/srp_anchshortcode]
2. Campbell Hausfeld MP600000AV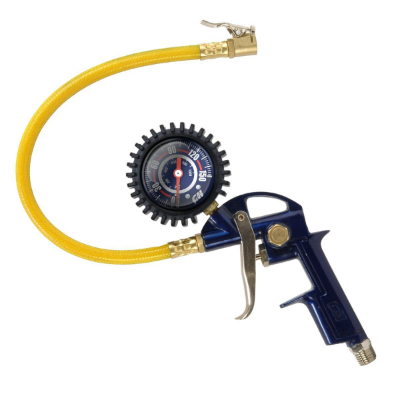 Campbell Hausfeld is a well-known name in the air tools industry and this MP600000AV justifies it. What we really like about the MP600000AV tire inflator is that the gun is made up of three tools including a 3-in-1 inflation gun, locking chuck, and a gauge. This tire inflation gun is used with an air compressor to help you achieve the proper tire inflation, which results in optimal tire life and better gas mileage. The hands-free locking chuck makes it easy to connect with a simple squeeze to clip and position the chuck into any type of Schrader tire valve.


Expand to see more
It boasts a flexible hose pipe that allows you to manoeuvre the chuck with ease into tight spaces. The gauge measure up to 150 PSI and it is pretty easy to read. There is more in the MP600000AV: it comes with a side relief gun for releasing off air and helps to reduce pressure in over-inflated tires.

The MP600000AV comes with a finger-activated lever design and you can check deflation
and inflation in a single action. It is compatible with various valve stems and you can use it with the portable Campbell Hausfeld 5-gallon air tank. However, it has some downsides. It is too weak to provide sufficient clamping pressure. It is also not long enough to offer adequate clamping surface to hold.

Features and Specifications

Weight 10.9 ounces
Size: 6.2 x 1.5 x 12.5 inches
3-in-1 Inflation Gun,
Locking Chuck and
2-inch Gauge, ¼" NPT
Flexible Hose

Price/Value

If you factor in the features into the price, the MP6000 is the compact yet most affordable tool in our list. It will help you save time and money while protecting the environment by improving you gas mileage.

Conclusion/Verdict

If you are looking for a tool that makes it easier to complete your tire inflation tasks, then the Campbell Hausfeld is your ideal choice!
Easy to read, control, and use
User-friendly design
Comes in three-tools in one
The hose is compatible with various valve stems
The gauge may be inaccurate
There are cases of the tool leaking air
Slightly bulky
[srp_anchshortcode id="4928″][/srp_anchshortcode]
3. Coilhose Pneumatics TYP-2500CS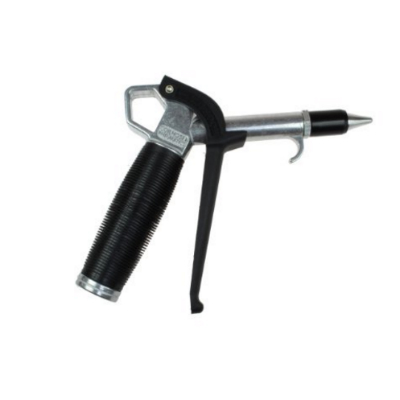 At 125 PSI, the Coilhose Pneumatics TYP-2500CS delivers a working capacity of more than 2 pounds of thrust and 34 CFM. The variable flow trigger helps in controlling output, making it the ideal blow gun for heavy-duty blow-off and clean-up. It's one of the favourite tools in the industry due to its sleek and light weight design.

The Coilhose TYP-2500CS has a very unique design with air coming out in a ring at the edge of the black part. The tip has a silver cone, which has no hole to help you direct the flow in a straight direction without turbulence. The cone also complies with OSHA standards to inject air through it and to prevent it from jamming against your skin. The trigger can travel far and you can control the variable flow while blowing-off.

On the flip side, the Coilhose TYP-2500CS comes with a plastic trigger with no fitting, which can be an uphill task to find the most compatible coupler. The main types of couplers include Universal, Industrial, Automotive, Aero, and much more. It is also advisable not to throw or drop it on the floor since the plastic trigger might crack.
Expand to see more
Key Features

Weight: 9.28 ounces
1/4-Inch NPT
High flow tip
High volume blow gun
Made of aluminium or high impact plastic
Pressure Flow Rate: 34 cubic_feet_per_minute
Maximum Pressure: 150 pounds_per_square_inch
Meets OSHA standard 1910.242B for dead-end pressure and standard 1910.95 for noise levels

Price/Value

Although it is not cheap, the Coilhose TYP-2500CS has an air exhaust designed aerodynamically to pass a huge amount of air, which is efficient for blowing-off or dusting-off your equipment or surfaces. It is also well designed and constructed for improved durability.

Conclusion/Verdict

Are you tired of hiding your blow gun from an OSHA inspector? Worry no more! The Coilhose TYP-2500CS is your perfect tool. It is ideal for home owners and professionals, looking to keep off grass and debris from their lawn mower deck, garage, or driveway. It will perform virtually anything task you can think of without fail, and it moves a significant amount of air. Buy it today and perform tasks with great efficiency!
Complies with OSHA's noise levels and dead-end pressure
The lever action is easy and smooth
The body is sturdy
Has a powerful airstream
Ideal for both household and professional use
The handle keeps sticking
Does not come with a fitting/ male plug
[srp_anchshortcode id="4929″][/srp_anchshortcode]
4. Hiltex 31111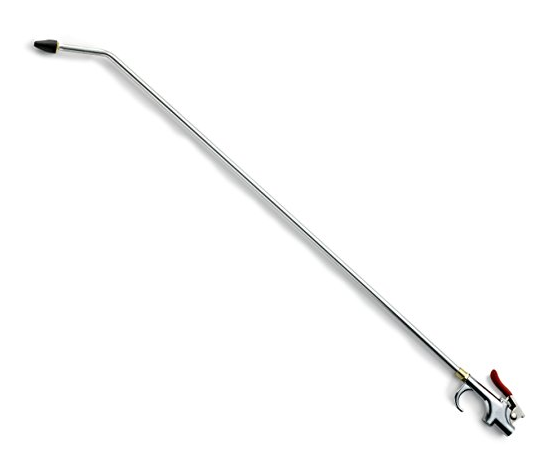 Hiltex 31111 24" is a must have tool for handling different light tasks. It is professionally made to save hours of time with an elbow grease, something that makes it a perfect tool for mechanic, carpenters, and for home applications.

The Hiltex 31111 features a very strong nozzle to blow away debris and dirt from tools, truck beds, engines, and other surfaces. It has a standard NPT ¼ inch thread to connect the compressor to the assembly. It also comes with interchangeable rubber nozzle tip for comfort and to reduce hand fatigue. This tool's PVC coated pistol trigger is thumb controlled, convenient, and easy to use. The long interchangeable extension nozzle helps in accessing hard-to-reach areas, and you can clean the tip to the gun for up-close cleaning.




Expand to see more
However, the tip has a small diameter, which can result in air coming out at a higher speed but at a lower volume. Also, it seems pretty fragile given that it's made of aluminium and can easily bend if not handled with care. This simply means it can easily get damaged permanently if handled the wrong way, rendering it useless. You also need to buy a male connector since it does not have a quick connect. Overall, it is a good investment with a threaded screw tip. You may also consider drilling the output port to make it bigger for a semi high flow.

Key Features

Weight: 8 ounces
Dimensions: 25.2 x 4.3 x 0.7 inches
Size: 24"
Power Source: air-powered

Price/Value

The Hiltex 31111 is a good value for the price as it comes with a long enough nozzle that allow you to reach inaccessible areas without having to squeeze yourself anywhere.

Conclusion/Verdict

It is an ideal blow gun for homeowners, hobbyist, carpenters, and mechanics. With this tool, you can finish all your intended tasks without fail. The sturdy shaft and a screw-in rubber end, makes this blow gun a worthwhile purchase.
Lightweight
Durable and sturdy construction
Affordable
Ideal for accessing deep and far places
5. Capri Tools 21072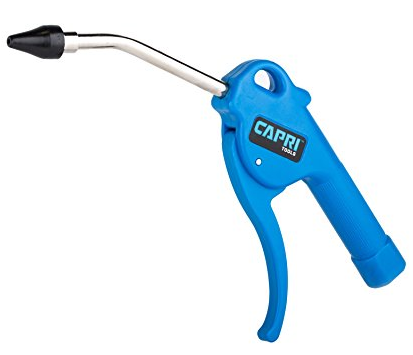 The Capri Tools 21072 is one of the most versatile options in the market today. Unlike the other models, this blow gun comes with a sturdily constructed gun and tip for top-notch performance.

The 21072 5 inch blow gun is suitable for clearing debris, drying off fluids, blowing out your car, and much more. It comes with an intuitive lever design, which makes it easy to use. The rubber tip helps in increasing precision and prevents scratching. Also, the handle has an ergonomic design for an excellent grip. The air flow is directed from the gun through the nozzle with a great force. It has a bright sky blue color, which can be spotted easily in a workshop full of grey, black, and silver colored tools. Another good thing with this device is that it seals up any tube you press against it, which is useful in blowing out water or dirt from your engine parts.


Expand to see more
Although the tip can slide off when under high pressure, you can use a thread lock with a Teflon tape to hold it in place. It works perfectly with an 8hp/15 gallon air compressor. Also, if you have any issues with triggering, you can use some light lubricant in the valve area and you will certainly use it for a long period.

Key features

Weight: 6.4 ounces
Size: 11 x 6 x 1 inches
Colour: Blue

Price/ Value

The 21072 is a great product for the price given that it is robust and come with an easy-to-pull trigger. The pressure produced is well-focused with no leaks.

Conclusion/Verdict

If you are a car owner looking for an inexpensive yet high-performance blow gun made of US NPT 1/4" 18th inner thread, then Capri Tools 21072 5-inches blow gun is your perfect option
Does not leak
Light weight design
Comfortable to use
Durable
The tip can easily slide off
6. Legacy Blue AG7C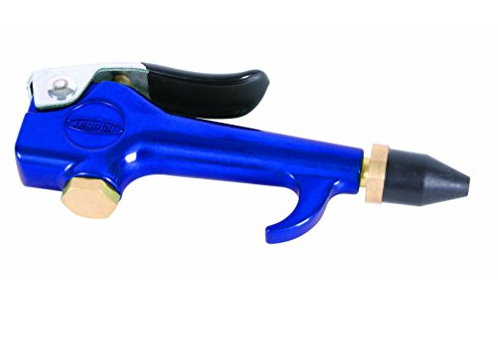 Are you looking for a blow gun perfect for detailing your car to blow-off water and dust in the tight spaces? The Legacy AG7C is your perfect match. It comes with a rubber tip to prevent leakage. It is suitable for use in body shops since it cannot scratch a painted surface. Also, you can disassemble the tool for cleaning purposes.

The Legacy AG7C comes with a compressed air work that works perfectly with no air leaks if you are using a big compressor tank. It can only handle up to 280 PSI and can easily break if used on a daily basis for a long period. With the construction being one of the main selling points, it is made from aluminium, which is lightweight and very durable. It also fits better in the hand than the Campbell Hausfeld blow gun. On the downside, the rubber tip can blow off unless you use it at 75 PSI.
Expand to see more
Key Features

Weight: 4 ounces
Dimensions: 5.5 x 2.7 x 0.8 inches
Colour: Blue

Price/Value

Although it is a little bit expensive, it offers great value for your money. Unlike the Chinese blow guns that are known for breaking easily even from installing the coupler fittings, this blow gun is of high quality and able to withstand extensive tasks.

Conclusion/Verdict

This is definitely a great product for the price. If you are looking to blow out your sprinkler system for the winter or perform some other essential tasks at home, this product will serve you well and it works as expected. Its rubber tip is perfect for fitting and sealing in the blow-out valve.
Durable
Stout construction
Light weight
7. Shop Fox D3281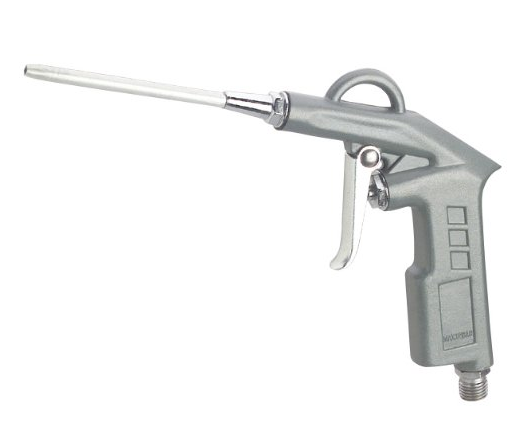 Shop Fox D3281 comes with an angled nozzle that helps you access hard-to-reach spaces for pin-point control. It is ideal for cleaning dirt and dust from crannies and nooks, and blowing off solvents after a clean-up of your assembly.

The Shop Fox D3281 is made of lightweight and sturdy aluminium body. It has an excellent airflow, which make the blow gun stand out from the rest. It also features an optimal sized hook for easy storage. It is one of the best concentrated blow guns for clean off cars and blow dust, and for remote control hobby. Another good thing about it is that it rarely leaks.


Expand to see more
On the downside, it seems very hard to control for a precise flow since it only has an off and on switch. Also, the trigger handle has a short length hence a short travel for full throttle. It is not ideal for cleaning power supplies, fans, computer equipment, etc., because it does not have a controllable valve and trigger.

Key features

Weight: 8.8 ounces
Dimensions: 9 x 9 x 0.9 inches
4-Inch Nozzle
180 psi maximum pressure
Solid die-cast construction

Price/Value

This is the best buy since it is an inexpensive product with a solid construction and with a good output and input pressure.

Conclusion/Verdict

It's ideal for hobbyist and professional for cleaning off assembly and cars. It works like charm with a solidly attached tip and up to 100psi supply pressure.
Stout and durable construction
Ideal for heavy-duty tasks
Has no leak
Has an easy-to-use design
If broken it is hard to be repaired
8. Milton S-148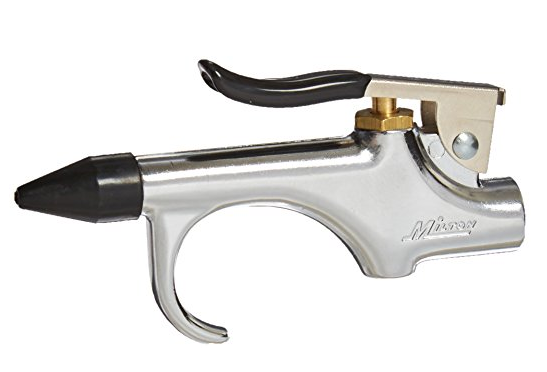 The first thing that comes in your mind when you see a Milton product is the quality and the performance of the tools made in the US.

The Milton S-148 1/4" comes with a versatile and compact rubber tip lever blow gun with a hang-up hook for storage. The tip is also threaded to keep it in place and to offer a tight fit. It meets OSHA safety standards of 150 PSI maximum inlet and a 30 PSI maximum dead end pressure. Moreover, you cannot see the casting seams on the body of the blow gun. Also the valve mechanism is composed of brass pin and nuts are of good quality and perform smoothly. On the other hand, the trigger is made of a light sheet metal and held in place with a hinge rivet.
Expand to see more
Key Features

Weight: 0.3 ounces
Dimensions: 8 x 6 x 4 inches
Polished blow gun with safety nozzle and rubber tip
Length with a rubber tip: 4-3/8", without: 3-3/8", 5/8" thick, height 2-1/2"
Maximum working pressure of 150 pounds per square inch
1/4"NPT air inlet
Come with a safety rubber nozzle

Price/ Value

The Milton S-148 is competitively priced for the performance it offers. You can overwork it and still functions properly unlike the cheaper Chinese options that are rated for delivering low pressures.

Conclusion/Verdict

If you are looking for a garage blow gun, Milton S-148 is your answer. It is made in the USA, and it cannot disappoint you just like other Milton products. It is uniquely constructed and designed to meet your cleaning needs whether in your workshop or home.
Built to last
Sturdy construction
Can be easily fixed if it breaks
9. Astro 1716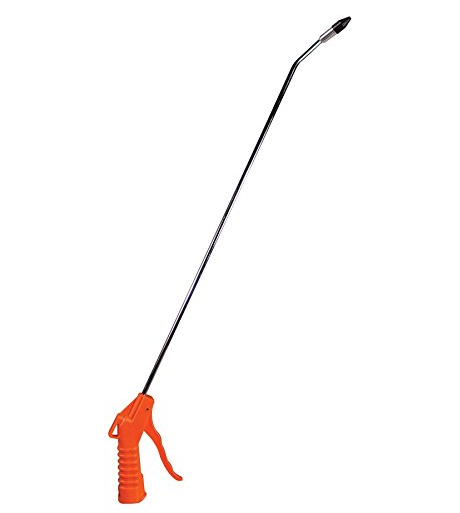 Astro is a well-known company in the production of high quality and affordable tools that meet their customers' needs. Astro1716 is one of their great tools and comes packed with features that stand out from the rest. The Astro Pneumatic 1716 comes in a new improved valve design to ensure it is more convenient, works faster and easily while using it for home and outdoor applications. You can use it from a light to full blast breeze or even to dust off hard-to-reach surfaces. It gives you a comfortable lever control with an ergonomic grip and an insulated handle. The body is made from high impact plastic with a built-in hanger slot. It also has an angled nozzle that allows you to reach tight places.


Expand to see more
To prevent any leaks, you can wrap the fitting's male end with a plumbers tape. The metal tip under is useful when you want to scratch a delicate object. Also, if you would like to use the tip, use the tape and some glue; but, you cannot undo it. However, the tool has some downsides: the tip can easily snap on and it is not firmly secured, and the handle seems fragile.

Key Features

Weight: 9.6 ounces
Size: 25 x 3.2 x 1 inches
20-Inch Long Angled Nozzle
1/2-Inch Removable Rubber Tip

Price/Value

The 1716 works great and satisfies your needs and you definitely can't beat the price.

Conclusion/Verdict

If you want to blow grass trimmings off a lawn mower, under hood, belt guards or other tight places that need a long reach without getting yourself dirty, then this is your perfect fit. Don't hesitate to purchase one.
Strong and durable
Easy to manoeuvre around
You can bend the tube to your desired shape
Can easily leak after releasing the trigger
Not ideal for heavy-duty tasks
10. Ridgerock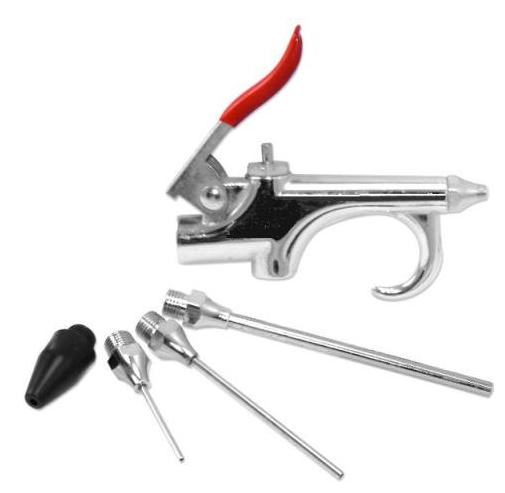 Ridgerock is a well-known name in the manufacture of tools including blow guns. This option is one of their best devices with excellent performance. It comes with 5 interchangeable nozzles, which are long enough to insert into crevices and cracks and cleaning dusty electronics. or it to work perfectly, you need fittings to attach to your compressor hose including a male or female brass fitting and a piece that fits the spring connector at the tip of your hose. Also, it works great with compressors and you can use a Teflon tape to seal it. It also features an inflation tip and a non-marring rubber tip.
Expand to see more
Key Features

Weight: 0.8 ounces
Size: 5.1 x 4.7 x 0.5 inches

Price/Value

With wonderful selection of nozzles, this tool offer great value at an affordable price. The attachments are well-made and fit properly.

Conclusion/Verdict

If you want to inflate a giant pool toy or to keep you household electronics, saws and other tools around your shop clear of dust, the Ridgerock air blow gun with 5 nozzles is your perfect match.
Durable
Affordable
Comes with 5 interchangeable nozzles
Only used for light-weight tasks
The trigger can bend easily
Evaluation Criteria
We have made sure that all our selected blow guns have undergone through a rigorous process so  that we can come up with an accurate and detailed review of each device. Our evaluation criteria revolved around four factors including:
Pressure

Flow

Air line connection type
 

Pressure 
When it comes to cleaning using a blow gun, pressure is an important part of the equation. Most companies use the pressure produced by a blow gun as their main selling point. However, some ratings are misleading since the manufactures only state the maximum pressure their blow guns can perform at, but that does not mean it is the actual cleaning power or pressure you will receive. This is because the cleaning power is not determined by the pressure only.
A true indication of the capabilities of a blow gun is determined by its flow (measured in Litres per Minute) and Bar- the pressure produced.
 A unit of pressure is measured using a bar where 1 bar is equivalent to 14 pound per square inch (PSI). In general, the higher the PSI and Lpm ratings are, the more powerful the blow gun is. Lpm and bar ratings are mutually important but if one is high while the other is low your cleaning experience can be underwhelming.
For instance, a standard car wash using a blow gun at 10 Lpm can require 1820 PSI, while cleaning a driveway at 14 Lpm needs 2100 PSI.
Flow

The flow rate of a blow gun (measured in Lpm) has as much pressure rating as the impact on cleaning results. The flow rate can vary depending on the cleaning level. For instance, blow gun for home applications available in most hardware has a flow rate ranging from 6 Lpm to 10 Lpm. On the other hand, an industrial blow gun can offer flow rates ranging from 10 to 40 Lpm.
This is clearly quite a gulf, although most home users do not need much power that industrial blow guns can provide. A balanced and a well rated blow gun in the lower, Do-It-Yourself blow guns range can offer all of the cleaning force required by most home users.
Since there are many different blow gun models on the market today, choosing the right one for the task can be pretty daunting. However, understanding the differences between them can help you get the best value for your money. Everything comes down to price and performance- everyone is looking for the best performance blow gun at the cheapest price. The best way to know the performance of different blow guns is through a simple calculation known as the cleaning effect.  
The Cleaning Effect Equation:  Flow (In Lpm) x Pressure (In Bar) /600
Although this calculation does not feature on manufacturer's boxes, it is a rough and reliable method of measuring the amount of power you can expect. You can break down the calculation results using the following levels, which can tell you exactly how good a blow gun is: 
– The blow gun is usable although it has no spectacular results.
1.5 – An average blow gun that can carry out medium-level tasks
2.0 – A top-class domestic blow gun.
2.3+ – A shop machine that can deliver the power you need for your DIY or home-based tasks.
The key to choosing the best blow gun is to find the right cost-to-power ratio that meets your needs. Purchasing the most powerful blow gun does not mean you get the best value: It simply means that you have a powerful blow gun that has over matched your needs.
Evaluating the perfect blow gun for the intended job is vital. Just like an industrial cleaning staff cannot use a low-powered DIY cleaner, DIY users need not to go for raw power.
Air Line Connection Type
Blow guns use different types of air line connectors. Push-on connectors have barbed ferrules while quick-release connectors feature fittings that are attached internally. Many types of air line connectors are available. Also, there are various types of national pipe thread (NPT) connectors, in which most of them are either female or inch-based. NPT measurements include outside diameter (OD) and threads per inch (TPI):
1/4 in. NPT connectors have an OD of 0.540 in. and 18 TPI

1/8 in. NPT connectors have an OD of 0.405 in.

and 27 TPI

3/8 in. NPT connectors

have

OD of 0.675 in.

and 18 TPI

1/2 in. connectors have an OD of 0.840 in.

and 14 TPI
There are also 10-32 NPT threads. Air line connections with a pivot or swivel are suitable for tasks that require flexible positioning.
FAQs
Q
1
.
What are the hazards of using a blow gun?

Noise coming from blasts of compressed can result in occupational hearing loss, increased accident risks, and can cause communication barriers. Particles contained in compressed or air projected into the air can cause infections, sores, or irritation if they penetrate your skin or get in contact with your eyes.
If the compressed air from the blow gun gets into your body via your nose, skin, ear, or skin, it can lead to serious injury for instance a ruptured eardrum or oesophagus, sudden or permanent pulmonary embolism or even hearing loss.
Q2.
What is a safe blow gun?
In the US, Section 326 of the Regulation in respect to the occupational health and safety requires that the pressure of compressed air for cleaning should be less than 200 kPa. A blow gun is "safe" if the air pressure at the nozzle does not exceed 200 kPa. When the nozzle id at the dead-end or blocked. This pressure regulation helps to reduce the risk of air or particles from penetrating through the skin.
To meet the requirement, you can utilize a blow gun with extra openings to allow air to escape when the end is blocked. Also, you can install an upstream valve that can constantly limit the air pressure to less than 200 kPa.
Putting on protective equipment such as gloves, safety goggles with side shields, hearing protection, and face shields is still required. To reduce noise, you can choose models that are less noisy. A model can produce less noise and still deliver the same thrust. For protection against flying particles, choose a model that can create an air shield or one with a deflector or protective shield that keeps the air or particles from flying towards you.
Q3.
What pressure should
an air
blow gun
operate
at?

Before advising on any level of pressure, the question to ask is if the operatives are fully aware on how to use a blow gun responsibly and safely.
Areas that should be examined first at all times are whether the air blow guns on site have inbuilt features and whether the right PPE types are specified and worn.
It is likely that there is need to use air blowguns at general factory so that the available energy is enough to perform the work required. Luckily, there are numerous safety type air blowguns on the market although there are still a large number of the old, non-safety models.
It is important to inspect and service blow guns regularly to ensure that they function properly and correctly and that all the safety features are not overridden. Also, it is important to make sure that the guns are only used for their intended purpose. For instance, if someone has a cut or wound on the arms or hand can sustain severe injuries if a blow gun operating at six bar hits that part.
Another question worth asking is if the staffs using non-safety blow gun models are instructed on how to use them safely. As a rule of thumb, the pressure on such blow guns should be up to two bar and they should wear protective clothing.
Q4.
Why does the nozzle rotate?
A blow gun's nozzle does not require an external power to rotate. The reaction force of the air pressure causes the rotation. For instance, if you attach the hose to a water tap and spray the water vigorously, you will find that the hose end will vibrate irregularly.
Q
5
.
Can
you use
compressed air greater than 30 psi for industrial
applications
?
For most pneumatic tools such as blow guns to operate effectively, they require 80-120 PSI. However, they must include an inbuilt air port or relief device to drop the pressure to under 30 PSI once it reaches the dead-end.
Q6.
What
is the perfect
size of hose?
The size of a hose depends on the type of blow gun that you have. You can check your manual to find the appropriate size to use. Generally, the larger the gun, the larger the size of diameter required.
Subscribe to our newsletter