Best Floor Sanders Reviewed and Tested
last updated:
Dec 05, 2021
After years of use, hardwood floors need refinishing, which begins with the tedious job of sanding. A floor sander will remove scratches and gouges along with old coats of varnish to prepare the floor for staining and sealing. The process of sanding requires elbow grease and a powerful sander. To obtain the optimum blend of high power and less effort, many homeowners choose to rent a sander. For those who want to buy a tool they can use for other projects, our buying guide assembles some of the best floor sanders on the market.
Commercial sanders available for rent are either the belt or orbital type. Belted sanders are large, powerful machines that minimize the effort of sanding. They are hard to control, and if left in a spot too long, can leave valleys and grooves in the floor. Other commercial sanders for hire include large orbital sanders that are easier to control but so costly that a DIYer would not want to buy one for occasional use. Commonly, refinishing requires using two sanders, one for the main part of the floor and one for the edges.
When buying a sander to do floors, homeowners often opt for a hand-held orbital sander, perhaps with random action, or belt sanders that can be used for other common sanding projects as well. Most require getting down on your hands and knees to do the job. We have researched the market to find the best floor sanders to do the job.
Our Top 3 Picks
[srpshortcode id="5274″][/srpshortcode][srpshortcode id="5275″][/srpshortcode][srpshortcode id="5276″][/srpshortcode]
Criteria for Choosing the Best Floor Sanders
Speed
Sanders with higher speeds do a more effective job of sanding floors. Speeds, measured in orbits-per-minute or OPM for orbital sanders, average 12,000 OPM. Belt sander speed is stated as feet per minute.
Floor sanders with variable speeds give you the freedom to set the speed according to the roughness or smoothness of the surface you intend to sand. Hard floors will need higher speeds compared to softer ones. Having versatile speeds will be handy for future sanding projects as well.
Power and Portability
Floor sanders are either battery-powered or electricity-powered, with differences in power and portability. While cordless floor sanders allow you to work from anywhere without limiting your freedom of movement, they are slightly less powerful compared to their corded counterparts which lack similar portability and require a long cord. Consequently, you have to decide whether you are willing to sacrifice power for unlimited portability or whether you'd rather have a portable tool that is not as powerful.
Safety
Sanding generates immense quantities of dust that pose a serious health hazard. Whichever floor sander you settle on should come with an effective dust collection system that allows easy disposal of particles of the wood, paint, and finish that the sanding process produces. Dust and debris must be thoroughly removed before finishing. Removing dust as you go along helps you see your progress and makes your job of preparing the floor for resurfacing.
Ease of Use and Comfortability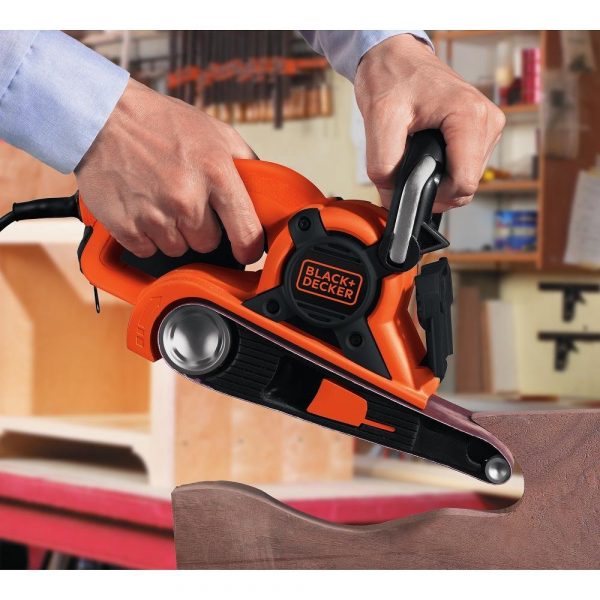 Over the years, manufacturers of floor sanders have heavily invested in making their products as comfortable and as easy to use as possible. To this end, most floor sanders these days feature either one or two large grips to give you more control as you maneuver the sander across the floor and into corners. Soft, rubberized grips offer exceptional absorption of vibrations that would otherwise cause fatigue after a few minutes of sanding or add extra stress on your hands and wrists.
6 The Best Floor Sanders

1. Black & Decker DS321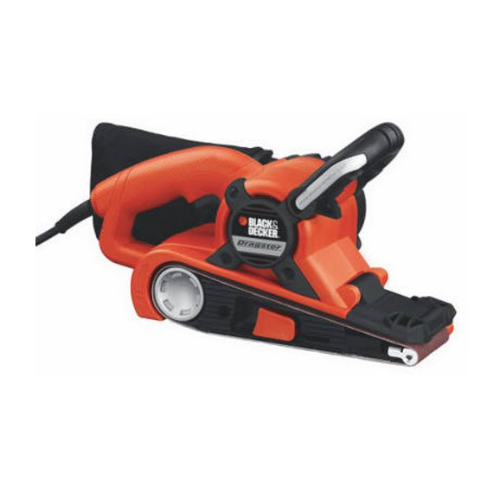 Product Features:

• Speed 800 ft. per minute
• 7-amp motor
• Single action belt release to easily and quickly switch out paper
• 3-position handle adjusts for maximum project versatility
• Independently certified to applicable standards
• Belt tracking knob repositions and keeps belt in proper place
• Sands flush to vertical surfaces for increased user ease

Expand to see more

With dimensions of 3" x 21" and a front roller, the Black & Decker DS321 Dragster 7-Amp Floor Sander is a belt sander with a low-profile design that can get into hard-to-reach places near molding, below cabinets, and between balusters on a railing. It has a maximum speed of 800 ft. per minute, making it a great performer whether sanding floors, decks, furniture, etc. With its 7-Amp motor, the Black & Decker easily outperforms several costlier top model floor sanders by delivering exceptional results both at home and on a worksite.

In addition to its compact design, the sander weighs less than eight pounds, so lifting it will be easy, enabling you to work longer with less fatigue. The adjustable can be set in three different positions, ensuring additional comfort and control for precision. The tool's adjustable belt tracking system will also keep your belt in position while sanding, while a belt release lever reduces the time it takes to replace worn-out belts with a single move. Its dust bag greatly simplifies the process of removing dust, although it must be emptied frequently.

The Black & Decker DS321 is simply a great choice for Do-It-Yourselfers and professional woodworkers looking for a cost-efficient tool for sanding different floor types. The tool is bundled with a 24-month warranty should some components malfunction. For $85 or less, the Black & Decker DS321 is a perfect tool for light and heavy-duty projects with a less steep learning curve to accommodate first-time woodworkers.

Comes with a retractable hood for tackling delicate projects
Compact and lightweight design
Easy maneuverable
Comfortable and as easy to use
Expensive
Not ideal for heavy-duty sanding
[srp_anchshortcode id="5274″][/srp_anchshortcode]
2. WEN 6510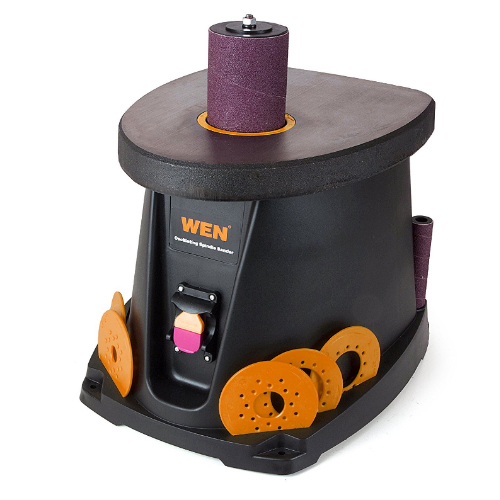 Product Features

3.5-amp motor
Speed 58 OPM and 2000 RPM
Weight 30.2 pounds
Features onboard storage for all accessories along with a dust collection port for hooking in a dust extractor
Dust port to attach the dust collector of your choice to the onboard dust port to minimize clean-up
Kit includes 6 sanding sleeve attachment sizes (1/2, 3/4, 1, 1-1/2, 2, and 3 inches) and 5 rubber drums


Expand to see more
The WEN 6510 Oscillating Spindle sander specializes in sanding rounded edges rather than flat surfaces on floors. Its powerful 3.5 Amp motor can achieve maximum speeds of 2000 RPM and 58 OPM with a 5/8" stroke to create the most professional-looking finishes on arcs, angles, curves, contours, and odd shapes. The unit weighs 35 pounds and is compactly built, so it is easy to take to the worksite for sanding trim or spindles on railings. The 15" x 11'' work table provides excellent stability for sanding projects.

The unit comes with sanding sleeves in six sizes, plus rubber drums and hardware. Self-storage on the tool for parts might prove useful when working.

The WEN 6510 has a port that connects to your shop vac for dust collection to suck up airborne air particles and keep the work surface clean. The placement of the port near the spindle ensures maximum dust collection.
Powerful 3.5 Amp motor for exceptional performance
Lightweight and compact
No-load functionality
Ideal for light-duty and medium-duty projects
Cheap plastic components
Handy, though not for floors
[srp_anchshortcode id="5275″][/srp_anchshortcode]
3. DeWalt DWE6421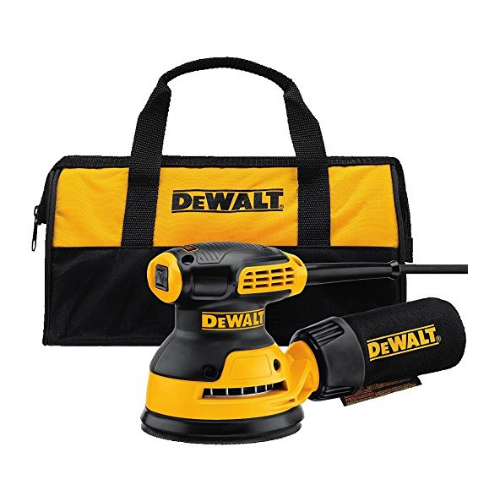 Product Features

3.0-amp motor
Speed: 12,000 OPM
Weight: 3.4 pounds
Shorter height of the hand sander allows the user to get closer to workpiece
Separate counterweight design to reduce vibration for improved comfort of the electric sander
Rubber over-mold in all of the critical areas of the sander
Improved dust-sealed switch to protect against dust ingestion for longer switch life
Improved dust collection and one-handed locking dust bag
Dust port designed to fit directly to the DWV010 or DWV012 dust collectors
Dust port can attach to other vacuum systems with 1-1/4" hoses, use DWV9000 Universal Quick Connector

Expand to see more

There is no product that better demonstrates the art and craftsmanship of the Dewalt brand than the DeWalt DWE6421 Orbit Sander. A corded tool, the DWE6421 is both a time and energy saver that continuously provides you with impressively high levels of precision. The high-performing, easy-to-use, and powerful DeWalt DWE6421 is equipped with a powerful 3.0 Amp motor capable of effortlessly spinning the pad at 12,000 orbits per minute. Unfortuanealty, the sander does not have versatile speed control.

The model features a conspicuously smaller size that offers increased maneuverability, enabling you to keep an eye on your workstation when sanding. To enhance portability, it has rubber over-mold in several crucial parts as well as a distinct counterbalance construction that does a great job in decreasing and, in some cases, eliminating the severity of vibrations while enhancing easy movement. As a result, the DeWalt DWE6421 operates smoothly and quietly, making the use of the tool a pleasing experience.

As dust is a significant problem when sanding, the tool is fitted with a convenient and functional dust collection mechanism that interfaces with the brand's dedicated vacuum locking system.
Other than featuring an innovative design and a one-hand locking system, the device's dust bag is compatible with several of DeWalt's dust collectors, such as DWV010 and DWV012. The tool's switch is protected from dust infiltration from sanding by the use of a dust seal, thereby ensuring the switch will last for a considerable amount of time. Some users complain that the dust collection system is not as effective as they hoped.

This sander is a popular favorite among customers as it is versatile, whether the project is refinishing a floor or renovating an old dresser. Even inexperienced users find it easy to obtain a quality finish. For less than $70, it is worth consideration.

Rubberized, soft-grip handles add to your comfort
Hig -performing, easy to use, and powerful
Over-mold and counterbalance for reduced vibrations
Intelligence, artistic and robust construction
Ergonomic and compact design
Lack of a variable speed capability
Inefficient dust bag
[srp_anchshortcode id="5276″][/srp_anchshortcode]
4. Bosch OS50VC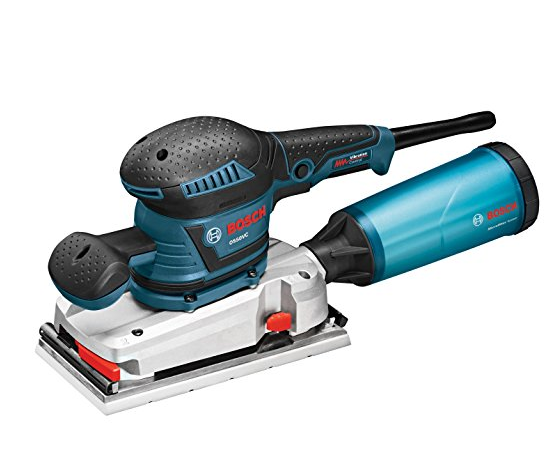 Product Features

3.4-amp motor
No-load speed of 8, 000-11, 000 OPMs with variable speed dial
Pad size 4-1/2" x 9" with 2/32" orbit diameter
Vibration Control Bosch-exclusive suspension system
Sheet Loc Supreme Sandpaper Attachment System
Die-cast aluminum gear housing

Expand to see more
The recent entry of Bosch OS50VC orbital sander into the home improvement and remodeling industry has completely changed the industry, with professional woodworkers and enthusiastic Do-It-Yourselfers attesting to its superior handling and exceptional comfort. The 3.4 Amp motor provides it with greater power when compared to other floor sanders in its class. As a result, Bosch OS50VC can sand different surfaces and remove paint a lot faster and with surprising precision. Equipped with a variable speed, the sander spins between 8,000 and 11,000 orbits per minute for working on different types of floors with relative ease by choosing the most appropriate speed.

Like most floor sanders, the Bosch OS50VC has a die-cast aluminum gear housing that makes it extremely, plus several rubberized, soft-grip handles for comfort during use. It has an additional detachable handle that makes it easy to access hard-to-reach locations. To reduce noise and vibrations and that are hard on your hands, the sander has an exclusive suspension system enhanced with foam blocks. Fewer vibrations make the sander easier to control.

Loading the sander with paper is a straightforward and stress-free endeavor that takes a matter of seconds. It features the Sheetlock paper clamping mechanism that holds paper tight by increasing the paper's tension and making it last longer; it also can use stick-on papers. The Bosch OS50VC also has a high-performance extra-soft microcellular backing pad that conforms to many contours on furniture, railings, and cabinets.]
To manage dust collection, the Bosch has a dual system that starts with a translucent micro-filter dust canister with an integrated paper filter and screw-off cap for easiest emptying. However, it attaches to a vacuum to reduce emptying.

Priced at $330, the Bosch OS50VC was designed for kitchen installers, painters, and cabinet makers. As a floor sander, it gives the floor a professional-looking finish and comes with an excellent dust collection mechanism that leaves your workstation dust-free and clean.

Superior handling and exceptionally comfortable
Indiscernible vibration allows for a quiet operation
Convenient sandpaper clamping system
Powerful 3.4 Amp motor
Not ideal for heavy-duty applications
Has a steep learning curve
Costly
5. Clarke 07081B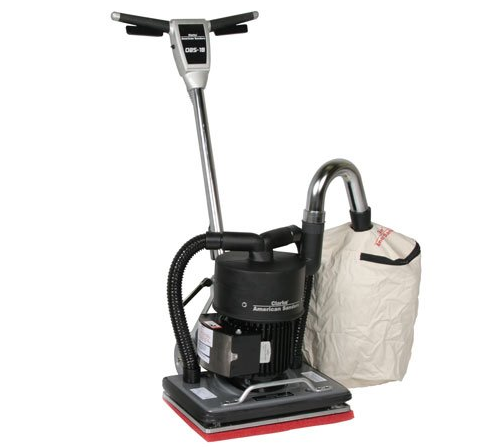 Product Features

Machine Weight 125 lbs (56.7 kg)
1.0 HP totally-enclosed Universal Electrical Motor
115V, 60 Hz
Sanding Path 18 in (45.7 cm)
Power Cord 50 ft (15.3 m)
Non-marking rubber wheels
Sanding Pad Size 12 in x 18 in
Abrasive Speed 3,600 orbits per minute
Sound Level 74 dBA
Dust pipe allows for easy attachment of 1-1/2 or 2 inch vacuum hoses f
Warranty Machine: Parts & Labor - 1 yr* *Excludes consumable wear items

Expand to see more

The Clarke 07081B is a perfect embodiment of perfection, providing you with top-shelf performance, versatility, and flexibility. Offering random-orbital action and 12" pads, the 0871B operates at 3,600 ORB – the fastest performance in the industry – while removing scratch patterns that a drum or rotal sander would leave. It offers torqueless operation for improved operator comfort. The 1 HP motor is totally enclosed and fan-cooled to eliminate overheating and the need for motor cleaning. Constructed with a heavy-duty cast aluminum frame and pad driver plate, the unit is strong, durable, and made to last for years.

To remove the abundant dust produced by sanding, the unit has an independently operating dust collection fan. It connects to either a vacuum to a 12-gallon or 26-gallon wheeled container, available with an optional HEPA filter. A removable dust skirt also keeps airborne dust at a minimum.

As with the Clarke Super 7R edger, this $3,700 machine is for professionals to own but is worth renting for a DIYer who is refinishing a large space.

Enclosed powerful motor for dust-free operation
High-end construction for top performance
Ideal for sanding a wide range of floors
6. Clarke Super 7R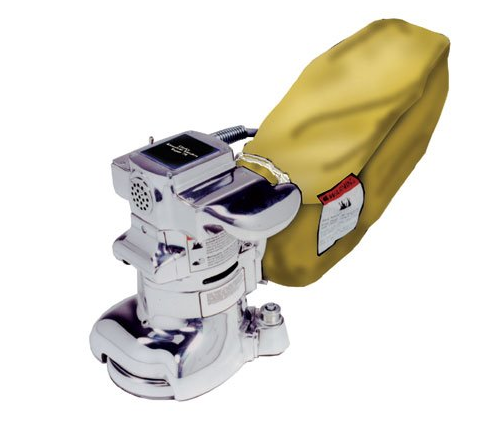 Product Features

Powerful 1 hp motor:
Rotating dust pipe
Quick release bag
Hardened steel pinion with brass drive to reduce vibration
Precision-balanced sanding pad
Easily attaches to vacuum with1-1/2" or 2" hose for greater dust containment

Expand to see more

The Clarke Super 7R edger is without a doubt one of the best-performing floor sanders in the market today and has the price to prove it. At $2,400 on Amazon, this random orbital sander is for professionals who regularly sand floors. A complement to the 07081B which does the main sanding, it also is worth renting for sanding the edges for a savvy DIYer tackling floor refinishing at home.

The 7R features a 1 HP motor that spins at 3,200 RPM for fast performance and maintains its speed under the heaviest cutting conditions. A second 2,800 RPM setting allows greater precision.

The sander weighs 30 pounds and has a polished aluminum housing and graphite brushes for durability. Its 7" discs are well-balanced for aggressive cuts and a smooth finish.Due to its hnardened steel pinion with brasss drive, vibration is greatly reduced, which makes the sander easier to use for an extyended time.

The dust collecting abilities of this tool are impressive. As floor sanding generates lots of dust, especially in the large spaces this sander is meant to handle, the collection system needs to be effective and easy to use. The dust pipe, which attaches to a vacuum hose, swivels 210 degrees, allowing the dust bag or hose connection to more freely during operation so you can access those tight spaces. The patented collection bag, which can be used instead of the vacuum hose, slides on and off with a simple twist without strings required for attachment. It has a zipper for quick dust removal as well. The housing has a dust skirt to prevent airborne dust.

Though it is a substantial investment, professionals who sand floors for a living won't want to be without the Clarke Super 7R Edger.
Lightweight and compact design for extreme maneuverability
Ideal for heavy-duty operations
Sturdy and durable construction
Ergonomic design
Powerful 1-HP motor capable of 2,800 -3,200 RPM
FAQs
1. What types of sanders are best for refinishing floors??

While there are several types of floor sanders on sale, the main ones are belt sanders, orbital sanders, and random orbital sanders.
Belt sanders cover a relatively wider area compared to the other four types and are, therefore, an ideal tool for sanding a huge variety of surfaces such as floors and tabletops. The tool uses a belt of coarse paper extended over rollers. If left running in place on a floor, they can damage it with impossible-to-remove pits and valleys
Orbital sanders are your best resort when looking to give your flat surfaces a smooth finish as these sanders come with differently sized base plates that move with a tight, quick orbital stroke to significantly reduce the possibility of scratching the sanding surface.
Random orbital sander brings together the orbital and belt sander, making it a smooth and quick floor sander. The simultaneous rotation and orbiting of the circular sanding discs leaves the floor exceptionally smooth and free of scratches and is also your best bet at giving curved surfaces a smooth finish.
2. Between coarse abrasives and abrasive paper, which is the most ideal for sanding floors?
Floor sanding requires first removing old finishes and scratches which requires a coarser paper. Finishing with superior abrasive paper gives your floor an attractive mirror-smooth appearance. Using two or more types of sandpaper will help you get the smooth, ready-to-refinish surface you seek.
Abrasive materials come in three grades: P60, P80, and P120 with 'P,' which stands for the number of particles denoting the number of particles per square centimeter.
3. Should I buy or rent a sander?
Professional grade sanders cost thousands to buy. For a large area, renting a sander offers the performance you need without a huge investment.
4. Should I refinish my floors myself or hire it out.
Sanding floors is tedious, messy work. It is also time-consuming. Hiring a professional will produce quicker results although it is more expensive. When you consider your time, interest, and physical ability, bringing in a professional might be worth it. However, sanding and refinishing are doable DIY tasks.
Conclusion

Floor sanders are an indispensable tool for professional craftsmen, woodworkers, and Do-It-Yourselfers. The market is flooded with numerous brands, types, and models of floor sanders meaning shopping for tools to sand their damaged floors can be overwhelming. In presenting some of the best belt, orbital, and random orbital sanders out there, our buying guide can reduce the choices.
Subscribe to our newsletter