Best Pole Saws Reviewed & Rated
last updated:
Feb 25, 2021
Proper trimming and maintenance of trees and plants is an important aspect of all types of residential, commercial and industrial sites. Whether trying to keep an area clean or trying to maintain a healthy grove of fruit – the reasons for trimming and cutting tree branches are numerous. Very often the act of cutting branches can be awkward, dangerous, or difficult – usually all three. A pole saw lets you attack the branches of a tree without leaving the ground yourself. This significantly increases your as well as reduces the setup time it takes to cut branches from multiple trees.
A good pole saw and make your job easier, safer and faster – saving you both time and money (and perhaps your health) in the long run. This is tools is a great investment for dozens of professions and a large percentage of homeowners.
Our Top 3 Picks
[srpshortcode id="5451″][/srpshortcode][srpshortcode id="5452″][/srpshortcode][srpshortcode id="5453″][/srpshortcode]
Relatively new technologies, like powerful and long lasting batteries, have created a new generation of cordless electric pole saws and those make a strong showing on this list alongside classic gas powered tools and some corded devices. To consolidate what we know about these new tools and match them with many of the old favorites, we decided to add pole saws to our top ten lists of power tools. In our hunt, we found many tools that were just fantastic at getting the job done, while others were a real struggle to work with. Our list should help you figure out where to start in your personal hunt and which features and tools may be something to consider – and perhaps which are best to be avoided. In addition to the list, we have also included evaluation criteria as well as a short FAQ section. Theoretically, everything should be here to help you make an informed decision on a pole saw.
We made an effort to avoid duplicate reviews, so many of the tools on this list come from a larger family and have many similar 'cousin' tools that may only be different by a feature or two. If something on this list strikes your fancy, do a little more research and see if there is another slightly different version that fits your needs even more. We tried to include the best representative of the family, but that is really hard to quantify.
One last thing regarding the rankings themselves. These ranks are done in a price/value ratio. We will explain this further under the criteria section, but suffice to say, we tried to rate the tools on the basis of their abilities matched against their own price. To simplify it, a great tool may rank lower than a mediocre tool if we found that the great tool had a price that was much too high. This is purely subjective in many ways and it is up to you to weigh your own needs against the tools here – use the rankings as a guidepost rather than hard fact.
10 Best Pole Saws
1. Remington RM1025SPS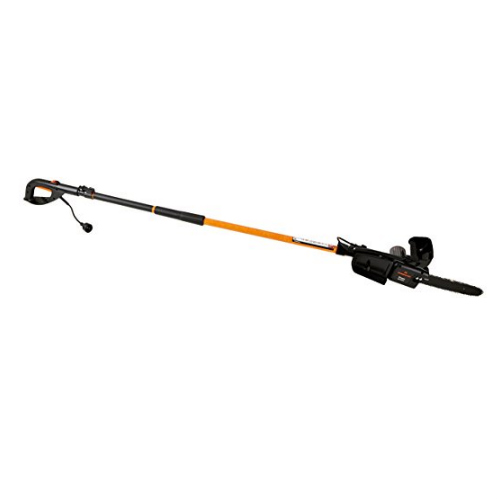 The Remington RM1025SPS comes with great poles in aluminum for better reach. Corded and with a motor of 8 AMP will let you work branches quickly. Being able to disconnect and use the tool as a chainsaw also means you can head straight into cutting the felled limbs.
Expand to see more
Key Features:

Shipping Weight: 12.5 pounds
Power Source: Corded | 8-AMP
Max. Extension Length: 15 ft.
Easy flip and lock clamps help you secure pole length
Adjustable aluminum poles, durable and versatile.
Anti-rotation pole adds stability.
Nonslip grip.

Price/Value:

This is a very moderately priced tool that brings a solid amount of versatility and durability to the table. This tool is very likely to justify its self-worth very quickly for those who have a lot of moderately difficult cutting ahead of them. Very good total value for your dollar.

Who Should Buy This?:

While some professionals may need a more substantial device, the versatility of the Remington RM1025SPS means you get a whole lot of capabilities for a relatively low price, making it a good investment for both teams and individual hobbyists and homeowners.
Great quality pole paired with a good chain saw.
Versatile
Great value
[srp_anchshortcode id="5451″][/srp_anchshortcode]
2. BLACK+DECKER LPP120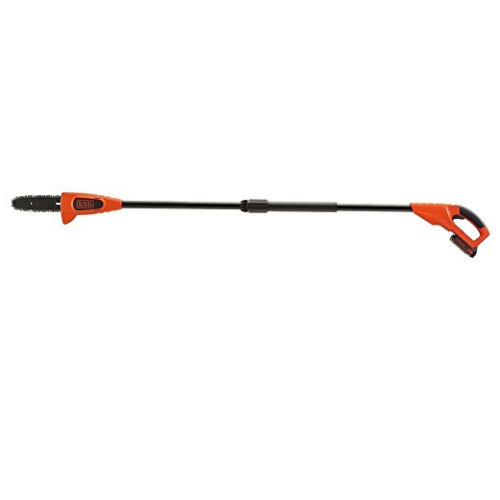 This electric Black and Decker is made to be a replacement for your old gas saw, and it pulls off this purpose quite well. It runs much cleaner than old devices, and the lack of a cord gives you a wide range of mobility. Built for pruning high branches and tall trees, this option gives you solid control, overhead dexterity, and power.
Expand to see more
Key Features:

Weight: 6.3 lbs
Power Source: 20V MAX* Lithium Ion Battery
Max. Extension Length: For Pruning Overhead Tree Branches up to 14' high
14 feet reach
Around 100 cuts of pine branches in one charge

Price/Value:

Another solid device at a very fair price. This tool is built to last, and can save you quite a bit in frustration and working hours in the future. With that in mind, this tool is overall a good investment with solid value.

Who Should Buy This?:

This tool can withstand some pro work, but may not be sturdy enough to be your full-time device, especially if trimming is a primary source of your work. Past the heaviest use this tool is well suited for all buyers. The reasonable price means it isn't exclusionary to any.
Light weight
Easy to use
Good Power
Not intended for super heavy pruning
Chain guard chips gets battered quickly
[srp_anchshortcode id="5452″][/srp_anchshortcode]
3. Sun Joe SWJ800E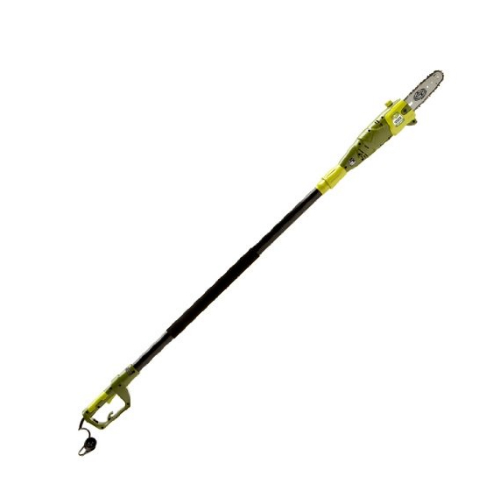 This is an excellent low-cost option for when you need to cut those overgrown branches safely only every so often. This tool isn't made for repetitive daily use, but it can handle the occasional job reliably and efficiently. Electrically powered and with a substantial reach- check this tool out when you are looking for somewhere to start.
Expand to see more
Key Features:

Weight: 7 lbs
Corded 6.5 AMP
Max. Extension Length: 8.7 ft to provide 15 ft of overhead reach
Can handle the most stubborn tree limbs up to 7.5 inches thick
8 Inch Oregon Bar And Chain
15 Foot Reach

Price/Value:

This pole saw is around 30% cheaper than some comparable devices. The Sun Joe SWJ800E eschews some features and usability in order to keep this price in the lower cost bracket. In the end, this is a device with a fantastic dollar to utility ratio.

Who Should Buy This?

This tool may not be up to a full-time contractors work load, but it does provide you a reliable and solid tool for a small price. This is a solid choice for the homeowner or rare use sites.
Good balanced weight
Lower price
Durable
Difficult chain adjustment
Requires oil that was not included
[srp_anchshortcode id="5453″][/srp_anchshortcode]
4. GreenWorks 20672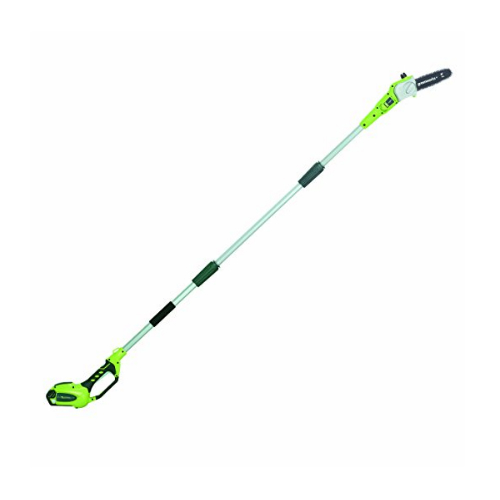 A fixed angled cutting head with good reach and some nice features, including self-lubrication. The 20672, while it omits a few features I've come to find as key (such as a shoulder strap) and it has a bit of an issue with cutting power, this tool still does enough right that it stayed well ranked. This battery powered saw is reliable, sturdy and is an acceptable replacement for an aging gas powered pole saw.
Expand to see more
Key Features:

Weight: 9-12 lbs.
Power Source: Lithium Ion (Li-Ion) Battery 40V | 2.0Ah (Amp hours)
Max. Extension Length: 8 ft.
Automatic oiler ensure durability
Switch lock safety feature

Price/Value:

This is a decent battery powered pole saw at a very fair price. While additional batteries can be expensive - and they really do improve the experience, especially when you are having issues with a draining battery and a larger branch - the initial costs are really not too high for what you are getting.

Who Should Buy This?

This is not a suitable saw for professional work or homeowners with larger branched trees. This is, however, ideal for the homeowner with a large amount of decorative and tall display plants, or a large amount of small branched trees to clip.
Excellent cuts on branches smaller than 4" in diameter
Bar and chain are lubricated automatically
Good set of safety features
Tools required to fully assemble
Some power issues with larger branches
5. Remington RM2599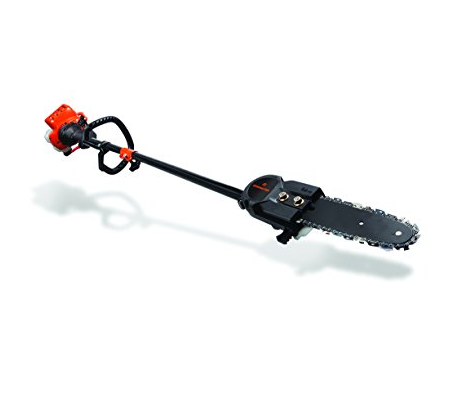 Durable, good cutting power and a nice slew of features. The Maverick is a high-end small job or homeowner pole saw. Remington has an entire line of related devices and conversion kits that let you turn your pole saw into devices like leaf blowers and hedge trimmers. This means that this device may be a centerpiece of an entire set of landscaping and home care tools. This pole saw utilizes a QuickStart™ feature which lets you get it going with little hassle, and the 25cc 2-cycle engine allows you to cut through some tough limbs at a reasonable speed.
Expand to see more
Key Features:

Weight: v18.15 pounds(Shipping weight, tool will be lighter.)
Power Source: 25cc 2-cycle gas engine
Max. Extension Length: Up to 12'
Quickstart pull start feature, more reliable starting.
Compatible with additions and items that transform the tool into devices such as a hedge trimmer, edger and blower. Amongst many more things.
7' Pole saw with removable sections.
Auto oiler, 2-cycle oil.

Price/Value:

The base tool here is a bit more expensive than some of the other comparable items on the list, but it comes from a series of tools that allow the system to work as a large number of power tools, If you are considering investing in that system, well then it's hard to beat this pole saw as a choice.

Who Should Buy This?:

This is probably best thought of as a high-end homeowner polesaw. It could probably work for teams that rarely need some devices and perhaps have some of the related tools and/or adaptations for it.
Easy to put together
Cut through sizeable limbs
Feels a little underpowered at 25cc
6. GreenWorks 20672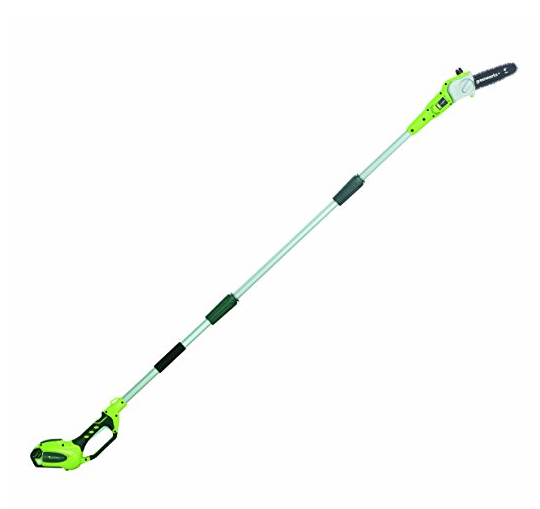 A very fairly priced battery powered pole saw that can give the property owner or hunter the ability to store the tool for long periods with peace of mind, and then use the tool to clear large areas in no time. Great power and ease of use as well as a fine array of features. The GreenWorks 20672 is a solid all around buy at its price range.
Expand to see more
Key Features:

Weight: 8.4 pounds - 12.75 lbs (battery and extension)
Power Source: Lithium Ion (Li-Ion) Battery 40V | 2.0Ah (Amp hours)
Max. Extension Length:15 ft w/ extension
Less noise & vibration than gas models
Instant electric start
Auto oiler
8-Inch bar and chain
Easy adjust chain tensioning system
Automatic oiler applies oil to bar and chain
3-piece aluminum shaft

Price/Value:

For a battery powered device this price is very reasonable. While the GreenWorks 20672 isn't the most heavy duty device, it can handle quite a bit - and can save you quite a bit of effort for a minimal investment.

Who Should Buy This?:

This is a nice quality electric polesaw best suited for the homeowner. It provides quite a bit of cutting potential,but won't last under constant strenuous use.
Easy to use
Robust but not heavy
Good balance to it
Solid power
Some have issues with the chain coming off.
Other people actually dislike the weight distribution
7. Fiskars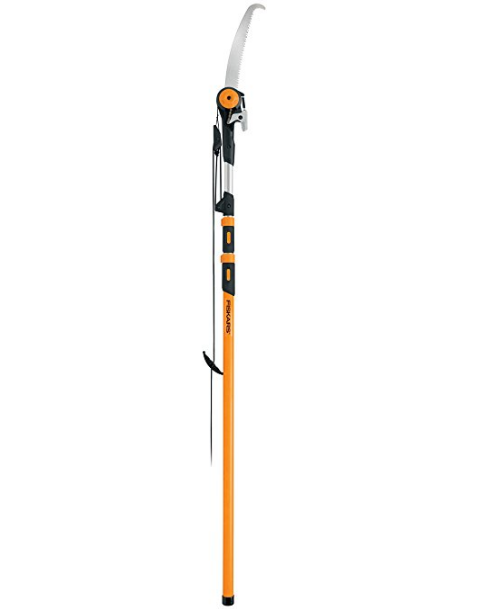 A manual saw for smaller branches and quick pruning needs. Good for when you don't want to deal with powered devices, or your storage situation prohibits it. This pruner is an intuitive and easy to use saw. It could be a little more durable or sturdy, but with a few adjustments you can avoid a large amount of the major issues. This is a great ability booster at a low price.
Expand to see more
Key Features:

Weight: 5 pounds
Power Source: N/A
Max. Extension Length: 7'–14'
Built for cutting high branches without a ladder
Power-Lever technology - two times more cutting power than traditional tree pruners
15 inch WoodZig saw blade
Rust-resistant, low-friction coating

Price/Value:

A simple low cost alternative to many of the powered tools on this list. This tools gives you a nice device at a fair price. Compared to some tools $50 more it is a bit underwhelming, but if it fits your niche, it is a solid device.

Who Should Buy This?:

This is best for sites with a need for either quite operation or are looking to do only a few rare quick trim jobs. It is a solid and wellmade tool, but is best for a very specific audience.
May require some manual tightening of the locking mechanism
8. Oregon PS250-A6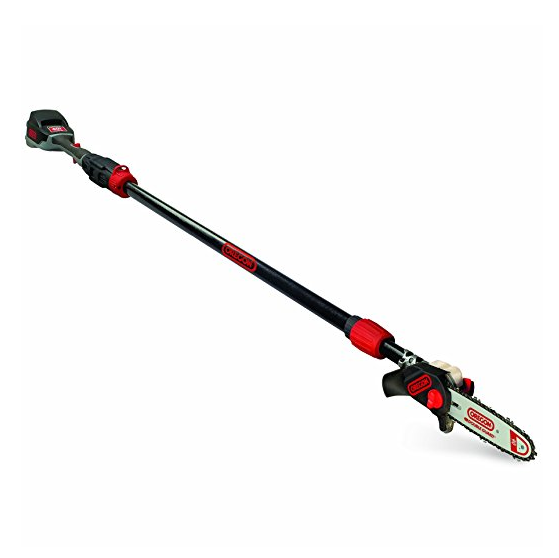 Pruning rows of walnut trees, cutting hunting lanes, and a whole series of other seasonal jobs are the purview of this device. This is a battery powered device that can handle rougher tasks with ease. The only real downside is that the tool is relatively heavy and can be a burden latein the workday.

I focus on the seasonal aspect because this is a battery powered saw that can handle tougher tasks. With gas powered mowers, if you have to let the tool sit for a good part of the year before you use it again, you risk not fully draining all the fuel or not running the carburetor dry and then having significant issues getting the device to start back up again when it's time to go back to work. With battery powered devices this is no longer a problem.
Expand to see more
Key Features:

Weight:10.8 lb.
Power Source: Battery 40V Max Lithium Ion Power
Max. Reach: 4.5m
Up to five-hundred cuts on 2-3" branches
Cell technology with constant no-fade power
Mid-mount motor design for better balance and reduced elevated weight
Planetary gear reduction system produces a proficient transfer of power
Branch removal hook allows for improved cutting agility
Lightweight, balanced, low-vibration & quiet
Instant Start

Price/Value:

A high-end device whose price represents that. This is one of the more expensive tools on the list, and it does quite a bit to justify that price. This is a reliable and effective tool made for continuous use.

Who Should Buy This?

Hunters, landscapers, contractors and anyone looking to do some serious tree trimming and wish to do so easily and safely. Great tool, cost too much if you plan to rarely use it.

Well designed - great balance and weight distribution.
Some solid features
Compact cutting head for improved agility
Flimsy back plate
Collar and motor housing connection finicky
9. Poulan Pro PP258TP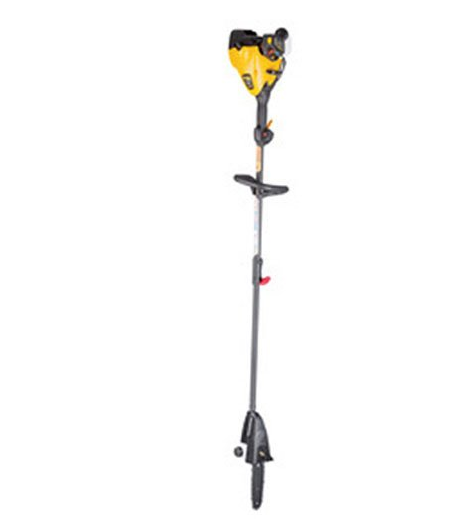 The Poulan Pro PP258TP is a solid tool with a good track record. A solid gas powered workhorse made to take down the tougher limbs and to stand up to some heavier use on larger estates. It isn't the most durable, but for the price you are getting a lot of tool and a lot of increased capabilities.
Expand to see more
Key Features:

Shipping Weight: 21.65 pounds
Power Source: Gas powered
Capable of Pro Link Attachment
Max. Extension Length: Reach around 12 foot
Spring Assist for surefire starting

Price/Value:

This is a good mid-tier polesaw and is priced fairly for that level of ability. It isn't necessarily a great bargain, but you will be far from disappointed with the purchase. All that said, this is a very functional and effective device and may very well be the best tool at that price range.

Who Should Buy This?:

Great for a ranch or large property, or even contractors who need to deal with a low to moderate amount of trimming. Solid buy for anyone whose budget lands in this price range.

Easy to store, start and use
Runs well and with good power
A bit heavy
Some shipping issues
10. TrimmerPlus PS720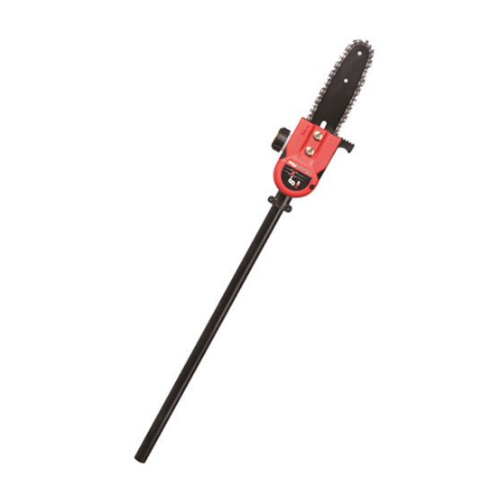 This is the quintessential homeowner pole saw. Cost saving measures were taken here and there, but in return, you have a tool that is perfect for the vast majority of home usage tasks. Pro-level power and reach, but with a slightly more fragile casing. Has some nice features as well, like an auto-oiler and a capability for having multiple attachments applied.
Expand to see more
Key Features:

Weight: 10 lbs
Power Source: Gas
Max. Extension Length: 11 ft reach
two height options

Price/Value:

This tool is made specifically to bring the homeowner a professional level cutting ability at an affordable price. It cuts Some corners to maximize the overall cost efficiency of the tool. This makes for a very high amount of overall value for dollar spent.

Who Should Buy This?:

This is the perfect tool for the homeowner or small site Groundspeak who needs to cut and trim plenty of trees, especially around structures. Gives you fantastic value and capabilities - fantastically enhancing your job efficiency with little monetary risk.
Solidly built for the price
Will last a good long while if properly maintained
Criteria for Evaluation

To create a list on the best pole saws available for purchase today, you have to compare and evaluate a huge array of devices ranging from the well designed and easy to use, to the awkward and downright dangerous. Needless to say, the number of tools we eventually evaluated was a bit overwhelming. To make sense of what we were looking at and to finally fully evaluate these tools, we had to invent a sort of criteria. Most of the criteria we based these evaluations on are pretty straightforward and involve aspects like price, weight and power. Some of the criteria are harder to quantify and are much more subjective, like comfort.
Occasionally on these lists, including this one, it may seem like a superior tool is getting a lower ranking than an inferior one. The truth is that we rate and ranked these tools on a final price/value ratio. We did our best to compare the output to how much you are putting in monetarily. I'll explain this part a bit further under the explanation of price.
It is important to note that our assumed value and ranking may not have any relevance to your needs. If a tool is ranked highly but cannot accomplish the job you need doing, then from your perspective the tool will have a value of zero – regardless of how highly we think of it. Ensure you evaluate these tools on your scales.
Price
Since this list included pole saws ranging rather drastically in price from one another, we had to decide how this stat would be used to create a balanced playing field from which to judge. We decided on a price/value system, where we roughly created a ratio of dollar spent to overall output received. This wasn't an exact science, but if a tool could roughly do 75% of what another tool could do, but cost 33% or 50% as much, it was deemed to have an overall better value. This is why occasionally you will see a superior tool ranking lower than an inferior one – it couldn't justify its much higher price.
Extension Range and Stability
Being able to work from several feet away is the point of a pole saw, so obviously, those that gave you a better reach and still maintained proper stability and maneuverability would get a boost in this area. Those that had a long range but suffered balance issues had to be considered on a case by case basis in most cases.
Cutting Power

Many of the tools on this list are battery powered and it wasn't until very recently that battery operated devices would be considered powerful enough to make a list like this. Every tool on this list can handle the majority of trimming tasks, while a few are more suited to small residential projects and a few are better suited to large, difficult trimming tasks. Generally speaking, the more cutting potential a tool has, the better we ranked it.
Weight
When it comes to pole saws, weight can be a significant factor. Very often you are trimming while holding the tool well above your head; this can get extremely tiring very quickly. Very often, workers will be cutting kilometers of trees. Stopping just simply isn't an option when you have so much ground to cover. The less weight your tool can force you to hold up – while still delivering enough power to cut – the better it will be for your overall comfort and morale.
We made sure any heavy tool on this list made up for that aspect in another way.
Comfort
This overlaps quite a bit with weight, but it's not really the same. Working long hours can wear on your arms and core muscles, as well as other areas of your body. A comfortable tool will go a long way in reducing the fatigue and pain you feel at the end of a long work day and can very often keep morale up and you working faster.
FAQs
What is the best Power Source for a Pole Saw?
Pole Saws come in many shapes and sizes and many different forms of engines. From manual saws to battery powered electric saws, there is no single "best" type. Each has its own pro's and con's and have are suited to a different kind of user.
Electric (Corded) Pole Saw
Electric corded pole saws are best used in smaller areas. Homeowners commonly purchase these tools for backyards. Electrical tools are perfect for long periods of non-use because they don't need the same level of storage prep and maintenance as a gas powered saw.
A good corded saw is capable of cutting branches many inches across and can usually be generally termed as 'better' in function than the cordless alternatives.
There is an obvious drawback in that cord, however. If you are working a large property, a cord is really just not going to cut it.
Electric (Battery) Pole Saw

As simple as an electric saw with the mobility of a gas powered, with batteries now able to generate solid amounts of power, cordless electric saws are quickly becoming one of the favorite options across the board.
You'd need at least a 40-volt cordless to begin to match the power of most corded tools.
Batteries leave you with issues other tools don't, like battery life, though refueling a gas powered tool is much more expensive than charging a battery.
THis is also a great tool if you already own tools that use the same batteries.
Manual Pole Saw
Manual pole saws require much more skill and don't have many upsides when compared to powered alternatives. Even the prices aren't much different. There are instances and unique locations where the use of a manual pole saw is required.
Gas-Powered Pole Saw
The classic gas powered pole saw can still generate the most power. They still have the advantage in large tracts of lands and orchards that require a substantial amount of work and/or have thicker branches. Greater run time and more power against a louder noise, weight and fuel costs.
Jawsaw
A jaw saw is a chainsaw like device that operates within a vice or 'jaw' design. You put the tool around the branch and then close the jaws. It is a solid device for some thicker branches and is very simple to use.
What is Reach?

Keep in mind that when a product says a "8 ft reach" or whatever distance, they are including the assumed length of your arm in that reach. The tool is likely a bit shorter. Most saws will provide a reach of around 12 ft to 15 ft.
Explain Cutting Capacity Further
You can roughly guess the capabilities of a pole saw by looking at the size of its bar (the plate the chain runs around). You can assume the bar can cut branches half its length in diameter. i.e. a ten-inch bar can seemingly cut branches around 4-5 inches in diameter.
This capability will also rely on the engine involved. Gas powered are more likely to take on larger branches.
Making Your Decision

This criteria guide, frequently asked questions and rating list should have hopefully given you all the tools you need to go out and make a more informed decision regarding your new pole saw. Large purchases can be stressful and this is often the case with power tools – especially with so many brands and pieces of info to consider. Although pole saws don't have the extreme price tags many other tools do, you still don't want to find yourself with a $200 tool that isn't helping you out properly. Look at our evaluations and decide for yourself if a tool seems like a good fit for you. Even if you disagree with some of our opinions, in your disagreement, you are likely to solidify or make up your own mind better about what best suits you. It doesn't matter, as long as this list helps you better find the right pole saw.
So whether you are a landscaping or farming professional looking to trim an army of trees, or a homeowner wanting to keep your
land
looking
clean
, there is something on this list that will fit both your needs and your budget. Good luck – and remember –
build
smart, build safe and build big.
Subscribe to our newsletter