Best LED Light Bulbs Reviewed and Tested
last updated:
Jul 31, 2018
You may be torn between keeping the traditional incandescent light bulb you're already familiar with or sticking your neck out and buying the most current LED light bulbs. Or just looking to upgrade your aging LED bulbs. LED light bulbs have multiple advantages and benefits over their incandescent counterparts and owing to technological advancements they can reduce your electrical consumption by an astounding 80 percent. A majority of them consume between 8 and 11 watts of power an hour, compared to the 60-Watts of incandescent bulbs! Most LEDs are similarly compatible with dimmer switches, allowing you to comfortably tune the color temperature to a level of your preference. And they differ vastly in features, with some having Wi-Fi capabilities, others being more energy efficient, while others are dimmable. In deciding on the most suitable one to buy, you'll have to consider a few important factors, if you haven't already. Key factors among these are energy efficiency, level of customization, smart features and most importantly – your needs. Considerable effort should go into ensuring you get a LED light bulb that emits the right color, the right amount of light and evenly distributes light throughout the room.
Our Top 3 Picks
[srpshortcode id="6306″][/srpshortcode][srpshortcode id="6305″][/srpshortcode][srpshortcode id="6307″][/srpshortcode]
Criteria for Choosing the Best LED Light Bulbs
Energy Consumption
Most incandescent bulbs with a power rating of 60-Watts output approximately 800 lumens of light, which by all means is adequate for everyday lighting. However, there is a serious mismatch between their rate of energy consumption and light output as rake up significant electrical bills while producing the same level of brightness as most LED light bulbs. It, therefore goes without saying that it's prudent to get an LED light bulb with more lumens and operating at a lower voltage.
While on the topic of energy consumption, you'll also need to ensure your LED light bulb is professionally constructed to last for several years. A typical LED light bulb operating for approximately three hours on a daily basis should last for a maximum of 25,000 hours, which translates to 23 years or so. A quick check on the Lighting Facts label on the bulb should give you all the information you need concerning its longevity and the approximate cost of running it for a year.

Bulb Features
While LED light bulbs have nearly similar characteristics, they are not precisely as identical as those of traditional incandescent bulbs. The length and diameter of LED light bulbs and incandescent bulbs are also nearly alike, varying only slightly from one brand to another. Those with additional features such as Wi-Fi are also likely to be heavier and a little bulkier than their incandescent counterparts, meaning that they may fit relatively easily into standard lighting fixtures.
Weaker light fixtures may also not support the extra weight, forcing to tighten or replace them before buying. Plus, since you'll be dealing with LED light bulbs, which, despite their advanced designs still generate considerable amounts of heat, you may not want to use the LEDs in enclosed spaces as doing so would considerable shorten their shelf life.
Some LED light bulbs are also not designed to be used in outdoor environments as they cannot withstand dampness and harsh environmental conditions. Same goes for dimming: you need to verify whether your choice is dimmable and to which extent before buying. Lastly, some LEDs are better than others for evenly distributing light throughout a particular room, which needs to be a key consideration if your room is unusually large.
Colour Spectrum
Color spectrum is equally a vital consideration when it comes to getting an LED light bulb that best meets your needs. The position of your light bulb on the color spectrum will determine the kind and type of color it emits, and whether it will be a yellow or white glow. LEDs are capable of emitting several shades of a color, ranging from a warm to a cool white. It's worth noting that bulbs with a lower color temperature are notorious for emitting a yellow shade together with the white light.
10 Best
LED Light Bulbs
2. Philips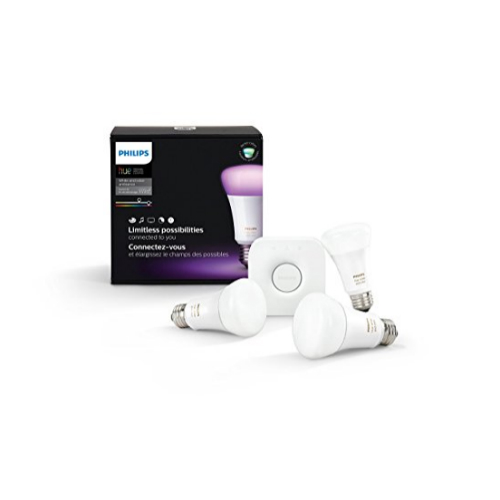 The Philips Hue Smart lighting system offers you an inexpensive, simple to use, and convenient way to manage lighting your home. The LED lights, controllable through any smart device of your choice and from any place on the planet, makes it possible for you to customize the lighting inside the house in accordance with your lifestyle. The LED bulbs make it possible to automatically switch on the lights immediately upon arriving home, allows for automation and give the impression that you're home even though you may not be. Its functionalities extend further to using them as an alarm helping you wake on time. Because the bulbs are customizable, you don't have to use the same level of brightness for every activity. Whether you want to match the intensity of lighting to different activities like reading, concentrating on a particular project, relaxing, or energizing, the Philips Hue comes very highly customizable.

Expand to see more
Setting up and getting to use the Philips Hue Smart Lighting Bulbs is a simple and very straightforward procedure requiring minimal experience with LED bulbs. Unlike the Wi-Fi-enabled LIFX LED Light Bulb, connecting the Philips Hue Smart Lighting Bulbs to your home network necessitates connecting the provided bridge to the router with the use an Ethernet cable. The hub is nonetheless lightweight and about the size of a smoke detector, and comes with status lights indicating whether it's running, connected to the router and the internet. The entire system is easy to synchronize after successfully setting up all the components. Each of the four LED bulbs included in the kit is capable of emitting light at impressive Kelvin level of 2700K and about 840 lumens.

There is a user-friendly mobile device app for the easy and hassle-free controlling of the four bulbs. The app allows you to keep track of all the bulbs, closely monitoring whether the Philips' lights are switched on or off in all the rooms in which they are installed. Supposing all the bulbs are within the same room, you have the freedom of turning all of them either on or off and even control them individually, choosing the ones you want to remain on while keeping the others switched off. There's a Routine Mode for scheduling when lights turn on or off is specific rooms of the house. The Only after Sunset Mode, as the name suggests, allows you to schedule lights to turn only after the sun sets while the Vacation Mode comes handy when you're not home but have to give the impression that you are by randomly turning the lights on and off throughout the night. To top it all off, the Philips Hue Smart Lighting Bulbs has a geofencing feature which, when paired with an IFTTT applet, will switch the lights either on or off when you're leaving or coming home, depending on your preference. And, with their 25000 hours of use, you won't be looking for replacements anytime soon.

To summarize, ever since its introduction into the market as the first Wi-Fi-enable LED light bulb, the popularity of Philips Hue Smart Lighting Bulbs has never dwindled and coupled with its commercial-grade and quality construction it continues to outperform and outsell its closest rivals. Inside the starter kit are three regular screw-fit lightbulbs whose status you easily adjust with the use of a smart device through a hub connected to a router. The design of the Philips Hue Smart Lighting Bulbs allows you to make adjustments to such aspects as the bulbs brightness conveniently, colour and timing from the comfort of your couch or when working miles away from home. And if you have an expansive home, you'll be pleased to note the mobile phone app allows to control up to 50 bulbs in different rooms with just a single device, making it possible for you to choose the most suitable or desired colour. With a little creativity and curiosity, you'll be able to explore the several possibilities the Philips Hue Smart Lighting Bulbs offers.
Emits a sharp, warm glow for exceptional lighting
Capable of changing colours along the RGB spectrum
Compatible with IFTT
Difficulty saving colours and temperatures
[srp_anchshortcode id="6306″][/srp_anchshortcode]
1. LIFX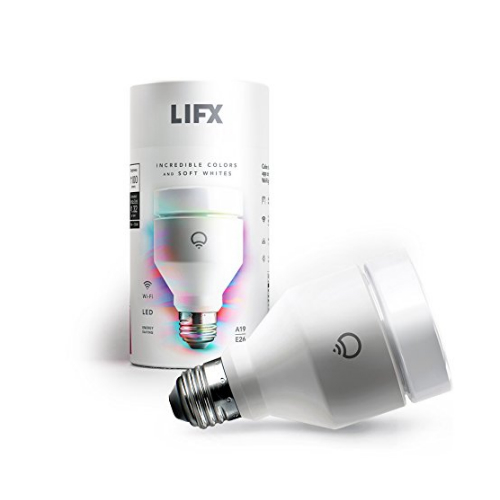 The LIFX LED Light Bulb is a Wi-Fi-enabled light bulb, adding to the growing list of "smart" devices around the house, allowing you to control it with relative ease and convenience. While the LIFX LED Light Bulb is another rendition of Phillips' popular Phillips Hue Wi-Fi enabled LED light bulbs, it exceeds the former both in design and performance, featuring exceptional craftsmanship using high-quality construction materials, making it feel very substantial when held. The design and craftsmanship aim at fulfilling two objects, one is giving you your money's worth and secondly making it considerably lightweight to fit perfectly and easily onto a lighting fixture with little straining. The LIFX LED Light Bulb is however not as compact as you'd expect, since, unlike other LED bulbs, the bulb is a standalone fixture operating minus an extra hub meaning that it has to have additional room for housing additional electronics to achieve the same level of performance.
Expand to see more
It has an aesthetic appeal that adds to the beauty and décor of your room. It has a pearl white finishing giving it a sleek appearance. In addition to its beauty, the bulb is similarly easy to use, and installation is a straightforward and hassle-free endeavour that can be done by nearly anyone in the house. Screwing it into an unoccupied lighting fixture and supplying with the recommended amount of power is all you have to do to start using it. It's worth noting, however, that the design of the LIFX LED Light Bulb limits its usage to an indoor environment and are not compatible with dimmers. Dimming the light output after installation, activating and navigating through the "smart" aspects of the LED bulb requires the use of an app installed on a mobile device of your choice.

It provides you with a stable and reliable performance after a successful installation, devoid of the connection and synchronization issues plaguing its other competitors, and making it possible for you to control the bulb's status irrespective of whether you're home or not. The LED light comes with three tabs for controlling various aspects of its smart features, with the first, the colours tab, allowing you to choose a colour of your choice and its corresponding dimmer effects. Choosing dark blue, for instance, would require turning the dimmer down to between 30 and 50 percent after selecting the blue hue.

The second tab is for setting different shades of the colour white using a layout similar to the first tab's with Kelvin values ranging from a low of 2500K to a high of 9000K. The last is the effects tab that allow you to access the "smart" features, with the coolest and most practical being the music visualizer that matches the bulb's emission of LED's light intensity in accordance to the beat of the music. The other effects are a self-explanatory candle flicker mode, colour cycle effect, and the strobe mode. The last modes enable the quick flashing of the LIFX to produce a strobe-light effect, even though the design does not allow for the toggling of the effect, thus requiring that you continuously hold onto the switch.

Regarding performance, it will never disappoint. You have the freedom of customizing the temperature of the bulb's white hue to match your mood and the demands of your job. You can conveniently dim the lights by simply tapping on an easy-to-use app on your mobile device. Furthermore, with an energy rating of just 17W, the LIFX LED Light Bulb effortlessly emits an impressive 1000 lumens which brings its performance on par with a conventional 75W bulb. You need to note however that even when the LED bulb is in a standby mode, it utilizes 1.7 Watts to ensure the efficient running of its Wi-Fi functionalities.

Lastly, the professional construction and finishing of the LIFX LED Light Bulb guarantees long-lasting performance. With a rating of 40,000 hours of use, the chances of experiencing any performance issues like freezes and crashes are almost non-exist. Remotely managing lights and integrating them with other "smart" household feels almost like a breeze. With these and additional features, we can't possibly cover in this article, rest assured you can never go wrong with the LIFX LED Light Bulb.
Several bulbs for increased versatility
Produces one of the cleanest, brightest, and whitest lights without dim spots
Easy to set up and use
Works without a bridge
Comes with a huge collection of colours
Low power consumption
Requires the use of a bridge for optimal operation
Comes with a steep price tag
Does not support IFTTT
[srp_anchshortcode id="6305″][/srp_anchshortcode]
3. Cree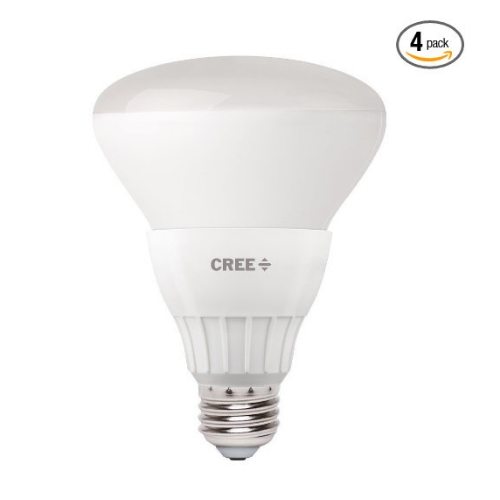 If you're looking for the perfect replacement for your conventional incandescent lighting bulbs, you should consider the Cree 9.5-Watt LED Light Bulb. The bulbs not only come with a pocket-friendly price tag but are similarly easy to use, long-lasting but also efficient energy-savers. Their energy-efficiency is a most important factor for environmentally-conscience individuals who still desire high-quality omnidirectional light output. Technological advancements in the sectors have significantly reduced the once prominent scenario where you'd leave a bulb in a remote part of the house on for days on end without noticing, raking up huge and unexplained electrical bills in the process.
Expand to see more
The Cree 9.5-Watt offers you a level of performance and reliability that most other brands are finding challenging to imitate. The LED light, running at 60-Watts and 800 lumens, is sufficiently bright to bring life to even the largest rooms in your house. The expert and superior craftsmanship mean they have an incredibly long lifespan of up to 22.8 years, a performance easily comparable to most other top model LED lights on the market.

The Cree bulb is both lightweight and compact and will fit with ease and firmly in most lighting fixtures, especially with its rounded top and smooth sides. With a length of 4.4-inches and a diameter measuring 2.4-inches, screwing them into regular A19-lamp outlets takes a matter of seconds and simple enough to be done by nearly any person in the house. And because it is light, you don't have to worry about fixing it on any weak sockets around the house. C

ompared to CFL bulbs that take a few seconds or even minutes before lighting up as they have to warm up first, the Cree one lights up immediately, reaching their optimal Kelvin level for efficient performance. Given that they are omnidirectional, they evenly distribute light to the entire room including the most confined, giving the impression that the lights are less artificial and more natural.

It is offered in white and daylight colour variations with the latter being better at emulating the naturalness of sunlight, providing you with a brighter, whiter light. Owing to its lighting characteristics, daylight bulbs are best to use in areas that require more illumination, for instance, the kitchen or the study room. Soft while bulbs, on the other hand, are more optimized for lighting up bedrooms and other rooms that don't require intense light.

This is one of the most versatile and flexible lights you can find out there. They are designed for both indoor and outdoor use, and are additionally compatible with dimmer switches, providing you with instant, steady light throughout the lighting duration. The bulbs work quietly without sputtering. And because of the independent operation of LED diodes, should one of the bulbs malfunction the remaining bulbs will continue providing you with the light you require to continue with the activity you were undertaking. One of the most significant advantages of the Cree 9.5-Watt LED Light Bulb is the fact that instead of extinguishing all at once, as is the case with CFL and traditional incandescent bulbs, they gradually lose their brightness as they approach the end of their useful life, giving you adequate time to look for replacements.

Pocket-friendly
Energy-efficient
Long lifespan
Easy to use
Emits bright and sharp light
[srp_anchshortcode id="6307″][/srp_anchshortcode]
4. BeOn Home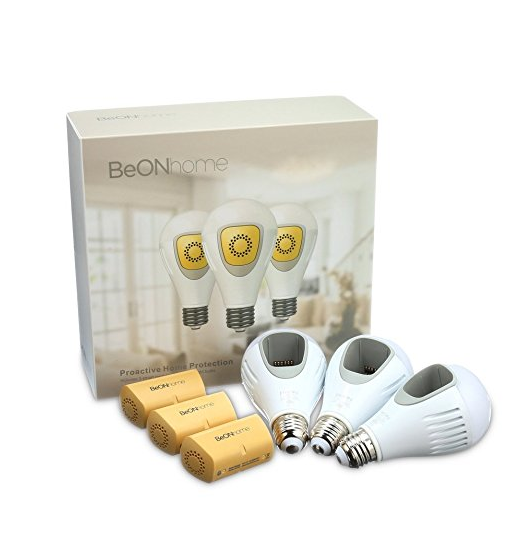 The BeOn Home Smart LED Bulbs are a perfect demonstration of how vastly different LED light bulbs are, both in design and function. Other than producing sufficient light evenly throughout the room, lighting up dark corners and hidden spots around the house, the BeOn Bulbs, more than anything, are more geared towards protecting your house against intruders by making it look like someone is home. The bulbs create a mesh network by using the Bluetooth Low Energy Protocol. The bulbs are also of great assistance in helping you run to safety in case of an attack by closely and continuously monitoring the status of your smoke and carbon-monoxide detectors, guiding you to a pre-selected escape route in the event that they go off.
Expand to see more
They are no sloth either when it comes to performance. The bulbs are capable of producing up to 800 lumens at a corresponding colour temperature of 3000K, just like the soft-white 60-Watt incandescent bulb you were once familiar with. Because all the bulbs have their own separate battery backup, they'll still be providing you with warm light several hours into a power outage. The design further makes it possible for bulbs to turn either on or off irrespective of status of their controlling wall switch.

It has the capability of learning your activity patterns over a certain period at the end of which they will be sequentially turning themselves or off depending on your location within the house. In case you are at work, or thousands of miles away on a business trip and the doorbell goes off, the bulbs immediately start replaying the pattern, giving the intruder, would-be burglar or visitor the feeling that you are home. The only drawback of the arrangement is that a knock on the door will not yield results similar to ringing the doorbell, which might make it difficult to fool people that you're home when you aren't.

For optimal performance, and because the entire system relies on the smart Bluetooth mesh technology, it is recommended that the bulbs are spaced utmost 160 feet from one another. Depending on the electrical configuration of your home, you may want to install additional lighting fixtures to achieve a solid and reliable connection. Also, keep in mind that even though the bulbs are somewhat lightweight, they're nonetheless a little bulkier than their traditional incandescent counterparts and therefore won't fit perfectly into tight spaces.

The installation procedure is quite simple and very straightforward and should not take you more than a couple of minutes. The brand's highly customizable app can be installed on any smart mobile device after which it walks you through the remaining installation steps, beginning with the automatic discovery of all the installed bulbs in the house. Since you'll be required to give the bulbs monikers for better and more efficient control, it would be more prudent to install one bulb at a time, giving them names as you go rather than installing all of them first and naming them later. After successful installation, the whole system works like a charm, allowing you to painlessly and comfortably control the brightness of the bulbs either collectively or individually, as long as you're not more than 30 feet from the house. Assuming you'll be using them for some three hours every day, the BeOn Home Smart LED Bulbs bulbs have a lifespan of 25,000 hours or 22 years

The two most essential modes for controlling the bulbs are the Welcome and Away Modes. The former will keep the lights on for some three minutes irrespective of the position of the switch button. The Away mode, on the other hand, randomly turns the lights on and off in accordance with a pre-set pattern, thereby giving the impression that you're home. Since the bulbs have no Wi-Fi capabilities and cannot be controlled outside of the 30-feet range, you can only set the Away Mode while still in the house. The BeOn have two significant drawbacks, however, and these are the inability to the bulbs through the Internet and lack of seamless integration with other home-control systems.
Easy-to-use app
Quick setup
Uses power efficiently
Provides you with an ability to schedule the lighting of bulbs
Cannot be controlled remotely
5. TP-Link Wi-Fi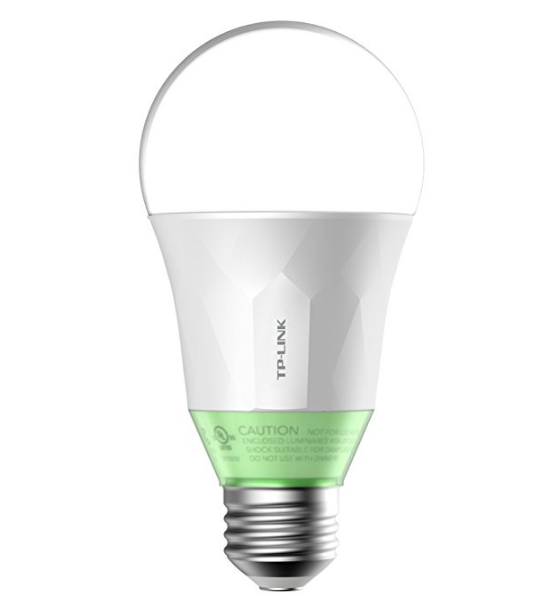 A majority of smart light bulbs only work after they are connected to a network hub which is then plugged into a router. While the connection works just fine for most of them, the process leads to a significant increase in the initial outlay as buying an additional kit is mandatory. The TP-Link Smart Wi-Fi LED Bulb circumvents this complication by integrating directly with a factory-installed wireless network, allowing for a direct connection to the wireless router. The arrangement has several advantages like reducing the cost of acquiring a single but also has its fair share of challenges.
Expand to see more
The fact that they have Wi-Fi capabilities makes the TP-Link relatively heavier than the conventional incandescent bulbs though this is not a major setback or deal breaker considering that they are still quite compact to fit with ease into most standard lighting fixtures. There are three different versions of the TP-Link Smart Wi-Fi LED Bulb bulbs: the Dimmable Light LB110, the Tuneable White Light LB120, and the Colour-Changeable Light LB130. The Dimmable Light LB110 is 800 lumens bright and capable of producing about 2700K of warm white light and runs at 10 Watts of power.

The Tuneable White Light LB120 is similar to the first bulb in brightness and consumes a similar amount of power. The bulb allows you the freedom of varying the bulbs colour temperature within a range of between 2700K and 6500K. The ability to tune the colour temperature up or down allows you to choose a level that is ideal for performing certain activities at different times of the day. An energizing light throughout the course of the day significantly enhances your efficiency and productivity while at work while a tuned down and more relaxing warm light is more suited for the bedroom as you prepare to retire to sleep.

The last bulb, the Colour-Changeable Light LB130, is just as bright as the other two at 800 lumens and consumes slightly more power of 11 Watts. The mode allows you to tune the colour temperate from a minimum of 2500K to a maximum of 6500K and being an RGB bulb, you have the freedom of picking literally any colour falling within the RGB colour spectrum.

The brand understands the importance of simplifying the installation procedure to make it possible for veteran electricians, Do-It-Yourselfers, and even the most clueless novices to use the lights easily. Installing it takes a matter of seconds and only requires that you swap out the conventional ones before you screw in the TP-Link Smart Wi-Fi LED Bulb. However, in case you were wondering, the bulbs are not compatible with dimmers as they require full power for optimal operation and lighting of every part of the room.

Because of the direction connection between the TP-Link Smart Wi-Fi LED Bulb and your Wi-Fi without going through a bridge, it is relatively cheaper buying and installing a single bulb, unlike the case with other systems. The brand's Kasa app allows for the seamless connection between your smart device, the TP-Link Smart Wi-Fi LED Bulb's Wi-Fi network, and finally the home network. The app promptly discovers all the configured bulbs upon connection and has an easy-to-use homepage for the easy toggling of different bulbs in different rooms on and off.

You can reset the default preference allowing you take the bulbs from a dim and atmospheric level to a level of brightness that evenly illuminates all corners of a room. One of the main and unique highlights is the Circadian Rhythm mode which works by automatically adjusting the brightness and colour temperature of the bulb by the time of day. Consequently, the lights will be brighter and colder in the morning before shifting to dimmer at midday and finally full warm-light bright as evening approaches. However, the manufacturer does not provide any remotes for controlling the bulbs leaving you with just the phone as your primary means of setting different scenes.
Easy installation and use
Does not require a hub to function
Easy Wi-Fi setup
Comes with professionally constructed bulbs
Equipped with Circadian automatic colour-tuning
No IFTT compatibility
Unreliable Wi-Fi connection
6. Philips SlimStyle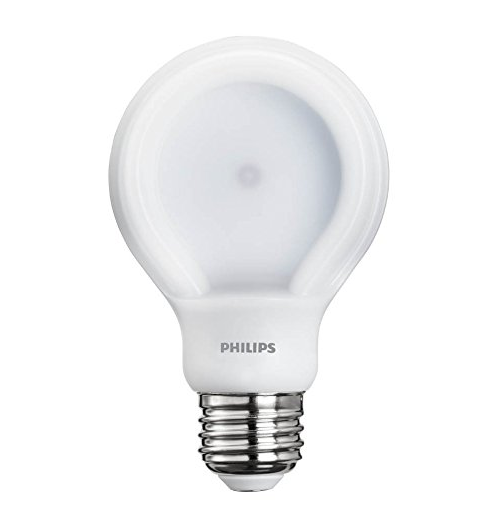 Technological advancements have resulted in a drastic reduction in the size and weight of light bulbs, and a corresponding decrease in their rate of energy consumption. The Philips SlimStyle LED light bulbs, for instance, have undergone similar transformations, a fact which gives them their current aesthetically-appealing and modern look. The bulbs are similarly very lightweight and compact, meaning that they'll not only fit with ease in the normal lighting socket, but will equally not strain even the weakest of them. Even though it's lighter than most competing LED light bulbs, the Philips SlimStyle LED is near twice as heavy as the traditional incandescent bulbs it's seeking to replace.
Expand to see more
Philip's successful tinkering with the new thermal management technology as a replacement for the heavy heat sink together with the Philips SlimStyle LED's flat design means there is no more excessive build-up of heat following several hours of continuous use. The even distribution of diodes along the bulbs' perimeter ensures they are furthest away from the source of heat, eliminating the need to use aluminium heat sink, which in turn, reduces the cost of production. Consequently, the bulbs have a longer lifespan and assuming you use them for an average of three hours a day, you will be using them for nearly 23 years! That's longer than most standard incandescent bulbs will ever last. The sleek design makes it an all-around bulb that can be used to light up both indoor and outdoor environments. As a result, other than evenly lighting up your rooms, the LED can similarly be used as a perfect replacement bulb for lamps, ceiling fixtures, and wall sconces.

The Philips SlimStyle LED light bulbs are one of the most energy-efficient yet bright bulbs you will come across in today's market. The flat design of the bulbs in no way compromises their capacity to light up a room like any other standard light bulb. They have a brightness level of 800 lumens making them capable of casting a warm yellow light on different surfaces while running on only 10.5 Watts of power. Their colour temperature accuracy also stands at just below 2700K, confirming the Philips SlimStyle LED as a perfect replacement for a 60-Watt traditional incandescent bulb.

While the flat design goes a long way in making it an efficient producer of light and energy saver, it does present a small problem when it comes to the brand's claim that the bulbs are omnidirectional – a bulb's ability to evenly distribute light in all directions. The problem is more pronounced on the right and left sides of the Philips SlimStyle LED's profile and when the bulbs are used under a lampshade. While the flaw is not a deal breaker, according to us, that is, it is entirely up to you to decide whether the dim spots would be a bother. If on the other hand, your heart is dead set on getting a truly omnidirectional light, you may consider spending a patting with a little more dollar for a top-model LED light bulb.

Another factor likely to influence your buying decision is the fact that the bulbs have 36-month limited warranty which, while it's substantially shorter than the 10-year long warranty offered by other brands, is enough to give you a peace of mind. They come with dimmer capabilities, and while their performance is not at par with other top-level LED light bulbs, it is sufficient to create a desirable mood. The bulbs are victims to the prevalent problem of flickering among dimmable lights and produces a noticeable buzz when used with different switches. Consequently, if you insist on buying light bulbs to provide you with a smooth, dimmable lights devoid of flickering and buzzing, a perfect alternative would be the brand's standard 60-Watt Equivalent LED.
Impressively long 22.8 years lifespan
Energy efficient
Produces warm, beautiful light
Compatible with nearly all dimmer switches
Relatively short 36-month warranty
Expensive
7. Feit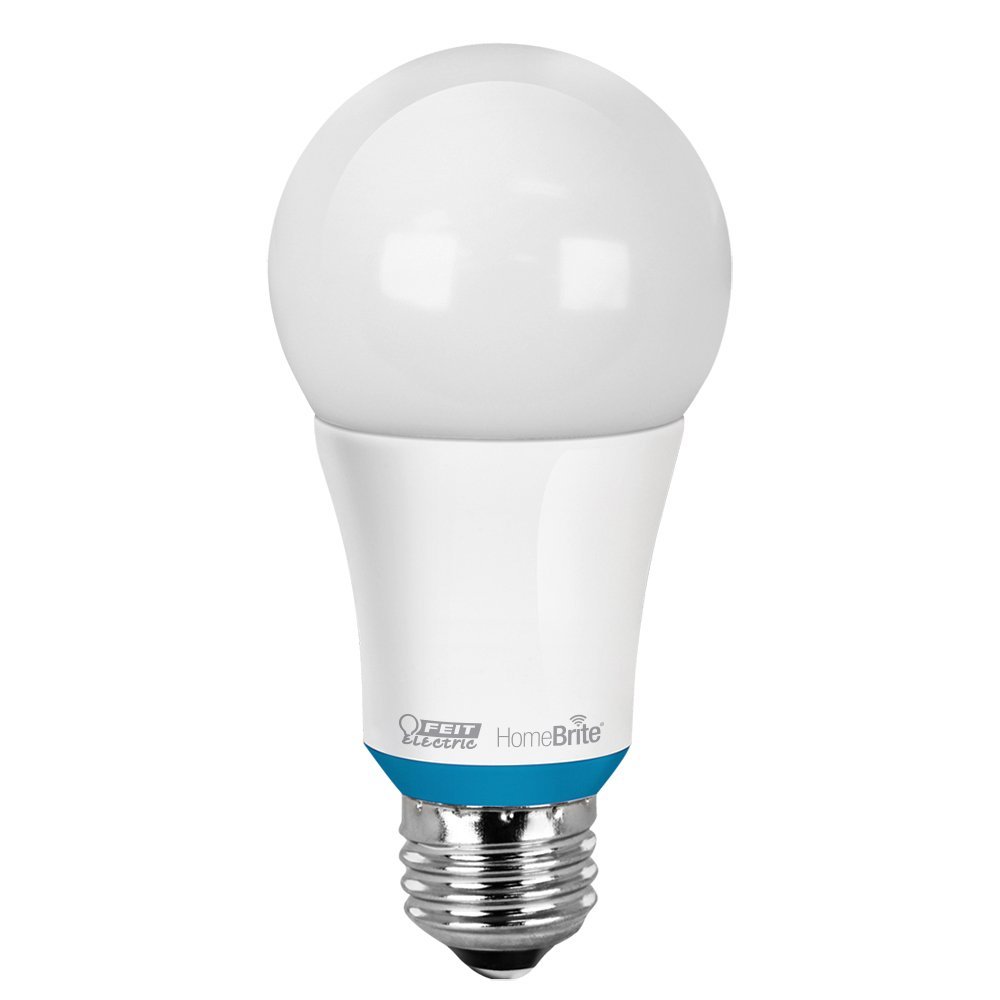 Like most LED light bulbs worth their salt, the Feit Electric HomeBrite Bluetooth Smart LED System opted to use the reliable and better-performing Bluetooth mesh network rather than a control hub connected to the router. The arrangement ensures a perfect synchronization between the Bluetooth mesh network and your smart devices such as smartphone, tablet, or personal computer. The immediate challenge you'll face with the arrangement is limited Bluetooth range as you'll be required to stay within 50 feet of the Bluetooth bulbs to maintain an optimal interaction with the bulbs through your Android-operated or iOS smart device.
Expand to see more
Another obvious implication of using Bluetooth bulbs is that pre-configured lighting settings will only work when you or the smart device is within range. The design of the Feit System nevertheless overcomes this limitation by learning your activity patterns with time and will be able to replay this stored profile when you're away from home. And in case you have several bulbs, they will maintain their synchronization when you're not home by randomly turning themselves on and off thereby deterring theft by keeping away would-be intruders as they give the impression that you're home. Another factor, which when coupled with the random scheduling of the lights endears this system to a majority of homeowners, is the lack of built-in radios, which does a tremendous job of eliminating heating problems while making the bulbs adequately lightweight and compact to fit correctly and firmly into most standard lighting fixtures. It is worth noting earlier on that the Feitisn't compatible with third-party applications just in case this is the kind of information that may influence your buying decision.

The performance of Feit in terms of brightness, colour temperature and the effect of heat build-up on the bulbs' performance wasn't however comparable to most LED light bulbs in its class. All of its four bulbs, the A-shaped bulb, the B10-shaped candelabra bulb, the BR30-shaped floodlight, and the weather-proof PAR38-shaped outdoor floodlight, were considerably dimmer with the first and second having a brightness level of just 672 and 277 lumens, respectively, all falling below their expected brightness levels. The Better heat management and quality construction of the system bulbs nonetheless ensured the brightness level never dipped below average even after 60 minutes of continuous use.

To simplify the process of controlling it through your smart device, the brand provides you with a clean and easy-to-use HomeBrite app. After a successful installation and registration, the app automatically scans and maps out all the pre-configured bulbs if they're within range. From here, turning the light bulbs on or off should be a breeze. You can additionally dim them up or down, schedule when they go on and off, control all of them together or individually from just a single device.

Unlike the previously reviewed LED light bulbs, the Feit conspicuously lacks a full RGB colour control, neither is there an option for tuning the colour temperatures to match different times of the day. Additionally, since they lack third-party compatibility, the Feit Electric HomeBrite Bluetooth Smart LED System cannot work with HomeKit, Alexa, Nest, SmartThings, or IFTTT. The implication, in very simple words, is that you forget about turning the light bulbs on or off with voice commands, triggering them through motion detectors, or syncing them up with a smart hub, which would have otherwise allowed you to extend usage beyond the limiting Bluetooth range.

In all, the Feit Electric HomeBrite Bluetooth Smart LED System is a perfect choice for people looking for decent and functional LED light bulbs to light up both indoor and outdoor environments. The bulbs are weatherproof and compatible with dimmers meaning that you'll be able to select the desired level of brightness corresponding the activity you're undertaking. These bulbs are very energy efficient, drawing just 18-Watts of power and with their sturdy construction, can last at least 22 years if used properly.
Offers you an ability to control schedules
Easy Bluetooth setup
Pocket-friendly price tag
Long-lasting at 25,000 hours or 22 years
Comprehensive collection of bulbs for different circumstances
Lacks third-party compatibility
Bluetooth doesn't function when you're out of range
8. Philips 60-Watt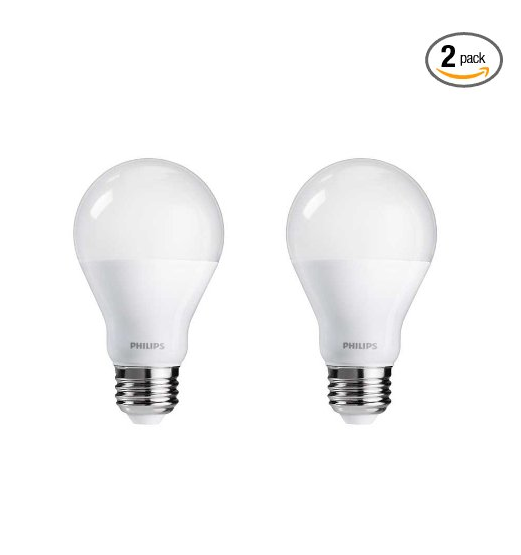 The successful adoption of technology in the making of LED light bulbs is continuously resulting in the production of very aesthetically-appealing and high performing products and if you've been waiting out for the best time to upgrade, that time has come. The Philips 60-Watt Replacement LED light bulbs, for instance, are a perfect embodiment of the years of experience and expertise that goes into making some of the more sleek and modern LED light bulbs in the world. Drawing just 8.5-Watts of power, the Philips 60-Watt Replacement LED is considered one of the most cost-effective and energy-saving LED light bulbs money can buy. It's a top performer too, outputting an incredibly bright 800-lumens of light. Their design, performance, and cost-efficiency make them a perfect replacement for the traditional incandescent bulbs.
Expand to see more
In spite of the quality assurance that comes with buying brand products, mainly from such established brands like Philips, the Philips 60-Watt light bulbs have a substantially shorter shelf-life of just 10 years compared to the industry standard of about 20 years. Another major setback is the lack of compatibility with dimmer switches meaning that should you decide to go with these bulbs, you'll have to put up with constant flickering and buzzing, or you could just look elsewhere. However, for everyday lighting of your house without dimming intentions, the Philips 60-Watt Replacement LED is a safe bet and surprisingly meets and exceeds expectations and comes with a very budget-friendly price tag to accommodate those working on a tight budget.

Other than the lack of a dimmable design, these have specs and features that are more suited for an LED aiming at replacing the conventional 60-Watt incandescent bulb. The bulbs are capable of outputting 800 lumens of bright light at a correspondingly warm and familiar colour temperature of 2,700K, drawing just 8.5-Watts of power while at it. There is a daylight version of the Philips 60-Watt Replacement LED capable of shining at 5000K. The first colour temperature is a lot warmer and gives a cozier vibe helping you to relax after a hard day at work. The daylight version with its 5000 K of colour temperature is an attempt imitating the natural sunlight and aims at keeping you awake and energized and more ideal for the workplace. Working with the assumption that you'll be running a single bulb for three hours every day, the bulb will account for a paltry $1 on your annual electrical bill. To help you get a better perspective on the energy efficiency of the Philips 60-Watt Replacement LED light bulbs, consider that a standard 60-Watt replacement fluorescent bulb will dent your electrical bill by about $2 while a 60-Watt incandescent bulb will have you part with $7!

An aspect that we particularly like is their near-spherical design, helping in the even distribution of light on different surfaces and areas around the house. Because of their omnidirectional properties, these LED lights are ideal for use with bedside reading lamps whose performance depend, to a large extent, on downward-angled light.

In all, the Philips 60-Watt Replacement LED light bulbs offers you a sweet spot between efficiency and exceptional performance and has all the other key features that make them an ideal replacement for a traditional incandescent bulb. Its cost-friendly price tag entirely compensates for the bulbs' non-compatibility with dimmer switches and its considerably shorter lifespan.
Lasts for up to 22.8 years or 20,000 lighting hours
Energy efficient thus saving on lighting expenses
Stylish bulbs
Emits nice, bright, and warm light
Omnidirectional properties allowing for the even distribution of light
Pricey
Poor, flickering dimmer performance
9. Osram 60W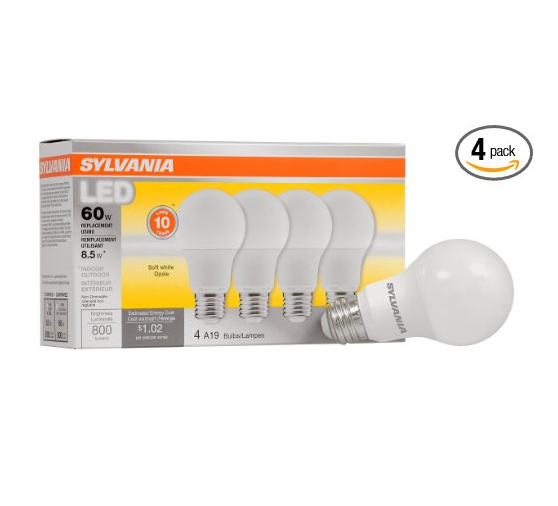 Technological enhancements continue to lead to a drop in the prices of LED light bulbs, and most of them these days, are going for around $10. The Osram 60W Replacement LED, for instance, is a reasonably-priced yet very functional LED light bulb. The general misconception among most homeowners is that products with a budget-friendly price tag are poorly-made, which is quickly debunked by the Osram 60W Replacement LED, seeing as it features an industrial-grade construction offers a top-notch performance rivaling most top model LED light bulbs. Drawing just 8.5-Watts of power, the bulbs are capable of outputting more than 800 lumens of light, a fact which makes it one of the most energy-efficient 60-Watt replacement LED bulbs on the market today. A factor that makes the Osram 60W Replacement LED a particularly attractive alternative to most incandescent lighting bulbs is compatibility with nearly all dimmer switches, with which it works like a charm.
Expand to see more
There is nothing particularly exciting or unique about the design of the Osram 60W Replacement LED, and its performance and heat management system closely resemble those of its closest rivals. While the plainness may be bad news for people looking for aesthetically-appealing LED light bulbs, the modest and unexciting design is undoubtedly welcome news for people with a preference for inconspicuous designs. The performance is similarly not any different from its competitors, outputting about 800 lumens of light with the same golden glow you may already be familiar with. As deceptive and boring as the surface may be, a quick peek under the hood immediately reveals features and specs that easily and effortlessly outclass most top-level LED light bulbs.

To begin with, it brightly lights up any room despite drawing just 8.5-Watts of power, which is one of the lowest power draws among most LED light bulbs on the market. It is, therefore, a better bet if you're looking to reduce your power consumption, offering you an incredible 94 lumens for every watt of power at a colour temperature of 2700K. You shall have made some significant savings in case you're going to be using it all through its 25,000-hour shelf-life. Using the bulb for just three hours adds a paltry $1 to your yearly utility bill, which would not account for anything it wasn't for the sturdy and durable construction of the bulbs. And with an impressively long 60-month warranty, you'll be using the Osram 60W with a peace of mind, never worrying about it malfunctioning.

And if that's not enough to influence you buying decision, know that the LED light bulbs are designed to stand dampness, meaning that you can comfortably install them both in outdoor and indoor lighting fixtures without worrying about the rain or snow affecting their performance. Plus, they come with impressive omnidirectional capabilities, evenly distributing heat throughout the room without not so much as a flicker or buzz. And because they work seamlessly with dimmer switch, you have the freedom of dialing down the colour temperature of the high 100 percent brightness to a low of 0 percent! No other LED light bulb offers similar capabilities. They should however never be used in enclosed fixtures as the heat generated while running can adversely affect its longevity.
Reasonably priced
Energy-efficient drawing just 8.5-Watts
Compatible with different dimmer switches
Emits bright and sharp light for efficient lighting
Dimmable to an impressive 10 percent colour temperature
10. GE Reveal A19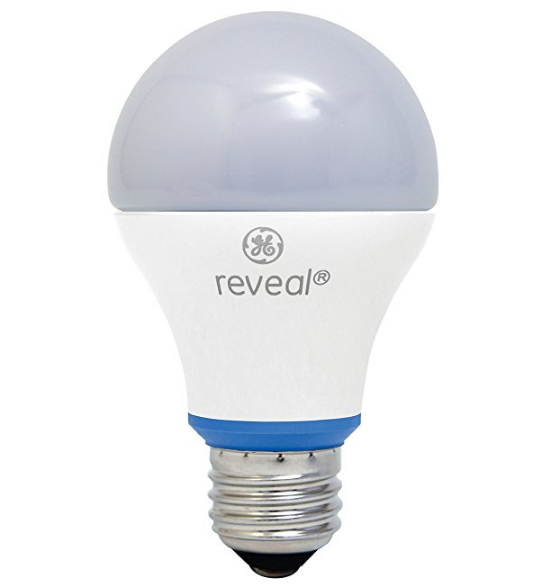 It's a little daunting trying to find an LED light bulb capable of casting a crisp, flattering glow throughout the room, all the while sparing you the headache of having to put up with annoying and frustrating buzzes and flickers. The GE Reveal A19 LED Dimmable Light Bulb, other than being one of the top-performers in the field, are an epitome of today's technological advancement and is packed to the brim with useful features and is eco-friendly. The design of the LED light bulb allows it to immediately bring the beauty of house to life considering its exceptional ability to filter out dingy yellow tones, a fete that a majority of standard incandescent have a major problem doing.
Expand to see more
Despite coming last on this list, the GE Reveal A19 LED Dimmable Light Bulb shares in the incredible energy efficiency of top-model LED light bulbs. The LED light bulb draws just 11-Watts of power, outputting an impressive 600 lumens of improved spectrum of light in the process. With such figures, the lighting bulb makes it possible for you to make significant energy savings of up to 75 percent on a yearly basis, which similarly corresponds to a 75 percent reduction in your annual lighting expenses. Like most LED light bulbs in its class, this one has omnidirectional capabilities, meaning that it evenly distributes light throughout the room without producing any dim spots, which becomes more pronounced when the bulbs are used on a lampshade. Furthermore, the greatly improve colour appearance and contrast, allowing you to effortlessly finish detailed projects in different rooms in the house like the kitchen, bedrooms, and bathrooms.

It is also compatible with nearly all types of dimmer switches, making it possible for you to create a mood or atmosphere that best matches the type of activity you want to undertake. If you wanted to feel invigorated and energized while at work, for instance, all you have to do is tune up the colour temperature. Creating a relaxed mood, on the other hand, will necessitate tuning down the colour temperature to a more suitable level, and the bulb allows tuning down from a high of 2500K to as much as 20 percent of that seamlessly and almost in an instant. While doing so, it will not produce the yellow glow common with most incandescent bulbs. In the latter case, the LED light bulbs will enhance the look of your room, making it more vivid yet lively.

The GE Reveal A19 LED Dimmable Light Bulb also accurately represents GE's commitment to quality and durability, having been constructed from industrial-grade materials and components. Different from the traditional or conventional incandescent bulbs of yesteryears, these bulbs don't have even the slightest trace of mercury.

Additionally, assuming you'll be using these LED light bulbs for an average of 3 hours every day, expect them to last for at least 13 years, a fact that will save you considerable financial resources over those years.
High efficacy
Long life
Exceptionally bright
Quality construction
FAQs
Q:
Are LED light bulbs very bright?
A: The brightness of typical LED light bulbs ranges from a low of 50 lumens to a high of 1200 lumens, with the brightest reserved for spotlights and floodlights. These bulbs, running on 25-Watts of power, have more brightness comparable to those of conventional incandescent bulbs running at 120-Watts. The brightness LEDs produce an average of 600 lumens, which is bright enough to light up an average-sized room.
Q: What is the difference in efficiency between an incandescent light bulb and a LED light bulb?

A: The newer generation of LED light bulbs are nearly five times better than their incandescent counterparts regarding efficiency. They use about 20 percent of the energy incandescent bulbs use even though their levels of brightness are similar, which translates to significant savings over time.
LED light bulbs are also very effective at directing light to a specific direction meaning that unlike incandescent bulbs, they are more energy efficient thereby reducing energy consumption by an impressive 90 pe
rcent.
Q: What is meaning of "cool white" and "warm white" as used in the description of LED light bulbs?
A: In the case of LED light bulbs, warm white has a color temperature range of between 2700 K, commonly known as warm yellow-white, and 7000 K, which is cool blue-white. To put this in perspective, a typical incandescent bulb comes with a color temperature of about 2800 K while that of a halogen bulb stands at 4500 K and that of a cool white fluorescent falls at 6000 K.
Conclusion
LED light bulbs are increasingly gaining popularity among homeowners due to their energy-efficiency and omnidirectional capabilities. The smart ones, like the LIFX LED light bulb for example, are Wi-Fi-enabled meaning that you have the freedom of controlling them even when you're halfway around the world. A few are quite versatile, and can be used in both indoor and outdoor environments without worrying about adverse weather conditions affecting their performance. And to further encourage you to get one of your choices, the LEDs feature solid construction and have an average of 22,000 hours of useful life.
Subscribe to our newsletter