Best Cold Saws and Alternatives Reviewed
last updated:
Jan 31, 2018
A cold saw's ability to displace heat, cut with minimal sparks, and to make more accurate cuts make it ideal for smaller spaces and welding shops that need more accuracy in the finished cut. Cold saw blades are also generally much more reusable than a typical band saw blade.
Recent increases in technology have made cold saws both cheaper and more widespread. This has increased the demand for them, and many tool companies have responded by expanding their selection of cold saws and circular saws with similar abilities and characteristics. In this article, we explore both. For example, our number one choice is the Makita LC1230, this is a typical 12" chopping saw, but it also imitates most of the best characteristics of a cold saw and comes in at a fourth of the price of even the cheapest full sized cold saws. For all intensive purposes, outside of a major workshop setting, it is perhaps the best balance of cost effectiveness, and cold saw attributes.
To dig through the increased noise in this niche of the industry, we dug through a large selection of cold saws and cold saw alternatives to figure out which ones are worth the cost, and which ones are best left alone. Some of these tools have a multitude of features; others just give you fantastic bang for your buck, others are genuine cold saws, while some may only have a few characteristics that make them suitable for a nice metal cutting niche. However, all the tools on this list are of a quality we deem worthy to share with you.
An effort was made to keep this list as diverse as possible to cover the needs of both hobbyists and professionals, as well as various needs each group may have. To that end, we had to often exclude tools from the same family lineup (as they are usually 75-90% the same tool anyways) this means that if a tool on this list seems desirable, take an extra few minutes to see if it has a cousin that maybe has a feature or two you find more beneficial. Either way, rest easy knowing that this list was tackled with as much of an objective lens as possible and that we did our best to make sure that any purchase from this list is unlikely to be regretted.
One last note is on the "Top Ten" aspect of this list. As we just covered, many of these tools were created for diverse needs and diverse users – in that way it is near impossible to accurately rate which tool is "better" given that it is entirely dependent on your needs. We explain our criteria for our rankings later in the article, but for now understand it was mostly based on a cost/effectiveness ratio. What we deemed got you the most bang for your buck would typically win out – though this again is entirely subjective.
Our Top 3 Picks
[srpshortcode id="4880″][/srpshortcode][srpshortcode id="4878″][/srpshortcode][srpshortcode id="4875″][/srpshortcode]
10 Best Cold Saws
1. Makita LC1230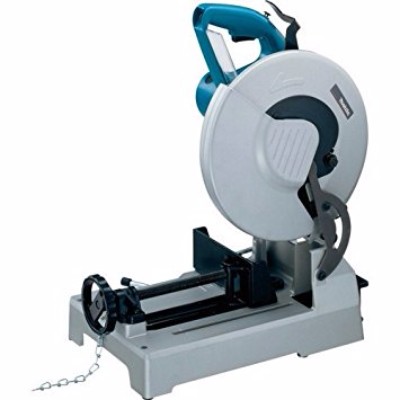 This Makita is full of ease-of-use features and is built to make cut after cut with outstanding precision and little mess. This isn't a cold saw, but it is the best alternative you will have for the price and size - and is preferable in many ways for light fabricators and home users/hobbyists. All-in-all you will get great cuts with a high level of precision. It is very low mess and relatively burr free. It is also very quiet compared to most of its competitors, adding to its benefit for at home workers.
Expand to see more
Key Features

Weight: 42.5 lbs
Blade Diameter : 12"
Rotation Speed: 1,300 RPM
Arbor : 1"
Faster cutting than abrasive cut-off saws
Powerful: 15 amp @ 120 volts
D-shape handle for comfort grip
Carbide tipped blade for efficient and accurate cutting;
Nearly burr free
Lock-off button stops accidental starting

Price/Value

This isn't the cheapest device on the list, but it may very well provide you the greatest value. It comes more highly recommended by professionals than any tool we have reviewed in months.

Who Should Buy This?

This is a fantastic instrument for both professionals and homeowners. The cleanliness and relative quiet make it ideal for a garage creator or small shop, while its abilities make it perfect for almost anyone else as well. It may not be as industrial as a full sized cold saw, but outside of that particular need - it has everything you could want.
Long lasting blade
Great overall design and build
The best alternative to a real cold saw that weighs 500lbs more
Excellent cost/benefit ratio
Occasional shipping issues
[srp_anchshortcode id="4880″][/srp_anchshortcode]
2. DEWALT DW872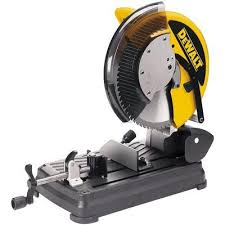 This Dewalt is a solid runner up to the Makita. Comparable in a number of ways and sporting a versatile multi-cutter apparatus. A bit louder, but with substantial power and the ability to make quick and precise cuts that are nearly burr free. This is another excellent alternative to multi-thousand dollar cold saws. Dewalt made sure to give this saw that extra bit of quality to ensure it'd be a favorite for years to come. As long as you ensure you have the right blade for your task, it would be hard to go wrong with this Dewalt.

Expand to see more
Key Features

Weight: 47.0 LBS
Blade Diameter : 14"
Rotation Speed: 1,300 RPM
Arbor : 1"
Multi-cutter versatility
Blade with carbide tip
Cuts 4x the speed of chop saws, 8x the speed of a band saw
Extremely precise cuts

Price/Value

Though this is much cheaper than full-scale cold saws, it still isn't cheap. In return for this investment, however, you get a whole lot of tool, capable of a whole lot of tasks. Excellent value overall.

Who Should Buy This?

Like the Makita, this tool is a good choice for homeowners, DIYers, and professionals. It can accomplish a wide variety of tasks - and it does it easily and quickly.
Fast
Quality Cuts
Versatile Usage
Durable and well designed
Loud
Blades are pricey
Mediocre fence system
[srp_anchshortcode id="4878″][/srp_anchshortcode]
3. EVOSAW380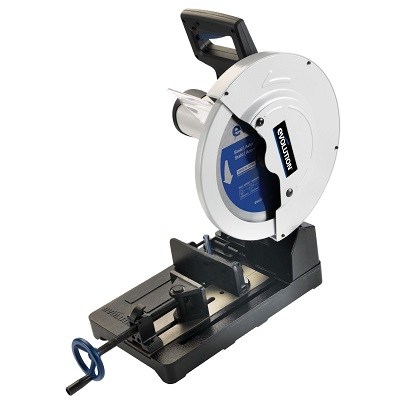 This is much closer to a cold cut saw than the last two, virtually no sparks burrs or heat when you are making and finishing the cut. It is industrial strength cutting power in an affordable and well-made package. A bit heavier than the Dewalt and Makita options, it nonetheless brings more power to the table.

Expand to see more
Key Features

Weight: 62 lbs
Blade Diameter : 15"
Rotation Speed: 1,450 rpm
Arbor : 1"
Nearly no heat, burrs or sparks are created.
Swivel vise enables cuts to be made from 0-45°.
Cut from Steel to Aluminium with the optional blades.
Combination of an Evolution saw and blade.
Blade life averages 1000 cuts in 2 in x 2 in mild steel.

Price/Value

The relatively small cost for the power it can dish out and the features it does well. If you are looking for an inexpensive alternative to a full sized cold saw, this is a fantastic all-around option. Occasional durability issues, but you can afford to replace it 4x over for the money you save.

Who Should Buy This?

Like the Makita and Dewalt, this is a great powerful little saw that can easily fill the void for smaller cold saw needs. It is suitable for everyone from hobbyists to Professionals, depending on what they need doing.
Good blade durability
Solid power / cutting ability
Good price
Prone to shipping and manufacturing errors
Light construction
[srp_anchshortcode id="4875″][/srp_anchshortcode]
4. Makita 4131

This is our most compact alternative to a cold saw yet. Around 10 pounds with a solid punch and a clean cut - this is a great tool to have around the shop. It eliminates sparks and most cleanup and can handle the majority of tasks thrown at it. The portability is a nice bonus as well.
Expand to see more
Key Features

Weight: 11.3 lbs.
Blade Diameter : 7-1/4"
Rotation Speed: 3,500 RPM
Arbor : 5/8"
blades resist heat.
Virtually spark-free cuts.
Cool to touch ends

Price/Value

Relatively inexpensive, durable and very useful. This is a good value to cost ratio for anyone who finds themselves in need of a portable saw that can rip through metal.

Who Should Buy This?

This is a solid investment for any small shop, professional kit, or homeowner who has a substantial need to cut metal. This tool can slay structural metal studs and can easily find a home in the majority of tool repertoires.
No sparks, cool cut
Compact and lightweight
Good cutting power
Blade guard hurts visibility
5. MK Morse CSM9NXTB 9-Inch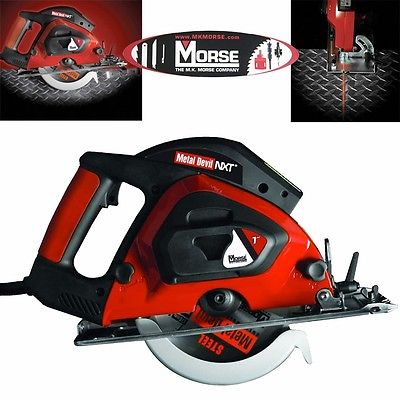 Another compact and lightweight cold saw alternative. This saw makes good clean cuts in tough metals and keeps the target relatively cool with minimal burr and heat. As long as you are careful with the blades you are using, this tool can handle most anything thrown at it.
Expand to see more
Key Features

Weight: 22 lbs
Blade Diameter : 9"
Rotation Speed: 2,300 RPM
Arbor : 1"
Comfortable grips.
Retractable blade guard.
Enhanced blade alignment guides.
Guide arrows and sight opening.

Price/Value

About on par with other cool cut saws we have looked at, but perhaps a bit less durable. It is still a very good tool at a very fair price. If it fulfills your requirements, then this is an excellent purchase.

Who Should Buy This?

Perfect for home renovations and cutting down bar stock, with the right blades it can easily handle a whole load of tasks. Like the others on this list, this tool is a worthy addition to anyone who has the money to spend on a versatile and powerful saw.
Clean cuts
Good Torque
Compact and easy to use
6. Evolution Power Tools RAGE2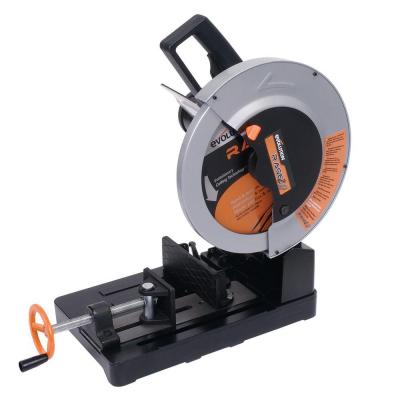 The very popular Rage2 can cut through steel, wood, and aluminum with a single blade. It can blaze through 6mm mild steel with little sparks, no heat and no burrs for an immediately workable finish. There is a reason so many people love this machine. The orange blade it comes with is multipurpose, so expect it to have some issues with aluminum. A couple of blade additions and you are golden, however.
Expand to see more
Key Features

Weight: 42.5 lbs
Blade Diameter : 14"
Rotation Speed: 1,450 rpm
Arbor : 1"
Virtually no sparks.
0-45° Secure clamp.
Diamond blade attachments available
Clean cuts, no dust, no fumes, no smoke.

Price/Value

This is a favorite of so many for a reason. It works very well, and it is relatively inexpensive as well. If you are willing to invest a little extra in the additional blades, you have an incredibly versatile machine for about half the cost of a full sized low-end cold saw.

Who Should Buy This

This is great for small shops and homeowners. Pros with heavy duty needs might want to go with something a bit more durable - but at the same time a number of professionals do use and swear by the RAGE2.
Versatile
Powerful
Well made
Engine slows a bit on tough cuts
7. MK Morse CSM14MB 14-Inch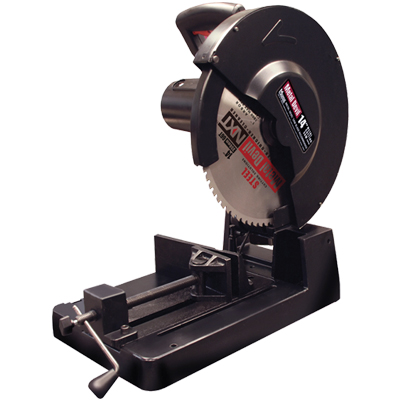 The M.K. Morse Metal cut saw is specially made for electricians, heating/air conditioning professionals, handymen, and mechanics, to cut all machinable metals in a safely manner. Ideal for pipe fittings or framing projects. Cuts right through steel like a circular saw on pine.
Expand to see more
Key Features

Weight: 53 lbs
Blade Diameter : 14"
Rotation Speed: 1,300 RPM
Arbor : 1"
Not sparks, noise, smell or heat build up
High-torque motor
72-tooth carbide blade
On-board blade change wrench

Price/Value

Not cheap by any means, but provides enough value to be a solid buy as a cold saw alternative. If it fits your standards and you aren't interested in any of the other options we listed so far, this is one of your best choices available.

Who Should Buy This?

Contractors who are looking at some large projects. This is a great saw with solid features. It may be a bit expensive and more than the average homeowner needs, but should you require it - you won't regret the purchase.
Jaws are much thicker than its competition
Fit and finish is almost perfect
Good torque and cutting abilities
Needs some adjustments out of the box
Can be temperamental
8. Baileigh CS-315EU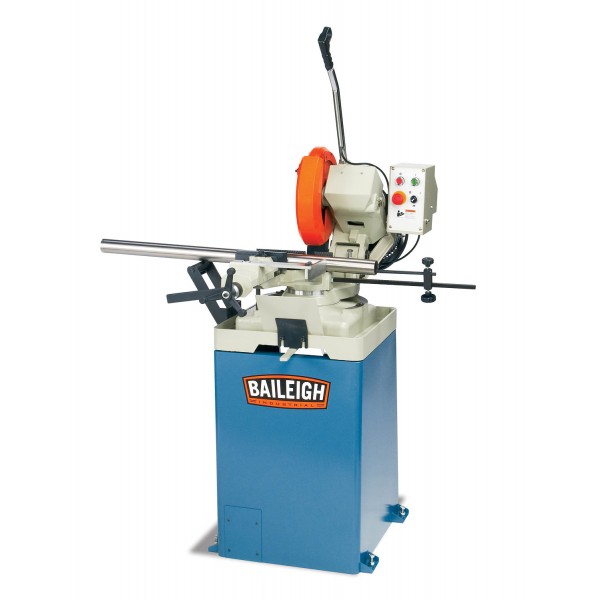 This is the first of our actual full fledged cold saws. It is designed to give a shop many years of service without setting you back too far in the wallet. It includes a heavy duty steel base set at a proper cutting height. Small and medium fabricating shops will likely get the most out of this machine. With a few different blade choices, you will be able to work nearly anything.
Expand to see more
Key Features

Blade Diameter : 12.5"
Rotation Speed: 52 rpm
Arbor : 1.26
Perfect for cutting mild steel
European-style vise.
Rigid cast iron base
Heavy-duty molded steel stand

Price/Value

Expensive, though on par with similar cold saws. If you are looking for a workhorse to run your fabricating or hot rod shop from, this is a great place to start.

Who Should Buy This?

Small to medium sized shop owners will probably get the most value out of this. It is obviously not something most homeowners would want, and it isn't industrial enough for the most intense tasks - but what it does, it does very well.


Heavy duty
Reliable, long life span
Annoying to access the cooling tank
9. Baileigh CS-225M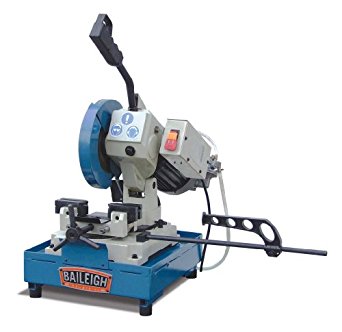 This is actually a manual saw, best for shops that have a necessity for a portable or light production saw while still maintaining mill like cuts. Perfect for cutting solids, angle iron, tubing, pipe and more. It comes loaded with features.
Expand to see more
Key Features

Blade Diameter : 9"
Rotation Speed: 50 rpm
Arbor : 1.26"
Portable benchtop saw.
Self-centering American-style vise.
Direct drive gearbox.
Flood coolant system.

Price/Value

This a small, lower end cold saw, but it is far from flimsy or poorly made. Smaller shops and hobbyists can find a lot to love, and the price, although not low, is fair.

Who Should Buy This?

Hobbyists and small fabrication shops looking to invest in a full fledged cold saw. This is also a good entry level cold saw for maintenance or R&D shops.
Clean cuts
Good vise and pump system
Portable table top cold saw
Will likely need some care and back up parts
10. JET CS-275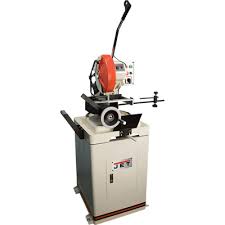 The JET CS-275 is another manual cold saw that produces smooth, burr-free cuts. It has a self-centering vise that quickly secures the object. It also comes with a cast iron blade guard system that allows for quick and easy blade changes. As with the other devices, you should invest at the outset in multiple blade variations to ensure you are ready for any material.
Expand to see more
Key Features

Weight: 360lb
Blade Diameter : 275mm blade (10.8")
Rotation Speed: 54 | 108
Cast iron blade guard system for easy blade changes.
Quick clamping cam-action vise.
Burr-free cutting.
Hardened worm wheel for maximum torque.
Blade drive reduction gearbox operates in an oil bath for increased durability.
Heavy-Duty cast iron frame base.

Price/Value

A very fair priced cold saw that can substantially increase the output of a shop with a relatively small investment. Good value for a shop getting on its feet.

Who Should Buy This?

This is a solid introductory piece for a number of fabrication businesses looking to get something cost effective. It won't break the bank, and it can significantly increase your capabilities.
Clean, burr-free cuts
Good list of features
Heavy duty
Replacement parts may be difficult to acquire
Criteria for Evaluation

In order to create a truly useful list for you, we had to sort through tons and tons of cold saws and alternative options. Even after the weeding out process was done, we still had to evaluate and then eventually rank the tools that were still left. To make this process easier and to have some logic to it, we created criteria from which to judge these tools. Most of these factors were relatively straightforward, like cutting ability or price, while others were harder to quantify, like the ease of use. To help you understand our decision-making process, we have listed our criteria, and a brief explanation of how it was applied to the cold saw category.
Keep in mind as well that these rankings are ultimately based on no particular task or job. Your personal needs are obviously going to shift the relevance of certain criteria and features. Think of the rankings as more of a rough guide as you apply your own needs to the capabilities of these tools. The decision on which device holds the best value is ultimately up to you in the end.
Price
Cold saws, and especially the alternatives made pricing a tough thing to gauge. As the list shows, the alternatives that were a fifth the price got a significant amount of preference; this was argued on the basis that for the majority of our audience, the smaller tools were capable of the vast majority of the jobs they required to get done. Judging on price/value ratio meant that just from the math the larger cold saws got pushed down the list. Of course, if you need the larger saws, you are going to skip down the list to them either way. This was definitely a wonky list for this metric.
Power
RPM, Torque and overall cutting ability were critical metrics for this series of tools. The more capable a saw was at more challenging materials, the better rating it would get due to this increased versatility. Of course changing blades often would change a saws capabilities and we tried to factor in the availability (and price) of these possible additions as well.
Precision
Cold saws are often required to make precise cuts. Very often devices will not be nearly as adequate at this as you would expect, and some devices require quite a bit of work to ensure they are constantly on target. Those with a greater accuracy and reliability for staying on target got preference.
Ease of Use

This is a fairly subjective feature, but any tools make it a point to ensure their tools are easier to operate. This wasn't the most important feature, as most tools just require time to get accustomed to, but it did factor in for what it's worth.
Features
Additional features are never key, but they can make the difference between a good tool and a great tool. Features that stood out or proved to be pretty helpful in boosting some tools over others. Some other features were deemed superfluous and didn't count for much.
Cold Saw VS Band Saw


The first step towards a successful cutting operation is the availability of proper tools for that job. Nonetheless, with the improvement of technology, comes the abundance of cutting tools. This has made and still is making it harder to choose between the available machinery. An excellent example, in this case, would be to choose from a cold saw and a band saw.
Selection between a cold saw and a band saw used to be simply based on the difference between their saw blades. Previously cold saw tools were used for its precision in mass production whereas the relatively cheaper band saws were used in mixed applications. With the recent development in saw potential and blade mechanics, the decision making has been even more difficult than ever.
Features like advanced tooth geometry, carbide blade, bundling efficiency, sensor technology etc. Such features have clouded the lines between the cold saw and band saw. There are several advantages and drawbacks that need to be considered nowadays to determine the proper fit for the implementation of these types of machinery.
Implementation strategy: Picking the proper saws and tools for production is important to create an ideal cutting environment. This process is to be addressed strategically. Practically speaking this diction mainly depends on the cutting that needs to be done. The target is to determine the perfect saw that can meet the business parameter and all the cutting needs.
Advantages and disadvantages: Cold saws and band saws both can offer a vast range of functional advantages. Gathering the key feature of these saw types before an application is the best way to proceed. Also, there is no product out there which is full proof and there will always be drawbacks of some sort. By weighing on the shortcomings and the benefits, we can determine which product is to be used for a specific project.
Cold saw is ideal for repetitive and high-speed cuts to be carried out with precision. This encompasses functions that process a heavy amount of similar material, shape, size or which may need a high-quality finish. Cold saw's sweet spot is from two to six inch for an average grade steel, alloy steel, stainless steel and carbon steel. Also, in a few cases for materials made from aluminum, depending on the size and type of machine.
Procedures that require more flexibility, many technicians prefer to go for the band saw. Depending on the potency of the saw, a band saw can cut substance from one inch to a seven-foot block, which makes it all the more useful. A band saw can cut solid bars, plates, pipes, blocks, etc. depending on the operation. Different range and grade of metals can be cut by the band saw. They can even perform smooth cuts through nickel based alloy and titanium. This enables workers to switch different metals back and forth much comfortably than they could have got from a cold saw. Also, the band saw is considerably less expensive and exceptional at cutting stacked up or bundled multiple pieces of material.
A precision cold saw can be very expensive some times. An industrial cold saw can sometimes cost over $100,000 and way above it on the other side band saw price range is usually in between $1,000 – $100,000. Such a huge cost difference indicates that the cold saw market is relatively smaller than a band saw. It is also a major reason why band saw gets the preference from most construction companies, big or small. Cold saw is usually not as good at cutting stainless steel, titanium and other similar materials compared to a band saw. It has some other limitations like versatility in cutting and their ability to bundle cut is restricted.
Band saw's performance can vary from time to time. Since its flexibility and agility is its strong side, it can also be a drawback some times. One of the drawbacks is that the wide range cutting can lead to a different level of performance at different times. This could be resulting in cutting errors. The blades sometimes have to be broken, before the saw can be used.
Cold saw has this unique capability to turn its blades at a very low RPM. This is helpful because it can provide blur free fast cuts without any sparks. Unlike band saw, the heat generated by the cold saw gets transferred away from the object it is cutting. The cold saw also keeps the object relatively cool, making it easier for the technician to operate.
Cold saw is relatively less noisy than a band saw. Also, the coolant in the cold saw, as in the cooling lubricant, helps to make precision cold cuts.
Calculating the numbers that favor the pros seems like the only way to a perfect tool. This will need proper measurement and accurate data for coming to a logical decision. Such as, since cold saws are fairly expensive, they can some cases be beneficial in the long run. In certain cases, they might out run the productivity of band saw, which is a magnificent feature in itself. In the same way, with good maintenance and timely upgrades, the band saw can overcome any future issues related to its performance. Ultimately, the following points are to be addressed before applying the final judgment call:
• Overall production and maintenance cost versus upfront cost.
• Machine intended use and its long-term service.
• Longevity of blade and the equipment performance.
• Last and foremost the cost by every operation.
There is no need to be afraid to research a bit about the suppliers while making the decision on which saw that you're going to buy. Good suppliers usually are open to discussion about the advantages and shortcomings of their product. A buyer should leverage this and ask all the questions about their advancements or any other necessary facts. Also, before buying either a cold saw or a band saw, a person must test it properly and decide if it is up to the task.
FAQs

Do I Need a Cold Saw or a Band Saw?
Of course, this depends on what you are trying to accomplish. The quality of the cuts you need to make, as well as the quantity, are both relevant factors. If you are doing a lot of cuts to material that is going to be refined, for example, tubing going to weld prep, then a bandsaw is probably going to be the best choice. It will make the cuts quickly without too much worry about accuracy or the finish. Think of a band saw as a high capacity machine, lots of cuts on lots of materials. On the other hand, a cold saw is much more accurate and clean when making a cut, but has a much smaller tolerance for speed and capacity.
Do I Need a Cold Saw or a Chop Saw?
The answer to this, from the perspective of the "cold saw versus __" angle, remains much the same. A chop saw is generally hot, noisy and messy wherein a cold saw often strives to be the opposite of that. Chop saws are an abrasive saw that wears away at the metal and creates a large amount of sparks and heat in the process. This is something that is either too dangerous or too much of a burden on many job sites. Cold saws generally have a much lower RPM due to the nature of the cuts they make.
How do European and American Vises Differ?
European vises are generally quicker to apply and take off, and provide you with a better overall vision of what you are cutting. An American style vise will self-center ensuring the material you are cutting remains in the right position.
What Should I consider in Blade Selection?
Outside of ensuring that the blade fits the machine, of course, you are going to want to judge the teeth of the blade and how well they will deal with the chip load caused by your target material.
The chip load will ultimately determine the type of blade you should be using on a material. On a cold saw the tooth size and RPM would determine what happens to the chips that are removed from the material in the cutting process. When you are cutting through something like a solid piece of metal, coarser material in general, you will want a blade with coarser/larger teeth so that larger segments of the material (chips) can be removed at a time. For thinner materials, a fine-toothed blade will operate better. Do your research on the material you are cutting and what blades are rated to deal with them and you will begin to see the patterns. This can be a good place to start.
While we are on the topic, we should discuss tooth pitch. This is a measure of the distance between two teeth on the blade. Each cut will utilize 3-6 teeth. As you sharpen a blade over time, the tooth pitch is reduced, this will require re-toothing eventually. Figuring out the optimum amount of teeth you need for a cut can actually be quite complicated. There is actually a calculator for it available here.
What Features Should I Be Looking For?
This also, of course, depends on your specific needs. For our alternative options, or any alternatives for a cold saw you should always ensure that they make cuts with no heat, burrs or sparks as a start. Past that, some of the more useful features for cold saws and their cousins come in the form of easy change mechanisms. Tool-less or simple/fast blade changes can save you quite a bit of time and frustration. Actually, any set of features touting a design that makes your job easier can always be considered a plus – as long as it delivers. Cold saws also benefit from vises, and a stable and reliable base. For accuracy, blade alignment guides are always a plus.
Making Your Decision
This should be enough information to get you started down making your saw decision. Between the FAQ, criteria and the list, you should be prepared to make a much more informed decision about your needs and what tool will most benefit you. Big tool purchases can be annoying and stressful due to the wide range of choices and the conflicting reports of their effectiveness, but now I hope you can make this decision with more confidence. All the tools we listed here are a solid purchase, and though you likely won't agree with all of our opinions, I hope you can formulate your choice among even the disagreement – I know a disagreement with someone often helps me solidify why I believe what I do. Either way, each tool gives you some info to take away and consider when ultimately making your choice.
So be you a be a hobbyist, a small-item creator or a full time professional, there should be something here that can accomplish the jobs you are looking to tackle. Good luck – and remember – build smart, build safe, and build big.
Subscribe to our newsletter