Best Laminate Cutters Reviewed and Tested
last updated:
Jun 08, 2018
Since its creation in the 70's, the laminate material has seen a constant popularity growth, mainly due to its low upkeep, decent aesthetic and ease of use. More and more homes are using this material, specifically for flooring to simulate wood or stone surfaces. This high level of popularity means that those looking to do work on their home, or are contracted to work on others homes will likely run into this material more often than not.
A laminate cutter allows you to work and shape laminate materials to fit your needs better. So for both homeowners and contractors, this can quickly become an invaluable device– as the alternatives are often messy, dangerous or labor intensive.
Our Top 3 Picks
[srpshortcode id="5028″][/srpshortcode][srpshortcode id="5029″][/srpshortcode][srpshortcode id="5030″][/srpshortcode]
This growing demand for laminate cutters for both the homeowner and contractor marker has led to both an increase in good and bad tools. We set out to make a list that represents the most practical tools, as well as those that strike the best balance between cost and use. This required us to dig through a substantial amount of devices to find those most worth your time. Some devices could make clean and easy cuts to many types of materials – others were about as useful as safety scissors. This list should help you start from the basis of what the good options are. To help you we have also included an FAQ as well as a criterion from which we based our evaluations.

We tried our best to keep this list covering a diverse range of function options as well as price. We want to provide the best opportunities for both professionals and the DIY crowd. To that end, we tried only to take one representative from an individual family of tools -especially when that family were very similar or were differentiated by only a size or superfluous feature change. So if you find a tool on this list that seems just about right for you, take a few extra minutes to make sure there is not another similar option you may find slightly better.
One last note before we get into the list is the ranking of the tools. While what will be the "best" tool for you will, of course, be based on your unique needs and preferences, we had to make a more general evaluation. Our list is ranked on a subjective price to value ratio. Use it more as a guide than a rule and keep your needs in mind when browsing through.
10 Best Laminate Cutters
1. Exchange-a-Blade 2100005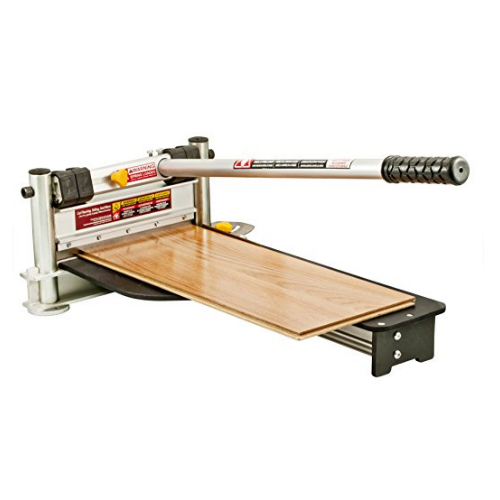 This relatively compact cutter is surprisingly effective for even the tougher duty tasks. Portable, easy to handle and clean, this is great concerning practicality for many on-site needs. It comes in at a very fair price, and although it is not to be as durable as some other brands, it comes in well above the listed price value.
Expand to see more
Key Features:

Size: 9 inches
Weight: 12 pounds (Shipping Weight)
Cuts wood flooring under 15 mm, laminate flooring, vinyl tile, fiber cement siding.
Precision cuts with no splintering or chipping.
Dust free operation, no electricity required.
Replaceable blade.
High carbon steel blade.

Price/Value:

As we said before, value is where this tool shines. Relatively cheaper than comparable tools and designed well,this is a great low budget option for many reasons.

Who Should Buy This?

Small vehicle contractors and even DIY and homeowners planning on doing some laminate installation or remodeling. It's a great time saver all around and takes up little space.
Build quality is good given the price
Very low dust
As good as a 9" cutter can be
Assembly directions are poor
[srp_anchshortcode id="5028″][/srp_anchshortcode]
2. SKIL 3601-02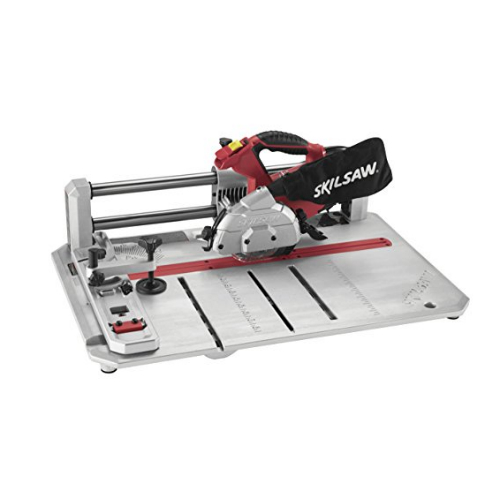 This saw is very portable and is specially built for making in room cuts on solid hardwood, engineered and laminate flooring. If you have a smaller vehicle and need something you can haul yourself to the work site, this is one of your best options. Easy to use, low cleanup and a snap to store.
Expand to see more
Key Features:

Blade Diameter: 4.375"
Weight: 24 lbs.
Cuts solid laminate flooring with ease.
Cross, miter and rip cuts.
Lightweight design for use at any project location.
Miter detents at 0, 22.5 and 45 degrees.
Die-cast aluminum miter and rip fence.

Price/Value:

Very fair price for an excellent durable piece of machinery that can save you tons of time on a work site. One of the better options when considering bigger improvements in capabilities per dollar spent.

Who Should Buy This?:

Perfect for contracting teams, and DIYers who need that extra power but still require something portable. Fantastic all around bang for your buck for most buyers.
Good power
Portable solution to trim work
[srp_anchshortcode id="5029″][/srp_anchshortcode]
3. Roberts 10-64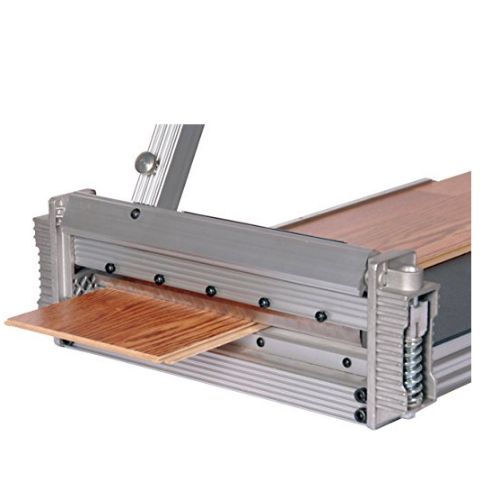 A fantastic cutter made to be used right in the room you are working in. A Great time saver and skill booster, this Roberts is priced fairly and delivers. It lacks a bit in the durability area, but with proper maintenance and care, this could be a device you utilize for some time to come.

Expand to see more
Key Features:

Size: 13 inches
Weight: 12 pounds (Shipping Weight)
Cuts vinyl flooring and siding, VCT tiles, engineered wood, laminate, and rubber or foam tiles.
Guillotine-style cutter: 13-Inch wide and 5/8-Inch thick.
Aluminum base with thick surface to boost stability.
Handle provides extra leverage.
Replaceable blade can be resharpened.

Price/Value:

A good tool for a fair price. It isn't as much of a bargain as some other on the list, but it is still much lower cost than many of the alternatives.

Who Should Buy This?:

Ideal for contracting team looking to do in the room cutting with a pretty portable device. It is cheap enough that the DIY crowd may also enjoy this if the demand is high enough.
No noise, no dust v.s. a chop saw
Very handy
Good cutting power
Occasional durability issues
Could use a tougher deck
[srp_anchshortcode id="5030″][/srp_anchshortcode]
4. Bullet Tools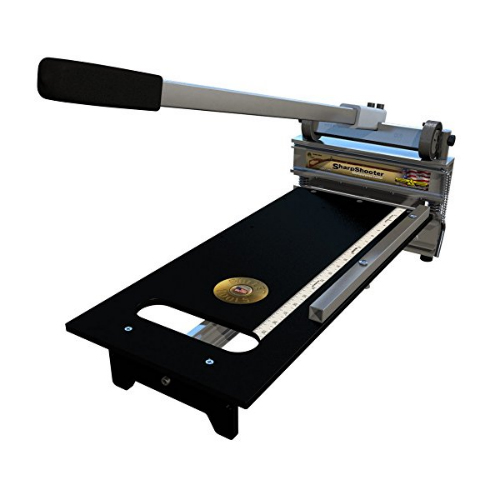 Easy to use, effective, portable and priced fairly. This Bullet Tools product is exactly what we try and recommend for the majority of users. It lands just inside the overlap between what can handle a professional job, and what is still practical for most serious DIY or homeowners.

Expand to see more
Key Features:

Size: 9 inches
Weight: 15.8 pounds (Shipping Weight)
Low dust output.
"One blade can outlast over 20 generic saw blades."
Quiet Operation / No Electricity.
Cut at maximum thickness for all materials at 5/8″.
Attached underlayment allows laminate flooring up to 13mm.

Price/Value:

This tool is reasonably priced and extremely effective. It is a lower budget option for a good chunk of worksites out there. Excellent tool, Great price.

Who Should Buy This?:

A homeowner with a large job ahead of him and a decent budget, or any team looking for a low-cost option to significantly increase work efficiency.

Fast and clean
Accurate
Portable
Blade requires a bit of a watchful eye and vigilance for bending and dullness
5. Laminate Cutter PL-215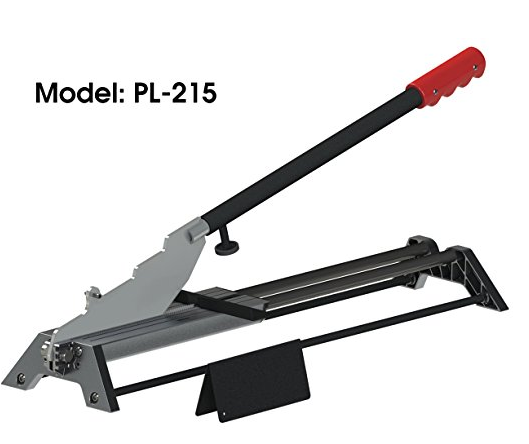 This is another low-cost manual alternative. Great as a backup in case electricity is not available, or you don't plan on doing enough laminate cutting to lug around a larger cutter. It is built to be sturdy and will probably last as long as tools that cost twice as much.
Expand to see more
Key Features:

Weight:11.8 pounds (Shipping Weight)
Up to 10mm thick
Straight cut, free angle cut, notch cut and lengthwise cut.
Base comes with 4 strong steel tube.

Price/Value:

This is another low-cost alternative. Great deal and excellent tool. It is built well, so expect this tool to be an investment sometime into the future.

Who Should Buy This?:

This is a decent backup, though is probably better suited to the DIY crowd to tackle and or simplify the occasional laminate task.
Low cost
Reliable
Easy to use
Needs some arm power
Not a large cutting blade
6. Bullet Tools 13-inch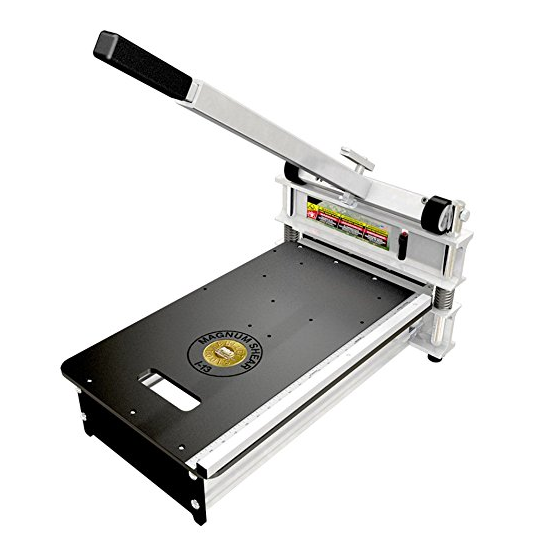 This is a high functioning cutter that is made to remove airborne dust concerns and to run without the need of an electrical source. It is a solid, in the field, floor cutter. cut laminate flooring, luxury vinyl tile/plank, engineered wood and more.
Expand to see more
Key Features:

Size: 13-inch
Weight: 34 pounds (Shipping Weight)
Quiet Operation / No Electricity.
Dust free.

Price/Value:

This is a premium priced tool. If are looking for a reliable and high functioning tool, and you are willing to pay for it, this is the way to go.

Who Should Buy This?

The price makes this exclusionary to professionals. If you need a floor cutter that lets you work in the room and can withstand the rigors and demands of an active work site, you may have to upgrade to this Bullet Tools cutter.

Very reliable
Quality made
7. Wolfcraft 4300000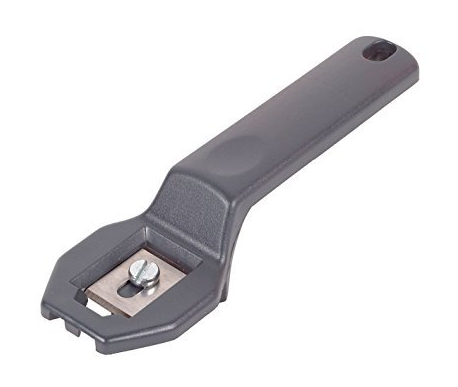 If you're on the hunt for a tool you can stick in your pocket and then pull out to use quickly when putting edging trim on kitchen units, for example, this handy little guy will save you countless minutes and help you make accurate shapes and cuts the first time.
Expand to see more
Key Features:

Size: N/A
Weight: 18 g(Shipping Weight)
For the trimming of overlapping veneers.
Also for the clean cutting of shaped edges.

Price/Value:

This little guy can save you both time and money with easier and cleaner cuts the first time.About twentieth the cost of less functional tools.

Who Should Buy This?:

Anyone working with laminate should have this guy handy, No reason not to. Its usefulness greatly outweighs the cost for all users.
Very low cost
Handy
Very good for quick clean cuts
8. Vitre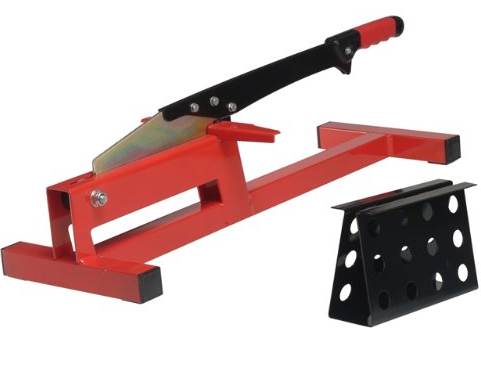 This low-cost Vitrex cutter is made to be easy to handle, easy to move, and simple to operate. It is a great backup cutter or a nice investment for an upcoming one-off project. Make nice accurate cuts with little investment. It is relatively sturdy for what you pay as well.

Expand to see more
Key Features:

Weight: 15.4 pounds (Shipping Weight)
The blade cuts through accurately.
The support in the shape of a "V" makes sure the panel stays in place.
Safe cutting guaranteed.

Price/Value:

This is a fantastic budget alternative when you need a cutter but you want to keep your costs low. It won't be your first choice for large jobs or use day after day, but it can help you power through that next project.

Who Should Buy This?

This is a very solid DIY buy. It can perhaps function as a portable backup for a contracting team.
Requires some manual effort
9. Spear & Jackson B98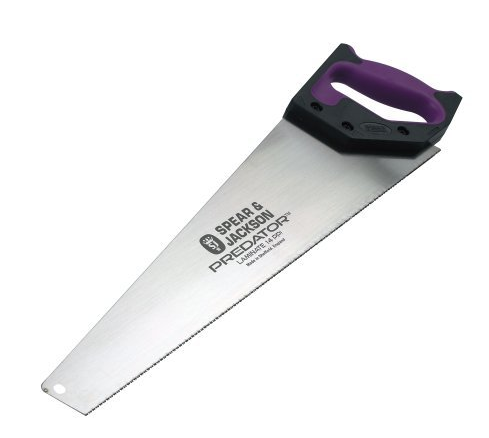 This Spear & Jackson is a classic saw calibrated for use on laminate flooring, Formica, and beading. Comfortable handle and quality stiff blade make it a pleasure to use, as far as saws go. This is an incredibly cheap and smart alternative to laminate floor cutting and can be utilized as a solid backup in case of malfunctions.
Expand to see more
Key Features:

Weight: 1 pounds
Hardpoint saw delivering a fine cut.
Fast cut - rapid, clean cutting action.
Rigid blade reduces 'whip' and vibration.
Good on laminate flooring, Formica, and beading.
Nice comfy handle.
Soft-feel ergonomic grip.
Finger guide for accuracy.

Price/Value:

This saw costs about as much as a few cups of coffee and can likely last you a few years if properly cared for. A great investment for everyone, to ensure they have easy laminate cutting capabilities no matter what happens.

Who Should Buy This?:

Pros and DIYers who work with laminate and need a reliable backup. If you are doing a one-time thing, this is a great cheap option.
Cheap
Reliable
Great as a backup
10. Rawlplug 89 040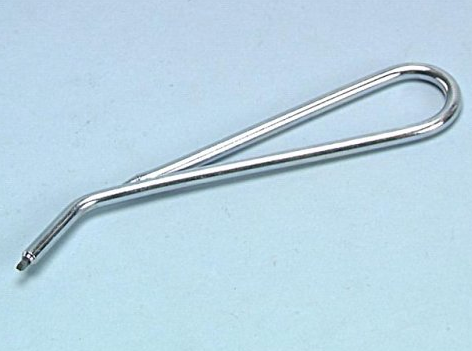 This Rawplug is an incredibly handle tool to have ready if you are working with laminate sheets. Saw blades can splinter the edges of sheets, and that's where this guy comes in. With a few flicks of the wrist, this inexpensive little guy just saved you a whole lot of frustration.

Expand to see more
Key Features:

Weight: .5 lb
Cuts wearite, formica, etc.
Gives a clean edge and is simple to use.
Durability of the tool extended thanks to the tip made of tungsten carbide.

Price/Value:

This tool is just about the cost of a large coffee, and it can save you triple that in wasted material on the first day. Very durable, very useful, very cheap.

Who Should Buy This?:

Anyone planning on working with laminate sheets could use this as a "just in case" item at worst. Pro's should have one on hand in case the need arrives.

Easy to use
Great for sheet cutting
Shipping may cost more than the tool
Criteria for Evaluation
We had to dig though a considerable amount of laminate cutters to find our favorite ten options, and then it required a bit of thought in order to rank them logically. To sort through the extensive series of choices and then rank the tools we had to develop a set of criteria that allowed us to approach this project with a logical basis. Some of the criteria are easy to understand, such as price, other factors were more opinion based – like comfort. To help you understand our standards and how they were used, we have provided you the list as well as a quick explanation of each one.
To reiterate, technically superior tools may have ranked lower than inferior devices if the prices were deemed to provide them with an off balance value. A decent low-cost tool would typically do better than a much higher costing and only slightly better device. It all depends on you in the end. If a tool was deemed to have a great value to our lost, but can't accomplish your needs – then its value to you will, of course, be zero.
Price
Since this list deals with laminate cutter ranging from around $600 to tools less than $10 – price was matched up with capabilities to give the items a comparable score. If a tool is one-fifth the price, but can do 40% of all the same tasks, it's obvious that is has more inherent value. Things obviously aren't that exact or obvious, but that is the logic behind it.
Cutting ability

Whether you are talking about the density of the material the cutter can get through, or the straightness or cleanliness of the cut, the cutting ability is obviously key to a cutting tool. We looked at the items the cutter was meant to cut, how well it can cut those, and the amount of effort required to make an accurate and clean cut.
Portability
Most of the tools we looked at today were pretty portable. Most could be transported and carried around by a single person. That is a quality that is actually most sought after in lower cost laminate cutters. Items that were portable yet still durable and efficient gained significant points.
Durability
In particular with portable units, a tool that has a weak blade or a weak base can succumb to the pressures of a hard day's work much too quickly. We looked for tools than can carry their own weight and last.
Comfort
Though this is less relevant for this tool than many others, comfort can still be a relevant factor if you are making dozens of cuts. This rating was not as important for this set of tools, however.
Renting VS Buying a Laminate Cutter
Choosing between buying and renting is quite an old debate that doesn't seem to have a conclusion. When it is about purchasing or leasing a laminate cutter, the debate is healthier and makes more sense. Our website will surely help you learn the differences between buying and renting a laminate cutter, just like this article here will help you. Both have their own advantages and disadvantages. After thinking about all the known pros and cons and considering the ones that are visible, a person needs to figure out an answer for such a situation. Different types of such tools are discussed here, whether someone should buy them or rent them by the features that they brought to work.

Wolfcraft: A trimmer is one of those tools that everyone will feel the need of while working with laminate sheets. Wolfcraft is an excellent tool. If someone is looking for a tool to trim a laminate which is extremely portable and can fit in their pocket, then this is definitely for them. Purchasing the WolfCraft laminate cutter won't be a logical idea as it used for trimming purposes only. You'll save cost if you could rent it based on your requirements.
Raw plug: A Rawplug is a very handy and low-cost tool for someone who is working with laminate sheets. This thing will never splinter the edges of sheets. It can save three times the product needed while working with laminate sheets. It is also very durable and something a person working with laminating sheets must buy.
Vitre: Vitre is a low-cost, simple to operate and an easy to move laminate cutter. It can cut very accurately, and a very little amount of investment is needed to buy or rent this laminate cutter. It is very durable considering its price. This fantastic piece of machine guarantees safe cutting. Someone who likes to fix their house themselves could even rent it for as long as they need it. Also, contracting teams should buy one of these in case they need a backup cutter.
Laminate Cutter PL-215: This is a very low cost useful non-electric laminate cutter. This type of cutter is very good for smaller laminate cuts and is very easy to use manually. It has a nice sturdy structure and will definitely last way longer than other similar cutters. This is perfect for people who like to fix their home themselves.
Bullet Tools: This is a fairly priced laminate cutter for DIY people. The majority of people use such a tool for laminate cutting. It is very effective and capable of producing clean and accurate cuts. Homeowners with a decent budget or a small contractor party should buy this. If the price is out of affordable range, then it can always be rented.
Bullet Tools 13-inch: This is a laminate cutting masterpiece made for professionals, and its price is a proof of that. This thing can remove airborne dust concerns and operates without the use of electricity. It is capable of cutting solid laminate flooring, engineered wood, vinyl tiles, luxury plank, etc. The premium level pricing of the device is a reason why people believe that renting this piece of machine is very profitable for work. Contractor groups can buy this for their heavy duty work site.
Roberts 10-64: This laminate cutter is for in-room work. It has a fair price and doesn't take much time to complete the job. This is a semi durable product and should be used with proper maintenance. Its blades can be replaced and sharpened many times over. It can be bought by the DIY crowd, but mainly for contracting teams in room laminate coating. It is profitable if rented as well.
SKIL 3601-02: This is specially made for inside room laminate cuts, and it is very portable either you buy or rent it. It is good for cutting laminate flooring, hardwood, engineered wood, etc. It is very easy to use and does not create release much dust. It is ultra-durable and has a very fair price. It is perfect for contracting team to buy. DIY crowd might find it profitable renting on different occasions.
Exchange-a-Blade: Exchange-a-Blade is a compact cutter that can do the heavy duty task very effectively. It is easy to handle, clean and portable. It is very satisfying for on-site needs. It contains replaceable carbon steel blade. It is a very cheap laminate cutter given its effectiveness. Since it is a heavy-duty machine, it is a wise choice to rent it.
From all these laminate tools, we can see that the decisions about buying and renting mostly depend on the price, profession, passion and affordability. If someone's individual work is related to laminate, then he will definitely need to buy the necessary tools for the job, and if the piece of any equipment is out of his price range, then he will rent that laminate cutter. Regarding contractors and companies, they will definitely buy all the products needed for their job. From a small Rawplug to the heavy machinery, they will need to buy them all. DIY crowd is a passionate bunch. They will buy whatever stuff is necessary depending on their budget.

Renting Pros
If someone gets to work on a construction project that involves a lot of laminate cutting, then he will need some proper power laminate cutters to get through the process on time. Some specific tools will boost this person's work speed. Renting these tools might help him exponentially. The benefits of such sort might be:
• Renting a laminate cutter makes sense when someone will be using that piece of equipment for a limited period. This helps save this person from significant investment. Also, there is the issue of storing all the necessary tools in that person's backyard, garage or any other preferable place.
• When a person rents a certain laminate cutter, the most beneficial of all things is the cost control. Renting usually will require a certain amount which will cover the use of that specific tool from a few hours to a few days. But buying that equipment will usually cost way higher than it would if he would rent because there is always the maintenance cost for heavy equipment and power tools.
• If a person rents his laminate cutter from a company, then he can receive expert advice and experience from them. The rental company tool specialist can help that person chose the right tools and how to use them safely efficiently.
• A person usually buys a piece of laminate cutting equipment expecting that with the maintenance it will last quite long.
However, the longer you use equipment, the more out of date it becomes. But with renting that person can easily get an update laminate cutter.
Buying Pros
Owning something certainly has its privileges, and it certainly feels good too. Buying an expensive laminate cutter might hurt at the start, but it might turn out to be way more beneficial than renting at the end. Few benefits of buying a laminating tool:
• When a person buys a laminate cutter from a reliable brand, then there is less chance of getting bad output, and there is always a good chunk or warranty that comes with it.
• Owning a laminate cutter means a person can use it whenever he wants however he wants. There are no restrictions whatsoever and no accountability, whereas that specific equipment might not be available for rent in crucial moments.
• Single handed use and self-maintenance might turn out to be the best thing. Rented equipment might not work properly sometimes. This can slow down or halt entire work progress sometimes.
• One of the best things about owning laminate cutting tools is that if a person is not using his own equipment, then he can always use it as a source of earning by renting it to others. It is very unlikely that all the equipment a person owns will always be used. Several tools might not be in use for a while. By renting the unused cutters, a person can gain a lot more than just money. If a piece of equipment is being used on a regular basis, then it stays fresh, and the parts won't catch stains. Rented machinery could always be of use for the owner at a later stage; they just need to ask the individual to finish the contract or give the machinery back to the owner for some time.
• Buying a new laminate cutter means it will be working at its level best, and its output will be uninterrupted, whereas a rented laminate cutter will not provide guaranteed reliability. At the start, it might feel right at the upfront cost of rent will be less than the cost of buying a laminate cutter. But in the long run, there will always be the risk of unscheduled failure, and that might cause a significant loss in output.
FAQs
Laminate cutters are necessary only for making exact cuts laminate, and can often be replaced with other cutting tools on short notice. For this reason, there are many questions regarding laminate cutters that will come from even relatively experienced contractors. We have compiled some of the most common questions and concerns in this section.
2
Basic Steps for Cutting Laminate to length

Use a tape measure and a pencil or chalk to measure and mark the lines. Use the square to ensure the lines are straight.
Use your cutter to cut at the waste-side of the line | use a damp cloth to remove any remaining markup lines.
Top Tips on How
to Cut Laminate Flooring
If you are dealing with making only straight cuts, then you can plan on a circular saw or a hand saw for the laminates. Make sure to measure out your cuts and mark them up. A tape measure and some chalk/ruler does nicely. A jigsaw can be used for the curved shapes.
While many saw blades are capable of cutting through laminate materials, a specialty blade is a much better choice. Carbide tipped saws work well.
If your tool does not greatly reduce dust in the air, plan to make your cuts outside or in a well-ventilated room. Laminate dust can be very harmful to the lungs over time. Goggles and a mask can go a long way towards protecting you.
The trim will eventually hide most laminate edges in the room. Tiny mistakes in the cutting can be hidden that way.
Bring your laminate inside the day or two before. Laminate expands and contracts along with whether or not it is hot or cold. You wanna make sure the material is adjusted to the room temperature to avoid throwing measurements off.
To cut down on chipping, the leading edge of the saw blade should always make contact with the face of the board. So for a circular saw – you will have to turn the board over to allow you to cut from the back.
Buy more material than you plan on needing. Waste and mistakes are common. Extra can also be used for future repairs.
Lining a cutting mark with blue tape will allow you to make the cut without worrying about chipping the laminate.
To cut around a pipe:
Measure length and width to the center of the pipe

Make a mark on the laminate where the center would be

Use a hole saw to create an opening for the pipe, a bit larger than the pipe

Cut the laminate in two along the width through the center of the hole

Fit around the pipe, and glue laminate together
What are the Advantages of Laminate Flooring?

Laminate flooring is actually quite advantageous when compared to many of the classic flooring options. Floors are where the messes go, and a good laminate flooring can look just as aesthetic pleasing as a carpet, hardwood or marble floor, but will be much more resistant to stains and won't be at risk of fading from sunlight. Laminate flooring when built correctly can withstand over a thousand pounds of pressure per square inch.
Laminate flooring can simulate the look of most popular floor types and is often the smarter decision from a longevity standpoint. Maintenance of a laminate floor is also much easier. You don't have to worry about stains and you often only need to sweep the surface to maintain cleanliness. Laminate flooring can also be installed over most any pre-existing flooring.
The lifespan of laminate flooring depends on the material used. A high-quality laminate floor can last for years, while a low-quality one can show sign of deterioration much faster. Installing a high-quality laminate floor in the high traffic areas of your home is a very cost efficient and durable solution.
While many are hesitant install laminate floors worry about lowering the perceived value of a home. One thing many have to do is to consider the longevity of both appearance and functionality of laminate flooring. Laminate flooring will last much longer and will look fresher longer as well. While perceived value of a new laminate floor versus a new hardwood floor may favor the hardwood – comparing the two floors some years later may easily give the laminate floor the advantage.
What Laminate Cutters are right for me?
Not all saws specialize in laminate cutting, but many have the ability to make cuts into laminate. Some saws are better than others for this, and still others are best used for specific tasks. Here is a very brief overview.
We had a hand saw in our list actually. Handsaws are generally pretty useful in making straight cuts or shortening the boards. Since you will be manually sawing, it is not the ideal choice for when you are planning on dealing with large volume of cuts.
A finely toothed jigsaw will be your best for making cleanly curved cus in your laminate. It takes some practice but is not difficult after a few attempts. A specialty blade will ensure you can make the cuts as smoothly as possible.
These can power through straight cuts, angles and corners. Also the best choice if you have a large volume of cuts to make, it will save you an immense amount of time.
A circular saw is good for making straight cuts if you have a good platform for cutting ready. It is also the best tool for when you are removing and replacing small sections of laminate flooring.
Laminate Shears
Laminate shears didn't make it on this list, but that doesn't mean that there aren't plenty of reliable options out there. Many Use the shears as an alternative to making dust.
Making Your Decision

This laminate cutter compilation, as well as the FAQ and criteria, should hopefully have provided you with all the info you will need to make a good purchase. Making a large purchase can often be an annoying and stressful process, especially when you're bombarded with options and sales text. The goal here was to cut through most of that noise and help you zero in on exactly the tools you will need. You may disagree with many of the points or decisions we made here, and that is fine, as long as inside of that disagreement you were able to formulate and refine your own opinion and come to a better understanding of what you personally want. Either Way, this list is helping you ultimately make a purchase you will be satisfied with.
So whether you are looking for a tool to help you more easily replace your kitchen floor, or something to get you through hours of contracting jobs, there is something here to help make your tasks easier. Good luck – and remember – build smart, build safe, and build big.
Subscribe to our newsletter