Best Cable Cutters Reviewed in Detail
last updated:
Apr 06, 2021
Cutting, stripping and dealing with cables comes up eventually when you work on enough projects. Without the proper tools, working with certain cables can be impossible. There is no single type of cable. Aluminum, Copper, TV, coaxial cable, telephone, etc. Each cable has a different strength and purpose and will require a different type of cutting utensil.
The large array of cable cutter options out there, combined with the growing digital marketplace for tools, has prompted us to make this list compiling the best Cable Cutters readily available for purchase today. We searched through the huge amount of possible cable cutters currently on the market today and were able to distill the vast selection out there to a handful of tools that best represent the various types of cable cutters in high demand today.
Our Top 3 Picks
[srpshortcode id="5086″][/srpshortcode][srpshortcode id="5087″][/srpshortcode][srpshortcode id="5088″][/srpshortcode]
We tried to make a diverse list that covered cutters that would need to be used by a diverse range of professions, from electricians to lock cutting. The list also includes and evaluates on, a value scale. Since we are comparing apples to oranges in many cases when the tools have different cutting purposes, we were forced to rank them on a somewhat subjective value to price scale. We cover the ranking criteria later on in the article. To help with your cable cutter decision-making process, we have also included a quick FAQ on common concerns regarding cable cutters.
Ultimately the choice and decision over what tool is the most valuable comes down to you. Use our guide, but always evaluate for yourself.
10 Best Cable Cutters

1. TEKTON 3386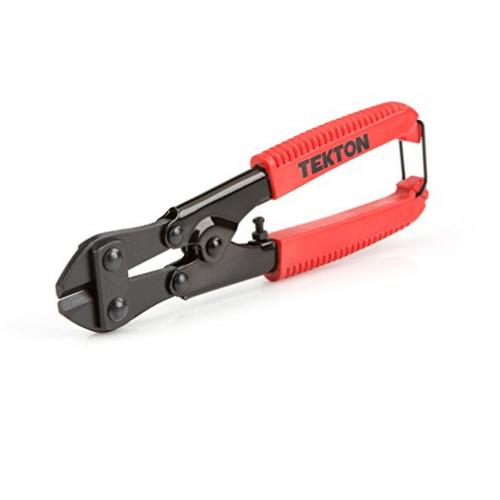 This Tekton is a great example of palm of your hand cutting power being made these days at inexpensive prices. Very versatile and handy. Great for an on the move contractor, or a rancher dealing with wire fencing. Perfect for the work pants pocket or the kitchen drawer.

Expand to see more
Key Features:

Weight: 0.57 lb.
Cutting Range: Threaded rod, cut bolts, chain, and wire up to 3/16'' diameter
Drop-forged steel jaws
Compound cutting
Steel handles, rolled
Non-slip rubber grips
Cuts bolts, chain, threaded rod, and more

Price/Value:

About as much as a cup of coffee, yet very effective and surprisingly durable. Great for all around use, and a worthy buy for anyone in general need of cutting capabilities.

Who Should Buy This?

Though cost and durability wise, this is more the purview of the DIY crowd or homeowner, it is effective enough to fill in the roles a professional may need in a snap. Great backup, and great all around purchase.
Compact yet durable
Low cost
Effective
[srp_anchshortcode id="5086″][/srp_anchshortcode]
2. Channellock 911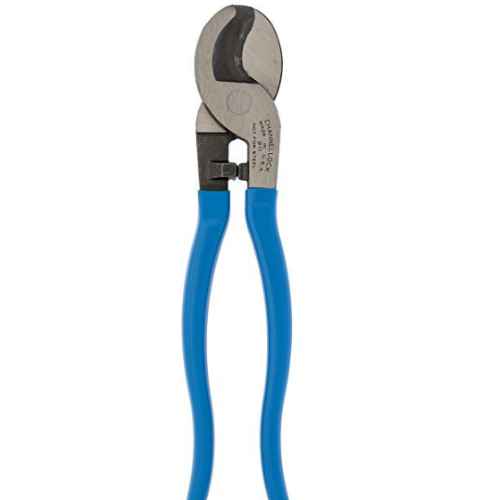 Like the Klein, this Channellock is a low cost, generic everyday use cable cutter. It is needed to complete any personal or household tool chest, but is unlikely to last long under heavy professional full-time usage.This is a well made and reliable tool that is well worth the small price tag.

Expand to see more
Key Features:

Weight: 0.90 lbs
Cutting Range: Cuts up to 4/0 aluminum and 2/0 copper, Not for steel or ACSR
Designed to enable easy cutting of cables
Constructed from high carbon drop forged steel
Offers long lasting durability
Channellock blue comfort grips
Site hardened cutting edges shear through soft metal wires and cables

Price/Value:

This is another low cost, handy all around cable cutter that should be found in most homes.Most worksites should have a better option available, but a homeowner who doesn't have one yet will eventually find a solid value investment here.

Who Should Buy This?:

Everyone, DIYer to contractor, should have this tool or one similar at home for personal use. It may be of limited value at a worksite however.

Solid and reliable cutting
Handy and versatile
[srp_anchshortcode id="5087″][/srp_anchshortcode]
3. Klein Tools 63050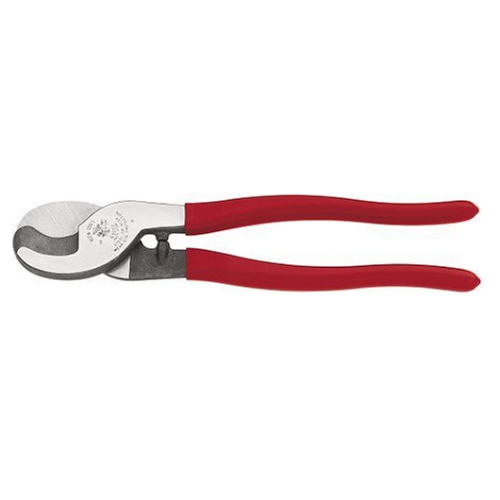 Nothing fancy or flashy, this Klein is a version of the standard tool chest soft cable cutter. The Klein 63050 is of a comparable price and function to the competing cable cutters of this format, however this tool is of a better quality and overall design of the majority of its competitors.
Expand to see more
Key Features:

Weight: 0.90 lb
Cutting Range: 4/0 Aluminum, 100-Pair 24 AWG Communications Cable, 2/0 Soft Copper
Shear-type jaws.
Good for working in small space
Sized for most pouches.
Through-hardened (not case-hardened) for longer-lasting cutting surfaces
Hot-riveted joint - no handle wobble

Price/Value:

An excellent, good quality pair of the generic small work site or household cable cutters.They give you a solid, well-built tool at a competitive price. One of the best buys in this class of low-cost devices.

Who Should Buy This?

While pros could probably stand to have these on hand just in case, they are much more suited to the workload and tasks of the standard DIYer or homeowner.
Precise cuts on soft cable
Easy to use
Requires good hand strength
[srp_anchshortcode id="5088″][/srp_anchshortcode]
4. TMS Heavy Duty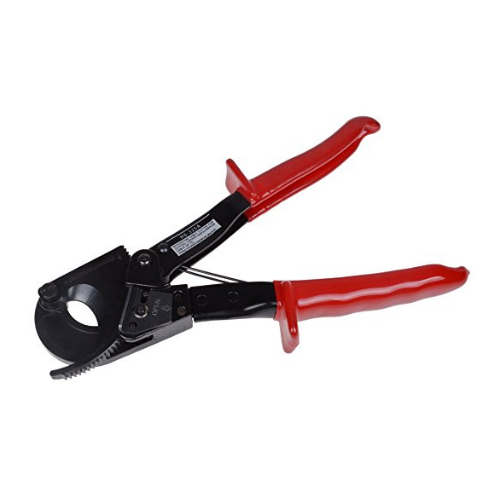 These handy cable cutters from TMS keep you a fantastic amount of cutting power in an easy to wield one handed package. The compact design lets you do heavy work in very small areas - and all at a relatively low cost. Though a contractor may opt to spend a bit more on a more recognizable brand with a bit more durability, these can handle even the toughest tasks thrown at them - really most anything short of steel or steel wire.

Expand to see more
Key Features:

Weight: 1.4 pounds
Cutting Range: 240mm², Cutting range max. 32mm Apply to: 300 MCM copper-600 MCM aluminum Length: 10 1/4'' long
Mechanical design easily cuts through copper or aluminum cables.
Compact build lets you cut cables in tight areas.
Anti-slip rubber hand guards
Lightweight for easy one handed operations.

Price/Value:

These are a professional pair of cable cutters made with slightly less durable material, and coming in at a fraction of the cost. With proper maintenance and need, these are a fantastic investment for anyone.

Who Should Buy This?

These are practical enough and capable enough for all classes of workers, from the DIY crowd to full-time contractors. The pros may opt for something a bit more durable, but the low cost makes these a great backup, and a fantastic first choice for the homeowners/DIYers.
Great price/value ratio

Powerful
Compact
Will require initial sharpening and diligent upkeep
5. Stanley FatMax 89-874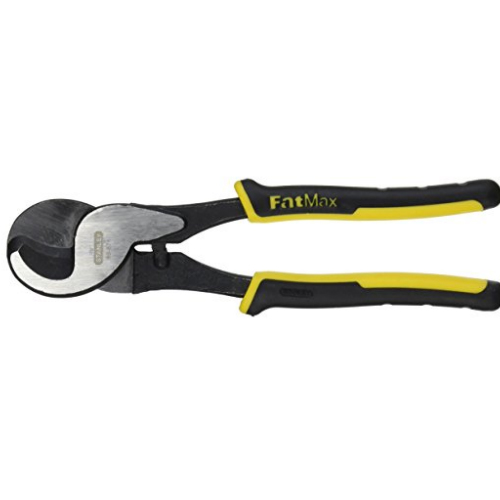 A relatively small pair of cutters used for cutting coaxial and other soft cables. These Stanley Fatmax Cutters are a low cost and basic solution to your typical cable cutting in-home issues. Capable of most simple tasks, these can significantly improve your productivity for only a handful of change.

Expand to see more
Key Features:

Weight: 1.1 pounds
Cuts coaxial and other soft cables up to 1/2" in diameter
Jaws engineered to cut clean and stay sharp longer than non-induction hardened jaws
High-quality forged carbon steel, durable cutting edge
Meets ANSI specifications
Slip-resistant and comfortable grip handle

Price/Value:

Low cost and effective, this are a great addition to a tool chest in need. They aren't the most durable, so won't hold up under extreme conditions, but as a well cared for, occasional use item, they are a fantastic value.

Who Should Buy This?:

These won't hold up under a professional workload, but could make a pair of solid backups. Any homeowner or DIYer can find some great value here and should strongly consider this brand.
Clean, efficient cutting
Well designed and easy to use
6. HK Porter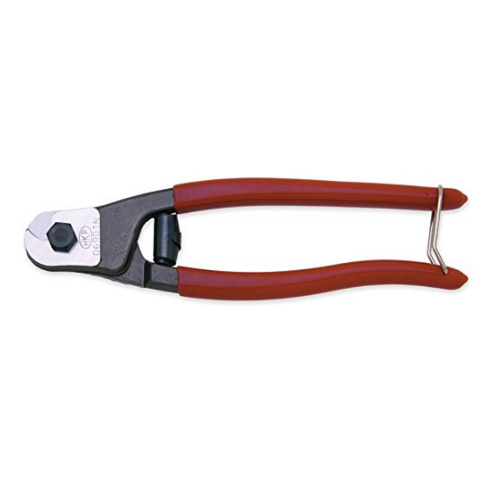 The quintessential junk-drawer cable cutters, but better. These are a higher quality example to the pair of cutters every home should have. They retain sharpness well and can be relied upon to work a series of cuts in. These are a more reliable and effective alternative to the general Home Depot options.
Expand to see more
Key Features:

Weight: 12.8 ounces
Excellent cutter for 3/16" hard wire rope or Cable. 1'8" Steel Cable. 3/16" hard - ¼" soft wire rope or cable, piano wire or aircraft cable.
Top-quality, pocket-size cutter
Shear-cut blades
Shear cut blades.
Comfortable vinyl grips.

Price/Value:

This is similar to your $12 pairs of knick-knack drawer cable cutters, but will last five times longer. This makes them a solid investment for those who are tired of replacing their typical low end portable cable cutters.

Who Should Buy This?:

This is a homeowner staple. Find a home that doesn't have a pair of cutters like this somewhere in the home. Spend a few extra dollars and make sure yours is high quality and effective for years to come. Pros can expect this to fall apart in a couple weeks.
Smooth, no-fray cuts
Very portable
Will last much longer than comparable tools
Will need a strong hand
Plastic grip lock spring doesn't last long
7. HK Porter Wire Rope and Cable Cutter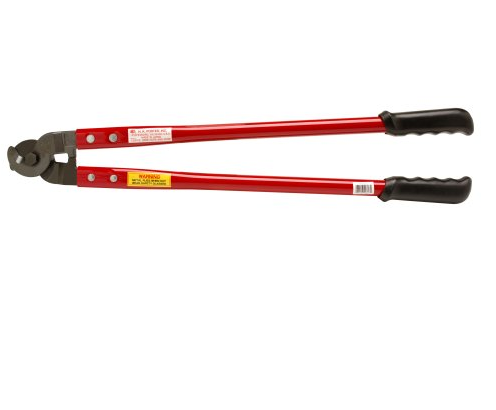 Another generic design common usage cable cutter tool. This HK is perhaps amongst the best valued large size high leverage cable cutters. Solid, well built and effective. These are another line of tools you buy once and hold onto for years to come.

Expand to see more
Key Features:

Weight: 3 pounds
Cutting Range:soft and hard steel cable, wire rope and small ACSR cable.
Shear cut blades.
Rubberized grip.

Price/Value:

Solid and reliable tool at a reasonable price. This is another one of the common tools most sites and homes will have, and this version is perhaps the best value in that niche. Good leverage and solid cutting power at a fair price.

Who Should Buy This?:

This tool can find a home amongst many worksites and homes for its extra power. The extra power means it may find value on a ranch or small mobile work team.
Reliable, time tested design
Powerful cutting leverage
8. Southwire Tools & Equipment CCPR400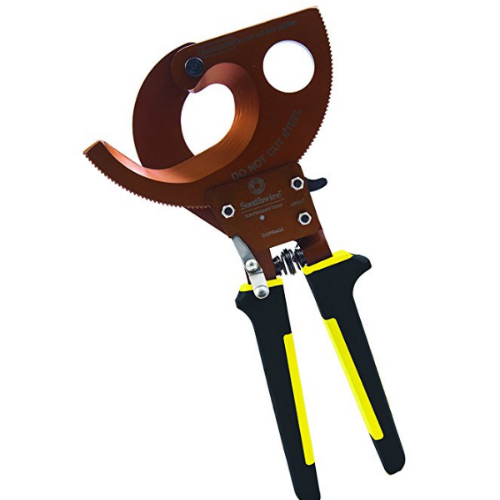 The ratcheting feature lets you make those big cuts without breaking your hand, and makes up for the loss of leverage without the longer handles. It is a well designed tool suited for all classes of workers whether hobbyists or pros. Make power cuts in tight spaces, at a reasonable price. Likely more than the average homeowner will be used to spending, but less than many pros would pay for a comparable tool.

Expand to see more
Key Features:

Weight: 1.75 lbs
Maximum Cutting Capacity (Copper):750 kcmil (MCM)*
Maximum Cutting Capacity (Aluminum): 1000 kcmil (MCM)*
*Maximum cutting capacity is for single conductor wires
Hardened steel blades
Rounded blade design minimizes Cable distortion.
Replaceable blades
Two-step ratcheting mechanism = fewer strokes per cut
Quick-release lever opens blade.

Price/Value:

This is a mid-level priced tool that operates at a high end level. The price may be a bit high for a typical consumer level pair of cable cutters, but you are getting much more value in return for that price bump. Good price, great tool.

Who Should Buy This?:

As long as the price isn't way out of your league, this can be a very valuable tool for a broad range of users. Electricians can get a lot of yardage out of this purchase, as can a hobbyist who needs something a cut above. Pun intended.
Easy to use compact build
Great ratcheting feature
Easy to replace and maintain pieces
The durability of the handle should be improved
9. Greenlee ETS12L12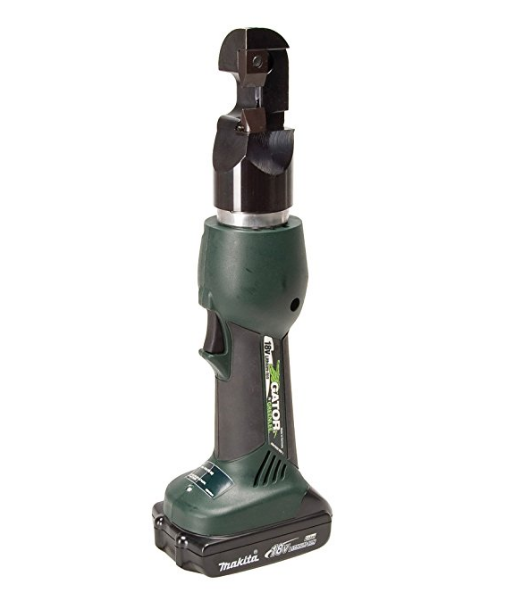 This battery powered cutter comes packed with features and power. The battery life is decent and the tool itself can make quick work of almost any task within reason. Great for industrial settings, larger workshops or heavy duty contracting jobs.
Expand to see more
Key Features:

Weight: 4.4 lbs
Battery: 18V 3.0 Ah Li-Ion
Cutting Range:
Disposable Lock, 4 AWG Alumoweld Common Bolt: 1/2" Grade 5 Bolt: 7/16" Grade 8 Bolt: 5/16" Boa Lock: BL-9
Cuts disposable locks, container seals, and small diameter bolts quickly and simply.
LED work light
Battery LED monitor
Tacky grip areas to make the tool easier and more comfortable to hold

Price/Value:

Very expensive as far as cutters go. This gets the most value out of a heavy duty scenario with constant use, where you want to reduce user error and injury rate with standard manual cutters.

Who Should Buy This?:

Companies or teams looking to reduce manual errors by implementing an electronic cable cutting solution.
10. Greenlee 718 Cutter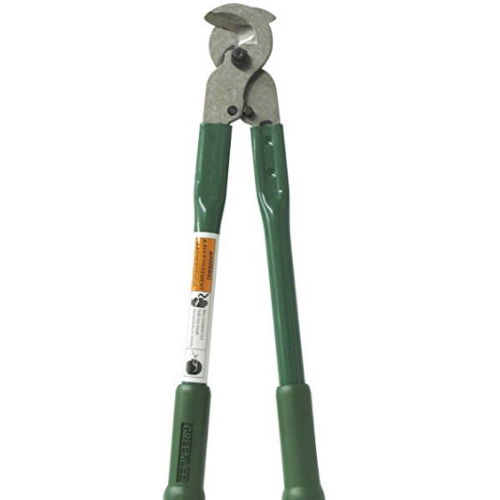 Heavy duty
bolt
cutters made from forged steel, these Greenlee cutters are made for a long and productive life. High quality cutting blades and a comfort designed handle make this tool great at the only two things it needs to do - make your life easier, and cut. Basic cable cutting, with little risk of slips or mistakes.
This is the high end and reliable version of your typical bolt cutters.
Expand to see more
Key Features:

Weight: 3.1 pounds
Cutting Range: Cuts Communication Cables Up to 2.00"
Cuts heavier copper and aluminum cables up to 2/0 | up to 350 kcmil (MCM) (150mm²) for both copper and aluminum.
Lightweight and tough fiberglass handles
Designed blade adjustment
Replaceable, forged, heat treated, and precision ground blades

Price/Value:

These are a high-end version of your typical bolt cutters. Reliable, durable and efficient.The price may be a bit higher than what you would expect for "standard" bolt cutters, but these are made to last well into the foreseeable future, and for many homeowners may be the only pair they will need. Good value depending on your situation.

Who Should Buy This?:

Good pair for a pro in need of a sturdy and reliable bolt cutter. Homeowners looking to make their big bolt cutter purchase for the next decade may consider investing a bit into a pair this good.
Very durable
Classic, effective design
Reliable
May need to make multiple cuts to ensure you cut through all the wires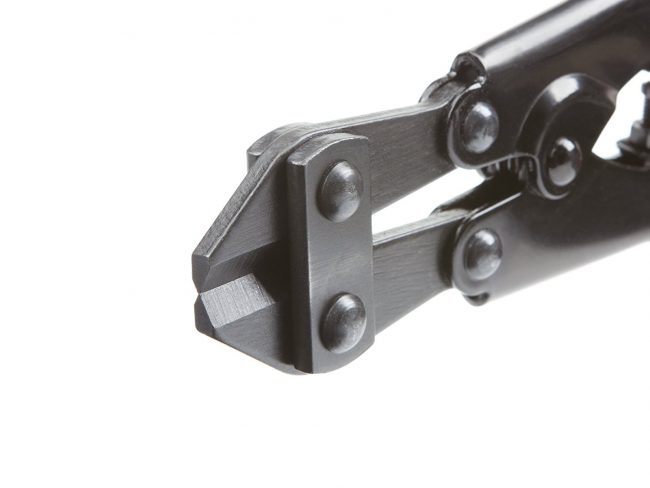 To make this list, we had to dig through an enormous amount of cable cutters. Competitors, knock offs, etc. Once the list was narrowed down to ten, we still had to rank these tools in some semi-organized way. To accomplish this, we put together a set of value from which you can generally judge a pair of cable cutters. Most of these criteria are pretty evident and straightforward, while some others are unavoidably subjective- like comfort. Hopefully, our basic breakdown of how we ranked and judged the tools can answer any further questions you may have.
So remember, a higher ranking tool may not be any better for you than a lower ranking tool. If a device can not accomplish the tasks you have, then that devices value to you will, of course, be a zero.
Price
Since this list goes over a relatively wide range of cable cutters, in an extensive range of prices, we had to evaluate this on an ad-hoc ability compared to cost ratio. Sort of like if a tool could accomplish 80% of the same tasks as another tool but cost 50% less, it would be deemed to have a higher value. This system can only go so far, but each tool was judged on the perceived value it brought versus the cost. Tools like the electronic cutter that had a huge price tag needed to have the numbers fudged a bit for it to make sense.
Power (leverage)
A well-designed pair of cable cutters can make even cutting through the toughest cables a breeze. Many of the tools we ranked well were single hand cutters that still allowed the wielder to generate significant power with one hand. Blade type, cutter arm length and a number of other factors all contribute. This could also be thought of "How quickly the cutters cut at the difficulty rates they claim to be able to handle."
Features / Design
Though cable cutters aren't exactly the type of tool to be feature heavy, there are some that do work in the extras rather seamlessly. Comfort grips, easy adjustments, LED lights -all of these are a nice addition when the moment arises when you need them. Features didn't play too heavily in the cable cutter evaluations.
Maneuverability/Weight

This is another factor that is a bit less relevant with cable cutters than it is with other types of tools. Regardless, a pair of cutters that lets you work in tight spaces but still gives you ample leverage and power when cutting is a good tool. For jobs like electricians who have to work in tight spaces, this benefit is immediately obvious.
Comfort
Similar to maneuverability, but more in terms of hand comfort rather than task assistance. A comfortable pair of grips can go a long way towards making you feel a little better by hours four and five. Comfort keeps morale manageable.
FAQs
While cable cutters are not the most complicated of devices, we still get a ton of questions about them and some related tools. We want to take some time to list out some general answers and tips to common cable cutter issues and questions.
Types of Hand Cutters
There a large number of related hand cutting tools. We will try to keep this question in a fairly narrow scope.
Pliers and Wire Cutters
Essential to every electrician's ability to do his job, and required for most projects hobbyists seem to get up to, a good pair of pliers and wire cutters can go a long way. Long nose pliers let you grip objects and reach awkward areas. Diagonal cutting pliers are a favorite of electricians and are for tasks involving snipping and stripping wires, cutting and removing pins, nails and other fasteners. Wire cutters are used to strip, cut and crimp wires.
Cable Cutters

Cable cutters are simply wire cutters on steroids. Made to get through thick wires and cables, these tools are often designed to maximize the cutting potential in a tiny movement. Some cable cutter hands are rather short, while others can be a few feet long to ensure you maximum cutting leverage.
Wire rope cutters are actually a separate type of cutter.
Ratcheting Cable Cutters
These are cable cutters designed for maximizing the cutting potential of a single hand. A ratcheting mechanism inside the tool allows the cutter to make incremental pressure increases rather than a single cutting motion. Rather than release pressure along with you hand, the tool will maintain pressure and wait for you to squeeze it down just that much more. This method greatly enhances cutting potential with small arms.
General Maintenance Tips for Pliers and Cutters
Ensure that all of your blades are maintained and sharp. Dull and worn out edges can cause a number of issues and hazards.
Ensure the teeth are clean and sharp. Worn down teeth can create unsafe conditions.

Oil pliers and cutters often. Oil on the hinge will make the tools easier to use.

While sharpening cable cutters is a bit trickier than wire cutters, you need to ensure your cutting blades are prepared for the job at hand. Oil the blades and store in a dry place.
What are the factors to consider when purchasing a cable cutter?
Size: When deciding on the best cable cutter, ensure that the size of the cutter can cut the diameter of the cables you're working on. Cutting a coaxial cable is very different from cutting a large and thick utility cable. You can only use specific cutters for specific cables.
Type of cable material: Steel cables are one of the limiting factors for cable cutters. The steel conductor at the center of cables such as some coax is stronger than the cutter's steel blade. This creates notches on the blade, which can cause wear much faster.
How the cutter performs: While this factor is a non-issue when cutting an abandoned cable, it is important to consider how well it can cut when installing new wire cables. For instance, if you want to cut a round-shaped cable, you will try by all means to maintain the shape. However, if the cable is compressed when cutting, the electrical features of the cable can change. This can make it hard when installing connectors. Therefore, flat-edged cutting blades are ideal for flattening out wires while contoured blades can maintain the round shape of a cable.
The sharpness of a blade: This affects how perfectly a cable cutter cuts. If the blades are not sharp, the multiple pairs of cables can be caught between the blades, distorting the pair twist and affecting the overall performance.
Comfort and Insulation: The type of handle of your cable cutter will determine how long you can use it. Most cable cutters come with vinyl coverings or soft plastic handles for increased comfort while you are working. You also need to ensure that your cable cutter is well insulated against electrical shock.
The construction: With many different models of cable cutters available in the market, selecting the right one for the job can be a daunting task. However, quality differentiates them all. Get a solid cable cutter from a well-known manufacturer and read reviews from other buyers.
What are some safety guidelines to consider?
Put on a face shield, goggles or safety glasses if there are potential hazards such as pieces of wires or flying particle, etc.
Always cut cables at a right angle but not from side to side or bending the cables against the cutting edges.
Use cable cutters with a grip span ranging from 6 to 9 cm. This will help prevent your fingers or palms from pinching when you close the cutter.
Use adjustable cutters with a narrow hand grasp for you to grip the cables firmly.
Only use tools that are in good working condition.
Ensure that the edges of the cutter are sharp enough. Blunt and worn cutting edges require you to use more force.
Oil the cable cutters regularly on the hinge to make them easier to use.
Ensure that serrated jaws are sharp and clean.
Worn or greasy jaws increases the force required to hold the cable, which leads to strain injuries and increased muscular fatigue.
Making Your Decision

Okay, so hopefully between the list of cable cutters, the breakdown of the tool criteria and FAQ, you have enough here to help you get started buying yourself a pair of cable cutters. Buying tools can be a frustrating experience, and making an expensive purchase without some research beforehand is often a mistake. Our goal was to try and alleviate some of this frustration and confusion. Either way, any tool on this list is a solid purchase for the tasks it is rated to accomplish and are currently available. They provide a good place to start to compare what you need and what you are willing to pay for it. Do your research and make a smart choice.
So whether you are looking for a pair of cable cutters to help you with electrical work, or looking for something to slice through small diameter bolts – there is something here to fit your needs. Good luck – and remember – build smart, build safe, and build big.
Subscribe to our newsletter