Best Caulking Guns Reviewed and Rated by Our Team
last updated:
Jan 29, 2018
Generally, a good caulking gun simplifies the tasks of spreading silicone or latex caulking to seal up cracks, gaps and to bind materials like wood, ceramic, glass and metal. Caulking goes way back to the days of wooden ships on the high seas and was applied with wedges and mallets. We've come a long way since then, and caulking guns are still being developed and improved upon.
Since this is the type of tool that has always had a significant demand, due to its ease of use and the constant need for caulking application on everything from hobbyist to professional uses, from set building to home maintenance. This high demand has kept competition, and therefore innovation, high in the industry. The constant need has led to there being a vast and diverse selection of caulking guns available for purchase. In response to this huge abundance of choice, we have made an effort to create a list that narrows it down to the very best (and cost effective) caulking guns available for purchase today. Some we chose will be feature and design heavy, while others can simply get the job done well with very little investment.
Our goal was to create a diverse list that could be useful for both industry professionals and the at home hobbyists. This means that tools from the same family were often excluded f they overlapped heavily with their cousins. So if a device looks good to you, take an extra few seconds to see if there is another version available with some feature changes you may find more desirable. Whatever you need is, know that we made sure to approach this list with an objective lens and made sure that if you walk away from this list with a purchase, you are very unlikely to regret your decision.
Since we covered such a diverse range of options (typically it's greater, caulking guns aren't hugely different from one another as say auto-feed screwdrivers) and we made sure all of our lists cover tools that can be used either by pros or hobbyists – the ranking aspect is simply an opinion based on our version of a cost/benefit ration. Our criteria are listed later in this article. The point is, the "best" tool for you will be entirely dependent on your personal needs.
Our Top 3 Picks
[srpshortcode id="4865″][/srpshortcode][srpshortcode id="4863″][/srpshortcode][srpshortcode id="4861″][/srpshortcode]
10 Best Caulking Guns
1. COX 41004-XT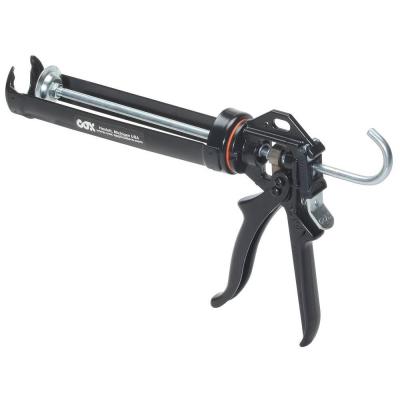 The COX 41004-XT is a heavy, durable beast of a caulking gun. You can tell as soon as you grab it that it was made to last. It is packed with a bunch of added features, has great pressure and excellent control. All around it is one of the most exceptional caulking guns in its price range available today. If you are a contractor or find yourself constantly struggling with low-end caulking guns, this will seem like a god send in comparison.
Expand to see more
Key Features

Weight: 1.6 lb
Thrust Ratio: 18:1
Cartridges: 10 oz. Cartridge | 10.3
Ladder hook.
Thumb activated instant pressure release.
Switchable Flow Control.
Wear Compensating Device.
Seal Puncturing Device.

Price/Value

This is a higher end caulking gun, which is immediately evident when you grab onto it. It is made from thick and durable materials. That said, it will likely last you much longer than a typical $10 caulking gun, which makes the fact it is priced at a little over double that makes much more sense. If you are willing to shell out the extra few dollars, you have a fantastic caulking gun that will last. That is the actual value.

Who Should Buy This?

Since it has great control and durability and cuts down on waste quite a bit, those with expensive or hard-to-clean products can find a great deal here. The price isn't so much higher; the average user really should consider going for the gusto and grabbing one of these as well.
Can switch between drip controls
Strong pressure
Excellent control
Very durable
[srp_anchshortcode id="4865″][/srp_anchshortcode]
2. Newborn 250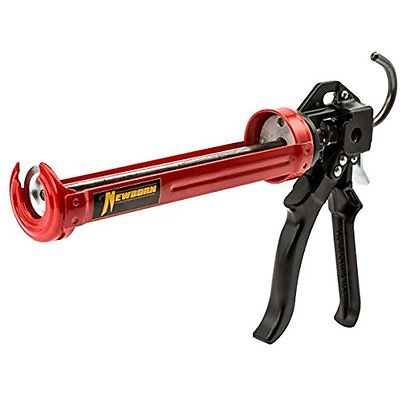 The Newborn 250 is one of the most mid-range caulking guns out there. It has a handy revolving frame that fits 1/10-gal. Cartridges and lets you keep the same bead when working around corners. The good 18:1 thrust ratio makes it ideal for adhesives, cement, asphalt and acrylics and the pressure rod mean you will be using less force. Durable and corrosive resistant handles and a built in spout cutter make this one of the best rounded outdoor caulking guns available. You are going to want to keep it outdoor though, as it is dripless.
Expand to see more
Key Features

Weight: 1.8 lb
Thrust Ratio: 18:1
Cartridges: 1/10-gal.
Zinc Alloy Handle & Trigger
Seal Puncture Tool
"Easy Release Star-Burst Reverse-Punched Gripping Plate"
Ladder Hook

Price/Value

A little more expensive than the average caulking gun, but it is loaded with features and made with solid all-around craftsmanship. These balance out well, and you are left with a great tool at a fair price.

Who Should Buy This?

Because it isn't dripless, this isn't the best gun for indoor usage. This is best left to those needing to caulk isolation joints, fire caulking, etc. anything outdoor is fine.
Very easy to use
Packed with handy features
Revolving frame is a great benefit
Have to be on top of the pressure release to avoid leaks
[srp_anchshortcode id="4863″][/srp_anchshortcode]
3. Tajima CNV-100SP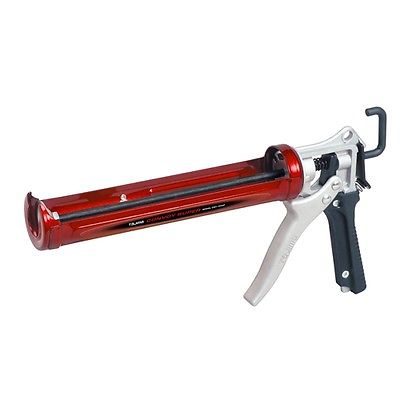 This caulking gun comes in both a 1/10 gallon and a quart size - we reviewed the 1/10 gallon, though the quart will share most of the same characteristics. The Tajima CNV-100SP comes with a steel welded frame and an aluminum handle supporting an extended barrel. The rotating barrel helps you maintain the ideal contact angle throughout an application. An excellent and well-built device at a very fair price.
Expand to see more
Key Features

Weight: 1.8 lb
Thrust Ratio: 26:1
Cartridges: 1/10 gallon
Rotating barrel to maintain contact angle.
Steel welded frame.
Extra-long 10 ½ inch barrel.
Hassle-free tube loading.
Twin thrust plates.
Aluminum handle.

Price/Value

Higher cost as far as caulking guns go (though we are all still in the under $$ range) this more than makes up for it with the high-end operation and features. Fantastic buy for those looking to spend a little extra for a lot more.

Who Should Buy This?

All around a great purchase. The extra length and power make it useful for those looking to deal with thicker and harder to manage materials, but it can handle most other jobs with ease as well. May not be the best for tight spaces.
Longer length
Great thrust ratio
Accurate and smooth usage
[srp_anchshortcode id="4861″][/srp_anchshortcode]
4. COX 21001 Wexford II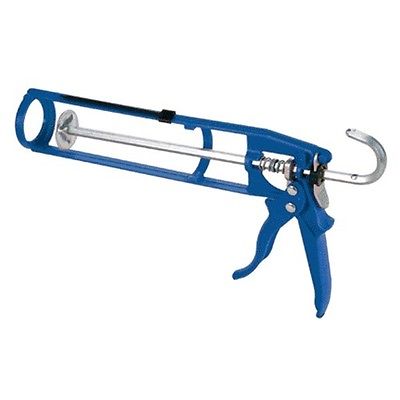 Another COX product but on the other end of the spectrum regarding purpose. This is a fiberglass skeleton design that is extremely low cost. The price is low, and the materials will give and bend under heavy use, but it is a stable and reliable product. It is arguably the best caulking gun at the $-$$ range. It is still better than the obnoxious tin can devices people always get stuck with, and it is made by a company that takes the caulking line of products seriously. A fantastic discount caulking gun.

Expand to see more
Key Features

Weight: 6.4 oz
Thrust Ratio: 7:1
Cartridges: 10.3 oz
Built-in Ladder Hook
Steel Catch Plate
Retractable Seal Puncturing Device
Non-drip feature

Price/Value

Very low price and a slew of functions give this tool a leg up in value. It is not the best caulking gun you will ever own, but it is worth every dollar you will spend on it. Plus you can expect to rely on it for plenty of jobs before it gives.

Who Should Buy This?

Anyone looking for a dripless caulking gun that can make do with a 7:1 difference. It is not the best for the more challenging applications due to the give in the material, but it is a solid purchase and can make a very valuable backup tool.


You can feel the handle flexing under pressure. It is durable, but you can feel the fragility of the materials
5. Newborn 930-GTD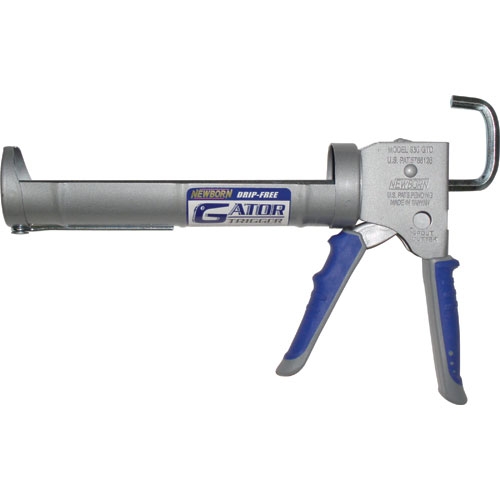 Best used with low viscosity materials, this is a fantastic drip control caulking gun. Steel half-barrel frame makes it surprisingly resilient for the price. It even has an added rod retraction effect to help control drip further. It is a very functional tool for general indoor usage.
Expand to see more
Key Features

Weight: 1 lb
Thrust Ratio: 10:1
Cartridges: 1/10-gal.
Welded Backcap
Ladder Hook
Seal Puncture Tool/Spout Cutter
Patented Gator Trigger™ Comfort Grip

Price/Value

Another fantastic inexpensive gun packed with features that put caulking guns twice as costly to shame. Excellent value, fantastic tool.

Who Should Buy This?

Ideal for all caulking needs due to the control and ease of use. Great for door and window and all interior needs with low viscosity due to the solid drip control. Low cost also allows it to be used as a reliable backup.
Comfort
Good control
Very well made for the price
Shorter lifespan than more expensive guns
6. Dripless Inc. ETS2000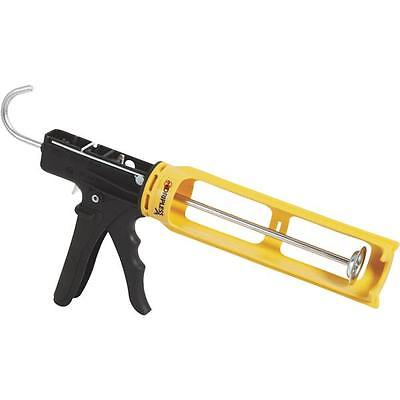 It's the little design aspects and subtle features that really put this caulking gun above many others. Simple things like the cleaning rod placement and the way your hand naturally sits on the handle in use show that the design of the tool was more thought out than it is in devices three times the cost. It's also very easy to use and reliable, which is another rare bonus for the light price.
Expand to see more
Key Features

Weight: 2 lb (Shipping weight)
Thrust Ratio: 12:1
Cartridges: 10 oz.
"40% lighter than models with similar features."
Ergonomic grip
Dripless
Has a viewing port for checking the angle of the cut
Rotating barrel
Ladder Hook.
Sharp precision cutter
Extra long clean-out
EZ clean surface

Price/Value

You may be getting more features at this price range than another device. You may not need all of those features, but it comes out to something like 1.3 features for every dollar you spend, which is a fun ratio. All in all, this is an excellent caulking gun at an excellent price.

Who Should Buy This?

Another solid caulking gun for anyone working with low viscosity materials. The drip control isn't perfect, but it's still manageable for the indoors. This is a very comfortable caulking gun, so if you have a big job ahead of you, consider going with this one.
A surprising number of features
 Isn't as reliable as other brands
7. Albion Engineering B12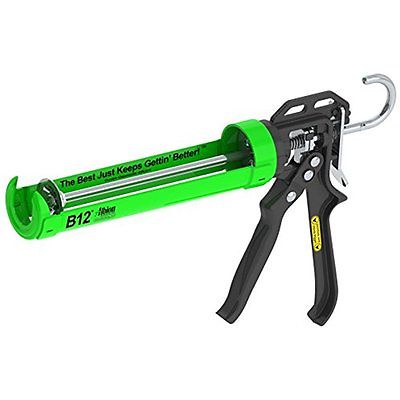 Made for silicone, acrylics, polyurethane, etc. The Albion Engineering B12 is a solid caulking gun at a fair price. It doesn't have a bunch of bells and whistles, but t has a comfortable and reliable build and can be expected to operate as expected time and again.

Expand to see more
Key Features

Weight: 1.8 pounds
Thrust Ratio: 12:1
Cartridges: 1/10-gal.
Metallic Half-Barrel to securely hold standardly sized sealant
Full sized handle for comfortable, efficient dispensing
Built-in cartridge puncture wire

Price/Value

Moderately priced, but justifies this price with a reliable and comfortable design. A step above generic caulking guns for sure.

Who Should Buy This?

Anyone looking to do some low viscosity work will be pleased with this device. No major complaints outside of the lack of a poker rod, a good design and easy to use. Pretty much exactly what you'd need and expect.
Comfortable
Easy to use
Great Value
Does not have a poker rod
8. Dripless SI300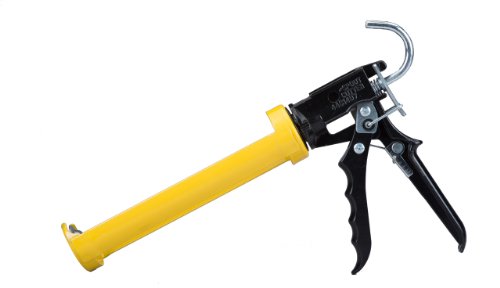 This is a high viscosity caulking gun recommended for acrylics, silicone, elastomeric and latex. The Dripless SI300 is an "enhanced-power smooth rod gun" great for heavy duty jobs with a rotating barrel and a drip/dripless feature.Very durable and reliable.
Expand to see more
Key Features

Weight: 1.2 lb
Thrust Ratio: 16:1
Cartridges: 10 oz/310 ml
Optional Drip/Dripless feature
Steel revolving frame.
Ladder Hook/

Price/Value

Decently priced and durable, this gun is a secure investment in the future. It will outlast and live longer than a dozen of the generic brand caulking guns. Robust Tool at a solid price and will save you money in the long run.

Who Should Buy This?

The durability of this device makes it perfect for everyday use on tough sites, while the additional features and affordable price make it perfect for the wider market as well. Anyone who needs a reliable high viscosity gun.
Good hand fit, ideal for long usage periods
Good control
Durable build
Not completely dripless without some finesse
Low-quality cutter
9. Malco CG18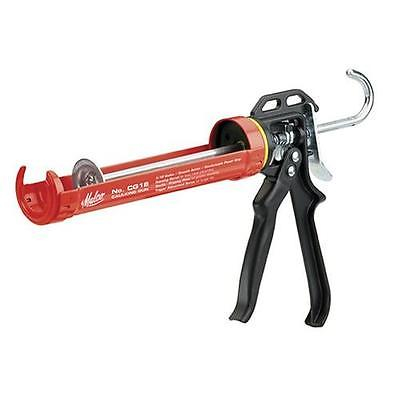 The Malco CG18 is an excellent caulking gun built for more heavy duty usage. It has only a couple small design defects but is able to overcome those with the rest of its design and included abilities. An above average caulking gun by any measurement.
Expand to see more
Key Features

Weight: 1.6 lb
Thrust Ratio: 12:1
Cartridges: 1/10-gal.
Slotted front for easy loading.
Ladder size hang hook.
Smooth action with comfortable grip
Trigger adjustment screw
Rotating barrel

Price/Value

Premium price, and adequately makes up for the higher price with a good design and set of features. All in all this gets an above average rating for overall caulking gun value.

Who Should Buy This?

Professional-grade use is definitely a possibility with this tool. I'd recommend a slightly more durable brand for hefty day to day use.
Generally very sturdy
Smooth action
Some small plastic parts are prone to breakage
10. Red Devil 3986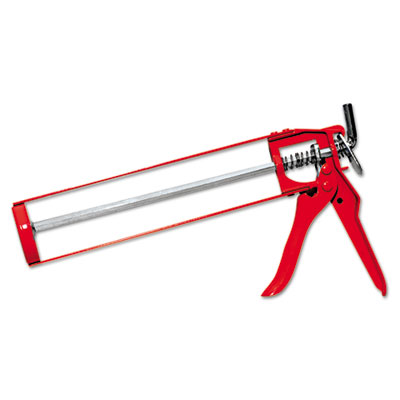 This is the king of minimal cost caulking guns. Metal design and capable of light/medium application needs. It will survive through a handful of tough jobs and costs less than a cup of large coffee. Buy a handful of these and don't stress getting a gun frozen from the material.
Expand to see more
Key Features

Cartridges: 1/10-gal.
Quick-release lever
Heavy-duty construction
For light to medium applications

Price/Value

This is perhaps the best fire and forget caulking gun out there. Very cheap, very useful, but don't expect it to last forever, Get a handful and plow through your caulking work with them.

Who Should Buy This?

These are ideal for anyone looking to stock up on backups, or if you are looking for a one-time caulking job for the foreseeable future. This is the best of the "cheap" caulking guns and should be dealt with as such.
Low cost
Sturdy build for the price
Must consider them expendable
Criteria for Evaluation

To put together this list, we had to dig through a literal pile of caulking guns in order to pick out the ones that were worthy of your money and readily available for purchase. Even after narrowing it down we had to decide how to evaluate and rank them. To that end, we put together a list of criteria from which to judge the devices. Some criteria are relatively straightforward (price, features, etc.) while some others were more subjective (comfort). In order to explain our decision making, we have put together the list of criteria and how they were judged.
Another thing worth noting once again is that these rankings are not specific to any particular set of needs, so it is likely that for your personal needs the #2 (or 3 or whatever) ranked tool may very well be a better fit to your needs than the #1. The final judgment ultimately rests on you.
Price
When comparing the prices of caulking guns, you are not talking about vast distances in dollars. The most expensive was near $40 while the cheapest was seriously cheap. This made a value judgment much more straightforward as it is easy to ignore a few dollars when you are considering a tool you will theoretically be using for the foreseeable future. To that end we lumped them roughly up in low cost, mid cost, and premium cost brackets and compared the bracket placement to the available features and reliability of the tool.
Thrust Ratio

This is a relevant factor when you consider that it directly relates to the available applications of the device. A higher thrust ratio will make the tool better at dealing with high viscosity (similar to a material's "thickness") materials. I like to think of it on a scale of water to peanut butter. Peanut butter would be on the high end of viscosity, while water safely sits on the lowest end.
The higher the mechanical assist and the more power it has to handle high viscosity, the more useful the tool will ultimately be for the wide array of possible jobs out there. The tools with the better ratio were given more favoritism.
Precision/Accuracy/Drip
Caulking is often used in a lot of small target areas, so the ability for a caulking gun to ensure that the material gets to where it needs to, without making a mess everywhere is pretty important and can make the difference between whether a tool can be used indoors or not. For that reason, this was a very relevant metric. Drip is another important factor in this. If you can't trust a tool to stop when you stop pulling the trigger, it can significantly limit where it can be used.
Comfort and Weight

Most caulking guns are relatively light, but when you are working all day with a full tank, it can put some strain on the hands and wrist. Tools designed around comfort, good balance and weight all got a boost in the ratings. Nobody wants to work with an unwieldy tool 6 hours into a job.
Features
Since many caulking guns are all priced in the same general brackets, features are usually how companies try to make them stand out. Some of these are great additions; others are just sort of nice sometimes for specific jobs. When a feature was truly impressive or useful, we made sure it counted. An example of a useful feature is the ladder or belt hook – there is a reason it showed up on so many tools. I can't stress enough how helpful I have found a simple hook that lets me put the device down while standing on a ledge or trying to accomplish another task real quick.
Tips on Releasing a Caulking Gun
In the early days, caulk guns were cumbersome and cheaply made. "Ratchet guns" were the only caulk available. Theses are driven with a ratchet with a rod that pushes its way in the tube of the caulk. To prevent the caulk from flowing, the push rod must be positioned upside down via the lever to disengage the teeth of the ratchet and release pressure by pulling the rod back.

These guns are in the market although they require extra hand pressure. It is hard to control the caulk when you want to stop the flow. Today, you can access the smooth rod dripless caulk gun, which is widely available and performs well on every type of caulk. The gun requires half the hand pressure to push making it easy to get the caulk from the tube.
Let's have a look at how you to release a caulking gun:
Preparing the Tube
Before you load the caulk gun, you must prepare the tube. First, you need to cut off the tip, today's caulk guns are very convenient since you don't need to use a razor blade, knife, or scissors since it comes with an inbuilt cutter. The tube is a little narrow with a plastic spout or nozzle at the front end. The tube's back end is made from a different material from the tube's body. Instead, it is sealed using a flexible plastic disc.
Inserting the Tube
If the caulk gun comes with a hole for this purpose, you can insert the tube's tip into the hole and squeeze the handle. However, if your gun doesn't have a hole, you pull the trigger so that a knife edge can cut the tip for you, but you should keep in mind that cutting the tip further from the end creates a bigger hole.
Once you cut the tip, it's important to break the foil seal in the tube. Some caulk guns come with a built-in rod for this purpose, but if yours doesn't have a rod, you can use a long screw or nail. Breaking the seal allows the gun's nozzle to remain even with the surface you want to caulk as you hold the caulking gun.
Loading
With the tube prepared, you can load the caulking gun. Hold the trigger or handle of the gun while pulling the protruding rod simultaneously from the back end. If using the older versions of caulking guns, you should rotate the rod to 90° before it pulls back. The newer version just slides back automatically. You place the tube into the open hole of the caulk gun with the nozzle at the front. Move the nozzle slowly via the open front end of the gun as far as it can go. Now you can hold down the handle and push the attached circular disc with your hand to the rod's front up to the tube's back end. The metal disc will perfectly fit into the back of the tube while pressing against the movable plastic disk.
Operating the Gun
Constant pressure on the trigger or handle creates a solid stream of the caulk from the tip, which is positioned 1/2 inch or less from the expected destination of the material. Once you depress the trigger fully, let it spring back and depress once more. As the material comes out of the tip, you should keep the gun moving. It's also important to release pressure at the end of the bead, to prevent the caulk from coming out when you are not squeezing the trigger. If your caulk gun comes with a notched rod, rotate the rod so that the notches can face upwards to release pressure. If it's operated using friction, depress the lever placed next to the trigger to release pressure. Insert the tube and squeeze the trigger several times so that the plunger can move inside the tube and come into contact with the membrane. Squeeze one or two times more to fill the tip with caulk, and now you're ready to start caulking.
What Can You Use Caulk For?
If you like doing home repairs, then you are familiar with a strange cylindrical tube in almost all home improvement stores. Caulk is one of the most valuable and versatile materials in the building industry used in showers, fireproofing, roofing, etc. It comes in hundred different types and colors, and your creativity can only limit its uses. Each caulk is designed for a specific job. Choosing the right caulk is vital to ensure your structure lasts for long. So, which type of caulk best fits your project? Let's have a look at the various types of caulks and their uses to help you find the right caulk for the job:
Acrylic Latex (Painters Caulk)
It's probably the most common and cheapest caulk available. It is used to cover small holes and cracks, which is then covered with paint. Acrylic latex caulk adheres perfectly to drywall, wood, masonry and any other porous building materials. Once applied, it dries in about one hour and is ready for painting. Also, it is latex-based; thus you can quickly clean it up with water and soap, making it the ideal caulk for punch-out jobs. However, it is not the best for filling large cracks. It is also known as "The Painter's Best Friend".
Vinyl Latex
Rather than using softer water soluble acrylic, you can choose vinyl latex, which is designed to apply and clean up with ease just like the painters caulk. If you are looking for vinyl latex suitable for outdoor projects, tubs and showers, you should be careful about the type you use and should choose one that lasts longer.

Unlike the acrylic latex caulk, vinyl latex is used in wet areas, performs very well, and it is waterproof. Although a bit expensive than the acrylic latex, it has excellent adhesion properties. Also, it is not flexible so you should be careful where expansion and contraction occurs.
Acrylic Tile Sealant
This caulk comes in a tiny little tube that you can squeeze by hand. They are used to seal simple patches and repairs in wet areas. Most acrylic tile sealants are resistant to mould and mildew, although they do not last for long in high-use places like showers and tubs. It is easy to clean with water and soap, paintable and can remain flexible for a few years before it needs a replacement.
Siliconized Acrylic Sealant
Unlike pure acrylic, siliconized acrylic sealant comes with both the acrylic's ease of use and silicon's durability and strength. Although it is a bit tougher to clean up, it is a strong sealant on glass, porcelain, tile and metal. It is also ideal for outdoor use, but it's not the best choice for outside use.
Pure Silicone

Are you looking for the best method to seal your shower or bathtub for good? Pure silicone is your ideal caulk. It is mould and mildew resistant, doesn't yellow or discolors, very durable, strong, flexible and it's best for a wide variety of non-porous surfaces. However, it rarely sticks to porous materials such as drywall and wood. Also, you need a heavy-duty solvent to clean it up, and it stinks so badly since it releases ammonia, but once applied, it lasts for decades.
Adhesives
Also referred to as Liquid nail, adhesive caulks are used to glue two materials together, and can stick to almost everything for a very long time. Some adhesives are mildew and mould resistant making them an ideal choice for wet surfaces. Although most adhesives can be easily cleaned up using plain water, you should have a solvent in case it gets on your shoes and clothes.
Butyl Rubber
Are you looking for the best caulk for outdoor use and in the sunlight? Butyl rubber is your answer. It is one of the strongest caulk available in the market today, and it is a great sealant for roofing projects, storm windows and doors, gutter streams, downspout, foundations, chimney flashings, concrete and bricks where movement and moisture are commonplace. Also, when used with a backer rod or a caulking rod, it can perfectly fill larger joints. You can quickly clean it up using a solvent.
Asphalt
Asphalt looks and smells like butyl, and it is very sticky. It is used for sealing flashings, shingles, and roof areas that do not receive sunlight since it doesn't like sunlight. However, it degrades faster than the butyl caulk.
Mortar Repair

It looks like concrete inside a tube. It is grey, textured, and tough to work with– especially when it's cold. It is very flexible, and it's used for sealing gaps and cracks in concrete, stone, and brick that are always n the move.
Fireproof Caulk
It is a nauseating red caulk for sealing cracks, gaps, and holes to prevent fire from moving in through open spaces in a building structure. Most fireproof caulks are used by professional insulators to seal holes in framing where electrical and plumbing lines penetrate.
Polyurethane
Only used for outdoor projects, polyurethane is a perfect choice for sealing door jambs since it withstands abrasions (unlike silicone), and can stick to wood. On the downside, you cannot smooth it, so you need to be careful in your initial application.
Refractory Caulk
Used for specialized repairs of a fireplace and fire brick mortar gap.
Common Caulk Accessories
When using a caulk, you might need some of these tools to accomplish your project fast and with ease. They include:
Caulk singles: They are designed for simple touch-ups in the house, for instance sealing the kitchen sink or the shower tile.
Caulking cord: It comes in rolls, and it is often used to weather strip doors and windows. If applied appropriately, it can last up to two years.
Finishing tool: Used for making a uniform bead, although it requires you to get used to it. Practice on a tucked-away area or a piece of cupboard before handling visible projects.
Caulk gun: It comes with a swing-out wire or a nozzle to prick caulk tube seals. You should choose a caulk gun that can accommodate the size of the caulk tube you plan to use.
It is always important to read the manufacturers manual before you choose a certain type of caulk for your task. With various types of caulks available, you can find the ideal one for your project.
FAQs
What are some proper techniques for using a caulking gun?
I get general usage questions about caulking guns pretty often, so I want to address some common tips for usage, which should hopefully troubleshoot a number of common issues preemptively.
If you are applying caulking to 90-degree corners, it is best to cut the tip off the tube at a 45-degree angle. This lets the tip go flush against the corner for the greatest level of accuracy. Experiment with different cuts and hole sizes depending on the project, or better yet just spend a minute going over it in your head and it should be pretty straight forward. Smaller holes are best for circling the rims of objects like a tub; a larger hole can be beneficial when dealing with tile.
Wetting an area with your finger can help ensure you are able to apply caulk to the area easier. As you apply the caulk run your finger along with the application to ensure a clean and accurate application. A nice pair of rubber gloves will let you troubleshoot applications with your fingers as they happen. There are also caulk shaping tools that can help with this. Tape can also be used to protect and help shape the caulk application.
Make sure you correctly scrape and clean an area before applying caulk. Scraping off any past residue and washing away any dirt is very important for a good long term application.You should also use a knife or sandpaper to trim and shape the caulk after the application.
How do I Choosethe Right Caulk?
This is obviously important since the wrong material can cause a whole slew of unforeseen consequences.
For most tasks, an acrylic-latex blend is what you should be using. This material is inexpensive and waterproof and can last for a considerable amount of time. It does have its limits, however. Some of these blends are capable of handling paint well; other will not- check your mixture to ensure it can withstand what you plan on doing to it.
An outdoor caulk like butyl and/or rubber caulk mixtures are best used for areas that need to be weather resistant and withstand the elements over time. Gutters, window frames and any other area exposed to the brunt of nature's wrath.
A good option for bathrooms and other wet areas is a silicone caulk – though it cannot be painted so be careful where you apply it. It is often used on piping and other areas that have very high or low temperatures since it will not expand or contract with these changes in heat or cold.
Any Tips for Care and Maintenance?
While many of the cheaper caulking guns you shouldn't expect to last more than a few uses, the higher end ones can actually last quite a long time if cared for and looked after properly. Let's go over the most relevant aspects of caretaking:
Storage of the tube and gun
When you are finished using your caulk you need to make sure you put it in a cool and dry area, and that it is properly sealed to avoid drying out. As for the gun, it also needs to be stored in a dry area to prevent the possible build up of rust.
After you finish applying the caulk, you need to make sure that you properly clean off any and all the materials you used to implement it, especially the gun. Improper cleaning is one of the main reasons caulking guns eventually fail. Caulk, even small amounts in a critical area, can dry and harden and make your gun function improperly, maybe not at all.
Properly checking the caulking gun and caulking tube for any defects or damage can prevent a much bigger issue from developing, one that can endanger both your property, devices, and health. Safety glasses should probably be worn as caulking fluids can often be very abrasive to eyes. A good pair of gloves will not only protect your skin from abrasive fluids, but it can also allow you to shape and guide the caulk in many instances.
Making Your Decision
Alright, so between our FAQs, the criteria for decision making, and the top ten list provided, you should have everything you need to go out and buy a caulking gun with confidence. Purchasing tools can be a real hassle; luckily these devices require much less risk in investment – regardless, we did our best to ensure that every tool on this is of a high quality and will be very unlikely to leave you disappointed. You may not agree with all of our opinions or decisions, but hopefully, we have provided enough justification for you to understand why we chose what we did – and it helps to formulate your own opinions and needs, even amongst the disagreement. I often solidify my ideas when forced to confront differing opinions and dissent. Either way, there are tons of options, and the decision over the best tool for your needs will ultimately come down to you. I just hope this list has helped you make that choice with confidence.
So regardless of whether you are a hobbyist or homeowner with a quick project coming up, or a professional looking for the caulking gun to get you through the next year of work, we did our best to make sure this list has something that matches your needs and price range. Good luck – and remember – build smart, build safe, and build big.
Subscribe to our newsletter