Best Safety Masks Reviewed and Rated
last updated:
Jan 14, 2019
When you work with chemicals, or tools that create substantial amounts of debris you are putting both external and internal parts of your body at risk. One of the most sensitive areas of our bodies are our eyes – and the lungs interact with the outside world more so than any other internal organ. If you do not take the proper steps to protect them, you run the risk of both short term and long term damage. There is a reason all of those cliche 'Safety is our first priority" signs exist.
Our Top 3 Picks
[srpshortcode id="4318″][/srpshortcode][srpshortcode id="4320″][/srpshortcode][srpshortcode id="4321″][/srpshortcode]
The chance of it happening may be low, but every year there are dozens and dozens of cases of people who didn't take the proper precautions severely damaging themselves. To address this reality, manufacturers have developed numerous devices provide various levels of protection. From simple cloth masks to elaborate solar powered face shields – there is no shortage of options available when it comes to protecting yourself.
Due to the growing investment by both amateurs and professionals in their own safety and the safety of their employees, companies have developed a plethora of options when it comes to safety devices that protect your face and airways. We have created this guide to help you dig through this myriad of choices and find the right mask for your needs. Not all masks are built the same, and we have applied criteria that will help you weigh your options accurately and equitably.
This criterion, as well as an FAQ regarding safety masks, is also contained within this article. The hope is that we not only provide you with some key recommendations but also help guide you through understanding and evaluating this type of gear for yourself.
We made an effort to avoid reviewing to extremely similar products from the same vendor – for example one with an extra strap or feature as opposed to one without. Including the related products would only result in a list that recommended a few very similar products. So if something on this list seems like a good fit for you, look around a bit and see if there are similar options with maybe one or two small differences that may suit you even better.
One last note: We had planned to include welding masks in this list initially, but the extensive differences and factors, as well as the unique aspects of that market, were increasing the scope of the article past what is practical. We will be creating a list based solely on welding masks sometime shortly.
10 Best Safety Masks
1. 3M 07193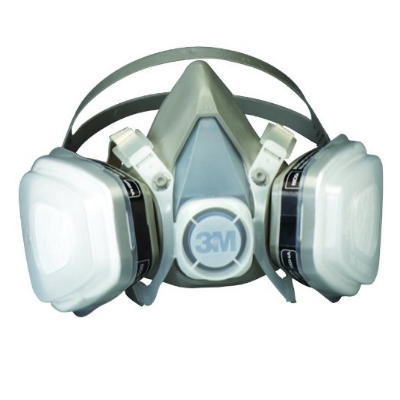 Though this mask was made to be convenient and disposable, and thus as a very attractive price point, many are so happy with its comfort level and functionality that they opt to replace the filter and continue using the mask anyway. This makes sense since this mask from M3 provides the same quality and functionality as a mask three times more expensive. Ideal for mixing paint, welding plastic, mixing and applying body filler and any number of other tasks.

This piece of gear uses two filters. The first filter is a particulate filter that can be easily replaced. The second is an active carbon filter that cannot be replaced (technically you can, but you should know what you are doing).
Expand to see more
Key Features:

Respiratory Certification: Organic Vapor/P95
NIOSH Approved Solvent and Particulate Respirator. Organic Vapor respirator protection
Good for 40 hours of light solvent filtering work and 8 hours of concentrated solvent filtering.
Resealable package.
Disposable.
Convenient.
Ideal for intermittent use.

Price/Value:

Since you can buy these masks in bulk, and they were made to be disposable - yet are still capable of handling filter replacements with the right knowledge - this is a quality mask at an extremely low price.

Who Should Buy This?:

This is a fantastic backup for anyone whether they are pro's or hobbyists, While a professional may want something a little more substantial and durable, having a couple of these on standby will ensure you always have respirator capabilities.

Low cost
Easy use
Eliminates odors very well
Can be difficult to properly seal
[srp_anchshortcode id="4318″][/srp_anchshortcode]
2. Uvex Bionic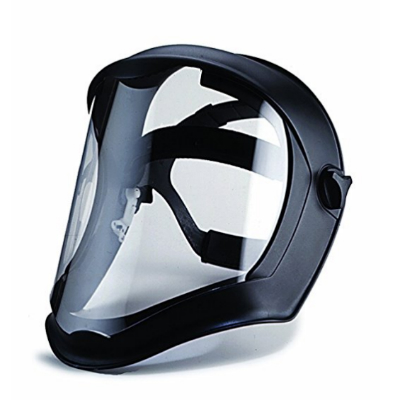 Full faced, comfortable, and well designed. The Uvex Bionic face shield combines the simplicity of visors with the comfort and full protection of a more expensive full face shield - with no real increase in price. This is well designed enough to be worn all day with little annoyance and is ideal for workers in risk of taking impacts, chemical splashes, and airborne debris to the face.

The manufacturer lists hazards this item is built to protect from as: Abrasion, Airborne Particulates, Biohazard, Chemical, Impact, and Splash. The Dielectric (non-metal) construction ensure safety in electrical environments.
Expand to see more
Key Features:

Face Protection Rating: ANSI Z87+ (High Impact) and certified to CSA Z94.3 standards
Good optics and increased visibility due to full design.
Easily replaceable visor with two position choices.
Comfort design for extended use.
Removable and washable headband

Price/Value:

This can best be described as an expensive face mask at a low price. As long as it meets your required safety ratings, this piece of gear doesn't leave you wanting much more. It provides clear vision and comfortable wear.

Who Should Buy This?:

This is a fantastic piece of headgear for a wide variety of professionals and hobbyist. Since it covers such a wide range of hazards, it's hard to specify who should be buying it. Suffice to say it is high quality enough for the pros, and inexpensive enough for everyone else.
Comfortable
Full face design
Lightweight
The Dielectric design makes it suitable for electrical uses but leaves a lot to be desired when plastic has to be used
[srp_anchshortcode id="4320″][/srp_anchshortcode]
3. 3M Face Shield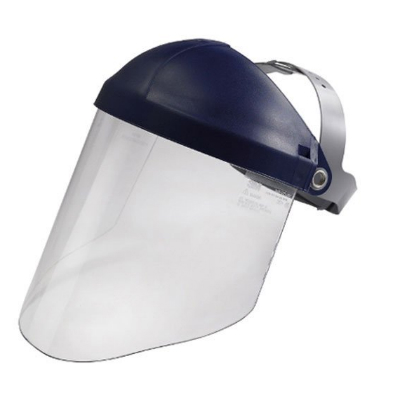 This is another well-made face shield built to be comfortable for extended wear periods and still protect you from general impact and splash damage.

The manufacturers are obviously proud of their designs and included an extensive list of work environments and hazard this face shield can withstand. Really any working environment with debris or sparks, this is something you will want to have between you and the hazard.

Expand to see more
Key Features:

Face Protection Rating: ANSI Z87.1-2003
Polycarbonate window maximizes strength and durability.
Pin-lock system allows for easy adjustments and provides a secure, custom fit.
Crown protector is made of high-strength thermoplastic material.
Window attachment system is easy to replace.

Price/Value:

For the price of a couple of cups of coffee, you can get a piece of headgear that may not only save your vision from a renegade rock, but it will also likely last for the next couple of years with proper maintenance.

Who Should Buy This?:

This is a nice low-cost piece of gear that is suited to a wide range of professional and hobbyist needs. For the long run you may wish to invest in something a bit better, but having a low cost and efficient piece of gear like this on backup will make sure you are always ready to go.
Made for comfort.
Good, solid design.
Low cost
Top strap can be overly delicate
[srp_anchshortcode id="4321″][/srp_anchshortcode]
4. Safety Works 817662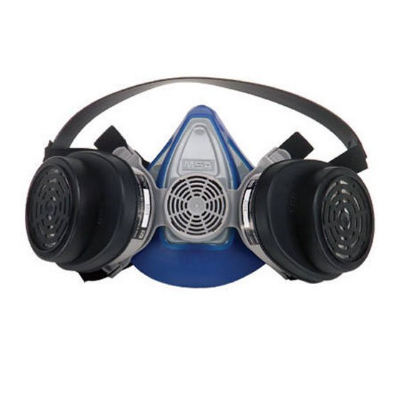 This is a solid lower face respirator that utilizes filters rated for at least an 8-hour shift and are capable of removing 95% of oil based contaminants. The mask itself provides a snug, secure and comfortable fit with a "multi-flex design" which basically means it is able to better wrap around your face.

This is a tried and true respirator with an excellent track record for overall comfort and all around effectiveness. It has a hard to beat the price, and although it eschews extra features, it gets the job done well.
Expand to see more
Key Features:

Respiratory Certification: R95/OV Category, Approved For Organic Vapors.
Approved By Niosh Under The Niosh 42 Cfr 84 Respirator Certification Regulations.
Flexible facepiece for a better seal.
Low profile cartridges for an unobstructed view.
Replaceable, long-life cartridges and pre-filters.

Price/Value:

Moderately priced and well built. This is a simple workhorse made for a job it does well. If you have need of a respirator, you won't be throwing your money away on this one.

Who Should Buy This?

Anyone doing large amounts of spray painting or pesticide work. Pros and amateurs can both find ample usage from this product.
Time tested design
Reliable
Generally comfortable
Small individuals may find it a little large
As with most respirators of this type, a beard will make a complete seal difficult
5. Safety Works Adjustable Headgear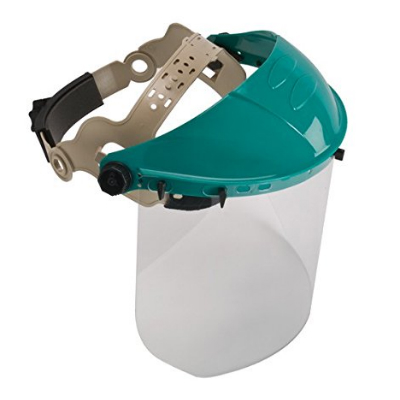 Both cost effective, and generally useful. The safety works face shield does what it says it will without the frills and extras other brands try and tack on yet do little actually to assist someone at work. It provides excellent protection, is easy to adjust and is comfortable enough not to become much of annoyance when in use for extended periods of time.

It may require the addition of goggles to adequately protect the eyes from debris in many cases, but this face shield will ensure your face is protected from the vast majority of dangers that occur while working. Using a pole saw, tree trimming, weed whacking, etc. With This Safety Works equipment, both household and commercial job dangers will be minimized significantly with little monetary investment.
Expand to see more
While it may not be durable enough to withstand the heaviest of blows, it will definitely protect you from injury when a drill chuck goes rogue, absorbing the shock and likely cracking in the process.

Key Features:

Face Protection Rating: ANSI/ISEA Z87.1-2010 general and high impact.
Crystal clear visor for clear vision.
Ratchet suspension for easy adjustment.
General and high impact protection.

Price/Value:

This is where this piece of gear shines. Low cost and capable of getting the job done. If you need a face shield for a one time task, or for repeating use - the initial investment required here and it's durability makes it suitable for both.

Who Should Buy This?:

While this face shield may not be enough to stop the most extreme forms of damage, it is good enough to be used by both pros and amateurs in a variety of general tasks.

Low cost
Durable enough to protect you from most blows to the face
May need to be augmented with additional protective measures
6. AMSTON N99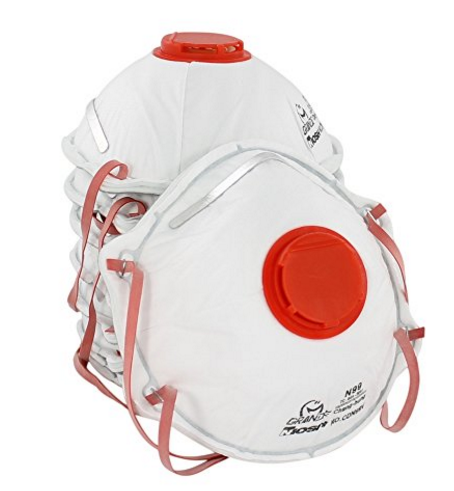 These dust masks are a substantial step up from the general covers you will see painters and other contractors wearing. They are much more expensive, just over a dollar each, and actually protect your airway better than many internal filters of the most high-end masks. The N99 rating will protect your breathing exceptionally well for hours against most hazards.

Expand to see more
Key Features:

Respiratory Certification: N99 NIOSH-Certified
Metal nose clip gives a contoured, custom fit.
Low-profile design (easy to use with other protective equipment).

Price/Value:

Very low cost and very effective. You should have a pack of these on hand whether you already own a mask or not.

Who Should Buy This?:

Like we stated under value, both pros and amateurs, if they don't want to invest in a good backup mask, should keep a pack of these handy. This is also a good solution for one time gigs.
Very low cost
Great filtering abilities
Better comfort fit than standard masks
Although cheap, it is not a long term solution if you do constant work
7. SanSiDo Respirator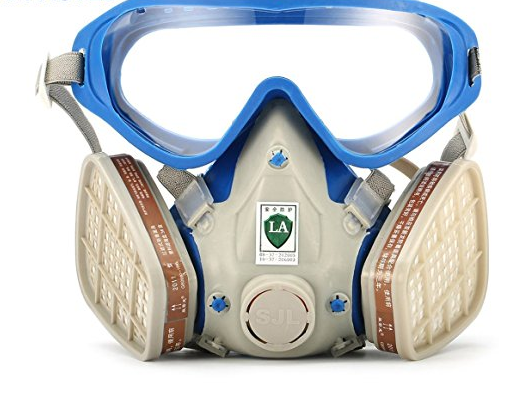 This is a nice combination of goggles and mask that lets you get down and dirty with a number of tasks without needing separate pieces of safety equipment or worrying about gaps in your protection. This combo is designed to protect against a number of organic gases such as formaldehyde, ether and gasoline - it also protects you from spray paint, polishing, chlorine, acetone, and other vapors and dusts.

It is not the most heavy duty piece of equipment, but it is very cost effective and a favorite amongst pros and hobbyists alike.
Expand to see more
Key Features:

Respiratory Certification: ASTM E2952-14 [Air-Purifying Respiratory Protective Smoke Escape Devices (RPED)]
Mask and goggles integration design.
Reusable respirator can be disassembled, cleaned, and reused.

Price/Value:

Cost effective. It can give you a longer life than most in this price range as well - due to the ability to disassemble and clean it. The more you are willing to care for it, the more valuable it becomes.

Who Should Buy This?

Like most of the products on this list, this is great for the DIY and homeowners who may just need it for a couple tasks, but it is also suitable for pros who either need a back-up or rarely have to go to their masks and don't want to invest in something too over the top.
Low cost
Highly recommended
Mask/Goggle combo
Not very durable
Goggles prone to fogging
8. 3M M-300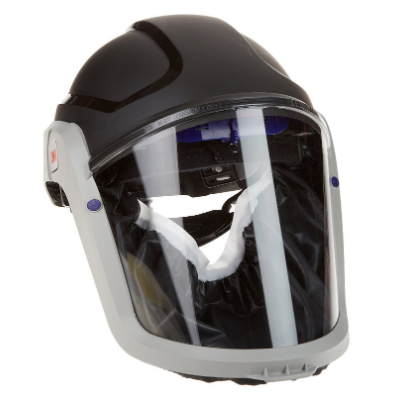 This hard hat, face shield, and respiratory device combination has OSHA approved respiratory protection, ANSI approved eye protection, and crown protection all packed into a comfortable and lightweight piece. This is a fantastic design that can be adjusted to the user and is built to allow adequate airflow within the apparatus.

Though the tasks that require this level of protection are limited, should you have need of a piece of gear like this, you will be hard pressed to find a better one.
Expand to see more
Key Features:

Respiratory Rating: OSHA APF=25
Head Protection Rating: ANSI Z89.1-2003 Type 1 Class G
Eye Protection Rating: ANSI Z87.1-2010
Hardhat
Flame resistant face shield.
Adjustable airflow.
Articulating ratchet suspension.

Price/Value:

This item is much more expensive than a piece of gear that accomplishes one of its many tasks. Though the 3-in-1 aspect does bump up its value, it still falls on the more expensive side. However, this device is built to outlast a good portion of competing products.

Who Should Buy This?

Built for use in manufacturing, automotive assembly, or foundries. Anyone who has need of extreme head and respiratory protection can find great use in this piece of gear.
Very well designed
Comfortable
Versatile
Expensive
Requires very industrial work to justify the purchase
9. Sperian 322510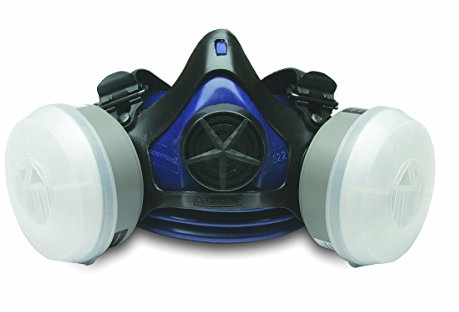 The Survivair series has has a number of quality respirators and masks in its lineup. We decided to go with the 322520 Premier Plus since it is the highest end product of their value category. It best combines overall effectiveness with a very reasonable price point.

Expand to see more
Key Features:

Respiratory Certification: N95/OV
"backup" sealing security.
Silicone facepiece construction is flexible.
Lightweight and durable.
Valves and cartridge ports enhance field of vision.

Price/Value:

Good value for a solid mask. This mask is a bit more durable than some of the other respirators we have covered but its price really isn't that much higher. It strikes an excellent balance between quality and price.

Who Should Buy This?:

Good piece of gear for all categories of workers. This has become the theme of this particular article. However, this mask is much more capable of being a pro's daily go-to.

Wraps around the face for good seal
Highly lauded for its great overall fit
Efficient and durable
Straps are a weak point in the equipment's lifespan
10. Jasper Browguard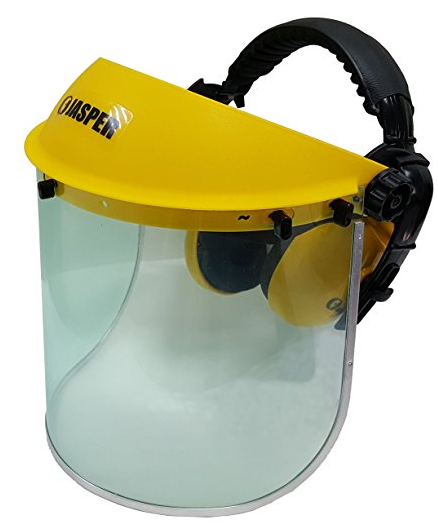 Jobs like leaf blowing, chainsawing and anything else that disrupts your hearing and throws around debris will be made much more pleasurable and safer with this combo face shield and hearing protection.

Both aspects of this package work well and will provide adequate protection during long and noisy hours.
Expand to see more
Key Features:

Face Protection Rating: ANSI Z87.1 CE EN1731
PP guarding material with adjustable ratchet.
Impact resistant PP brow protector.
Special design adjustable knob supports various kind of visors.
Headgear with soft band for extra comfort.

Price/Value:

While neither of these gear pieces are outstanding in any specific way, they get the job done, and they don't cost much to boot. It is a solid deal and worth the investment.

Who Should Buy This?:

Landscapers and homeowners who like to get dirty. This is a solid value pack that will go a long way in making your tasks a much more comfortable and pleasurable experience.
Solid pieces of gear
Hearing and face combination
Not as comfortable as some comparable offers
Criteria for Evaluation
When making this list, we had to dig through a lot of high-quality pieces of gear (and some not so high-quality ones) in order to parse the list down to what we believed were the "best" masks available. Keep in mind: best is referring to the overall value – not necessarily the outright function of the device. There were quite a few options that were near triple the price of those we chose, and though they may have performed a bit better, we determined that these slight improvements did not justify huge jumps in price. With that said, we had to determine the value and rate the devices, and in order to do this fairly, we had to develop criteria from which to work from. Some of these metrics are pretty obvious (Protection ratings) while others are a bit more subjective (comfort). In order to better help you understand our selection process, and perhaps to help you better judge this gear for yourself, we have explained each key aspect that was evaluated.
Keep in mind that many of the pieces of gear that we listed are only superior to one another if the job you are doing determines that they are. If a safety mask or respirator cannot perform the functions necessary for you to complete your task, then it's overall value for you will, of course, be zero.

Price
The price was not as big a factor in this list as it is in many of other ones. Granted price excluded quite a few items, but that is only because there are so many quality options for both safety masks and respirators at low prices to the point that you are debating between $3-10 differences. We still made sure to weigh the benefits of the tool against its price and to judge it on that curve.
Rating
These masks all had some sort of government or safety commission rating, and this is important to note when making your decision. We will briefly cover some of the rating systems in the FAQ, but for now, suffice to say a piece of gear with a higher rating was given a considerable amount favoritism when weighed against other options.
Comfort
Most of these masks will need to be worn for the duration of your time working – often long grueling hours. Always fidgeting and struggling with your mask is one of the worst things you can suffer through when trying to concentrate on the job. Large preference was given to the headgear that offered the best and most comfortable fit.
FAQs
How do I Know the Type of Mask I Need?

Understanding the risks associated with whatever task you are doing is extremely important for physical creators ranging from the first time greenhorn to the seasoned professional. If you aren't sure what risks a task requires, you should make sure you properly research it before attempting the job.
As a quick overhead: Anything that entails cutting, grinding or something of that sort will create debris that is both large and microscopic. You will need to ensure goggles or a mask is protecting your eyes from the larger debris, sparks or whatever – while a respirator or mask is protecting your airway from the smaller airborne debris.
If you are using spray paint, bug killer or anything else that is an aerosol or suspends particulates inside of air or gas, you need to make sure a respirator is stopping those toxins from entering your lungs.
Face Shields:
Face shields are used to protect from everything from falling or flying objects, impacts, chemical splashes and airborne debris and really anything that can wind up in your face. These are usually best paired up with goggles and a mouth covering to catch anything that may sneak in under the mask (if it does not encompass the chin area).
Respirators:
Paints, pesticides and a large variety of other airborne particulates are all captured and filtered out by a respirator. This allows you to breathe while operating in air that would otherwise harm your lungs. Even mowing and bagging can cause breathing difficulty to those sensitive to the chemicals released in the process. A good respirator will filter out paint anddebris, as well as allergens, mold spores, leaves, grass clippings, pollen, pet hair and dander while working.
Airway (Surgical style) masks:
These provide a similar function to respirators but are generally not as efficient and/or do not last as long. Surgical masks can be used for many of the same tasks but must be replaced more often and used in shorter periods of time. This is very dependent on the particular mask since this category has an extensive range of options.
Welding Masks:
Welding masks are in a whole class of their own. Modern welding masks resemble something from a sci-fi movie. They need to protect the user from extremely hot and dangerous debris, as well as UV/IR light.Needless to say, these are a necessity when you are welding – as permanent eye and skin damage virtually guaranteed over time without protection.
What are the Protection and Respirator Ratings?

There are a number of organizations out there that provide ratings for many aspects of protective gear. Everything from bullet proof vests to hard hats are tested and given a rating that helps inform the purchaser (and insurance companies) what general level of protection that equipment offers.
We are going to quickly go over the ratings for Safety masks and respirators and explain some of the ratings you may have seen reading this list.
The National Institute for Occupational Safety and Health (NIOSH)
NIOSH is a part of the CDC and is focused on the study of worker safety and health. They are the ones who provided the air filtration ratings that we cited on our list and our your safest bet for accurate evaluations of respirator filters.
Ratings of this type from NIOSH will have both a letter and a number. For example, N95.
The letter signifies the item's resistance to oil, which is a concern for many occupations since oil will quickly degrade the effectiveness of a filter.
The letters go as follows:
N – Not Resistant to Oil
R – Somewhat Resistant to Oil
P – Strongly Resistant to Oil (Oil Proof)
An N will likely last around 8 hours, while a P can last for nearly a month.
The Numbers, such as 95,99 or 100 signify the percentage (95%, 99% 100%) of airborne particles the mask will filter out. The higher the number, the denser the material – and the harder it will be to breathe through as well.
Occupational Safety and Health Administration – U.S. Department of Labor (OSHA)
OSHA ratings, including the ANSI ratings (American National Standards Institute), provides the most trusted ratings for the durability and ability of protective equipment.
OSHA APF refers to "Assigned Protection Factors." These require entire glossaries to understand fully, but for now, just know that it means a piece of equipment was certified as some level to be effective.
ANSI ratings are divided into different classifications. Z87.1 refers to eye and face classifications, while Z89.1 refers to head (crown) protection. In out usage, these were followed by years, such as in ANSI Z89.1-2003. The ANSI standards have been updated multiple times (2003, 2010, 2015) and the year reflects under what year and criteria they were certified.
The aim of these ratings is to certify a piece of equipment to be viable in the case of "Specific hazards encountered in the workplace."
There are also follow up classes (Class E, Class G,etc.) that refer to electrical voltage resistance as well as types (type I, type II, etc.,) that refer to the level of protection hard hat will offer. You should spend some time looking into these specific classifications of your job requires a particular level or type of protection.
How to Clean a Safety Mask?
If you grind wood and metal a lot, then you have seen your safety mask getting dirty and dusty. You should change the cartridges frequently. But how do you clean your safety mask? It's pretty easy given that you know the parts that come off and how to put them back, and it only takes about 15 minutes.
Step 1: Disassemble the Safety Mask
1. Remove the cartridges. You twist them to unlock for removal.
2. Take off the strap. You must pull the straps near the mouth piece pretty hard, but be careful to avoid breaking the straps.
3. Remove the gasket (mostly red) on the outer side of the mask where you removed the cartridges, and pull out the rubber covering the mouth piece.
4. Take off the two rubber flaps on the inner side attached in a hole at the center.
Step 2: Inspect Each Component for Defects
Inspection is recommended to ensure that all components are in good working condition. If any of the parts are defective or damaged, it needs a replacement or repair. The following is the inspection procedure:
1. Inspect the face piece for cracks, tears or dirt. Ensure the face seal area is not deformed.
2. Check the straps for elasticity and tears, and ensure they are all intact.
3. Inspect all plastic parts for cracks and tear, and ensure seal areas and filter gaskets are in good working condition.
4. Check the exhalation valve for cracks, dirt, distortion or tear.
5. Examine the lens for cracks and any other damage that might impair vision or performance.
Warning: Cartridges can collapse and become ineffective when in use. If you detect any irritation, odor or tastes, leave the area you are in and change the cartridges.
Step 3: Cleaning the Components
Method 1
What Supplies Do You Need?
All the following supplies are available at any drug shop.
• A Clean Jar Lid
• Isopropyl Rubbing Alcohol
• Cotton pads since cotton balls may leave too much fur
• Q-Tips
• A well lit and spacious working surface
Procedure
1. Put a little of the alcohol into a clean jar rid. This helps prevent contamination of all the alcohol in the bottle.
2. Take the Q-tips and cotton pads to wipe the rubber mask inside and outside, all rubber parts, gaskets, and plastic mouthpiece holding the straps to the respirator.
3. Once everything is clean, reassemble the components in the reverse order, which you took them apart.
Method 2
Supplies Needed
• Warm water
• Mild Detergent
• Stiff bristle brush
• Hypochlorite solution, quaternary ammonia disinfectant or Aqueous iodine solution
• Clean lint-free cloth
• Respirator cleaning wipes
Procedure
1. Clean the face-piece with a respirator cleaning wipes or by dipping in warm water solution. The solution is made of warm water with a temperature of less than 50º C and a mild detergent. Also, use the bristle (not wire) brush to scrub off the dirt. Use cleaners that do not contain lanolin oil.
2. If the cleaner does not have a disinfecting agent, immerse the components for two minutes in hypochlorite solution, quaternary ammonia disinfectant, aqueous iodine solution, available cleansers with equivalent disinfectant quality, or any cleaning agent approved by the manufacturer.
3. Rinse the components in clean, fresh, warm running water (43°C [110°F] maximum) in a non-contaminated area. Drain the components. Rinsing is recommended because the disinfectants and the detergent that dry on the face pieces can lead to dermatitis. Also, if the disinfectants are not completely removed the rubber parts can tear while the metal parts can corrode.
4. Use the lint-free cloth to hand-dry the components of the mask or air-dry them.
5. Reassemble the mask's components. If any of them is defective, then repair or replace it.
6. Test the safety to ensure all parts work properly.
7. Store the safety mask in a storage bag when not in use away from contaminated areas.
Making Your Decision

This list, FAQ, and criterion should hopefully give you all the tools you need to go out and make an informed purchasing decision when it comes to respirators and protective masks. With industries like safety equipment – a large amount of options and differing ratings can all get fairly overwhelming, and when you are trying to make a purchase you will literally have to wear on your face, it can be outright frustrating. We did our best to make sure you were offered plenty of quality decisions outright as well as the criteria from which you should judge these items for yourself – as well as a brief explanation of some of the terminology. You may disagree with us one some, or even many of the points made here, and that is okay. I've found that disagreeing with someone often help me solidify why I believe what I do – and in the buying process it can be just as helpful to you for making a decision as the agreement would have been. Weigh your options and investigate for yourself whether or not a mask you find interesting here is the best choice for you overall. If you do, then it is unlikely you will come away from this important purchase dissatisfied.
So whether you are a professional in need of a new ballistic quality mask or someone who simply has a lot of paint to spray – there is something here suited to your needs. Good luck – and remember – build smart, build safe, and build big.
Subscribe to our newsletter