Best Reciprocating Saws Reviewed and Tested
last updated:
Jan 30, 2018
Reciprocating saws are valuable tools for Do-It-Yourself projects, remodelling, plumbing, and even industrial applications. They work great with different materials such as pipes, metals, wood, and plastics. Cordless reciprocating saws are the preference of a majority of people because of their portability, flexibility, and maneuverability. Others prefer to go with corded reciprocating saws based on their performance. Below are our top ten best picks in the market.
Our Top 3 Picks
[srpshortcode id="1568″][/srpshortcode][srpshortcode id="1569″][/srpshortcode][srpshortcode id="1570″][/srpshortcode]
10 Best Reciprocating Saws
1. DEWALT DWE304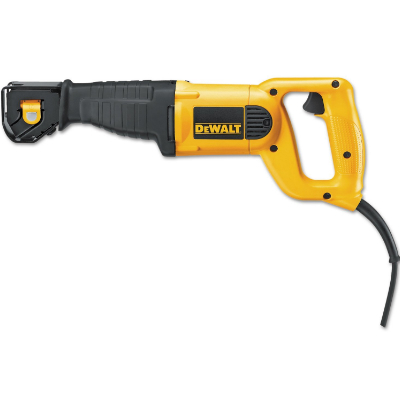 DEWALT DWE304 10-Amp is arguably the best reciprocating saw in the market today. The saw has a features a very solid Class II construction that effectively and significantly reduces electronic shock hazard. Therefore, the saw is one of the safest saws to use even when the power outlet is not grounded. It also comes with an impressive three-year warranty. You will be able to efficiently and smoothly cut through materials of different intensities much faster because of the saw's 1 1/8- inch stroke length.


Expand to see more
The DEWALT DWE304 10-Amp saw features a speed trigger that can be adjusted. Consequently, you will efficiently control and adjust the speed of your blade without the danger of damaging the saw. The design of the saw allows for two-handed operation, and different people in the carpentry and woodworking industry will come to appreciate its sheer power, versatility, and performance.

Furthermore, the DWE304 operates with a speed of between 0 and 2,800 strokes per minute. Since it features a very powerful motor at 10 amps, the saw is appropriate both for industry level and big jobs purposes. What makes the saw even more versatile is the presence of the blade clamp which has four positions. The ability to adjust blades implies you can make several accurate cuts and even access difficult-to-reach places. Since the blade can assume either vertical or horizontal position, you can effortlessly make angled cuts with the saw. Additionally, considering that the level action is keyless, changing blades it nearly stress-free. The DWE304 thoughtfully includes a rubber covering on the left-hand handle. This ensures a firmer and more secure grasp and to lessen the destructive repercussions of vibrations.

You can run the blade at a speed which is preferable to you considering that it has a weight of approximately 9.2 pounds and operates on alternative current at 120 volts. In consideration of the weight, it is a light and compact saw featuring very powerful motor. The inclusion of a shoe that is fixed means that you have more control, stability, and maneuverability over it. Moreover, the design of the saw makes it very suitable for performing flush cuts.

The DEWALT DWE304 10-Amp is ideal for a variety of operations involving different types of materials. While is the most common cutting material, you can also use the saw on plastics, fiberglass, composite materials, plaster, rubber, metals of different densities. You will have to purchase a battery separately.
[srp_anchshortcode id="1568″][/srp_anchshortcode]
2. DEWALT DCS380B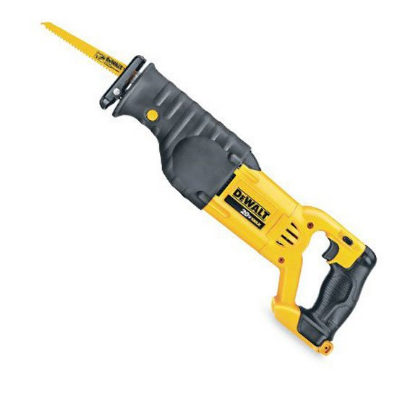 The DEWALT Bare-Tool DCS380Ba features a blad that has 4 positions. Other than increasing convenience, the feature is great for flush and is important in situations necessitating a good amount of flexibility. Since it is battery-operated, it is as powerful as it is smooth. The DCS380B has a Lithium-ion battery, meaning that it is capable of outlasting a majority of tools when operating at 20 volts. This battery powered saw is a tremendous improvement. It is powerful, lighter and more versatile. Nevertheless, you will have to purchase the batteries separately. Even with a low charge, your productivity and cutting speed will still be high enough. You can still squeeze a few extra minutes out of the battery quite productively before it runs out.


Expand to see more
The inclusion of a speed trigger with the DEWALT Bare-Tool DCS380B 20-Volt saw gives you additional control over the speed of the blades. The speed ranges from 0 to 3,000 strokes per minute, you can adjust it to match your needs depending on the project. Hence, you are sure of more accurate and faster cuts.

Additionally, you can adjust the shoe of the pivotal feature to considerably extend the lifespan of your blades by controlling the cuts depth.

About its cutting competence, the saw has a stroke length of 1 1/8 inches. Consequently, you will cut through materials much faster and more powerfully. The saw is quite comfortable to use, too. The handle comes in rubber which is further over-molded so as to give you additional control over the reciprocating saw. The mechanical construction of the saw furthermore ensures the maximization of the user's safety. The possibility of contamination is almost non-existent or minimal following the sealing and double oiling of the shaft. These measures also aim to make the saw more durable.

The DEWALT DCS380B is arguably one of the easiest saws to use. The installation of the saw takes very few seconds, and the instructions are relatively straight-forward. It is relatively effortless and stress-free to change blades without the use of additional tools. Coupled with its light weight of just 6.4 pounds, using the saw guarantees top-shelf performance and versatility.
[srp_anchshortcode id="1569″][/srp_anchshortcode]
3. Black & Decker Lithium Saw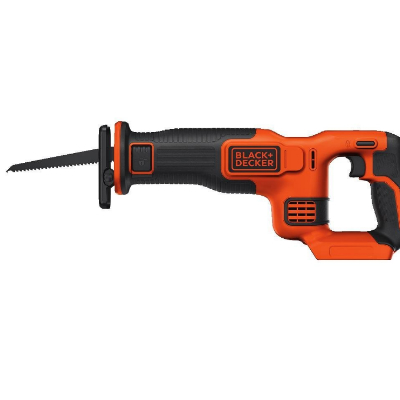 Like most top performing reciprocating saws, the Black & Decker saw includes a shoe with a pivoting feature. For purposes of convenience, the saw does not mandate the use of any tools when changing the blade. The presence of a quick blade changing button means installing a new blade or changing them takes a matter of seconds. With this saw you simply press and release, and you are done. Consequently, you are back to doing your cutting in no time at all. To power the saw, you will need a MAX Lithium battery. The battery provides approximately 20 volts, which is more than sufficient for the saw. For average domestic operations, expect the battery to last for a considerable duration.


Expand to see more
A lot of thought went into designing the Black & Decker Lithium Reciprocating Saw. The package comes minus the battery and the charger. Furthermore, it features a speed trigger capable of taking the blade rotations from 0 to 3,000 strokes/min. Coupled with the lightweight, the Black & Decker Lithium Reciprocating Saw is easily a contender for the best saw. Its light weight belies its power and efficiency. The saw similarly has a stroke of 7/8 inches, meaning its cutting abilities are quite superior. The nominal voltage is about 18 volts, and it additionally features a 5 inch blade size.

Properly setting the saw against the cutting piece considerably reduces the vibrations, as is the case with most saws. On the other hand, failing to properly set it on a cutting material produces quite unsettling vibrations. This is especially the case with dense cutting materials. However, the rubber fore handle lessens much of the vibrations.

The saw is bound to be beneficial to people in need of a battery operated saw, rather than a corded one. In spite of its light weight, it is quite efficient at cutting a wide variety of backyard and forest trees quite effortlessly. Expect to find the saw itself and a reciprocating blade with the package. In addition to its efficiency and power, the Black & Decker Lithium Reciprocating Saw comes with an impressive two-year warranty. So you are pretty much covered for the next twenty-four months.
[srp_anchshortcode id="1570″][/srp_anchshortcode]
4. Dremel SM20-02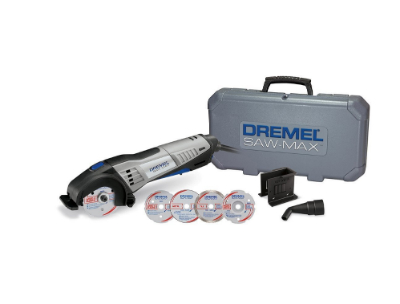 The Dremel Saw-Max Tool Kit runs on powerful 6-amps motors. It has adequate power to smoothly cut through almost all types of materials ranging from wood, metal, plastics, masonry materials, and even tiles. With this power, it is ideal for working on drywalls and a wide variety of other Do-It-Yourself (DIY) operations. Its second wheel position makes doing flush cutting feel like a complete breeze. Additionally, in spite of the ergonomic design of the Dremel Saw-Max Tool Kit, it comes in at a third the size of most reciprocating saws in the market today. However, its 120 volts is capable of taking it to its maximum speed of 17,000 rotations per minutes.


Expand to see more
The Dremel Saw-Max Tool Kit is has a design that increases comfort, flexibility, and maneuverability. The diameter of the grip, for instance, is optimized for a smooth operation. Furthermore, the strategic location of the trigger with respect to the handle has the aim of maximizing comfort for the user. The Dremel Tool Kit has an ideal weight of just 6.4 pounds, which is appropriate for a variety of domestic and industrial applications.

The trigger lock feature is a thoughtful additional feature as it ensures you maintain a specific speed for as long as is convenient. Thereby, it eliminates feelings of exhaustion while increasing productivity and precision. Since the blade has a diameter of 3 inches and has a cutting depth of 3/4 inches. Your cuts will, as a result, be very precise.

The features that set the Dremel Kit apart from its competitors is the adjustable control of the depth. Another significant feature is the superior and accurate line of sight that is bound to increase your visibility in even the most unconducive working environments. Therefore, irrespective of the amount of debris that your cutting material will produce, your productivity and precision will never suffer.

The inclusion of the shaft lock button considerably simplifies the process of changing your blades, thereby requiring no need of using any extra keys or tools. For the purposes of convenience, the kit has a dust extraction port enabling you to keep your workstation spotless and properly arranged. The front end guard is also made out of plastic which ensures the durability of the whole reciprocating saw and also protects delicate internal components from the damaging effects of debris.

In all, the design of the kit allows you to make straight cuts, plunge cuts, and flush cuts. The package comes with the reciprocating saw, a guidance manual, a dust port adapter, a durable storage casing among other accessories.
5. Milwaukee 2625-20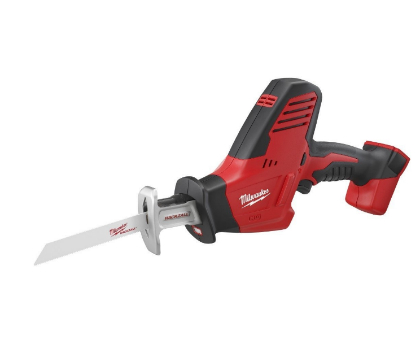 The light weight of the Milwaukee M18 reciprocating saw, approximated at 4.1 pounds, makes it easy to handle and operate with just one hand. As a result, maneuverability and stability are easy to achieve with the Milwaukee M18 reciprocating saw, unlike its heavier counterparts.

Additionally, with the light weight comes safety and speed, thus saving time. Running on 18-volt batteries, the Milwaukee M18 reciprocating saw can effortlessly reach 3,000 strokes per minute. However, you will have to purchase a battery separately. The absence of a cord also gives you, the operator, additional maneuverability and mobility. The saw, therefore, does not confine you only to places with power sockets.

Furthermore, the Milwaukee M18 Reciprocating Saw features a built-in LED light. As a result, irrespective of your working environment, your productivity will suffer in case the light conditions are poor. Milwaukee M18 has a considerably short stroke length of just 3/4 inches. In spite of this short stroke length, the reciprocating saw cuts through different materials with varied intensities with relative easy. It does not hesitate while cutting through wood, plaster, plastics, and pieces of medium-sized scrap metals.
Expand to see more
The M18 features a trademarked Quick-Lok mechanism that considerably reduces the time taken to remove and install new blades. The Quick-Lok eliminates the need to use any additional tools or keys for the same purpose. To further increase the ease of use, the top handle of the M18 has a rubberized covering that prevents the hands from slipping. The rubber on the handle also protects the hands from vibration. Consequently, the chances of injuring oneself when working on dense cutting materials are significantly less.

The manufacturers went a step further and to include an additional feature, and built-in dual-gear anti-vibration system. The main objective of this feature is to ensure than you feel less strained while using the Milwaukee M18. The feature similarly increases flexibility and accuracy, in addition to user comfort, thereby guaranteeing you straight and precise cuts. The trigger also comes with a lock to ensure maximum safety and security, preventing the blade from starting accidentally.

The Milwaukee has a black and red outer coat protecting it against rust thus ensuring longevity. Its compatibility with both Sawzall and Hackzall blades makes it a very versatile reciprocating saw. As with most saws in this category, the Milwaukee saw has a variable speed operation. You, therefore, have the freedom to control the speed at which you carry out your operations.
6. DEWALT DCS387B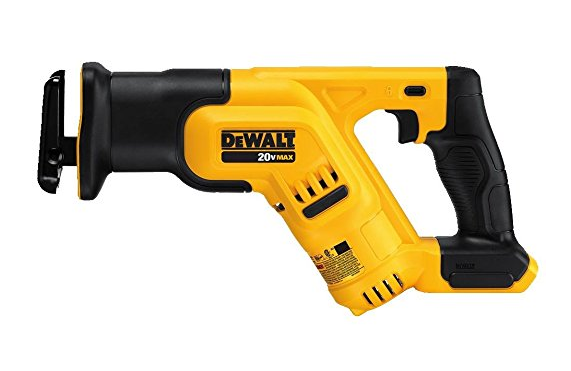 Only three words can perfectly describe the DEWALT Max Compact: Lightweight, compact, and powerful. It has a perfect balance that just makes working with one hand fun. Unlike most of other reciprocating saws out there, the DEWALT Max Compact has a convenient L.E.D. light that adequately illuminates your cutting line as you work in dark settings. Consequently, even in night shift, you can continue working without compromising either your productivity or efficiency. Therefore, your chances of making precision cuts are greatly increased.


Expand to see more
The DEWALT Max Compact has a trigger-controlled variable speed of between 0 and 2,900 strokes per minute. Coupled with its compact design and 4.9 pounds weight, the DEWALT Max Compact is efficient at making flush cuts. Its blade clamp has 4-adjustable positions which together with a stroke length of 1 1/8 inches makes cutting more stable and fast. Moreover, the strategic location of the blade clamp adjacent to the upper handle makes the installation of new blades a smooth and effortless activity.

As is the case with most top shelf reciprocating saws, the Max Compact is a convenient tool when it comes to changing blades. It has a tools-free blade changing system which implies in a matter of seconds you shall have changed your blades. It is furthermore compatible with all types of Sawzall blades, so you will experience no difficulties finding replacements in local stores.

For ensure additional convenience, you can install the blades at various angles, beginning at 0, 90, 180 and finally 270 degrees. The aim of this feature is to provide the user with maximum safety, thus reducing the avenues of injury.

It has an ergonomic design that features a soft grip making handling and operating the saw very easy. The handle incorporates anti-vibration mechanisms thereby reducing fatigue while smoothing the cutting process. Irrespective of the material you will be cutting through, the amply finished top grip gives you additional control to ensure your cuts are not interrupted by the vibrations.

Since it is compact, it can fit with relative ease in hard to reach spaces. It's a bare tool only, necessitating that you purchase a lithium-ion separately providing 20 volts of power.

In all, the DEWALT Max Compact is proof of the fast pace at which technology is advancing. The compactness of the saw is appropriate for reaching confined spaces. Despite its small size, the saw delivers a tremendous amount of power. Being a bare tool only though, you will need to purchase your lithium-ion batteries separately.
7. Bosch CRS180BL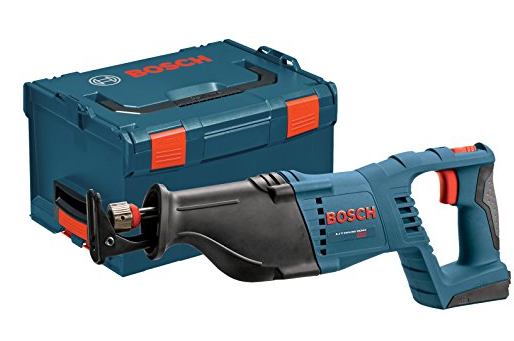 The Bosch Lithium-Ion is as light-weight and compact as it is a powerful saw. Weighing just 7.6 pounds, the reciprocating saw Because of its power, precision, and flexibility, it is ideal for both industrial and domestic applications. Its compactness means it can easily access hard to reach areas. The saw is, therefore, a suitable alternative to any full-length reciprocating saw. With a weight of just 12 pounds, the Bosch Lithium-Ion Reciprocating Saw is the most suitable for cutting broken pipes located inside your cabinet. It is also ideal for routine repair schedules or doing small demolition projects.


Expand to see more
The Bosch Lithium-Ion Reciprocating Saw has a two-speed feature. Consequently, you have the ability to vary the saw's speed into two maximum cutting speeds when handling materials of different densities. The 2 speed feature allows you to shift between variable speeds of between 2,400 and 2,700 strokes per minute. Adjusting the speed of the Bosch Lithium-Ion Reciprocating saw using the 2 speed feature will produce smooth and perfect cuts. Since it is powered by Lithium-ion batteries, it is possible to conserve power by choosing the most appropriate speed corresponding to the demands of your project. Lighter operations consume less power and can enable you to considerably extend the life of the lithium-ion batteries.

It comes with a keyless blade changing mechanism. Thereby, it eliminates the need to carry additional tools to use in changing the blade in case one break. With the lockjaw feature, changing from one blade to another takes a matter of seconds, not to mention stress-free. You will be back to cutting in no time. Also, with the two-handed feature, the stability and maneuverability of the reciprocating saw are significantly increased. The Bosch Lithium-Ion Reciprocating Saw has a stroke length of 1 1/8 inches which means that you will cut through materials much faster and easily. The saw is ideal for cutting through wood, plasterboard, and metal.

Since it is cordless, the saw operates on 18-volts Lithium-ion battery which you will have to acquire separately. Moreover, the battery discharges five times slower than the normal batteries, and with little charge, it could still last for a considerable amount of time. The high-quality connectors of the Bosch Lithium-Ion Reciprocating saw means bad connections will never disrupt your power supply. Also, with the charger, you are sure to reach full charge in just 30 minutes. The convenient connection between the charger and its built-in chip and the battery guarantees the charge time is relatively short.
8. Makita JR3050T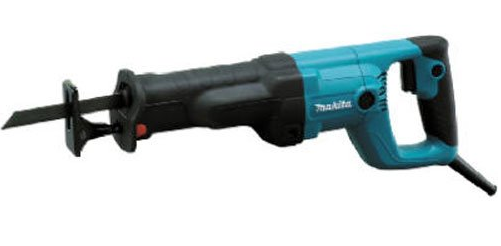 A corded reciprocating saw, the Makita JR3050T is a two-handed saw boasting an impressive 11 amps motor. Due to this massive power, the Makita JR3050T is capable of effortlessly reaching speeds of 2,800 strokes per minute. Despite being corded reciprocating saw, the cord reaches an impressive 13 feet. Therefore, the fact that the saw has a cord will, in fact, enhance your mobility and efficiency.


Expand to see more
Additionally, it features a stroke length of 1 1/8 inches. Because the Makita JR3050T has a two-hand design, it is quite easy to distribute its weight uniformly between the two hands. This in effect reduces exhaustion and further prolongs the durability of the saw. Nevertheless, the immense power of the Makita JR3050T saw is offset by its considerable weight. In spite of weighing approximately 7.3 pounds, the saw lacks additional and essential features that increase comfort. For instance, it lacks a rubberized handle and left-hand grip.

The JR3050T saw is designed in a way that maximizes its competence for cutting metal, wood, drywall, plaster, and plastics. You can also use it to demolish and remodel various projects. Compared to most saws, nevertheless, the saw features an internal dust blower mechanism. The mechanism works great by clearing the debris from the cutting areas so as to improve the visibility of the user. Additionally, it is considerably easy to access the brushes in order to carry out simple maintenance routines.

Expectedly, it has a quick blade change mechanism that does not require the use of keys or tools. To protect the motor and the bearings from the damaging repercussions of dust and debris, the saw uses a protective rubber boot sealer. Therefore, you are sure the reciprocating saw will last for a long time.

The finishing on the Makita JR3050T is done in accordance with Class II construction specifications to guarantee protection from underground outlets and harsh weather conditions. One feature nonetheless, really sets this saw from its competitors: the lock button. With the lock button, the trigger maintains a particular speed for as long as needed by continuously pressing on the trigger. The result is a substantial reduction in strain and fatigue to the user. This reciprocating jig saw allows for the installation of blades up to 12 inches. Needless to say, you can change your blade in a matter of seconds without the use of tools.
9. Ryobi P515 ONE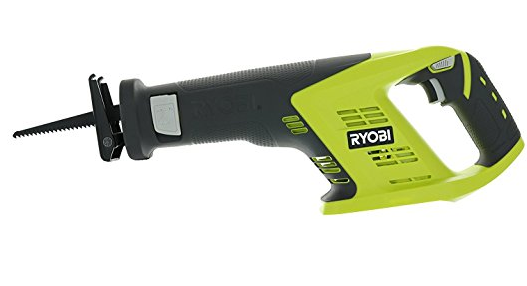 The Ryobi P515 saw has ample power for easy and smooth cutting. The incredible power supply from 18-volt Lithium-ion batteries enables it to effortlessly attain a speed of 3,100 strokes per minute.

Consequently, coupled with a stroke length of 7/8 inches, it easily cuts through a majority of cutting materials. Furthermore, the Ryobi P515 reciprocating saw has a no-load speed trigger that reduces excessive impact. Pulling the trigger instantly provides ample power for cutting different materials such as wood, metal, plastic, ceramic, bushes, and branches of trees, in addition to other objects.


Expand to see more
You will find the ergonomic design of the Ryobi P515 reciprocating saw to be very beneficial. Other than eliminating fatigue and the inevitable aching of the fingers, the design of the Ryobi P515 reciprocating saw maximizes comfort, maneuverability and flexibility. The reciprocating saw ensures further comfort owing to the smooth construction of its body, the thoughtful contouring of the curves, and the addition of the anti-vibration grip. Thanks to the ergonomic construction, you be able to use the saw endlessly without experiencing any significant exhaustion. Thereby, you will achieve high-quality results.

The manufacturers took extra caution to ensure ease of usability and comfort. The possibility of accidental slippage, suffering from numb fingers or sweating excessively employs the renowned grip zone on the mold. The softness of the mold encourages protracted use as it reduces the possibility of fingers going numb, sweating excessively or sipping. Furthermore, the continuous use of reciprocating saw does not compromise the structural integrity of the mold. You are therefore sure to use the saw comfortably and securely.

The P515 comes with an adjustable pivoting shoe which considerably minimizes vibrations and shocks encountered with deep cuts. Hence, you have control over the depth of the shoe. You can set it to a depth commensurate with the project you are doing. The ability to shift to a better and sharper part of the saw means you will use considerably less effort and power while saving time. The pivoting shoe also works by reducing the amount of waste and improving efficiency, other than improving depth control. Additionally, the lock-off button makes accidental starts a thing of the past.

You can start your cutting slowly by using the variable speed trigger. Upon establishing a cut, you can then use the variable trigger to reach the aforementioned 3,100 strokes per minute. The speed trigger can significantly reduce unwanted vibration and also help achieve a more accurate cut. Lastly, you can use the electronic brake in conjunction with the variable speed trigger to effortless and easily slow down the speed.
10. PORTER CABLE PCC670B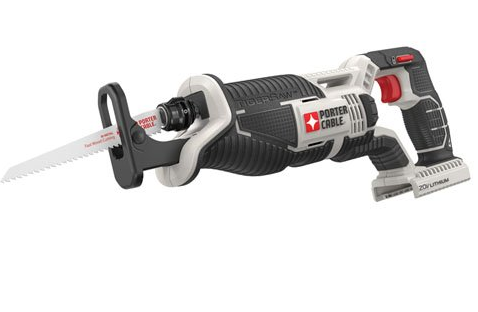 The Porter brand is renowned for manufacturing superior quality products, and the Porter Cable Reciprocating Tigersaw is no exception. The fact that the saw is versatile, lightweight, and compact makes it appropriate for reaching tight spaces. The Porter Cable Reciprocating Tigersaw is a perfect alternative to your full-length reciprocating saw that cannot access hard to reach spaces. The saw is appropriate for general building and plumbing jobs, remodeling, and do-it-yourself operations. It also has some of the most amazing features.


Expand to see more
It has a tools-free blade changing system. You don't have to carry specialized tools or keys with you to either change or adjust the shoe. The tools-free blade changing features enables you to easily change the blade in a fairly short time. To change blades, you simply twist and insert the new blade into the pivotal shoe. The design of the shoe enables it to securely hold and keep the blade in contact with the cutting material. The tools-free blade changing feature is both time and energy saving and remarkably increases your overall productivity.

Additionally, it has a stroke length of one-inch, ideal for stress-free cutting. Coupled with a total length of 14-inches, the Porter Cable Reciprocating Tigersaw is considerably easy to access confined spaces typically inaccessible to bigger full-length saws. The lightweight of the Porter Cable Reciprocating Tigersaw means handling it is effortless. With a weight of just 1.7 kilograms, the saw is easily maneuverable and flexible and does not numb the fingers. You can, therefore, use it for an extended duration without experiencing fatigue. Overall, the ergonomics of the Porter Cable Reciprocating Tigersaw promote comfort, intuition, and ease of use.

It comes with a very powerful motor. You can use the speed to take the saw from 0 strokes per minute to an impressive 3,000 strokes per minute. As a result, you can control you're the speed of the blade in accordance with the nature of your project. For soft materials, a slower speed would be ideal. On the other hand, more dense materials such as metal will necessitate the use of higher speeds.

Being a bare tool only purchase, you will need to purchase a 20V lithium-ion battery separately. Using lower self-discharge battery means the batteries provide sufficient power for an extended period. Possibilities of power interruptions are reduced with the inclusion of quality connectors. Additionally, charging the batteries to a full charge takes just 20 minutes.
Crite

ria for Evaluation
Affordability

The pricing of a reciprocating saw should not only be reasonable but also commensurate with quality. The price range for most reciprocating saws is between $50 and $200. The more features a reciprocating saw has, the higher the likelihood it is pricey. However, you should not base your decision on the price tag. You need to thoroughly consider the features the reciprocating saws come with. Additionally, your choice needs to depend on the intensity of your DIY project.
Convenience
Convenience has significant implications with respect to reciprocating saws. A worthy reciprocating saw needs to come with safety features to ensure your protection from harm. Features such as movable and adjustable shoe come in handy when doing demanding projects. In addition to drastically increasing the speed of the operation, safety, and handy features also ensure convenience.
Performance
A majority of top-performing reciprocating saws in the market have variable speed cont
rols. In this category, a majority of reciprocating saws will have an average variable speeds of 3,000 strokes per minute. Variable speeds make it possible to handle different types of materials, irrespective of their densities, with relates ease.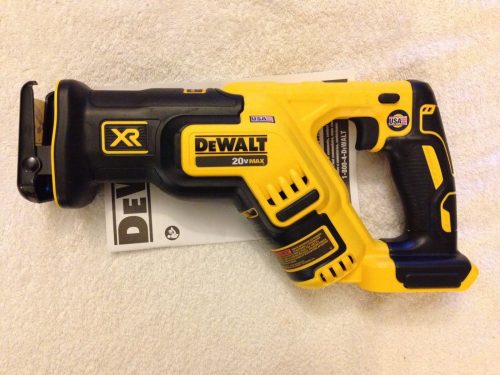 Of similar significance is the reciprocating saw's stroke length. A large percentage of the reciprocating saws, subsequently, have a stroke length of between 3/4 inches and 1 inch. Stroke length is however dependent on a number of factors such as size and variable speed specifications.
Ease of Use
The inclusion of additional features has a significant impact on the usability of a jigsaw. Jigsaws with a smooth grip, for instance, are more comfortable to use than those lacking this feature. With a smooth grip comes firmness and ease of handling. Handles come in a variety of forms ranging from D-handles, top handles to barrel handles. Furthermore, you will have more control over a jigsaw if it has rubber grips on the handles as this prevents slipping. These features bring with them comfort, convenience, and increased productivity.
FAQs
Q: What does a reciprocating saw do?
A: A reciprocating saw is useful in a wide range of operations, both domestic and industrial. You can use a reciprocating saw for the purposes of demolition. Here, it comes in handy when bringing down parts of walls, windows, or even doors. Other uses include remodeling a house where it is convenient for cutting pipes in hard to reach places.
Q: How can I select one perfectly su
ited to my cutting needs?
A: Both corded and cordless reciprocating saws have vital features suited for a variety of DIY and industrial projects. In comparison to the cordless reciprocating saws, the corded ones are significantly more powerful. However, they lack flexibility, portability, and maneuverability, as is the case with the cordless ones. Your choice, therefore, should be based on your project and power needs. You need to also consider the variable speed control feature and its relevance to your project.
Q: Do I need to watch out for anything while working with reciprocating saws?

A: While they are easily portable, cordless reciprocating saws will need Lithium-ion batteries. Consequently, you will need to monitor its discharge speed when working in the field. Having spare batteries can help with this problem, though. Corded Reciprocating saws, on the other hand, as already mentioned, lack maneuverability and portability despite being more powerful.
Q: What other accessories should I ke
ep within reach?
A: Blades break or wear own with continuous use. It is prudent to have spares with you when working on your projects. A wood rasp is also important for shaping the material you are cutting to it a high-quality finish. Additionally, wire brushes are a must-have. They are used for brushing away debris from your cutting.
Conclusion
Reciprocating differ in several aspects including speed, design, performance, and even portability. While the corded ones are generally more powerful than the battery-operated ones, they are not as portable.
Also, while powerful reciprocating saws can be used for both domestic and industrial applications, the less powerful ones are restricted to lighter DIY projects. Also, reciprocating saws are more flexible and more mobile compared to jigsaws or circulating saws. They are definitely more powerful than traditional hacksaws.
For safety purposes, it is highly recommended that you take precautionary measures. You could, for instance, ensure safety googles are on to protect your eyes from flying debris.
Subscribe to our newsletter