10 Best Leaf Rakes Reviews in 2023
last updated:
Jan 07, 2021
So, it's finally Fall, and the autumn leaves are falling. Though this means you can get your favorite pumpkin donuts, it also means that you will be spending your weekends raking. And though it isn't high on the list of things you would rather spend your weekend doing, you don't want to turn your garden into a repository of autumn leaves.
Our Top 3 Picks
[srpshortcode id="16011″][/srpshortcode][srpshortcode id="16012″][/srpshortcode][srpshortcode id="16013″][/srpshortcode]
Leaf rakes have been around to help keep a clean garden. And though they have fallen out of favor with most homeowners for more advanced blowers, shredders, mulchers, and vacuums, there is a reason they have been around since the 19th century. They are a more economical option, can be used no matter the time of the year, and you can use at any time of the day as they are quiet. Also, there is the freedom of manual labor.
10 Best Leaf Rakes
1. Gardenite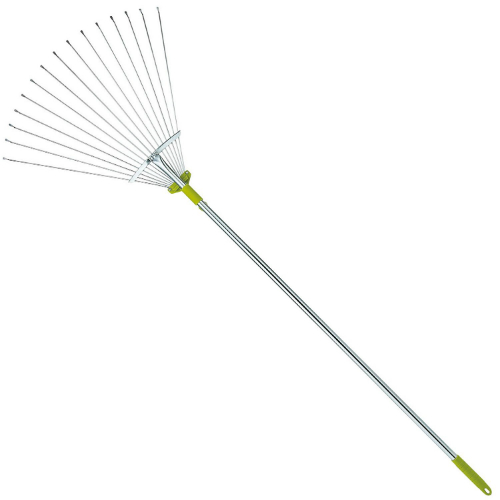 If you are looking for a rake that is a jack of all trades, we recommend the Gardenite adjustable rake. The telescopic head and extra length are some of the reasons why this is one of the best rakes. If you have a large lawn, you will love how lightweight this is, and thus you will be comfortable working for long hours.

Versatility – Despite how lightweight this tool is, what stood out for us is the versatility thanks to the telescoping head. The head can get into 7-inch areas and expand up to 22-inches. Raking between or around shrubs, or areas that are less than a foot wide will be as easy as raking large lawns. This versatility saves you the cost of having to spend on specialized rakes.

Height – The handle on Gardenite adjustable rake is 63-inches. As for the quality, you need not worry as this is made entirely zinc-coated steel so that it's long lasting. Finally, there is nothing as displeasing as having to re-rake an area just because the tines will not hold the leaves. If you have had such issues with other options, it's about time you get this Gardenite.

Expand to see more
Product Features

63-inches long
15 flat tine head
Zinc-coated to prevent rust
Weight: 2.2 pounds

Who is it for?

The Gardenite is a versatile tool. We recommend it for persons with large lawns but equally as many shrubs and tight spots. Only then can you make the most of this rake. Also, it is ideal for tall people.

The versatility of this Gardenite rake is its strongest selling point; raking large lawns and tight spots have never been easier thanks to the expandable head
The entire rake is made of steel making it long lasting; also, it is zinc-coated to prevent rust
It's lightweight and making it preferable for time-consuming tasks
The ergonomics are ideal for tall people as it is 63-inches long
It will not work well on thick leaves
2. Ames Jackson Kodiak Rake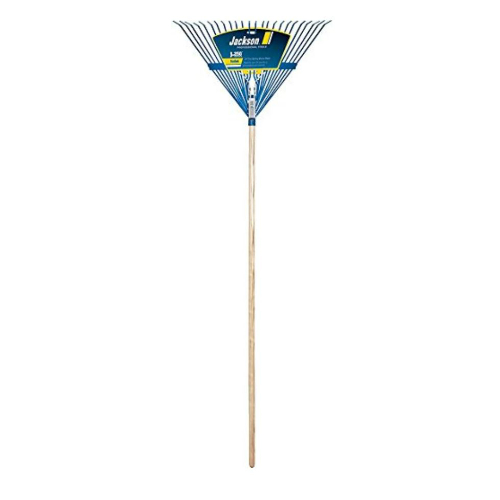 The Ames Jackson is the same tool as the Jackson Kodiak just that the Kodiak name is slowly being phased out. The only difference is that this is 2-inches longer, and includes two extra tines. However, the materials, design, and standards are the same as those of the Kodiak.

What stands out most about the Ames Jackson 1923700 is the durability and that it is eco-friendly.

Durability – First, it's doubtful that you will notice the difference between the 1923700 and any other plastic or bamboo option. However, the difference will become more evident over the years. The tines and handle can handle abuse and will be as good as new after years of usage. Also, the head to handle connection will not budge.

Eco-friendly – The wooden handle on this rake can be ash or hickory. However, it is from a "verified sustainable" plantation.

Other than the quality, you will love how well balanced this item is. It also grabs a lot of leaves with its 24-inch head, making short work of raking. It falls well within the 22 to a 24-inch category that is ideal for most users. The spring brace too allows the tines to stretch and flatten trapping more leaves.
Finally, it works well for adults and teens. The 55-inch handle is sufficient for both.

Expand to see more
Product Features

Weight: 2 pounds 3 ounces
55-inch handle
24 tine steel head

Who is it for?

Given the handle length, this item is for adults though teenagers can use it too.

This is well built that it can withstand the abuse from raking large debris
Well balanced with an easy to control head
The height is perfect for both teens and adults; you don't have to concern yourself with getting a different rake for your kids
Has just the right amount of springiness
There are complaints of the handle breaking during the first few hours of usage
3. Fiskars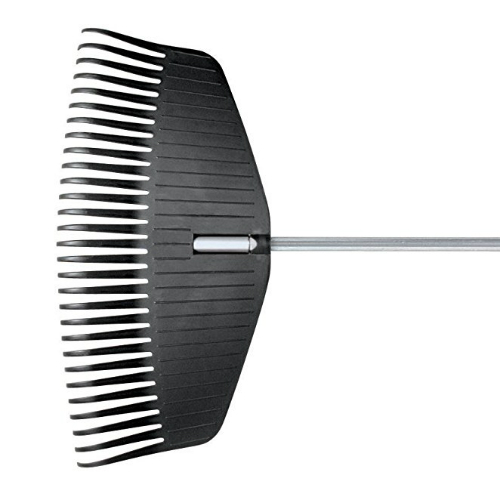 Next on our buying guide is a rake whose design is suitable for persons who suffer from back pains. You can use it at an upright angle, reducing the strain on your back. However, you will still make passes with more punch with this tool than you would have with pull-like rakes. Also, it is among the few plastic rakes on this guide. Despite the strong case we made against plastic options, we have to acknowledge that this 96605935J rake by Fiskars can hold up against the best metallic rakes. What stands out most for us is the patented head and the length of the tool.

Patented head – At 24 inches, the head can cover more ground, making quick work of large lawns. It has extra wide tines that grab a lot of leaves and is resistant to clogging.

Length – At 67 inches, this is longer than most options. As a result, it is ideal for taller family members.

It is also lightweight making it easy to maneuver.

Expand to see more
Product Features

24-inch plastic patented head
Length: 67-inches
Lifetime warranty
Weight: 1.5 pounds

Who is it for?

The Fiskars 96605935J is ideal for persons who suffer from back pains as it can be used in an upright angle. Also, seeing as it is 67 inches long, it is ideal for tall people. Finally, it is lightweight and thus perfect for raking large gardens.

The 24-inch patented head can grab vast amounts of leaves
It can be used in an upright angle for persons with back pains
The 67-inch length is perfect for tall people
Also, there is a lifetime warranty on this item
The plastic head has to be the undoing of the 96605935J by Fiskars; it cannot handle large piles of wet leaves
4. EZ Travel Collection Telescopic Rake

There are instances you might need more than a collapsible rake. If you enjoy carrying your rake with you, or if space is a concern, we recommend this telescopic and folding garden option. It is not only made with ergonomics in mind, but durability as well since the entire tool is prime steel.

Versatility – What we liked most with this telescopic and collapsible is the adjustability. Being an all in one tool, it can work with persons of all heights as well as get into the tightest spots. The rake is 32" when collapsed and 62" when extended. As for the head, the steel tines can fan out to be 19.5" or collapse to 7.5".

Metal release and locking switch – On this tool, the release and locking switch is improved, and thus you don't have to worry about getting the appropriate length.

Another fascinating aspect of this tool is the rubberized handle. This ergonomic addition makes long hour tasks comfortable.

Expand to see more
Product Features
Collapsible head (7.5" to 19.5")
Telescopic handle (32" to 62")
Prime steel build
Ergonomic rubberized handle
Who is it for?
If your storage space is limited, you will like this as it can collapse to 32" and fold to 7.5" for better
storage
. Also, if you want a tool that can get into the tight spots and be equally efficient on the lawns, this is the item for you.
The changeable nature of this rake has to be its strongest selling point
The steel tine increase the longevity and durability
Has an ergonomic handle for comfort
It is too lightweight; the result is that you will have to exert pressure to be effective
5. Releaf Leaf Scoops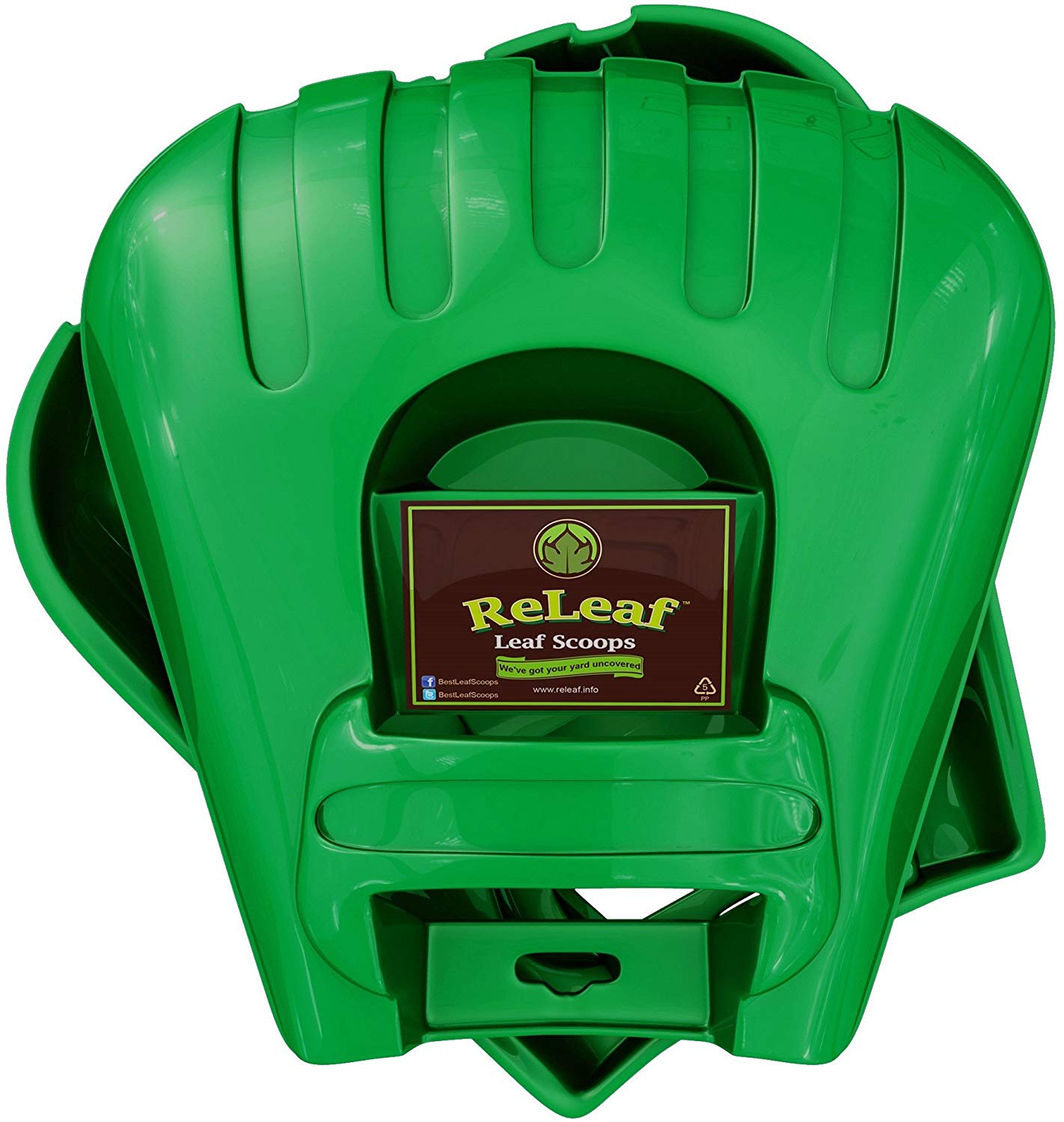 The ReLeaf leaf scoops are not exactly rakes but part scoops and part rakes. However, they are ideal for raking stray leaves for bagging. What's interesting about these scoops is how they will make quick work of your raking task.

Versatility – Scooping leaves into garbage bags can be a strenuous task, especially with the stray leaves that one has to re-rake. The ReLeaf makes short work of this re-raking and can also scoop up to three more times leaves than you can with your hands. By reducing the number of times you have to bend over, they cut the wear and tear on your back.

Design – Though they are plastic, these have a lifetime guarantee on them and 100% satisfaction guaranteed. Also, they are lightweight and thus can be used for extended periods of time. Also, small items will not slip out thanks to the closed scoop design.

Some more exciting features are how it will protect you from stinging nettle, the one size fits all and the easy hang design.

Expand to see more
Product Features

One size fits all
Protection for you
Intelligent storage

Who is it for?

Best for persons with back pains as it reduces the work involved in gathering stray leaves.


You are assured that this device will serve you with 100% satisfaction
It reduces the stress on your back by reducing the number of times you have to bend to collect the leaves
They are only limited to raking the stray leaves
6. Flexrake CFP24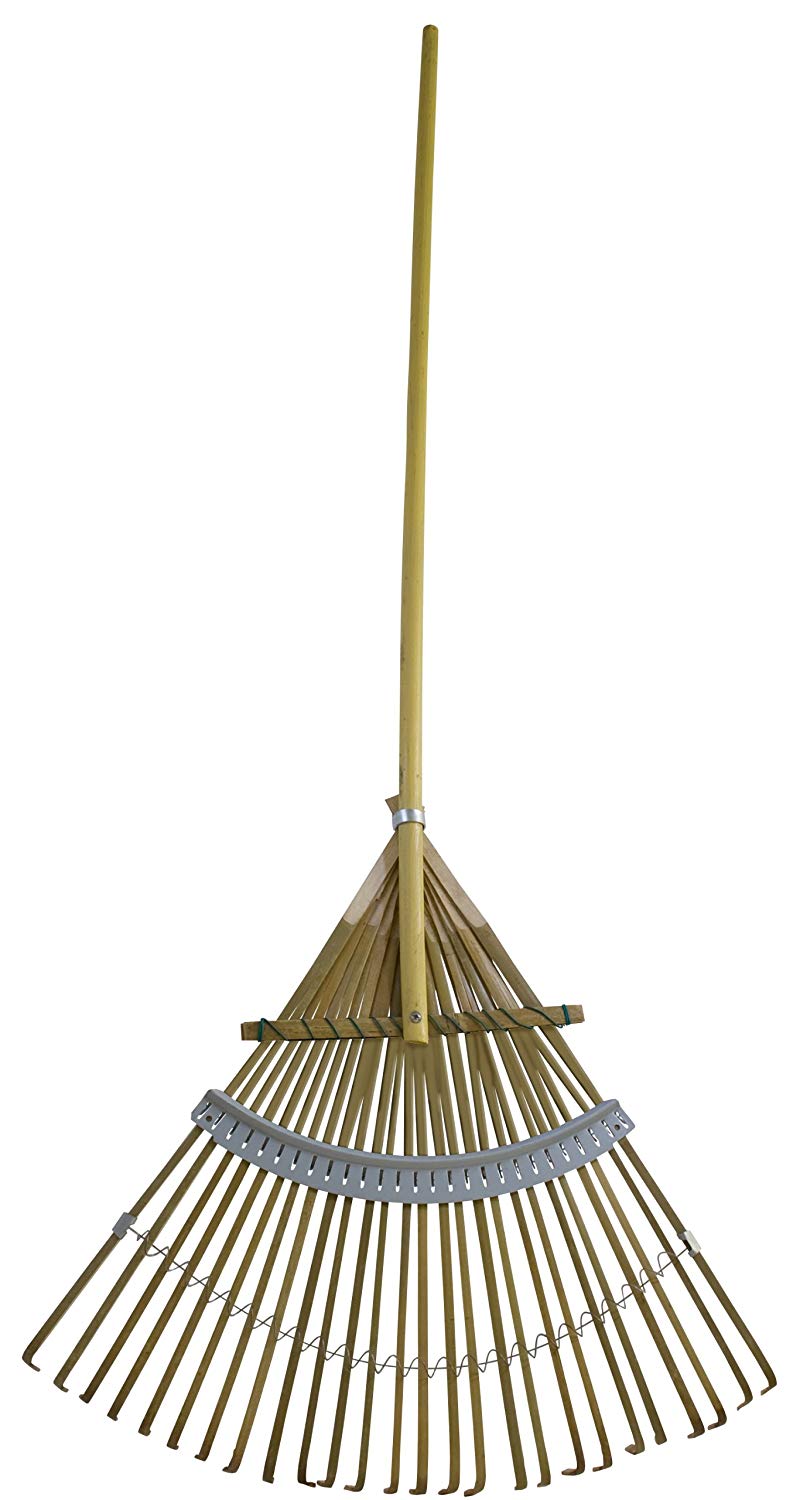 If you are looking for a more authentic feel in a rake, we recommend the CFP24 by Flexrate. However, be warned as it is a pricey option. It is lightweight allowing you to work for extended hours without breaking a sweat and has a rustproof spreader. The 24-inch head ensures that you cover a vast area with each stroke. Clearing large areas will be a breeze. Together with the rustproof spreader, you will enjoy the bamboo tines.
Bamboo tines
– These are a classic. A bamboo rake is challenging to find, but nothing beats the feel and look of one. Also, it is the most ideal to rake leaves from a concrete
patio
, where a metallic rake would be an awful idea owing to the screeching sound.
Rustproof spreader
– This keeps the tines evenly spread.
Another exciting feature is that this is designed to maintain areas with delicate
plants
without harming them.
Expand to see more
Product Features

24-inch head
Length: 48 inches
Weight: 1.5 pounds

Who is it for?

The Flexrake will do well for persons with large concrete patios that need raking.


Lightweight, and thus one can work for extended hours with little fatigue
Ideal for raking on concrete and delicate plants thanks to the bamboo tines
The 24-inch head allows you to cover a wide area with each pass
It is delicate and might fall apart after a few uses
7. Clog Free Poly Leaf Rake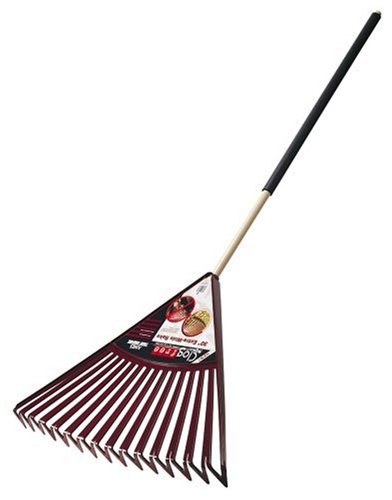 If you are looking for an option that is for the lighter duties, we recommend the Poly Leaf Rake. It is a simple tool for simple tasks. With a 48-inch length, it will serve average height persons best.

30-inch head – The fascinating aspect is the massive head. Large yards will be no problem as you will cover larger grounds with a single pass. It is also anti-clog with 15 tines.

Ergonomics – Raking large lawns can cause blisters. This rake includes a cushion grip to avoid any blistering.

Something else that's fascinating about it is how lightweight it is. Made from polypropylene, maneuvering the large head will be a breeze.


Expand to see more
Product Features

Made of polypropylene
30-inch head
48" handle

Who is it for?

This option is for light debris and leaves explicitly. Avoid it if there are twigs and or other more massive debris on your yard.

The 30-inch head makes quick work of large lawns
Lightweight for easy maneuverability
Has a cushion-grip that increases comfort
It is incapable of handling heavy debris
8. Amazing Rake 3-IN-1 Yellow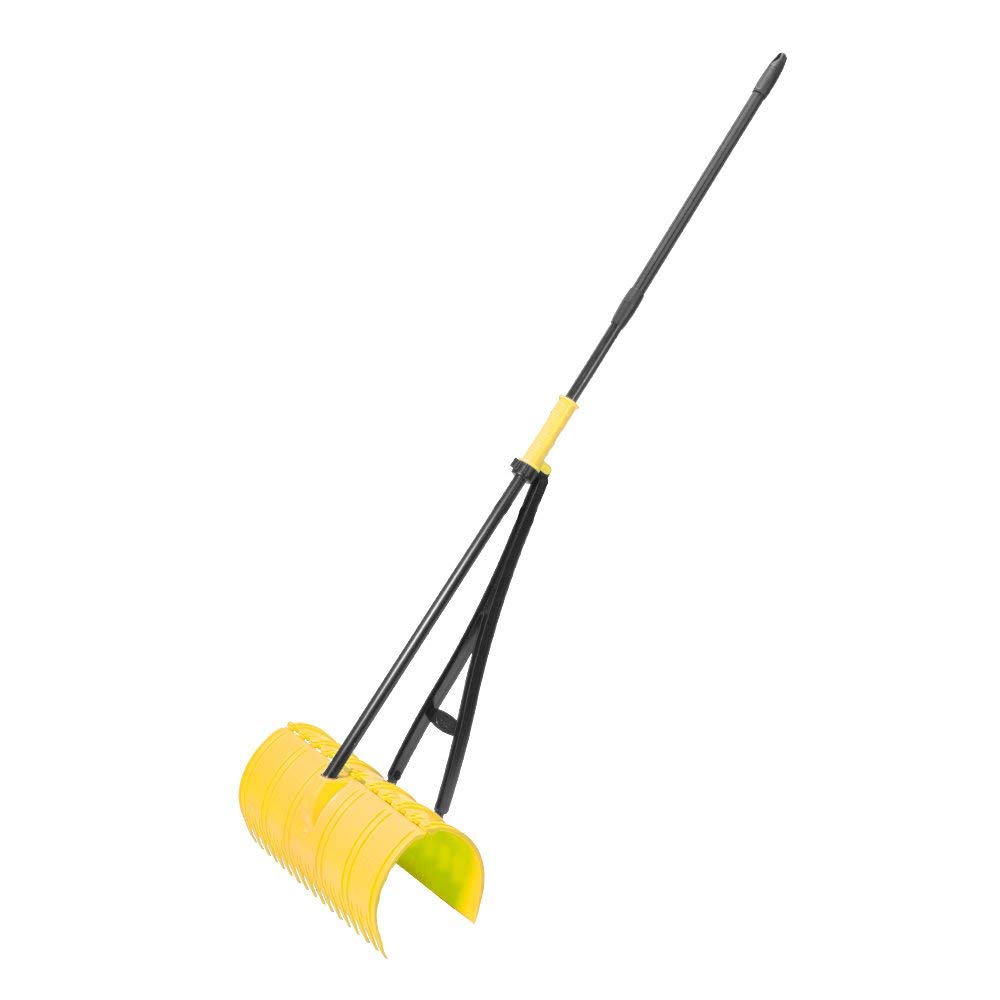 If you don't like the repetitive acts of bending over to collect piles of leaves, or how you have to bring the leaves together before collecting them, this is the rake for you. However, we only recommend the 3 in 1 if you are comfortable paying an arm for a rake. The more fascinating features of this are:

Leaf retriever – You can quickly pick and bag your leaves as you go unlike with traditional rakes where you have to bring the leaves in one pile. Also, it will save you the back pains as you can move large piles of leaves without bending. Another reason why you should purchase this unit is that you will not have to collect acorns that slip through the tines of other rakes.

Lightweight and robust – When purchasing a rake you are looking for a tool you can easily maneuver but one that's strong enough to handle abuse. The amazing pickup rake accomplishes this thanks to the copolymer polypropylene build.

Expand to see more
Product Features

A 3 in 1 tool. You can rake, scoop, and pick up debris with the same item.
Weight: 2.5 lbs

Who is it for?

We recommend the Amazing 3 in 1 rake for persons with back pains. Also, if you want a rake that is efficient with acorns and berries, get yourself one of these.

Effective at racking berries and acorns that often slip between the tines of other rakes
Most significant time and back saver as you don't have to repetitively bend over to collect leaves
9. RazorBack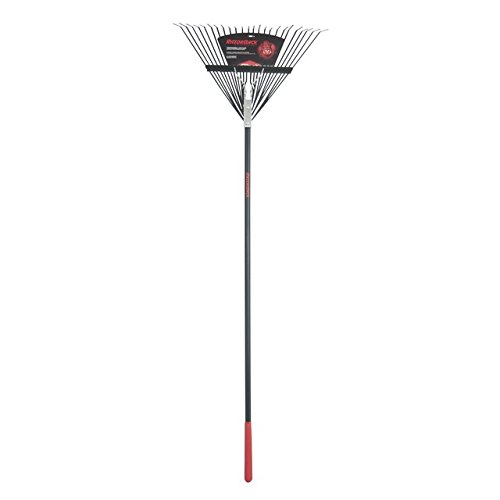 Following is the Razor Back 24 tine rake. If you are looking for a rake that will outlast cheaper competition, we recommend you get this. The 24-inch head is another reason why it should top your buying list. It will make quick work of large yards. The length too is worth considering. However, the strong point for this has to be the one piece rake head.

One piece rake head – One major problem with most rakes is that the tines eventually loosen up. As a result, raking becomes more strenuous, and the tines will ultimately fall out of place rendering the rake useless. However, the one-piece head construction ensures that the tines are always in place and will serve you longer.

Length – At 68 inches, the Razor Back has unmatched length and will serve the taller persons in the family better.

Expand to see more
Product Features

Length: 68-inches
24-tine steelhead

Who is it for?

We recommend the Razor Back rake for tall people, as the 68-inch height will suit them best. Also, if you have a large lawn to cover, the 24" head will be handy.

The one-piece head assures of longevity and durability of this tool
At 2.35 pounds, it is lightweight and thus easy to maneuver
The length too is unparalleled and perfect for tall persons
There are some concerns with the fiberglass handles
10. Toysmith Metal


The final item on this guide is the ToySmith Kids rake. Most of the leaf rakes on the market are for adults with very few, i.e., collapsible options accommodating young ones. Kids can try to use larger rakes, but they will not be doing much but fumble about. The Toysmith toys rake are a game changer, as it is attractive to kids, and still functional. Also, it is easy to store thanks to a loop at the end.

Design – The selling point of the Toysmith Kids is that it's specifically designed for kids but with the quality of adult rakes. The tines are metallic with a wooden handle for longevity, but the tool is green so that kids can find it attractive.

Length – At 27-inches, it will work well for kids above five years.

Expand to see more
Product Features

Length: 27-inches
Metallic tines and a wooden handle
Loop at the end for better storage

Who is it for?

This rake is for kids above five years.

The Toysmith rake is colorful to appeal to kids
Despite being a kids item, it is durable
It is lightweight for kids to maneuver
The handle is wanting, there have been complaints about it snapping after a few uses
Before You Make a Leaf Rake Purchase
Take into consideration the following factors:
Head width
The head width falls anywhere up to 30 inches. However, the ground you are working on will determine the head width. When raking big gardens, it's best you get a rake with a broadhead. The task will be quicker as you will cover more ground. However, broader head means more weight and this you might tire faster. When working in tight areas, say around shrubs, you want a smaller head that will be more effective.
Handle length
Seeing as you will be using the rake standing up, you want to get the appropriate length and height. To ensure that the height is right for you, make sure the rake reaches the bridge of your nose from the floor.
Materials
Rake heads can be metallic, plastic, or made of bamboo while the handles can be metallic, wooden or made of fiberglass. However, ensure that the head is metallic and that the handle is wooden. The fundamental idea of a wood rake is a bunch of sticks tied to another stick (not to be confused with bow rakes). The heads are large to catch large volumes of lightweight material. Nonetheless, the same fundamentals that make leaf rakes efficient make them flimsy as well.
Though there aren't many persons who still use rakes, there seems to be a consensus among the few that one should avoid plastic rakes. They tend to break especially in cold weather, and the handles often snap. Bamboo rakes, on the other hand, require the leaves to be dry. They cannot handle the weight of wet leaves, or they will break. That leaves us with metal-headed rakes.
Weight
The weight of the rake will depend on the tasks you intend to perform, and how durable you want the tool to be. The rule of thumb is that it should be heavy enough for arduous tasks but light enough to be comfortable. For durability, you can use a steelhead, but it will be heavier. Aluminum will be lighter, but more flimsy than steel. Finally, remember that the lighter the rake, the longer you can use it.
Comfort
To avoid blisters and sore hands, its best you pick a rake with a soft grip. Also, if you suffer from back pains, we recommend you choose a tool with an ergonomically designed rake. That is one with an angled head or handle. An extra grip handle will help too.
All the same, despite having the tips to pick the right rake, it often isn't a walk in the park given the many brands and designs available.
FAQs
How should I maintain my rake?
Other than purchasing a durable rake, you need to maintain it for it to serve you. Ensure you clean the tines, and fine steel plus a light oil to remove the rust. Avoid bleachers that may damage the metal parts reducing the longevity. If you have a plastic rake, we advise you don't use it on wet leaves as most can't handle the weight.
Conclusion
Leaf rakes are a classic tool. Yes, there are new and better tools that are upstaging it, but there is a reason it has been around since the 19th century. Topping the reasons why it's still a preferred tool is its price, and how it handles delicate plants. For a new rake, we encourage you to consider those on this list. If not, make sure to follow the guide on how to acquire the ideal rake.
Finally, let us know what you think in the comments below.
Subscribe to our newsletter