In a
Hurry? Editors choice: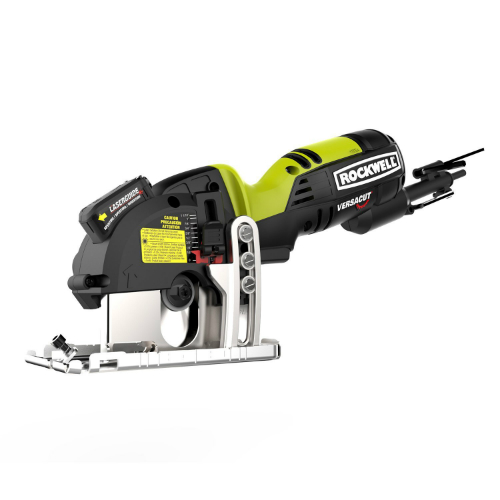 Test Winner: 1. Rockwell RK3440K Versacut 4.0 Amp Ultra-Compact Circular Saw with Laser Guide
Best Electric Hand Saws Tested and Reviewed
last updated:
Jul 28, 2021
There's no shame in making your life a little easier when you are doing carpentry projects. While a hand saw can sometimes get precise small cuts, the back-and-forth action of the saw can be tiring. Power saws make quick work of the cutting part of the job. Depending on what you're doing, there are several different types of saws, but the most common types are reciprocating and circular saws. Typically, reciprocating saws, which have a straight blade on one end and a handle on the other, are better for a rough cut, while a circular saw with its circular blade makes more precise cuts. What are best electric hand saws on the market.
[srpshortcode id="22454″][/srpshortcode][srpshortcode id="22455″][/srpshortcode][srpshortcode id="22456″][/srpshortcode]
Power saws make short work of cutting jobs in the workshop or even in the yard. Our review of the best electric hand saws – both reciprocal and circular – can help you choose the best saw for what you need to do. Most are reasonably priced and well worth having in your toolbox.
6 Best Electric Hand Saws
1. Rockwell RK3440K Versacut 4.0 Amp Ultra-Compact Circular Saw with Laser Guide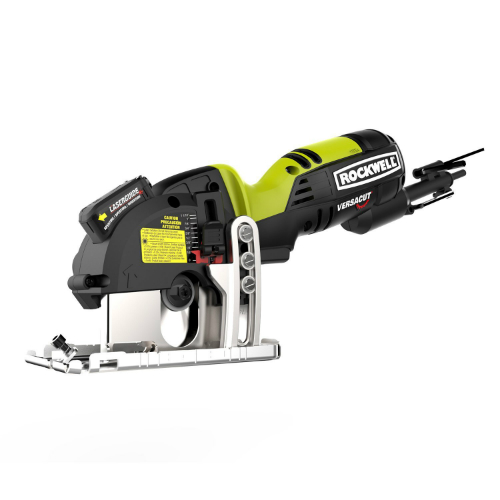 Our first item in this list is the Rockwell RK3440K, a compact circular saw that cuts almost anything including wood, tiles, flooring, slate, and even sheet metals. Ergonomically designed so you can control it with one hand, it is more precise than many circular saws; although it can still not cut corners, it can get you into tight areas that most circular saws cannot reach due to its compact size.

With a speed of up to 3500 RM, the saw also features a depth-adjustment level that allows to you lock the blade at the desired depth so you do not cut too deep along with Laserguide technology that ensures users won't have to measure a cut twice. Though the saw is corded, the laserguide runs on batteries; if you don't forget to turn off this feature, you will have to replace the batteries often

Weighing 4 pounds, this streamlined saw has rear-motor construction and balanced design to make it comfortable to use with less fatigue – a great quality when you are doing a big job. Its 4 amps of power will satisfy the cutting needs of DIYers and professionals alike for rip cuts and plunge cuts. To assure the perfect cut, the saw has a built-in laser guide to assure, along with a dust extraction adapter that sucks up the dust and assures cut line visibility so that the cut line is clear and free of dust.

For safety, this saw has a lock-off switch that prevents accidents, along with a durable full metal inner and outer guard that is made to extend its product life. With a blade measuring 3-3/8˝(85 mm) X 19/32˝(15 mm), the saw has a maximum cutting depth of 1 1/6th

The corded Rockwell RK34440K has a 2-year warranty which can be extended to 3 if customers register online.

At $125 on Amazon, the Rockwell RK3440K VersaCut circular saw comes with one 24T carbide-tipped blade for cutting wood, one 44T HSS blade for cutting aluminum and PVC, and one diamond blade for cutting ceramic tile and cement board, along with one no-mar plastic base plate cover, one parallel guide, one vacuum adapter, and a carrying bag.


Expand to see more
Product Features
Corded multi-functional circular saw


Strong 4.0 amp motor, no load speed 3500


Ergonomic design with slim grip


Built-in laser guide that is perfect for aligning the cuts


Dust extraction adapter


Pivot metal guard
Who is it for?
Amazon reviewers gave the Rockwell-R3440K a 4 or 5-star rating 86% of time. Many considered it be a specialty tool for jobs such as installing a hardwood floor and not the best all-around circular saw. If you need a small powerful saw for specific jobs, we highly recommend this tool to be in your toolbox.
Provides a clean environment to work
Extracts perfect cuts
It is stable and safe to use
Can be used with one hand
Cuts a wide variety of materials
2. BLACK+DECKER PHS550B 3.4 Amp Powered Handsaw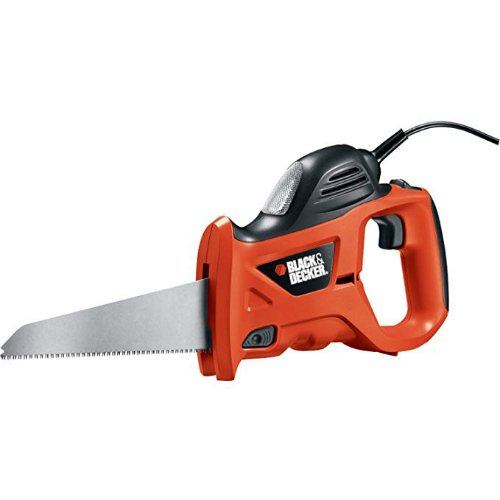 The Black and Decker Electric Hand Saw is a 3.4 amp corded power tool with a blade that even looks like a hand saw. Convenient for cutting trees into firewood, it cuts wood, plastic composites, and non-ferrous metal with ease at 4600 SPM (strokes per minute.) It has variable speeds to accommodate your job.

Weighing in at 5.63 pounds, the saw is light enough to carry outside for pruning and other tasks that do not require a larger, more powerful chain saw; the product offers more control than chain saw on small branches. This "refined reciprocating saw" requires you to move your arm back and forth as you cut, so the tool provides high-power assist that can tire a user out. You can accomplish your task with one hand.

If you need to change blades, you can do so easily without tools according to the manufacturer. Many Amazon users, however, complained that putting in a new blade is tricky and requires that you use a flat head screwdriver to match up the hole on the blade with the lock bolt on the tool. With this trick in mind, the saw is ready to use again.

The unit, priced at $61 on Amazon, comes packed with a handy storage bag and two blades, a large capacity triangular shaped one along with metal cutting blade. Replacement blades are readily available and are even sold in a 3-piece set under product number 74-598 that include the two blades mentioned plus a blade for curve cutting. Especially if you are cutting soft, sappy wood like pine, keeping extra blades on hand is a good idea.


Expand to see more
Product Features
Versatile for indoor and outdoor operations


Comes with a storage bag for more accessible storage


6-foot cord


It also includes a large capacity blade and metal cutting blade


Powerful 3.4 amp, 4600 SPM motor


Patented tool-free blade changes
Who is it for?
The Black and Decker Electric Hand Saw is highly recommended by 81% of users who Gave it 4 or 5-star reviews. Many who gave it lower ratings complained about blade changing issue, but once past that, most users verified that it was great for small cutting tasks and did the job well.
Easy to carry around
Easy to set and operate
Cheap
Easy to change blades
Not suitable for cumbersome materials
Blade hard to change
3. WORX WX550L 20V AXIS 2-in-1 Reciprocating Saw and Jigsaw with Orbital Mode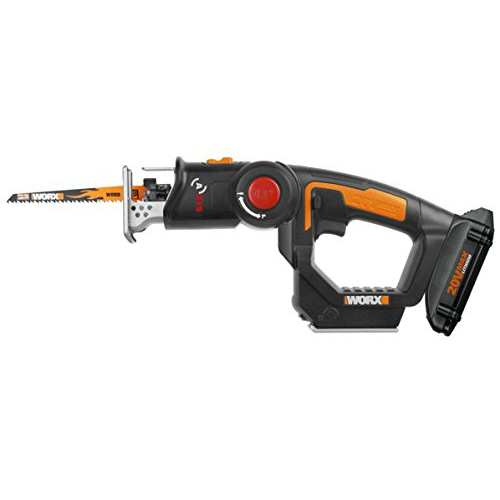 The Worx WX550L.9 is a two-in-one cordless saw that incorporates the features and advantages of a reciprocating saw and a jigsaw, a tool good for cutting intricate shapes. With the touch of button, the head pivots so you can convert this saw to the tool you need. Both reciprocating saws and jigsaws use the same motion, so making the saw something that can both tear down structures and make intricate cuts was a logical union.

The 4.2 pound marvel offers 3000 rpm at no-load speed and has an amp hour rating of 4., doubling the amps of energy storied in the 20V Worx 4.0 Ah battery (WA3578) vs. previous models. The battery lasts from 15-30 minutes of continuous use, which is sufficient for many DIY tasks. For longer life, you can get a 40V battery; both the 20V and 40V work with any Worx tool that uses their Power Share system.

Though most people buy this tool for projects involving wood and metal, many who reviewed the product note that by buying a $20 adapter on Amazon, the tool can be used for massage. This homemade Theragun massager would cost over $400 for the brand name or multiples of $20 for a knockoff, so the small investment in addition to the $89 for Work WX55-L is well worth it for the message action.

When used for its more conventional uses, this tool cuts wood, metal, ceramic tiles, plastic, tree limbs, PVC pipe, fiberglass, aluminum, copper, thin steel, or even roots with its slightly circular motion. The orbital cutting action allows you to do a quicker, with less hand strain. The design of this saw allows you to get into tight spaces when using it in reciprocating mode and capable of cutting out complex shapes in jigsaw mode. You can cut 2" into wood or PVC pipe and 5/32" into steel plate as a jigsaw or 2" into these materials as a reciprocating saw.

The Work WX55-L has several other selling points, such as being able to use any brand of blades to do the job. No tools are required to replace the blades. A LED headlamp on the tool illuminates the job, while a built-in dustblower keeps the work surface clear.

Expand to see more
Product Features
Contains a Built-in-blower


Has a pivoting head design


Use 20v power share platform


Axis has no-load speed of 3000 SPD and ¾ stroke strength
Who is it for?
We would recommend this equipment for DIY professionals since it is portable and easy to handle with minimal problems. The tool does what it says it will and more, which is why 93% of Amazon reviewers give it 4 or 5-stars.
Two-in-one use
Built-in dust remover to improve cutting visibility
It is not noisy
Light and easy to handle while using it
Can share its batteries with other Worx tools on the Power Share system
Battery power too short for some users
4. SKILSAW SPT77WML-01 15-Amp 7-1/4-Inch Lightweight Worm Drive Circular Saw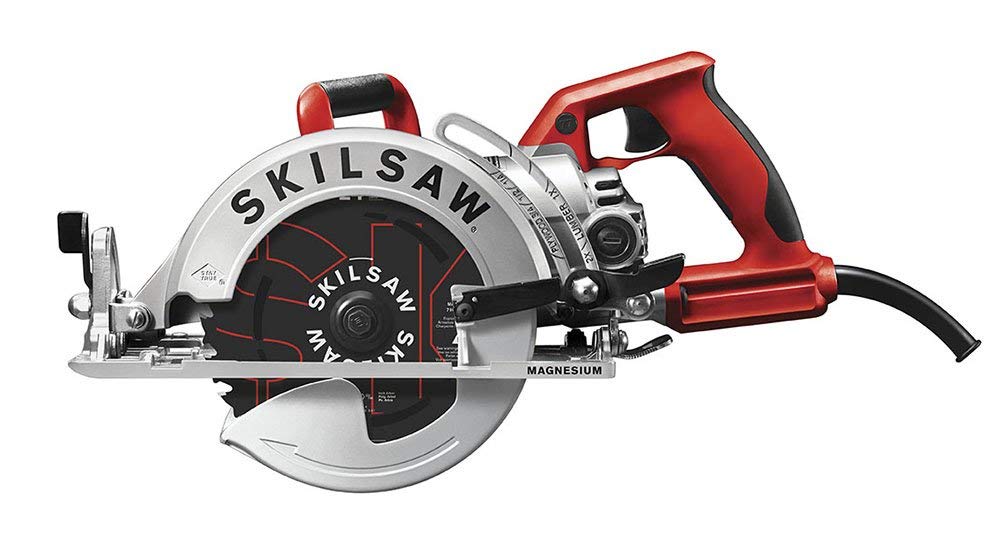 The SKILSAW SPT77WML-01 is a corded circular saw that features worm drive which connects the blade shaft to the motor via worm drive gears that make the saw heavier and larger but also more powerful that the usual sidewinder design, where the motor is alongside the shaft of the blade. At 11.5 pounds, it is one of the lightest options on the market.

With a magnesium housing that is strong while keeping the motor cooler, the saw has a blade speed of 4,500 rpm and performs job after job. At 15 Amp of power, the saw has a maximum cutting capacity of 2 3/8 inch at 45 degrees and a 53° bevel for a wide variety of cuts. The SKILSAW SPT77WML-01 has CutReady depth adjustment level for easy and quick adjustments for ¼ ply, ½ ply, ¾ ply, and 2x materials.

Most users familiar with both sidewinders and worm drive saws find worm-driven moderns make straight precision cuts with little effort, as the saw does most of the work. The saw does have a lot of torque and it will jerk a little when you operate it, but as long as the saw is sitting on a solid surface and the blade is not touching anything when you pull the trigger, the cut will go smoothly.

Expand to see more
Product Features
15 Amp of power


Light magnesium construction


53°bevel level for wide variety of cuts


Cut-ready depth of cut system helps with quick, accurate depth measurements


Anti-snug lower guard for smooth operations
Who is it for?
This saw is for serious DIYers and professionals alike. It ranks as the 17th best seller in power circular saw on Amazon, where 95% of reviewers award it 4 or 5 stars.
Easily reaches to the deepest cuts
Lightweight thus easy to carry around
Provides smooth and easy cuttings
Requires less time to operate
Needs gear oil for lubrication
5. Chicago Electric 6 Amp Reciprocating Saw with Rotating Handle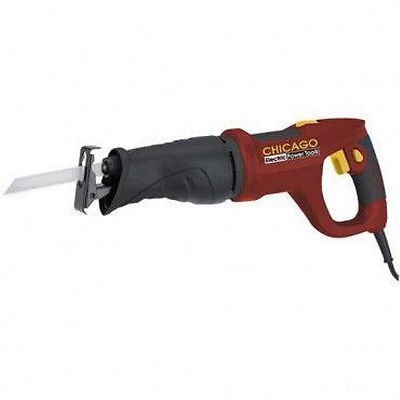 Searching for a power saw that will leave you with amazing results while being kind on your budget? Priced at less than $45 on Amazon (and even less elsewhere), the Chicago Electric 6 Amp Reciprocating Saw with Rotating Handle is one of the cheapest, high-value options on Amazon.

To provide a comfortable and controllable cut from any angle, its handle rotates through 180 degrees with five positions, with five positive stops at 0, 45° and 90° left, and 45° and 90° right. Its powerful 6 amp motor has a variable speed trigger that goes from 0 to 2500 strokes per minute to deliver the precise cutting speed for any job. When pressing the trigger and holding the unit with one hand, you can comfortably grasp the rubber grip on the shaft for comfort and safety.

This saw has a shoe plate pivot which guides the blade and makes it stable while being adjustable up to 30° for both depth and angle. Blade changes are easy with the ½" twist-lock chuck. Although no blades are included, the saw can cut through the wood, metal, plastic, drywall, and many other materials with the right blade. Since a package of blades sells for less than $10, this saw remains a value that produces good results.

The Chicago 6 Amp saw also weighs about 6 pounds.

Expand to see more
Product Features
Has five positions


Handle rotation of 180 degrees


1/2twist-lock blades church for fast and easy blade change


Has a rubber grip on shaft
Who is it for?
We would recommend this tool for people who want powerful drill at a bargain price. It earned 77% 4 and 5-star ratings on Amazon. Some reviewers felt it was poor quality, but most were impressed with the power and quality for the price.
Powerful and full-featured for the money
Cuts through a wide range of materials
Variable speed
Adjustable blade angles
Heavier compared to other tools
Blades not included
Some complaints that the blade won't stay in
6. Makita XRJ06Z 18V x2 LXT Lithium-Ion (36V) Brushless Cordless Recipro Saw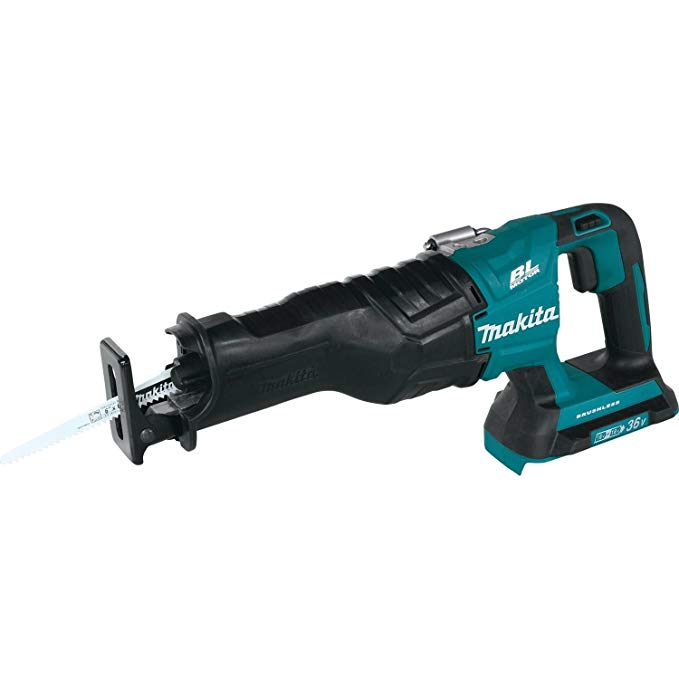 Whether you are a professional or you are just starting out in the field of
woodworking
and carpentry, the Makita XRJ06Z 18V X2 LXT Lithium-Ion (36V) Brushless Cordless Recipro Saw is a step above tools we are reviewing, both in capabilities and price. It has a brushless motor, the gold standard in power tools, which will run cooler, more efficiently, and longer than models with brushes. The Makita motor delivers 0-3,000 (metal cutting) and 0-2,300 (wood cutting) strokes per minute for faster cutting and is powerful enough to handle even tough tasks such as demolition and cutting that usually require the power of a corded unit. It is, however, a hefty 19.84 pounds.
The unit works with two 18V LXT Lithium-Ion batteries deliver the power and performance of a corded recipro saw without leaving the 18V LXT Platform used for other Makita tools. The batteries are rated at 5 Amp hours of performance, Although the unit is a hefty $229, the batteries are not included. However, the tools is available in a kit for $349 that includes two batteries, two chargers, a recipro saw blade, and a tool bag.
This unit is also set apart from others by its features, which include variable two-speed action, tool-less blade change to speed up blade installation and removal, a long 1-1/4 stroke length that provides increased cutting ability delivering smooth and clean cuts, a tool retraction hook, and an LED light to illuminate the line of the cut.
Expand to see more
Product Features
Refined crank mechanism design that minimizes blade reflection and reduces vibration


Contains BL Brushless motor for faster cutting that eliminates carbon brushes


Long 1-1/4 stroke length


Works with two 18v LXT Lithium-Ion batteries
Who is it for?
Given the price, the Makita XRJ06Z 18V X2 LXT Lithium-Ion (36V) Brushless Cordless Recipro Saw is perfect for serious DIYer and professionals. Amazon reviews gave 4 or 5 stars in 94% of the cases.
Cordless convenience
Easy to handle
Delivers quality results
More rapid and efficient cutting
Has minimal vibration
Cooler while in operating
Long lasting
3 Year limited warranty
Might be a bit heavy to some people
Expensive
Criteria for Choosing the Best Electric Power Saw
When buying a power saw, an experienced saw buyer might have a specific list of criteria, while a beginner's list would be more basic. Both types of buyers would ask:
What is the best type of saw for the job at hand?
Electric hand saws are made with varying capabilities Though there are nearly a dozen different types. Most fall into two distinct categories based on their motion: reciprocating saws and circular saws.
Reciprocating saws have blades that move rapidly back and forth to cut through tough material to make rough cuts. Useful for demolition work, they use a variety of blades that cut tile, pipe, masonry materials, and nail-embedded wood very well, and are often used in the yard to trim foliage and cut trees. The blades look like serrated knives, and they are strong and thick as they cut through the material to be cut quickly and make straight rough cuts; the saw cannot cut corners or angles. These types of saws include a handle that can be used by either hand and have a second grip closer to the blade. They are also called Sawzall, a name given to it by the Milwaukee Electric Tool Company.
One specialized type of reciprocating saw is a jigsaw, which can cut accurate, curved lines. The blades protrude from the bottom at 90° and its thin blades create precise cuts.
Unlike reciprocating saws, circular saws produce straight, clean cuts with smooth edges. The most common type of saw, a circular saw uses circular blades to make long rip cuts or short crosscuts on board; this type of saw can even do bevel or angled cuts to 45 degrees and is particularly useful in carpentry and woodworking. By switching to different blades, this type of saw can handle different types of material like a reciprocating saw.
What materials does it cut?
Most reciprocating and circular saws cut wood, plywood, MDF, metals, plastic, and masonry with varying levels of finesse.
What is the power source and how much power does the saw have?
Power saws may be corded or cordless with batteries. While cordless saws are convenient, their work time is limited to the amount of battery power. Corded tools usually have short cords of 5-6 feet, so an extension cord is required.
Tools are fuel by amps, units of electric current drawn by the tool. For DIYers, 7-8 amps are sufficient while heavy users, such as contractors, may require 11-12 amps.
What specific features are of interest?
While power saw descriptions do not always spell out the criteria that a user might be interested in, there are factors that impact how good a job the saw does and that make it safe and easy to use. Many of these only pertain to reciprocating saw.
Weight – As power saws are often held in the hand without support, weight matters – especially when you plant to use the tool all day, cut above your head, or use one hand.
Motor – A brushless motor is ideal in a saw, as this makes the motor more efficient.
Blades – While reciprocating saws use straight blades that insert in the tool at the end, circular saws use round ones attached through a hole in the middle. Toolless blade replacement is ideal for reciprocal saws. Saw blades have teeth that control the type of cut you get.
Blade action – While the shoe helps control vibration, some reciprocating saws offer orbital action that works in an elliptical motion rather than pushing and pulling the blade through the material.
Stroke length – Usually between ¾" to 1 ¼", the stroke length on a reciprocating saw measures how far the blade moves in each direction. The higher the number, the larger the travel of the blade in the two directions, and the more efficient the saw. With circular saws, this refers to the distance the plate protrudes below the base or shoe.
Speed – Speed is crucial in electric tools. Expressed in strokes per minute (SPM), speed is controlled by a trigger. Ideally, the saw should have variable speed so you can get the best cut without causing damage to the material or the saw blade.
Shoe – On a reciprocal saw, the shoe is a frame that serves as a blade guide that adjusts for depth and angle, stabilizes the saw, and reduces vibrations. This piece might be adjustable so it extends to guide a longer length of material. The shoe on a circular saw has similar functions; it serves at the base plate the stabilizes the saw and facilitates bevels and curved cuts.
Price – Typically, more expensive saws have more features, but even a small budget can get you a considerable amount of capability.
Warranty – Limited warranties of 1-3 years are common.
FAQ
1. What are the proper safety measures should you keep in mind when using an electric hand saw?
 Proper care increases productivity and also extends the life of the tool. Store your equipment away from moisture and lubricate them to prevent the blades from rusting. If rust does build-up, remove it with sandpaper before attempting to use the blade.
2. What are the precautions while cutting?
 While operating with an electric saw, keep your limbs and other body parts away from any moving part. Turn off the tool before adjusting or removing the material being cut while the blades are in action. Disconnect corded tools from the outlet before adjusting or replacing parts.
Conclusion
With the right electric hand saw, cutting through material is much easier than by hand. Our guide to the best electric hand saws shows you some of the best tools on the market for your job and budget.
Subscribe to our newsletter