Best Belt Sanders Reviewed and Tested
last updated:
Jun 22, 2018
Sanding is a step you can't skip, but it is also one you'd probably most like to. Whether smoothing down a surface, taking off paint or removing glue – sanding is necessary. Luckily there are a plethora of power sanders out there today that can help take the burden off your poor overworked palms. A power sander lets you polish up wood, laminate, and metal faster and easier than any of the traditional methods. Even reclaimed lumber stuck with nails is no match for one. Plus, the best sanders will give you much more even and consistent results than you would get by hand.
Our Top 3 Picks
[srpshortcode id="2838″][/srpshortcode][srpshortcode id="2836″][/srpshortcode][srpshortcode id="2834″][/srpshortcode]
It's easy to see that not all sanders were created equally. Some will leave you with a perfect finish no matter the material you are working; others will leave you with an uneven or wavy finish. Some have a belt mileage that will last seemingly forever; others may have issues finishing project #1. Still others are really only suited to the early stages of the sanding process.
For this reason, we have put together a top ten list of the very best belt sanders available in the market today. We went carefully through a large selection of quality sanders to narrow the list down to only the ones most worthy of your time and money. The goal is to not only give you what we believe are the best options, but also to help you understand the criteria by which to judge these products and answer some basic questions you may have. After the reviews, we have an FAQ section as well as an explanation of the criteria we used when rating the sanders.
A couple quick of things to note:
An effort was made to not list near duplicate reviews. When it comes to power tools, companies will often release a family or series of devices that are near identical, minus a feature or two. Unless the tools were significantly different, only a single sander from a series was reviewed. So if there is a tool on this list seems near perfect for you – there might be some other slight variations on that design available.
We ranked the options on this list on a price/value ratio. For example: Even though the PORTER-CABLE 362V is technically more powerful and efficient than the Hitachi SB8V2, its ranking wasn't as high since we decided the Hitachi was of a better overall value. This justification is explained in more detail later on in the article. It is also worth considering both of those tools are best suited to different tasks, and the PORTER-CABLE would be a much better purchase for those working on jobs that better suited its abilities.
10 Best Belt Sanders
1. Makita 9903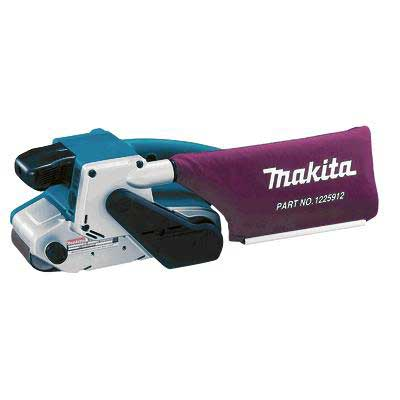 Small, powerful and incredibly versatile. The Makita 9903 is a whole lot of toll in a relatively small package.
Expand to see more
Easily adjustable, practical for a variety of jobs, and packed with useful features. It's no wonder this tool is receiving the number one spot.

Perfect for most jobs, small to large. It allows you to work flush to the wall and is equipped with auto tracking features - making some of the most frustrating aspects of sanders null and void. While a little heavier than other sanders its size, it is very well balanced and is equipped with a precise tracking dial that lets you make incremental manual adjustments. It is very quiet compared to its power output and even has a feature that lets you mount it for stationary sanding. Both the dust bag and belt are easily removable and replaceable.

Key Features

Weight: 9.5 lbs.
Motor: 8 AMP
Belt Size: 3" x 21"
Speed: Variable speed control dial (690 -1,440 ft./min.)
Power Supply: 16.4 ft. power cord
Dust Bag.
Auto-tracking belt system.
Sands wood or metal and removes paint and rust.

Price/Value

This Makita tool offers an excellent balance between cost and effectiveness. While more expensive than the average consumer tool, you can safely say this offers professional craftsmanship at a bargain price.

Who Should Buy This?

Pros looking for a comfortable and dexterous sander, or homeowners looking for that extra level of quality. Either way, you won't be disappointed in your purchase.
Very quiet
Sand flush to the wall
Comfortable operation
Versatile and capable of a large variety of jobs
Heavier than other comparable sanders
Some have complaints about fitting issues with the dust bag
[srp_anchshortcode id="2838″][/srp_anchshortcode]
2. Hitachi SB8V2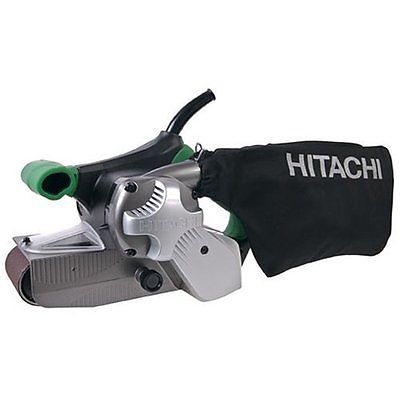 This is a professional grade sander with a powerful 9 amp motor. It can power through tough jobs including rust and paint and can be adjusted to accommodate materials requiring more sensitivity.
Expand to see more
The designers of this tool knew just how to balance out the power to size ratio, making this tool a pleasure to use while ensuring it was not unwieldy.

A clear front window is a nice feature as it makes it easier to keep your sander on target. It has a relatively lightweight compared to its power output - allowing you more comfort and even more precision.

A big selling point here is durability. This tool is made to work hard and last. You will be investing in a workhorse made to last you years. In fact, according to the "wear resistant v-belt" this Hitachi is rated to last up to two times longer than comparable tools.

Key Features

Weight: 9.7 lbs
Motor: 0 Amp
Belt Size: 3" x 21"
Speed: Variable speed control dial (820-1,475 ft/min.)
Power Supply: Corded
Variable speed by dial
Large trigger switch
Trigger lock
Soft grip handle
Dust bag

Price/Value

This is the deciding factor for this tool It will handle your sanding jobs with ease for years to come, and will do so at a very fair price. Easily thought of as an investment rather than a purchase if you find yourself regularly replacing lower tier sanders.

Who Should Buy This?

This is a great inexpensive buy for a pro and a quality investment for a heavy duty DIY'er. If you have to remove some stubborn paint or rust, or need to sand large swaths of material - the Hitachi SB8V2 is a fantastic option.
Powerful engine
Easy to handle
Above average in most respects
The left-hand side of the motor can take some getting used to
Some complain of getting a small electrical shock from time to time due to the design
[srp_anchshortcode id="2836″][/srp_anchshortcode]
3. PORTER-CABLE 362V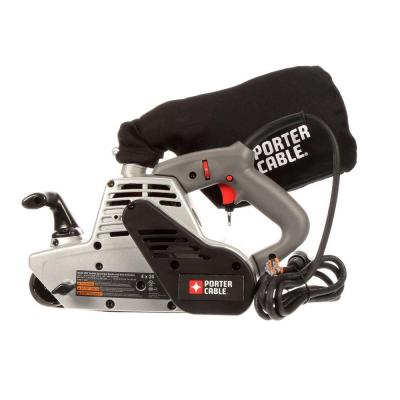 This is a tough product with an all metal design. The PORTER-CABLE 362V is perfect for professionals who need a tool that can handle some detailed work, and can then power through all of the rough stuff.
Expand to see more
Despite its power and weight, this is a very well balanced tool that allows for great accuracy even at the highest speeds. It is capable of handling most anything you can throw at it.

In addition to the power and balance, this sander also has a nice compliment of features including a belt change lever, belt-tracking knob, large dust bag and very comfortable design.

Key Features

Weight: 15.5 - 17.4 lbs
Motor: 0 AMP
Belt Size: 4" x 24"
Speed: Variable speed control (1,000-1,500 ft./min.)
Power Supply: corded
Large Dust-Collection Bag.
Powerful 12 Amp motor .
Flush sanding up to vertical surfaces.

Price/Value

This may seem a little more on the pricey side, but due to its durability and solid craftsmanship - you can also think of this tool more as a long term investment, helping you avoid multiple replacements down the road.

Who Should Buy This?

Pros who need a 12 amp motor and the reliability of a trusted brand. If you have a large amount of work - especially with tough materials - The PORTER-CABLE 362V is definitely worth a second glance.
A beast. Can handle a whole range of heavy duty tasks
Well built and durable
Useful array of features
Comfortable in the hand and well balanced
Due to its heat venting direction, cord attachment and weight, multi-directional sanding can get uncomfortable
Not well suited to finesse tasks
[srp_anchshortcode id="2834″][/srp_anchshortcode]
4. Black & Decker DS321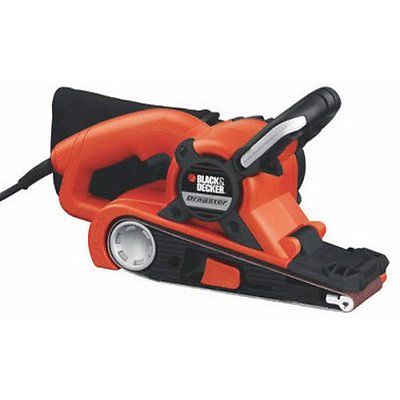 Very low cost, decent power and a number of useful features. This is one of the better-valued options available for around the house jobs.
Expand to see more
It allows you to quickly adjust the handle, change bags and switch out belts all with a couple of clicks. Its angled design lets you get into tight spaces and sand with precision while its small size and lighweight make this maneuvering just that much easier.

Perfect for floors, counter tops, and cabinets - this will tackle any home job with power and precision, perfect for getting behind spindles and banisters.

Key Features

Weight: 6.5 - 8 lbs.
Motor: 7 AMP
Belt Size: 3" x 21"
Power Supply: Corded
Dust Bag
Angled Belt Design for handling corners.
Low Profile Design.
Three position adjustable handle.

Price/Value

This may be its best attribute. This sander is very inexpensive for the amount of tasks it can accomplish. This is a fantastic at home tool at a bargain price.

Who Should Buy This?

Those who need a light DIY style sander that will let you take on any job your home can throw at you. It lacks the power for bigger pro jobs, but shouldn't have an issue with much else.

Very versatile
Easy to operate
Prone to overheating
Lacks power for heavy jobs
5. Black & Decker BR318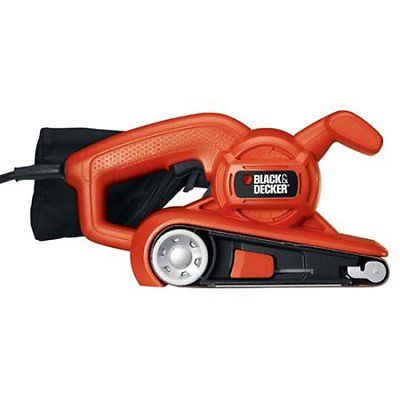 The Black & Decker BR318 has a vendetta out against large floor spaces and decks. This tools was specifically made to aggressively go at large surface areas, right up to where they meet the wall.
Expand to see more
Equipped with a front hand, comfortable grips and built to be narrow and lightweight - this is the perfect tool for covering a lot of ground quickly. Take on that countertop, deck or floor space with absolute ease.

The lightweight and narrow design also makes it useful for hard to reach places and awkward reach areas.

Key Features

Weight: 6 lbs.
Motor: 0 amps
Belt Size: 3" x 18"
Speed: 600 ft/min.
Power Supply: Corded
13% more narrow than most competitors.
front handle design.
Sands close to the edge of adjoining surfaces.
Specially made to ease fatigue when dealing with large areas.
Dust Bag.

Price/Value

This is a very good price for what you are getting. Some express worries about the quality of the tool when they see the low price - but it is backed by the Black and Decker name and showcases quite a bit of advanced and thoughtful design features.

Who Should Buy This?

While this lacks the power to be a professional's go-to sander, the fact it is such a lightweight and low-cost device means that it could make for a solid low-risk backup for more specialized tasks. You won't want to be using something twice the BR318's weight for many of your tasks when you have it on hand. As the homeowner or DIY'er, as long as you are working with woods or materials that don't require too much power - this is a solid purchase.


Low cost
Easy to handle and fit into places
Built to be comfortable during floor work
Weak trigger lock
Relatively noisy for its size
6. Ridgid R27401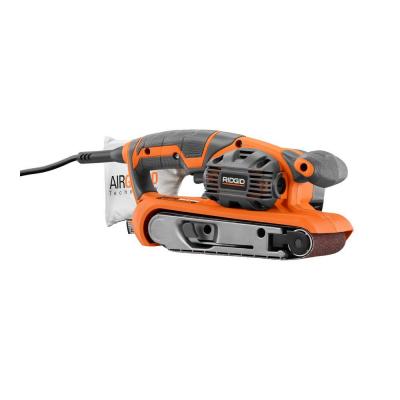 The Ridgid R27401 is quality built and ideal for the homeowner. The only real standout feature other than perhaps it's lightweight and comfortable grips is its great dust catching ability.
Expand to see more
You will find yourself having to stop and empty the bag out more than usual because it is just that efficient. So if you are doing housework and need to keep thing relatively clean - this is an excellent choice.

It also has a tool-free belt release, meaning switching out belts is a snap.

Key Features

Weight: 5.8 lbs.
Motor: 5 AMP
Belt Size: 3" X 18"
Speed: Variable speed control dial (400-950 ft./min.)
Power Supply: 12 Foot All Rubber Cord
Automatic Belt Tracking.
Flush sanding capable.
Soft Grip.
High-Efficiency Dust Collection.

Price/Value

This is a decently priced and high-quality tool. If you are looking for a great DIY tool with a bit more quality than this is the exact price you should be willing to pay. That said, if you need something for the heavier tasks you'd probably be wasting your money.

Who Should Buy This?

Homeowners who need to do quite a bit of sanding work. This is a lightweight yet durable tool that should last you into the foreseeable future if treated right. Just don't expect it to be doing factory work.


Smooth operation
Great dust collection
Lightweight and comfortable
Good ergonomic design
Lacks in power
Lack of niche features makes it only really useful for indoor/around the home usage
7. Ryobi ZRBE319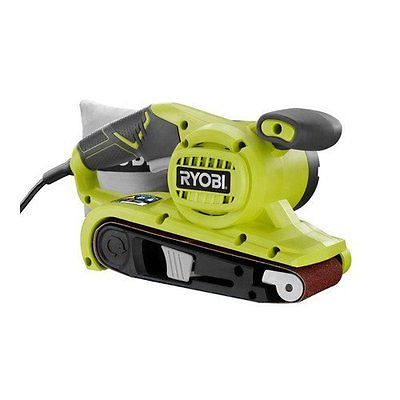 This isn't an option you'd write home about, but it's built well, and it can get household jobs done with minimal effort.
Expand to see more
Relatively low cost, ease of use, and reliability make this an excellent choice for a learning tool or one you may only need once or twice a year.

Key Features

Weight: 4 - 6.5 lbs.
Motor: 6 amp
Belt Size: 3 in. x 18 in.
Speed: 820 FPM
Power Supply: corded
Designed to access tight areas.
Overmold for optimum grip.
Easy to use.

Price/Value

This is inexpensive and well built. A robust power tool at a fair price. It has no outstanding features worth noting, so if you need it for heavy duty or specific tasks, you best look elsewhere - but if you are looking for inexpensive, quality sander, this is a fine choice.

Who Should Buy This?

People either new to sanders or who just want a tool that can get DIY or household jobs done with little complaint. It is not suited for professional use, but that doesn't mean it can't be extremely useful in other realms.
Lightweight and perfect for beginners
Performs well on softwoods
Comfortable to us
Not made for difficult jobs or hardwood
Simply an entry level sander
8. WEN 6321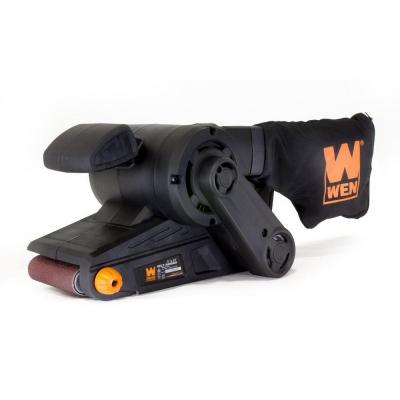 Inexpensive, relatively powerful and containing a few standout features - this is a fantastic all around sander. It is made from lighter materials, but you compensate for that in the price.
Expand to see more
If you are looking for a short term (relative to power tools) commitment and want a great all around tool, look no further.

Key Features

Weight: 6 lbs.
Motor: 7 AMP
Belt Size: 3" x 21"
Speed: 820 ft./min.)
Power Supply: Corded
Compact design.
Lock-in safety feature.
Dust Bag.
Extended Front Roller.

Price/Value

Inexpensive, relatively powerful and contains a few useful features. This is a reliable power tool by any standard. It can get some of the heavier task accomplished at a fraction of the price of other devices.

Who Should Buy This?

While it isn't quite at pro level, we can see a professional buying this as an inexpensive backup. Fantastic for DIY people who know what they will be suing it for.
Light weight and good design limit fatigue
Great for reaching corner
Powerful enough for the majority of tasks
Not made for difficult jobs or hardwood
Simply an entry level sander
9. Proxxon 38536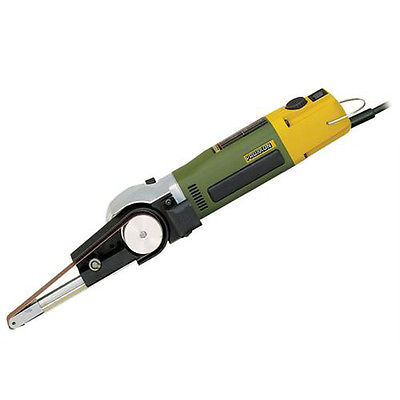 This agile and accurate tool is made specifically to get you into those tight places and for accurate detailing/finishing.
Expand to see more
Though you may be hard pressed to justify owning unless you do a significant amount of work calling for its use - if it is something you can see yourself using, it will simplify your job immensely. The Proxxon 38536 is powerful enough to handle metals and is delicate enough for softwoods.

Key Features

Weight: 1.4 lb
Belt Size:13" x 13/32"
Speed: Variable speed control dial (300 to 700 ft./min.)
Power Supply: corded
Light, compact
User-friendly
Adjustable within an angle of 60°

Price/Value

Though this is too pricey to be bought on a whim, if you recognize a need for this specific tool, it will serve you well.

Who Should Buy This?

If you are looking to do some finishing, mortising, fine polishing, de-burring metal, or paint removal in a small specific area, this is a fantastic tool. Though it isn't useful for the majority of jobs - it was built for a specific purpose and it does it well.
Easy to use
Great for detail work and small areas
Highly adjustable for dexterous use
Not useful for most typical sanding jobs
10. SKIL 7510-01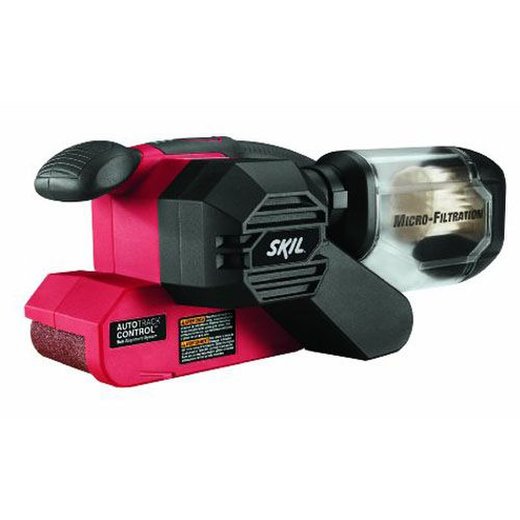 The Sandcat is a decent overall power tool that comes with some nice features and add-ons. It doesn't blow any other tools out of the water - but it is a solid device and is built well.
Expand to see more
It won't last as long as some of the solid metal sanders, but if you are considering Sandcat, then it is unlikely you will be needing to do the type of heavy work those other tools and built for.

A real plus is its great filtration system and dust catcher/bag. This is definitely one of the cleanest tools on the list, making it great for home projects where you don't want to be making a huge mess or throwing a ton of particulates into the air.

Key Features

Weight: 7.5 lbs.
Motor: 6 AMP
Belt Size: 3" x 18"
Power Supply: Corded
Pressure-control feedback system
Micro-filtration system
Clear view dust canister
Auto Track System

Price/Value

Low cost, good features - this is a solid purchase. It won't last you as long as some other tools; luckily you can buy 4 Sandcats for the price of one pro tool.

Who Should Buy This?

This isn't a tool for pros, but a homeowner or DIY'er can find quite a bit of use in the features and quality of the Sandcat. It's low cost enough to be purchased for a single job, on the expectation you may have similar jobs sometime in the future.
Nice features
Very clean
Does a good job of regulating pressure
Can become uncomfortable
Not exceptionally powerful
Great features but on an average sander
Criteria for Evaluation

In the process of creating this list, we had to sort through an enormous amount of quality sanders. Many of those we rejected were solid all around tools but just didn't match up for one reason or another. Once we decided on the top ten we wished to feature; those still had to be ranked. To accomplish the task of weighing completely different tools against one another we had to establish certain criteria from which to judge them. Some of the criteria is fairly obvious – weight, power, versatility – while some others, like overall value or comfort, are a bit more subjective. For this reason, It may not be pronounced why we decided on some tools over others. To further clarify and explain these decisions we have provided a breakdown of our criteria.
Also be aware that many of these tools were built, and are suited for, much different tasks. The larger more powerful sanders are great at what they do – but could not compete in the detailed work of some of the smaller options – and vice versa. It is important you evaluate the tasks you must accomplish and decide for yourself what type of tool will be best at helping you achieve those goals.
● Price
This list takes into account varying sanders built for different jobs. Since this is the case, we had to rate the price on a value/price ratio. As an example, if a sander is 50% cheaper but is still able to handle around 70% or so of the same sanding jobs as a "superior model" – it ranked higher in overall value. We obviously couldn't put this down to an exact science, but that is the logic of which we were operating on. The overall lifespan of a tool was also deemed relevant to value if we could get accurate numbers on it.
● Weight

While different sanders are sized to perform different tasks better, weight is still an important factor to consider. If a small sander weighs too much, or a large sander is somehow able to remain light and/or comfortable, those are essential qualities to note.
● Power
Depending on the material you are working with, the RPM of your belt can be a major factor. Tougher materials will require a more powerful motor, while softer material will need a gentler touch. One is not inherently better than the other. That said, most powerful sanders give you the option of toning down the output, which leads directly into versatility…
● Versatility
Sanders are used for a variety of shapes, sizes, and materials. The more projects you can accomplish with a tool's features, the more versatile it is. If an option allows you to work at high speeds and gentler speeds, it is obviously more useful than one that can only do one or the other.
● Comfort
While weight is relevant to this topic, it isn't the only factor. Some sanders are much more comfortable based on handle design and operation alone. The sanders with more comfortable grips will be much more enjoyable to work with on those big projects.
FAQs

What Size Belt Should I Use?
Most versatile sanders will use a 3-inch wide one with some variation in length. Certain tools may have a more specialized size. You will want one with more surface area if you plan on covering a lot of territory, while the more compact ones are lighter and generally easier to use.
What is Belt Grit?
Grit refers to the size of the abrasive objects on the sandpaper itself. The lower the number, the larger the objects will be. Jobs like paint removal use a lower number while a soft wood will use a higher number. Removing heavy materials may use a grit number as low as 24, while an automotive finish will have a grit around 2000.
Generally, what you will use will fall between 50 and 120-grit.
Here is a rough breakdown of the grit number and what it is suited for:
Solid Wood: 80 grit
Veneer 150 grit
Chipboard 60/80 grit
Plastics 100 grit
Steel 80 grit (remove dust bag)
Paint Removal 40/60 grit
Balsa Wood 100 grit
Acrylic 100 grit
How is a Belt Sander Different from an Orbital Sander?
An orbital sander isn't really built for large surface areas or heavy material removal. It specializes in handling corners, edges and for making an area incredibly smooth. They are also generally much smaller tools.
A random-orbit sander falls somewhere between an orbital sander and a belt sander. It can handle some tougher removal jobs and is usually light enough for one handed jobs. Many DIY people prefer a random-orbit sander for the majority of their sanding needs.
What Features Should I look for?
For some this is important, for others, not so much. Manual tracking and an easily replaceable option will likely save you a good chunk of time and frustration if you haven't had a lot of practice with either.
Tracking is usually a fairly straightforward process. It just refers to applying a bit of tension to the belt to ensure it accurately fits onto your sander. Most manual tracking is done by simply turning a knob.
This may not initially seem all that important, but three hours into a job you will unlikely be thinking about much else. A comfortable tool goes a long way in ensuring your job isn't miserable and your motivation and work ethic stay in good shape throughout the day.
Sanding creates a crazy amount of dust. Unless you want all of that dust getting into the air (which is a health hazard) and all over your work area, you are going to want a tool that automatically traps a good portion of the particulates. While no tools are perfect at dust collection, some are definitely better than others. Make sure you go with one with a bigger bag unless you want to be emptying it out a bunch of times.
Ability to go flush with the wall
There is a reason so many manufacturers highlight this feature. There is nothing more frustrating than being able to complete a job- except for that small area in the corner. Many tools these days are built with the idea that you will eventually be needing it to hit those edges and corners.
Do I Want a Stationary Sander?
While all of the sanders we looked at were handheld (except one that had an option to become stationary) stationary sanders can also be very useful pieces of equipment. Mostly used for machining small parts, metal work, and various other smoothing tasks. It is not, however, suited for taking on large areas like floors, doors, etc. for obvious reasons. If you think a stationary sander is more along the lines of what you need, I encourage you to look into the specific pros and cons of that genre of tool. Just be aware that it is suited to a much different set of tasks than a mobile sander is.
Making Your Decision
Our list, criteria, and FAQ should give you enough to begin making an informed choice regarding your sander. Making a larger purchase of this type can often be confusing or frustrating, especially if you don't have a ton of prior experience in the field. Keeping that in mind, we did what we could to ensure we provided a list of quality tools with a diverse range of uses – as well as some explanation as to who would likely purchase them. There is never a complete consensus on what tools are best or worst – in fact; you will probably disagree with many of our opinions in this list itself. That is normal. As long as this list helps you make a more informed purchase, it has accomplished its goals. Make sure you look at your options and investigate for yourself how you think a tool matches up with your needs. If you do that it is unlikely you will come away from this purchase unhappy.
So whether you are a twenty year pro or someone who simply has a need for a new sander – there is definitely a sander here suited to your job. Good luck – and remember – build smart, build safe, and build big.
Subscribe to our newsletter