Best Machetes Reviewed & Tested
last updated:
Jan 31, 2018
Looking for the best machete can be a daunting and nerve-wrecking exercise, especially if you've never used one before and have no idea where to start looking. The market is full to the brim with thousands of differently sized machetes, all with a long list of pros and performance guarantees. Unless you know your way around these tools, you need assistance understanding them before picking one that best meets your needs. But first, you have to take several important factors into consideration as they go a long way in assisting you with the selection procedure, helping narrow down your list to one or two choices.
The most important consideration is your needs because the moment you understand why and for what purpose you need a gardening machete, then and only then can you begin a successful and stress-free hunt for the one. You can save yourself a lot of frustration by simply knowing the shape you want, narrowing that down further to the purpose and maybe, affordability.
Our Top 3 Picks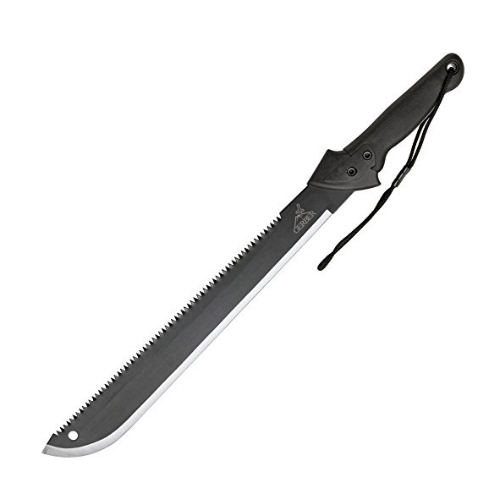 Gerber Gator

Our rating
Double-Edged
Price:

See Here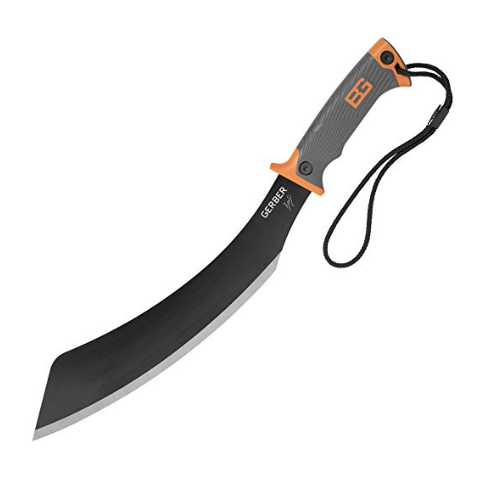 Gerber Bear Grills

Our rating
Angled Blade
Price:

See Here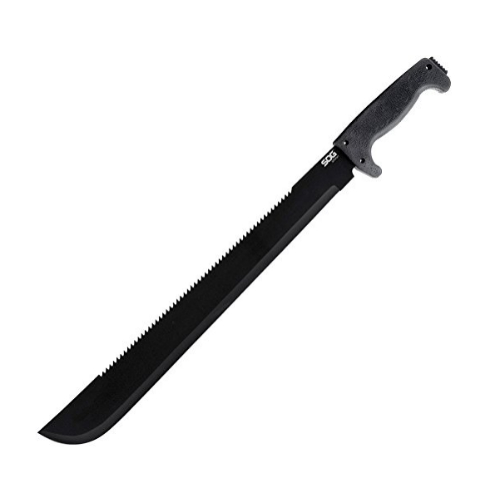 SOG SogFari

Our rating
Comfortable
Price:

See Here


Criteria for Choosing the Best Gardening Machetes
Construction Quality
The main use for a machete is chopping different types of plants and vegetation in the garden or yard and considering the high-impact nature of the exercise, you need a machete that is professionally-constructed using industrial grade materials. Most brands use stainless steel to make the blade for the easy and effective absorption of the continued shock. If your garden is dominated by tough plants and materials, you need to look out for machetes with steel blades as they are hard and capable of retaining their edge for a much longer time. And because they're sharp, re-sharpening them will take some work and effort.
Design of the Blade

Machetes blades come in all types and manners of design. Even though they serve the same function, such differences have a huge bearing on their performance with some being more suited to some tasks than others. The designs are majorly influenced by the machete's region of origin. The four most common are the Latin, Golok, Kukri, and Bolo designs. Latin machete are apt at performing a huge array of cutting and chopping tasks with their even distribution of weight throughout the length of the machete. Golok machetes have blades curved at the cutting edge as well as at the spine with most weight concentrated towards the tip, making them perfect for heavy-duty chopping projects.
Kukri machetes feature a unique and easily recognizable design. Because most of their weight is focussed at the tip and being short in length, they offer far more versatility for various intricate activities. Lastly, there are Bolo machetes whose simplicity and effectiveness in chopping is renowned the world over. Understanding these designs helps you narrow down your search to one that best meets your needs.
Length and Thickness of Blade
Your success at chopping or cutting different materials on the garden will depend, to a great extent, on the length and thickness of your chosen blade. Short blades are more appropriate for splitting kindling while longer ones are best for clearing vegetation and other growths with ease owing to the fact that they have better reach and power and require less effort. Thicker blades are better placed to absorb the high-impact of hitting tough materials plus they pack far greater cutting power.
1. Gerber Gator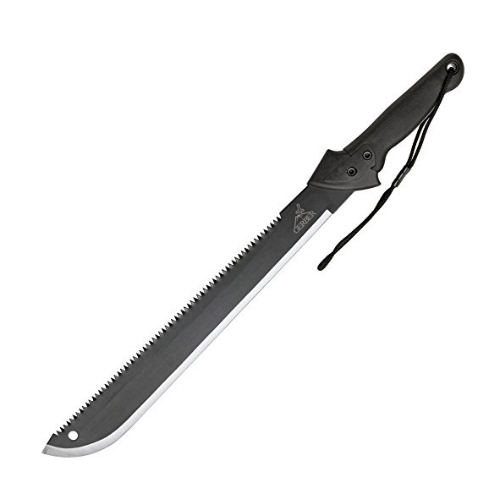 The Gerber Gator Machete with Nylon Sheath is what experienced gardeners over the world call the epitome of versatility and powerful performance, coming with an ultra-sharp 15-inch fine edge, professionally constructed blade on one side and an 18-inch practical and functional saw blade on the other. The design makes it possible to clear weeds and other foliage with just a one swipe of the machete, thus saving you time and effort. The gardening machete has the ruggedness and toughness occasioned by the use of high-carbon steel as the primarily construction material, allowing to replace a plethora of other gardening tools with just one. Even though the Gerber Gator Machete with Nylon Sheath has an out-of-the-box sharpness, you may still have to sharpen it a little more to get a truly fine edge for effortlessly and quickly cutting, trimming, harvesting, or chopping down different plants and materials in the garden or the yard.

Expand to see more
It comes with a surprising ease of use. The tool features the brand's patented Gator Grip Rubberized Handle to give you additional control and manoeuvrability while using it as a machete or a saw. The soft grip also goes a long way in facilitating access to hidden and awkward spots around the garden or yard, making it possible for you to reach spots that standard gardening tools just cannot reach with ease.

Furthermore, because of the soft grip, the likelihood of it slipping from your hands due to excessive sweating or working in the rain or maybe just because of fatigue is kept to a bare minimum. And with a weight of just 19 ounces and approximately 25-5/8-inches in length, the gardening machete is a joy to use for extended periods. The perfect balance between weight and exceptional performance makes it feel like a natural extension of your hand, meaning that fatigue and blisters are far from being a concern.

The Gator brand spent considerable resources and time in ensuring the Gerber Gator Machete with Nylon Sheath is convenient to use, more so by novices eager to take up gardening as a hobby and of course by home owners and professional gardeners. To this end, the machete comes with a black 400-denier, heavy-duty, thick nylon sheath with belt loop to enable you transport the tool from one place or location to another safely and securely and in a way that won't expose it to damaging consequences during the transportation.

Similarly, the blade has a tough and high-quality black oxide coating making it resistant to rust and corrosion even when kept in dump conditions for long. Consequently, unlike most other gardening machetes, it requires minimal maintenance, other than of course cleaning it after use before storing it in dry and clean place. The handle also has a lanyard hole for preventing the hand from slipping.

To summarize, the design makes it a perfect choice for those in search of a durable and flexible gardening machete. It is an all-around lightweight tool perfectly suited for taming weeds and other unwanted growths in the garden and the yard. Being a dual-sided machete, it comes with a 15-inch fine-edge blade and an 18-inch saw blade on opposite sides both of which are made from durable and ultra-strong high-carbon stainless steel. The handle features a rubberized grip to increase comfort and control and a heavy-duty nylon sheath is provided for safe and secure transportation of the tool.
Double-edged blade fit for various gardening tasks
Pre-sharpened blade
Soft grip handle increases comfort and greater control
Comes with a useful heavy-duty nylon sheath for efficient and hassle-free carrying
Relatively thin blade and could break from high impact
2. Gerber Bear Grylls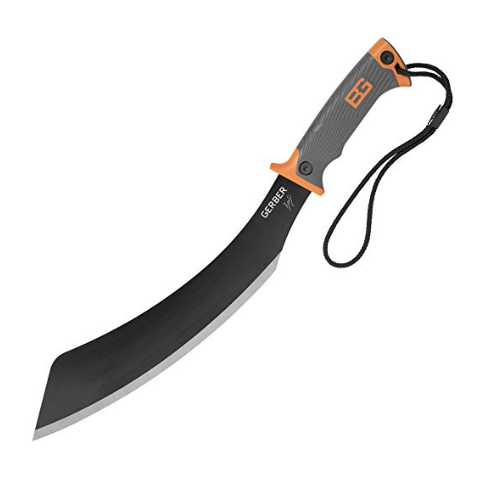 The Gerber Bear Grylls Parang Machete is a valuable and indispensable part of any serious gardener's life and a perfect replacement for the conventional machete. The machete features a sufficiently heavy, robust, and angled blade constructed from industrial-grade carbon steel thereby making the blade an ultra-strong, rugged, and corrosion and rust-resistant tool. The use of carbon steel has several advantages besides strength, and these are durability, compactness and a lightness in weight that just makes it easy and fun to use the machete to maintain your garden and yard. Carbon steel is similarly relatively easy to re-sharpen in the rare event that the Gerber Bear Grylls Parang Machete loses its sharp cutting edge.

Expand to see more
A further evidence to the professional and sturdy construction of the machete is the fact that it features a full tang construction that substantially increases its longevity. The design and engineering of the gardening Gerber Bear Grylls Parang Machete makes it, without a doubt, the best and most suitable machete for clearing brush and overgrown tree limbs in your garden.

It has an out-of-the-box razor-sharp blade that manages to maintain its sharpness and cutting, trimming, and chopping edge for an extended period of time, irrespective of the intensity of your gardening tasks. It furthermore comes with a weight, shape, and profile that takes the effort out of taming brush and tree branches. Centering the weight on the top of the blade allows you additional power for hacking and chopping. Plus, unlike conventionally shaped straight blades, it is short at only 19.5-inches, you'll have no difficulties reaching confined spots. With a weight of just 19 ounce, the machete powerfully, easily and quickly gains momentum with a single swing in either direction.

Like most gardening machetes in its class, it features an ergonomically designed and textured rubber grip aiming at maximizing your comfort and reducing the inevitable fatigue associated with repeated swinging of the hand. The use of a rubber similarly minimizes the chances of the gardening machete slipping away from the hand and harming yourself or those around you. To further ensure your protection, the Gerber Bear Grylls Parang Machete comes with the industry-standard lanyard cord that functions by ensuring a firm and secure grip. The raised and recessed areas on the rubber grip also work quite flawlessly with different types of gloves, holding tightly onto leather and composite gloves just as easily and firmly as it does with the bare palm.

One of the accessories provided with the machete is the machete sheath whose professional-construction using military-grade materials makes it resistant to the destructive consequences of mildew, other than of course increasing its shelf-life. The belt loop on the other hand may not accommodate all the differently sized belts out there.
Angled blade featuring industrial-grade carbon steel for longer shelf life
Comes with a full tang blade making a long lasting machete
Ergonomically designed handle with textured grip to prevent slippage
Has a lanyard cord to ensure a firm and secure grip
Bundled with a heavy-duty, mildew resistant carrying case
The blade requires re-sharpening upon arrival
3. SOG SOGFari 18-Inch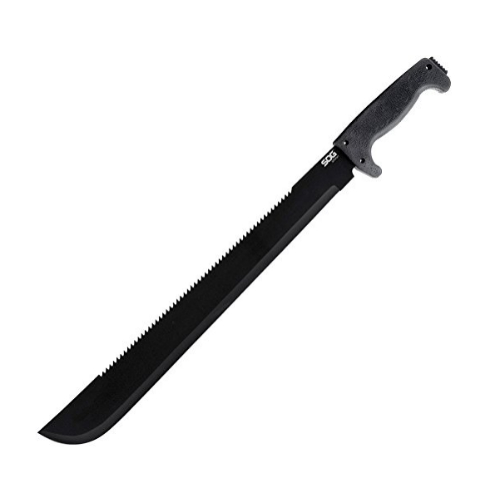 The SOG SOGFari Machete 18-Inch is a practical and useful edged apparatus optimized for quickly and effectively clearing brush, chopping wood, and even harvesting crops in small to expansive gardens and yards. The SOG brand invested considerable time, effort, and resources in ensuring the perfect balance between usability and performance with the understanding that a promise on either would be disastrous to the overall performance of the tool. The SOG SOGFari Machete 18-Inch comes with a razor-sharp 18-inch long blade made out of the commercial-grade carbon steel for longer shelf-life and aggressive performance for a wide range of tasks around the garden and yard.

Expand to see more
The epoxy black powder coating of the blade serves two important uses, making it resistant to the repercussions of adverse weather conditions like rust and corrosion and increasing its aesthetic appeal, making it one of the most beautiful machetes in the market. The blade is so sharp that whipping them through the air produces this amazing singing sound, and because they're made from ultra-strong carbon steel, they retain their edge for longer requiring minimal attention and maintenance.

As proof to its versatility, you can use it to chop and saw different materials without requiring any other additional tools. The machete has a functionally and deep-cutting saw on the back of the blade with sharp and serrated teeth. Should you come across a stem or branch, all you have to do is turn over the machete and you'll be sawing it quickly and aggressively with very few back and forth strokes. And in case the need to pound or scrap arises, the SOG SOGFari features a spiked tang extending all the way to the back of the handle, making sure the machete's blade does not fall off any time soon, no matter how intensive your gardening projects are.

Speaking of ergonomics, it has comfortable and accommodative Kraton handle with a rubberized soft grip for keeping blisters and fatigue away plus it fits firmly and securely in the average hand. The Kraton handle features anti-slip properties to keep the tool firmly in place even when the hand is sweating or the rains come pouring down. And if the handle is not enough to grip tightly to your palm or gloves, you have holes in the handle allowing for the quick and effortless mounting of lanyards for additional friction and protection against slippage. The design furthermore significantly helps in making the gardening machete easy to manoeuver when there is a need to reach tight spots or gain momentum with a single swing of the machete required for chopping tough materials like brush, tall grass, and thick stems.

It is provided with a heavy-duty nylon sheath for stress-free and safe storage and transportation. With a weight of 15.7 ounces, you'll have no difficulties whatsoever using the machete, its lightweight and compact and feels great in the hands.
Double edged and long carbon steel for versatility
Easy to use and comfortable Kraton handle enables extended use
Provided with convenient sheath with loop attachment
Handle has lanyard cord to ensure secure and sufficiently tight grip
Possibility of breaking or denting when used on abrasive materials
4. Condor Tool & Knife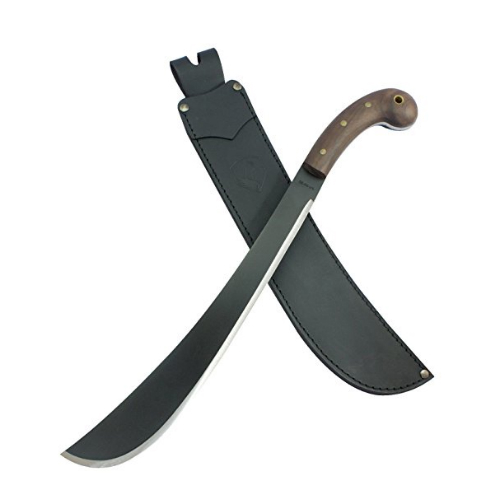 Year after year, the Condor Tool & Knife, Golok Machete with Leather Sheath manages to outsell most of its closest competitors, and its preference among machete specialist buyers has never been stronger. And for a good reason. The Condor Tool & Knife, Golok Machete with Leather Sheath comes with a liberally sized walnut handle whose ingenious design and engineering creates a curve to allow for a perfect grip, giving you the feeling that the machete is natural extension of your hand. Plus, the machete has a Micarta handle that is slip-resistant and known for maintaining a firm and secure grip even when the hand gets sweaty from extended use. Since the handle is adequately long, there is enough room to allow for a two-handed operation in case you can handle the weight with either hand. And with a weight of just 1.75 pounds, you're unlikely to suffer from fatigue or strain your hands trying to access hard-to-reach spots in your garden or yard.
Expand to see more
It sports a 14-inch blade with a graceful, conventional Golok design making it sufficiently strong and rugged to take on any gardening task you can throw at it. The implication here is that the machete can be comfortably and effortlessly used to accomplish a wide array of tasks ranging from chopping dense vegetation, slashing tall weeds, or even trimming and cutting down overgrown branches, brush, and bushes. The blade is made out of industrial-grade 1075 high carbon steel which, apart from being ultra-strong and lightweight, is additionally resistant to rusting and corrosion, making the perfect choice to use in the garden. The blade is nearly twice as thick as standard ones at 0.25-inch which obviously adds to the durability and heftiness in addition to assisting you gain incredible momentum for chopping down thick branches with a single swing. And unlike other machetes, the Condor Tool & Knife, Golok Machete with Leather Sheath comes with a razor-sharpness capable of retains its cutting edge for much longer, consequently increasing ease of use by reducing frequency of re-sharpening.

Trying to find a replacement for tit or just about any other machete that matches it in its quality of craftsmanship will quickly prove to be a futile and time-wasting endeavour. The machete simply has no equal when it comes to performance, durability, convenience, and versatility. Speaking of versatility, the top of the blade is most suited for overall gardening applications while the middle is reserved for tougher tasks like chopping wood and branches. The bottom of the bottom is more ideal for precision tasks when you need additional control to perform delicate tasks such as sharpening sticks. The Condor Tool & Knife, Golok Machete with Leather Sheath, for instance, comes with a professionally constructed, heavy-duty sheath for safe storage after a long day of tending to your garden and for easy transportation from one garden to another if you're a professional gardener.

In spite of the aesthetically-appealing appearance, aggressive yet effortless performance, and the versatility of the machete, the one unbeatable feature or spec that cannot be imitated by other brands is the peace of mind that comes with using a truly incredible machine designed to last for more than a lifetime. It comes with a rare epoxy black powder coating for additional protection against weather hazards. Being a full tang and with its perfect balancing, the Condor Tool & Knife, Golok Machete with Leather Sheath is a true combination of flexibility and outstanding cutting power.
The high carbon steel blade has an epoxy black powder coating to prolong useful life
Has a curved handle to increase comfort
The soft grip pads can be replaced
Professionally constructed leather sheath for safe storage and transportation
5. Fiskars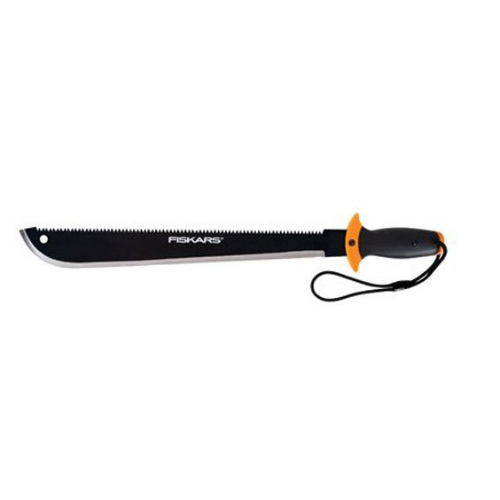 The Fiskars 18-Inch Machete Chop/Saw Combo is one-of-a-kind gardening machete with its own fair share of benefits that endears it to different segments of the market. While the tools lacks the sharpness of other top-model gardening machetes, its 9-inch blade nonetheless features a sturdy and solid construction. The blade comes with a special curve that suits the machete for several tasks around the garden and yard including trimming stems and shoots, cutting vines, and sawing branches, among several others. As the name suggests, the Fiskars 18-Inch Machete Chop/Saw Combo has a rough saw edge for the precise chopping of woody branches and fibrous plants. The design of the machete gives you a one-hand operation, freeing your other hand for grabbing and piling the cuttings you've made.
Expand to see more
One of the most impressive aspects of it is the fact that the blade is constructed out of tempered steel M and therefore shares the ruggedness, compactness and lightness of weight of the M, allowing you to manoeuvre and wield the gardening machete with exceptional ease. Considering that it is compact and lightweight, weighing only 1.3 pounds and measuring just 16-inches in length, accessing awkward and tight spots around the garden and yard has never been easier and stress-free. Additionally, having been constructed from tempered steel, the machete is subsequently resistant to rusting and corrosion and can be used stress-free in wet and damp conditions. This is not to say the machete is maintenance-free, you'll have to oil and clean it every other day after use so it maintains an optimal cutting, trimming, and chopping condition.

If you're giving it serious consideration, you'll be pleased to know that the machete offers an ease of use only rivalled by a handful other gardening machetes in the industry. The machete, for instance, comes with a thoughtful and helpful low friction coating to enable you cut through the toughest and most abrasive materials around the garden, assuming you have such, and it won't stick. Additionally, the ergonomic design of the whole machete does a wonderful job increasing user-friendliness by reducing or minimizing fatigue. The possibility of suffering from hand blisters or straining your hands and arms are kept to a bare minimum with the thoughtful and considerate engineering of the machete's handle and blade.

Besides making you comfortable while cutting, trimming, and chopping, the wide handle of the Fiskars 18-Inch also features an intelligent texture pattern to increase friction between the hand and the handle thus preventing the machete from slipping off. Gripping the middle of the tool provides you with adequate room for performing general gardening tasks while gripping the end allows you to substantially increase momentum necessary for cutting thick stems and branches with just a single swing.

To recap, the Fiskars 18-Inch Machete Chop/Saw Combo is a game-changing gardening machete featuring an innovative design with an ultra-sharp machete blade and aggressive saw blade on opposite sides. The strength and sharpness of the blades shortens the time and reduces the effort it takes to rip through different garden materials. The saw is both quick and precise and due to the overall lightweight and compact design of the machete, you'll be clearing unwanted brush, bushes and weeds in a fraction of the time it takes traditional medieval tools. Other benefits are a lightweight design, inclusion of a soft grip handle, and a useful lanyard. You can never go wrong with the Fiskars 18-Inch.


Durable construction
Aggressive and rapid cutting and trimming performance
Ideal for wide range of gardening tasks
Lightweight and easy to manoeuvre
6. Ontario Knife Co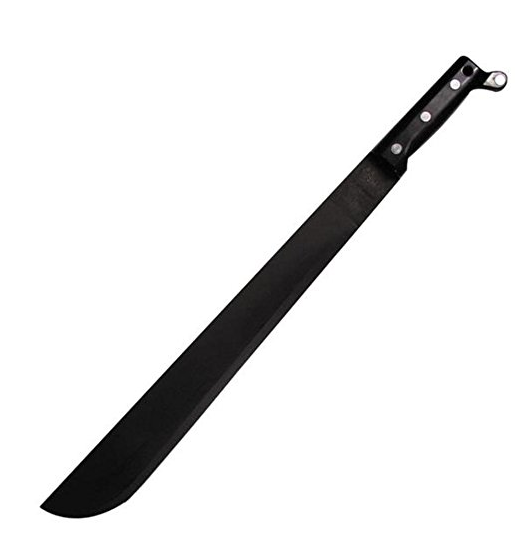 If you've ever at all wanted a gardening machete that can withstand repeated and powerful impacts against the more abrasive and tough materials in your garden or yard, the Ontario Knife Co 1-18″ Military Machete is the right tool for you. For more than six decades now, the Ontario brand has consistently produced some of the toughest and yet very functional gardening machetes for use on a wide range of tasks and applications. This machete, for instance, is a professionally and robustly made machete, often described as having been made by professionals for other professionals. It has a noticeably thicker blade at 0.08-inches making it a little heavy to wield with ease. The machete however offsets the disadvantage by using the industrial-grade black 1095 carbon steel in the construction of the blade and finishing it off with a durable coating of zinc phosphor. Consequently, the machete is not only resistant to rust but also corrosion, meaning that if are planning to work in damp and wet conditions, the Ontario Knife Co 1-18″ Military Machete is the best machete you're ever going to get.

Expand to see more
To make the Ontario Knife Co 1-18″ Military Machete even more suited for tough and challenging gardening tasks, the manufacturers included a tough, durable and comfortable black handle appropriately sized to ensure a solid and secure grip for all age groups. Considering that the primary construction material for the handle is the high-impact shatterproof polymer, the machete does not ripple or dent or suffer any serious damage when accidentally dropped or used to cut the toughest stems and branches or to chop woods of different thicknesses.
It features a simple and no-frill blade made from 1095 carbon steel, as already mentioned. As a result, the blade is both rugged and tough and capable of retaining its edge for several days of consistent and intensive use. In spite of its industrial-grade construction, you'll still have to occasionally, if not frequently, maintain the blade by cleaning and oiling it to extend its useful life. And because of the out-of-the-box sharpness of the blade, you'll be able to put it to immediate use the very next minute, enabling you to smoothly and effortlessly chop or cut down small trees, unwanted vegetation, and woody bushes taking up too much of your garden space. Plus, the Ontario
Knife
Co 1-18″ Military Machete comes with a full tang in which the blade extends to the end of the handle, thereby increasing its durability.
It comes with a sheath for keeping the machete safely and to ease the process of moving it around the garden or transporting it from one place to another, in the case of professional gardeners. The sheath you get can have one of two sheath types. The first possible sheath is a black nylon one which, while being basic and considerably more pocket-friendly, happens to be a little basic in construction. The second is a little harder and far more professionally built to last for years though they're notorious for holding the blade to firmly thus marring the surface.
To recap, it is the most ideal all-around machete for everyday use on the garden and yard. Its design, 23.25-inch length and weight of just 1.31 pounds, makes it more suited to handling lightweight and heavy-duty tasks with ease. It is lightweight for easy manoeuvrability and flexibility and because of its ergonomically designed handle, can be used with utmost comfort and ease.
Equipped with the long-lasting 1095 carbon steel
Molding and riveting of handle increase comfort
Ultra-strong blade holding up nicely during harsh and demanding tasks
Aesthetically appealing black coating
Lack of anti-slip properties on handle
7. Tramontina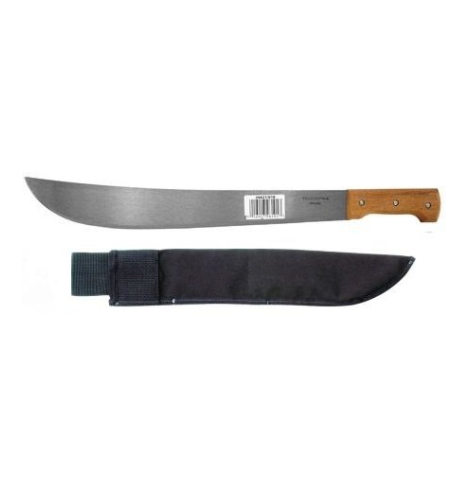 The Tramontina brand have managed to maintain an upward trajectory ever since they introduced the Tramontina 18-Inch Bush Machete with Wood Handle, attracting praise and gaining immense popularity in the process. Their expertise and commitment to quality has cause a complete paradigm shift in the industry, forcing the more established companies to rethink their manufacturing strategies, and for a good reason. The Tramontina 18-Inch Bush Machete with Wood Handle is a true epitome of versatility and exceptional performance, aided majorly by its ingenious construction. The machete comes with a razor-sharp blade that's impressively thin at just 0.08-inches, creating an almost perfect balance between weight and strength. The thinness is in several ways an advantage to the user as it reduces the weight of handling the machete, allowing you to clear a relatively large section of the garden with just a single swipe.

Expand to see more
The blade is made from carbon steel and finished with a coating of vanish to make them resistant to rusting and corrosion, seeing as you'll be using it on the garden and yard. Carbon steel is rugged, lightweight and sufficiently durable meaning that you can use the machete to work on a broad range of chopping, trimming, and cutting projects without fearing it losing its cutting edge.

With proper use and maintenance, however, the blade can retain its edge for quite a considerable length of time, requiring minimal re-sharpening after a prolonged interval. Nonetheless, while the machete tends to maintain its cutting edge for longer, it considerably loses its fine cutting capabilities after approximately 800 chops even though it does not suffer fracturing or rippling as is the case with cheaper machete models. And just to ensure the machete last for more than a lifetime, the manufacturers went for the full-tang design in which the blade extends through the entire handle.

Most Tramontina machetes, depending on their model, feature handles made out of either wood or polymer, and this one is no exception. The secure and safe reverting of high-quality wood on the handle of the machete significantly increase its ergonomic handling and operation, allowing you to manoeuver it with ease when different types of garden and yard materials. The design similarly increases comfort allowing for extended use on various tasks on the garden.

Unfortunately, unlike rubberized soft grip used on other machetes to guard against slippage, the wood on the machete with Wood Handle does very little to protect the user. There is no lanyard cord to guarantee a firmer grip, which makes it a little difficult controlling the machete when the hand gets a little slippery from sweating or being rained on. The tool noticeably twists when it hits an abrasive material like wood before slipping forward.

To conclude, this is an ideal tool for doing light cutting of grasses, clearing bush, chopping wood, and taming weeds and other vegetation on your garden and yard. With a blade length of 18 inches and weighing just 1.1 pounds, the machete is easy to wield and can be used for hours on end without experiencing fatigue or straining your hands or arm. Swinging and cutting with the machete just feel so natural plus it comes with a very pocket-friendly price tag.

Lightweight and compact machete with perfect balancing
Made from high carbon steel capable of retaining edge for long and easy to re-sharpen
Long blade for maximum cutting momentum
Ergonomic handle to boost comfort and ease of use
Not provided with a sheath
8. Fiskars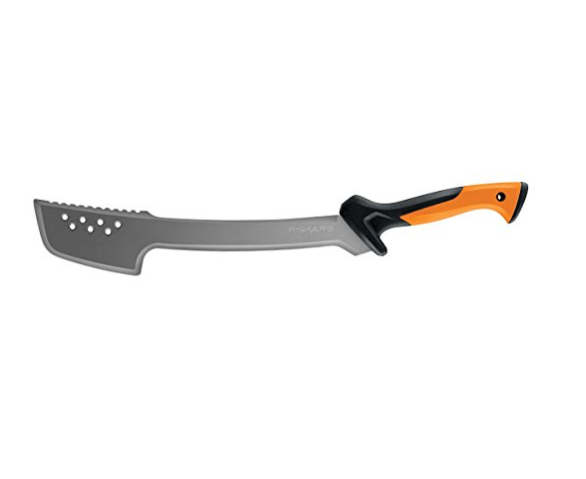 The design of the Fiskars 29-Inch Machete Axe makes it the most ideal garden machete for performing fast and powerful taming, removal or weeding of the vegetation growing in the garden or yard. It is sufficiently lightweight with a weight of just 1.4 pounds thereby allowing you to quickly and effectively clear expansive areas off weeds, small trees and other tough materials. The thoughtful design of the blade, especially its ultra-sharpness and high resistance to rust and corrosion, allows you to also take on a broad array of chopping activities with just a single hand, freeing the other for piling trimmings and other materials resulting from the chopping.

Expand to see more
With the understanding that you'll be using the Fiskars 29-Inch Machete Axe on some abrasive materials on and around the garden or yard, it comes with a bunch of other useful features to make your work as comfortable as possible. For instance, the gardening machete comes with a comfortable handle design featuring an intelligent texture pattern that not only increases precision substantially but also ensures a firm and comfortable grip. While the larger dimples aim at increasing the grip of the fingers, the smaller ones are strategically positioned on the palm rest with the objective of preventing the development of blisters. Irrespective of your decision to grip the middle for enhanced general gardening purposes or the end so as to generate additional force with each swing, your hands and arm will not bear the consequences of a poor design as is the case with other gardening machetes.

Additionally, the axe-like engineering of the head of the blade allows you to chop and split relatively easily without using too much effort. On top of this performance addition, the gardening machete has a sharpened blade curve making it possible for you to perform speed cutting while the sharp tip is for push-cutting and chiselling in hard-to-reach spaces around the garden and yard. With these performance features, it is easy to see why the Fiskars 29-Inch Machete Axe is the first and only preference of most professional gardeners and enthusiastic Do-It-Yourselfers throughout the world when it comes to gardening machetes. The flaring of the end of the machete's handle is useful for preventing undesirable lacerations and decapitation. And to keep you and those around you from harm, the machete features a finger guard and a protective nylon carrying sheath to safely keep the machete in when it is not being used.

The blade is constructed entirely out of high-carbon steel that maintains its sharpness and cutting edge for a considerable amount of time even with frequent use on heavy applications. Plus, it has quite an expansive cutting area offering you an enhanced contact, which translates to a wider swath for quicker and more efficient cutting.

In all, this is a functional chopping and trimming machete with an elegance that transforms into exceptional practicality. Other than making gardening and effortless endeavour, it also brings a lot of fun into the process. The design and engineering make this one of the best gardening machetes you'll find out there.
Ideal for the removal of suckers and clearing vines
Very portable
Fast and powerful cutting
Lightweight and easy to maneuver
Axe-shaped head offers exceptionally powerful chopping
Not an all-around performer
9. SOG SOGfari 10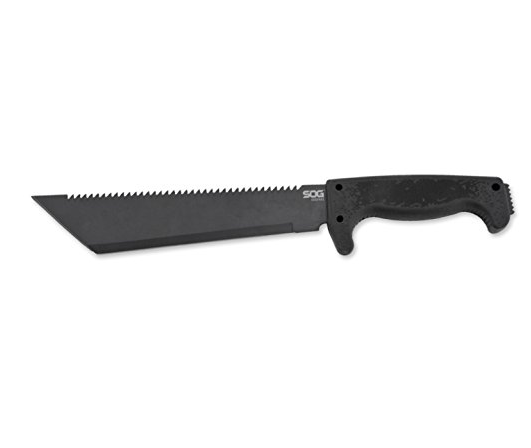 If you're looking for a machete fit for a wide range of tasks from clearing brush, harvesting fruits and crops from the garden, chopping weed, or just trimming overgrown flowers and plants in your garden or yard, then the SOG SOGFari Machete is the tool for you. The gardening tool features a sturdy and solid construction yet manages to create a perfect balance between performance and functionality.

To ensure an ease of use, it features ergonomically designed handles that are quite comfortable and easy to hold for longer, allowing you to boldly take on more demanding and challenging gardening tasks. The fact that the handles are made from Kraton rubber mean that chances of the gardening tool slipping away as a result of profuse sweating of the hands or working in the rain are literally non-existent.

Expand to see more
For versatility, it comes with a fully functional saw with deep-cutting and sharp teeth that effectively widens the tasks and applications you can accomplish with the tool. This is in addition to its sharp-cutting straight edge blade. The most notable highlight is its 10-inch tanto tip blade that with expert handling, is capable of deep and rapid cuts on nearly all materials you can find in the garden and yard.

The gardening machete comes with a spiked tang that strategically extends out of the back of the handle to make the machete useful for pounding and scraping. As a result, the SOG SOGfari 10-Inch Machete is a great gardening machete to use for clearing bushes, cutting branches, chopping wood, and scraping bark. And since the 10-inch blade is constructed from the ultra-strong and lightweight high-carbon steel, the machete, with proper use and care, can maintain its sharp edge for quite a long time no matter what you chop, cut, or trim with it. Consequently, you won't have to re-sharpen it as frequently as you would cheaper tools.

For convenience, it has a thoughtfully designed handle featuring even holes ideal for mounting lanyards. A useful hook-and-loop closing ballistic nylon protective sheath is also included with the gardening machete for safely keeping and because it features a belt loop you'll be carrying it around relatively easily whenever it's not in use such as when travelling or in-between breaks. And with a weight of just 13.5 ounces and a length of 16-inch, there will be no difficulties at all moving in either storing it for future use or moving it from one place to another. You'll also have an easy time controlling and manoeuvring the machete which is vital when you have to access tight and not-so-easy to reach spots.

Overall, it would be a time-consuming and near futile endeavour trying to find a perfect replacement for the versatility and performance of the SOG SOGfari 10-Inch Machete. Its superior construction makes it ideal for tackling light-duty to heavy-duty chopping, trimming, and other general gardening activities. The ruggedness of the machete is mainly due to the use of stainless steel to make the blade enabling it to seamlessly such tough challenges like clearing brushes, chopping wood, harvesting fruits and crops, among other functions. The textured Kraton handle grip does an incredible job keeping fatigue and blisters away in addition to guaranteeing you a firm and secure grip. Plus, it has a sheath for increased portability.
Clears foliage, weeds, and tall grass exceptionally fast
Rust and corrosion resistant oxide coating on an ultra-strong and durable steel blade
Heavy duty sheath for easy storage and transportation
Features one of the highest quality manufacturing
Lightweight and compact to boost manoeuvrability and control
Too aggressive use could lead to rippling or denting or even fracturing
10. 4007254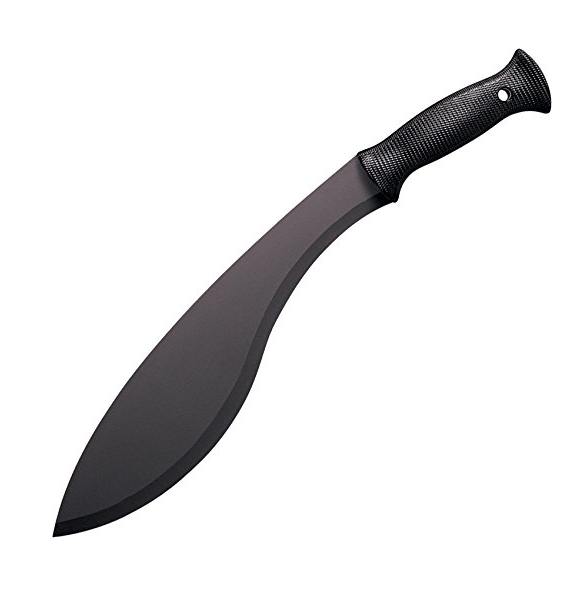 If you were hoping to find a gardening machete that can outdo the 4007254 Cold Steel Kukri Machete with Sheath in chopping and cutting the toughest materials in your garden and yard, then you're going to be disappointed. The ruggedness, versatility and flexibility of the machete allows it to easily plow through the most challenging gardening tasks without the slightest indication of rippling or denting its blade. Considering that it's one of the few machetes that feature the unique weight-forward balance prevalent in top-model machetes, cutting down thick or dense vegetation, leaves, stems, tall grass and other unwanted garden grown can be done with just a single swipe of the hand.

Expand to see more
The Cold Steel brand understands that cutting, chopping and trimming stems and bushes is a daunting and nerve-wrecking exercise and therefore endeavour to make their products not only easy to use but also comfort to encourage extended use. To this end, the 4007254 has a comfortably formed hard-wearing polypropylene handle with slip-resistant properties enabling you to have a firm and secure grip on the machete preventing the possibility of slippage when the hand gets sweaty or just wet. The exceptional balancing of the machete makes it feel great in the hand and due to its short length, it is well suited for bringing down branches. The tool is lightweight and compact enough to allow you easy and unhindered access to batches of grass growing in tight or hard-to-reach spots in the garden.

The prominent highlight of the 4007254is its blade. To ensure exceptional performance, the machete comes with a distinctly shaped angled blade guaranteeing a more aggressive and rapid cut, ripping through differently shaped and sized materials in a fraction of the time it takes traditional machetes. Every aspect of the blade, from its high quality construction to the choice of construction material, makes the machete the ultimate gardening tool with an incredible ability for cutting, chopping, slashing, hacking, splitting, scraping, scooping, hammering, digging, crushing, carving, whittling, cracking and smashing every kind of material that crosses its path. In very simple words, the 4007254 offers you an out-of-this-world kind of cutting performance and aesthetic appeal, unrivalled and unmatched by any other top model machete.

The use of 1055 carbon steel in the construction of the blade aims at satisfying two objectives, the most important being the need to make the machete an exceptionally high performing cutting and chopping machine and secondly to ensure durability. Carbon steel is known to be resistant to rusting and corrosion and given that most gardens are characteristically wet from watering and irrigation, you'll be using the machete stress-free and with a peace of mind. The 13-inch blade is has a baked on matte black finish to further keep rust at bay and maintain its cutting edge for longer, though you may want to re-sharpen if you want that hair-cutting quality.
High quality and durable sheath
Sufficiently large and tampered cutting surface for aggressive and rapid cutting, trimming, and chopping
Thick and out-flaring pommel to prevent against slippage
Lack of textured grip on handle
FAQs
Q: Is a full tang a common feature among all machetes?
A: Unfortunately, not all machetes feature a full tang. The presence of a full tang significantly increases the shelf-life of a machete and so it would be wise to familiarize with different brands to know the ones that come with the feature and the ones that don't.
Q: Are machetes capable of cutting down small trees?

A: The ability of a machete to cut a small tree depends on several factors but it all boils down to the design of the machete's blade. Because thin blades lack the power of their thicker counterparts, they are more ideal for light-duty cutting and chopping tasks involving softer materials. Thick and long blades, on the other hand, have what it takes to bring down a small tree even though frequently using them for this purpose is likely to negatively affect productivity and longevity. It would however be prudent to use an axe for the purpose as the momentum involved will not only tire you out but could also break the blade.
Q:
Are machetes sharp?
A: Machetes are not meant to come with the sharpness of a razor mainly because they are designed to be used in the garden or yard to trim, chop, split, harvest and some for sawing. Extreme sharpness makes it relatively easy for the blade to bend or chip and are very poor at withstanding the force generated while chopping into different materials. While sharpness is a desirable feature, make a point of maintaining a robust edge so the machete can give you optimal performance.
Q: Are they double edged?
A: A majority of machetes come with a single cutting edge and for a good reason. Cutting and trimming involves a lot of back and forth swinging and the long ones can easily cause harm or injury to the user or those close by. And if anything, a single cutting edge is more than sufficient for most chopping and trimming tasks on the garden.
Conclusion

Now that you're equipped with useful information on the types of machetes available in the market and their different designs and assuming you know why you need one, you can confidently make the right decision. Machetes are indispensable tools if you have a garden or yard that needs frequent maintaining. They are sufficiently sharp, lightweight and compact, and have the maneuverability and versatility that simply makes them the best choice for cutting, trimming and chopping different materials on the garden. Plus, you don't have to break the bank to get one.
Subscribe to our newsletter