The Best Jigsaws Reviewed and Rated
last updated:
Jan 22, 2019
Whether you are an avid DIY hobbyist or a serious professional, the jigsaw is a must have item when precision, speed and finesse are required in your cutting. A jigsaw can be used to make accurate straight cuts, as well as cuts that a bandsaw could never do -curves, pocket cuts, circular cutouts, furniture trimming, etc. – and depending on the blade it's a tool that can be used on a range of materials from wood to ceramic.
Our Top 3 picks
[srpshortcode id="1216″][/srpshortcode][srpshortcode id="1214″][/srpshortcode][srpshortcode id="1212″][/srpshortcode]
A relatively new device (invented in the 40's when its creator imitated the functions of the sewing machine), the jigsaw has become increasingly popular for its versatility. For this reason, there is no shortage of options out there when you wish to make a purchase. The range of quality on the market shouldn't be underestimated. Some tools are fit for a master artisan, while others aren't fit to cut butter. We've spent a considerable amount of time tracking down and evaluating the plethora of offerings out there. This list should save you the time (and money) of looking at inferior saws. We have narrowed the list down to the ten best jigsaws (value based) currently available to the average consumer. Many of these saws may outclass one another depending on the job at hand, so take a look at their functions and suggested usage before buying.
Another quick note, with the goal of offering a diverse range of reviews we have purposely omitted tools from the same family of releases. For example, since the Bosch JS470E is included, the Bosch JS470EB was excluded – their features overlap so heavily both reviews would come out to more or less the same. So if a tool on the list interests you – go ahead and spend a little time exploring the other parallel options in the same family.
10 Best Jigsaws
1. Bosch JS470E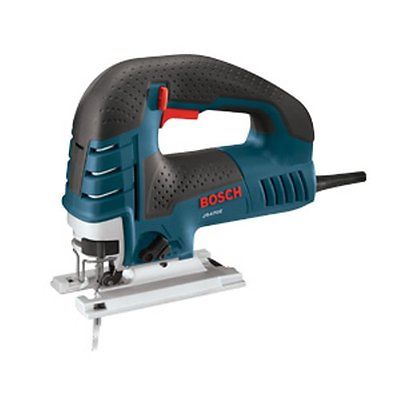 The Bosch JS470E 120-Volt 7.0-Amp Top-Handle Jigsaw is arguably the top functioning jigsaw out there for you to buy right now.
Expand to see more
The Bosch company pioneered the first jigsaws ever to make it to market in a big way, and their mastery of the tool has not abated.

Sturdy, comfortable, and capable of making precision cuts - it' everything you need in an affordable package. The Bosch JS470E is arguably the best pound-for-pound Jigsaw out there. Extremely powerful at 7 Amp - it can package all of that into a surprisingly controllable cut with no wander.

Precise and Powerful

Full of adjustments and speed controls, as well as an inherently great cut, this tool makes tough jobs seem easy. When cutting through tough materials quickly and accurately, you will begin to understand why this tool is ranked number one.

Great Design

The easy blade release and the constant response circuitry are fantastic features you will see many talk about, but really they are just icing on the cake. Every design aspect of this device is amazing. Comfortable to use and streamlined to produce very little vibration -it will have you cutting like a pro in no time.

Key Features

Weight: 10.2 pounds
Motor: 7.0 AMP
Voltage: 120-volt Corded
Cutting Capability:
Wood up to 5-7/8-inches
Aluminum up to ⅞ -inch,
Mild Steel up to ⅜ inch
Maximum Bevel Cut Angle at 45 degrees
Constant response circuitry for consistent speed
4 different orbital-action settings
Tool-less blade ejection lever
Adjustable dust blower

Price/Value

The bang for your buck easily put this tool at the top of the list. It comes with a number of useful features and operates with the quality of jigsaws that cost twice as much.

Who Should Buy This?

Pro's, amateurs, everybody. It's simple enough for a newbie but precise enough for those whose livelihood relies on its abilities. We'd even argue that first timers could invest the extra cash for the Bosch, rather than the introductory jigsaws, so that they can learn on something with such smooth operation.
Amazing value for your money
Loaded with advanced features
Easy and comfortable to use
Very precise tool for the price range
Although it has a high level of accuracy, it may still be outclassed by some of the most expensive top shelf Jigsaws
[srp_anchshortcode id="1216″][/srp_anchshortcode]
2. Makita 4350FCT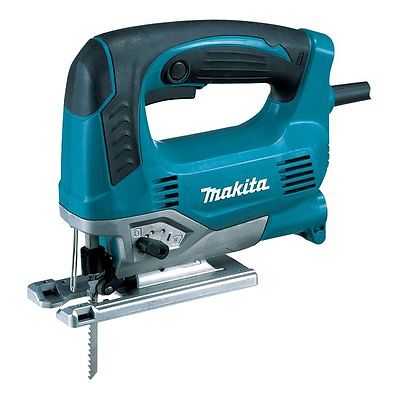 This Top Handle Jig Saw almost cuts the weight of the Bosch we just reviewed in half and is able to compete in precision and lack of vibration.
Expand to see more
Makita has also managed to pack this lightweight tool with a bunch of useful features like an L.E.D.Light, slow start control, and easy blade release lever.

This tool is more than capable of handling the majority of tasks given to it. Given its stability it's surprising that it only weighs in at only about 6 pounds. The Makita is also a relatively quiet jigsaw, a favorite feature of many homeowners.

Precise and Easy to Control

It is relatively lightweight and claims to have 40% less vibration than competitive models. A nice rubber grip and an easy to use speed control make this tool feel right at home in the hand. It's a little unusual, especially when you are used to old jigsaws, to see the amount of power the Makita can produce in such a light frame and how much of that power is contained in the blade - rather than causing a shake to the whole device.

Key Features

Weight: 5.7 pounds
Motor: 6.3 AMP
Voltage: 240V.
Cutting Capability:
1-inch length of stroke,
Wood cutting capacity of 5-5/16 inches at 90°
Steel cutting capacity of 3/8 inches at 90°
Built-in L.E.D
Easy blade change system
Well balanced motor for less vibration
Built in soft start and dust blower features

Price/Value

While not the cheapest jigsaw around, it is also definitely not the most expensive. The Makita's abundant features, and exceptional quality ensures you are making a good purchase. You won't come away feeling like you paid too much - that is for sure.

Who Should Buy This?

Those interested in a single handed saw with great precision and power.
Nice straight cuts with little vibration
Lightweight and very portable
Useful variable speed dial
Dust blower is fairly weak
You can adjust the bevel up to up to 45 degrees and has a positive stop at 90 degrees - but many have reported issues with it operating at those angles
[srp_anchshortcode id="1214″][/srp_anchshortcode]
3. DEWALT DCS331M1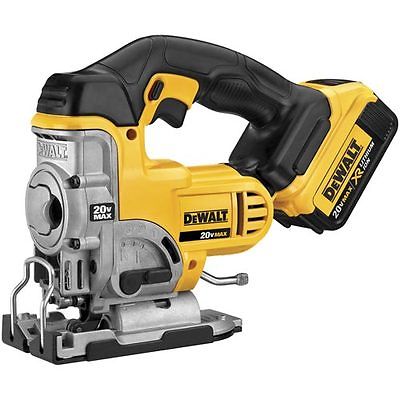 Utilizing a 20V Lithium Ion battery, this jigsaw is able to compete with your standard corded drill when it comes to blade power.
Expand to see more
The lack of a cord and a powerful cut on a 6-pound package make it ideal for awkward projects or jobs that require a constant changing of location.

Advanced Battery

The lithium battery this Dewalt uses is no joke. It retains a charge longer than any other battery you've used before, and it is able to remain light and manageable. The battery is also powerful enough to make sure your blade can get through those tough cuts typically reserved for corded devices.

Key Features

Weight: 6 pounds
Motor: 4.0 AMP
Battery Voltage: 20V
4-position orbital action
Adjustable dust blower
Variable speed 0-3,000 spm for versatility
Instant blade stop

Price/Value

The lithium battery makes this jigsaw a little pricier for its relevant output, but you are literally paying for the convenience of being able to work cordless and still have a functional device capable of the tougher tasks.

Who Should Buy This?

Being cordless yet powerful and weighing only about 6 pounds, this is the saw for those who require both mobility and cutting strength.


More powerful than typical battery powered jigsaws
Well designed and offers little vibration
Great quality build
It may still have some issues when trying to cut through harder materials like steel
The batteries are quite expensive
[srp_anchshortcode id="1212″][/srp_anchshortcode]
4. BLACK+DECKER BDEJS600C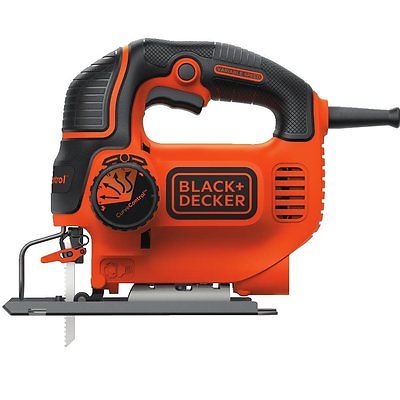 This is on the lower end of jigsaws but is very capable for what you pay. For the price of around 3 cups of coffee, you will get a jigsaw with quite a bit of power behind it as well as solid craftsmanship and performance.
Expand to see more
Great Value

It is heavy enough to maintain decent stability in the cuts and can get through quite a bit of material. Investing a little more in a better blade than the one recommended can also increase the value output. Another nice feature is the wire protective cage that helps with increased accuracy and safety. All in all, this is a great saw for the hobbyist or first time user.

Key Features

Weight: 5.2 pounds
Motor: 5 AMP
Voltage: 120V.
4 setting adjustable orbit
Up to 3,000 SPM of cutting power
Bevel cuts of up to 45 degrees

Price/Value

This is why the BLACK+DECKER BDEJS600C makes the list. It is only about a tenth of the price of other jigsaws, and with a 5amp motor, its overall power is often comparable. This tool is worth the purchase just for an emergency backup if anything.

Who Should Buy This?

This is more suited to the DIY crowd rather than professionals. It can't compete with others on this list in terms of overall quality, but it does compete in what you get for every dollar spent. This is a good tool to have in your repertoire.
Great value
Easy blade changing system
Good power
Will require more effort than higher quality Jjigsaws to make clean/straight cuts
Speed is regulated to how much you squeeze the trigger
5. Festool 561443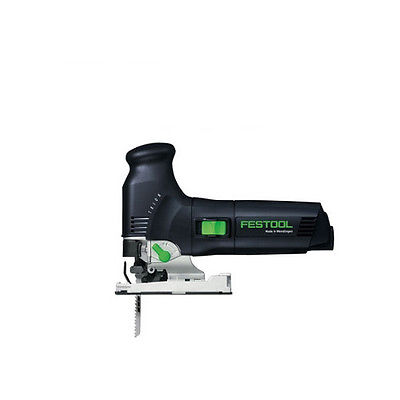 An incredibly powerful jigsaw that is capable of a whole slew of both delicate and powerful tasks. It comes with exceptional speed and line control ensuring accurate quality cuts every time.
Expand to see more
Advanced and Thoughtful Design

Reading the company description of this tool is a bit like reading about the Batmobile, it is packed with features and design elements made to assist in a variety of situations and tasks. For example, it has "adjustable carbide-tipped jaws that work with the blade clamping system and back-up bearing for triple blade guidance."

It has a plastic base plate that should limit unintentional marks on the piece you are working with, and it has a nice comfortable grip. It seems every inch of this jigsaw has a purpose and adds to the end goal of making the best cuts possible.

The "Festool System"

Festool is trying to recreate the Apple "i" product lineup for the world of power tools it seems. The "Festool system" is a whole series of interconnected devices and tools that are made to work together to increase their overall group effectiveness exponentially. If you have money to burn, this Festool jigsaw can be paired up with a large lineup of additional equipment and accessories.

One nice part of using this system is that most tools share the same power cord design, meaning you can switch out devices in a matter of seconds.

Key Features

Weight: 9.6 pounds
Motor: 6 AMP
Voltage: 120 V.
Cutting Capability:
1" stroke
4 3/4" wooden beams,
3/4" aluminum
3/8" steel
Festool system integration
Zero-clearance splinter guard inserts

Price/Value

The only reason this didn't take the number two or three spot on the list is that it is a bit pricey. We said it earlier, you can think of Festool as the Apple of power tools. Very high-quality products with a high amount of integration, but you pay for it - plus you may not actually need all of those features. All in all, though, this is an exceptional tool.

Who Should Buy This?

If this is within your price range, it's a tool worth having. It may be a little much for those who aren't experienced in jigsaws, but its ability to get the job done should not be doubted.


Very consistent cuts.
Extremely precise
Very well designed overall
Can get pricey when you begin piling up the add-ons
There are some claims that these have been quick to breakdown after consistent use by pros
6. PORTER CABLE PCC650B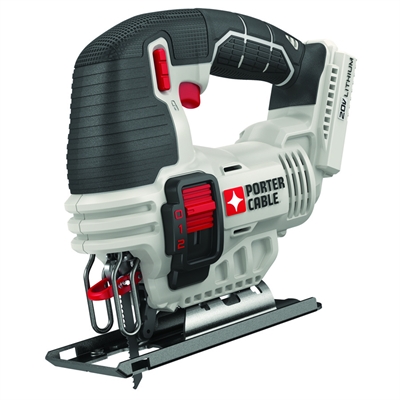 Another 20-volt Lithium battery jigsaw for a great price. Excellent power, lightweight, and no cord. The battery life is great, and the tool itself performs very well for a variety of tasks.
Expand to see more
It has an adjustable blade speed, (fast/rough - slow/clean) which make it well suited to a bunch of jobs.

Mobility at a Great Price

Lithium battery systems tend to be a little more on the expensive side unless you are willing to sacrifice quality or some key features. This Porter finds what I believe is just the right balance between a fair price point and a powerful and efficient cordless platform.

Key Features

Weight: 4.5 pounds
Motor: 4 AMP
Voltage: 20 V. battery
Cutting Capability:
up to 1.5" copper pipe
Integrated dust blower

Price/Value

This is a much more affordable lithium battery system than the Dewalt. It is not capable of the same level of precision, but if you want a good combination of mobility and affordability, this is for you.

Who Should Buy This?

We're tempted to say this is more for the DIY crowd looking to get a highly mobile platform for a fair price, but, it stands to reason that the lower price tag and the mobile platform may give it some use as an emergency backup or situational tool for many contractors.
Adjustable blade speed settings
Interchangeable battery system
Great value for a lithium battery device
Some users complain of difficulty when trying to stay on line
Occasional alignment and fitting issues
7. WEN 3602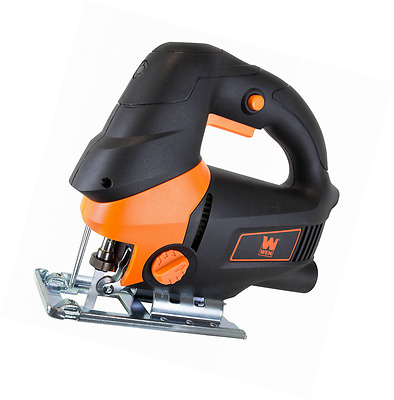 Some of the best stories about this saw are from those who originally bought it as a "throw away" due to its low price, and then found themselves preferring it for the majority of their jigsaw needs.
Expand to see more
It has enough custom functions to give it an edge over many other saws that may make more stable or robust cuts, but can't be adjusted in the same ways.

Fine Tune it to Your Needs

This saw has a variable speed adjustment, locking trigger, and an orbital dial. This allows you to fine tune the parameters of your cut to the exact needs of your project - it is rare to see all these features on such a low priced saw.

Key Features

Weight: 5.1 pounds
Motor: 6 AMP
Voltage: 120V
Cutting Capability:
wood up to 4" thick
Metal up to 3/8 of an inch
Variable speed dial
Good orbital selections
Tool-free quick release

Price/Value

This is another great saw at a low price. Versatile and easy to use, one of the best tools for those who occasionally need a jigsaw for smaller projects.

Who Should Buy This?

Great buy for the DIY crowd. It has enough selection options to make it useful for a myriad of projects and is heavy duty enough to accomplish most household tasks.

Excellent selection of adjustments to help perfect your cut
Versatility makes it useful for the DIY crowd
Lacks the heft and stability for more professional jobs
8. Makita XVJ03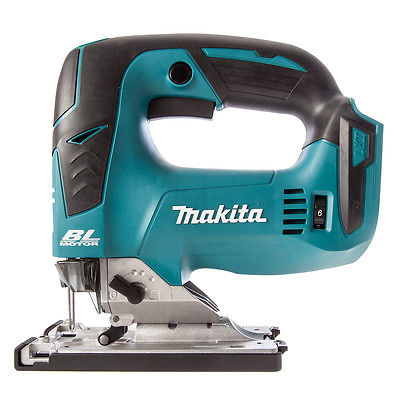 Although this saw lands on the higher end of the prices for this list, it makes up for it with a slew of features and fantastic execution of most tasks.
Expand to see more
Cordless thanks to its lithium battery set up, this is the tool when you want power, accuracy, and mobility. The rubber handle and lighter weight also ensure this tool is an all round pleasure to use. Easily up there with any other pro level cordless jigsaw.

Fast Accurate Cuts

The brushless motor and orbital settings can deliver quicker and more accurate cuts in a variety of material. This saw offers performance past that of many corded tools. The variable speed trigger and precision machined base help ensure you have maximum control of the accuracy of the cuts. It really gives you complete control of its operation.

Key Features

Weight: 6.1 pounds
Motor: 6 AMP
Voltage: 18V Lithium Battery
Cutting Capability:
1" stroke
0-2,600 SPM
Pipe: 5-1/8"
Wood (w/ 12" blade): 10"
Built in LED
Tool-less blade change
3 orbital settings and straight cutting
Star Protection Computer Controls™ protect from overloading, over-discharging and overheating

Price/Value

The high price is offset by the fact that this is a very high-end cordless drill. When you need to do a job away from a corded tether, you can't ask for a much better tool.

Who Should Buy This?

Contractors who need an excellent cordless saw should definitely consider this one. If you already use some similar items and have more batteries on hand, this becomes an even better investment.

Price/Value

The high price is offset by the fact that this is a very high-end cordless drill. When you need to do a job away from a corded tether, you can't ask for a much better tool.

Who Should Buy This?

Contractors who need an excellent cordless saw should definitely consider this one. If you already use some similar items and have more batteries on hand, this becomes an even better investment.


Low Vibration
Speed is easy to control
Makes great, straight cuts
9. SKIL 4495-02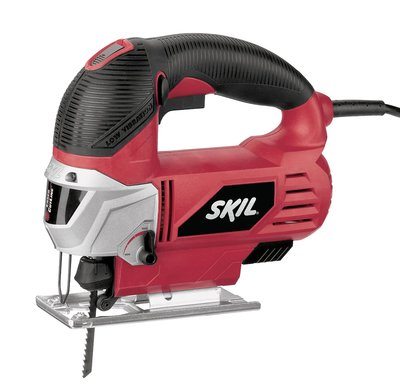 Made to be both affordable and easy to use, this SKIL laser guided jigsaw is a great little piece of gear.
Expand to see more
The added AMP's make this a preferable tool over many others of the same size and price point and the additional features, like the laser and speed control, go a long way in helping increase the accuracy of your cuts even with the extra kick.

Affordable Power

This tool was designed around maximizing both power and precision without breaking the bank. SKIL has come up with a nice balance of those factors, and although the laser is a little gimmicky, it does help in making those straight cuts.

Key Features

Weight: 5 pounds
Motor: 6 AMP
Voltage: 120V
laser guide for accurate cutting
4-position orbital cut control
Variable speed trigger

Price/Value

Sure It has a nice design that helps reduce ragged cuts and excellent orbital settings, but the highlight of this tool is its power and price point. Very affordable and a great all-around addition to your tool shed.

Who Should Buy This?

The DIY crowd that needs a saw with some "umph", requires a good level of accuracy, and doesn't want to pay an arm and a leg for it.
Fairly accurate
Pretty Powerful
Good Price
Not made from the most resilient materials. Certain parts are prone to damage
Although the laser helps accuracy, it still tends to drift
10. Milwaukee 6266-22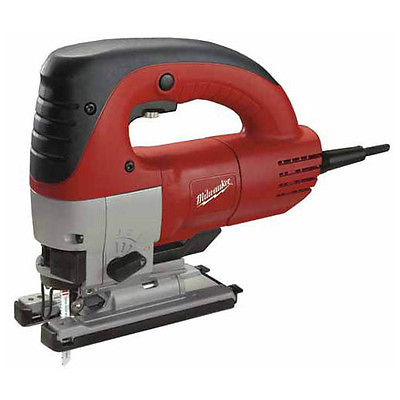 Powerful and well made, very capable of getting the job done.
Expand to see more
The 6.2 AMP motor makes this tool a beast, but the large number of features added to help you maintain correct speed and control means that it is still quite manageable and precise when it needs to be.

Built on Quality

Some contractors talk about using the older makes of this saw for around 12 years! It is a durable, well-built piece of machinery. Most complaints from professionals who use this tool really come down to stylistic choices and design preferences rather than any real complaint about the operation of the device itself.

Key Features

Weight: 9 pounds
Motor: 6.2 AMP
4 orbital adjustment levels for precise to quick cutting
7-setting speed control from 500- 3000 SPM
Tool-free blade changing
Counter balanced for reduced vibration
built-in sawdust blower

Price/Value

This is a higher end tool, but it won't break the bank. If you got jobs coming up that require some real power - or you want to invest in a tool that you will be able to rely on for years to come, this is the one for you.

Who Should Buy This?

Both pros and amateurs alike will be able to appreciate this quality saw. Its durability makes it a sound investment for anyone who needs a jigsaw on a regular basis. Its ability to handle a plethora of intricate and difficult cuts with accuracy makes it a great piece for your repertoire.
Clean, accurate cuts
Very high powered
Easy to adjust orbital action
Excellent blade stability
Can vibrate a little, though most is offset by its vibration dampening design
Adjusting the speed on the fly can get annoying due to the location of the dial
Criteria for Evaluation
How we decided which jigsaw's were the best? A number of values were factored in when deciding how to rate and rank a jigsaw. There were obvious factors like price, the motor, additional features and weight, but there were also some more subjective opinions like usability, comfort and overall ergonomics of the design. Since some of the decisions may not be entirely clear, we want to spell out exactly what went into each of the major deciding factors.

We also want to point out, yet again, that the ranking of these tools is very subjective – each can usually outclass a few of the others depending on the task that needs to be accomplished. The best way to explain the system was a rough form of eyeballing the tool based on these following parameters.
● Price
The price was evaluated on a quality/price ratio. The lowest priced saw actually ranked higher than the most expensive for this exact reason. Both could accomplish around 50% of the same tasks, while their price difference was over 1,250%.
● Power
Power was evaluated not only on the output or Amps of the saw but also how well it controlled it. A saw with 5 AMP, but with heavy vibration and a lack of accuracy was scored lower than a 4 AMP device that maintained the integrity of its cuts. That's not to say a saw didn't get a boost from having a wider range of workable targets – merely that the ability to control the power was relevant to the rating of the power itself.
● Precision
Closely tied to power (what's the point of an accurate cut if it can't actually cut the right materials) precision takes into account drift, vibration and many other factors such as added clamps or guide features.
● Ease of Use and Versatility

Having a saw that's easy to use is nice, but that is generally a subjective term – and most saws just take a little time to get accustomed to. More important was how easy the saw made it to do specific tasks. Orbital settings, speed settings and many other built-in customization options that allow you to make just the right cut played much more of an important role in this set of factoring.
● Features
This is always the most talked about aspect of the saws since it is usually the easiest way to differentiate similar products quickly. However, most features are helpful but not necessary. Certain standout features did play an influential role – but those mostly had to do with their ability to increase the overall versatility of the saw.
FAQs
Q: What is SPM?
SPM stands for strokes per minute and describes the number of cuts your saw will make in a minute time span. Different materials will require different speeds for effective and smooth cuts. Metals will likely need a slower speed while a very dense wood will respond much better to higher rates.
A high SPM puts the tool a risk of increased vibration and usually requires a heavier device or vibration dampening technology to control those speeds entirely.
Q: What is an orbital setting?
Orbital settings utilize an oscillating mechanism to move the saw in a circular motion as it goes in and out of the material. Different materials will respond much better to varying levels of orbital action. While it is not recommended for hard metals or very precise cuts, orbital settings allow for greater control over your saw and how it interacts with the materials you are working.
Q: What is the relevance of the AMP/Voltage?
AMP refers to the word amplifier and is relevant to the overall power of a corded saw. The higher the AMP of a saw, the more power it can put behind each stroke. These numbers typically range from 4-7. 5 Amps and are generally enough for all but the hardest materials you can expect to cut.
Voltage is what you use when dealing with cordless saws. 18V is going to be adequate for most jobs on the cordless end.
Q: Do I need a jigsaw or a circular saw?

A jigsaw is a more versatile tool overall, but it can still be inferior to a circular saw in specific situations. Making long straight cuts in sheet materials isn't recommended for a jig of course, but most other tasks seem to land in favor of the jigsaw.
As a contractor, you will probably have both at the ready. If you are a DIY type, It's safe to say the jigsaw will be a more useful tool for the majority of your projects.
Q: What is a sabre saw?
A handheld jigsaw was often called a saber saw, and every once in awhile they still are. Some claimed a now rare feature of a blade spinning top knob is what differentiated a sabre saw from a jigsaw, but that doesn't seem to be the case upon further examination. For all intensive purposes, the words are synonymous with one another.
Q: Should I go cordless or corded?
Once upon a time, cordless tools were unable to accomplish the more difficult tasks. The power systems just weren't strong enough. Those days seem to be behind us though. Cordless tools have steadily gotten better and can readily compete in realms that were once unheard of. While the most powerful tools will still need a cord – the jobs that require that level of power are not the most common ones. Battery packs have gotten more lightweight and compact – and will continue to do so for the foreseeable future.

The battery packs also tend to increase overall cost as well. Another drawback is the proprietary technology used with the batteries. Brands try to force your loyalty by making only certain batteries work with their tools and once you invest a few hundred bucks into some batteries is hard not to buy the tools that they work with.
Corded tools are still generally better devices for the price you pay, and will also have a longer shelf life. Personally, I would still go with the corded options but would keep a close eye on cordless developments over the next few years.
Q: How should I approach different materials with my jigsaw?
The first thing is to make sure you are using the right blade for your target material.
Then look at your settings. When it comes to wood, it depends on the type of wood you are talking about. Denser woods will work better with a higher SPM while an orbital action can make the entire process go a bit easier.
Plastic or fiberglass are best tackled at a slower speed.
The more powerful jigsaws can overcome metals such as aluminum or steel or even embedded nails. More potent saws will boast the materials they are rated to overcome – though you can usually make a pretty basic evaluation based on the AMP or volts of the saw.
Copper, ceramic and a whole slew of other materials will all require a bit of research before they are cut into for the first time.
Q: Do I need a LED light or dust blower?
Short answer: No.
Long answer: LED lights and dust blowers are both examples of features that every once in a while come in pretty handy. There are other gimmicky add-ons that you'll probably never use – but there is a reason LED and dust blowing features pop up so much on tools these days. A lot of people like them. I wouldn't make a purchase solely on their inclusion, but they can be a nice bonus.
Q: What is a bevel cut?
A bevel cut is a cut that is not perpendicular to the surface of the cut material. While usually the jigsaw is operated while square to its base, many saws allow you to adjust the angle of the blade to achieve bevel cuts. Some make this process easier than others.
This can also be a useful feature when working inside cabinets or other tight spaces that require a more sharp cutting angle.
Making Your Decision
We hope we've been able to put enough information in front of you to help you make a more informed decision on your jigsaw purchase. Having shopped for many tools ourselves online we know how helpful it can be to read others opinions about possible purchases even if we don't fully agree with their evaluation – in fact disagreeing with them often helps make a decision just as fast.
Whether you are looking to do some projects at home or have a successful career in the industry – we did our best to present you with a series of jigsaw solutions to many different needs. Good luck with your purchase and always build smart, build safe, and build big.
Subscribe to our newsletter