Best Circular Saws Reviews and Comparison
last updated:
Apr 22, 2021
A circular saw is one of the most versatile woodworking tools any homeowner, DIY enthusiast or professional craftsperson can own. It's also one of the first tools you should acquire if you are looking into a career in woodworking or DIY projects. You can get any imaginable cut from massive rip cuts to crosscuts. It is especially ideal for overhead applications, e.g., roofing, where a table saw, or miter saw wouldn't suffice. But the question is, with the many manufacturers, designs, types, and sizes available, which is the best circular saw? How do you make a decision and ensure that you have purchased the best tool on the market?
Our Top 3 Picks
[srpshortcode id="771″][/srpshortcode][srpshortcode id="14661″][/srpshortcode][srpshortcode id="14662″][/srpshortcode]
If you are in the market for a new circular saw, then stick around as we have created a list of the best units in the market.
10 Best Circular Saws
1. DEWALT DWE575SB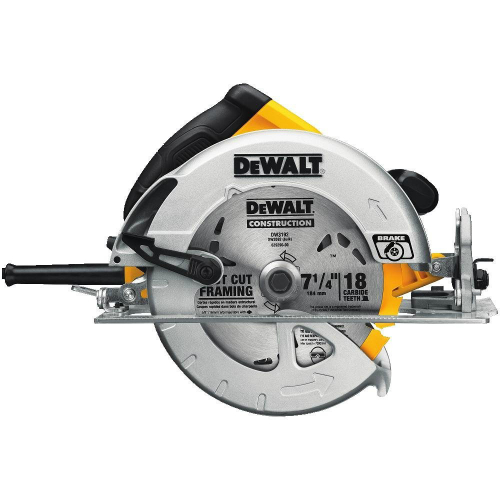 If you are a beginner or you are looking for something lightweight and low maintenance, you should seriously consider getting a DWE575SB. This is a 7-1/4 inch saw and will cut through wood like a hot knife through butter. It is easy to handle, has a great design coupled with solid customer support for any queries or complaints. Some of its more interesting features are:

Lightweight – Weighing 8.8lbs it is a light and maneuverable tool. It's therefore ideal for working long periods, or for making intricate cuts.

Electric brake – Electric brakes can stop the momentum of the blade in less than 2 seconds by reversing the flow of electricity. They are quite handy in emergency situations.

The Dewalt DWE575SB has a 2-9/16 depth capacity, a 57-degree bevel, with 45® and 22.5® detents. Another feature you might be excited about is the blower. It is an excellent addition as it keeps your cutting path clear. With a 1,950 max watts capacity, you get 5,100 revolutions per minute. The tool has an 18 tooth blade that cuts through materials faster.

Expand to see more
Product Features

57-degree bevel capacity
15 Amp motor (patented)
Electric brake
2-9/16 inch depth of cut
5,100 rpm
Integrated dust blower

Who is it for?

Given how light the DWE575SB is, this unit is for beginners or DIY enthusiasts. Professionals can use it too. As for the cost, it is well within the affordable range.

It is fitted with electric brakes and has a blower on the front to keep your path clear
Ergonomically designed which reduces fatigue in your arms
Has a blade cradle which can hold five blades and has a clip retainer to secure the blades
The bag is top quality, with extra pockets and designed to last
Sturdy cord connection to the body
Some customers have complained of the blade not being parallel to the base leading to some poor cuts

The fence measurement guide is off by 0.125 inches
2. Makita 5007MG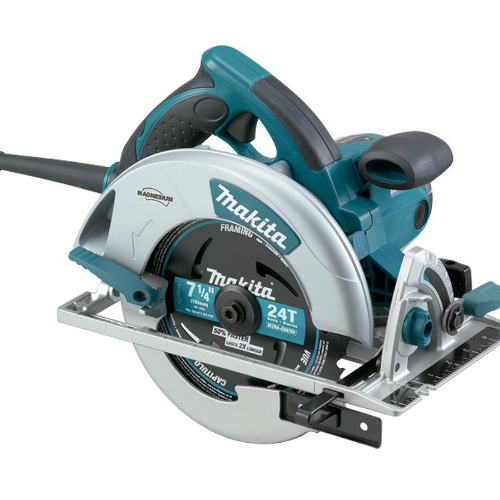 If you are a professional and in the market for a new circular saw, we would advise you pick the Makita 5007MG. Makita is renowned for manufacturing premium but affordable power tools. The 5007MG is no different and cuts with unmatched accuracy and smoothness. Some features that caught our attention were the design and the magnesium components.

Magnesium components – When it comes to power tools, magnesium is a trustworthy element. In the case of the 5007MG, the magnesium components reduce the weight of the device but still preserve the stability and sturdiness of the apparatus.

Design – At first glance, you might not see anything impressive with the design of this unit. It is a rather conventional design. However, some components are worth investing in and especially the large grips.

Though they may seem immaterial to most folks, they reduce fatigue and cushion against the vibrations. The rubber coating also prevents slippage. The balance of the unit is something else to consider. The weight is balanced to allow you to supervise the cut reducing the likelihood of anything going wrong.

The Makita 5007MG is built with precision in mind. Thanks to the massive cutting capacity and the LED lights, this saw is one of the most accurate in the market. You will also like the dust extraction. Though it is not a rare feature, it is always a welcome addition as it clears your path.

Expand to see more
Product Features

15 Amp motor capable of 5,800 rpm
Weight: 10 pounds
Dimensions: 20.9 * 13.9 * 17.9 inches
Power Source: Electric (corded)
56® bevel capacity
Voltage: 120 volts
7-1/4" carbide tipped framing blade

Who is it for?

The Makita 5007MG is for professionals. DIY enthusiasts can use it too, but their skills should be at a professional level. As for the price, it is affordable.

Unparalleled accuracy thanks to the base
The base is flat and has a square left edge and thus follows a cutting guide easily
Its ergonomic design allows you to work for extended hours without fatigue and cushions you from the vibrations
There have been complaints about the quality, and the guard often gets stuck

Some woodworkers are also complaining of how difficult it is to make angular cuts as the guard jams
3. Rockwell RK3440K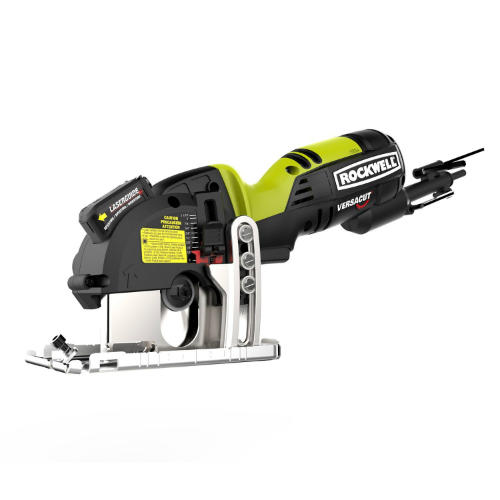 Next, on our list of top circular saws is the Rockwell versacut saw. If you are in the market for a small portable tool for small cutting tasks, then we ask you seriously consider this unit.
It features a 3-3/8 inch blade with a cutting depth of 1-1/16 inches. It also features three blades for various tasks. One is meant to handle wood and thin aluminum, the second blade cuts thin steel and PVC pipes, while the third is for masonry materials such as concrete and
marble
. Nevertheless, its most appealing aspects are its ease of use and design.
Ease of use
– First, the versacut mini saw is easily portable. It's therefore easy to handle jobs on the move. It is also designed in a manner that new users who aren't acquainted with the working of a circular saw can use it.
Design
– The device has an ergonomic design that allows for one hand operations. It also has a parallel cutting edge that increases its accuracy.
You might also be interested in the base plate. It's a non-scratch plate to so as not to damage delicate surfaces such as
vinyl
. Also, it is spring loaded and doubles as the blade cover. To expose the blade, you push down the plate and expose it to the preset depth. The depth gauge will stop the plate at the predetermined depth. The unit also features a pair of wrenches to safely remove and secure the blade and a beautiful bag to carry in.
Expand to see more
Product Features

4 amp motor producing 3,500 rpm (no load)
1-1/16 inch cutting depth
3-3/8 inch blade
Vacuum port
Safety trigger switch

Who is it for?

The RK3440K is for any professional who is ever on the move and doesn't enjoy the idea of carrying around a bulky cutter. Also, if you are looking for a tool for small cutting tasks, consider this Rockwell. As for the price, it is quite affordable.

Very easy to use even with one hand
Anti-marring base plate
Versatile thanks to the three blades and powerful motor
Ergonomic design that reduces fatigue
One key concern is that pushing the tool down to expose the blade might be difficult since the motor is behind the blade and thus the COG is behind too
4. Bosch CS5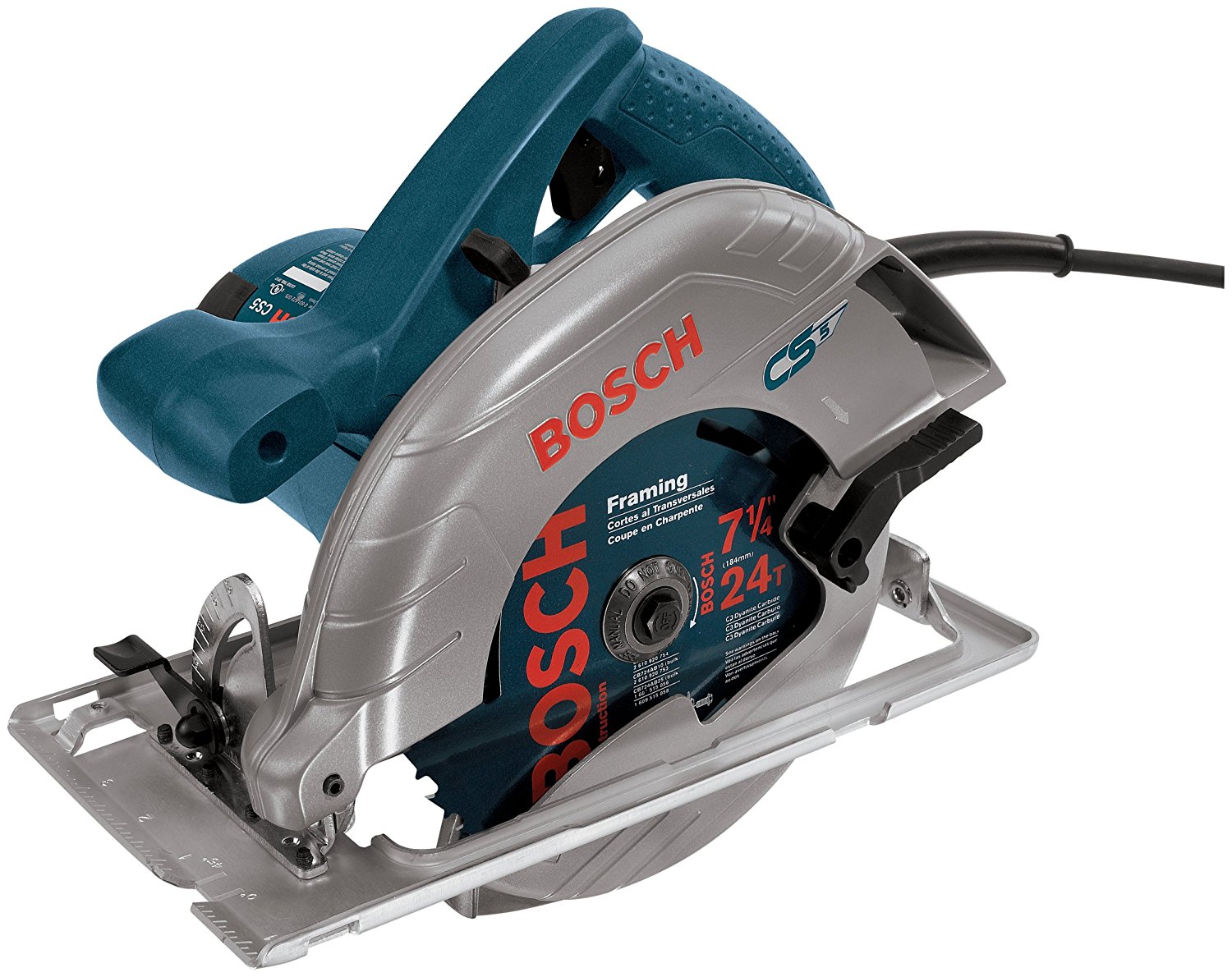 We implore you to get this tool if you are looking for a device that can handle both construction and woodworking projects. It is a 7-1/4 inch saw with a 15 amp motor which runs on 120 volts. It weighs about 10lbs and has a max bevel capacity of 56®. It also features an anti-snag lower guard that prevents accidents. However, its most fascinating aspects are.

Left-blade design – First, this is a right-handed feature, apologies to all left-handed users. The left-design increases the accuracy of cuts as it gives you a clear view of the blade. The blade is positioned on the left side of the device. When holding the unit appropriately, right-handed users should be on the left side of the tool give them a clear line of sight of the blade. If you truly want to appreciate the value of this feature, we suggest you try to use it the other way round.

Blade assembly – You might also find the blade assembly appealing as it is stable. One major complaint by most circular users is blade deflection which ruins a workpiece. The blade steady and a CS5 is exceptionally steady and there is a very low likelihood that it will deflect.

The Bosch CS5 also features soft grip handles that enable you to work for more hours without fatigue. The 24 tooth carbide blade is also a plus. Remember that the more teeth a blade has, the easier it is to make cuts. There is also a tool-free spindle lock that makes changing the blades a breeze. There is also a line guide to improve accuracy, and a nine-foot cord thus you will not be limited.

Expand to see more
Product Features

15 amp motor
Voltage: 120 volts
56® bevel
Dimensions: 18.2 * 11.4 *11.4 inches

Who is it for?

A tool for persons who are interested in construction and woodworking tools. It might be a tad pricey but worth every penny.

Solid build
Simple bevel adjustment
Ergonomics that improve comfort
Left blade design
A line guard that helps you align the saw
The CS5 lacks a dust chute or blower thus limiting the visibility
5. SKILSAW SPT67WM-22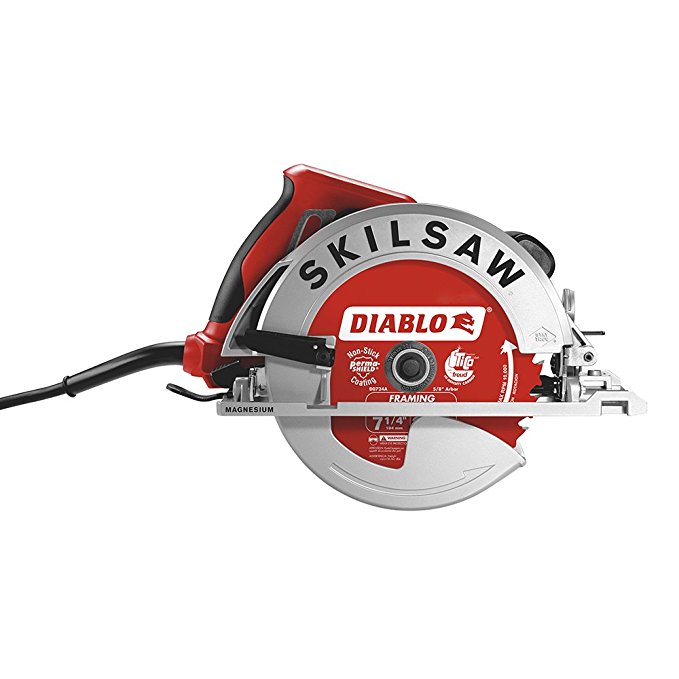 When you speak of bandages, you talk of Band-aid, and when you speak of saws, you speak of Skil saws. Saws are Skil's bread and butter, and they have built better devices year after year. The SPT67 WM22 lives up to all these expectations. It is a magnesium sidewinder with a direct drive motor which unlike a worm drive is more compact. However, despite the higher speed from this design, there is less torque. It also features a 24 tooth Diablo blade and a 56® bevel capacity.

However, the two most impressive features are the magnesium components and lack of a separate safety switch.

Magnesium components – Rather than the heavy steel compounds, the SPT67 uses steel which is lighter. Also, other metal tends to flex which makes magnesium the ideal element as it is rigid. It is also a sturdy metal and will withstand any abuse. As for the weight, it weighs 8.8lbs which are well in the range of other lightweight saws.

Lacks a separate safety switch – It's weird how the lack of a feature that enhanced safety in previous models can be impressive. First, it was an unnecessary addition and often caused woodworkers to start with a crooked cut as they had to fumble with the safety switch. By and large, it was a distraction.

Also, inspired by their worm drive motor and gear technology, Skil built a dual field motor. The 15 amp motor produces 5,300 rpm and increases cooling to extend the life of the saw.

Expand to see more
Product Features

7-1/4" 24 tooth Diablo carbide blade
Built-in dust blower
56® bevel capacity
10' power cord
15 amp motor
Etched scales that are visible and easy to read.

Who is it for?

The SPT67 is a professional tool for professional woodworkers, but one that is still simple enough that beginners can use. The price? It is inexpensive.

Great first impression. It looks and feels like excellent
The 24 tooth Diablo-carbide blade will cut through any material
Terrific ergonomic design with clear labels that is easy to understand
The bracket that attaches the saw to the base is weak, and the bottom might fall out after a few uses
6. PORTER-CABLE PC15TCSM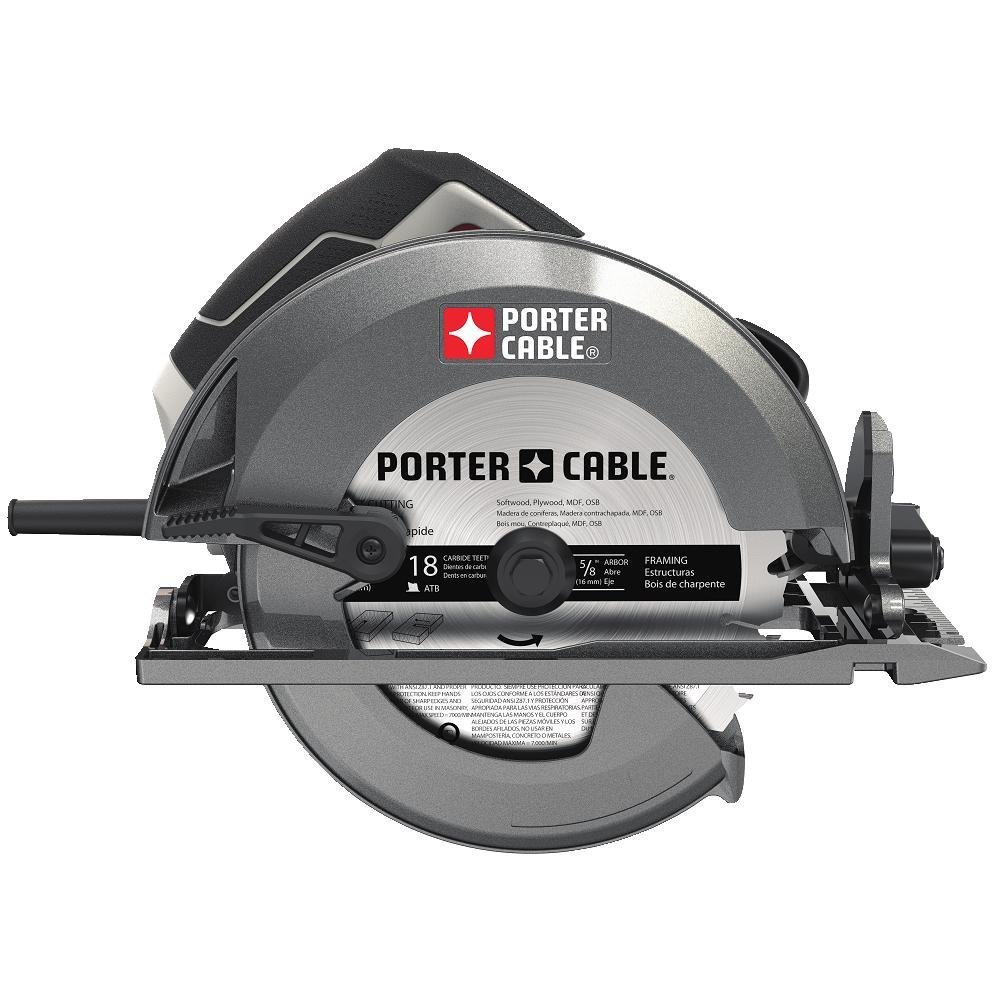 If you are in the market for a heavy duty machine, we recommend you get the PC15TCSM. It will cut through any materials thanks to the 15 amp motor that produces 5,600 revolutions per minute, and the faster a saw is, the better the cuts. It features an 18 tooth carbide tipped kerf blade with a cutting depth of 2-3/8 inches at 90® and 1-13/16 at 45®. However, the most appealing aspects of this Porter Cable has to be the magnesium components and power.
Cast magnesium base
– Magnesium is a fundamental element when it comes to the
construction
of power tools. First, it isn't as bulky as steel which reduces the maneuverability of the apparatus and increases fatigue, and second, it doesn't flex like other metals. It combines the rigid and strength aspects of steel with the lightweight element of other metals.
Set screw
– At times, the shoe gets out of alignment with the body, and it can be a tad difficult to get it back. No more though thanks to the set screw which makes the setting the shoe at a perfect right angle with the body a breeze.
Another exciting aspect about the PC15TCSM is the radiused base which decreases the possibility of getting stuck when going through hard stock. It also has a 55® bevel gauge, and though the scale is apprehensible, it has stops at 22.5® and 45®. The tool is well balanced too owing to the placement of the main handle. The main handle also has an over-fold rubber which comfortable to hold. Finally, other than the bevel scales, the rest are stamped and easy to read.
Expand to see more
Product Features

15 amp motor
50-degree bevel capacity of 22.5 and 45 degree stops.
8' cord
5,600 rpm
2-3/18" depth capacity.

Who is it for?

The Porter Cable PC15TCSM is a tool for professionals. As for the cost, be ready to pay a small fortune.

A solid saw. It's exceptional quality and will power through any piece of wood
Easy to adjust the bevel and depth
Lighter weighing around 9.5lbs
It's deafening at 101.6db with no load
7. Hitachi C7ST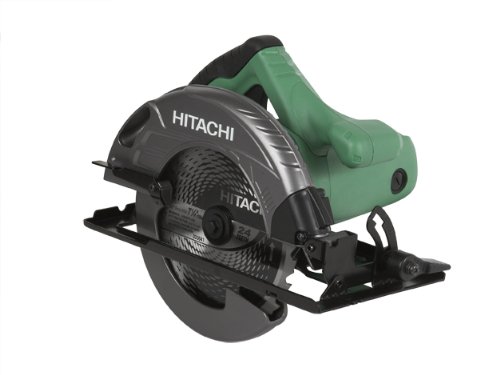 Next on our list is the Hitachi C7ST. With a 6,000 rpm, it is one of the most able saws on our list. Couple this with its 24 tooth carbide tipped blade, and it can cut through any plank of wood like a hot knife through butter. It weighs about 9.5 lbs, with a 45® bevel capacity and a 2-7/16" depth capacity at 90® and a 1-7/8" depth at 45®. Nevertheless, the two features that interested us we're the durability and the dust shield.

Dust shield – This feature around the blade has two interesting aspects. First, it has a duct that directs any fragments away from the user. Second, it utilizes the draught under the blade housing to direct air on the path of the blade increasing visibility.

Durability – The Hitachi is a solidly built device. The body is a mixture of aluminum and steel. It also features a sturdy 8' foot cord that's well connected to the body. The tungsten carbide-tipped blade is also well built, and will not chip away or rust.

Some other features you might be interested in are the brush caps so changing the brushes is a simple process. The spindle lock makes changing the blades a walk in the park. This saw is also specially designed to enhance accuracy. First, the blade is in a housing which reduces the vibrations. Also, the base will guide you as it is clearly labeled.

Expand to see more
Product Features

6,000 rpm
8-foot cord
15 amp motor
Weight: 9.5lbs
Dust chute
Dimensions: 12.4 * 9.6 * 14.4 inches

Who is it for?

This is a tool for intermediate woodworkers and professionals. As for the cost, it is in the affordable range.

The carbide tipped blade offers a very smooth cut
Reduced vibrations thanks to the soft grip.
The C7ST allows for one hand adjustment of both depth and bevel
There have been some complaints on the amount of kickback from this saw
8. Dewalt DWS535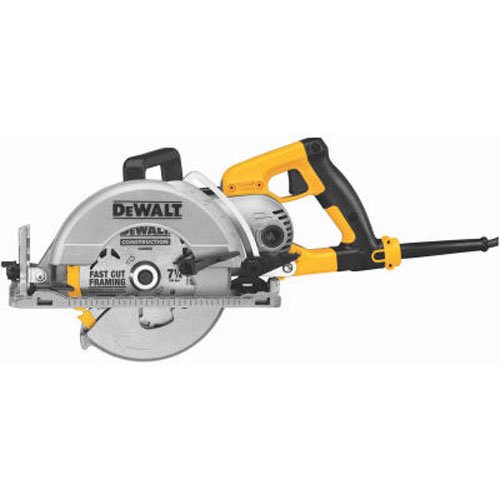 Following on our list of the ten best circular saws is the DWS535. Dewalt has long been known for quality tools, and it is not a wonder that several of their saws have made this list. This particular device is one of their best saws and has cut a niche for itself as a heavy duty saw. However, despite having magnesium components, it is on the bulkier end of the spectrum weighing about 14lbs. What caught our eye though was the design.
Design
– Most Dewalt tools feature a conventional design. The DWS535 is no different. It has a reasonably stable build, and the magnesium components give it an extra ounce of strength without the bulkiness of steel. However, our primary focus is on the cord protection feature which often seems irrelevant. The first few inches of the cord feature a rubber component that allows the cord to bend in all directions without sustaining any damage.
Balance
– The DWS535 is remarkably well balanced making it easy to handle.
Another interesting point about the DWS535 is that it reaches a max 4,800 rpm. This might be lower compared to other tools on this list, but it has a heightened
torque
. It has a 15 amp motor and a sight line that helps increase your accuracy. The spindle lock is worth considering as it is easily accessible and allows you to change the blade effortlessly. You might also like the 53® bevel which is higher unlike the 45® degrees on a sidewinder.
Expand to see more
Product Features

4,800 rpm
Weight: 14lbs
53® bevel capacity
Dimensions: 9.5 *22.3 *9 inches

Who is it for?

First, the DWS535 is pricy. Also, it is bulky and thus meant for advanced hobbyists and professionals.

It's a left-sided saw which makes it easier to follow a line for right-handed
It is efficient, and will effortlessly cut through any materials. Carpenters report that it cuts like a new saw every day
Though it is lighter than other saws in its class, it's heavy for consumer grade saws
9. RIDGID TOOL COMPANY R3205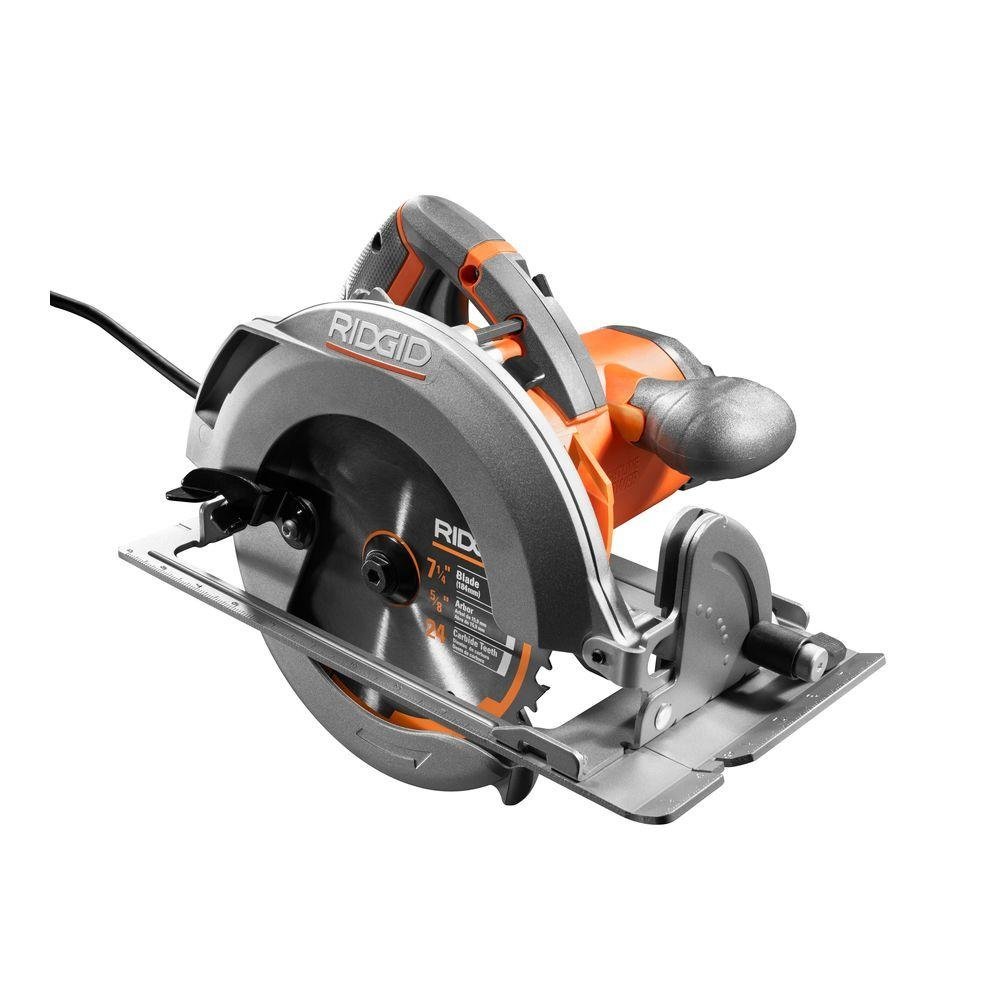 If you prefer sidewinders to worm drive saws, then we implore you to try the Ridgid R3205. Weighing in at 11lbs, it is not a lightweight tool, but the extra pounds are barely noticeable thanks to how well balanced it is. The blade is on the right side, and thus the weight is in front and under the blade which makes it easy to maneuver.

Dust chute – The fascinating aspect about the Ridgid though is the dust chute. Sawdust is a problem for most saws and users. Without a dust chute, the sawdust will build up in front of the saw increasing the likelihood of an error as it blocks the cutting line. The dust chute on the R3205, however, is useful and guides most of the dust away from the front.

Aluminum base – To reduce the weight of a circular saw, most companies use light metals which compromises the durability. This is not the case with this Ridgid. The high-grade aluminum base increases the tools durability.

The R3205 has a 15 amp motor and is capable of 5,800 revolutions per minute. It has an adjustable cutting depth of 2-3/8 at 90® and a 1-3/4 inch cutting depth at 45®. It also features a 56® bevel which is one of the best in the market.

Expand to see more
Product Features

5,800 rpm
Dimensions: 9.7 * 13.8 * 10.2 inches
Weight: 11 lbs
56-degree bevel

Who is it for?

This is ideal for woodworkers who know how to handle circular saws. As for the price, it is well within the affordable range.

It features a dust chute that keeps the cutting line visible
The spindle lock is flimsy. It will take you several tries before you get it to engage.
10. Milwaukee 6390-20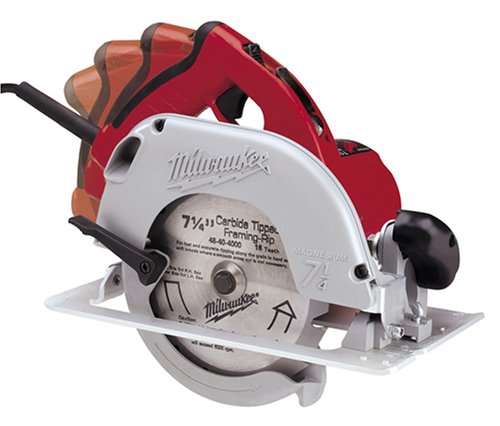 Ending our list of top circular saws is the Milwaukee 6290-20. If you are in the market for a saw that will provide you with the standard features, we strongly recommend you get this Milwaukee other than spend a fortune on a premium machine.

Quality – The most appealing feature of the 6390-20 saw is the build quality. It is designed from aircraft aluminum which is not only lightweight but quite durable too. Also, the various components are designed to increase durability. Some great examples are the helical gears and the 22 amp switch.

Tilt-lock handle – We also loved the tilt lock handle which has eight positions that adjust according to the type of application you are tackling. It is a revolutionary concept that not only increases the comfort but also improves the control. You can adjust the handle depending on the tasks you want to complete.

Also, the Milwaukee has a 50® bevel capacity and a clear line of sight from each side and thus suitable for both left-handed and right-handed users.

Expand to see more
Product Features

Tilt-lock handle
3.5 HP
15 amp motor
50® bevel
Weight: 17 pounds
imensions: 19.6 * 17 * 10.7 inches

Who is it for?

The Milwaukee 6390-20 is ideal for woodworkers who are looking for the benefit of a power tool over a manual saw. As for the price, it is a bit pricey.

Unlike other saws, this is relatively quiet
The device is powerful to cut through any material
Can glide through any stock making nice cuts
The only shortcoming when it comes to this tool is that the cord isn't grounded
Things to Consider when Purchasing a Circular Saw
A right circular saw should not only have enough raw power to slice through wood but should also be able to operate efficiently in different conditions. Also, look for a style that fits. Below are some of the aspects to consider.
Circular saw basics
First, look for the standard components and ensure they are of top quality.
Blade guard – A blade guard is the part that envelopes the blade when it is not in use and will retract when you want to use the saw.
Depth adjustment – Often, you will be working on wood pieces of different thicknesses. Depth adjustment makes it more comfortable as you can tune it to match the thickness.
A foot plate – Stabilizes the saw against the wood. Given the torque these tools produce, a foot plate is a handy component.
Beval adjustment – Ideal for making bevel cuts as it allows the foot plate to tilt about the blade.
Types of Circular Saws
Again, there are various types of circular saws and sizes. The blade determines the size of a saw, and they can measure between 5-1/2 and 7-1/4 inches in diameter. Get a size that is suitable for you. As for the types, they are:
Worm Drive – If your project involves cutting through concrete or lumber, you might want to consider a worm drive saw. These are the largest and heaviest making them fitting for such tasks, and the handle is set far back to reduce the kickback. You can quickly identify them as their motor is parallel to the blade.
Sidewinder – If you are looking for a saw that appropriate for homeowners and DIY enthusiasts; we advise you pick a sidewinder. The motor is at a right angle with the blade, and it's easier and lighter to handle.
Cordless saws – Battery powered units are convenient. However, keep in mind that the batteries have a short life and they are less potent than their AC counterparts.
Trim saws – If you are looking a circular saw that will give you exceptional finishes, get yourself a trim saw. They are exceedingly lightweight and incredible at finishing workpieces.
Blades
Blades are an essential part of a circular saw, and you should seriously think about them when making a purchase. The good news though is that you can change blades. Nevertheless, ensure they are compatible with your saw before making a purchase.

Carbide tipped blades – These feature carbide-tipped teeth, and despite being pricey, they will stay sharper than any other blades.
High-speed steel blades – Harder and stay sharper than steel blades.
Masonry blades – These are designed for cutting masonry materials thanks to the abrasive materials used to manufacture them.
Tile cutting blades – Especially made to cut ceramics. Also, you might want to look into diamond tipped blades as they are better at cutting ceramics.
In conclusion, buy a saw with a blade suitable for your project.
Features
Once you have your design in mind, compare features.
Power – You can check this by looking at the motor ratings. Check the amps on corded saws and the volts on battery-powered saws. These indicate the amount of power a motor draws. However, we advise you pay more attention to the horsepower as it is the torque or rotational force of the blade.
Electric brakes – These can stop the blade in 2 seconds. They reverse the flow of electricity in the motor which discontinues the blade momentum faster.
Shaft lock – Changing the blade can be somewhat arduous. A shaft lock makes the entire process a breeze as it immobilizes the blade and the shaft.
Blade capacity – It shows the depth a blade can cut.
Other features you can look into are the bevel capacity, which shows the top bevel cut the unit can make, a laser guide which shoots a ray of light onto the workpiece increasing cutting accuracy, and a bevel stop which enabled changes for bevel cuts.
Now that you know what to look for when purchasing a circular saw, you might want to take a look at the saws below as they are the best in the market.
FAQs
Do imported saws meet the quality requirements?
Most beginner woodworkers or first-time buyers have the illusion that only saws that are manufactured in the USA meet the quality requirements. Well, the days when manufacturing was in the USA are long gone, and though it's sad, they are likely not coming back. Nevertheless, this doesn't mean that the quality of imported products is compromised. Most of these companies have to maintain their reputation and thus the quality is high.
Which is the best circular saw brand?
Brands can be split into two. Those that focus on quality and the rest whose aim is affordable prices. The former brands will always have expensive products, but they will serve you longer. Some great examples are Dewalt and Skil. These are first class toolmakers and their tools are durable. Nevertheless, brands will always produce new and better equipment. Therefore, don't focus too much on the brand but the quality of the saw.
Which features should I look for in a circular saw?
The features of a saw are always a key feature to consider. However, there is no one size fits all. The characteristics of your ideal saw will depend on your skill level and the type of work you want to do. For light tasks, a small cordless saw will do. If you will be on the move a lot, a portable saw is better. If there is a likelihood that you will be going through large stocks of wood regularly, then it's best you get a corded saw.
How should I maintain my saw?
Maintaining a saw is a huge concern for most users. After all, you want the tool to serve you for long. Start by performing a detailed inspection of your saw as it will help you spot potential problems. Regularly check your power source. We implore you to pay attention to the cord and check for burns or any signs of cuts on the cable. Next, check the moving parts and ascertain that they are not obstructed. Remember, circular saws produce a ton of debris, and some of it might clog the tool.

You should also check the housing for any cracks or loose screws to prevent potential damage to the internal parts. The movement of the saw loosens the screw, and thus you should ensure they are tightened before any operation. For maintenance, never settle the saw on any metallic surface as metal on metal can dull the blades. As an alternative, rest it on plywood or plastic. Finally, always keep the blades clean for optimum performance. And when cleaning the tool, avoid using a wire brush as it can damage it. We advise you use a nylon or brass brush.
Why do I experience burning of the material during ripping operations?
Often, it boils down to 4 reasons. First, the blade may be heeling. Second, it could be that the saw is inappropriately aligned with the fence. Thirdly, the blade might be blunt, and finally, the wood may have shifted during the operation.
Conclusion
A circular saw is always a great addition to your arsenal. Also, there are so many designs available that you will get exactly or something close to what you are looking for. Remember to follow the various tips on how to purchase a circular saw, or you can pick one of the ten saws on this list as they are the best in the market.  Finally, thanks for coming this far, and if we missed any top saw, let us know in the comments below.
Subscribe to our newsletter