The Best Robot Vacuum Cleaners Reviewed & Rated
last updated:
Jun 20, 2018
Robot vacuum cleaners are incredible improvements from the bulky upright vacuums. Offering better suction, advanced control, and programming capabilities, and near effortless to operate among other beneficial characteristics, the ability of these little suckers on matters maintaining an elegant home is not subject to debate. They are not only efficient at the task but also afford professional cleaners and homeowners the much-desired convenience when it comes to keeping floors and carpets free from dirt, dust, and pet hairs.
Our Top 3 Picks
[srpshortcode id="8463″][/srpshortcode][srpshortcode id="8464″][/srpshortcode][srpshortcode id="8465″][/srpshortcode]
While we all desire a device that does all the dirty work on our behalf as we relax or get busy with other things, buying the right robot vacuum cleaner requires a little caution. These gadgets come in all manner shapes, sizes, and wide-ranging features so you should never order that first piece you come across. To assist you to settle for the best, below is a list of considerations worth keeping in mind.
10 Best Robot Vacuum Cleaners
1. Eufy Robovac 11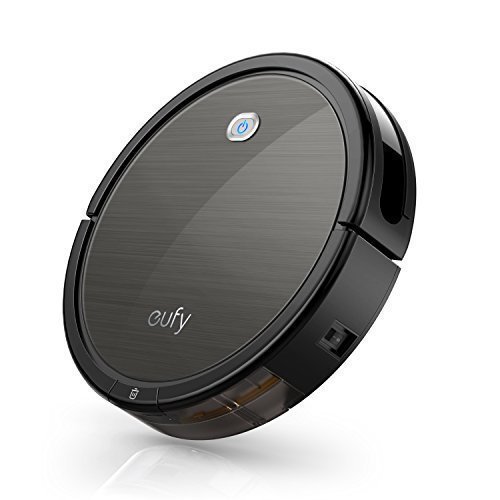 The Eufy Robovac 11 is an ideal starter robot vacuum cleaner for those who hate getting physical with dirt and dust because it just does a satisfactory job. It's simple and functional design it is well set for modern homes considering the ease of use. You will only have to fix the sweeper brushes below the device, switch on and have it running. Although it has no Wi-Fi or App control feature, set up and tuning are pose no challenge at all. Once charged, you can have it working on various cleaning modes such as auto, spot clean, single room, edge clean or scheduled because there is a reliable remote control that comes in handy. And when the power runs out, the Eufy Robovac 11 can get back to the docking station for a recharge before getting back to complete the task.

The robot performs by bounding across the floor and moving uniformly until it detects objects from where it will change course. It collects dirt, sucks dust, cleans crystals on the floor, and gathers stray hairs and food particles with utmost efficiency. The Eufy Robovac 11 just like most robotic vacuum cleaners is round shaped and considering its short enough, it can get to isolated areas such as under furniture where is ordinarily difficult to reach. Under all the circumstances it is interestingly quite hence it goes about the business without causing any discomfort.

Expand to see more
For those who pay attention to cosmetic details and appearance, this device is exquisite. Featuring dark coloured body, tempered glass top with a square button and a silver Eufy logo in at the bottom edge, it comes with a luxurious feel that breathes a sense of beauty into cleaning. Other components include a large removable dustbin, charging socket, and power switch all one the rear side. On the fore edge is a bumper that houses 11 infrared sensors which aid movement during cleaning.

Below the Robovac 11 are two side brushes, a roller brush, contact charging pins, a drop sensor, swivel wheel, and two tank treads that combine to give an incredible performance. It gets better because the unit comes with two HEPA filters, a cleaning tool, and two extra side brushes. If any mishaps occur, you don't have to worry because a chart is included to help you diagnose and find quick solutions.

The Eufy Robovac 11 offers great value at its price. Being quite affordable, it is certainly worth considering for your home cleaning needs. It is no doubt suitable for anyone looking for a dependable way to keep the house in order without putting much effort into it.

Affordable
Impressively quiet
Comes with a remote for easy control
Large dustbin
Can work under furniture
Lacks Wi-Fi and App control ability
Its circular shape is not ideal for tight corners
[srp_anchshortcode id="8463″][/srp_anchshortcode]
2. iRobot Roomba 980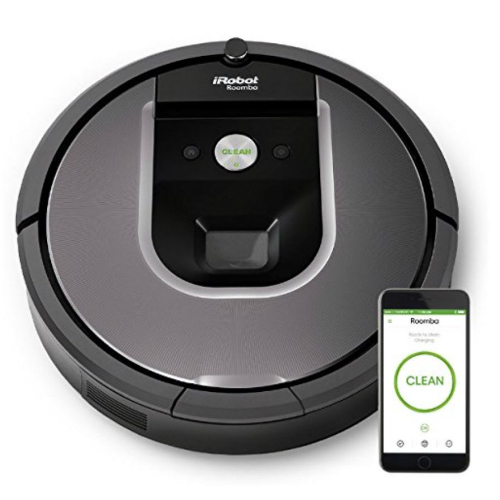 Are you that busy person who would delegate routine cleaning tasks to a reliable and efficient cleaning device? Do you want to enjoy staying in a spotlessly clean environment without spending much of your time doing the all the dusting and sweeping? Well, if the above defines your interests then you need to check out the iRobot Roomba 980. The device offers a one-cut solution in keeping floors free from dirt accumulation thereby bringing more simplicity to life. A real high-tech gadget, the Roomba 980 features advanced working technology that can effectively handle all the workload in your home effortlessly.

It comes with a visual localization feature which guarantees excellent tidying navigation. The iAdapt 2.0 feature that sets it apart from its peers ensures multi-room coverage without interruption while keeping track of its location. Regardless of the nature of the surface, it moves about clearing every piece of dirt and sucking dust on its way quite impressively.

Expand to see more
Moreover, thanks to its complete set of sensors and small compact size design it can access the hidden areas such as under furniture among other hidden spaces. The sensors make it unstoppable in the face of obstacles because it can detect and change course automatically. And when the battery charge seems to be running out it can automatically get back to its recharge dock after which it can return to finish the remaining bits of work.

However, it is worth noting that under full battery power it can continuously keep working for two hours. Besides the above, it is operationally compatible with the iRobot Home Smartphone App. As a result, you can have it on, and further control the cleaning activities without touching the device. The iRobot application allows the user to allocate and customize cleaning schedules to their preferred taste at the convenience of a Smartphone. It also comes with a powerful Aero-Force cleaning system with a suction capability of up to ten times air power. Coupled with patented tangle free brushes it works efficiently focusing energy in line with the needs of each area. The automatic power boost mode makes the gadget ideal for typical home and office clean-ups because it will not require any intervention.

Being an extremely versatile gadget, its ability to clean your home floor and carpet gently makes it irresistible for anyone looking to keep the house sparkling clean. Considering it comes at an affordable price range, the iRobot Roomba is highly recommended for anyone looking for incredible cleaning experience.

Utilizes App control hence quite efficient
Comes packed with impressive features
Can clean multiple types of flooring material
It is simple to use and maintain
Affordable
Efficient and powerful working technology
Limited Wi-Fi working range
Cannot work in dark areas because the camera needs to be visible
[srp_anchshortcode id="8464″][/srp_anchshortcode]
3. Ecovacs Deebot N79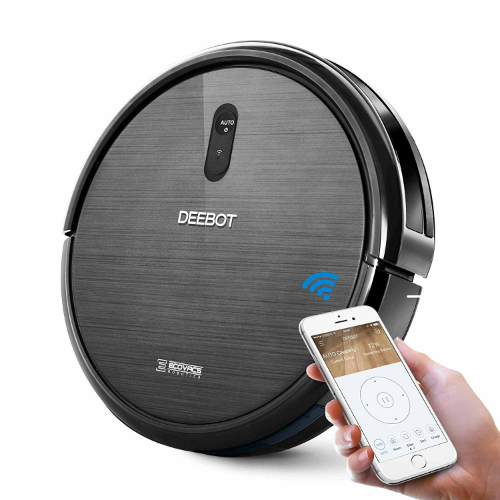 For anyone looking for an effective multitasking robotic vacuum cleaner, the Ecovacs Deebot N79 is highly recommended. Providing an all-around cleaning solution, it is created to gobble everything in its way and leave your floor and carpets looking pristine. It promises to change your cleaning experience by featuring every impressive feature capable of facilitating detailed vacuuming. To begin with, it comes with easy to handle Wi-Fi connectivity and Ecovacs App management feature (works with both Apple and Android devices) that allows setting of cleaning schedules and further keep track of every process. From recording cleaning sessions to keeping in check accessory status, battery life and receiving fault notifications the application gives room for flexibility while operating the unit.

It further comes with an intelligent motion control and three-level cleaning system which works according to the needs of the home. For instance, the auto-clean mode adjusts depending on the environment, the single room and spot mode is ideal for target specific vacuuming while the edge mode suits hard to clean corners. In addition to this, the direct suction vacuum, dual side brushes, helix brush-roll combines well with each distinct style to give precise and attractive results. The blend of brush movement and suction force cleans up and collects dirt particles on the floor or carpet not sparing even the smallest strand of pet hairs that fall randomly across your living space.
Expand to see more
It features a HEPA style air filtration system which is not only efficient but is also dependable when it comes to trapping dust or pollen and preventing accumulation in the carpet fibres.

Similarly, it features reliable safety bumpers, anti-collision, and drop sensor shielding which ensures it does not knock objects in its path or fall off the stairs. And it gets better because the unit is compact and light-weight hence will move about seamlessly. The navigation system combined with the quick cleaning technology no doubt adds to the already enticing characteristics. Looking carefully, it meets the merit for which an automatic robotic cleaner should be classified because it adapts to the environment hassle free.

This is a perfect buy for anyone in need of a basic, pocket-friendly robotic cleaner that performs to user satisfaction. In reality, it will cost you less than most high-end bots but is still offers a working style that many people would love to experience. The Deebot N79 will most certainly complete a comprehensive cleaning cycle without your involvement. With its exhaustive set of accessories and dependable battery, you can have it running at your convenience for an elegant home.
Quite affordable
Does not make noise while running
Versatile with long battery life
Nimble design
Dependable battery life once fully charged
Comes with full package multi-cleaning tool for maintenance
May not perform well where there are too many obstacles
[srp_anchshortcode id="8465″][/srp_anchshortcode]
4. Neato Botvac D5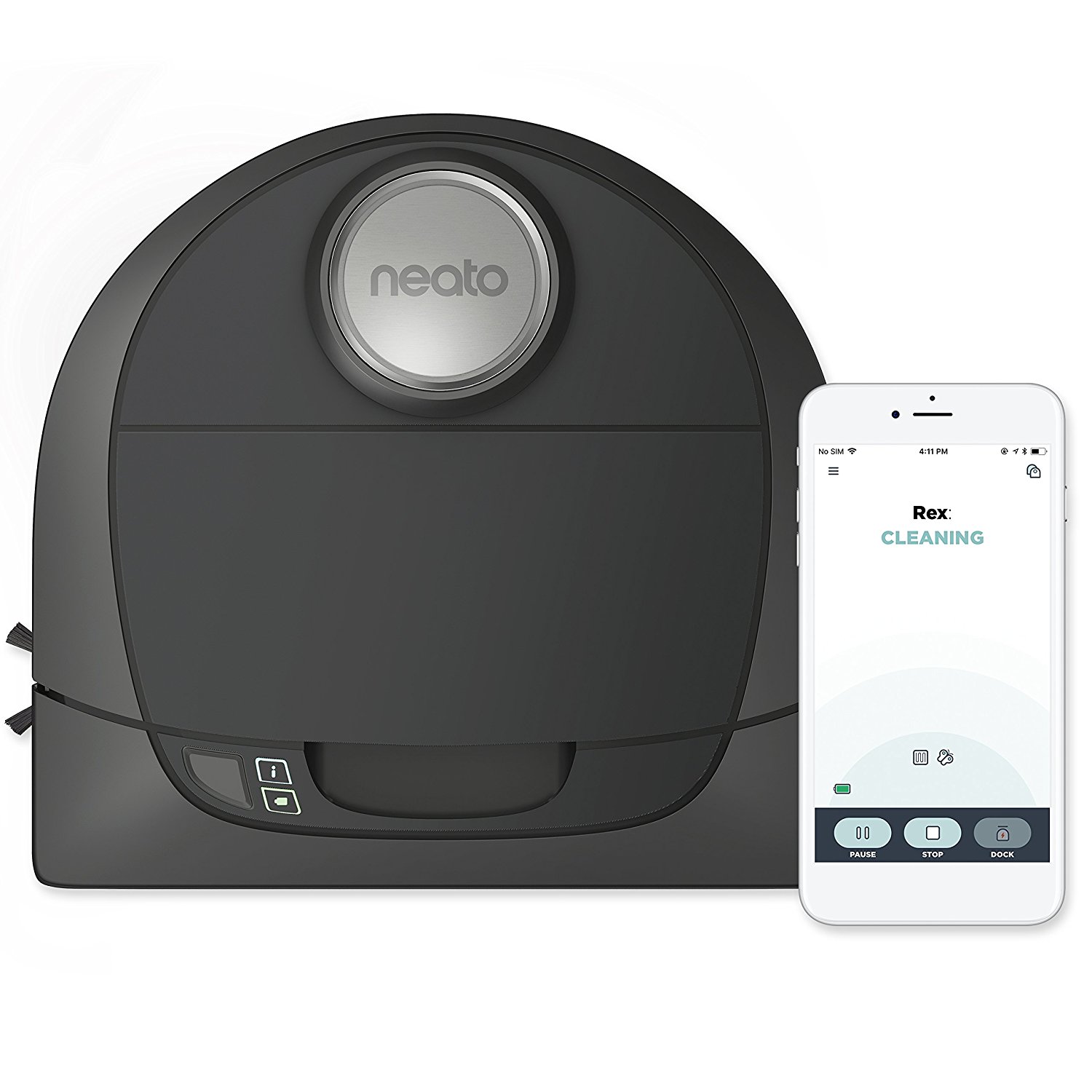 On matters cleaning floors, very few robotic vacuum cleaners come close to the abilities of the Neato Botvac D5 Connected. A perfect gadget that leads in getting down and clearing every mess, it can best be described as a super versatile and an incredible all-rounder well placed to accomplish tasks, to say the least. The limitless cleaning capabilities make it worth mentioning considering the smart features that are no easy find in many bots out there.

The Neato Botvac D5 connected is systematic, thorough, and efficient coming with Wi-Fi and Neato Mobile App (compatible with both Android and iOS devices) control capabilities. You will be more than thrilled to switch it on, switch off, put on hold, schedule, and receive frequent alerts at the convenience of your phone. Regardless of where you are you can have it vacuuming your home because you can give commands remotely and it will execute quite convincingly.
Expand to see more
And when you are at home you have the option of using its LCD screen on the unit to control and check on performance.

On matters working mechanism, it utilises an exclusive Spin Flow Power Clean technology that allows complete cleaning in all spaces of your interest including the low-key areas. And with its brush cleaning options in the forms of Combo brush for perfect all-around cleaning or the spiral blade brush which is ideal for intensely powered dirt pick-up, you can let this device get dirty on your behalf.

Also featuring a superior sized dirt bin with a high-performance filter, it can collect small particles of up to 0.3 microns which essentially means you will be able to prevent even the slightest possible accumulation of unwanted particles in your home. Plus the unit comes with advanced and adjustable power modes including the Turbo power suction mode which ensures everything on its way gets captured promptly and the Eco mode which provides a longer less noisy energy saving clean.

Another fundamental characteristic is the navigation technique. Utilizing a similar system that Google uses in its self-propelled cars, this gadget will maneuver to every corner of your house one scheduled effortlessly. Moreover, it has lasers to scan the area carefully detecting any hindrances on its path and avoiding them until it's done. Through every cleaning process, it is less likely to get stalled because its ingenious working system adjusts as it moves from one surface to another. As such you don't have to worry about the need to intervene once you arrange the room for cleaning.

The Neato Botvac D5 Connected is no doubt a brainy robot vacuum cleaner that is built to understand your living space and work to give results. Its thoughtful design, ultra performing brushes and ease of control gives it an extra edge over other gadgets of equal standing in the market. Overall, the price range at which this unit is available is real value for money.

Efficient- works with limited or no intervention at all
High power suction which captures everything indiscriminately
Perfect room to room navigation
Fantastic design that aids maneuverability
In case of problem you cannot see the exact thing from the App remotely instead you will have to check from its LCD screen
5. iRobot Roomba 960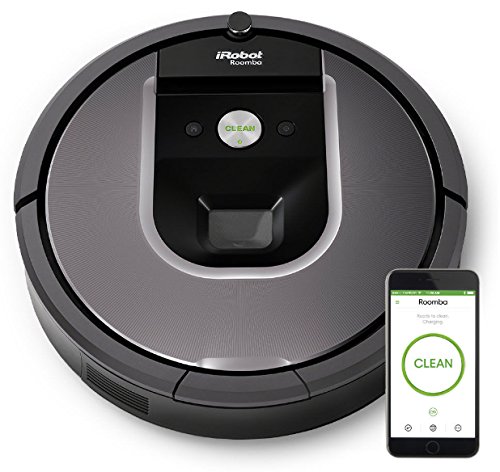 The brand iRobot has been in the business of producing robot vacuum since the turn into the 21st century and to date it has never disappointed. Its iRobot Roomba makes it to this list because it encompasses all that consumers are looking for in any cleaning bot. Created with an impressive navigation, ultra-power cleaning capability, and smart control, the iRobot Roomba 960 is ideal for all the tough cleaning tasks in the home the size of the space not limiting.

The Roomba 960 works with a convenient Smartphone application (works with both Android and Apple devices) and Alexa's voice command, all which serves to allow easy and interactive use. That means you can keep directing and monitoring the device from somewhere else as you so wish. All the same once turned on or scheduled; it will move about systematically from one room to another leaving no spot untouched digging up dirt, fragments, dust, and pet hairs. Interestingly, however, if you want to leave out specific areas you can create two virtual barriers for the device, and it would comply.

Expand to see more
From its combination of the intelligent navigation technology aided by numerous short-range sensors, it is undoubtedly one of a kind. As if that is not enough, it also comes with an inbuilt camera on the top surface and optical sensor located below the unit that aids the mapping of the working area and further keeps track of the bot's location. Its Software is brilliant considering that they are centered on performance, you will quickly notice how it accomplishes every cleaning cycle precisely and in an orderly fashion.
It also transitions well from one surface to another quite efficiently with less likelihood of getting frozen. Its flexible power suction self-adjusts depending on the nature of the surface to give optimal results. And when the battery power runs low midway the cleaning process, the 960 can find its way back to the charging dock where it gets recharged before it can resume working from where it left.
Similarly, it comes with resilient brush rolls and quick trap-escaping tricks making it a reliable cleaner that functions reliably with limited chances of being problematic. The tangle-free brush rolls otherwise referred to as extractors are uniquely manufactured for Roomba bots are
durable
hence you won't have to bother with keeping them in order through frequent cleaning. Besides they also have limited chance of getting trapped on loose cables or power cords that are common barriers it may face in most living spaces.
The one undoing of the Roomba 960's impressive list of features is the comparatively high pricing which may be off-putting for those looking for a budget option. However, it is also worth a mention that what you will pay to get the unit matches the performance levels you will get ultimately. Away from the pricing, this is one of the most decent robotic vacuum cleaners you can get in the market.
Easy to set up and keep running
Smooth navigation and transition across various surfaces
Comes with Wi-Fi connectivity and Smartphone App control for easy management
Mapping and location tracking capabilities
Good quality device
Its performance gets hindered in low light areas
6. Samsung POWERbot SR20H9051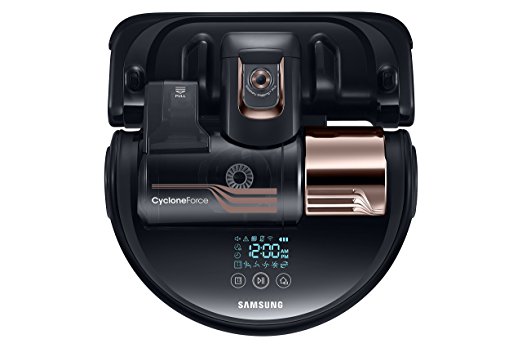 The collection of Samsung robot vacuum cleaners offers some of the best performing models around. Homeowners and professional cleaners prefer nearly all the models from this brand for many reasons, and the Samsung POWERbot SR20H9051 is no exception. The one secret to its unwavering popularity is the ability to remain on top of the game in the face of exposure to intense cleaning tasks.

It comes as a real cleaning companion that provides a dependable solution to all the demanding tidying chores in the living space. The original and smartly working unit will clear up all the mess in your home quite impressively without requiring any effort or monitoring time from the homeowner. At face value, it may appear just like one ordinary little sucker, but in reality, it is that handy robotic gadget seriously works on many distinct surfaces satisfaction.

Expand to see more
This sleek design is one stand out feature responsible for the superb ability of this little sucker when it comes to cleaning plain floors or carpets. The intricacy of most design details for sure puts this model in a league of its making. The impressive detailing of the overall structure in combination with special edged brushes which protrude and turns when necessary enhances its ability to vacuum along the most challenging spaces. The SR20H9051 boasts of a squared foreside which makes it perform better along walls and tight corners that otherwise shaped alternatives. Moreover, it comes with an intelligent demand based working feature where the user can pinpoint the remotes light beam to a specific spot on the floor, and the device would immediately follow and clean as your pattern.

When it comes to suction power, this cleaner can capture fine particles, and pet hairs lodged solidly on your floor and carpet much to fulfill every expectation. Its ability to collect more litter compared to most robotic cleaners out there explains the immense energy it has and uses for getting the living space tidy and orderly.

With it, you will not have to worry over spillage of powdery particles, dust proliferation, and the tones of pet hairs being shed off now and then. The incredible 20x cleaning power guarantees quality results for that elegant look of the house we all wish to maintain. The Samsung POWERbot also comes with Cyclone force design which allows continuous functioning at maximum power without suffering from blockages. It works by sorting out dirt and dust particles through robust centrifugal forces hence limiting the likelihood of stuffing the filters.

Interestingly, it also comes with a visionary mapping technology supported by an integrated digital camera and numerous sensors. This enables it to work methodically avoiding any objects such as furniture on its path that because it would already have an overview of the coverable space. Besides, it can also detect the stairs hence will not fall off in case it gets to the limit.

The Samsung POWERbot is apparently full of attractive features. Not only is it a versatile and efficient cleaner but it also a value for money budget option suitable for any home. Taking into consideration its outstanding performances, this gadget is highly recommended because it saves face for that busy person who has little or no time to spare putting their floors or carpets in order.

Fantastic and smart cleaning
Durable build quality
Easy to use
Impressive transition across various surfaces
Affordable
Requires occasional intervention because it can get stuck
7. Shark ION ROBOT 750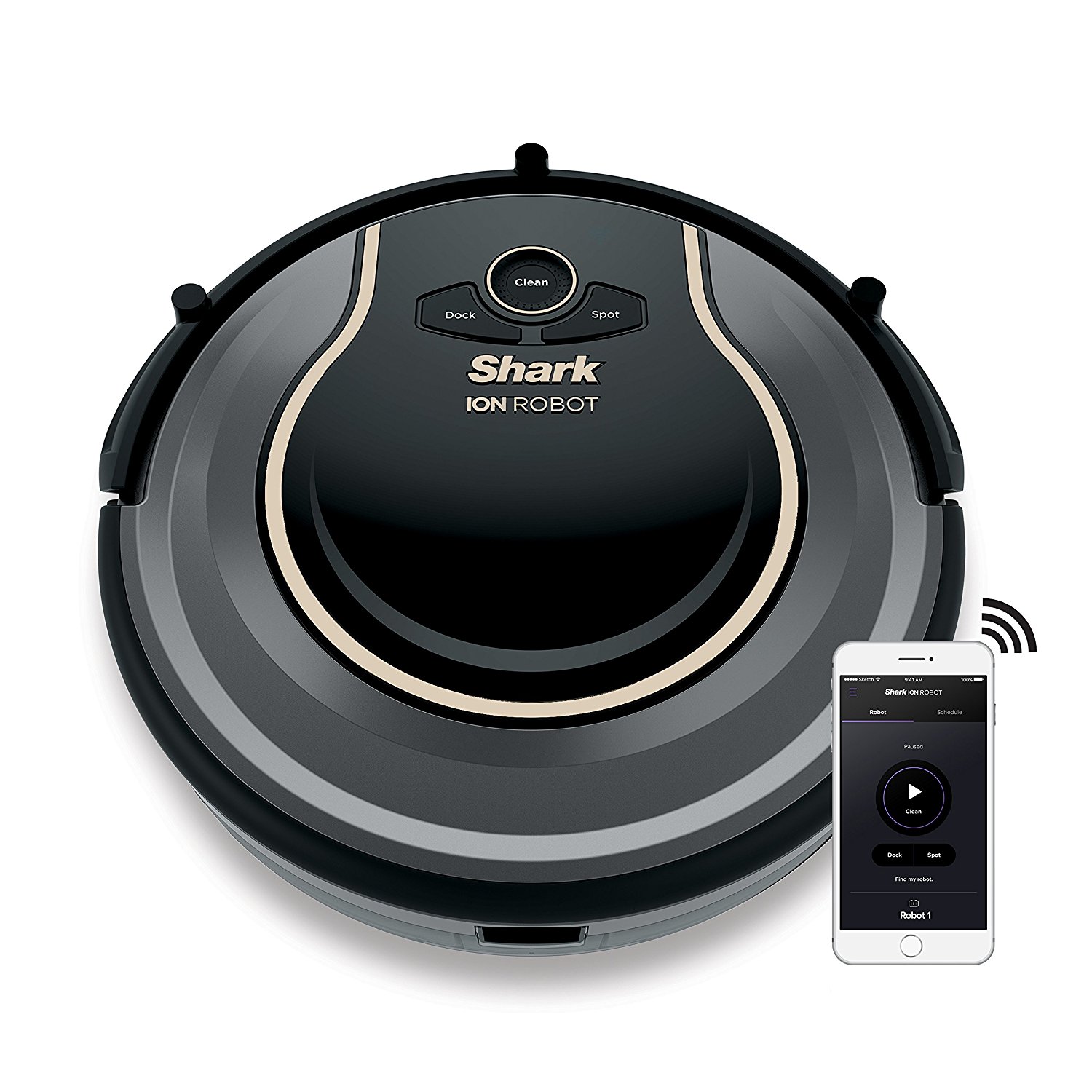 The Shark ION ROBOT 750 is one of the few robot vacuum cleaners in the market currently offering a full package of desirable features aimed at improving professional and individual home cleaning experiences. Manufactured using advanced technology, its painstaking construction combines aesthetics, versatility, and a wide variety of auxiliary elements all which combine to give in-depth performances. To be fair, this cleaner is a clear testimony of how advancement in technology can make life less complicated when it gets to matters cleaning floors and carpets.

Coming with an advanced working mechanism, this is not your ordinary vacuum cleaner but an efficient all rounded cleaning partner. You will find its inherent capabilities appealing and much in line with what many homeowners and professionals do recommend. From Wi-Fi connectivity that you will be able to enjoy and the smart App control feature, the convenience you will get by acquiring this device is immeasurable. At the comfort of an Android or Apple Smartphone you can have the application to help you start, schedule, monitor, and discontinue the works of the cleaner. Furthermore, you can manage the unit by using Google Home Assistant or Amazon Alexa commands because it's compatible with all that.

Expand to see more
It utilises a smart sensor navigation technology. As such, it can intelligently examine an area and adjust appropriately to its needs by avoiding any potential hindrances such as furniture and fittings. The system ensures the unit does not keep knocking itself on obstacles that may be getting on its way to avoid getting trapped or stalled. Besides it comes with a solid low-profile design which allows it go under tight spaces all over the house and get rid of dust and dirt effectively.

The performance of this gadget is further enhanced with incredible helix pattern brush rolls which can rotate twofold to grab all the debris not leaving out even the most isolated areas. The ultra- tractable bristles aid thorough collection of unwanted particles on carpets and floors without the slightest hesitation. Henceforth, you will worry about the problematic dirt and allergen accumulation in your living space because the ION ROBOT 750 is up to the task. Also, the brush rolls are self-grooming through a basic disentangling technique which permits unsnarling of strings, hair strands, fibres. As a result, you won't have to undertake routine maintenance aimed at freeing the device from being stuffed up. Besides the cleaner comes with an easy to take off waste bin, hence having it in working shape will not be a problem.

It comes at a reasonable price range that is in every right value for money spent. Considering the extensive list of features and performance, it has to offer; it is that perfect solution you need for keeping your rooms in order.

Seamless manouvrebility
Available at moderate price
Easy to set up, work with, and monitor
Comes with a complete set of accessories
Reliable Lithium-ion battery
May get stuck if the working area has so many obstacles
8. Dyson 360 Eye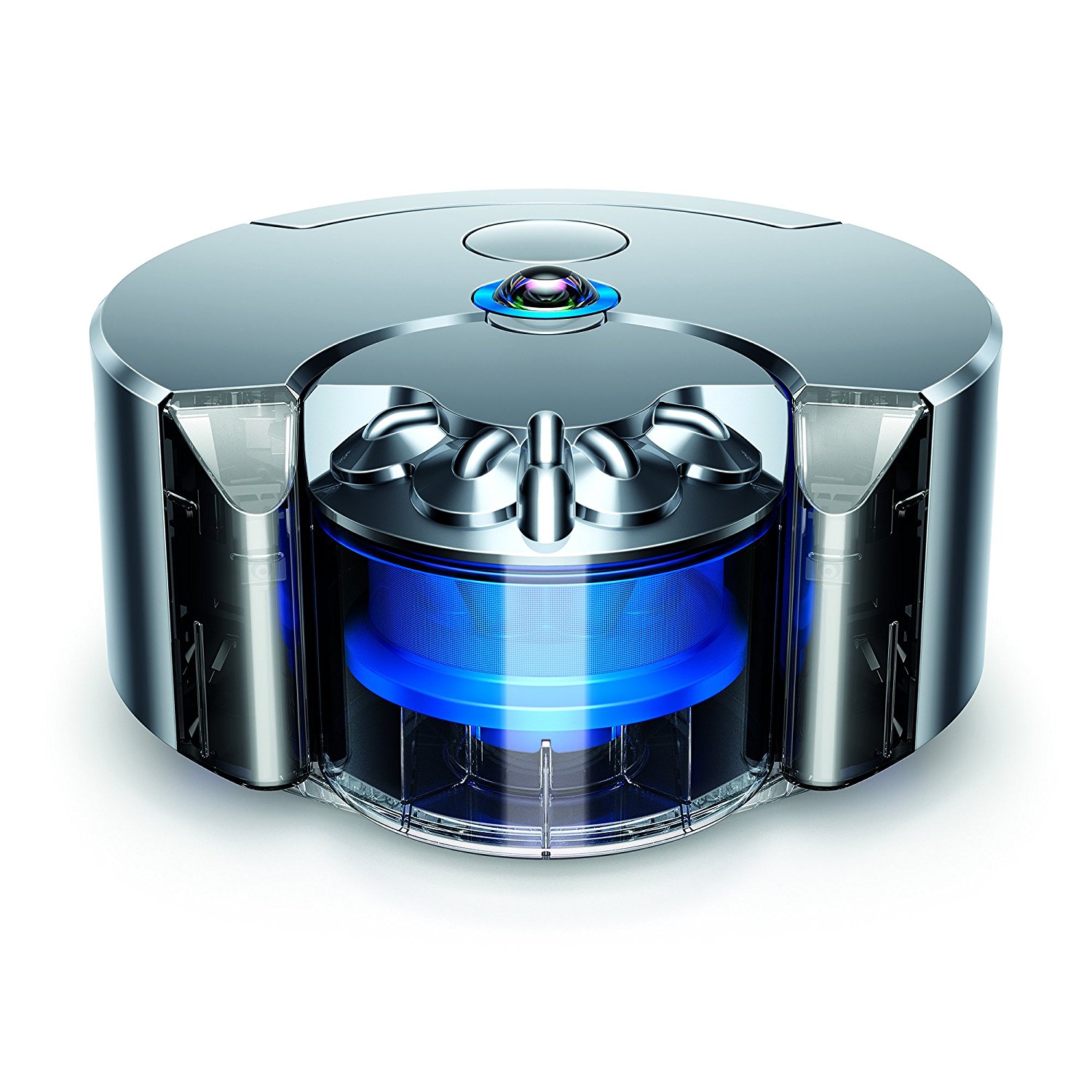 Have you been wondering how to reach new cleaning heights around your home? Are you that person with an eye for small but impressively performing robot vacuum cleaners? Then look no further because the Dyson 360 Eye is here for you. As the name suggests, it comes with a stand-out 360-degree visual camera located on the surface which to a great extent underpins every other feature.

The standard definition camera combined with its built-in infrared sensors enable it to get the sense of what the room looks like. The interestingly witty system gives it a clear picture of the working area thus allowing it to move about clearing every dot of dust and dirt carefully. Again, it aids it the device in knowing its location at any point in time, keeping track of pattern of movement to ensure complete coverage. Although, it does not record and store the maps of areas worked on as in most alternative devices, (bearing in mind home arrangement may change occasionally) it can grasp the nature of the room and terrains promptly in every cleaning cycle.

Expand to see more
Talking about performance, the Dyson 360 is smarter in many ways. In fact, it is the only robot vacuum cleaner featuring tank tracks that enable it to sustain a given speed level as it exits one terrain or floor type and enters another. Notably, it also comes with gap sensors that ensure it does not fall in when it gets to the edges of staircases.

Similarly, it features active full-width brush bar that provides the optimal surface coverage. In essence, it is capable of cleaning from end-to-end whether it is on hard floors or carpets. The firm nylon and carbon fiber filaments clean systematically as the unit moves about. You can manage the 360 Eye by a Dyson link App available for both Android and iOS Smartphones because it is Wi-Fi enabled. Better yet, you can opt to issue command via Amazon Echo voice control which is also supports.

Dyson's 360 Eye offers twofold the power suction you will get in most robot vacuum cleaners. And with a digital motor V2 which is not only compact and lightweight but also powerful, it is well placed to collect dirt and dust, not sparing even microscopic elements on the floor. Likewise, it uses a patented Root Cyclone technology that sorts dirt and dust thereby guarantees that anything collected remains locked in the waste bin. It has a run time of up to 45 minutes and will automatically get back to the charging station when it runs out of charge.

And from appearance standpoint for those who value aesthetics around their home, the Dyson 360 Eye is that real deal. Not only does it boast of a smooth and compact makeup but it also comes classic finish that adds a touch of style to your living space.

Although the Dyson is comparatively expensive, it remains unbeatable in most aspects. If you are committed to maintaining an elegant home, it is safe to say you will reap your money's worth. This is a real talented tool no wonder it commands attention in many ways.

Good suction
Impressive 360⁰ vision system that keeps track of its location
Come with tank treads that are helpful transitioning through terrains
Convenient App control
Easy to use
Top quality construction
Its height makes it impossible to squeeze under low furniture
Cannot work efficiently in dark areas
9. Samsung POWERbot R7070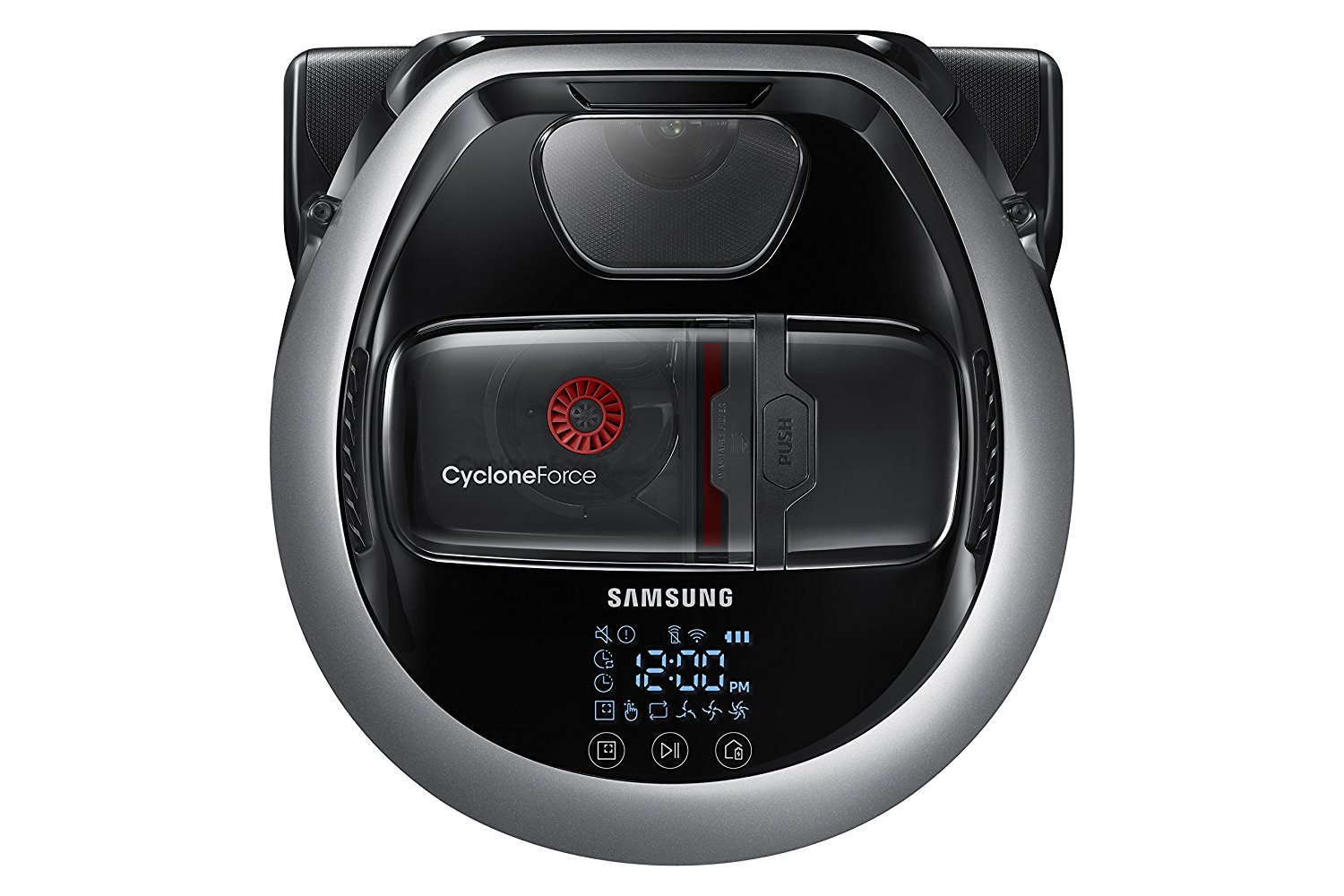 The range of Samsung robotic cleaners has come a long way with significant improvements visible from earlier models to the current units. Specifically, the Samsung POWERbot R7070 model tells why individual homeowners and professional cleaners are loyally attached to the brand. The gadget comes in handy for a wide array of cleaning activities within living spaces and across different types of surfaces. With this, you will no longer have to face the cumbersome traditional house cleaning strategies. From relieving you from bending to forgetting pulling around a massive piece of equipment, you will also benefit from not having to leave other chores to keep your floor or carpet in order.
The secret to the POWERbot R7070's popularity is open for all to see. To begin with, it comes with 40x more suction power in comparison to what an ordinary robotic cleaner is likely to offer. As a result, the results on your floor cannot be anything short of top-notch quality. In the same light, it boasts of a smart power regulation system which automatically senses changes in flooring as it travels around the room and promptly adjusts to the needs of the material. It gets better with the Cyclone Force technology which guarantees sustained and even flows of power while minimizing the possibility of clogging. The technique operates on the concept of centrifugal forces keeping debris in the
safety
of the outer bin while ensuring maximum cleaning by avoiding blockage interruptions.
Expand to see more
The Samsung POWERbot R7070 is a robust cleaner with impressive edge cleaning brushes that get to every corner of the room. Its brushes are broad enough and considering they are mechanized, they spin smoothly while covering more significant areas for optimal performance. It can gather more dust than what you will ordinarily expect because it comes with a brilliant shutter that overlaps out to grab litter on the isolated edged of the walls. Also, worth a mention is the self- disentangling brush which quickly gets rid of hair strands and strings that wind on it.

Using a smart camera-based navigation system to find its way in an organized fashion, the POWERbot R7070 is less likely to knock over objects because the fantastic vision mapping and viewing sensors help it create an ideal path. Furthermore, it features strategic, easy pass wheels that allow the smooth transition. And with the uniquely elongated D-shape to access wall edges, be sure each cleaning cycle will be seamless.

Powerful suction
Comes with flat edge that works well in tight spaces
Easy control with Manual and App management options
Comes with recharge and resume capability
Value for money
Short battery life
Occasional challenges working with the Samsung application
10. iRobot Roomba 690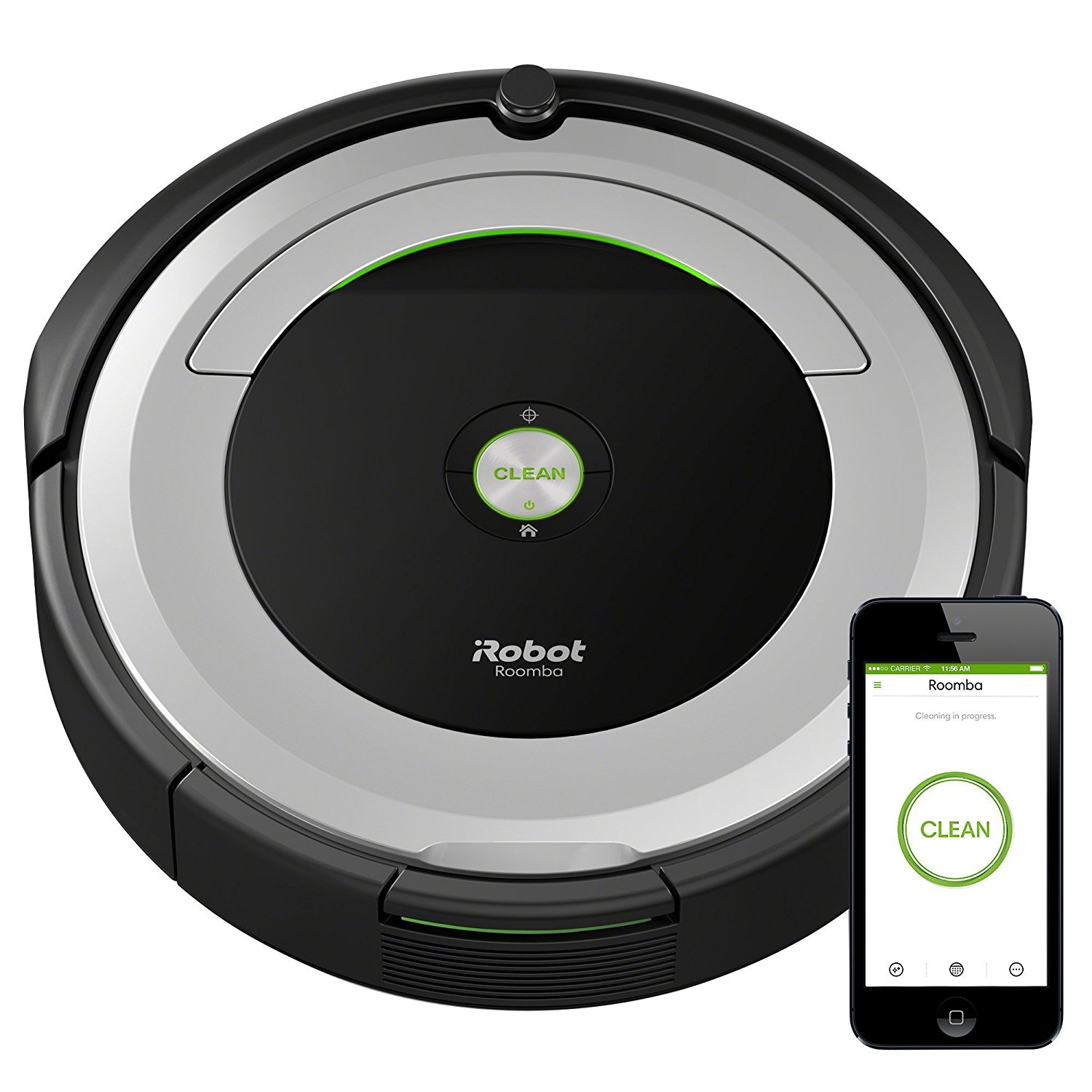 Simply put, the iRobot Roomba 690 is an all-rounder robot vacuum cleaner that can smoothly clean different flooring materials within the home without the slightest hesitation. Manufactured with a trademark three-level cleaning system, it can unravel, lift, and suck pet hairs, dust, and dirt from floors and carpets quite efficiently. Ideally, the unit gobbles everything on its way whether fine particles or large debris, it is made to grab all ordinary unwanted particles on the floor.
It operates on two counter-spinning brushes where the main one collects all the litter and dirt across the floor while the side brushes are reserved for sweeping dust on the edges into the path of the gadget as it sucks everything into the bin. Again, it comes with functional filters that help in separating fine particles and
debris
to avoid clogging. Not forgetting the Aero Vac technology that hastens the delivery of an absolute clean performance. Better yet, it has an auto-adjusting head allows it to flex its height accordingly and keep the required contact with distinct floor surfaces. The Roomba 690 gets better with a spot cleaning mechanism; its dirt detection sensors alerts it of patches where there is an excessive accumulation of dirt, for instance on high traffic areas such as around the door where it then targets and efficiently vacuums.
Expand to see more
On matters maneuverability, it comes with a smooth iAdapt navigation technology that is instrumental in how it gets on a particular working path. The mechanism assists it while moving about around the house for a successful cleaning cycle. Unlike other cleaners which utilize visual cameras, the 690 uses reliable acoustic sensors to map the area and get its way without banging objects it may come across. The intelligent sensors also ensure it stays safe from steep falls or tumbles because it can detect gaps and cliffs before it gets there.

For the much-needed convenience craved for by all from any working tool, the gadget can be operated via the iRobot Home App considering it is Wi-Fi enabled. From the application that you can run from your Android or iOS Smartphone, you can start, schedule, pause, and monitor the progress of the iRobot Roomba 690. Similarly, you can also control this robotic cleaner from anywhere through Amazon Alexa and the Google Home Assistant voice commands.

When it comes to runtime, it is always ready to get down to business. Using a dependable Lithium-ion battery that offers up to an hour of run time, this device can keep to the task for reasonable timelines. Besides, when the power is depleted, it can find its way back to the charging dock for a recharge.

Cleans effectively
Lightweight design
Versatile
Easy to work with
Most affordable Wi-Fi enabled vacuum cleaner
Comes with large waste bin
Satisfactory runtime
Takes long to charge
Cannot automatically resume work after recharge
Criteria for Selecting the Best Robot Vacuum Cleaners
Suction Power
The ability to loosen and collect debris, dust, and pet hairs is the most critical thing you should look out for in any model. A perfect cleaner should automatically evaluate and adjust power depending on the needs of the surface. For instance, when it transitions from a bare floor to a carpet it should self-adjust accordingly to ensure even the tiniest bits are not left lying. So when you are sampling what the market has to offer, not that how well the gadget will remove accumulated dirt depends on the suction power, it can provide.
Maneuverability
The essence of a robot vacuum cleaner is not to be dragged around like their upright counterparts. A good robot vacuum cleaner should be smart enough to map out the room automatically and consequently create a specific working path. Therefore, look out for something that comes with intelligent sensors and integral visual technology that facilitates seamless movement. It should not be prone to getting stuck or continuously knocking things over. I bet no one wants to buy something that keeps messing up the house instead of keeping it orderly. While you need the device to cruise smoothly, it is also critical to ensure it can detect gaps or cliffs to avoid falling over around the stairs. Above all, it should be able to reach every area including tight corners, wall edges, and under furniture.
Control and management

To ensure you will get optimal convenience, an ideal robot vacuum cleaner should be designed to allow remote control. Even though once switched on manually most of these devices will not require any human intervention, you need to have the freedom to control and monitor the operations of the unit from anywhere. As such, you need to consider purchasing a model that is Wi-Fi enabled, works with a mobile phone application, and can take voice commands from mediums such as Google Home Assistant or Amazon Alexa.
Runtime and Charging
Another critical factor you need to put into consideration is how long a device can keep working before the battery runs low. To this end, a good robot vacuum cleaner should be able to provide exceptional coverage on a single charge, typically running for about an hour or more without stopping for a recharge. And when the battery finally drains it should be able to return by itself to the recharging dock automatically before returning to clear the remaining area.
Auxiliary Features
The difference between most units available in the market is in the detailing of various accompanying elements. From wide counter-rotating, self-cleaning brush designs to adequately sized waste bins and intelligent filter systems, you should look out for a device that combines all the impressive auxiliary features, that way you have the guarantee of achieving maximum cleaning more efficiently.
FAQs
Q: What are the benefits of the robotic vacuum cleaner over traditional upright vacuums?
First, with robot vacuum cleaners, you only have to set the gadget and they will work on their own, unlike upright vacuums which require pulling and pushing all over the room. The devices are smart enough to map out the area avoiding obstacles while cleaning in an organized pattern. And considering they come in smaller sizes they can reach very tight space without requiring you to move your chairs or tables.
Q: Does these devices maintenance?

Just like any other tool, you will buy for whatever purpose, occasional service is necessary to ensure it remains fully functional. With these robotic vacuum cleaners, you will have to clear the dustbin after a cleaning cycle or after a few runs for those with larger bins. Others will also need routine cleaning of the sensors to guarantee optimal effectiveness.
Conclusion
Today, robot vacuum cleaners have become very popular owing to their effectiveness in keeping homes clean without much human involvement. The smartness of the little gadget has resulted in more comfort by saving time and energy that would otherwise get spent on manual cleaning. Going forward, there is no doubt that these devices are going to be inevitably a must-have for homeowners and professional cleaners alike. So, the sooner you try them out the better for you. And if you are already thinking of owning one, choosing from these models will be an excellent way to begin.
Subscribe to our newsletter