Best Zero-Turn Mowers Reviewed and Rated
last updated:
Jan 26, 2018
Given their popularity, there are several brands manufacturing all types and sizes of zero-turn mowers, and you may feel overwhelmed trying to decide on one that best meets your needs. Whether you have a small lawn and backyard or acres of land that need mowing, there are essential features that you need to look out for in a zero-turn mower. With their zero-turning radius feature, it is now impossible to miss any patches of grass or weed growing in hard-to-reach corners of your flower bed or lawn. In the next section, we meticulously walk you through the criteria you need to keep in mind while shopping for your first or upgrading your existing zero-turn mower.
Our Top 3 Picks
[srpshortcode id="4713″][/srpshortcode][srpshortcode id="4711″][/srpshortcode][srpshortcode id="4709″][/srpshortcode]
10 Best Zero-Turn Mowers
1. Swisher ZTR2760BS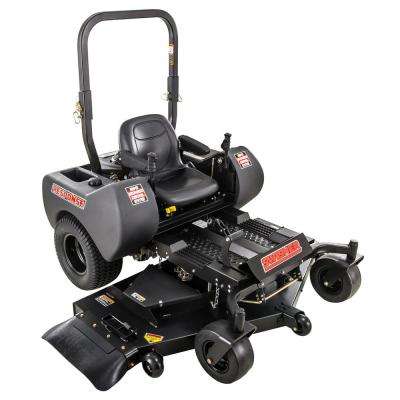 One of the best zero turn mowers in 2017 comes from the Swisher brand. The Swisher ZTR2760BS Response 27HP 60-Inch B&S ZTR measures exactly 60 inches in width and is the most ideal zero turn mower if you have more than two acres of land to mow from time to time. The mower features a commercial-grade construction offering you reliability and durability and comes with a 36-month limited warranty to prove to you just how professionally built the machine is. This is among a handful of mowers manufactured in the United States that also come with a Briggs & Stratton engine, which is both powerful and durable and capable of providing an astounding 27 horsepower. Such immense power is responsible for the effortless rotation of the machine's Gator mulching blades helping to always get a professional-looking cut.
Expand to see more
It is capable of reaching a maximum speed of 8 miles per hour (mph), allowing you to quickly finishing moving through a vast area within a short duration. The 8 mph speed in also applies when mowing in reverse gear. The mower features Ogura clutch and Hydro Gear 2800 transmission making it quite easy for you to shift between the different gears. The quality construction of the mower we talked about earlier is also reflected in the mower's frame. The Swisher ZTR2760BS Response 27HP 60-Inch B&S ZTR Mower features a heavyweight, all-steel constructed frame an eleven-gauge cutting deck that guarantees you several years of exceptional and dependable service irrespective of the mowing conditions.

You have total control over the cutting height as the ZTR2760BS is equipped with the foot-assisted deck lift that allows you to select your preferred cutting height. Furthermore, the mower comes with a front and back hitch, making it possible to haul spreaders, carts, or aerators with the rear hitch. The front hitch is reserved for hauling the mower itself under different circumstances such as when it accidentally stalls or develops a mechanical problem. In spite of their ineptness at climbing slopes and hills, the Swisher ZTR2760BS Response 27HP 60-Inch B&S ZTR Mower has a bar placed behind the driver's seat to provide rollover protection. So you don't have to worry about cutting down the tall grass growing on the sides of the slope next to your house.

It comes with a bunch of other comfortable features to help make you feel comfortable when working. For instance, the unit has a keyed start. Also, you will be able to sip your favorite drink as you listen to music from your phone since the machine a factory-installed cup holder and 12V adapter to ensure your phone battery never drains out. There are also compartments within the fenders where you can store your additional tools. With a tank capable of holding a maximum of 8 gallons of gas, you are sure to be working for several hours before needing to refill.
Wide 60-Inch cutting deck for speedy cutting
Equipped with a powerful 27 HP Briggs & Stratton engine
Smooth and effortless manoeuvrability
Commercial-grade frame with steel welding for durability
Pricey
Bulky hence difficult to store
[srp_anchshortcode id="4713″][/srp_anchshortcode]
2. Husqvarna 967324101 Z254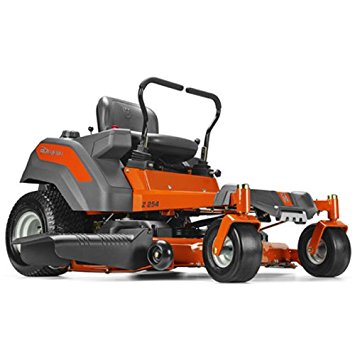 Very few zero turn mowers, both on this list and outside of it, can provide you with the remarkable ease of use, simplicity, and functionality of the Husqvarna 967324101 Z254 V-Twin 724 cc. The superior design of the unit enables it to mow two or more acreages of land with the least effort and at quite an impressive speed, too. Like the Swisher ZTR2760BS Response 27HP 60-Inch B&S ZTR Mower, Husqvarna 967324101 zero turn mower is fitted with a 24 Horsepower Briggs & Stratton engine supplying it with more than adequate power.

Expand to see more
The engine has two important features that make it exceptionally powerful: the automatic choke and the EZT hydrostatic transmission. The function of the former is giving the engine a smooth start. The latter feature, on the other hand, ensures you do not encounter any difficulties controlling the engine, making it as simple as possible. Additionally, the engine has a considerably large fan that keeps the engine temperatures within operational levels, and it works by pulling in air from all the sides of the cutting deck, lifting grass in the process. The result is neatly cut grass and a cool engine.

Because the Husqvarna 967324101 zero turn mower has a maximum speed of 6.5 miles per hour and three cutting blades, you can spend just an hour to completely cover 2.8 acres of land. Furthermore, the mower comes with a big 3.5-gallon tank meaning that you will cover a substantial area before stopping for a refill. The Husqvarna 967324101 zero turn mower rolls together three functions, thereby giving you a choice between mulching up grass, discharging it from the sides or bagging it at the back. Whether the grass is centipede or fescue, you can easily adjust the height of the cutting deck within a range between 1.5 and 4 inches to give it the best professional-looking cut.

Mowing is an effortless and energy-saving endeavour with the Husqvarna 967324101 zero turn mower, given that it is equipped with an electrical blade clutch. It also has an automatic park brake system that alternatives between self-activation and self-deactivation in response to the inward and outward movement of the steering levers. To ensure commercial-grade performance, the 967324101 features a cutting deck measuring 54-inches and constructed entirely from reinforced steel giving it exceptional resistance to the destructive repercussions of rust, dents, and damage resulting from intensive use. After a long day spent cutting grass, you will be able to quickly clean beneath the deck, thanks to the inclusion of a deck washout port.

It packs other additional features for convenience. For instance, there is a cup holder to allow you enjoy a drink of your choice as you mow. Secondly, the mower's seats can easily be adjusted to a relaxed possible, thus ensuring you work for longer with relative comfort. And to top it all off, the unit is covered by a 36-month limited warranty, which, given the mower's built quality, you may never need to use.
Compact design to make it more efficient
Easy to use
Powerful engine for effortlessly cutting through thick grass
Expensive and a bit noisy
[srp_anchshortcode id="4711″][/srp_anchshortcode]
3. Poulan Pro 967331001 P54ZX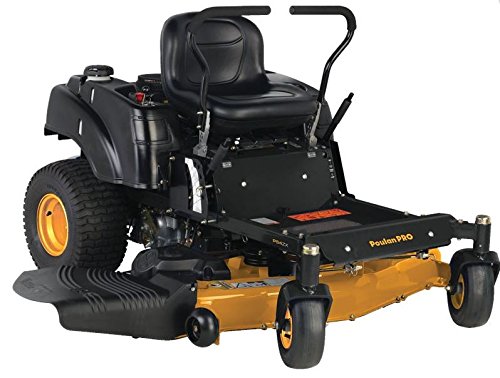 Right off the bat, it would be worthwhile to bring your attention to the fact that there are striking similarities between the Poulan Pro 967331001 and the Husqvarna 967324101 zero turn mowers. The striking similarities between the two are explained by the fact that the Poulan-Pro is a subsidiary of the Husqvarna Group. Nevertheless, since the two mowers are not exact replicas of one other, it is worth exploring the features and specs that set them apart.
Expand to see more
As is the case with Husqvarna Z254, the P54ZX comes with a 24 horsepower Briggs & Stratton engine capable of achieving a maximum speed of 6 miles per hour moving forward and 3 miles per hour when reversing. Consequently, like the Husqvarna, the Poulan-Pro P54ZX can quickly mow a 2.8-acre land of tall grass and plants within 60 minutes. The adjustable height feature allows you to set a maximum height of 4 inches and the minimum at 1.5 inches to give your lawn the look you desire. The hydrostatic EZT transmission makes shifting from one gear to another very straightforward.

There are three blades and four anti-scalp rollers placed within the cutting deck of the P54ZX, making the mower a top-performing machine in its class. Plus, because the cutting deck is reinforced with steel, there is no need worrying about mowing through rough terrains or the adverse effects of rust and dents. Steel is both durable and ultra-light and therefore does not compromise the performance of the zero turn mower. The flexibility of the mower is further demonstrated by the fact that it offers you three choices of either discharging, mulching or bagging grass. The mower is fitted with two levers, one to the right and the other to the left, to give you more control over its movement, especially when faced with an unfamiliar and unforgiving terrain.

The Poulan-Pro P54ZX is equipped with an hour meter to give you an easy time tracking usage and allow you carry out maintenance whenever necessary. Unlike the Husqvarna, though, it provides with a 24-month warranty, which in our opinion and considering the striking similarities between the models, makes the Husqvarna a better investment. You may not need to the warranty though if you carry out regular maintenance and use the mower properly.
An impressively wide 54-Inch cutting deck
Features the easy-to-operate hydro-gear EZT transmission
Sufficiently long 120-month warranty
High-end construction
Powerful and top-performing Briggs & Stratton engine
Slow 6 miles per hour speed
[srp_anchshortcode id="4709″][/srp_anchshortcode]
4. Swisher ZTR2766BS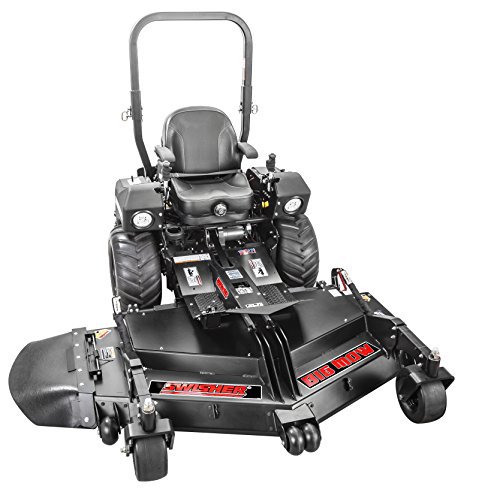 The Swisher ZTR2766BS is the perfect choice for professionals and Do-It-Yourselfers looking to purchase their first mower or upgrade to a more industrial-strength and powerful zero turn mower. It has a powerful 27 horsepower engine and a cutting deck measuring 66-inches in width ensuring you do not lack the quickness or effectiveness required for mowing a large acreage of land in the shortest time possible.

Expand to see more
It is one of the top-performing mowers in the market today, providing you with an incredible speed of 8 miles per hours both in the forward and reverse gears and an unprecedented ability to move a full 360-degrees, so you don't miss a spot while cutting down grass and other small plants in your lawn.

The Swisher brand put a lot of resources and effort into making the Swisher ZTR2766BS zero turn mower as comfortable as possible so you can mow over a large area with relative ease. The controls feature an ergonomic design in a way that allows you effortless movement across different types of terrain, irrespective of whether they are flat or hilly and sloppy. The Swisher ZTR2766BS has very responsive and sensitive controls. The brakes, throttle, and steering respond almost immediately to the slightest touch or squeeze. Consequently, you have a machine that you can maneuver with a lot of ease, which is important if you will be using it for extended periods of time on a frequent basis.

The maneuverability of the Swisher ZTR2766BS ensures you don't waste time continually backtracking on patches of grass you missed to give your field a consistent and uniform look. These features come handy when you have to cut grass growing in otherwise hard-to-reach spots such as near trees, ornamentals, and flower beds without the need to encroach. Additionally, with the inclusion of a foot-assisted deck lifts on this model, you have the freedom of adjusting the height of the cutting deck to your preferred height to give your lawn the look you've always wanted.

Additional features of the ZTR2766BS, which are also pretty standard on almost all products manufactured by the Swisher Acquisition Inc., are the inclusion of three cutting blades within the cutting deck. You will have an easy time scheduling maintenance thanks to the hour meters that assist in monitoring hours of usage. With the Swisher ZTR2766BS's 8-gallon tank capacity, you will have far fewer interruption to refill, giving you more time in the field or the lawn. When mowing over a tough terrain, a little comfort goes a long way. To this end, the Swisher ZTR2766BS comes with foldable arm rests and a deluxe 18-inch high back seat with a belt to securely keep in your seat. You can also store additional tools you may have in the composite fenders.
Large cutting deck with steel reinforcement for durability
Reliable engine
Front and rear towing capability
5. Husqvarna MZ52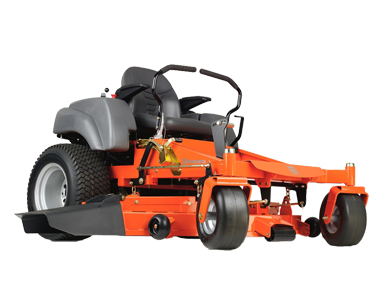 Professional mowers and landscapers looking for a zero turn mower featuring an ergonomic design and industrial-grade construction need to seriously consider the Husqvarna MZ52 25 HP mower. The machine is reasonably priced at below $5000 and offers you all the essential features of a zero turn mower, plus it comes from the trusted company renowned for producing high-quality products. The internal components of the Husqvarna MZ52 zero turn mower are of durable and superior quality construction enabling the machine to quickly reach its maximum power capacity of 25 horsepower. Such immense power is very instrumental in ensuring you efficiently finish your landscaping project in time.

Expand to see more
The Husqvarna MZ52 is equipped with a cutting deck measuring 52-inches in width and whose construction is done from dual sheets of 11-gauge steel. As a result, you end up with an ultra-strong and commercial-grade cutting deck that share the durability and lightness of steel. The implication is that you will not be daunted by even the toughest and most uneven terrains as steel is highly resistant to rust and does not wear and tear easily, no matter how intensive your level of mowing.

For convenience and ensuring an ease of use, the mower is fitted with an ergonomically designed pedal which allows you to make adjustments to the cutting height in accordance to your preference. The cutting deck is capable of reaching a maximum height of 4.5 inches while the minimum height allowable is 1-inch, with twelve different steps in between. The Husqvarna brand is known for the versatility of their products, which is also exemplified by its ability to mulch, collect, and side discharge cut grass. Furthermore, you have the potential to make precise turns and movements with the Husqvarna MZ52, thanks in part to its zero turning radius. Hence, there will be no difficulties whatsoever cutting the patches of grass growing near flower beds, around trees, or at the edge of the lawn.

Other than the ergonomically designed pedal for adjusting the height of the cutting deck, the Husqvarna MZ52 comes with a bunch of other features aimed at increasing your comfort while mowing. The foam padding of the two steering levers is designed to make it easy for you to steer the mower under all circumstances. The large welded frame of the zero turn mower gives it additional support while also ensuring the greater comfort of the driver. Industrial-strength vinyl is used to make the driver's seat, which also features a high back to make you as comfortable as possible when working for long hours on end.

A fundamental knowledge of the Husqvarna MZ52 can be of great use in helping you carry out simple maintenance since the mower's service points can be accessed with relative ease. The zero turn mower has a weight of just 740 pounds and is 42 inches high. It is sold with a 36-month limited warranty to homeowners and 12-month limited warranty to professionals.
Exceptional speed
Exceedingly large fuel tank capacity for prolonged operation
High-end performance
Little vibration
Heavy and a little bulky
Not ideal for slopes and hills due to lack of wheel traction
6. John Deere Z333E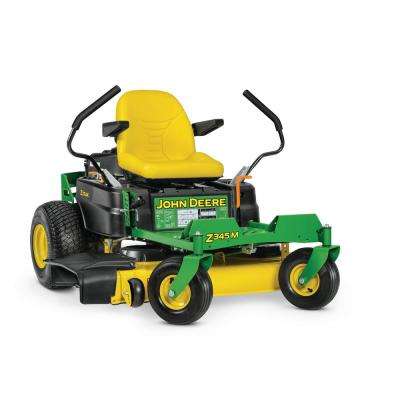 The John Deere brand has made serious in-roads in the residential homeowner niche, as demonstrated by the John Deere Z333E 42-Inch 20HP Dual Hydrostatic Gas Zero-Turn Riding Mower. The compact design of the machine makes it ideal for light-duty landscaping tasks and ensures it occupies the least amount of storage space at the house. The mower features an aesthetic styling with its trademark green and yellow colors to appeal to customers with a keen eye on appearance.
Expand to see more
It is equipped with a 20 horsepower V-Twin OHV engine providing it with immense power and torque required to mow all types of grass patches under all kinds of settings. The mower comes with a Hydro-Gear EZT dual transmission, which, other than being airtight, does not have any hoses connected to it in a move that effectively prevents hydraulic fluid from leaking. Dual transmissions make it relatively effortless shifting between the forward and reverse gears. And irrespective of the prevailing weather conditions, the engine starts up very fast thanks to the mower's electronic ignition. With a tank capable of holding 2.1 gallons of gas, the John Deere Z333E 42-Inch 20HP Dual Hydrostatic Gas Zero-Turn Riding Mower experiences no difficulties whatsoever reaching its maximum speeds of 7 miles per hours in forward gear.

For durability, the entire body features an all-steel construction while the cutting deck is made from 12-gauge steel ensuring it is both durable and light to encourage long hours of use. You can make adjustments to the height of the cutting deck which has a maximum and minimum cutting height of 4 and 1-inch, respectively, with increments of just 1/4-inches.

Whether you will be using the mower to mulch or discharge grass through the rear or sides, you won't have difficulties working on a wet lawn or field as the mower comes with large wheels for superior traction. Upon purchasing a separately sold MulchControl kit, you will be able to effortlessly alternate between side discharging and mulching grass by simply flipping a lever. You'll additionally have the freedom of attaching a rear mulching blade.

The John Deere thoughtfully and carefully designed their mower to make you comfortable and safe while mowing. You will be able to differentiate between the numerous controls with ease thanks to colour coding. For convenience, the two lever motion controls can be adjusted to as much as eighteen positions. Furthermore, the padding of the driver's seat ensures comfort and proper support, and you are allowed to adjust it to fit your size. Working on a rough terrain will actually be fun since the machine is equipped with two steel springs for suspension and absorption of shocks.

To summarize, the Z333E zero turn mower features a compact and lightweight design targeted at the residential homeowners' niche. The machine has a paltry weight of only 650 pounds with a cutting deck measuring 42-inches and a depth of 4.5 inches, enabling you to give your field and lawn the professional-looking finish you've always wanted.
Lightweight and compact design
Powerful 20 horsepower V-Twin OHV engine
Hydro-Gear EZT dual transmission
Electronic ignition
7. Ariens Zoom 34 19 HP Kohler 6000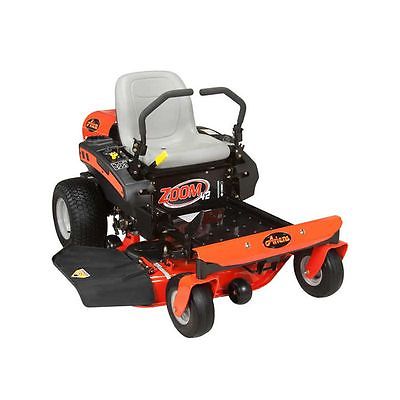 This zero turn mower is specifically meant for small-scale property owners and maximized for light to medium-duty residential tasks, as demonstrated by the product's size and pricing. The mower is fitted with a Kohler 6000 series engine producing an incredible 19 horsepower making it one of the most highly industrious mowers with an extraordinary cutting capacity. The Ariens Zoom 34-Inch zero turn mower has the remarkable ability to deliver responsive and smooth control due to its incorporation of commercial-grade Hydro-Gear EZT. It also has an easy-to-access tank with a fuel carrying capacity of two gallons. Bring all these features together, and you have a zero turn mower that effortlessly reaches a speed of 6 miles per hour in forward gear and 3 in reverse.
Expand to see more
Due to the full welding of the mower's frame, which is also constructed entirely out of commercial-grade steel, together with the fixing of a front axle, the mower is bound to last for more than a lifetime with proper use and maintenance. As is the case with a majority of the mower's on this list, the Ariens Zoom 34 is factory-fitted with a mower deck made from 12-gauge stamped steel. The mower furthermore has enhanced stability and control due to its superior engineering that aimed at keeping the center of gravity as low as possible.

It has a foot control feature for adjusting the height of the mower deck through seven positions of between a maximum allowable height of 4.5 inches and the minimum of 1.5-inches. Nevertheless, the machine only has the standard side discharge for grass trimmings. It also has a width of 34-inches, making it a perfect mower for small-scale lawns, particularly the ones obstructed with trees and flower beds that would be challenging for commercial-size mowers.

Unlike its bigger siblings, it is not ideal for mowing patches of grass on sloppy terrains largely because of its lightness and because the rear tires lack the necessary traction as they are quite narrow. In spite of these drawbacks, the mower will sure provide you with more than adequate power for performing light-duty trimming, discharging trimmings uniformly with very minimal clattering. Should you come across a jagged terrain such as those occasioned by protruding tree roots, you can easily raise the cutting deck. For comfort, the Ariens Zoom 34 zero turn mower has a comfy padded seat that supports your back and avoids injury even with several hours of use. You can also change the position of the control arms according to your preference.
Exceptional cutting and driving accuracy
Astounding cutting ability
Affordable
Lightweight and compact design for easy storage
Easy to shift between gears with its hydro-gear EZT transmission feature
Not perfect for cutting on slopes
Not ideal for hauling more than 250 pounds attachments
8. Poulan Pro 967330901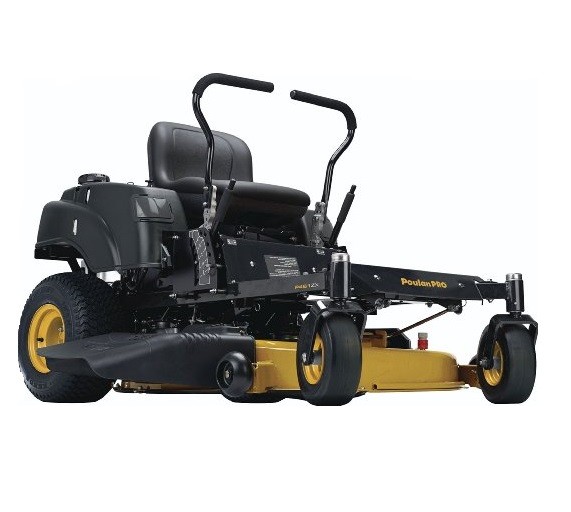 Despite the economical pricing of the Poulan Pro 967330901, you soon come to realize that it outdoes some of its more pricey counterparts, providing a greater and far more efficient performance. The mower's exceptional ability to provide you with a top-notch performance partly depends on its high-end construction but primarily because it is equipped with a 22 horsepower Briggs & Stratton. The mower additionally comes with a twin hydro-gear EZT drive system enabling it to quickly reach its maximum forward speed of 6 miles an hour. Combine the mower's 3.5-gallon tank capacity and its hydro-gear EZT drive system, and you have a machine you can manoeuvre with exceptional ease on even the roughest terrains.
Expand to see more
The Poulan Pro brand utilized the best-in-class components in the engineering of the P46ZX to make sure it withstands all types of terrains and conditions without suffering any significant wear and tear. To make the machine even more durable, the manufacturer used industrial-strong 13-gauge stamped reinforced steel to make the cutting deck. With such strong and durable components, it comes as no surprise that the machine easily lasts a lifetime.

The cutting deck can be adjusted to a maximum height of 4-inches and a minimum of 1.5-inches, with increments of 0.5 inches, thereby giving it optimal flexibility. The mower features an easy-to-use and intuitive deck lift that you can operate with either leg so you can give your lawn, backyard or field your favourite look. The inclusion of three anti-scalp rollers does an excellent job preventing a very close cut. You will be pleased with the incomparable cutting speed of the mower in addition to its self-activating trimming disposal. The easy manoeuvrability of the Poulan Pro P46ZX makes it ideal for trimming the patches of grass close to flower beds and trees.

You will not have to strain when operating it, especially with its incorporation of simple-to-handle twin levers with their foam padding on the handles. There is a durable and comfy seat that comes with an additional 15-inches of the high back. Lastly, the control panel is easily accessible from the seat, and do not necessitate straining to reach them.
Comfortable operation
Straightforward and easy to use
Astounding manoeuvrability
Almost indiscernible vibration
Powerful performance
Less efficient operation on small hills and slopes
9. Troy-Bilt Mustang 54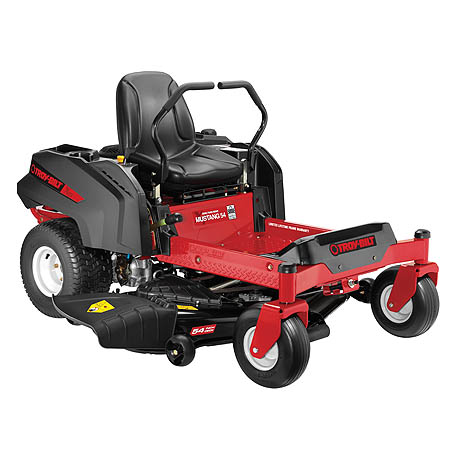 The main difference between the Troy-Bilt Mustang 54 XP and its closest competitors lie in the fact that it creates a perfect balance between top-end performance, robust construction, and maneuverability. In spite of its weight of approximately 600 pounds, the machine is surprisingly portable, moving effortlessly between trees and around flower beds. The Troy-Bilt smoothly climbs hills and slopes while firmly holding its ground, thanks to its 24 horsepower Briggs & Stratton engine. The versatility of this mower renders tipping over a thing of the past with its roll over protection system. The mower's 2.7-gallon capacity tank is enough to clear 2.4 acres of land before requiring a refill, and it is also equipped with a clear peephole to help you keep track of remaining fuel without having to remove the cap.
Expand to see more
The zero-turn capabilities, aided by the hydraulic steering throttles, allow you to turn the mower at a zero radius thereby allowing you to cover each and every inch of your lawn without having to go back and forth repeatedly.

The second most important part of a mower other than its engine is the mower deck, and the Troy-Bilt brand invested considerable amounts of time and effort into coming up with a practical and functional one. The mower's deck measures approximately 46-inches in width and is packed with several important features enabling you to spend a mere 1 hour 30 minutes to mow through 2.4 acres. Furthermore, the deck is compatible with several types of mulch bags. The mower evenly side discharges trimmings with minimal clipping to make it easy for you to collect later.

Other than its side discharging ability, the Mustang 54 XP is also capable of mulching trimmings hence helping you to return essential nutrients to the soil. As is the case with most zero turn mowers, the mower has an adjustable mower duck that is foot-operated, allowing you to choose the most appropriate height that suits your circumstances. And you don't have to be daunted by the thought of cleaning the deck after work. The machine is equipped with a deck wash port that eases the task of maintaining it. Removing remnant clippings from the deck only requires running water through the wash port and in a matter of seconds, you will be left with a sparkling clean deck and ready for safe keeping.
60-Inch cutting deck
Powerful 24 Horsepower engine
Ideal for heavy-duty operations
10. Toro TimeCutter SS4225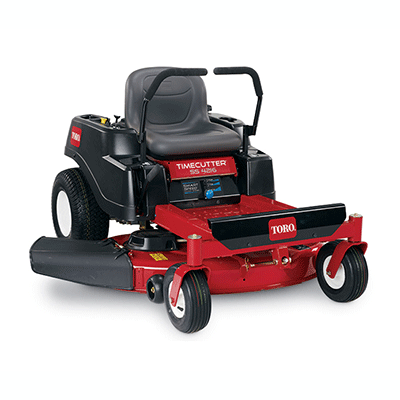 The Toro TimeCutter SS4225 boasts of a relatively large deck measuring 42-inches in width coupled with a 22 horsepower 725cc Kohler engine for optimal performance and versatility on types of terrains. With a mower deck capable of adjusting the height between 1.5 and 4.5 inches, the Toro TimeCutter zero turn mower has the dimension and power ideal for mowing through small-scale yards and fields not exceeding two acres.
Expand to see more
You have a choice of three transmission settings, with each one optimized for different circumstances. The first is the mowing mode which effortlessly takes the mower to its maximum speed of 7 miles per hour. For high-end performance, however, you may want to maintain about 6 mph to efficiently mow down grasses and weeds of different thicknesses. If you want to accurately trim your lawn for that professional-look, the trim mode is your safest bet. Should you, however, come across thicker and tougher grass patches requiring greater torque, the tow mode promptly comes to your rescue, providing you with sufficient power to complete your tasks on time. 24 horsepower is more than sufficient to enable you to haul different kinds of attachments even though the machine has a maximum towing capacity of 80 pounds. You will need a stronger engine to tow a heavier attachment of say, 100 pounds.

It can effortlessly climb slopes and small hills of no more than 15 degrees, you should take care not to mow over holes, rocks, dips, and rises as they are capable of drastically changing one's driving angle, causing you to topple over.

The mower comes with a translucent three-gallon tank to help you monitor fuel usage. Because it is equipped with anti-scalp wheels, it does not easily scalp and considering its ease of use, novices will have an easy time familiarizing themselves with its working in a matter of seconds.
Easy to use
Offers fast but quiet operation
Powerful and very functional 22 Horsepower engine
Heavy-duty steel reinforced frame for durability
Superior and robust construction
Reasonable pricing
Lacks adequate wheel traction for slope mowing
Criteria for Evaluation

Size of Cutting Deck
The size of the cutting or mowing deck is a vital criterion that cannot be overlooked, not if you have your eyes set on efficiency and exceptional performance. Large cutting decks are renowned for reducing patches of grass and other taller debris into smaller passes, thereby reinforcing the efficiency and money-saving argument. Other than cutting grass, larger mowing decks are increasingly more maneuverable, especially around tight spots. Consequently, you should have your mind set on getting a zero-turn mower with a deck measuring between 40 and sixty inches in width since wide decks will give a relatively easy time cutting.
Power

A powerful engine is a difference between a professionally-looking and shoddily done lawn. While commercial zero-turn mowers are generally more expensive than their entry-level and residential property counterparts, they come with the biggest and professionally-built engines with greater horsepower. The more powerful an engine is, the easier it will be to cut down grass and other types of debris with ample ease. You are however to run into mechanical problems cutting down thicker and wetter grass and weeds with a less powerful engine, which means a powerful engine is worth the investment, in the long run. Plus, a higher horsepower really helps with climbing slopes and hills with relative ease.
Ease of Use
A complicated and hard-to-use zero-turn mower is not worth using, despite how powerful and quick it may be. Ease of use is an essential factor to consider, especially if you intend to mow through vast pieces of land as fast and as professionally as possible, which is why you need to consider the mower's controlling system before making that payment. Zero-turn mowers are controlled with the use of dual lever system which when aligned in a straight line ensures straight mowing. Modern zero-turn mowers incorporate ergonomically designed joysticks to make them more maneuverable and easy to control.
Position of Discharge

Zero-turn mowers have the ability to discharge clippings either on the sides or the rear, and you need to understand the difference between the two before settling on any one particular mower. The advantage of a side discharge is that it comes with a relatively small outlet, allowing you to easily create a vacuum process. Rear discharge has gained considerable popularity and traction over the last couple of years, and it is the best alternative when mowing under tough conditions, such as ditches.
FAQs

Q: What are zero-turn mowers?
A: A zero-turn mower is basically a riding lawn mower, with the two performing the same tasks: mowing lawns, backyards and fields. However, a zero-turn mower comes with a zero-turning radius, meaning simply that it can achieve a radius of zero, allowing you clear patches of grass in a single move rather than having to go over the same area repeatedly to achieve the same. They also have two throttles for controlling rotational and directional speed.
Q: How many different types are there?
A: Zero-turn mowers fall into three basic categories: residential property, entry-level commercial, and commercial zero-turn mowers. The first category consists of mowers optimized for use by homeowners and are ideal for mowing not more than 2 acres of land in a week. They come in different sizes and speeds and are generally less costly compared to entry-level commercial and commercial ones. Entry-level commercial zero-turn mowers offer additional functionality and speed compared to the first category and considerably more expensive as they feature steel-constructed parts. Consequently, they are ideal for small-scale mowing. Lastly, commercial zero-turn mowers are ideal for more demanding commercial tasks. They feature a more durable industrial-strength reinforced steel frames and top-end components, capable of withstanding all types of mowing conditions. Obviously, they are also more expensive.
Q: What is the Roll Over Protection Structure and what does it do?
A: The Roll Over Protection Structure is a mechanism aimed at protecting the driver in case the zero-turn mower rolls over. There are rampant cases where operators have suffered serious injuries after being pinned down by mowers. Together with the mower's seat belt, the ROPS ensures the operator remains as safe as possible. Because operators have the freedom of either raising or lowering the structure in response to their mowing conditions, they often forget to return it to its intended position, thereby increasing chances of a crash or injury in the event of a rollover. With this in mind, we highly recommend leaving the ROPS in its original position and instead resort to push mowers where a zero-turn mower cannot cut.
Conclusion
Zero-turn mowers differ vastly in features and mowing capabilities, and seeing as the market is flooded with them, it is prudent that you familiarize yourself with the different brands and understand your needs before making a purchase. While residential property mowers are optimized for domestic use, commercial ones are better constructed and therefore ideal for heavy-duty tasks. All the mowers featured on our list have exceptional features and capabilities that make them stand out from the competition. Other than the zero-turn ability, they are also solidly built, safe and easy to use and are guaranteed to provide with several years of high-end performance.
Subscribe to our newsletter