Best Mini Milling Machines Reviewed and Tested
last updated:
Jan 22, 2019
Milling machines were once solely the purview of large factories and garages. Over time, however, technology has allowed milling machines to become much more widespread in their usage. A milling machine will machine out various materials ranging from wood to metal to create a desired design or surface texture. This tech being put into entrepreneurs hands more and more often in recent decades has created a renaissance of sorts in the milling world.
Our Top 3 Picks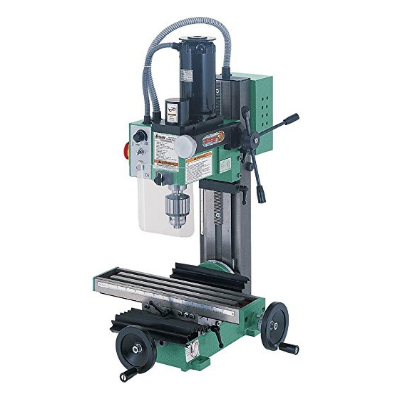 Grizzly G8689

Our rating
Good Capabilities
Price:

See Here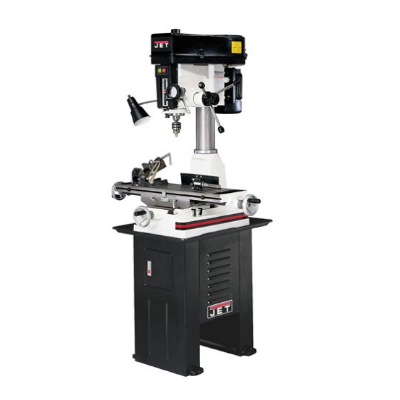 Jet JMD-18

Our rating
Good accuracy
Price:

See Here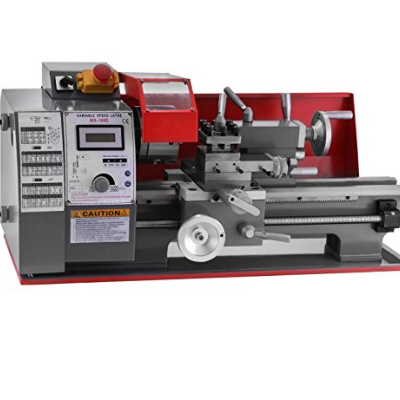 Mophorn Metal

Our rating
Good Precision
Price:

See Here



This boost to overall demand has led to a variety of choices and competing companies when it comes to deciding on the right milling machine. With this in mind we have put together a list of what we feel is the best selection, and most cost efficient milling machines available today. Not all milling machines are created equal, and we have made an effort to not only breakdown the good and the bad of each device, but we have also provided the criteria for which we ranked and evaluated each choice.
The end result is a list of milling machines that are not only cost effective but are worthwhile additions to both professional and amateur workplaces. We made sure to diversify options to appeal to both pros and the DIY crowd.
Keep in mind that each item on this list has been ranked by a price to value ratio. This means that a technically superior milling machine may have rated lower if we deemed the increase in cost to be too large to justify whatever improvements it may have over the nearest competitor. Milling machines that combined both cost effectiveness and versatility ranked the highest in our evaluation.
10 Best Mini Milling Machines
1. Grizzly G8689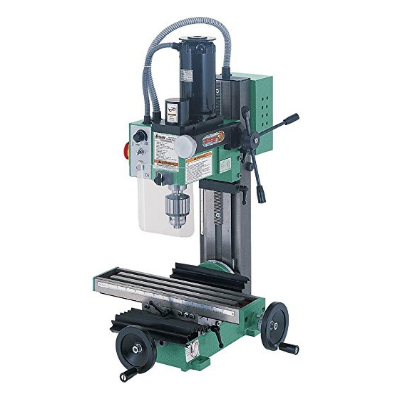 Solid mill in both a small package and a small price. This is a very compact machine that provides milling capabilities to those that only require something for smaller tasks, and don't wish to break the bank and/or take up have of their workspace.

Expand to see more
Key Features:

DRILLING CAPACITY (IN.) 1/2"
FACE MILL CAPACITY (IN.) 1"
END MILL CAPACITY (IN.) 1/2
SWING (IN.) 12-3/4"
Variable speed control and gear drive
Switch for safe shutting off
Fine feed head control
Clear guard on spindle
Adjustable depth stop
Rubber chip guards on ways

Price/Value:

This is where this mill shines. The Grizzly G8689 will need a series of improvements and additions if you want to be able to handle tougher tasks, but its low initial cost makes it an attractive option for those with specific needs.

Who Should Buy This?:

This is a niche need milling machine and won;t be right for everyone. However, the small size and low initial cost makes it an excellent choice for both pros and DIYers who have specific requirements and/or are not in need of a more industrial mill.
Perfect for detail work on smaller items
Provides excellent small milling capabilities at a bargain price
2. Jet JMD-18 350018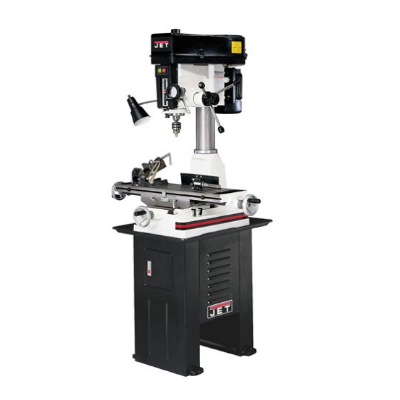 A large worktable with excellent precision whether working on wood, ceramic or aluminum. The increased size makes it useful for the larger projects and the built in work light comes in handy more often than you may think. It is also reinforced to deal with heavier objects. This is an all around fantastic design for dealing with a plethora of heavy duty tasks. The swivel head and adjustment knobs also make sure you are milling with a high level of accuracy on these larger tasks.
Expand to see more
Key Features:

DRILLING CAPACITY (IN.) 1-1/4
FACE MILL CAPACITY (IN.) 3
END MILL CAPACITY (IN.) 3/4
SWING (IN.) 15-7/8
One-piece cast iron column
Belt cover with quick slide latch
Base taper allows for easier cleanup
Very large worktable
Quick-stop knob with easy to read depth gauge
360° head swivel
Work lamp
Adjustable Carbide facemill

Price/Value:

This is a very high-quality machine for the price. It is capable of jobs mills costing three to four times as much are usually required for. It is a reliable introductory milling machine.

Who Should Buy This?:

This is a dependable workhorse that can be considered a worthy addition to most workshops. It is versatile and small enough to be very valuable to those with limited space available.
Heavy duty
Good accuracy
Good collection of additions available
Very heavy
Requires a high level of expertise to operate
3. Mophorn Metal Lathe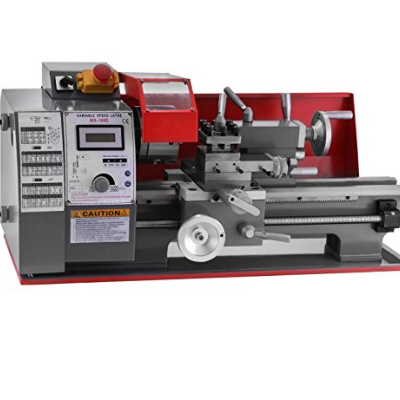 This nice mini lathe is built around various types of metal turning. You can use it for precision parts processing and modeling works. Great for modelers or hobbyists wanting to take the next step in detail. This bench top mini lathe is a useful addition to a number of scenarios and is quite capable of small batch production.

Expand to see more
Key Features:

Max. Circular diameter over machine bed: 7."
Max. Circular diameter over cross sections: 4.33"
Chuck diameter: 3.94"
Screw hole: 0.83"
Prism bed guides
inductively hardened
Hardened central spindle
High concentricity of the central spindle
Speed infinitely variable - read via digital display.

Price/Value:

A surprisingly low cost for a machine of such high precision. It may require some setup and adjustments up front, as this seems to be an area the producer has cut some corners in order to lower those costs.

Who Should Buy This?

This is useful for both professional and hobbyist scenarios depending on the needs. A great bench top machine for schools, scientific tool production, modeling and a series of other purposes.
Good precision
Sturdy machine
Good thread choices for cutting threads
The spindle can be adjusted from 50 to 2500 RPM
No speeds marked
Expect to clean, tune adjust things up front
4. Erie Tools 7 x 14 Precision Bench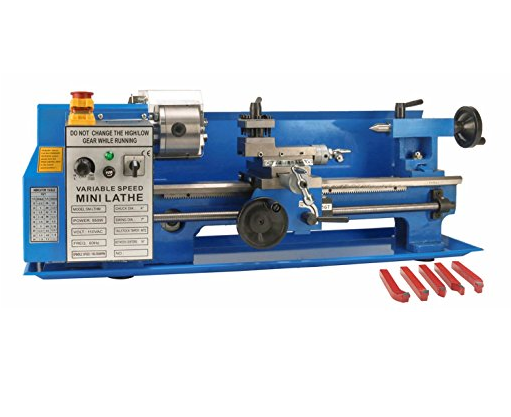 This is an excellent mini lathe. Perfect for modelers or hobbyists wanting to use it for precision parts processing and modeling works This bench top mini lathe is a useful addition to a number of scenarios. It is also capable of Metal turning, drilling, threading, and cutting on multiple materials
Expand to see more
Key Features:

Distance Between Centers: 14" (350mm)
Swing Over Bed: 7" (180mm)
Spindle Taper: MT3
Tail Stock Taper: MT2
Chuck Diameter: 4" (101mm)
Spindle Bore: .79" (20mm)
Emergency Stop Switch
Digital Spindle Speed Readout
Variable Speed Control Knob

Price/Value:

This is a very low-cost option. The Chinese seem capable of producing and selling these machines at half the cost of American made ones. Although there is often shipping issues, the savings are substantial.

Who Should Buy This?:

This is definitely more the purview of hobbyist and modelers - it is a reliable machine but is likely not versatile enough to find a permanent home in a pro workshop.

Powerful for size
Relatively quiet
Expect to clean, tune and adjust things up front
5. Proxxon 37110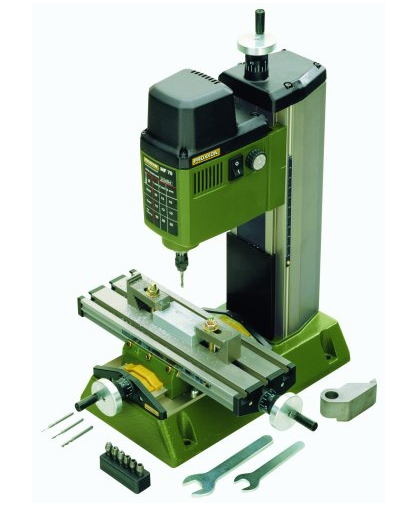 Yet another well priced micro mill. As with the other micro mills on this list, it may have limited capabilities, but the low cost and smaller size make it a fantastic option for the majority of those looking into an at home or small job milling machine. The Proxxon 37110 was designed to be an accurate mill for lab, optician, jewelry, electronic- and model-building projects.
Expand to see more
Key Features:

Variable speed 5000-20000-Rpm
Axss are fitted with adjustable dovetail slides.
24-pin special motor (balanced). For vibration-free work at high speeds.

Price/Value:

Cost efficient and well made. As long as this mill can handle the majority of tasks you require of it, it is one of the better investments in this category; the value does rely on your tasks being within its niche though.

Who Should Buy This?:

Not large enough for most users, however if you are either a Pro or DIYer looking to improve upon a standard dremel with more precision and stability, this may be a solid option for you.

Built around precision work
More or less an "Advanced Dremel."
Too small for many tasks, such as milling out an 80%
6. Grizzly G0619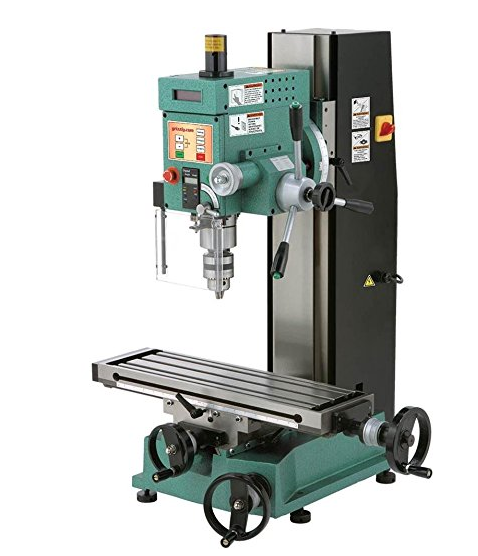 The Grizzly G0619l is a small bench top milling machine with a surprising amount of power. It runs smoothly and provides you easy control over the RPM with an LCD screen. It can hold tight tolerances and has excellent repeatability - making small production runs a possibility. Tool changes can be made easily as well.
Expand to see more
Key Features:

Spindle travel: 2-3/4"
Swing: 18"
Max. distance spindle to table: 14-3/4"
Headstock travel: 14-7/8"
Drilling capacity: 1"
Quill diameter: 2.347"
Variable speed: 100-1750 RPM
Head tilts 90°
Push-button speed adjustment
Digital display of speeds
Reversing buttons
Coolant trough
Front mounted fine feed knob

Price/Value:

This is a solid sub-400 Mill at a fair price. It is not as cheap as many of the other items on this list, but it provides a much higher level of quality and control.

Who Should Buy This?

The versatility of this machine makes it a solid choice for both the DIY crowd and pros looking for a bench top mill.

Great versatility for a smaller milling machine
Good power for a bench top
Tool changes are easy
Not as durable as one would expect
Poor quality chuck
7. Erie Tools Variable Speed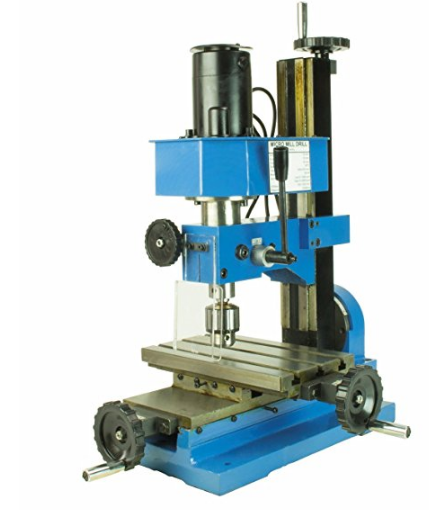 This heavy duty milling machine was designed for drilling, deep milling and face milling with a variable speed control that gives you an extra level of control. It can produce a decent lower and is much easier than a drill press with a much better finish.

This Eerie milling machine provides a solid combination of viability and affordability.

Expand to see more
Key Features:

Drilling Capacity: 3/8"
End Mill Capacity: 3/8"
Face Mill Capacity: 5/8"
Throat: 5 1/2."
Table Size: 9.45" x 5.70"
Variable speed control
FWD/REV switch
Safety shut off switch
Adjustable depth stop

Price/Value:

This is an excellent machine for as low a price as you can get it. It is not the best in the class by any means, but it provides a substantial bang for your buck.

Who Should Buy This?:

This is versatile milling machine that can find a place in both pro and DIY workshops. It can't handle extremely difficult or unique tasks but is a stable and low-cost milling machine option for all.
Good value
A Large array of features
Versatile
Will require modifications and improvements to handle more difficult tasks
8. SHOP FOX M1111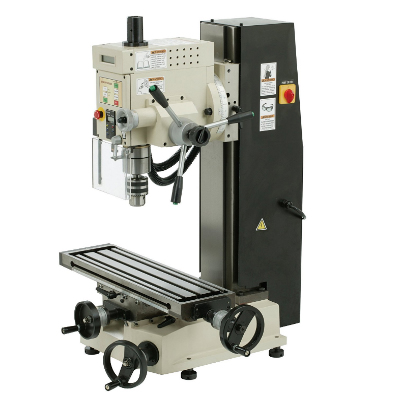 The Shop Fox M1111 takes the M1110 and tacks on a whole set of features making it easier and more pleasurable to use. This is a fantastic milling machine for the smaller to medium sized jobs, yet can still be fit into smaller areas. It provides an excellent balance between size and capabilities.
Expand to see more
Key Features:

DRILLING CAPACITY (IN.) 1
SWING (IN.) 18 in.
Head tilts 90°
Push-button speed adjustment
Back-lit digital display of speed
Reversing buttons
Coolant trough
Front-mounted fine feed knob
Push-button motor control
Front-mounted E-stop button
See-through chip guard with safety switch
Brushless DC motor

Price/Value:

Incredibly reasonable given its abilities. The Fox M1111 strikes one of the best balances between size, features, capabilities, and price.

Who Should Buy This?

This is a useful device for full-time professionals who need a more flexible machine or lack room, but it is also an excellent match for the majority of the DIY community.

Plenty of extra features
Ideal for small to medium sized projects
Limited capacity
Adjustment gib for the head is not as accurate as it probably should be
9. OTMT Mini OT2213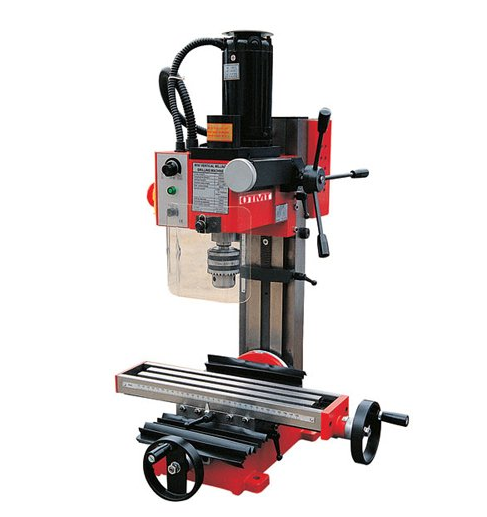 This is another mini mill that comes in with an, even more, mini price tag. A robust set of capabilities for a fraction of the cost. As long as you are utilizing the proper speeds and feeds this mill can handle most jobs you should reasonably expect it to.

Expand to see more
Key Features:

Drilling Capacity_Decimal Inch: 0.51" (13mm)
End Milling Capacity: 0.62" (16mm)
Face Milling Capacity: 1.81" (30mm)
Way covers.
2-Speed ranges.
The head tilts a full 45° to the left or right.

Price/Value:

Meager cost and provides substantial abilities. A fantastic alternative to those looking to mill slides and lowers but don't want to spend thousands of dollars.

Who Should Buy This?:

While this may not have the abilities required by most pros, it is useful enough and low cost enough to make a fantastic addition to the average garage home workshop.

Very compact
Solid assortment of features
Very affordable
A lot of slack in both the x and y axis
10. JET JTM-2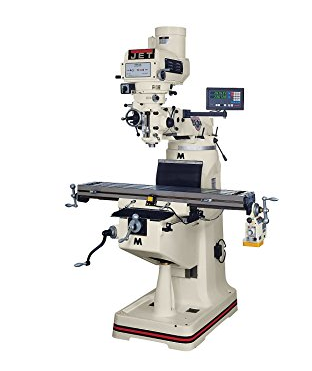 A beast of a machine capable of intense heavy duty work. This is a perfect mill for maintenance shops, repair shops, schools and light production.
Expand to see more
Key Features:

Spindle Travel: 5"
Head Movement 90° R & L | 45° F & B
Max Distance Spindle to Table 17.5"
Distance Spindle to Column (Max.) 19."
Distance Spindle to Column (Min.) 4.5."
Meehanite casting
Precision bored and honed milling head
Large diameter quill is chromed
Spindle head is internally cooled
Three-stage power down feed with auto stop
High precision Class 7 spindle bearings

Price/Value:

The JET JTM-2 certainly isn't cheap, but it will last you year and is capable of handling everything from a high school robotics class to high-end shops.

Who Should Buy This?:

This will be an item for professionals or organizations. It is simply too big and expensive for hobbyists or DIYers.
Very capable
Long lasting and durable
No cons to speak of in operation, it is well made but outside the purview of the average consumer
Criteria for Evaluation

In the creation of this list, we went through a significant amount of milling machines that can be practically bought by either sole proprietors or small businesses and organizations. The vast majority of these were evaluated and rejected from the list. To determine which ones stayed, and to be able to rank them, we had to create criteria from which they could be judged. Some of this criteria is obvious – such as price and capabilities – other aspects are less clear. To fully explain our decisions we have included a brief explanation of the principles that we worked from.
Another thing to consider is the personal or practical value of the milling machine to your needs. This is something we cannot rank. If you require certain functionality, it doesn't matter how much higher we rated a machine that cannot do what you need – to you that mill will hold no value. Our ratings are simply a guidepost to helping you sort through with machines are practical and able to solve your needs.
Price
We covered milling machines with a price difference ranging in the thousands. In order to actually match a machine up against one that costs literally ten times as much, we needed to evaluate the machines on a cost to benefit ratio. Roughly stated, that if a machine could accomplish 60% of the same tasks, but only cost 10% as much, it was deemed to have a higher overall value relevant to its capabilities.
Size
While a small benchtop machine can be a tempting purchase, many tasks require a large area, and if you are looking to mill metal, then a free standing machine is a must. A sturdy and heavy frame is a must for large and complicated tasks. For this reason, non tabletop devices were given a ranking benefit – but since we excluded machines that were outside the purview of small workshops or home use, many of these were unable to be included in the list.
Precision, Power, and Construction
While the horsepower of a machine is a good stat to be aware of, if the construction gives under pressure it will throw off your ability to use the machine with any real precision, and renders all that horsepower useless. We looked for Mills that can apply power and handle it at the same time.
Capabilities
This is more or less a combination of size, power and whether or not the machine is a horizontal or vertical mill and whether or not it needs to be (and how easily) it can be retrofitted. All of these factors play into what sort of range of tasks one can expect a machine to accomplish. The greater the capabilities, the greater the rating for the most part.
Features
Features are always brought up as one of the first things when someone is discussing power tools in general. It makes sense, they are flashier and serve to quickly differentiate similar devices. Unlike other types of tools, milling machines usually have less "gimmicky" features; rather they often work more in tandem with the overall functioning. An example would be a digital speed display.
How to Best Use a Mini Milling Machine
This section gives you tips on how to get the most from your mini milling machine. We look at how to tram your mini mill and give more insights on how to use the power feed.
Tramming involves adjusting the column of the mini mill so the spindle is at a right-angle with the table. Since the Y-axis of the mini-mill is not adjustable, the procedure will be about how to tram the X-axis.
Equipment Required
• A pair of matched 1-2-3 blocks
• A digital dial indicator
• An adjustment arm from a cheap magnetic base for the dial indicator. Hold it in a 5/8 inch drill rod fixed to a collet.
The arm from the magnetic base is used because it is the easiest and quickest method to mount a dial indicator. This way you can read it from any side of the mill. If the vise of your mill is big enough, use a dial test indicator (DTI). However, if your vise has a screw-less precision, you can use 1-2-3 blocks. Also, for better results, take the measurements farther apart.
For Best Results
Before you begin, swing the indicator from side to side a few times to make sure you get similar measurements repeatedly, and the set up is accurate. Also, place your table at the center under the spindle to make the measurements on the center line and at the same spots every time.
If your mill's table was properly constructed, your vise will hold the work pieces square with the spindle after tramming the table. If it doesn't, you can fix it, get another one or tram the vise instead.
Use a Digital Dial Indicator.
Procedure
Using a digital indicator makes the whole process a walk in the park. Swing the indicator to one side and stop it at zero. Do the same to the other side. For negative measurements, push the column toward the same side, but half the distance reading on the indicator. For positive measurements, push the column from that side but half the distance you read on the indicator. Then put the indicator back to zero and swing it to the opposite side to check your work. You might not get the same distance on both sides, but don't worry if you are off with a thousandth.
Although some indicators do not have a needle, if yours has the needle, use it to find the side with the shortest distance between the table and the indicator. Then record the measurements or set it back to zero. Swing the indicator to the other side to calculate the length difference. Then push the column to the same side half that distance.
Also, before you adjust the column, you must loosen the large nut at the back a little bit. But, if you tighten the nut again, chances are the column will move slightly, so you need to recheck the tram. Also, you can gently tap the nut with a rubber mallet to loosen it just enough so that you can move the column.
Tips on How to Use the Mini Mill's Power Feed Best
The Mini Mill Power Feed Set comes with instructions on installation. However, beyond the instructions, we provide tips on how to get the most from your power feed set.
Chip Shield
Make sure you install the Mylar chip guard between the mill table and the drive unit. The chip guard helps in preventing small work pieces from passing through the bolt slots and falling on the circuit board. It eliminates the primary cause of failure of the power feed kit.
Gib adjustments
Adjustment of the X-axis gib is best done when the feed screw on the X-axis is detached from the machine. You can then move the table to its full range with your hands.
Torque adjustment.
The power feed kit uses the torque increase occurring at the end of travel to trip off the mill's motor controller. If the mill's table cannot move freely, the overload sensor can fail prematurely. If this happens, you can do one of the following:
Readjust the alignment of the X-axis feed screw and the table gibs so that you can move the table with less torque.
Increase the torque which trips the motor controller. The torque is controlled by a potentiometer located at the center of the circuit board. Rotate the potentiometer in the clockwise direction for the maximum torque to be increased. Rotate the potentiometer anti-clockwise to reduce the maximum torque.
Increasing the maximum torque
The power feed might develop insufficient torque even after adjusting the potentiometer to its full clockwise position. You change the resistor labeled R23 on the circuit board to increase the available maximum torque.
1. Change the resistor from 1.3K to 2K ohms. You can change it using a ¼ watt 2K-ohm resistor available in most electronics store house.
2. Connect the motor to a DC ammeter in series. Then adjust the potentiometer to a maximum current of 1 amp. This will increase the motor torque by approximately 30%.
Milling Machine vs. Drill Press


A mini-mill machine is used to design or create a surface texture on wood, metal, and other materials. On the other hand, a drill press is used to cut holes through wood, metal, and other materials. A drill press is designed to drill while the mini mill machine is designed to both drill and mill materials. So, can you use a mini mill machine to carry out activities performed by a drill press machine? Yes, you can!
Drilling Holes
A mini mill offers versatility although it has some drawbacks. It is more rigid than a drill press due to the size and weight of the column. Although the weight makes it difficult to move it around, it allows you to drill multiple holes that are accurate and large.
You can use the mini mill to drill 100 holes in the same spot, unlike the drill. Also, you can drill 6000 holes in a matching radial pattern using the rotary table on the mill machine. This is because you can position your work using the saddle and table. You can also drill holes that are less than ¼ ". Besides, you can spot-drill holes that are greater than 1/4", and then drill them in the drill press.
Accuracy
A mini milling machine can move the base plate in which the work piece is clamped to while the drill machine cannot. The wheel moves the XY table allowing precise movement to drill or mill. The drill press machine, on the other hand, only has one axis that moves vertically. Also, the drill cannot withstand too much sideways force from the column or tool bit. Besides, the mill's bearings and motor are better than those in a drill press.
Speed
Although a drill press allows a woodworker to work faster, a mini milling allows you to produce different items with the highest efficiency level.
FAQs
What Kind of Milling Machine Do I need?

As soon as someone decides they want to start doing their own milling, whether it is gunsmithing work, item production, or simply hobbyist detailing – the first thing they need to know is "What kind of machine does what I need?"
CNC
While our list does not contain any Computer Numerical Control (CNC) machines, these are the first ones we will discuss. CNC machines are more or less automated machining tools that are pre-programmed to accomplish certain tasks. CNC milling machines are often called machining centers and are computer controlled vertical mills. Often times manual mills are converted into CNC mills. This is an entire topic that would require a much larger article to cover fully.
Horizontal Milling Machines
In a horizontal milling machine, the spindle axis runs horizontally. A horizontal machine has the spindle mounted parallel to the plane of the table.
The biggest asset of a horizontal milling machine is its over arm. This constrains the rotating arbor on two sides, giving it a high level of rigidity and letting you make hefty and powerful cuts. These are typically much more challenging or plain impossible with a vertical mill that can't handle the side load. This strength and rigidity allows a machine to stack multiple cutters on the arbor. These capabilities have allowed for machines that can cut large projects in a single go.
Surfacing jobs grooves, slots, any other task where one of the axis of the part is flat are all much easier with a horizontal mill. However, if you need cuts on multiple axis of the object, a vertical mill is likely the better choice.
Vertical Milling Machines
In a vertical milling machine, the spindle axis runs vertically. This means that a vertical machine has the table mounted perpendicular to the spindle's zero-tilt position
A vertical milling machines greatest asset is its versatility. Most vertical milling machines can handle almost any task you can throw at it – though it can often be a more time-consuming process,
While horizontal machines are ideal for particular tasks – most of them are not what general hobbyists are looking for. A vertical mill is going to arguably be the more desirable choice for the majority of those looking to get a milling machine.
Do I need a Digital Readout Screen?

A DRO (digital readout) is an accessory that can be paired up with each axis. These come with individual machines or can be included as part of an upgrade. Many choose to retrofit older mills to include them.
A DRO will give you accurate feedback on movements made in the milling process. While most mills will have dials that can accomplish this same task – using electronic devices proves to be much easier and faster. A DRO also allows you to troubleshoot other issues, like backlash, instantaneously.
While it is not necessary, a DRO is a considerable improvement to a milling machine.
Do I need a Power Feed?
A power feed lets you use a small motor to adjust and move the table for you. This allows you to avoid cranking the handle yourself and saves you from much fatigue. It will also improve your consistency.
Again, not necessary, but a considerable improvement.
Hand Cranked or Electric?
Hand cranked mills are not generally used by professionals or industrial sites, but are fairly common and suitable for hobbyist micro mills. I wouldn't recommend them for the majority of tasks, but there are those with niche needs who wholly stand by them.
What are the other Types of Milling Machines?
There are many other less common (or just more niche) milling machines available, and they are not so uncommon that you won't see them when shopping around. We might as well spend a minute giving a quick rundown on a few.
Universal milling machine
A universal milling machine is a horizontal mill that has an arrangement able to swing up the table to 45 degrees in either direction.
Fixed bed milling machine
A fixed bed milling machine is fairly self-explanatory, i that the bed is in a fixed position. The spindle of this machine is mounted on a movable spindle head and will be the part that is adjusted and worked around.
Planer milling machine
A planer milling machine is most commonly used in mass production and face milling. It has the ability to hold several spindle heads and can conduct various operations at the same time.
What are Tool Heads?

Milling machines are capable of utilizing various tool heads to satisfy various machining needs. Fluted mills, rounding mills, cutters and ball end mills are just some examples. CNC machines will often have multiple tool heads on a device capable of being rotated out.
The tool head you use will depend heavily on the material and the shape you wish to create. Using the wrong tool head for a material can often have disastrous consequences, destroying either the object, the tool head, or the entire machine.
The most basic tooling bit the cutter. The cutter is a shaped bar with ridged teeth. The cutter spins quickly cut and wear down the target material. There are many configurations and types of cutters as well. Teeth spacing and angle, as well as standardized sizes.
A cutter is attached to the Arbor.
Making Your Decision

It is our hope that this list, FAQ, and primer on characteristics have given you enough info to work with when sorting out your milling machine decision. Making large purchases like this can be a frustrating and nerve racking experience, especially if you have not made a purchase of the sort before – especially with the large amount of conflicting reviews, opinions and the multitude of options. Every device on this list, however, has something that earned it a place here, and these should all give you a sound basis from which to judge and ultimately make your choice. You may not agree with all of our opinions, that is to be expected, but hopefully, even in disagreement you were able to finalize your choice, I know disagreement often help me solidify my own opinions.
So whether you are a pro looking to buy the milling machine that will buoy your business, or a DIY enthusiast looking to for the perfect bench top garage machine – I made an effort to make sure the milling machines presented here are able to fulfill your needs. Good luck – and remember – build smart, build safe, and build big.
Subscribe to our newsletter