Best Solar Garden Lights
last updated:
Jun 23, 2021
Outfitting your yard or garden with solar lights is a brilliant way to keep things exciting and attractive without adding to your energy bill. Solar energy is sustainable and a great way to rejuvenate the exterior of your home for the upcoming season.
The best solar lights will always be waterproof so they can function well outdoors and in all weather. They should also have an option to function automatically. They're a great addition to any home, so you may want to consider getting some now to prepare for your time outside during the summer.
We've taken the time to research the highest-rated solar lights for your garden and home, so you don't have to.
In a Hurry? The test winner after 4 hrs of research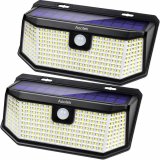 Aootek 182 LED Solar Outdoor Lights
Why is it better?
- 3 settings for different modes
- Bright LED lighting
- Waterproof and heatproof
- Sensitive automatic detection
- Wide field of illumination
In a Hurry? Editors choice: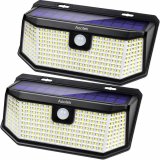 Test Winner: Aootek 182 LED Solar Outdoor Lights

Our Top 7 Solar Landscape Lighting Picks
1

. Aootek 182 LED Solar Outdoor Lights
Our favorite all-purpose solar light
- 3 settings for different modes
- Bright LED lighting
- Waterproof and heatproof
- Sensitive automatic detection
- Wide field of illumination
- 15 second illumination time (when on motion sensor mode) is a bit short for our liking
- Cannot switch modes when the lights are permanently mounted
Solar lights with a motion sensor - smart and good for the environment!
Read more
These exceptionally priced LED outdoor solar lights offer three different usage modes: automatic illumination for security detection (which turns off after 15 seconds), permanent illumination for nighttime activities, and "smart brightness" for saving energy. The lights dim with less activity but brighten when detecting more movement. The sensors can catch the movement up to 26 ft. away. They run on 2200mAh rechargeable lithium-ion batteries for optimal charge and brightness.
The solar panel is made with 1.2W Monocrystalline silicon that has a 20.5% conversion to LED. Put these lights anywhere - they can be mounted on walls, roofs, gutters, or porches. Alternatively, you can set them up at ground level in gardens, lawns, pathways, or near driveways.
2

. Sunnest Waterproof Landscape Lights
Simple and Modern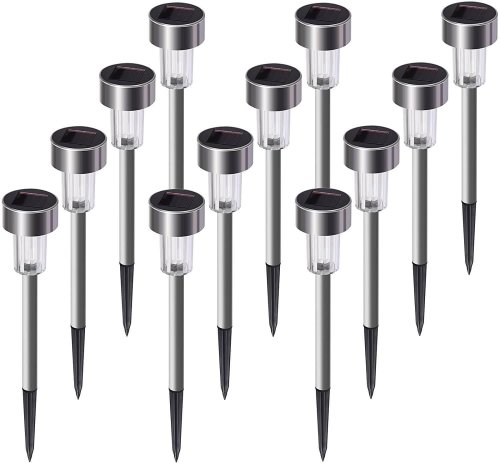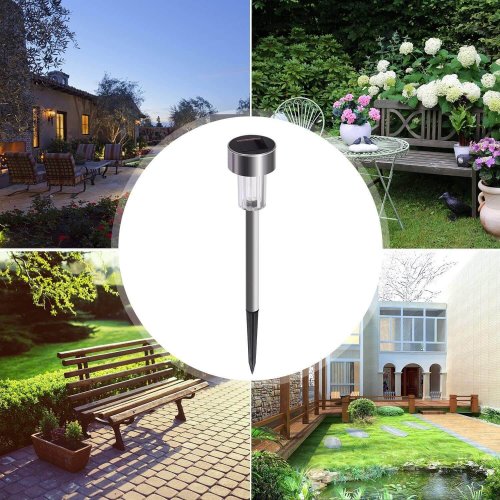 - Completely solar-powered
- IP44 waterproof stainless steel, durable, and weatherproof
- Nearly zero assembly required
- 3 different LED light hues available
- 6 to 10 hour run time
- No battery back-up
- Limited to ground-level lighting only
Read more
Brighten up your yard with elegance. These LED solar lights run entirely on solar energy, using an amorphous silicon 2 25mA 0.5W solar panel. They're visually inconspicuous with a simple style that can enhance any landscape. There's practically zero set up and maintenance needed— just stake them around your yard, lawn, or garden wherever you would like cool, natural lighting. These lights withstand all types of weather. They'll last you years and years with their high-quality stainless-steel manufacturing.
These are some of the best solar lights for anyone who wants something stylish and easy to set up. They're very low maintenance with no batteries to charge— just long-term solar illumination from lights that can easily withstand all types of weather.
3

. BEAU JARDIN Pathway Solar Lights
Classiest Solar Lights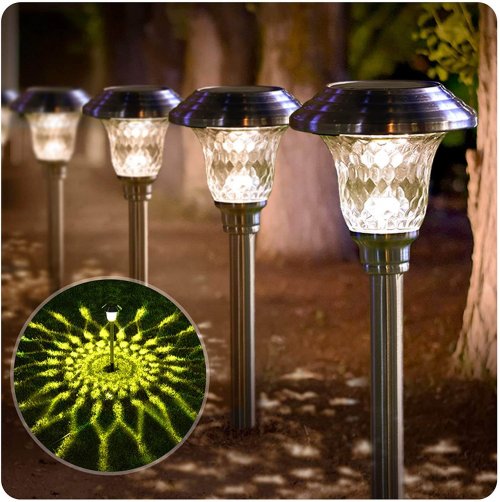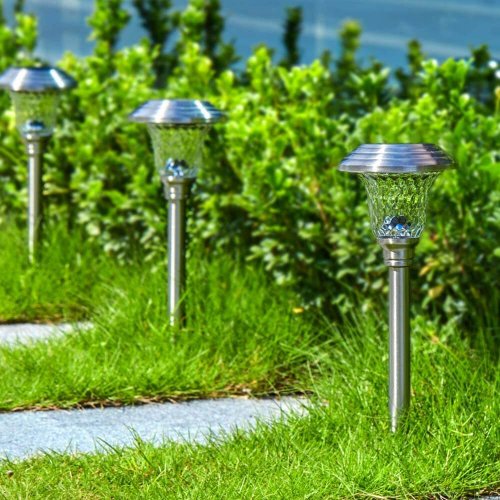 - Attractive, timeless design
- Excellent run time (8 to 12 hours)
- Efficient solar powered charging
- Emits beautiful dappled light and fractal patterns
- Waterproof, weatherproof, durable
- Available in 2 different colors
- Fewer functions than other lights
- Can only illuminate ground-level areas
For anyone looking to light up a pathway or garden in timeless style, look no further than these Beau Jardin solar pathway lights.
Read more
This is a beautiful and very durable option for lighting up and accentuating your outdoor space. Your home will be turning heads before you know it. Made with rust-proof stainless steel, these are among the most durable, yet also most stylish, outdoor lights. They're easily installed by hammering them into the ground along walkways, in gardens, or next to steps and raised beds. Each light stands about 16.5 in. tall and is about 4-5 in. in diameter. Each light houses a rechargeable AA Ni-MH battery which allows them to emit light for long periods of time.
These solar lights are the perfect aesthetic enhancement to beautiful gardens and landscapes at night and in the evening. Their dappled light patterns are beautiful and the lamps themselves look great in yards and gardens even by day!
4

. BHC Light LED Solar String Lights
Highest Rated Solar String Lights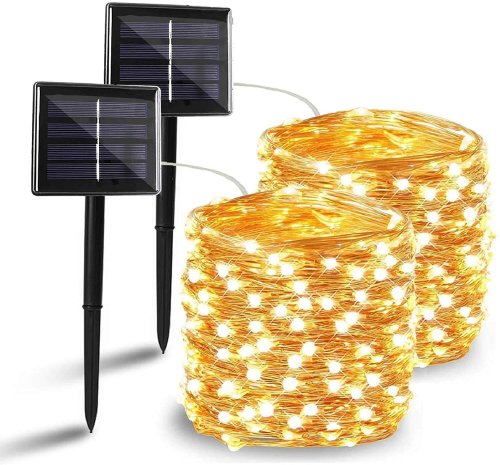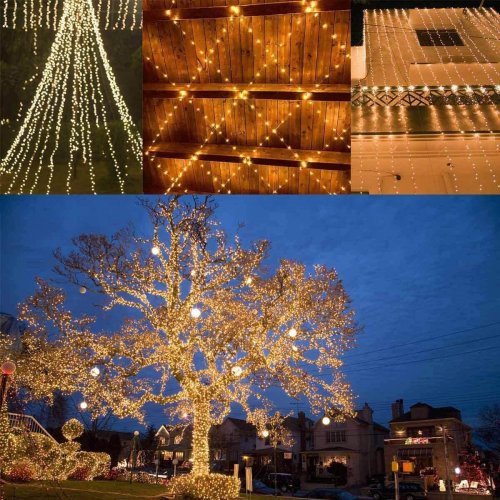 - String lighting makes them versatile for many installation types
- No-tangle copper wire & winding
- 72' is enough length to cover just about any job
- Long operational run time
- Available in 5 different colors
- We wish there was more length between the panel and where the lights begin
- Out-of-the-box quality can be inconsistent
With the increasing popularity of string lights for everyday decoration, we had to include an entry for the best solar string lights here among our overall best solar lights.
Read more
This set of solar-powered string lights offers 8 different modes of operation as well as a memory mode to remember the last mode you selected. For most of us, that's 7 more modes than we actually need but as they say, there's something for everyone. The charging panel boasts IP65 full waterproof performance and can run the light strings for up to 12 hours with a full 8-hour solar charge.
We like these over many other solar powered string lights because they offer a whopping 72 feet of light string (200 total lights!) which is more than double the typical 33 feet that most string lights offer.
5

. Aityvert Solar Flame Torch Lights
Best Fake Flame Solar Lights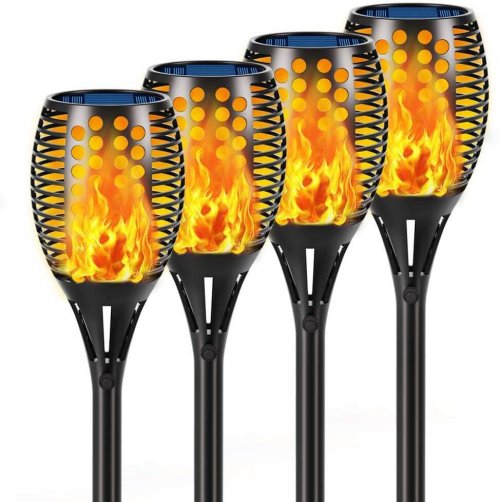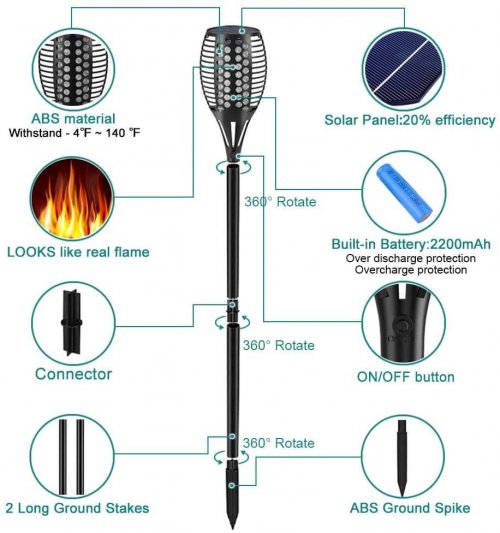 - Beautiful aesthetic
- Highly realistic flame or candle mimicking
- Durable and weatherproof/waterproof
- Features solar-powered battery
- Minimal assembly required
- Limited brightness (but these are intended more for ambiance)
- We found that they don't run quite as long as advertised
We really like Aityvert's offering on solar-powered flame mimicking lights. Add some au naturel feel to your space with these surprisingly-realistic solar flame light.
Read more
Bring warm vibes to your next evening barbeque or party with these realistic firelight LED solar lights. They flicker and dance just like a real torch, yet they're completely safe and pose no fire hazards. The lights turn on automatically at dusck, with help from built-in rechargeable 2200mAh batteries. Each light stands about 43 inches in size which is taller than they might seem from the pictures. Make sure you have a plan for how to utilize these - they're far from your typical stake light. They're also very durable and waterproof. They require about 8 hours of charging time, and, at peak charge, will stay on for approximately 12 hours.
These are the best outdoor solar lights for ambiance and mood. They're perfect for bringing a cozy flickering fireside ambience to any nighttime outdoor gathering.
6

. LITOM Solar Landscape Spotlights
Best Solar Lights for Security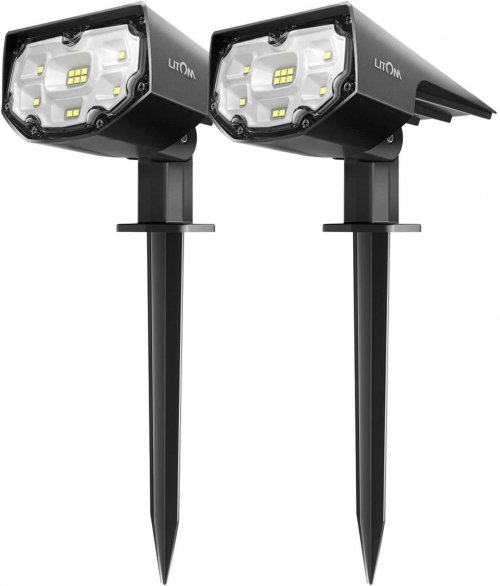 - Adjustable solar power and bulb angles
- Includes rechargeable batteries
- Motion detection feature is excellent for security
- Durable IP67 waterproof ABS plastic construction
- Multiple brightness settings
- Available in 2-pack and 6-pack
- Not as bright as some of its competitors
As a best seller within Amazon solar lights as well as other ecommerce channels, these solar spot lights by LITOM are a great addition to your home for security and maximum solar-powered illumination.
Read more
Sold in packs of 2, these sleek outdoor solar lights can be an attractive option for different reasons. The most obvious is security, however, they're also great for lighting up yards for night gatherings, spot lighting flags, and more. The lights emit a cool white and you can toggle the brightness with an easy-to-use switch for high or low brightness. When fully charged from the batteries and Monocrystalline Silicon solar panel, these will emit light for between 6 and 12 hours, depending on the consistency of use.
The solar lights themselves are manufactured with high-impact ABS plastic for resilience. What's more, they are designed with a 2-in-1 installation feature which allows them to be staked into the ground, or mounted on a wall.
We find these lights most appealing for security reasons. The automatic detection light-up feature makes this product one of the best solar light options for keeping you safe at home.
7

. InnoGear Solar Spot Lights
A minimalist spotlight option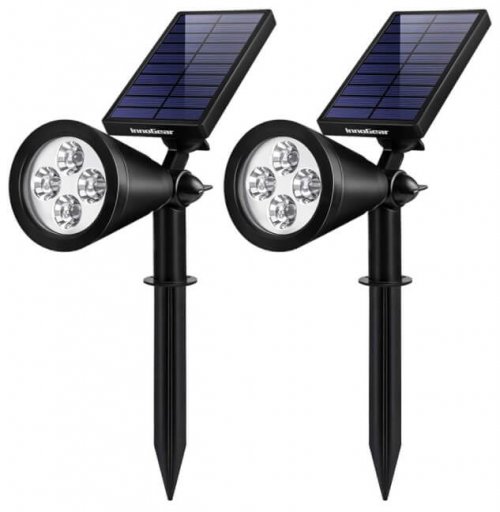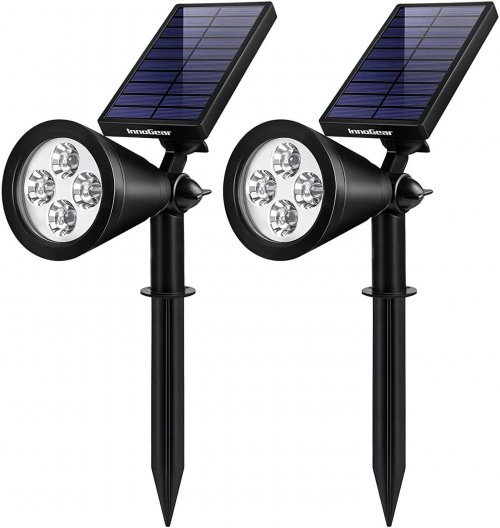 - Versatile mounting options provide ultimate installation and illumination flexibility
- Waterproof and durable
- Adjustable spotlight angle
- Automatic operation functionality
- Small-profile body design
- Only runs 6-9 hours
- Rechargeable batteries may need more frequent replacing
Innogear has stepped its solar spotlight game up with its release of the next generation solar powered landscape spotlights.
Read more
These powerful, outdoor solar spotlights are rechargeable and can be installed either in-ground or mounted on a wall. These multiple options offer all kinds of great abilities to illuminate more of your landscape in new and different ways. Their waterproof construction makes them durable enough to withstand all kinds of weather conditions and the spot lights are easily-adjustable so you can illuminate the perfect spot on your garden path. They feature an automatic operation that will turn on as soon as it gets dark and they run on a solar-powered lithium battery.
These versatile LED spotlights are incredibly powerful and can be easily adjusted, providing hours of bright light.
Criteria Used for Evaluation
Features
Advantages of Solar Powered Lights
Solar powered lights are becoming increasingly popular due to how sustainable they are and how cost effective they are to operate. Solar powered lights have a range of benefits including:
- They're easy to install, requiring no power cords or cabling.
- They typically run automatically.
- They're environmentally friendly.
- They're affordable outdoor lighting that doesn't require electricity.
- They're water-resistant and suitable for all weather conditions.
Solar-powered lights can provide great illumination, security, and ambiance to a variety of outdoor spaces. Some lights even operate as bright as electrically operated lamps, as long as they're installed and charged correctly.
Frequently Asked Questions
q:

How Do Solar Lights Work?

a:

Solar yard lights store their own power which is generated by direct sunlight. This is why most of these types of lights take a long time to charge. The solar panels are typically found on the top of the units. This placement also allows them to sense when the sun is shining. Acting as a sensor, the solar panel can cue when to generate and store energy, or when to turn on the lights once the sun has set.

Since they don't require electricity, power outlets, or even wires, solar-powered lights are ideal for outdoor landscaping, accent, and security lighting. Many models can provide just as much illumination as regular lamps...just without the hassle.
q:

How to Choose the Right Solar Light?

a:

Solar powered lights are suitable for a wide range of outdoor landscapes, depending on how you want to use them. Relying only on the sun's direct rays, they are incredibly versatile and usable almost anywhere there is sunlight. There are a wide variety of solar powered garden lights available on the market which suit different purposes.

Solar Lights for Garden Aesthetics

Some solar powered lights have been manufactured for aesthetics. These units will have a low lumen level and are designed to cast a decorative accent light wherever you choose to install them. They're the most popular style of solar-powered lights and they really make all the difference to your yard or garden.

Solar Lights For Security

On the other hand, there are a variety of lights that are designed to provide safe and secure illumination to dark spots. Outdoor solar spot lights typically include a motion sensor and can be secured above your front or back porch or entryway. Like aesthetic lights, these units run wholly on solar energy, providing low-cost additional home security and an additional feeling of well-being.
q:

How to Clean Solar Lights?

a:

Because most solar lights are water-resistant, they stay outside for most of the year. Of course they'll become muddy, dirty, and potentially damaged over time. To keep your solar lights in working order, make sure to clean them on a somewhat regular basis. Most importantly, keep the solar panel clean and free from debris. With most models, this is a very easy process.

- Begin by using a damp paper towel or washcloth to remove any debris from the panel,
- Wipe the surface with a dry cloth to inspect for any remaining grime,
- Repeat if necessary; use warm water and dish soap for tougher buildup.
q:

How to Fix Solar Lights?

a:

When solar lights stop working, there are typically only two areas you need to inspect for repair:

- The Light Fitting/Bulb: You can easily pull these apart with a simple screw mechanism to change, alter, or remove.
- The Batteries: These can either be recharged if possible or may need to be removed and replaced with new ones.
Subscribe to our newsletter