Best Mini Wood Lathes Reviewed & Rated
last updated:
Jun 01, 2018
Wood lathes are undeniably an essential part of a woodworker's toolbox, assisting them in the production of perfect symmetrical products. However, for turning wood and other materials around the house, the mini wood lathe is a more suitable and worthy alternative, packing identical features and delivering the same performance as its full-size counterparts. They are ideal for accomplishing a broad range of home projects and are more reasonably priced compared to those at the top of the line. Considering that there are several models on sale throughout the world, it is imperative that you consider a few factors to allow for the making of an informed choice. In the next sections, we delve into some of the criteria worth taking into account before making a purchase, followed by a compilation of ten mini wood lathes that come highly recommended and lastly a few FAQs.
Our Top 3 Picks
[srpshortcode id="5506″][/srpshortcode][srpshortcode id="5507″][/srpshortcode][srpshortcode id="5509″][/srpshortcode]
Criteria for Choosing the Best Mini Wood Lathes
Performance
While there are several and more equally important factors to consider when you are out shopping for your first mini wood lathe or looking to upgrade, performance should come at the very top of your list. Consequently, you may want to pay particular attention to the size of the motor and the range of swing over the bed, or as it is sometimes known, the spindly, of the machine you are considering. A majority of mini wood lathes have motor power ranging from as low as 1/8-horsepower to a maximum of 2-horsepower. If you intend to work with different materials of varying thickness and hardness, consider getting a lathe with a variable speed feature to best match the demands of your material.
Capacity

A functional and useful tool needs to perform to your expectations. The greater the capacity of a mini wood lathe, the bigger the work piece it can comfortably process.
The parameters
you should pay attention to are the swing over bed and tool rest, distance between centers and spindle travel, among other things.
Seeing as capacity is a major factor, it is important that you get the most out of your wood lathe by selecting one that best co
nforms to your stocks and pieces you intend to turn.
Convenience
It would be useless to have a powerful mini wood lathe but one that is also practically unusable. Which is why your consideration should go beyond performance and capacity. The height should be appropriate such that the center of the tool is at the same height with your elbows. Any shorter or taller and you will experience considerable problems moving or maneuvering. You also want a perfect balance between weight and performance. While lightweight mini wood lathes can be relocated with utmost ease, you also need a little extra weight for purposes of balance. The weight similarly absorbs most of the vibrations ensuring you have a quiet and smooth turning experience.
10 Best
Mini Wood Lathes
1. Delta Industrial 46-460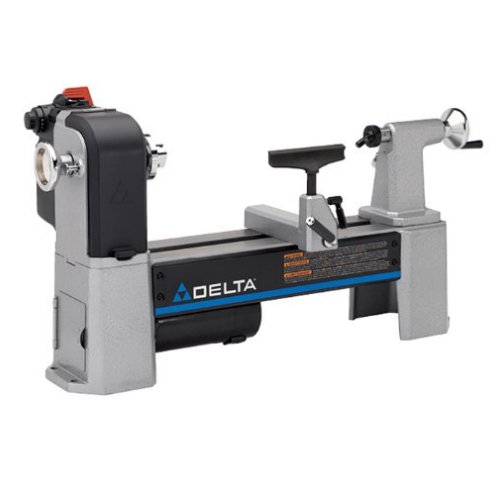 Anyone looking for a wood mini lathe ideal for understanding massive projects involving large big pieces of wood should not look any further than the Delta Industrial 46-460. The wood lathe offers all the features and comes with the specs specifically aimed at assisting you to finish your project as quickly and as professionally as possible. To start off, it comes with a powerful 1-horsepower motor capable of adjusting to a maximum speed of 1720 rotations per minute. The wood lathe additionally offers one of the largest swing capacities at an astounding 12-1/2-inches, which undeniably propels it to a class of its own.


Expand to see more
It has a full reverse capability which can be quickly activated by just flipping a button. The implication is that you can achieve a smooth finish without the need of manually adjusting your workpiece or having to regularly change your position to make a complex or challenging turn. The one distinct feature that separates the Delta Industrial 46-460 from its closest competitors is its patented belt tensioning mechanism allowing for the modification of the speeds of turning different materials on-the-fly without the need to interfere with the position of the belt.

Consequently, the system conveniently eliminates the need to manually increase or decrease the tension on the belt to set a preferred speed, thereby saving the user consideration effort and time. The feature is especially useful for people who want a hassle-free operation. There is also a switch for spinning your stock in clockwise and counter clockwise direction for that added convenience when dealing with bowls and other complex designs.

The base of the Delta Industrial 46-460 Mini Wood Lathe is constructed out of cast-iron, which has a reputation for being very durable and lightweight while remaining rugged enough to take on more challenging projects with ease. The materials also considerably reduce the severity of vibration for a smooth and quiet operation.

In all, the Delta Industrial 46-460 Mini Wood Lathe is a top model tool for turning wood. It has a forward and reverse variable speed feature for flexibility and versatility and a large adjustable swing. Its solid construction means it will not be breaking down anytime soon and even with several hours of continuous use, it won't show even the slightest indication of aging. The tool comes with a 60-month warranty for the replacement and repair of worn out parts so you can work stress-free.
Exceptional build quality
Powerful 1-HP motor delivering 1720 rotations per minute
Hugely accommodative swing over bed
Hassle-free belt changing system
Convenient dial for quick change of speed
[srp_anchshortcode id="5506″][/srp_anchshortcode]
2. Jet JWL-1221VS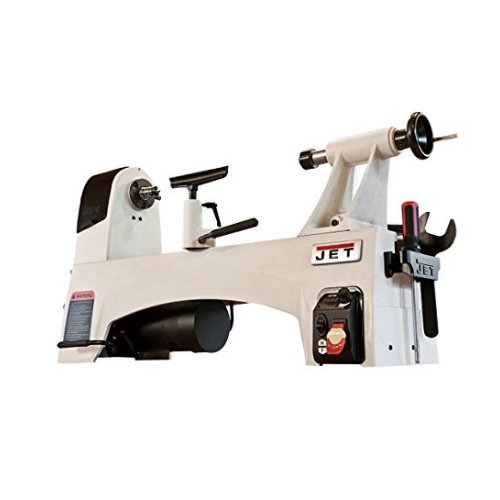 Without the right tool, woodworking can prove to be a tedious and laborious endeavour. Which is why it is important you get a most suitable, easy to use, versatile and durable wood lathe providing you with lots and lots of powerful and reliable performance. Fortunately, this is where the Jet JWL-1221VS comes in to offer you all these advantages and at a very pocket-friendly price. The mini wood lathe's gear is, for instance, a perfect demonstration of the tool's exceptional performance, proving that a tool can be rich in feature without being complex or puzzling.

Expand to see more
The Jet JWL-1221VS comes with a visibly wide swing over bed, with a measurement of 12 x 21-inches, which rides a thin line between a mini lathe and a medium lathe. With the notable exception of the tail stock and headstock, which are made from steel, all the other components and parts of the mini wood lathe are constructed using cast iron. Cast iron is an ultra-strong and therefore durable material capable of substantially extending the lifespan of a machine. The incorporation of high quality spindle bearings into the table ensuring the mini wood lathe is capable of withstanding greater loads.

It has a powerful 1-horsepower motor that consistently delivers exceptional performance. It takes pride in offering its users an outstanding speed control mechanism. It provides you with a variable speed range of between 60 rotations per minute and 3600 rotations per minute. The 60 RPM actually creates some distance between the tool and other mini wood lathes as it is an implication of the tool's astounding amount of torque.

In spite of its small stature and lightweight design, the mini wood lathe is quite proficient at processing considerably large stocks of woods, hard or soft. To achieve more versatility and flexibility, you have the choice of using the optional extension that makes it possible for you to double the length of the bed. The Jet JWL-1221VS offers you a 3-speed setting to make it easy to turn woods of various types and densities. A unique highlight of this machine is its option of setting your preferred minimum speed for turning easily breakable workpieces, a feature that is rare to find in other mini wood lathes of its class. The tool also comes with an innovative ratchet system allowing for the effortless loosening and straining of the V-belt in a fraction of the time it takes to accomplish the same on other mini wood lathes. The same system is responsible for the hassle-free and quick shifting from forward to reverse gear and vice versa with minimal vibration.
Robust construction ensuring indiscernible vibrations
3-speed settings for increased versatility
Comes with the game-changing ratchet style belt tension system
Effortless changing between forward and reverse gear
Lacks safety equipment in delivery package
Loose headstock
[srp_anchshortcode id="5507″][/srp_anchshortcode]
3. Shop Fox W1704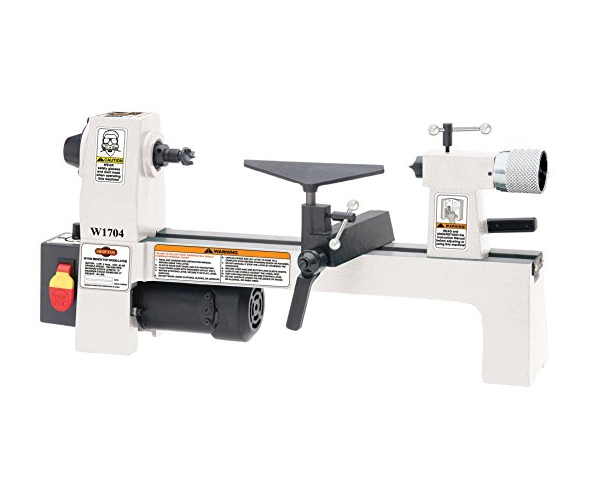 The Shop Fox W1704 is a favorite wood lathe features a professional and superior construction which makes it a premium choice, especially for individuals with a keen eye for quality. Having been in the market for more than six decades, the Shop Fox brand continues to turn heads, forcing other established brands to re-strategize. The wood lathe packs a high power 1/3-horsepower motor under its hood, giving it the power to effortlessly and efficiently process any kind of material, whether it is hard or soft wood, that you happen to throw its way. A combination of its professional build and powerful motor means that you will consistency be enjoying exceptional performance during the entire duration during which you will be turning wood without experiencing even the slightest indication of a stall.


Expand to see more
With a swing over bed measuring 10-inches, you have plenty of room to perform a multitude of wood turning projects. For increased versatility, the Shop Fox W1704 1/3-Horsepower Benchtop Lathe comes with a single speed setting that range between 700 rotations per minute and 3200 rotations per Minute. The significance of the variable speed feature is informed by the fact that it makes it possible for the mini wood lathe to quickly adjust its speed in response to the kind of wood turning as well as to the hardness or softness of the material you are turning.

Because of its very low-speed settings of 700 rotations per minute, it has the incredible capacity of effortlessly turning thick and raw lumber within a fraction of the time it would take most top models. Changing the speed on the model is an easy and stress-free exercise, and novices, in particular, will fall in love with it, as it just requires adjusting the belt to a speed of your choice.

Owing to the manufacturer's inclusion of a large bed, you have a lot of space to do your turning and to easily manoeuvre the mini wood lathe when you are dealing with relatively bulky stock. Since the working area is constructed out of cast iron, there is less vibration to distract you from your cutting, therefore allowing you to achieve increased accuracy when cutting. Lastly, because you can quickly adjust the tailstock, matching the size of your workpiece is a quick and easy exercise only requiring that you turn the on the large metal hand wheel. To summarize, the Shop Fox W1704 1/3-Horsepower Benchtop Lathe is a lightweight and compact machine with a weight of just 45 pounds that offers you reliability and exceptional performance at a reasonable and realistic price.
Accommodating customer service
Perfect combination of power and weight for stability and indiscernible vibrations
Robust and long-lasting build
Sufficiently large headstock
Powerful 1/3-HP ideal for a multitude of projects
Wears out the belt quick
The speed control is not very helpful
[srp_anchshortcode id="5509″][/srp_anchshortcode]
4. Rikon 70-100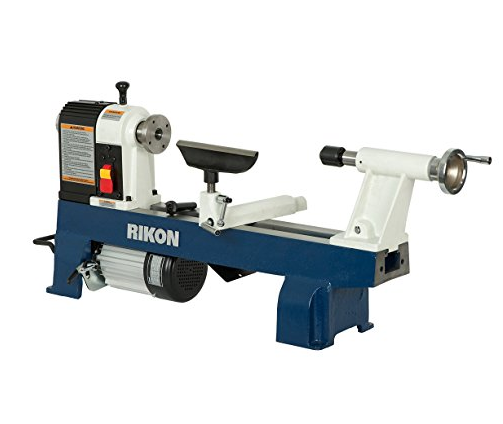 Do not let the modest looks of the Rikon 70-100 Mini Lathe deceive you. The model is one of the most powerful mini lathes in the market today offering you impressive performance with its 1/2-horsepower motor which is sufficient for a majority of general purpose wood turning applications. The Rikon 70-100 comes with a laser engraved tail stock that travels a modest 2-1/2-inches. The tail stock makes it relatively easy for the mini wood lathe to adjust with relative ease to the size of the material you intend to turn. The functions of the tail stock transcend just adopting the machine to differently sized materials.
Expand to see more
The tail stock also does a fantastic job allowing for the quick and easy removal of the centre without having to use a knockout bar as the tail stock incorporates a useful self-injecting device. The process significantly increases your productivity when you are undertaking huge tasks involving the repeated adjusting and removing the tail stock. Consequently, the self-injecting mechanism of the tail stock is a time and energy saver, ensuring you finish the project conveniently and within the shortest time possible.

The Rikon 70-100 similarly features a variable speed system allowing for the turning of the indexing pin from a minimum speed of 430 rotations per minute to a maximum speed of 3900 rotations per minute. Because it has a 6-speed setting, the other speeds in between 430 and 3900 RPM are 810, 1230, 1810, and 2670 rotations per minute. The flexibility of the machine's speed enables you to work with a broad array of materials and therefore undertake several projects with exceptional ease. The feature also increases the efficiency and professionalism of the whole process. Additionally, the Rikon 70-100 mini wood lathe has a total of twelve indexing positions allowing you to choose the pre-programed position on which to lock your workpiece to achieve greater efficiency and speed.

In all, this is an excellent tool that is suitable for professionals and enthusiastic Do-It-Yourselfers in search of a tool offering versatility and top-notch performance at a pocket-friendly price. It comes with a robust and long-lasting construction that can easily last you a lifetime with proper use and maintenance.
Powerful 1/2-HP motor for flawless operation
Self-injecting tailstock
High-quality construction and finishing
Excellent and perfect alignment of components and parts
Smooth and vibration-less turning
Difficulties changing speeds with the belt
5. Rockler Excelsior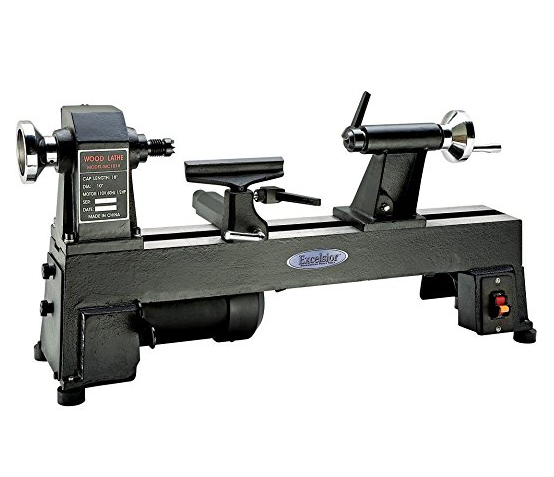 The Rockler Excelsior 5-Speed Mini Lathe has the ability to flawlessly process spindles as long as 18-inches and bowls with a diameter of 10-inches, which means that it can comfortably handle a broad array of delicate woodworking tasks. Adding the optional extension is however capable of growing or increasing the distance between centres up to 38-1/2-inches, thereby actually increasing the versatility and flexibility of the machine. Anything within this range is a piece of cake to the it, especially considering that it comes with a high power 1/2-horsepower motor and durable components housed in a robustly constructed, all cast-iron frame. Cast iron is preferable over steel due to its compactness and effectiveness at dampening vibrations thereby guaranteeing you of a smooth and stable operation, other than obviously being long-lasting.

Expand to see more
It has a belt drive system allowing you to set a speed of commensurate with the hardness or softness of the wood you intend to turn. With its 5-Speed feature, you have a choice of 760, 1100, 1600, 2200, and 3200 rotations per minute. Keep in mind that the lower the speed, such as 760 in the case of this mini wood lathe, the higher is the torque which is suitable for hard materials while higher speeds are more appropriate for achieving a smooth and polished finish. Furthermore, the design increases the convenience of accessing the belt drive using the access door, allowing you to easily and quickly adjust the belt.

You don't have to worry about this mini wood lathe being difficult to use, as is the case with other tools out there. Other than the clearly and simply written instructions on the user manual, the machine is quite easy to use. It is equipped with a useful ON/Off button with a removable key and, to increase stability, the feet are fitted with slip-resistant rubber.

It has a total length, width, and height of 30-inches, 7-3/4-inches and 15-inches, respectively and weighs just 81 pounds. On adding the optional extension, the length and weight increase to 22-inches and 19 pounds respectively. It is rugged and ultra-strong mini wood lathe that soaks up a great portion of the vibration giving you a smooth and quiet operation.
Powerful and reliable motor
Consistency in performance
Long-lasting construction
Ideal for light to heavy-duty woodturning projects
Convenient ON/Off switch
6. PSI Woodworking TCLC10VS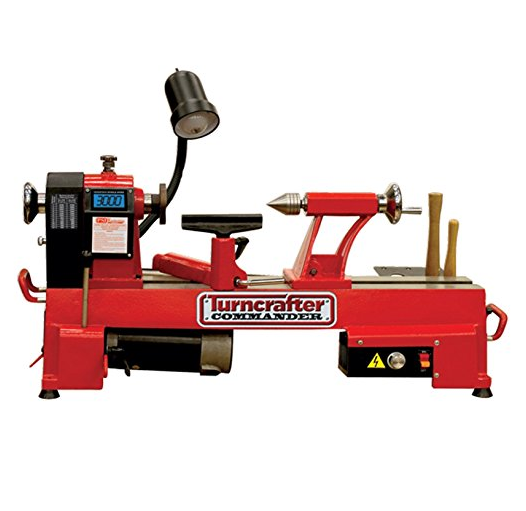 If you want to truly get your money's worth, then the PSI Woodworking TCLC10VS C is the tool for you. PSI Woodworking is one of the most trusted brands in the shop equipment and power tool niche currently, meaning that their tools not only provide with out-of-this-world performance but that they are also build to be used for more than a lifetime. This mini wood lathe has so far the largest distance between centres at 18-inches, with a swing over bed of 10-inch, making it a perfect fit for a broad array of light-duty wood turning projects.

Expand to see more
The PSI Woodworking TCLC10VS features a high power 3/4-horsepower which dutifully supplies plenty of power and control necessary for tackling more complex and challenging projects. Furthermore, the PSI Woodworking TCLC10VS has a speed capacity that ranges from a minimum of 150 rotations per minute to a high of 4100 rotations per minute, meaning that as far as versatility goes, you can never go wrong with this machine.

For the much-needed longevity assurance, it is safely and securely enclosed in a durable and ultra-strong cast iron frame that protects it from some devastating consequences of an accidental drop. In case you drop it, don't be surprised if you do not see any dents. The mini wood lathe also comes with a 36-month limited warranty from the manufacturer from the day of purchase, thereby guaranteeing you an out-of-pocket repair or replacement of parts that malfunction or wear naturally during that period. Consequently, with proper use and regular and thorough maintenance, it is bound to provide you with years and years of reliable performance.

With its specs and features, the mini wood lathe is capable of handling any project you through at it, whether it is pen turning or smoothly and efficiently finishing a 10-inch bowl task. For more versatility and flexibility, the design of the tool's base allows for the attachment of bed extensions to a maximum of 43-inches. Unlike most mini wood lathes on this list, the PSI Woodworking TCLC10VS comes with a factory-fitted LED light on an 18-inch long cable for an additional illumination in poorly lit workstations to allow for the smooth completion of the most meticulous and intricate turnings.

It also features a spacious rack to enable you safely keep your other accessories close-by for when you might need them. Consequently, you won't be experiencing any significant slowdowns when changing the belt drive system. This is, by all means, and measures, a most suitable mini wood lathe for performing a broad array of your wood turning projects.
Quick assembly with minimal fine tuning
Ideal for light-duty woodturning projects
Sufficiently heavy to ensure stability and fewer vibrations
Powerful motor for exceptional performance
Practical and functional speed control feature
Low torque at lower speed settings
7. Nova 46300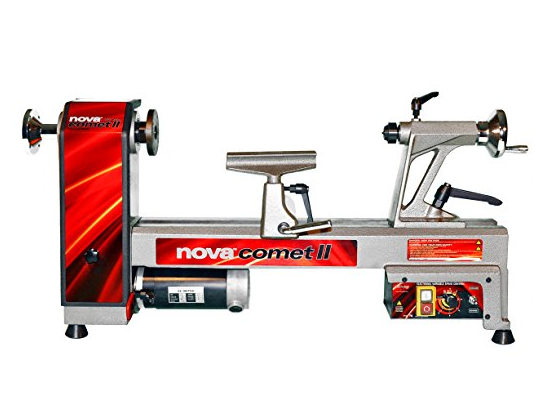 The Nova Comet II Mini Lathe is a perfect demonstration of the several years of experience, expertise and commitment of the Teknatool's brand to the production of superior, durable, easy to use, and powerful tools. This mini wood lathe is rich with convenient and useful features that together deliver an unrivalled performance in the shop equipment and power tool industry. It is rare to find a mini wood lathe with a variable speed system and reversible motor and those with the dual functionality compromise other aspects such as durability to keep cost down. By tucking the reversible motor underneath the end of the lathe, the design frees up a considerable amount of space that only increases safety but also manoeuvrability.


Expand to see more
It features a high power 3/4-horsepower, direct-current motor, providing you with lots of power to do a broad range of woodturning projects like turning door and tool handles, drawer pulls, and pens. The distance between centres for the Nova Comet II is 16-1/2-inches, which, with the use of an optional bed extension, can more than double to reach 42-inches. The swing over bed measures 12-inches, allowing you to do more delicate and complex woodturning projects like turning bowls and platters. To increase accuracy, the machine has a 12-indexing position that does an incredible job making turning a less-laborious and time-consuming procedure. Both novices and more experienced users will have no difficulties adjusting and locking the head firmly into place as it one of the easiest features to use on the Nova Comet II Mini Lathe.

As already mentioned, it comes with a 3/4-horsepower motor, meaning that it is sufficiently powerful to take on a broad range of woodturning tasks. It can comfortably achieve a speed range of between 250 rotations per minute and 4000 rotations per minute without it stalling. The mini wood lathe additionally features an all-cast iron construction with which not only increases its ruggedness but also makes it sufficiently heavy at 77 pounds to soak up most the resultant vibration, hence offering the user a smooth and quiet operation.

Upon receiving the Nova Comet II Mini Lathe, you can almost literally dive straight into turning because the lathe is nearly completely assembled. You still have to do a little fine tuning and like attaching the hand wheel, rubber feet for that additional stability, and the tool rest for keeping tools you aren't using while turning. Plus you are covered by the manufacturer's 24-month warranty in case any of the components naturally malfunction from everyday use.
Wide speed range of between 250 and 4000 RPM
Exceptionally powerful 3/4-HP yielding smooth and high-quality finishes
Quick assembly
Ideal for light to medium-duty woodworking projects
Compact and lightweight
Inadequate tool rest at just 6-inches
8. Shop Fox W1752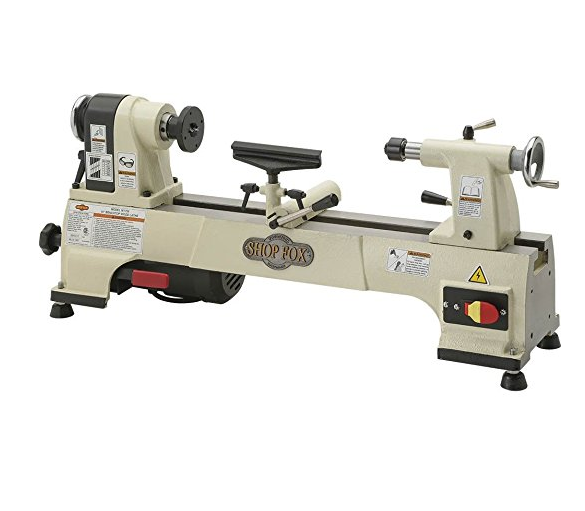 The Shop Fox W1752 Mini is yet another bench top wood lathe and is the epitome of simplicity, versatility, high performance and high-quality construction. If there is a particular feature you have heart set on, you'll be sure to find it in this mini wood lathe. The machine offers you a rich set of features and to sweeten the deal, and you don't have to break the bank to get it.
Expand to see more
Compared to most mini wood lathes features on this list, the Shop Fox W1752 comes with a relatively smaller spindle, otherwise known as the swing over bed, measuring just 10-inches, but that increases your productivity, effectiveness, and precision when turning small materials not exceeding 10-inches in diameter. It has a distance between centres of 15-1/2-inches, making it capable of comfortably accommodating considerably long workpieces of 31-inches. It is possible to make it accommodate longer stocks measuring 38-inches if you were to use the optional extension. Given its small spindle and suitability for light wood turning tasks, very few mini wood lathes are quite capable of replicating its effectiveness.

Furthermore, its tail stock is considerably longer at 3-1/4-inches which additionally increases its suitability for handling materials measuring 10-inches or smaller.
Nevertheless, it features a relatively high power 1/2-horsepower motor that can handle nearly all types of material irrespective of their density and it will not stall. Softwood and hardwood pose no real challenge to the sheer power of this mini wood lathe's versatility and power. The tool comes with six pre-programed variable speed mechanism making it possible for the Shop Fox W1752 to achieve a speed range of between 480 rotations per minute and 4023 rotations per minute for additional versatility. A maximum speed of 4023 rotations per minute means that the lathe is one of the fastest mini wood lathes reviewed on this list. Such an astounding speed is vital to attaining a smooth and polished final result.

The Shop Fox W1752 has an impressively large tool rest area measuring 6-1/4-inches meaning that you have at your disposal plenty of space to allow for the expert handling of wider areas using a chisel. Furthermore, with a 24 indexing position which decreases the effort and time it will take you to correctly position your workpiece and for increased precision.

In all, given that the W1752 is a powerful and versatile tool sporting a lightweight and compact design for more manoeuvrability, it should, in all honesty, be your first and only consideration. It has an impressive maximum speed of 4023 rotations per minute capable of generating s smooth and polished finish on any all types of materials. If you want to do minimal post sanding, this is the tool for you.
Exceptionally high construction quality
Lightweight and compact design
Very versatile and stable machine
High torque for thick workpieces and stocks
Not sufficiently heavy
Costly
9. Jet JWL-1015VS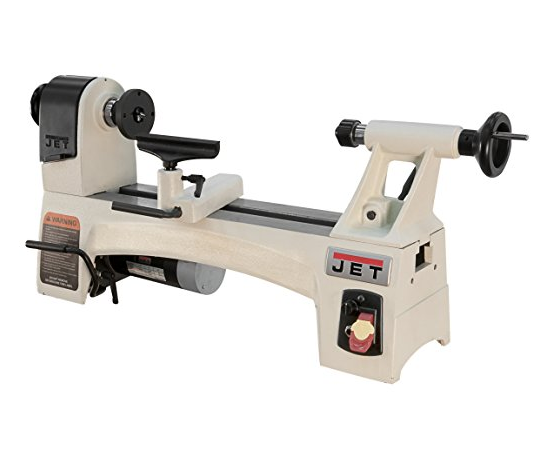 The Jet JWL-1015VS is an ideal tool for novices, offering a range of practical and useful features for turning not only wood but also a pen. It's an accomplished machine fit for a multitude of light to medium-duty projects with its 15-1/2-inch separation of centres and swing over bed. As a matter of fact, in spite of the smaller dimensions of the 1015VS, it comes with a relatively larger spindle compared to a majority of mini wood lathes reviewed on this list. Furthermore, it sports an averagely powerful motor with a rating of 1/2-horsepower, which, while it is as powerful as of top models', it provides sufficient power to do most general purpose wood turning projects.

Expand to see more
The machine sports an enhanced tensioning system making it possible for you to have easy access to the drive belts so you can simply and quickly change the belts. This reduces the learning slope especially for people who are new to mini wood lathes and who are not particularly mechanically apt, thus reducing the time and effort they would have to spend to figure it out on their own or resorting to professional assistance.

Because of the intuitive belt drive system, you have the option of selecting between three-speed settings: between 200 and 1050 rotations per minute, between 300 and 1750 rotations per minute and lastly speeds ranging from 600 and 3600 rotations per minute. There are a total of 24 indexing positions for greater accuracy and productivity on your part. The design of the bed aims at enhancing user friendliness by incorporating broader bed ways to make it more rigid in comparison to those other mini wood lathes in its class. All these additions to increase ease of use, practicality and functionality do make the Jet JWL-1015VS Variable Speed Wood-Working Lathe a less powerful or not ideal for doing heavy-duty woodworking projects. The mini wood lathe is a capable machine offering the same impressive performance to professional woodworkers, avid Do-It-Yourselfers, and beginners alike.

In consideration of the features highlighted in the review of the Jet JWL-1015VS Variable Speed Wood-Working Lathe, it is clear that the tool is more suited to people who prioritize versatility and ease-of-use over power. Consequently, you can use it to perform a multitude of wood turning projects, and while it lacks a powerful motor, it offsets the drawback by offering exceptional efficiency, accuracy, and productivity with its 24 indexing position.
Easy to change speeds
Smooth turning experience
Strong and durable construction
60-month warranty for repair and replacement of parts
Poorly written user manual
Not ideal for more demanding turning tasks
10. Grizzly H8259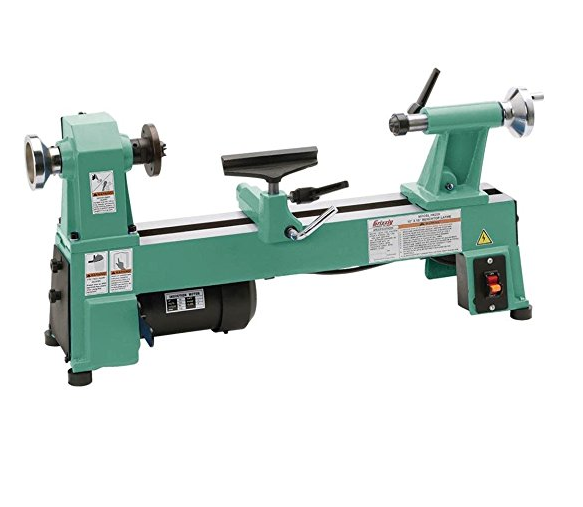 While the Grizzly H8259 Bench-Top Wood Lathe is specifically optimized for use around the house, it is rich in useful and practical features which make it a force to reckon with in the equipment and power tool industry. Like most mini wood lathes featured on this list, this machine sports a high power 1/2-horsepower motor drawing 110 Volts and is without a doubt one of the top performing mini wood lathes in the market. The distance between centres for this machine stands at 18-inches while its spindle is 10-inches.
Expand to see more
For convenience, it has a sufficiently spacious tool rest area measuring 6-1/2-inches to allow you bring with you and quickly access all the necessary and complementary accessories you may need while woodturning. The spur centre firmly secures any workpiece you may want to process no matter how thick, or huge they are.

The Grizzly H8259 features a sturdily-constructed and ultra-strong cast iron frame that firmly holds the motor in place and additionally absorbs most of the machine's vibrations, leading to a smooth and enjoyable turning experience. The unit comes with a 5-Speed setting allowing you to choose the most appropriate one between 826, 1205, 1713, 2422, and 3337 rotations per minute. Changing from one speed to another is made considerably easy with the innovative, time and energy-saving drive belt system. With speeds as low as 826 rotations per minute at your disposal, you will have an easy time turning thick workpieces at a greater torque while the highest speed, 3337 RPM, is perfect for achieving a smooth and precise finish when undertaking more intricate projects.

To summarize, this is a must-have tool for any serious professional woodworker or extreme DIYer looking for precision, power, and accuracy. With a weight of just 77 pounds and its lightweight and compact design, this mini wood lathe will take up only a small portion of your storage space and can be used on different workbenches with great ease.
Ease of changing belt configurations
Easy to shift between reverse and forward function
Efficient and powerful motor
Robust construction
Bulkier and heavier than competitors
Difficulty working on delicate and complex woodturning applications
FAQs
Q: My mini
wood lathe vibrates a little too vigorously. Is this an indication of an underlying problem and can is it possible to rectify?

A: The most common and likely cause of the excessive vibrations is wrongfully placing your cutting piece a few inches away from the center of the mini wood lathe's working area. The second and easily rectifiable cause of the problem is using higher speed settings. In case the first diagnosis is right, all you have to do is switch off the mini wood lathe and ensure the work piece is centrally placed before resuming with your turning. This should adequately resolve the irregularity.
Q: Does working with one expose to me any danger?
A: While lathing accidents are rare, they can nonetheless happen if you disregard the manufacturer's instructions. Make it a point always to wear protective gear like eye protecting goggles, gloves, appropriate clothing and if you are concerned about losing your hearing sensitivity, use ear plugs. As common sense would dictate, refrain from using a tool that is not subjected to regular and thorough maintenance.
Q: What are the causes of wood splintering?
A: In simple words, failure to maintain speeds of between 2400 and 3000 rotations per minute is a principal reason. Any slower or faster and your wood will be splintering in no time. Secondly, using a defective and poorly maintained tool could also cause wood splintering and last, be sure to sand your work piece after shaping it to make the surface as smooth as possible.
Conclusion
You may be looking to buy a mini wood lathe because you are a professional woodworker, an enthusiastic Do-It-Yourselfer or looking to make woodworking your hobby. Irrespective, picking up a mini wood lathe that best suits your needs will be the most important factor in influencing the level of success you will achieve. You also need to understand that just because a machine has a small stature does not mean it is a compromise as manufacturers these days make an effort of producing tools that are not only lightweight but also compact in design. Consequently, you should prioritize performance and a richness of features over size, especially when it comes to mini wood lathes. We wish you the best of luck in choosing the right tool.
Subscribe to our newsletter