10 Best Motion Sensor Lights Reviewed & Rated in 2023
last updated:
Apr 06, 2021
Homes protect everything we value from the valuables we worked so hard to obtain to our family members. But truth be told there are some uncanny individuals out there who might want to take these things away from us. They are usually often after our valuables but sometimes when things get complicated our children and spouses end up in danger too. There are some preventive measures that one can take to prevent these things from happening. Among them are motion sensor lights.
Our Top 3 Picks
[srpshortcode id="16131″][/srpshortcode][srpshortcode id="16132″][/srpshortcode][srpshortcode id="16133″][/srpshortcode]
Since burglars and home invaders tend to come under cover of darkness, a light would be an excellent way to deter them. Motion sensors lights are convenient for this as they give the impression that the owner is aware of the intruder's presence in the compound.
10 Best Motion Sensor Lights
1. RAB Lighting STL360H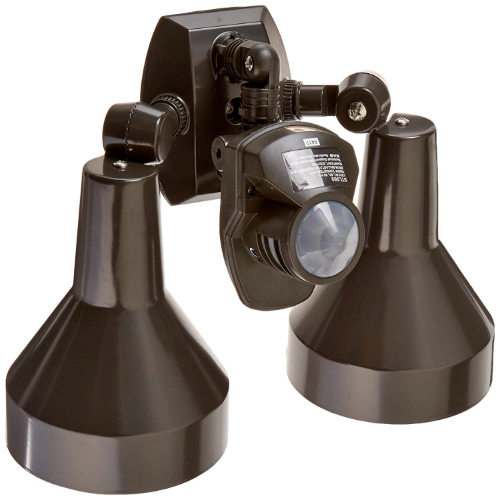 RAB lighting features on our list with this installation. There are two color options namely white and bronze. The rugged outlook of the bronze light is likely to complement a house on the outside without looking out of place. While radio frequencies will typically makemotion sensors less effective, this unit is fully insulated against such interference. The manufacturers have even added advanced detection logic technology which should prove handy in preventing false alarms from happening.

Temperature has the potential to be a hindrance to the effectiveness of motion sensors. If the area is too hot, it might make it difficult to detect when an intruder is present. Freezing temperatures can be just as challenging to work around. The Super stealth unit adjusts automatically to account for these kinds of temperature zones to ensure maximum sensitivity. What we liked most out of all the features are the following.

Sensitivity control – If you have pets around the house, it could be quite annoying if the light goes on every time a small animal walks by. This unit allows for sensitivity adjustment. This way a large pet in the house it won't be a source of frustration.The range can be adjusted from 100% sensitivity down to 30% depending on the needs of the user.

Surge protection – With some of these lights you have to purchase a new one whenever there is a surge. Some cities and towns almost never experience such an anomaly, but it would still be wise to take the precaution. These units can withstand a charge of up to 6000 volts.

The photoelectric sensitivity allows the gadget to switch off the lights during daylight and to switch them back on at night.A timeralso allows for the lights to stay on for at least 8 hours after duskand therefore boosts the reliability of the Super Stealth. Also, sensors will automatically get turned on when it gets dark and shut down at dawn.

Another exciting feature is the coverage. 180 degrees wide and 360 degrees down will make sure that a change whether below or above the unit won't go unnoticed.


Expand to see more
Product features

180 degree + 360-degree scanning
Surge protection for up to 6000 volts
Switching capacity of 1000 watts
1-watt power consumption
Photoelectric control
Sensitivity control
Evening timer

Who is it for?

This unit is quite expensive and for a good reason. It's well built and offers unmatched functionality. If the price isn't an issue, then this product is for one willing to pay a hefty sum for something awesome in return.

Great coverage
Durable shell
Three working modes to choose from
2. URPOWER Solar Lights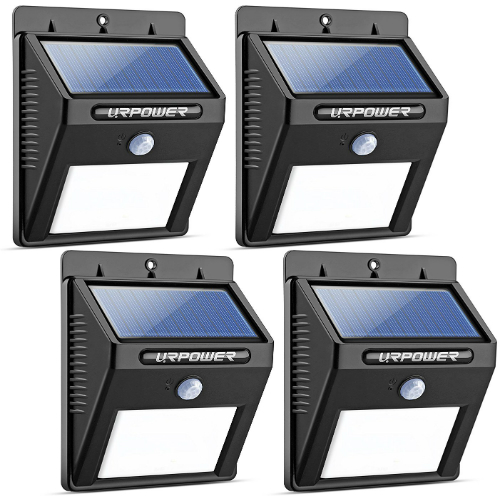 This purchase comes with four lighting units that one can distribute in their compound depending on where they would be most useful. Each unit has 8 LED lights which are both bright and save on energy when it counts. It is best that these lights are placed outside in areas where people are likely to walk through. The backyard and patio are good examples. They also come with instructions on how they should be fitted.

The light will turn on whenever motion is detected and turn off 30 seconds after movement has stopped. The features we like most about this Urpower are:

Solar charging – The fact that each light is solar powered means they can work independently of each other. Each unit should be installed with the panel facing the sun to make sure it gets enough charge to function. However, they do ask that you allow the lights about three days of charging before you put them to full use. This way the batteries will perform optimally.

Ip64 rating – This is a waterproof as well as heatproof rating. However, this is necessary as the solar charging system requires that each unit remain exposed to weather elements.

The light automatically switches off during the day. While the motion sensor range is limited to 120 degrees and a 3-meter range Urpowermakes up for it by offering it in a four pack. You can place it in all high-risk areas where burglars are likely to try and access your house.

Expand to see more
Product features

IP64 rating
8 LED lights for each unit
Four total units
Solar charging
10 feet, 120-degree motion sensor

Who is it for?

This isn't the most expensive set, but you get good bang for your buck. These could prove quite useful especially for people who care about the environment just as much as they care about their security. Overall great product and great pricing.

The lights are very bright
Easy to set up and use
The bluish emitted light might not sit well with some
3. Heath HZ-4150-BK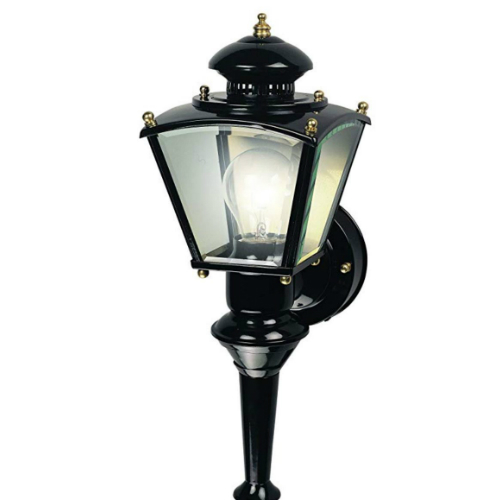 Right off the bat, you notice that this is a very classy looking light. Sometimes a modern looking light will look out of place in an older home. This light could help maintain the character that was already there. There are various options as to the color of the finish,but the basic structure is the same.

This is the first unit on this list that requires an incandescent bulb. Nevertheless, the bulbisn't included in the package. One has to wonder if it sacrifices functionality for aesthetics. Well, it doesn't. Here are some of its impressive features.

30 feet sensor range – Spanning 150 degrees in total this is quite an impressive distance to cover. Investing in two units will make sure that your home not only looks good but that there are no blind spots when intruders are trying to get in.

Adjustable sensitivity – Rather than have the lights come on every time a car speeds by, the unit's sensitivity can be adjusted to accommodate such situations. This way they only turn on when it matters and end up saving on energy costs.

Of the three color options, there is high gloss black, silver,and polished brass. There are certain stereotypes about things made in China asserting that their products don't last and that their quality is wanting. If these lights are anything to go by then,those stereotypes can't be right. The weather resistant finish will make sure these last for quite a while.

Expand to see more
Product features

Weather resistant coating
Motion activated lights
Adjustable sensitivity
30 feet motion sensor range
2-year warranty

Who is it for?

For these lights to work effectively around your home, you might have to purchase more than one unit. The price is high for a single light and is only set to increase if your compound and porch is relatively large. The best market for the Zenith motion would be people who prefer aesthetically pleasing units that have just as much functionality and durability.

Units are beautiful
Easy to install
No manual override for the
Only works with incandescent bulbs
4. Litom Solar Lights Outdoor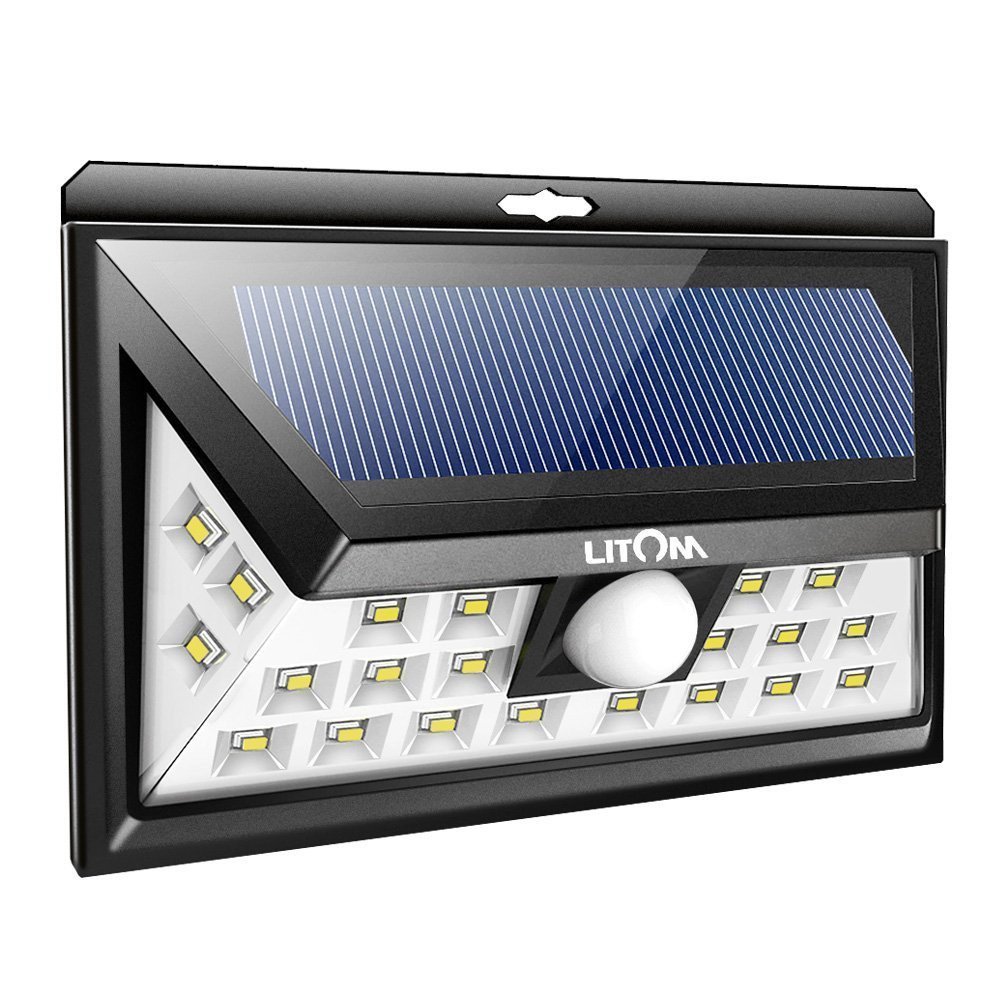 This solar edition by Litom is among the brightest lights yet. The wide angle design is also something to write home about as it broadens the range a single lamp can cover.Once someone triggers the motion sensor, the light will illuminate an angle of 250 degrees and 200 square feet from where it is placed. For optimum coverage, one should purchase enough lights to install around the house. Seeing as though there aresome impressive features we thought it necessary to highlight our favorite ones.

Anti-explosion battery – Some of us have heard of gadgets that blow up and harm their owners in the process. Usually, this is because of a malfunction in the battery cells. Litomshares that concern for your safety and have fitted this battery for that reason.

IP65 rating – Like the other solar light on this list a weatherproof body is necessary for the gadgets longevity. With proofing against the elements,eachlight is bound to last quite a while.

The lights are guaranteed to last at least 24 months after installation during which time users can choose between three working modes. With 24 LEDs in each unit, there is an energy management system to ensure all the energy doesn't drain out of the battery if the light stays on for a while.

Expand to see more
Product features

24 LEDs
Solar powered
200 square feet of light coverage
Three motion sensing modes
IP65 rating
Anti-explosion flameproof battery

Who is it for?

Worthy of note is just how affordable these lights are. Most people won't find it hard to buy two or more units for their home regardless of their budget constraints. However, they might need to be replaced with a new set after a few years.

The light is bright enough
Easy to install
Easy to use
The package is compact
For some, the mounting is not ideal as it prevents users from switching modes when they want
5. Oberlin 9''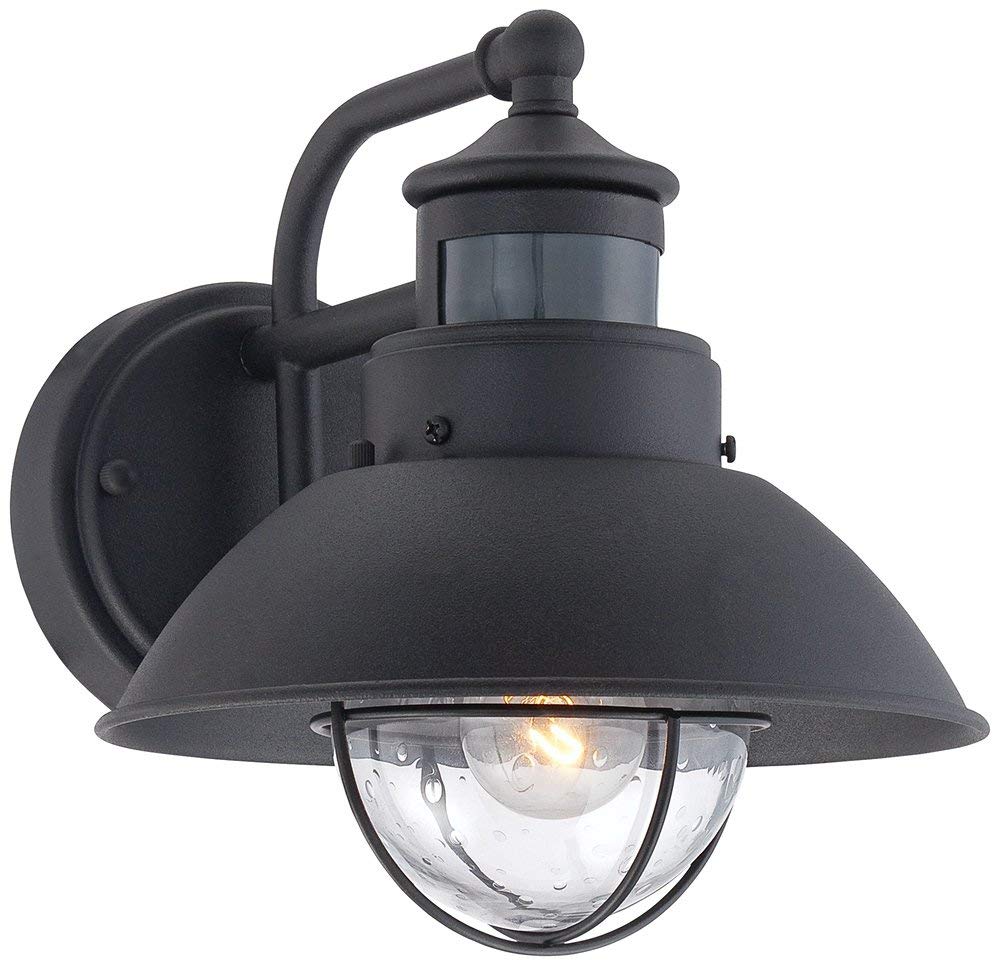 Buyers of this product will also be required to purchase a 60-watt bulb. It is one of very few on our list to be made of metal more specifically steel. It is however coated with a black finish,so the chances of it falling victim to rust are minimal. Like the name suggest this unit is most effective when placed outside your house. Some of its features are more impressive than others and therefore warrant an honorable mention:

Adjustable motion sensitivity – Once you make the upgrade to this light, you can toggle between high sensitivity as well as low sensitivity and find out where your preferences lie. It could also be a way to accommodate environments with lots of animals as well as passing cars.

Manual override – Sometimes users will prefer that the lightstays on the whole night even when no motion is detected. A lot of the models even on this list don't offer that option. That is not the case with this light. The manual override allows the light to stay on for about 8 hours continuously.

The motion sensor range is quite impressive. It covers 220 degrees as well as a distance of 40 feet. A feature not quite common is the customizable shut-off delay. Users can choose a period of either 2 or 6 minutes where if no movement is detected the light will go off.

Expand to see more
Product features

Adjustable motion sensitivity
2 lighting modes
40 foot + 220-degree motion sensor
Steel casing
Customizable shut off delay

Who is it for?

Even with all the benefits, it provides the price point is likely to act as a deterrent to many. Most people won't be able to afford it, and thus only people with more than a little change to spare will be able to install these lights in their homes.

Sensitivity is top notch
Construction is solid
Finding a bulb to work with the light might be difficult
6. Sansi LED Sensor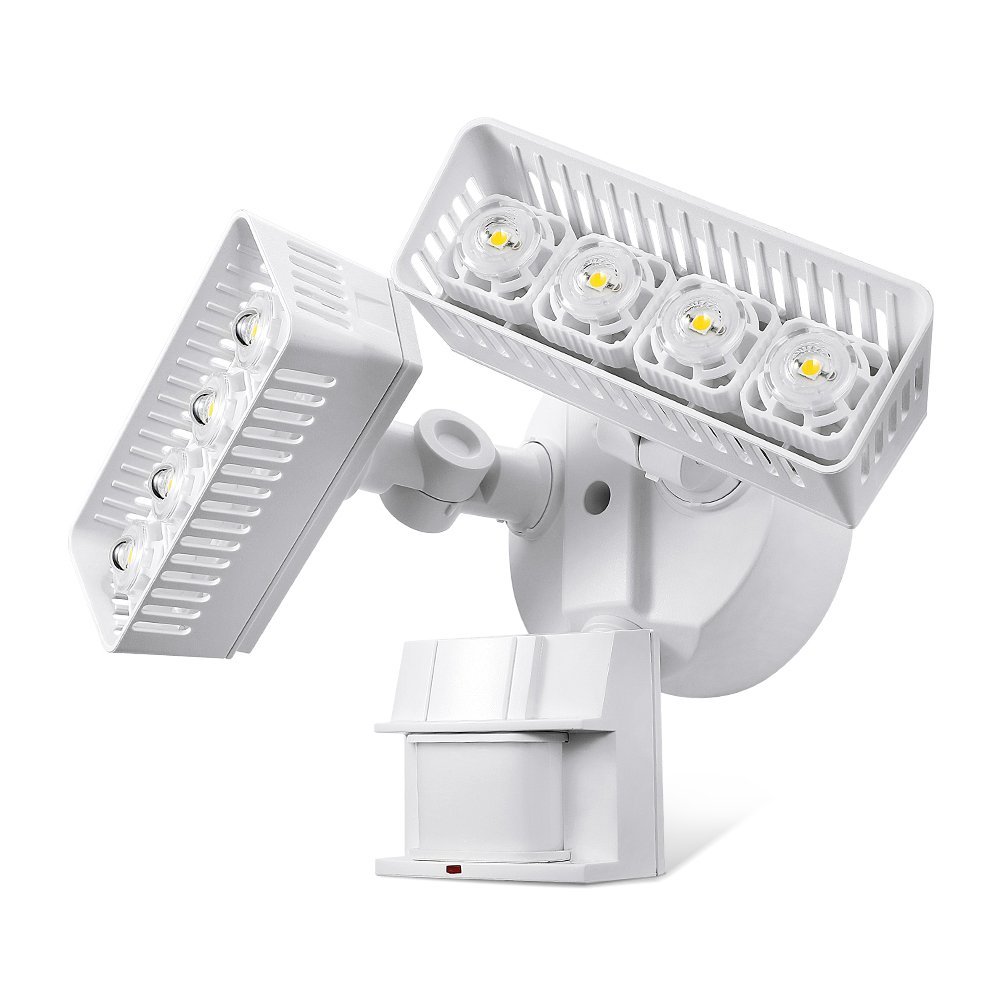 If you're looking for an extremely bright light, then the Sansi could be just the one for you. An output of 3400 lumens is staggeringly high even for the other lights featured on this list. You get two lamp heads, a mounting plate, a waterproof gasket, a motion sensor, and a 5-year warranty with each unit. Just by the duration of the warranty, you can tell the durability of the light is high end. Some features worth outlining include:

Three modes – You can switch between test mode, manual mode and motion sensor mode. The test mode is just for trying out the motion sensor and how well it works.

50 feet detection range – Spanning 180 degrees wide these lights are likely to sense movement from quite a distance away. While for some this may not be necessary an extra-large backyard could be just the place to install this unit.

Something else to note is that the light also saves on energy by reducing watt usage.

Expand to see more
Product features

50 feet 180-degree motion detection
Super bright 3400 lumens output
Three working modes
5-year warranty
Waterproof

Who is it for?

One of these could light up a pretty large area. Given that the price falls slightly on the higher scale it might be worth spending the few extra dollars for something extremely high quality. If you're looking for one light to cover a large area, this is a pretty good choice.

The unit is ideal for large backyards
Very bright
Manual mode included
Great design
No sensitivity adjustment
7. Mr. Beams MB 723 MB723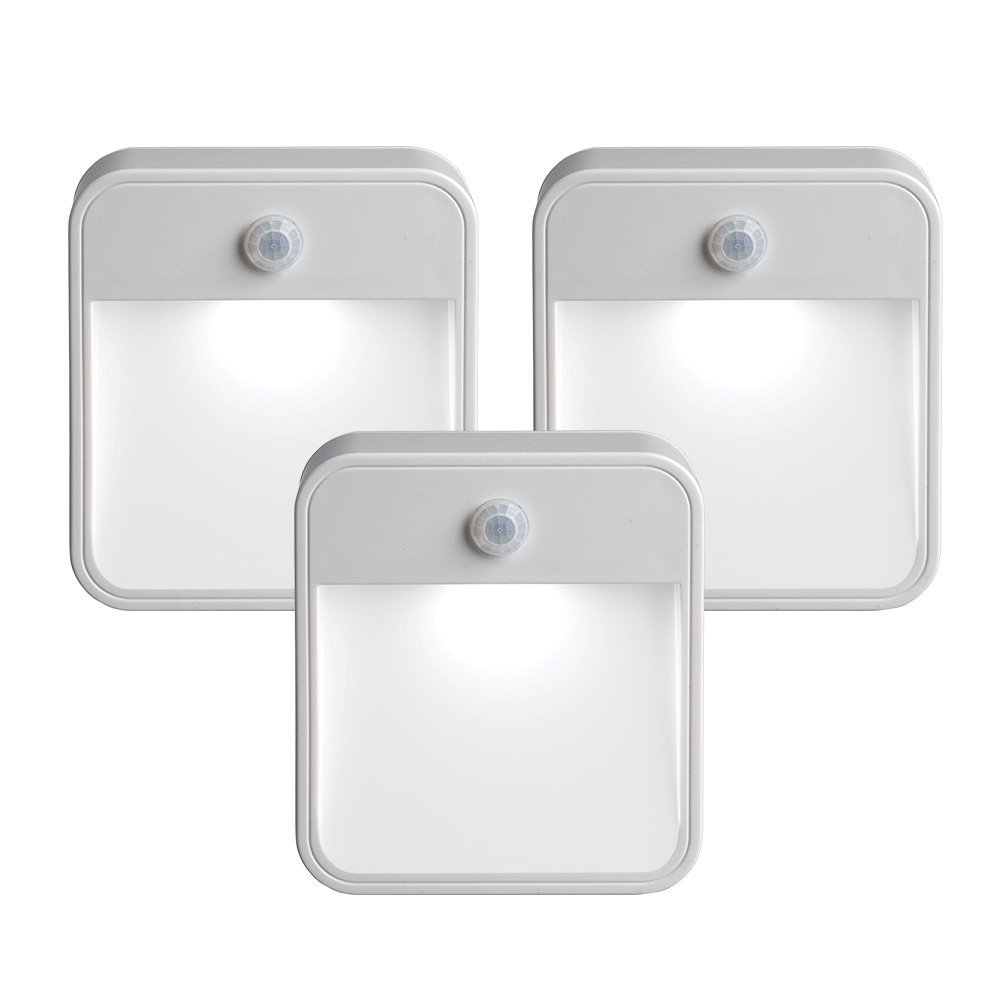 This edition by Mr Beams comes in different size packs with the biggest being a 6 unit pack. Some people might write them off due to their simplistic and small design yet they do have a lot to offer. First off you do not have to include them in your electric wiring system making them quite easy to install. They use AA batteries as a power source unlike most of the other motion sensor lights mentioned on this list. They also do have some features that stood out to us more than others. Here they are:
15 feet detection range
– Any movement within 15 feet of where the light is will result in the unit turning itself on right away. Considering how small each
gadget
is it is surprising they were able to fit such a sensor in there. They work better when placed in walkways and entrances that people will have to go through when in your home. Once setin the house, you won't have to grope in the dark to find a switch at night. You might need a glass of milk from the kitchen at night,and this will help illuminate your way.
80 hours of light on a single set of batteries
– The fact that you will need to purchase some battery sets may be daunting. The company has tried to ease the strain on your budget as much as possible by making sure that each set lasts long. Considering they only turn on when there is motion one set is more than enough to last you about a year.
If you think about it, these lights are more for convenience than they are for security. They feature best in stairways, walkways, the bathroom and some other amenities that you or your family might need to use at night. 30 seconds after movement has stopped the light will turn off and conserve energy.
The team that created these gadgets also found it wise to include a light sensor so that the units only activate at night.
Expand to see more
Product features

20 lumens light output
Weatherproof sealing
Light sensor to prevent activation in daylight
10 square feet light cover
15 feet motion detection range
Stick on installation
Long battery life

Who is it for?

Pricing is affordable therefore most people won't have a problem buying them in multiples. We recommend that these be used as an indoor installation and be placed at about waist level. For houses with children, the lights should be set even lower so as not to damage their eyes.


Simple design.
They are portable
Wide angle detection
The sensor is quite responsive
The double-sided adhesive might damage the paint on walls
The LED is too bright to be placed at eye level
8. Light It! By Fulcrum 20031-101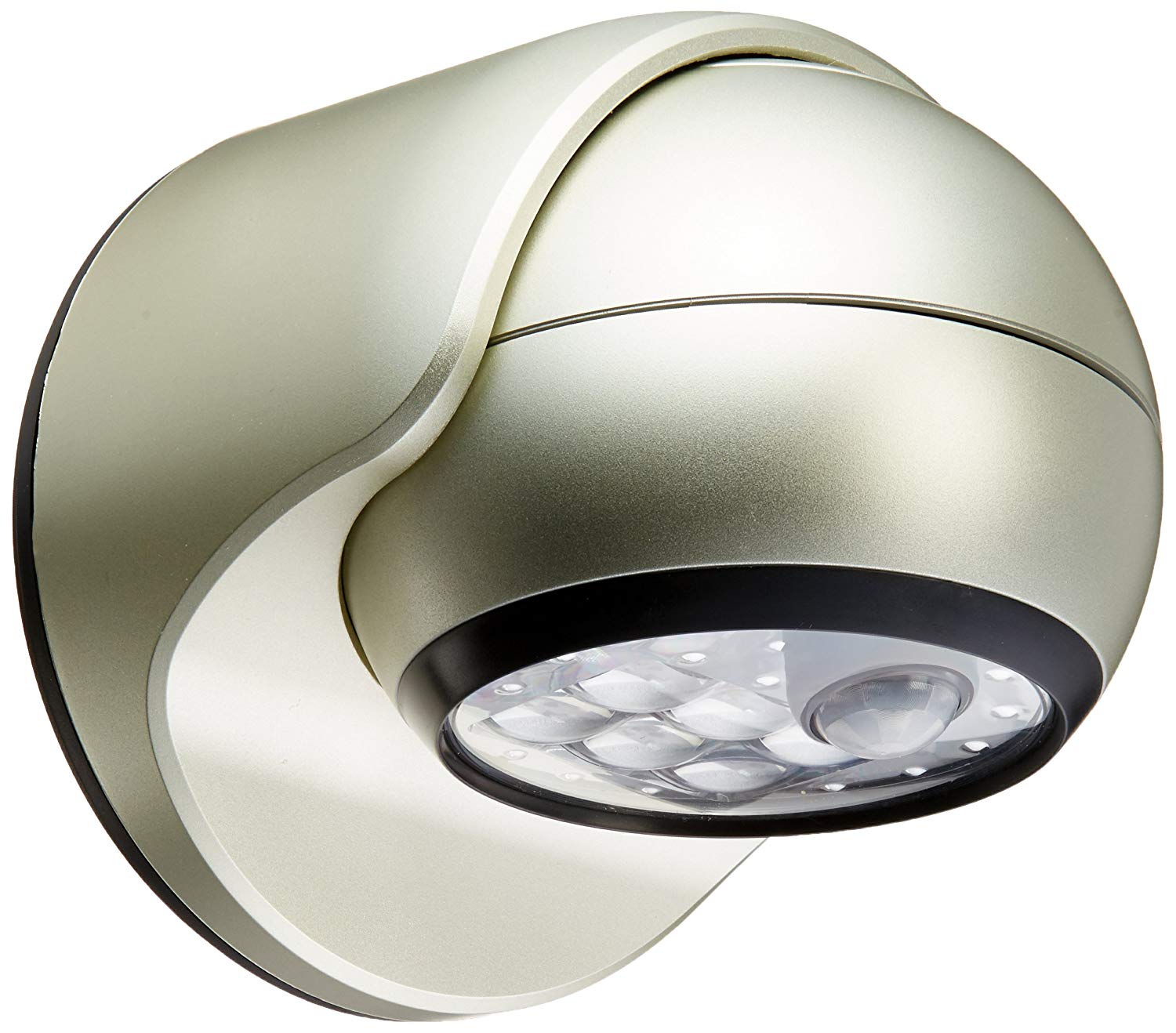 The light it by Fulcrum is a compact yet powerful light that will fit anywhere but will be best put to use outdoors. Among the color choices are bronze, charcoal, silver, and white. Despite having a small body, it incorporates LED floodlight technology to ensure that the beam is not only bright but also glare free. Users will need to purchase the batteries independently which is understandable considering the price of a single unit. What is so impressive about this light are the following features.

25-foot detection range – Not many motion sensors can detect motion from a distance that long so at the very least this feature should be highlighted. Correspondingly the effective angle range that this unit works on is about 100 degrees. If it were to be placed relatively high, it could cover all the essential areas leading up to the entry points of your home.

Long lasting LEDs – Most of the lights on this list max out at a lifespan of about 50,000 hours of use. The Fulcrum doubles that by providing about 100,000 hours of LED life. Consequently, the need to replace the light and or its LED components will rarely occur once you have invested in one of these.

The head rotates so once it is installed it can be directed in any direction you want it to. Not only that, installation is quite simple as it doesn't require complex wiring procedures. The photocell technology will help extend battery life as the lights are unlikely to active during the day. Since it best serves its purpose outside of the home, it is impervious to water penetration. The weather should not influence the gadget's lifespan whatsoever.

Expand to see more
Product features

25 feet range motion detector
6 LEDs per unit
Waterproof
100 lumens light output
LED floodlight technology
Rotating head

Who is it for?

This fulcrum light is easy to install and use not to mention a bit low on the price scale. People with limited budgets could get one or two to boost security around the house. It could even be installed in a big enough basement or walk-in closet.

Installation is easy
The light works even in icy weather
The price is affordable
The sensitivity for the motion sensor cannot be adjusted
Users might need to seal
9. Mr. Beams MB330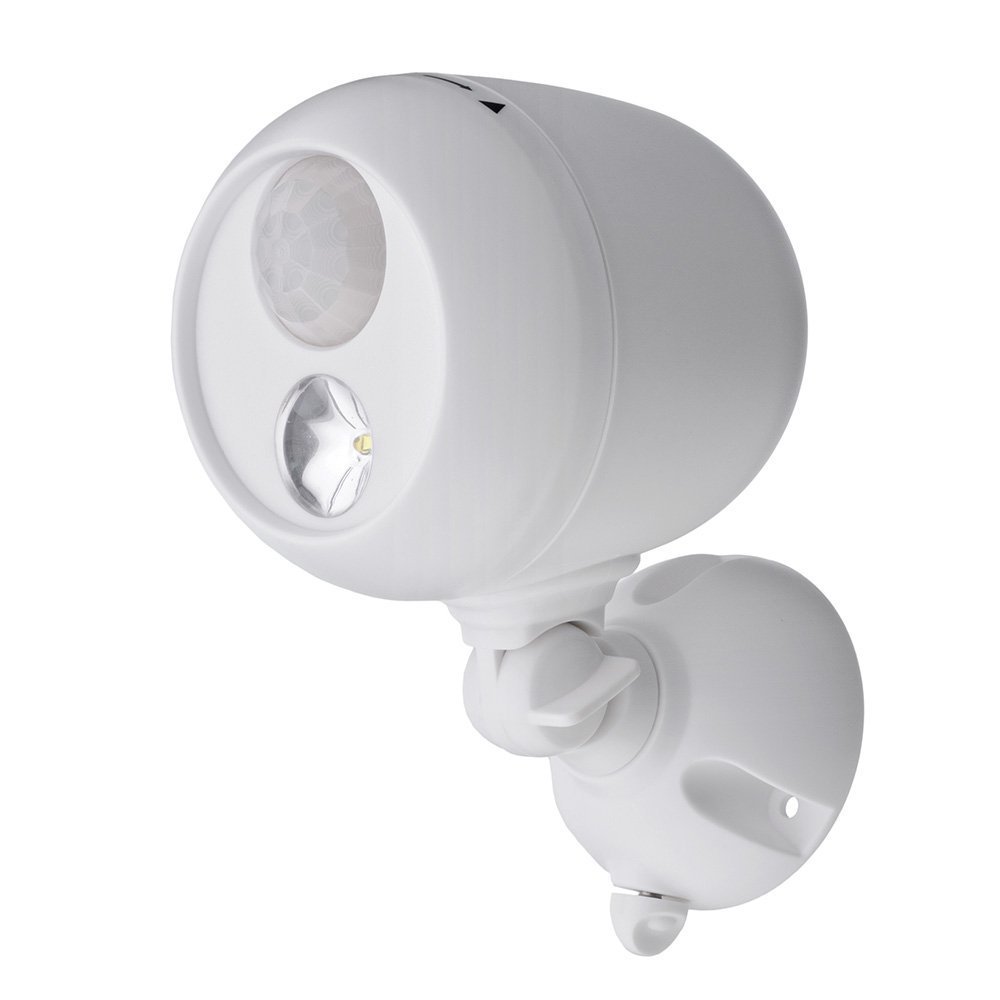 Mr Beams have featured yet again on our list with this installation. There are some similarities between this unit and the MB723. An example is the fact that both are battery operated. This is nonetheless a different light with different capabilities. Among them are the following key features:

400 square foot light coverage – While this is not going to illuminate your whole backyard, it is capable of lighting your doorway. If you consistently find yourself having to fumble in your bag for keys when you get home, this might help. The light is also quite bright with an output of 140 lumens.

30-foot motion detector – With the range of the motion detector extending that long a distance, it is unlikely that any movement around your house will go unnoticed.

Each light will require 3 D-cell batteries to function. These will typically last anywhere from 7 months to a year with regular use. Ideally, the lights will be placed outside the house and may not always be under cover of a roof. It was a great deal of foresight for the manufacturer to weatherproof them beforehand.

Expand to see more
Product features

Battery powered sensor and light
140 lumens light output
Weatherproof
30 feet motion sensor

Who is it for?

You won't have to spend too much to get one of these, and even then you should still get good value. All in all a great product and it works just as it is supposed to. If you find your budget strained but still need a security light this is the way to go.

Quite easy to install
Batteries will last quite long
You can customize the direction of the light after you have installed it
The sensors have been quoted as too sensitive by some users
10. First Alert PIR725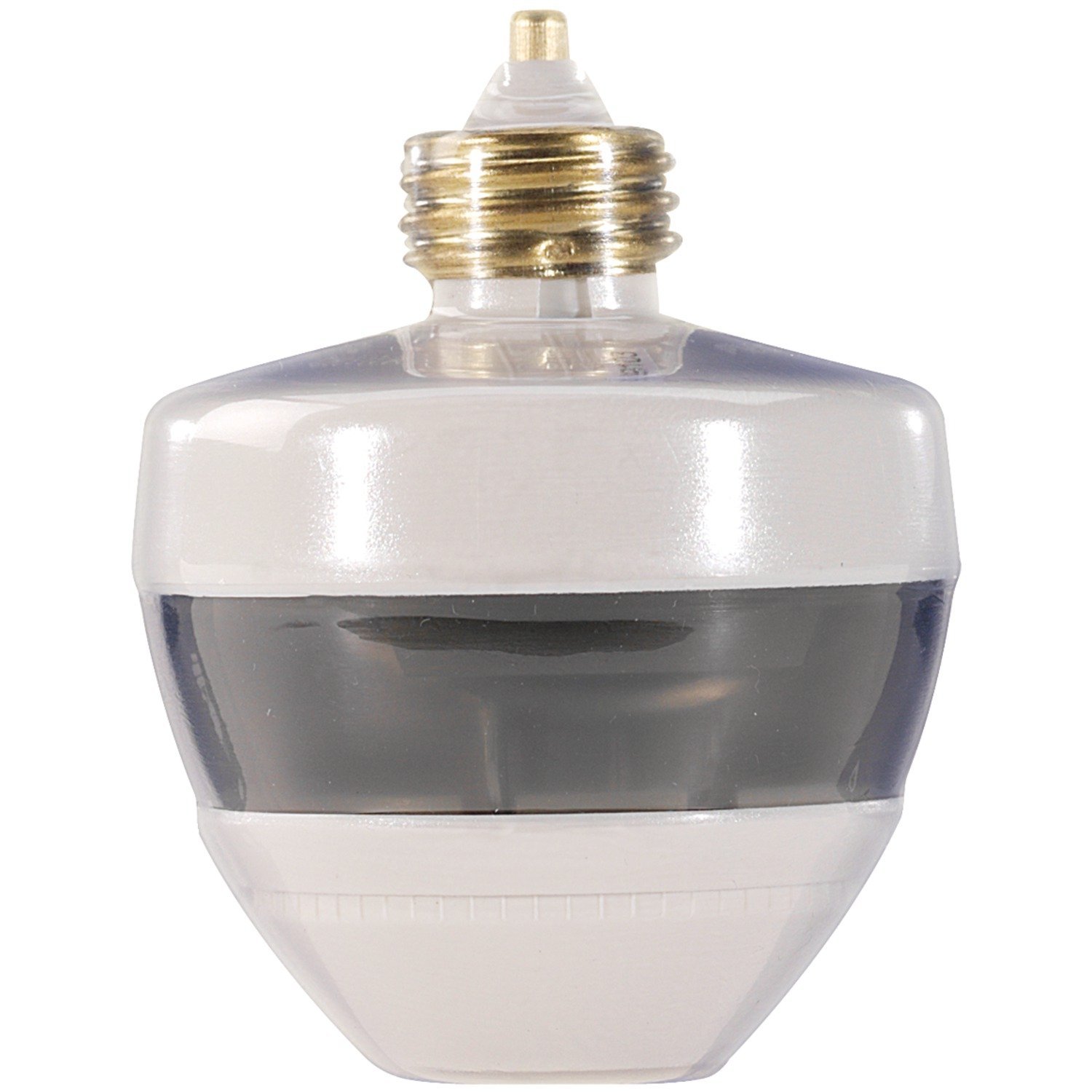 This is the only motion sensor light on this list that is made exclusively for indoor use. Setting it up is as comfortable as putting up any other bulb in your house. You nonetheless will still need to add either a 100-watt incandescent bulb or a 50-watt fluorescent one. The outstanding features that excite us are the following:
Attaches to existing bulb sockets
– These lights screw into the light
sockets
that are already available in your home for regular bulbs. As a result, this feature dramatically reduces the need for a complicated installation process. Time is also saved significantly.
360 degree 12 feet motion detection
– Most rooms in the house will have a smaller radius than 12 feet. With the 360-degreecoverage ofthe sensor anybody entering the room will be detected,and therefore the light will stay on for as long as a person is present. The best place to position these lights would be on the ceiling in the middle of the room.
If installed in every room in the house then there would no longer be a need for light switches making them incredibly convenient.
Expand to see more
Product features

360 degree 12-foot motion sensor coverage
3-year warranty

Who is it for?

This is a light that can be used by anyone and quite frankly could make lighting more convenient in any home. The price is affordable and therefore not likely to deter many people from purchasing one.

The light is convenient for basements and other dark rooms
The device is straightforward to install
Turns off precisely after 4 minutes of no motion as the product description indicates
The sensor does not detect movement directly under the light
How motion sensor lights work
Different motion sensor lights have different capabilities depending on how they are built. They have both motion sensing as well as lighting capabilities. There are various ways that a motion sensor can detect movement. Among them are:
Infrared energy – Human beings emit heat from their bodies which can be identified by infrared sensors. Passive infrared motion detectors can tell any time there is a sudden increase in emitted energy. This is then interpreted as an intruder being present. Some also emit infrared lights and use reflections to measure the distance to the objects around them. Whenever that distance changes, it could be indicative of a new entry.
Ultra-sonic sound waves – The motion sensor emits these waves which are reflected when they hit a surface. They do this consistently and register a pattern of the surrounding area. The only time this pattern is interrupted is if an object that wasn't there before becomes present. This is logged as interference and can then be interpreted as an intruder.
Microwave pulses – This technology works similarly to the way "ultra-sonic sound wave" motion sensors work. These pulses are sent out and help map out the area around. Changes in the composition of the area will then be detected, and an alert triggered.
Vibration motion sensors – Some animals can track prey from the vibrations they make as they move. This is the same concept in these gadgets. When intruders are present, even their movement will likely cause fluctuations. These sensors can pick that up and then take action as they are programmed to do.
Once the motion sensor detects movement, it triggers the switch for the light automatically. The intruder is then visible for all to see. With any luck, he/she will scamper away when that happens.
Factors to consider when purchasing motion sensor lights
Budget – The first thing to consider is always your bank statement. You can't buy a state of the art security system if you can't afford to pay for it. Besides, there is bound to be a motion light that fits snuggly into what you can spend.
Quality – It's important to check out how each light is made and the materials used. Some items require multiple trips to the store to get replacements. Motion sensor lights shouldn't be one of them. You probably want one that lasts a few years at least.
Features – What exactly does each motion sensor light offer? You need to know this so that you can gauge how well it fits into your needs. Buying a 360 degree light for a corner installation wouldn't be the best use of resources.
Effective motion sensor range – Bigger compounds need gadgets with bigger sensors as well as brighter lights. A small yard wouldn't benefit much from a 100-foot sensor now, would it?
Reviews – People commonly overlook this simple detail. It's essential that once you have your sights set on a few models, you find out what past users have to say about them. This could potentially save you headaches, money and the trouble of having to return something you already bought. The more the positive reviews an item gets, the more likely it is to serve you in the long run.
Power source – Some of the lights featured on our list are powered by solar, while others by the electricity in your house. The solar ones are going to be cheaper in the long run so if you have that option you should probably go for it. If however, you don't mind the extra cost no one is going to stop you from buying the alternative. Battery powered lights are also available. Another consideration is the effect on the environment. Regular electricity has a more adverse environmental impact than solar.
Light type – LEDs are becoming more and more popular with manufacturers. The fact that they have some benefits over their predecessors could be the reason. They help save on the electric bill due to reduced power consumption. The right LED will be just as bright as an incandescent bulb. These days incandescent lights are pretty rare to find yet we found this important to highlight just in case you find yourself having to choose.
With these things in mind, the whole process of choosing might end up being more comfortable.
FAQs
Will my pet trigger my motion sensor light?
While most sensors are built to distinguish between animals and human beings some might not be as good. Potential users can ask the manufacturer as well as read reviews online so that they are sure when they make a choice. Sometimes there might be a glitch that causes your sensor to be overly sensitive,and hence pets and animals will be detected.
What are lumens?
Lumens is a measurement term for light. The more lumens a light has,the brighter it is going to be.
Can I use a motion sensor light for anything other than security purposes?

Yes, you can. There are various other uses. Among them is the ability to see where you are walking in the dark. Some can even be installed for the convenience of not having to flip a switch any time you walk into a room. It all depends on what use you had in mind.
Where should I install these lights?
Ideally, they should be on walkways, pathways, the porch and in your backyard. Anywhere people inclusive of yourself are likely to walk through to access your home.
Should I go with the wireless or the wired lights?
This is dependent on you and your preferences. Each has its benefits over the other,and you should make it a point to research them both before making a decision.
Conclusion
There are of course countless other motion sensor light options out there,but we felt these were among the best. If you disagree or perhaps feel like we missed out on mentioning a few, please do let us know in the comments section.
Subscribe to our newsletter