Best Floor Scrubbers Reviewed & Rated
last updated:
Jan 22, 2019
Technological advancement continues to improve life and make various tasks, like scrubbing floor, an effortless and easy endeavor. Today, it would honestly be quite odd to be looking for a pail of water and soap or a cleaning detergent whenever the need to give the floor a thorough cleaning arises. Conventional mop mechanisms of cleaning are not only time and effort-consuming, but they are also quite cumbersome and tiring, requiring that you go down on both knees and hands and maybe hurt you if you have a small, weak back. Today, maintaining a sparkling and gleaming floor is as easy as it is efficient with the use of floor scrubbers. They have a deep cleaning power that rids your floor and carpets of the toughest and most stubborn dirt like grime, debris, dust, oil spills and grease in a fraction of the time it takes traditional mop systems.

Unfortunately, it is a little difficult to tell from appearance, how effective and efficient a floor scrubber can be at scrubbing your floor to your full expectations, leaving it daisy fresh and looking new. It would take a lot of time and effort to move from one store to another comparing features, specs, and prices, which is why we've put together a list of ten floor scrubber you can choose from. The floor scrubbers featured on the list have the ruggedness, versatility and durable construction necessary for cleaning a broad range of floors quickly and more efficiently and with very little energy input on your part. They are perfect for concrete, laminated, hardwood, vinyl, marble and tiled floors.
Our Top 3 Picks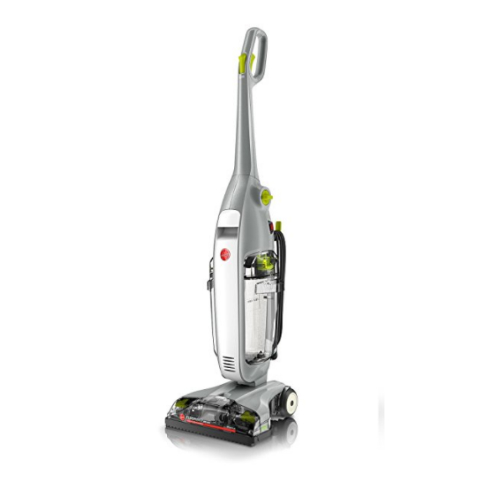 Hoover FH40160PC

Our rating
Lightweight
Price:

See Here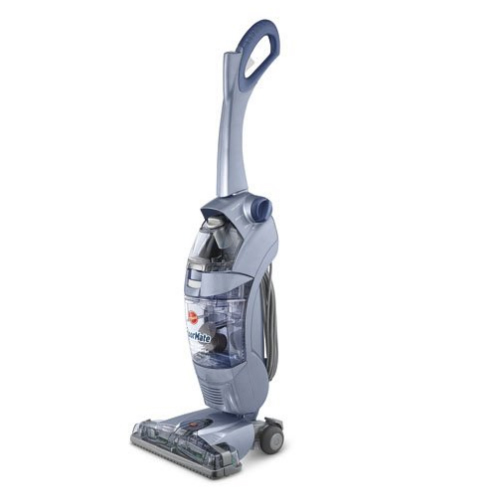 Hoover FH40010B

Our rating
Efficient
Price:

See Here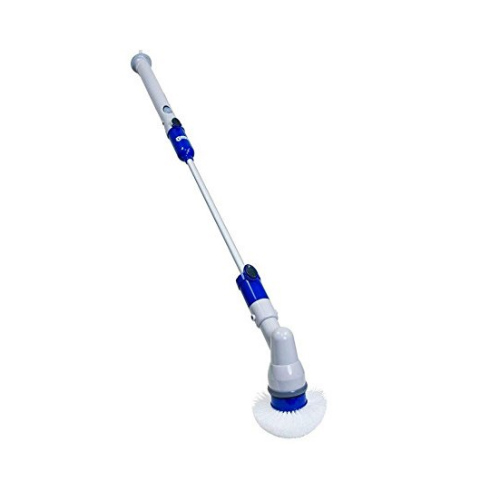 Quickie

Our rating
Ergonomic
Price:

See Here


Criteria for Choosing the Best Floor Scrubbers
Versatility
Before going out on a shopping spree in search of the most powerful and expensive floor scrubber you can get your hands on, try to first understand your needs. Knowing what you want and the purpose for which you intend to use it can save you an incredible amount of time and effort. If you have different floor types, get a versatile, all-around machine capable of giving them the thorough but gentle scrubbing and cleaning you need. Other than scrubbing, understand whether you'll also need to perform stripping, polishing, vacuuming and waxing. For a more comprehensive domestic and commercial scrubbing, the more features, the better.
Efficiency

There are several factors that play a huge role in determining the effectiveness of a floor scrubber, the most important of which are brush or pad speed, power and cleaning path. A floor scrubber will be a lot faster when performing lighter scrubbing duties and when the floor is less rough or dirty. Most semi-professional floor sanders have speeds of between 150 and 175 rotations per minute and are therefore ideal for deep-cleaning, scrubbing and polishing floors at the domestic and commercial level. If on the other hand, you want something more suited to the hardwood floor and for waxing, speeds ranging from 400 and 2000 should suffice. Lastly, a floor scrubber with a considerably wide cleaning path drastically reduces time and effort spent. A cleaning path ranging from 10 and 15-inches should suffice for home use, however, for more expansive areas, go for 17-inch cleaning path.
Ease of Use
Before buying, keenly evaluate the additional features and specs aimed at making the floor scrubber easy to use. While you don't want a particularly heavy one, light floor scrubbers are difficult to hold down when you need to apply pressure to effectively remove stubborn dirt.
Moving around the floor with a heavy machine may also be difficult. To solve the problem, choose one with rubberized wheels so you don't leave marks and scratches as you glide from one corner to another. Handles, especially the wide o
ne featuring soft grips, also make it easy to use the machine for extended periods without straining your hands or suffering back problems. And if your house or office has fewer power outlets, getting a floor scrubber with a long power cord can easily solv
e the problem, allowing you to work in rooms without power sockets. Lastly, see if your selected floor scrubber comes with the brushes and pads you need for scrubbing. If it does not, you may want to buy some separately.
1. Hoover FH40160PC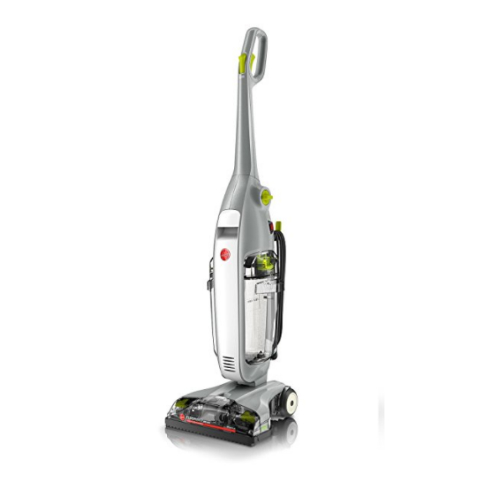 If you're looking to give your floor the in-depth cleaning and scrubbing that will leave it clean and shining for one month or so, then the Hoover Floormate Deluxe Hard Floor Cleaner is the floor scrubber for you. The floor scrubber comes with the SpineScrub technology and counter-rotating brushes that significantly reduces the effort used in cleaning different types of floors, from hardwood, vinyl, ceramic tiles, laminate and marble surface. Consequently, the Hoover Floormate is an all-around floor scrubber that makes cleaning a convenient, hassle-free, and effortless endeavour. The appliance is simple to use too as all it requires is a specific amount of cleaning water, a washing detergent and the already installed brushes to quickly and effortlessly get rid of dirt and debris from a broad range of floor surfaces.
Expand to see more
The two most important features are the installation of dual tank system and the built-in specialty brushes optimized for gently but thoroughly scrubbing wooden floors from different directions. In spite of its superior cleaning ability, it is recommended for use on bare floors that have been a light sweeping or vacuuming. The location of the SpinScrub brushes at the front of the unit allows them to do the scrubbing for a fraction of the time it would take traditional mop mechanism. The design allows for the convenient detaching of the brush bar for occasional cleaning after repeated use on dirty floors, which, other than ensuring a smooth operation, also considerably extends the shelf-life of the appliance.

Other than their ability to give any type of floor a gentle but comprehensive cleaning or scrubbing, the brushes of thecleaner feature two scrubbing settings: the Wash and Dry mode. The Wash mode deploys the brushes for cleaning various surfaces while simultaneously sucking excess water. The dry mode, on its part, is responsible for stopping the brushes before actively suctioning up water with the aim of lessening the drying time. To give your floor the clean and gleaming look you desire, the unit intermittently releases the cleaning solution while the circular and counter-rotating brushes, spinning at about 175 rotations per minute, removes stains, debris, marks and all other types of dirt from your floor. After scrubbing, you can switch to the Dry mode by switching on the Dry mode button, which then promptly sucks up the excess water leaving your floors almost immediately dry.

To make your work easy, it has two unique brush bar attachments with the first being ideal for the general scrubbing of different types of floors while the second is perfect for scrubbing tiled and grouted floors. And because the attachments are interchangeable, you get to save a lot of time and effort in the process.

The Hoover FloorMate has a dual tank system in which there are two entirely separate tanks for holding dirty water and clean water meant for scrubbing. Considering that each tank has a water holding capacity of 1.5 Quarts, you will be able to sufficiently clean a 400 sq. Ft. area without requiring a refill.

It has a small weight of just 13.8 pounds, meaning that you will have maximum control over the appliance, manoeuvring it with ease and using it to conveniently access places traditional mop mechanism could not. Additionally, you will have no difficulties storing it as its dimensions stand at 13-inches by 12-inches by 44-inches, and it comes with a foldaway handle.
Lightweight and compact design for easy manoeuvrability and control
Has a separate brush dedicated for scrubbing delicate floor surfaces
Sufficiently large water tank requiring few refills
Has a Clean Boost Control for removing stubborn stains with a powerful detergent
Clean and dirty water tanks are separated
Short power cord restrictive extensive reach
Lacks vacuuming abilities
2. Hoover FH40010B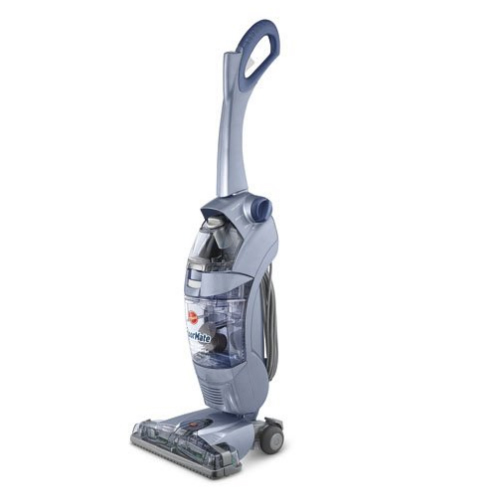 The Hoover FloorMate SpinScrub with Bonus Hard Floor Wipes, FH40010B floor scrubber considerably simplifies the process of sanding, refinishing, stripping, scrubbing, waxing, and polishing different types of floor surfaces, giving them a new and fresh look. The growth in popularity of floor scrubbers is informed by the inconvenience and difficulty of using conventional floor scrubbers, and if you're still using one, this article will enlighten on the advantages you're foregoing. The working is vastly different from that of a traditional mop mechanism considering that it combines the functions of a vacuum cleaner, a washer, and dryer into a single machine, making it ideal for giving your floor a perfect scrubbing. The unit comes with circular and counter-rotating brushes featuring the patented SpinScrub technology that will give your floor a gentle and smooth scrubbing and washing from different angles, leaving it sparkling clean.
Expand to see more
And if you find the idea of dragging around a floor scrubber a little daunting, know that it features a lightweight and compact design and weighs just about 16.5 pounds and measures 15.2-inches by 12.2-inches by 31-inches. Additionally, it sports a durably constructed power cord with a quick release feature measuring 27 feet in length that conveniently allows you to drag it from one corner of the house to the other without having to disconnect the unit from a power socket.

The compactness of the floor scrubber furthermore allows you to access hard-to-reach spots like under furniture and corners without having to rearrange the house or move anything around. As such, you have more control over the floor scrubber and can manoeuvre it with incredible ease while scrubbing. Neither will you be daunted by the vastness of your cleaning area as the scrubber has an impressively wide 13-inch cleaning path meaning that you'll spend less time cleaning. Plus, the beltless design of the floor scrubber together with its rubber legs ensure it does not leave behind any scratches or dents on even the most delicate floors while gliding it all over the floor.

The one feature that particularly endears to different segments of the market is the strategic location of its trigger control on the deluxe handle, allowing you a quick and easy manoeuver. The design, therefore, allows you to adjust the settings with ease which in turn gives you additional control over your cleaning and scrubbing. It has a three-mode control dial, with the first reserved for vacuuming, the second for scrubbing and the third for drying. The latter mode is powerful enough to leave different surfaces almost immediately dry. Other than reducing the amount of space you'll require to store away the machine after a hard day of successful scrubbing, the foldaway design also allows for easy cleaning of awkward spots around the house.

Those in need of a truly in-depth cleaning power can always mix the provided detergent and water to remove stubborn stains, oil, dirt, and aged coats of painting from such surfaces that include but not limited to sealed hardwood, vinyl, tiled floors, and even carpets. The Hoover FloorMate SpinScrub comes with Bonus Hard Floor Wipes sports a dual tank technology for to keep clean and dirty water separate, preventing you from inadvertently reusing the dirty water for scrubbing purposes.
Offers quick and efficient scrubbing and drying
Easily manoeuvrable
Prompt and easy assembly and operation
Doubles up as a vacuum besides scrubbing
Comes with separate containers for holding dirty and clean water
Has a folding handle for easy storage in limited spaces
Brushes, pads and other attachments can be removed for quick cleaning
Not ideal for carpets and rugs
3. Quickie Tub N' Tile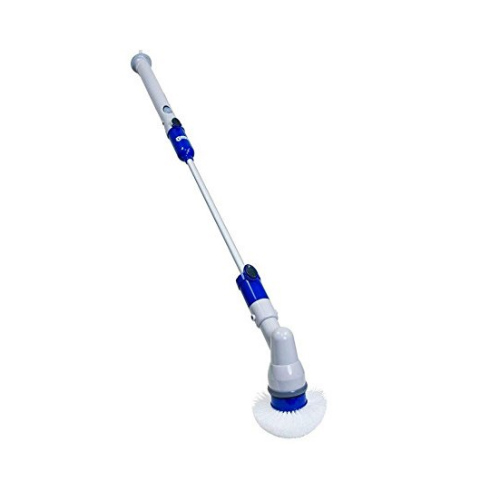 The three most outstanding features of the Quickie Tub N' Tile Power Scrubber that are worth mentioning right off the bat are the extendable pole that enables you to reach every corner of the house. Secondly, being battery-operated and therefore cordless, you can take it anywhere and even use it comfortably in rooms with no power sockets and lastly, the unit offers you a profound scrubbing power. For purposes of versatility and flexibility, the Quickie Tub N' Tile Power Scrubber is provided with two spinning brush heads you can easily interchange depending on the material or surface you intend to scrub and clean. There is a larger, flatter brush optimize for giving your floor a deep, thorough yet gentle scrubbing and a second smaller, stiffer scrubbing brush that is perfect for removing dirt, debris, dust, grout, oil, old layers of
painting
, and stains.
Expand to see more
It sports very durable scrubbing brushes spinning at very impressive speeds. It is quite user-friendly and can be used relatively expertly by different age groups and sexes. All one has to do to get started is to just attach their preferred brush head, and press the start button. The spinning action of the brushes considerably reduces the time and effort it takes to get the floor sparkling clean that would have been the case if you were to use conventional mop methods of scrubbing. It is equipped with versatile bristles capable of getting into the smallest of spaces such as crevices and cracks to remove and wash off dirt and grime. Thorough cleaning will, however, necessitate the application of some level of pressure but the effort you'll use is not even remotely comparable to using conventional scrubbing procedures. The only reason you'll be applying pressure, anyway, will be to ensure the head of the Quickie Tub N' Tile Power Scrubber doesn't bounce aimlessly on the floor while spinning.

The ergonomic design goes a long way in ensuring you work comfortably, effortlessly and quickly, helping you save a lot of energy and effort if you have an expansive floor area to cover. The handle and extension arms ensure you're flexible, so you effectively scrub and clean mildew, dirt and grime from different surfaces without suffering knee and back problems. Because it is fitted with corner brushes in addition to the standard ones, tackling these areas will not be at all challenging as is the case when using traditional mop mechanisms.

In conclusion, the Quickie Tub N' Tile Power Scrubber entirely removes the physical strain occasioned by attempting to reach raised places or having to get on your knees and hands to scrub away dirt. It features a solid and durable construction that will definitely last you more than a lifetime of proper use and maintenance. It's lightweight and compact and comes with the versatility required to clean various surfaces of dirt, debris, and stains among others. It occupies considerably less storage space meaning that it can be kept safely in the garage and transported relatively easily from one place to another.
Easy to operate even for novices
Quick and stress-free assembly
Lightweight and compact that reduces fatigue while increasing comfort
Ergonomic design
Powerful scrubbing and cleaning
Has a short cord limiting portability
4. Shark Sonic Duo ZZ550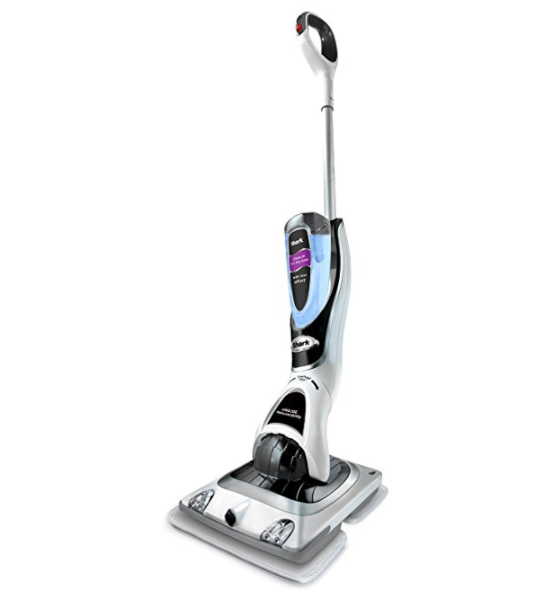 The Shark Sonic Duo KD450NZ Steam Mop is the best suitable, cost-effective and top-performing alternative conventional mop mechanism and is the best bet for those looking to upgrade or first-time users of a floor scrubber. The device is ideal for a broad range of floor types and even carpets, meaning that you can conveniently cover nearly 90 percent of your home surface with just a single machine, saving you the and money you'd have invested in other tools. The floor scrubber comes with a scrub duster accessory aimed at assisting you to reach those hidden and tight spots around the house with exceptional ease, so that if you're home alone, you still get to give your floor and carpet the deep cleaning action they deserve. The Shark Sonic Duo KD450NZ Steam Mop similarly is delivered with two distinct pads, one suited for general scrubbing purposes while the second is optimized for dusting.

Expand to see more
The first step to giving your floor a thorough scrubbing with the Shark Sonic Duo KD450NZ Steam Mop floor scrubber is understanding that it is in no way a vacuum cleaner and cannot, therefore, be expected to perform as one. With this in mind, it would be prudent to first pre-vacuum your floor or carpet before using the floor scrubber. The two pads already mentioned are capable of very vigorous vibrations, sometimes reaching about a thousand vibrations in a minute depending on whether you choose the Hard floor scrub mode or the Carpets scrub mode.

It comes with a total of four bottles of solutions each with a different liquid carrying capacity meant for either cleaning the floor or the carpet. To clean your carpets, it is recommended that you first give them the pre-treat stain and odour remover before applying the low moisture carpet shampoo. Floors, on the other hand, and irrespective of their type, will first require the application of the cleaner solution before applying the polisher. To make the work easier for you, the manufacturer points out that mixing the two solutions in reusable bottles should give the same cleaning results, plus, the natural colouring of all the liquids and requisite accessories makes it easy to quickly identify which two solutions should go together and so forth. As a result, the process saves you the mental anguish of having to remember and monitor compatibility carefully. Neither should you worry about exposing members of your family or friends to toxic gases and solutions since the products are non-toxic and can be safely used in the presence of children and domestic animals.

Lastly, it comes with a total of five pads distributed between floor and carpet washing. The manufacturer stresses that it is possible to wash the pads even though you'll have to look for a replacement after the 20th wash. And you won't spend so much time in search of new pads and solutions as they are available on the Internet at pocket-friendly prices.

The Shark Sonic Duo KD450NZ Steam Mop has a lightweight and compact design with measurements of 46.5 by 9.5 by 11.5-inches and weighing a mere 9 pounds. As such you can glide it across the floor with relative ease, and since the handle grips are ergonomically shaped, your hands won't develop any blisters neither will you strain any part of your body. The front of the scrubber is covered with a bumper to prevent the machine from damaging your furniture. With its 22 foot cord, portability is not an issue with this product.
Two-speed mechanism ideal for scrubbing different floors with ease
Exceptional cleaning and scrubbing of floors and carpets
Has a front LED light for illuminating poorly lit settings
Strategic location of buttons and switches allowing for quick and easy reach
Compact and lightweight design enabling you to reach tight spots around
Only compatible with manufacturer provided detergent
5. Oreck Commercial ORB550MC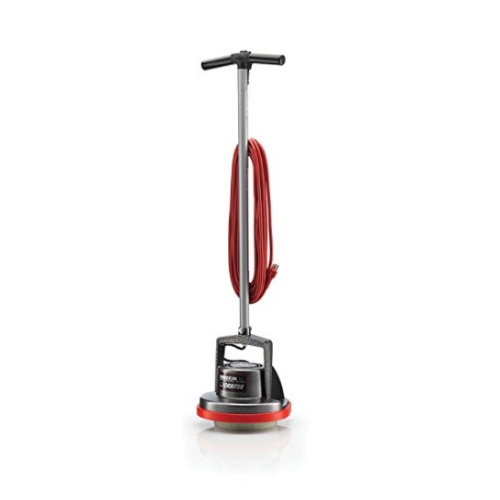 Are you struggling to keep your hardwood floor sparkling clean and radiating and therefore in need of a thorough, and deep-cleaning floor scrubber? The Oreck Commercial ORB550MC will indeed meet all your floor cleaning needs irrespective of the nature of floor you intend to clean. It is one of the easiest to use floor scrubbers out there, providing you with a straightforward and user-friendly interface you can familiarize yourself within a couple of minutes. Its versatility and exceptional performance hands-down overshadows and exceeds that of a traditional mop mechanism, and will allow you to finish your scrubbing and cleaning in no time at all.
Expand to see more
The Oreck Commercial ORB550MC is a pretty lightweight and compact design, allowing you to take on several scrubbing projects on different types of floors without having to worry about its weight straining your hands or your joints. Similarly, its ergonomic design ensures you work in relative comfort and for as long as suits you without suffering from fatigue or developing blisters on your hands. The compactness comes handy when you have to work in tight spaces and corners, and it will have easy access to hard-to-reach spots that most traditional mop mechanisms cannot reach.

There is no end to the versatility of thisfloor scrubber. When you're done giving your floor the deep cleaning it deserves, you can switch to removing worn-out protective coating before applying a new layer. To polish floors it makes use of a brush and a cleaning solution, a combination of which is strong enough to remove dirt, stains, aging protective coating, and even oil stains that have tormented your garage floor for years. You will be able to remove old dirt on your carpet in an instant, ensuring your environment is not only clean but also free from disease-causing allergens.


Unfortunately, the package does not come with the brushes and pads meaning that you'll have to purchase them separately. The secret behind the exceptional and powerful scrubbing performance of the Oreck Commercial ORB550MC is the random spinning of the brush head, which effectively prevents it from leaving behind marks and swirls on the floor surface. The machine similarly comes with a power cord measuring 50-feet in length, which facilitates the cleaning of indoor spaces as well as outdoor floors.

The length makes the unit quite portable, eliminating the need to only work in places with power sockets. It features a lightweight and compact design weighing just 24 pounds, meaning that you can drag it with ease around the house without needing an extra pair of hands. Similarly, the weight allows you to access several spots around the house like tight corners, and the ergonomic design of its handle grip ensures you use it comfortably to cover the largest floor surfaces. The machine comes with a high power 0.5-horsepower motor capable of delivering brush speeds of up to 175 rotations per minute, guaranteeing that you finish your scrubbing, cleaning, stripping, burnishing, and polishing in the shortest duration possible.

To summarize, the Oreck Commercial ORB550MC floor scrubber is ideal for light-duty and heavy-duty floor scrubber. The machine uses 12-inch brushes and pads that coupled with its orbital scrubbing pattern, ensures it gently but thoroughly cleans different surfaces off dirt, oil, tar, stains, and the like. It has an all-metal chassis that brings the weight to 24 pounds, sufficient for quicker cleaning while allowing you to move it from place to place with relative ease.
Versatile for cleaning different floor surfaces
Features an orbital drive oscillating brushes for deep cleaning
Offers a wide cleaning path for quick and efficient cleaning of large areas
Compatible with various accessories
6. Koblenz P-2500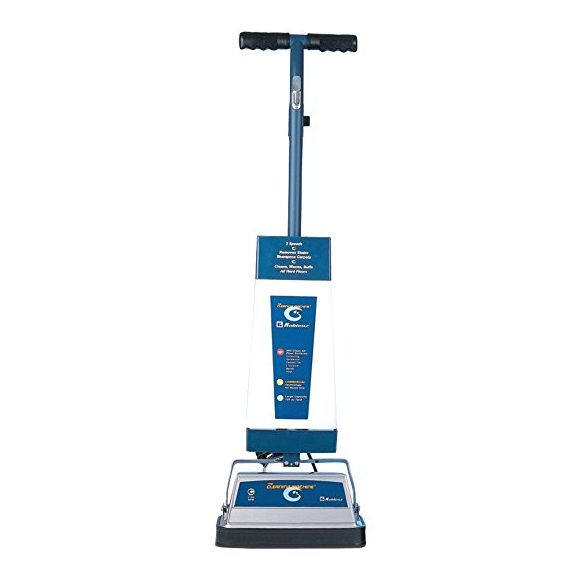 Very few floor scrubber in the market today can match the power and versatility of the Koblenz P-2500 Floor Scrubber Buffer seeing as it comes with a high power 4.2-Amp motor that can smoothly and effortlessly reach speeds of up to 1100 rotations per minute thereby providing you with lots of power for covering a large floor. Being an all-around floor scrubber, you can additionally put it other uses like polishing, buffing, waxing, and even shampooing, meaning that no dirt, debris, stain, oil spill or grime will be able to withstand its power. The device significantly reduces the time, the effort and the awkwardness of having to get on your knees and hands only to unsuccessfully scrub at a stain using outdated and conventional mop mechanisms.
Expand to see more
The use of full-width bronze and die-cast metal in the construction of the floor scrubber's motor and housing, respectively, ensures it's durable and adequately ruggedness to take on any demanding and challenging scrubbing activity thrown at it. And with proper use, care, and frequent maintenance, you won't have to worry about your tool tearing and wearing off quickly as is the case with cheaper models. As a result, you won't be shopping around for a replacement anytime soon.

It is equipped with a metal and T-bar handle to enable you to hold the machine firmly and securely, so you're able to concentrate pressure on a particular spot without letting the tool wander all over the floor. The ergonomic construction of the handles guarantees that you'll never develop blisters or strain your hands no matter the amount of pressure you apply or how long you continuously use it. Reaching all corners of your floor is made possible with the incorporation of a 20-foot long power cord, so you don't have to look for other power outlets to plug it into. Plus, since it weighs just 25.3 pounds with a full tank and is equipped with soft rubber wheels, you will be moving it relatively comfortably around the floor without worrying about it marring or scratching or marking the floor in any way.

It has its fair share of drawbacks, the two most conspicuous being the inability to keep it in an upright position when the pads and brushes are attached, forcing you to find a surface on which to lean it. Secondly, reaching the water releasing handle positioned at the front of the machine is a little cumbersome as it forces you to take one hand off the grip, which in turn reduces pressure on the handles. Other than these two design weaknesses, it is a joy to work with.

To summarize, the Koblenz P-2500 floor scrubber does not give stains, debris, grime, or any dirt the slightest chance. The machine comes in a robust and sturdily built aluminium housing making it both lightweight and compact allowing you to move it with ease around and to access hard-to-reach spots. The unit comes with a powerful and exceptionally reliable 4.2-Amp motor providing you with plenty of power for removing the toughest and most stubborn stains. Because the motor has two-speed settings, you are free to choose that most suits your type of floor and the toughness of the dirt to be removed. For additional convenience, the unit comes with a sufficiently large 120-ounce tank for holding the scrubbing solution. Other accessories include the scrub and shampoo brush, and tan and lambswool pads.
Provided with a sufficiently long warranty covering for repair and parts replacement
Has a wide cleaning path which reduces time and effort while scrubbing floors
Quiet motor with considerably fewer vibrations
High-quality construction with durable products for extended shelf-life
Easy to use
7. Ewbank EP170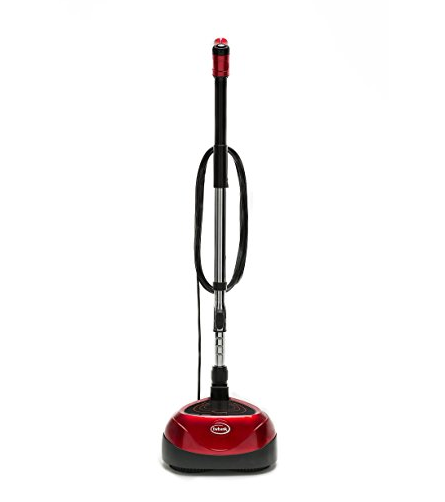 While most floor scrubbers offer cleaning and scrubbing speeds of approximately 175 rotations per minute, the Ewbank EP170 floor scrubber sports a high-performance motor capable of spinning its contra-rotating discs at an astounding 2200 rotations per minute! Couple such impressive speeds with the machine's 9.5-inch wide cleaning and scrubbing path and you're looking at a tool capable of finishing scrubbing an entire house in a fraction of the time it would take other top model floor scrubbers. The Ewbank EP170 floor scrubber comes with a comprehensive collection of pads and brushes you can easily interchange per the type of floor you intend to scrub. Consequently, removing stubborn stains, grime, oil spills, dirt, debris, and dust from laminate,
wood
, vinyl, marble, and even granite floors will figuratively feel like cutting a piece of cake with a hot knife. That's an overused cliché, we know, but it is relevant and appropriate when it comes to putting the top-notch performance into perspective.
Expand to see more
With a small weight of just 7.5 pounds, you can quickly and effortlessly glide the floor scrubber around the house. It comes with a telescopic handle featuring an easy-to-hold butterfly grip that not only increases your comfortability by substantially reducing the possibility of developing hand blisters or straining your hands, but also gives you maximum control over the machine, allowing you to manoeuver it with relative ease so as to access hard-to-reach and tight spots around the house.

The unit similarly comes with a 23-foot long capable for further facilitates reaching every corner of the house or building, thereby eliminating the need to change power outlets frequently. And if you have a delicate floor, it will not leave behind a single scratch or mark on it as it equipped with non-marring and rubberized wheels, plus it's not that heavy at just 7.5 pounds.

The Ewbank EP170 floor scrubber is quite easy to use. The design allows for the removal and replacement of worn-out pads and brushes by just placing one's hands half-way between both ends of the brush and pulling off at the bristles. As already mentioned, the machine arrives with two scrubbing brush plates and three pairs of pads each optimized for cleaning, scrubbing, and polishing different floor types. The telescopic butterfly design makes it possible to close the handle to allow you to use a single hand, freeing the other for other equally important scrubbing-related tasks. And you won't even have to put up with vigorous and tiring vibrations and noise, thanks to the extremely quiet 160 Watt motor and the solid frame that absorbs most of the vibrations, guaranteeing you a hassle-free, smooth, and enjoyable scrubbing experience.

In conclusion, it possesses the ruggedness and high-quality construction that makes it ideal for cleaning and scrubbing different types of floors with little effort and quickly. Construction is done using industrial-grade materials to ensure it readily takes on the more demanding and heavy-duty applications in addition to giving you exceptional and reliable service for the next several years. Plus, it comes with a convenient 12-month warranty for the repair and replacement of parts and components that malfunction out of natural use.
Exceptionally versatile allowing for scrubbing on all floor surfaces
Comes with a telescopic adjustable handle making it fit for use by all people
Sports a compact and sleek design
The unit is lightweight allowing for easy and quick movement around the house
Not ideal for heavy-duty scrubbing tasks
8. Oreck Orbiter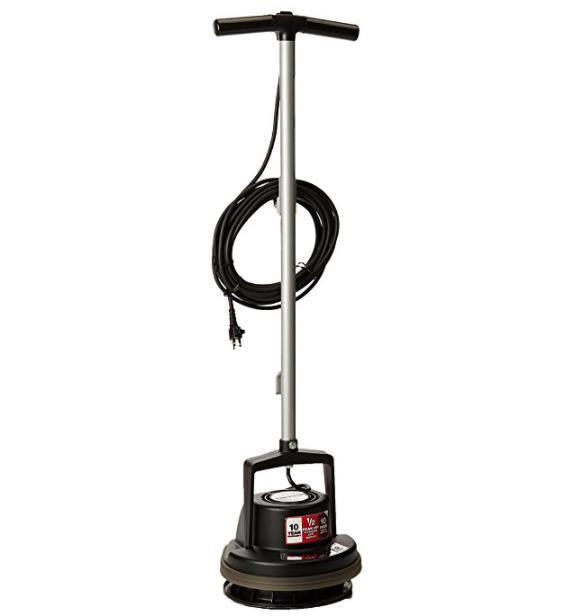 If you have eyes set on a flexible and versatile machine that has what it takes to efficiently and smoothly handle a plethora of scrubbing tasks around the house and on the job site and in a fraction of the time it takes conventional floor scrubbers, then the Oreck Orbiter Multi-Purpose Floor Machine is just the tool for you. Unlike most floor scrubbers, this machine is compatible with 12-inch pads and brushes resulting in an impressive 13-inch cleaning path with an orbital pattern. The random orbital motion of the brushes and pads offers you a quiet and smooth operation by keeping vibrations, swirling, gouging and torqueing to a bare minimum.

Expand to see more
It has a high power 1/2-horsepower, 115-Volt, 6-Amp motor allowing it to smoothly reach maximum speeds of 175 rotations per minute, sufficient for removing the toughest stains from the floors and carpets. And should the machine vibrate out of hand, you can relax with the knowledge that it is equipped with a non-marking thick
bumper to prevent it from damaging your walls, baseboards, and furniture while cleaning.

It comes with a lightweight and compact chassis featuring an all-metal construction ensuring that it has the ruggedness and power to effortlessly scrub dirt, debris, grime, oil spills and dust from all types of floors. The weight of 24 pounds only adds to its performance, allowing you to cover a given floor area more efficiently and four times as fast as a traditional deck brush and of course without the back-breaking work of having to do on your hands and knees.

Other than giving your floors the deep cleaning necessary for restoring their beauty and getting rid of deep bacteria, the random orbital motion of the pads and brushes also significantly help with moving the floor scrubber around. The weight is sufficient to allow you apply adequate pressure necessary for removing stubborn stains. There is also a 35-foot power cord to let you work any point within the room without having to change your power outlet every so often. And in case you're worried about the machine leaving marks and scratches on your floor, you'll be pleased to note that it comes with soft wheels for easy gliding and to allow you manoeuvre it into those hard-to-reach spots around the house or office.

Using it is quite a breeze. It is a maintenance-free tool that does not come with gears, belts, or even motor brushes that are notorious for tearing and wearing out quickly before necessitating a replacement. Furthermore, the motor features durable components and parts made from a combination of zinc and steel meaning that it will hardly break down, and in the off-chance that it does, the whole unit has an impressively long 60-month to cover for repair and replacement.
Cost-efficient
Has a powerful motor for thorough and deep cleaning
Versatile to take on a broad range of tasks like waxing, buffing, scrubbing, and shampooing
Lightweight and compact design
Easy to use
A little heavy
Doesn't come with brushes
9. Hoover Max Extract FH50240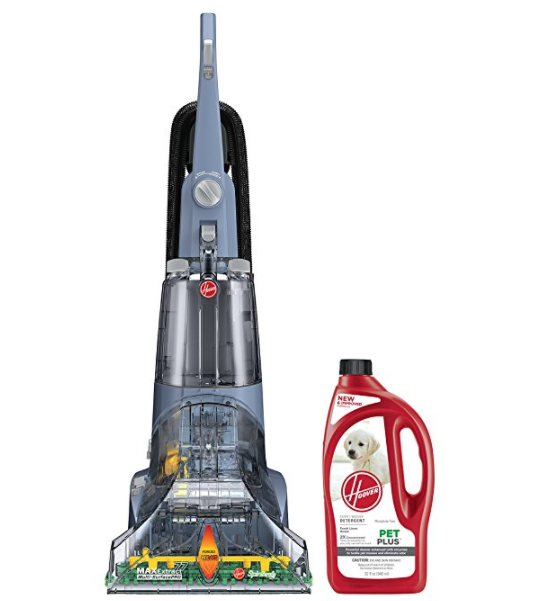 The Hoover brand has been in the business of making power tools for home improvement and renovation for years and their products are renowned for their premium features, professional construction, durability and functionality. The Hoover Max Extract 77 Multi-Surface Pro Carpet and Hard Floor Deep Cleaner FH50240, for instance, sports the brand's patented counter-rotating brush technology that provides a deep cleaning action riding your floors and carpets of dirt, stains, grease, grime, spills and debris. The machine comes with a considerably wide cleaning path achieved by the unique arrangement of its 77 counter-rotating brushes into two rows. As a result, the Hoover Max Extract 77 floor scrubber reduces the time and effort it would otherwise take a traditional mop mechanism to cover a specific floor area, yielding the best results with each cleaning stroke.
Expand to see more
Additionally, it features a useful and convenient SpinScrub Deep Cleaning technology making it possible for you to choose the most appropriate cleaning mode as determined by the type of floor or dirt you want to clean. You can make a choice between Spill Pickup, Gentle Scrub, and Power Scrub, meaning that unlike other floor scrubbers, the tool can be used on a broad range of floor surfaces. One of the highlights is its Pressurized Edge-to-Edge scrubbing mechanism that upon activation, releases a pressurized jet of water allowing you to efficiently and effortlessly remove the most stubborn dirt and marks from the floor and carpets. The technology guarantees an even scrubbing outcome even in hard-to-reach spaces around the office or house. And it's not like you'll have a hard time reaching confined spaces since the unit has a useful 20-foot long power cord for quick and hassle-free movement all over the floor, making sure you cover every square inch of it.

For the users in need of a powerful cleaning and scrubbing power, the Hoover Max Extract 77 has you covered. The unit is capable of automatically mixing water and your preferred scrubbing detergent in a ratio that yields the best results. Another out-of-the-world design of floor scrubber is its ability to automatically and intuitively give a particular spot a thorough rinsing by just pulling the unit over the area, thus saving you a lot of energy and strokes.

For convenience, it is fitted with two 1.14-gallon tanks, one for holding clean water and the other is obviously for holding dirty water. The design allows for the separate refilling or emptying of the tanks, and since they have a considerably large capacity, you can scrub quite an expansive area on a single refill. To speed things up, it comes with heater air for quickly drying the scrubbed floor area immediately after the extraction of scrubbing and rinsing water. Even though leaving your windows and doors open can similarly help speed the process up, it just doesn't quite match the efficiency and speed of the floor scrubber. And with a paltry weight of only 22 pounds, you'll have no difficulties whatsoever gliding the floor scrubber on the floor or up and down the stairs. Its ergonomic design will significantly lessen the likelihood of suffering from blisters or getting fatigued, meaning that if you like, you can scrub floors all day.

Powerful cleaning action that efficiently removes the toughest stains and dirt
Dries floors and carpets in an instant
Ideal for scrubbing several floor types
Three working modes for additional versatility
10. Mercury L-17E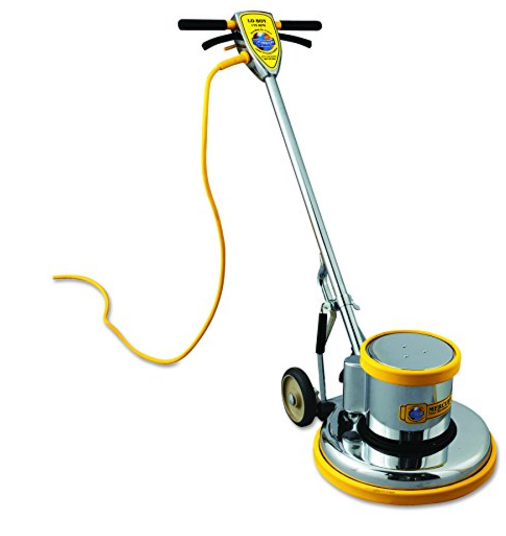 The design and engineering of the Mercury L-17E Lo-Boy Floor Machine makes it one of the best machines to use in stripping, scrubbing and polishing different types of floor surfaces including wooden, tiled and hard. The machine comes with a high power electric motor providing adequate power for rotating the brushes for freeing your floor off dirt, debris, dust, stains, oil spills and other types of undesirable marks. The durable and high-quality construction of the Mercury L-17E Lo-Boy Floor Machine makes an ideal choice for light-duty and heavy-duty floor scrubbing applications both at the residential and commercial level.
Expand to see more
In spite of the motor providing you with impressive speeds of up to 175 rotations per minute, the machine is a super quiet machine and quite easy to use too. The tool is fitted with a 17-inch bell housing apron constructed entirely out of metal which not only makes it perfect for covering large areas quickly and efficiently but also does a great job soaking up most of the resultant vibrations. The all-metal construction of the floor scrubber additionally makes it sufficiently rugged to scrub even the toughest surfaces and materials without suffering any performance related complications. The unit furthermore comes with a 48-inch adjustable handle that allows you to set a most appropriate height so you can comfortably clean different surfaces. Because of the ergonomic design of the handle and overall lightweight and compactness of the Mercury L-17E, almost anybody can easily use it for extended periods of time without developing blisters on their hands or throwing their back out. Plus, it comes with robust allocations for holding pads and brushes at the bottom allowing you to choose the most suitable scrubbing material for your type of floor.

It is also safe to use, as the manufacturers put a lot of thought into making sure you do not come to any kind of harm while using their product. Given that it comes with a powerful 1.5-horsepower motor to provide you with exceptionally fast scrubbing speeds, the manufacturers included a safety lock aimed at preventing the floor scrubber from sliding accidentally. It comes with a useful and practical 50-inch power cord allowing for easy and stress-free cleaning of large areas and places lacking power outlets. And if you have a delicate and are worried about the machine leaving marks all over the floor, the design takes care of the problem by throwing in a durable and sturdy bumper and 6-inch rubber wheels.

To summarize, the Mercury L-17E Lo-Boy Floor Machine is a professionally constructed machine bound to provide you with exceptional performance for the foreseeable future. Its powerful motor spins the brushes and pads at a good 175 rotations per minute so you can rid your floor off grime, stains, old coating, and debris in an instant. The ability to change the handle height and the inclusion of a safety lock all make this the preference of Do-It-Yourselfers and professional cleaners the world over.
Features an industrial-grade construction for longevity
Comes with 50-inch power cord for unrestricted reach around the house or office
Perfect for use on a wide range of floors owing to ruggedness and power
Powerful and efficient scrubbing of the toughest stains and dirt
Brushes and pads not included with package
FAQs
Q: How do I keep safe when using a floor scrubber?
A: Anyone who's ever used a power tool understands the significance of always wearing protective gear, irrespective of how mundane or lightweight their project is. In the case of floor scrubbers, the first step to keeping yourself safe from avoidable injury is wearing the right personal protective gear. If you're not sure where to start, begin by wearing safety goggles to keep your eyes safe. Next, depending on your noise sensitivity, get yourself ear protectors to keep away the loud noises made by powerful floor scrubber engines. Additionally, considering their incredible cleaning power, your floor could get a little slippery after a thorough scrubbing at which point slipping becomes a real possibility. To keep safe, get a pair of non-slip shoes which should be worn at the beginning of the exercise. Lastly, try not to exceed the reach of your power cord as it could slip from the socket, get into the water and cause electrical malfunctioned if re-plugged without proper drying.
Q:
Does cylindrical scrubbing differ much from disk scrubbing?

A: The main difference between the two is that while disk scrubbing is more suited to removing tough debris like strip wax from the floor, cylindrical scrubbing offers a quicker scrubbing speed and is ideal for cleaning a smaller floor area. Disk floor scrubbers have the advantage of offering you a faster and easier way of changing their variably aggressive pads or brushes that increase the contact between the brushes and the dirt that has to be cleaned. Consequently, they are more compatible with pocket-friendly pads that if used to remove strip wax, will almost immediately be thrown away. They are also easy to maintain and last considerably longer. The advantage to cylindrical scrubbing is that you don't have to sweep or vacuum your floor before scrubbing.
Q: Between a used and a brand new floor scrubber, which is better?
A: The decision on which is better between the two depends partly on the cost. Brand new floor Scrubbers are covered by a warranty that in some cases extends for five years and has readily available spare parts. They are however costly. Used floor scrubbers, on the other hand, have a not-so-steep price and will last nearly as long as brand new ones while offering you the same exceptional service.
Final Thoughts
With the advancement of technology and the current busy lifestyles, floor scrubbers have become indispensable which makes it all the more important that you get yourself a practical and functional one. We are confident that irrespective of your type of floor, budget and your scrubbing needs, there is at least one product on our list that will adequately get you covered for the next several years. We must, however, stress the importance of keeping yourself and your loved ones, whether at home or at the office, safe from harm while using these machines. As such, we highly recommend that you take the necessary precautionary steps to ensure your and their safety by wearing protective gear whenever you're scrubbing.
Subscribe to our newsletter