Best Wireless Home Security Systems Reviews & Ratings
last updated:
Apr 06, 2021
The invention of The Internet of Things has significantly led to the elimination of the barriers and hindrances associated with setting up a smart home. Today, by just using your smartphone, you can control several aspects of your home from miles away, such as remotely locking your doors, controlling your lawnmowers, turning the lights on or off, adjusting the thermostat, and even feeding your house pets, among other activities. The Internet of Things has similarly simplified and reduced the cost of monitoring your house from anywhere in the world. While some of the current wireless home security systems are Do-It-Yourself installations, others are however a little complex and necessitate professional assistance and monitoring, so they perform optimally. Nevertheless, they are nearly all very highly customizable, so you choose the features that best meet your needs.
Whether you're okay with self-monitoring or would rather pay a subscription fee to have round-the-clock professional surveillance will depend on your needs, as earlier mentioned. You'll have to fork out extra cash to enjoy premium services such as having the local fire and police department respond to alarms set off by a burglar attempts or accidents.
Our Top 3 picks
[srpshortcode id="6777″][/srpshortcode][srpshortcode id="6778″][/srpshortcode][srpshortcode id="6779″][/srpshortcode]
Because of the complexity of the entire process and the obvious difficulty of choosing a wireless home security system that best suits you, we've taken it upon ourselves to walk you through all the criteria to consider before getting yourself wireless home security.
Criteria for Evaluation
Affordability
Ensuring your home is safe from potential burglars gives you a much-needed peace of mind and comfort but surprisingly comes at a high price. Most security companies make it necessary that the customer pays an up-front fee to cover the cost of the hardware while others provide the equipment for free upon registration. Familiarizing yourself with the policies of different companies can go a long way in saving you some significant cash in the long run. When looking into the issue of affordability consider the monthly or yearly expenses, the cost acquiring the equipment and activating the system, as well as the cost of installing it. Fortunately, there are several alternatives out there, each one better than the other in one aspect or the other. There are security firms that insist you pay for the hardware up front, while others will only give it to you on a lease and still, there are those with exorbitant start-up costs yet relatively low monthly charges. If you're interested in keeping costs down, compare the different pricing options to get one that's affordable.
Customer Service
With the successful installation of a wireless home security system, you'll find that effective communication between you and the security firm is just as vital as the security system itself. In case the system fails or malfunctions they'll be your first call. Meaning that you'll need to ensure they're both responsive and have a deep understanding of the working of your security system so they're able to help you in a heartbeat, as this may be the difference between life and death.
Some security firms have a strong reputation for having the best customer service than others, you know, the kind that takes their time listening to your concerns before giving you a comprehensive response without being pushy. And in case they don't have the information you want, they consult a colleague or higher authority before responding or getting back to you within the hour. Checking with Better Business Bureau and Consumer Affairs can help you assess their standing.
Simplicity
Wireless home security systems vary vastly in their ease or difficulty of installation with some falling on the extreme ends and the remaining falling anywhere along the spectrum. The most complex will most definitely necessitate professional assistance to take the guesswork out of the process and to ensure the security system performs optimally. The pro of having a professional set up the system is that the sensors, devices, and camera will all work correctly, and they will answer all your questions and concerns while doing so. The con, on the other hand, is that depending on the security company, you may have to pay for the assistance.
The most uncomplicated security systems need no professional assistance, though, as all the technical stuff is watered down and will mostly require that you connect one component to another. The most prominent advantage of DIY installation is that you won't incur any charges plus you get to familiarize yourself with the security system, gaining useful insights into its working, just in case. Before making a purchasing decision, look into the method of installation and choose the one you find most comfortable.
Monitoring Charges
Most security companies have top-tier packages that guarantee prompt assistance in case of an emergency, meaning that they have your home under 24-hour surveillance. Because of this round-the-clock security surveillance, you'll be required to pay a monthly bill that varies from one company to another. Your wireless home security system is in constant communication with a monitoring center through landline, broadband internet, or cellular connection. If the connections were to be arranged from the most secure yet most expensive down to the least reliable and cheapest, the cellular connection would come first, followed by the mid-range broadband internet connection and lastly landline monitoring. Pick and choose an arrangement that suits you the best.
Automation capabilities
With home automation, you'll have an easy time controlling all the smart devices in your house. Even when you're thousands of miles away, you can still lock your doors, switch the lights on or off, and also adjust the thermostat. Because of their advanced technological features, you're going to have to dig a little deeper into your pockets. Depending on your package, you may be provided with different types of indoor and outdoor cameras for monitoring your house, so you're able to abate any dangers coming your way long before it degenerates into an emergency. All of these you can do from through the app on your smartphone.
10 Best Wireless Home Security Systems
1. Fortress S02B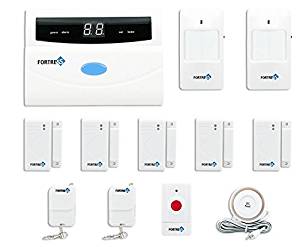 Keeping your home safe while you're away, either at work or on a business trip, is now a lot easier with the invention of wireless home security systems. The Fortress Wireless Home Security System is one of the most advanced home security systems packing several cool features like the Crash & Smash protection. As is the case with a large percentage of home security systems, the protocol is that monitoring centre is immediately notified if a potential thief sets off one of the sensors within the house. It takes a different path that sets it apart from its closest competitors: even a futile attempt by the would-be burglar at disabling the home security system by first destroying the control panel will have the law enforcement authorities receive a prompt notification. The brand's Crash & Smash technology gives you a peace of mind by guaranteeing you immediate emergency response the second the sensor is tripped, provided you don't disable the alarm using your phone.
Expand to see more
Regarding performance, the rift between Fortress and other security companies just keeps widening. The system functions smoothly and efficiently without the slightest hiccup, with alarms promptly going off both during the practice run and when armed. Crack the doors open, cross the motion detector's path, trip the installed image detector, or clap while ten feet away from the glass break detector and the alarms will be going off in no time at all. The IP and outdoor cameras have a sufficiently high resolution that they're able to make out a face precisely when one is within a 30 feet radius at night and 15 feet when paired with night vision assistance.

The system offers you one of the simplest and most straightforward Do-It-Yourself installations on the market, a fact which significantly endears it to lovers of wireless home security systems the world over. The user manual, in very clear and easy-to-understand English, walks you through the few installation steps, beginning with taking all the different components and parts out of the box, to plugging in the control panel, before proceeding to place the various sensors and devices at different points in different parts of the home. Considering that the Fortress is wireless, it will only provide you with the optimal performance you want if all the devices and sensors are within 100 feet from one another. Finalize the installing procedure by calling the call centre to activate the home security system from their end. And you're finally done.

According to reviews left by customers online and from our own assessment, the successful completion of the whole installation and setup procedure takes the average Do-It-Yourselfer about an hour or so. Of course, you'll be taking more time if your plan is a little elaborate and you're dealing with several components and devices. So simple is the procedure that you won't be required to drill, wire, or do anything that would otherwise need technical knowledge or skills. The peek-and-peel nature of the installation procedure eliminates all hindrances in deciding where to place the different equipment around the house. And because there is no drilling to do, the chances of damaging delicate wall surfaces is practically non-existent. Nevertheless, make a point of placing the devices and sensors on dry walls not affected by humidity.

The Customer Service is renowned for their quick response and assistance. There's practically no waiting time, and the staff takes their time to explain technical information in straightforward and comprehensive language. They exhaustively answer all the relevant questions you may be having, going as far as prompting you for additional queries at the end of the call. Not only is their knowledge on matters of wireless home security system impressive, but their responses are also similarly devoid of the high-pressure sales strategies common with sales companies.

The company is similarly very transparent when it comes to the thorny issue of pricing. The fees are very standard; there's a flat fee to be paid every month, an upfront amount for the devices and sensors, as well as a cancellation amount should you decide to terminate the service before the expiry of the contract duration. Unlike other wireless home security system brands, It doesn't charge you a fee for relocating with the equipment or reactivating the service in a different location. Rather than restarting your contract after relocating as most other security companies do, Frontpoint simply continues the terms. Another benefit of owning the Fortress Wireless Home Security System is that the brand gives you a $300 discount on your equipment in case your credit score reaches or exceeds 600 points.
First-rate customer service
Easy and straightforward DIY installation saving customer money
Round the clock live monitoring of homes
Comes with Smash & Crash technology to deter potential burglars
Has geo-fencing capabilities for easy automation and customization
Lack of two-way communication with monitoring centre even in emergencies
High equipment price
[srp_anchshortcode id="6777″][/srp_anchshortcode]
Blink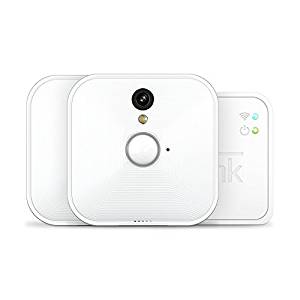 Home security continues to change from year to year, especially with technological advancements and adaption of the same in the security industry. In the current age, there are several security firms with which you can sign security contracts, and there are several and vast differences in their provisions. Some tie you down to one security firm for the long overhaul, while a few others offer you a lot of flexibility, making it possible to choose a security plan of your choice. There are several advantages to owning the Blink Home Security Camera System. Being a Do-It-Yourself installation, the home security system saves you a lot of money over the long run. A quick research on the pros and cons of various home security systems will quickly tell you that the Blink Home Security Camera System is one of the best you'll find in the market. With its wireless camera system, this wireless home security system will adequately meet all your needs.
Expand to see more
You have every reason to trust the Blink system. While it's not as established as other wireless home security systems, the Blink brand has vast experience and expertise. With its dedicated employees and financial resources, the brand is more than capable of protecting your home and effectively keep burglars and other potential intruders from gaining unauthorized access to your home. Because of the innovation of the brand's team, implementing and designing the home security system is more than capable of keeping you safe. For instance, the home security system comes with a wireless home security cameras that promptly send motion-activated alerts your smart device without forcing you to pay any exorbitant fees on a monthly basis.

As already mentioned, a major highlight is the fact that you won't be required to pay any monthly fees to continue using the home security system. Neither will you have to part with storage fees meaning that the wireless security system is one of the most economical, only requiring that foot the cost of acquiring the hardware and devices and no other additional costs to continue using the product. Additionally, the Blink brand provides you with an easy to use and simply designed Blink app allowing you to monitor the security of your home in real time at any time and from any place in the world provided you have access to an internet connection.

Installing and getting the system to operate is quite easy and because the system is entirely wireless, you also relocate the devices and hardware from one room of the house to another without having to drill holes or screw any pieces of hardware on the walls or other surfaces. And because you won't be dealing with wire or having to drill holes in walls, the system is ideal for those who're renting. For convenience, the wireless home security comes with a long-lasting battery that can last for as much as 24 months to provide you with backup in cases of power outage. The implication here is that even without electricity, your wireless home security will continue protecting you against intruders and burglars all around the clock.

The system comes with High Definition Video cameras that will promptly start HD video recording the second the motion detectors pick up the slightest movements within its vicinity. So clear and high definition are the cameras that you'll be able to make out a face even when the lighting conditions are poor. The soonest the motion detectors and sensors pick up some movements, they'll send you a notification to your smart device making it possible for you to contact security authorities in time before the situation worsens or gets out of hand. It features a built-in microphone that also allows you to listen in to the on-goings in your home. Lastly, wireless home security is highly customizable, letting you to decide on the number of wireless cameras to install in accordance with the security needs of your home.

To wrap up, the Blink Home Security Camera System feature high-quality construction and offers you exceptional service all around the clock irrespective of your location in the world. You can use the brand's app to keep a closer look at the on-goings in your home. Some of the aspects of the wireless home security system that most people find most appealing are its high performance, ease of installation, and ease of use. The system helps you keep your home safe while you're away and is quite affordable.
No long contracts or paying monthly fees
Allows for real-time remote monitoring of your home
System is completely wireless so no drilling holes of screwing on walls
Comes with a battery backup
Difficulty syncing cameras
May need professional assistance during installation
[srp_anchshortcode id="6778″][/srp_anchshortcode]
Ring Floodlight HD Security Cam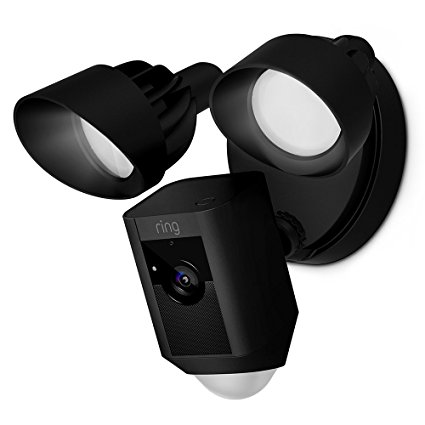 The latest addition to Ring Floodlight's growing list of wireless home security systems is the Ring Floodlight Camera, coming in white and black colours. The security system comes with dual functionality, working as a home security system, apparently, and a source of light. It allows you to monitor the activity going on around your house at all times, irrespective of your location by just using a personal computer or an internet-enabled device like your smartphone. The wireless home security system delivers very sharp video and a dual communication channel. You'll, however, need to subscribe to one of its top-tier packages to view the previously recorded footage.
Expand to see more
It comes in variations of white and black and bundled together with two LED bulbs each capable of delivering an astounding 1500-lumen of brightness with their colour temperature standing at an equally impressive 3000K. That's more than enough light to light sufficiently up your backyard without leaving any blind spots. Because of sturdy and robust construction, the LED light bulbs are capable of lasting for as much as a decade, but once their useful life is over, you'll be forced to look for an entirely new fixture as they don't have replacements on the market. While the company assumes the responsibility of swapping out the whole fixture for you, removing and reinstalling the replacement is a responsibility that still falls squarely on your shoulders.

The housing measures 4.5 by 2.7 by 2.7-inches and includes a camera with 1080p capabilities, 8X digital zoom, a 140-degree field of view, and a total of 6 infrared LED light bulbs providing you with a maximum of 30 feet of night vision. Also included in the package is a motion detector boasting an impressive 270-degree field of view. The connection between the Ring Floodlight Camera and your home network is achieved through an 802.11b/g/n radio on a 2.4GHz band. The security system has a factory-installed siren that produces about 110 decibels of sound in addition to a speaker and microphone to allow a dual-way audio communication between yourself and the security company.

It provides you with instant notification on the status of your home's security through SMS and live video streaming. Getting more out of your home security system such as viewing, sharing or saving a video recording, as already mentioned, will require that you subscribe to a top-tier package the security firm offers. You have the freedom of choosing between the Basic Plan and the Protect Plan. The former allows you to store event-recorded on Ring's cloud storage platform for up to three months while the latter provides you all the benefits of the Basic Plan plus a lifetime warranty and as many cameras as you want.

The camera, just like all of Ring's other mobile apps, run on Android and iOS platforms and you can simply use a personal computer or a smartphone to access and manage all the security features and other specifications of your chosen plan. After the successful installation of the Floodlight, simply select Floodlight Cam from the drop-down menu. From here, controlling every aspect of your home's security system becomes an easy and effortless endeavour. Dong things such as switching the lights on and off, or enabling and disabling motion alerts should be quite easy, even for those novices who have never owned a wireless home security system before. One of the buttons come in handy for activating the siren if that's what it'll take to scare a potential burglar away. Another button, labelled Live View, is for launching a live video stream to allow you follow the unfolding of different events at your home.

There are several other buttons for different purposes with the most significant being the Event History, Device Health, Linked Chimes, Motion Settings, Light Settings, and Shared Users. To view pre-recorded videos, simply click on the Event History, and while here, you can easily share it with other people. Linked Chimes button is for enabling motion settings for other Ring Chime devices that you also control. Through the Motion Settings button, you'll have no difficulties adjusting sensitivity, creating different motion detection areas, and scheduling specific times to enable and disable motion notifications. Similar settings apply to the Light Settings: you are accorded the freedom of planning different times for turning the lights on or off and setting your preferred zones that will automatically set off the lights. To make things more fun the Ring Floodlightcamera is compatible with IFTTT, Wink, Samsung SmartThings, and Alexa.

The Ring Floodlight Camera Motion-Activated HD Security is reasonably easy to install all by yourself provided you have a basic understanding of electrical wiring. If, on the other hand, you find the process to be involving and daunting, consider getting professional assistance, though this will cost you.
Clear image quality
Offers two-way audio communication
Ear-piercing siren for effective intrusion determent
Compatible with IFTTT
Installation requires basic knowledge in wiring
[srp_anchshortcode id="6779″][/srp_anchshortcode]
Fortress SO2A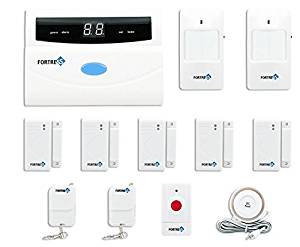 Every homeowner takes the issue of security very seriously, and so should you. Modern technology has ushered in a period where the market is flooded with several Do-It-Yourself home security options, a majority of which are standalone security systems and some that require the additional services of a monitoring centre for optimal performance. In this review, we'll be taking a look at the Fortress Security Stores S02-A is widely reputed as one of the best wireless home security systems the world over.
Expand to see more
Like most DIY homes security systems, the Fortress Home Security Kit is exceptionally easy to install and quite fun to use too. During the system's installation, you'll be required to input up to six different backup phone numbers the system will notify if someone or something triggers the alarm. For the notification process to be a success, your house must have a landline connection or a VoIP phone service. Otherwise, an actual burglary attempt could go unreported. The beauty of the Fortress Security Stores S02-A Wireless Home Security Kit is that it allows you to remotely monitor what is happening in your home by listening after calling into it. To be on the safe side though, it would be important that one of the six numbers is not for the local police agency as there could be several false alarms along the way.

It is accompanied by several key components, devices and other hardware crucial to its performance, with the most important being the Control Panel. If you don't subscribe to any monitoring service, the control panel will be your first point of reference, telling you whether there's power, the time one of the sensors is triggered, the zone from which the sensor was tripped, among other useful information. With a top-tier subscription, arming and disarming the system can be done remotely and with relative ease from any part of the world, provided you have an internet-enabled device. Furthermore, you'll be able to choose between arming and disarming the system in Home or Away. The most important feature of the control panel is its auto-dial functionality calling all the pre-set numbers in case of an emergency.

It also comes with five-door and window contact sensors for picking any movement through the windows and doors. The wireless home security system is quite highly customizable, allowing you to add up to 99 sensors and installing all of them at various corners and rooms and other entry points in and around the house should pose no challenges at all, whether you have a rudimentary understanding of electrical wiring or not. Aside from the five contact sensors, it has an additional two passive motion detectors each with a 110-degree horizontal coverage and a maximum of 90-degree vertical coverage. They have a detection range of about 25 feet and alarms that are 110 decibels loud, enough to deter any criminal activating from taking place.

Technological advancements make it possible to activate and deactivate the kit by simply using the two provided key fobs rather than resorting to the keypad. This comes in handy when you set off the alarms by accidentally cutting the telephone lines such as when renovating, remodelling or doing other construction works. And if there's a power outage, the kit comes backed by standalone batteries that can keep the system in full operation for at least 24-hours. The features of this wireless home security system don't end there. You can choose between two options of arming modes to keep your house and its occupants safe – the Home option is for the house has occupants while the Away option is for when you and your family are away on vacation or just when the house is not occupied.

The Fortress Security Stores S02-A comes with its fair share of drawbacks. For one, the system easily picks up false alarms even though the need to stay safe easily offsets this disadvantage. Secondly, there are concerns that an intruder will have no real challenge finding and disabling the system. Again, the security system circumvents this problem by quickly completing the pre-programmed auto-dialler calls once something or someone trips it. Consequently, you and your family members will be alerted in time.
Ideal for small to medium-sized houses
Easy to install and setup
Exceptional customer service
Sufficiently loud alarm system
Reliable and high-performing equipment
Landline connection backup is necessary
Lack of connection to an external monitoring service
5. LiveWatch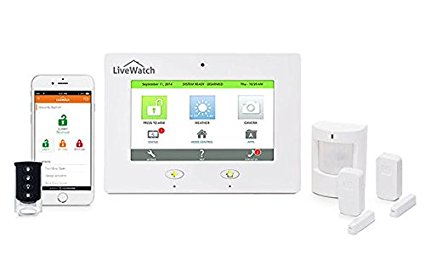 The LiveWatch Plug & Protect IQ Home Security System doesn't have a significant market share like more established brands such as Frontpoint and SimpliSafe, among others. The brand's increasing popularity is nonetheless informed by its easy-to-use equipment, the simplicity of its Do-It-Yourself installation, active monitoring, wide-ranging smart-home choices, and the flexibility of its monitoring packages. Comparatively, too, the start-up cost isn't as steep, and after making the necessary payments you get a touchscreen control panel, contact sensors for entry points like doors and windows, an indoor Wi-Fi-enabled surveillance camera, and lastly a keyring remote to allow you arm and disarm the LiveWatch Plug & Protect IQ Home Security System remotely.
Expand to see more
You can choose between the Total Home + Video monitoring plan which involves video surveillance, or if you aren't a fan of video camera, you can still go with the Total Home package. Their pricing falls somewhere halfway between cheap and expensive. Though it can be said to lean more on the costly side, the low entry cost of the requisite equipment balances off the cost in the long-run.

It is highly recommendable because it offers a much better contract agreement compared to its competitors. While most security companies like tying their customers for the long haul, LiveWatch makes it crystal clear that you have the freedom of cancelling your agreement whenever it pleases you, whether it's a 12-month contract or not. Neither will you be charged a cancellation fee or pay for the remaining duration of the initial contract. Cancelling a 12-month service agreement entitles you to refund provided you return functional equipment. Terminating the agreement after the first 12 months, however, comes with no refunds and you get to keep the hardware. The most obvious difference here between LiveWatch and other security firms is the contract flexibility of the former, in which a cancelling does not attract a fee.

LiveWatch understands that conditions and circumstances inevitably change over time. There's the possibility of losing your job, relocating to a new neighbourhood, upgrade to a better security package or for some other reason and punishing a customer by charging them an exorbitant termination fee just rubs them the wrong way.

To simply the installation process, all the sensors and cameras are given names in accordance with the respective areas of the house on which they'll be placed. You'll be required to provide such information to the company while ordering the LiveWatch system. Upon arrival, all you'll be doing is sticking them in the spots corresponding to their names such as front door, kitchen window, hallway, etc. After a successful placement, the next step in activating the system by calling the company over the phone. With the detailed installation instructions, including photographic illustrations, the process shouldn't take you more than twenty minutes. It's during the activating that a LiveWatch representative will walk you through the key aspects of the security system, beginning with the touch panel to assisting you to configure the Alarm.com smartphone app.

The security system's Qolsys control panel doubles up as the main processor and interfaces for arming and disarming the system's alarm and other smart features. The panel comes with battery backup to cover you for the next 24-hours in case of a power outage. The system's Smash & Crash feature discreetly notifies the monitoring company of a burglary attempt to which the monitoring team responds promptly. You can never go wrong with the LiveWatch Plug & Protect IQ Home Security System. It's among the best wireless home security systems we've tested, and it comes highly recommended for home use.
No long-term contract commitments
Easy Do-It-Yourself installation of devices and equipment
Quick monitoring response
Highly rated customer service
Easy to use mobile app
No steep contract cancellation fees
Prohibitive starting costs
Basic home automation features
Limited customization options
Fortress GSM-B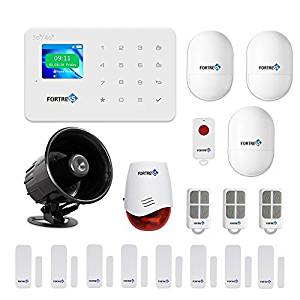 The beauty of the Fortress GSM-B Wireless Cellular GSM system is that it gives you freedom of setting up a top-notch wireless monitored alarm system in your home without having to incur expensive monthly charges. The Fortress GSM-B, as its name suggests, is an entirely wireless system with the main component, the console unit, reliably monitoring the wireless sensor units and dutifully sets off the alarm if someone attempts to gain access to your house without authorization.
Expand to see more
The Fortress GSM-B Kit is provided with ten door and window contacts and an additional three movement sensor units. As a result, irrespective of the expansiveness of your home, the system is an ideal alternative to keeping your home safe at all times. To make the wireless home security system even stronger, you are accorded the freedom of installing a Sim card that will send out text alerts to three phone numbers of your choice. Ideally, one of the three numbers should be for a monitoring company, even though this comes with paying some additional charges.

It comes with one GSM Main Panel, three Remote Control Fobs, three Standard Motion Detectors, ten Contact Sensors for the different entry points, an Internal System capable of producing 130 decibels of the alarm sound, another 130 decibel siren for indoor and outdoor settings, and lastly a Panic Button.

If you are looking for serious and solid reasons as to why you should get this product, now is the time to pay attention. The wireless home security system, first of all, is one of the most functional and versatile security systems you'll come across in the wireless home security industry. The security system offers you all the functionalities of a top-tier high technology alarm system but without the exorbitant monthly charges. The system is entirely wireless and comes with an auto-dialler that will promptly trigger the sirens before dialling or sending you a pre-set alert message in case your home is under attack, or there's an intrusion attempt.

A major highlight is its remote tracking capabilities. The design of the system allows you to call in at any time to track the security situation at your home and remotely inspect if something is amiss. You can similarly engage and disengage the alarm system remotely while you're miles away and even use the intercom function from anywhere in the world.

You could be wondering what would become of your security situation in case a power outage cuts off your power supply thereby completely leaving your house without any protection. The Fortress brand addresses this situation by ensuring the security system is always linked to your landline and the GSM sim card. The implication is that in case a potential burglar cuts off your landline connection or there's a power outage, your home still gets to be protected.

Being a Do-It-Yourself security system, you don't need any professional assistance in getting it up and running, and from our own attempts, the entire installation process lasts approximately 10 minutes, probably less if you have an extra pair of hands. Setting up all the sensors, connecting the relevant equipment to the main, downloading the right app, and ensuring there's reliable communication between the different components, while it sounds complicated and time-consuming, is actually simple and straightforward.

Like most wireless home security systems, the Fortress GSM-B Wireless Cellular GSM Home Security Alarm System is highly customizable. You can change several of the security aspects to match your desired security coverage. For instance, you have the freedom of expanding the system to include up to 99 sensors or less and also divide your house into different zones to accommodate different sensors making it possible to enable or disable alarms in the respective zones with ease. Furthermore, you can add more protection against fire, smoke, and gases.
Round the clock protection
No monthly fee charges
Ideal for larger homes
Cellular backup in case landline cables are cut
Lack of monitoring service reduces authorities' response time
Abode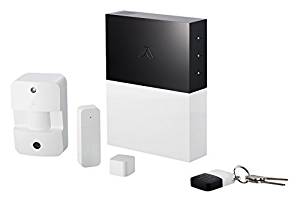 If you were torn between the different home security choices currently flooding the market promising you eternal security for your home and its occupants, you might want to pay considerable attention to the Abode Starter Kit wireless home security system. The system significantly simplifies the process of monitoring your home since it comes with real-time notifications and an easy-to-use mobile app packed with numerous options. With an on-demand paying option included, you're guaranteed your home is always under 24-hour surveillance with the best team in the world ever ready to respond in case of an emergency.
Expand to see more
With its motion-detecting camera, the Abode wireless home security system is capable of efficiently automating numerous aspects of your home such as the lights, locks, the thermostat and even smoke detectors. Customizing the notifications that reach you is further simplified to let you know in real time the status of your home. The system beats others hands down when it comes to such paramount considerations as ease of use, features, and capabilities.

Being a Do-It-Yourself security system, you don't need any professional assistance in getting it up and running, and from our own attempts, the entire installation process lasts approximately 10 minutes, probably less if you have an extra pair of hands. Setting up all the sensors, connecting the relevant equipment to the main, downloading the right app, and ensuring there's reliable communication between the different components, while it sounds complicated and time-consuming, is actually simple and straightforward. The simplicity of the system goes a long way in helping with the connections, particularly to the Abode Gateway. Using the system immediately after setup is possible, thanks to the pre-programming of the key fob. The alarm is sufficiently loud at 105 decibels and will deter any theft attempts easily, and if the intruder is persistent, the response team arrives in no time at all.

If you need additional conviction to get Abode Security maybe the fact that it's compatible with Z-Wave and ZigBee devices and works with If This Then That (IFTTT) will do the trick. With its 12-month warranty, ease of use, customization capabilities, performance, and affordability, we can't find a reason to not go with Abode Security.

While the mobile app offers you several ways of protecting and monitoring your house, adjusting or changing some settings can only be done through the company's website. You're nonetheless accorded the freedom of customizing the notifications, making it possible for you give different names to the cameras and sensors in the house. As a result, taking a sweeping glance around the house to update yourself on the going-on is easy and hassle-free. With the vacation-mode, the security system replays your typical routine of turning lights on and off and locking the door and adjusting the thermostat, just like you would, giving the impression that you're home when in actuality, you aren't. Or you could go with the on-demand professional monitoring in case you want to leave town for a few days, and you find the idea of leaving the house unprotected discomforting.

Signing up for premium self-monitoring service naturally comes with more advantages and conveniences. Like most other wireless home security systems, the system connects to your router through an Ethernet cable. In the event of a power outage, however, the horrifying implication is that you'll be left with no protection at all. To circumvent such an eventuality, the Abode brand allows you to back-up the system with a cellular connection, which would be powered by the brand's 10-hour battery backup.

Whether you're working on a budget or not, Abode has you covered. It offers you three home security packages: the basic free self-monitoring, premium, and professional plan. If you frequently leave town on business trips or for personal reasons, the basic plan still gives you on-demand monitoring alternative for three days or a whole week at a pocket-friendly price. The premium package comes with the said cellular backup monitoring in case of a blackout, two-week media storage and phone support at an affordable rate. The professional plan, on the other hand, allows you access to all the premium features, professional monitoring, and another three-month media storage.

Comes with a user-friendly mobile app
Has geo-fencing capabilities
Easy and quick installation
Around-the-clock monitoring gives you a peace of mind
Compatibility with IFTTT, Amazon Echo, and Nest
Great customer support
Easy to customize according to one's needs
Relatively short 12-month warranty
BIBENE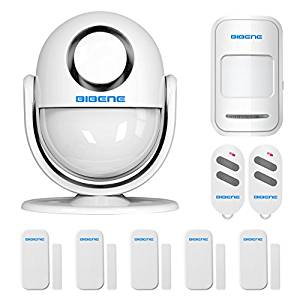 When it comes to a reliable Wi-Fi connection for smaller homes, the BIBENE Wi-Fi Home Security System's proves to be outstanding more especially due to its low price. The latest model features one base unit, window sensors, one motion sensor, two remote controls, backup battery, and a multi-user app for complete remote access and control, perfect for out-of-the-box use. One incredible feature that budget-conscious buyers are likely to appreciate is that no monitoring service is involved, implying no additional charges.
Expand to see more
One exciting feature of the home security alarm system is that it comes with a host of exceptional features. These features may or may not be included in a package deal with your initial purchase.

The alarm system has security cameras particularly crucial for those who need to keep tabs on entry points and almost invisible areas. But with the help of smart devices, one can access a system's security cameras. That implies an affordable, efficient, and accessible way to the homeowners to monitor their homes remotely. And, of course, the advantage of that is allowing homeowners to apprehend perpetrators during the home invasion efficiently.

Equally important, the security system has well-designed glass breakage detectors which recognize the sound of breaking glass. Without any doubt, such a feature is reassuring to the homeowners because it limits the possibility for any criminal to shatter glass and enter a home without tripping a door or window sensor. Shock sensors are another incredible home security system feature used to detect vibrations and impacts whether natural or unnatural. Thus, any attempts to break or move secured objects are likely to be identified by this type of sensor which provides an additional layer of protection and peace of mind.

Carbon monoxide detectors are another exciting feature which allows the system to monitor the presence of carbon monoxide. Additionally, it alerts the residents of the appropriate levels of the poisonous gas in the home. In the same way, the security system has environmental sensors which help to detect sudden ecological changes including temperature and humidity fluctuations. One surprising function of the sensors involves detecting the presence of water and alerting residents to potential flooding or leakages.

To sum up, the home security alarm system has smoke detectors which help to detect the presence of smoke particles. In case of an extreme smoke level, the system can potentially alert you.
No additional charges after the initial purchase
One can make any necessary adjustments after installation due to familiarity
One gets guaranteed that their home is being monitored 24/7, even if an individual is out of range
When your smart device battery is dead, one is unable to receive or respond to an alert
Any slight interference can trigger false alarm
3. Simplisafe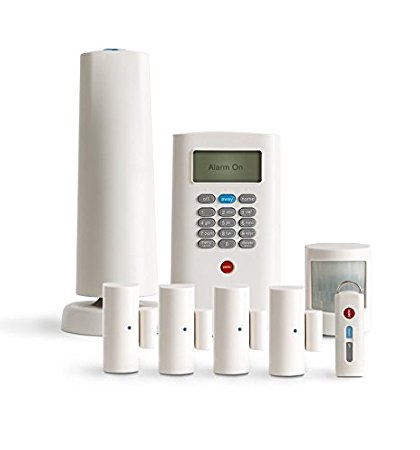 So far we've reviewed two of the simplest to instal home security systems in the industry and joining them on the list is the SimpliSafe Home Security System. So simple is the design of the home security system that all you have to do to start using it is plugging it in. Such simplicity understandably raises concerns, with most players pointing out that the brand may be passing up on the latest technological advancements just to retain the simplicity. In spite of these concerns, its plain and modest design, it nonetheless exceeds performance expectations. The SimpliSafe Home Security System is capable of keeping your home safe, providing you with an impressive 100 perfect detection rate each time there are burglary and intrusion attempts.
Expand to see more
To keep your home safe, the SimpliSafe Home Security System relies on many components like keypad panels, sensors for doors and windows, motion detectors, glass break sensors, a GSM base station, among other crucial components. As is the case with most wireless home security systems, you have the pleasure of customizing SimpliSafe Home Security System in several different ways in a way that best addresses your needs. Consequently, you'll have the final word on the number of sensors, cameras, and monitors to use with the price ranging from between $19.99 and $99. To save on costs and the accompanying expenses, it would be prudent to customize the home security system in line with your security requirements.

The sensors are non-assuming both in their design, size, and colour and could easily pass for a part of the door jam or be hidden with relative ease in the corner of the house and we guarantee it would never attract the attention of a would-be burglar. The aesthetics of the SimpliSafe system are likewise several years behind, lacking in the sophistication and modern look of other home security systems, both in colour and size. These do not affect the performance of the security system, nonetheless.

As previously mentioned, it is one of the simplest security systems to install without any professional assistance. Assembling the components to placing the sensors and cameras in different rooms and getting it live and armed takes a paltry 20 minutes. The pre-registration of all the components of the system partly explains why the installation process takes much less time and effort on your part. Once all the components are taken out of the box, the next step is pulling tabs from all the batteries, plugging the USB keychain into the base station and signing up for the services. While the use of simple technology takes the pressure off, it nonetheless requires that all the essential details are worked out beforehand due to the lack of alternatives for changing details after setup.

The insistence by SimpliSafe on keeping things simple starts to show its drawbacks when it comes to real time monitoring of your home. The lack of software integration seriously reduces your monitoring options since all you can do is arm the SimpliSafe remotely, monitor events timeline, and view the images captured by the different camera. And that's all there is to it. Because of the system's integration with Nest Thermostat, however, it's possible linking up your keypad with your house's thermostat. As a result, upon arming the system, the energy consumption of Nest Thermostat goes down and bringing it to standard levels once it detects you're within.

The offsets its lack of software integration and modern aesthetically-appealing looks by offering you very simple yet effective performance. In the event that someone cracks the front door, runs up and down the hall within the vicinity of the motion-detecting sensors and cameras or claps from about 10 feet of the glass break sensor, the alarm will immediately go off. So effective is the system that it registers a 100 percent detection rate, irrespective of how slight the movement is. All attempts by us to by-pass the system simply failed. Attempts at dodging the sensors or cracking openings adjacent to the glass break sensor quietly would be promptly picked up in a second after which it sends an alert to the home owner's mobile device.
No long-term commitment, free to cancel contract anytime
Cheaper than most security firms' monitoring
Easy and quick installation
Easy relocation
Sufficiently long 36-month warranty on equipment
Steep cost of acquiring hardware
No home automation features
2. ADT Pulse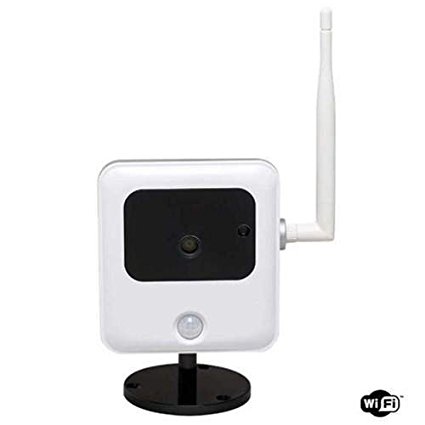 The beauty of ADT wireless home security system is that it comes with a mobile integration technology referred to as the ADT Pulse, which gives you maximum control over your security system through your smartphone or other internet-enabled devices, at any time of the day and from anywhere on the planet. And that's not enough. With the ADT Pulse, several aspects of your home security are now controllable via voice commands. All you have to do to use the feature is authenticate your voice, after which arming and disarming the system, locking and unlocking doors, and turning lights on or off become an easy and effortless endeavour.
Expand to see more
Additionally, the security system's compatibility with If This Then That (IFTTT) channels allows you to fine-tune the system in accordance with your preferences beyond the fundamentals. For instance, you can quickly make adjustments to your home temperature on the basis of the weather conditions prevailing outside. Should you opt for a wearable device, arming and disarming your home security system will be as simple as setting it to "sleep" or "awake." With these features, it's easy to see why ADT Pulse is a game-changer. With its IFTTT integration, it's capable of connecting to up to a hundred channels with the aim of keeping your resistance safe and simplifying the routine aspects of your life.

ADT comes with a few useful guarantees that make it a worthwhile investment, especially for individuals dead set on keeping their homes safe and impenetrable for would-be burglars. The alarm system makes you feel safe and secure in your own home, and even when you're away, knowing sufficiently well that a forced entry will automatically set off the alarms. An aspect of ADT that mainly makes it stand out from the crowded competition is its Theft Protection Guarantee which pledges that in the event of a break in leading to the loss of property when the burglar alarm is live, the brand will contribute a maximum of $500 to your homeowner's insurance deductible. Not only does the unique guarantee add to your sense of security, but it also makes you comfortable and reassured.

The ADT brand understands the inevitability and unpredictability of a household relocating to a new location, for whatever reason. Could in search of greener pastures, to take up a new job offer, or to upgrade your residence. To this end, the brand offers you a relocation discount guarantee which will go a long way in helping you make significant financial savings during the installation of the security system in the new house. The Mover's Package Guarantee, as it's popularly known, is considered a God-send, allowing you the flexibility of moving to a new neighbourhood without interfering with your security requirements.

Perhaps the most significant advantage to going with ADT wireless home security system is the peace of mind that comes with being part of a trusted brand, having been in the business of protecting people's homes for 14 decades now. The company has registered significant growth over that time, both in experience and expertise, knowing fully well the ups and downs of keeping people's homes safe 24/7. By testing and refining its security system, they've gradually and steadily earned the trust of large segments of the market, a fact evidenced by the fact that they are the top provider of security in the world, catering to the security needs of some 6.4 million customers in the United States alone.

The time it takes security authorities to respond to an emergency alarm may be the difference between a successful determent and loss of treasured possessions. Most security firms don't have a response time assurance as it all rests on the call volume of monitoring centres and their bandwidths. This is where the ADT brand stands out from its competitors. Other than having four national monitoring centres in the United and increasing its reach internationally, transferring bandwidth volume from one call centre to another can be done seamlessly and efficiently. We imagine it's going to be a little of a challenge finding a security firm capable of smoothly handling approximately 19 million alarm signals annually, all the while understanding the significance of a fast response.
Comes with technologically advanced security hardware and equipment
Continued security service even after relocating
Best reputation
Dependable monitoring with at least 100 monitoring centres
User-friendly mobile app
Professional installation for easy maintenance
User-friendly mobile app
Increasing monitoring fee with additional tweak and customization
Charges installation fee
Heavy termination penalty
FAQs
Q: What's the average length of time it takes for the security system to alert the monitoring centre of an on-going intrusion attempt?
A: When an intruder breaches the wireless home security system and the alarm immediately go off, a majority of homeowners take it that the security system automatically and immediately notifies the monitoring company on the on-going breach attempt. While this is true for some security companies, it doesn't hold for all of them. Some security systems are equipped with alarm delays that among other things, leaves sufficient room to verify whether the alarm is authentic or false. The delay may last for up to four minutes, which is sufficient time to deter a real burglary attempt. Try assessing the probability of false alarms at your home and the corresponding charges and compare that to the damage that could result from an alarm remaining unreported for a full four minutes.
Q: Which one is better: a DIY security system or one that's professionally installed?
A: Both installation methods have their fair share of strengths and weaknesses and it's by delving a little deeper into both that you'll find one that best matches your needs. DIY installations comes at no installation cost at all but is labour and time intensive. Professional installation, on the other hand, takes the pressure off and is easier to maintain, plus it could be done for free or attract a considerably hefty fee, depending on your preferred security firm. The choice you make here should, therefore, be based on the availability of resources and how comfortable you feel installing your own security system.
Q: In case an intruder cuts my phone line, do I still have security monitoring?
A: A burglar or intruder will try preventing your alarm system from notifying your monitoring center of the ongoing invasion by first cutting the phone line. The lines could also be inadvertently cut in the course of co, innovation, or renovations works, which would essentially leave you without any protection. To circumvent the challenge, you could upgrade your package to include cellular backup and wireless broadband systems.
Conclusion
As we explained in the second section of this entry, you need to consider several factors while you're out shopping for a wireless home security system. The most important of these factors is your security requirements. It's by first assessing and understanding your security needs that you'll be able to narrow down your search, filtering out the security systems that don't meet your needs until you're left with the one that does. Security in an essential issue and if you have the means, why compromise? The security system will definitely give you comfort and a peace of mind, knowing your home and its occupants are protected all around-the-clock and that help is only a call away in case of an emergency.
Subscribe to our newsletter