The Best Blacklights Reviews & Ratings
last updated:
Jul 31, 2018
LED Blacklights are equipped with a varying number of LEDs to provide you with a wavelength of light capable of shifting from a tightly-controlled spot to a wide coverage, allowing you to see stains and dirt that a human eye would easily miss. The number of LEDs vary from one brand to another and depend on the price of the blacklight flashlight. Most of them, however, have 51 LEDs. Blacklights have tremendously grown in popularity over the last couple of years, mostly driven by the need to keep homes and other commercial establishments clean and liveable. Their ability to efficiently emit ultraviolet rays through their LED bulbs makes them an ideal choice for a wide range of activities. For the most part, blacklights are perfect for investigative work both at home and on the work site.
The blacklight flashlights can trace, with exact precision, the source of that pungent and repellent smell that has filled your home lately. They are similarly good at determining the path of scorpions, bed bugs, and detecting the stains left by pets on such surfaces as floorings, carpets, sinks, rugs, bathrooms and bodily fluids on bed sheets. Blacklights with a higher emission cover a significantly larger area compared to the other cheap and poorly constructed variants flooding the market. Your choice of the best blacklight flashlights should rely on some factors, the most important one being your needs. Once you're conversant with what you need, then and only then, can you successfully begin the search for a most suitable blacklight flashlights. In this buying guide, we'll walk you through the steps of picking a blacklight that most addresses your needs.
Our Top 3 Picks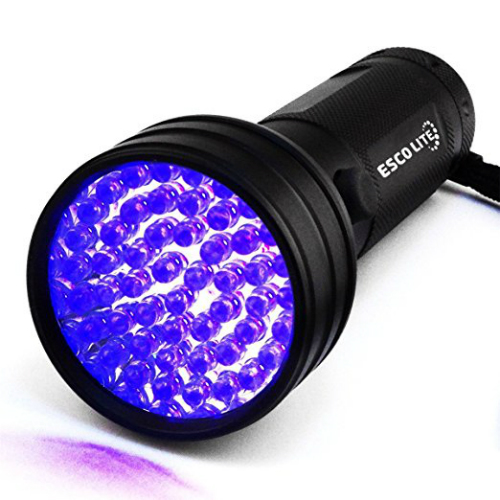 Escolite

Our rating
Powerful
Price:

See Here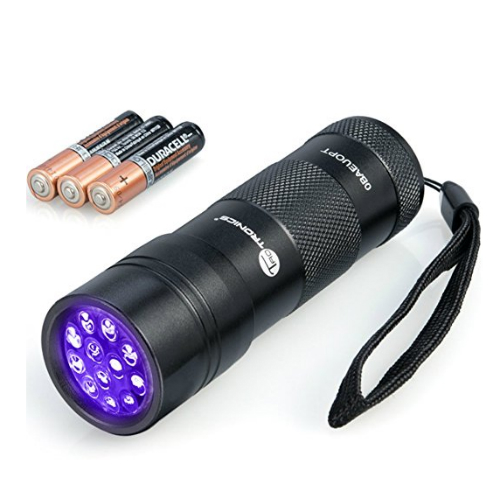 TaoTronics

Our rating
Affordable
Price:

See Here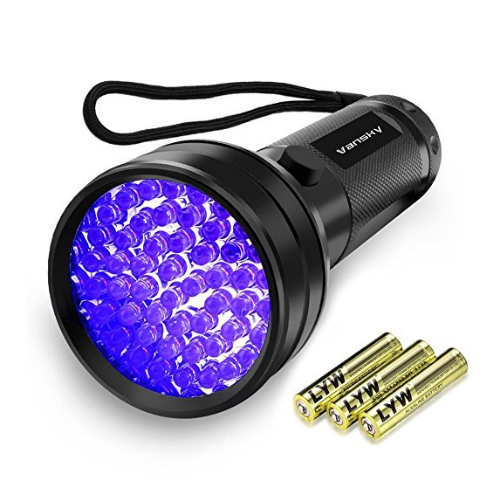 Vansky

Our rating
Strong
Price:

See Here


Criteria for Choosing the Best Blacklights
Reason for Purchase
To get your money's worth, you have to m
ake the prudent decision of investing in a blacklight flashlight that most suits your needs. Do you need one that helps with the quick inspection of pets' urine on chairs, floors, carpets, bed sheets or rugs? If the pungent and repellent smell of urine is a
constant irritation, you'll want to invest in a considerably powerful flashlight to help you track smell right to its source. Powerful variants can point the exact spots containing urine, wet or dry, enabling you to
clean the precise spots with ease,
and thus
helping you save on costs and time.
Is it bed bugs or scorpions you want to avoid like the plague? No worry. Some blacklight flashlights have a useful and convenient broad flood effect
to give you a sweeping view of the invasive animals invading your home or office.
Coverage Area

Sometimes all you want is a functional blacklight flashlight for sweeping through a hotel room or a relatively small apartment. Other individuals may live in quite an expansive house with several rooms and therefore in search of a more powerful and long-lasting blacklight flashlight. No point going for a powerful version as a flashlight with roughly 50 LED light bulbs should be sufficient for a small room or apartment, helping you to save money and power. A flashlight with about 100 LEDs on the other hand, is more suited for a large room as they come with a level of performance, ease of use, efficiency and effectiveness lacking in cheaper low-model variants.
Budget Considerations
As already mentioned, it's pointless digging deeper into your pocket or breaking the bank, figuratively, of course, just to own a brand name. The brand you go for should be determined mainly by your purchasing power. And while you're at it, make a point of getting a pocket-friendly yet functional flashlight, the kind whose performance rivals that of top-models. To help you arrive at an unbiased decision, try to rank the units in accordance with their durability, quality of construction, and brightness.
10 Best Blacklights
1. Escolite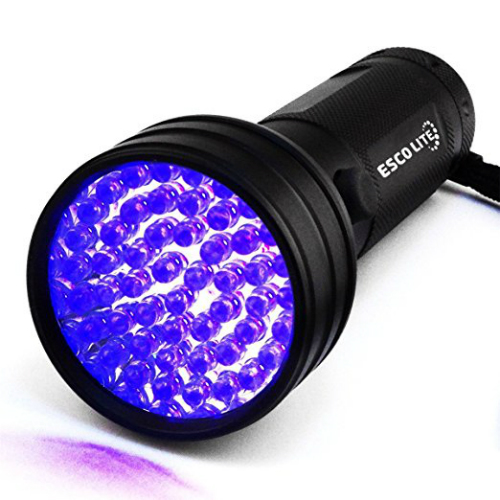 If you're moving from one shopping mall to the next in search of the best blacklight flashlight for home and commercial use, your search ends with the Esco-Lite 395 nM 51 UV Ultraviolet LED Flashlight. The blacklight comes with a bunch of several unique features that just make it stand out in a market crowded with numerous competitors. The first distinct highlight of the Esco-Lite is its beam, which, other than being exceptionally bright, covers quite an extensive area without losing intensity, unlike its closest competitors whose beams are limited to a specific concentrated area. Plus, you have the freedom of adjusting it by increasing its throw of light while lessening its flood effect. Consequently, you're able to have a more comprehensive view of the vicinity making it possible for you to quickly and effortlessly spot a particular targeted item or material, at a fraction of the time it would've have taken your naked eyes.
Expand to see more
The Esco-Lite is a high performing blacklight flashlight, offering you an incredibly flexible range of between 390 and 395 of nanometre wavelength, reducing the time and effort it would have taken to spot phosphors, meaning that you'll be capable of tracking movement and activities of such animals as pets, dogs, cats, and bedbugs. Couple the expansive wavelength with the device's 51 LED set, and now you have a blacklight flashlight that is of great assistance in lighting up a vast area way beyond the seeing capabilities of your naked eyes. With these features, the Esco-Lite UV Flashlight Backlight 51 LED is ideal for uncovering the extent to which rodents and pests have contaminated your house or place of work, reinforcing security at night, inspecting hotel rooms, and other establishments with relative ease.

One feature that particularly endears this blacklight to most people around the world, a fact evidenced by its ever skyrocketing sales record, is its sturdy and professional construction, making it a versatile and an all-around device. Additionally, the blacklight flashlight is water and dust proof, which, other than significantly increasing its shelf-life, makes it your go-to tool for detecting leakages in your house' plumbing and even at the office.

The Esco-Lite is constructed with industrial-grade materials such as aluminium, commonly known for its ruggedness and strength, meaning that other than being a long-lasting tool, it is also resistant to shocks, and can, therefore, be used comfortably in the harshest of conditions such as the construction site. To top it all off, it sports an ergonomic design to make it easy to use for extended periods of time. To this end, the device is lightweight and compact and poses no immediate danger of straining your hands or finger. It also has a knurled designed that makes it aesthetically-appealing for segments of the market that value aesthetics.

This is a useful device coming with a bright 51 UV LED light that adequately covers a wide range of space, allowing you to effortlessly and quickly hunt down scorpions, bed bugs, the urine and dirt left behind by dogs and cats. Because of its versatility, you can similarly use it for hunting minerals, inspecting plumbing problems, and enforcing security control. The design is thoughtful and very comfortable, plus it's lightweight and compact allowing for several hours of use while keeping fatigue at bay. The energy efficiency of the Esco-Lite UV Flashlight Backlight 51 LED ensures that your 3 AA Alkaline batteries last for quite a long time, averagely 20 hours depending on usage. Given the brightness of the light, it is highly recommended that you and the people around you keep themselves safe by wearing safety glasses.
Features a sturdy and robust construction for longevity
Powerful illumination and wide coverage
Lightweight and compact for easy portability
An all-around blacklight ideal for a multitude of applications
Doesn't work well with Identifications and driving licenses
Bumping causes flickering
2. TaoTronics TT-FL001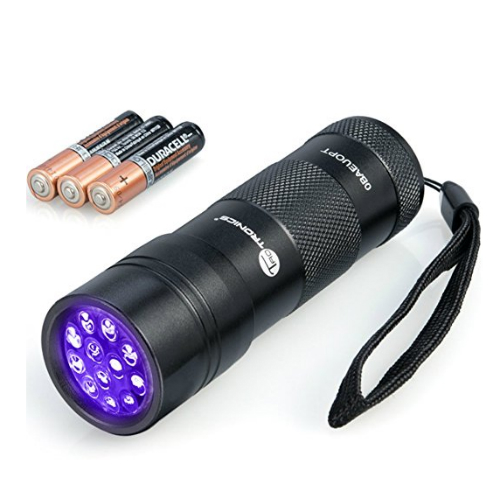 Sometimes all you're looking for is a simple, modest yet functional blacklight flashlight to help in detecting urine and various stains around the house. Or you could be working on a tight budget and just need something to get the job done. Just because the TaoTronics TT-FL001 sports a budget-friendly price does not mean it's a slob when it comes to performance. In fact, the TaoTronics brand put considerable thought, effort, and experience into making this ingenious product, making it quite useful at detecting the slightest traces of phosphors left behind by pets and other intrusive animals. The capability of TaoTronics TT-FL001 Pets Urine and Stains Detector to detect pets' urine and other stains is quite impressive, meeting and far surpassing that of the human eye.
Expand to see more
The TaoTronics TT-FL001 is of significant help in the detection of the most hidden stains on different surfaces such as rugs, carpets, and flooring. With its 395 nM wavelength output, you'll be able to do so quickly and accurately. The blacklight flashlight is equipped with a total of twelve high-quality ultraviolet LED lights capable of revealing all types of stains immediately it is directed to a particular spot within the house or office. It focuses the Ultraviolet light within considerably extensive coverage and without losing its sharpness or intensity. Because of the light emitting abilities of phosphors, as a result of radiation, the TaoTronics TT-FL001, with its aforementioned top-notch ultraviolent lights, will hardly miss a spot on the floor, ground, or carpet.

It provides you with a straightforward and hassle-free operation, and there is almost no fine-tuning to do to get started. Upon receiving the blacklight flashlight, all you have to do is install the three Triple batteries, turn it on using the strategically located switch, and get to hunting for stains left behind by pets. The energy-efficient TaoTronics TT-FL001 can use the same batteries for as long as five hours, which is a sufficiently long period to allow for the accurate detection and location of various stains and pungent smells around the house. As a result, the need to replace batteries is an occasional rather than a frequent activity, which in turn helps you save costs.

To summarize, the industrial-grade construction and top-notch design of the TaoTronics TT-FL001 means it's an ideal tool to use for several tasks from detecting stains left by animals, revealing the authenticity of Identifications, detecting the leakage of gas, to searching for poisonous scorpions. Its factory fitted with 12 powerful UV lights capable of lighting up even the darkest halls in an instant and comes with a sufficiently wide beam to light up a large area.

Plus, it has a budget-friendly price tag despite its exceptional, reliable performance and construction quality. You get a free pair of UV eye protecting goggles to keep your eyes safe from the damaging effects of constant exposure to bright light. The TaoTronics TT-FL001 Pets Urine and Stains Detector is a lightweight and compact blacklight flashlight that is quite portable and will be a great addition to your indispensable collection of tools.
Features a rugged and long-lasting construction using ultra-strong materials
Budget-friendly in spite of quality construction
A multipurpose blacklight flashlight
Has a wide coverage
Exceptional fluorescing capabilities
Powered by readily-available and long-lasting triple A batteries
3. Vansky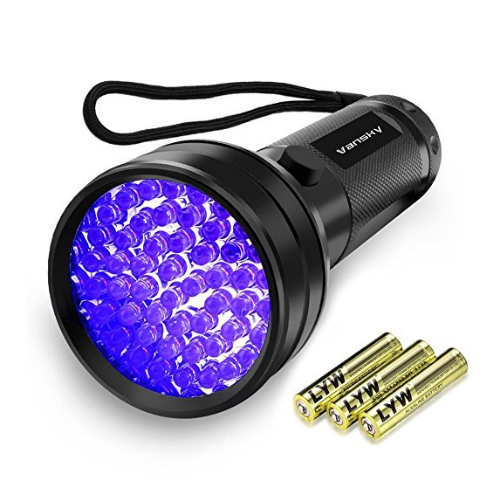 Only a handful of blacklight flashlights share in the flexibility and versatility of the Vansky UV Black Light, considering that the design of most of them restricts them to searching for unwanted animals around the house and office. THE Vansky packs a level of versatility only found in top-model blacklights. It allows you, among other things, to carry out a thorough inspection of several items to validate their authenticity. Law enforcement agencies can use it to differentiate genuine currency notes, passports, work badges and permits among a litany of other documents by merely shining the flashlight on the mentioned items. Homeowners, on the other hand, can reliably use the Vansky UV Black Light to find pools of pee, both wet and dry, left made by their animal pets like cats and dogs.
Expand to see more
And if the thought of living in a scorpion and bedbug infested house just doesn't sit well with you, neither does it sit well with anyone for that matter, the Vansky, with its wide coverage of powerful 51 LED lights, will definitely be of great assistance in tracking them down. The wide flood effect of the device, at a surprisingly impressive intensity, makes it impossible for your eyes to miss a single thing in its path, even if it is the slightest phosphors trace of scorpions. Searching through the pitch darkness of the midnight will no longer pose any serious challenges. It is capable of emitting intensely powerful and long wave ultraviolet rays that instantly reveal to your eyes little stain of urine, coffee spill, body fluid, and bed bug on your floor, carpet, run or bed sheets.

In spite of its immense detecting and inspecting power and quality construction, the light is amazingly easy to use. Because it is lightweight and compact, carrying it around the house while moving from room to room looking for bed bug infestation or pets' urine is actually a joyful experience. The weight and consequent manoeuvrability mean you'll be done getting your apartment or office in a living and odour-free condition in no time at all, all the while using very little effort and never risking breaking your back as the power of the LEDs eliminate the need to bend over.

The compactness of ensures it takes up a small fraction of your storage space, whether you're planning on safely tucking it away in your suitcase, backpack, the trunk of your car or just comfortably holding it in your hands. The design, therefore, allows you to bring it with you to different establishments like hotels so that inspecting your room for bedbugs and rodents and the sheets for bodily fluids is a time and energy saving endeavour, lasting a matter of seconds. The other activities you can do with the Vansky are detecting Freon, oil and gas leakages.

The Vansky UV Black Light sports and sleek and modern looking shaft which, other than being resistant to various substances like water and dust, is ergonomically designed and has rubberized handle grips. The aim is to increase friction between the hand and the blacklight for preventing accidental slippages which could damage the product even though it similarly has shock absorbing capabilities. The use of high-quality aerospace alloys to make it effectively makes it an everlasting product, with the necessary ruggedness to keep away the damaging consequences of rust and corrosion. Couple the ergonomic design of the Vansky and the fact that it's lightweight and compact and you have a flashlight you'll find extremely hard to put down. All you need are a set of six Double-A batteries, and you're set.

To finalize, with its impressively wide covering wavelength of 395-nanometres, the Vansky UV Black Light is a must-have flashlight, especially for individuals who put a lot, or just enough, emphasis on cleanliness. It is similarly an ideal product for those who want a versatile flashlight, whose functions transcend rodent and stain inspection, such as law enforcement agents and outdoor enthusiasts keen on keep dangerous animals like scorpions at bay. Because its 51 LED lights are 30 percent brighter than that of a typical flashlight, you won't miss a single stain on the floor, sofa, carpet, or rug. With proper use, the Vansky can easily last past its 12-year shelf-life.
Super bright
Sturdy and long-lasting construction
Very energy efficient
Comes with 51 powerful LED lights
A little too bulky for small spaces like pockets
4. uvBeast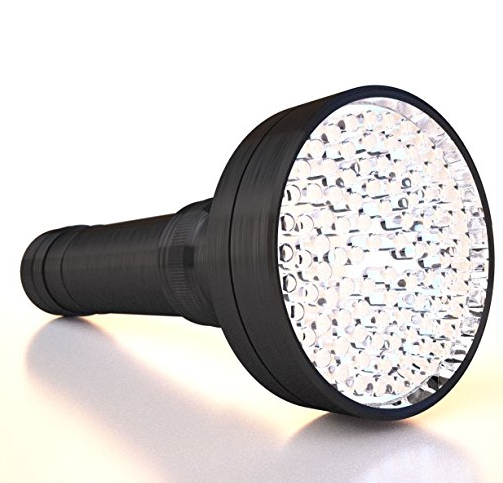 Whatever your profession is, you have every reason to want to own the uvBeast UV Flashlight Blacklight, from its sturdy construction, top-notch performance, and versatility. In fact, it would be more accurate to say that you'll need to come up with a convincing excuse not to want to reward yourself with the uvBeast UV Flashlight Blacklight. The blacklight flashlight is quite a versatile tool and will come handy in many situations both at home, the work site and at the place of work. Now, let's delve into the features and specs that make the uvBeast UV Flashlight Blacklight stand out from a crowded market.

Expand to see more
As already mentioned, the uvBeast UV Flashlight Blacklight features a commercial-grade construction using only high-quality aerospace-grade anodized aluminium, renowned for being robust, compact and yet lightweight. Consequently, it comes with an ultra-strong case capable of withstanding and absorbing the shocks resulting from being accidentally dropped while being used. The blacklight is similarly resistant to dust and water, meaning that you have the freedom of using it without worry both in an indoor and outdoor setting. Therefore, the blacklight flashlight will provide you with up to 100,000 hours of service life, provided you use it correctly as directed by the manufacturer.

The uvBeast is equipped with these exceptionally powerful higher radian intensity LEDs which have a sharpness and intensity – because of their ability to output considerably less white light - that's rivalled by very few other blacklight flashlights in the market. The incredible power of the LEDs enables you to see far beyond the natural capabilities of your naked. Its brightness eliminates the need to go on all fours in search of stains and pet urines. You'll be able to see up to 50 feet into the distance, a fact which makes the uvBeast an ideal tool to use for reinforcing security and detecting scorpions from a distance, too.

Additionally, the LEDs allow you to see several items fluoresce brighter and the implication of this is that you'll drastically reduce the effort it takes typically to track traces of urine and pungent smells to their exact origin in more than half the time it'd take other blacklight flashlights. And when you just thought the uvBeast could never be more impressive, it has an incredibly wide flood effect of between 385 and 395 nM ultraviolet light, meaning that its light has an adequately large coverage, so you don't miss a single thing during your inspection.

The power and convenience of the blacklight make it a truly versatile device, its performance never waning even when used in ambient conditions. As a result, other than using it to monitor the cleanliness of your flooring, carpets, and rugs, you can similarly put the uvBeast to several commercial applications. Specifically, the blacklight flashlight shines in performance when it's used for the verification of the levels of sanitization after cleaning various items and objects in different establishments like hotels, restaurants, and kitchens. The uvBeast UV Flashlight Blacklight continues to make a name for itself based on its ease of use, hassle-free operation, performance, and effectiveness.

Powerful illumination
Mind-blowing pinpointing prowess for leaks, stains, scorpions, and bed bugs
Multipurpose device
Long-lasting with 100,000 hours of useful life
Comes with 12-month money-back guarantee
Not the brightest
Expensive
5. Findway 5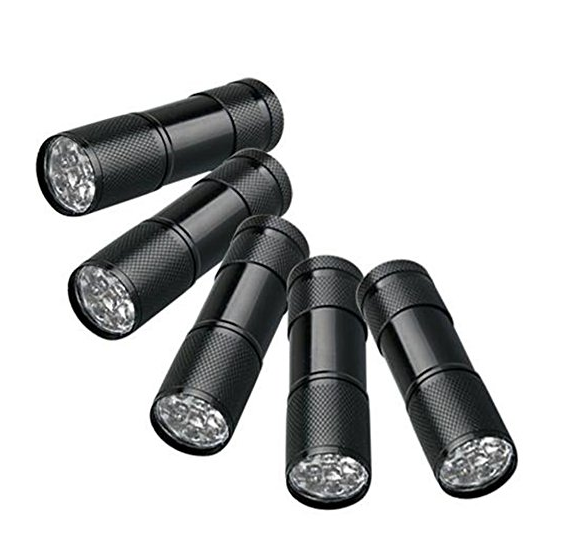 Trying to find a better deal that beats the one provided by the Findway 5 UV Ultra Violet Blacklight will soon prove to be a fruitless and futile attempt. The product is a perfect embodiment of simplicity, versatility, and functionality, coming with a total of 9 bright LED lights that will effectively light up a given area in an instant. While you can use it at any time during the day, the blacklight flashlight works best in the evening, when the sun is just setting down, which also happens to be a strategically appropriate time to go hunting for urine stains and scorpions as you'll be just arriving home from work.
Expand to see more
The brightness and intensity of the 9 LED lights make it an ideal blacklight flashlight to use on a wide range of applications. The most important uses of the blacklight flashlight would be to confirm the authenticity of currencies, credit cards, check for fluorescent inks and marks, and reinforce security and even to solve criminal cases by different law enforcement agencies. Other than the above applications, the most basic functions of the Findway 5 are monitoring the level of dirt, stains, traces of urine left behind by pets on different surfaces such as floorings, carpets, rugs, sofas, among other surfaces. Not to forget pest control and eradication, of course. It is worth noting, nonetheless, that the list above is in no way exhaustive. If we were to enumerate all the different uses to which the Findway 5 UV Ultra Violet Blacklight can be put, we'd run out of space. Such is the versatility of the blacklight flashlight.

It features a robust and long-lasting construction having been made from ultra-strong and rugged yet compact materials like aerospace-grade aluminium alloy, meaning that with proper use, it can easily last its full shelf-life of 10,000 hours. Apart from ensuring durability, the use of aluminium is aimed at making the Findway 5 a lightweight product, giving it the portability necessary for the comprehensive and thorough inspection of pest contamination, detection of gas leakage in plumbing, among other uses. With its weight of just 8 ounces and dimensions of 3.62 by 1.06 by 0.98-inches, the Findway is relatively easy to carry around from one room of the house to the next and takes up just a small fraction of your storage space. Consequently, transporting it from one place to another either in your hands, backpack or the trunk of your car will be no problem at all.

The internal wiring utilizes the high efficient booster circuit, which, by extension, makes the blacklight flashlight a proficient user of energy. However thorough and exhaustive your use of the flashlight is, its set of three Triple-A batteries will always last for between five and six hours at a time. The implication is that with the typical use that is characteristic of most domestic and commercial settings, you may only need a change of fresh batteries once every other week, translating into considerable savings over the long-run. And it's not like you'll ever need to use the 12-month limited warranty provided by the manufacturer as the Findway 5 UV Ultra Violet Blacklight is built to provide you with efficient performance in a variety of circumstances. The blacklight flashlight, thanks to its sturdy construction, is resistant to water, dust, adverse weather conditions, and the damaging impact of being dropped.

To reiterate, the Findway 5 UV Ultra Violet Blacklight is an amazing piece of equipment coming with a pocket-friendly price tag and performance that closely rivals that of top-model flashlights. It has a higher radiant intensity that enables you to effortlessly detect pet urine and trace invasive animals like scorpions even when the streetlights are on. The performance of it considerably reduces the time and effort it would otherwise take to complete several tasks both at home and at the work site.
Has bright ultraviolet light
Water and dust proof
Fitted with booster circuitry for efficient energy consumption
Pocket-friendly price
Comes with three long-lasting Triple-A batteries
Perfect for locating urine and food stains
Not ideal for spotting cat urine
6. AhomePlay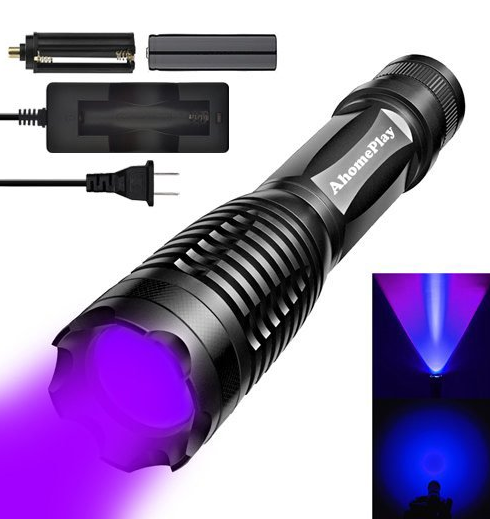 Anyone who's ever used the AhomePlay UV Blacklight would most definitely recommend it to you in a heartbeat, and for good reasons. As professionals in the industry like to say, the AhomePlay is constructed by professionals for other professionals, which is a clear indication that the backlight flashlight is not only sturdy but also a top performer. So rugged is the product that nearly all segments of the market, from law enforcers, business individuals, outdoor enthusiasts, extreme Do-It-Yourselfers, and homeowners consider it part and parcel of their toolbox.
Expand to see more
By now, the popularity of the AhomePlay should have already cued you into its versatility. Homeowners, extreme DIYers, and camping enthusiasts use the blacklight flashlight to look out for invasive animals like scorpions and other dangerous animals. The ability of the product to detect stains on carpets, rugs, and different types of flooring make it the preference of most homeowners who are keen on keeping their homes clean. The power goes a long way in aiding the naked eye in detecting pets' urine thereby making it possible for the homeowners keep their houses odour-free and conducive to live in. Law enforcement agencies, on the other hand, use the blacklight flashlight to verify the authenticity of different currency notes, identification documents and to reinforce security generally.

The power of the product's LED lights makes it similarly ideal for conducting a thorough inspection of hotel rooms just to ascertain they are free of human fluids, bed bugs, and other unwanted substance. It has an incredibly wide coverage at quite an impressive intensity allowing you to find, locate, or detect different things in the darkness a pleasure. Plumbers use the blacklight flashback to determine whether or not there is gas leakage that could jeopardize the lives of inhabitants of different buildings.

Quality of construction is yet another solid reason likely to sway your purchasing decision in favour of the AhomePlay. The body of the blacklight flashlight is made entirely out of industrial-grade aluminium alloy meaning it can comfortably withstand the harshest working conditions and weather conditions. Consequently, other than being resistant to rust and corrosion, the AhomePlay UV Blacklight Flashlight is similarly resistant to dust particles, water, and negative impacts, such as those occasioned by an accidental drop. This is not to mean the product is heavy and bulky. Contrary to your expectations, the blacklight is surprisingly lightweight and compact to encourage extensive use without ever feeling fatigued or straining your hands. The product comes with a carry strap for effortless portability from one room to another. Additionally, the AhomePlay features an ergonomic, knurled design ensuring it fits perfectly and firmly into your hands to minimize the possibility of a slippage. With proper use and care for this product, there is no reason it can't last its full 100,000 hours of useful life.

There are two means of powering the AhomePlay flashlight: a set of three Triple-A batteries and the rechargeable 18650 battery. Whichever your preference, the product provides you with the same level of performance - the extensive coverage and intensity of the LED lights remain the same in both cases. Plus, you can adjust the focus of the lights to suit the activity you're undertaking by merely stretching it inward or outward.

In conclusion, this is a versatile and an all-around blacklight flashlight for carrying out different activities both at home and on the work site. It features a sturdy and robust construction and is resistant to water, dust, high impact forces, rust, and corrosion. The implication is that with proper care, the flashlight can easily last more than a lifetime. Detecting pet urine, uranium, fake identification, bed bugs, scorpions, gas leakages among other things has never been easier, especially with the AhomePlay UV Blacklight Flashlight.
Sturdily and durably constructed
Has the versatility of top-model blacklight flashlights
Skid, dust, and waterproof
An all-around blacklight

Comprehensive and easy-to-understand user manual
Low frequency
Doesn't work well with IDs and DLs
7. LOFTEK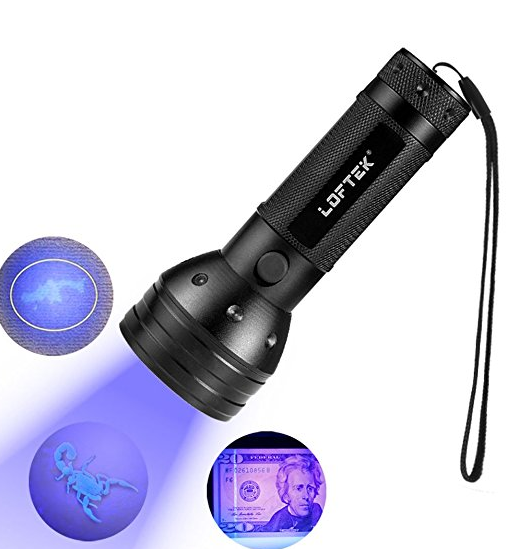 The Loftek 51 UV Ultraviolet Flashlight opens up your eyes to a world you may have never imagined before. If you don't know already, the human eyes have serious limitations rendering them incapable of seeing things that would otherwise be harmful to your physical and mental wellbeing. The LOFTEK is equipped with 51 Ultraviolet LED bulbs emitting between 385 and 395-nanometre wavelength of bright light that far exceeds those of other blacklight flashlights in the market. Hence, the product does a satisfactory job covering a large with its wide flood effect ensuring nothing, however slight or minor, escapes your eyesight. The sheer number of LED bulbs consequently go a long way in enabling you to carry out a thorough and exhaustive inspection of your surroundings.
Expand to see more
The exceptional performance of the LOFTEK 51 UV Ultraviolet Flashlight makes it a perfect blacklight for a wide array of activities both at home and at the work site. The product has an endless list of functions, so we'll make an effort of highlighting the most important. First, you can use it to inspect the cleanliness of hotel bedsheets as it detects bodily fluids in an instant, making it possible to ascertain whether they are sufficiently clean or not. A second use, and this is especially important for homeowners who want to live in a clean and conducive environment, is inspecting for pet stains on different surfaces like carpets, floorings, sofas, rugs, among others.

The ability of LOFTEK to detect the radiating properties of phosphors left behind by such dangerous animals as scorpions and bedbugs makes the go-to device when you live in an area where the two invasive animals are particularly problematic. It doesn't matter whether you're going on an international business trip, a camping expedition, or just relaxing at home with your loved ones, the LOFTEK is an indispensable device.

It offers you a perfect balance between performance and construction quality, never trying to compromise on one in favour of the other. To this end, the product replicates all other Loftek product in when it comes to the quality of construction. The use of commercial-grade aluminium as the primary construction material aims at killing several birds with one stone. To begin with, aluminium is a lightweight and compact materials which by extension makes the LOFTEK a lightweight product, enabling you to carry it with ease around the house or office. The weight also goes along a long way in making it portable and easy to transport between different places without it taking up too much storage space in the trunk of your car, backpack or even pockets.

Aluminium is additionally an ultra-strong material meaning that the flashlight shares in this strength. The rugged construction of the blacklight flashlight ensures the product is quite durable, coming with a shelf-life of 100,000 hours irrespective of the intensity of your use. You can use it stress-free in all types of weather conditions and the harshest of environments knowing fully well that its silicone O-rings makes it resistant to both water and dust and that the all-aluminium constructed body is capable of withstanding and absorbing shocks.

From the look of things, it doesn't seem like you'll be needing ever to use the 12-month warranty that comes with every purchase. Neither will need to call technical support if you properly maintain and use the LOFTEK as directed by the manufacturer. The product is simple to use, too. All you need are three Double-A alkaline batteries installed correctly, and you're good to go. Plus, there's very minimal fine tuning to do.

In conclusion, the design and solid construction and flexibility of LOFTEK 51 UV Ultraviolet Flashlight make it an appealing product to a large portion of the market. It is an ideal product for inspecting hotel rooms, the extent of rodent contamination, revealing scorpions and pet stains, detecting bodily fluids and ascertaining the authenticity of currencies. The flashlight comes with a wide flood effect aided by its 51 powerful UV LED bulbs that make it near impossible to miss a thing. With roughly 100,000 hours of useful life, a convenient 12-month warranty and lifetime technical support, you won't be looking for a replacement anytime in the near future.
Provided with a 12-month long warranty on repairs and replacements
Professionally made to last about 100,000 hours
Its wavelength is praiseworthy
Dust and waterproof
Provides you with powerful illumination
A versatile tool for several uses
Batteries heat up with extensive use
8. Kobra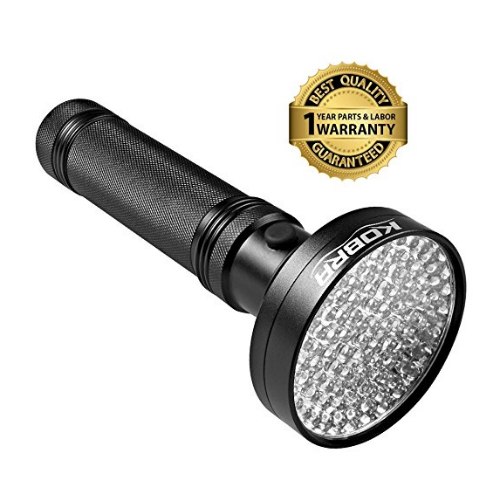 The Kobra UV Black Light Flashlight 100 LED is near twice as bright as mano of the other options reviewed. One of the most obvious implications of this is that if you're not planning on religiously wearing eye protecting goggle every time you'll be using the Kobra, then it would be a safe move to settle for a less bright blacklight flashlight. A second and far more critical implication of using a blacklight flashlight with 100 LEDs of light is that you'll dramatically reduce the time it takes to trace that annoyingly pungent smell to its source is a fraction of the time it takes cheaper models. However, given its power and solid construction, we have a feeling you'll be using for more than just looking for tracing animal.
Expand to see more
Its versatility enables to take a plethora of activities with it. You can comfortably use it to give your home or hotel room a thorough inspection just of ascertain they aren't contaminated with bed bugs and that the sheets are hotel-standard clean. Capable of outputting an incredibly bright and intense light of between 385 and 395 nM nanometre wavelength directly onto such surfaces as sofas, carpets, rugs, and floorings, you can similarly use the Kobra to effortlessly differentiate between authentic and counterfeit money, identification, and badges.

And plumbers throughout the world understand the significance of accurately diagnosing plumbing systems to ensure there's no leakage of dangerous gases that could jeopardize the lives of apartment or hotel residents. And detecting such leakages is one area where the Kobra really shines, enabling to make a diagnosis within a few seconds of flashing it in the right direction. There's just no end to the list of tasks you can put the flashlight to. The blacklight flashlight is quite good at detecting the phosphors left behind by invasive spiders and scorpions so you can have an easy time tracking and getting rid of them. The flashlight will reveal to you a world full of things hidden from your naked eye in an instant, so brace yourself if suspect your carpet isn't that particularly clean.

One aspect of the Kobra flashlight that makes it particularly endearing is its ease of use. Do-It-Yourselfers, geologists, hunters, medical forensics teams, law enforcement agencies, postal inspectors, and even novices have a relatively easy time using the flashlight. No prior interaction or knowledge of the working of flashlights is required to use one. All you have to do is ensure the batteries are correctly installed, then switch it on and point it to a target area. Easy peasy! And you won't have to install fresh batteries every day as it takes an average of 20 hours for one to thoroughly drain the installed ones.

The Kobra UV Black Light Flashlight 100 LED also features a lightweight and compact design to reinforce ease of use further. There's any significant weight dragging you down, which allows you to use the product for hours on end without the slightest indication of fatigue. The design further ensures the Kobra UV Black Light Flashlight 100 LED fits firmly on most hands to prevent slippage, especially when you're working under unfavourable conditions such as rain.

Whatever environment or condition in which you'll be using the flashlight, its professional construction using industrial-grade machined aluminium means it is sufficiently rugged to not only last for more than a lifetime, but also provide you with reliable and great performance. The Kobra features a knurled design making it feel like a natural extension of your hand every time you grab it. Plus, it can withstand the harshest of working conditions and always ready to hit the ground.
Ideal for detecting urine and food stains, fake Ids
Professionally engineered to last years
Super bright and intense with its 100 LED bulbs
Provides you with a wide flood effect
Very versatile for several tasks
Comes with impressively long-lasting battery
9. OXYled OXYWild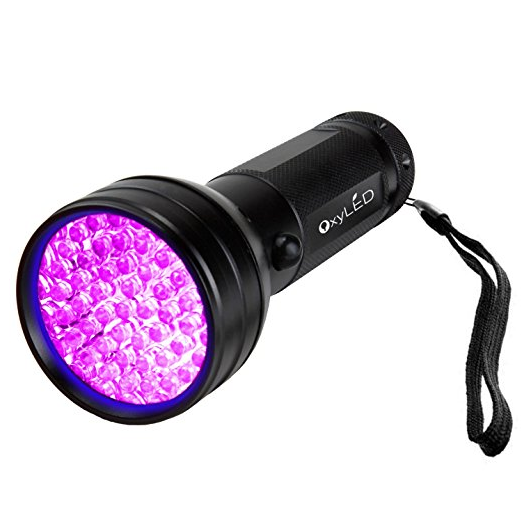 With so many new blacklight flashlights hitting the market every other day, it may be understandably difficult finding the one that most meets your needs, considering especially that most features are replicated from one flashlight to another. The OXYled OXYWild Blacklight Flashlight is an exception in several ways with the most prominent being the powering alternatives. The unit comes with a removable, rechargeable lithium-ion battery that takes less than half an hour to gain full charge. The second option of powering the blacklight flashlight is by using batteries: a set of three triple A batteries should be able to last approximately 5 hours, depending, of course, on the intensity of usage.
Expand to see more
Unlike most blacklights, the OXYled has an adjustable focus to allow you effortlessly and smoothly move from a tightly-controlled spot to an incredibly wide coverage, giving you a comprehensive sweep of all things invisible to the naked human eye. Plus, the ultraviolet LEDs are about 30 percent brighter than cheaper variants flooding the market. The brightness partly explains why law enforcement agencies, postal inspectors, medical forensics, and HVAC repair professions hold it in such high regard.

The overall design and construction make it feel a lot like a natural extension of your hand, so much so that you may forget you're still holding it long after completing your project. It is compact and lightweight and won't strain your hands or finger from extensive use. Carrying it around the house should feel like a breeze, and unlike its bulkier counterparts, it only takes up a small fraction of your storage space. It slides relatively quickly in the pockets, briefcase, backpack, and purse. Its sheer power also eliminates the need to go on all fours to get a better view of the spaces underneath couches, rugs, carpets, and other types of furniture. The chance of throwing your back out while doing regular inspection is a thing of the past.

It outputs consistently bright and intense light making it the first preference for carrying out different tasks requiring its kind of light output. The blacklight flashlight is quite versatile and flexible capable of performing a wide range of applications with relative ease. Whether you intend to use it to verify the validity of different documents like identification papers, passports, currency notes, badges or hunt down the source of that discomforting pungent smell in the house or keep bed bugs and scorpions at bay, this is the right product for you. You'll be able to detect gas, Freon and oil leakages and contain the situation long before it gets out of hand. And if you're an outdoor enthusiast, the blacklight flashlight should be part and parcel of your luggage as it's very useful at illuminating the path taken by dangerous wild animals like scorpions and other crawly animals.

The use of aerospace-grade aluminium as the primary construction material of the OXYled OXYWild Blacklight Flashlight plus the anti-abrasive anodizing finishing make it a sturdy and sufficiently rugged product. As a result, it is capable of weathering the harshest working conditions, whether that is rain or extreme heat or shocks. Plus, its sleek and aesthetically-appealing design keeps out water and dust, helping earn its shelf-life rating of approximately 50,000 hours. It's a little hard understanding how such a high performing and durable product comes with its budget-friendly price.

To summarize the essential aspects, spotting invasive animals, both dangerous and innocuous, has never been easier when you're using the OXYled. Detecting dog, mouse, and cat urine will last just a couple of seconds, however weak the trace. The flashlight is equipped with 51 LED lights capable of emitting an impressive 395-nanometer wavelength of light without even the slightest drop in sharpness and intensity. The OXYled OXYWild Blacklight Flashlight is an all-around flashlight that will inevitably come handy for a broad range of applications, both in an out of the house.
Multipurpose tool for everyday use
Quality construction using aircraft-grade aluminium alloy
Emits powerfully bright 395 nM of wavelength light
30 percent more radiant
Lightweight and compact design
LED bulbs flicker when bumped
10. LE Ultra Violet LED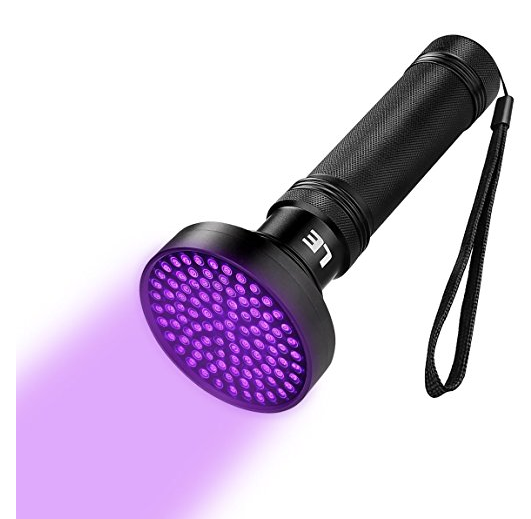 The LE Ultra Violet LED Blacklight Flashlight Torch is equipped with 51 pieces of super bright LED lights to provide you with a wide covering 395-nanometre wavelength of light, which allows you to quickly and effortlessly reveal various types of dirt on multiple surfaces. The energy efficiency of the flashlight enables it to run on run on a set of three double A batteries, which you won't have to purchase separately though, for an incredible amount of time. For typical, non-demanding tasks around the house, the blacklight flashlight can last for approximately 20 hours on one set. And even when the batteries are on their last charge, the performance doesn't suffer at all; it continues to emit a wider and more uniform beam of light, spreading over an impressively broad 100 irradiation distance. Such incredible performance makes the blacklight flashlight an all-around device, efficient at handling other functions that include detecting the authenticity of banknotes, body fluids, and gas and Freon leaks.

Expand to see more
It is especially designed to detect the urine of pet animals like dogs and cats, food stains, and the level of contamination or infestation of dangerous animals such as bed bugs and scorpions. The quicker you're able to pinpoint the source of different unpleasant odours and dirt, the quicker you get to clean it, leaving your home or office smelling fresh and welcoming. The dirt detection prowess of the LE Ultra Violet LED Flashlight similarly extends to bedsheets, the bathroom, and sinks both at home and in hotels.

The LE Ultra Violet LED Flashlight is easily considered one of the most heavy-duty and rugged blacklights you can find on the market. The entire body features an industrial-grade aluminium alloy construction, which is renowned the world over for its resilience, strength, durability, and compactness. The ergonomic design of the product's handle and the fact that it features a soft rubberized grip means manoeuvring the LEblacklight in tight spaces and moving with it around the house will never take up much of your time or effort. It's sufficiently lightweight and compact to slide easily into your pockets, purse, handbag, backpack, and suitcase, plus it comes with a portable strap to further aid mobility. The LE Ultra Violet LED Flashlight is similarly resistant to shocks, water, and dust, which, together with its sturdy construction, fully explain its 30,000 hours of useful shelf-life.

As is the case with all other blacklight flashlights, we cannot overemphasize the importance of making sure you wear the right protective gear to keep yourself and those you're working with from harm. The LE Ultra Violet LED Flashlight, with its 51 LED light bulbs, produces an incredibly bright light and a constant exposure to this level of brightness and intensity has the potential of irreparably damaging your eyesight. The first step towards keeping yourself safe would be to wear eye protecting goggles.
Instantly reveals stains, dirt and pet stains
Works perfectly on carpets, bedsheets, floors, and sofas
Time and money saving
Inexpensive
Solid, sturdy yet simple construction
Friendly customer support
Lacks the accuracy of top-model flashlights
FAQs
Q: What i
s the meaning of UV flashlight?
A: The abbreviation UV stands for ultraviolet, an invention of modern science capable of emitting, you know, ultraviolet light. The dark purple color emitted by UV blacklight flashlights falls on a color spectrum that cannot be seen by the naked human eye, as it is above the violet scale. Because a majority of substances and items on the planet contain phosphors, the substance that glows under ultraviolet rays, blacklight flashlights are your best bet for detecting substances with a generous allocation of the material.
Q: What are the common uses for blacklights?

A: The ability of the blacklight flashlights to detect stains on carpets, rugs, and different types of flooring make it the preference of most homeowners who are keen on keeping their homes clean. Their power goes a long way in aiding the naked eye in detecting pets' urine thereby making it possible for the homeowners to keep their houses odor-free and conducive to live in. Law enforcement agencies, on the other hand, use the blacklight flashlight to verify the authenticity of different currency notes, identification documents and to reinforce security generally.
Q: What are the different types of surfaces I can use my blacklight flashlight on?
A: The intensity and power of LEDs allows you to use the product on several different surfaces. Using the product on carpets, rugs, different types of floors and sofas instantly reveals to the naked eye, a number of stains and dirt they hold. Using blacklight flashlight on bed sheets and other materials made of fabric is just as effective.
Conclusion
Blacklights are of great assistance when it comes to getting rid of bed bugs, scorpions and other dangerous invasive animals from the house and workplace. Their ability to throw ultraviolet wavelengths of light that instantly fluoresce different objects also make them the go-tool for Do-It-Yourselfers, geologists, hunters, medical forensics teams, law enforcement agencies, and postal inspectors. Our list features the most practical, functional and easy to use blacklight flashlights you can find on the market. Irrespective of your needs, they have your back covered. Plus, owing to their sturdy and robust construction using most aerospace-grade aluminum alloys, you're sure they'll last for the next several years. Word of caution, though. Given the high intensity of the LED bulbs the products use, make a point of wearing eye protecting goggles so you don't lose the sensitivity of your eyes. We wish you a productive and happy shopping!
Subscribe to our newsletter