Best LED Flashlights Reviews & Ratings
last updated:
Apr 06, 2021
When the sun finally goes down and you're left in pitch darkness, there is very little productive work you can do. In such times, what you need is a source of reliable light, bright enough to illuminate your surroundings, allowing you to seamlessly and comfortably undertake a wide range of both indoor and outdoor projects. Whether it's climbing some of the tall mountains in the country, camping out with friends and family, exploring the forests after sunset, hiking, cycling, or just searching for a lost item under the bed, LED flashlights will always rise to the occasion.
Our Top 3 Picks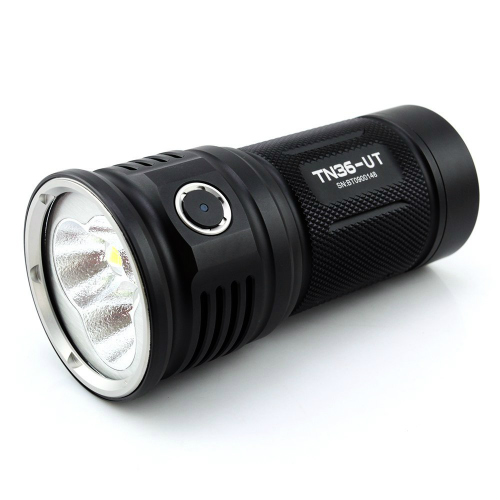 ThruNite

Our rating
Waterproof
Price:

See Here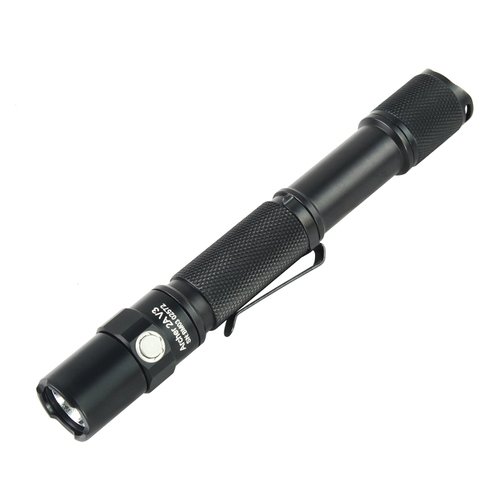 ThruNite 2A

Our rating
Portable
Price:

See Here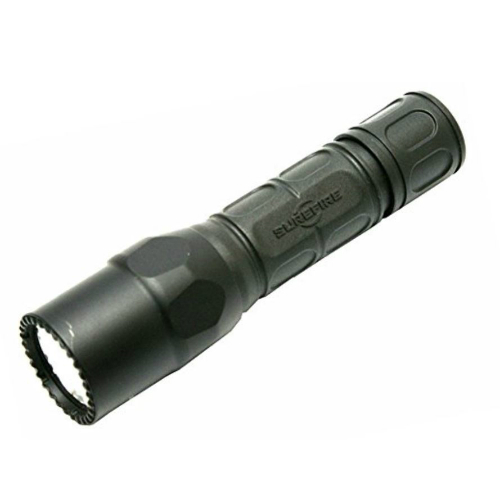 SureFire

Our rating
Lightweight
Price:

See Here


LED flashlights are quite versatile, and their functions transcend just lighting up the dark. They are also the go-to tool for law enforcement agencies, security personnel, and other emergency responders. Because of their sturdy construction, LED flashlights can additionally be used for self-defence by those stranded out in the dark forest. Even though your smartphone may be equipped with a quick-to-launch flashlight app, they pale in comparison to dedicated LED flashlights as far as power, efficiency, convenience, durability, and overall brightness are concerned.
Unfortunately, going out on your own to find the most suitable LED flashlight can be a daunting and overwhelming endeavor, with having to consider thousands of units from hundreds of brands, narrowing down your selection by considering your requirements before refining the list further to end up with the best and most suitable one. Luckily for you, we spend several hours testing out some of the most distinct and innovative LED flashlights in the market today to come up with the ultimate list of the best ten. We took several factors into account like performance, affordability, durability, convenience, among others. Whatever your justification for looking for the most suitable LED flashlight, you'll definitely find a suitable one on our list.
10 Best LED Flashlights
1. ThruNite TN36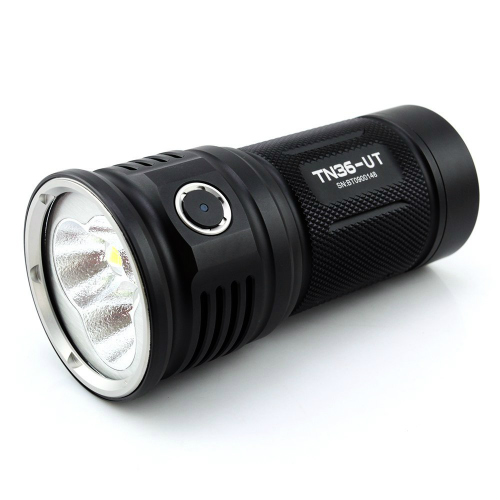 There is a lot to love about the ThruNite TN36 UT 7300 flashlight: from its quality construction, impressive performance, to its unmatched durability. The overall design and engineering of the product make it an ideal choice for individuals working in expansive enclosed spaces such as warehouses. However, it's a versatile, multi-purpose LED flashlight that can be put to different uses. The aspect you'll especially love is its ability to sweep large spaces with ease, illuminating all things in its path.

Given the rough nature of most warehouse tasks, the rugged and robust construction makes it stand up to different circumstances with ease. For instance, the unit boasts of convenient waterproof capabilities of up to an impressive depth of 1.5 metres, so that accidentally dropping in a pool of water, stream, river, or the like should not be a reason for concern as it still gets to provide you with the same exceptional and smooth performance.

Expand to see more
The ThruNite brand goes a step further with the ThruNite TN36 UT 7300 Lumen Throw Flashlight by making it impact resistant for up to 2 metres implying that it should be able to survive being dropped on the most rugged and sharpest rocks and stones without it getting scratched, cracked or the paint coming off. Other than the professional design of the ThruNite TN36 UT 7300 Lumen Throw Flashlight, the other factor that largely makes it resistant to water and high impact is the fact that it features an all-aircraft-grade aluminium construction. Aluminium is well known for its robustness, ruggedness, and ultra-strength but which still manages to remain compact and lightweight to allow for greater portability, a fact that undeniably makes it one of the most long-lasting and tough LED flashlights to be featured on this list.

The flashlight is a feature-rich option, and when it comes to performance, it literally shines. Like a majority of LED flashlights within its price category, the unit has a total of six modes, each maximized for different circumstances. The wide range of light options aims at making it possible for you to conserve battery life and guarantee an ease of use. One of the unit's unique modes is the "memory mode" whose function in remembering your previous mode and activates it at the touch of a button, a process that saves you the time and effort you'd have otherwise used to circle through the different modes to get your preferred one. For purposes of convenience, the ThruNite TN36 is equipped with a useful low voltage indicator to notify you when the charge on the batteries starts to get low.

In spite of all its impressive features, the ThruNite TN36 has a few weaknesses worth taking a look at. For one, the unit is a little bulkier compared to most LED flashlights in its price range, meaning that you need bigger hands to hold it securely and snugly for longer use, so you don't experience any hand fatigue or strain your fingers in the process. Additionally, the products have one of the widest and unfocused beams in the LED flashlight industry, which makes it less bright than a unit producing 7300 lumens should be. Also, as is the case with most lightweight and compact flashlights, the ThruNite TN36 UT 7300 Lumen Throw Flashlight is prone to overheat after several minutes of consistent and heavy use.

Luckily, it comes with a factory-installed Intelligent Temperature Control Technology to limit the extent of overheating, ensuring your hands remain cool all during your use of the product. The pricing of the flashlight is obviously on the high end considering its list of incredible features and the overall construction quality. It's nonetheless a worthy investment for people looking for a powerful LED flashlight that produces very bright light for covering large spaces.

The flashlight is a one-of-its-kind LED flashlight that's both lightweight and compact enough to hold in the hand for longer and exceptionally high-performing. With an output of 7300 lumens, it not only meets but also exceeds performance expectations, especially considering that it draws power off four 18650 rechargeable batteries. The product has an abundance of features all of which aim at ensuring durability, greater performance, and ease of use. Definitely a worthy investment.

Has six modes to choose from
Very bright at 7300 lumens
Waterproof and impact resistant
Very versatile
Limited lifetime warranty
Highly portable
A little bulky for most pockets
Lacks a lanyard hole
Considerably costly
2. ThruNite Archer 2A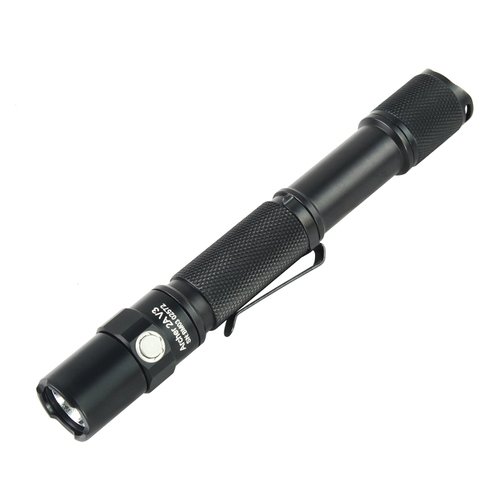 The ThruNite Archer 2A V3 flashlight shares several essential qualities with high-end LED flashlights in spite of its budget-friendly pricing. There are a bunch of other features and specs of this LED flashlight that make it immensely appealing to homeowners, outdoor enthusiasts, among other groups of people. To begin with, it comes with four brightness levels that range from the brightest car headlights to a moonlight-like glow. The lowest brightness setting or level, the firefly mode, provides you with a convenient and helpful low glow which you can activate once your eyes acclimate to a dark setting or when you're out camping, and you don't want to shine the bright light onto faces of sleeping companions. For convenience, the strobe setting operates independently, so it doesn't interfere with normal use of the ThruNite Archer 2A.

The all-roundness endears it to the mainstream of people flooding the market every other day searching for an ideal LED flashlight. The unit requires two AA batteries to reach its optimum brightness of 500 lumens, which is more than adequate to illuminate the smallest of things on your path while taking a walk at night through the forest. The long-distance beam covers an astounding 118 yards, ensuring you don't accidentally fall off a cliff when strolling through pitch darkness. With the low-light Firefly Mode activated, the batteries can last approximately 17 hours, depending on the intensity of use of course and just about 100 minutes with the highest brightness setting. It'll be hard finding another LED flashlight that perfectly matches this one's ease of use, brightness, and worth.

Expand to see more
A major selling point is its unmatched ability to project a long-distance hotspot and a dimmer light with a wider coverage at the same time, allowing the user to have a broader vision of the surrounding landscape. Another major milestone is the provision of a 24-month free replacement of parts and components that develop complications with normal use in addition to a limited lifetime warranty to cater for the replacement or repair of problems resulting from manufacturing-related procedures. However, considering the professional and sturdy construction of the flashlight using industrial-grade materials, it's not like you will be needing the warranty anyway. While the entire body of the unit is made from aircraft-grade aluminium to ensure longevity, it's surprisingly lightweight and compact with the weight coming in at just 1.7 ounces.

As is the case with a majority of LED flashlights, the ThruNite Archer comes with an easy-to-use two-button interface. There is a strategically located tail switch at the rear for turning the unit on and off. After the lights have come, you're now at liberty to choose a brightness that's most suitable for the task you intend on undertaking by using yet another button placed at the head. With the flashlight, you get to experience the "momentary on" feature where you get to activate the light by half-pressing the tail switch, and it will remain on for as long as you continue holding the switch.

The construction quality is at par with most top of the line LED flashlights, and in some cases meets and even effortlessly exceeds expectations. For one, top-notch fit and finish of the product allows it to survive being fully submerged in water and won't have any cracks, dents, or pumps from being dropped from a height of 1-1/2-meters. The design of the tail end of the product allows you to easily stand on its tail, so it functions as a makeshift lampstand as you set up your camp.

In conclusion, the flashlight is a truly indispensable option and should be allocated a permanent space in your car, home, or travel bag as it comes in lightweight and compact design for unhindered portability while offering powerful performance. It has four brightness modes and it features a heavy-duty construction and is additionally resistant to depreciative consequences of normal use. It can be submerged in water and dropped on the sharpest rocks, and it won't have any noticeable scratches or dents, making it the best companion for a wide range of outdoor recreational activities as well.
Lightweight and compact for unhindered portability
Portable
Packs great power despite its small profile
An ideal EDC LED flashlight
Capable of standing on its tail
Lack of location beacon feature
3. SureFire G2X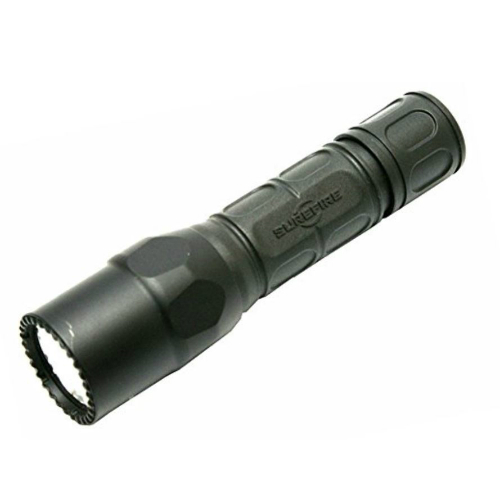 If you work a particularly demanding job and you are looking for a durable and versatile LED flashlight whose design allows for longer use while outputting maximum light for better visibility, look no further than the SureFire G2X flashlight. For longer use, an output level of 15 lumens is highly recommended for several reasons, the most obvious being that it prevents the unit from overheating and secondly because it provides sufficient light for normal use around the house. If, on the other hand, you're on an outdoor expedition such as camping or working in a large warehouse, feel free to activate the maximum beam of 320 lumens, even though it won't provide you with a runtime similar to the one you get when you activate a lower light setting.

In the event that you need a constant supply of low, moonlight-like light, there's a conveniently placed button at the rear end that allows you to activate the mode by clicking it. If on the other hand, you need a temporary low beam for locating a misplaced item under the bed or on the campsite, all you have to do is press it. The appropriateness of the SureFire G2X Series LED Flashlights for use in any situation is informed by the fact that it's recessed with a micro-textured reflector to ensure accuracy, making it an ideal choice for people who regularly perform close-up tasks.

Expand to see more
The body is made from one of the toughest materials one can possibly find, Nitrolon. The unit is then anodized with aluminium bezel, making it durable and sturdy and capable of withstanding the toughest and harshest abuses you can expose it to. Other than being resistant to corrosion, Nitrolon is similarly water and weatherproof seeing as it's equipped with gasket seals to give it additional protection against the damaging repercussions of dust and moisture. Besides, Nitrolon is a lightweight and compact material with a paltry weight of just 4.48 ounces and dimensions of 1.5-inches by 5.2-inches by 1.5-inches, ensuring ensures the LED flashlight fits perfectly into a majority of pockets and purses, thus guaranteeing portability.

The product's dual-output allows a quick and effortless shift from a low-light output to a high output by just pressing a button. At the highest setting, theflashlight generates a wide-covering beam allowing you to see several meters ahead, thanks to its parabolic reflector. And irrespective of your preferred output setting, the parabolic reflector still manages to do a tremendous job generating an exceptionally efficient and seamless beam with sufficiently wide coverage and long-distance reach. The highest and lowest output stand at 400 lumens and 15 lumens, respectively. The ergonomic design gives you a firmer and secure grasp that aim at preventing your fingers from straining while holding the unit.

To summarize, the SureFire G2X is one of the most vouched for LED flashlights around the world and is liked for several aspects ranging from its top-quality construction, dual-mode light, energy-saving design, and ease of use. The construction of the unit's body with Nitrolon and anodization with aluminium bezel makes it a durable and rugged LED flashlight resistant to water and different weather conditions. It's also resistant to moisture and dust and with a little care and maintenance, you'll be using the SureFire G2X Series LED Flashlights for the next several years. Plus, it has a reasonable price tag even though it comes with the same features and specs like most top-model LED flashlights.

Lightweight with a small profile
Sturdy construction using Nitrolon
Durable and reliable performance
Resistant to water, impact, and corrosion
Weatherproof
Easy to use
Lack of a tape switch capability
Absence of pocket clips or lanyards
4. Anker LC90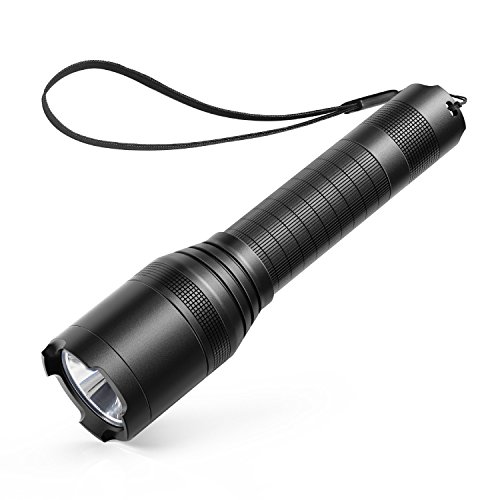 LED bulbs continue to revolutionize the lighting industry, leading to the unprecedented proliferation of ultra-bright LED flashlights whose performance easily overshadow that of incandescent units. If you're working on a budget but don't need to compromise on performance, efficiency, compactness, and versatility, take a closer look at the Anker LC90. The unit provides you with a user-friendly interface and straightforward, trouble-free operation and because of its energy-efficiency, spending an arm and leg on expensive batteries quickly becomes a thing of the past. The flashlight is both sleek and modern-looking and is a great companion for those looking in large warehouses and with its sharp and wide-covering beam, you'll be ditching your traditional flashlight without giving it a second thought.

The flashlight is no slouch when it comes to performance. It has a total of six brightness settings or modes with the highest capable of producing an impressive 900 lumens of light using an LED bulb. The five beam settings include a Low Mode, Medium Mode, Strobe Mode, Strobe, and an SOS Mode. Given the potential danger associated with going on expeditions at night, the SOS and Strobe Modes come in handy when you have an emergency and need to draw the attention of the people in your immediate surrounding to come to your rescue.

Expand to see more
The focused and sharp beam of light is capable of reaching a long-distance of 200 meters, the equivalent of two football fields. With such spectacular performance, you'd think the LED flashlight is one heavy and bulky unit, one to be held with both hands but you'd be dead wrong. The unit has a length of just six inches and will fit snugly and comfortably in most front pockets and even inside the smallest purses. Consequently, you can bring it on different outdoor expeditions like camping, hiking, exploring the forest at night, and a bunch of other activities.

The Anker brand's dedication to the production of high-quality, functional and practical LED flashlights is sufficiently demonstrated by their choice of materials. The use of industrial-grade aluminium in the construction aims to serve several purposes. Aside from ensuring the product remains lightweight and compact for greater manoeuvrability and portability, aluminium is additionally rugged and tough and weatherproof. Consequently, the unit is resistant to water, dust, and moisture and can be used comfortably and with a peace of mind in the roughest weather conditions without worrying about corrosion or rusting.

The flashlight comes with a 3350mAh battery capacity that will provide you with about six hours of uninterrupted light and will take about the same duration to recharge fully. With an estimated shelf-life of at least 50,000 hours, you'll surely be using the unit hassle-free for quite some time, assuming you only use it for approximately three or so hours a day.

The other significant is the zoom feature. The feature allows you to zoom-in to focus the beam over a specific area and is therefore great for up-close tasks. If, on the other hand, you need floodlighting, all you have to do is zoom-out, and you'll have a wider coverage with the same sharpness and focus as the zoom-in brightness settings. It's fitted with a micro-USB port for convenient and hassle-free charging, and the flat design of the tail end allows you to stand it upright on the floor or use it as a makeshift lampshade while out camping, in which case it evenly spreads out the full ambient light.

The Anker LC90 packs several useful and convenient features and is an ideal choice for individuals looking for top-quality construction, sturdy construction, bright illumination, and an ease of use. It has a high-capacity battery that's easy to charge through the micro-USB port to ensure the flashlight provides you with at least 50000 hours of optimum, non-diminishing brightness. You can choose between a wide and narrow beam by just zooming. Plus, it's compact and lightweight enough to fit comfortably in your hands and pockets and comes with a virtually indestructible body that is both shock and waterproof. The Anker LC90 LED Rechargeable Flashlight provides you with five modes of operation and doubles up as a perfect survival tool for those looking to venture outdoors on such activities as hiking, camping, biking and exploring different forests.

Powerful illumination
Convenient and easy to use
Quick rechargeable battery for exceptional dependability
Long-lasting battery
Lacks ergonomic design for better grasp
A little bulky and heavy
5. NiteCore P12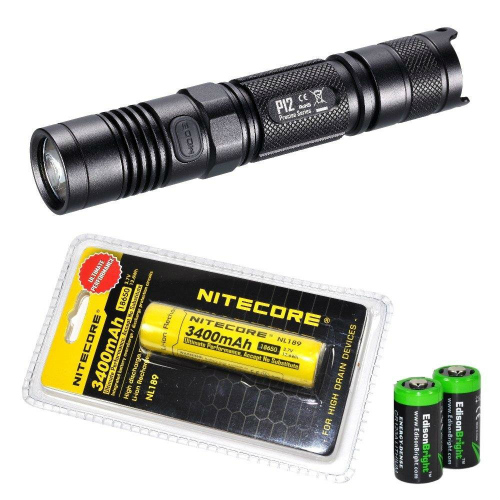 For those searching for a flashlight that's lightweight and compact to carry around with them with ease, take a closer look at the NiteCore P12 950 flashlight. The flashlight has won the hearts of several outdoor enthusiasts for being sufficiently compact to fit comfortably into a majority of pockets and purses without taking up too much space and yet has an unmatched brightness, making it an ideal choice for those looking to undertake a wide range of tasks around the house and outdoors as well. Plus, it has several similarities with the Fenix PD35, yet it still gets to be reasonably priced. Now, let's scratch the surface to reveal the fantastic features the NiteCore P12 offers you.

To start off, the NiteCore P12 950 flashlight provides you with one of the most straightforward and modest designs in the LED flashlight industry and comes with a relatively low profile design with measurements of just 5.5-inches by 1-inches. The use of aluminium alloy in the construction of the flashlight and the subsequent anodization with a flat black finish leads to a product that's not only lightweight and therefore easy to carry around on a daily basis, but one that's also ultra-strong and immensely durable. The body boasts of an ergonomic design by featuring knurled and hexagonal sections to ensure a secure and firm grip and to prevent the unit from rolling when placed on a flat and smooth surface.

Expand to see more
A unique design of the unit is the inclusion of a U-shaped tail cap protector that's sufficiently wide to allow you to stand the unit on its end, enabling to spread light evenly across a room or site like a candle. The tail cap protector also doubles up as the control for switching it on and off. There is a strategically located side mode switch for adjusting the flashlight mode. Some of the accessories that come with it are a durable belt holster, an extra O-ring, an additional tail cap switch, a lanyard, a tactical grip ring and a pocket clip.

When it comes to performance, it will quickly blow your mind away. It comes with CREE XM-L2 (T6) LED strategically placed at the base of the smooth reflector. The unit uses mineral glass to ensure a perfectly uniform distribution of the beam with a cool white colour. The mineral glass covers a small area and is sturdily constructed so shattering it, under whatever circumstance, is going to take some significant effort. The NiteCore P12 950 Lumens Flashlight produces a cool white beam with no traces of yellow.

With this unit, you get a choice of three different beam modes. First, there's a high mode that outputs up to 950 lumens and capable of cutting through the thickest cloud of darkness with an impressive 222-meter beam. There's a medium beam with a maximum output of 210 lumens, and a low mode at 50 lumens and lastly a lower-low mode at just 1 lumen. Expect to use the NiteCore P12 950 Lumens Flashlight for at least 520 hours when you activate the lowest setting of lower-low (moonlight). As a precautionary measure, the unit automatically reverts to the lowest setting after three minutes of continuously using the highest setting, so the LED flashlight does not overheat.

Additionally, the product is equipped with a convenient and time-saving intelligent memory function that will keep track of your frequently used brightness settings and automatically activate it the next time you use the LED flashlight.

Of equal importance to bring to your attention is the fact that it is lithium based flashlight meaning that you have a choice of using either the rechargeable 18650 battery or two disposable CR123 batteries. The other alternatives at your disposal for powering the unit are two rechargeable 16340 batteries or two rechargeable 18350 batteries even though it will give you optimal performance when you go with the 16850 battery.

As was indicated above, the NiteCore P12 950 comes with a tail cap for turning it on or off, making it one of the easy-to-use LED flashlights on this list. All you have to do to turn on the unit by just pressing the button on the tail cap until you hear an audible "click" sound. Turning it off requires following the same procedure until again you hear the "click" notification. Alternating between the different beam modes simply necessitates pressing down the side switch in quick succession until you get to your preferred setting.

Overall, the NiteCore P12 950 is a versatile choice for individuals in search for a flexible and sturdy LED flashlight to help them take on a multitude of projects both around the house, the office and in the outdoor environment.
Cost-effective
Robust build
User-friendly interface
Offers exceptional brightness and reliability
Poor quality tactical ring
6. Fenix PD35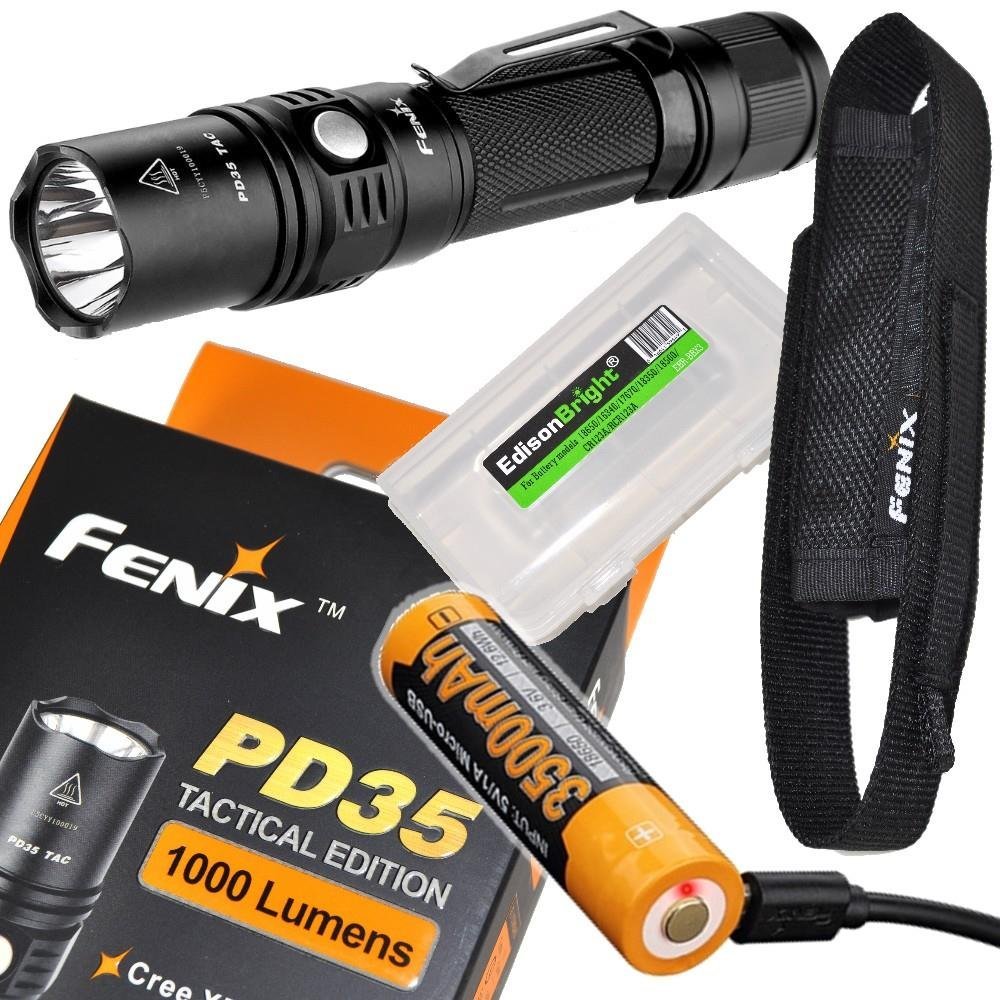 A majority of consumers from the West are understandably strongly averse to products made from the People's Republic of China, but even the most avid skeptics will agree the Fenix PD35 is a surprising exception. The firm's experience, expertise, and dedication to the production of quality products speaks for itself: Fenix is a well-known brand the world over and has consistently produced some of the best performing LED flashlights in the industry as the Fenix PD35 Tactical Torch will shortly prove. Scratching the surface, or taking a peek underneath the hood as they commonly say, quickly reveals a bunch of features that immediately debunk the myth that China-made products lack the competence to compete with Western-made products.

The Fenix PD35 is a long-lasting and professionally constructed LED flashlight that will comfortably and smoothly tolerate the harshest and roughest working conditions it's exposed to. The entire body is built using industrial-grade aluminium, so that even if it's manhandled, dropped accidentally or otherwise, it gets to continue providing you with the same exceptional performance as a brand new one would, and without incurring even the slightest scratch or crack. The torch is the go-to tool for individuals looking for strength and durability in LED flashlights but which still get to be comfortable to hold for long without experiencing hand fatigue or slip easily into the pockets.

Expand to see more
The unit comes with an IPX-8 waterproof rating, meaning that in the off chance that you drop it in water or pool or the ocean while on a skiing expedition, it doesn't suffer a drop in performance. The rating similarly means it can withstand the dampest and coldest conditions Mother Nature throws at, so you'll continue using it for the next several years. In spite of its small profile, it performs amazingly powerfully, slicing through the heaviest darkness without breaking a sweat. The package comes with a bunch of other essential accessories that include Body Clip, a holster, a Lanyard, a spare O-ring, Rubber Switch Boot and an instructions manual, all of which aim to make your expedition or task as smooth and as trouble-free as possible.

The design makes it an ideal LED flashlight for use by a broad range of professionals. With a length of just 5.5-inches, the unit is capable of outputting an impressive 1000 lumens in its highest beam setting – the Turbo Mode, which gives you a clear vision up to 200 metres. The second mode, the Outdoor Mode, gives you a choice of up to six output modes. The Tactical Mode, on the other hand, allows you to choose between momentary, turbo, low, and strobe modes.

As is the case with a majority of top-model LED flashlights, the Fenix PD35 gives you the liberty of choosing between two powering options: you can choose to use one 18650 rechargeable Lithium Ion battery or two CR123A batteries, whichever you find most convenient. The unit will provide you with up to 38 hours of operation when you choose the Low output at 50 lumens and about 70 minutes when you decide to switch to the Turbo Mode at 960 lumens. The inclusion of an intelligent memory circuit increases convenience by resuming with your last brightness mode.

Using the torch and switching between the different brightness settings is a straightforward and easy affair. There is a strategically positioned tail switch that you can long press to turn the unit either on or off, just until it releases an audible "click" sound. You have a choice of five brightness levels in addition to a strobe mode. By pressing the side switch in quick succession, you'll be able to shift between the different modes after switching on the unit. The various modes include Turbo, Eco, Low, Medium, High and lastly the Strobe Mode which you activate by holding down the side switch for an entire second and quickly releasing your finger.

In conclusion, the Fenix PD35 exceeds in areas that most LED flashlights fail like the quality of construction, brightness levels, and richness of essential features. The highest brightness setting is quite bright while the unit is surprisingly lightweight for greater portability and compact enough to fit comfortably into your front pocket and the smallest purses. Its average pricing should be construed to mean exceptional construction quality and spectacular performance. The overall construction and performance of the Fenix PD35 Tactical Torch make it an LED flashlight worth investing in, as it will provide you with several years of trouble-free performance.

Top quality construction
Comes with lifetime warranty
Compact and lightweight design
Easy to use
Very bright
Lack of an onboard charging
A little pricey
7. Olight S1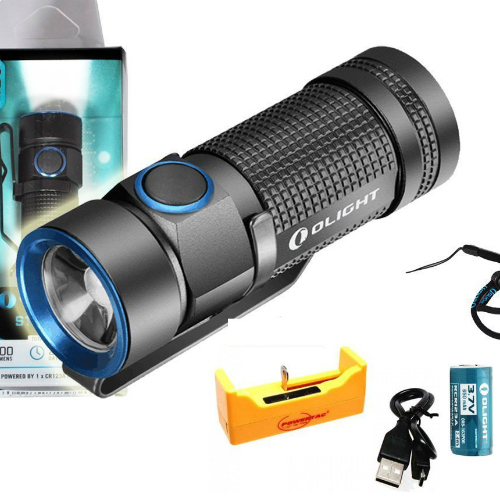 If you're looking for a powerful LED flashlight that can be powered by both CR123A and RCR123A batteries and simply one of the best units on the market today, look no further than the Olight's S1 Baton LED flashlight. It's one of the easiest to use flashlights you'll come across coming with a simple user interface, top-of-the-line construction quality, and an impressive output of 500 lumens, all in a lightweight and compact package. So tiny is the package that it fits perfectly in most standard pockets and purses, so comfortably that at times you'll waste a few minutes searching for it everywhere, forgetting that it's been in your front pocket all the while.

The aesthetics is another aspect that you'll find appealing about the unit, with the head and side-switch featuring rings with blue accents that give it a blinding elegance. The body has hexagonal rings for keeping the unit from rolling around when put on sloppy surfaces, which is a thoughtful design that will prevent it from rolling onto sharp and rugged rocks. A clip is provided to help you carry the unit in your pocket with the head facing up. With the clip removed, you can tail stand the Olight S1 Baton LED Flashlight, so it acts like a makeshift headlamp, a fete made possible by the flat design of the tail cap.

Expand to see more
The build quality is no different from that of most LED flashlights; it comes with the industry-standard type-III anodizing found in a majority of other units. Consequently, it's sufficiently durable and rugged to handle the harshest of outdoor conditions, so that falling on the sharpest, most uneven rocks and stones don't leave any scratches or cracks. Even putting the unit in the same pocket with your sharpest keys won't result in any damages whatsoever. The flashlight boasts of IPX-8 waterproof rating, meaning that in case it slips and falls into a pond, river, or ocean, not even the slightest amount of water will seep in, and the dampest and wet conditions also won't have any significant effect on its performance.

One major difference between the Olight S1 and most LED flashlights is that it uses PMMA TIR optic that's marginally buried into the head rather than standard lens and reflector commonly utilized in the latter group. The tough and rugged nature of the TIR ensures it remains spotless and without any damages, scratches, or cracks all throughout the useful life of the LED flashlight, irrespective of the tasks you undertake with it. The use of acrylic in the construction is yet another thoughtful consideration as it makes the unit resistant to scratches that would otherwise result from normal use under normal and more demanding circumstances. Other than remaining spotless, the PMMA TIR also prevents dust, debris and other link found in the pocket and the air from entering the interior of the flashlight, stopping them from interfering with the working of the Cree XM-L2 CW LED.

Because of the flatness and width of the side-switch that protrudes a mere millimetre from the body, it might be a little difficult to find by feeling your way around with your fingers. If your fingers are also particularly small, you might have difficulties pressing it as it requires some considerable pressure, at least from our assessment. The difficulty could, however, be deliberate to prevent inadvertent pressing. Nonetheless, pressing it produces a "click" sound to notify when the lights turn on. Turning off the LED flashlight will require following the same procedure, pressing the button until you hear the "click" sound.

Aside from the lightweight and compact characteristics that aim at increasing portability, there is also a convenient clip with exceptional retention to ensure it holds tightly on to different materials. The unit has a complete block style knurl with unexpectedly grippy qualities and which does an exceptional job preventing the unit from slipping away as you manoeuver your way through different circumstances. The tail cap comes with magnetic properties for attaching the Olight S1 Baton LED Flashlight to a metallic surface whenever you're not using it.

As previously mentioned, it has the simplest user interface so that people falling in different age groups can use it with ease. You get to turn on the lights by just pressing the side-switch once while holding it down allows you to circle through three different beam modes. At the very bottom is the Low Mode at just 8 lumens followed by Medium Mode at 80 lumens and lastly, there is the High Mode lighting at an impressive 500 lumens. Because of the small profile, you only get to use the highest brightness setting for a minute before it powers down to just 250 lumens in a move aimed at protecting the delicate internal components from overheating. To help conserve power, the unit will automatically switch itself off by shining for anywhere between three and nine minutes, depending on the active brightness level.

To summarize, the Olight S1 is an outstanding everyday carry LED flashlight and will come in handy for those times when you need to use a lightweight and compact alternative. The beam has a wide coverage, and the white light spreads evenly to give the best illumination when performing different tasks, either around the house or on the go. Its compactness allows you to carry it with you to different places without even noticing you have it on you. With its user-friendly interface, durability, versatility and exceptional performance, you can never go wrong with this LED flashlight.

Lightweight and compact for greater compatibility
Very bright with maximum output of 500 lumens
Robust and dependable construction
Comes with impact and water resistance
Has a carry clip
Difficulty changing between modes
Too small for large hands
8. Streamlight Professional Tactical PT 1L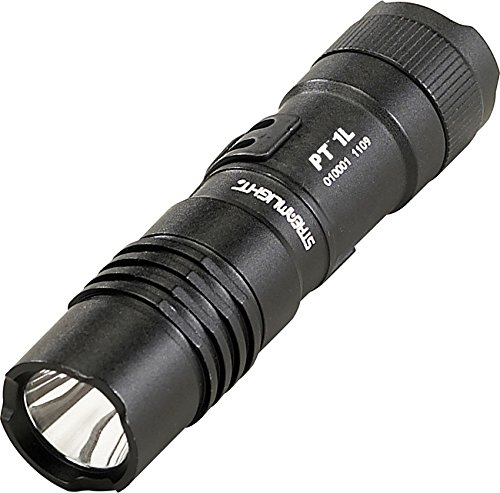 Using very simple and straightforward words, the Streamlight Professional flashlight is by far one of the most compact, lightweight and high-performing LED flashlights you'll ever come across in the industry. It comes with exceptional functionality, durability, and dependability, a fact which gives it rave reviews on different customer-trusted seller site.

The versatility of the flashlight gives you the option of choosing among three essential modes: high and low intensities as well as the strobe mode. The LED bulb uses the revolutionary C4 LED technology allowing the unit to provide you with consistently bright, un-dimming illumination when you're surrounded by pitch darkness. Because of its lightweight and compact profile, it fits comfortably in pockets, and you can snugly wrap your hands around its body, which is also rugged and ergonomically designed to ensure a secure grasp.

Expand to see more
As already mentioned above, the Streamlight Professional comes with four modes or brightness settings: a high mode, medium mode, and lastly the strobe mode. In the highest brightness settings, the LED flashlight outputs an impressive 110 lumens of bright light, enough to allow you see 95 metres ahead and if left uninterrupted, will shine for roughly 1 hour and 45 minutes. The low mode, on the other hand, gives you a coverage of just 30 meters and will drain a fully charged in 14 hours with its 22 lumens brightness, enough for you and your friends to wrap up camping expeditions.

The use of aluminium alloy for the construction makes it a truly durable and reliable LED flashlight and will stand up to most weather conditions out there, be it the simmering heat of the north or the jaw-cracking cod of the south. The inclusion of an LED Solid State Power Regulation feature ensures you have a steady supply of ultra-bright light as long as the battery has some charge. In the off chance that the unit accidentally slips from your hands and falls into a water of water that one-meter deep and you fish it out within the first 30 minutes, it gets to perform exactly as before, thanks to the itsIPX7 waterproof rating. The product comes with a useful anti-roll face cap guaranteed to prevent it from rolling when placed on a slanted surface. To allow for seamless and effortless operation, the flashlight is equipped with a multi-function push-button tactical light switch making it possible to quickly circle through the different brightness modes by using a single hand.

With a length of just 3.35-inches and a weighing a mere 2-ounces, portability, and manoeuvrability will never be a problem. The use of tempered glass for the lens means even if the product is accidentally dropped on the sharpest and roughest rocks from a height of about 1-1/2-meters, there'll be no cracking or scratching. The manufacturer uses O-rings to seal the lens so moisture and dust won't be able to get access the interior of the unit, which in turn lengthens its lifespan. The unit features an all-aircraft aluminium construction and has a black anodized finish that makes it impervious to shocks and can, therefore, last for at least 50000 hours.

If you're looking for convenience, versatility and enough light to illuminate a wide range of projects, the Streamlight Professional flashlight is your product. It needs just a single CR123A lithium battery to project the brightest, most focussed light some 400 feet away. Its compact and lightweight design make it an ideal companion for emergency responders and outdoor enthusiasts.

Powerful illumination
Lightweight and compact
Versatile
Easy to use
9. J5 Tactical V1-Pro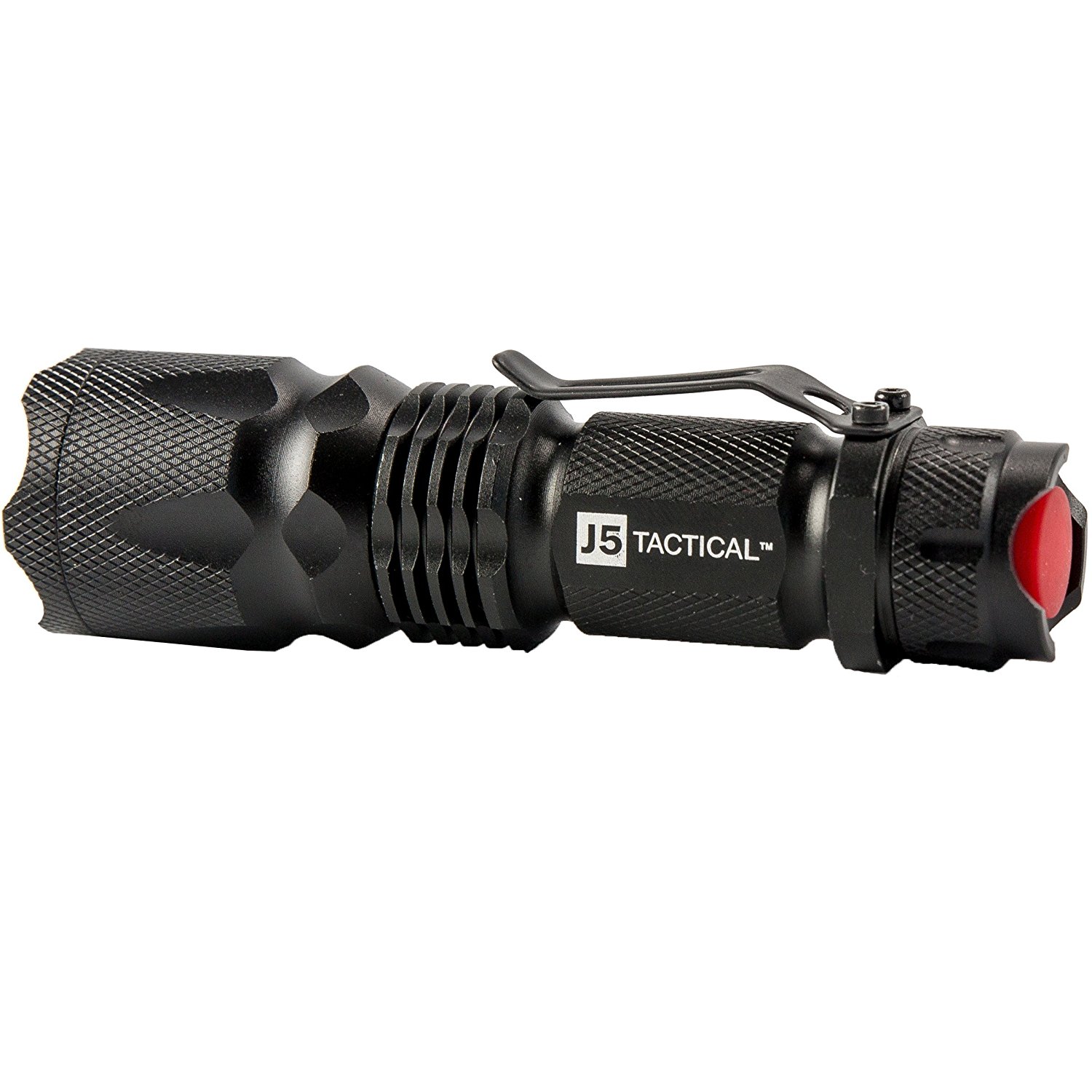 For anyone looking for a sturdy and functional LED flashlight, there's a pretty good chance you've heard about the J5 Tactical V1-Pro, or that it's been recommended to you by a friend or a professional. Ever since its entry into the market, the unit has had tremendous success selling a mind-blowing number of units all over the globe. Considering that they're made in the United States, all the units go through a strict quality control procedures and are constructed from the most long-lasting and sturdy materials, allowing it to effortlessly and seamlessly stand up to the harshest outdoor weather conditions.

The J5 brand understands the difficulty of finding a pocket-friendly yet functional and practical LED flashlight, hence with the J5, you get to enjoy a bright beam of 300 lumens and a choice of five modes to choose from, depending on the task you intend to undertake. You get to experience the bezel and strobe modes, both of which are aimed protecting yourself from attackers by blinding them with the brightness or using the bezel to your advantage in a tactical situation.

Expand to see more
The fact that the flashlight's lens is sealed with O-rings and is constructed from military-grade aluminium alloy means its resistant to water and high impact, providing you with the reliability you need. And it's not like there's a possibility of the unit slipping from your hand considering that it features knurled and hexagonal sections in addition to an ergonomic design to increase your grasp, enabling you to manoeuver it with ease.

The brightness settings are variable between the high mode that shines brightly at 300 lumens and a low-light mode. With the high mode activated, you'll be able to enjoy a wide coverage and a long-distance illumination of up to 600 feet. There's a conveniently located tactical tail switch for shifting turning the lights on or off by pressing on it for a whole second. Pressing it in quick succession, on the other hand, allows you to circle through all the three modes, that is high, low and strobe. The advantage the low-light mode has over the high mode is that it conserves battery life, allowing you to use the product for longer plus it doesn't lead to overheating. The beam is furthermore zoomable so you can effortlessly move change from a floodlight setting to a spotlight setting, depending on the type of project you plan on undertaking.

Other features that make it an ideal choice is the inclusion of a heavy-duty belt clip for easy portability. The unit's lightweight and compact profile allows it to fit comfortably in your hands and pockets and uses one AA battery on which it can provide you with about one hour of continuous bright light at the highest brightness setting.

Overall, theflashlight is a practical and functional LED flashlight and is an indispensable companion. In spite of being lightweight and compact and running on a single AA battery, you'll be pleasantly surprised by its versatility. It gives you the choice of between three different modes: high, low and strobe, each of which is optimized for various scenarios. At its brightest, the beam covers an impressive 600 feet, and the best part is that the unit is very cost effective.

Ergonomic design
Professionally constructed
Versatile
Pocket-friendly price tag
Exceptional focus and zoomable
10. Hausbell 7W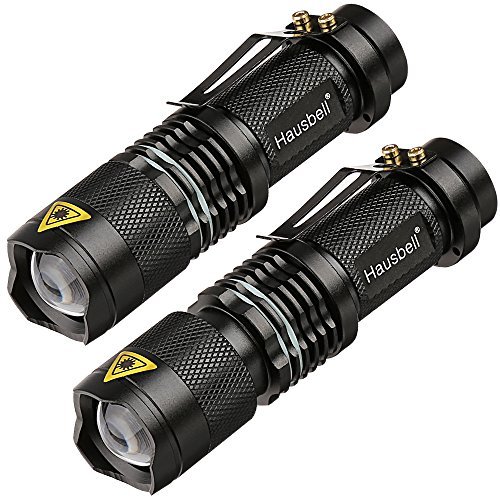 If you're looking for an off-the-charts performance in a durably built and super-bright LED flashlight, look no further than the Hausbell 7W option. The unit seamlessly outputs a sufficiently bright 300 lumens of light and provides you with three useful output settings for efficiently taking on a wide variety of outdoor and indoor tasks. Whether it's working in a large warehouse setting and consequently in need of floodlight or undertaking an up-close task in which a spotlight would go a long way in increasing your efficiency, the Hausbell has you covered.

The easy adjustment between the floodlight and spotlight modes is made possible by the inclusion of the useful zoom feature. You can choose between the ultra-bright high mode, a dim mode and the strobe mode. The quality of construction makes it the best for venturing into all sorts of outdoor environmental conditions. And in case of an emergency or when you're under attack, you can activate the strobe mode to quickly wade off attackers by using the mode's blinding effect or attracting the attention of people around you. And the catch? You get two for the price of one!
Expand to see more
It comes in all-aluminium construction that gives it a substantial and solid feel, which also goes a long way in minimizing the possibility of the unit slipping from your hand. The ergonomic design of the entire body prevents your hands from straining, getting fatigued, or developing blisters. And despite its lightweight and compact profile that enables you to keep it comfortably in your pocket, backpack, survival bag, or car glove compartment, the unit is big on power seeing as it uses one standard AA battery or one 14500 rechargeable lithium-ion battery. And in off chance that there's no space in the places mentioned, the unit comes with a clip for attaching it to different types of clothing so that you can walk around more comfortably. However, you'll have to purchase the batteries separately as they don't come with the Hausbell 7W Ultra Bright Mini LED Tactical Flashlight package. Irrespective of your choice of battery, you get to enjoy uninterrupted bright light for a whole hour.

The use of aluminium makes it virtually indestructible and capable of taking on the harshest weather conditions. Such rough handling like being dropped on the roughest and sharpest rocks and stones don't get to affect its performance, as it gets to survive without the slightest scratch or crack. Momentarily submerging it in water similarly won't affect its performance, as will also be the case when you use it in rain and snow, a fact that makes it an ideal LED flashlight for responding to different emergency situations. Plus, it comes with skid-proof properties to prevent the product from rolling down hills or sloppy surfaces.

The Hausbell 7W flashlight is definitely an ideal choice fo homeowners who like walking their dogs. The unit is durably and professionally constructed using the industrial-grade aluminium alloy that allows the product to endear the harsh outdoor environment. The Hausbell 7W Ultra Bright Mini LED Tactical Flashlight is resistant to water, impact, dust and even moisture and has anti-skid properties. When used properly and as directed by the manufacturer, the LED flashlight can provide you with several years of faithful service.

Compact and lightweight
Easy to use
Powerful illumination
Anti-skid and water-resistant
Astounding portability
Criteria for Choosing the Best LED Flashlights
Portability
A majority of LED and tactical flashlights fall within the 4-inches to 5-inches length range while the mid-sized ones can be anywhere between 6-inches and 10-inches. As you would expect, full-sizes LED flashlights measure at least 10-inches in length. No matter what you do, you need a unit that you can quickly grab in your hands or keep in the glove compartment of your car, suitcase, pockets, backpack or clip to your belt easily without it taking up too much space. In light of this, make a point of getting a lightweight and compact LED flashlight for greater portability and maneuverability. Those made from light materials like aluminium are an excellent choice.
Performance
LED flashlights are specifically for use in the pitch darkness of the outdoor environment, which is why they're an indispensable part of any outdoor enthusiast's backpack. When looking at performance, you'll want to know the extent of your product's brightness. For perfect illumination in the dark, you might want to consider something with an output of at least 200 lumens. Top of the line LED flashlight, as you would expect, pack greater brightness somewhere around the neighbourhoods of 500 lumens and will be of great assistance in helping you see more than 200 meters ahead of you. For everyday activities, a brightness of between 100 and 400 lumens should be more than sufficient. Also, understand whether you want better floodlight or spotlight performance. Spotlight beam is ideal for lighting up close-by objects while floodlight is perfect for specialty applications.
Construction Quality

Carefully consider the material from which your preferred LED flashlight is made as well as the finishing. Manufacturers commonly use polymer and aluminium because they possess several desirable qualities, ranging from durability, affordability, lightweight, and ease of maintenance. The industry standard is to finish aluminium bodies with either a Type II or III Anodize to increase the products' durability and make them scratch-resistant, even though such additions tend to inflate the price considerably.
Additionally, the body design of an LED flashlight has a significant bearing on convenience and ease of use. A cylindrical flashlight will most definitely roll when placed on a slanted or smooth surface. To guide against such a possibility, modern flashlights come with anti-roll features like the use of a flat bezel surface. The switches for turning the unit on and off could be placed at the front or rear, depending on brand.
Resistance to Water and Impact
Given the nature of most outdoor environments, there's a high chance the LED flashlight will drop in water or on pointed and sharp rocks and stones, two agents that could prematurely terminate its useful life. You might want to look out for a water-resistance rating of IPX4, which would also mean your product can stand up to most adverse weather conditions such as raining and snowing. A rating of IPX7, on the other hand, would mean your product is waterproof and can, as a result, stand being submerged up to 1-meter in water for a maximum of 30 minutes, beyond which it would be unusable.
Additionally, most LED flashlights come with an impact resistance for between 1 and 2 meters even though top model ones can survive a drop of up to 3 meters. It goes without saying that those with a higher impact resistance and more durably designed to be used in all sorts of conditions in an outdoor environment.
FAQs
Q: What could be causing my LED flashlight to flicker?
A: Flickering in LED flashlights could be caused by several reasons the common of which is a dead or dying battery in which case you obviously need to get your manufacturer to install it correctly in accordance with the anode and cathode configurations. Secondly, there could be dirt on the internal components like the screw threads or interface of the PCB as a result of dropping the unit in muddy water. Try cleaning the components mentioned above with a cotton ball soaked in alcohol. Lastly, the flickering could be the result of loosing of one or more crucial parts such as the head, main body or internal components. If you're not tech savvy, you might want to consider securing the services of a professional.
Q: My LED flashlight becomes hot after using for some thirty minutes. What's the cause and how do I resolve it?
A: Running any LED flashlight at the highest brightness setting or mode for a long time will inevitably lead to overheating as the setting puts a lot of strain on the battery, leading to the generation of a significant amount of heat. While the problem is widespread, it doesn't pose any serious threats to your safety or the longevity of your product. Nevertheless, make a point of limiting running the LED flashlight at maximum optimum to just ten minutes.
Conclusion
Finding a suitable LED flashlight for lighting up the dark corners might be a daunting and nerve-wracking process but is nonetheless a necessary step towards being united with your dream product. The ideal unit should have unmatched durability, portability, versatility, brightness and valuable. Most importantly, it should be reasonably priced. All the products featured on our list are bestowed with these qualities and will be of great assistance in lighting large warehouses, hiking, cycling, hunting, camping, walking the dog, enforcing the law, among other purposes. We hope you find your dream LED flashlight on our list or that it at least helps you get your match.
Subscribe to our newsletter