Best Electric Nail Guns Reviewed and Tested
last updated:
Jan 22, 2019
Nails have been used in construction since before books of history were kept. They predate nearly every other form of construction method outside of perhaps rope. Even with these thousands of years of usage, in wasn't until the last century or so that we had moved beyond hammers and mallets for driving nails – and it wasn't until a few years after WWII that nail guns were even available for private use. Today, with the creation of powerful batteries, we are even evolving past expensive and bulky compressors.
Our Top 3 Picks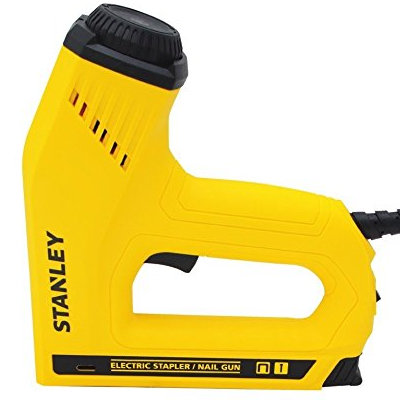 Stanley TRE550Z

Our rating
Great Confort
Price:

See Here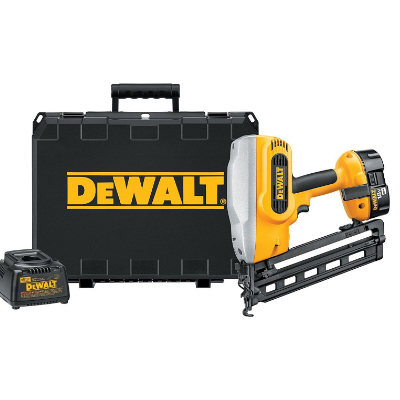 DEWALT 18V

Our rating
Powerfull
Price:

See Here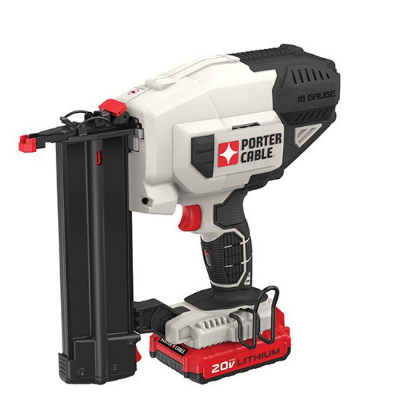 PORTER-CABLE

Our rating
Functionality
Price:

See Here


In this list, we will be focusing on the best cordless electric nail guns as well as the best Electric Staple Guns/Nail Guns.
With the ever growing market and diverse designs of nail guns, especially in the cordless sector, one can pick from hundreds of designs, features and specified uses. Framing nail guns, Brad/finisher guns, and angled nail guns are all built to accomplish specific tasks and vary widely in their usage.
As the market grows, the choice for which nail gun best suits you becomes more difficult. Do you go with the slightly less powerful and lighter design, or opt for pure power? And withing that choice to you pay a bit extra for some key features, or are they a waste?

To help you suss through all the noise, we have put together a buying list and an overall guide that should help out everyone from the novice to the professional. We have provided tools that we considered the most useful for their respective tasks, and of the best overall value. No matter your need or budget, we have included a tool that will be right at home in your arsenal.
In addition to this list, we have also added an FAQ to address common nail gun questions, as well as an explanation section that will clearly lay out the criteria by which we judged these tools. By the end, you should have a solid understanding of what features are currently available in your price range, which ones will be most capable of assisting you in your tasks – and hopefully which nail gun ultimately is best for you.
In order to accomplish all that in some sense of fairness towards the largest amount of possible needs – the tools were judged and rated on price to value scale. This means that a technically inferior device, if priced much better than a competitor, may obtain a better overall ranking on the list. Example: if Tool A can accomplish 75% of all the same tasks as Tool B, but Tool B is 95% more expensive, it can be argued that Tool A is of a higher overall value. This, of course, is bound to be rather subjective, so it is important you explore the features and purpose of the tool more than only it's overall ranking to judge its actual value to you. If it can only accomplish a fraction of your needs – its value to you will, of course, be much lower.
10 Best Electric Nail Guns
1. Stanley TRE550Z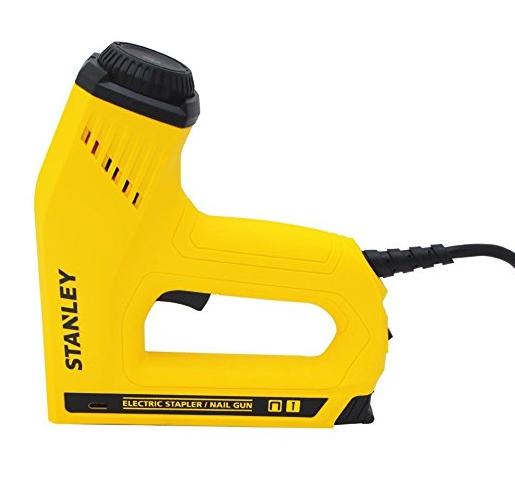 Now we are getting into our recommendations for corded electric nail guns. These are also nail/staple combo devices. We wouldn't recommend these over their battery powered cousin, except for the fact they are often only a third of the price. If you have a stationary use for this type of tool - and are not looking for a whole lot of mobility - they do have a lot to offer.

The Stanley TRE550Z is a heavy duty (for this type of tool) with a good amount of power for both hard and soft materials - and it is extremely affordable. About only a fifth of the cost of the battery capable version.

Even with the low cost, it is a competent tool with a number of advantageous features.

Expand to see more
Key Features:

Weight: 2.4 pounds
8' power cord
Unique dual power lever (Hi/Lo)
Mechanism to clear jams quickly
Flush-nose design for stapling in tight spots
Contoured grip.
Low-brad indicator window

Price/Value:

This is where the device shines. It costs about as much as a nice meal and can last for years. If you require staple or brad nail work and don't mind the cord - this is likely your best option.

Who Should Buy This?:

Anyone who needs brad/staple work and doesn't mind plugging in. If you meet that criteria you can get this tool for the same price as a single competitor battery. It is a nice backup piece for the pros and a worthy addition to any DIY tool chest.
Very low cost
Good power and comfort
Corded limitations
Prone to jams
2. DEWALT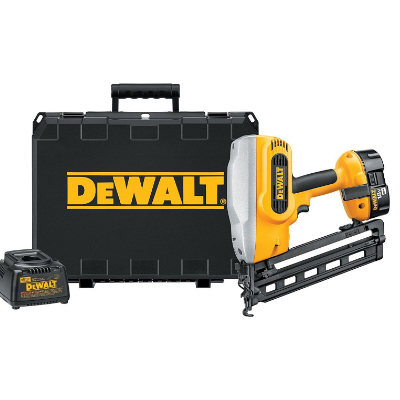 The power of a pneumatic nail gun combined with the portability of a cordless device. This is a great finish nailer. Both precision placement and bump operating modes - as well as a design that facilitates easy access and troubleshooting. The DEWALT 18V Angled Finishing Nailer is packed with features and performance value that make it a fantastic tool for a vast assortment of users across the spectrum of skill level. Pro's will undoubtedly find use in its versatility and the large load of extra features - while the ease of access and range of settings make it a fantastic tool for the hobbyist, homeowner or DIY enthusiast with an extensive workload.

The only downside is the proprietary batteries and semi-proprietary nails you have to use with the device. This is hardly a knock on Dewalt or the tool however as it seems nearly every company has been going down that path.
Expand to see more
Key Features:

Weight: 8.5 LBS
Batteries: DEWALT's 18-volt XRP batteries
Gauge: 16 Gauge Finish
Nails: 1-¼" to 2-½"
Integrated LED lights.
20-degree angled magazine.
Allows for precision placement and the bump-operating mode.
6-position dial.
110-nail capacity.
Belt hook.

Price/Value:

This nail gun may just be giving you the best bang for your buck if you are looking for a generic workhorse. It is relatively expensive compared with lesser models, but it is built to last and can accomplish a vast range of tasks.

Who Should Buy This?

This is easy to recommend to nearly anyone who requires a reliable nail gun. The DIY crowd loves it, and pros won't find much to complain about. The only reason to not opt for a nail gun like this is if your tasks require a very particular set of needs or capabilities. This is a finish nailer, so all the pros and cons that come along with that apply here as well.

Powerful
Versatile
Packed with ease of use and comfort features
Relatively expensive
Heavy and bulky for some jobs
3. PORTER-CABLE PCC790LA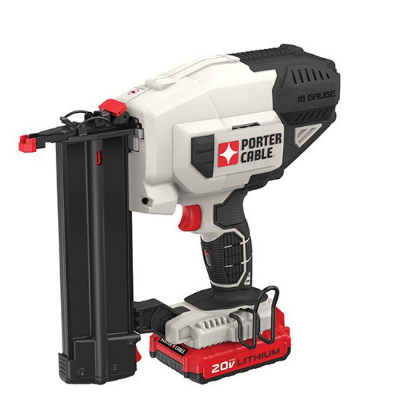 This 18 gauge brad nailer is directly comparable to the Ryobi P320 in both bare tool cost and effectiveness. It is made to be comfortable and last through the work day. Capable of 450 fasteners (1.5 amp hour battery) in a single charge. It is well weighted with a good solid grip. The multi-function LED lights will light up your work space and warn you of errors, which is a nice touch. The addition of almost entirely tool-less troubleshooting and adjustments add another layer to the ease of use factor.

All in all these tool is designed for a particular purpose and gets the job done rather well. Plus, it won't break the bank.

Expand to see more
Key Features:

Weight: 5.1 pounds (without battery)
Batteries: 20V MAX Lithium-ion battery
Gauge: 18 Gauge Brad
Nails: 5/8" - 2"
100 nail capacity.
Tool-free jam release and stall release levers.
Depth adjustment window.
Tool-free adjustment wheel.
Multiple LED lights.

Price/Value:

Good price for a good tool. It won't be winning any awards for either its price or its functions - but it is a solid choice for both of those reasons. If you already have compatible batteries than the value of this device skyrockets - as they make up nearly 40% of the price.

Who Should Buy This?:

We'd have to go ahead and say this tool is much more suited to the homeowner and DIY crowd than the outright professionals. The ease of use and lightweight is an excellent feature both groups can take advantage of, but we think a pro willing to invest a bit more money can get a more suitable brad nailer for their needs.
Comfortable and light
Good battery life
Easy functionality and adjustment
Some delay between trigger pull and firing
Jamming becomes an issue as the battery drains
4. Ryobi P320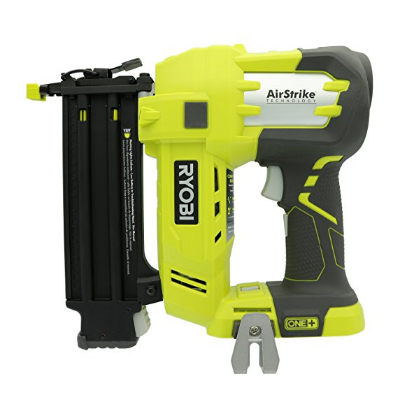 This cordless brad nailer offers a power comparable to lower end gas compressed tools with cordless versatility. It has a much more affordable price than many other cordless nail guns of the same caliber. This Ryobi provides consistent power over a long battery life - making it ideal for a full day's work - it is also lighter and more compact than other comparable tools - limiting fatigue from continuous use.

A fantastic bargain with a slew of features making it ideal for molding, door casings, and cabinetry work needs.
Expand to see more
Key Features:

Weight: 5.0 lbs
Batteries: 18V
Gauge: 18 Gauge
Nails: 5/8" to 2"
Dry fire lockout.
Dual LED Lights.
Tool-less depth adjustment
Belt hook.
Selectable drive switch.

Price/Value:

Good value for a good device. If it suits your needs, you are looking at a solid investment. This tool has an excellent track record across various forms of use.

Who Should Buy This?:

Anyone who needs a brad nailer at a bargain price. It is a fantastic deal and a worthy investment for all levels of users. It may not take the place of other higher end brad nailers - but at its price, it will still return value as a backup.
Lightweight
Comfortable
Reliable and efficient
Clearing jams can get frustrating
5. Craftsman C3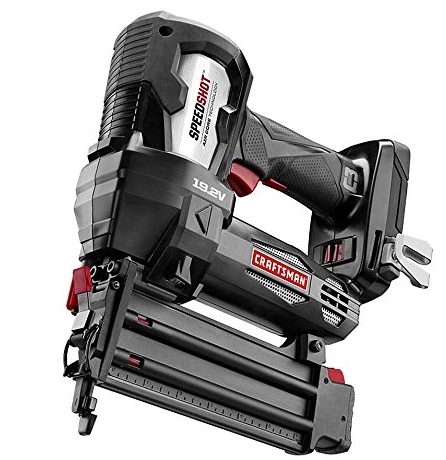 This is another workhorse battery tool that eliminates the need for a noisy compressor. It will give you around three solid hours of work, and can fully charge in about 30 minutes. Relatively lightweight, yet still packing power, this tool is ideal for extended periods of use in awkward or hard to reach places. The slew of features and agile design allow this to be your go-to for small projects. Refurbishing floors or working on trim will quickly prove this tools worth.
Expand to see more
Key Features:

Weight: 6.5 LBS
Batteries: 19.2v Lithium-ion
Gauge: 18 Gauge Finish
Nails: 5/8" - 2" Brad
2 LED lights.
Single sequential or contact mode.
Tool-less jam release.
Tool-less depth-of-drive adjustment,
Low nail indicator to quickly see when you need to reload.
Belt hook.

Price/Value:

Moderately priced at the tool level - though the addition of a couple of batteries tests its overall value. All in all, this is a solid brad nailer that is unlikely to disappoint.

Who Should Buy This?:

This may be best suited to homeowners rather than pros for the same reasons as the Porter-Cable. For the homeowner, however, this should be everything you need in a fair priced package.
Ease of Use.
Good selection of features
Not a standout in any category
Can get pricey when you want multiple batteries
6. Hitachi NT1850DE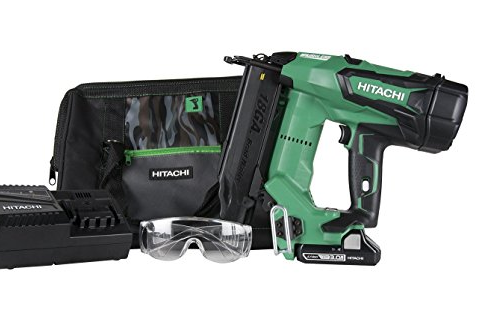 The brushless motor allows Hitachi NT1850DE to operate smoothly, work powerfully, drive nails without a feedback delay, and last longer. It's combined with a series of tool-less adjustment features, LED lights, and a plethora of other ease of use and practical features. This is a fantastic high-end nail gun well suited to a broad swath of the professional market.
Expand to see more
Key Features:

Weight: 7.3 lbs
Batteries: 3.0Ah Lithium Ion battery
Gauge: 18 Gauge Finish
Nails: 5/8" - 2" Brad
Tool-less depth of drive adjustment.
Brushless motor for longer run time.
Sequential mode and bump fire mode.
LED Light.
Pivoting Belt Hook.
Side-Lock Switch.
Up to 1,650 nails per charge.

Price/Value:

This is a more expensive tool, but it goes a long way towards justifying the price. This puts it out of the range of most users - but can still provide great value to those who need a fantastic brad nail gun.

Who Should Buy This?

While the power and price make this tool somewhat impractical for hobbyists or homeowners - it can provide substantial value to a pro in need of a reliable and efficient nail gun.

Full of features
Durable, long lasting brushless motor
Substantial driving power
Reliable operation, infrequent feed errors
Bulk makes it difficult for certain tasks, such as trim
7. 2 in 1 Kit by VonHouse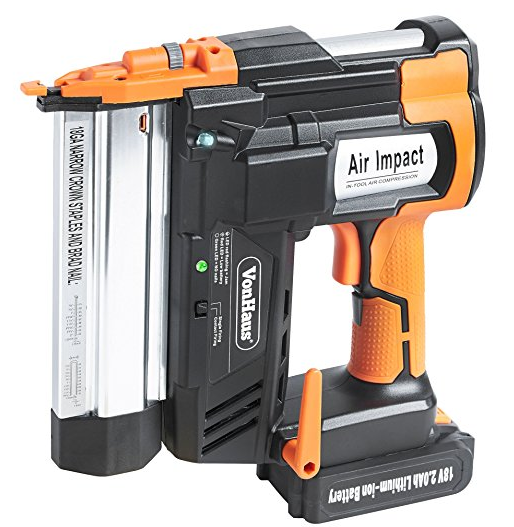 The VonHaus here is suited for a good number of light duty tasks, among which underlay, carpeting, tiles for ceiling, PVC panels, plywood, sheeting made of plastic, roofing, craft work etc.

The plastic body isn't as durable as we would prefer, but it helps keep the cost down in the face of a number of added features.
Expand to see more
Key Features:

Weight: 11.35 pounds (full shipping package)
Batteries: 18V 2.0Ah Lithium Battery
Gauge: 18 gauge brad nail | 18 gauge light duty staple
Nails: 50mm
Staples: 40mm
Wheel for adjusting the depth control
An LED indicator light.
Contact firing mode and single firing mode.
Dual-functionality Nail and Staple Gun.
Ergonomic handle

Price/Value:

Though the tool and a battery or two can set you back a decent amount, this is an entirely portable and feature heavy nailer/stapler - something that is a relative rarity. If you are in need of a good quality device of this type and require portability, it may just be worth the purchase.

Who Should Buy This?

This is suitable for both pros and homeowners who need a solid quality stapler/nailer that has portable capabilities. It will not be for everyone, but we're sure there is a substantial market for the tool.
A solid and well built dual use nail/stapler gun
More expensive than technically similar tools
Some inconsistencies in depth
Not as durable as it could be
8. Makita XNB01Z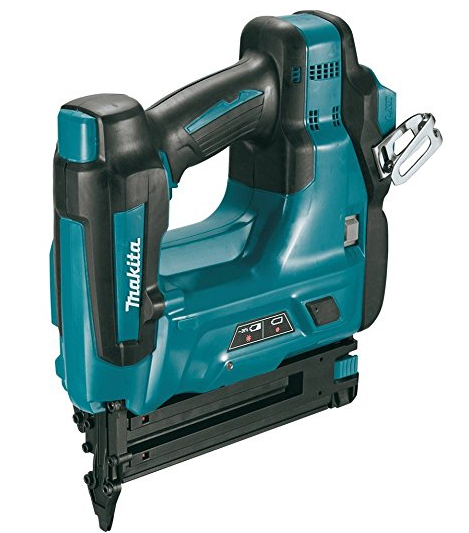 This tool was specially designed for narrow trim and molding work. It is compact, sturdy and sports a large nail capacity and battery life - up to 1,000 nails on one charge. The re-charge time is also very good.

This tool also sports the Makita Star Protection which helps reduce cases of overcharges and overheating. While it won't be able to handle harder woods, it can take on the more delicate tasks quickly.

Expand to see more
Key Features:

Weight: 7.7 lbs
Batteries: 3.0Ah LXT® Battery BL1830
Gauge: 18 Gauge Brad
Nails: 5/8" to 2"
110 nail capacity.
Battery gauge indicates battery charge level.
"tool-less" depth adjustment dial
Anti-dry drive mechanism
sequential or contact nailing operation.

Price/Value:

This is a rather expensive tool that makes up a lot of ground in its focused purpose and ability to handle a particular set of tasks well.

Who Should Buy This?:

The price makes it mainly the purview of professionals, but I'd say it is not quite of a high enough quality to meet that mark. It is better to think of this tool as a high-end DIY/hobbyist brad nailer. As long as your tasks are within its abilities, you are getting a very high-quality option.

Compact
Easy and fast to use
Functions well
Performance is not at a professional level
Consistency issues
9. Paslode 905600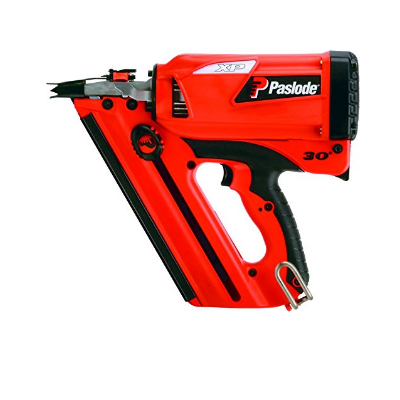 For the pro's who need a framing nailer suited for pickup work and small jobs with limited space, this may be just the tool for you. It is relatively lightweight and can hold a substantial charge - so you can get a solid amount of work done quickly and comfortably. If you have been waiting to get rid of the need for a compressor for most of your tasks - now is the time.

This Paslode will tackle hardwoods, cold weather, and even severe drops. It made well and is very resilient to anything you or nature can throw at it.

This is another tool that operates with a proprietary battery and semi-proprietary nails. It runs much better and smoother with the nails specifically built for it, which is a little frustrating.
Expand to see more
Key Features:

Weight: 7.2 lbs
Batteries: 7V Li-ion Battery
Gauge: 16 Gauge Finish
Nails: 2"-3-¼" .| 113" -.131" in shank diameters
Up to 9, 000 nails per charge.
Can work in temperatures down to 14°F.
Tool Free Depth-of-Drive.
Aggressive teeth for toe nailing.

Price/Value:

If you are looking for a high-end framing nailer, you won't find many offering you more ability for your dollar. It is definitely on the higher end of cost, but it makes up for this in ability. The durability ensures it will last and can be considered a solid investment.

Who Should Buy This?:

Pro's who need a robust option for working in awkward areas and tight spaces - or who don't want to lug a compressor with them. If there are homeowners looking to invest in a good framing nailer - this can be considered an excellent choice.
Powerful
Lightweight
Resilient
Paslode has discontinued the majority of compatible fuel cells
Brand nails and fuel cells are costly
10. Arrow Fastener 9100K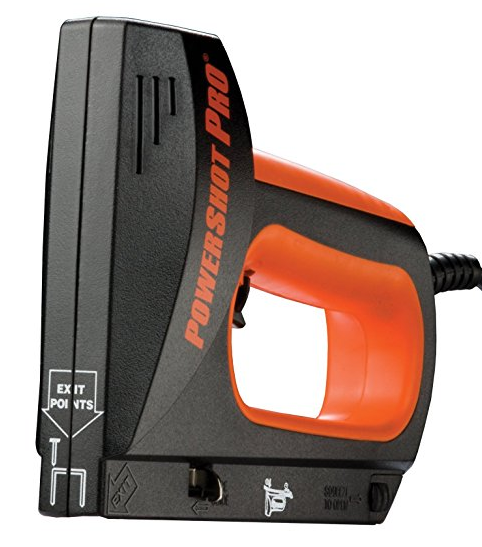 This is another device that made the list as a corded combo device due to its very low cost and generally reliable functioning. All electric combo devices are prone to jamming, and electronic casings aren't the most durable - this tool is no exception to these rules - however when it does operate correctly, and it will most of the time, it is an easy to use and robust fastening device. The power level is much more suited to the staples, but it can handle a decent amount of light duty nail tasks as well.
Expand to see more
Key Features:

Weight: 4.19 lbs
10' reinforced cord
Fires ¼" through 9/16"
The front gets into corners that are tight.
Light weight compact design.
Anti-slip comfort grip.
Fast drop-in loading.
Quick load chamber.
Built-in wire guide.

Price/Value:

Low cost for a reasonable tool. Many people complain about the short life of the device, but for the price and the overall functionality, it can be thought of as a good short term solution for a number of DIY or hobby craft needs.

Who Should Buy This?:

This is a hobbyist tool that can provide solid functionality for a specific set of light tasks.

Inexpensive
Solid device with reliable functionality
Criteria for Evaluation
In order to create a diverse list of nail guns that could appeal to a variety of tasks as well as a range of users and budgets – and then rank them- we had to develop criteria by which to judge and then compare the nail guns. There was a large selection to choose from, and plenty of comparable tools that made it difficult to decide whether to include them or offer an entirely different alternative.
Price was also a very important factor – not only did we ensure we provided a varying
range of prices
, but that each tool was weighed against one another in a price/value metric. This means a superior tool that was grossly overpriced was either excluded or would be ranked lower than an inferior tool that was fairly priced. This was based on tangible factors while the value to you personally will be solely up to you to decide. If the tool can't do your job, it has no value to you no matter how fairly priced it is.
Some opinions are based on the numbers – and some are clearly subjective ease of use for example). For that reason, we have supplied you with the basic list of criteria we worked from and a general explanation of how it was implemented.
Power

The mobility of a battery gave the battery powered tools a large leg up in the listing. Some years ago, batteries were not powerful enough for most of the heavy duty tasks – and/or had short life spans. This is mainly a thing of the past. Almost all of our tools utilized proprietary battery sources, though the ones that could fit multiple battery systems gained a bit of an advantage.
Consistency
When you are placing dozens, if not hundreds, of nails the last thing you want to have to do is go back and manually adjust each one. Tools that had an overall better rating for consistency gained a considerable advantage over those that had regular issues with depth placement.
Size/Weight/Comfort

A big and bulky tool can be a real nuisance during long work hours or when trying to reach small or awkward areas. Tools that provided ample power in an easy to use device were ranked better. Overall comfort also was significant given that many time a better balanced but slightly heavier tool will actually administer less fatigue and pain to the body.
Price
We've offhandedly covered his reasoning in the article a couple times. But to reiterate what was said in the opening section "the tools were judged and rated on price to value scale… Example: if Tool A can accomplish 75% of all the same tasks as Tool B, but Tool B is 95% more expensive, it can be argued that Tool A is of a higher overall value. This, of course, is bound to be rather subjective… If it can only accomplish a fraction of your needs – its value to you will, of course, be much lower."
Extra Features
Additional features like LED lights, Tool-less adjustments and easy jam clearing methods may seem like superfluous additions, that is until you need them. While most of these are definitely bonuses rather than key metrics – they were nonetheless one of the more important overall factors after the ones already listed.
Do you need an air compressor for an electric nail gun?
If you want to put up a picture(s) on the wall, do a repair, or put a bookcase together, a hammer is your ideal tool: cheap, easy to use, and effective.
However, if your task is more involving, using a hammer may be pretty stressful and tiresome. This is where a nail gun comes in handy. They are powerful machines that release nail at high speed, driving in the nails in a fraction of a second.
There are various types of nail guns depending on the power source used by each including pneumatic nail guns, electric nail guns, and cordless nail guns. Let's have a look at each of them to determine if an electric nail gun needs an air compressor.
Pneumatic nail guns

To drive in nails, pneumatic nail guns must be connected to an air compressor for power, which is bought separately. This type is the most powerful and reliable for heavy-duty tasks, although its mobility is limited since it must be connected to the air compressor. Also, it takes longer to start the nail gun, and the hose pipe can be inconvenient since you must ensure you have the right connectors for the nail gun to move freely.
Cordless nail guns
There are three types of this kind including battery powered, fuel-driven, and cordless electric nail guns. Cordless Battery-powered models use ignition caused by a spark produced by the battery to drive in nails. It provides maximum mobility more than the pneumatic nail guns since you do not need an air compressor. It is easier to start up, although it has less power than the pneumatic model. On the downside, you need to recharge the battery, although with a 60-minute charger or a backup battery can help you solve the problem.
Cordless fuel-driven nail guns use combustion from the fuel to drive nails into materials. A disposable gas cartridge drains fuel into an ignition compartment in the nailer, such that when it is combined with electrical charges produced by the battery in the nail gun, it gives an explosive force that drives the nail out. It provides mobility since it requires no cords or hoses. Also, it is powerful for heavy duty projects such as driving huge fasteners into hard surfaces or materials. The main downside of this model is that it is expensive to operate since you have to replace the fuel canisters.
Cordless Electric Nail Gun is a perfect fit for anyone who finds the cord stressing when working. It uses the main electric power to drive nails.
Electric Nail Guns
Pure electric nail guns are specifically made for small nails such as staples and brads. They depend on the electric current supplied from the mains. Thus, they are connected to a standard electrical outlet. They are powerful for small scale tasks. However, they have limited portability since they are corded. On the bright side, you do not need to recharge batteries, buy fuel canisters, or air compressors.
Finally, you do not need an air compressor for an electric nail gun since only the pneumatic models make use of the air compressor. They are two different tools powered differently. Here are some of the key pros and cons of electrical over air-powered nail guns.
Pros
Pneumatic nail guns are heavier than the electric ones. This means that you can work longer without getting tired when working with the electric model.
The electric model is less noisy than the air-powered nail gun. This is vital in residential areas.
Pneumatic guns demand regular oiling to prevent rust and to lubricate the inner parts to work efficiently. Electric tools do not require such additional maintenance.
Cons
Pneumatic models are fit for heavy-duty tasks since they can withstand intense driving force, and are less vulnerable to incapacitating damage when dropped. However, electric guns can only handle small tasks and are less durable.
FAQs
What are the Different types of nail guns covered?

While the uses and power of the tool are very different, it is also the nails they utilize that cause the disparity. Brad nails are small and thin nails that are made to be embedded into the wood. They often will have very thin, or no head to them. Finishing nailers generally use larger forms of nails.
Framing Nailers
Unlike other versions, framing nailers are not necessarily looking for precision, rather they want power and usually speed. They are much more powerful and are used on construction sites and harder materials such as structural timbers.
Brad & Finish Nailers
Brad & Finish Nailers are used for more precise and delicate work that generally requires more accuracy and a softer touch. Baseboards, moldings or tacking down some sheet material are common tasks for finish nailers. Brad nailers are best suited for tasks like trim work.
What Features Should I look For?

While the features you need will be up to your individual tasks, there are some that will definitely sweeten the deal at some point.
Tool-Less Adjustments
It can get incredibly frustrating when you need to make multiple changes to have to carry an extra device with which to do so. By adjustment number three it indeed can be aggravating. Tool-less adjustments allow you to make changes to the operation using adjusters like dials and knobs. A substantial time and stress saver.
Easy Jam Removals
Lower powered nail guns tend to have feeding issues. Every so often a nail will either feed improperly or get jammed up in the magazine. Tools that allow you easy access to these areas or have forward assists for guiding the nail into its proper place can really save you time and effort when the inevitable happens.
Led Lights
A good LED light can be convenient when working on cabinets or some other dark area. We all know how annoying it is trying to balance a flashlight against something precariously, and then have your body lock most the light. A LED being built into the tool saves you from all that hassle.
There are also lights that are added to indicate either feed issues, low nail capacity and/or low battery.
Body Design

While this isn't a "feature" since all tools will have a body to them – it is important you pick one made to operate in your environment. A bulky tool will make like difficult in tight spaces or for tasks where you have to reach up or out consistently. Lighter tools with comfort grips will make life much better for you.
Angled nailers can come in handy when working with awkward angles or trying to apply fasteners into narrow spaces.
Nailers with a flush head allow you to get much closer to your target either when it is near and perpendicular to another surface.
What is Bump Firing Mode?
Bump firing is when you can fire off a nail by simply pressing it against the wood. This allows for a much faster series of operation when accuracy isn't as important a factor.
Making Your Decision

Hopefully, this list of nail guns, their key criteria, and the short FAQ have given you a solid idea of where to begin to look for your new nail gun. This list gives a small example of the options you have out there – and were simply what we judged were the best representative of their respective categories. While every device on this list is of a reliable quality, there may very well be comparable tools in a particular category that is more suited to your needs. As long as the info provided here helped guide your decision, it did its job.
People never completely agree on what the objectively best tool is. It is likely you may disagree with a number of our opinions. That is perfectly okay. In fact, in my experience having disagreed on a point is often what led me to solidify my own point in return.
So whether you are a professional looking to fire of nails like a Marine in a gunfight, or a hobbyist and homeowner trying to work with fencing or picture frames, Good luck – and remember – build smart, build safe, and build big.
Subscribe to our newsletter