Best Air Compressors Reviewed and Tested
last updated:
Jul 08, 2018
Air compressors have varying shapes and sizes and are useful tools for inflating car tires, powering pneumatic tools such as nail guns and sprayers as well as constructing or renovating houses. Your choice of a good air compressor needs to be determined by the projects or tasks you intend to carry out. Portable, compact and lightweight units are perfect for everyday use around the house while larger ones with larger tanks and more powerful motors are ideal for medium to high-duty tasks on the construction site. Despite such differences, all the units featured on our list are lightweight and compact yet offer remarkably high performance.
Our Top 3 Picks
[srpshortcode id="4518″][/srpshortcode][srpshortcode id="4519″][/srpshortcode][srpshortcode id="4520″][/srpshortcode]
Criteria for Selecting the Best Air Compressors
Portability

The more portable an air compressor, the less effort you will be using to cart or transport it from one location to another without necessarily using too much energy. It goes without saying that tools that feature a compact and lightweight design are easy to carry compared to their heavier and bulkier counterparts. Even then, heavier ones come with base wheels.
Performance Ratings
Apart from portability, the other most important consideration is the performance of your preferred option. Since there is a high likelihood that you will be using it to power other tools such as nail guns, you need to ensure the unit has the right Standard Cubic Feet per Minute rating. A majority of smaller air-powered appliances have an SCFM requirement of between one and five. Industrial-grade appliances, on the other hand, will need at least 10 SCFM to operate properly. Consequently, you have to take all these factors into consideration and get an air compressor that will sufficiently meet the pressure requirements for all your tools. There are options with an extra universal coupler enabling you to operate two or more devices simultaneously.
Tank Size
The size of the tank has a significant bearing on its suitability for small, medium, or heavy-duty projects. The more gallons of air a tank can accommodate, the better will be its performance since it will be able to generate higher pressures. For heavy-duty applications, an option with a higher Pounds per Square Inch and a bigger tank will be more suitable, even though they lack the portability of smaller units.
Convenience

Air compressors are either equipped with lube-free or oil-lubricated pumps depending on, among other factors, their intended use. The advantage of oil-lubricated options is that they operate at relatively low temperatures and therefore quickly reach optimal performance. On the other hand, you will have to put up with messy oil disposal and regular maintenance. Light or medium-duty operations can easily be completed using lube-free options with a tank capacity of between 2 and 6 gallons of air volume. On the other hand, in case you are searching for a unit with an ability to deliver high pressure suitable for performing more demanding on-site tasks, you should consider buying a stationary option. While you will be sacrificing portability, you'll end up with a compressor factory-fitted with a mighty motor and a correspondingly large tank with a capacity of between 60 and 80 gallons.
Pounds per Square Inch
Overlooking the significance of pounds per square inch (PSI) can be detrimental to the successful completion of your projects. You will spend substantially less time to refilling it with a higher PSI and even complete more demanding on-site jobs a lot quicker.
10 Best Air Compressors

1. Porter-Cable C2002-WK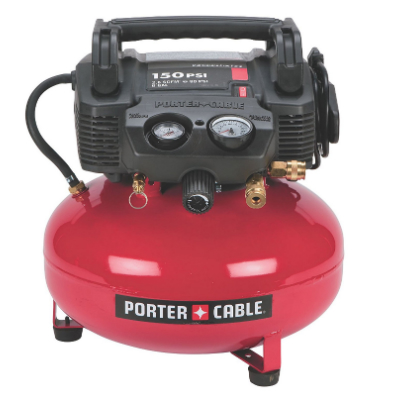 There are several reasons as to why the Porter-Cable C2002-WK continues to gain considerable traction among enthusiastic Do-It-Yourselfers and professionals alike. It offers several competitive specs allowing it to compete against other top model compressors such as the Senco PC1010.

The Porter-Cable C2002-WK, for instance, comes with a tank capable of delivering a surprising 150 pounds per square inch, which is quite convenient as it allows you a considerably protracted running time for your nail guns and sprayers. It furthermore comes with a surprisingly high Standard Cubic Feet per Minute (SCFM) of 2.5 at 90 Pounds per Square Inch. The implication of these readings is that while using it, you will only have to wait for a few seconds, if not immediately, before fully recovering air and pressure lost while pumping. Having been certified per ISO1217, you should rest assured the values provided here are authentic and are an accurate reflection of the exceptional and top-notch performance.
Expand to see more
Its air hose is equipped with an air coupler and plug that do a perfect job assisting you in preventing leaks and saving you a lot of energy and nerve in the process. Additionally, it is quite convenient to use. The factor-installation of the air coupler and plug on the hose saves you the trouble of figuring out how to install them yourself or the money you would have to otherwise spend to get professional assistance.

It has a pancake-style tank that can comfortably hold an incredible six gallons. Such a big tank size comes with serious stability issues, which is why Porter-Cable rubberized the feet to provide greater stability. Draining excess water is an easy endeavour as there is factory-installed water drain valve that greatly simplifies the entire process. The compressor has a powerful cable running at 120-Volts and a low-amp and has no difficulties starting even in the coldest of temperatures.

It comes with an extension cord for boosting portability, making it possible to use in various settings. To make the tool even more convenient, the pump does not require oiling as offers lube-free operation. Consequently, your operation will not be messy since there is no need for maintenance, thereby considerably extending the shelf-life of the compressor. The tool is further equipped with a useful console cover handle that covers and protects delicate internal and external components from damage. In the meantime, the compressor has a compact and lightweight design for easy relocation from one place to another.
Comes with an impressive 150 PSI offering longer runtime
Lightweight and low profile design
Lube-free operation
Powerful 120-Volt motor
Shroud protected internal components
Occasional leaking of release nozzle
[srp_anchshortcode id="4518″][/srp_anchshortcode]
2. Makita MAC700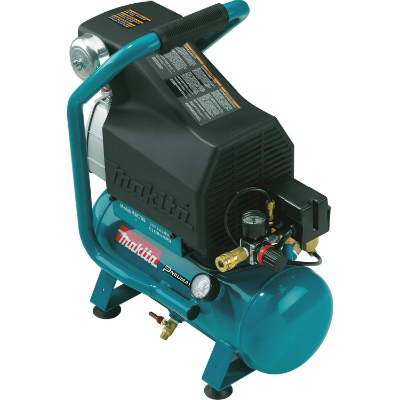 The Makita MAC700 comes with one of the most powerful motors of all compressors in the market currently, capable of smoothly delivering an astounding two horsepower. To further increase its performance, it is equipped with a pump that can be lubricated with oil for to ensure a smooth running. Oil lubrication comes with two additional advantages the first of which is mitigating the likelihood of it suffering low amp draw that can cause the breaker to trip or low voltage capable of destroying the motor. Secondly, oiling the pump leads to a significant reduction in levels of noise produced in spite of its ability to quickly register an astounding 1.720 rotations per minute.

It packs an endless list of efficient and functional features. However, the one feature that creates a vast difference between this tool and otheroffered by other brands is its competence at delivering greater displacement at significantly lower rotations per minute. Additionally, the Makita MAC700 comes equipped with a pump featuring an all-cast-iron construction for durability as well as cylinders and pistons for exceptional performance.
Expand to see more
It is additionally capable of delivering consistent and reliable optimal performance irrespective of the intensity of your projects thanks to its superior stroke and bore. The commercial-grade construction of the Makita MAC700 ensures you take delight compressing air in a superior and quicker fashion without exposing you to unnecessarily loud noises and with significantly shorter recovery time.

In spite of its industrial-grade construction, the main drawback is that it does not offer a lube-free operation since its pump has to be oil lubricated every once a while to ensure a smooth operation. Nevertheless, the minor drawback is offset by the manufacturer's provision of a limited 12-month warranty and 90-day money back guarantee so you can continue using it without any worries.

The industrial-strength build of the pump coupled with its durability will make even the toughest applications look like a piece of cake, allowing you to finish a lot quicker and without using too much effort.
Big bore cylinder for quick recovery
Low rotations per minute for optimal operating temperature
Oil-lubricated pump for protracted shelf-life
Powerful low-amp motor
[srp_anchshortcode id="4519″][/srp_anchshortcode]
3. Senco PC1010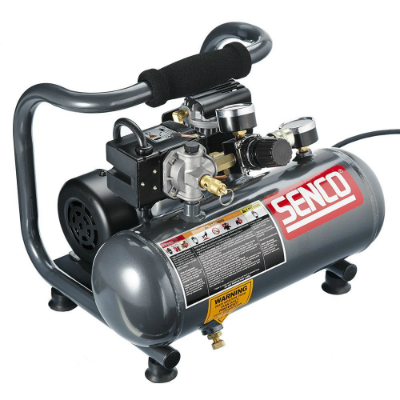 The PC1010 is the perfect option for individuals and contractors looking for a lightweight, portable and compact option they can cart around from one location to elsewhere with relative ease. It does not sacrifice on performance, either. Under normal circumstances, the compressor can consistently deliver about 0.5 horsepower which can shoot up to one horsepower for optimal performance.

The Senco PC1010 includes a tank that has the capacity to hold one gallon, enabling it to run consistently for several hours without requiring a refill. Consequently, it's ideal for performing a broad range of tasks such as renovating and improving homes and other buildings, particularly as it powers nail guns and paint sprayers with exceptional ease. Several users also indicate that while running at 0.5 horsepower, the Senco PC1010 can be safely used to perform even the most delicate arts and crafts projects among other related endeavors.
Expand to see more
The PC1010 is capable of delivering between 20 and 44 drives every single minute. The vast range in the delivery of drives is partly dictated by the application you are carrying out as well as the tool you are pairing it with.

The offers unprecedented convenience to its users. Because it comes with a lube-free pump, there is no need worrying about the cumbersome and stressful process of oil disposal or creating a mess when using oil to lubricate the tool. It's equipped with a cylinder constructed entirely out of aluminium, which means it is as durable and rugged as aluminium itself and will provide you with years and years of reliable and consistently high performance.

The Senco PC1010 has its fair share of performance limitations. The tool is notably not ideal for more demanding projects such as constructing houses or manufacturing electronic devices since these jobs require tanks that can hold at least six gallons. A gallon, on the other hand, is perfect for carrying out residential and non-commercials projects. Nevertheless, hobbyists and Do-It-Yourselfers will appreciate the efficiency brought about by its direct drive motor. Similarly, the Senco PC1010 has an impressive recovery time of just 35 seconds, and an ability to start pumping up in just 128 seconds.

The fact that the Senco PC1010 includes a a 12-month limited warranty is a reflection of the manufacturer's confidence in the performance and durability of its products.
Lightweight at only 20 pounds
Remarkably quiet operation
Oil-less operation
Compact hence easy to store
Not ideal for heavy-duty operations
Not very powerful compressor
[srp_anchshortcode id="4520″][/srp_anchshortcode]
4. Makita MAC2400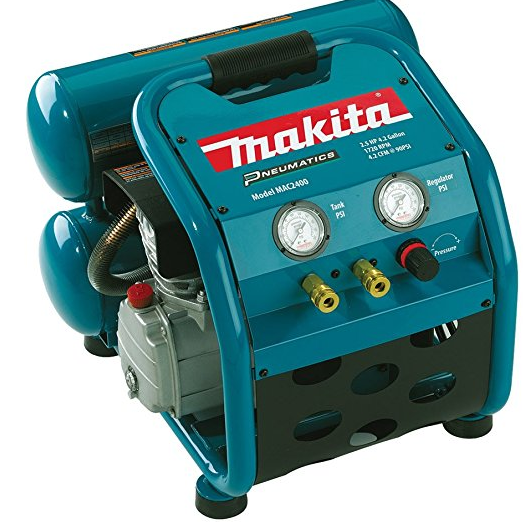 The Makita MAC2400 is another option from the trusted Makita brand, and it is specifically optimized for use with automotive. As is the case with a majority of options on this list, the MAC2400 features a compact and lightweight design to allow you move it around with ease and save on storage space. Its lightweight and compact design makes it easy to move the unit without worrying about weighing down most surfaces. Being a quintessential device, it has the advantage of simplicity and does not require that you have previous interactions or knowledge of compressors. Nevertheless, it does not compromise on performance, as it packs all the essential features of a compressor.

It offers you smooth and flawless performance that closely rivals those of top model options. To begin with, it comes a factory-installed pump whose heat-treatment and the fact that it is oil-lubricated means it always maintains a cool temperature to guarantee you remarkable performance throughout. Oil lubrication also significantly reduces the likelihood of the pump overheating even with hours and hours of continuous use. Hence, you are guaranteed a long and stress-free run time whether you will be powering your nail gun or jackhammer, spraying paint, or most commonly, inflating your tires before hitting the road. Nevertheless, we have to reiterate that the Makita MAC2400 is only ideal for light-weight applications and can only be used occasionally for medium or more demanding tasks. Consistently using it to perform heavy-duty projects will lead to a drastic decline in performance capabilities and subsequently wear and tear.
Expand to see more
The Makita MAC2400 is quite durable as it features an all-iron construction and a roll-cage kind of design that is effective at preventing damage resulting from frequent jostling and movement. It can easily support two simultaneous tasks as it comes with two tanks and two nozzles. Professionals and Do-It-Yourselfers will find this feature convenient because they will be able to use an air-powered nailer and grease gun concurrently, thus saving time and effort.

In all, it has a powerful 2.5 HP motor and an oil-lubricated pump that is ideal for performing light-duty projects. A transparent glass window is included to help you keep track of the oil's status without using a dipstick, thereby reducing the effort and time it typically takes to maintain the tool.
An all-iron and roll-cage type construction for durability
Steady supply of air for prolonged use
Low RPM hence less noise
5. CAT-6310 by California Air Tools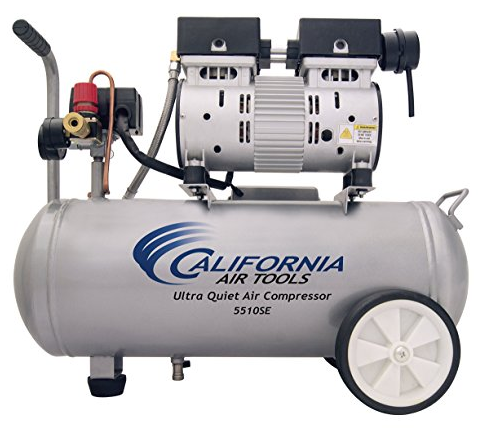 The CAT-6310 is the second tool from California Air Tools to make to the top ten. As the name suggests, it comes with an oil-free pump that does not requiring handling any messy oils for it to reach its optimal performance. Another equally significant benefit to having an oil-free pump is the substantial reduction in maintenance cost and other related expenses. The all-steel tank is solidly built and can last for several years with proper handling and care. True to its name, the CAT-6310 does not produce any uncomfortably high noises despite the fact that it comes with a powerful 1-horsepower rating to provide you with consistent and dependable service.

The wheelbarrow shape helps lots with portability, giving you an incredibly easy time transporting it from a particular location to another. It has a tank with a maximum gallon carrying capacity of 6.3, which when full, brings the total weight of it to just 49 pounds.
Expand to see more
You should be discouraged with the weight as the wheels substantially lessen the effort one uses in dragging it. And due to its lightweight construction, you don't have to use a lot of effort to push or pull it around. Similarly, the tool gives you a conducive working environment by keeping noises to no more than 60 decibels, so you can use it for several hours on end without worrying about going deaf in the long run. While it is not entirely silent, it is, however, a lot quieter than most in the market currently. To put this into perspective, typical conversations have a rating of 60 decibels.

The main difference between the CAT-6310 and Senco PC1010, despite being a best-seller, is its motor's ability to consistently run at one horsepower under all circumstances. As a matter of fact, the CAT-6310 has a motor that reaches optimal performance at two horsepower meaning that it is twice as powerful as the Senco PC1010.

Low rotations per minute for low-level noise
Lightweight and compact design allowing for easy carting
Oil-free dump increasing efficiency, durability and easy maintenance
Poor wheel design
Regulator has difficulties stabilizing
6. DeWalt DWFP55126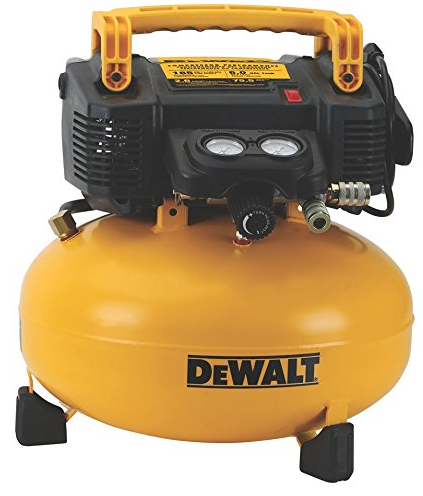 Year after year, the Dewalt brand has proved itself as a force to reckon with in the construction and home repair and improvement niche as demonstrated by the extraordinary performance of Dewalt DWFP55126. It has the ability to deliver a remarkable 165 pounds per Square Inch of air pressure while operating at 2.6 Standard Cubic Feet per Minute. The implication of these unbelievable figures is that the DWFP55126 can quickly and easily recover the air and pressure lost during pumping.

Very few compressors have motors that share the efficiency of DeWalt's, allowing you an easy and quick start even when the weather is freezing cold. The design of the compressor also allows you to use extension cords. Even though it has quite a powerful motor, it produces tolerable levels of noise at just 75.5 decibels meaning that there is no possibility of you losing hearing sensitivity or going deaf even with hours of everyday use. Since it comes with a factory-installed high flow regular, it is capable of offering superior air tool performance without breaking a sweat. The feet are additionally equipped with rubber covers to make them more stable and in the process keep you safe from suffering any injuries.
Expand to see more
With dimensions of 17.2 x 16.6 x 20.1, and approximately 32.5 pounds of weight, you will not encounter any difficulties in transporting or carting it around your workstation. It has so far the second biggest tank capable of storing a dizzying 6.0 gallons of air making it usable for several hours at a time. Filling and draining it is a straightforward and quick endeavor requiring no prior experience with compressors. To make it even more convenient, the DeWalt brand included two extra universal couplers so that more than two people can use the unit simultaneously. Servicing the DWFP55126 is an easy, stress-free and effortless exercise, only requiring that you remove the console cover to reach the internal components.

To summarize, the DeWalt DWFP55126 offers exceptional performance with its easy to refill and drain cylinder. With a remarkable 165 pounds per square inch, you will be able to perform a multitude of tasks with extraordinary ease. Also, DeWalt is a brand name that is known for its high-quality and top performing products.
Lube-free operation makes for easy maintenance
Large tank with 6-gallon capacity for interrupted supply of air
Compact design saving storage space
Efficient motor that starts in the coldest of weathers
7. Porter-Cable CMB15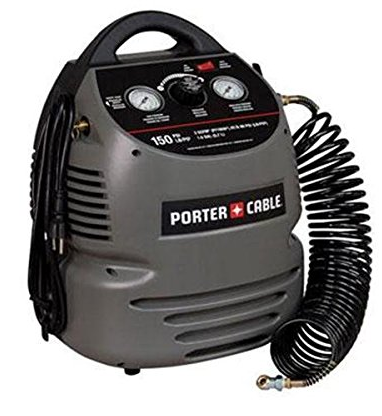 The Porter-Cable is yet another cost-efficient and easy-to-use option from the Porter-Cable brand and comes with a little more power and efficiency compared to the first model we reviewed. It has one of the shortest recovery times in the market in addition to its Standard Cubic Feet per Minute rating of 2.0 at 90 Pounds per Square Inch. We will also register a longer run-time should you decide to go with the maximum 150 Pounds per Square Inch. The CMB15 is equipped with a tank with a maximum capacity of 1.5 gallon, which brings the total weight of the unit to a paltry 20 pounds, thereby earning this option the title for the lightest product.
Expand to see more
For convenience, it is equipped with a very functional water drain valve that is conveniently positioned on the compressor for quick and easy reach. Other notable features are the use of rubberized materials on the feet of the tool to increase stability and to make the machine aesthetically appealing. The Porter-Cable CMB15 150 comes with a 120-Volts motor is not affected by changes in weather and produces approximately 79 decibels of noise, which others may deem to be tolerable while other think is a little distracting, especially in quieter surroundings.

It comes together with a twenty-five feet coil hose as well as an eight piece accessory kit to help give first-time users an easy time getting accustomed to the compressor. This does not, however, mean that the unit is complex and requires prior knowledge to figure it out. The accessory kit is supposed to help you save on costs. The components of the unit are covered with a 12-month warranty from the day of purchase to give you a piece of mind while using it, plus with proper use, you may not have to use the warranty at all as the components are constructed from commercial-grade materials. With time, however, and owing to the consequences of wear and tear, you may want to purchase higher quality components to retain the exceptional performance of the Porter-Cable CMB15.
Ergonomic handle and long cord for easy portability
Smooth start in cold weather
12-month manufacturer warranty
Low-level noise
Maintenance free
Not ideal for heavy-duty tasks
8. Campbell Hausfeld FP209499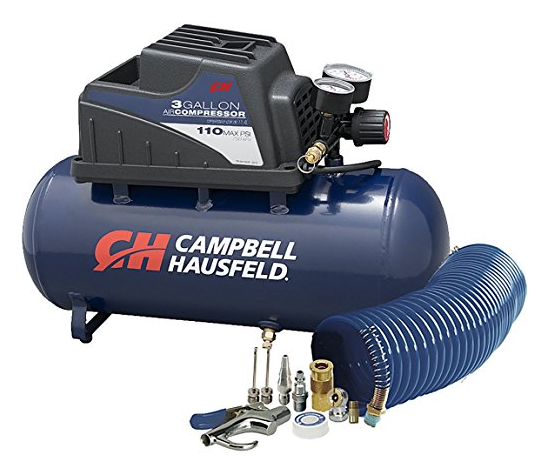 The main advantage of the Campbell Hausfeld FP209499 is that it offers you an oil-less operation, meaning that you will not have to worry about oil messing up your operation, disposing of the waste, or carrying out frequent maintenance as is the case with oil-lubricated ones. This option is optimized for light-duty tasks within the confines of your house such as inflating tires. Plus, you will not even have to worry about mobility as it is one of the most portables out there.

It provides you with a maximum of 110 Pounds per Square Inch of air pressure, and you can adjust the pressure to suit your tasks. And as far as Standard Cubic Feet per Minute is concerned, the unit has a rating of not more than one SCFM. With these specifications, it will take a little longer to fully inflate your tires. Also, you cannot use the unit to power heavy-duty air-powered tool as a majority of them need between 4 and 6 Cubic Feet Per Minute of air volume for optimal performance. One CFM is however enough to operate various nail guns and staplers.
Expand to see more
It's equipped with a 3-gallon capacity tank and two gauges. It also has a handy tank pressure gauge that keeps track of the status of pressure build up making it easy to you take readings without straining.

The only major drawback, which is not necessarily a deal breaker, is its 3-gallon capacity tank. You will experience a longer recovery time thereby exposing you to a lot of noise. As a result, it would be wise to invest in ear protectors if you intend to use the unit for extended periods at a time. The drawback is nevertheless easily offset by the unit's compact and lightweight design, measuring just 7.87 x 15.74 x 19.58 and with a weight of 19.6 pounds. With these measurements, you know there will be no problems carting or transporting it around the job site, and it only occupies a small percentage of your storage space.
Cost-efficient
Very durable and portable
Offers exceptional reliability and dependability
Not enough power for heavy-duty tasks
9. CAT-10020 by California Air Tools

The CAT-10020 is a perfect demonstration of the expertise and superior engineering of California Air Tools. Unlike the Makita MAC700, which is optimized for light-duty applications, the CAT-10020 is ideal for performing medium to heavy-duty projects such as the construction of homes and industrial production of electronic devices.

Like the majority of products that California Air Tools makes, it offers you an "Ultra Quiet" and "Oil-Free" operation for that stress-free and productive operation. At its optimal performance, it only produces a maximum of 70 decibels which people of all ages consider to be a tolerable range.

With noise levels at 70 decibels, it is very unlikely to cause you loss of hearing sensitivity, thereby giving you a piece of mind for prolonged use. The only obvious resemblance between this option and Makita MAC700 is the two-horsepower motor.
Expand to see more
It is very portable as it has two wheels at the base to make it easy for you to move it around within your work area or even from one location to the next, if you are a professional. It is also quite economical with its lube-free pump that significantly reduces resources and energy you would otherwise spend on getting the tool operational. And that is not all. It is equipped with a tank capable of storing a mind-blowing 10 gallons, which, frankly, exceeds your requirement for performing any renovation or home improvement project. Consequently, it is perfect for those demanding and daunting construction site projects and any other intense application.

The CAT-10020 would not be complete without its no-load start, that to the inclusion of the Easy Start Valve. The amp it requires to start is significantly less compared to other options we have reviewed and test. The CAT-10020 needs just 14-amps to start.

It is a well-known fact among refrigerator owners that constantly tripping the breaker or frequent power outages can adversely affect the normal operation of the motor, which is why a low-amp draw is needed in safeguarding it against low voltage drops. This is not the case with it as it perfectly combines soft operation and exceptional air pressure action.
Quiet operation
Quick recovery time
Robust and high-quality construction
Poorly constructed rubber grip
10. Bostitch BTFP02011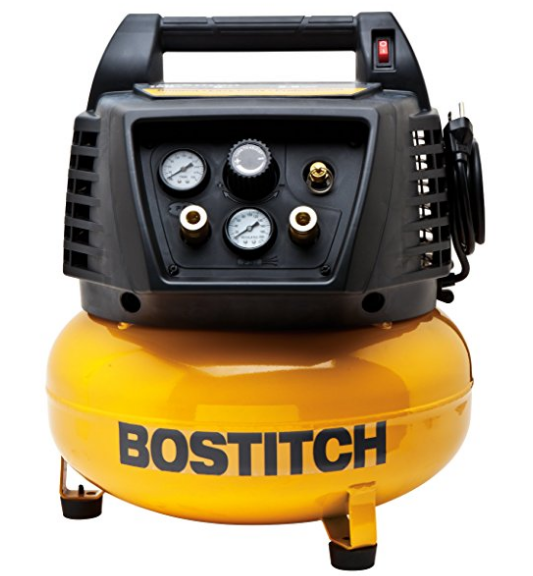 For professionals and Do-It-Yourselfers in search of an easy-to-use, professionally-built, and dependable compressor, your search stops with the Bostitch BTFP02011. It is equipped with an oil-free pump making the BTFP02011 is an ideal tool for performing a broad range of light to medium-duty tasks, either at home or the construction site. Its versatility is informed by the fact that it is capable of delivering roughly 2.6 Standard Cubic Feet per Minute of air volume at just 90 Pounds per Square Inch, which allows you to operate a broad array of tools such as finish nailers, pinners, framing nailers, and an air spray. Under normal circumstances, the BTFP02011 runs at 0.9 HP, drawing 15 amps.
Expand to see more
How long any compressor lasts depends on several factors such as frequency and intensity of upkeep, adhering to duty cycle rating, as well as environmental situations. According to the Bostitch brand, it is designed to have a life span of 450 hours. Consequently, assuming you use the unit for 120 minutes every week, you are guaranteed five solid years of reliable and dependable use.

It has a tank measuring 14-inches in diameter and weighs just 33 pounds. The unit also comes with an ergonomically designed handle at the top that considerably reduces the amount of energy you will be using to cart it around the job site. There is also an on-off control expediently located to the right of the handle, allowing you to reach it quickly. Furthermore, all the important controls are located on the right side of the tank, such as the tank pressure gauge, regulator, and safety valve. There is also a plastic shroud surrounding the control panel in a way that protects the delicate internal components from destructive external objects. Setting your preferred pressure is an easy and quick endeavor following the considered placement of the regulator. Another strength of the Bostitch BTFP02011 is that it has large dials allowing you to take readings without straining.

It takes it 2-1/2-minutes to completely fill-up its 6-gallon tank while running at 150 Pounds per Square Inch. It is trivial paying attention to the pumping-up time since you can do a lot with a full tank without requiring frequent refills. A restart is only necessary when pressure reduces to below 120 Pounds per Square Inch and because it takes just 25 seconds to refill, you contend with much less noise. Besides, with a decibel rating of 80, you will be working in a relatively quiet environment also considering that at 90 Pounds per Square Inch, the Bostitch BTFP02011 has a pumping speed of approximately 2,700 rotations per minute (RPM). So quiet is its operation that if you only use the unit for a few minutes every once a while it would be inconsequential to use air protectors.

In summary, it combines several essential features such as a quite operation, a sufficiently big tank, and a speedy recovery time, to make it one of the option worth paying serious attention to.

Additionally, it is ideal for both small and heavy-duty on-site tasks.
6-gallon tank with high pressure
Lightweight and portable
Easy start in adverse weather conditions
Short recovery duration
FAQs
Q: Why do I need an air compressor?

A: They are ideal for giving your projects a professional finish and for powering a majority of pneumatic tools such as nail guns. They are also capable of powering commercial-grade jackhammers with exceptional ease, provided you pick a powerful one, with a powerful motor and high cubic feet per minute of air volume. Lastly, a majority of individuals use a compressor to inflate their car tires and to finish the most delicate arts and crafts projects.
Q:
Is a higher horsepower rating really necessary?
A: The power produced by the motor is measured in horsepower. The implication of a higher horsepower rating is a shorter recovery time as the unit will be efficiently pumping air to refill its tank. Nevertheless, and we cannot stress this enough, a higher horsepower rating does not automatically translate to better or faster performance for your nail gun or sprayer. In case you want your appliances to performer better, you will have to take CFM and PSI ratings into consideration.
Q: Between a large and a small option, which one is more suitable?
A: There are portable options and there are stationary options. They come with their fair share of advantages and disadvantages. By their nature, small units feature a compact and lightweight design, making them easy to move from place to place. Conversely, large ones are considerably heavier and bulkier, but have wheels, allowing for easy carting and transportation. While the former is ideal for light-duty projects such as inflating car tires and powering pneumatic tools, the latter have more powerful motors, and bigger tanks and therefore better suited for heavy-duty applications such as house renovation and construction.
Conclusion

Choosing the most suitable option is obviously a daunting and difficult process, requiring that you take several factors into consideration before finally settling on one. Unfamiliarity with the terminologies and technicalities only complicates the exercise not to mention that it's equally difficult predicting your future needs. Nevertheless, the whole exercise should be guided by your current needs, specifically, the amount of power and pressure you need. Our list should ease your predicament as it features the best, most cost-efficient, and high performing in the market currently. Happy shopping!
Subscribe to our newsletter