Best Cordless Impact Wrenches Reviewed
last updated:
Jan 30, 2018
Removing a particularly tough fastening is often one of the most frustrating and time-consuming chores you can find in workshop or construction site. A single rusted bolt can cause broken tools, injuries and the loss of hours of time. Luckily our modern age has had the foresight to go ahead and create impact wrenches. All of this power is generated with surprisingly little feedback into the hand as well.
While compressed air wrenches are generally stronger than their electric cousins, both are quite capable of the majority of wrench built tasks you will come across. While impact wrenches are made for only a very specific set of tasks, these are the tasks that likely will cause the most frustration without such a tool. This makes the owning of an impact wrench a necessity in most workshops and sites.
Our Top 3 Picks
[srpshortcode id="3201″][/srpshortcode][srpshortcode id="3199″][/srpshortcode][srpshortcode id="3197″][/srpshortcode]
Impact wrenches are not a standardized tool. There are many companies out there creating a plethora of tools of varying quality. It can be hard to pick through the lemons to find the ones that actually stands out in quality and usability. Hence the creation of this list. We picked through the vast selection of Impact wrenches available today to present a selection showcasing not only the best wrenches but also the ones best suited to unique tasks and those that give you the most "bang for your buck." To this end, we have not only provided a top ten list of our favorite impact wrenches, but we have also provided an explanation of the criteria used in the judging process as well as an FAQ about the tool in general. The end result is a one-stop guide to your new impact wrench.
Quick notes
We made sure to provide a list that covered the diversity of the selection, as well as highlighted tools best suited for some niche needs. To that end, we excluded tools from the same family when one from that family was already presented. An example would be that the Dewalt DCR889B would eliminate the inclusion of the Dewalt SCR889HB. So if there is a tool you are considering, dig a little deeper and see if there is a slightly different version more suited to your needs.
These impact wrenches, when it comes to the 1-10 slots, were ranked on a price/value ratio. Meaning a higher quality tool may have come in at a lower number if it was determined that its price was high enough to lower its overall desirability. This list also includes a diverse set of tools, suited and specialized to different tasks. Look at the rankings as a subjective opinion, not as a solid fact.
10 Best Cordless Impact Wrenches
1. Ingersoll Rand W7150-K2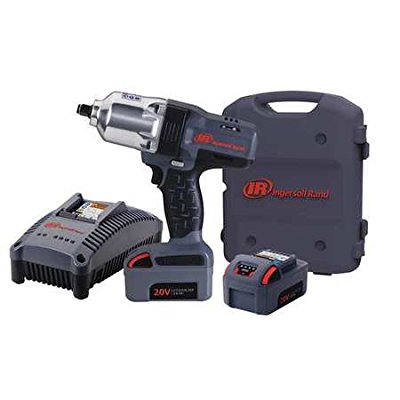 This Ingersoll Rand will put to shame any breaker bar or competing pneumatic device you've used in the past. If it can't turn the bolts it will break them off. The amount of power that can be generated by this battery powered device is nothing short of a testament to have far the technology has come in recent decades. You will be hard pressed to find any bolt this tool cannot handle.

As far as durability, this tool repays your investment. Tough, resilient and built well. It will last you years if properly cared for and can withstand 6+ ft. drops in stride.


Expand to see more
Key Features

Weight: 8 lbs.
Torque: 1100 ft-lb | 780 ft-lbs forward/reverse torque.
Battery: 20V lithium-ion battery.
Drive: 1/2"
Ergonomic handle
Variable speed trigger
Metal-reinforced

Price/Value

This tool is not cheap, but it is also not the most expensive one out there. It may be more expensive than you were wanting - but it is worthy of every penny. One of the, if not the, best impact wrenches available at a consumer price.

Who Should Buy This?

This tool can handle any job you can throw at it. If you are a pro looking to retain the same power, but with a battery device, then look no further. For the DIY or homeowner, this tool may be overkill but it will likely last you years into the future and make your life much easier.
Very powerful
Built for comfort
Strong and Durable
A bit more expensive than other impact wrenches
[srp_anchshortcode id="3201″][/srp_anchshortcode]
2. Dewalt DCF899B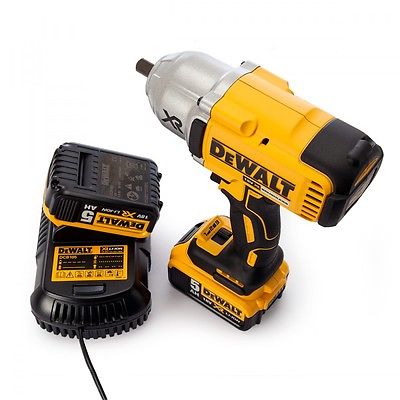 The DEWALT DCF899B brings you all the bolt killing power of an air compressor device in a simple battery powered package. Frame bolts, lug nuts, front end repairs, balance bolts - whatever. This tool can handle them all. It is a bit surprising how easily battery powered tools can accomplish what used to take long hoses and auxiliary pieces. This will put your air compressor devices to shame. There is so much torque in these high end impact wrenches that you have to be wary of bending even things like steel wheels.

This has as much power as you will likely ever need, and if you are already using Dewalt batteries and can get away with buying just the tool, you have found yourself a fantastic deal.
Expand to see more
Key Features

Weight: 5.8 lbs.
Torque: 700 FT-LBS | 2400 IPM
Battery: 20V lithium-ion battery
Drive: 1/2"
LED light
Brushless Motor
Battery fuel gauge

Price/Value

A very solid and dependable tool at a reasonable price. It will likely last you well into the future so the purchase could be reasoned out as an investment - not to mention the time and effort saved thanks to its power. If you already have Dewalt batteries and chargers - the value of this tool to you skyrockets. The proprietary nature of power tool companies mean initial investment cost can be high of you have to buy all the pieces at once.

Who Should Buy This?

Powerful enough for everyone. It may be overkill for home use, but it is reasonably priced - and if you already have the Dewalt series then there is no reason this tool couldn't make a fine addition.
Great Power
Good Durability - can withstand 6-8 ft. drops
Long battery life
Reverse/forward switch can get in the way
[srp_anchshortcode id="3199″][/srp_anchshortcode]
3. Milwaukee M18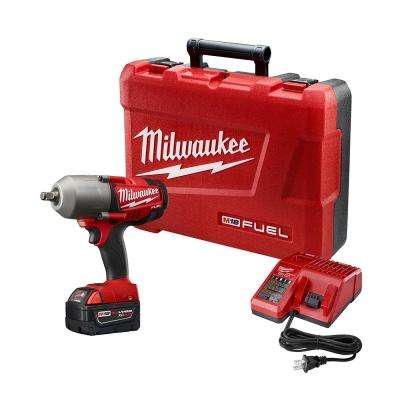 As the clever reviewer stated, this is tough enough to turn your Prius over. The Milwaukee M18 Fuel 1/2- Inch. High Torque Impact Wrench is a fantastic tool with enough power for the vast majority of tasks you will run into. The small frame and simple design hide surprising power. Its is perfect for continuous use or awkward positions.

This little guy can handle almost all of the automotive work needs you have and can save you quite a bit of money when you realize you don't' have to go and buy a tool priced at twice as much.
Expand to see more
Key Features

Weight: 5.3 lbs.
Torque: 450 ft-lbs Fastening torque | 600 ft-lbs Nut-Busting torque
Battery: 18V M18™ REDLITHIUM™
Drive: 1/2"
2 fastening modes and drive control feature
Variable speed trigger
Brushless Motor
LED Light included

Price/Value

Great tool at a fair price. Like with all these tools - it is a much better purchase if you don't have to out and buy all the batteries with it. It makes a great addition to a job site or tool chest already utilizing the Milwaukee batteries.

Who Should Buy This?

Pros looking for something fast and handy to replace their elaborate bolt busting set ups. Can be used for all but the toughest of tasks. It is also small enough and cost effective enough to make a fair addition to a DIY kit.
Easy to use and handle
You can tell care when into the design and construction
May be too weak for the toughest applications
Ring design can be a bit annoying
[srp_anchshortcode id="3197″][/srp_anchshortcode]
4. Hitachi WR18DSHL
This is another handy impact wrench with all the power you will need for about 90% of all the jobs you run into. It will more or less retire your air compressor. Battery has good life and isn't so big as to be a burden. Hitachi do a good job with the design of their tools, and the balance and grip of this one only add to that reputation. The weight is well distributed so even at over 7 pounds it is nice to use - it is still definitely a big impact wrench though.
Expand to see more
Key Features

Weight: 5 lbs.
Torque: 350 ft.-lbs | 2000 IPM
Battery: 18V
Drive: 1/2" square bit shank
Remaining battery indicator lamp
Tumble trigger switch
Built-in LED light

Price/Value

Okay price for a great tool. A little expensive when compared to some other similar products - but if you already have the batteries, then this takes a large bump in value. If you don't already have the batteries, this is still a decent tool but the price amy be a bit high if you are buying in-store. Definitely an online deal purchase.

Who Should Buy This?

This has enough torque for the majority of pro jobs. It is a bit big, which may make it impractical for some homeowner or those who want to take one along in the car - however the quality in undeniable.
Great battery life
Good power
Easy to operate
Batteries not interchangeable with some other Hitachi products
5. Rockwell RK2855K2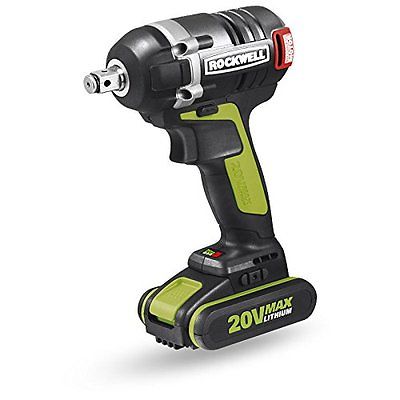 This is like the Napoleon of Impact Wrenches - small, unassuming, and very powerful. The brushless motor helps to reduce heat and friction, allowing your tool to operate fir longer periods of time, and to live longer in general.

The small size is a plus if you are looking for something travel sized or able to squeeze into smaller areas. It may have some issues with lug nuts that were over tightened with an air ratchet - but properly applied lug nuts will come off quickly and easily.

Good for general auto work or driving lag bolts.
Expand to see more
Key Features

Weight: 2 lbs.
Torque: 0-885/1590/2600 in-lbs. (215 ft-lbs)
Battery: 20V MaxLithium Battery
Drive: 1/2"
3-speed gearbox - variable speed trigger
Battery capacity indicator
Belt hook

Price/Value

Fair price and will last you years if properly maintained. This is a solid buy for any homeowner or DIY'er who needs a reliable and tough tool.

Who Should Buy This?

We think it is safe to say that this tool sits comfortably in the high-end consumer category. Pro's could likely find use for it, but it is not powerful enough to replace the tools they are currently using. The small size means that it could find some life as a backup or emergency small space device.
Decent Torque
Small Size
Brushless motor
Not as powerful as a Pro may need it to be
6. Makita XWT02Z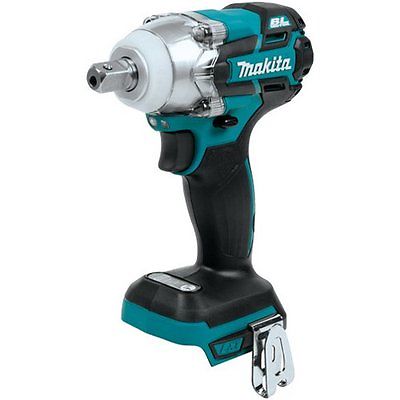 "Ideal for automotive, installation, and fabrication trades." This Makita comes packed with features and nice versatile design. Comfortable, light and strong enough for mid-range tasks. We love Makita and the tools they have been putting out, and this one is a fine showing for catalog. The compact size and reasonable price means this tool is great for both at home use and as a backup or general use device in the workshop. The brushless motor also helps to ensure this tool will be hanging out in your tool chest for years to come.
Expand to see more
Key Features

Weight: 8 lbs.
Torque: 210 ft.Lbs. Of max torque
Battery: 18v
Speed: 0-1,600 / 0-2,100 / 0-2,800 RPM & 0-1,800 / 0-2,600 / 0-3,500 IPM
Compact and ergonomic design
3-speed power selection switch
Reverse rotation auto-stop
Improved dust and water resistance
Built-in L.E.D. light

Price/Value

Fair price for a very high-quality tool. You won't be getting as much torque for your dollar with this purchase, but you will be getting a solid tool with a good lifespan. If you need wrench work done often - this is a fantastic and valuable time saver.

Who Should Buy This?

Mechanics can get use out of this for maybe 65-80% of their general needs. For the price, this may or may not be worth it - depending on your situation. For at home usage it will handle mostly everything and will last awhile. Definitely a solid personal purchase.
Good design
Lightweight and comfortable
Many features
7. Bosch IWH181-01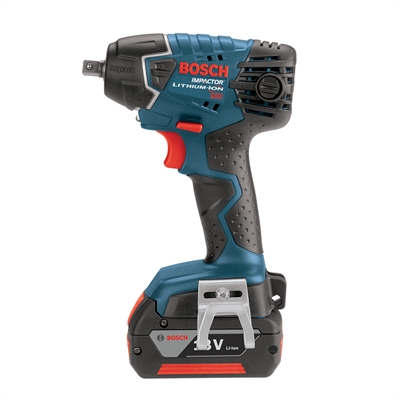 One of the better small impact wrenches available. It is not a workhorse capable of the tougher tasks, but is it small, light, and great for regular usage on the majority of your automotive or household work. It will greatly simplify your work and speed up your task times - just don't expect it to take off that over-tightened 20 yr-old rusted bolt. Bosch quality and the long lasting battery also help make the IWH181-01 a solid consistent use device for daily auto mechanic use.
Expand to see more
Key Features

Weight: 8 lbs.
Torque: 140 ft/lbs | 2,800 RPM | 3,200 BPM
Battery: 18V
Drive: ⅜"
Led light
Soft-grip wrapped housing.
High BPM.

Price/Value

Price is a bit steep unless you absolutely need a lightweight and compact impact wrench. Other comparably priced impact wrenches have 5x the torque, so you will be buying this tool when you need a general use tool with high quality manufacturing behind it.

Who Should Buy This?

We can see auto mechanics using this as a consistent in-the-hand tool, but it you will clearly need to augment it with something tougher pretty often. This may be more practical for the homeowner who wants to ensure they get a light impact wrench with solid quality.
Lightweight and perfect for beginners
Performs well for basic tasks
Comfortable to use
Adapter can greatly weaken the torque
Will still need a breaker bar for the tougher bolts
8. Ingersoll Rand W5330-K22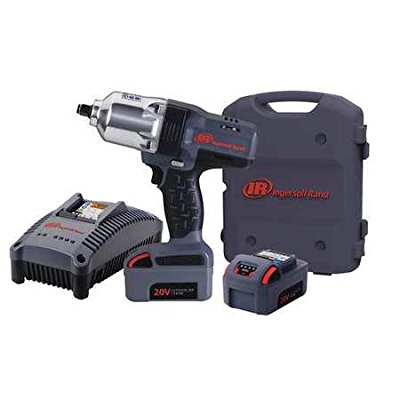 This is a great right angle Impact tool. The Ingersoll Rand W5330-K22 was made to get to all those hard to reach places that other impact drivers could never get to. While it may lack the power for general usage, it is great for taking care of the tasks it was built for. The price makes it too expensive for a hobbyist to impulse buy - but if right angles are a consistent issue in your world, then this tool was made for you.
Expand to see more
Key Features

Weight: 4.6 lbs.
Torque: 180 ft-lbs.
RPM: 0 - 1,900 RPM
Battery: 20V lithium-ion battery
Drive: 3/8"
Uniquely shaped

Price/Value

Unless you have a strong need for this device than it won't be worth the price tag. If you do find yourself constantly dealing with awkward angles, then this may just be worth it.

Who Should Buy This?

This is a relatively expensive niche tool. It most likely belongs in a well stocked mechanic garage waiting for its moment in the sun.
Slim, lightweight design
Helps get to hard to reach nuts and bolts
Great for what it does, lacks the power for more difficult tasks
9. OEMtools 24481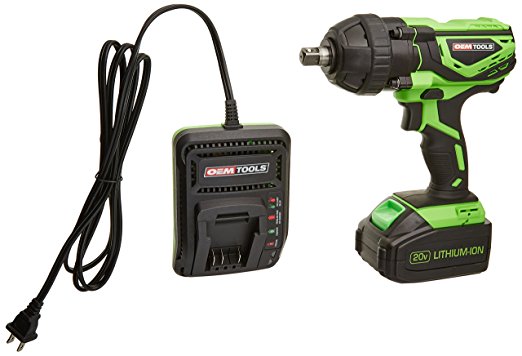 We don't often have products from OEMTools on these lists, but this is a solid impact wrench that is reliable, and usually half the price of similar tools. It doesn't have the torque for the more difficult jobs but it will definitely make quick work of your usual nuts and bolts.
Expand to see more
Key Features

Weight: 9 lbs.
Torque: 300 Ft/Lbs | Tightening Torque: 260 Ft/Lbs.
Battery: 20V
RPM: 0-2,200 RPM and 0-2,900 IPM
2 Speed Transmission
Molded body reduces shock and protects tool well
Electronic Brake

Price/Value

This is a bargain. Unless you really need big power in your tools, this may be the smarter purchase. Compare it to what another tool is offering and see if the price reduction makes this one look a bit better.

Who Should Buy This?

The DIY crowd and homeowners who want an electronic and handheld way to deal with a bunch of nuts and bolts. It won't be freeing any of tougher bolts, but it will handle most of your day to day needs.
10. RyobiI One + P261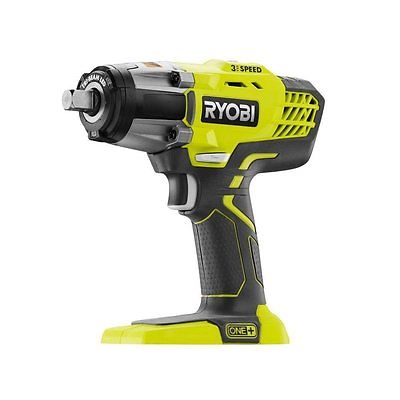 Great for home projects or junkyard pulls. This is a solid tool that is worth the price. It may not outshine the competition in any one area - but it gets the job done well and is built to last. You won't have any trouble building a deck or loosening most bolts on the back of this Ryobi.
Expand to see more
Key Features

Weight: 5 lbs.
Torque: 300 ft-lbs
IPM: 3,200 IPM
RPM: 0-2900 (3 selections)
Battery: 18V ONE+ battery
Drive: 1/2"
3-Speed
Tri-beam LED lights

Price/Value

Fair price and solid tool. As with all the other tools, the proprietary battery systems can make or break the overall value. If you already use the Ryobi + systems, this should be a great addition, otherwise you may be looking at a fairly big entry cost.

Who Should Buy This?

This is solidly an at home or DIY device. It is solid and reliable enough to justify the purchase, but its power is too limited for the industrial tasks.
Compact and powerful
Solid features
Occasional lemons need replacement
Not powerful enough to replace any compressed air devices
Criteria for Evaluation

It took quite a bit of time to go over the broad assortment of impact wrenches out on the market today. Like most power tools, the marketplace is a bit over-saturated with choices, and it can be a real struggle to pick out the hidden gems among all the noise. Even many of the good tools were rejected for one reason or another from our list of the very best options. Some of the decisions may not be entirely clear to you at first. Much of our criteria was relatively straightforward – price, weight, torque, etc. but there were also some subjective judgments like comfort and overall value that we took into account when making the final decision. To make sure our process is understood, and so you can evaluate for yourself which impact wrenches are right for you, we have provided the general criteria from which we worked from.
Keep in mind that many of these tools were built to accomplish many different levels of tasks. Just because we valued an individual tool higher – ensure it still has the capabilities to do the job you require. If it does not, well then our perceived value of the item will probably be much different than your perceived value.
● Value
Since we evaluated a broad range of Impact wrenches from the professional to the consumer level, and since it is situation relevant what the actual value of a tool would be – we judged all of the wrenches on price/function ratio to determine overall value. A quick example would be an instrument that is slightly better than another but much more expensive. Our judgment would likely decide that the tools abilities did not compensate the increased price – and it would, therefore, lose points.
● Weight
While an impact wrench is not the sort of tool you will likely be using for hours on end, weight did not factor in as heavily as it would for something like a handheld belt sander. With that said, we still gave preference to the tool that was weighed better and overall more comfortable. There was heavy overlap with comfort and this section.
● Power
This is one of the most relevant factors when choosing an impact wrench. By the nature of the tool, if you get an under powered wrench you might as well have nothing at all. Outside of specific target market valuation, power is possibly the most important criteria here. It overlaps heavily with versatility.
● Versatility
If an impact wrench can't do the job, why have it? We gave a strong preference to the tools that could accomplish the most tasks. This wasn't solely based on power, however. Size and specified angled builds gave a few tools a solid leg up on the competition.
● Comfort
As we stated in weight, comfort is not the most important factor in a tool like an impact wrench – it is still important enough to be considered though and prescribed a value.
Air Impact Wrench vs. Cordless Impact Wrench
Impact wrenches are classified according to the type of power used to deliver results. The most common impact wrenches, the air impact wrenches are powered using pneumatic means. Air impact wrenches feature a relatively simple design while at the same time delivering the highest weight-to-power ratios. This type of impact wrenches operating on compressed air feature parts such as vane motors attached to a series of lubrication systems and around four to seven vanes.

The lubrication systems in air impact wrench mostly entail oiled air while other make use of specially crafted oil passages that run directly into the areas that need oiling. A large majority of air impact wrenches operate by directly driving the hammer onto the motor achieving quick action and low torque to the fastener. Some air impact wrenches incorporate a gear reduction mechanism placed before the hammering mechanism. This alignment, which in most cases involves a planetary gear system delivers a higher spin torque at constant speed.
Cordless impact wrenches are a whole other subset of impact wrenches. Other than being electrically powered, cordless impact wrenches make use of electricity stored in batteries; either of the Lithium-Ion or Nickel Cadmium variety. Cordless impact wrenches have gained popularity in recent times mainly because they are portable and don't require additional resources to operate compared to their older siblings the air operated impact wrenches.
Similarities and Differences
Both pneumatic and Cordless impact wrenches share the same operating principals. Both models entail a pistol grip design in most instances and pretty much the same technical architecture. Speed is yet another factor that both air and cordless impact wrenches share. Both models run and operate at the same speeds. As explained, impact wrenches whether air operated or electric work by applying torque onto a nut or bolt. These tools are designed to operate in a manner of mimicking how power drills work with the only difference being; impact wrenches do not deliver constant torque.
Both work by locking onto a nut/bolt and applying angular momentum delivered by a hammer hitting onto the output shaft resulting in non-continuous rotary motion that is very effective in dislodging rusted or jammed bolts/nuts or tightening them instead. Some fundamental differences however set apart these two types of impact wrenches and they are as follows.
Choosing the Right Impact Wrench
Selecting a power tool can be a daunting task; to beginners and inexperienced users at least. Before settling on a purchase item, it is recommended to first and foremost have in mind several things. These are:
What is the nature of the intended task or purpose the impact wrench will serve? Both air impact wrenches and cordless impact wrenches serve similar purposes. However, the duties in question will either be small scale, DIY and lightweight or professional grade jobs such as construction.
Storage concerns are another important point to consider when buying either Air or Cordless impact wrenches. On the one hand, air impact wrenches are bulky as they comprise several pieces of equipment such as air compressors and the wrench itself. Storage of such equipment may, therefore, require a lot of space. Cordless impact wrenches come in a handy carrying case that is easy to store in areas such as your car's back seat.
User experience: When buying any tool, the skill level of the user is often an important point to consider. For novice users, cordless impact wrenches are considered easier to use and are a lot safer compared to air operated impact wrenches.
Pricing points are an important factor that determines whether an individual will settle on Air impact wrenches or cordless impact wrenches. As mentioned, air impact wrenches come alongside elaborate pieces of machinery. As such, air impact wrenches may be a tad bit more expensive compared to cordless impact wrenches which come in one solid package.
FAQs

What's different between an air impact wrench and an air ratchet wrench?
Typically, Impact wrenches are made for a larger amount of torque than ratchets. A ratchet is more suited for tightening smaller/weaker bolts that you don't want to risk over-torquing and damaging anything. An impact wrench is much better suited to breaking nuts loose. Both tools overlap a bit in what they can accomplish – but are built specifically to handle different challenges.
Is it viable to use an electric impact wrench instead of an air impact wrench?
It may not have been some years ago, but technology has significantly improved since. Battery powered impact wrenches can unleash an extreme amount of torque these days. It is unlikely you will need anything stronger than what the higher end battery-powered impact wrenches are capable of. It is also nice to no longer have to store all of that extra gear and hoses.
Is an impact wrench a safer option than a breaker bar?
A breaker bar can often cause harm to something like a vehicle when you are trying to remove over torqued lug nuts. An impact wrench or torque wrench is often a better choice if you want to avoid causing damage to the surrounding material.
What is the difference between RPM, IPM, and torque?
While these terms all represent a piece of the overall power output of an impact wrench, they stand for very different things.
RPM is rotation per minute of the tool. The higher the RPM, the faster the turning function will engage while the impact wrench is in use. A higher RPM means that torque may be increased due to higher inertia, but it also means the power will be on the joint for a shorter period of time. A higher RPM will also mean that the tool itself will be functioning faster overall.
IPM is Impacts per Minute. An impact wrench can generate a tremendous amount of internal force due to hammer and anvil mechanisms inside the tool. A thousand or so small impacts a minute are made. Rather than creating a consistent force, an impact wrench is generating hundreds or thousands of individual blows to the screw a minute. For this reason, it can be hard to measure the true consistent torque of an impact wrench.
Torque, to put it simply, it the power with which the rotations are being conducted. A higher amount of torque means a greater amount of muscle going into the tools function. The maximum level impact wrenches can generate enough torque to bend the bolt along with everything attached to it if it doesn't just break it off first.
What features should I consider on an impact wrench?
LED Lights
These are useful for all of those low light situations. We've all probably had to deal with trying to prop up a flashlight in just the right way – and then having shadows caused by our own body get in the way. A light at the front of the tool eliminates this problem. Some will even go with light rings or 3-light arrays to eliminate any possible shadows.
Comfort Grips
Impact wrench tasks can sometimes be all day affairs, especially if you are building something like a deck and tightening piece after piece. A comfortable grip will allow you to work all day while minimizing the pain and cramping that comes from gripping a tool for hours.
Some tools have "comfort grips" but are still bulk and poorly weighted. Make sure to consider comfort as a whole.
Brushless Motor
A brushless motor can be both blessing and a curse. A brushless motor will reduce internal friction and overheating – which usually allows a tool to operate for longer periods of time and last longer in general. These motors are generally better about managing battery usage due to their ability to sense resistance. Brushless motors are often less variable in their speeds, however, and cost typically about 30% more.
Power Regulation
Using an impact wrench at full power can often leading to over torquing and damage to either the bolts or material you are working with. The ability to regulate and control the output goes a long way in preventing mishaps and allows greater range of usage for the tool.
Easy Functioning
If you are going to be working all day, nothing can get more annoying than a tool that is a pain to work with. Make sure you get an impact wrench that feels good in the hand, and is easy to use. Quick reverse buttons are a nice feature, as are belt hooks, battery life indicators, and quick release chucks. All of those may seem rather petty at first, but after or during a full day of work you will come to appreciate how all those little benefits add up. It really does take a bit of the edge off.
Extension Bar
These usually come separately, but the ability to utilize a good extension bar is a definite benefit for the overall versatility of the tool. Just being able to reach a few extra inches with the tool can save you a great deal of frustration.
Making Your Decision

These types of tools can cost quite a bit, so the possibility of making the wrong choice or ending up with something you are not happy with give many pause at the purchasing stage. It is our hope that this triple threat of an FAQ, Criterion, and Top-ten list has provided you will all the "tools" you'll need to go out and purchase a quality impact wrench. Hopefully, this list has given you selection among a diverse crowd of brands and specific uses, as well as quality and price. No matter the task at hand, something here will help you accomplish it. Even if you disagree with some of the subjective opinions provided in these reviews, hopefully, those disagreements also helped you rattle through the choices in your head. Either way, as long as you come out of the other end of this more confident in your purchasing decision, our job here is done. Investigate your choices and explore the options when you find a direction or brand that best fills your needs.
If you are a decades-long pro, a beginning homeowner, or a DIY enthusiast looking to take on that next project – use this list as a springboard to making your ultimate purchase. Good luck – and remember – build smart, build safe, and build big.
Subscribe to our newsletter