Best Wood Router Reviews and Buying Guide for 2023
last updated:
Jan 07, 2021
Ask any woodworking expert which is the most essential tool other than the table saw and they will tell you it's a wood router.  There is not a single woodworking project that doesn't require one. You will need it to shape the edges, hollow out grooves, joints, plunge cutting, inlays, decorative grillwork, rabbets, housing, etc. But with the various kinds of routers in the market, how can you tell which is the best?
Our Top 3 Picks
[srpshortcode id="14385″][/srpshortcode][srpshortcode id="14386″][/srpshortcode][srpshortcode id="14387″][/srpshortcode]
To make things easier and help you reach a decision faster, check out the products below. These are the best wood routers currently in the market.
10 Best Wood Routers
1. PORTER-CABLE 690LR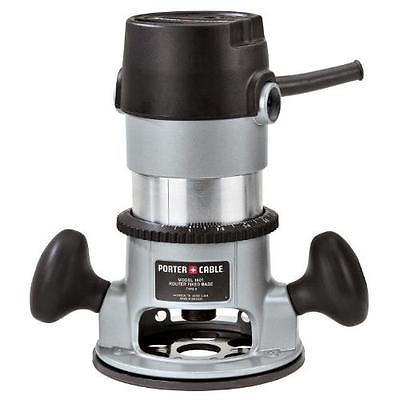 If you are looking for the best-fixed base router and you are on a limited budget, we advise you purchase the Porter-Cable 690LR. It is a single speed router that will cut through any wood quickly and with unmatched precision. It is a medium router with a 1-3/4 HP and capable of 27,500 rpm. It also features an auto-release collet system for easy bit removal. Some key features of this tool are:

• High-power and precision – The 11 amps motor and the supreme accuracy of the Porter-cable 690lr are what makes it the best-fixed base router. The motor can produce 1-3/4 HP which is ideal for tasks such as rounding bits. Nevertheless, this tool can handle any if not all functions you throw its way. Its cutting precision is another top reason why you should consider it. It is precise within 1/128 of an inch thanks to the micro-depth adjuster.

• Ergonomic design – If you are going to use the tool for extended periods of time, you should ensure that its design increases stability and comfort. The Porter-Cable does precisely that. The two handles feature an ergonomic design that ensures you are comfortable despite the duration you will be working They are also placed strategically increasing its portability. Also, this tool has an under the table stops that prevent the motor from ever rotating.

Also, the Porter-Cable features an aluminum motor case which adds sturdiness and ensures the item will last longer. The fact that all components of this tool are dust sealed is a plus in my book.

For simple coarse height adjustments, this tool has a cam-Lock Lever, which also allows for easy and quick motor release. You can, therefore, move the device between a plunge and D-handle base though you have to purchase them separately.

Expand to see more
Features and Specifications

Special Features – Fixed-base
Voltage – 120 volts
Weight – 9.4 pounds
Dimensions – 10 * 10 * 8 inches
Power Source – Electric (cord)
Peak HP – 1.75HP
Collet compatibility – ¼ and ½ inches

Who is it for?

For occasional and professional users. As for the cost, it is affordable and worth the money.

The coarse adjustments are fast and quite easy
Has externally accessible brushes
An auto-release collet system
Features height adjustments alongside high precision cuts
Ideal for people on a limited budget
You need a 2-wrench system to change bits
The unit only features a single speed option. It would be better if it offered variable speed
2. DEWALT DWP611PK 1.25 HP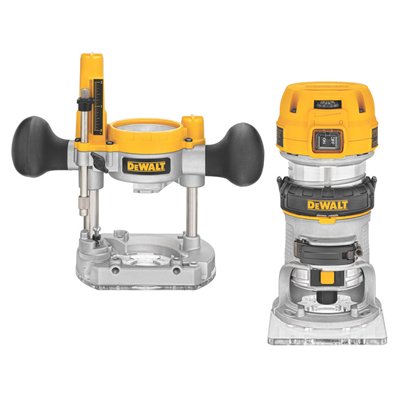 If you are looking for the best value for money, consider purchasing the Dewalt DW611PK. It is ideal for small projects and boasts of several impressive features for the cost. From a plunge and fixed base combo kit to variable speed options, over-molded handles, and an exact adjustment ring, you sure do get value for your money.

The Dewalt DW611PK is a palm router and is intended for the average woodworker. It is equipped to handle minor projects, but it's still versatile. Some top features of this unit are:

• Variable speed control and a soft-starting motor – Palm routers are limited to using ¼ inch bits partly because you can run them at top speed but also because they don't need speed adjustments. However, they can still burn your wood or workpiece if the speed is not right, and the feeding rate is off. That is why the variable speed control feature is quite remarkable.

You can lower the speed and feed woods at the optimum rate reducing the likelihood of ruining the piece. The soft starting motor also allows you to ease into the delicates part and allows you to get accustomed to the speed slowly. The motor will slowly accelerate to the preset speed avoiding the sudden-jerk movement.

• Electronic feedback system – Most routers breakdown when the load suddenly changes. Seeing as they cannot adjust the speed as required to make an arduous cut. The same cannot be said about the Dewalt DW611pk.

It features an electronic feedback system that monitors the load and adjusts the speed according to your pace and workload. With the variable speed, this unit will cut at a constant speed.

The tool also has a clear base and some LEDs. The lights and the extended clear base helps to make more accurate cuts. The spindle lock is also a pleasant addition as it is easier to tighten a collet when changing bits without the need for two wrenches. The spindle lock is a low-pressure button that holds the motor shaft in place as you tighten the collet.

By and large, this is for profiling, simple cutting, and joining work. The motor has a 1.25hP and an rpm of between 16,000 and 27,000.


Expand to see more
Features and Specifications

Variable speed control
Adjustment ring
Soft-starting motor
12 position spindle lock
1.25HP motor
Fixed and plunge base combo
7.0 amps
Corded electricity for power
Five depth stop
Weight: 4.6lbs for fixed base and 6,2lbs for the plunge base

Who is it for?

The Dewalt 611PK is for the average woodworker as it is ideal for minor routing jobs. Also, it is well in the affordable range.

The unit can adjust to any workpiece thanks to the electronic feedback system
You will only need one wrench to change your bits
The soft start system allows you to ease into any piece and slowly get accustomed to the speed. As a result, there are fewer accidents and ruined workpieces
The unit lacks basics such as a centering cone, a dust collection system, and a hard case
3. Bosch 1617EVSPK 12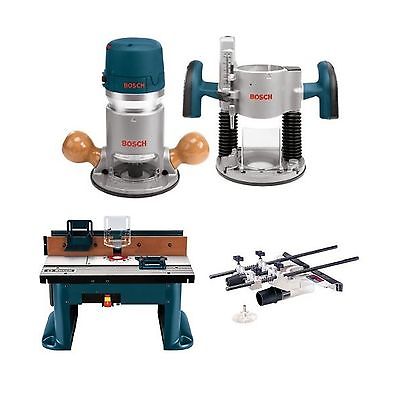 When tackling difficult woodworking projects, it is ideal to have a plunge and fixed base combo router. If that's what you want, look no further than this tool. It also offers unparalleled quality and versatility.

• Power function – The top benefit of this tool is the power it offers. It runs on a 12amp motor that can produce 2.25 horsepower. Unlike other routers which will break down after working for extended periods of time, you don't have to concern yourself with durability. It will work for extended periods, on severe tasks and not limit your creativity. Also, the motor housing is aluminum, and the power switch is dust sealed increasing the resilience.

• Ease of use – For such a powerful tool, the Bosch 1617EVSPK is pretty easy to use. It runs smoothly with high precision and quick responses. It's therefore ideal for beginners and professionals for some serious woodwork.

Another interesting point about this tool is the precision centering design it features. This is a unique product feature of all Bosch's items to center the sub-base. The quick clamp systems will also suit individuals who do a lot of conversions as it allows you to move the motor between the bases in second. Something else you might be interested in is the electronic response circuitry that sends constant feedback enabling the tool to adjust to your pace and the load you are working on. But perhaps the most exciting aspect of this Bosch is that it offers all needed components for both fixed base and plunge handles.

Expand to see more
Product Features

Weighs 18.2 pounds
12 Amp motor producing 2.25 HP
Variable speed control
Power Source: ac/dc
Soft grip handles

Who is it for?

The 1617EVSPK is a professional wood router for a professional worker. It is also a bit pricey.

is quieter than most routers and is soft start is also better
Precise and you can set any depth to 1/64 of an inch
Adjustments are quick and easy on both bases
Thanks to its aluminum housing, it will serve you for several years
The top shortcoming of this tool is that the motor often jams in the base. It's therefore quite difficult to remove. Sand the housing and the motor, but you ruin your warranty
Also, some customers complain about the height adjustment. It stops working after some few months
4. Bosch PR20EVS Colt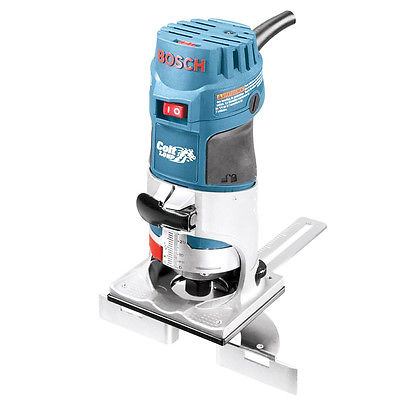 Next on our list of top wood routers is the Bosch PR20EVS colt. If you are in the market for the best palm router, look no further. Some interesting points on this are:

• Convenience – This router is made with convenience in mind. Despite having an aluminum base, it is still lightweight to allow one hand operations. It features a spindle lock to make changing bits easy but still features has two wrenches if that's what you prefer. Also, so that you can easily access the speed dial, it has been placed on top of the tool, and finally it has a palm-shaped rubber grip that allows for one hand operations.

• Power and accuracy – The Bosch PR20EVS is designed for both professionals and beginners. It packs enough power for minor professional jobs but easy to use by beginners. You can adjust the speed between 16,000 and 35,000rpm for increased accuracy. The fixed base also helps to achieve higher precision.

• A key concern for most woodworkers is the bit capacity. The colt has a capacity for bits that are 1-5/16 inches in diameter. The finger pockets are also a nice addition as they give you better control over the tool. Finally, there is the angled exit that keeps the cord out of the way.

Expand to see more
Product Features

Power – electric (corded)
Weight: 8.2lbs
Dimensions: 15 * 13 * 8 inches
Horsepower: 1HP

Who is it for?

With its convenient power, it can handle professional and beginner jobs. It is ideal for experts and beginners who want to see their woodworking get to a professional level.

As for the value, it is affordable.

One of the most appealing aspects of this tool is the accessories. It comes with a straight edge guide, fixed base, and shaft wrenches
It's also the most potent small router
The aluminum base ensures that the colt is not only convenient to use but durable as well
One thing most customers noticed is that the motor slides when in use
5. DEWALT DW618PK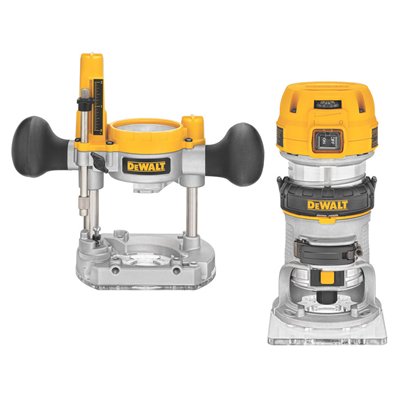 If you are a beginner in woodworking but you are focused on seeing it through to the professional level, you might want to consider the Dewalt DW618PK fixed-base and plunger router kit. Yes, it is a complicated tool, but it is beginner friendly and quite easy to use. As you progress, you will be able to use it for more complex projects. The top features of this tool are:

• Variable speed and soft start feature – Variable speed is an essential feature of any wood router. The DW618PK has an EVS and feedback control. The unit will adjust the motor speed based on your pace, and the load. If not, you can change the speed by just turning a dial.

By and large, you will have more control over the tool. The soft start feature allows you to ease your way into any task without damaging the wood. It also reduces the electric surge at power on and temporarily decreases the load on the train, and as a result, cuts the stress on the motor.

• The Dewalt DW618PK has an integral dust collection system that promises greater visibility.

Another exciting feature of the Dewalt is the 12 amp motor that produces about 2.25HP which is enough to cut through any wood. Couple the high power and EVS and you have yourself a top quality product. It's also quite comfortable to use. Its user-friendliness stems from the rubber handles a design that lowers the center of gravity increasing control over the tool. To deal with frozen bits, the Dewalt features eight self-releasing collets for retention and removal.

For durability, the motor housing is aluminum but coated with nickel for better depth adjustment. Finally, the base is precision-machined aluminum for maneuverability.

Expand to see more
Product Features

Depth adjustment ring
Weighs 10lbs
Dimensions: 10.8 * 9.5 * 7.2 inches
2.25 Horsepower

Who is it for?

It is ideal for professionals, but the features allow beginners to work with it too. If you want to take woodworking to a professional level, then this is the tool for you. Otherwise, keep off if woodworking is just a pastime activity.

As for the cost, it is pricey.

Most people complain of Dewalt items not being produced in the US, but they still maintain their top quality
The soft-start motor is just surreal
It is fitted with a detachable power cord
Has optional accessories that increase the performance of the tool
There are complaints that the variable speed function isn't reliable. It breaks down after a few months of use
6. Hitachi KM12VC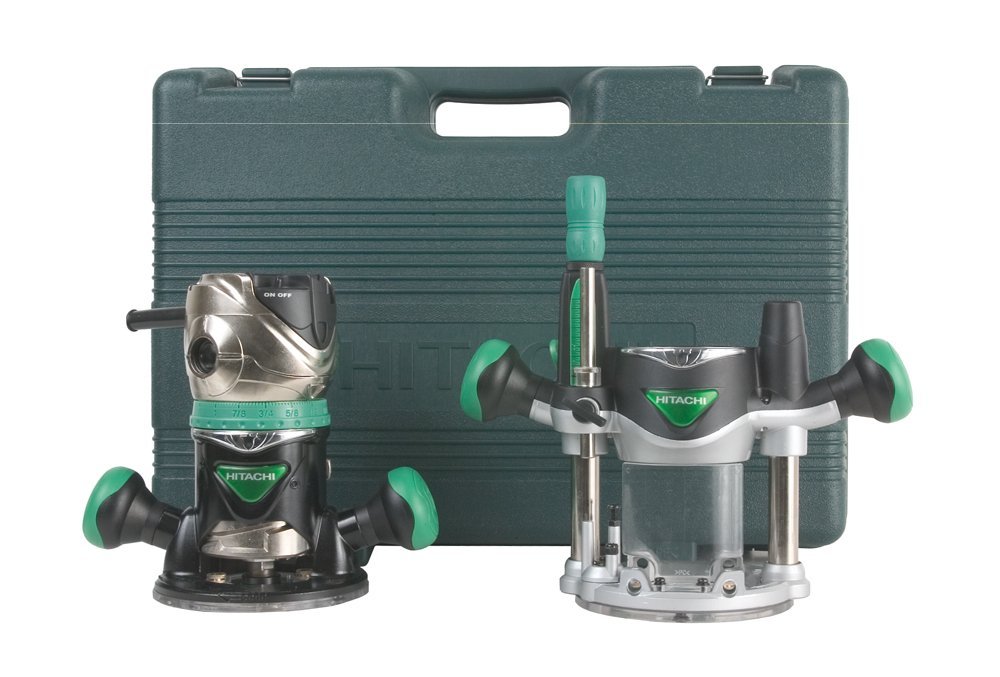 If you are looking for top-notch ergonomics, you might want to look into the Hitachi KM12VC. It is a powerful 11amp motor with variable speed and electric speed control to for constant rpm. However, its quietness is perhaps its most astonishing attribute.

• Quietness – With a 79db, it will have more stable operations, and better results since the vibrations are reduced. For an 11 amp motor, this is astonishing.

• Ergonomic design – All Hitachi items are designed with an ergonomic design to ensure they are comfortable to use.

You might also want to consider this Hitachi owing to the fast and easy adjustment on depth. With a 2 stage release clamp, you can change from a plunge base to fixed base in a matter of seconds.

Also, the nickel-plated motor housing makes the entire process smooth. It reduces the stains and any scratches that might form during removal. Also for improved grip, this tool has elastomer wrapped handles. It reduces the possibility of slippage. The handles also minimize vibration making the entire process smoother. Finally, the unit is quite versatile. Hitachi takes versatility seriously when designing their units.
Expand to see more
Product Features

Weight: 7.3 pounds.
11Amp motor capable of producing 2.25 HP
Dimensions: 4* 8.6 * 10.9 inches
Voltage: 120 colts
79 db noise levels
Electronic speed control

Who is it for?

The KM12VC is a professional fixed base router. It is for users who are already skilled in woodworking. As for the costs, it is affordable. Weq wouldn't call it cheap, but it's not expensive either.

The depth adjustment makes this tool ideal for the router table. Routing will be easier without removing it from the table
Insanely quiet. Seeing as it is only 79.5db, you can use it in areas where silence is critical. It also has reduced vibrations enhancing cutting precision
The variable speed is also a plus as you can lower it to work with more significant bits or raise it when working with smaller bits
Its ergonomic design enhances its comfort
Going by what most customers have to say. The Hitachi KM12VC is not ideal for ¼ inch bits. They get stuck and are quite troublesome to remove. Also, the power switch is a bit difficult to reach owing to its location
7. DEWALT DW616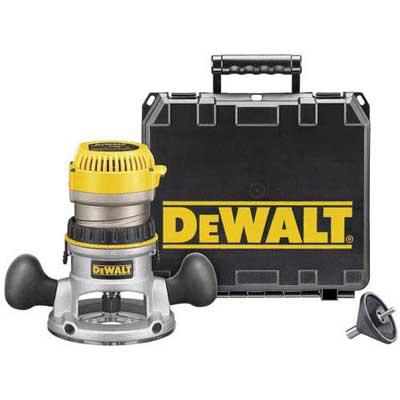 As you have gathered, Dewalt routers are some of the best in the market, and next on our list of the ten best routers, and the final Dewalt is the DW616 fixed base router. With an 11 amp motor, this tool can produce about 1-3/4 HP. It also features a quick release system, and the depth adjustment is quite user-friendly. But is this the best value for your money? Yes, the price is competitive, but what else does it have to offer? For us, what caught our eye was its durability and depth adjustment.

• Durability – Dewalt did an exceptional job with this model ensuring it will last longer than most. First, despite other brands struggling with dust ingestion in their systems, the DW616 features a dust sealed switch which reduces any hitches. Also, the motor housing is nickel-plated, and thus it can stand the test of time.

• Depth-adjustment – If you are in the market for a fixed base wood router with unmatched depth adjustment, look no further than the DW616. Depth adjustment will be a breeze.

Another interesting point about this tool is the increased accuracy. Thanks to the supplied sub-base concentricity gauge, you can now keep optimum bit concentricity which results in increased precision.

The extended collets assure you of bit retention. The collets also have an eight system and a self-releasing mechanism. Something else that spiked our interest is the switch cord set. If there is something that will boost your workflow, it's this. Finally, the ergonomic handles are not outrageous but practical. You can work longer hours with minimal discomfort.

Expand to see more
Product Features

Nickel plated motor housing
11 amp motor that can produce 1-3/4 HP
Depth adjustment in 1/64" increments
Clear Lexan sub base

Who is it for?

The DW616 is for professionals. It is well within the affordable range.

The power cord can be detached from the router making it easier to transport and store
The micro-fiber adjustment ring makes depth tuning of the tool a walk in the park
The switch is easier to use. It could be better if it were on the handle, but it is still within thumbs reach. It is a toggle switch which most people prefer over the push through or on/off switches
Despite the top quality of Dewalt tools, there are some exceptions. Some woodworkers complain of the motors burning up after a few uses
8. Makita RT0701C 1-1/4 HP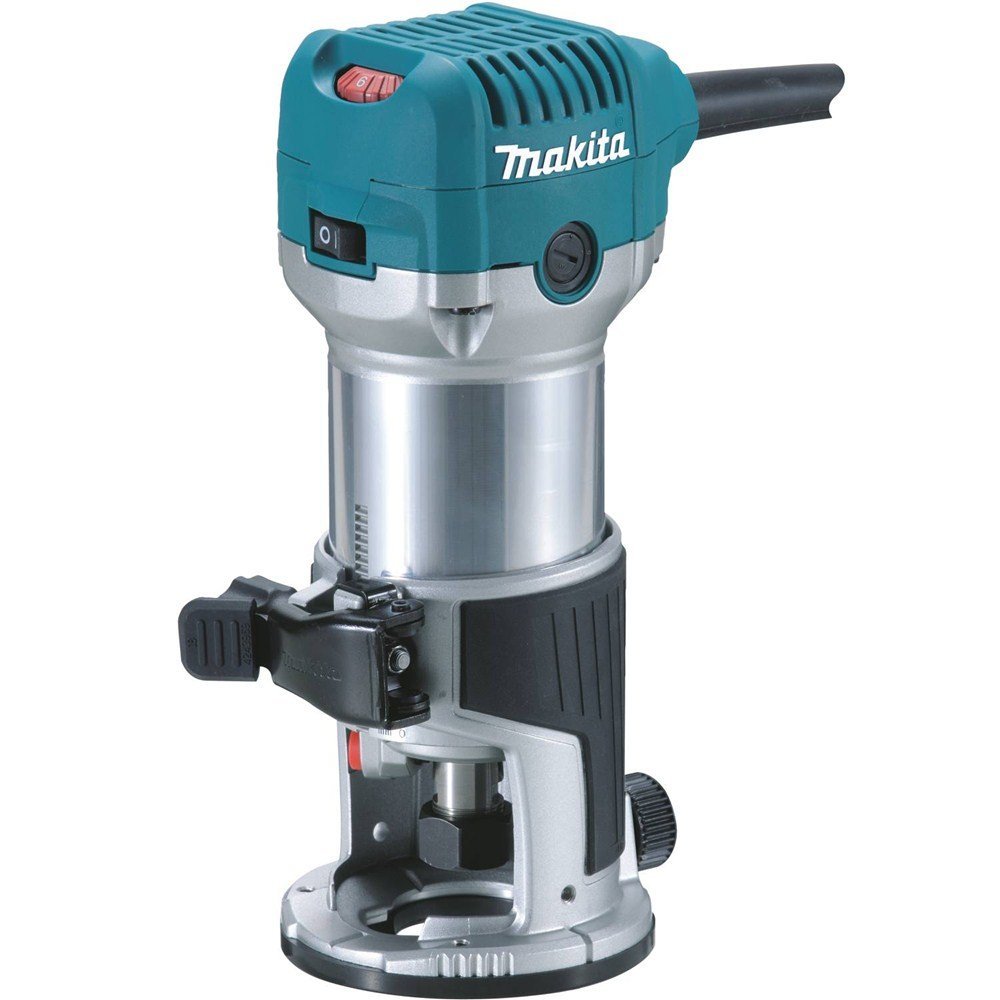 If you are on a budget and are interested in a portable compact router, then look no further than the Makita RT0701C. It produces 1.25 horsepower, features a soft start motor, and fine-depth adjustment, and fantastic speed control.

• Horsepower and soft-start – These are the more fascinating features of the Makita RT0701C. The 0.5 to 1.25 HP is average for this size of the tool, but it is still enough for smaller projects. The soft start feature increases the longevity of the device by reducing the stress on the motor. It minimizes the powertrain load as well as the electric surge on the motor at power up.

• Bit changes – When it comes to changing the bits, it's often a hassle when using two wrenches. Makita added a spindle lock to help but also added a second wrench if that's what you prefer.

You might also be interested in the fact that you can control the speed of the router with the help of a speed dial. You can get any speed between 10,000 and 30,000rpm. You can work on any workpiece and use any bit at the ideal speed and without having to worry about damaging the object. For precision, the Makita RT0701C incorporates a highly visible depth scale and depth adjustments. The cam lock system in the unit makes changing bases a breeze as it is fast release. The ergonomic design is a plus as well as it eases maneuverability.

Expand to see more
Product Features

Speed control dial (10,000 to 30,000rpm)
Double insulated for longevity
Shaft lock that makes changing of bits a walk in the park
Uses only ¼ inch bits

Who is it for?

Again, this is a tool for woodworkers who are on a budget. The price is quite friendly.

Changing the base is a breeze thanks to the latch lock
It's lightweight and thus easy to maneuver. It feels like you are working with a really fat pencil
It's available with a bag which helps keep all things organized
There is a cordless version of this tool available too
One shortcoming of this router is that the motor falls quickly. There is no friction between the motor and the base and depth adjustments are more difficult as a result
9. Black & Decker RP250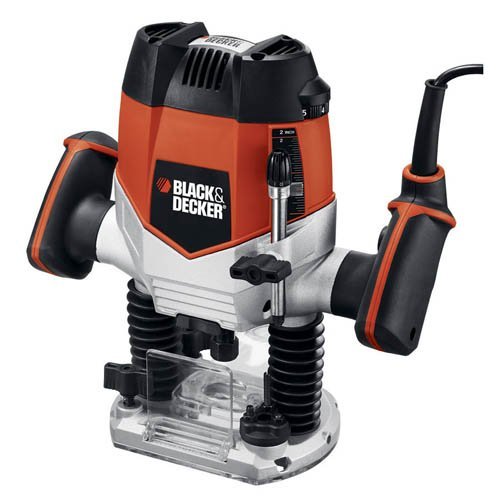 Some tools deliver excellent results right off the bat. They will effortlessly plunge,
screw
, or cut into any workpiece. They also make jobs that were somewhat laborious seem simple. Then there is the other lot of tools. These are more difficult, need extra setup, keep jamming, and you find yourself needing a new unit in a few months. The question is though, under which category does the Black and Decker RP250 fall?
• Durability
– One of the most appealing factors of this tool is its longevity. Despite the low price point, Black and Decker have managed to keep the quality of the product. Most of the instrument, i.e., the base plate, main body, and support columns are metal. Only the handles and motor covers are plastic.
• Trigger
– Unlike some routers, the trigger on this tool is easy to reach as is the trigger lock. The trigger is on the right handle, and you can use your thumb to activate the lock. It's also out of the way, and you can't accidentally activate it.
Another interesting point concerning this tool is the soft start feature. It allows you to ease your way into any job. The variable speed is also a plus as you can get the right speed between 8,000 and 27,000 rpm for any item. It's also packed with the benefits of being both a plunge and fixed base router.
Expand to see more
Product Features

10 amp motor
Special Features: Plunge
Power source: Electric (corded)
Dimensions: 11.5 * 6.6 * 11.9 inches
Weight: 9.9lbs
Two year warranty
Voltage: 120 volts

Who is it for?

The RP250 is an entry level router. It cannot perform the entire range of tasks a professional requires, but it is enough for a beginner.

The price is also friendly, and those on a budget can afford it.

Dust protection – The entire design of the tool enhances dust protection. There is a dust shroud that covers the part above and a marvelous vacuum. Also, the tight bit chamber allows excellent dust collection
Simplicity – The router is a breeze to setup and operate
The soft start feature enhances performance and control. It lowers the risk of you ruining your work and reduces the stress on the motor increasing its life
Includes an edge guide
The most noticeable shortcoming about the RP250 is its lack of appeal owing to the springs
They are outside the columns and are protected with a flimsy plastic
The lever is also far from the operator's hands making routing a bit difficult
10. Festool 574368 MFK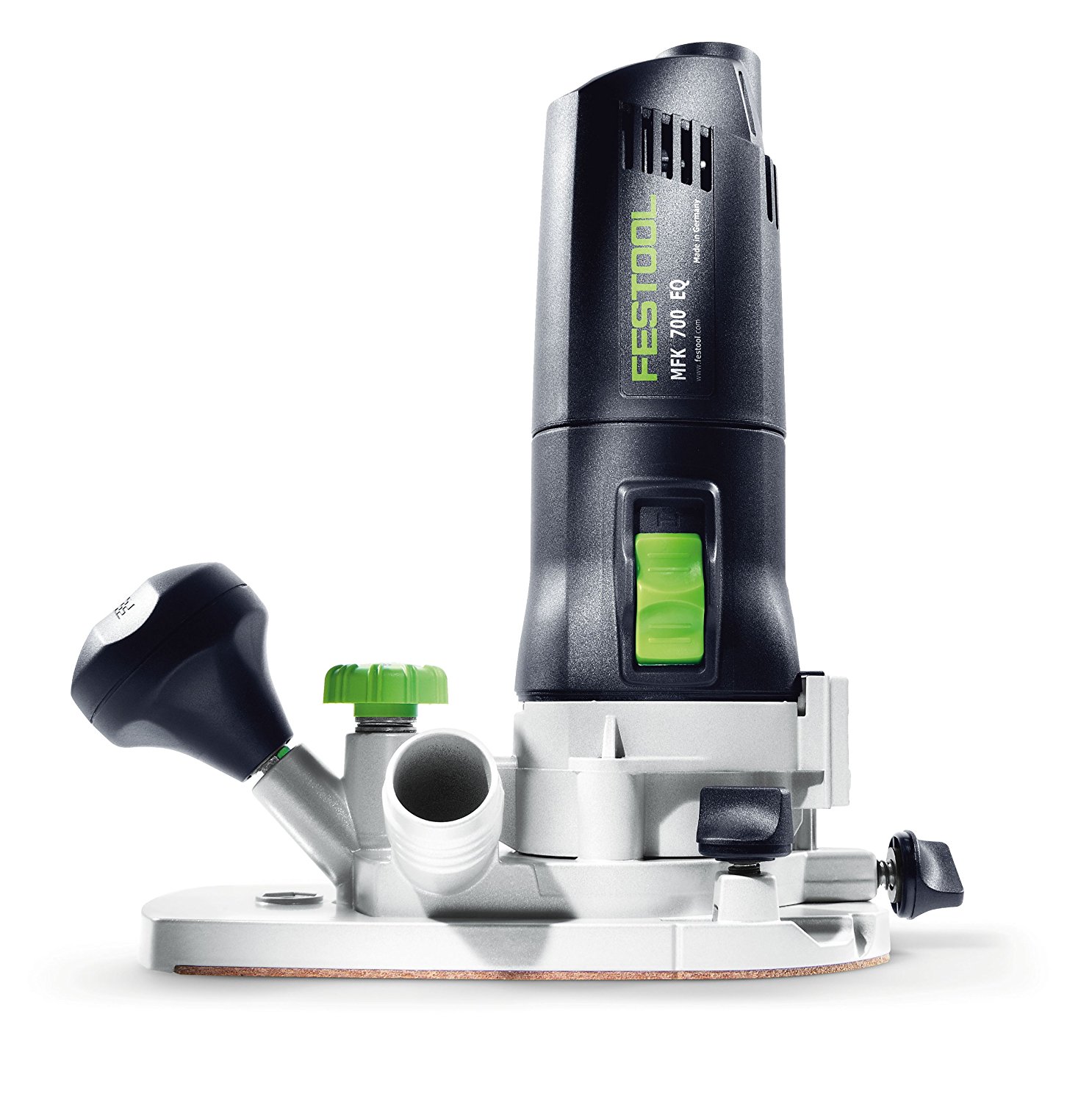 Wrapping up our list of the ten best wood routers is the 574368 from Festool. The German company has managed to cut a niche for themselves by producing premium products. The MFK 700 router is one premium tool with a focus on edging and dust extraction.

• Edging capabilities – Despite being a palm router, this tool focuses on edging. You will not get a wide range of applications as you do from other palm routers. However, it does this one task exceptionally well. I might go on and say that it is the best router at edging in the market. When using this tool, the results will be umatched from rout grooves, to edge banding, to trimming up the laminate.

• Lightweight – The Festool 574368 is a combination of power and portability. Despite its heavyweight feats, it is portable as it weighs only 4.2 pounds.

Some other interesting aspects of this router are excellent dust collection and depth control. Dust blights any workshop, and you can ruin your work owing to reduced visibility. Festool has focused on this and the integrated a first-class dust port that you can connect to a collection system. The depth control on the 574368 is also quite difficult to match as it is accurate to 1/256 of an inch. The vertical and horizontal bases also add depth control to the tool.

Finally, you can purchase the tool or as a set. We advise you get the entire set with the collets, bases and a wrench.

Expand to see more
Product Features

6-amp motor producing 1HP
Depth control to 1/256 of an inch
Dust extraction port
Thread insert for template guides
A pair of bases (horizontal and vertical)

Who is it for?

The Festool 574368 is a professional tool. As such it's for expert woodworkers. It's not only pricey but also focuses on one task, edge routing.

As for the price, this tool can break your bank.

The motor is a wolf in sheep's clothing. Despite producing 1HP, the torque is impressive and the overall performance exceptional
Top dust collection port
A non-marring base plate to protect your work.
Things to Consider when Buying a Router
Speed Options and Horsepower
With the many wood routers available, you will come across some that offer a single speed option and others with multi-speed adjustments and variable speed. Often the decision is yours to make, but it only makes sense to purchase the more versatile tools. With variable speed, you can adjust the rate depending on the type of wood you are working on, the operation, and the bit diameter. It leads to quality work and ensures a safe work environment.
As for horsepower, we suggest you purchase a wood router with a rating of 2HP and above. The versatility of such a tool will help you work on any piece of wood and can push larger bits through the timber. While at it, purchase a device with a soft start motor plus EVS (electronic variable speed) technology. The soft-start motor gets rid of the wrist-wrenching motion when you start your router. The soft-start makes the tool safer and easier to use as the motion it eliminates can twist the router right out of your hands. The EVS, on the other hand, gives electronic feedback keeping the cutting speed constant.
Diameter and Grip
When purchasing a router, ensure it has a collet diameter. Most routers can accept either ¼ inch or ½ inch bit. Some can take both, and these have a collet diameter. Though the ½ inch diameter bit is expensive, it's more stable and has less clatter. Ensure your router is equipped to handle both. As for the grip, it should be comfortable. A good grip will allow you to work for long hours without any discomfort or fatigue.
Dust Control
You will create a lot of dust when operating a wood router. To save yourself the workload involved in cleaning up after a job, ensure your router has a vacuum port. It also keeps you safe from health issues.
Size

There are several motor-size classifications with each having its advantages as well as limitations. First, we have palm routers which are 1HP or less. They have an impressive performance given their compact size. They are perfect for tasks such as hinge mortising, trimming, window cutouts, etc. They utilize ¼ inch diameter bits which is their limitation. They are therefore not ideal for more extensive operations.
You can also purchase a mid-size router. These are the most common owing to their versatility and ease of operation.  Mid-size routers are available with a rating between 1-3/4 HP and 2-1/4HP. They can handle all palm routers operations plus template design, large-scale dovetailing, circle, and panel cutting, etc. They can work with ¼ and ½ inch bits. Also, most router accessories are for this class of routers.
Finally, you can opt for full-size wood routers. These are for production use, CNC operations, or if you have a router table. They have a massive 3+ horsepower and can be cumbersome if operated for extended periods.
Base Style
Other than the motor, the base you select is equally essential. Choosing an appropriate handle though depends on the projects you plan on undertaking. Nevertheless, the three bases are:
Fixed Base – If your operations are only limited to edge routing, then get a fixed base wood router. It features knobs or handles on opposite sides which you use to direct the machine. Also, for depth adjustment, the fixed base router will feature a quick setting ring style.
D-Handle Base – As the name suggests, this router features a D-shaped handle plus a knob. The handle is fitted with an on and off trigger and provides a pistol grip control.
Plunge Base – Finally, we have the more versatile plunge base. Other than the primary functions of the fixed base, it can be used for more complex tasks such as dodo cuts, mortising operations, blind grooves, or any jobs that need plunging of bits away from the edge. The motor moves up and down, and the base features several depth stop settings that you can tune to your requirements.
Accessories – Finally, ensure that your router is compatible with the various accessories in the market. As a woodworker, you need these fittings for quality work. Therefore, it only makes sense to ensure your router works with most if not all accessories.
FAQS
Does it work on a router table?
Most router tables are for full-size routers. So, if that's the tool, you are purchasing, then sure it will work on a router table. However, most medium routers need a custom insert to work on a table. You can build one or purchase one. Palm routers, on the other hand, will not work on a table. It's best you have this information before making a purchase.
What kind of bits fit into this router?
Most woodworking newbies make the mistake of purchasing a router without establishing the type of bits it can accept. A great example is the Black and Decker RT250 which only takes collets of no more than ½ inch diameter. You should establish the type of bits you will be using and thus look for a tool that accepts those bits.
Where can one get replacement parts?

Like any other machine expect some components of your router to wear out faster than the rest. Unless it is the motor, you don't have to purchase a new router. Before making a purchase, ensure you can contact the company's customer service for parts, or you can easily access them. A good, terrible example is Dewalt. Most customers complain of not being able to get in touch with Dewalt for replacements.
Is it available with a case?
Portability is a key concern for woodworkers. You want to move quickly between jobs, and as such you need a case. Some of the units above are not sold with cases. So if you intend to move with your router, ensure it has a case.
Conclusion

A wood router is essential for any DIY enthusiast or woodworker. If you ever need to hollow out grooves or any edging work, this tool is second to none. Nevertheless, some routers are better than others. The costs are different, and so is the intended market. Get yourself a wood router that meets your needs matches your skills, and is within your budget.
Subscribe to our newsletter