Best Torpedo Levels Reviewed & Rated
last updated:
Apr 06, 2021
A torpedo levels is simply a must-have tool for different professionals like carpenters, plumbers, mechanics, homeowners and enthusiastic Do-It-Yourselfers. These groups of people rely on the level to ensure different structures and objects, including but not limited to doors, cabinets, mantles, and windows, are affixed perpendicularly with respect to a stationary reference point. In such cases, a torpedo level has to be used so that these objects maintain straight angles. For ease of use, most levels have vials filled with either a liquid or a permanent bubble even though the modern ones use more advanced methods such as laser and digital light display levels. Because they're mostly used in tight and cramped spaces, they have to have be lightweight, compact, and narrow, hence their name. Plus, they are quite versatile as they allow one to take up to four vial readings simultaneously.
Our Top 3 Picks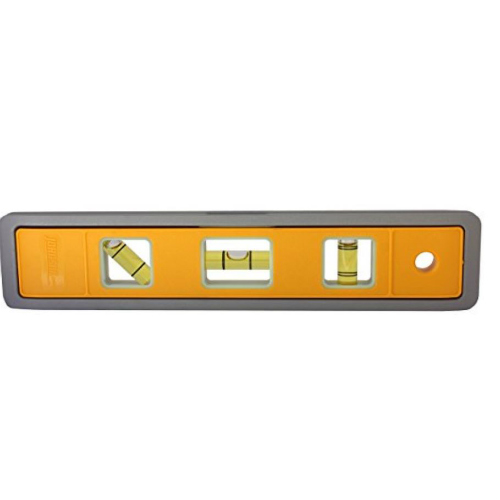 Johnson

Our rating
Efficient
Price:

See Here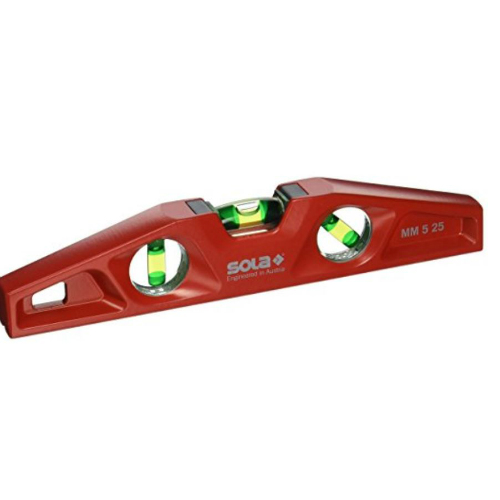 Sola MM

Our rating
Compact
Price:

See Here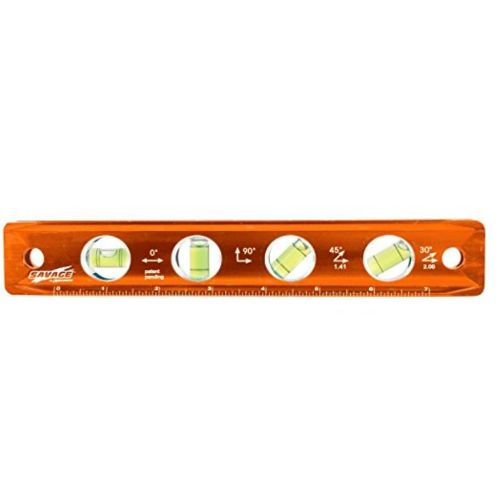 Swanson

Our rating
Accurate
Price:

See Here


Considering how difficult, time-intensive and labourous the process of searching for a suitable torpedo level can be, we've taken it upon ourselves to do a thorough, in-depth research to unearth ten of the best torpedo levels currently on offer on the market. We took several factors into consideration during our research, compared different products and brands and talked to industry experts in our quest for the best of the best, or crème de la crème, if you will. The first step to landing the best and most suitable torpedo level, however, is first evaluating your needs, so you best understand exactly what you're looking for.
10 Best Torpedo Levels
1. Johnson Level and Tool 5500M-GLO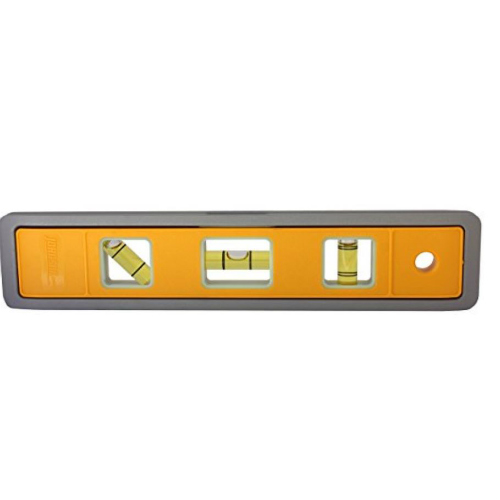 Using a torpedo level will inevitably involve working in all sorts of conditions, some well-lit and others poorly lit. In the latter case, readability will definitely become an issue. With the 5500M-GLO 9" however, you get to enjoy a seamless and smooth operation thanks to the product's patented Glo-View technology that significantly helps with enhancing readability of the level. The versatility of the 5500-GLO will similarly appeal to you. The unit comes with three vials for reading plumb, level, and 45-degrees. The product features a useful and time-saving top read window for simplifying the process of reading the level. The result is less straining on your part, which translates to effortless and hassle-free operation.

As far as construction quality go, it is undeniably of the most sturdily and professionally made torpedo levels you'll come across on the market. The manufacturer opted to use industrial-grade aluminium for the product's construction, a material renowned for being ultra-strong, long-lasting, rugged and tough to tolerate the harsh conditions in a construction site and yet lightweight and compact enough to allow for use of use and portability.

Expand to see more
As the name suggests, it is magnetic, three actually on the short side to enable you stick it to a different metal surfaces such as metal studs, thereby freeing up your hands for other equally important activities like jotting down the reading reflected in the scale. The other longer side of the unit is equipped with v-groove to ensure it holds up firmly against pipes. As already mentioned, it has the Glow-View technology to enable you effortlessly takes measures in poorly lit conditions. Rather than coming with an LED screen or indicator for lighting up the vials, the one of this unit actually glows. It works nicely and smoothly and is almost entirely unnoticeable during the day. After a lengthy use in the dark, simply recharge it by holding it up against the light and you have enough glow to take you through the toughest jobs in the poorly lit locations without much fuss.

And the best part is that it comes with a reasonably and justifiably priced, in spite of packing several essential features to make it a joy to work with in all types of construction sites. No matter the length you choose, be it the 24-inch, 48-inch, 72-inch, or the 96-inch, you still get to enjoy the Glow-View technology at just about $18.

Overall, the 5500-GLO 9" is an ideal torpedo level for several professional groups that include but not limited to plumbers, electricians, HVAV installers, and contractors working in secluded, hard-to-reach, and poorly-lit spots like basements, crawl spaces and the like.

The product's Glo-View technology provides you with more than sufficient glow light to enable you see in the dark, and which makes it perform a lot better than traditional phosphorescent. The cast aluminium outer frame and inner plastic body of the unit allows it to stand up to the harsh and tough environment characteristic of most construction sites. The v-groove and three earth magnets make it possible for the product to firmly hold on to pipes and metallic surfaces, respectively, making it a convenient and easy-to-use machine. With a length of just 9-inches and three acrylic vials, the 5500-GLO 9" is the best torpedo level for money.

Easy to use in confined spaces
Cost effective
Versatile for a multitude of applications
Equipped with Glo-View technology for enhanced visibility and readability
Lightweight and compact design
Durable construction using industrial-grade aluminium
2. Sola MM 5 25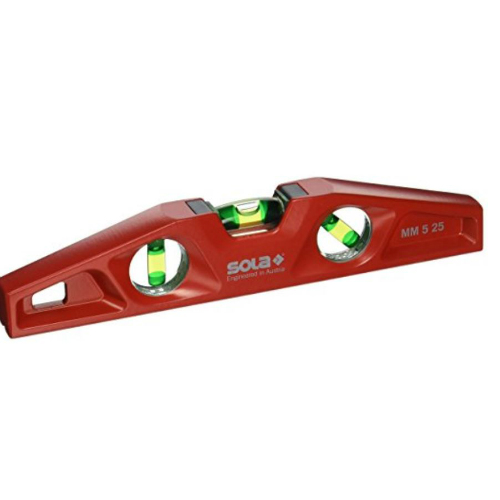 The Sola MM 5 25 lacks the characteristic appearance for which torpedo levels are known. Rather than the typical and traditional streamlined torpedo design, the bottom of the unit has a rather flat profile throughout its entire length, giving an appearance reminiscent of a small-sized mason's level. With a weight of 13 ounces and a thickness of 1-inches, the product feels solid and sturdy in the hands. If you need a tough and rugged torpedo level, take a serious look at the Sola MM 5 25 torpedo level.

Its whole body is made from industrial-grade aluminium when is then finished off with a smooth epoxy coating aimed at serving two purposes: protecting the unit from corrosion, rust and other corrosive agents and secondly, to simplify cleaning the unit. The lightweight and compact characteristics of aluminium, coupled with the bevelling of the product's top of the arms allows for greater portability as it enables you to effortlessly slide the tool into a tool pouch, pocket, backpack, purse, or any other storage space.

Expand to see more
As was the case with the first product, it also comes with three large vials: a horizontal, vertical, and 45-degree vial. Because they are large, you won't have the slightest difficulty reading taking readings and the older citizens will immensely be appreciative of this fact, as they won't have to strain their eyes, particularly in poorly lit conditions. To further increase readability, all the vials are enclosing in sturdy and unbreakable acrylic glass and incorporated with a magnifying lens, increasing the size of the bubble by an impressive 30 percent. However blurred or weak your vision is, there's a pretty good chance you'll be taking accurate readings with minimal errors from the Sola MM 5 25.

The Sola brand asserts that this torpedo level will provide you with exceptional performance provided you use it in a spot where the temperature falls within a range of between -20 and +60 degree-Celsius. Additionally, the vials have a liquid with unique properties to prevent them from getting electro-statistically charged, which could greatly interfere with their lifespan. Unlike a vast majority of torpedo levels, the outer edges of the vials come with an ink coating for the purposes of enhancing readability. Judging their efficiency is a little hard considering that the ease of reading a level is to some extent subjective and you'd have to have some extensive experience to do it expertly.

You could be wondering how it performs in less than ideal lighting conditions. You'll be impressed to know the unit uses fluorescent to light up the horizontal vials, making it easy to the eyes to see when working in conditions that aren't properly lit, such as crawlspaces and basements. However, the unit lacks a bridge across the top of the vial, which makes it increasingly susceptible to scratches and damage like when it's accidentally dropped or forcefully tossed from a tool box.

To allow for an ease of use, it is equipped with extraordinarily strong neodymium rare earth magnets so it grips firmly and securely on different metallic surfaces, thereby preventing it from accidentally falling. Nevertheless, you won't have a difficult time releasing the unit from the surface as the grip is not that strong. And when it comes to levelling metal or plastic piping, the V-channel comes in handy by preventing it from uncontrollably sipping about the surface.

To conclude, it features a considerably higher price tag but given all its blows and whistles, we think the premium pricing is justified. It's lightweight and compact and is constructed from the tough and rugged aluminium alloy, meaning that other than being virtually indestructible, it's still versatile and easy to use. The vials are easy to read and properly illuminated and there is also an ultra-strong magnet for ensuring a firma and secure grip on metallic surfaces. Plus, it has a lifetime warranty and accurate to 0.029-degrees. Getting yourself a better deal is surely going to be a struggle.

Compact and lightweight at just 13 ounces and therefore very portable
Resistant to corrosion and rust
Measures three vial readings, hence versatile
Easy to see and read vials
Allows for hands-free operation with extraordinarily strong neodymium rare earth magnets
Long-lasting and tough construction
Magnets aren't adequately strong
3. Swanson TL043M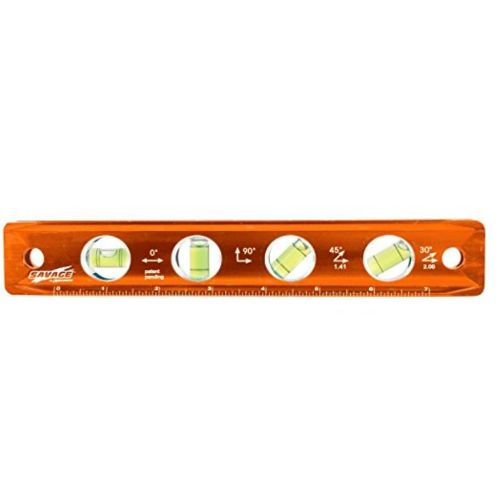 There is vast difference, in terms of performance, versatility, durability and convenience between a traditional level and a torpedo level, a difference you'll only come to appreciate when get a hold of the Swanson TL043M. The unit comes with an outstanding billet aluminium construction and further boasts of clear, visible, and easy-to-read vials that make it one of the most indispensable tools you'll invariably want to be within easy reach. The vial ports are fitted with a distinct BrightView signature design for enhancing the accuracy of measurements with the surface capable of reflecting light to ensure readability is not a problem even in less than ideal lighting conditions.
The Swanson TL043M also has accuracy of within 0.029-degrees and 0.0005-inches. The product completely epitomises the experience, expertise and commitment of the Swanson brand in making the most ideal torpedo level to be used effortlessly for a wide range of both domestic and commercial projects like plumbing, trim and even electrical work. Professionals who work on commercial power application will particularly like the fact that it is equipped with as much as four rare earth magnets that come handy when you have to level up steel electrical boxes. Enough with the overview, it's time to scratch the surface to reveal the features that make this torpedo level really tick with plumbers,
electricians
, HVAV installers, and even contractors.
Expand to see more
To begin with, it is constructed from carvings of top-quality aluminium and anodized with an electrical current, a process that gives the unit its characteristic blue colour. After the anodization, the edges of the machine are then precision-ground to get rid of dangerously pointed edges so that the end product is a perfect square. A laser is subsequently used to etch marking in centimetres and inches on each of the sides. As was indicated previously in the introduction, it spots four rare earth magnets to enable the unit grip firmly and securely on metallic surfaces, thus freeing up your hands for other activities.

For efficient and effortless plumbing, electrification and other heavy-duty job site applications, the Swanson TL043M comes with a sufficiently long 7-inch laser-engraved SAE scale in addition to a metric scale that measures up to 18-inches. THE 9-inch length of the unit easily accommodates the two scales. Rather than incorporate the Tri-loc commonly used in a majority of Swanson products, the Swanson TL043M uses a slightly larger footprint to give you an easy time when bending conduit and copper pipe. In additional to its magnetic properties, the unit also has hanging on either extreme end but which are nonetheless notoriously difficult to use. The level has vials at 0, 90, 45, and 30-degrees, which allows you to carry out a myriad of projects that include bending pipes and performing vertical and horizontal projects on the work site. In our real-world assessment of the vials' capability, we were pleasantly surprised by the results.

With a length of 9-inches, it is surprisingly lightweight and compact. Its low, small profile allows for trouble-free carrying in most tool bags, backpacks, and even pockets. It' ergonomically designed with the comfort and convenience of the user in mind, with the understanding that it'll be used for several hours at a time under some of the most difficult conditions and environments. Luckily, the product is professionally built and will comfortably stand up to heavy use without breaking a sweat, figuratively of course.

To recap, the Swanson TL043M offers you one of the best performances in the industry. It comes with several essential and impressive features, all intending at increasing convenience, ease of use and your productivity. Some of its highest selling points are the billet construction, the accurate laser etched markings, and ease of use, making it the first preference for a large majority of electricians, construction workers, and plumbers. It also scores highly with regards to performance considering its durability, strong aesthetics, and dependability.

Feature robust billet-aluminium construction
Comes with clear, visible and easy to read vials
Accurate
Has four vial readings
Ergonomically designed for easy use
Ideal for wide range of applications
Equipped with four strong rare earth magnets for better hands-free operation
Leans a little on the expensive side
A little heavy
4. Johnson Level and Tool 40-6184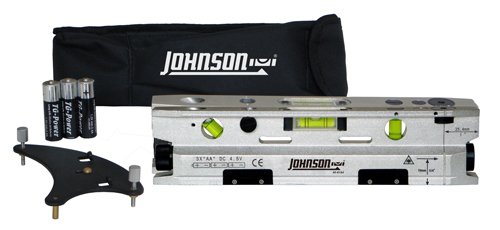 The versatility, convenience and high-performance of torpedo levels are making them an indispensable part in most toolboxes. This torpedo level is fast becoming the go-to tool of a majority of
metalworkers
, competing for attention with other premium torpedo levels, and for a good reason. The level is filled to the brim with a several essential features, the likes of which have been, until now, the preserve of top-model levels. With its magnetic beam capable of projecting numerous beams and its accuracy, the unit is helping professionals from all sorts of field complete their projects with exceptional precision and within a fraction of the time it would have otherwise taken with traditional levels.
The Johnson Level and Tool 40-6184 has the aesthetic appearance and profile typical of all torpedo levels, nothing is particularly striking from the outside, that's until you take a peek under the hood, if you will. For one, the machine is lightweight and compact with the dimensions coming in at just 9.527-inches by 2.205-inches by 0.98-inches, which essentially means it's one of the smallest and most compact torpedo levels on the market today and will fit comfortably and relatively easily in most storage spaces like pockets, backpacks, the glove compartment of your car without taking up too much storage space. With a weight of just 1.653 after loading all the internal components, you won't have the slightest problem lifting the unit in your hand and the chances of developing blisters, straining your hands and fingers or throwing your back out are literally non-existent.
Expand to see more
The use of aluminium in the construction of the machine ensures accuracy and stability, which in turn significantly minimizes errors when reading vials. While it's not specified, it appears the torpedo level has been media blasted, most likely to ensure the surface remains smooth and textured. The unit also comes equipped with a V-groove and four ultra-strong magnets to make it easy to work with metal structures as the torpedo will attach firmly and securely to all metallic surfaces, so your hands are freed to other activities.

To provide you with optimal performance, it runs on three AA batteries that come with the package. With normal, everyday use the batteries should provide you with about 50 hours of uninterrupted service and they are easily and readily available at an affordable price in most shops, so replacing them shouldn't give a headache at all. Also included in the package is an instructions manual, a soft-sided pouch as well as a levelling base.

It spots four different and very useful bubble vials: a plumb, level, 45-degree, and lastly a cross-mounted vial. The latter vial is for providing second level indicator 90-degrees to the products longer axis. The combination of four vials allows for the precise levelling of the unit so that even both the forward 90-degree left beams give realistic and applicable vial readings. To further ensure accuracy and ease of use, it comes with vertical engraved sighting lines on both sides to ensure you accurately, effortlessly and seamlessly align it with pre-drawn layout line.

Additionally, to ensure accuracy, the product provides you with three beams, the first projects straight from end of its body, the second emits on a plain similar to the first but 90-degrees to the left, while the last one projects perpendicularly upwards. All the beams can easily be controlled by a pushbutton switch strategically positioned at the product's extreme end. Depending on the lighting conditions indoors, the beams can reach about 100-feet away, meaning that construction workers and installers will have the easiest time in their need to be accurate.

Overall, the Johnson Level and Tool 40-6184 truly takes versatility, ease of use, and accuracy to a whole new levels with its impressive features and capabilities. The bubble vials are clear and easy to read and comes with an accuracy that a vast majority of torpedo level will find hard to match. With proper use, the unit should last more than a lifetime, what with the long-lasting and robust construction using heavy-duty aluminium. Plus, it comes with a 36-month warranty to cater for the repair and/or replacement of manufacturing-related failures resulting from normal use. And did we mention it's fairly priced?

Powerful performance
Ideal for a wide range of tasks and projects
Lightweight and compact
Durable all-aluminium construction
Gives accurate four vial readings
Comes with four ultra-strong magnets and a V-groove
Fairly priced
Not ideal for heavy commercial applications
5. Checkpoint 300


Irrespective of your working environment or condition, the extent to which everything around you in level has a significant bearing on your success, whether you're in the office, construction site, or working from home. The first crucial step to getting everything level is by ensuring all the specific angles are accurate to the point and no product on the market is more ready for the challenge than Checkpoint 300 Ultra Mag Precision Torpedo Level.

The common denominator in all products made by Checkpoint is their high-quality construction using only quality materials and in accordance to the industry standards and expectations. The end product is a durable, top-of-the-line torpedo level with an accuracy that will easily and effortlessly last more than a lifetime, provided the machine is used in accordance with the provided instructions. Some of the major highlights of the Checkpoint 300 Ultra Mag Precision Torpedo Level are the high-end aluminium billet construction and the subsequent anodized colour coating to guarantee protection against corrosive agents and enhance appearance. And, the laser etched markings and vials are sufficiently large to enhance readability, so you don't have to strain your eyes. Now, let's dive in to the details.

Expand to see more
The Checkpoint 300 Ultra Mag Precision Torpedo Level measures just 8-1/2-inches in length, which is half an inch shorter than most torpedo levels, and which translates to easier storage and better controllability and manoeuvrability for those working in tight and hard-to-reach spaces like crawlspaces and basements. As already mentioned, the torpedo level is constructed from an ultra-strong yet ultra-lightweight 6061 T6 aluminium alloy, allowing it to easily tolerate heavy, everyday use on the busiest construction and job sites without registering even the slightest dip in performance.

The bottom of the torpedo level has a flat surface and further features a convenient V-groove at the top whose ingenious design ensure perfect compatibility with pipes with a diameter of up to 12-inches. The edge on the bottom additionally comes with four large magnets of neodymium to allow for a hands-free operation when working with ferrous metals, meaning that you'll be able to do more. The entire body of the Checkpoint 300 is also CNC-machined to get rid of all the rough and pointed edges and fitted with a 45-degree reference point to trouble-free use.

The unit's body has bubble vials that allow you can comfortably take on a wide range of tasks both at home and on a commercial level like plumbing, trimming, electrification, installation of HVAV, and contractor work. Plus, all the bubble vials have large viewing ports making it possible for you to effortlessly take readings from several angles and in different conditions, even in those where lighting conditions are less than optimal. You have a choice of red, blue, and platinum anodized finishes to choose from.

To summarize, it provides you with exceptional construction quality, durability and an unprecedented ease of use, just like most top-of-the-line torpedo models. The need to ensure accuracy when installing vital components or structures doesn't have to be expensive and the unit proves this by offering you all the premium features at an affordable price. The use of aluminium alloy for construction makes it durable and capable of bearing rugged, heavy use whether you'll be using it at home or at the job site. The vials are easy to read due to the largeness of the viewing ports and they're very accurate. There are four oversized rare earth neodymium magnets, a V-groove, four vials, and lots of other premium features all aiming to make your work as effortless, trouble-free, and fast as possible. You can never go wrong with it.

Easy to read vials
Provides accurate readings
Lightweight and compact for use in tight spaces
Provides you with powerful performance
Complaints about the vertical bubble
6. Empire em81.9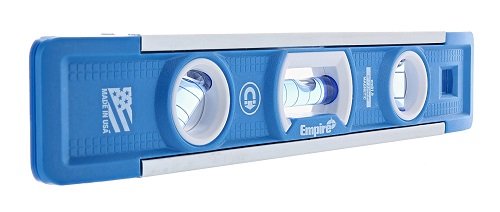 Now, there are a lot of things to love about the Empire em81.9 torpedo level. The torpedo level packs together all the essential features weathered professional workers look out for when shopping for a new unit or looking to upgrade. From the quality of construction, durability, visibility, ease of use, versatility, and even accuracy: you mention it, the Empire em81.9 has it. In this entry, we'll be taking a deeper look at this torpedo level just to understand why it's such a tick with the mainstream of plumbers, electricians, metalworkers, and installers of HVAV.

When it comes to the quality of construction, it is at par with most its high-end torpedo level counterparts. For instance, it comes with shock-absorbing end plates for protecting the frame from the harsh and tough working conditions characteristic of most construction sites. It's not like the unit needs protecting anywhere considering that it comes in a heavy-duty extruded aluminium frame capable of withstanding heavy-duty, everyday use. With the accuracy of the vials standing at an amazing 0.0005-inches irrespective of the level and plumb working position you choose, it becomes clear why it is the number one preference for metalworkers, plumbers and electricians.

Expand to see more
Having been made in the United States, you're sure the product has undergone thorough quality controls and checks before hitting the market, which gives you a peace of mind knowing your product is made to the highest industry standards. Aside from highlighting the edge of the bubble, the high contrast vials also do a spectacular job enhancing the visibility of the vial reading, preventing a situation with traditional torpedo levels where you had to strain your eyes to avoid taking erroneous readings.

To allow for hands-free operation, it is fitted with three rare earth neodymium magnets to give it exceptional holding ability so that you effortlessly stick it to steel studs and other ferrous metals, thus freeing up your hands to jot down the vial readings or better yet, make adjustments. There are three factory-fitted True Blue vials for hassle-free gauging of level, plumb and 45-degree readings at different levels. In addition to the magnetic edge, the Empire em81.9 is equipped with the V-grooved edge for keeping the torpedo level in position when aligning pipes and conduits.

The dimensions stand at 9-inches by 1-inch by 2-inches which incidentally means the torpedo level comes in a lightweight and compact design to take up the least possible storage space in the toolbox, backpack or any other storage space you may have. The design similarly increases manoeuvrability and controllability for professionals working in tight crawlspaces and other hard to reach spots.

With every purchase of the Empire em81.9 you get a lifetime warranty to cater for manufacturing-related complications and issues that result from everyday use. This should give you a peace of mind knowing the manufacturer is willing to take responsibility for faults they make in the manufacturing process.

The torpedo level is a perfect demonstration of Empire's expertise and experience when it comes to the construction of high-quality, high-performing, versatile, and durable products for use by construction workers, handymen, and enthusiastic Do-It-Yourselfers. In spite of its rugged and heavy-duty extruded aluminium frame and shock-absorbing end plates for protecting the unit from heavy-duty, the Empire em81.9 is surprisingly accurate and easy to use, even in cramped and tight spots.

The True Blue vials allow for effortlessly gauging level, plumb, and 45-degree readings with an accuracy of up to 0.0005-inch. The True Blue vials greatly enhance the accuracy and readability of the unit by guaranteeing visibility even in situations where the lighting conditions are less than ideal. Other features are the three rare earth neodymium magnets and plastic end caps. Together, all these features make the it one of the best torpedo levels to have for all your domestic and commercial applications.

Top-quality construction
Durable
Clearly visible vials
Easy to use
Versatile
Very accurate
7. Stanley 42-465


A practical and functional torpedo level is a must-have tool for any homeowner with a keen eye for efficiency, versatility, hassle-free operation, and longevity. If your mind in set on these qualities in search for the most suitable torpedo level, look no further than the Stanley 42-465. Considering that it comes in a cast aluminium frame, the unit is without a doubt one of the most rugged and heavy-duty units you'll come across in the market and will stand comfortably up to the harshest and toughest working conditions in different settings.

The product has a commanding and solid feeling in the hand, giving you the impression that it's a truly high-quality torpedo level manufactured by professions with other professionals in mind, and at the best price: you don't have to break the bank. Whether you'll be using the Stanley 42-465 9-Inch Cast Aluminium Magnetic Torpedo Level in the most cramped spaces, the busiest construction site or at home, the cast aluminium frame effortlessly takes on abuse and heavy use, so that there isn't even a single drop in performance.

Expand to see more
The Stanley 42-465 also comes with pipe grooves that allow for hassle-free use on rounded surfaces so that you don't put too much effort into the endeavour and get to save time as well. The inclusion of a magnetic strip enables you to work hands-free on ferrous metals as the magnets have exceptional gripping capabilities to support quite a significant weight.

The Stanley 42-465 is incredibly easy to use. The design of the torpedo level allows you to gauge vial readings in level, plumb and 45-degree. The sufficiently large, top-read vial window allows you to take vial readings with ease. Furthermore, the tinted 360-degree vials and the fact that they're located at the centre top do a spectacular job improving the visibility of the vial readings so you are spared from straining your eyes. For greater and unhindered portability, it comes in a lightweight and compact design, allowing you to transport it with exceptional ease from one location to another. With a length of just 9-inches, you'll be able to fit it seamlessly in to most backpacks, car glove compartments, and even pockets and when you're done working, storing it won't be a problem because of its lightweight and compact design.

Stanley Tools has been involved in the business of manufacturing tools and equipment for more than 17 decades now. Over the course of that period, they've deservingly earned high reputation for offering top-quality, dependable, innovative, and valuable products, something that the Stanley 42-465 demonstrates perfectly. The brand takes immense pride in contributing to the development of homes, industries and communities in every corner of the planet. Their commitment to excellent and perfection is what separates the group from the rest, in an industry that's crowded.

To recap the important points, the Stanley 42-465 9 is constructed from industrial-grade cast aluminium to ensure durability and give it additional protection against corrosive agents like rust. While aluminium is lightweight and compact and will help with controllability and manoeuvrability, it's nonetheless sufficiently rugged and tough to stand up to abuse and heavy use on the job site. The manufacturer guarantees easy visibility and readability of the vials by placing them at the top-read vial window. The magnetic strip and pipe groove enable you to work comfortably and smoothly on rounded and metallic surfaces. With its limited lifetime warranty, it'll be hard to find a better deal elsewhere at the product's pocket friendly price.

Very practical and functional
Features a rugged and heavy-duty construction
Long-lasting
Has a magnetic strip and pipe groove for increase ease of use
Compact to fit snugly in most storage spaces like pockets and backpacks
The lifetime warranty is limited
8. Stabila 37816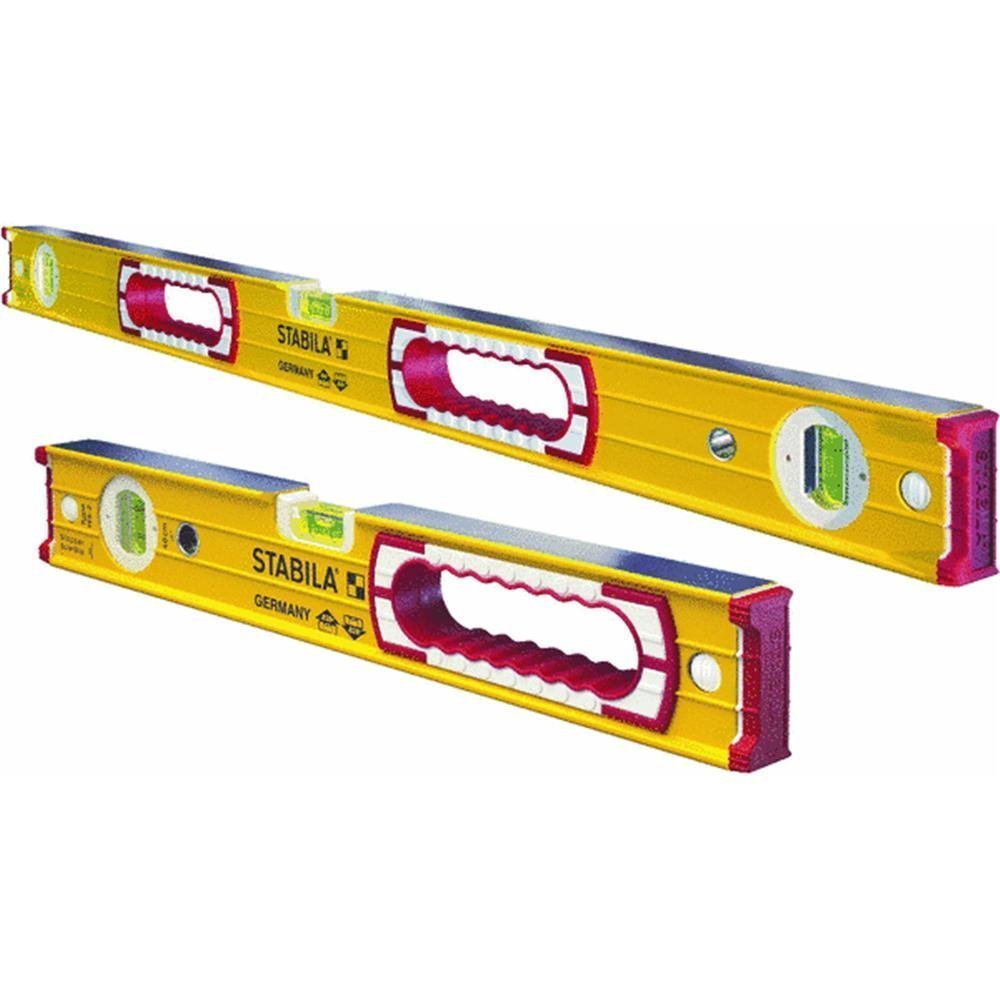 With the help of the Stabila 37816 set, the Stabila brand easily cements its position as one of the leading industries in the home renovation and improvement industry, putting it at par with other customer-trusted brands. The unit has a plethora of selling points, most of which it shares with premium torpedo levels. The innovative design and engineering of the Stabila 37816 lets you take vial readings from virtually all parts of the jobsite. The two levels come with the three vials – two with vertical orientation to let you easily gauge plumb readings and a third with horizontal arrangement for establishing level – all of which are constructed from commercial-grade aluminium and enclosed in a rigid frame which is additionally strengthened with a ribbed design to assure the user of longevity.

Considering the electronic calibration and inspection of it, the Stabila brand guarantees that the vials will remain accurate throughout the beam level set's useful life. Plus, it will give exceptional performance provided the prevailing weather conditions stay within a range of between -5-degree Fahrenheit and +165-degree Fahrenheit. Such an assurance should give you a peace of mind knowing all the vial readings will be deficient of any errors and accurate to within 0.029-degrees. At no time will there be leaking or fogging of the vials, and since they already fine-tuned, you're not required to make any adjustments.

Expand to see more
All the three vials have spring steel hairline indicators so that the user doesn't have any difficulties taking measurements or readings at different angles. The incorporation of the indicators mean gauging vial readings in places where lighting conditions are less than ideal will no longer be a concern, as is the case with most traditional torpedo levels. Weighing just 4.5 pounds and boasting dimensions of just 48-inches by 2.5-inches by 2.5-inches, the Stabila 37816 is easy to manoeuver and it won't strain your or fingers or cause hand fatigue from using it for extended periods at a time. Additionally, it comes with a limited life warranty to cater for defects resulting from the manufacturer's use of poor-quality materials and substandard workmanship.

Only a handful of other torpedo levels epitomize comfortability and ease of use like the Stabila 37816 does. Just so that the user has a trouble-free and straightforward operation, both the 16-inch and 48-inch levels are equipped with hand grips; the latter has two while the former comes with two, all of which are ergonomically designed so they're sufficiently large and comfortable and also rubberized to ensure user comfort. Coupled with the set's lightweight and compact design, users will have no difficulties at all using the set in cramped spaces, crawlspaces, basements, and tight spots.

Aside from the rigid aluminium frame,it also comes with sturdy end caps made from tough rubber for preventing any potential damages that could result from the units being accidentally dropped from some height, meaning that the units can tolerate abuses resulting from heavy and rugged use only a daily basis. In addition to preventing damage, the end caps are also for protecting drywall and other delicate surfaces from gouges, marring and other types of damage. Taking the caps off lets you take flush measurements with relative ease.

Overall, it has several selling points we can't possibly exhaustively cover in this entry, but the long and short of it is that it comes with all the blows and whistles that put its performance at par with other top-level torpedo levels. It lets you take vial readings in plumb, level and 45-degrees. The set is easy to use, comfortable, and very accurate to within 0.0029-degrees. The vials are easy to read and enclosed in a rugged aluminium frame for durability. Plus, the end caps help you protect drywall and delicate surfaces from marring, gouges and scratches and if you take them off, you can take flush measurements. There's isn't a single thing that's not to love about the Stabila 37816 set. It has all the hallmarks of professional construction and performance.

Durable construction
Gives accurate vial readings due to precise calibration
Manoeuvrable and easy to control because it's compact and lightweight
Vials have spring steel hairline indicators to extra illumination
Not as durable as other torpedo levels
9. Stanley 43-511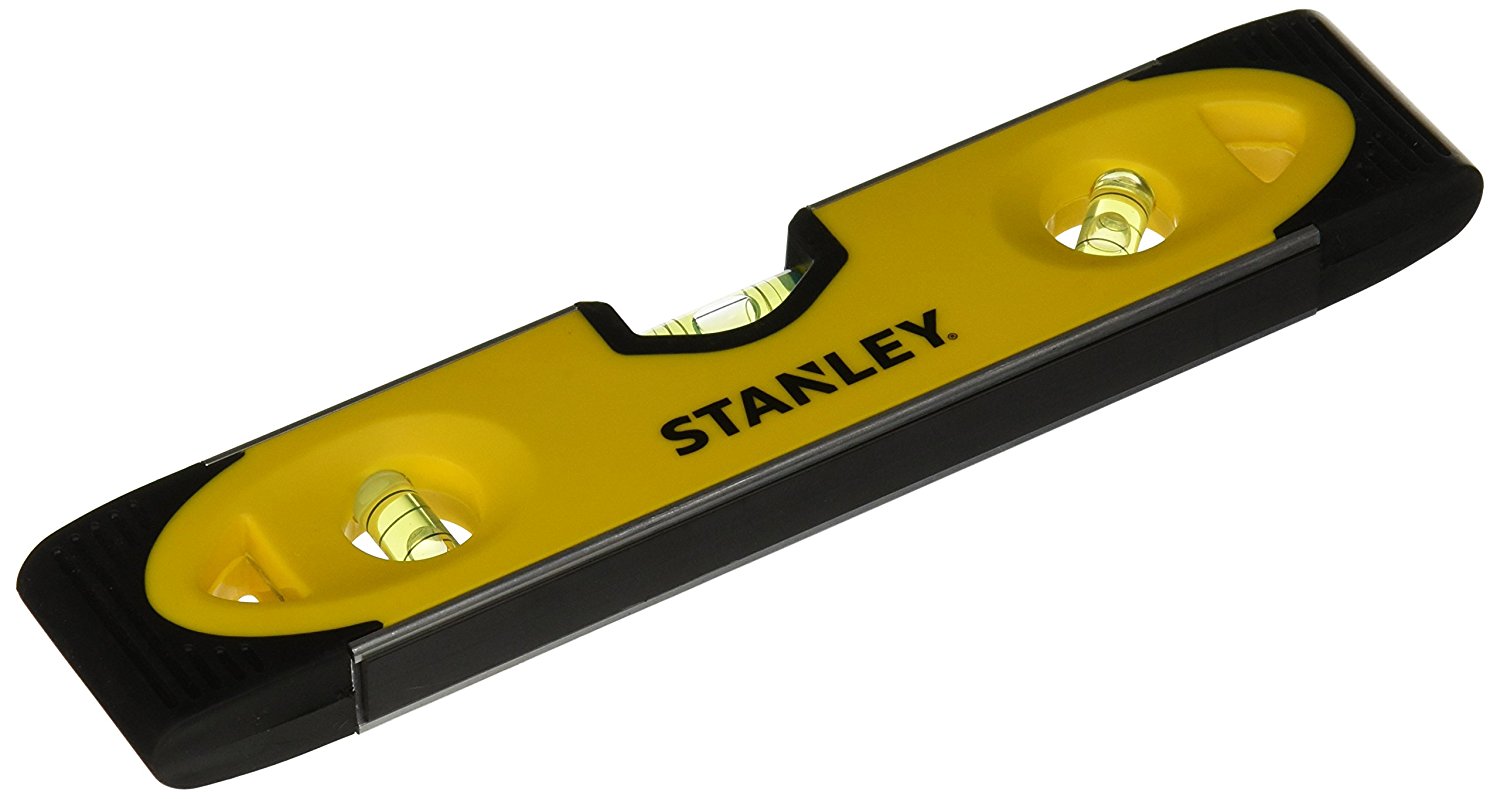 The Stanley 43-511 is yet another entry from the highly reputed, customer-trusted brand of Stanley Tools boasting a classic yet traditional design. Like all other Stanley Tools products, the torpedo level is full to the brim with all the neat features aiming at enhancing use and ensuring ultimate durability. To this end, the torpedo level comes with a heavy-duty aluminium frame capable of withstanding heavy use in different job sites and under different conditions. For one, the aluminium frame is resistant to water which further implies it can perform exceptionally when in wet and damp conditions and its performance won't be affected by moisture either.

The rugged aluminium frame similarly significantly helps with durability and accuracy of up to 0.002-inches, which, by all standards is quite impressive considering the unit's deceptively diminutive profile. Using the Stanley 43-511 properly, in accordance to the instructions set out by the manufacturer and subjecting it to regular maintenance after use will most definitely extend its useful life by several months, even years. Plus, you get a limited life warranty with every purchase, meaning that all defects and performance issues resulting from normal use either because Stanley Tools used substandard materials or poor workmanship will be handled by the brand.

Expand to see more
The design and engineering aims at making it as easy as possible to guarantee so that novices, enthusiastic Do-It-Yourselfers, homeowners, plumbers, electricians, and HVAV installers experience no difficulties with it. To this end, the unit comes with factory-installed non-marring feet to avoid a situation where it leaves marks, scratches, or gouges on different surfaces, particularly drywall and the other delicate types. To ensure further protection against impact occasioned by being accidentally dropped, the unit is fitted with rubber ends for the effective absorption of shock. The implication here is that irrespective of the heavy-duty application or abuse the Stanley 43-511 is subjected, it effortlessly gets the job done without breaking a sweat.

On the topic of vials, the design on the one incorporated on the Stanley 43-511 are for taking readings on three types of surfaces: horizontal, vertical as well as angled. No need worrying about visibility and readability as these are never an issue with Stanley Tools products. The vials are sufficiently large and open level so that you don't strain your eyes or incorrectly read the measurements.

Another major selling point is the fact that the unit is equipped with strong magnets letting you have an easy time when levelling metallic surfaces as all you have to do is stick it to one of the metal and it will hold up pretty nicely and firmly. With your hands free to do other things, you'll manage to save time and finish your project in a fraction of the time it would have taken with traditional torpedo levels. The magnetic properties of the unit also mean you can safely and securely store it on a metallic surface for later use. The V-groove feature also takes the effort out of working with pipes and conduit.

The lightweight and compact design comes handy when you have to work in cramped and hard-to-reach spots. Measuring just 10-inches in length and weighing about 5.4 ounces, the torpedo level can perfectly fit where its full-size counterparts can't. The small profile also means it takes up less storage space in your toolbox, car glove compartment, and even pockets. Manoeuvrability and controllability will never be a problem with it as it's ergonomically designed to reduce hand fatigue and ensure comfort for extended use.

Taking in account all the essential features and specs it packs, it's easy to see why it makes the list. It's innovative design, ease of use, durability and accuracy make it an ideal choice for plumbers, electricians, HVAV installers, and contractors. The torpedo level comes in a rugged aluminium frame and has open, top-read vials for easy readability and visibility. Additionally, the pipe groove feature saves time and effort for those working on rounded surfaces. If you want a pocket-friendly, versatile, easy to operate, accurate and durable torpedo level, don't hesitate to go with the Stanley 43-511 level.

Comes with an innovative design
Versatile for taking on wide range of tasks and projects
Has a gentle learning curve
Features a sturdy and robust all-aluminium construction
Has easy to see and read vials
Cost effective
A little bulky to fit comfortably in the pockets
10. Irwin Tools 150 Series


The Irwin Tools 9-Inch 150 Series Magnetic Torpedo Level is a godsend, boasting a richness of essential features, high-quality construction, as well as unmatched precision and accuracy. Despite operating in a crowded field, the Irwin Tools has always maintained an advantageous edge over its more established competitors, producing products that resonate well with consumers in need in practical, functional and yet fairly priced torpedo levels. If you want to enjoy an error-free, effortless and time-saving levelling, take a second look at the features and specs of the torpedo level.

It also enables you to accurately and precisely gauge four vials readings, each for level, 30-degree, 45-degrees, and plumb to within 0.058-degrees. Unlike the case with cheap and poorly constructed torpedo levels, this level is equipped with a locking dial vial to enhance the visibility of the vial readings to allow for effortless reading of the large prints. As already mentioned, the vials provide you with accurate and precise readings, minimizing the chances of taking incorrect readings. For additional efficiency, it is fitted with top view windows so you don't miss the slightest changes in readings.

Expand to see more
The Klein Tools brand understands that electricians, construction workers and plumbers have to inevitable work in some of the most cramped, tight, and hard-to-reach spots in crawlspaces and basements where the lighting the conditions are typically less than ideal. Taking readings in such conditions can be very difficult and will greatly complicate your work. To circumvent this problem, it comes in a rugged anodized aluminium body, which coupled with its lighting capacity and distinct shut-down feature enables the perfect illumination of the vial's orange colour, allowing you to have a clear visibility. The lighting quality eliminates the need to carry with you a separate source of lighting such as a torch for executive any kind of tasks.

Just like the majority of torpedo levels already reviewed here, it is fitted with a useful V-groove edge for levelling pipes and conduit, ensuring there's perfect alignment and that you finish the job quickly and with minimal effort. As the name suggests, the torpedo level is similarly fitted with powerful rare earth magnets placed along the edge so it holds firmly and securely on all types of metallic surfaces without falling off. The ability to hold on to ferrous metals also mean you can store the Irwin Tools 9-Inch 150 Series Magnetic Torpedo Level by sticking it to different metallic surfaces, for instance when you have to take a break from levelling.

This review would not be complete if we didn't bring your attention to the heavy-duty aluminium frame construction. Aluminium is a perfect choice for the torpedo level considering that throughout its life, it will be exposed to rugged and heavy use in all types of environments. Luckily, aluminium is similarly rugged and tough and can easily stand the abuse characteristic of most construction sites. With proper use, it should provide with more than a lifetime of reliable, trouble-free use whether you'll be using it for construction, electrification, plumbing, or even installation of HVAV. The body's impact and water resistance make an ideal choice for undertaking difficult projects in odd places.

In spite of its 9-inch length and sturdy aluminium frame, it is surprisingly lightweight and compact. The level weighs just 2.24 ounces and comes in dimensions of 0.8-inch by 1.6-inches by 10-inches. The compact profile enables you to store in comfortably in your toolbox, pocket, backpack and even glove compartment. Because it's light, you won't strain your fingers or hands while using it. Instead you'll experience relative comfort and ease controlling and manoeuvring it while working tight and hidden spots.

In conclusion, the rugged and long-lasting construction makes it the go-to torpedo level for the mainstream of plumbers, electricians, HVAV installers, and contractors. The level comes with a V-groove edge to enable you efficiently level pipes and conduit and comes with rare earth magnets that're five times as strong as strip magnets, allowing for simple, straightforward and hands-free utilization. The vials are accurate and precise and clearly visible, thanks to the unit's locking dial vial. And most impressively, the accuracy stands at an impressive 0.058-degrees. All these features you get at a pocket-friendly price and in a lightweight and compact package. The Irwin Tools 150 Series is definitely worth giving some serious consideration seeing as it will provide you with accurate and reliable results for the next several years.

Filled to the brim with essential features
High-quality construction
Unmatched precision and accuracy
Takes four vial readings
Flexible
Lightweight and compact design
Magnets are not that strong
Criteria for Choosing the Best Torpedo Levels
Technological advancement has had some very pronounced effects on the home renovation and improvement industry. The most obvious is the introduction of sturdy and durable torpedo levels, professionally constructed to last a lifetime with proper use. Given the indispensability of torpedo levels in plumbing, construction, electrification, and the installation of HVAV, it would be prudent that one doesn't settle for less. Technological advancement has tremendously increased the accuracy of torpedo levels and made the vial readings more visible. If you are looking to purchase your first torpedo level or upgrade, there are a couple of factors you need to keep in mind so you can end up with a functional and practical product, one that's more suited to the type of activity you intend to undertake.
Construction Quality
The material from which your torpedo level is constructed is going to determine, to a great extent, the level of success you achieve with it. Manufacturers have several options to choose from, but the two most used materials are aluminium and plastic, and each has its fair share of advantages and shortcomings. Plastic, particularly ABS plastic, is renowned for being cost-effective as it keeps the cost of production down, which in turn translates to fair pricing. Nevertheless, the material has a notoriously short lifespan, lasting just a fraction of the time taken by torpedo levels made from other materials. The commonly used material is the ultra-strong and ultra-lightweight cast aluminium or the heavy-duty extruded aluminium, both of which are considerably more long-lasting than ABS plastic but are also pricier. For normal, everyday use around the house, a plastic-constructed torpedo level would suffice. On the other hand, an aluminium alloy-constructed level would be ideal for heavy-duty use on construction sites.
Ease of Use

A majority of torpedo levels have a length of anywhere between 6-inches and 9-inches, depending on their intended use. The nature of project you intend to undertake will have a significant bearing on the type of torpedo level you buy. If you're looking for something to help in ascertaining the extent to which your room is straight, anything less than 7-inches should do an astounding job. However, when it comes to the construction of bigger houses, a longer one would do a better job. The weight and grip of your torpedo level are just as important a consideration as length. Make a point of going for a level that's both lightweight and compact to allow for greater controllability and maneuverability, which would be particularly important when working in cramped, hard-to-reach or tight spots like crawlspaces and basements. Levels with magnets can effortlessly hold onto different metallic surfaces thereby allowing for a hands-free operation, which comes hands when you need both hands for making a cut.
Accuracy
Considering the significance of levels in maintaining straight lines and angles during construction, plumbing, and installation of HVAV and other objects like doors, shelves, and windows among others, accuracy can never be a compromise. Irrespective of the nature of project you're planning on undertaking, torpedo levels will give you the much-needed assurance that all your measurements are precise. The importance of accuracy can't be overstated, especially in modelling projects where a 1/100th of an inch can mean the difference between a failed project and a success. It's pointless investing your hard-earned cash in a torpedo level that lacks the requisite accuracy.
Convenience
The biggest difference between premium torpedo levels and the other cheaply-manufactured ones is convenience. Top-of-the-line torpedo levels come with a bunch of important features aimed at saving you time and effort while guaranteeing you the best results. For easy visibility and readability, most torpedo levels use vials filled with liquid while others use permanent bubble for indicating correct alignment. Most are equipped with three vials for gauging vertical and horizontal vial readings and a 45-degree vials. Also, most have factory-installed lighting to illuminate the vial readings when the lighting conditions are less than ideal. Other features include V-groove for achieving a perfect balance on pipes and conduit as well as the aforementioned magnets for latching the product on metallic surfaces.
Frequently Asked Questions
Q: What is the best way for reading a torpedo level?
A: Correctly reading a torpedo level can save you a lot of headache, especially when you're involved in a big construction related project. The first step to reading a torpedo level is locating the bottom edge of the instrument, taking care to hold it by the designated points so your hands don't block the vials. A typical torpedo level with have three vials, one at the center for taking the vertical reading, another at the either extreme end for gauging horizontal measurements and lastly an angled tube for correctly levelling at 45-degrees. It's that simple, really.
Q: Do torpedo levels come with a warranty?

A: Not all brands offer a warranty with their products. Most reputed companies will, though, just to give you an assurance that their products meet all industry quality standards. To be sure, though, you'll have to check with the manufacturer or better yet, do a quick search on their website. In case they do, you'll rest assured that all defects resulting from the manufacturer's use of poor-quality materials and substandard workmanship will be catered for by the brand free of charge.
Conclusion
The significance of torpedo levels cannot be disputed, especially when it comes to construction and modelling. Things like shelves, windows, doors, HVAVs, pipes, and conduits, among have all to be installed in straight lines and at the right angles. For plumbers, electricians, carpenters, mechanics, and homeowners, torpedo levels have a permanent home in their toolboxes. All the levels featured on our list are of exceptional quality. They're durably constructed using the most rugged and tough materials, are easy to use, versatile, compact and lightweight and come with all the blows and whistles that make for great levelling. Irrespective of the project you intend to undertake, you'll find a suitable one here, one that will take away the effort in levelling and save your time.
Subscribe to our newsletter