Best Cordless Drills Reviewed in Detail
last updated:
Jan 30, 2018
Nothing is more annoying than having a bunch of wires that get tangled around a ladder or frames when you are busy building something. Now there are many models in the market that offer a range of torque outputs. Some of the ones that are well over 500 or a 1000 in/lbs can handle very heavy duty tasks.
We've covered most that can easily help out if you want to build a garden house, fence & other household tasks. These are where the convenience aspect really comes into play and drilling can be achieved without having to be near a power socket at all times. We've extensively covered battery types and other features important to having the best cordless drill in 2018 below.
Our Top 3 Picks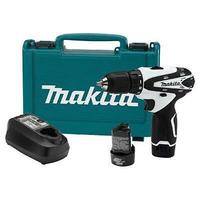 Makita FD02W 12V max Lithium-Ion

Our rating
great quality
Price:

See Here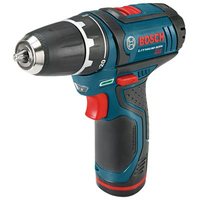 Bosch PS31-2A 12-Volt Max Lithium-Ion

Our rating
ultra-light
Price:

See Here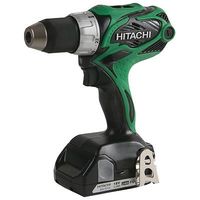 Hitachi DS18DSAL 18-Volt Lithium Ion

Our rating
ergonomic design
Price:

See Here


Cordless vs Corded drills
Both corded and cordless options have their own advantages and disadvantages as you might have guessed but they are not all obvious ones. Their differences are centered on the following 2 main aspects:
Cordless drills excel at helping you move around and your movement or application is not restricted by wires. They are heavier though & are battery powered so you must ensure that they remain charged while you work. Cordless drills are perfect for household tasks like staircase remodeling and if you want to replace a hand held screwdriver.
Corded drills are more powerful and are ideally suited for diving & drilling. The twisting motion is aided by the constant flow of electricity and thus corded options are preferred for heavy duty tasks. The downside is that you always need a socket close by. There is a growing convergence in terms of power between a corded and cordless option so it won't be long before cordless drills help out in major tasks too.
10 Best Cordless Drills
1. Makita FD02W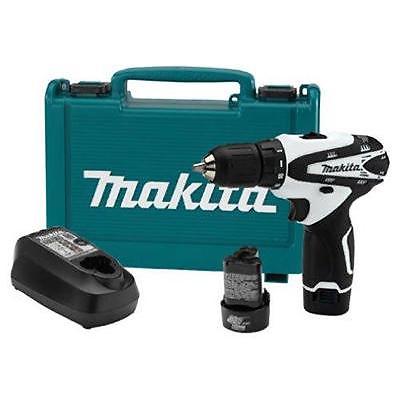 Makita is a very reliable name in the drilling industry and this 12V cordless option solidifies that notion.
Expand to see more

Key Features



Size: 14.5" x 10.5" x 4.2"

Weight: 2.2 lbs

12V Lithium-Ion


This is certainly our number one pick drill and the best suited for household tasks. It does lack some serious power but it can help with most things around the house. Another thing which we liked and other users corroborated is that the grip & ergonomics coupled with the weight are top notch. The device weighs a mere 2.2 pounds making it one of the lightest on our list but the build quality ensures that it is not too flimsy and still has the density to press through most surfaces. This 3/8 inch drill is not as powerful as the 18V Hitachi but its battery life is slightly better.

The downsides are related to the position of the light as it does not effectively light up the target area. The 200 in/ lbs of torque is shorter than on some other options out there, so you might struggle with longer screws a bit. The charge time on the battery is extremely quick. The safety features and the brake are spot on. Makita is a brand favored by many workers in the construction industry as well by as DIY-ers and it's no surprise why. A precise LED is also present and it does a good job of illuminating the work area.

Price/Value

The Makita is a great mid-range household drill which hits the sweet spot in terms of price and being great at basic drilling tasks. Reducing operator fatigue due to compactness is its main selling point. If this aspect is important to you there is no better drill out there than the Makita.
Ergonomics is ideally suited for house jobs
Lightweight
Build quality is very good
Can't handle some heavy duty tasks
The LED light needs to be repositioned
2. Bosch PS31-2A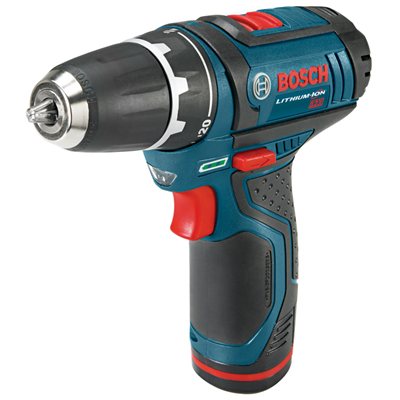 The Bosch PS31-2A is another one of Bosch's great products. This drill is feature packed and performance-wise is no slouch either.
Expand to see more

Key Features



Size: 12.6" x 9.8" x 4.2"

Weight: 2.14 pounds

RPM: 0-350 & 0-1300

3/8 inch chuck

12V Lithium Ion Battery


What we really liked 1st up is the battery level indicator that allows you to manage your tasks well. This is something that is missing on most drills in a similar price range. The 20+1 clutch settings allow you to make precise adjustments torque-wise. The main stand out feature is the weight of the device. It weighs a fraction over 2 pounds making it a superb ultra-light option for those men & women out there.

Not everything is amazing with the Bosch with its downsides primarily centered on the chuck. Many users have reported issues with the quality of the 3/8 inch chuck. The bits do tend to loosen quite easily and this area is one where Bosch really needs to improve. The battery life is mid-range and can be charged in 30 mins like most other options in the market. It can handle 1/8" inch but holes at 1/16" is where the chuck wobble tends to start.

Price/Value

For its weight to power ratio, there is none that can beat the Bosch. The fine balance does however come at a price. It might not be as powerful as the Hitachi but it's not as pricey either.
Super lightweight
Battery indicator is a boon
Quite powerful for a 12V drill
Chuck wobbling & loosening issues
3. Hitachi DS18DSAL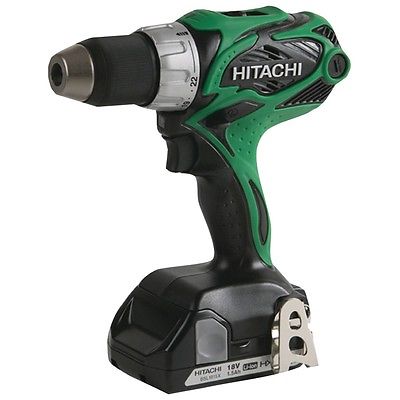 Next is the Hitachi DS18DSAL, another 18-volt option with a powerful output so you are never disappointed in that department especially when dealing with household and light workshop tasks.

Expand to see more

Key Features



Size: 7.7" x 3" x 9"

Weight: 3.5 pounds (with battery)

18B Lithium Ion Battery

Variable speed 0 to 350 and 0 to 1500 RPM


The 460 in/lbs of torque promised is indeed great as one can handle any job with this tool. It has a comfy ergonomic design. It certainly isn't the lightest drill out there but it's quite easy to grip and easy to charge as well. The Hitachi comes with a brushed and brushless motor option, with the brushless being significantly more efficient and more expensive when compared to the brushed option. The 22 Torque settings are excellent if you long for total control & precision.

The battery has some upsides and downsides. Whilst you can charge this drill really quickly, the battery life is a bit poor and replacing the battery in case of a malfunction can cost you a chunk. The option Hitachi gets compared to a lot is the Makita which will touch on shortly. The Hitachi although powerful & ergonomic can be slightly heavy and the 1.5 Ah batteries might not be as suited to the task as some drills with the 3 Ah batteries. Some users reported chuck wobble issues during certain tasks.

Price/Value

One of the marginally more expensive options on our list but its price is justified by the power & ergonomics on offer. Nonetheless, a solid choice if you want something to aid you with every household task without fail.

Powerful output
Easy to grip
Quality product
Durable
Battery life could be better
Slight wobble issues with the chuck
4. DEWALT DC970K-2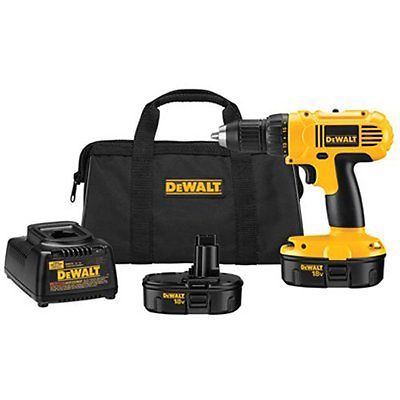 The DeWalt DC970K-2 is another one of our favorites on the list. This is a great starter drill for many simple household tasks that require a lightweight tool with a good amount of power.
Expand to see more

Key Features



Weight: 5 pounds

18 Volt NiCad battery

Wattage: 380

Size: 14.8" x 13.5" x 4.7"


Durability is a strong point comfortably lasting for many years when regularly or occasionally used. The heavy duty carry case that comes with it is very handy too. The chuck can really hold the drill bit in place tightly which aids the performance. The DeWalt's two speed mechanism makes sure you have a steady start. This is a neat general use drill that can be used for fencing, flooring and many other tasks.

The down sides of the DC970K-2 have to do with the choice of battery by DeWalt. Whilst NiCad batteries deliver the same amount of power as lithium batteries, the amount of charge stored differs. The NiCad batteries can't hold a lot of charge, they are also hazardous and need to be disposed of carefully. They have a much longer life than their lithium counterparts though. You can easily achieve about 800 charge cycles more on these NiCad options. With this drill you get 2 batteries so you can always just switch to the other one when you run out of charge. The one hour charger is also built well.

Price/Value

For the performance on offer, the DeWalt certainly is one that offers great value. It's not as cheap as the Porter - Cable which we will touch on further down the list but its performance and battery life makes it a solid option.
Very compact & reasonably light
Good at handling powerful tasks
Comes with an extra battery
The NiCad batteries are not good for the environment
Battery life is low
5. BLACK+DECKER LDX120C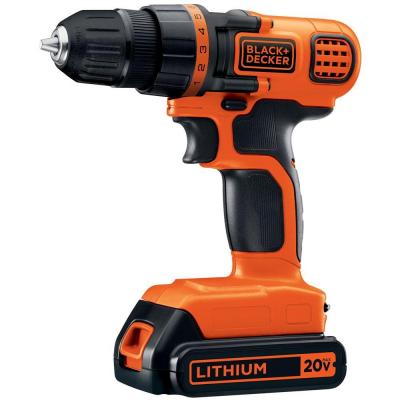 Now we arrive at the highly popular Black + Decker LDX120C. Its popularity stems mainly from its price point. Its applications are restricted to basic, non heavy duty, lightweight tasks.
Expand to see more

Key Features



Size: 10.6" x 3.7" x 8.6"

Weight: 3.9 pounds

20V Lithium Ion Battery

3/8" chuck

650 RPM


If you are just looking to replace your hand held screwdriver without spending an arm and a leg then this is the one for you. The torque generated is just about 115 in/lb despite the battery being a 20V option instead of the 12 we saw earlier on the Makita. The torque generated is a bit of a downside on this model as 115 is well short of what cordless options are truly capable of, so its targeted segment is quite narrow.

Unlike many drills in the market, this model does not have a dual speed function and its RPM is quite low at 650. This will help accomplish small tasks but might not help you out in terms of drilling a long screw through a thick piece of wood. The battery can handle about an hour of charge. If you are drilling a 3/16" hole it will work like a charm. This drill is also available as part of many combo packs offered by Black + Decker. You can buy it with a circular saw, an impact drill and multiple bit sets which are one and double sided. If you are looking for something that is highly versatile in terms of power then this might not be the best choice in the market.

Price/Value

In terms of price, it doesn't get much better than the LDX120C. The price is also reflective of the build quality and its application is solely focused on smaller tasks. If you foresee larger tasks on the horizon then you might want to consider the DeWalt or the Makita.

Quite inexpensive
Very compact size
Great for assembly tasks
Build quality is very ordinary
Low RPM – Can handle small jobs only
6. Milwaukee 2606-20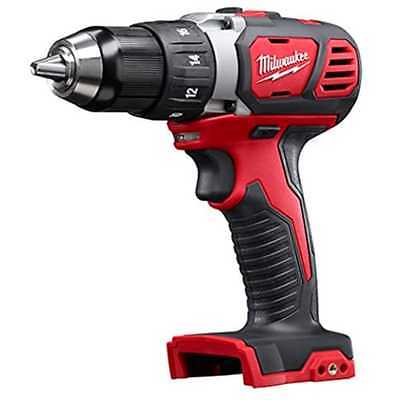 Milwaukee is known for their excellent drill and saw quality and this cordless drill certainly justifies that notion.
Expand to see more

Key Features



Size: 2.2" x 7.7" x 7.2"

Weight: 2.9 pounds

18 volt Lithium Ion Battery

Battery not included


The specs are not mind blowing by any stretch of the imagination but the build quality is what makes the drill stand out more than any other on our list. The drill displayed above comes without the batteries which you have to buy separately or if you are lucky to have another M18 Milwaukee, you can simply interchange the batteries. We liked the durability on this piece which can be attributed to its sturdy build. It's also quite light making it easy to handle.

Sparks can arise if you overload; you can switch to a lower gear & let the device cool if you face these issues. Other than that this is simply a high quality reliable tool to have around the house. Its power is one of its main advantages and many construction workers tend to utilize Milwaukee as it is a trusted brand with many great traits and a good customer service.

Price/Quality

If you factor in the batteries into the price then this is one of the most compact yet priciest options on our list. You can be assured about the quality since Milwaukee is a good brand with top notch customer service.
Build quality is top notch
Value for money
Durable
Battery can be interchanged with other Milwaukee tools
7. Dewalt DCD771C2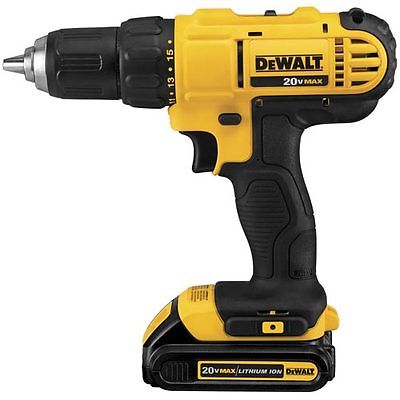 Normally a trait we see on NiCad batteries but these Li-ON batteries also tend to burn through a charge pretty quickly.
Expand to see more

Key Features



Size: 13.9" x 9.9" x 4.2"

Weight: 3.6 pounds

½ inch chuck

20V lithium ion battery

RPM: 0-450 & 0-1500


Since it's a 20V battery the drill is powerful and can generate a decent amount of torque and RPM. The two speed settings come in handy. A great thing is that this drill weighs about half the weight of its NiCad counterpart, the DC970K-2. The light is not too well positioned like on most drills but this one is bright enough to help you work efficiently. The battery cuts out unlike on other options where it can die slowly; this both positive and a negative depending upon the timing of its occurrence.

Ergonomically you get what you pay for with this DeWalt but the quality of the chuck is somewhat a downside with this particular device. Many users reported that the chuck gets loose and tends to fall out quite often. The chuck tends to also get sticky. This drill might not be contractor grade but it is more than powerful to build cabinets and handle most tasks in workshops. The battery pack is a bit on the larger side when compared to other models and can be a pain to lug around.

Price/Value

This DeWalt is very competitively price for the performance on offer. The battery life can be a bit low but the charge speed and the presence of a second battery can make up for that. If you are into DeWalt and don't like the NiCad option, then this is a great alternative for you.

Perfectly suited for DIY-ers
Powerful drill
Build quality is quite good
The drill bit comes loose from the chuck at times
Battery tends to drain quickly
8. PORTER-CABLE PCC606LA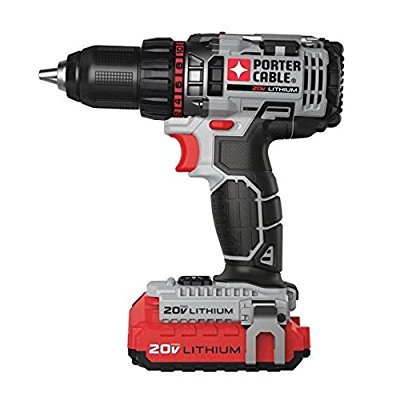 The Porter Cable is another solid beginner's drill in the market today. Aesthetically, the drill is one of the best looking and its performance is quite good too.
Expand to see more

Key Features



Size: 3.69 x 8.75 x 9.75 inches

Weight: 3.5 pounds

½ inch ratcheting chuck

20V lithium Ion Battery


There is a battery indicator present which we liked. The torque generated was quite impressive ensuring the device can handle some tough drilling.

The drill is light but not one of the lightest on our list. This drill is more comparable to the NiCad battery DeWalt which we touched on earlier. This can be a bit inconvenient when handling tasks at awkward angles. Some users did report issues with the chuck from time to time. This issue arises as the drill ages which makes drilling some smaller holes a challenging experience. The charging time is about 4 hours. The ½ inch metal chuck can securely fasten the drill bits and can handle heavier applications.

Price/Value

Another inexpensive option almost as low as the Black+ Decker which we saw earlier. This tool is great for beginners and occasional users alike. The charge also holds on for a fair few months so you can simply pick it up after a year and carry on where you left off.
Comes with a battery indicator gauge
A solid beginner drill
Durable
Slightly on the heavier side
Battery takes longer to charge
9. WORX WX176L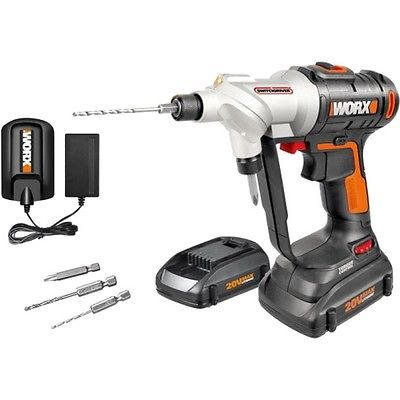 The Worx switch driver cordless drill is another tool that is a serious contender when it comes to being one of the more versatile options in the market.
Expand to see more

Key Features



Size: 3.5" x 9" x 8.5"

Weight: 4 pounds

20V lithium Ion Battery


The torque generated is approximately 300 in-lbs which is sufficient for most drilling tasks. The 12-speed motor allows you to accurately set the drilling and driving speeds. The major selling point is its ability to save time and effort where one has to switch bits to screw with the Worx; you simply have to switch the drivers and you are good to go. The electronic torque control is one of the most precise we have seen in the market recently. The layer that separates the second driver head from your hand is a nice touch that can prevent accidents.

The downside is that there are a lot of add-ons. Even if you do buy the set with the battery instead of the bare tool which is shown above, you need to buy specific bits to suite the chuck which can easily add to the cost. Since the driver type is unique you can't simply swap the bits across different models like you would with others that use a more traditional design. Other bells and whistles like LED lights are present but there is no battery indicator which is quite useful in many circumstances. Another one is that the battery charging time is quite long when you factor in the time taken by other devices in the market.

Price/Value

The price to value on offer is the Worx's Achilles heel. The drill in itself performs great and you can get most things done very quickly if you have all the add-ons in place. It can handle some heavy duty tasks too which is a plus point.
Swapping driver heads is super easy
Drilling performance is good
Bits are held well
Weight is a bit on the higher side
A bit expensive due to add-on requirements
10. Cartman 20V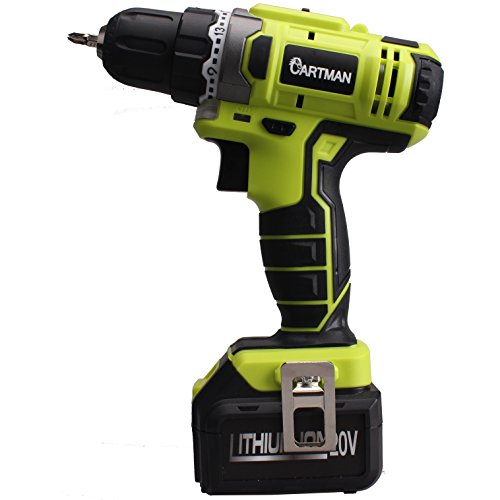 If you are looking for a cheap drill that will get you through your occasional drilling & screw driving tasks, then the Cartman is the choice for you.
Expand to see more

Key Features



Size: 13" x 11.8" x 4.3"

Weight: 3lbs~

3/9 inch keyless chuck

20V Lithium Ion battery

0-400 & 0-1500 RPM


The torque delivered is a healthy 221 in/lbs and the 21 torque settings work great for DIY projects that need precision. You can drill into wood, metal, plastic quite easily. This drill does not have any chuck wobbling issues and also has a LED for convenience. The Cartman also comes with a number of accessories and a carry case - a belt buckle, twist bits, screwdriver bits and 1pc extension rod. These are great to have to help you tackle a versatile range of applications. The Cartman is also a 2 speed option and comes with twelve bits and 2 battery packs.

The charging time on the battery is on the higher side as it takes an hour or two longer than the Dewalt or the Black + Decker but it does last longer. The compactness of the design is a plus point and the handle is quite easy to hold which reduces user fatigue. The Cartman is a worthy rival to the Black + Decker which we saw earlier. It's also quite light which makes it a great contender for the best budget cordless drills.

Price/Value

In terms of build quality for price there are not many tools out there that beat this Cartman. A great choice if you are looking for an alternative to the Black + Decker.


Inexpensive
A wide range of speed controls
Quality materials
Evaluation Criteria
We basically ensured all the drills we have selected went through a rigorous selection process so that an accurate review for all the devices on the list can be obtained.
Our evaluation process revolved around the following 4 evaluation criteria:
Build Quality
Core Performance
Ease of Use
Maintenance
Build Quality

This criterion basically covers everything from the drill itself to the quality of the bits, the chuck, the batteries and everything else needed to make a great cordless drill. Since drilling in itself is a heavy duty activity and the margin for error needs to be minimal if any, the drills that didn't have issues like the chuck wobbling in a major way or the ones where the bits were held in a sturdy manner were sought after.
The drivers themselves that can be specialized are often normal drivers & impact drivers. The impact options can generate more torque but will have lower RPM and be louder. Cordless drills with a regular driver are the preferred option since they are great for screw driving as well as fast drilling. The quality and size of the chuck were also taken into consideration. A drill that has great ergonomics but a bad chuck can render the device unusable.
Other aspects we looked at was the build quality of the battery packs & chargers. Whether it can take an age for you to remove and replace the battery.
Chuck Size, like we suggested was quite important. You will notice that the cheaper models tend to have a 3/8" thick but the expensive ones which can handle heavy duty tasks have a ½ inch chuck. You can get multiple adapters in the market for it to handle smaller chunks too. We've taken the availability of these into account when browsing through the brands.
Core Performance

This section we looked at was how well the drill was able to handle different tasks ranging from heavy duty drilling to simple screw driving. The torque range is different on many models but the ones that have more clutch speed options are much preferred. Any drill with a 12-18V battery range can handle general drilling tasks so we tested the models on tasks like fixing curtain hangers, assembling cabinets and much more.
The core performance aspect is very closely related to building quality. Not all 18V models, for instance, offer the same torque in/lbs output. A higher number is always preferred as the drill won't be rendered useless when you have the occasional heavy task at hand.
The reverse feature must be present as this is essential for freeing stuck bits from the walls or wood. Most on our list have a variable speed trigger and we checked to see which ones had an adjustable clutch that can ensure you don't drive the screw too far by reducing the maximum torque.
The heat buildup during constant work was also noted. Its recovery time from when the drill heats up was also an important factor. Drills than can charged straight away and not overheat are good options. The drill bits also determine how the device performs and we found that drills that arrive as part of a kit instead of being substituted brand wise perform much better.
Ease of Use

This can sort of be fused with the core performance criteria when you factor in the main appeal associated with cordless drills. We looked for features like Led flashlights. This might sound simple enough but devices that had these well positioned and bright enough were much preferred over the ones that caused glare.
Another aspect concerning ease of use is the battery itself. The battery life is quite important and you can find a big difference in the lower to higher end products. Most drills that utilize Lithium ions come with a charger and an extra battery. If the capacity is smaller then look for smart charging options which can charge up your drill in 15 to 30 minutes most of the time.
If the capacity is larger we tried to see which ones had a reasonable charging time and the models where the batteries were interchangeable like the WorX and the Milwaukee are much desired. This can eliminate the hassle if the battery is not available or the life is shortening. For larger capacity devices charging time of 3 or 4 hours are quite normal.
Devices with battery indicators are also much preferred as you can plan your activities and time the charging accordingly. The main benefit is that you can prevent your batteries from being damaged. Letting the charge run down completely repeatedly on Lithium Ion batteries can reduce their life & damage them.
Ergonomics of the drill is also one of the most important criteria. We took into account everything from the grip levels and the materials used. Devices were one could swap between the different types of drivers without reducing performance were also sought after.
Maintenance

The availability of spare parts and bits have been taken into account. Other things like cleaning the device were also considered. Since cordless drills are battery centric and battery technology is constantly evolving, models that allow the battery to be upgraded are a huge asset. Many brands like Cartman are also starting to offer spare batteries so that one can have multiple if they have a long work day ahead.
The availability of parts even drills bits was taken into consideration. Brands like Black + Decker, Makita, DeWalt have a large number of spares that are on hand in case you receive a defective piece. This scenario is more common than most people anticipate.
The compatibility of the spared was also something that we monitored. Any decrease in performance when making a substitution is a massive negative. Customer service also plays a huge role in ensuring people have a positive experience. Some of the brands we have talked about on our list also offer excellent customer service.
Just like most products on the market, there are always a few caveats to warranty periods and parts that are under warranty. For most devices, a 3-year parts warranty and a 2-year battery warranty was a standard across brands.
FAQs
Q: What is the difference between NiCad batteries & Lithium Ion batteries?

There are quite a few actually. NiCad batteries are heavier which is why all the new models of drills are utilizing Lithium Ion. This shift will continue to take place since the lightweight aids ease of use elements.
Another difference is that Lithium batteries can store more charge. Despite NiCad batteries being as powerful, they can't hold more than a few minutes charge despite being heavier.
Lastly, NiCad batteries are an environmental hazard. As a result, they need to always be disposed of with care. This is a big no for a lot of people out there.
Q: Can any cordless drill match a corded drill in terms of power?
Like we stressed on earlier there is a convergence taking place as the quality of the batteries improves and there are many models in the market that can generate 1000+ in/lb of torque. This can easily handle harder surfaces.
Q: Why do some models display 10V, 12V, 18V & 20V?
The voltage you should opt for depends greatly on your own needs. Anything between a 12 & 18V drill can handle all household tasks. An 18 or 20V drill and a 12V drill are essentially the same since the lower refers to the nominal voltage and the other the maximum voltage. The voltage put out by both models is essentially the same but the 20V has more powerful cells.
Q: You might have come across brushed and brushless motors. So which one should you opt for?

If we are going to get a bit technical than a traditional brushed motor has carbon brushes, magnets, a commutator & armature. The brushless motor does not have the brushes and commutator. The brushless options or also known as smart tools because the energy delivery is determined by a circuit board.
What does this mean for you? Well, the brushed motors always run at full speed and the brushless options draw current which works in accordance with the surface you are drilling into. If there is more resistance it draws more power accordingly. This is a handy trait to have especially in cordless devices. Another benefit is that it makes the device last longer and is much easier to maintain.
Q: Why are keyed drill chucks still around?
Keyed chucks are around simply because they hold on to the drill bit better than any keyless chuck. For tasks that really need the bit to be fastened completely a keyed option will do you a world of good.
Q: Are batteries covered by the warranty?
Batteries, like mentioned by the manufacturers, are usually covered by the warranty but they can be expensive to replace even under warranty if you have to handle the shipping costs. Batteries on their own outside of the warranty can sometimes cost as much as the drill bit itself.
Q: Are all 12V similar in power & are all 18V similar in power?

Most 18V cordless drills generate more torque than their 12V counterparts but the 18V drills are usually much heavier. You can find many 12V drills around the 2-pound mark whereas the 18V drills are always over 3 pounds. There are some super-efficient 12V like the Bosch which can handle many tasks as good as 18V options in the market.
Subscribe to our newsletter