Best Cordless Drills Reviewed in Detail
last updated:
Nov 11, 2021
Drills are incredibly handy tools for household tasks and as well as for the work of mechanics, carpenters, roofers, plumbers, and other professionals. Being able to work without having a cord to tangle around a ladder or be a tripping hazard frees you from being near a socket and is convenient so long as the power is enough to do the job. The best cordless drills can do what a hand held screwdriver can but also handle heavy-duty projects as well.
Power is not a problem in the modern cordless drill market, as models that offer up to 20 volts are both plentiful and well priced. Whether you want a light model that can handle hanging a picture, assembling furniture, or home repair or a more powerful one that can frame a home, build fences, handle staircase remodeling, install drywall, or bore through metal, there is a drill out there to handle the work.
Our Top 3 Picks
[srpshortcode id="477″][/srpshortcode][srpshortcode id="480″][/srpshortcode][srpshortcode id="482″][/srpshortcode]
7 Best Cordless Drills
1. Makita FD07R1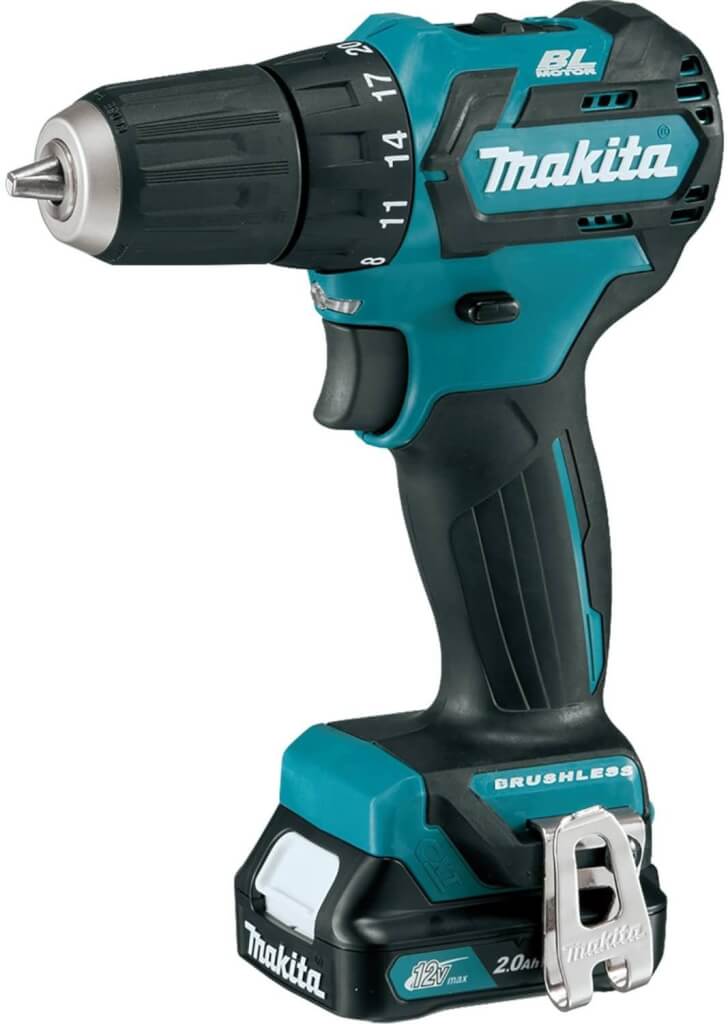 The 2-speed Makita FD07R1 is a 12-volt cordless drill that attacks projects with the vigor of 18- or 20-volt models due to its brushless motor. At just 6" and two pounds, the drill performs well on tests done in labs and, what's more important, passes important user tests for durability, endurance, and ease of use.

KEY FEATURES

Size: 6 -1/16"
Weight: 2.3 pounds
Variable 2-speed design (0-450 & 0-1,500 RPM) covers a wide range of drilling and driving applications
12V max CXT® Lithium-Ion 2.0Ah Battery (BL1021B) with charger
Brushless motor
3/8" chuck
Built-in LED to illuminate work area
Improved design
Makita-built motor delivers 280 in. lbs of max torque
Rubberized soft grip ergonomically designed for comfort
Can stand up when not in use
3-year warranty

Expand to see more
Power

The Makita FD07R1 is a 12-volt cordless driver-drill that delivers 280 in. pounds of maximum torque. Its brushless motor runs cooler and more efficiently than its brushed counterparts.

Speed

This tool is a variable two-speed driver-drill that operates at 0 - 450 / 0 - 1,500 RPM, which is an advantage depending on what you want to drill. Its adjustable clutch gives you versatility for drilling different materials such as softwood, hardwood, metal, and masonry. You can vary the speed to prevent stripping screws and set it in reverse to remove screes easily.

Handling and Ease of Use

At just over 6" long and 2.3 pounds with the battery, this compact drill easily works in small spaces and is easy to hold without tiring out your hand, even if you are using it continuously.

As with most modern drills, the Makita does not require a chuck key. Turning the sleeve on the chuck with open it and then close it around the bit.

Extras

There are several conveniences built into the tool, such as an LED light to illuminate the work area, the battery life indicator takes the guesswork out of how much power you have left, and a place to install an optional bit holder on the base.

The Makita FD07R1 has plenty of extras to make it worth its price that is currently $180 for the kit at Amazon. The drill comes with two 2.0Ah batteries, a charger, and a hard case. You can get the drill alone for $129, but you'll be missing out on a handy case and well-priced extra batteries.

Verdict

If you are a tradesman who uses a cordless drill all day long to drive and drill fasteners, you might opt for an 18-V drill in the Makita LXT series that has higher speed and torque. but the versatile FD07R1 will serve most users well.

The BL Brushless Motor eliminates carbon brushes, so the BL Motor runs cooler and more efficiently for longer life
Mechanical 2-speed transmission (0-450 & 0-1,500 RPM)
12V max CXT slide battery design enables the tool to stand on its own for user convenience
Built-in LED. light illuminates the work area
Convenient 3/8" keyless chuck for quick bit change
20V max CXT cordless tools are also compatible with the 12V max CXT Lithium-Ion 4.0Ah battery (BL1041B)
Drill needs 15 minutes resting time between battery changes
Drill bits may not stay in place
2. Bosch PS31-2A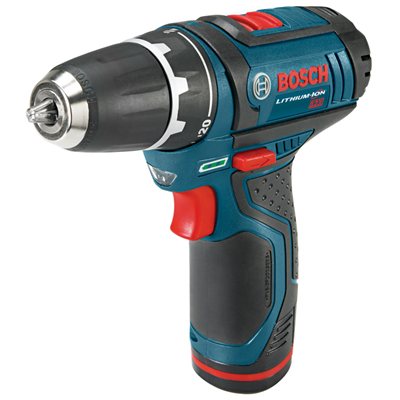 The Bosch PS31-2A promises greater power in a smaller package that weighs 1.8 pounds without battery, is 22% more compact, has 25% more max torque, and is 15% faster.

With two speeds and a maximum torque of 265-inches-per-pounds, this tool measures 7" in length and weighs 2.14-pounds, making it light and easy to maneuver. Its lightness makes it especially useful for overhead drilling and driving when installing ceiling fans, drywall, or drapery roads. While it is a DIY homeowner-favorite, it can do the job for electricians, plumbers, or contractors too.

The PS31-02 was released in 2012. More recent releases of the Bosch PS32-02 (2014) and, more recently, the GSR12V-300B22 (2019) offer reduced size, a brushless motor, increased torque, and higher speeds. The PS32-02 is hard to find at a reasonable price in the US, but the GSR12V-300B22 at $140 is an alternative worth considering as the older PS3102A is $129.

Key Features

Size: 7" long
Weight: 1.8 pounds without battery, 2.14 pounds including battery
265 in. Ibs. of torque
Max speed 1,300 RPM
LED work light
3-year warranty
Kit contains one drill/driver, two 2.0Ahbatteries, a charger, and a carrying case

Expand to see more
Power

Offering 265 in.-lbs of torque, the power is great enough for hand drilling and screw insertion tasks around the home, even when the drill is held overhead to insert a ceiling electrical box or repair rafters.

Speed

The drill promise two speeds of 0-350 RPM and 0-1,300 RPM and 20+1 clutch settings so users can make precise torque adjustments for accurate screw driving and drilling. The speed increases by pressing the trigger.

Performance

Even customers used to bigger, more powerful drills are impressed with how this drill performs on the job. One aspect that irritates some buyers is that the bits slip out of place as the chuck lacks a ratcheting feature.

The PS31-2A has Electronic Cell Protection to increase runtime and tool life. As battery-life indicator (or fuel gauge as they call it is conveniently located on the side of the tool for easy battery management and shows the battery power left.
The batteries used in this drill are round disk-like batteries rather than the flatter ones used in other brands. They can be hard to get out to replace.

Handling and Ease of Use

With a plastic chuck and many internal plastic parts, the PS31-2A is light and easy to use. Its short body allows it to get close to the worksite even when the area is small. The drill shaft has a rubber grip for a comfortable feel.
A work light positioned on the shaft is handy for seeing where the hole or screw is desired. Unfortunately, the light only works when the drill is in motion, so the light is not useful in inspecting the area.

Extras

Backed by Bosch's ProVantage warranty, the Bosch 12-volt max drill/driver offers tool replacement during the first year and repair in the second and third years

Verdict

Though this compact PS31-2A drill is a customer favorite that will do the job for a DIYer and even some professionals, the GSR12V-300B22 with its brushless motor is available for $10 or 20 more. Considering that brushless motors are cooler and more long-lasting, serious buyers might wish to opt for this upgraded model.

Super lightweight
Battery indicator is a boon
Quite powerful for a 12V drill
Chuck wobbling & loosening issues
3. DeWalt DCD701F2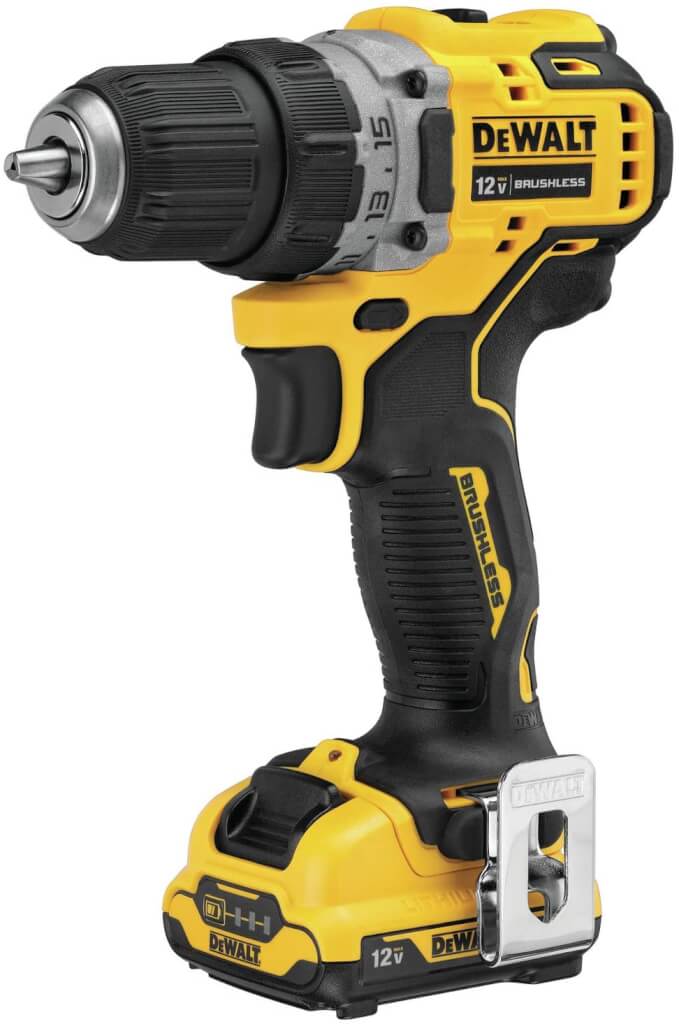 As a major player in the hand tool field, DeWalt offers the DCD701F2 as a competitor to Makita and Bosch in the compact brushless cordless drill market. Its DeWalt Xtreme 12V MAX Cordless Drill / Driver, 3/8" offers power and convenience that is just right for a DIYer who will use it for repairs and tasks such as putting together a new TC stand or hanging curtain rods or pictures, or perhaps tackle an occasional larger project.

The drill is packaged with a charger, two 12V MAX batteries, a 12V and 20-V charger, a belt clip, and a fabric tool bag that is large enough to store some bits and other small accessories.

KEY FEATURES:

Size: 5.97" L x 7.25"H
Weight: 1.9 pounds without battery (2.4 pounds with it)
Brushless motor for efficient performance and runtime
2 speeds with 15 clutch settings
Keyless ratcheting chuck
0-425 / 0-1500 RPM
300 watts, 250 UWO
3-year warranty
Expand to see more
Power

According to the product specs, this brushless drill has 32% more power than previous models. Rather than giving a number for torque, DeWalt specifies the power as 300 watts, 250 UWO or Units Watts Out. UWO is the point where the drill's speed and torque output are the highest. The higher a drill's Power Rating, or UWO, the faster it will perform on the jobsite. DeWalt believes that UWO is a more accurate performance metric than torque, which measures the force required to turn an object, not how fast it will complete work.

Speed

The drill has two speeds of 0-425 and 0-1500 RPM. Though the top speed is less than some models of Bosch and Makita, the diversity provides lower speeds for driving screws and higher speeds for drilling holes, the two main functions of a drill.

Performance

Despite the lack of a torque number that indicated what performance should be, users of several generations of DeWalt tools claim it has more torque power than in the past.

Length of Charge

The DCD701F2 kit comes with 2.0Ah batteries, but the tool is compatible with 12-V Dewalt batteries up to 5.0Ah. The batteries are long-lasting, especially for occasional users who pick up the drill for a quick repair.

Many Amazon buyers complained that the batteries do not charge property. In some cases, the batteries were defective, but in others, the problem lay in the instructions. Proper charging requires pushing the battery down until a click is heard and a light starts flashing.

Handling and Ease of Use

The compact size of this drill pays homage to the trend of electronics getting yet offer high power from smaller packages. The DeWalt Xtreme 12V MAX Cordless Drill / Driver is just 6" long and weighs just over 2 pounds, yet can do the work of a much larger drill. It is convenient to hold and sized right for drilling in small spaces.

Extras

The work light is a great asset during jobs.

Verdict

The drill is an Amazon Choice manufactured by a reputable brand, so at $140, it is a worthwhile purchase for most consumers in need of a small drill.

DCD701 12V MAX* Brushless 3/8-Inch Power Drill Driver has 32% more power and 1s 20% shorter
Brushless motor offers more efficient performance and better runtime.
2-speed transmission and 15 clutch settings great for a variety of applications
Comes with 2.0 Ah batteries with state-of-charge indicator
3/8-inch ratcheting chuck for a wide variety of bits
LED footlight for superior visibility
Needs better instructions on how to insert battery
Power ratings differ from how competitors measure them
4. DeWalt DCD991P2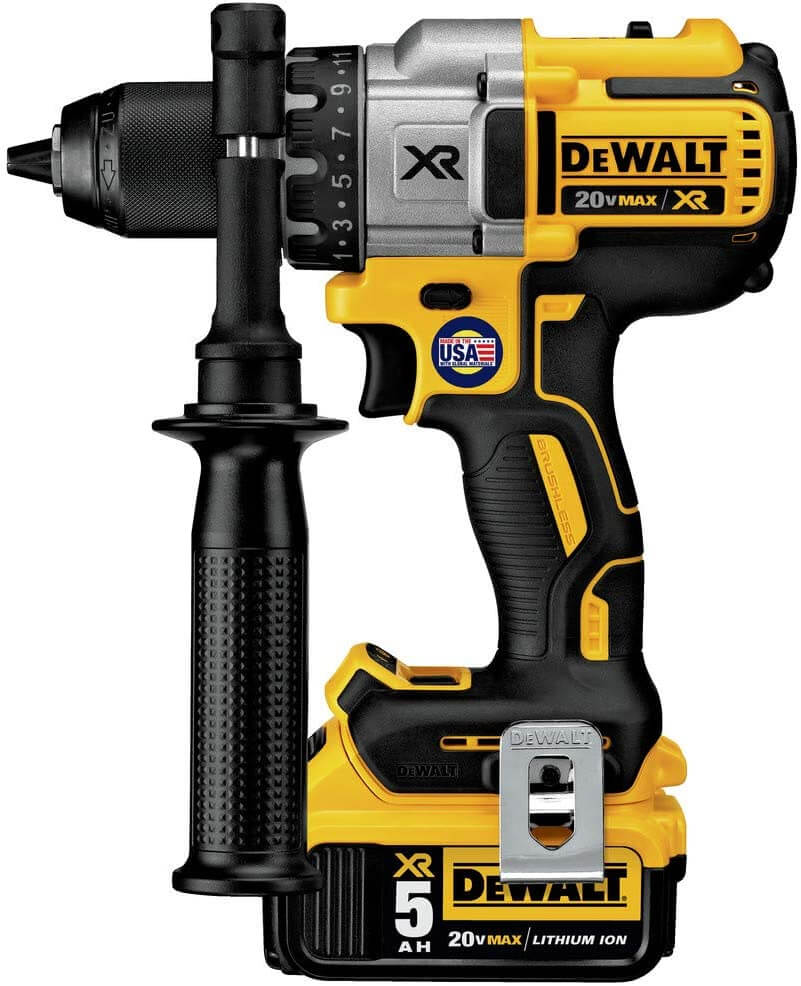 Unlike many other drills in our reviews, the DeWalt DCD991P2 is a cordless 20-volt Drill/Driver powered by a brushless 3-Speed motor and 5.0Ah batteries. The manufacturer claims it has a much greater runtime than brushed models; it is the most powerful drill in the DeWalt line.

With three speeds, the drill can do a wider range of jobs. Amazon buyers report using it to drill through thick floorboards and seasoned 4x4s for decks, mix mortar, and auger ice, in addition to the normal hole drilling and screw insertion. It does not have hammer function; a contractor who needs this functionality might look at the DeWalt DCD996B.

KEY FEATURES:

Size: 6.9" front to back
Weight: 4.6 pounds with the battery inserted
Kit includes a high cordless power drill/driver, 2 20-V MAX* 5.0Ah lithium-ion batteries, charger, and tough case
3-speed transmission to help optimize the speed of application
1/2-inch ratcheting nitro-carburized metal chuck for superior bit gripping strength
LED spotlight mode features a 20-minute shutoff function allowing for extended work time in dark or confined spaces.

Expand to see more
Speed

With three speed settings of 0-450 / 0-1300 / 0-2000 RPM, the DCD991P2 dramatically improves performance as it has a middle setting that proves useful when cutting through thicker wood with hole cutter attachments. The faster speed gives a better cut than if it were attempted at lower speeds.

Performance

Compared to brushed motors, the 20V Max brushless Drill/Driver offers up to 57% more runtime. This is a major advantage for a contractor or a serious DIYer doing a big project that requires a drill that will make it through the day without running out of power.

Length of Charge

The 5.0Ah batteries that come with the drill have long life on the job. The batteries charge in 90 minutes or less.

While the battery is designed for DeWalt's line of 20-V tools, an adapter makes them useable in 18-V tools as well.

Handling and Ease of Use

At twice the weight and an inch or two longer than DeWalt drills such as the DCD701F2, this heavier unit puts more of a strain on the operator to hold but is still more compact than older models. As it is designed for bigger, tougher jobs, the extra weight and girth are expected. Users claim it is well balanced.

Extras

Like most cordless drills these days, the DCD791F2 has a work light mounted on the that is 20 times brighter than previous models,
The drill kit is also available with drill bits and screwdriver bits for an extra $15-30, but the tool works with any brand of bits,
Verdict

For the current price of $264 for the basic kit, you could almost buy a couple of the 12-V DCD701P2s, but the capabilities of the 20V cordless, brushless drill/driver make the DCD991P2 a different class of drill. Those who need a heavy drill on the job or for intense DIY projects will find this purchase well worth the price.


The power drill has an all-metal 3-speed high-performance transmission to optimize tool-to-task for fast application speeds and improved runtime
High power brushless DEWALT 20V MAX drill motor delivers up to 57% more run time over brushed motor
Heavy-duty ½" ratcheting nitro-carburized metal chuck with carbide inserts for superior bit gripping strength
3-Mode LED comes with the Dewalt drill to provide lighting in dark or confined spaces up to 20 times brighter than previous models
20-minute shutoff function LED Spotlight Mode features allowing for extended work time in dark or confined spaces
Heavy at nearly 5 pounds
Expensive
Awkward placement of forward/reverse button
No place to attach drill bits
No hammer function
5. BLACK+DECKER LDX120C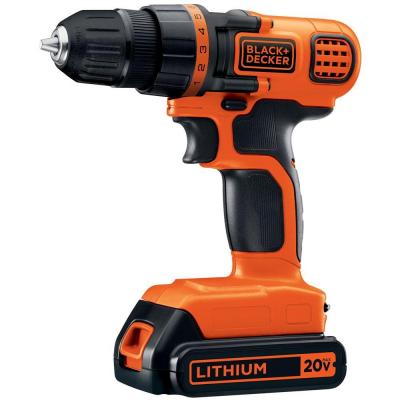 Black & Decker is a brand synonymous with durable, practical, easy-to-use tools. The LXD120C is a versatile 40-V drill that is a great addition to any home toolbox.

KEY FEATURES:

Weight: 3.15 pounds
Size: 10.63"H 3.69"W x 8.5"L
20 Volts, 1,50-1,800 watts
Torque 115-inch pounds\Speed 650 RPM
11-position clutch to prevent stripped screws
20-Volt Max Lithium-Ion Battery
1-hour battery life

Expand to see more
Power

Operating at, 1,500-1,800 watts, the drill has adequate power to do most home repair and maintenance tasks.
Powered by a 20-V Lithium-Ion battery, it is convenient as it has no cord to get in the way.

Speed

The Black & Decker LDX120C offers an RPM of 650 and a torque of 115-inch pounds, which is considerably less than what drills designed for professional drywall installers and framers might expect.

Performance

In all, handymen will greatly love this option. It has all the essential features to allow for flawless, quick, and accurate drilling. With maximum speeds of 650 RPM and a powerful swappable battery, it does the jobs most DIYers need it for.

Handling and Ease of Use

At 3.15 pounds and 7.5" long, the drill is small enough to fit comfortably in the hand and fit into small spaces to do the job. You can drive screws for a considerable amount of time without ever experiencing fatigue or hand strain. The small profile also enables the user to drill or screw in confined or tight spaces. The handle is textured and rubberized for a firm, secure grip and comfort.

Length of Charge

The battery has an advertised battery life of one hour, which is plenty for most home projects. A pair of additional batteries cost as little as $35 on Amazon, so buying more batteries is the workaround to ensure completing a job. As the drill is part of Black and Decker's Power Connect line, the interchangeable batteries work in over 30 other B&D tools.

Extras

The tool has a handy LED work light to illuminate dark work areas and surfaces.

For about $50, this drill was considered a good buy by 92% of the nearly 25,000 buyers who rated it with 4- or 5-stars on Amazon.

Lithium-Ion Technology and 20V MAX makes the drill lighter, more compact, with long-lasting power
11 Position Clutch provides precise control for drilling into wood, metal, and plastic
Features integrated bit holder under drill handle that includes a double-ended bit
Variable Speed: Allows countersinking without damaging material
Has LED work light to illuminate darker areas and worksurfaces
Short battery life
Limited power
6. Makita CXT 12V Max Drill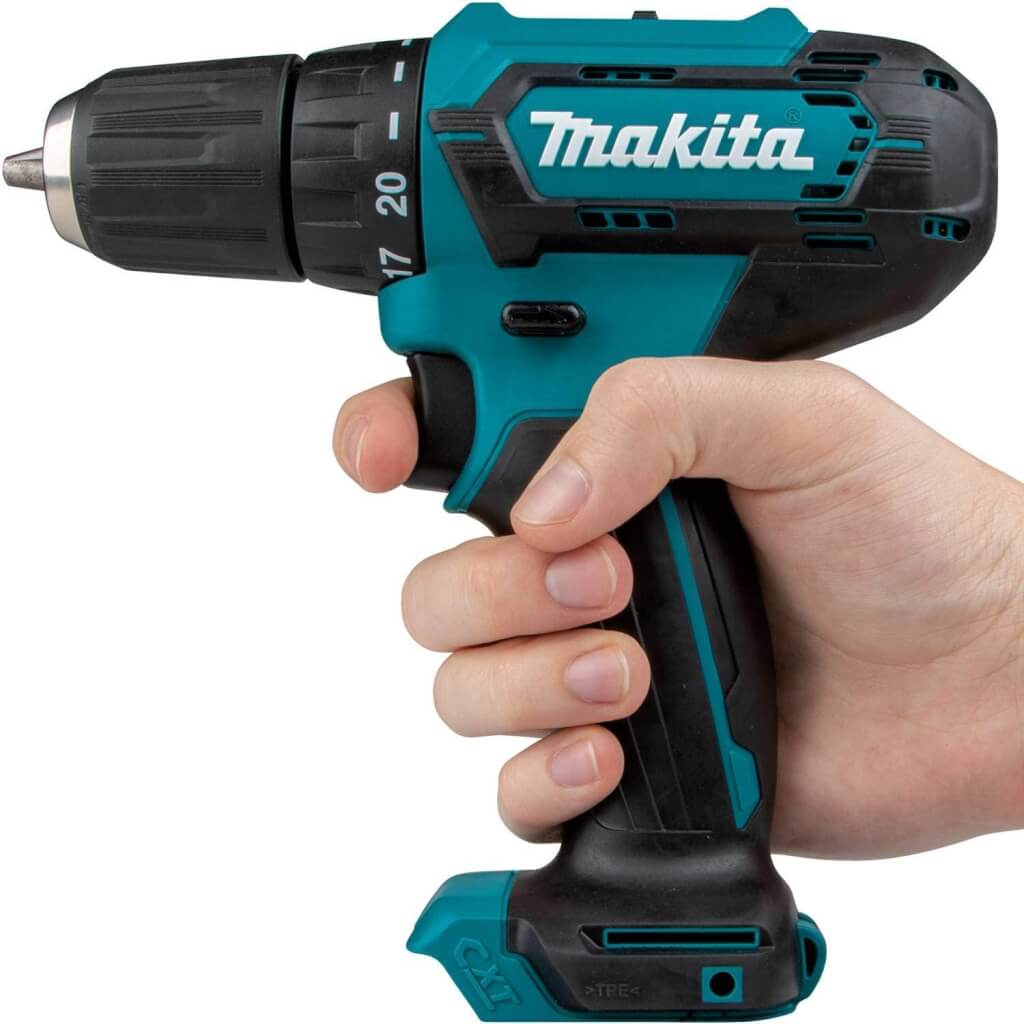 If you are a DIYer who wants a good cordless drill for light repair and common household tasks, you may shy away from the $180 Makita FD07R1. Fortunately, the Makita CXT12V Max Drill, product number FD09R1, offers many of the same features for a lower price. The main difference between the two models is that the costlier one ($179) has a brushless motor, in contrast to the brushed variation in the $99 FD09R1.

Brushless motors offer the advantages of high efficiency and, as a result, more power, better runtime, greater durability, and less maintenance. Rhe CXT12V offers all the conveniences a DIYer wants in a drill, including variable speed, reversible, keyless 3/8" chuck, an LED work light, and a case. For someone who has other Makita tools, the two 2.0Ah batteries will expand the work-life of all compatible tools.

KEY FEATURES

Size: 7"
Weight: 2.4 pounds
Variable 2-speed design (0-450 & 0-1, 1,700 RPM) covers a wide range of drilling and driving applications
12V max CXT® Lithium-Ion 2.0Ah Battery (BL1021B) with charger
3/8" chuck
Built-in LED to illuminate work area
Improved design
Makita-built motor delivers 250 in. lbs of max torque
Rubberized soft grip ergonomically designed for comfort
Can stand up when not in use
3-year warranty
Expand to see more
Power

This 12-V CXT 12V Max Drill (FD09R1) delivers 250 in. lbs of max torque, just slightly less than the brushless model.

Speed

The variable 2-speed design offers 0-450 RPM on speed 1 and up to 1,700 RRM on speed 2. The range is even greater than the FD-7R1, so it can easily handle screw driving at its lower speed and hole drilling at the higher speed.

Performance

In tests of the ability of cordless drills to repeatedly drill holes and drive screws at high and low torque, the 12-V Makita CXT is a very good performer. Even without a brushless motor, the tool can handle whatever you throw at it.

Length of Charge

Usage determines how long the battery lasts, but with two batteries included, a DIYer doing some minor repair or assembly tasks will unlikely need the second battery in a single work session. However, Makita is known for its speedy recharge times, complete with temperature sensors and feedback circuitry that protects the battery.

Handling and Ease of Use

The drill is compact, although slightly larger and heavier than the brushless model, but it easily fits in small spaces. Between uses, the drill stands up, so it is easy to grab it again when you need to drill the next hole or drive the next screw. It comes with a belt hook – a commentary on how light this drill is.

The body of the drill has a handy work light that illuminates and focuses in on the work area.

Extras

The batteries in this kit are compatible with other Makita tools, which makes the drill versatile. They can even be replaced with 4.0Ah batteries for longer work life.

Verdict

For someone who needs a powerful drill for occasional use, the Makita CRT 12-V Max drill (FS09R1) is a no-brainer, especially if they also own Makita saws, drivers, vacuums, and other tools that use the same batteries.
000

Mechanical 2-speed transmission (0-450 & 0-1,500 RPM)
12V max CXT slide battery design enables the tool to stand on its own for user convenience
Built-in LED. light illuminates the work area
Convenient 3/8" keyless chuck for a quick bit change
2V max CXT cordless tools are also compatible with the 12V max CXT Lithium-Ion 4.0Ah battery (BL1041B)
Drill needs 15 minutes resting time between battery changes
Drill bits may not stay in place
7. Bosch PS32-02 Cordless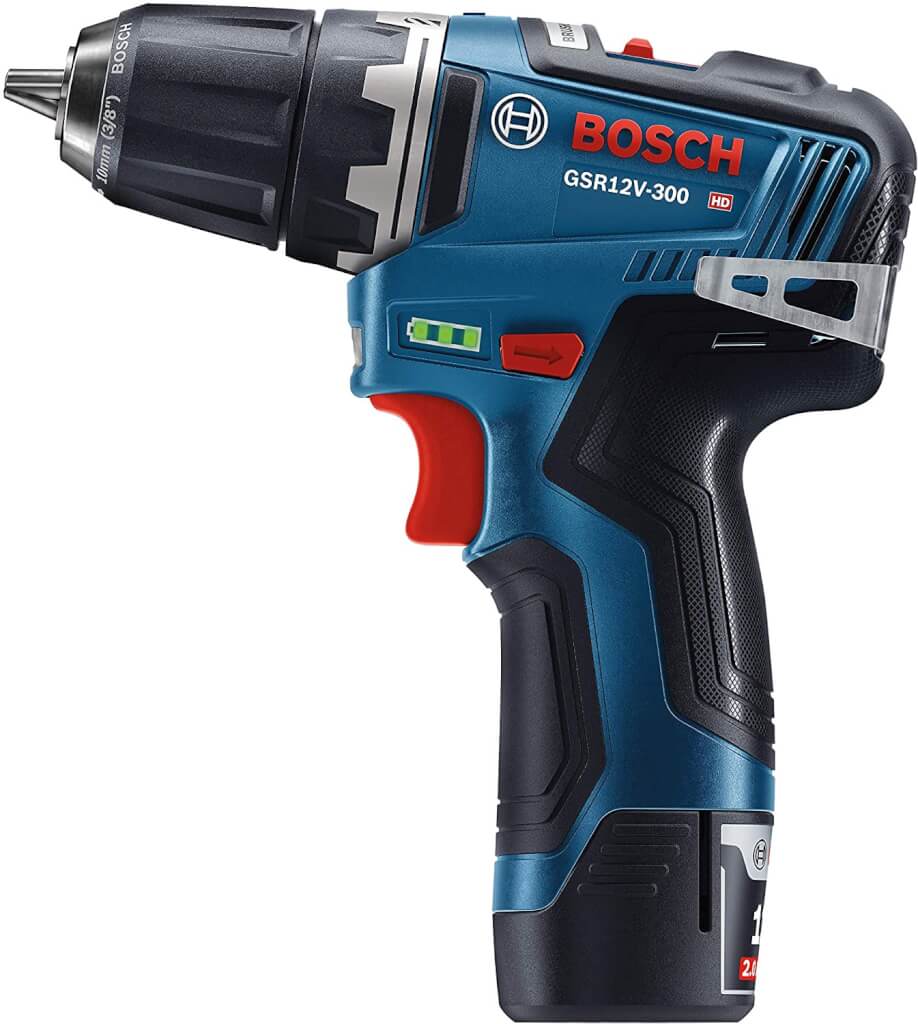 The Bosch PS32-02 12-V Cordless Brushless Compact Drill Driver is a popular model tool that has since been replaced with the GSR12V-300B22. Only a few high-priced original models as well as renewed versions remain, so a potential buyer of the PS32-02 will be more than pleased with the upgraded model that has increased torque. As the new version is a manufacturer upgrade, this review will concentrate on the GSR12V-300B22.
This cordless brushless tool is lightweight and ergonomically designed for comfort. It is made for DIYers who need a reasonable amount of power at a reasonable price.
The improved torque and speed over the previous model add about $30 to the price of the PS32-02 before the price was jacked up due to scarcity.

KEY FEATURES:

Size: 6" x 2.1" X 7.2"
Weight 1.6 pounds plus battery weight
3/8" three-jaw keyless chuck 3 jawed chuck that accepts and lock straight/round and hex shank bits
300 in. Ibs. of torque vs. 264 in. lbs for the PS 32-02
Max speed 1,750 RPM
LED work light
2-speed transmission (0-460 RPM and a high-speed setting at 1, 750 RPM) and 20+1 clutch settings
3-year warranty


Expand to see more
Power

The little drill delivers a big wallop of power with an upgraded 300 in. lbs. of torque. What this means to a user is that the tool does not have to work as hard when drilling holes or sinking screws, which makes the process faster.

Speed

The increased speed up to 1,750 RPM allows you to drill holes at fast speed with less chip removal needed so that the holes are cleaner while competently driving screws at lower speeds.

Performance

Amazon reviewers who have owned both versions of this drill praised the improved speed and power that led to more efficient performance, reducing work time and cleaning up.

Length of Charge

How long the charge lasts depends on the tasks the drill is used for and how frequently. Amazon reviewers reported that the drill lasted for hours on one battery charge and the battery indicator showed "full" even after driving screws into very hard oak.
The drill also has a slow self-discharge rate, which means that occasional users will find that the drill still has power even after months of no use.

Handling and Ease of Use

With a reduced weight from the previous PS32-02 model, the compact drill is noticeably lighter. Its imporved rubber grip combined with the weight makes it easy to hold and use even for extended use. While it can stand on its end when not in use, it also clips to a belt – a handy feature if you need the drill repeatedly for a project.

Extras

As with many competitive drills, the Bosch GSR12V-300B22 has a work light positioned on the body that can be turned on without engaging the drill – a handy feature for scoping out the worksite before drilling.

Verdict

The Bosch GSR12V-300B22 successor to the PS32-02 12-V Cordless Brushless Compact Drill-Driver is a solid tool with long battery life and thoughtful design. Ninety-five percent of Amazon reviewers agreed that buying this drill is a solid purchase.


Efficient Drill/Driver Design – offers professional torque in a 3/8" Tool only 1.6 pints without battery
EC Brushless motor – delivers 300 Inches Ibs. of torque and a max speed of 1,750 RPM for outstanding performance
Compact housing – features a head length of only 6. 0 Inches Great for working in tight spaces
Two-speed transmission – provides a high-power setting at 0-460 RPM and a high-speed setting at 1,750 RPM
Precision 20+1 clutch settings – allows for accurate torque settings for less fastener damage
Chuck does not always engage, especially on small bits
More powerful batteries shipped on European models
Case is cheaply made
Price is high
Battery can be hard to get out
Evaluation Criteria for the Best Cordless Drill
What should you look for in a cordless drill? Factors such as voltage, speed, torque, length of charge, and handling and ease of use are the top considerations, but features that make a particular job easier are important too.
Price is an important variable, but what is reasonably priced depends on how it will be used. A model with 12V will handle the needs of most homeowners, so paying $200 for a 20Volt model is "drill overkill" as it may have more power than needed.
Voltage
For cordless drills, battery voltage is the measure of power. Higher voltage means more torque-spinning strength to overcome resistance. Voltages start around 6V and over the last decades have increased to 20V.
Some low-voltage drills are better classified as cordless screwdrivers.
Speed
Speed reflects how many rotations per minute or RPM the drill delivers. Cheaper drills have one speed, but most drills intended for later operations have two speeds of 300 RPM – 800 RPM accessed by pressing the trigger or sliding a switch. More powerful grills have speeds into the thousands of RPM.
Lower speeds are best for driving screws, while higher speeds drill more accurate holes. Higher speeds and lower torque work are best with softer materials and smaller bits. You set the clutch to the desired torque level, and the drill trigger controls the speed.
Power (Torque)
Torque, or rotational power, is often expressed inch-pounds or in. lbs. Higher torque means the tool has more force to turn. Adjustable clutches on a drill allow the user to regulate the rotations; higher torque is needed for drill holes, but driving screws requires lower torque. Pressing the trigger and adjusting the clutch sets the torque. Better drills have more clutch settings to fine-tune the power.
Some tool manufacturers such as DeWalt and Stanley often use Unit Watts Out or UWO instead of torque as they believe this number better describes power that cordless drills exhibit on the job. High torque does not mean a tool is more powerful than another, whereas a tool with great UWO measures how fast a drill can do a job.
UWO cannot be accurately converted to torque. As only a few manufacturers use this terminology, it is not useful when comparing brands except those made by Stanley Black and Decker, which makes DeWalt, Stand, Porter Cable, Craftsman, Black and Decker, and a few other brands.
Length of Charge
Cordless batteries are handy but can run out of power before a job is done without good planning. How long batteries last between changes is particularly important for professionals. A battery that might last for months for a casual user can run out on the job if not recharged daily. Smart buyers have backups on hand, ready to go. A battery level indicator is a useful feature on any cordless drill.
Handling and Ease of use
Weight and size determine whether the drill is easy to hold and maneuver into small spaces to do the job. Even heavier drills can be ergonomically designed so that they do not fatigue the operator. The main shaft should be padded to reduce hand strain and arranged so that the trigger and controls are easy to reach. Most drills can stand on their base when not in use and should be well-balanced enough not to fall over.
Price
A few entry-level drills on the market start at less than $50, but $50 to $120 is a good price range for a 12V cordless drill to handle tasks around the house. Drills for professionals who need high torque and speed might top $200.
Extras
A cordless drill with the speed and power you need will make drilling and screw driving tasks easy. Features such as built-in work lights, belt loops or holsters, magnetic bit holders on the shaft, and even carrying cases can make a drill even more convenient. Some types of drills are specialized, such as auto-feed screw guns that automatically deliver screws for installing drywall or roofing.

FAQs

1. What kinds of batteries are used in cordless drills?
There are three main battery types with cordless drills, these are Nickel-Cadium (NiCD), Nickel-Metal Hydride (NiMH), and Lithium-ion (Li-ion).
The oldest type, Nickel-Cadium (NiCD), are known for their toughness and resistance to impact, including resistance to both high and low temperatures. This makes it a formidable battery onsite, where toughness and resistance are incredibly handy. NiCD batteries deliver a good flow of electric current, but they are heavier, have a lower capacity, and need to be kept at a 70% charge to avoid compromising their lifespan. They can develop a memory effect, which meant they will not charge if they were not adequately depleted before recharging. If you charge it to 80% each time, the battery will start to "think" that 80% is a max charge.
Nickel-Metal Hydride (NiMH), batteries improvements have a capacity is often 2 or 3 times better than a
regular NiCD battery, due to their superior energy density. This makes them more environmentally friendly. Like NiCD batteries, they should not drop below a 70% charge and must be stored and charged in the proper conditions.
Lithium-ion (Li-ion) batteries are less subject to the memory effect. Though more expensive, they recharge faster, have a high energy density, and are not damaging to the environment. When used in tools, their weight is the biggest advantage as they are lighter and can be configured in any form or shape. They can make the tool better balanced and better performing. While Li-on batteries have their drawbacks, as they are impacted by heat, age, and overuse, they are a promising technology that hastaken over the cordless tool market.
There are quite a few actually. NiCad batteries are heavier which is why all the new models of drills are utilizing Lithium Ion. This shift will continue to take place since the lightweight aids ease of use elements.
Another difference is that Lithium batteries can store more charge. Despite NiCad batteries being as powerful, they can't hold more than a few minutes charge despite being heavier.
Lastly, NiCad batteries are an environmental hazard. As a result, they need to always be disposed of with care. This is a big no for a lot of people out there.

2. When should you choose a corded vs. cordless option?
Both corded and cordless options have their own advantages and disadvantages. Cordless drills are convenient, so long as they have enough power to complete the job. The batteries are costly, but it pays to have an extra charged battery on hand. Some tools accept more powerful batteries with higher amperage, so using this type of battery for a big job is wise.
Corded drills are more powerful and are ideally suited for diving & drilling. The twisting motion is aided by the constant flow of electricity and thus corded options are preferred for heavy duty tasks. The downside is that you always need a socket close by. Cordless drills are catching up with corded models for many applications.
3. Can any cordless drill match a corded drill in terms of power?
As the quality of the batteries improves, some models in the market can generate 1000+ in/lb of torque. This can easily handle harder surfaces.

4. Why is voltage important?
Voltage indicated how much power the drill has if it is run at full speed. Voltage ratings of 4 to 8 volts are sufficient for light-duty cordless screwdrivers, and drills with 12 to 18 volts will meet most homeowners' work needs. The voltage you should opt for depends greatly on your own needs.
5. How do brushed and brushless motors differ?
All motors used oppositely positioned magents to drive them, but brushed and brushless motors use different processes. A brushed motor has carbon brushes, magnets, a commutator, and armature while a brushless model uses an electronic controller instead of the brushes and commutator; it is a smart tool because the energy delivery is determined by a circuit board.
While the brushed motors always run at full speed, the brushless options draws current as needed. Cordless devices work smart so the motor runs cooler, the device lasts longer, and maintenance is easier.

6. Why are keyed drill chucks still around?
Keyless chucks are a great innovation as the key never gets lost, but keyed chucks hold on to the drill bit better than keyless chucks. For tasks that really need the bit to be fastened tightly without slipping. a keyed option will do you a world of good.
7. Are batteries covered by the warranty?
Many drills come without a battery included. Batteries, lif incldued, may be covered by the warranty but they can be expensive to replace even under warranty if you have to handle the shipping costs. Batteries on their own outside of the warranty can sometimes cost as much as the drill bit itself. The upside is that many cordless drills use interchangeable batteries that work in other tools by the same maker.
8. How can you compare the power in cordless drills?
Voltage in most cordless drills equates to more power as higher voltage means more torque, power that makes the job easier. 18V cordless drills, for example, generate more torque than their 12V counterparts but the tradeoff is that 18V drills are usually much heavier. You can find many 12V drills around the 2-pound mark whereas the 18V drills are always over 3 pounds. Some super-efficient 12V like the Bosch which can handle many tasks as well as 18V or 20V options in the market.

Subscribe to our newsletter