Best Nailers Reviewed and Tested
last updated:
Jan 29, 2018
There are several needs on which the construction and repair industries are based, the most important of which is the need to secure two items together. Traditionally, nails are the most preferred and commonly used fasteners. Standard hammers are perfect for less demanding fastening tasks such as constructing a small fence. However, massive projects will necessitate the utilization of a nailer as it both time and energy saving. There are noteworthy differences between nailers which call for one to carefully evaluate their needs and budget before making a decision.
Our Top 3 Picks
[srpshortcode id="4095″][/srpshortcode][srpshortcode id="4092″][/srpshortcode][srpshortcode id="4089″][/srpshortcode]
10 Best Nailers

1. DEWALT DCN692B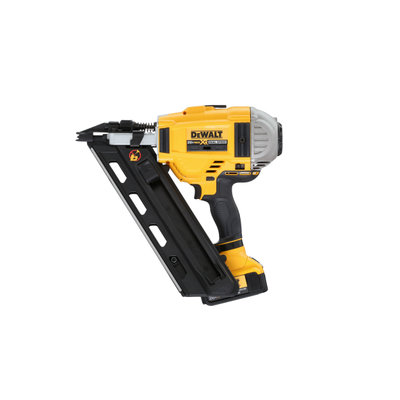 The Dewalt DCN692B is a perfect demonstration of the expertise and superior engineering abilities of the Dewalt brand. The nailer features a dual-speed mechanism bringing together sequential and bump firing modes. The sequential mode is ideal for projects requiring precise nailing while the bump firing mode assures the user of a fast finishing speed, thereby increasing your productivity and saving you time.
Expand to see more
The lower power/speed option makes it possible for you to create a perfect balance between speed and power in a way that significantly increases your precision by reducing the severity of vibrations while working on your project.

It can apply brushless motor power in driving nails measuring between 2-inches and 3-1/2-inches through all types of surfaces and is equally capable of shooting nails with clipped and round heads with the least amount of effort.

A tool that is complex and difficult to use is not worth investing in. Fortunately, while the nailer is maximized for heavy-duty operations, it weighs just 7.7 pounds. Ease of use is guaranteed by the absence of a power cord ensuring that the it is as portable as possible. Furthermore, it uses 20V Dewalt Max Batteries that supply it with sufficient power for an extended duration making it possible for you to use it outdoors. You don't have to worry about the problems of jamming as the nail gun comes with a nose cap to ease the process of getting rid of jammed nails without exposing yourself to any danger.

It has a sturdy and robust construction and features a top cap that effectively resists the negative repercussions of accidentally dropping the nailer on a hard surface. Hence, with proper use, you are guaranteed reliable and efficient use for the next several years. Neither do you have to worry about the nailer accidentally misfiring when you are transporting or not using it. The trigger comes with a safety lock feature which disables it, preventing it from firing nails when not in use.

To summarize, it is one of the best, offering reliability for a broad range of tasks and portability to facilitate free and effortless movement around the work environment. It has unrivalled consistency in precision and compatibility with different nail sizes. The Dewalt brand tops it all off by offering you a 12-month full warranty and a 36-month limited warranty upon purchasing to ensure stress-free nailing.
Very easy to use
Lightweight and compact design for manoeuvrability
Powered by batteries and is very portable
Dual-speed feature for exceptionally powerful performance
Long-lasting and durable
[srp_anchshortcode id="4095″][/srp_anchshortcode]
2. DeWalt DC608K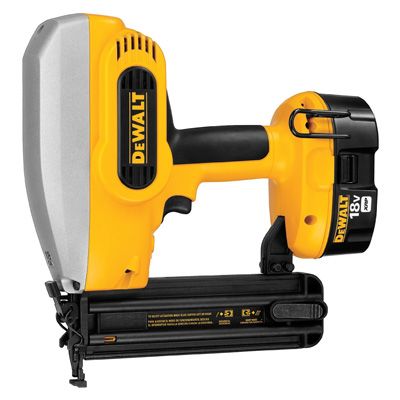 There are several reasons as to why the DeWalt DC608K nailer is included on the list of the top performing nail guns in the market. The most obvious reason is that the nailer is manufactured by the most reliable tools brand on the planet, the DeWalt Company. Not only is the DeWalt DC608K nail gun quick and easy to use, but it also delivers the power and performance for which pneumatic
nail guns
are renowned.
Expand to see more
The DeWalt DC608K is surprisingly one of the most portable nailers we have reviewed. The tool offers an almost perfect power-to-weight ratio. With a weight of 7.4 pounds despite its all-magnesium body, the nailer still manages to deliver immense power for driving nails into the densest of hardwoods with impressive ease. And there is more! The DeWalt DC608K is capable of driving brads to a depth of between 5/8-inch and 2 inches, irrespective of the toughness of your material's surface. That is in addition to it's ability to shoot out five brands in a single! Since DeWalt DC608K uses electricity, there are no burdensome compressors or other complimentary accessories hoses interfering with its performance. Also, the tool is compatible with 16-gauge nails ranging from between 1-1/4-inches and 2-1/2-inches.

It is ideal for tackling massive applications as it comes with a box-styled magazine with a maximum nail capacity of 110, eliminating the need to stop every once a while for a reload. Another advantage in the design of the DeWalt DC608K is the inclusion of seal features to keep off dust and other woodwork debris from interfering with its delicate internal components, making the tool increasingly reliable as a result.

It comes with a very functional and practical nose. The narrow and tapered design of the nose makes it suitable for executing intricate projects as it has easy access to not-easy-to-reach spots. True to its name, the nail comes expectedly features a dual-speed mechanism to cater for different circumstances. The sequential mode enables you to fire one nail after the other while the bump firing mode delivers high speeds to give your project a perfect and industrial-grade finish. DeWalt DC608K's list of features can never be exhaustive without mentioning the precise depth control system as well as the safety contact lock-off features. While the latter feature aims at keeps you safe by preventing the gun from accidentally firing at you while not using it.

The DeWalt brand understands the inconvenience caused by jamming and in an attempt to address the problem, they thoughtfully included a nosepiece that one can easily swing open to remove jammed nails. There is no problem using the light gun in poorly lit situations as it has a built-in LED lights to illuminate the surfaces you are working.

Cordless and therefore very portable
Lightweight and compact design
Dual-firing option for increased versatility
Ease of use
110 nail magazine capacity
Exceptional performance and durability
[srp_anchshortcode id="4092″][/srp_anchshortcode]
3. Bostitch F21PL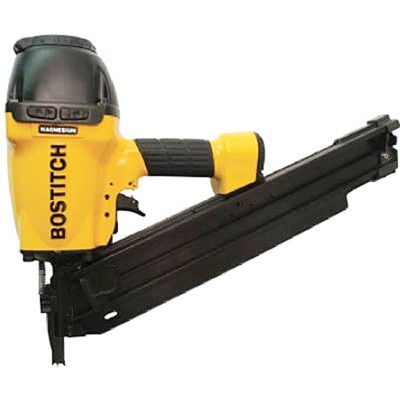 The popularity of Bostitch F21PL among woodworkers, artisans, and Do-It-Yourselfers is mainly due to its extreme versatility and the fact that it is manufactured by a brand whose products are renowned for their excellent construction and sturdiness.
Expand to see more
Nevertheless, considering that it has the capability of producing 1050 inch-pounds of pressure and comes with a 7-year limited warranty, it is safe to assume that it is ideal for more demanding projects in the construction industry. While the gun's magazine lacks any special features in construction and design, it has a maximum nail capacity of sixty nails, which, compared to several nail guns, is more than adequate.

Nevertheless, the one features that sets it apart is that it has a perfect power-to-weight ratio. Considering that it features an all-magnesium construction on the outside, the nailer is ultra-light and easily manoeuvrable. The internal components are quite durable given that they are constructed out of metal and thus able to tolerate the harshest of environments.

Another attractive feature is the thick, rubberized material on the handle that guarantees you a firm grip even under harsh working conditions. The ergonomic design of the handle increases comfort, thereby reducing fatigue occasioned by using it for prolonged hours.

It packs a load of useful features that make it the most flexible ideal for construction projects as you can adjust its settings in accordance with the demands of the job site. The depth adjustment mechanism, for instance, is a thoughtful addition as it gives the user the ability to control the nailing depth in accordance with the nature of the material to be nailed. Delicate materials may necessitate the use of low settings compared to denser and tougher surfaces. The ease of interchanging between the two nose pieces is another feature that allows the user to alternate between shooting framing and metal connector nails. Essentially, it unifies the functions of two different nailers. And you won't break a sweat interchanging the nose pieces as the procedure is quite straightforward, even to first-time users of the nailer.

This may come as a surprise considering that the nailer already offers all the useful features craftsmen and woodworkers look for in a gun but it also comes with a sequential and bump firing options. There is also a layout indicator included, providing you with exceptional assistance in gauging how far apart studs are placed.

The only drawback is the difficulty of continuously squeezing the trigger since it requires the user to apply considerably more effort. Secondly, a carrying case is not provided with the gun in spite of its premium pricing. Finally, despite being lightweight, it is bulky. Thus, it lacks the manoeuvrability required to access hard-to-reach spots.
Light and so forgiving on the joints and arms
Useful depth adjustment mechanism
Durable and long-lasting
Open design magazine for easy removal of jammed nails
Provides 1050 pounds inch power
Costly
Complicated to use
[srp_anchshortcode id="4089″][/srp_anchshortcode]
4. NuMax SFR2190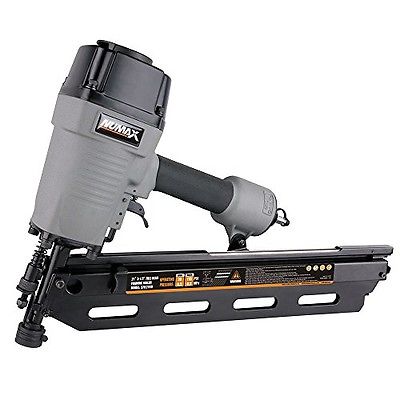 The NuMax SFR2190 is aimed at those individuals working on a budget but still have their eyes trained on a solidly-built nail gun offering exceptional performance. The nailer is useful for performing a variety of tasks around the house as well as on the construction site such as installing sub-floors. It accepts round headed nails with sizes of between 2-inches and 3-1/2-inches.
Expand to see more
The solid construction of the NuMax SFR2190 gives it protection against the extreme demands of the construction site. Proof of its high-quality construction is demonstrated by the fact that the NuMax brand provides you with a 12-month limited warranty from the day of purchase.

It has an all-magnesium alloy body which implies it shares the industrial-strength and lightness of magnesium with its total weight coming it at approximately eight pounds. The lightweight and compact design of the nailer makes it possible for you to use it for hours on end without feeling fatigue. The weight also works by preventing the tool from recoiling when fired. The handle features an ergonomic design, coming with slip-resistant and comfortable grips making it possible for you to hold the gun in horizontal or vertical positions. In spite of its compactness, the nose is neither narrow nor pointed as is the case with DeWalt DC608K, which makes it difficult to reach tight spots.

Furthermore, the nailer's exhaust is rotatable through 360-degrees making it possible for you to use the it without having to wear eye protecting goggles. As is the case with most nailers on this list, it has dual-speed mechanism offering both sequential and bump firing modes. To safe on the safe side, it is recommended that you do not use the bump firing mode unless you have some significant experience operating nailers. Also, you can use the depth adjustment feature to change how deep nails are driven into different materials. The feature comes in handy in the construction of formwork that you will disassemble later.

Lastly, it works perfectly well with any air compressor able to maintain an operating pressure of 100 pounds per square inch for light to medium-duty projects. Heavier projects, on the other hands, will necessitate the use of additional horsepower. With proper lubrication and handling, the NuMax SFR2190 will definitely last a lifetime.

One disadvantage is that it does not exhaustively utilize all the nails in the magazine. You will have to manually empty the magazine before reloading.

Lightweight and compact design
Pocket friendly
Ease of use
Ideal for a multitude of projects with its depth adjustment feature
Cheap and poor quality carrying case
5. DeWalt DWFP12231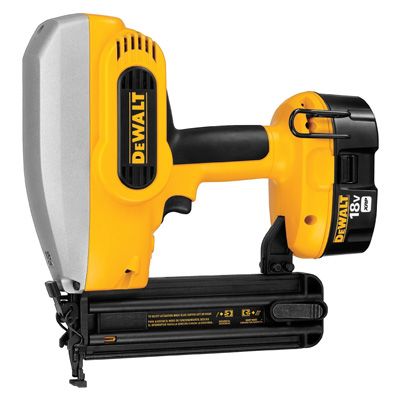 DeWalt brand has a reputation in the construction industry for producing reliable, high-quality and durable products. Both novices and professional contractors prioritize DeWalt products over products from other manufacturers, and the demand applies to DeWalt DWFP12231 Brad Nailer as well.
Expand to see more
The nail gun is an 18-gauge brad nailer that comes with a maintenance-free motor that is time-saving and economical. Leaking is one less problem to worry about with the inclusion of the no-leak feature, and it guarantees you a clean working surface.

The durable design of the DeWalt DWFP12231 makes it capable of lasting for several years when subjected to proper use on a daily basis. It is constructed entirely out of aluminium and is therefore not only light, weighing a mere 2.5 pounds, but also quite durable. Even with prolonged hours of use under different working conditions, the nail gun does not give even the slightest indication of wear and tear.

Considering that most craftsmen and woodworkers and Do-It-Yourselfers spend a considerable amount of time attempting to resolve the ever-present problem of jamming, the DeWalt DWFP12231 is regarded as a Godsend seeing as it has detents. Detents work by allowing you to accurately set the head of the nails and has a quick release mechanism ensuring you spend a small fraction of your time removing nails.
It offers sequential firing of 18-gauge nails measuring between 2-inches and 5/8-inch. The magazine has a maximum nail capacity of a hundred nails for continuous and precise nailing.

The proper functioning of the nailer depends on the use of a functional air compressor, which you will have to purchase separately. Your air compressor should be able to have an operating pressure of between 70 and 120 pounds per square inch even though some users point out a 135 pounds per square inch air compressor works just as fine.

Fast and straightforward jam resolution
Reliable and long-lasting construction
One of the safest nail guns in the market
Lightweight and compact design that is perfect for light-duty and medium-duty projects
6. Freeman PFR2190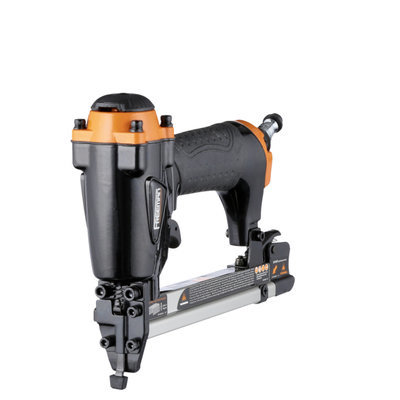 The Freeman PFR2190 weighs 8.5 pounds and measures 20 x 6.5 x 14.2 inches is an ideal nailer for professional contractors and Do-It-Yourselfers working with a tight budget but with a keen eye on performance and versatility, nonetheless.
Expand to see more
It is compatible with nails of various styles and operates at pressures of between 60 and 115 pounds per square inch.

The Freeman brand settled on die-cast magnesium as the primary construction material for the nailer partly because of its lightweight quality, but most importantly the metal is quite durable and would make it easy to manoeuvre. The cylinder, on the other hand, is constructed out of aluminium to keep the weight of the tool down. Considering the tremendous job of driving nails into materials of different densities, the Freeman PFR2190 comes with an impressively robust driver blade featuring an all-steel construction and given heat treatment to withstand the extreme temperatures generated during nailing. With different components made from steel, aluminium and die-cast aluminium, the Freeman PFR2190 is one of most durable and top-performing nail guns in the market today.

The attractiveness is further informed by the fact that it packs numerous unique features that set it apart from its closest competitors. It comes with an exhaust vent capable of a 360-degree rotation thus making it possible for the user to keep their work environment free of dust and debris. Additionally, the Freeman2190 comes with an air filter and an air cap aimed at protecting the air within the compressors from being contaminated with foreign objects, which could jeopardize its performance. It offers the user a choice of two firing options, which is quite impressive considering that this is a budget nailer. The user can select to either use the bump firing or single firing options.

The Freeman brand offers you a seven-year limited warranty upon purchasing the nailer. You will conveniently carry it around your workplace or from one to another with the provided plastic carrying case, which also ensures additional protection from wear and tear. The convenience of the nailer is further reinforced by the fact it does not require any lubricating.

The only downside is that it comes with two individual triggers for controlling the bump and single firing options and their proximity makes it very possible for unaccustomed users to confuse the two. Lastly, the nail gun does not exhaustively utilize all the nails inside the magazine.
Provides adequate power for penetrating thick materials
Comes with a convenient carrying case
High-quality and durable magnesium construction
7. Hitachi NT65MA4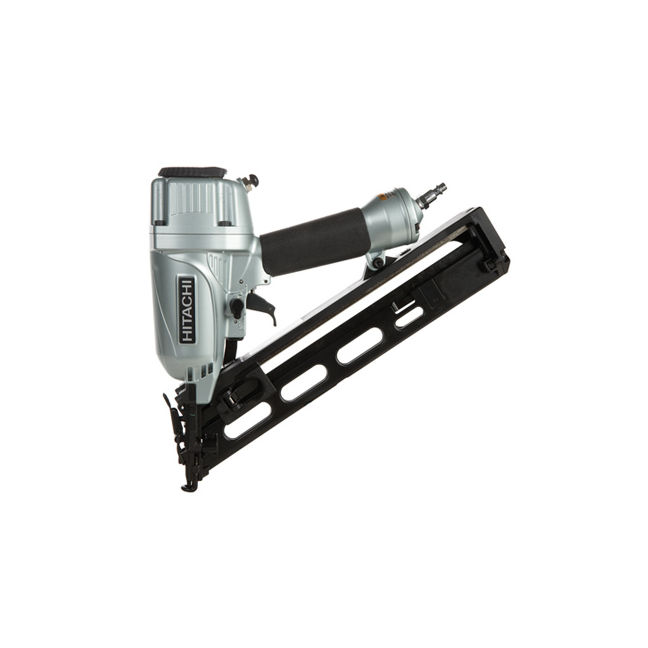 The Hitachi NT65MA4 has several impressive features, the most outstanding of which is the air duster that eases and speeds up making your workstation clean.
Expand to see more
Craftsmen and woodworkers understand the significance of working in a dry and clean environment, particularly when they are working on complex projects. After a hard day spent toiling on a massive project, a majority of people are faced with the uphill task of cleaning up their workstation in preparation for the next project. The beauty of Hitachi is that it prevents the build-up of dust and other debris and leaves your work environment quite clean. It is therefore both a nailer and cleaner rolled into one.

It is also as flexible as it is powerful. The gun features a handy design with a conveniently angled magazine and an adjustable exhaust system that greatly facilitates access to hard-to-reach and hidden locations by allowing you to direct contaminants towards a preferred direction. Like some of the nailers on this list, it comes with a dual-speed mechanism allowing you to alternate between using the nail in sequential and bump firing modes. Changing between the two modes is quite easy as you only have to flip a switch located on one side of the tool, a process lasting less than five seconds.

It is constructed from lightweight aluminium so as to make it a durable and manoeuvrable nailer. With a weight of just 4.2 pounds, you will be able to use it for an extended period before experiencing fatigue. The Hitachi brand put a lot of thought into making their nailers as safe as possible. The first indicating of this is the fact that the gun comes with safety glasses to protect your eyes from dust, debris and accidentally fired nails. Firing the gun goes beyond just pulling the trigger. The process also requires you firmly press the nose of the nailer on the surface of the material you intend to nail thereby reducing the likelihood of the gun nailing an unintended target. Other than keeping you safe from harm, the tool-less nose also allows for the easy extraction

It has an operating pressure of between 70 and 120 pounds per square inch, which supplies it with adequate pressure to fire holes on both soft and hardwood with impressive ease. The gun has a magazine with a maximum capacity of 100 nails and is furthermore compatible with 15-gauge nails whose length range between 1-1/4-inch and 2-1/2-inches. Additional versatility is achieved through the inclusion of a depth adjustment feature making it possible for the user to dictate the depth of the nails based on the nature of the material he or she intends to nail. The gun also comes with a no-mar tip designed to achieve the same purpose. Such depth adjustment can be made without the use of any tools.
Light and portable
Reliability
Comfortable ergonomic design
Strong and durable construction
8. Paslode 902400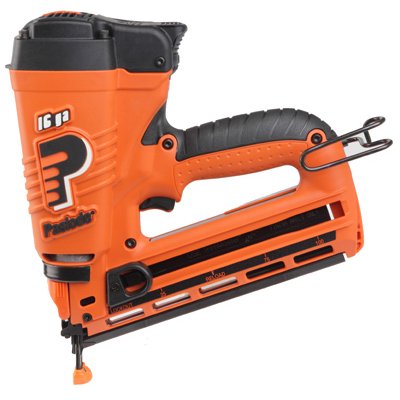 Simplicity, convenience, and speed are just a few of the qualities that endear the Paslode 902400 to professional craftsmen, woodworkers in the construction industry and non-professionals with considerably less experience handling nailers. Being a battery-power tool, the Paslode 902400 lacks a power cord thus making it an exceptionally portable tool that you can use both indoors and outdoors.
Expand to see more
The design brings together a powerful and reliable battery and trim fuel resulting in the production of sufficient power capable of firing 6,000 nails before requiring a recharge. Separately, a single fuel cell can fire 1,200 nails while a fully charged battery can achieve 4,000. The most impressive feature of the Paslode 902400 is its ability to fire approximately 200 nails with just two minutes of charge remaining on the battery. Additionally, moving from a flat battery to a full charge takes just a couple of minutes, meaning you can resume working in no time at all.

Because the nailer's magazine is angled at 20 degrees, you will not encounter any difficulties driving nails even in the most inaccessible of spots. Such easy and effortless access is aided by the lightweight and compact design of the Paslode 902400, guaranteeing you a pain-free and fatigue-free working experience for a prolonged duration of time. With a weight of just 4.5 pounds, you will not feel any significant drag from carrying it around. It comes with a belt hook for to allow you to comfortably carry the gun around with you while simultaneously freeing your hands for other activities. Furthermore, it comes with a handy lockout feature aimed at preventing blank driving.

In addition to its magazine capacity of 100 nails, it has a very practical and functional nose allowing you to fire the nails with absolute and assured precision. Nevertheless, it is only compatible with Paslode measuring between 2-inches and 3-1/2-inches, and it experiences no problems driving these nails materials of different sizes. Consequently, the tool is perfect for a broad range of projects such as home improvement and constructing fences and sheds.

To summarize, the Paslode 902400 has a lightweight and compact design with a weight of just 4.5 pounds. Consequently, you will have no problems at all reaching hard-to-reach spots with its gun. Furthermore, changing the fuel cells and fully recharging the battery takes a few minutes of your time.
Ideal for light and medium-duty projects
Lightweight and compact design
Durable
Portable
Not perfect for massive projects as fuel cells and requires recharging
9. Senco 4G0001N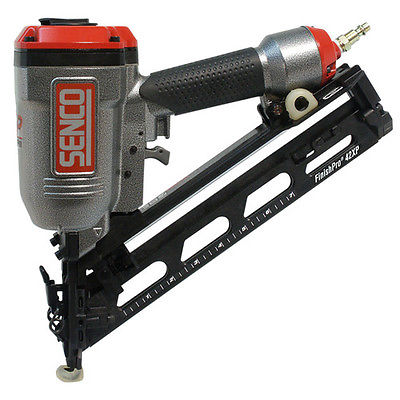 The nailer is an exceptional performer as it capable of achieving operating pressure within the range of 70 and 120 pounds per square inch. It accepts galvanized and bright nails with measurements of between 1-1/4-inches and 2-1/2-inches. Consequently, it smoothly and effortlessly drives these 15-gauge nails into the toughest materials without breaking a sweat.
Expand to see more
To protect the delicate internal components of the gun from harsh environment that is the construction site, the nailer comes in an all-magnesium casing which does an exceptional job keeping away the devastating consequences of rust and wear-and-tear. Most importantly, magnesium ensures the nailer is lightweight and compact and therefore manoeuvrable. Coupled with its ergonomic design, you will have an effortless time using it to drive nails even after continuous hours of handling a massive project involving oak.

Even though a majority of professional contractors and enthusiastic Do-It-Yourselfers put a lot of emphasis on performance and capacity, it is worthwhile to not overlook design as it has a significant bearing on durability and service life. It comes with company patented EZ-Clear latch technology that makes it exceptionally easy to get rid of jammed nails, as opposed to the commonly used anti-jamming mechanism. Additionally, it comes with the Neverlube technology allowing you to use the tool for a substantially protracted period without lubricating it.

In all, with a magazine capacity of 104 nails, it's astounding performance and flexibility makes it ideal for working with woods of different hardness with remarkable ease. The gun is perfect for a broad range of light-duty to heavy-duty operations such as installing cabinets and producing door and window casings. One of the most striking features, though, is the patented EZ-Clear latch technology that simplifies the removal of jammed nails. It's ideal for Do-It-Yourselfers and professional contractors.
An impressive operating pressure of between 70 and 120 pounds per square inch
Comes with a tool-less depth adjustment mechanism
360-degree adjustable air exhaust
Features an all-magnesium housing which is durable
Oil-free operation
10. HITACHI NR90AES1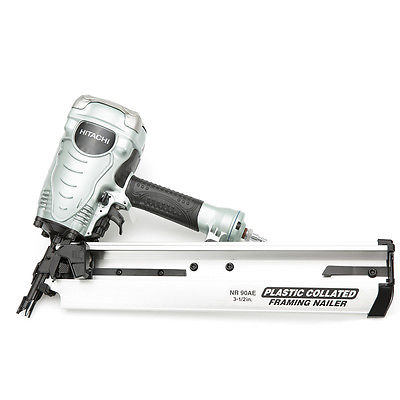 Despite packing numerous features for a nailer its size, the air-powered Hitachi NR90AESI nailer offers simple functionality, a fact that earns it great praise from craftsmen, woodworkers and enthusiastic Do-It-Yourselfers with a keen eye for a sturdy
tool
.
Expand to see more
The nailer has an operating pressure of between 70 and 120 pounds per square inch and is compatible with plastic-collated nails with measurements of between 2-inches and 3-1/2-inches. Additionally, the Hitachi NR90AESI comes with a magazine with a nail carrying capacity ranging from 64 to 70.

The Hitachi brand put a lot of thought into making sure the NR90AESI is as comfortable as possible. To this end, the manufacturers included a slip-resistant elastomer handle trigger that correctly and firmly fits into the user's hands. Such a firm and comfortable grip are perfect when working on demanding projects for prolonged duration as it minimizes the likelihood of suffering from fatigue, soreness, or even pain. The Hitachi NR90AESI weighs a mere 7.5 pounds making it one of the most manoeuvrable and comfortable tools to operate. Despite lacking a carry case, it offers several other vital features that guarantee additional protection against possible damage caused by wear and tear. The inclusion of a tough claw tip ensures the gun's nose is protected. Carbon steel toenail, on the other hand, aims to make your firing more precise and efficient while keeping damage to a minimum.

Both professional craftsmen and budding Do-It-Yourselfers will have no problem using the depth adjustment feature. Using it is quite simple because it does not require the utilization of a separate, special tool to flick. With the NR90AESI, all you have to do is use your hand to alter the depth adjustment button to suit your needs, saving you a considerable amount of time and effort. Furthermore, you have two alternatives when it comes to the method of firing. The choices are sequential, and contact nailing and your decision to use either should be informed by the toughness or softness of the material you intend to nail.

The NR90AESI, nonetheless, has one minor drawback in its design. Unlike other nail guns, the gun requires an oil lubrication every once a while. Secondly, it does not come with a carrying case, forcing you to buy one separately.

Very Practical and functional
Simple to reload
Depth Adjustment is both tool-less and a straightforward procedure
Solidly built and long-lasting magazine
Considerably costly
A little heavy
Criteria for Evaluation

Weight and Power
For the optimal performance of a nailer, there must be coherence between its weight and balance since lighter nailers have a corresponding greater balance. Most nailers nonetheless slightly more weight towards the head and the design is deliberate so as to increase the pressure on the nailing end. Using a gun for a considerable amount of time can have serious repercussion on one's health which makes it important that you pay significant attention to it. While pneumatic nailers have a lightweight and compact design, they nonetheless cannot work without a compressor, and this drawback makes them less portable. The convenience of portable nailers, on the other hand, it offset by their weight.
Capacity and Performance

Your choice of a most suitable nailer will be significantly dictated by the gun's ability to accommodate a desired number of nails of a particular size. A useful and practical nailer should come with sufficient power to punch different nail sizes into the toughest of materials with exceptional ease. Additionally, it needs to be able to fire a decent number of nails before running out of battery or charge.
Important Features
Nailers pack several useful features aimed at increasing convenience and productivity. A shot meter, for instance, keeps track of the number of remaining nails thus eliminating the need to guess. Others have an anti-jam mechanism or its alternative to reduce the likelihood of nails jamming or to make it easy to manually remove the jammed nails, thereby saving you time and energy. Other useful features include tool-free depth adjustment, trigger lock, and oil-free operation, among a bunch of others. While they do not necessarily increase the performance of the gun, they at least make your work a lot easier.
Affordability

There is a big difference in price between the most expensive and cheapest nailers on our list of best nailers. Other than practicality and functionality, differences in cost are explained by brand name. You will have to decide whether to pay a higher price for a brand name of part with a fraction of that for relatively unknown but still solidly built and exceptionally performing tool.
FAQs

Q: What is the main difference between pneumatic and cordless nailers?
A: Most pneumatic nailers depend on air compressors as their primary source of power. Over the years, pneumatic nailers have gained considerable traction and popularity more than cordless nailers. The two main reasons for their increased popularity is the fact that they offer consistency and convenience and because they are air compressor-powered, the user does not have to recharge or change their battery cells. Nevertheless, they are less portable and manoeuvrable as they will need to remain attached to an air compressor for them to continue working. They are your best bet if you want a nailer to use daily and for extended periods of time. Cordless nailers, on the other hand, offer unprecedented portability and manoeuvrability, particularly when the user has to access hard-to-reach spots. Plus, cordless nailers don't have to use air compressors. The cordless nailers are powered by batteries or fuel cells.
Q: Does it matter whether a nailer's magazine has a stick or coil style?
A: It matters a great deal if a magazine features a stick or coil design. Stick magazines are compatible with long striped nails and have a lower nail carrying capacity compared to coil magazines. Nailers with stick magazines are furthermore are better balanced because of the even distribution of weight. The advantage that comes with having nailer with a coil magazine, on the other hand, is that the magazine has a higher nail carrying capacity and designed to fit with relative ease into hard-to-reach spots.
Conclusion
Finding a suitable nailer for a particular project largely depends on accurately evaluating the nature of the project and your financial ability. Before settling on one particular nailer though, it would be prudent to gain a deeper understanding of the topic. Irrespective of your needs, the nailers on our list have what it takes to complete a wide variety of projects, both at home and in the construction industry. They are the most sought-after nailers in the market today.
Subscribe to our newsletter