Best Cordless Impact Drivers Reviewed and Rated
last updated:
Jan 30, 2018
Drilling into hard surfaces tends to put a significant amount of undue stress onto your hand and wrist as you try to provide a counter force to the torque. Fastening anything is a snap with the right driver – screws, nuts, lag bolts – all are easily slain by the mighty impact driver. Impact drivers utilize an internal hammering action that provides the downward and rotational force, – it is also countered internally to eliminate the majority of recoil. This extra power makes driving through rough surfaces relatively easy and reduces the battery drain that would be caused by utilizing a typical electric screwdriver that would make the job take much longer.
Our Top 3 Picks
[srpshortcode id="3276″][/srpshortcode][srpshortcode id="3272″][/srpshortcode][srpshortcode id="3267″][/srpshortcode]
A good impact driver used to be solely a tool of the professional. Air compressors or large cables were required where now a simple battery suffices. This added convenience has made these devices a much more common fixture in the household workforce and has led to an explosion of innovation and evolution in the tool.
Some Impact drivers coming out today are truly masterpieces. As robust and refined as any mechanical device can be – others are not so well made. While some of these tools can last years going up against the toughest materials, others seem to knock themselves apart under their own force in a matter of weeks (and in some cases, days.) Some impact drivers will be able to handle the most industrial of tasks, while others are more suited to the DIY or homeowner. The options, features and overall quality vary widely between the tools.
Due to the wide selection and large variance in quality, we have put together a guide, FAQ, and top ten recommended list to help you wrap your head around the marketplace of impact drivers. We carefully sorted through the top drivers to pick out the tools best suited to specific tasks, with the best value, and with the best overall quality. We then ranked these tools to assist your decision-making. We have also included an explanation of the criteria that was explored when deciding on which tools to rank highly.
Some things to note
We made an effort to present a diverse selection of tools. For that reason, impact drivers from the same family (such as the DEWALT DCF885b and the DEWALT DCF885c) were only given one representative. This allowed us to cover more ground overall ground and to give a better overview of the choices out there in general, as well as provide specific reviews. That means if there is a tool in this list you like, explore a little bit and see if there is a similar version with some slightly different features.
All of these impact drivers were eventually rated based on a price/value ratio. This means that although a tool may have been of a higher overall quality, if its cost was exceptionally high, to the point that the quality could not make up for it, it was ranked lower than a theoretically inferior tool. Keep that in mind when you see a ranking number. What is best is a subjective term – and many of these tools were created with different specific purposes or niche need in mind.
10 Best Cordless Impact Drivers
1. Makita XDT111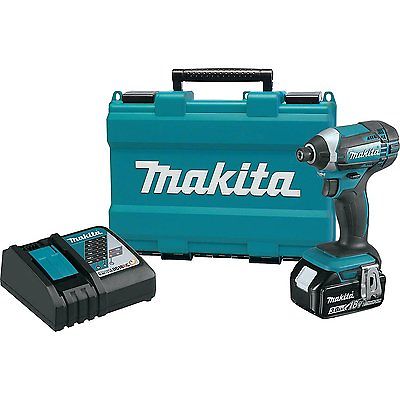 This entry level Makita is by arguably the best combination of power, durability and overall value. Comfortable, easy to use, and resistant to water and dust - this isn't a tool you will have to baby. Lightweight and with enough power to for the majority of tasks. This tool is inexpensive enough for the average DIY or homeowner and efficient enough for daily use by the majority of mechanics out there. If you already use the Makita battery lineup - then this really is a no-brainer.

All of the Makita impact drivers are made with a Makita particular process - the hammer and anvil mechanisms are extremely high quality and durable.
Expand to see more
Key Features

Weight: 9 lbs.
Torque: 1,460 in.lbs. of Max Torque
RPM: Variable: 0-2,900 RPM & 0-3,500 IPM
Battery: 18V 3.0Ah LXT® Lithium-Ion battery
Drive: 1/4" HEX
Rubberized soft grip
Built-in L.E.D. light
Ergonomic shape
Improved dust and water resistance
One-touch 1/4 inch hex chuck for quick bit changes

Price/Value

This Makita impact driver is an excellent balance of price and utility. It eschews some of the more superfluous features in order to provide a high quality, useful tool at a very affordable price.

Who Should Buy This?

Mechanics looking for a good daily use tool. Most homeowners or DIY builders who may need to use an impact driver more than the average person.
Lightweight and comfortable
Versatile and capable of a large variety of jobs
It is hard to think of a complaint about this tool. If you don't already have the same brand batteries, it can be a high initial investment
[srp_anchshortcode id="3276″][/srp_anchshortcode]
2. DEWALT DCF885C2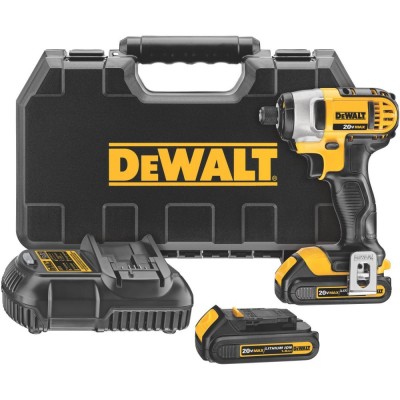 This is another fantastic lightweight tool that provides significant torque in a small package. This one is exceptionally capable when working on overhead or hard to reach locations. We also think the Dewalt batteries tend to work better than the Makita, but that may just be my imagination. This Dewalt has a rugged and sturdy design, ready for all those drops and bumps you are bound to subjugate it to. Another cool feature is the 3 LED light array, which ensures you don't have to deal with any shadows.

One of the better comments we've seen about this tool is a fence and deck worker complaining that he is actually losing money from this tool helping him complete the job so fast.

Expand to see more
Key Features

Weight: 8 lbs.
Torque: 1400 IN-LBS
RPM: 2,800 RPM / 0 - 3,200 IPM
Battery: 20V MAX*
Drive: 1/4" HEX
Belt hook included
Built in 3x L.E.D. light
Ergonomic shape
Rubber points protective design

Price/Value

This tool is a bit cost heavy but compensates greatly in quality and output. If you already use the Dewalt batteries, then this is a solid investment.

Who Should Buy This?

The DEWALT DCF885C2 is a solid buy for both pros and homeowners. It may not have the most torque on the market, but it can power through the majority of jobs - while a homeowner will be more than pleased if they invest in the impact driver.


Designed to fit into tight areas
Significant Torque
Easy to handle
Above average in most respects
More expensive than some comparable devices
[srp_anchshortcode id="3272″][/srp_anchshortcode]
3. Porter Cable PCCK640LB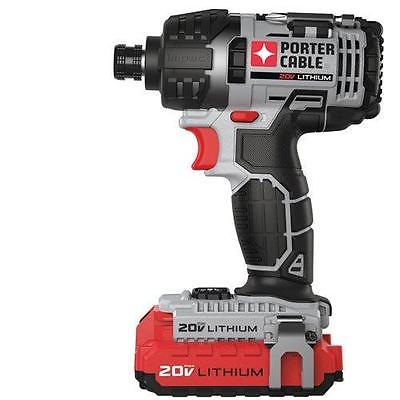 This Porter-Cable is comparable with the #1 and #2 slots on this list. Made to be lightweight and comfortable while still allowing for a significant amount of torque. This tool was also made to reduce fatigue and to handle smaller, hard to reach areas. To that end, it also comes with an attached LED light. There are also a few high-end features placed in the major sectors such as the "old-forged internal impact block" and no slip grip. It is the tactical use of good features and solid basic design that help this tool stay efficient at a reasonable cost.

Working on HVAC ducts, installing drywall or building a deck are definitely areas where these devices stand out.
Expand to see more
Key Features

Weight: 2 lbs
Torque: 1,495 in/lbs of torque
RPM: 0-2,900 RPM, 0-3,100 BPM
Battery: 20V Max Lithium Ion batteries
Drive: 1/4" HEX
Easy load chuck
Battery fuel gauge
LED Work light

Price/Value

This is another robust tool that can do the majority of tasks at a reasonable price. If you already use the proprietary batteries than you will be getting much more bang for your buck, otherwise, this tool is relatively comparable in price to other pieces of similar quality on this list.

Who Should Buy This?

A Pro who needs something at a fair value, and and isn't looking for any specific niche needs. DIY and homeowners should consider this a solid purchase and will be able to handle most everything with it.


Lightweight and easy to handle
Powerful torque
Useful array of features
Multi-stage trigger may require some practice
[srp_anchshortcode id="3267″][/srp_anchshortcode]
4. Bosch 25618BL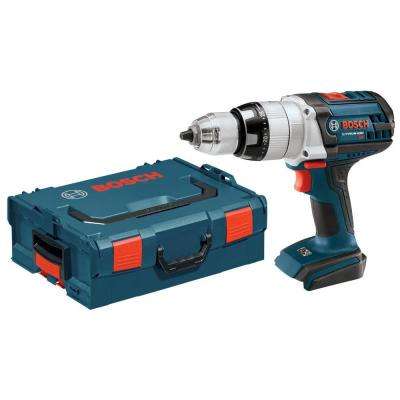 Like the other tools on our list so far, this is a compact and powerful impact driver. It has a few key features like a LED light; then it eschews the unneeded bits to ensure an affordable, light and efficient tool. Comparable to the other top options in both price and ability - it's safe to say that any of the top 4 tools on this list are a solid purchase and should be your first choice if you are already using compatible batteries for that brand.

This Bosch also has a great run time on its batteries.
Expand to see more
Key Features

Weight: 8 lbs.
Torque: 1,500 lbs
RPM: 0-2,800 | BPM: 0-3,200
Battery: 18V Lithium-Ion battery
Drive: 1/4" HEX
Ultra compact design
Built in L.E.D. light
Quick Change Chuck

Price/Value

Good price, good tool. This is comparable to the other top options - but the value of course skyrockets if you are already using applicable batteries.

Who Should Buy This?

Like the other tools, this is great for both pros and homeowners looking for a solid and affordable impact driver. It will accomplish the majority of tasks and is fairly easy to use.
Good runtime
Quality materials
This line will occasionally ship out a lemon
5. Makita LCT209W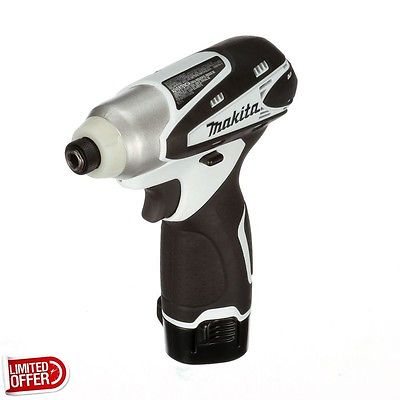 The LCT209W is a handy set from Makida that contains a solid homeowner level impact drive as well as two batteries, a driver/drill, charger, and case. All for an extremely reasonable price. With that said, we are here to focus on the specs of the impact driver.

This Impact Driver doesn't have the torque of other impact drivers, so it will only be used for a relatively limited set of tasks -however, the small size and weight make it very useful for cabinets and other softwood jobs.

All in all, this is a decent low-end impact driver that is made much better by the other kit included with it. Perfect buy for an at home toolbox.

Expand to see more
Key Features

Weight: 0 lbs
Torque: lbs.
RPM: 0-2,400 RPM & 0-3,000 IPM
Battery: 12V max Lithium-Ion battery
Includes a driver-drill and batteries/charger
Soft Grip handles
Very lightweight design

Price/Value

Very low priced and still a solid tool from a trusted brand. This Makita won't likely last as long as some of the more durable devices, and cant get as much done, but you will likely be paying only a third or a fourth what you would be paying for those other tools - especially if you opt out of the set.

Who Should Buy This?

If you need to expand your tool chest with a solid set of power fasteners then this is a great buy. It is a fantastic introductory set - perfect housewarming present.


Easy to operate
High quality
Sturdy
"Set" doesn't include bits
Lacks power for heavy jobs
6. Bosch PS41-2A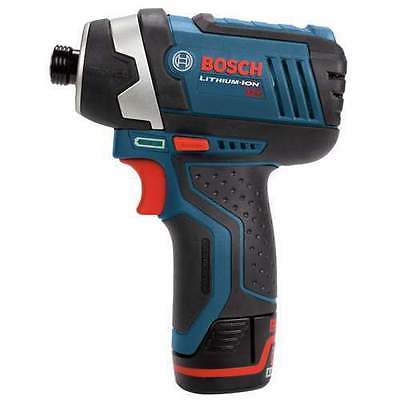 Extremely small and lightweight, this is perfect for cramped and hard to reach areas. It also has decent torque for such a small package. This Bosch is the perfect tool for cabinet installation - though it is powerful enough for some metal work as well.

Many professional level fastening needs can still be accomplished even with the low price and small size. It is also tough enough for the Pro work sites. It could make a solid backup or extended use piece for quite a number of job sites. We are not sure how they get the statistic, but Bosch claims this little workhorse can handle about 80% of impact driving applications with its 930 lbs of torque. That does sound about right.


Expand to see more
Key Features

Weight: 2
Torque: 930 In.-Lbs
RPM: bpm of 0-3,100 and a max 2.600 rpm
Battery: 12-Volt Max Lithium-Ion
Drive: 1/4" HEX
All Metal Gears
LED Light Ring — 3 LEDs
Stout, short 5.4 In. head-length
ost compact impact driver in its class
Battery Fuel Gauge

Price/Value

Good value for a tool that can handle a good portion of tasks and will likely last you years. It may seem a bit expensive for something so small - but it is actually very high quality even if it isn't the biggest device. Big things small come in packages and all that.

Who Should Buy This?

Homeowners who need to do quite a bit of fastening work, though even only the occasional job will justify the added ease of use. This is a lightweight yet durable tool that should last you well into the future if treated right. We think this could also find a home on a good portion of work sites out there.


Compact body
High torque for its size
Lightweight and comfortable
Good ergonomic design
Useful LED design
Lacks in power for the biggest jobs
Some complaints about the sturdiness of the hex shaft
7. Milwaukee 2462-20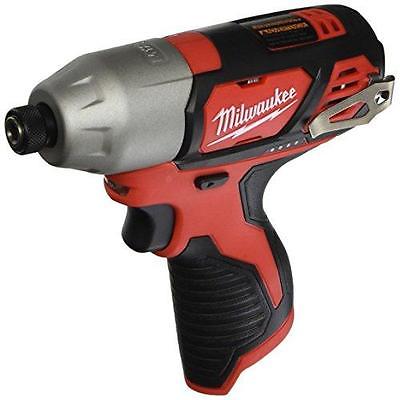 Crazy small and crazy powerful - also crazy low priced. This tool will handle the majority of fastener needs, can fit into smaller areas and won't tire you out after extended use. It may not be as sturdy as some of the other options - but as far as overall output and ability - it is fantastic.
Expand to see more
Key Features

Weight: 9 lbs.
Torque: 1,000 in-lbs
RPM: 0-2,500
Battery: 12V
Drive: 1/4" HEX
Rubberized soft grip
Built-in L.E.D. light
Ergonomic handle
Board battery fuel gauge

Price/Value

This is the highlight of the device. Ordering online will save you quite a bit, and you may just find yourself paying for maybe the equivalent of 5 cups of coffee for a great power tool. Its lifespan may not be the longest, but at the price you will likely pay for it - you can get the three for the price of other 1,000 lb torque impact drivers.

Who Should Buy This?

Great for homeowners, could also be a solid backup for the pros. What is nice is this could be an impulse purchase, and only a few uses will likely justify its price and presence. We'd say this is the tool to buy if you are looking for that one time need, or you have something specific in mind and don't need high powered fasteners very often.
Extremely lightweight and perfect for beginners
Surprisingly powerful
Very affordable
Comfortable to use
May not be as durable as more expensive products
8. Ridgid R86035

The Ridgid R86035 is an incredibly powerful impact driver that can handle any task you can throw at it. Still lightweight and affordable, as well as containing key features, this is a tool worthy of any work site. The adjustable speed settings make sure that this level of power is manageable and can only be unleashed when needed.



Expand to see more
Key Features

Weight: 1 lbs.
Torque: 2,000 in-lbs torque
RPM: 0 – 2,750 RPM | 0 – 3,200 IPM
Battery:18V.
Drive: 1/4" HEX.
3 speed settings
Built in L.E.D. light x3
Quick Bit Loader

Price/Value

Not high priced and more than capable, this is a fantastic tool that gives you huge amounts of bang for your buck. If you don't need that level of power - it can be a bit overkill though.

Who Should Buy This?

Anyone needing some heavy power at the ¼" level. A lot of work sites and professionals can get some good work out of one of these. The low price tag isn't a fluke however, it is not made from the toughest materials. Don't expect this tool to last a decade, or likely even half that.
Very powerful
Speed
Power settings give it good versatility
No major issues as long as it is suited to the task at hand
Drive may be too small to justify that much power
9. Ryobi P234g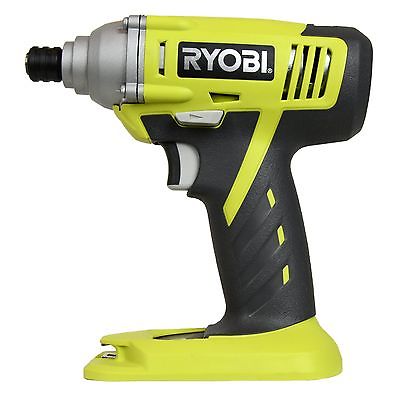 Powerful, versatile and durable. This is a fantastic all-around impact driver and very worthy of consideration. If you are already using Ryobi battery products, then this tool will make an excellent addition to the lineup. It has a good level of power making it capable of even the most demanding tasks. It is hard to find a whole lot to complain about with this device. It is very well made and capable.

Expand to see more
Key Features

Weight: 64 lbs
Torque: 1500 in/lbs
RPM: 0-2,600 RPM
Battery: 18 V
Drive: 1/4 in. coupler
24 position clutch
On-board bit storage
Comfort grip
Cast aluminum gear housing

Price/Value

Not expensive and well made. Like most of the tools on this list, if you are already using the same brand batteries as the tool - the value is fantastic. Otherwise, the initial investment can be a bit higher.

Who Should Buy This?

Pros and the DIY crowd can both justify this purchase. It's a great all around tool. If your home or work site is already utilizing Ryobi batteries, this is a fantastic purchase to make.


It lacks some useful features
10. Black & Decker BDCI20C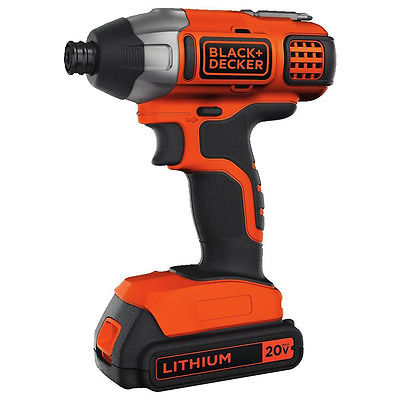 A great accessory that can fit in on both the work site and backyard. The Black & Decker BDCI20C is a solid, well-built tool that provides ample power and does so in a small and easy to control design. Though it lacks certain useful features, it has all the elements needed to make sure you can fasten with the best of them. The quick release is nice though. If you already are using the battery set, much like all the other tools on this list, then this is a solid purchase and addition to your repertoire.

Variable speed settings also help to make sure you aren't overdoing it on the smaller tasks as well.
Expand to see more
Key Features

Weight: 6 lbs.
Torque: 1375 in-lbs of max torque
RPM: 0-3000 rpm, and 0-39000 BPM
Battery: 20 volts. Nominal voltage is 18.
Drive: 1/4" hex chuck
Compact and lightweight
Solidly built

Price/Value

Great value if you already have a Black and Decker set, decent value if you do not. This is a solid addition to your tool chest either way.

Who Should Buy This?

This can be a tool for pros, but a homeowner or DIY'er can also find quite a bit of use in the quality here. Its low cost enough to be purchased for a single job, on the expectation you may have similar jobs sometime in the future.


Criteria for Evaluation

There were a large number of impact drivers, many of which were more or less quality equivalents. Many of the tools that did not make the list were very high-quality tools but just didn't make the cut for one reason or another. To sort through a large number of options, we had to develop a system of sorts from which to judge each tool. This same basic system is what was employed in the final ranking of the chosen tools as well. Most of the criteria involved obvious metrics like torque, weight, and battery life but there were some that were a bit more subjective like comfort. For that reason, we wanted to break down each of the major judgment areas to clarify why some tools were chosen over others.
I think it is worth reiterating one more time that many of these tools were built to accomplish different goals and their strengths may lay in differing areas than one another. For that reason, it is more or less impossible to create a rating that works for all situations. For example, If you are a pro in need of some extreme torque, the higher ranked tool based on value won't be worth anything to you if it doesn't have the power of the more expensive tools.
● Price
We cover quite a few impact drivers, and many of them are targeting very different demographics/buyers. For that reason price was evaluated on a price/value scale. Meaning that if a tool was more or less as useful, but a lesser price – it ranked higher in this category. If it was much more useful and only a little more expensive, it would also rank higher. If the tool was perhaps a bit more useful, but much more expensive it would rank lower, etc.
● Weight
While it is understandable that more powerful impact drivers are required to bit a bit heavier – some are heavy to the point of discomfort or to where they will really start affecting you by the end of the work day. For other types of tools this is perhaps more relevant – but for an impact driver, it is not generally the kind of tool you will be putting hours behind in a single day, except for particular professions or certain construction projects.
● Power/ Torque
Depending on the material you will be drilling into, torque can be an absolute necessity. It can also be unnecessary past a certain point for lighter jobs. A more powerful impact driver gets the edge in this category because it allows for a more versatile set of work options – which leads us to our next criteria…
● Versatility

The more materials you can successfully work with and the more jobs you can accomplish, the better the tool you are working with. Versatility is of particular importance for those who need to accomplish a wide variety of tasks, especially at the professional level. Most of the smaller devices just won't cut it.
● Comfort
As we mentioned in weight, this is not the sort of tool that you will be spending hours with, except for some very specific tasks. With that said, even if it's only ten minutes – comfort can be the difference between a pleasant afternoon and a frustration and pain building activity. There is nothing more annoying than dealing with an uncomfortable tool on a job you just want to get over with.
FAQs

How is an impact driver different from a drill?
Though both tools have the same end goal in mind, how they accomplish those tasks are actually much different. A typical drill will have a smooth consistent rotational motion. Impact Drivers actually rotate using thousands of impacts on an internal system. This provides a much more intense amount of torque onto the fastener. Due to its operation, an impact driver can also apply a much stronger amount of force without stripping or damaging the screw.
Can You drill holes with an impact driver?
You sure can. Impact drivers can definitely drill out holes, but the experience may be a bit different.
Drivers will typically operate at a much higher RPM making the action much faster – this can often lead to over screwing in softer materials, however. For tougher materials, this extra ability is quite useful. And for something like a deck, the fact it can be done faster and with less issue around damaging the screws, often means it becomes a favorite. All of that more or less applies to simply drilling out holes as well. If it is a tougher material an Impact driver is preferred if it is a soft material you will have to be more careful. Keep in mind impact drivers are also typically less accurate at slower speeds than a drill.
How is RPM and torque related to impact drivers?
The "power" of an impact driver will be a relation between the torque and RPM of the device. RPM stands for "rotations per minute" so a faster RPM is how quickly the tool turns when in use. In Newton's 2nd law he describes Power as equal to mass times acceleration. You can think of the of the RPM as the acceleration half of the equation. The other half is the torque. Torque is how much weight or strength is put behind each rotation. Impact drivers provide an increased amount of torque compared to drills, and much less feedback into the hand. Together these high RPM and Torque metrics combine to create a very "powerful" tool.
What features should I look for in an impact driver?
Although not necessary in order to have a great tool, certain applicable attachments can substantially increase your device's overall usefulness. A right angle attachment, for example, will make it much easier to reach awkward places and corners accurately.
The right Screw and nut driving sets will also expand the jobs you can accomplish. From wood sets to plumbing – the right additions can help you achieve almost anything.
A brushless motor uses a different motor system to increase the output and ability of a tool. Less energy is wasted and the tool heats up less as well. They will also generally have multiple speed settings. A brushless motor will likely cost more, but it will also increase the lifespan of your batteries and the tool itself – often making it a worthy investment.
Impact drivers generate a ton of power, so being able to more closely control that power is never a bad thing. Some tools come with an electronic clutch that will automatically sense resistance levels and adjust accordingly. This is a must for more delicate woodworking work such as cabinets.
Though far from necessary, if you are going to be working underground or in a cabinet or something, this can be a real life saver. We all know the frustration that comes from trying to prop a flashlight up at just the right angle so you can get work done without blocking the light. An attached light kills that problem quickly and efficiently.
Making Your Decision

This top ten list, the explanation of criteria and FAQ should hopefully be enough to help guide and improve your purchasing decision making. Buying power tools, specifically making a large purchase with so many available options, can be a daunting and frustrating task. Even experts in the field will complain of an over saturation of options. This list should provide you with quality tools you can trust, many with different needs and tasks in mind. So no matter what your end goal, budget, or experience level – something on this list should be right for you. Do follow up research yourself of course, and ensure you will absolutely love the tool you buy.
Whether you are a lifetime pro or DIY hobbyist needing that extra "umph" in fastening – There is an impact driver here for you.. Good luck – and remember – build smart, build safe, and build big.
Subscribe to our newsletter