10 Best Biscuit Joiners Tested and Rated
last updated:
Dec 10, 2018
As you further your woodworking skill, it is essential that you grow your arsenal of high-quality tools. For making premium products is unfeasible without the appropriate tools. One tool we would recommend is the biscuit joiner as it makes edge to edge, edge to end, or miter to miter, a breeze. That is, you can join two pieces of wood together without the unsightly bolts and screws.
The tool cuts a crescent-shaped hole inside the opposite edges of pieces of wood, otherwise known as a mouth. The biscuit, which is an oval-shaped, highly dried and compressed piece of beech or particle wood is then inserted in the mouths and used to glue the two pieces together.
Our Top 3 Picks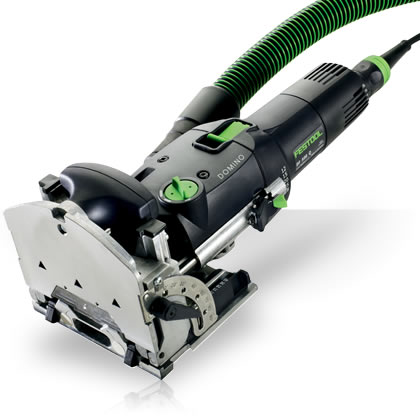 Festool

Our rating
Accurate
Price:

See Here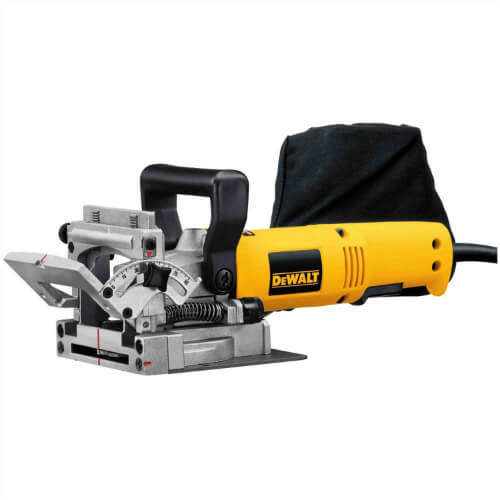 Dewalt

Our rating
Solid
Price:

See Here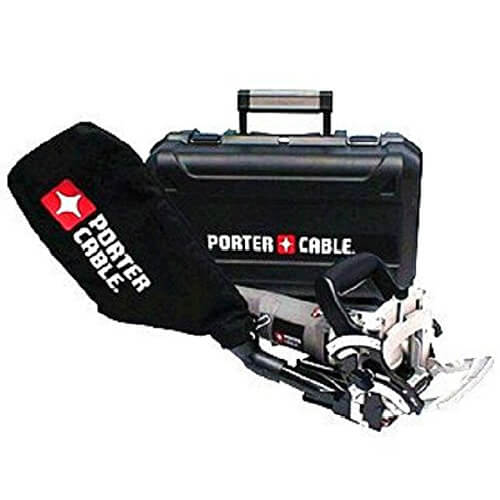 Porter-Cable

Our rating
Value
Price:

See Here


Biscuit joiners are not only an aesthetically pleasing way to join wood but also fast and safe. They are used to create furniture, for interior finishing or exterior trim, and to work on door panels. Furthermore, they are the best option when it comes to creating tabletops, and working with corners as it makes the jobs more stable.
Nevertheless, the question is which biscuit joiner should one purchase? How do you ensure you are getting top value for your money? Below is a buying guide for what to look for, and stick around for our recommendations of the best biscuit joiners.
10 Best Biscuit Joiners
1. Festool 574432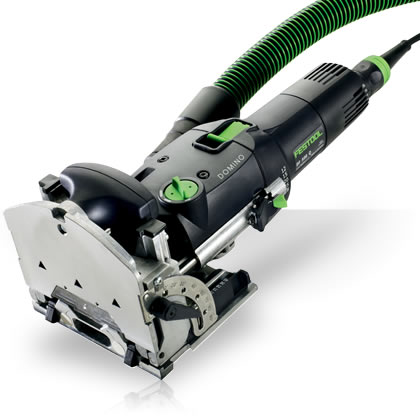 Few joiners can come close to the Festool 574432 let alone compare to me. This is a high-end tool and as such is built to last. There are two joiners in the 574432 class, the DF 500 Q, and the DF 700 Q. The former is for light to medium duty tasks such as building a small table while the latter is for large jobs. We will be reviewing the DF 500 Q here.

First, setting up the dimensions is simple enough especially with the built-in stops (more on that shortly). The on and off switch is accessible on top of the unit, the width adjustment dial is nearby, and the depth gauge is on the left. You can adjust the height settings and the angle of the domino. What piqued our interest though was the built-in stops that measure the length of the board enabling you to align the mortise impeccably between the boards for stronger joints.

Another fascinating aspect was the ergonomics of the tool. The DF 500 Q weighs a mere 7 pounds, and you can use it with a single hand allowing you to work for extended periods. Furthermore, you will appreciate the vacuum port for dust extraction to reduce the risk of jamming or damaging the tool. Nevertheless, here are our top features:

Pivoting fence – Thanks to the impeccable engineering, you can create angled mortises between 0 and 90®, with stops after every 22.5®. That is, stops at 22.5®, 45®, and 67.5®.

Patented cutting action –You can expect clean and repeatable mortises with the patented cutting action that rotates and oscillates.

Expand to see more
Product Features

Weight: 7 pounds
Voltage: 120 volts
Spindle speed: 24,300RPM
Slot cutter diameter: 5/6/8/19 mm
Depth: 12/15/20/25/28 mm

Who is it for?

The Festool DF 500 Q is one hefty tool, and we recommend it for professional woodworkers, and only for small to medium projects.

Using it thanks to the lightweight design is pleasant
It is highly accurate and gluing will be flawless
It's a time saver as makes quick work of any task
Despite being pricey, it is worth it
2. DEWALT DW682K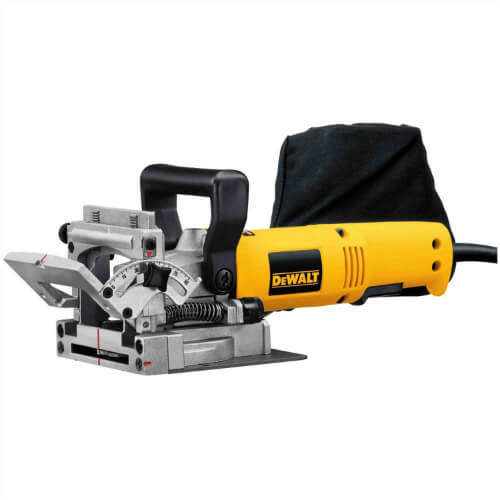 If you are in the market for a heavy-duty but affordable option, we recommend you get the DeWalt Dw682K. This unit is designed to handle hardwood without bogging down, and it performs without a glitch. First, you will appreciate the quality as the fence assembly, and gear housing are cast magnesium for longevity, and only the rear grip and motor cover are plastic.

The unit features a 6.5 amp motor and is only second to Porter Cable in this category. It has the standard 4" blade and speed of 10,000RPM. It features a lock-on button with the single speed trigger for those instances you want to work without compressing the trigger.

Moreover, it weighs 6.6 pounds allowing you to work for long periods. The unit is corded with an 8-foot cord allowing flexibility. Another exciting aspect is the aluminum shoe to prevent marring of the workpiece. As for the tool fence, it is exceptional. The fence can tilt to 90 degrees, it is accurate to a fault and uses a simple knob to regulate, and you will appreciate the dual rack and pinion assembly as it assists in proper alignment.

Anti-slippage pips – For accuracy and consistent results, the DW682K features anti-slippage pips in front of the tool to keep it from sliding.

45® locating notch – This allows you for consistency in mitered corners.

Expand to see more
Product Features

Speed: 10,000RPM
Power: 6.5 amp
45® locating notch
8-foot power cord

Who is it for?

The DW682K is best for earnest woodworkers and handling heavy-duty tasks.

For accuracy, the biscuit joiner has markings o shoe and fence for alignment with operator made markings
Features a solid handle for better control
Allows you to make flush cuts at 0® without removing the fence
This is only a shortcoming and not a deal breaker; the unit has an exhaust port on top that vents into the face of the operator.
3. PORTER-CABLE 557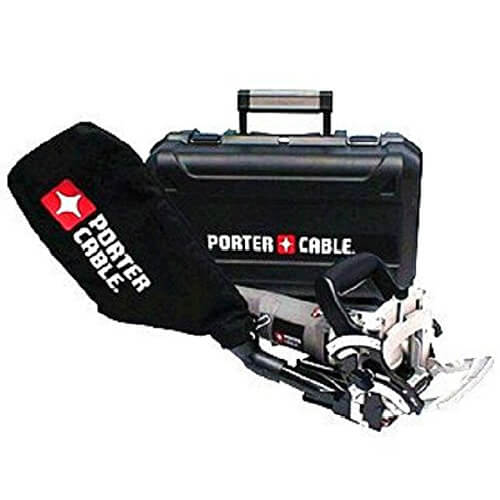 Another affordable and quality option you should consider is the Porter Cable 557. This is a 7 amp unit and the most powerful in its class. It is a 120V tool, works solely with AC, and has a speed of 10,000RPM. It is designed to handle light and heavy-duty tasks and everything in between, and you can expect clean and precise cuts given the power of the unit.

One exciting feature about this tool is the bale handle that is attached to the handle and not the motor resulting in better stability and controls. Moreover, thanks to the rack and pinion system, making fine adjustments will be simple enough as they increase the accuracy and ease of use. The fence gauge is accurate to a fault, and the dual angle mode makes it a walk in the park to work with an odd angle (90®-135®) as it is working with regular angles (0-90®).

The also happens to be streamlined and ergonomic, especially the large plastic coated handle that increases comfort. You will also appreciate the centering plate for stability when working at irregular angles. Our top features though were the depth stop and the fence.

Fence – What piqued our interest with the fence is that it can tilt to 135®, unlike other comparable units that tilt to 90®. It also incorporates an adjustable stop at 90® that you can lock the device at given the many applications at this angle.

Depth stop – With a seven position rotating depth stop, you can work with various biscuits. From the FF, #0, #10, #20, Simplex, Duplex, and max (#6).

Expand to see more
Product Features

Speed: 10,000RPM
Voltage: 120 volts
7-amp motor
Tilts to 135®
Seven cutting settings

Who is it for?

The Porte Cable 557 will serve both professionals and weekend warriors. We recommend it for people doing both inside and outside joints.

It is excellent for doing miller joints as it can tilt to 135®
It is a premium unit at an affordable price, and thus you are getting top value for your money
Retails with a dust collection bag
The clear plastic fence cover leaves a lot to be desired, and the dust-bag fills up quickly
4. Lamello Classic x 101600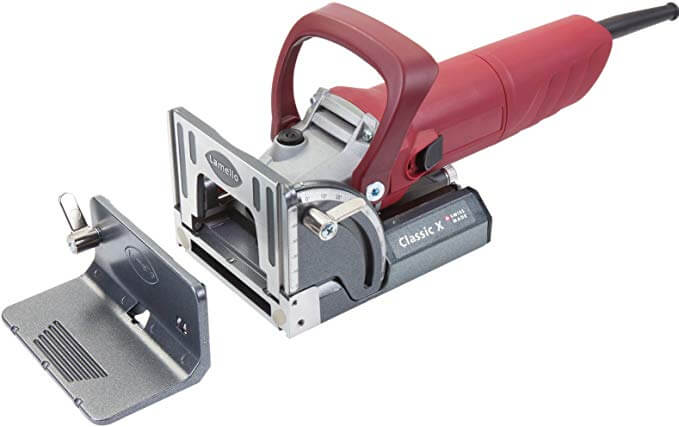 Another premium option we recommend it for serious woodworkers who don't want to spend the obscene amounts associated with the Festool. Also known as the "Cadillac of plate joiners," the tool has made a reputation, and it lives up to it if the 5-star rating on Amazon is anything to go by.
First, it works with more than 15 joining elements, unlike other that only work with 6 or 7 joiners. You will also appreciate the 780 Watt motor as it delivers 7.5-amp of power making short work of any task. Moreover, it is one precise unit thanks to the CNC high precision machined parts, and the life-guidance system. You will also appreciate that it can swivel to 135® and thus a remarkable pick if you are making grooves on the inside and outside. Furthermore, it stops at 0®, 22.5®, 45®, 67.5®, and 90® for applications that need this angle.
As for the ergonomics, it is slightly bulky to our top picks at 10-pounds but still maneuverable. Our top features though were, the auxiliary fence, and that it isn't just a biscuit joiner.
Versatility
– First, the unit can be used small defects on wood or make resin repairs. It can also be used to cut expansion gaps
in ceilings
and flooring.
Auxiliary fence
– The main fence of this unit slots in ¾" material and thus for various stock thicknesses, you have the auxiliary fence. It attaches to the main base for vertical use, but you can connect it to the main fence.
Expand to see more
Product Features

Carbide tipped cutter
Voltage: 230V or 120V
Speed: 10,000 RPM
Power: 780 Watts

Who is it for?

We recommend this unit for proficient woodworkers given the hefty price. It's also the ideal pick if you are in the market for a versatile plate joiner.

It is accurate, and you will get properly aligned joints
It is durable, and you can expect it to be around for a long time
Has a hefty price tag and doesn't include a carrying case which should be standard at this price
5. Makita PJ7000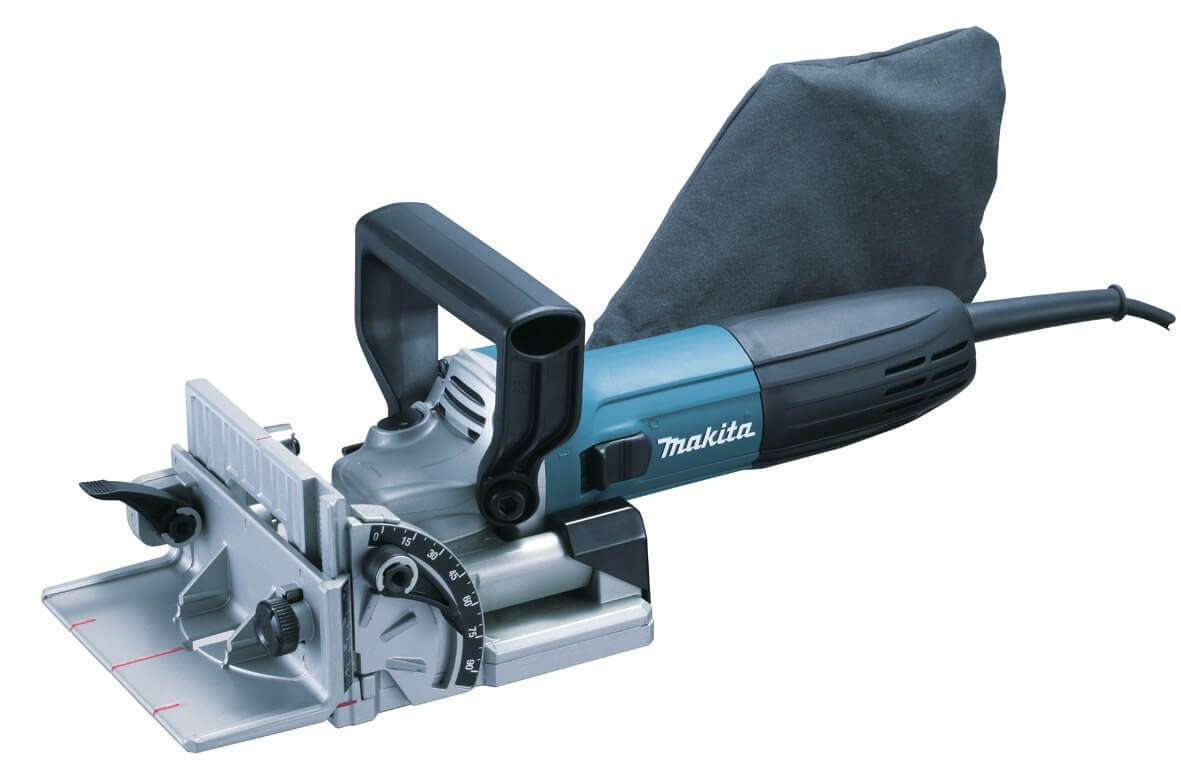 The PJ7000 is a meticulously designed plate joiner and one that will withstand the needs of a professional workshop. With a 5.6 amp, 700-watt motor, we recommend it for most DIYers and as a backup tool for professionals. The unit can reach an 11,000rpm making quick work of any task, but it bogs down when working on hardwoods.

The tool is a tank, and you can tell that it will be around for a long time. The fence assembly is cast aluminum, with the plastic levers being the only exception to an otherwise solid fence. Moreover, there are rubber patches on the front of the tool near the blade that are designed to stabilize the unit without marring the workpiece.

The standard working depth of the tool is ¾," and the angle guide helps you adjust the depth. It is perfect for depths below ¾," but you have to take extra care when dealing with depths up to 1-1/4" as you can bump the guide out of alignment given the distance between the fence and dovetail guides is getting smaller. The good news though is that you can remove it and replace with a plastic plate that is best for making slots at 3/8" below the surface. Our top features though were the easy blade change and the six-depth settings.

Easy blade change – Removing the blade cover is simple enough as it is a tool-less task, and the unit uses a shaft lock simplifying the blade changing.

6-depth settings – The PJ7000 works with six different biscuit joiners and has one-touch stops for standard sizes (#0, #10, #20). Rotate the silver turret until it indicates the biscuit type you desire, and the depth is set automatically.

Expand to see more
Product Features

Speed: 11,000RPM
Power: 5.6amp
6-depth settings
Weight: 5.5 pounds
Max cutting depth: ¾."
Cord length: 11-7/8"

Who is it for?

We recommend this joiner for weekend warriors, or as a backup for serious woodworkers.

The tool is appealing, and the attention to detail is astounding
Affordable and you will be getting value for your money
It is well built, and you can expect it to last
The top handle is attached to the motor housing, and therefore one has no control over the fence assembly
6. Gino Development 01-0102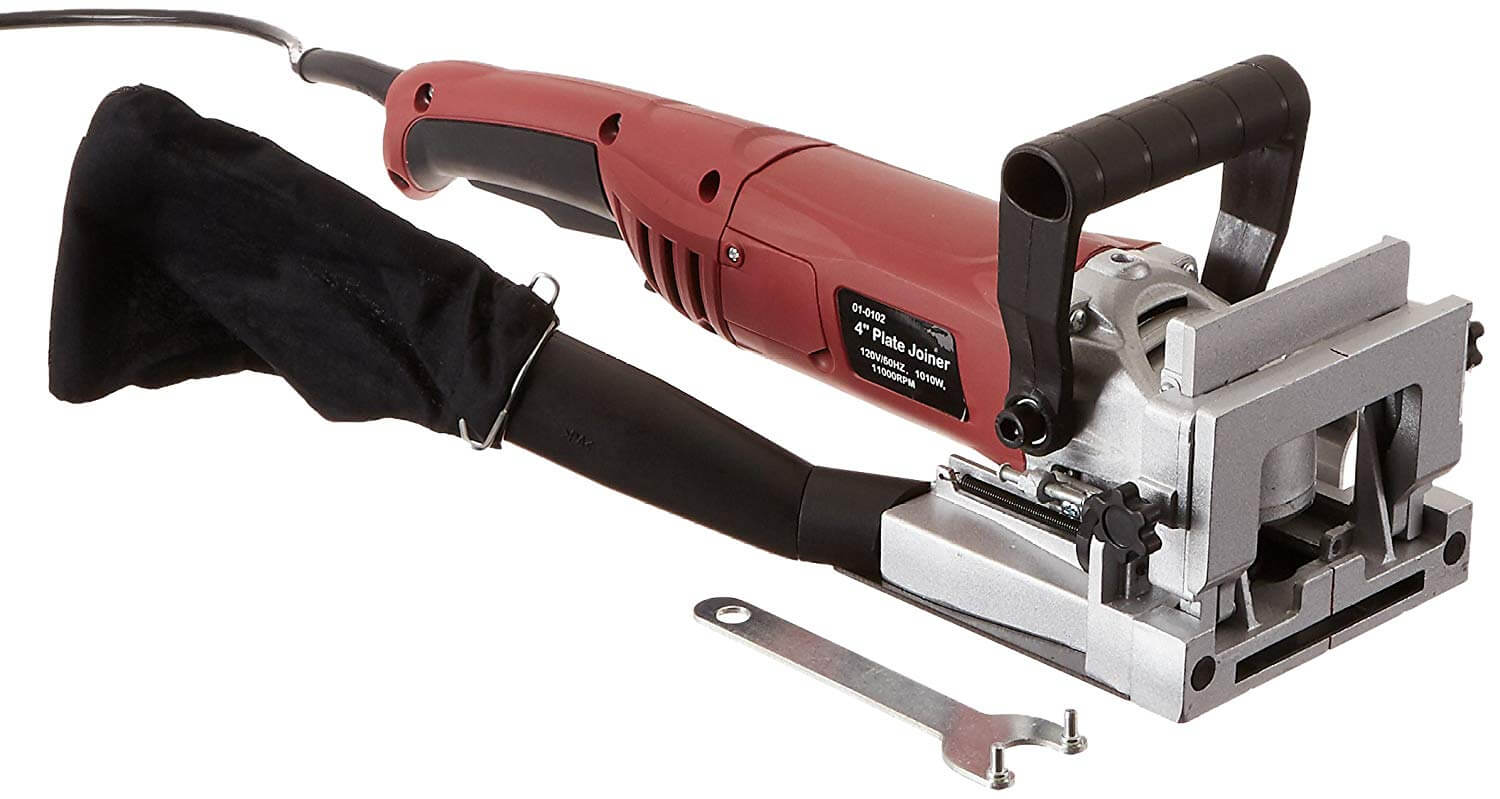 If you are looking for an affordable but robust tool, we recommend you get the True Power 01-0102 by Gino Development. Gino is based in the United States and is a trusted manufacturer of car parts, and power tools and the True Power 01-0102 is no exception.

First, you will appreciate the ergonomics as the tool. Weighing slightly over 8 pounds, it is lightweight, and you can use it for long hours with little fatigue. The cutting depth of this unit is slightly above ½ an inch at 0.55" and has a cutting angle between 0 and 45®. Moreover, it can work with several joiners and has stops for the most common (#0, #10, and #20) biscuits. Our top features though is the low-cost and power.

Affordable – The True Power 01-0102 is about half the cost of medium priced units on this list and a fraction of the cost of our top picks. However, it gives them a run for their money as it is a reliable tool.

Power – With a 1010 watt motor, and a max speed of 11,000 RPM, there is no task too demanding for this plate joiner. It happens to be more potent than units that are twice the price.

Expand to see more
Product Features

Weight: 8.35 pounds
Voltage: 120V
Power: 1010 watts
Max cutting depth: 0.55"
Cutting angle: 0 – 45®
One year limited warranty.

Who is it for?

The Gino Development 01-0102 is best for people who are on a limited budget. We also recommend it as a backup tool.

You get top value for your money
The blade makes detailed and precise cuts
Comparatively lightweight and comfortable to use
The blades get dull quickly
The fence available cannot exceed 90-degrees
7. Makita XJP03Z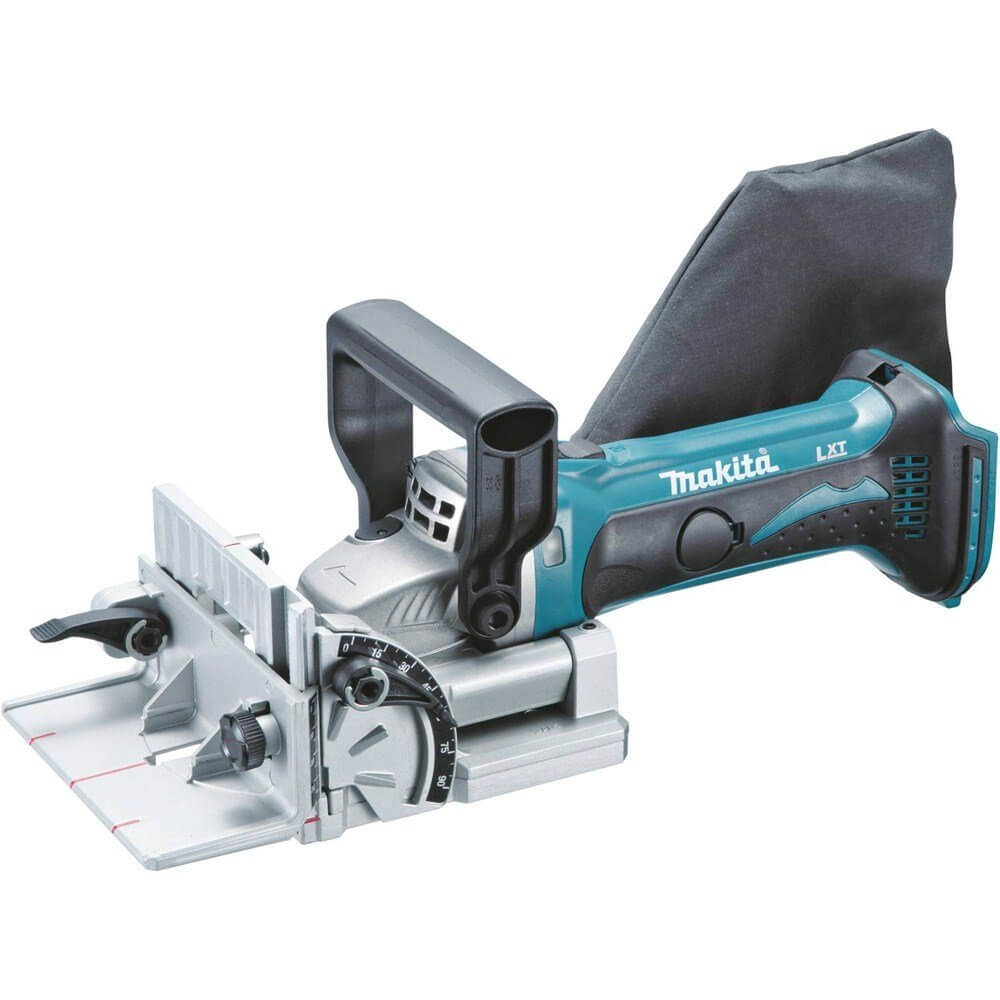 For those who are familiar with Makita, you can tell how robust their tools are, and the XJP03Z is no exception. However, it is different from our other units in that it is a cordless tool that works on the standard 18V LXT Makita batteries. The instrument is capable of making 320 cuts in on a charge which is equivalent of 160 joints.

First, the unit has a lock-on start switch that is spring loaded. You push it forward to start the tool and pull it back to stop. Moreover, you will appreciate the springs that pull back the motor aren't exposed and thus protected from the sawdust. The dust collection bag is also quite efficient as it collects 95% of the dust, but we recommend a vacuum for better results.

Furthermore, the tool features a quality fence, and the base is machined aluminum and non-marring. For stability, the device has rubber grips that improve the grip on the surface you are working on. The standard cutting height is ¾," but the apparatus includes an auxiliary fence that clips on the main fence for thin stock and a second fence that uses a rack and pinion to adjust the height. As a precaution only use the knob when adjusting the rack to ensure is ever parallel. Our best features about this unit though were the battery platform, and that it is tool-less.

Tool-less – Other than the blade change which requires a simple blade change tool, the rest of the unit allows tool-less operation. From adjusting the height, the depth, and the angle.

Battery platform – Seeing as this unit works on the standard 18V LXT platform, you can use the battery or any other Makita tool or take the battery from another Makita drill and use it here should you run out.

Expand to see more
Product Features

18V battery
Capable of 320 cuts per charge
6-depth settings
¾" standard height
Swivels to 900

Who is it for?

We recommend this unit for woodworkers who are ever on the move, or working on large projects and don't want to be tethered to an outlet.

It includes a safety feature in that it will not start should you swap batteries when the unit is on
It increases efficiency as it is cordless
Lightweight and pleasant to use
Affordable
It lacks a battery gauge, and thus you can't tell how much power is left in the tool
8. Lamello Top 21 101500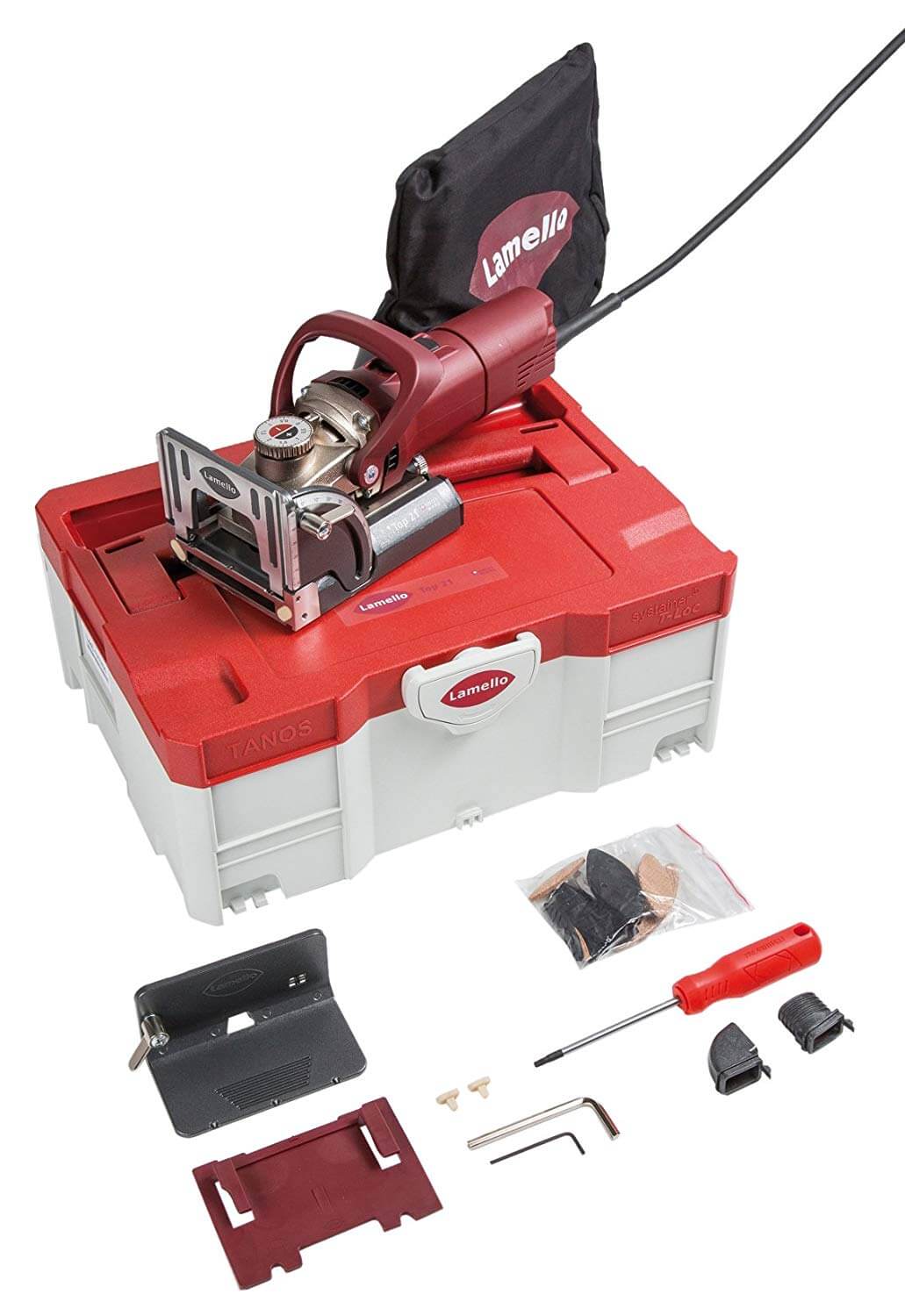 Lamello is a Swiss company that is responsible for the biscuit joiners and the biscuit technique that is common today for aesthetic joints. As such they have a head-start over other companies and it is evident in their tools. The Top 21 is their high-end tool but one whose precision trumps most units on this list. You can expect to make precise cuts on the first try.

Some exciting features are that all fence surfaces are machined to keep them from marring your work-piece. Moreover, the scales are on one side, and thus adjustments are a walk in the park. The fence swivels to 135® but more on that later. The fence features a secondary horizontal fence that you can use to adjust the height, or for stability during vertical applications. You will also appreciate the soft-start motor as it keeps the tool from kicking. Our top features though were the miter fencing and angle guide.

Miter fencing – Thanks to the 45® notch on the accessory fence, you can index off the side of the miter for perfect alignment, unlike most units where you have to index of the back or inside of a joint creating sloppy joints.

Angle guide – First, you can make cuts both on the inside and outside of a miter joint without turning the workpiece over. Moreover, it has lock-on positions for all common angles.

Expand to see more
Product Features

Power: 800 Watt
Angles: 0-135®
45® indexing joint
Weight: 7.75 pounds

Who is it for?

Given the hefty price tag, we can only recommend it for serious woodworkers.

You will make precise cuts within the first try
It is easy to use since all scales are on one side
It is powerful and built to last
9. VonHaus 8.5 Amp Wood Biscuit Plate Joiner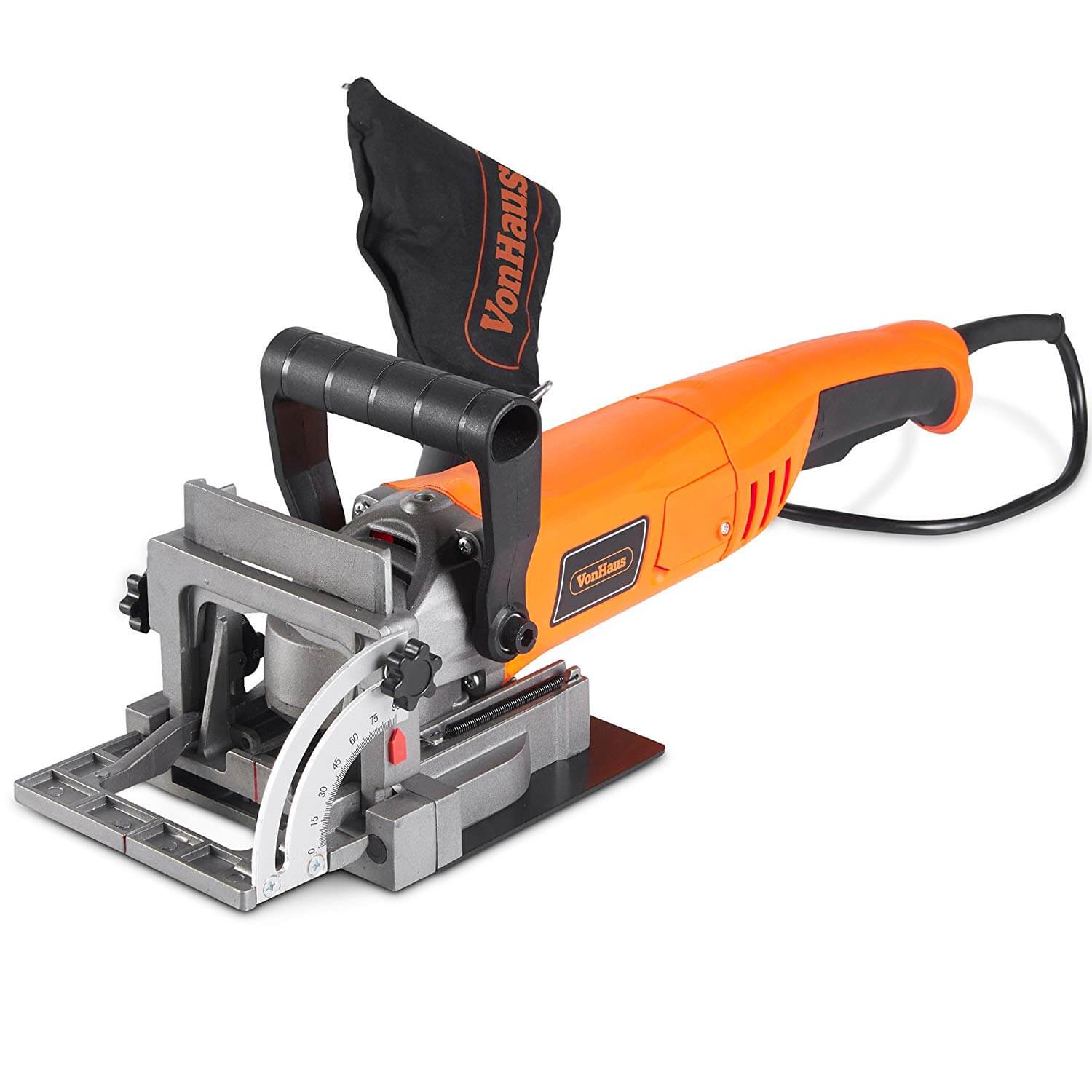 If you are looking for an affordable unit, other than the True Power 01-0102, we recommend the Von Haus 8.5 amp plate joiner. It is an affordable unit, but one that is solid. The biscuit joiner has three preset depths for the most common grooves (#0, #10, and #20) that you can adjust with a dial. Once you set it to the preferred biscuit, the tool automatically adjusts the depth.

Another fascinating feature is the single piece fence that ensures that the unit can adjust the height, unlike other instruments that need an accessory fence.

Furthermore, you can change the cutting angle anywhere between 0 and 90®. The tool uses a 4" blade and is compatible with all 100mm for ease of getting a replacement in case you can't get a Von Haus blade. Our top features though were the dust collection system, and power.

Dust collection bag – Biscuit joiners still happen to be saws and as such produce a considerable amount of dust and debris. The dust collection bag happens to be quite efficient and will collect over 90% of the waste created thanks to the suction function that works when the unit is on.

Affordable – Most of the plate joiners here are either high-end or in the medium range, and it is refreshing coming across a tool that is not only affordable but robust as well.

Expand to see more
Product Features

Power: 8.5amp
Voltage: 120 volts
Weight: 8.45 pounds

Who is it for?

We recommend this tool for DIYers and weekend warriors, as a backup for professionals, or for woodworkers who are on a tight budget.

It is quite powerful for the price
It is affordable, and you get top value for your money
It has an ergonomic design with a comfortable, secure handle
Makes accurate cuts given the price of the unit
Happens to be a little heavier than some units, and it would not stand up to other units
10. Ryobi -JM83K-AC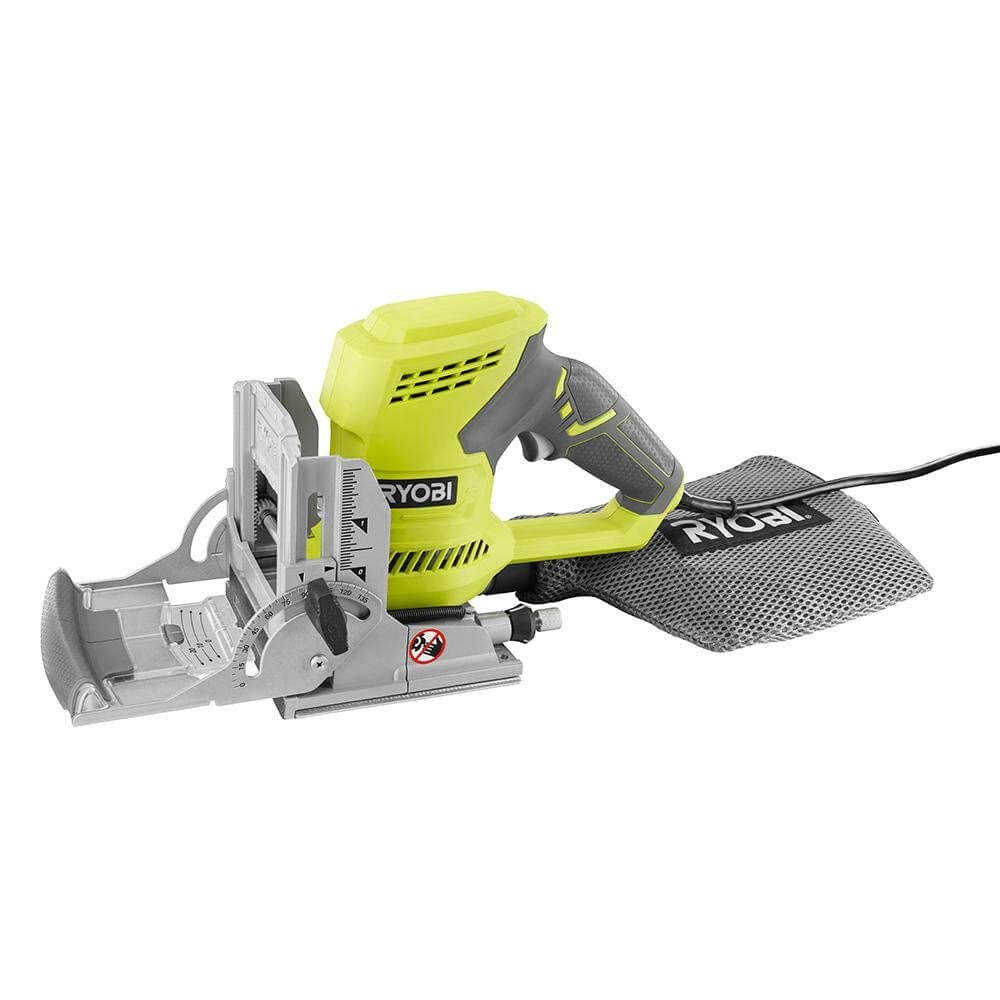 Though this isn't the most affordable, it is still better priced than most options on this list. The tool features a 6 amp motor which is enough for softwood but will be bogged down by hardwood. Moreover, it includes a carrying bag and features a 6-foot cord. It swivels to 135®, and as such you don't have to turn the workpiece, around when making miter joints.

You will also appreciate that the tool has position locks at 0®, 45®, and 90®. Furthermore, the company outdid itself with the documentation. The angle adjustment is on the left of the machine while on the opposite side (the right side), there is the height adjustment when dealing with different size stock from 0" to 2". You can adjust the depth of cut at using the knob on the lower left near the handle though it is limited to three depth settings. Our best features are that the fence is one piece construction and carbide-tipped blade.

One piece construction – Most of the biscuit joiners on this list feature an accessory fence when you need to adjust the height. And though it is a neat touch especially during vertical applications, it is still tasking. Well, you don't have to worry about this with the Ryobi as the all the features are built into the main fence. Furthermore, you need not worry about losing the accessory fence, which would limit the unit.

Carbide-tipped blade – For durability and better cuts, the JM82GK blades are carbide-tipped, and you can be sure the blades will be around for a while.

Expand to see more
Product Features

Weight: 10 pounds
10' power cord
Cutting height: 0"-2"
Cutting angle: 0-135®

Who is it for?

The Ryobi JM82GK is for weekend warriors. It also happens to be heavy, and thus we recommend it for DIYers who can handle the weight.

The manual is well written and will help with setup and any questions
Adjustable angles to 135®
Affordable
Adjusting the cutting angle can inadvertently alter the height, and the height adjustment and locking mechanism are on different sides which is inconvenient
Selection Criteria
Handle style
When working with these tools, you can expect to come across a barrel grip or D-handle. The barrel grip is the larger of the two, and you are holding the biscuit joiner. It has a larger grip than the D-handle and allows for more maneuverability.
Moreover, you get more control as you are closer to the blade. The D-handle, on the other hand, is a separate piece that you attach to the back of the tool. It is more ergonomic and pleasant to hold for extended periods.
Fence setting
The fence is the guide for the saw/joiner when you are cutting the oval-shaped grooves into the wood, and happens to be one of the most critical Ensure you can adjust the setting to various positions, and that you can adjust the angles. The more options you have, the more versatile your device will be. We suggest you get a joiner at least that is 45® and 135® capable as then you don't have to flip the piece of wood around as the joiner will do it for you.
Blade versatility
To be proficient with this type of tool, you have to understand the basics of blade sizes. Most tools retail with a 4" blade as it is the standard. It can cut the most common range of biscuits (#0, #10, and #20), but that's not the only sizes available. There are instances where you might have to work with smaller biscuits. Therefore ensure that your tool has a plunger mechanism for holding smaller blades.
Power
If you want exceptional results, then you must purchase an outstanding tool, and one thing to consider is the power. When buying a biscuit joiner consider the amp draw and the speed, i.e., RPM. The former determines the power of the unit, while the latter allows you to cut into wood quicker.
Durability
Ensure the tool you are purchasing will serve you diligently by getting a top-quality unit. We push our machines to the limit, and they often come into contact with dirt, oils, dust, and other foreign objects that could damage them owing to the harsh environments we work with. But this is the nature of the game, and it is not about to change. To withstand this, ensure polymer plastics and corrosion resistant metal are basics in your tool.
Dust collection system
When cutting grooves, the tool will leave dust and chips flying towards you and into the machine. A dust collection system should be a fundamental feature if your biscuit joiner is to last. Moreover, it makes cleaning the tool a walk in the park.
Ease of use
Finally, how simple is the setup? How complicated is working with the tool? How is the learning curve? Look for a tool that is easy to work with and comfortable. Some basics include a lightweight design and padded handles.
Following are some recommendations for the best biscuit joiners.
FAQs
What material does a biscuit joiner work with?
For the best performance, we recommend you use plate joiners for wood applications, and even that depends on the power of the unit. For units below 6 amp, we recommend them for softwood application while those above seven can handle both light and heavy-duty tasks especially knotty hardwoods without being bogged down. Nevertheless, these instruments can still be used for hard plastics and wood composite materials.
However, though metals can be joined using biscuit joiners, don't use the standard tool and get a special unit for this application.
How do I get the right biscuits for my tool?
First, consider the length of the blade of your joiner. Most units have a 4" blade while some are manufactured to work with smaller blades for delicate tasks. However, the biscuit size shouldn't concern you owing to the depth setting on plate joiners that allows you to work with different biscuits. All the units on this guide can work with #0, #10, and #20 biscuits which are the most common.
Nevertheless, some can work with up to 14 joiners, and we recommend them for professionals and serious DIYers.
Should a beginner invest in a premium joiner?
A biscuit joiner is a unit that will serve you for a lifetime. There isn't that much to it, the technology is pretty straightforward, and we don't expect much to change.
Therefore, if you intend to further your skill, you might want to invest in a quality product. However, if this is more of a hobby, then we recommend a low to medium priced unit.
Will it make a mess?
A biscuit joiner at its core is still a saw and does create a lot of sawdust depending on the cut you are making. However, it doesn't have to make a lot of mess provided you connect it to the dust collection bag or vacuum cleaner.
Conclusion
Our overall top picks are the Festool DF 500 Q, and the DeWalt DW682K. If you are an earnest worker, we recommend the former, but the DeWalt can still work. However, the DW682K is best for weekend warriors.
All these plate joiners though are exceptional and can cut through any wood, some better than others. Ensure you stick to your budget and get a unit that meets your needs. And if you feel there is something we missed, let us know in the comments below.
Subscribe to our newsletter