Best Auto Feed Screwdrivers Reviewed
last updated:
Feb 25, 2019
Production framers and a series of other occupations can often measure the amount of plywood flooring and decking they install using acres rather than feet. That great need and the movement away from pneumatic nailers has made tools like auto feed screwdrivers that much more desirable. Unlike standard powered drivers, auto feed screwdrivers will load screw after screw like a belt machine device, allowing a contractor to turn dozens, if not hundreds of screws in the time it would take a manual screwdriver to secure one or two joints.
Our Top 3 Picks
[srpshortcode id="4614″][/srpshortcode][srpshortcode id="4615″][/srpshortcode][srpshortcode id="4616″][/srpshortcode]
This increase in demand has led to multiple companies trying to put out competitive auto feed screwdrivers. Unlike many of the other tools we review, auto feed screwdrivers are still the purview of only a few companies at this point. While there is still a diverse set of choices, it does not range as far as many of our other featured products.
Regardless, we have spent the time examining and reviewing the best options out there for both the pro's and the DIY crowd. Some tools will feature a multitude of extended features, while others will simply get the job done without much hassle. Every single one has been evaluated to the point that we are confident we could argue for its place in a list of this sort.
Normally we would avoid reviewing tools from the same family, for the sake of diversity, but in this list companies like Makita dominate the market, so we are forced to take a good long hard look at their options and weigh them against both other Makita tools and the general competitors.
Either way, rest assured that we approached this project with an objective lens, and did our best to make sure that if you decide to make a purchase, it is entirely unlikely you will regret the decision
A consideration to factor in when reading this list, is that we did rank them in a top ten fashion. This was done in a price/value ratio – which we will get into later. The point is, that many superior tools may rank lower in the list if we decided that their improved function did not justify their increase in price. I.E. an inferior tool may have ranked higher if we decided that it provided an overall better value per dollar spent on it.
10 Best Auto Feed Screwdrivers
1. Senco DS275-18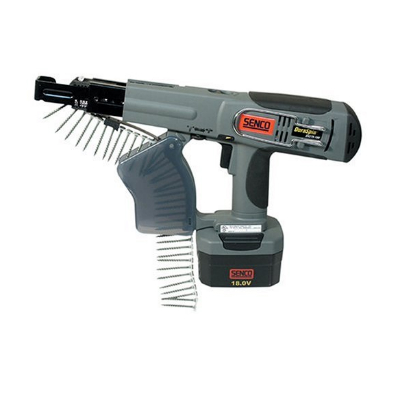 Although a bit older at this point, this tool is still a fantastic offering in the cordless auto feed screwdriver category. The 18v battery ensures it maintains stable power output for the tougher surfaces and the long battery life means you can screw hundreds of screws on a single charge.

Many professionals and homeowners have been using this screwdriver for over a decade at this point and have no plans of moving on.
Expand to see more
Key Features:

Weight: 6.3 lbs.
Cordless 18-volt battery
Rotation Speed: 3000 rev/min
Torque : 50 in-lbs
Easy depth of drive adjustment
Trigger lock with reverse for continuous work
50 screw strips
900 screws in drywall to wood per charge

Price/Value:

The battery system makes this tool much pricier than the corded auto feed screwdrivers, with that said, however, if your tasks require freedom of movement then it may be worth the extra money. You can think of this tool as an investment in the future, and especially on site time - it will help you get jobs done faster, and it will last you years.

Who Should Buy This?

Fantastic for both Pros, DIYers, and homeowners who need to put down a lot of screws fast, and require the added mobility of a cordless system.
Proven to be able to last over a decade
Long battery life
Good power
Much more expensive than its corded cousin
Some minor feed issues will occur
[srp_anchshortcode id="4614″][/srp_anchshortcode]
2. Senco DS332-AC 3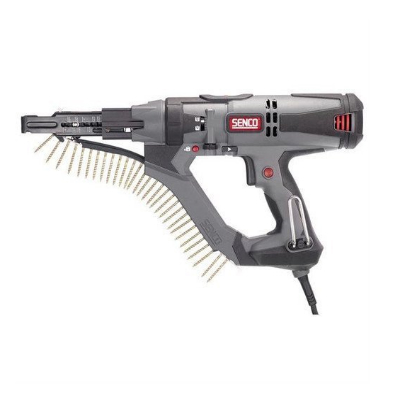 Whether you are working on a ceiling, fencing, a deck or any other project that requires a large amount fasteners, you shouldn't hesitate to consider the Senco DS332-AC. Extremely reliable and well built - it is a great screwdriver for both professionals and homeowners. It feels better made than its nearest competitors and comes with enough features to make you feel like you get everything you deserve for the money spent. The corner-fit feed system is also a nice addition.
Expand to see more
Key Features:

Weight: 5.9 lbs
Corded
Rotation Speed: 2500 RPM
Torque : 100 in-lb
Tool free screw length adjustment
Patented screw strip guide
Quick slide button bit change
Variable speed trigger with lock and reverse

Price/Value:

This device tops our list for best overall value. It is a tad more expensive than some competitors but compensates for that by just being better made. It is a more solid investment for the long term.

Who Should Buy This?:

Both contractors and homeowners can find something to love in the Senco DS332-AC. It is a useful tool, and the price range isn't so high as to make it exclusionary to only professionals.
Rare feed issues
Easy to use
Comfortable in the hand
Somewhat slow RPM
The rubber assembly that holds the screw can be temperamental
[srp_anchshortcode id="4615″][/srp_anchshortcode]
3. Simpson Strong Tie PRO300SM35K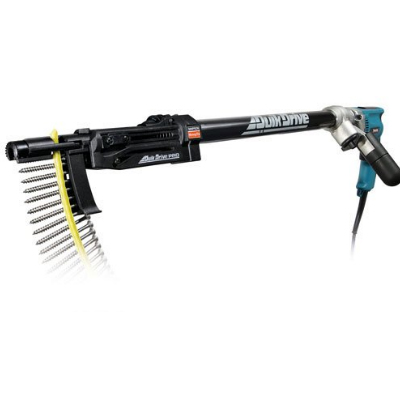 This is a unique designed device sporting a tube look. This is a fantastic device for applying large amounts of fasteners quickly and efficiently. The design applies itself well to ease of use, reliability, and a surprisingly low amount of feeding issues. This device is well worth the increased cost for its capabilities that enhance your ability to quickly and effectively finish up jobs.
Expand to see more
Key Features:

Weight: 12.8 ;bs (Shipping package weight)
Corded
Rotation Speed: 2500 RPM
Non-skid teeth which are replaceable and reversible
The stability of a broad range of screws is increased by the sure grip guide tube
Limited lifetime warranty attachment and extension

Price/Value:

Not cheap by any means, but provides a great amount of ability for what you do pay. It is a solid bargain.

Who Should Buy This?:

This is a great tool for a professional who needs an auto feed screwdriver they can count on. It may be more than the average homeowner needs, but any purchaser is unlikely to have any significant complaints or regrets.
Good design
Powerful
Reliable
Requires you to apply a specific angle with each screw
[srp_anchshortcode id="4616″][/srp_anchshortcode]
4. Makita XRF01Z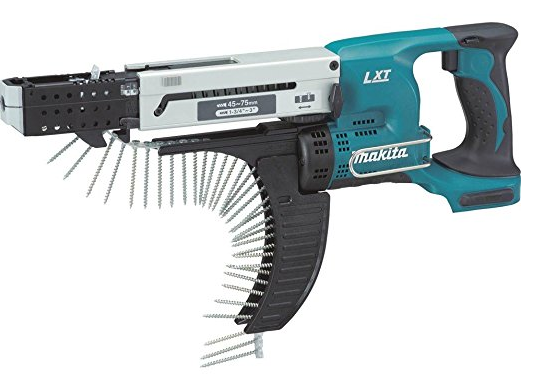 Compact and lightweight, the Makita XRF01Z is a great tool to help you get through a large project. Very sturdy with decent battery life and packed with added features. It also has a pretty fair price for a cordless system. Makita is a fantastic company, and their auto feed screwdrivers are among the best and this one is our favorite.
Expand to see more
Key Features:

Weight: 5.2 lbs
Makita 18V LXT® Lithium-Ion
Rotation Speed: 4,000 RPM
Integrated auto feed design (compact)
screw capacity range, High collated (inches): 1 -3/4 " to 2 -15/16."
Reversible belt clip
Rubberized soft grip handle
Star Protection Computer Controls™
Dust-proof autofeed housing

Price/Value:

This is a rather low-cost cordless auto feed screwdriver that is packed with features. The only reason it wasn't our number one is that it does not yet have the same track record of high-level functionality (not saying that it won't soon.)

Who Should Buy This?:

The low price makes it ideal for a hobbyist who doesn't have a huge use for it past a couple of projects, while its functionality makes it a solid choice for the pros. This is a solid contender no matter what your auto feed needs are.
Extension handle (good for decking and sub-floor applications)
Real power.
Comfortable
Does not come with a #2 square recess bit (it's a Makita issue, they have a workaround)
Average autofeed reliability
5. Bosch SG450AF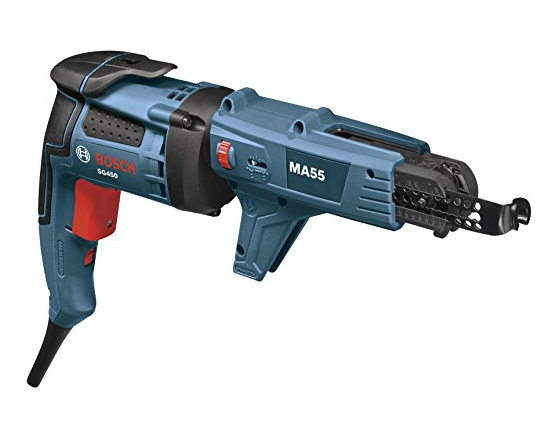 Solid, well built and reliable. This is the tool for professionals who need something they can count on. It doesn't have all the bells and whistles as some of the other drivers, but that is more a comment on the confidence it has in its ability to complete its job without issue more so than due to a lack of care in design. This is a high-end driver, and the price reflects that.

Expand to see more
Key Features:

Weight: 5.9 lbs
Corded
Rotation Speed: 4500 RPM
Torque : 106 in-lb
Compact Ergonomic Design-Contoured grip
High Torque Gearbox
Interchangeable Bit Tip and TEK Nose-Versatility
Variable Speed Trigger-With forward-reverse lever

Price/Value:

This is a high-end auto feed screwdriver, and the price represents that. If you are looking for something that will last and can be relied on for big jobs, this may just be worth the investment.

Who Should Buy This?:

Contractors who are looking at some large projects. This is a high-end auto feeder with solid features. Pros who have quite a need for an auto feeder may find considerable use.

Fast
Lightweight
Accurate
Easy to use
6. Durofix 18V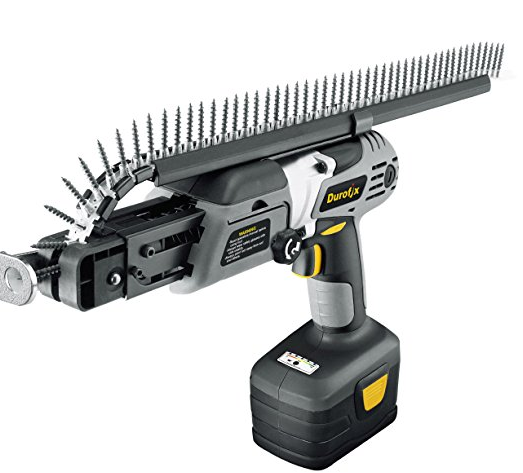 User-friendly with the right amount of power, this Durofix is a solid addition to the lineup. This is an upgraded version of a previous design, and it has been made lighter and easier to use and is more capable transferring the battery power into substantial RPM.
Expand to see more
Key Features:

Weight: 5.70 lbs
Battery: 18V Li-ion
Rotation Speed: 2,300rpm + / 0-3,000 ipm
Drive-Depth & Screw-Length Adjustments
Responsive Variable Speed
Reversible Control
Electric Brake
Battery Capacity Indicator
Anti-Slip Head

Price/Value:

This tool falls a bit more on the expensive end, but is not so cost heavy as to entirely unattractive. It compensated well for the higher price.

Who Should Buy This?:

All parties can use this, but the price may make it more an item of avid homeowners and hobbyists you will require it often or contractors who need a reliable speed fastener.

Compact and lightweight
A good number of features
Usually requires added pressure, meaning you may need two hands
7. GMC GAFS230 550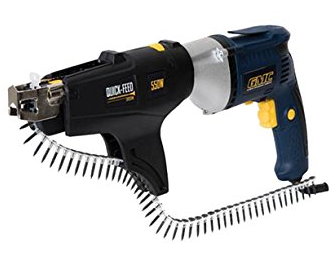 The GMC GAFS230 is a decent auto feed driver that makes its mark by landing on the cheaper side of the discussion with only a minor drop in functionality. If you are looking for a discount auto feed driver, yet still want something that can get the job done, this GMC strikes a nice balance.
Expand to see more
Key Features:

Weight: 7 lbs
Corded
Rotation Speed: 0-5500rpm t
Torque: 14Nm torque
Click-to-fit auto-feed mechanism
1/4" driver with forward & reverse
Can be used as single screwdriver with depth stop
Includes depth-stop collar

Price/Value:

Low cost compared to many other auto feed drivers. It slacks in a couple areas, but the low price balances these out for the most part.

Who Should Buy This?

This tool is best suited for hobbyists and DIYers who only need an auto feed for a couple projects a year, and still need a powered driver here and there.
Good speed control
Versatile
Some issues with the depth gauge
Driver will get very hot
8. Makita DFR550Z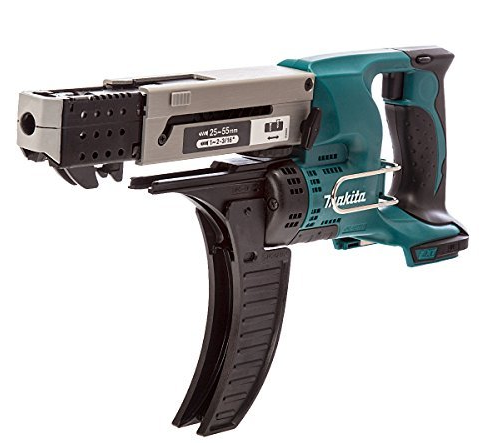 This is an excellent cordless auto feed driver from Makita. Very reliable and easy to use, it is precisely the kind of tool a discerning pro should look for if they are seeking to spend less than $200 for a reliable tool. As long as you use the tool slowly and steadily, you will avoid the majority of feeding issues that many claim the Makita's are prone to.

Expand to see more
Key Features:

Weight: 4.6 lbs
18V batteries
Rotation Speed: 4000 rpm
Redesigned sturdy aluminum casing attachment
Screws are prevented from swaying that to the anti-tilt
The crew guide is designed to prevent screw strip jam ups
Reversible

Price/Value:

This Makita has some feeding issues but comes in at half the price of slightly more reliable tools. As long as you are ok with clearing the occasional jam, this is a fantastic value.

Who Should Buy This?

The lower price for a cordless auto feed means that both professionals and homeowners can find some use. As with all decent auto feeders, the hobbyist will need a couple of large jobs to justify its purchase.

Lightweight
Cost effective for a cordless
Requires a slow and steady application
Feeding issues are a common occurrence
9. Concept Distribution CPZ104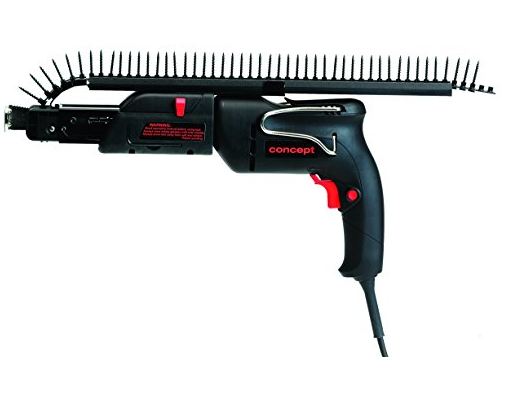 A screwdriver with countersink nozzle to handle individual screws, and an auto feed attachment which is capable of fixing collated screws. Accessories can give it a wide variety of fastening size versatility, and it can be used to reach to floors and ceilings.
Expand to see more
Key Features:

Weight: 7 lbs
Corded
Rotation Speed: 2300 rpm
Torque: 167Nm
Countersink nozzle
Built-in LED light
Variable Speed Trigger
Constant Run Button
Non-Slip Autofeed Nose Piece

Price/Value:

Decently priced with a broad range of functionality. This is a reliable tool that would make an excellent addition to the team - and it won't break the bank doing so.

Who Should Buy This?:

We want to say this is more of a DIY tool, but it could also find a decent amount of use in a Pro's tool chest under the right circumstances. It may not hold up under heavy duty use for as long as well built tools.
Powerful and fast
Upgradable
Practical and cost efficient
Concept is not typically known for exceptional quality
10. Makita 6844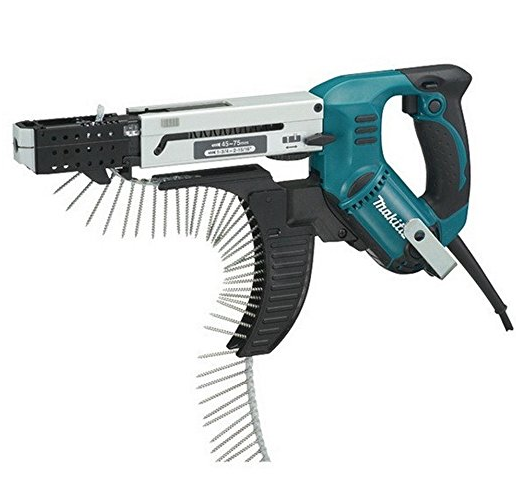 This Makita is either loved or hated by those who use it. It provides decent power, but it suffers from a few design flaws. Many don't seem to mind and stand by the tool, while others just can't call themselves fans. Regardless, compared to many of the other options out there - Makita is always going to be a solid choice and for all intensive purposes, this is a solid and reliable auto feed driver.
Expand to see more
Key Features:

Weight: 4.5 lbs
Corded
Rotation Speed: 3,000 RPM
""Tool-less"" screw depth adjustment
High torque
Built-in L.E.D.
Adjustable stopper
Ergonomic D-handle design
Silent clutch for reduced maintenance & quiet operation
Belt clip

Price/Value:

Fairly expensive for a corded driver, and it also requires proprietary screws. We would only recommend this based on value if you are already using Makita products and this is an easy transition.

Who Should Buy This?:

This falls somewhere between pro use and DIYers. It lack the umph for most pro work, but is on the very expensive end of what I would recommend for homeowners who don't need to utilize a fastener in their daily life. It is a decent tool, but you would have to have a specific reason for choosing it over some of the others on this list.
High torque
Good features
Occasional misfeeds. May need some pliers
Criteria for Evaluation

To create this list, an enormous assortment of screwdrivers were evaluated and eventually rejected – and even then we had to to rank those that were selected to be a part of the list. There was quite a bit of criterion that was thought of when ranking these screwdrivers. A number of the factors were fairly obvious, like power, weight, and quickness – however some weren't so obvious. Some opinions were subjective, like comfort. In order to fully explain why the tools were eventually ranked how they were, we have offered you a brief explanation of the relevant factors.
Another issue to think about is that the explicit utility of the screwdriver outside of our rankings. This list contains screwdrivers created for specific jobs. What job one excels at, another won't. You need to think of the rankings as simply a signpost to help you sort through the options, and then determine for yourself the value the tool will have for your specific needs.
Price
When comparing the auto feed screwdrivers, we dealt with machines around $60 and some around $600. In order to accurately compare these against one another, we had to utilize a cost/benefit ratio. Unlike other power tools, this was a bit harder with auto feed drivers. Regardless the idea is that if a device can accomplish 70% of tasks, but only costs 20% as much as another tool, it would be deemed to be a higher overall value.
Power
Driver power is a combining of the Torque and RPM. Attention was paid to RPM and Inch-pounds of course, but the overall ranking dealt specifically with what level of tasks could this driver tackle (there was a very high correlation between the two of course). Tools that could only handle smaller tasks or deal with weaker materials ranked lower overall than screwdrivers that could power through denser materials.
Precision
While accuracy is important for all powered screwdrivers, it is a bit less important with auto feed drivers since the tasks are often relying on a large amount of screws placed quickly. We still considered this as relevant metric, but it was not as important as it was in our general powered screwdriver rankings.
Ease of Use and Versatility
Something being "easy to use" is nice, but it can be very subjective with power tools – most have a learning curve or take some time to get comfortable with. What weighed heavier was the versatility of the device and how rare, or common, feeding jams were. The Achilles heel of great auto feed drivers is the jam.
How well it could reach awkward places, how many hands it took to utilize, and where and when you could see somebody using the tool were also important.
Features
Features are nice, and are common selling points for a lot of power tools, especially when they have many similar competitors. Compared to other tools, auto feed drivers are actually rather light on superfluous features, so when a good added feature did appear, we made sure to add some extra points to the device.
FAQs
Cord or Cordless?

When you are talking about general screwdrivers, this debate is just about over. For a long time cordless screwdrivers weren't able to provide the necessary torque, but with advancements in battery technology, the cordless alternative has become the more sought after one. It is generally easier to handle and deal with. The only real benefit to corded drivers are the price, and not worrying about a charge – almost every task can be handled by a powerful enough cordless screwdriver. he lithium-ion batteries of today are immensely more powerful than the batteries of a generation ago.
For auto feed drivers, a cord may still be a bit more practical. Corded drivers are able to apply nails all day without losing power and killing a battery, and will often have that extra bit of umph that makes putting down a thousand screws just a bit easier on the hands. Corded screwdrivers will also usually weigh less so that's a plus when you are dealing with hundreds of screws.
What does the Clutch do in an Electric Screwdriver?
A clutch is an element of a device that works to transfer power from from one area of an object to another. It regulates the output of energy or power that is delivered to the devices working mechanism. It is the same as a car clutch. At one end of the placement, the clutch prevents any energy from being transferred, when fully freed it allows for a complete connection between the power source and the mechanism conducting the work. A clutch is used to control the overall power output of a tool.
What is Torque on a Screwdriver?
Torque is often confused for the speed at which a tool rotates, but this is a misconception. RPM measures the rotations per minute – torque is the measurement of the force in which the object turns. These days both corded and cordless drivers can provide substantial torque, well past what is typically required.
To put it simply, torque is how capable your drill or screwdriver will be at powering through a material or surface. The more torque a tool has, the easier it will be to work through the material. If the torque is too low, it will not be strong enough to break through the surface.
There have been recent studies done that try to combine both the speed and torque into a separate rating, weighing the combined power.
Do I Need an Auto Feed Screwdriver, or Simply an Electric Screwdriver?
This ultimately comes down to you. Auto feed drivers make putting a lot of fasteners in place a breeze, but they also have their limitations in a variety of other functions. Many more screwdrivers that are not auto feeds are much more capable in your standard day to day tasks.
If you need to put up a whole mess of fencing, a deck or something similar, then an auto feed can save you a ridiculous amount of time.
It really just depends on the types of jobs you are trying to accomplish – and how many of those jobs you will be doing. If you are putting up a single fence, for example, it may be a better idea to go with a normally powered screwdriver and just suffer through that task – but then you will have something that is more versatile for your future jobs.
How do I Conserve Battery Power?

If you go with a cordless device, you're going to have to make sure you take care of your battery, especially if you don't want to shell out the extra money for a couple of back ups. Making sure you maintain a proper charge and treat the battery right can go a long way it maintains its longevity.
Different batteries operate differently from one another, however. I know that (and Dewalt verifies this) that Dewalt batteries perform much better if you stop using them right when they begin to show a sign of weakening (from loss of charge) and recharge them. This is the opposite of how laptops or cellphones work, where they say it's better to let the battery drain completely before recharging. Check out the manual or the manufacturer's webpage to see how their battery functions best and what you can do to ensure yours continues to work at peak functionality. They aren't exactly cheap.
Batteries may often trick you into believing they are broken when they are just operating under adverse conditions. Extreme heat is often a cause of a battery seeming to lose its charge too quickly. Tools can heat up very fast. If your battery is acting up on a hot day or with a hot tool, let it sit in a cooler area for awhile until it's back to a normal temperature (in and out) then let it charge overnight. If it still fussy then you should consider replacing it.
Do I need a LED Light?
This question comes up a lot more with general screwdrivers more so than auto feed drivers, and that kinda makes sense. It seems every other electric screwdriver these days has a LED light built into it. That will, of course, make you question your purchase if the driver you want doesn't have one.You, of course, do not need a LED light, but it can be very helpful for both auto feed and regular electric drivers.
We all know how annoying it is to try and hold up a light and operate a tool with a single hand, or to struggle to balance a flashlight on something to just end up blocking it with our arms or bodies. A built in light kills all that annoyance. For general electric drivers that you will often be used in tight corners or inside cabinets or wherever this can be a godsend. The advantage is a little more muted on the auto feeders, just by the nature of the work they are mostly used for, but there are definitely auto feeder tasks that are made much more pleasurable by the addition of a built in LED light as well.
You just have to reflect on the jobs you will be doing and how you plan on accomplishing them. Does a man make light source play into that?
What is the Reverse Switch?
A reverse switch allows you to change the direction of the spin of your screwdriver. Of course, one direction will continue to tighten a screw, while the other direction will loosen or remove it. A reverse switch allows you to quickly avoid mistakes and reinsert screws without releasing and adjusting the tool – a well-placed switch allows you to troubleshoot your work on the fly.
What is the History of the Screwdriver?
Ok, no one ever actually asks this, but I got to write about it in the other screwdriver article, and It is just as relevant for this one.
Strangely enough, the screw actually predates the screwdriver by centuries. Early screws were more or less fancy nails that were inserted using a hammer and then tightened with a knife. This meant that the flat head/ slotted screw was the first developed, and the only one developed for a millennia. In fact, the "+" Phillips screws weren't invented until the 1900's, and the first handheld screwdriver only appeared a few years earlier in the 1800's. – A couple of thousand years after the invention of the screw. This makes the screwdriver only a few decades older than the automobile.
I like to think there must have been a few independently developed screwdrivers from the past we just haven't discovered yet. I mean, how do you not think if it?
Making Your Decision

There should be enough info here contained within the FAQ, the criteria and the list itself to help you make an informed choice regarding your next auto feed screwdriver purchase. It can be annoying trying to sort through the conflicting accounts, multitudes of competitors and different versions of tools to make the purchase that is right for you – and hopefully, you are now better able to make that choice with a modicum of peace of mind. Every tool on this list is a solid purchase, and while you may not agree with all of our choices – there is something to take away from the justification of their inclusion. There are a lot of options, and the decision ultimately comes down to you, I just hope you are now more able to make it with confidence.
So whether you are a pro looking to lay down screws for the next big job, or a DIY enthusiast wanting to tackle his deck with as little trouble as possible – I tried to make sure the auto feed drivers presented would be the right fit for your needs. Good luck – and remember – build smart, build safe, and build big.
Subscribe to our newsletter