10 Best Crowbars Reviews & Ratings
last updated:
Apr 06, 2021
Also known as a pry bar or a wrecking bar, the crowbar is one of the most versatile tools for both DIY enthusiasts and professionals. Yes, it is not one of the instruments that most homeowners deem to be home-toolbox essential, but we would recommend it for any homeowner or DIY enthusiast. A pry bar is useful for opening crates, removing deck boards, lifting the corner of a bookcase, opening a stuck window and removing a piece of baseboard. By and large, it is a tool which not only serves professional purposes but is useful around the house too thanks to the design.
Our Top 3 Picks
[srpshortcode id="17591″][/srpshortcode][srpshortcode id="17590″][/srpshortcode][srpshortcode id="17589″][/srpshortcode]
Nevertheless, there is always the issue of how to ensure you get value for your money. If you are looking for recommendations, we implore you to get the items on this list. However, we all have different requirements when we are looking for a crowbar. Therefore, if you don't find a tool that meets your prerequisites, please follow the guide on how to pick an appropriate unit.
10 Best Crowbars
3. Stanley Hand Tools 55-136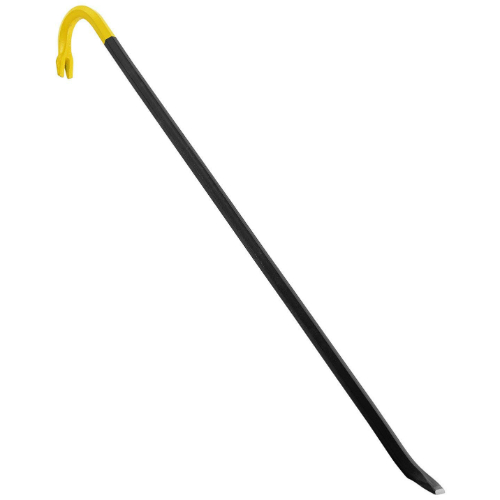 If you are in the market for a larger unit, we recommend the 36 inch Stanley 55-136. As you would expect it is more expensive than the previous two options, but it offers more leverage thanks to the added length. Being a classically shaped option, it has very few bells and whistles. However, it is designed to withstand wear and tear, and Stanley has offered a limited lifetime warranty for this unit.

However, our best features were the yellow powder coating and the design.

Yellow powder coating – If you have ever lost or misplaced a tool at a worksite then you should relate with the frustration and the time wasted trying to trace the item. The yellow powder coating improves the visibility of the unit, reducing the likelihood of you misplacing it.

Design – The Stanley 55-136 is a traditional option. First, this weighs 4.9 pounds despite being 36 inches long. This is pretty lightweight, and we would recommend for individuals who are looking for light tools. Also, it is carbon steel and you are assured of longevity. Other than the beveled chisel end, this is also a nail puller. We would recommend it for tough nails thanks to the leverage. The bevel chisel end is simple to fit between any two surfaces without ruining them.

Expand to see more
Product Features

Weight: 4.9 pounds
Length: 36 inches
Color: black and yellow

Who is it for?

The Stanley 55-136 is a demolition tool. Therefore, if you are in the market for a durable unit, we recommend you get this.

The thin leading edge is best for getting into tiny spaces without damaging the surfaces
Despite the thin leading edge, it is durable and stable to lift some heavy objects
The 36-inch length provides enough leverage and as a result, reduces the effort required
The unit is painted yellow and thus easy to find in the dark
The paint wears off pretty quickly
2. Shark Corp 21-2220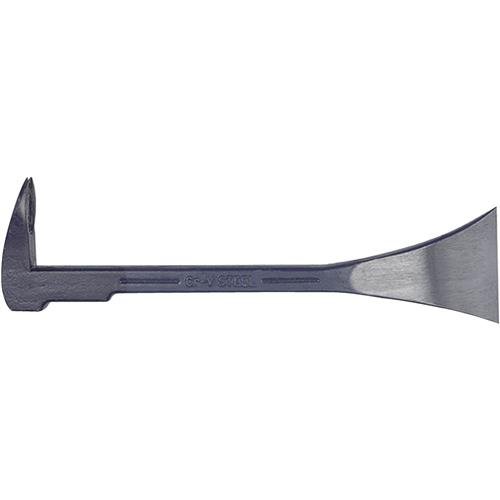 A close contender for the top position, the Shark Corp 21-2220 performs as well as the Stanley but is slightly more expensive. It is the same 8 inches as our top pick, but it has a crisper finish. There aren't any milling or machining marks, and the prying edge is lovely.

Made of carbon steel that's hardened and thus you can be assured of quality. You will appreciate the prying edge which is almost 2 inches wide which is one of the strong points. The nail puller is another reason why you should consider this unit.

Prying edge – at close to 2-inches, the prying end is slightly wider than the Stanley which gives this unit more stability. The leading edge too is quite thin (not like the Stanley though) which allows the item to edge its way between boards or objects with minimal or no damage. Despite the thin leading edge, it is quite stable and durable. Finally, the curve of the blade to is designed to lift items easily.

Nail puller – There are instances where you will need a small nail puller where hammer nail pullers are too convenient. The Shark Corp 21-2220 is perfect for such tasks, and the end is tapered so you can hammer the unit.

By and large, this will become your more cherished tool. Levering open or separating units will be a breeze.

Expand to see more
Product Features

Measures 8 inches
Carbon steel build
Weight: 5.9 ounces

Who is it for?

The tool is designed to handle rough tasks, and aesthetics are never much of a concern. However, if you are in the market for a unit that is appealing, we implore you to get this.

The leading edge is thin and will pry into tight spots with ease
Despite the thin leading edge, it happens to be quite durable and will serve you longer
The unit has a prying edge that is about 2 inches wide and thus more stable
Quite appealing thanks to the crisper finish
It is lighter than the Stanley and thus ideal for persons who can't accommodate bulky items
The prying edge lacks a nail puller, and the unit is slightly expensive
1. Stanley 55-116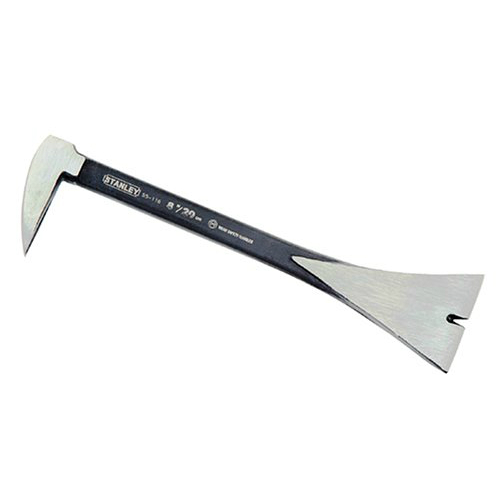 The Stanley 55-116 is an 8-inch nail puller and arguably the best unit we tested. First, we loved the quality of the item as it performs better than other options which cost double the price. At 8-inches, it fits in your back pocket reducing the likelihood of accidental drops.

At first glance, you will notice the flat heel which makes this unit much better at pulling nails. First, you will appreciate the quality as this unit is heat treated which increases the durability. Also, it is tempered which improves the safety, and the claws are polished to prevent rust. Nevertheless, you can't tell what an excellent tool the Stanley 55-116 is until you put it to the task. We especially loved the thin leading edge and the nail puller.

Thin leading edge – The beveled claws are what make this unit the success it is. It is easier to get underneath objects without causing any damage and with minimum effort. Also, the pronounced arc gives this crowbar a "lift" of about 1 inch. This lift may seem insignificant, but it gives the unit a better prying motion over competitors which have a "lift" of about ¾ inches. The thick fin-shaped prying edge is another reason you should get this item. At 1-3/4 inches, it is broader than most 8-inch wrecking bars which adds stability.

Nail puller – The nail puller is small to use in tight spots, and the tips taper so that you can use a hammer.

Therefore, if you are looking for a tool that is small in places that hammer pullers are too bulky, we recommend you get this.

Expand to see more
Product Features

8-inch puller
Polished beveled claws
Heat treated
Weight: 7.8 ounces

Who is it for?

At 8-inches, this is an item for the avid DIY enthusiast. A professional will require at least 10 inches length. However, if you need a nail puller for smaller nails or for working in tight spots, get the Stanley 55-116.

The beveled claws get smoothly underneath any item and will not mar your walls or objects
Small and thus quite portable
The nail pullers are perfect for small nails or in situations where hammer nail pullers are too bulky
Has a nail puller on both ends
Most of the shortcomings of the Stanly 55-116 are aesthetic, and will not affect the effectiveness; it is not well polished, and the machining marks are visible on the handle
4. Stanley FatMax Xtreme 55-120 FuBar III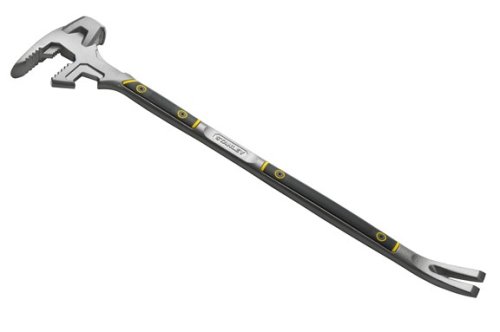 The only reason this isn't top of the list is the obscenely high price. Experts have referred to this as the Excalibur of crowbars while users refer to it as "Thor's" hammer. The first things you will notice with the FuBar III are the two nail pullers on either end. It is one of the few units with such features. You will also appreciate the textured grip that increases control and comfort. However, what we enjoyed most had to be that this is an 8-in-1 tool and the superior leverage.
Superior leverage
– At 30 inches, the FatMax is one of the larger crowbars. The 30-inch length gives this unit better control for prying or bending.
Versatility
– The resourcefulness of the FuBar III is another reason why you should get one. It is an 8-in-1 unit, and you can use it for prying, splitting, pulling nails, and striking jobs thanks to the
sledgehammer design
. However, we appreciated the jaws most as you can grip different sizes of lumber. The unit also acts as a hydrant wrench, and a gas shut-off wrench.
By and large, the FuBar III is the ultimate demolition crowbar.
Expand to see more
Product Features

Weight: 8.7 pounds
Length: 30-inches
Textured grip
2-tier jaw

Who is it for?

We recommend the FatMax Extreme for professionals and demolition work only. Also, if you are in the market for a unit that is better to grip even when wet, we recommend you get this unit.

An 8 in 1 tool, there is little to no demolition work that this tool can't accomplish
This unit is made from one-piece forged steel, so there are no weak points in the tool
The grip is textured increasing the comfort and control even when it gets wet
The prying end is beveled so that it is easier to get into tight spaces without marring the surfaces
The FuBar III happens to be quite pricey
5. Crescent DB18X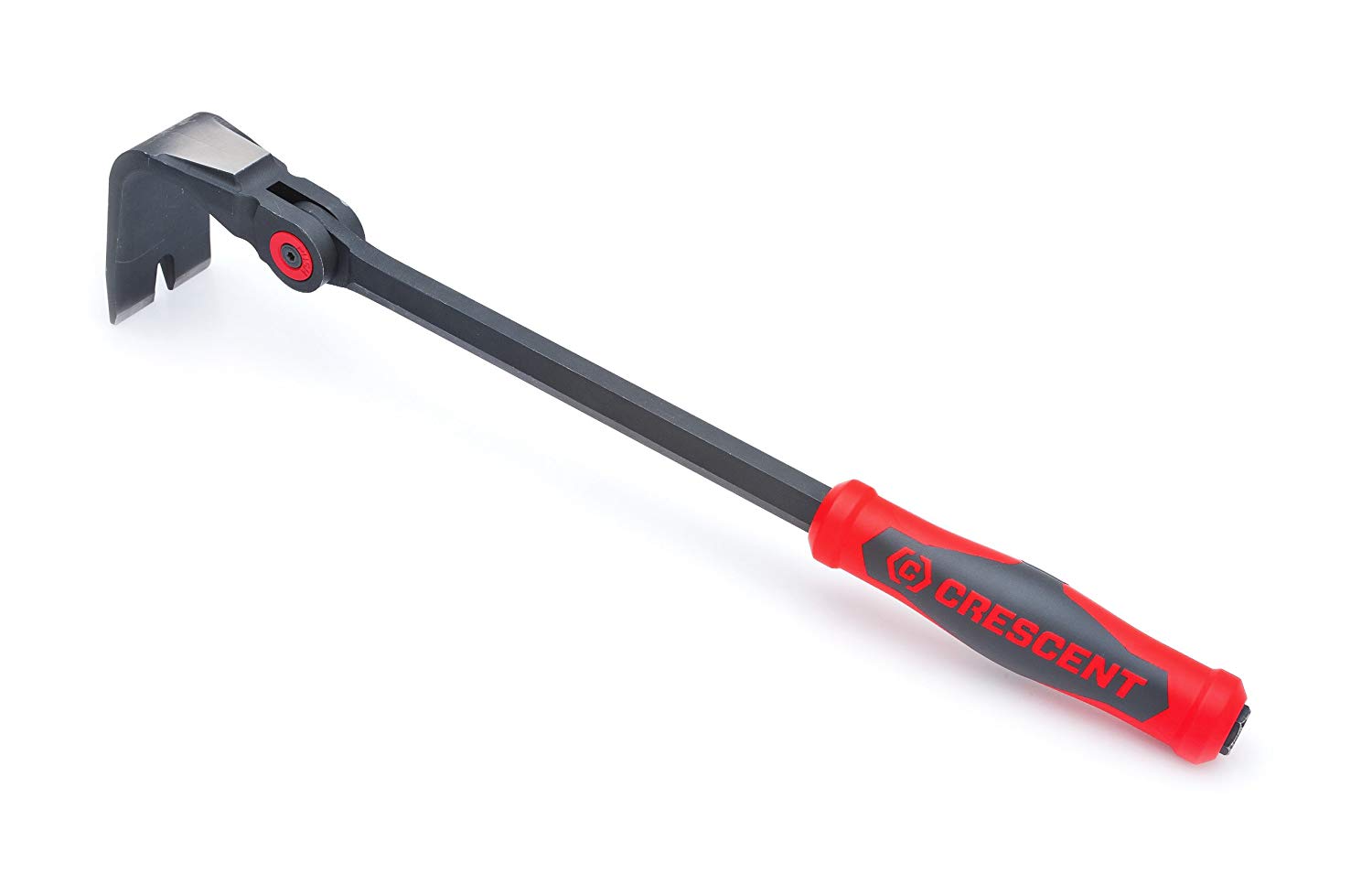 Very few options if any can offer the balance between portability, strength, and leverage like the DB18X. At 18-inches, this unit is portable and ideal for professionals who are often on the road. Also, at 3 pounds, it is one of the more lightweight units which adds to its portability while being ideal for people who cannot deal with heavy tools. Nevertheless, our best features were the articulating head and rubber grip.

Rubber grip – Comfort and control are crucial if a tool is to be termed as one of the best, and the Crescent DB18X offers both thanks to the two-tone rubber grip.

Articulating head – Crescent focused on leverage when they designed the DB18X. At the push of a button, you can adjust the head of this unit to achieve maximum clout. The head indexes 180 degrees into 15 different positions which increase the advantage. One use of this is when removing overhead boards where traditional pry bars are of little use.

The unit also features a striking surface at the back for persuasion, and being a flat claw bar; it can penetrate deeper than most wrecking bars further increasing the leverage.

Expand to see more
Product Features

Length: 18-inches
Head indexes 180 degrees with 15 locking positions
Weight: 2.64 pounds
Durable two-tone rubber grip

Who is it for?

The Crescent DB18X is ideal for both DIY enthusiasts and professionals. However, we would recommend it for professionals given the versatility.

The articulating head adds leverage allowing you to use the unit in awkward situations
At 18-inches and 3 pounds, this is a portable unit ideal for professionals
Despite being a flat bar, it is sturdy and durable
Affordable
The pivoting joint is a bit sloppy and could do with a redesign
6. Stanley 55-102


The Stanley FatMax is a quality pick for an all-around job site home use. It has that classic look and crowbar feel that has been around for decades, and it is useful when it comes to
demolition
, lifting, or prying nails. We especially love the yellow paint as it increases visibility.
We all know how displeasing it is to look for a tool in a job site and the yellow color reduces the hassle. What we liked most was the tri-lobe construction, and the u-shaped prying end.
Tri-lobe construction
– The tri-lobe cross-section increases the comfort of the unit and allows you to work for extended hours without fatigue. The forged recess handle also betters the grip even when wet. The chances of the unit slipping are quite slim. Finally, there is the larger cross-section which increases the longevity of the bar.
U-shaped prying end
– First, this is a flat pry bar and thus has more leverage than other units thanks to the increased surface to surface contact. However, the rounded heel makes this wrecking bar better as it allows the claw to "rock" without damaging any surface.
The generous 24 inch and 4.3 pounds is another reason we implore you to get this unit as it is portable.
Expand to see more
Product Features

Weight: 4.3 pounds
Length: 24-inches
Bright yellow finish
A nail slot

Who is it for?

By and large, the Stanley FatMax is a medium to a more massive sized pry bar, and we recommend it for demolition.

The 55-102 has an extra slot for pulling nails specifically between 2d and 20d
It has a better grip and comfort than most units
The larger cross-section increases the longevity of the tool
The bright-yellow finish increases the durability
Affordable
The rounded heel increases the leverage of the unit
There are concerns with the yellow coating; it wears off rapidly
7. True Temper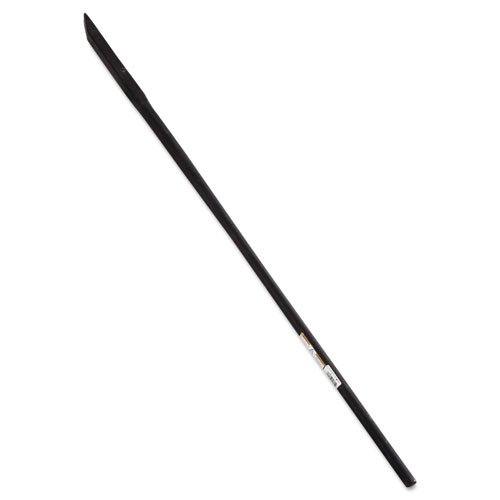 This option is a behemoth; more than 5 feet long and we recommend it for moving bulky items. You can purchase various sizes from 20-inches up to 66-inches, but for uniformity, we will focus on the 66-inch tool. At 24 pounds, this is a somewhat large tool, but that's another reason why it will last longer. You cannot truly appreciate this item until you have put it to the test.
Leverage
– At 66-inches there are very few units that can rival let alone beat the control the True Temper offers. Moving heavy objects will be a walk in the park.

Strength
– The True Temper is enough to break up any hard materials from clay to concrete. It is forged from heat treated steel for maximum potency.
We also appreciated the round tapered handle as it adds comfort and control over the unit. The chisel end
stays sharp
and helps you ease your way between objects plus it doesn't scratch or chip which speaks of its quality.
Expand to see more
Product Features

Length: 66-inches
Weight: 24 pounds
Round tapered handle
Chisel point end

Who is it for?

We only recommend the Ames True Temper for professionals in construction or demolition. It is ideal for moving bulky items and breaking up hard surfaces.

The mass of this unit helps in breaking up harsh surfaces, as it reduces the need for large amounts of effort
The chisel point end enables you to easily pry the bar between surfaces
The 66-inch length increases the leverage
Comfortable to use thanks to the round-tapered handle
The weight of the unit is also its shortcoming as you cannot use it for extended periods owing to the fatigue
8. Apex Tool Group 82220


It always pays off to be prepared especially when you don't know what challenges the next job may bring. Much like the Crescent DB18X, the Apex to has an articulating head with 14 lock positions. First, despite having an adjustable head, the 82220 surpasses ANSI requirements for strength. Also, the unit provides a lifetime warranty on the product which is a testament to its quality. Other than the head, we also appreciated the adjustable length.

Indexing head – There are instances where the traditional pry bar will not suffice. A great scenario is when you are prying overhead boards. The 822280 is made for such situations. The head indexes through 180 degrees are increasing the leverage and allowing you to get into tight spots. Also, the head is grooved for extra traction.

Adjustable length – You can get six sizes ranging from 8 to 33 inches, but we will be reviewing the 18 extendable to 29-inches unit. If you require extra leverage, this will do.

Expand to see more
Product Features

Head locks in 14 positions
Grooved head
Adjustable length
Weight: 5.4 pounds

Who is it for?

We recommend the Apex Tool 82220 for advent DIYers and professionals. The retractable handle increases the portability while increasing leverage whenever needed. Also, you should be willing to spend as it pricey but worth it.

The 14 locking positions and the adjustable handle increase the resourcefulness of this item.
Has a lifetime warranty and thus you need not worry about damaging it
Grooved head adds traction
It isn't designed to handle for demanding tasks
9. TEKTON 3324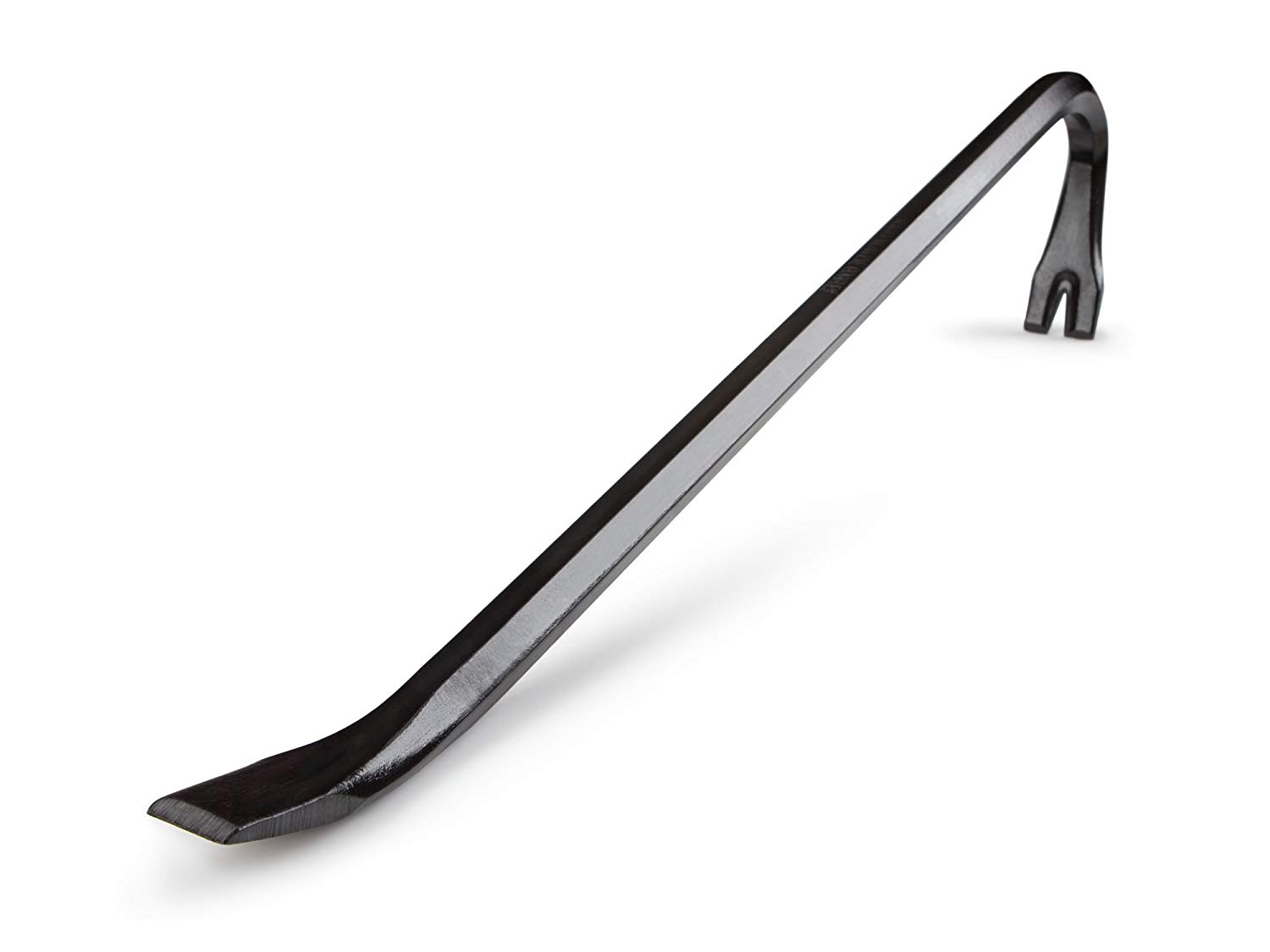 Over the years, Tekton has made a name for top quality manufacturing, and the 3324 crowbar is no exception. It stuck to the qualities of all other Tekton products and had to be in this guide. What we loved most about this unit is the portability and the design.

Portability – At 18 inches and weighing 1.3 pounds, moving around with this unit should be a walk in the park.

Design – First, the prying end is beveled, and the chisel end is sharp, and precision milled to ease into the tiniest crevices. The hexagonal shape of the bar increases the grip and the comfort and using the tool will be a breeze.

Also, the 3324 is coated with an enamel finish to protect the item from rust and corrosion, and finally there is the hook that is created to give you max leverage with a nail slot to remove the toughest of nails.

Expand to see more
Product Features
Enamel finish to protect against rusting
Length: 18-inches
Weight: 1.3 pounds
Forged hexagonal bar
Sharp, precisely machined
chisel end
Who is it for?
We recommend the Tekton 3324 for anyone who is looking for a classic wrecking bar, no bells, and whistles.
The bevel end allows you to ease your way into any crevice
Has better grip thanks to the hexagonal bar
It is portable thanks to the 1.3-pound weight
The nail hook doesn't live up to Tekton standards and snaps easily
10. TEKTON 3305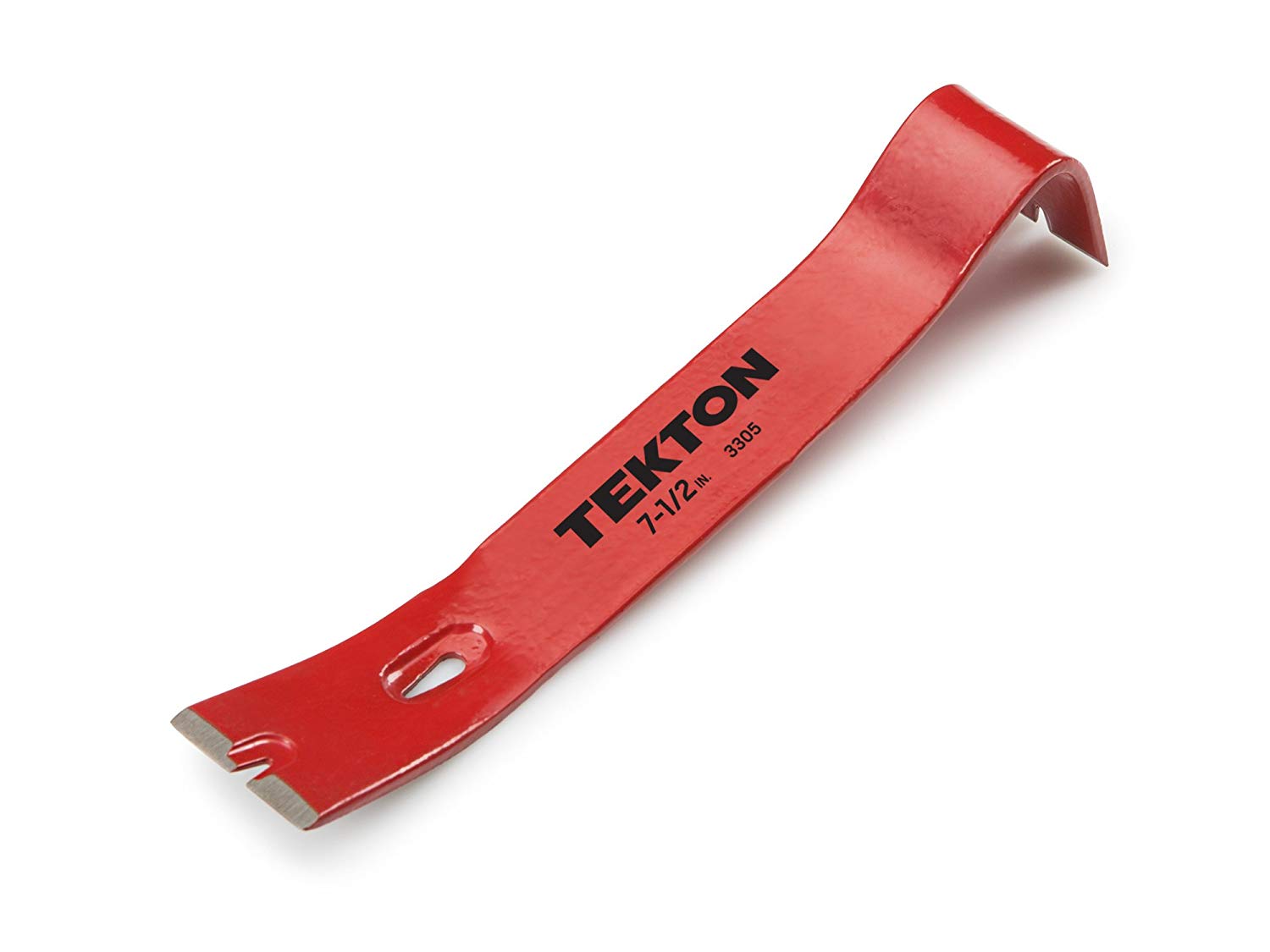 If you are looking for an extremely portable item, we ask you to consider the Tekton 3305. The 3305 is only 7.5 inches and thus highly transportable. It will effortlessly fit into any toolbox and at a weight of 4 ounces; it will not weigh you down. However, despite the tiny size, it packs quite some strength stemming from the material used in construction.

The heat treated steel can withstand any level of abuse and handle the toughest tasks. You can also get this item at 12 and 15 inches for more leverage. Our best features were the rounded heel and the three nail slots.

Nail slots – Of all the units we have reviewed, this is the only pry bar with three nail slots. One on both side and a third one in the middle. You can thus get at nails at any angle.

Rounded heel – A rocker heel gives you more leverage and allows the unit to "rock" without damaging any surface.

Another fascinating feature of the 3305 is the beveled ends that enable you to swiftly get into tight spaces and the enamel coating that prevents rust and corrosion.

Expand to see more
Product Features
Three nail slots
Length: 7.5 inches
Weight: 4 ounces
Enamel finish to protect against rust and corrosion
Who is it for?
We recommend this unit
for carpenters
as it is ideal for trim and cabinet work.
The unit is lightweight and allows you to work for more extended hours without fatigue
The unit can fit into any toolbox
The three nail slots give you unlimited ways to remove nails
The rounded heel ensures that your surfaces aren't damaged
It is not perfect for challenging tasks
What to Look for in a Crowbar?
Shapes and sizes
There are various wrecking bars. From the artillery bar, the scrapper design, and our favorite; the Japanese-style pry bar. It is slim to get into any tight space and can be hammered into a tight space. The question is always what you want to do with your crowbar.
Claw type
One claw type you will most likely come across is the straight claw which is in line with the shaft. If you want more leverage, we encourage you to get the bent claw. This design features a rounded heel as an inbuilt fulcrum, and thus the unit is ideal for levering without the need for a piece of wood or an external item. You can also look for a crowbar with an adjustable claw.
This is a somewhat new design, but the claw can be adjusted anywhere between 0 and 180 degrees. It is quite resourceful in awkward spaces. The beveled claw is another design you should consider as it tapers in width and thus penetrating between and underneath objects will be a breeze. You can also look into the flat claw pry bar.
The flat claw profile enables for deeper penetration and thus higher leverage thanks to the increased surface contact between the crowbar and the object. For more stable operations, we would recommend you get a wide-claw Finally, there are the claws with a nail slot. The slot is helpful in pulling nails out of a surface.
Heel
Crowbars with a heel often have either a rounded or a flat heel. The rounded heel is effortless to use as it allows the unit to "rock," while the flat heel can be used as a hammer.
Sizes
Crowbars can be anywhere between 8 and 36 inches. Most experts recommend the 8-inch pry bar for hobbyists and DIY enthusiasts. If you are a tradesperson, we implore you to get the 10-inch unit. You can always upgrade for more aggressive tasks, but the 8-inch can fit into the back pocket without falling and other than the length, it is similar to the 10-inch unit.
Weight
This is the weight of the pry bar, and the mass of the object you will be prying, and the bulk of the crowbar. First, ensure you get a unit that you are comfortable with. We recommend you get a titanium wrecking bar if you have any issue lifting items. The weight of the objects you will be lifting, or prying will influence the length, material, and shape of the crowbar.
Type of work
Some crowbars are designed to lever open items that have been nailed together, glued or fastened together. Some are also designed to dig or for wrecking purposes. Determine the bulk of the tasks you intend to handle and thus purchase the appropriate tool.
Longevity
If you want a crowbar to serve you longer, please purchase one that's made with better material and shape. Also, they tend to be more expensive thus be prepared to spend more.
You should also consider the shaft types depending on the tasks. If you are looking for suggestions, below are out ten best wrecking bars.
FAQs
Which is the best type of shaft?
Well, this depends on the type of work and the amount you are willing to spend. First, there are the rounded shaft bars which are an easy to hold and inexpensive to produce since most metal stock is either round or hexagonal. As a result, very little molding is required to get it into the right shape.
You can also pick hexagonal shafts if you are looking for a low-cost option. The reason for this again is that metal stock comes in hexagonal bars and thus hexagonal rods are easy to produce. Also if you want better grip even in slippery conditions, we recommend you get a hexagonal shaft.
You can also pick a pry bar with a flat shaft if you want a unit that can get into tighter spots. The item distributes weight evenly and reduces the likelihood of damaging surfaces thanks to the width. The contoured shaft is similar to a flat beam, but it is a bit springy and better leverage. Finally, there is the i-beam shaft. It is shaped like an "i" and is robust thanks to the flattened beam. Also, it is lighter and inexpensive to produce and thus cheaper.
What class of levers is the crowbar?
The pry bar is a class 1 lever as the load, and the effort are on different side of the pivot.
What are the best practices when using a crowbar to prevent injuries?
The crowbar seems pretty innocuous, and unless you swing it at someone you are unlikely to cause damage. However, if misused, it can lead to injuries. First, always work in a clear space to avoid flying debris and the possibility of hitting fellow workers. Also, don't use damaged pry bars.
If the unit is bent, it could snap and hit a colleague, or if the head is compromised (for wrecking bars with articulating heads), it could fly off and injure a fellow worker. Finally, don't use the crowbar in a way that the object you are levering open is facing you as it has the potential to hit you. Always make sure that you are pushing the object away from you.
How do you maintain one?
First, avoid straining your bar. Crowbars often bend as they have been used to pry items they can't handle. If you feel that you might be straining your shaft, change and use a heavier duty tool. Also, avoid prolonged exposure to water as it leads to rusting. If you will be using the item in wet conditions, ensure that it is painted or coated. Finally, always clean it after work with a non-corrosive oil.
Conclusion
A crowbar isn't the first tool that comes into mind as an essential, but we would recommend it for any homeowner. It happens to be quite a neat tool to open stuck windows crates or to lift an object. Pick one item from the recommended above.
If you can't find one that meets your needs we implore you to follow the guide to ensure you get value for your money. Finally, don't hesitate to leave us a comment if you feel there is something we have left out.
Subscribe to our newsletter