Entry Door Installation Cost Guide
Find out all about the entry door installation cost and where to begin with when planning to replace an entry door. We rounded up all the costs & best tips!
Purpose of the Entry Door
When you approach a house the first impression you get is that of the façade, and in particular, the entryway door. It is not just a security fixture, it is the main and most noticeable aspect of the house's façade. A house can look attractive or inviting just by the looks of the door. By contrast, a huge, heavy, tall, and dull-colored entryway would appear intimidating. The type or design of the patio and foyer is largely dependent upon the design and type of entryway door. The door is a statement of the occupier's taste or image. It is therefore important for the entryway to give the correct impression of a house (diynetworks.com). The entryway door serves as a security point to control access to the interior of the house. When locked, the door keeps out burglars and intruders or stalls them while you seek help. It secures the interior of the house from intruders by acting as the main access control point. A strong door dissuades external intruders, while a glass door makes the house an easy target.

The entryway door also acts as a storm barrier in places that experience stormy weather. It keeps out the weather elements and its effects, while making the house still accessible to people. Some entryway doors are designed with a removable reinforcements or barricades for use during a storm or hurricane, but removed during the calm season. This way the beauty of the door is not permanently obscured by the elements. It also keeps out nuisances like home pets, farm animals, and pests.
Some people do not allow their dogs and cats into the house. Farm pigs, cattle, donkeys, and horses are certainly not welcome in the house. Some doors have a small access door for the house cat or dog, but such a modification makes the door look unattractive. Finally, the entry door helps to lock in heat during winter. The use of heat insulation technologies ensures that the door (and window) is not the main escape way for heat generated by the HVAC system in the house during winter. 4feld.com notes that entryway doors are made of wood, steel, or fiberglass, and that there are standard, French, and sliding doors.
Quick Guide to the Cost of Entry Door
Cost of Entry Door by Type
| DOOR TYPE | COST OF MATERIAL | COST OF LABOR | DESCRIPTION |
| --- | --- | --- | --- |
| Door Frame/ Jambs | 55 | $70 | Frame on which the door is hinged or mounted. |
| Wood French | $600-$1200 | $200-$550 | Elegant |
| Wood and Clad French | $350-$1200 | $100-$450 | |
| Aluminum French | $300-900 | $150-$300 | |
| Steel French | $500-$4000 | $150-$300 | |
| Fiberglass Pre-hung | $400-$1400 | $100-$250 | Sturdy, stable, weather resistant. |
| Full-Glass French | $750-$2200 | $200-$750 | Clear view, elegant. |
| Sliding | $980-$2500 | $100-$300 | 36" wide, double glazed, aluminum. |
| Pre-hung | $100-$150 | $100 | Comes already mounted to door frame. |
| Bi-folding | $2400-$520 | $200-$600 | Folds in half, save on space used by the swing. |
| Sliding | $390-$600 | $150-$500 | Suited to front and patio entries. |
| Accordion | $700-$1800 | $300-$600 | Multiple fold segments and small footprint. |
Standard Cost of Entryway Door Installation
The frame is the main support structure of the door and made of wood. The jamb and the door are joined by two or three hinges on one side, and a lock on the other side when the door is closed. A jamb costs $35-$50. The basic costs of the installation items are as follows;
| ITEM | COST | DESCRIPTION |
| --- | --- | --- |
| Unhinged Door | $200-$300 | Thermal insulated with foam and weather stripping. |
| Door Frame | $50-$250 | Measure, cut and install with trimmer, cripple, and king studs. Trimmed at bottom. |
| Job Supplies | $10-$20 | Fasteners, screws, connectors. |
| Basic Hinge | $10-$20 | The interlocked metal plates with screw holes and a center pin allows the door to swing. |
| Glazing Inset | $70-$350 | Can be single-, double-, and triple-glazed. Can be laminated, stained, etched, or frosted. |
| Simple Knob | $20-$50 | Stylish way to grip and twist the lock mechanism open. |
| Door Trim | $50-$150 | Trim to fit door space and height. |
| Weather Strip | $75-$250 | Rubber strip around the door frame. |
| Equipment | $50-$80 | Buy paint brush and rent pneumatic nailer, miter saw, sander, planer, and jigsaw. |
| Paint | $50-80 | Waterproof, anti-UV. |
| Screen Door | $100-$300 | Keep out pests and bugs. |
| Storm Door | $200-$400 | Protect exterior door during storms. |
| Labor | $200-$300 | Carpenter will install frame, hinges, trim, weather strip, and do the painting and cleanup. |
| TOTAL | $450-$700 | |
Cost of Door Lock
Locks are often preinstalled in a door and therefore included in the cost of the door, but they can also be custom installed. A locksmith will charge between $70 for a simple installation, and $500 for a complete installation that involves lock change, mold repair, cylinder hole boring, rekeying, and installing a new deadbolt. The estimated prices of locks are given below.
| TYPE | PRICE | DESCRIPTION |
| --- | --- | --- |
| Door Lever | $20-$290 | Combines the lock and handle functionality |
| Keypad Lock | $80-$180 | Adds to style, keyless, multiple users. |
| Touchpad Lock | $150-$280 | Digital, easy and convenient to use. |
| Fingerprint Lock | $450-$600 | Digital, secure, foolproof, easy and convenient to use |
| Grip Set Lock | $80-$100 | Disabled-, child-, and senior-friendly |
| Deadbolt | $25-$400 | Simple, quick installation, and can be stylish. |
Parts of the Exterior Door
The entryway door is the largest entry point into the house. It is made of a number of unique parts, which can be bought as individual parts, knocked-down kit, or built-up kit. Installation can be done by an experienced DIY enthusiast, or a professional door installer. Although entryway doors can be taller, the standard swing door for an installation project measures 80" high and 36" wide, and the main parts include the door frame, hinges, panels, stile and rail core, glass inset, lock, and knobs. A sliding door can also be taller, but the standard sliding door measures 80" high and 36" to 72" wide. It has such parts as glass or wood panels, a wood or metal frame, tracks and rollers, handles, and a lock.
The main parts of the door are the door frame and the door slab. The frame is made of wooden beams, in which the vertical beams are called jambs, the top horizontal beam is called the sash, and the lower horizontal beam is called the sill. The slab is the moveable part of the door and is made of a framework of horizontal rails and vertical stiles which are screwed, nailed, or glued together with dowels. The slab is then covered with panels, which can be either natural wood, metal, or engineered material like fiberglass, laminated glass, and vinyl. Wood panels are normally free floating to allow for warping, shrinkage, and expansion. The details of the entryway door are illustrated below.
A Cutout Section Showing Parts of the Door

| PART OF DOOR | LOW COST | HIGH CST | AVERAGE COST |
| --- | --- | --- | --- |
| Frame | $100 | $2000 | $300 |
| Door Slab | $120 | $2400 | $500 |
| Side lite | $200 | $2000 | $600 |
| Transom | $150 | $600 | $300 |
| Weather Stripping | $50 | $120 | $70 |
| Hardware Set | $45 | $600 | $60 |
| Glass Inset | $120 | $700 | $250 |
Frame
As explained by SilltoSash.com, the door is hung or connected to a sturdy support structure called the door frame and finished with a mold, usually of stone, wood, brick, or concrete. The upright section of the frame is called jamb and costs between $35 and $75. The sill is the bottom part of the frame which also adds stability and strength to the door frame. A replacement sill costs about $15 to $40, and a custom-made, high-end frame costs from $600 to $2000 when you take into account the frame size and the surrounding area molding.
Door slab
The moving part of the door is called a slab. The slab is made up of an inner section or core and outer section or shell. The core is a support frame with vertical planks called stiles and horizontal planks called rails. A foam-based compound is injected into the core to form a thermo-insulation. The shell is made up of panels of different materials, which define the door. Most hardware like the hinges, lock, knobs or handles, and knocker, are fixed to the slab. The bottom side of the slab has a sweep made of rubber or other flexible but durable material to seal the gap between the door and the floor from draughts and water seepage. The core of a steel, fiberglass, or vinyl door is injected with a thermo-insulation foam.

The glass inset or glazed panel allows natural lighting, gives a view of the outdoors, and highlights the door's design. It can be full length, half-length, or top fan. It can also be plain, thermo-laminated for energy-efficiency and tempered for strength. For style, the glass can be etched, stained, or frosted.
The standard, un-insulated slab costs between $80 and $300, depending on the material. Thermo- insulation costs about $60 to $150 depending on the quality of the foam compound. The sweep costs about $20. A custom-made, high-end, and insulated door slab costs from $800 all the way to $9,000. Depending on the material, size, style, stain, and brand, installation of a pair of glass insets will cost $70-$200 for single laminate, $120-$500 for a double laminate, and $200-$1500 for a triple laminate.
Glass Inset or Glazed Panel
A glazing panel is a clear portion of the door that is covered with glass. It creates a clear and classic view of the outdoor, while at the same time controlling the external weather effects and loss of heat. The glazing allows natural light to flood into the hallway. In double- and triple-glazing, an aluminum block called spacer is used to separate two layers of glass uniformly and create a thermo-insulation layer or capsule between them. A clear and lighter plastic inner sheet replaces the heavier glass sheet. The thermo-layer is sealed tight with a PVC sealant, filled with an inert gas like krypton or argon for thermo-efficiency, dustproofed for best transparency, and kept dry with a desiccant. Other thermo-agents can be used, for example clear foam, butyl, and thermo-plastic.
This technology is called the warm-edge spacer technology (silltosash.com). The glass panel can also be tempered to make it sturdier, and laminated to make it shatterproof in the event of a breakage. Chromatographic glass can be used to automatically control too much light into the room. For decorative purposes, the glass can be frosted or etched. If the seal leaks, then the panel loses its thermo-insulation, clarity, and stylish appearance and has to be replaced (silltosash.com). You can tell a leak from a misty or moist inner surface of the glass. Generally, a double glazed panel costs three times the single glazed panel of similar material, while the triple glazed panel may cost four or five times as much.
Hardware
Hinges, casements, latch, knob, locks, cranks, knockers, and track system are part of the entryway door system. Besides being functional, the hardware can be used to accentuate the door. A set of basic hardware costs between $45 and $90, but a stylish set can cost above $600. The hardware are often thermo-conductive, leading to heat loss.
Weather Stripping
Weather stripping is a durable, flexible, and airtight gasket placed between the door and the door frame that locks out cold draughts and moistures from outside, thus reducing heat loss and moisture leak. The strip is installed around the jamb and sash. There are four types of sealing; sweep, compression, magnetic, and brush. The sweep seal is a fin-like strip made of rubber or polypropylene and fixed to a moving sash and the jamb. It sweep over the other surface and covers it. The compression seal is elastic and fits snugly between the door frame and sash when squished. The magnetic seal is a flexible rubber strip with a magnetized surface that I fixed to the door frame and attracted to the metal surface when the door is closed. The brush or pile seal is used between metal surfaces of the frame and a sliding door's sash. Weather stripping costs about $70.
Side Lite and Transom
The side lite on either side of the door frame or a transom above the door frame are glazed sections of the entryway that add style to the door, but more importantly allow light into the house. The side lite costs between $200 and $600 to install, while the transom costs between $150 and $400, although the glazing side lite can escalate to as much as $2,000. Weather stripping is a rubber seal around the door frame that protects the interior of the house from cold breezes. The door lock is for securing the door while the knob or handle is for gripping when pulling the door. Stylish locks and knobs accentuate the door's quality and are very noticeable to the house guest. Ordinary locks and knobs cost about $20 to $50, but the designer, high-end types cost as much as $1000. The hinges are the pivot points between the door and its frame. They come in pairs and must be carefully installed to ensure the door swings easily and smoothly. A pair of ordinary hinges costs between $20 and $50, but designer models go for as much as $400.
Materials for an Entryway Door
The slab panel defines the door's material. The frame is almost always a wood frame, and the common materials used in slabs include wood, steel, aluminum, fiberglass and vinyl (silltosash.com). A combination of materials that includes laminate glazing is even more common. The choice is influenced by the overall house theme and the façade. As examples, you may choose a glazed door if you have a beautiful and expansive front yard, rustic wood for a colonial look, or fiberglass for a contemporary look. Whatever the materials, you can have pretty much any design – the main difference is in the finishing and energy-efficiency.
Wood
Wood has a natural beauty, elegance, and warmth to it. It is strong and easily available. Natural wood can have stylish and ageless designs. It is finished with an appealing texture, grain, color, and pattern, and in fact other materials are engineered to give a natural wood feel and look. Decorative patterns and artwork are etched on traditional Gothic, Greek, Chinese, Swahili, and Arabic doors. Such doors cost between $4,000 and $10,000. Both traditional and contemporary homes use original wood such as cedar, oak, pine, walnut, and so forth. Mahogany, teak, and ebony are highly-valued tropical woods that make excellent and expensive doors. The following is a comparison of common and popular woods (This Old House);
| WOOD TYPE | COST | APPEARANCE |
| --- | --- | --- |
| Ponderosa Pine | $200-$300 | Relatively stable, light in color and weight, and often dotted with knots. Rustic and hard to stain evenly, therefore paint it. |
| Knotty Alder | $300-$375 | Burl clusters and small knots make alder a good choice for rustic doors. It has a fairly straight grain and a natural cherry-like hue. |
| Douglas Fir | $300-$375 | If quarter-sawn, this wood has a straight, consistent grain and is stable and check-resistant. |
| Douglas Fir | $450-$500 | Hen quarter-sawn and stained. |
| African Mahogany | $650-$800 | A deep brown tropical hardwood that's very heavy and stable. Check whether the wood was sustainably harvested. |
Wood requires regular treatment against moisture, rotting, warping, bugs, and UV exposure. The aged look on wood can still be used to your advantage to create a rustic and antique look. When it absorbs moisture or is exposed to the elements, wood loses its durability, stability, strength, and general appeal. Scratches, peels, twists, and warps on the wood can be erased by sanding and reapplying a coat of waterproof, UV-resistant varnish. Since the wood's R-value or energy efficiency value is below 2.0, you should insulate the door's core. Beetles, bugs and mites attack wood, so you have to treat it with a durable insecticide. The wood entryway door costs about $700 to $1000 and routine maintenance costs about $100 to $300 annually but it has the best ROI when it comes to selling the house, according to improvenet.com. Therefore you have to spend about $300 every two or three years to treat and repaint the door. A good quality varnish has UV-resistance, waterproofing, and durability, and costs from $40 to $75 per gallon. Wood appears refined or rustic under a clear varnish. Stable woods are resistant to warping and weather effects.
Normally, wood doors come pre-finished or at least primed. Finishing materials include paint, polyurethane, varnish, and stain. Polyurethane is clear and lasts up to two years under normal weather conditions. A pre-hung, pre-finished French entryway door is more expensive at $700. A DIY paint job will cost about $80. Be sure to cover every possible gap that can absorb moisture or start a flaking. Paint is also a good alternative because it comes in an infinite variety of colors and it also blocks out UV that would otherwise degrade the wood. The oil-based paint is waterproof while the water based paint is non-glare and more natural-looking. Repainting is done after every five years or so. Spa varnish is a mixture of oils and UV-resistant resins which give the finished door a rich appearance and stain. It needs to be re-applied annually to keep up the stunning appearance (Epifanes.com).
Fiberglass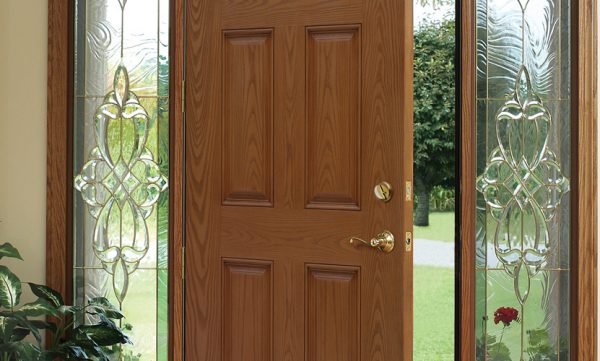 Fiberglass is an engineered material that is easy to shape and design during the casting stage, when it is malleable. It makes slab panels that cover the wooden core. Although the material is expensive, fiberglass compensates with a low maintenance cost. It is strong, light, and resistant to the elements, rotting, staining, warping, denting, scratches, cracking, and general degradation. It has five times better insulation than wood. Fiberglass can be finished with paint in superb colors and stains. It can be embossed to give a natural wood texture. The fiberglass entryway door costs around $600 to $1000.
Steel
Galvanized steel is a choice material where security, fire risk, and structural strength are the main concerns. It can be styled, is durable and resistant to warping and rusting. It is strong, yet cheap. The steel door slab is made with steel panels for the shell and wood planks for the core. The wood is light and strong, therefore suitable for the core structure. A thermo-insulating compound is sprayed in the cavities of the core, and finishing is done with paint to give color, pattern, or a wood grain appearance. Bare steel is however heavy, unappealing, and intimidating to a visitor, but proper design can camouflage it and the core can use the lighter wood which is still strong. You buy a slab that has the screws, lock, and knob holes pre-drilled so you are limited on some aspects of deign choices.
Steel is prone to denting and scratching, leading to rusting (construction-grade steel is actually a galvanized iron material that is still susceptible to rusting when the inner material is exposed), therefore it requires some painting maintenance to seal any exposed parts from rusting. Steel also exaggerates the changes in temperature by being too cool or too warm compared to the environmental temperature. According to improvenet.com, a plain and primed steel door costs between $170 and $460, while a finished door costs between $300 and $800.
Glass
Glass is used make insets or glazed panels that are useful for adding infiltrating natural light into the house, creating an attractive façade, and allowing a clear view while protecting the interior from the elements. Glass is however expensive and not sturdy. A plain glass panel between $50 and $120, a double-glazed panel costs between $100 and $300, and a triple-glazed panel costs from $200 to $600.
Vinyl

Vinyl is an alternative, albeit less common, material for an exterior door. It has multilayered structures for the frame and panels or sashes. It is reinforced and shaped with steel, aluminum, or wood. It is resistant to breakage. It is however expensive. A vinyl entryway door costs around $700 to $1200.
Comparing Fiberglass and Wood
Wood Door
Wood is one of the most popular materials for entryway doors. It however requires regular maintenance to uphold its quality looks and shine. The main causes of a wood door to deteriorate are weather elements, water splash, and bugs or mites. Therefore, before you opt for wood, you have to consider the following specific issues.
Steel Door
Steel requires little maintenance and is fire resistant. It is also sturdy and burglarproof. It has foam cores and can be lined with MDF insulating foam core. Steel tends to get hotter in hot weather and colder in cool weather. It is susceptible to rusting and denting. The use of magnetic weather stripping ensures a tight seal. The wood mimicking by steel panels is not convincing, but steel is a cheap option.
Fiberglass Door
Fiberglass is good at imitating natural wood, waterproofing, insulation, fire resistance, sturdy, and little maintenance. It is also comparable to high quality wood in its pricing.
MDF Door
MDF is a cheap option that looks like wood with waterproofing, appealing design, and insulation. It is not as flexible to design as wood, and it has to be painted on all sides with an oil-based paint. It should have a five year warranty.
Cost of Materials
The entryway door is as important for functionality as it is for accessorizing the façade. It is the first and distinctive impression of the house and often determines the desirability of a property for sale. The external door and its siding should match the architectural design of the house. The bare cost of the front door installation starts at $400. Prices will vary greatly depending upon the door style, choice of materials, design, size of door, décor, and professionalism or workmanship. Prefabricated doors are more expensive to purchase by about 30 percent to 50 percent mainly because they are already crafted and finished. They are quick and cheaper to install. Custom-made doors can be either cheapest for the simple DIY projects or most expensive for a tastefully crafted door. The overall price will therefore vary from a couple hundred dollars for a simple DIY project to some $10,000 for a tasteful and custom-made door.
Doors come in five main varieties and prices according to fixr.com. The pre-hung door is already mounted on the frame with its hinges and lock holes. It costs between $95 and $150 to purchase and install. The French entryway door has glass panels that make it attractive as a front entryway door. It costs between $600 and $1200. The sliding door opens by gliding along tracks. It is space efficient and has a welcoming feel. It cost between $390 and $600. The bi-folding door has a fold in the middle. The sweep is parallel to the closed door and saves on space, unlike swing doors which have a semi-circular sweep. The accordion door has multiple folds, which makes its sweep narrow and parallel to the closed door. It is however not particularly popular, elegant, or functional, especially on security matters. It is also rather expensive at $700 to $1000.
Pros and Cons of Different Entry Doors
| MATERIAL | COST | PROS | CONS |
| --- | --- | --- | --- |
| Wood | $290-$750 | Strong, durable, good insulation, and attractive | Expensive, high maintenance costs, sagging, and warping. |
| Steel | $390-$770 | Strong, durable, cheap, and low maintenance cost. | Quickly rusts at exposed or scratched surface. |
| Aluminum | $250-$520 | Sturdy and low-maintenance | Brittle and easily dented. |
| Fiberglass | $290-$750 | Stylish, weatherproof. | Damaged by chemicals |
Front Door Hardware
As an installer, you need to know about the various bits and pieces of hardware that go with the door itself. Most hardware is designed for use on either the left or right side, and so you have to be sure before purchasing the hardware.
Hinges
The hinge attaches the door to the jamb and allows it to swing open and shut. The exterior door needs three or four hinges to support the weight of the door and prevent sagging. There are a number of hinge designs with a standard hinge cost ranging from $8 to $20 apiece. Hinges may be installed on the face of the door and jamb or concealed between them. Some hinges have a removable pin for disconnecting the door when you need to rep or repaint it.
Latch
The latch mechanism secures the door. A simple mortise catch on the door closes from the interior by engaging a plate on the jamb. For a latch there is a built-in locking mechanism, and a handle or knob that is turned to open and released to lock the door. A lever mechanism is easier to use for the children, aged, and disabled persons. It is also used for sliding, bi-fold, and accordion doors. For a catch mechanism the catch is simply pushed forward or pulled back to lock or open the door.
Locksets
The entryway door also has a door lock for proper and maximum security against forceful entry from outside, especially when the occupants are absent. The exterior door lockset allows for opening the door from inside and from the outside. The door is opened by unlocking and pushing. You will want to change the lock if you suspect the lock can be picked or the key has been copied, or you feel insecure. You might even just want to upgrade to a more fashionable lockset. Before you purchase a new lock you have to measure the existing bore diameter, distance from the jamb, thickness of the door. As a style statement, the lockset finish should match or complement the surroundings (ditnetwork.com). Types of lock include the tubular lock, cylinder lock, mortise lock, and unit lock. The most popular lockset is the deadbolt which is a cylindrical mechanism for locking the door.

A single-cylinder deadbolt uses a key to unlock the door from outside and a thumb knob from on the inside, while the double-cylinder deadlock uses a key to open the door from both sides. The lockset includes a various components go for a basic cost of $125 to $175. The single-cylinder deadbolt is less secure because it can be accessed after breaking the glass panel on the door. A double-cylinder is more foolproof. The cost of a basic deadbolt lockset starts at $15. The lock comes in types like the keyed, keypad, keyless, and remotely-operated type. Locks are often preinstalled in a pre-hung door, which is included in the cost of the door, but they can also be custom installed. The estimated costs of locks, according to Fixr.com, are given below;
| TYPE | PRICE |
| --- | --- |
| Door Lever | $17-$290 |
| Keypad Lock | $80-$179 |
| Deadbolt | $25-$400 |
| Grip Set | $79-$99 |
| Fingerprint Lock | $478-$488 |
| Touchpad Lock | $147-$279 |
Traditional Key Locks
The keyed lock is still very popular, mainly because is strong, dependable, and picking-resistant. The lock costs about $30 to $150, depending on style and finishing. For extra security, add a deadbolt, which costs from $15, on the inside of the door.
Smart Locksets
Technology has creeped into the modern door design, especially the locking mechanism. Instead of the traditional lockset with a key, the external door can be remotely or electronically controlled using a digital, keypad, touch-to-open, or keyless lock. The opening is done via a PIN or a smartphone. Such a lock costs between $150 and $550 depending on the brand and level of sophistication. The keyless door can be operated from a keypad or touchpad on the door, or a smartphone. The lockset deploys Wi-Fi, Bluetooth, smartphone, and apps technologies to operate it remotely from the door, a phone, or a computer. Examples of high-tech locksets are brands from August Connect and Doorbell Cam, Yale, Schlage, and Kwikset.
| LOCK BRAND | COST | MANUFACTURER | TECHNOLOGY |
| --- | --- | --- | --- |
| August | $230 | August Connect | Wi-Fi and Bluetooth enabled. Works with email alerts |
| August Kits | $170 | August Connect | Upgrades single-cylinder deadbolt |
| August Doorbell Cam | $230 | August Connect | Can control and talk via phone instead of at intercom. |
| Yale Real Living Assure | $500 | ASSA ABLOY Group | Activated by a prompt through HomeKit App. |
| Yale Residential | $160 | ASSA ABLOY Group | HomeKit App enabled with Z-wave and ZigBee connectivity. |
| Schlage Sense Smart Deadbolt | $230 | Schlage | Touchpad, built-in burglar alarm, Bluetooth connectivity, and voice activation. |
| Obsidian and Kevo | $230 | Kwikset | Wi-Fi operated, six-digit PIN |
Door Knob and Handle Costs by Type
On the one hand, handle grips are used for pulling and pushing the door open, especially from outside. They have a better grip and are easier to operate. On the other hand, knobs are stylish but harder to grip and turn. They are used on the inside of the door. A typical handle costs about $100 and a knob costs about $80.
Door security depends largely on the strength and reliability of the lock. Some locks are easy to pick. A thick door is stronger than a narrower one of the same material, but most locks can take no more than 1.75". Use three or four hinges, which are at least 3" long. Knobs from Nostalgic Warehouse costs from $90 to $360, Baldwin costs from $65 to $490, and Grandeur costs from $220 to $600. Use mortise lock which are stronger and install tempered and hurricane-grade glass panes.
| KNOB COLOR | AVERAGE COST |
| --- | --- |
| Black | $65-$140 |
| Brass | $20-$600 |
| Bronze | $25-$600 |
| Chrome | $75-$420 |
| Gold | $65-$600 |
| Nickel | $25-$600 |
Door Stop
A door stop is installed on the door frame or floor to prevent door slamming. There are four main types of door stops, namely; floor, hinge-pin, hinged, and butt door stops. Butt stops are the most common and are made of different materials including metal, wood, PVC, vinyl, rubber, and so on.
Doorbell and Door Knocker
An electric doorbell or an intercom can be installed at the entryway door to identify a visitor before opening the door. The doorbell is installed in the house but the button is installed at the door as a DIY task. A simple switch costs about $10.

Diynetwork.com advices that you switch off the mains power at the circuit box before working with electrical installations, and then use a screw driver to remove the old button housing and the wires from the terminals. Caulk the old screw holes. Connect the new bell wires making sure you get the polarity correct. Test the connection with a test meter before reattaching the housing to the wall, drilling new holes in the trim if necessary.
Although less common nowadays, a traditional door knocker can still be used, especially to add an antique look to the door (This Old House). The classic and old-fashioned way to knock at the door is by striking a metal plate using a metal ring, called a knocker, and which is installed in the middle of the wooden door slab. The door knocker is more of decorative fixture than functional. A good bronze knocker costs approximately $300, but there are cheaper versions for as little as $50. Installation is a simple DIY that would take less than 15 minutes to complete.
Installing an Exterior Door
The DIY may want to assemble the parts and put them together, but this will make the installation task longer. The average cost of installing ranges between $550 and $900, but it can reach $2300. Many projects cost around $800 (Fixr.com). The cost of a door can increase dramatically if you choose designer hardware to add an accent to the door and surroundings. Exterior doors need further treatment to withstand the external weather elements, as such they cost more than interior doors. The door needs better weather stripping and sealing, stronger security locks, and heavier, thermo-insulated units. Different materials are used in exterior doors, including wood, fiberglass, steel, and aluminum. Glass is used to add a touch of elegance to the door. Screen and storm doors are often added to the entryway door. The screen and storm doors are functional units that protect the entryway door. The entryway door is usually a wood French type while the backyard door is usually a sliding door.
Measuring the Door Size for Installation
Retake the measurements of the door to make sure you have the correct measurements (The Old House). If you are buying a pre-hung door, then measure from the outer edge of the door, which should be 2" narrower and 1.5" shorter than the doorway in order to make room for the shims and insulation. A loose slab is measured from the inner side of the jamb, with a ¼" gap. The door thickness should equal the thickness of the stop-to-jamb edge. Note if the door will open inwards or outwards, and left-hand or right-hand. If buying a salvage door, be sure it is in good condition and not more than $300 for a completely restored pre-hung door that would normally cost $700.
Comparing Loose Slab and Pre-Hung Door
A pre-hung door comes already installed to the jamb, weather stripped, and the holes bored for the lockset. The slab door comes as a separate piece from the frame. You have to buy the hinges, lockset, and other hardware separately. According to This Old House, the slab costs about $150, while the pre-hung door costs about $400. A custom-made door costs from $1500. You should buy doors that come with a warranty. The warranty should cover against material and installation defects for two to five years, and finishing for at least two years. UV from sunlight degrades paint and varnish pigmentation.
Design and Style, and Related Cost
There are many styles such as ranch, craftsman, Victorian, colonial, Tudor, contemporary, rustic, farmhouse, cottage, and so forth. The door can be as basic or as intricate as the taste and imagination may dictate. But for the style to have a curb appeal, it should blend in well with the overall house architecture while trying to stand out. It should also be made of durable and strong material. Evaluate the materials to match your needs. Of the commonly used materials, steel is the least expensive and strongest, yet the least appealing. Wood is popular and most appealing, while fiberglass is the most flexible and expensive. For home owners with distinguishable taste, the choice of doors is varied to match the general house design. The following styles are described (This Old House).
| STYLE | COST | MANUFATURER | DESCRIPTION |
| --- | --- | --- | --- |
| Craftsman | $1,050 | Sheppard Doors & Windows | The white oak slab is popular with rectangular glass panels. |
| Queen Anne | $4,950 | HeartWood | Pre-hung Victorian-era design with red oak, single pane or leaded glass at the top, and side lights. |
| Ranch | $1,500 | Doors By Decora | Contemporary design with horizontal lines with wood slab door and knotty-alder. |
| Cape Cod | $200 | Jeld-Wen | Raised panel and upper window with pine slabs and two lights. |
| Colonial Revival | $11,500 | Marvin Windows and Doors | Spanish cedar, symmetrical, pre-hung, raised panel, accented with a fanlight and sidelight. |
| Tudor Revival | $1,800 | Clark Hall Doors | African mahogany slab with board and batten door which is arched and pointed at the top. |
Popular Entryway Door Brands
Basic exterior doors on the market are 6'8" high and between 3' and 6' wide. Some of the most popular entry-level door costs and the manufacturers are shown below;
| BRAND | UNIT PRICES |
| --- | --- |
| Stanley Doors | UNIT PRICES |
| Jeld Wen | $130-$990 |
| Steve & Sons | $200-$900 |
| Masonite | $200-$900 |
| Pacific Entries | $1330-$2000 |
Types of Entry Doors
A house will have different types of doors depending on the room and the purpose they serve. Interior doors are basically for privacy in the various rooms. They will mostly be functional with little regard for aesthetics. The backyard entryway door will mostly be functional, allowing the occupants an exit to the backyard, and providing access control or security from intruders. The front yard entryway door is different from the rest of the house's doors because it serves many purposes like security, aesthetics, statement of house owner's taste, and protection from the elements. It is the route by which furniture and bathtubs are moved in and out of the house. According to drc.ohiolink.edu, the entryway door provides privacy, safety, security, natural lighting, and adds class to the property. The entryway door comes in different designs and costs.
According to silltosash.com, the standard exterior door is made of solid panels encased in a tile and rail. It can be modified to have glazing and a side lite and transom. Glazing adds light in the hallway, visibility, and style to the door panels, which can be either a fan top or a full vertical length. The full length glazing on the side lite and transom serve the same purpose as the glazing on the door, and can also serve as ventilation. Glazing can be grilled and etched, stained, or plain. Etched and grilled glazing is more expensive than either the stained or plain designs. Glazing of either the door or side lite costs between $200 and $450. Exterior doors can be single or double doors. There are a number of entryway door types, but the most common ones are the French entryway door found on nearly 80 percent of all houses, and the sliding door, which adds a touch of class to the entryway.
Entry Door Types and Prices
The cost of an entryway door varies greatly according to such factors as the material used, craftsmanship, design, size, finishing, and fixtures. An artistically and intricately designed door for example will cost several times that of the standard door. According to Angielist.com, a new front door made of wood or fiberglass costs between $2000 and $2500, while a steel door costs $2500. The total cost of installation is about $5000. The standard entryway door is 6'8" tall and 4' wide, although other designs are wider. Below are cost estimates of different types of standard doors.
| DOOR TYPE | COST | DESCRIPTION |
| --- | --- | --- |
| Door Frame | $55-$100 | Frame on which the door is hinged or mounted. |
| Jamb | $20-$40 | |
| Pre-hung | $100-$150 | The door is already attached to the frame. |
| Aluminum | $300-$750 | Light and strong. |
| Steel | $350-$1200 | Strong but heavy and ungainly. |
| Fiberglass | $500-$1800 | Light, energy-efficient, sturdy, and stylish. |
| Glass Sliding | $500-$2200 | Stylish, natural light, but expensive and lacks privacy. |
| Full Glass | $350-$1800 | Stylish, natural light, but less privacy |
| Bi-folding | $2400$520 | Folds in half, save on space used by the swing. |
| French | $600-$1200 | Elegant with glass panels. |
| Sliding | $390-$1600 | Suited to front and patio entries. |
| Accordion | $700-$1000 | Multiple fold segments with small footprint. |
The French Entry Door
The exterior fiberglass French door is popular because it is elegant, sturdy, durable, resistant to wear and tear, and low maintenance, and still very functional. It makes for a grand entrance. The airtight slab and insulated core make the fiberglass door more energy-efficient than wood. The fiberglass can be finished in any desired colors, patterns, and textures. It varies in size from a height of 80" or higher, and a width of 36" to 48", but the ultimate size depends on the height of the hallway ceiling and the designer's taste. The French entryway door is an inexpensive option compared to other exterior door types, starting at $350 for a wood and clad door, all the way to $4000 for a high grade steel door. A fiberglass door costs between $600 and $1700 (improvenet.com). In between price extremes, the variations depend on craftsmanship, style and design, materials, the surrounding molding, and functional hardware. An installer working for three hours will charge between $180 and $450. The cost of the entryway French entryway door according to homewise.com is as follows;
FRENCH ENTRYWAY DOOR TYPE
COST RATE
COST OF MATERIALS
TOOLS AND SUPPLIES
LABOR
TOTAL
HOURS
COST
Fiberglass
Low
$700
$90
4.5
$790
Standard
$1000
$100
4.5
$375
$1475
High
$1600
$140
9
$810
$2650
Vinyl
Low
$450
$150
4.5
$600
Standard
$500
$150
4.5
$375
$1025
High
$850
$150
9
$600
$1600
Aluminum
Low
$300
$90
3
$390
Standard
$420
$110
3
$375
$905
High
$700
$150
6
$570
$1420
Steel
Low
$450
$100
4.5
$550
Standard
$700
$100
4.5
$375
$1175
High
$1800
$100
9
$900
$2800
Wood
Low
$600
$100
4.5
$700
Standard
$1100
$120
4.5
$375
$1600
High
$4000
$180
9
$900
$5090
The French entryway door can be used in other types of entrance apart from the entryway. For example the bedroom, living room, balcony, and patio. The balcony French door is appealing but expensive. You can install a French door to divide the living room from the kitchen or dining area in the old designs.
Styles and Materials
A properly-fitted or hung door swings freely and easily. Sagging and warping lead to the door scraping the floor and sill or getting stuck when being operated. To remedy the problem tighten any loose screws. If the screw hole is unthreaded, then repair it by adding a glued sliver of wood and allowing it to dry before refastening the screw. This measure costs less than $10. You can swap old hinges since the top hinge tends to sag earlier after long periods of use. Replacing the hinges is a better option and costs between $20 and $50. Adding a midway hinge helps to relieve the pressure from the top hinge and prevent sagging. You can also add shims between the hinge and bottom screw holes will help to realign the door, but it takes some skill to determine the right size of the shims (This Old House).
Wood

As with other types of door, wood is the material of choice for French doors in most homes. Wood is easy to repair or modify after installation, and it is appealing to look at, especially when it has glazing panels and side lite. It however needs regular maintenance, as described earlier. Steel is heavy, solid, fits well in the French door space, and does not distort its shape under changing weather conditions. It is suitable for burglarproofing because it is a strong material. It can be made aesthetically more appealing by mixing with materials like wood, vinyl, and glass. It can also be improved by finishing with a gloss paint.
The projection should equal at least half the height of the roof and five feet along the from the door frame along the wall. The door should be waterproofed with a waterproof paint or varnish. If the door is exposed to the sun for long, then it loses its luster and peel. Redo the varnishing every two or so years or repainting every five or so years as need be. If the house experiences a cold spell, then you should install a foam-insulated fiberglass door or thick wood door and a good weather stripping to stop draughts. If there is increased risk of fire, for example from surrounding forest then you should look for a fire resistant door. Raise the porch landing by at least four inches to stop a buildup of rainwater and snow (This Old House). The basic pre-hung door costs between $200 and $300. A custom-made and finely crafted French entryway door with molding, transom or side lite costs up to $10,000.
Fiberglass
Fiberglass is popular because it is strong, easy to shape into intricate designs, does not wear easily, has a realistic faux wood appearance, is not distorted by changes in weather, and has five times better insulation than wood. Even then, fiberglass French door is expensive. The unhung door costs between $300 and $600. A customized door will cost between $800 and $1500, and the high-end model will cost an average of $1800. If the door is pre-painted then the cost will increase by $100 to $200. Repairing the mold, weather strip, and so on will inflate the price by $100 to $600.
Steel
Steel is heavy, solid, well-fitted in any door space, and does not bend under changing weather. It is suitable for burglarproofing because it is a strong material. It can be made aesthetically more appealing by finishing with a gloss paint, or cladding it with wood, vinyl, or glass. According to improvenet.com, paint adheres poorly to metals, therefore, you should buy either a pre-painted steel door or one that is already primed and cured thoroughly. The cost of a fully assembled steel door is between $250 and $550, but a pre-painted door will cost up to $650.
Aluminum
Aluminum is an alternative to a steel French door because it is also strong, resistant to breakage, and does not warp. Furthermore, it is lightweight, rustproof, thermo-efficient, easy to shape into different designs, and has low maintenance. However, it is brittle, expensive, It has poor thermo-efficiency, is brittle, expensive, and becomes dull owing to oxidation.
Clad

Clad doors are uncommonly used at home entryways for aesthetic rather than functional value. They are a combination of materials, which creates an aesthetic yet functional door. Wood is used as the core structure. Redwood and cedar woods are popular because they are sturdy and weather resistant. The clad panels, which are scratchproof and long-wearing, are made from steel, fiberglass, vinyl, and aluminum. Clad French entryway doors cost between $250 and $600.
Door Panel
The door's material is defined by the door slab and side lite, which are made of panels. The panels can be long strips or short segments demarcated with dividers. For security, large panels are reinforced with anti-burglar grills made from metal. Rustic grills and dividers are an eyesore, therefore they are embellished to draw attention away from their function. However, undivided panels give an unobstructed view of the outdoor. Panels are made of different materials including wood, steel, aluminum, fiberglass, vinyl, and clad (combination of materials).
Issues with French Entryway Door
Glass Selection
The French entryway door is defined by it glass panels. The glass is a unique enhancement of the design and appeal. The glass panels come in many variations such as small or large, plain, textured, tempered, frosted, etched, patterned, stained, double-glazed or triple glazed, and laminated. The glass is tempered to make it strong, glazed to make it thermo-insulated, and frosted to create some privacy while allowing natural lighting.
Size
A French door varies in size from 1'6" to 3'6" width. Its height is normally 6'8" but can be higher depending on the design taste and the height of the room or hallway behind it.
Swing Direction
The French entryway door operates by swinging either inward or outward. The swing footprint is known as the sweep. The inswing sweeps towards the interior of the house while the outswing sweeps towards the exterior of the house. The swing can be left-handed or right-handed, and there is no cost implication in the choice. The inswing door occupies more interior approach and landing space for the swing, typically 60" to 80", but it is convenient to close the door from inside. The outswing door has a short approach and landing, typically36" to 48". It is inconvenient to close from inside, especially in the event of a storm. Furthermore, it does not work with a fixed storm and screen door. The choice between inswing and outswing is a personal preference with no cost implications.
Grills and Glass Panels
Most doors have dividers or grills between smaller panels. The exterior French door and side lite can be reinforced with anti-burglary security grills. The grills are designed decoratively in order to draw attention away from their "unpleasant" security function – you do not want to be seen as being "burglar-phobic"! However, undivided panels give an unobstructed view of the outdoor, especially in the backyard entryway.
Advantages of French Entry Door
According to improvenet.com, the French entryway door is the most popular exterior doors for good reasons. The door is easy to design into exciting accents, patterns, color, shapes, and décor using various materials and hardware. The out-swing motion is a welcoming gesture to guests. The in-swing motion of the French entryway door is a welcoming gesture to guests. The door is functional, easy to install, and can be built from diverse materials. The glazing gives you a view of the outside and allows in more natural light while still retaining the heat insulation quality of the glazing. Natural light makes the room appear alive and bright. If you wish to create privacy then you can use frosted glass panels or install curtains. The door price is comparable to other door types, mainly because the door is so popular, for example the average price of the low-end French entryway door is $350 while that of the fiberglass door is $600. The French entryway door plays a big role in the overall return on investment or ROI of the house upon sale.
Disadvantages of French Entry Door
The main problem that arises with a French entryway door after installation is with the hinge alignment if the door is heavy, swelling and sagging, and sticky movement. The molding has to be in line with the general design. Redoing the hinges and molding can cost anywhere between $250 and $400 to fix (improvenet.com). A transom and side lite installation adds to the cost of the French entryway door by at least $200 for the side lite or $150 for the transom. The glass panels have to be reinforced and tempered for added security and safety. Heavy-duty and architectural French entryway doors are expensive on labor, for example, customization of the design, molding, and addition of a transom will cost an additional $500 in labor.
The Sliding Entry Door
A sliding door operates by moving from side to side. A wide sliding door is welcoming with the outward sweep motion of the arms as you open the sliding door. According to improvenet.com, many homeowners are drawn to the sliding door by its being functional yet looking sleek with a small footprint. Moreover, it is usually glaze paneled to allow more light into the house and a good view of the outdoors. Although it is more commonly used in the back entryway, it does look great in the front entryway. The door may however not be the best choice for every home.
Styles and Materials
Most sliding doors are made of wood, vinyl, fiberglass, or aluminum. Vinyl is cheap, strong, durable, rustproof, and scratch-resistant. It is also resistant to fading, is readily available in standard sizes, and easy and cheap to maintain. Its main drawback is the uninspiring appearance and texture. The knowledge that it is cheap does not help matters. Wood is naturally beautiful and appealing for sliding door. Other materials are often finished in a wood texture or color. Wood is homely, and a good thermo-insulator. It is usually finished with clear varnish in order to reveal the underlying texture and grain. Wood is however expensive to use and has a high maintenance cost. Some people cut the cost by using a clad or veneer of wood and some other material like aluminum. Aluminum is strong, non-warping, durable, and rustproof, which makes it a popular choice of material for a sliding door. Being lightweight it rides well on tracks. Aluminum is cheap to buy and install. It is a poor thermo-insulator compared to vinyl, fiberglass, wood, and steel. The full assembly of the aluminum sliding door costs from $600
Sliding Door Track Systems and Hardware

From the hardware hut, they describe the types of sliding door hardware and how to install or use them. There are rolling tracks for door systems such as the bypass door, bi-fold, heavy-duty, pocket door, soft-close, glass door, barn-yard style, and so forth. Popular manufacturers of sliding door systems include Hafele, ABP Beyerle, Richards-Wilcox, Grant, Knape and Vogt, Johnson Hardware, and Stanley Hardware. To select the right type for you, take the height and width measurements of your entryway, including the ceiling height and the wall length. Decide on whether to use wood, glass, or metal as the door's main material. Choose a track system that can hold the weight of the door, which ranges between 50lbs. and 300lbs. configure or customize your requirements to suit your taste and budget. Purchase essential hardware, such as locks, handles, weather stripping, stoppers, rail guides, running gear, screws, and so forth. You can also include special hardware like ring and rectangular pulls, door and floor guides, connectors, and so forth.
Installing a Wooden Sliding Door
The commonest sliding door system is the classic full-length wooden slab with glass panes, which is appealing because it looks natural and it gives a good view through the glass panels into the lawn. The contemporary design features a French entryway door-like appearance with a touch of decoration including patterns, frosting, or etching of the panes. Before purchasing the door, you need to determine the dimensions of the existing doorway, including the height of the ceiling, since the sliding door comes in kits for a specific door size. You have built the framework on-site before installation. The door is rather heavy and therefore needs two people to handle during installation. You need to fill any gaps in the framework with caulk and shim. Installing a weather strip is tricky with the sliding door. Generally the installation of a sliding door should be left to the pro. The pricing of the sliding entryway wooden door according improvetwork.com is as follows;
| ITEM | UNIT COST | DESCRIPTION |
| --- | --- | --- |
| Door set | $500 | includes track system, painting, and double glazing |
| Hardware | $250 | includes locks, fasteners, and weather stripping |
| Labor Cost | $400 | 5 hours |
| TOTAL COST | $1150 | |
Installing a Glass Sliding Door
Installation of the sliding door is not a novice project even though you may save a couple hundred dollars as a DIY. The doors have a metal frame, glass panels, metal grills, tracks, and sliding casters on the upper and lower parts of the door. A double sliding door closes by gliding past each other on separate tracks. Other options are doors closing towards each other and a single door closing towards a wall. You need to identify the right sliding door for your entryway. A sliding door is rather technical to install, especially when the track has to be on a straight and level pathway, therefore you should engage a professional. Improvenet.com puts the average price of the sliding door set at $200 to $2000, and $400 for installation work by two people. The pricing of the sliding entryway glass door according to Fixr.com is as follows;
| ITEM | UNIT COST | |
| --- | --- | --- |
| Door set | $700 | Track system, painting, and double glazing |
| Sliding screen | $100 | Size 6'8" tall x 36" wide. |
| Hardware | $300 | All hardware |
| Labor Cost | $350 | 5 hours |
| TOTAL COST | $1450 | |
Benefits of the Sliding Door
The sliding door is a loved for its sleekness, natural lighting, and view of the outdoor. It also has a small footprint. The door does not slam shut even in strong winds. You can easily move a wheelchair, a bathtub, or some large piece of furniture through the sliding door because it is wide. Since they do not swing, sliding doors have a shorter approach and landing.
Disadvantages of the Sliding Door
The main problem of sliding doors is tendency to go off-track, requiring you to occasionally realign the tracks. The sliding door is an expensive entryway door system, costing from $600 upwards to install. Large glass panes are more susceptible to accidental breakage and replacement of the entire pane would cost between $200 and $400. Too much solar input can be uncomfortable, especially in summer. You can either change to frosted, tinted, or chromatographic panes, or install curtains and blinds – which would block your view of the outdoor.
Entry Door Décor
Painting
The entryway door should look appealing on first impression. Apart from the normal cleaning routine, the front door needs to be refinished when it loses its sparkle. A new coat of paint is an opportunity to change the color or pattern of the door. The new color should not clash with the overall color scheme, but instead it should complement or match with the surroundings. The paint should be specially designed for outdoor painting including UV resistance, waterproofing, and gloss. Typically a door needs a quart of paint that costs about $15 to $25 and a smaller amount of primer worth $10. The paint and primer should be of the same type as the previous coat, that is, either oil- or latex based. As a DIY you can save between $150 and $600 in professional painting fees.

Uninstall the door to be painted and strip it of all hardware fixtures. Scrape and sand the door surface to remove the old paint. Clean off the dust with a vacuum cleaner and dry rag, then apply a primer. After drying, sand lightly over the primer in order to improve bonding with paint. Hand paint the details, cracks, trims, edges, and holes. Use a 6" roller to paint two or more coats, before doing a final coat with a hand brush, which leaves a smooth and consistent application. Allow the door to dry for a day or two before re-installing it. You have to assemble the materials and tools for the paint job, including the paint brush, roller, primer, and paint. The paint will cost about $30-$40 for a gallon of paint, $20 for the primer, and $10 for the brush and roller. You can retain, modify, or change the color. A new color gives the home a fresh look. Remove the door, scrape off the old paint or varnish and sand the wood thoroughly. Apply a primer.
Green is a hospitable color that blends in well with the lawn, with grass, trees, and hedges. Deep red blends well with brown bricks and farmhouse. Turquoise works well with white and grey surrounds. Contemporary black is sleek, modern, and beautiful with a white, silver, or light blue surrounding. A yellow and purple pastel is a modern and bold look, and yellow is a happy color. Rusty orange is a warm and mature color that complements mature trees and rough landscape. Navy blue gives the house a classy and royal look and blends well with dark brick walls and gold colored knobs. The cost of painting may reach $300 to $600.
Enhancement and improvement costs
| PROJECT | COST | LABOR | DESCRIPTION |
| --- | --- | --- | --- |
| Uninstall door | | $50 | Includes disposal. |
| Double entryway Door | $250-$1000 | $150 | Easy to move in furniture and is disability-friendly. |
| Door Repair | $100-$450 | $200 | Include waterproofing. |
| Path Lights x 6 | $450-$600/set | $300 | Illuminates and creates elegance along the walkway by night. |
| Floodlights x 4 | $300-$600/set | $240 | Illuminates and creates elegance around the house and in the compound. |
| Wall Lantern x2 | $200-$300/set | $150 | Illuminates the entryway door at night. |
| Storm Door | $80-$200 | $150 | Protects from weather elements. |
| Keyless lock | $200-$400 | $140 | Stylish and convenient, you do not lose a key. |
| Paint | $80-$100 | $90 | Different colors and themes. |
| Screen Door | $150-$300 | $150 | Improves airflow and keeps off debris, bugs, pests, and insects. |
Installing a Screen Door
The screen door is installed on the outer side of the entryway door to keep out bugs and insects while retaining a good view of the outdoor and air circulation according to diynetwork.com. The screen door is essentially a wood or vinyl frame with a fine mesh screen as its panel. Some entryway doors are designed to have small screen at the upper side of the door in place of a screen door. A retractable screen can also be installed on the outer side of the jamb. The screen is made of either aluminum, which is strong and durable, or fiberglass, which is transparent. The frame is made of wood. Measure the door space width and height, add 6" all round and cut the screen to those measurements. Stretch out the screen over the frame, tack in the edges, and staple it onto the frame using a staple gun. Attach a molding around the frame using nails, and hung the completed screen using hinges. The screen and materials cost about $150 (DiyNetwork.com).
Installing a Storm Door
The storm door is the outer barrier that protects the entryway door against bad weather and cold breezes, especially in high country and to the north. It also protects the entryway door against scratches and blows that may result in a dent. It can also offer some security against burglary. Some storm doors have glazed panels on the upper side for improved view. The door is designed to close automatically but you can add a mechanism to keep it open when need be, like on a sunny day. Before purchasing the storm door check if it opens to the left or to the right. The main door should have a space on the jamb to install the storm door. The storm door costs between $200 and $400 to purchase and $100 to install.
REMODELING CHEAT SHEET
Caulk: A chemical compound for filling and sealing cracks between a wall and ceiling, frame and panel, tub and bathroom tile, and so forth. Caulk is water- and air- tight.
Door Frame: The wooden structure on which the door is hinged or fitted.
Dowel: A peg, usually wooden, that is fitted in a hole to hold together two sheets.
Fastener: Hardware used to attach two or more objects to each other, for example nail, screw, pin, and so forth.
Fiberglass: Plastic material that has been reinforced with glass fibers. The fibers may be mixed randomly throughout the plastic, or come in the form of a flat sheet, or be woven into a fabric
Hinge: A hardware fixture that attaches a slab to a frame, for example door or window to the frame, and allows it swing back and forth
Hollow Core: An interior door that is not made of solid material. The interior of the door is filled with recycled material such as cardboard or scrap pieces of wood. Less expensive than solid core Do not buffer sound well.
Inswing (I/S): A door that opens towards the inside of the house.
Jamb: The two upright parts of the door frame, in which the door is hung.
Knob: A rounded piece, usually metallic or wooden, to grip when operating the door.
Left Hand Door: A door whose hinges are viewed to the left hand side.
MDF: Medium density board is an engineered wood
Outswing (O/S): A door that opens towards the yard.
Primer: A chemical that is applied on a wood, metal, or fiberglass before applying paint. It bonds well with the surface being painted and waterproofs it.
Pocket Door: A door that slides into the wall on a fixed track. The place where the door slides into is the pocket. Commonly used as a room separator or bathroom door where space is at a premium or to maintain a certain style.
Right Hand Door: A door whose hinges are viewed to the right hand side.
Sash: The upper horizontal part of the frame.
Screen door: A protective door with mesh instead of panels, to keep out bugs and insects.
Side Lite: A glass pane on either side of the door.
Sill: A wooden horizontal bar for support or of the door slab.
Storm door: A sturdy and protective door that can withstand a storm and protect the entryway door.
Sliding Door: A door the moves straight and sideways to open or close.
Swinging Door: A door that moves about a hinge.
Glaze: Transparent glass or plastic that is sandwiched between two glass sheets to form a glazed panel.
Sources:
Fixr.com

Improvenet.com

This Old House

Diynetworks.com

4feld.com

SilltoSash.com

Epifanes.com

Drc.ohiolink.edu

Angielist.com

Homewise.com
Subscribe to our newsletter