Best Portable Band Saws Reviews & Ratings
last updated:
Feb 12, 2019
There are manifold advantages to using a portable band saw. In addition to cutting materials accurately and intricately, it also features an intuitive, user-friendly design with a very gentle learning curve. Compared to other traditional alternatives, they also boast exceptional portability, high-end construction quality, and efficiency. The icing on the cake for most of our picks is affordability; your wallet won't take a hit should you decide to reward yourself with one.
Our Top 3 Picks
[srpshortcode id="21340″][/srpshortcode][srpshortcode id="21341″][/srpshortcode][srpshortcode id="21342″][/srpshortcode]
As for performance, they come with a high-performance motor for quickly ripping apart through dense pieces of wood. Our top 10 picks ooze quality and come with a slew of premium features to make your work quick and effortless. Continue reading to find out the criteria on which we evaluated them.
10 Best Portable Band Saws
1. Makita XBP02Z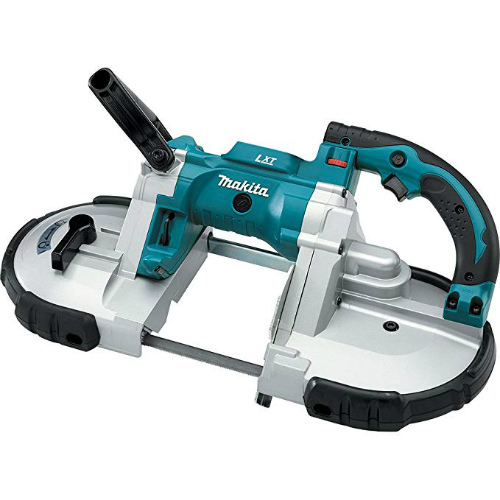 A portable band saw is a carpentry staple and the need to excel at your projects necessitates using a high-quality, practical, and highly functional one. If that's what you're looking for, check out this Makita XBP02Z. It comes with all the hallmark features of a high-end portable band saw and performs just as much. In addition to the convenience of being battery-powered, it features an ergonomic design, a high-performance motor with a variable speed feature and a useful LED light. Continue reading for an in-depth review.

This Makita XBP02Z brings together a high-capacity and long-lasting 18V Li-ion battery that pairs nicely with its high-performance and reliable built-in motor to deliver efficient, quick, and smooth variable cutting speeds of between 275 and 530 surface feet per minute. This level of performance means it cuts through various metal pieces easy and effortless.

Expand to see more
To the powerful motor and long-lasting battery add its compatibility with a 44-7/8-inch and cutting capacity of 4-3/4-inch and you have a portable band saw you can use to cut a wide range of metal surfaces. The variable speed feature is its performance highlight though considering that it enhances versatility by allowing for effortless, accurate, and quick cutting through sheet metals, conduits, pipes, and square tubing, among others.

The Makita XBP02Z qualifies as portable seeing as weighs a paltry 15 pounds and has dimensions of 14 by 22.4 by 10.7 inches. There is an easy-to-adjust stopper plate for protecting your workpiece and providing positive supports, ensuring that you cut accurately and smoothly. A factory-installed LED light ensures perfect vision for those who'll be working in areas where the lighting conditions are less than ideal. For longevity, this Makita XBP02Z Cordless Portable Band Saw has a thick protective rubber bumper while the rubberized soft grip handle offers immense comfort and traction.

Overall, Makita XBP02Z is hands down one of the best portable band saws currently on the market. It's a perfect choice for seasoned contractors, extreme DIYers, and greenhorns alike, this commercial-grade portable band saw will get the job done right every time.

Cordless and high portable
Long-lasting and powerful 18V battery
Versatile
Has a hook for safe hanging
A tad noisy
Charger, battery, and blade sold separately
2. DEWALT DWM120K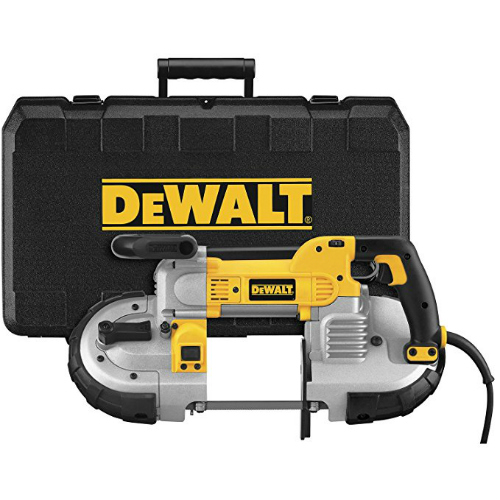 For seasoned professionals and enthusiastic DIYers looking for a rugged and powerful option for undertaking various demanding metal surface cutting projects, look no further than DEWALT DWM120K. Boasting one of the industry-best 10-amp motors, it has more than enough power to shear quickly and easily through a number of metal surfaces. Further, it features a remarkable 5-inch cutting capacity for various stock sizes and to ensure durability, it comes with an easy-to-service steel shroud which, together with the rubber bumpers, enable the tool stand up to rigorous tasks and rough working conditions. Of course, it's a cinch to use, too.

With a slew of highlight features, it's difficult deciding how to start reviewing this kit. That doesn't mean we're going to give up. As mentioned above, the tool has a powerful 10-amp motor with a variable speed dial that considerably enhances customizability. You are at liberty to choose a speed that best matches the application and material you intend to work with. Not one to easily bog down, the motor effortlessly reaches speeds of between 100 and 350 sfpm, which also explains why it comes with a 5-inch cutting capacity for round stock and 4-3/4 inches for rectangular stock.

Expand to see more
As is the typically the case with all things DeWalt, it pulls all the stops to ensure accuracy and ease of use. On top of the list of impressive convenience features is the adjustable material guide that allows for the quick and easy setting for optimal performance. And when the lighting conditions are less than ideal, you won't have to squint as it has a bright LED light for indicating the cut line, making sure you achieve military-grade accuracy every time. Another LED light ensures you don't struggle to see your workpiece in case you're working where the lighting conditions are less than ideal.
Additional features include an integrated hand hook for
easy storage
in between uses, a serviceable steel shroud, and rubber bumpers for durability and rigidity. Also, considering that it comes with an accurate blade tracking adjustment, it's capable of weathering the toughest working conditions. All of these features together make this DEWALT DWM120K one of the best portable band saws money can buy.
Rugged construction for longevity
Has bright LED
Very adaptable with variable speed dial
Impressive 5-inch cutting depth
A little pricey
Flimsy storage case
3. Milwaukee 2429-21XC M12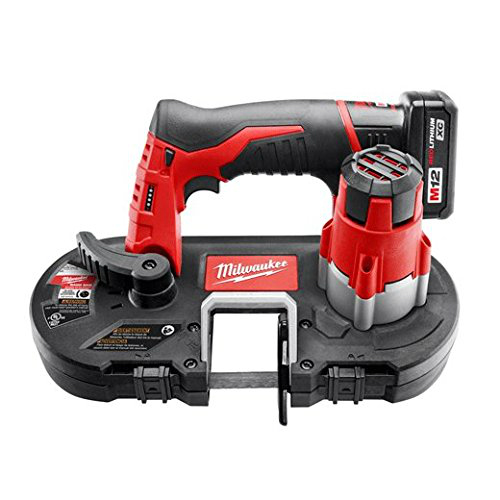 If you're working on a budget but need to sample some of the industry's premium features, Milwaukee 2429-21XC M12 is a good place to start. It brings together a lightweight and compact design, high power and reliable motor, and a bunch of convenience features to make the user's work a cinch easy and fun, even for greenhorns who know zilch about portable band saws. Unlike the vast majority of options that necessitate two-handed operation, this portable band saw is compact and boasts a manageable weight, thereby allowing for quick and easy one-handed cuts.

As was the case with our first three picks, it comes with a powerful motor that effectively you enables you to cut any material you want. With ¾ EMT, for instance, it takes a paltry 3 seconds to shear through it. Patently, the powerful motor does the heavy-lifting, which leaves you with nothing more than holding and operating it. The likelihood of breaking a sweat while working is remote at best. The icing on the cake is the powerful XC battery that provides for a considerably long runtime; you can manage up to 150 cuts per charge, a fact that minimizes interruptions as you work.

Expand to see more
With its adjustable blade, you can cut a wide range of materials of regular and irregular shapes, especially since its blade measures an impressive 27 by 0.5 by 0.020 inches with a cutting capacity of 1-5/8 inches. The Milwaukee 2429-21XC M12 has a length of 11 inches and is easy to operate with one hand. Like our previous choices, it has a convenient LED light and to top it all off, a generous 60-month warranty.

The kit is not only a powerful and easy-to-use portable band saw, but it's also a highly functional and versatile one. If you're working on a budget and want a taste of premium features without sacrificing quality and performance, this portable band saw will suffice.

Highly portable cordless design
Lightweight and easy to use
Offers exceptional value for money
Offers one hand operation
Powerful
4. DEWALT DCS371B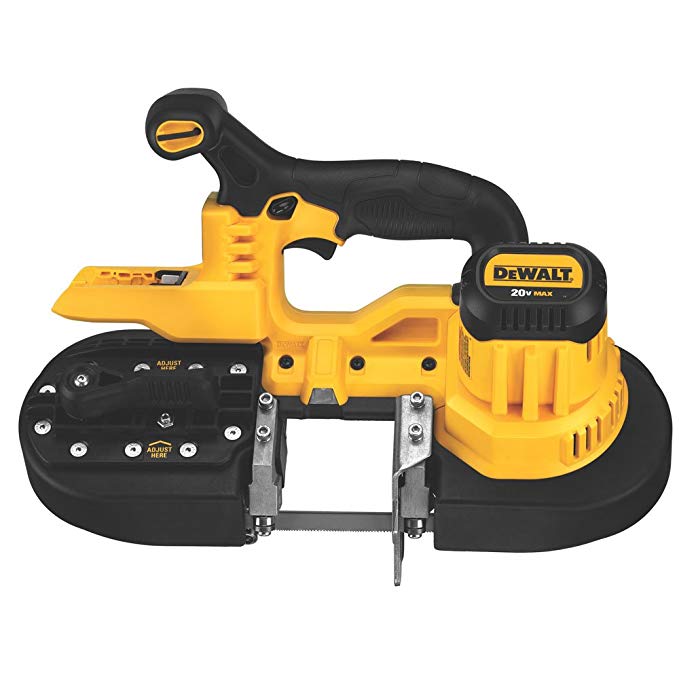 Despite its misleading simplistic, humdrum appearance, this DEWALT DCS371B happens to be one of the best. It's not the flagship portable band saw but it can easily hold a candle to its older brother considering that it packs all the essential features and specs professionals prioritize in a portable band saw. For instance, it features a decent 2-1/2-inch cutting capacity and comes with a blade tracking adjustment for precision and longevity. The craftsmanship quality is exceptional while a bright LED work light with a 20-second delay helps illuminate your workpiece, helping you avoid costly errors and mistakes.

Only a handful of portable band saws will have any luck cutting through tough materials such as SCH 40 pipe. However, because this portable band saw comes with a high power 20V motor and long-lasting battery, it is able to cut SCH 40 pipe up to 2 inches deep without bogging down or experiencing the slightest performance glitch, as is often the case with low-quality portable band saws currently flooding the market.

Expand to see more
Designed with the user in mind, it is incredibly easy to use. The central placement of the handle, for one, enhances balance and coupled with its ergonomic design, provides lots of comfort to the user. To ensure you cut various metal surfaces with the utmost accuracy, the DEWALT DCS371B has a LED work light with a 20-second delay so it properly and sufficiently illuminates your work surface for accurate cutting.

Other features you'll be hard pressed to find in cheap, off-brand portable band saws are the integrated hang hook and the blade tracking adjustment. While the former enables you to safely hang it without risking damage to the front handle and base, the latter does an amazing job prolonging the tool's shelf life by offering superior blade tracking.

Lastly, changing bladesm is a snap, thanks to the incorporation of a tool-free blade changing lever.

Small profile ideal for overhead projects
It's upgradable
Tough construction
Comes with LED light
Lacks variable speed control
5. Milwaukee 6238-20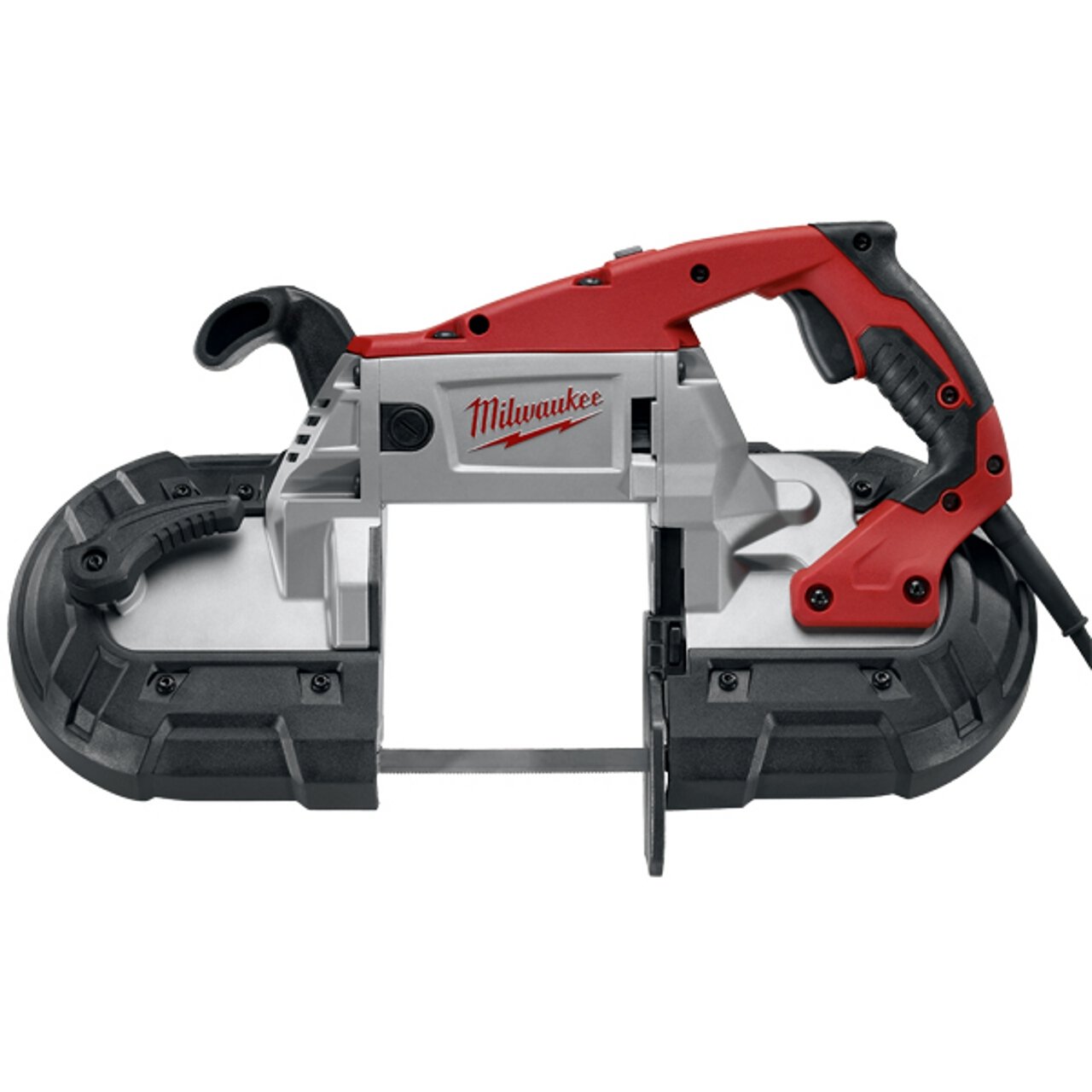 The vast majority of Milwaukee power tools are synonymous with high-performance, ease of use, durability, and affordability. The brand's flagship portable band saw, Milwaukee 6238-20, continues this tradition seeing as it packs these virtues and several more. It has all the flair that makes for effortless, quick, precise, and seamless cutting. While it has a litany of instrumental features, the jewel in the crown has got to be its powerful 11-amp motor which, as the brand wax lyrically points out, significantly enhances performance and durability, especially in combination with the all-metal direct drive system.

Touting a high-performance 11-amp motor, Milwaukee 6238-20 clears packs a punch. It attains very impressive speeds, cutting several materials and metal pieces with remarkable speed and ease. Various materials including conduit don't present the slightest challenge to its cutting prowess.

Expand to see more
A second outstanding feature is the revolutionary cut visibility, a feature that helps the user avoid costly errors and mistakes, especially when working in tight or confined spots without logs of wiggle room. Few portable band saws can blend such an impressive cutting capacity, long-term durability, and smooth performance at a pocket-friendly price like this option does. Milwaukee 6238-20 also provides the user with a perfect line of site to ensure accuracy while the balanced body design and paltry weight of 14.5 pounds and ergonomic handle enhance comfort and ease of use.

Cutting various abrasive and dense metals and metals is obviously a tedious and energy-sapping endeavour. Which makes it all the more imperative that you invest in a portable band saw with convenience features to ease the process. This portable band saw comes with a bunch of those. The construction quality is top-notch, thanks to the exclusive Job Site Armor technology and all-metal drive system.

With all its performance and convenience flair, Milwaukee 6238-20 is clearly a top echelon portable band saw. If its superior performance, portability, and durability you're looking for in a portable band saw, don't look any further.

Cuts smoothly and precisely
Shock-absorbing design minimizes fatigue
Easy to use
Long-lasting construction
A little on the heavy side
6. DEWALT DCS371B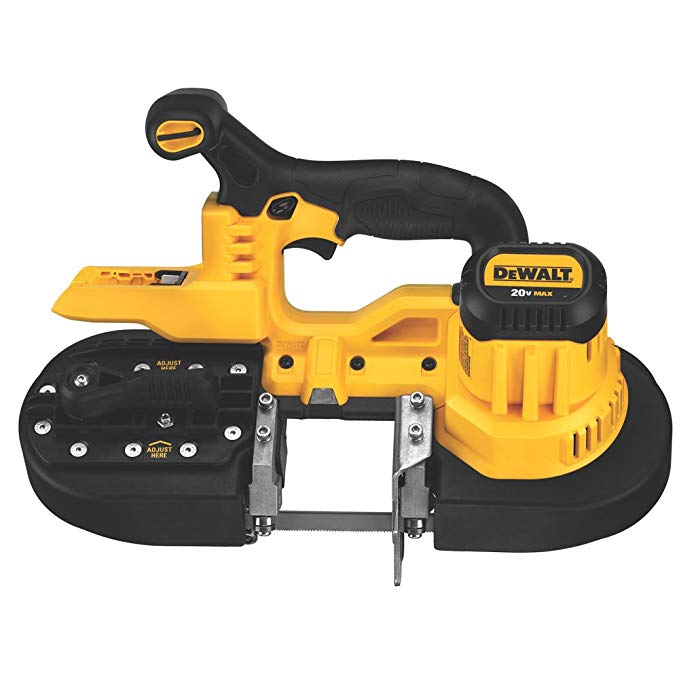 For the professionals, hobbyists and greenhorns out there in search of an industrial-grade portable band saw, this DEWALT DCS371B is worthy of giving some serious consideration. Lift the lid and you immediately find a plethora of auxiliary features that make for exemplary performance. An upgradable option, it comes with a sufficient cutting capacity of 2-1/2 inches, a powerful and long-lasting 20V lithium-ion battery, an easy-to-adjust blade tracking, and thanks to the dual bearing blade guide rollers, it's highly portable. A terse but comprehensive review follows next.
If you're anything like us, the smooth, seamless performance of this DEWALT DCS371B will leave you wanting more. It boasts a 5-inch cutting capacity that pairs perfectly with its 20V lithium-ion battery and 14TPI blade. These features, together with the fact that it has variable speed dial, makes it a perfect choice for working on a wide range of materials including but not limited to angle iron, strut,
pipes
, and even square tubing. You can vary speed to match the application you're undertaking or the material you're handling. Faced with a high-density material such as 1- to 5/8-inch strut, the portable band saw demonstrates its mettle by cutting it up to 149 times.
Expand to see more
The DEWALT DCS371B is not all performance-oriented. With speeds up to 570 FPM, it's paramount that sports a few convenience features to help with controllability and use. As well as featuring a centred handle position for providing the best balance and ergonomics, the design also allows the user to cut accurately and quickly.

Expectedly, it also incorporates a hang hook designed to prevent any damage to the front handle or base. And the specially-designed blade tracking adjustment prolongs the lifespan of the blade as it offers superior blade tracking. One last feature to bring to your attention is the LED light.

The practicality, ease of use, effortless and quick performance of DEWALT DCS371B puts it on whole different level. Compared to this portable band saw, the vast majority of portable band saws painfully pale into insignificance in every respect. And for that, we love it.

Portable
Powerful battery for continuous runtime
Gentle learning curve
Packs exceptional power
A little bulky
Battery and charger sold separately
7. Bosch GCB10-5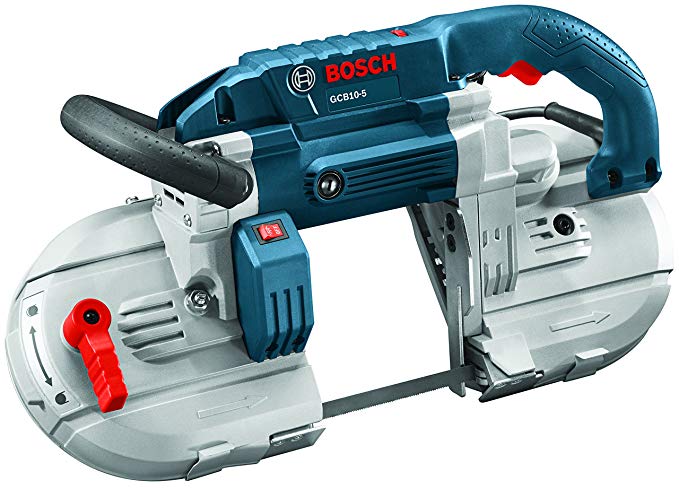 Bosch GCB10-5 is designed for the contractors and tradespeople who want nothing short of an absolute metal cutting performance. It's versatile, powerful, and easy-to-use, which also explains why it's an all-time favourite for handymen all over the world. If you want to cut through a wide range of metals such as rebar and conduit in a clean, spark-free, and effortless fashion, this is the portable band saw to reach out for. A powerful 10-amp motor, a cutting depth of 4-3/4-inch, ergonomically designed handle, and a lightweight and compact design all come together to make short and quick work of the various professional-sized projects. You'll also benefit from a bright LED light and a saw hook for hassle-free storage in between uses.

The Bosch GCB10-5 is the epitome of clean, precise cutting. With its 10-amp motor, it precisely cuts a wide range of materials, including rebar, conduit, and copper pipe. Because it cuts cleanly, the final result is perfect in every way and doesn't require to be reworked because it'll be invariably free of burrs. It also comes with a variable speed feature for matching the speed of cutting to the type of material and application. Speeds range between 100 and 380 surface feet per minute.
Expand to see more
Irrespective of your speed preference, you'll invariably achieve spark-free, burr-free, accurate, and quick cuts, a fete the vast majority of portable band saws on the market will break a sweat trying to replicate.

The Bosch GCB10-5 features an ingenious design. Reaching tight and confined spaces should be a breeze as it weighs just 14.5 pounds and is comfortable to use, thanks to the ergonomically designed handle with a perfect and firm grip. An auxiliary side handle enhances security by necessitating two-handed saw operation and makes it incredibly easy to move the portable band saw from one place to another. Other features include a useful saw hook for safely hanging it and a bright LED light.

A lightweight, easy-to-use, affordable, and powerful option, this Bosch GCB10-5 is all you need to cut through your collection of metals. It cuts with ease, accurately, cleanly, and spark-free. Definitely a worthy consideration.

High-performance 10-amp motor
Compact and lightweight design
Outstanding 4-3/4-inch cutting depth
Built-in LED light enhances accuracy
Changing blades takes effort
Flimsy blade
8. JET JWBS-14DXPRO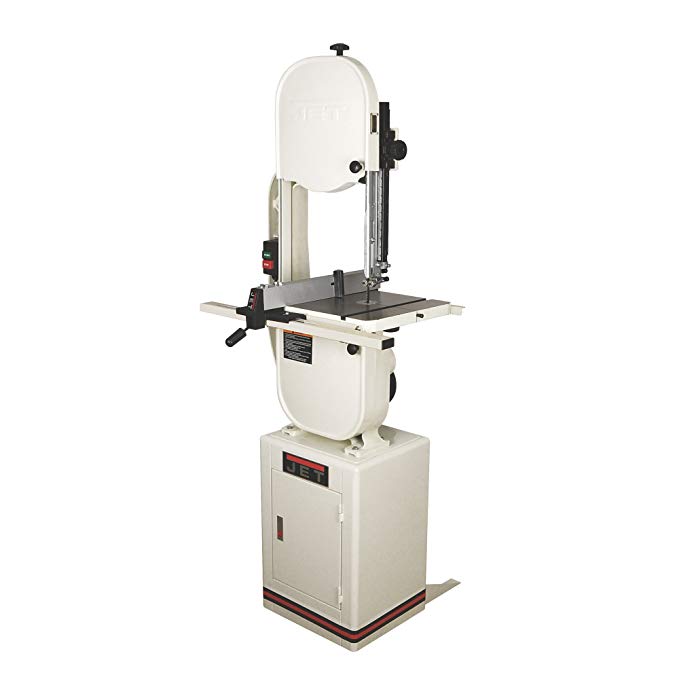 JET JWBS-14DXPRO is ingeniously built and designed to take the hard work and effort away from accomplishing a plethora of woodworking and other onerous applications around the house, in a workshop, and on-site industrial applications. It features several amazing features for a smooth, reliable heart-stopping experience. It's reliably precise and sports a high tension spring design for increased power and control, allowing the user to cut various metal pieces cleanly, accurately, and with minimal effort. On top of these, add outstanding durability, thanks to a hardy, fastidious construction quality capable of withstanding light- to heavy-duty applications.

Equipped with an exceptionally powerful motor and a massive, ultra-strong cast iron frame, this heavy-duty portable band saw easily reaches variable speeds of between 1500 and 3000 sfpm. This unique combination of durability and heart-stopping speeds enable it to cut quickly and effortlessly through a broad range of materials.

Whether you'll be working with regular or irregular objects, it should be easy and fun as its heavy-duty table is tiltable to 10 degrees left and 45 degrees right, making it a highly versatile and flexible option.

Expand to see more
Besides packing a punch, this JET JWBS-14DXPRO is also easy to use. It comes with upper and lower ball bearing guides to minimize friction and help the blade attain optimal performance, which in turn prolongs the blade's useful life. The highlight of the portable band saw though is the poly-v belt drive system. In addition to its efficiency and accuracy, it also enhances control and versatility by offering the user a dual-speed operation. Changing blades and adjusting their tension is also easy and fast. The icing on the cake though is the retractable blade guard that's easy to adjust using the provided rack and pinion system, making it easy to set a suitable height.

In all, this professional-grade JET JWBS-14DXPRO is capable of handling the toughest cutting applications. While it's expensive, you'll be getting your full money's worth over its long useful life.

Generous 60-month warranty
Blade retracts with ease
Comes with variable speed control
Heavy-duty belt drive
9. Milwaukee 6232-21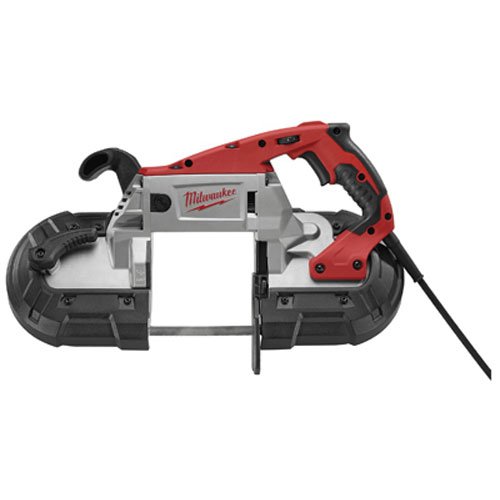 Milwaukee makes another appearance on our list of 10 of the best portable band saws on currently on the market with this Milwaukee 6232-21. Like its bigger cousin, it packs a punch considering that it has a powerful 11-amp motor that provides for deep, accurate cuts without breaking a sweat or bogging down. It is also carefully and fastidiously put together, which means that with proper use and care, it should provide you with more than a lifetime of flawless and reliable service. If this option sounds like the portable band saw you've been combing the vastness of the Internet for, search no more.

Constructed with first-rate materials, this saw is capable of withstanding loads of wear and tear even when you frequently subject it to extreme abuse. Users even opine that it can withstand a few inadvertent droppings. On the flipside, the Milwaukee 6232-21 is considerably heavy at about 21.9 pounds, which makes it a little difficult to utilize or transport, which negates the portability criteria.

Expand to see more
Not a slouch when it comes to performance, it works seamlessly and effectively given that it houses a high power 11-amp motor. Equipped with a variable speed feature, you have the ability to control the speeds, suitably matching it to the application and material you intend to cut through.

The tool is robustly and sturdily put together. Its construction with industry-best materials, for instance, means it can withstand attrition for several years on end, which then spares you lots of headache and stress. And to crown it all, it comes with a generous 60-month warranty that conveniently covers you against deficiencies in material and workmanship. Additional features include a bright, built-in LED light, a handy carrying bag, and a metal direct drive system for durability.

Overall, this Milwaukee 6232-21 is a solid choice for handymen, contractors, and even extreme DIYers in search of time and effort saving features, accuracy, trouble-free performance, and ease of use.

Powerful and seamless performance
Durable, ingenious construction
Easy to use and comfortable
LED light for dimly lit areas
Not as portable as its cordless cousins
A tad heavy
10. SKIL 3386-01 2.5-Amp 9-Inch Band Saw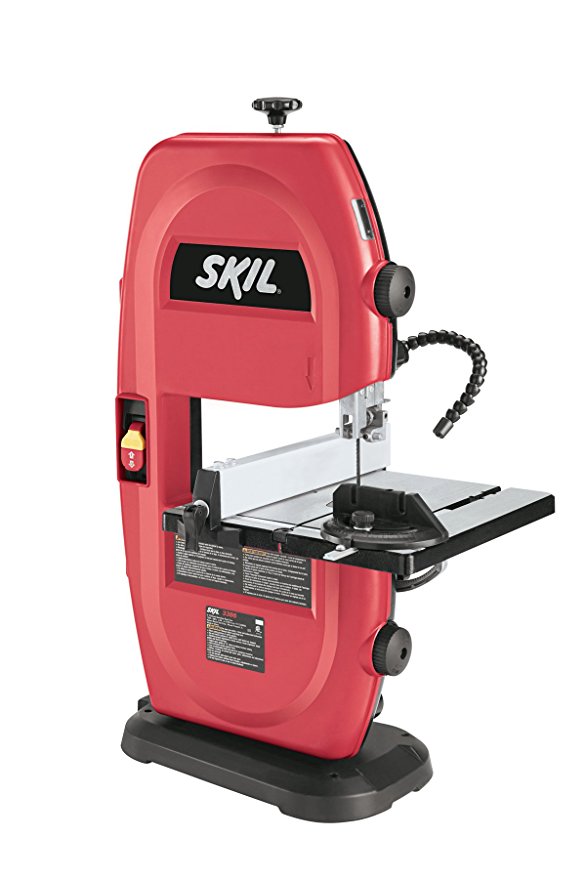 SKIL 3386-01 may not have the performance clout of other industry giants such as DeWalt and Makita, but it sure overshadows most options in every other respect. Its list of instrumental features include a high-performance 2.5-amp motor capable of heart-stopping speeds of up to 2,800 sfpm, a maximum cutting capacity of 3-1/2 inches, a dust port for a clean, conducive working area, a heavy-duty 6-TPI blade, a rack and pinion adjustable table, an EZ View Blade Tracking, and to top it all off, a bright LED work light. For an in-depth but brief review of these and several other features, continue reading.

An easy-to-use and handle option, it is a perfect choice for cutting a wide range of materials of various shapes and sizes, including regular and irregular ones. A powerful and high-performance 2.5-amp motor capable of 2,800 sfpm and a 6-TPI blade team up to cut effortlessly, quickly, and accurately through several materials. The cutting capacity stands at 3-1/2 inches which means materials such as conduit won't be able to resist its cutting prowess.

Expand to see more
Its innovative design allows for quick and easy changes to the angle and height changes seeing as it comes with a convenient rack and pinion table adjustment. A bright
LED work light
comes in handy for illuminating your cut line and enhancing visibility for those who'll be working in poorly lit environments while the useful dust port helps keep your workplace neat and conducive.
One last feature is the rip fence and miter gauge. The former augments accuracy while the latter ensures helps with crosscuts.
High-performance 2.5-amp motor
Heavy-duty 6-TPI blade
Comes with a rack and pinion adjustable table
Bright LED work light
Not as powerful as top brands
Criteria for Choosing the Best Portable Band Saws
Performance
Of all the vital criteria to consider while shopping around for a portable band saw, ensure it has the features and specs to deliver the required performance. Two aspects to pay attention to are the cutting capacity and the cutting speed. The option you're enamoured with needs to cut to your desired depth and do so at a speed that best matches your workpiece.
On the same vein, if it packs enough amount of power, the likelihood of it bogging down or struggling to through a dense piece of a workpiece is minimal or remote at best. A powerful portable band saw works quickly, effortlessly, and powerfully rips through a wide range of material including metals. The higher the horsepower and cutting the more powerful will be the performance.
Power Source
You can choose between a battery-powered and an electric one, each coming with its fair share of upsides and downsides. As you would expect, an electric portable band saw is considerably more powerful than a battery-powered one and spares you unnecessary worries about the battery running out in the middle of an operation. However, unlike a cordless option, portability and movement are considerably limited which as you can't work away from a power source.
Construction Quality
Cutting through dense metal and highly knotted pieces of wood necessitate the use of a heavy-duty, high-end, and rugged portable band saw. If you need the best performance, go for one with commensurate construction quality. Materials such as welded steel, die-cast steel, and cast iron provide the much-needed rigidity, robustness, and durability required to withstand lots of attribution and extreme abuse that most portable band saws are exposed to. Seasoned professionals have a preference for cast iron in light of its substantiality and structural integrity, a combination that delivers superior control and exceptionality.
Convenience
A small and lightweight portable band saw is both easy to move around and takes up minimal space on the workhouse or garage floor. Adjusting and replacing the blades should similarly be a cinch to achieve the depth of cut you want. And for accuracy, you'll appreciate a portable band saw with a fence while the working table needs to provide a flat, polished surface with minimal friction for undertaking your craft, further enhancing manoeuvrability, accuracy, and ease of use.
Also, a combination of a blade guide with a rack and pinion system helps you achieve accurate and precise results. Minimal vibrations, a quiet motor, a dust port collection system, and a tiltable table all contribute immensely to the performance of a portable band saw.
Frequently Asked Questions
Q: How do I maintain the optimal performance of my portable band saw?
A: It's a straightforward procedure, really. Rid the band saw of dust and debris and replace worn out or defective parts and components. Waxing the table and the blade and cleaning both using a wire brush should do the trick.
Q: Are portable band saws compatible with all blades?

A: No. Because of differences in construction and design, some portable band saws accept specific blade sizes while others can accommodate several. Check before committing your money.
Conclusion
The market offers thousands of portable band saws with significant variations in features and benefits, which makes it difficult to choose the right one. Irrespective of your needs and budget, our list features something for everyone, right from the weathered professional to budding greenhorn. Irrespective of the portable band saw you decide to pick, you're sure of its versatility, durability, precision, ease of use, power, and dependability.
Subscribe to our newsletter