Best Bandsaw Blades Reviewed & Rated
last updated:
Nov 06, 2018
Though it happens to be the most versatile tool in any woodworking shop, a band saw is rarely the first tool that comes to mind or if you purchase for a shop. However, it is quite resourceful for it cuts more than wood including metal.
You can use band saws for cutting making veneers, cutting curves such as cabriole legs, to crosscut short pieces, and to rip lumber. However, it is mostly used to cut irregular shapes, cutting decorative moldings on furniture and cabinetry. However, not even the most expensive band saws can save you if you use the inappropriate blades.
Our Top 3 Picks
[srpshortcode id="18123″][/srpshortcode][srpshortcode id="18124″][/srpshortcode][srpshortcode id="18125″][/srpshortcode]
When we first came across band saw blades, we thought that we could get away with purchasing one set of blades for all our tasks. We couldn't have been more wrong as we later came to realize that the blades come in different sizes. Fabrication types, and thickness. As such, you have to get a specific blade for specific tasks.
Our goal in writing this buying guide is so that you don't make the same mistake we did. We will familiarize you with some of the best blades and what to look for when making a purchase.
10 Best Band Saw Blades
1. DEWALT DW3984C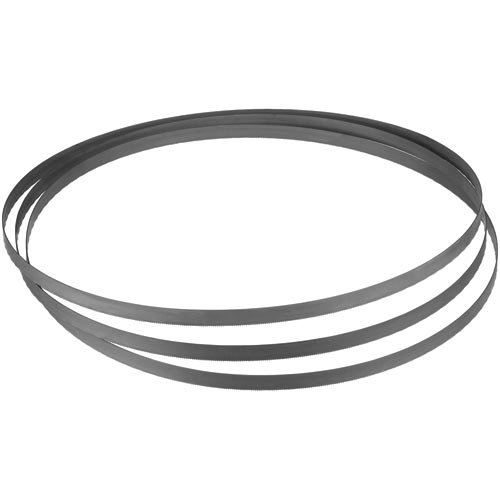 If you are in the market for blades that can cut a wide variety of materials, we recommend you get the Dewalt DW3984. First, it is affordable, and you get a pack of three.

Therefore you don't have to worry about getting a replacement any time soon. You will also appreciate the silver finish, and they can cut any metal be it thick or thin. You will also welcome that these are manufactured in the USA where Dewalt can exercise more control over the quality. Consequently, you don't have to worry about the glitches associated with most imported products. And although there is no warranty on this, there is the 30-day money back guarantee.

However, our best features were the high TPI and the resistance.

Resistance – The DW3984 is heat and wear resistant. It can handle some of the toughest jobs with ease, and it is all thanks to the build. Fast, the blades are made from Matrix II HSS (high-speed steel) edge to prevent any wear and resistance. The 8% cobalt content strengthens and increases the durability of the blade. The Matrix II HSS edge also serves to preserve the sharpness of the blade.

24 TPI – The tooth pitch of the DW3984 is like nothing else we have come across. The high TPI ensures you can get a smooth finish on your wood or metal. Yes, it might be slow, but all good things take time.

Expand to see more
Product Features

TPI: 24
Length: 32-7/8 inches
Material: Cobalt
Hardness: Rc 65-67

Who is it for?

The DW3984C are for the cordless size bandsaw. At 32-7/8 inches, it is too short to be used on other band saws. Also, it is best for people looking for a smooth finish or want an excellent cut.

It will benefit anyone who is on a budget
They are compatible with portable options from other brands
They feature an alloy steel backer for fatigue resistance
They allow you to make precise cuts and you can use them at an incredibly high speed
The band happens to be weak at the seam
2. Bosch BS6412-24M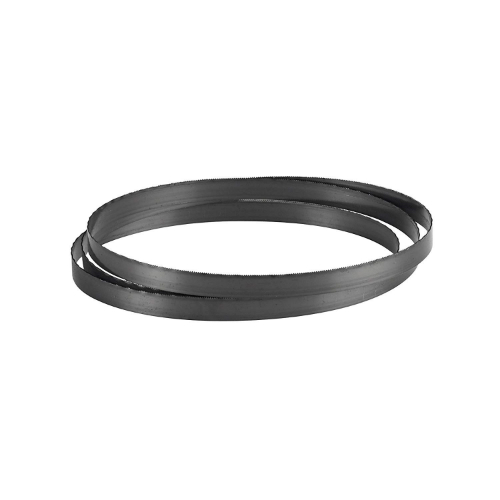 First, we appreciated that it retails in a pack of three and that it is durable and thus you don't have to worry about getting replacements. It is 32-7/8 inches long and therefore only ideal for a cordless saw, and it can be used to cut hard steel and thin metals.

The quality of the blades is worth mentioning as it is a strong point. The unit is premium steel which increases the strength and durability. Even better though is that it is made in the USA where Bosch has more control over the quality. Our best features though were the heat resistance and the flexibility.

Flexibility – First, the BS6412-24M is a 24 TPI unit. This high pitch allows you to get exceptional cuts and excellent quality. Yes, it does take some time, but it is worth it. The optimized tooth geometry, i.e., wavy tooth pattern increases the versatility and the flexibility of the blade. Thus, you can cut both thick and thin metal as well as wood.

Heat resistance – The Bosch BS6412 is designed to withstand heat. As a result, you can cut at any speed without worrying about the blade heating up and increases the range of operations you can use the blade for.

Expand to see more
Product Features

TPI: 24
Length: 32-7/8 inches
Weight: 4.8 ounces

Who is it for?

This BS6412-24M is the best blade for any operation where high cutting speeds are required thanks to the heat resistance feature. Also, if you are looking for the most reliable band saw blade, we would recommend this.

It is built to last, but that depends on the pressure and speed you exert on them
They are inexpensive
With 24 TPI, you get superb cuts and is the best for precision projects
Ideal for making straight cuts
It lacks a warranty or any money back guarantee
3. Timber Wolf Blade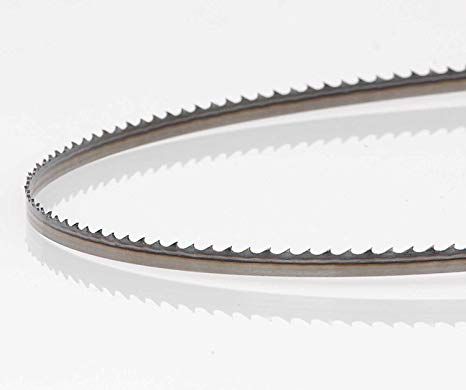 Timber Wolf is famous for their high-quality blades, and the ¾" * 3TPI is one of their best. These units are 105-inches long, and shouldn't be used with any saw with less than a 90" blade length. Also, the wheel diameter should be 14" or longer. The blade has some incredible characteristics in that it is low kerf, has low tension and is Swedish steel.

With a thickness of about 0.032-inches, the Timber Wolf band saw blade is about 25% narrower than other band saw blades and thus easier to push through any cut. Nonetheless, our best features were the low tension and exceptional quality.

Less tension – The reduced tension results in more power seeing as your saw isn't working as hard. It also results in the blade lasting longer as there is less wear and tear, and it gives you a tither turning radius.

Quality – This is where Timber Wolf outdid themselves. This blade is a premium product but at a more affordable price than most high-grade products. First, the teeth on Timber Wolf are milled and not stamped.

That is they are machined from a solid block of steel. Consequently, they are 50% sharper than competitors. Also seeing as the blade is a low carbide steel and silicon steel combo, the edges happen to be 20% harder than any carbon steel. Thus, they will stay sharper longer. You will also appreciate the induction hardening which increases the life and the more ductile steel which increases the flex life.

Expand to see more
Product Features

TPI: 3
Thickness: 0.032-inches
Length: 105-inches
Has an 8.5-degree rake angle
Thin kerf
20% harder tooth edge

Who is it for?

The Timber Wolf ¾" by 105" 3 TPI, is for woodworkers. It is suitable for re-sawing, for woodturners and wood carvers.

Expensive than other units on this guide but still affordable
You can use it in high-speed operations
It is durable thanks to the low carbide steel construction
It cuts faster than other blades and with less effort
Tensioning instructions could be better, and the blade dulls too fast
4. SKIL 80151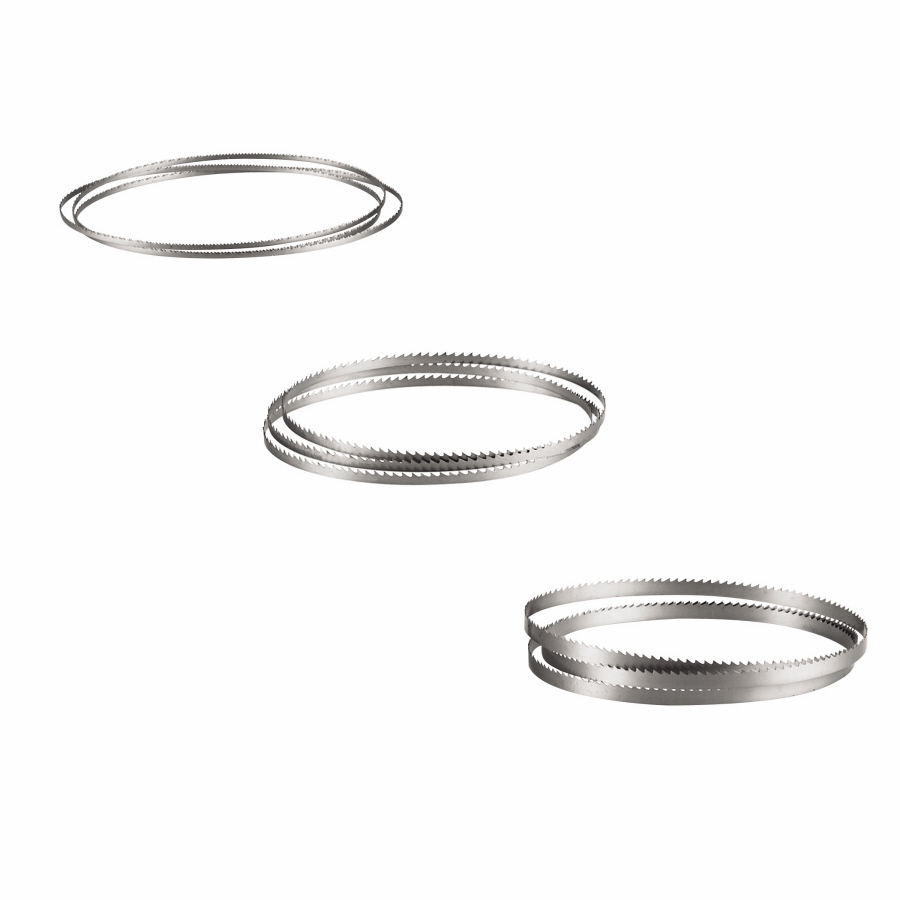 Affordable and with an assortment of blades, the Skil 80151 is a must get. At 59.5 inches, the 80151 can work with most 9" band saws. Moreover, you will appreciate the optimized tooth geometry as it improves cutting. Nevertheless, our best features were the premium grade steel construction and the versatility.

Versatility – Every 80151 bandsaw blades pack has three blades. These aren't replacements should you ruin one, but are slightly different blades to increase the resourcefulness. There is one 1/8" 15 TPI blade for smooth cuts and tight curves. There is the 3/8" blade with a 6 TPI which is quite aggressive and fast. Then there is the ¼" blade which has a 6 TPI. Still, an aggressive blade but with can make tighter curves, unlike the 3/8" blade.

Premium grade steel construction – The 80151 is a premium product at a not so premium price. What makes the premium grade steel construction stand out is the ability to resist heat buildup. Therefore, the blade lasts longer and can be used in operations where high speed is vital.

Expand to see more
Product Features

Three pack with three different blades
Premium grade steel construction
Length: 59.5-inches

Who is it for?

The 80151 is used for various applications, thanks to the versatility of blades. The blades can handle both wood and metal applications.

The sharpness is great, and signal cuts will be a walk in the pack
The alternating teeth increase the versatility of the tool
It doesn't perform well on hardwood and heavy gauge metal; the blade is thin and will buckle and bend out of shape owing to the strain
9. Bosch BS9312-15S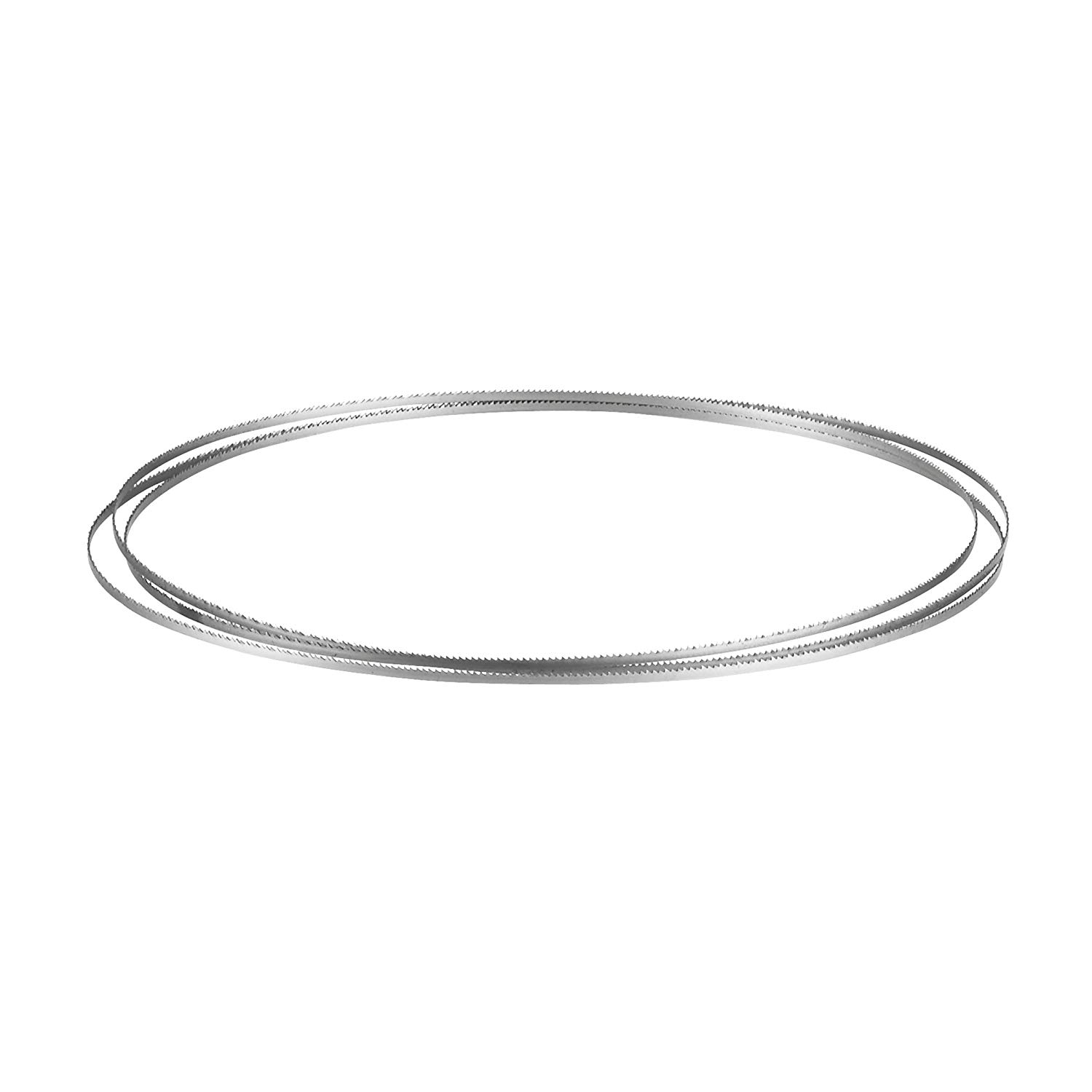 The BS9312 can be used for operations from general purpose cutting, to scroll cutting and all other activities in between. You will also appreciate the 1/8-inch width as it enables you to make snug cuts. The length too is worth mentioning as it is 98.5-inches long.

The blade is also affordable at slightly below ten dollars which is what endears people to it. The 15 TPI results in much smoother finishes despite taking longer. The optimized tooth geometry results in easier cuts. You will also appreciate the premium grade steel for the longevity.

Heat resistance – The premium grade steel material used to make the Bosch BS9312-15S resists heat buildup. Therefore, it can be used in high-speed operations without running the risk of damaging the blades. Also, it helps improve the quality of the cut.

Versatility –When making a purchase, you are looking for universal tools. And the fact that the BS9312-15S can handle both general purpose and scroll cuts was a pleasant surprise.

Expand to see more
Product Features

Width: 1/8"
Length: 93.5-inches
Weight: 3.2 ounces
Made of premium grade steel

Who is it for?

The BS9312-15S is a tool for woodworkers.

Made of high-grade material, and an ingenious design was used to make this blade
It is tremendous for cutting tight curves, say when you are making patterns
The 15 TPI isn't the best for making scroll cuts; also, the kerf is slightly broad for a 1/8" blade
6. Bosch BS80-15S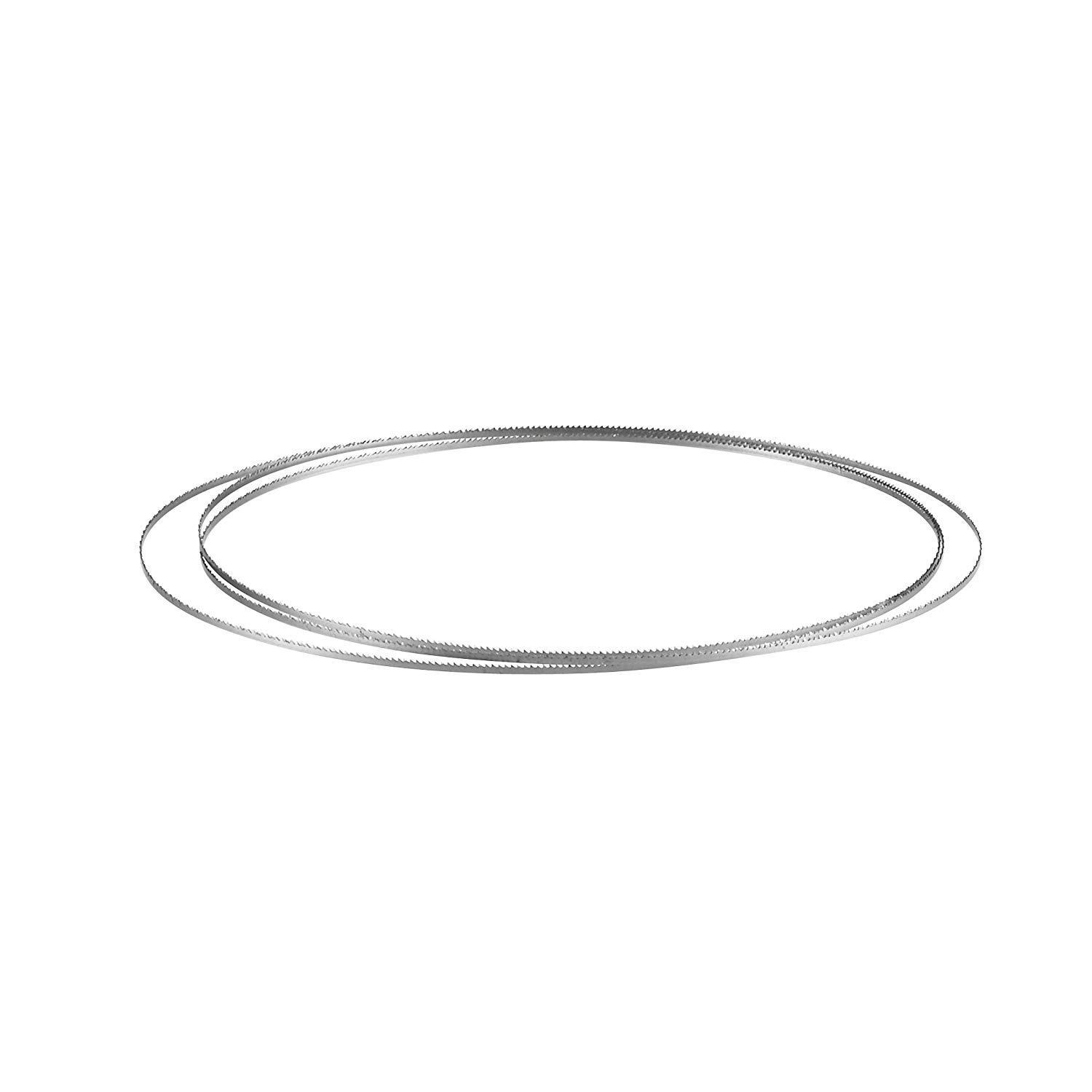 Bosch has always been one of the top brands when it comes to manufacturing tools, and this stationary scroll cutting blade only proves that. First, it is more than reasonably priced and is the most inexpensive blade on this guide.

The blade is made of high-quality steel that can withstand heat. As such, it works in high-speed operations without running the risk of ruining the blade. We also loved the thickness and consequently the lower kerf. At 0.018", the BS80-15S is rather thin and thus has a reduced kerf. As a result, you will need very little force to drive the wood.

Moreover, it has a width of about 1/8" and this you can make tighter curves. Nevertheless, we appreciated the versatility and TPI.

Versatility – The BS80 is a specialized tool to make scroll cuts. However, the optimized teeth geometry allows you to use the item for general cutting purposes.

TPI – The 15 TPI is the perfect compromise of speed and getting a smooth finish. Cutting scrolls will be fast and will leave a better finish than other blades with a lower TPI.

Expand to see more
Product Features

TPI: 15
Thickness: 0.018-inches
Width: 1/8-inches
Premium grade steel construction

Who is it for?

The Bosch BS80-15S is a specialized tool for making scroll cuts.

Great price coupled with amazing quality
Using the Bosch BS80-15S is like cutting butter with a hot knife
It has a perfect precision and is quite sharp
Though the teeth are high quality, the material isn't; blades snap way before the teeth dull
7. Timber Wolf 6 TPI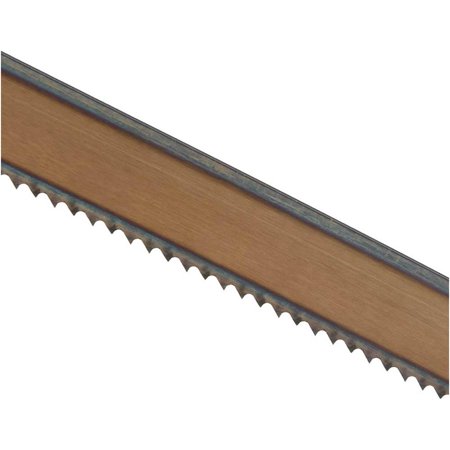 Timber Wolf is renowned for manufacturing premium blades that retail at half the price of competitors. Yes, they are still pricier than other options on the guide, but the quality is unquestionable.

First, you will appreciate the ¼" width as it enables you to make tighter curves, and the 6 TPI ensures that cutting through any piece of wood will be a walk in the park.

You will also appreciate the thickness which at 0.025-inches reduces the kerf and thus needs very little force to cut wood. Nonetheless, our best features were the quality and the positive claw.

Quality –The quality of any Timber Wolf bandsaw blade is unsurpassed. The unit is hardened through proprietary hardening which results in it being more robust than other blades.

Also, the tooth edges feature low carbide steel which is about 20% harder than carbon steel, and thus you can expect your blade to serve you longer. You will also appreciate that these are milled and therefore are 50% sharper than most competitor's options which are stamped.

Positive claw blade – The Timber Wolf blade is a combination of skip and hook toot. It has 60% of the feed capabilities of any hook tooth combined with the impeccable finish of a skip tooth. The gullet has an exceptional depth and roundness that increases the removal of sawdust and the speed. Couple these features with the unique 5-tooth pattern and you have a blade that will glide through wood.

Expand to see more
Product Features

Length: 105"
Width: ¼"
Thickness: 0.025
TPI: 6

Who is it for?

The Timber Wolf ¼" is for cutting wood and should be used with a bandsaw whose blade length is at least 90 inches.

The more ductile steel has a longer flex life and doesn't heat up; therefore, you can use it for operations where high speeds are needed
The blade has less tension which results in more power as your saw isn't working as hard
It can make tight curves and patterns
Though it cuts through hardwood, it leaves a rougher finish than desired
8. POWERTEC 13132X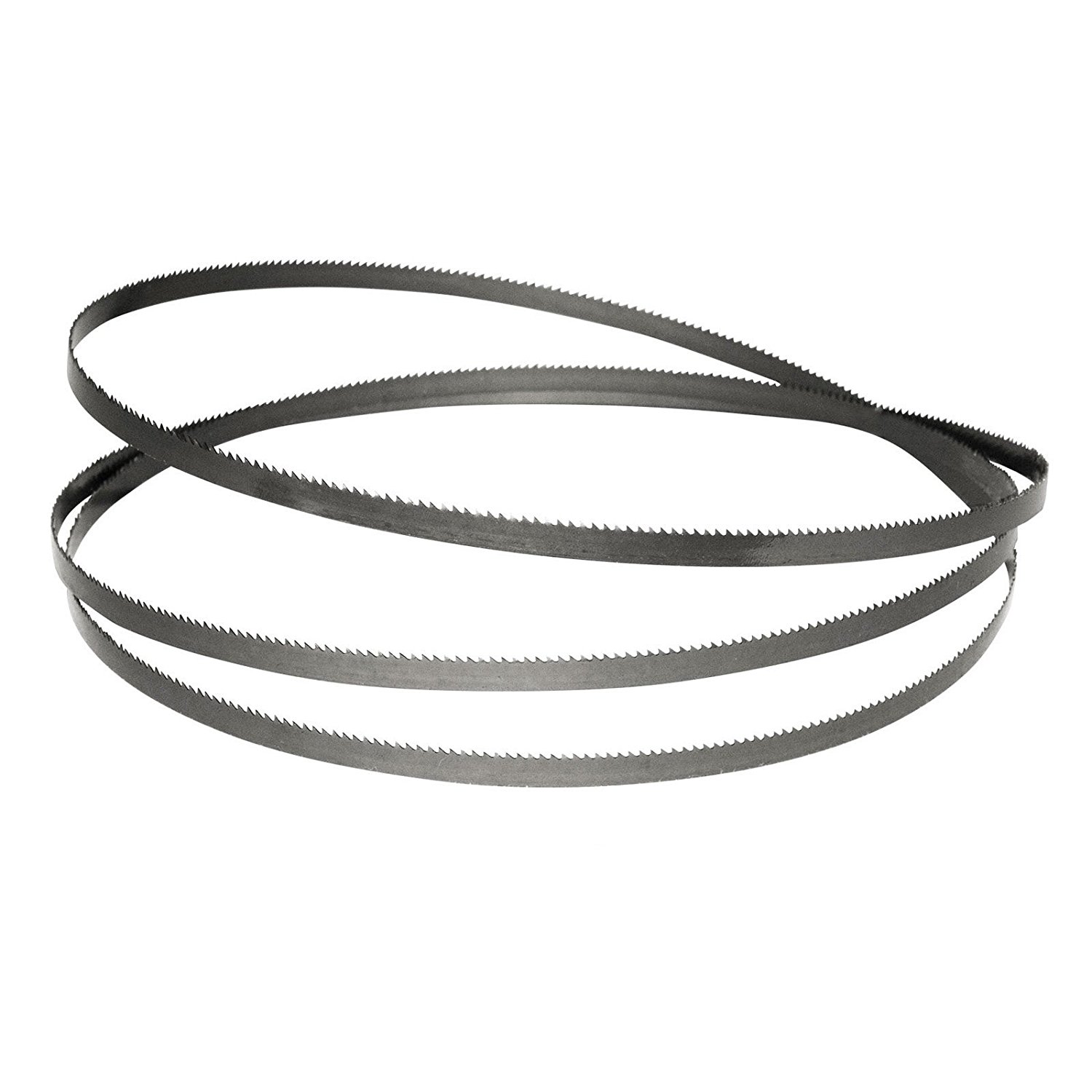 Powertec has some of the most popular options owing to how inexpensive these items are. However, don't confuse the low cost for low quality. They are ideal for cutting any plastic, non-ferrous materials, and wood.

We especially loved the 1/8" width as it allows the blade to make some tight turns. Therefore, if you are handling some work that needs a blade that can make tight curves, we recommend you get the 13132X. It has a thickness of 0.125-inches and though it is a bit wide, making cuts shouldn't be much of an issue. However, we loved the compatibility and good blade material most.

Compatibility – When purchasing tools, ensure they are as universal as possible as it increases the versatility and reduces the number of items you need. The 13132X is compatible with various band saws including Powertec's BS900-9 inch, Harbor Freight, and Craftsman saws.

Fantastic blade material – You will love the fabrication of the 13132X first because it is high carbon steel (HCS) which is flexible, and because it is made from a single sheet of steel and thus unlikely to break when cutting.

Expand to see more
Product Features

Length: 62 inch
Thickness: 0.125-inch
Width: 1/8 inch

Who is it for?

The Powertec 13132X is best for cutting wood, plastic, and non-ferrous metal.

It cuts right and is excellent quality
Can be used for various cutting projects
Affordable
There are some bumps and twists which result in the blade wandering
5. Olson Saw FB14593DB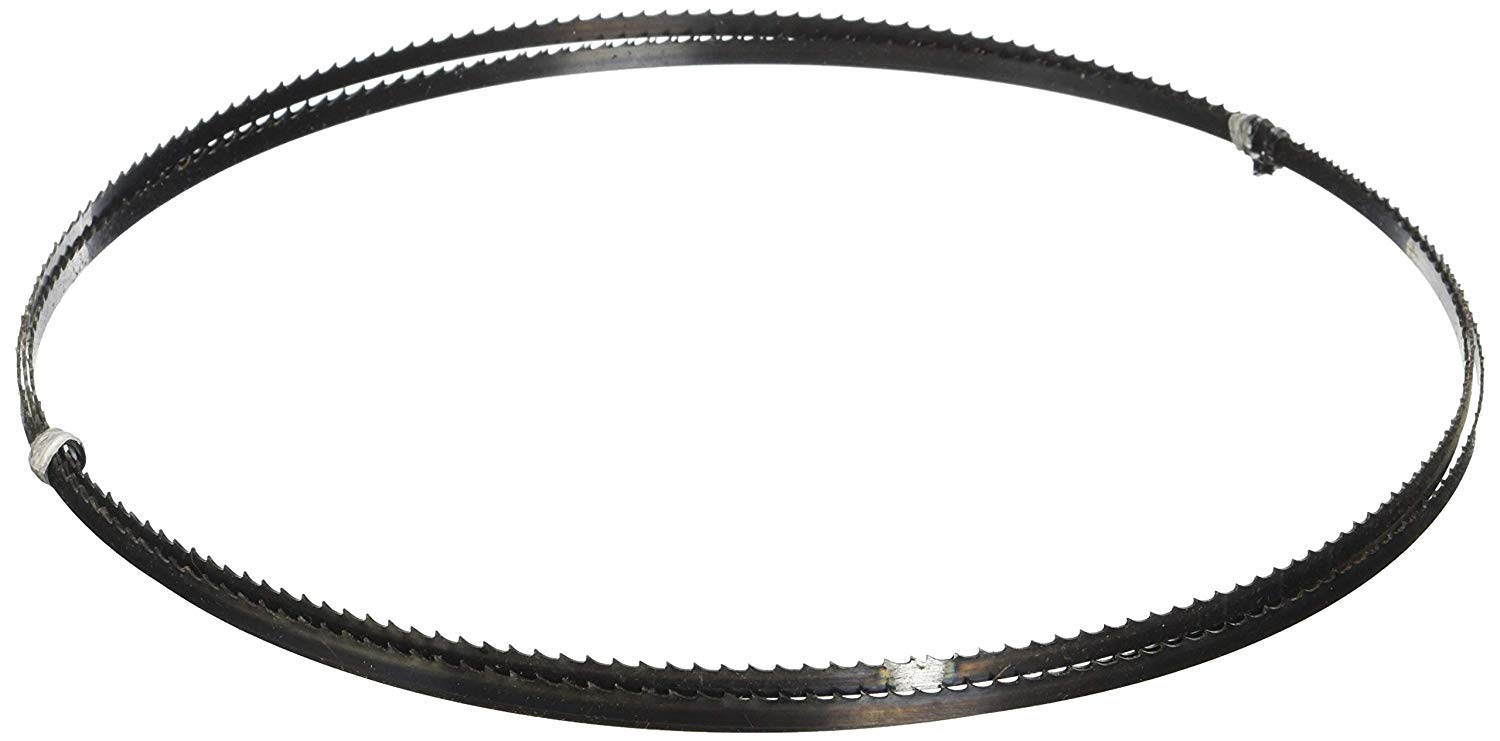 It happens to be inexpensive, but there is nothing cheap about this blade. It is has a superior quality and consequently earns a place on this guide.

Well, the item is manufactured in China which can be a letdown, but it is still a durable and dependable blade. You will appreciate the versatility as it can cut both soft and hardwood as well as plastic and non-ferrous metal. The cutting speed happens to be unparalleled, and you don't require much force to cut the wood. Nonetheless, we loved the thickness and the TPI most.

TPI – The 6 TPI makes it easier to cut through wood and especially when making bowl blanks on thinner stock. It also suffices for general cutting and veneer.

Thickness – The Olson FBD14593DB is only 0.025mm thick. As such, it is easier to drive owing to the reduced kerf.

Expand to see more
Product Features

TPI: 6
Length: 93.5-inches
Thickness: 0.025 inches

Who is it for?

This Olson blade works for heavy duty commercial grade bandsaws. At a 93.5-inch length, it shouldn't be used on any saw with a blade length less than 90-inches or a wheel diameter that is less than 14-inches. Also, it works best on wood and non-ferrous metals.

It is easy to install and durable
Once fitted and tensioned, it is tracks perfectly
Has the best combination of cutting speed, finish, and wood removal speed
Affordable
They aren't welded together
10. DEWALT DW3986C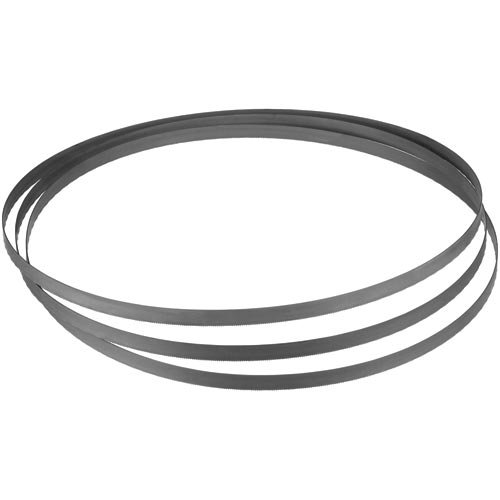 If you are in the market for a cordless saw blade, we recommend you get this.

First, you will appreciate how thin it is as it is only 0.020-inches thick. As such, it has a reduced kerf and will cut wood with much less force. Also, it is only ½-inches thick and thus can make some pretty tight curves. It is also quite affordable and is sold as a pack of three, and as such you don't have to concern yourself with getting replacements. Nevertheless, our best features were the variable TPI and the unmatched quality of the DW3986C.

Variable TPI – The DW3986C is a 14/18 TPI blade. What this means is that it has alternating sections of 14 and 18 TPI The advantage of the alternating TPI is that it enables you to cut both thick and thin metal without changing the blades.

Quality – First, the blade is bi-metal giving the balance between quality and price. It is affordable and still a high-quality blade. The Matrix II high-speed steel edge increases the heat and wear resistance, and thus you can expect it to serve you longer. You will also appreciate the 8% cobalt increases the durability, while the Rc 65 - 67 tooth hardness enables the teeth to handle some abuse.

Expand to see more
Product Features

TPI: 14/18
Width: ½-inch
Thickness: 0.02-inches
Length: 32-7/8-inches

Who is it for?

The DW3986C works best for metalwork. It can cut thin to thick metal thanks to the variable pitch.

Affordable
Variable TPI increases the versatility of the blade
The blade has an alloy steel backer for fatigue resistance
Though it has a variable TPI, it dulls fast when cutting wood
What to look for
The type of pitch and tooth pitch
There are two types of pitch on bandsaws: variable and constant. A variable pitch is where the depth and the size of gullets on the blade vary. It is best for quiet operations as it has lower vibrations and noise.
These blades often have two pitch numbers. The tooth pitch, on the other hand, is the number of teeth per inch (TPI). If you are looking for an aggressive blade, we recommend you get one with a low pitch number.
They are faster but leave rough surfaces. If you want an excellent cut get a blade with a high pitch number though they are often slower.
The width of the blade
The width of the blade determines the cutting radius and the robustness of the blade. Broader blades are stiffer, great for making straight cuts, or for resawing a board. Narrower blades, on the other hand, enable you to make tight curves.
Tooth geometry
There are various tooth shapes, but the most common are hook, skip raker and standard shapes. However, hook works for most band saw operations, but leaves a rough surface. I
f a smooth surface is essential to you, we recommend you get skip, raker, or standard tooth blades. Also, the rest (skip, raker, and standard tooth blades) are often an option because they have a high TPI.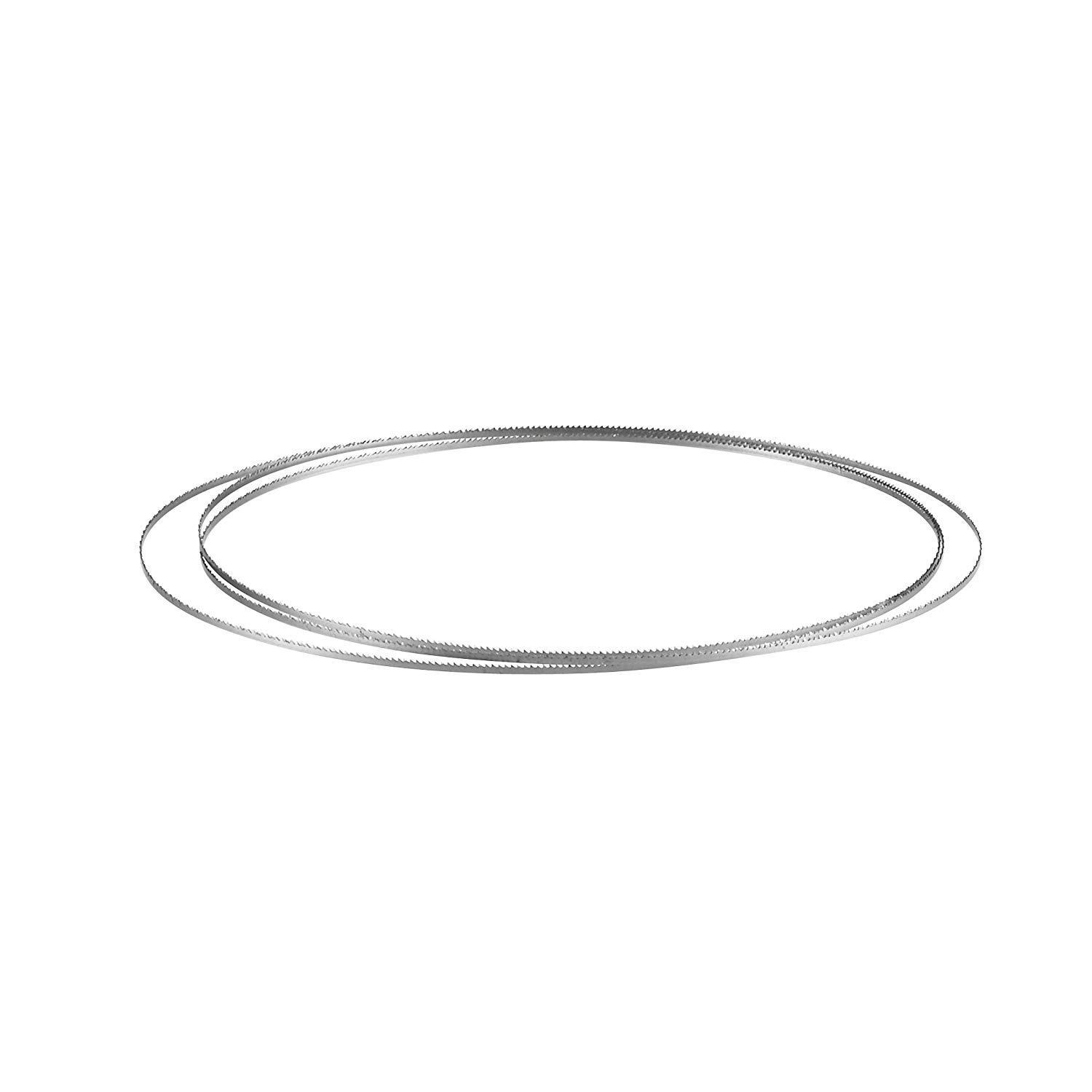 Thickness
Band saw blades have various depth which determines the kerf. Thicker blades have a more full kerf while thinner blades have a narrow kerf. You expect that thinner blades should be faster, but the thickness is only an issue in specific circumstances, say bandsawing veneer where a thinner kerf can get you more veneer from a board. A broader kerf is also ideal when cutting green wood.
Tooth material
Most blades are made of carbide-tipped teeth, carbon steel or bimetal construction. Carbon steel is inexpensive and the best if you are on a budget, while carbide-tipped teeth blades are quite expensive but long-lasting. Bimetal blades are the best balance as far as durability and cost are concerned.
Tooth-pitch guidelines
The tooth pitch will determine the areas where you can use a blade and the finish. If you want a smooth finish, get a blade with a 14 TPI and above. They are also great at cutting thin stock. If you are working on thick stock and getting a smooth finish isn't a requirement, get a blade with a 3 or 4 TPI as they work faster.
Now that you know what to look for in a band saw blade, here are our top picks.
FAQS
Can I choose my bandsaw blade based on the type of cuts I want to make?
Yes, you can pick your blades by the type of cuts you want to make. For re-sawing or ripping, we suggest you get a unit with 1.3, 2, or 3 TPI. The 1.3 TPI can be used to re-saw boards that are 100mm thick, while the 2 TPI blade can be used for boards that are 50 mm thick and above. The 3 TPI is for boards that are 25 mm wide.
When cutting bowl blanks, look for blades with coarse teeth as they are the most practical and are also perfect for hardwood. If you want straight cuts, we recommend you get a wide blade, and a 3/8" blade for any radius cuts. The 4 to 6 TPI blade will suffice for any thin stock, and the 3 TPI is the best for general bowl bank cuts.
As for metal cutting, we cannot recommend a particular pitch, but here are some guidelines to follow.
Check the tooth pitch and cutting speed as they determine the efficiency of the blade. Most band saws have two-speed settings. Harder metals require a lower speed setting and thus get a blade that can cut well under low speeds. Slow speeds can be used to cut non-ferrous metal such as brass and aluminum.
If you want to make general cuts, a 4 TPI blade will do for a stock that is at least 20 mm thick, a 6 TPI blade will do for a stock that is 10 mm thick and will result in a superb finish, while the 10 TPI can work for 6 mm thick stock.
When cutting shapes, radius, and boxes, we implore you to check the width of the blade. The blade should not have a width exceeding ¼-inches. Cutting veneers, on the other hand, require a blade that will reduce waste.
How do you maintain blades for them to last long?
First, always ensure that you de-tension it after every use. Though most people don't see this as necessary, we recommend you release the tension as it helps prolong the blade's lifespan. Also, ensure that you always lubricate the blade for top performance.
Never use water for lubrication as it will damage the blade, apply lubricant as directed, and ascertain you put on on either side of the blade. If there's too much noise when you are cutting, put the lubrication as the blades runs until the sound reduces by at least half.
Finally, always sharpen the blade. Though it might seem like an arduous task, it is rather easy, just rub both sides of the blade on a sharpening stone. You can also maintain the gullets by rubbing the stone at the bottom.
What is blade break-in and why is it important?
A new blade has razor-sharp tips owing to the milling process. The sharp tooth tips enable the blade to withstand high cutting pressures, but you should break them in to avoid wear and tear. Hone the tips to form a micro-fine radius. You can compare this process to removing the sharp points of a pencil. Cutting at the usual speeds will damage these tips and lead to loss of blade life.
How do I break a blade in?
First, you need to get a material to cut. Ensure you use the appropriate speed for cutting the material, but reduce the feed rate by about 20% to 50%. Begin the first cut at the reduced degree and ascertain that the tips are forming a chip. You can increase the feed rate once the blade is inside the work-piece. Increase the feed rate gradually over several cuts until you get the appropriate feed rate.
What is bimetal made from, and is it durable?
Bimetal is made from various metals which are put together with an electron beam. As to whether they are durable, it depends on how you are using them, but they are often five times stronger than carbon steel blades.
What are some of the safety tips when using the blades?
You should always protect yourself. Remember to wear safety glasses, a long sleeve shirt, and glass when unpacking the blades, as they are coiled tight, and the coil is under tension. You will need some hearing protection as protective footwear to keep sawdust off your feet. Ensure the blade is tensioned correctly, the saw is well oiled, that the guards are set appropriately, and that you work in a clutter-free and well-lit environment.
Conclusion
Though it is not the first tool you purchase, a band saw blade sure is versatile. If you plan to handle some of those fine tasks in woodworking or metalwork, you better get yourself some quality blades. The unit listed above offer the best value for money, but you can follow our guide to when purchasing other blades. Finally, thanks for coming this far, and be sure to leave your comments below.
Subscribe to our newsletter