Best Concrete Saws Reviewed & Tested
last updated:
Apr 06, 2021
As everyone in the construction industry knows, a concrete saw is a very indispensable tool. They are not only tough and robust but also high-performance and versatile, allowing the user to quickly, accurately, and easily cut through a wide range of construction materials. Besides concrete, they work great on tile, brick, conduit, stone, paving, and several other dense construction materials. Concrete saws come in various sizes and shapes and for the vast majority of high-end options, they pack a litany of instrumental features to deliver a smooth and hassle-free performance. For additional efficiency, some even come with heavy-duty, all-terrain abrasive wheels.
Our Top 3 Picks
[srpshortcode id="21264″][/srpshortcode][srpshortcode id="21265″][/srpshortcode][srpshortcode id="21266″][/srpshortcode]
Considering how difficult it is to shop online for concrete saws, we've made it our responsibility to inform the users, both the seasoned and the greenhorns who know zilch about concrete saws, one their advantages and benefits.
10 Best Concrete Saws
1. Evolution DISCCUT1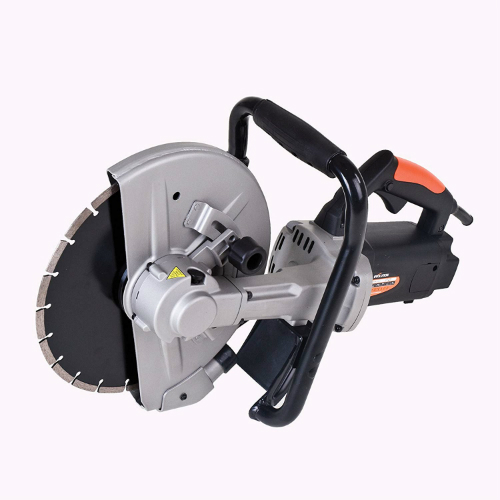 A versatile and powerful concrete saw, this Evolution DISCCUT1 is a perfect choice for value-conscious handymen, contractors, and DIYers looking for the absolute best performance. That doesn't mean your wallet will take a hit when you reward yourself with one because contrary to expectations, it's surprisingly cost-effective. It comes with a powerful 15-amp/1800W motor that enables you to quickly and easily cut a wide range of materials that include but not limited to concrete, stone, brick, and paving. For an in-depth review, continue reading.

The DISCCUT1 comes with a heavy-duty and long-lasting 12-inch diamond blade that pairs nicely with the powerful 15-amp/1800W motor to take hard work and time away from cutting a wide range of abrasive and sturdy materials. The disc cutter boasts up to 4 inches of cutting depth through progressive/incremental cutting, which means the likelihood of it bogging down or struggling to cut through concrete, stone, and brick are remote at best.

Expand to see more
The environmentally conscious will also come to appreciate this tool. Being electric, it's a perfect alternative to difficult to maintain, gas-powered concrete saws. Besides the fact that it doesn't produce any fumes that are inimical to your health and the environment, it's also relatively quiet, producing noises of up to 112 decibels. Put into perspective, it's just twice as loud as a normal human conversation, which makes it a perfect choice for working in areas which are not outside.

Further, as well as being lightweight at just 21 pounds, it also comes with mid position, a great grip, rear and front handles. Their ideal placement enhances accuracy for vertical and horizontal cuts and because of the ease of adjusting the safety guard, using and carrying the concrete saw is a breeze.

Overall,it is an ideal choice for value-conscious users. It's also budget-friendly and versatile considering that it effortlessly cuts through a wide range of materials.

Easy to run and maintain
Offers exceptional value
Generous 36-month warranty
Cost-effective and lightweight
Limited portability
Not ideal for wet cutting
2. Husqvarna 967181002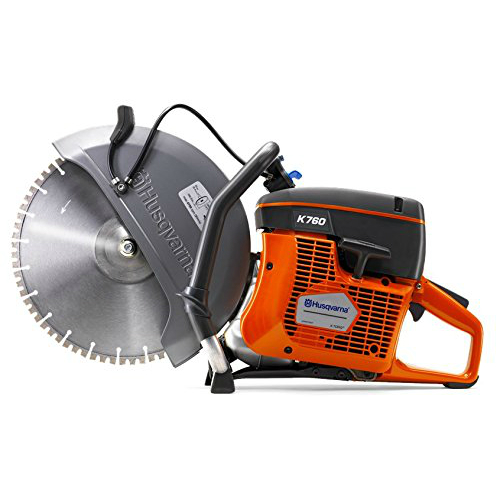 On the off-chance that our first pick doesn't tickle your fancy, this commercial-grade Husqvarna 967181002 will definitely get the job done every time. Like the previous choice, it's a feature-packed alternative that performs optimally irrespective of the task at hand and the attendant conditions. It comes with the incredible power for which gas-powered concrete saws are renowned, a long-lasting 14-inch diameter, a lightweight and compact design for ease of use and portability, and for convenience, produces almost indiscernible vibrations. It's therefore easy to hand and powerful enough to get the job done quickly and easily.

A construction industry staple, Husqvarna 967181002 packs immense cutting power. It cuts a broad range of dense and tough materials in a fraction of the time it takes cheap, off-brand alternatives masquerading as concrete saws out there. In addition to bricks, concrete, and stone, it also a solid choice for cutting door and window openings and walkways. This essentially makes it a powerful, all-around performer that helps you reach your full potential as a handyman, contractor, or DIYer.

Expand to see more
Further, the unique combination of the carburettor, cylinder, and digital ignition system lets you get the engine up and running quickly and easily. You'll be using 50 perfect the effort and time as you would on flimsy, humdrum alternatives. The intuitive design of the saw spares you the agony of pulling incessantly at cords. A second convenience feature is the near vibration-less design. Because vibrations fall below 2.5m/s2, it's both comfortable and a cinch to use, which prolongs the runtime.

Boasting a hardy, fastidious construction, this option can easily last more than a lifetime. It's easy to run and maintain, thanks to the combination of a high-quality Poly-V belt, patented DuraStarter, and ActiveAir Filtration. To these add the patented SmartCarb that improves fuel consumption while maintaining high power, enabling Husqvarna 967181002 to reach optimal performance.

For those who want a concrete saw that's easy to use, cost-effective, versatile, and performs optimally with minimal vibrations, it is meant for you.

Minimal vibration and noise
Comes with Active air filter
Fuel efficient
Long-lasting construction
Difficulty with initial starts
4. Makita 4114X

Just because Makita 4114X is a mid-range saw doesn't mean it offers middle-of-the-road performance. If anything, the simplicity of its design and engineering completely belies its reliable, volcanic performance. If you're working on a budget and need an option built to gracefully take on heavy-duty applications, it should be your first bet. Some of its outstanding features include an efficient joint system technology, heavy-duty, all-terrain wheels, guides that ensure dead-on accuracy, and an ergonomic, rubberized wraparound handle for superior controllability and comfort.

Concrete, stones, and bricks may be tough and dense but even they can't faze Makita 4114X. The tool sports a powerful 15-amp motor that provides jaw-dropping speeds of up to 3,500 rotations per minute. The implication here is that not even the toughest on-site industrial projects will present the slightest challenge to this all-around workhorse. To add to its performance flair, it boasts Super Joint System (SJS) technology that ensures that in the event of wheel binding, there'll be no damage to the gear. Another critical performance feature is the AC/DC switch that lets the concrete saw run on alternative power, thereby ensuring an uninterrupted runtime.

Expand to see more
A unique selling point is the detachable tool base. With this feature, cutting closer to the wall and reaching tight or awkward spots is both easy and quick. Since it comes with guide wheels, portability is never a real concern. Another significant feature is the built-in vacuum attachment that lets you easily and efficiently remove dust and other debris from your workplace, leaving it clean and conducive. And because of the ingenious design of the tool base, it allows up to 5-inches of cutting depth, making the XX an ideal choice for cutting split face block when building.

In closing, Makita 4114X is hands down one of the best concrete saws on and off this list. It's indeed a commercial-grade concrete saw with the most essential features for smooth, trouble-free cutting.

Performs powerfully
Lightweight and portable
Safe to use indoors
Versatile with high-end construction
Not as durable as other models
3. Makita EK7651H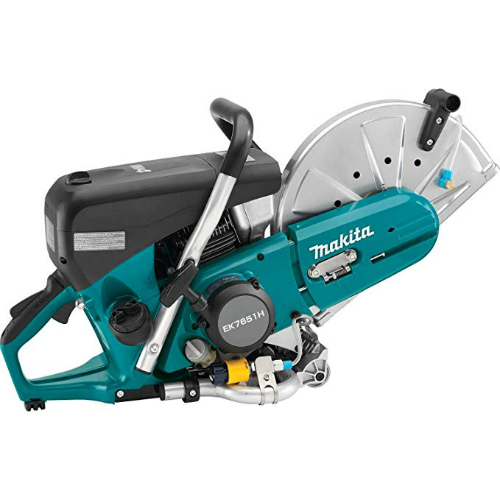 For an industry-best performance, you know you can always trust Makita, an industry doyen with decades of experience and expertise making some of the world's leading power and hand tools. Their leading concrete saw boasts a rare combination of power and performance. It comes with a superior quality 14-inch disc cutter that makes the work of landscapers, road construction crews, railroad crews, contractors, masons, and welders much easier and faster. For those who want nothing short of the best performance, don't look any further than Makita EK7651H.

Boasting all the hallmark features of a top-of-the-line concrete saw, this tool never struggles or bogs down when going through various tough and dense materials. It makes quick and easy work of stones, bricks, and concrete, thanks to a powerful and reliable 4-stroke engine. Also, it's built with first-rate materials and incorporates impressive features to ensure pro-grade performance.

Expand to see more
In light of its 3-ring piston engineering, its engine boasts improved longevity and minimizes exhaust and intake carbon build-up. These features enable the cylinder to withstand the roughest and toughest material cutting applications. To further improve engine life and improve performance, the Makita EK7651H comes with a 5-stage foam-paper-nylon filtration system with Advance Direction Air Flow.

Designed with the convenience of the user in mind, it is incredibly easy to use. First off, you don't have to mix any oils, which considerably simplifies operation and prevents possible engine failure should you get it wrong. Also, it's relatively quiet, at 92.7 decibels and idles smoothly for continuous operation. Being an efficient option, it consumes a paltry 0.45 gallons an hour, which makes it very economical. Like the previous option, this one also features a 3-ring piston to guarantee the durability of its commercial engine and is renowned for minimal exhaust and intake carbon accumulation, both of which prolong the shelf life of the cylinder.

In all, you're looking at an option that's powerful, feature-rich, a cinch to use, eco-friendly, and quiet. And thanks to its integrated wheels, portability will never be an issue with the Makita EK7651H.

High-performance option
A cinch to maintain and run
Exceptional filtration process
Ideal for wet cutting
Durable
5. DEWALT DWC860W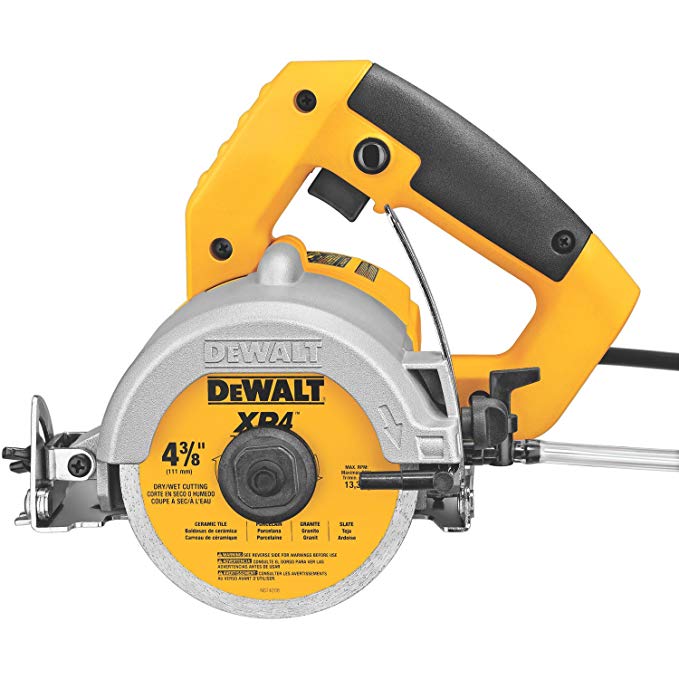 DeWalt is a household name and therefore no preamble at all. Its flagship concrete saw, the DEWALT DWC860W, continues a long and rich tradition of exceptional quality, outstanding ease of use, versatility, and durability. The reliability of its high-performance motor and ruggedness of its blade help it stand out in a fiercely competitive field. Featuring a 10.8-amp motor, it may not be as powerful as some of our previous picks but for light- to medium-duty cutting applications, it more than suffices. It's a perfect choice for budding professionals, extreme DIYers and the enthusiastic hobbyists falling somewhere in between.

You don't have to worry about breaking a sweat while using it because its high-performance 10.8-amp motor does all the heavy lifting. It delivers impressive speeds for quickly and effectively cutting through granite, porcelain, concrete, stone, and even brick. That's admittedly outstanding versatility for such a lightweight and compact concrete saw. DEWALT DWC860W comes with a high-quality 4-3/8-inch diamond blade that substantially contributes to its performance and makes it possible to go through materials up to 1-3/8 inch deep wet or dry. With no-load speeds of up to 13,000 rotations per minute, you are sure to complete your cutting projects on time.

Expand to see more
DeWalt is renowned for pulling all the stops for the best performance, as this tool proves. It effortlessly bevels to 45 degrees to allow for precision and speed with angle cuts and because of the incorporation of a 13-foot water line, the blade remains cooler for longer for optimal performance and durability. The switch is protected from dust with a switch and the lock-on button minimizes user fatigue as they work.

If it's a powerful, robust, easy to use, and affordable option that you're looking for, then look no further than DEWALT DWC860W. It ticks all the essential boxes and delivers one of the best performances.

Performs strongly and powerfully
Versatile and perfect for wet cuts
A cinch to use
Highly customizable for optimal performance
6. Hitachi CM4SB2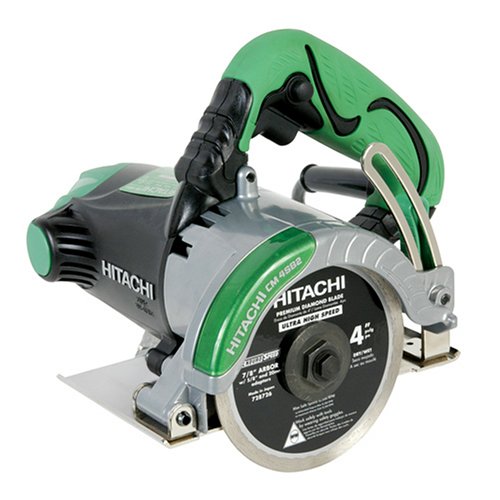 There's a lot to love about Hitachi CM4SB2, starting with the fact that it's both strong and powerful and features a sturdy and robust construction quality. Hitachi pulls no punches with its leading concrete saw, going all the way to provide its users with the best of all worlds. Adjusting the depth is a cinch and the heavy-duty frame absorbs of dissipates most of the attendant vibrations for smooth, prolonged use. Also, it's very lightweight and the handle offers immense comfort. It comes with its fair share of drawbacks, though, as you soon find out.

The beautiful, smooth, and effortless performance of the Hitachi is something you'll never tire of. It has a hefty 11.6-amp motor that generates impressive no-load speeds of up to 11,500 rotations per minute. Therefore, expect it to cut efficiently, easily, and quickly through some of the toughest materials. Materials such as tile, marble, granite, concrete, and even brick present the least challenge to this concrete saw's cutting prowess.

Expand to see more
Aside from performance, the construction quality is also top-notch. It is a perfect candidate for dry cutting applications as its armature coil is perfectly sealed and protected from dust and debris that would otherwise cause premature failure of the motor. The metal-seated ball bearing design achieves the same results by preventing extreme temperatures and vibrations. This results in smooth, quiet, and relatively quiet operation. There's also the 1-touch lever that provides for the quick and easy adjustment of the machine's cutting depth up to 1-3/8 inches.
To enhance comfort safety, and ease of use, it comes with a D-shaped handle complete with an elastomer soft grip. This translates to minimal vibrations, slippage, and increased comfort. Also, the concrete saw boasts a compact and lightweight design making it easy to manoeuvre and use for prolonged periods.
For the
handymen
, contractors, tradespeople, and hobbyists in search of a high-performance and durable concrete saw, this Hitachi CM4SB2 would be it. You'll immediately love its power and strength, precision, and ease of use.
Adjusting depth is easy
Minimal vibration for prolonged, hassle-free use
Lightweight
Works spectacularly
Doesn't offer bevel adjustments
7. Makita EK7301X1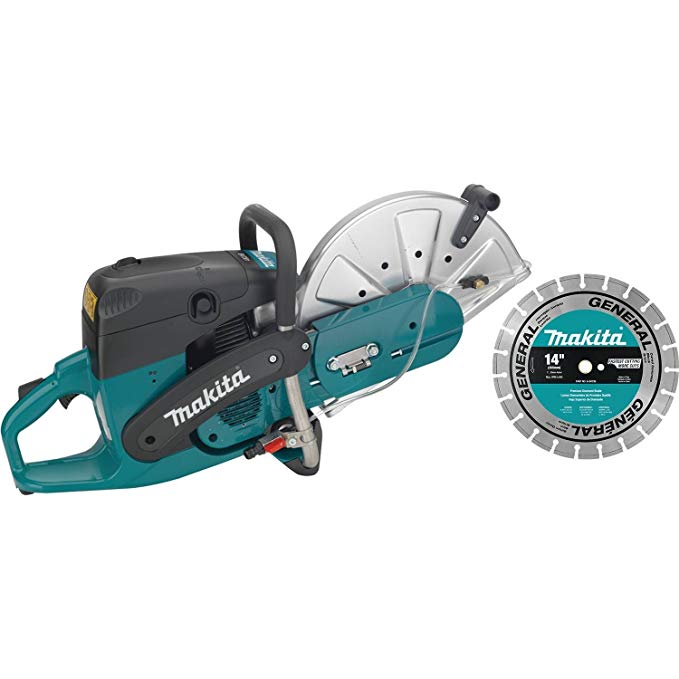 The difference between Makita EK7301X1 and its bigger cousin we reviewed earlier is minimal. They both output impressive performance and are a perfect choice for cutting through a wide range of dense and tough materials. This gas-powered model borrows a leaf from other high-end models to earn its place on the list. Besides being a high-performance alternative with a powerful and robust 5.1 horsepower, 73 cc. engine, this concrete saw comes with a bunch of several other high-end features and specs. Continue reading to find out which ones make it stand out in a competitive and crowded industry.

Being a gas-powered alternative, this concrete saw delivers heart-stopping performance. It has a high performance and powerful 5.1HP/73 cc. engine that provides no-load speeds of up to 9,350 rotations per minute to give the user the confidence and peace of mind to take on a wide range of the most demanding tasks in multiple settings. Expectedly, it neither breaks a sweat nor bogs down when cutting through bricks, tiles, conduit, and concrete, among other tough materials. You'll also love the effortless start-ups because of the inclusion of an ignition coil with start-support function.

Expand to see more
With its useful SLR muffler, the Makita EK7301X1 also offers up to 15 percent improved consumption and a 5-stage foam-paper-nylon air filter system for cleaning for superior performance of the saw. It's also exceptionally versatile considering that it takes less than two minutes to change the blade from a central to an outbound flush position for lateral cuts. Another outstanding feature is the reinforced aluminium blade guard that provides up to 70 degrees of infinite positioning and is easy to control via the strategically placed marked knob handle. The concrete saw is a tad heavy at 28.2 pounds and has a rugged, long-lasting 14-inch blade providing a cutting depth of up to 5 inches.
The EK7301X1 is patently a high-quality, highly functional, and powerful concrete saw. It sports most of the essential performance and convenience features and will make for a great addition to your
toolbox
.
Powerful
Premium construction
Cost-effective
Efficient consumption
8. Hilti DSH 700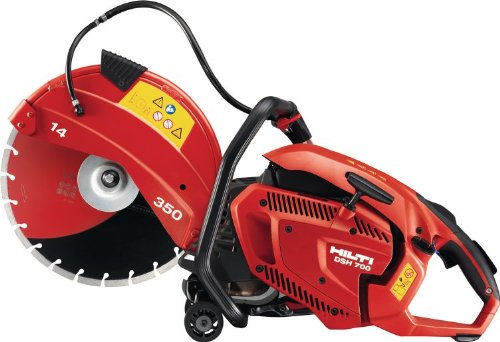 The first thing to note about Hilti DSH 700 is that it's a mid-range option. It's a perfect choice for light- to medium-duty cutting projects. While it can also handle heavy-duty applications, it'll need to take a few breaks to catch its breath, figuratively of course. A perfect choice for budding professionals, hobbyists, and DIY enthusiasts, it's as powerful as it's easy to use, which is a rare combination you'll be hard pressed to find in concrete saws these days.

Hilti DSH 700 is equipped with a 2-stroke, gas-powered engine. It supplies the kind of power and efficiency that would leave its electric counterparts positively green with envy. Also, compared to them, it cuts with remarkable ease and speed and finishes a given cutting task in a fraction of the time it takes its flimsy, no-frills counterparts. It cuts quickly and accurately through all the materials contractors and handymen work with, which means you won't need any back up tool to cut through pesky and dense materials.

Expand to see more
The only downside to using a gas-powered option is the tedious work of mixing oil with gas in a particular ratio for it to reach optimal performance. Aside from this, the concrete saw works like a charm. It is considerably lightweight and comes with ergonomic, rubberized handles for a firm, slip-resistant grip. The two heavy-duty wheels help it glide smoothly on a wide range of surfaces while the cyclone pre-cleaning filter stops dirt, dust, and debris from interfering with the performance of the motor. You'll also benefit immensely from the brand's patented 3-point vibration system (AVR) that ensures utmost comfort and productivity.

These and several other features make it one of the best concrete saws to invest in. It offers great value and durability, making it a must-have.

• Powerful and easy to use
Efficient
Lightweight with ergonomic, rubberized handles
Two heavy-duty wheels for portability
It's tedious mixing oil and gas
9. SKILSAW SPT79-00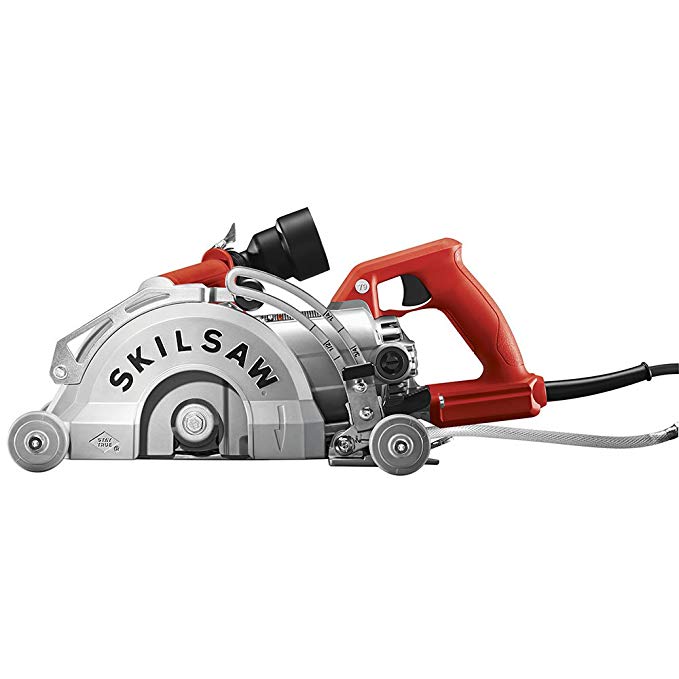 A perfect choice for conquering the toughest and densest
concrete
, bricks, tiles, and conduit, SKILSAW SPT79-00 for Concrete is not only powerful but also oozes convenience. It's a cinch to use and works with remarkable accuracy, speed, and ease. Further, it delivers off-the-charts precision and convenience, thanks to the potent combination of a worm drive power train, an innovative cut-ready adjustable plunge lock, and a pivoting pointer. Seasoned professionals, enthusiastic DIYers and everyone else in between will love the concrete saw the first time they lay eyes on it and sold the second they try it out.
Powering through tough concrete jobs requires the use of an equally rugged and heavy-duty concrete saw, which is exactly what you get with SKILSAW SPT79-00. Besides the powerful 15-amp motor, it comes with a worm drive gear system that enables it to score and cut concrete, bricks, tiles, and other dense materials with utmost accuracy and speed. On the flipside though, the concrete saw is only compatible with 7-inch blades. The repercussion of this is that it doesn't offer as deep cuts as other models do and in spite of the size of the motor, the speeds are slower those offered by high-end, costlier models.
Expand to see more
An epitome of convenience, using the concrete saw requires minimal effort and time. Being electric, it is almost maintenance-free and the worm drive design gives the user easy and quick access to hard-to-reach or tight spots. Other key convenience features include the unique Cut-Ready adjustable plunge lock, the pivoting pointer, and the dual integrated dust management system. You can use it for dry cuts as it conveniently comes with a dual-size vacuum attachment while for wet cuts, it boasts a water feet attachment. Changing blades and brushes is quick and easy and thanks to the rust-resistant brackets and fasteners, your tool will always look and feel elegant.

SKILSAW SPT79-00 is a solid choice for individuals in search of a great bargain. It boasts a litany of benefits and a powerful motor that works dependably without the slightest hiccups.

Ideal for both wet and dry cutting
Easy to maintain and run
Changing blades is quick
Budget-friendly
Boasts retractable pointer guides
Has an ineffective dust collection system
10. MK-2013HSP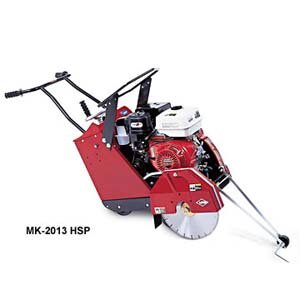 For the value-conscious individuals who want the best bang for their buck, check out this MK-2013HSP. Its unique selling point is the self-propulsion feature that spares your hands, shoulders, and other body joints the agony of pulling or pushing around a heavy saw. Its performance and ease of use are exceptional, too. To find out how it stacks against other industry giants on the market, we highly welcome you to continue reading.

Expectedly, the 13 HP Honda engine provides all the power for a flawless, quick, and effortless performance. It ups the ante by featuring two oil and heat-treated tri-powered V-belts. The ingenious design allows the blade to perform optimally, cutting quickly and powerfully through a plethora of materials. You can mount the blade on either side of the saw. Either way, it cuts accurately to within 1-inch of the curb or wall.

Expand to see more
As is the case with virtually every other option on this list, using this MK-2013HSP is a no brainer. The blade is not only durable but also cuts accurately owing to the fact that it's precision-machined and enjoys the support of self-aligning pillow block bearings. And because of its heavy-duty one-piece box construction using high-quality 3/16-inch hot rolled steel, it's guaranteed to last more than a lifetime of hard, extreme use. In spite of the fastidious construction, the concrete saw is reasonably lightweight and comes with ergonomically designed handles for comfort and ease of use.

In all, this tool packs all the features weathered professionals look for in a concrete saw before committing their money. It cuts as advertised and offers utmost comfort and convenience to the user during use. It comes highly recommended.

Blade stays wet for long
Comes with both right and left side cutting capability
Powerful
Comfortable and easy to use
Criteria for Choosing the Best Concrete Saws
Performance
The first essential consideration is the capability of the saw to get the job done. Consider whether it uses a chain or disc. The popularity and preference for disc options in informed by their ease of use, versatility and heart-stopping performance. However, they suffer from limited depth. Chain concrete saw have the advantage of offering an unlimited depth of cut on the tool but are slightly harder to use.
You'll also have to choose between dry and wet cuts. Wet cuts are more forgiving on the blades compared to dry cuts and generate minimal dust, making them an ideal choice for indoor use. In the absence of water, dry concrete saws come in handy even though they are time-consuming.
Convenience
Besides being performance-oriented, the concrete saw needs to be easy to use. Convenience translates to a significant saving on time and effort. While it'll cost more, a concrete saw with the right convenience features allows you to finish the project in a fraction of the time and without expending lots of energy.
Features such as ergonomic handles with a soft rubberized grip, lightweight and compact design, heavy-duty all-terrain wheels, self-propulsion, dust collection, minimal vibration, compatibility with different blades, and even low noise make a concrete saw very easy to use. Keep an eye out for these and several others.
Portability
While this has been mentioned in the previous entry, it deserves its own paragraph. A corded concrete saw is perfect for a wide range of material cutting projects around the house, on the construction site, and even in a workshop. However, if you're planning on working away from the house, considering going with a battery-powered option, even though they don't pack as much punch as their corded counterparts.
Gas-powered models are substantially more powerful and are therefore ideal for heavy-duty, demanding applications although you'll have to contend with mixing gases and oils, which can be a little messy.
Affordability
For value-conscious users and individuals working on a budget, cost is obviously an essential consideration. Fortunately, or unfortunately, depending on your perspective, there is a correlation between price and quality. The general thumb of rule is that the costlier ones pack more features than their cheaper, off-brand models, which also inevitably means they overshadow their cheaper counterparts in both performance and durability.
If you want the best performance, it's going to be necessary to dig deeper into your pocket. It might be expensive at first but you're guaranteed a lifetime of flawless, trouble-free, and powerful performance. Seasoned professionals and extreme DIYers know this fact all too well.
Frequently Asked Questions
Q: How do I care for and maintain a concrete saw?
A: A properly cared for concrete saw maintains its cutting prowess and optimal performance over its entire useful life. Religious check the concrete saw on a daily, weekly, and monthly basis to ensure the fuel system, air filter, drive gear, spark plug, and other essential parts are working properly.
Q: Are they dangerous to use?
A: With its fast-moving blade, yes. Make a point of wearing the right safety gear before and while using a concrete saw. These include goggles, breathing mask, heavy-duty gloves, a hard hat, and appropriate clothing.
Conclusion
With so many options on the market, choosing the most suitable concrete saw can be an uphill task. However, a little time dedicated to thorough research and matching your choice to your cutting needs and requires should help you narrow the search pool.
Our list features the best the industry has to offer. Most of them are cost-effective, a cinch to use, pack a punch, versatile, and built to last.
Subscribe to our newsletter