Best DeWalt Grinders Reviewed, Tested & Rated
last updated:
Feb 19, 2019
All serious woodworkers, welders, contractors, and even extreme DIYers should have a DeWalt grinder. It comes in handy for cutting through a wide range of materials, removing burrs and rust-stained parts, finishing, or cleaning up various workpieces. If you don't want to make the costly mistake of purchasing poorly made, humdrum DeWalt grinder cluttering the market, this guide should be your best friend until you find one that best meets your unique cutting or grinding needs.
Our Top 3 Picks
[srpshortcode id="21642″][/srpshortcode][srpshortcode id="21643″][/srpshortcode][srpshortcode id="21644″][/srpshortcode]
Despite the temptation to save a few bucks and opt for the next cheap thing you can find, it's highly advisable to never settle. A high-quality, heavy-duty DeWalt grinder speeds up and simplifies the onerous, time-consuming, and energy-sapping task of grinding and cutting. To help narrow your search and find the best of the best, continue reading to the next section detailing the factors to look out for when shopping for one.
10 Best DeWalt Grinders
1. DEWALT DWE402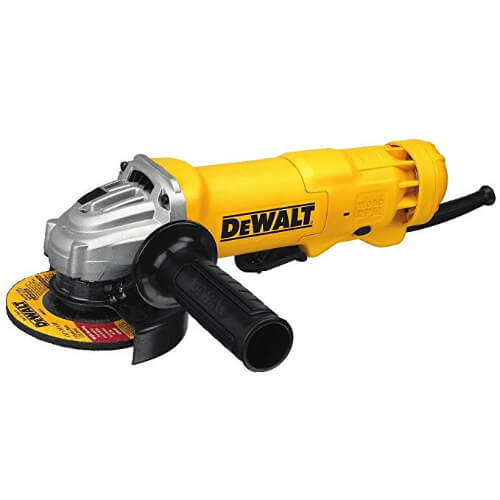 For the
welder
, contractor, handyman, or DIY enthusiast in search of a high-quality, durable, and easy-to-use, let's introduce you to the workhorse that's DEWALT DWE402. Right off the bat, let's mention it's not an ideal choice for heavy-duty grinding applications. It lacks the torque and variable speed feature that are a staple in the industry. However, it's a powerful, long-lasting machine featuring exceptional craftsmanship, and comes complete with a generous warranty to you the peace of mind and confidence to complete your grinding projects.
The first unique selling point of the DEWALT DWE402 is the exceptional performance. It boasts one of the most powerful motors. Because it comes with a high-performance and reliable 11-amp AC/DC motor capable of up to 11,000 rotations per minute, it finishes a wide range of grinding tasks without breaking a sweat. In addition to providing one of the best power to weight/size ratio, the DeWalt grinder boasts the right amount of torque without a variable speed feature, allowing you to add quality finishing touches to your workpieces. A perfect choice for light- to medium-intensity projects, DEWALT DWE402 offers the best bang for the buck.
Expand to see more
Constant exposure of the motor to debris and other external materials like dust can have a detrimental effect on its useful life. Keeping this in mind, Dewalt ingeniously designs their flagship DeWalt grinder with a highly effective and convenient Dust Ejection System that guarantees durability by keeping dust and debris from reaching and damaging the motor.

For ease of use, the DEWALT DWE402 features even weight distribution and comes with an ergonomically designed handle to provide superior traction and comfort for prolonged use. There's also a one-touch guard that lets you rotate the guard full 360 degrees with the user-friendly single action lever and changing wheels is a cinch, thanks to the inclusion of a Quick-Change Wheel Release feature.

If you're looking for a high-performance options with a long-lasting and reliable brushless motor, DEWALT DWE402 is the tool for you. It enhances your productivity with its superb power-to-weight ratio. And it's cost-effective.

Works with great precision
Powerful and durable with the exceptional overall construction
Does not overheat easily
Easy to handle with excellent weight and size balance
Comes with a comforting warranty
Has a handy dust ejection system
Lack variable speed
Does not come with a protective case
2. DEWALT DCG413B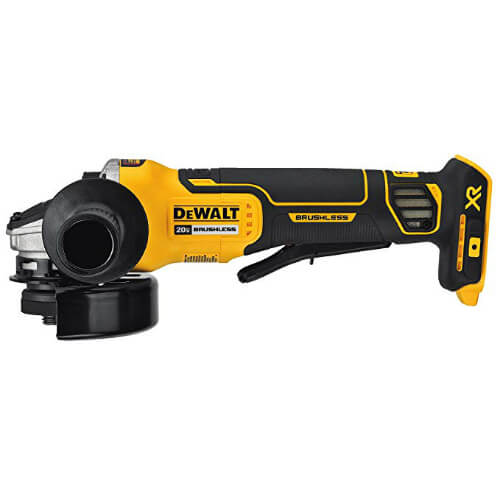 DEWALT DCG413B comes packed with a slew of performance and convenience features and features a hardy, fastidious construction to withstand onerous and challenging grinding projects. Even with frequent use on heavy-intensity projects, there'll be discernible flagging in performance, ease of use, and durability over the years. The prominence and reliability of its power put it on a whole different level and is a demonstration of the brand's commitment to quality. One of the best results of the brand burning out the midnight oil while pushing the boundaries on innovation is the kickback brake and paddle switch, features you won't find in cheap, off-brand models.

It comes with a high-performance and dependable brushless motor renowned for delivering up to 57 percent more runtime and durability compared to its brushed counterparts. Because of the motor, it easily and quickly reaches speeds of up to 9,000 rotations per minute without struggling or bogging down. It's therefore not surprising that the tool goes through cement and concrete like a hot knife goes through a piece of cake. The powerful combination of the high-performance motor, a paddle switch, a kickback brake, and 2-stage trigger makes for exceptional, smooth, and hassle-free operation.

Expand to see more
Likewise, the battery packs a lot of juice and is long-lasting, allowing you to finish your projects quickly and efficiently with minimal disruptions and interruptions. The brushless motor is energy-efficient and substantially extends the lifespan of the grinder, further aided by its high-end construction. The e-switch protection guarantees your safety and because it weighs a paltry 3.75 pounds, it's lightweight and very manoeuvrable. Further, it's relatively quiet and boasts minimal vibrations and to cap it all off, it comes with a generous 36-month warranty.

In all, the productivity, exceptional performance, and durability of DEWALT DCG413B can't be discounted. It's also easy to use and cuts with remarkable ease and speed.

It features an efficient breaking mechanism
Has a solid and lightweight design
Comes with durable battery
Its brushless motor guarantees a longer lifespan
May overheat after long sustained use
3. DEWALT DWE4011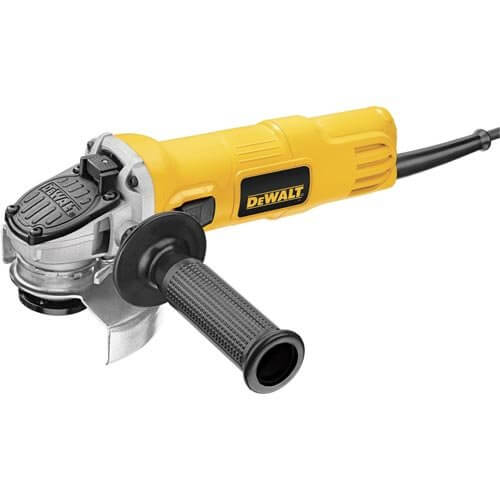 DEWALT DWE4011 continues the brand's tradition of excellent craftsmanship, convenience, durability, and practicality. As you would also expect, it packs incredible power for smooth, quick, and powerful grinding on a wide range of materials and projects. Compared to its competitors whose performance noticeably flags down with age, this option behaves like honey; it gets better with age. It's a high power device with a durable brushless motor that delivers reliable, long runtime, letting you complete your grinding projects quickly and with less effort. To find out how it stacks up against our first two picks, continue reading.

With a powerful 7.0-amp AC/DC motor, it doesn't struggle to reach speeds of up to 12,000 rotations per minute. Removing material with this tool should be a breeze and fun as you don't do the heavy lifting. The tool also features higher overload protection, which, coupled with the high-performance motor, give you the peace of mind and confidence to take on a wide range of light- to heavy-intensity projects around the house, in the workshop, and on-site industrial applications.

Expand to see more
Another perk that comes with using it is the one-touch guard. It's a tool-less and quick process for adjusting the location of the guard, immensely contributing to the optimal performance of the grinder. Further, you'll benefit from an advanced and time-saving
hex wrench
instead of the conventional spanner that most DeWalt grinders come with. Touting a low profile, jam-pot gear case, this tool can last for years on end with proper use and care while the small footprint design gives you quick, easy access to hard-to-reach spots.
Thanks to the quick-change wheel release system, you don't need specially designed tools to replace the wheel while the detachable 2-position side handle facilitates comfort and control. You can pair it with several 4-1/2-inch accessories as it comes with a flexible, easy-to-use 5/8-inch-to-11-inch spindle thread.
To sample these and several other tastes, we recommend going with DEWALT DWE4011. It performs exactly as advertised.
Come with ergonomic design for comfort and controllability
Build quality is great for a long lifespan in use
Its value for money at its price
It packs a powerful punch
Easy to handle
May heat up when engaged for long in heavy duty tasks
4. DEWALT DCG414T2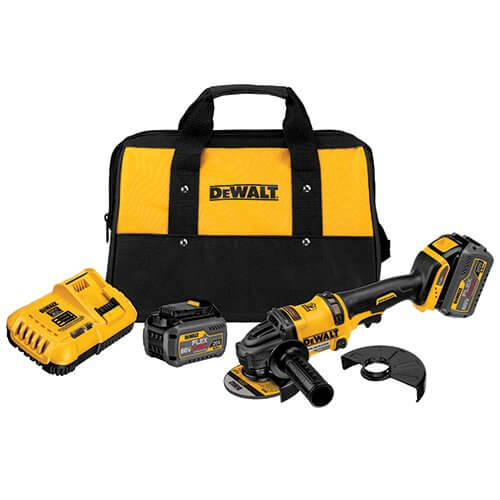 DEWALT DCG414T2 is filled to the brim with instrumental features, all of which are expertly balanced for all-around performance. It has a high-capacity, powerful battery which, combined with the brushless motor, provide a continuous runtime with minimal interruptions. The device grinds with minimal effort and spends a fraction of the time other cheap, humdrum options on the market spend on the same job. The one feature that separates this option from its competitors is its ability to automatically change voltage whenever you change tools, making it an ideal choice for professionals, hobbyists, and greenhorns alike.
The highly innovative voltage-changing battery is clearly the highlight of the DEWALT DCG414T2. In addition to enhancing efficiency, it minimizes interruptions by powering and improving its runtime. Because of the amount of juice it packs, its grinding performance is closely comparable to that of its corded counterparts and it boasts the portability of a
cordless tool
, enabling you to work as far away from a power cord as you wish. Another major highlight is the battery's backwards compatibility with 20V MAX tools, which effectively increases your runtime fourfold.
Expand to see more
As for performance, it is not a slouch at all. It comes with a brushless motor professionally crafted to increase the runtime and performance for hard-use tasks, providing you with more than enough power for effortlessly and quickly grinding and cutting through objects, materials, and other things. The 13-amp motor is powerful enough for all-around performance. The second they sense pinching, stalling, or binding up, the kick brake and electronic brake immediately enter full gear, quickly stopping the wheel and the grinder, and shutting off the grinder.

Other impressive features, besides the 9,000 RPM speed and the 4-1/2-inch to 6-inch wheel capacity, it also comes with an e-clutch for shutting down the motor when it detects a pinch or a stall. And the side handle offers additional control and manoeuvrability. Essentially, this option has all the essential features professionals and the seasoned look out for before committing their money.

Powerful and precise
Features efficient braking mechanisms
Can be used for multiple applications
Has great safety system
Ergonomic design
Maybe slightly heavy for some users
6. DEWALT DCD414B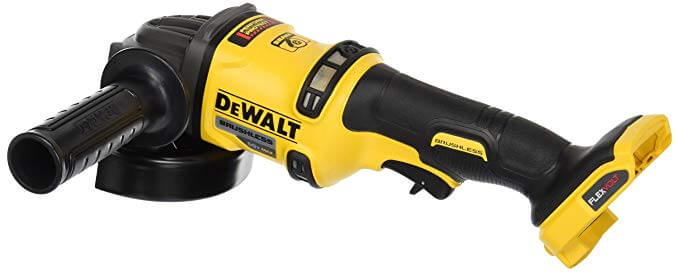 While it comes sixth on the list, DEWALT DCD414B is a significant improvement on the DCD413B we reviewed earlier. It comes with considerably bigger battery and therefore packs a lot more heft and power for those tough, high-intensity cutting and grinding jobs. It lasts three times as long as its cousin and has a powerful motor that reaches 9,000 rotations per minute and is compatible with wheels up to 6 inches. As you can glean from the tool's name, it features a kickback brake for preventing auto-clutch, making for a smooth, trouble-free cutting and grinding experience.

DEWALT DCD414B is a powerful machine with an equally powerful 60V battery providing all the juice you need to quickly and easily finish all the heavy-duty cutting and grinding applications you've always to undertake. With an equivalent of a 13-amp motor, it's an ideal choice for tradespeople, handymen, contractors, and hobbyists from all around the world. It's one of a few options that will leave the workpiece with a high-quality finish. It accommodates wheels between 4-1/2 and 6 inches and boasts a brushless motor whose design guarantees a longer runtime and exceptional performance.

Expand to see more
With the power of a corded model and convenience of a cordless one, this device is incredibly easy to use. Like its cousin we reviewed earlier, it has a kickback brake that engages the second you stop pulling or squeezing the trigger. Also, in the case of pinching, stalling, or binding up, the e-clutch also immediately engages to prevent any serious or irreparable damage to the motor. You'll have to buy the tool's charger and battery separately though as they're not included in the package. Another safety-assuring feature is the two-stage trigger that prevents it from accidentally starting.

Clearly, DEWALT DCD414B ticks all the right boxes. It lives up to customer and industry expectations and is a versatile option perfect for various metal cutting and finish sanding projects.

Pack sufficient power for heavy-duty application
Comes with excellent safety features
Has a reliable battery for longer run times
It's versatile with exceptional results
It boasts of a great built quality
Does not come with a battery in the same package
7. Dewalt DCG412B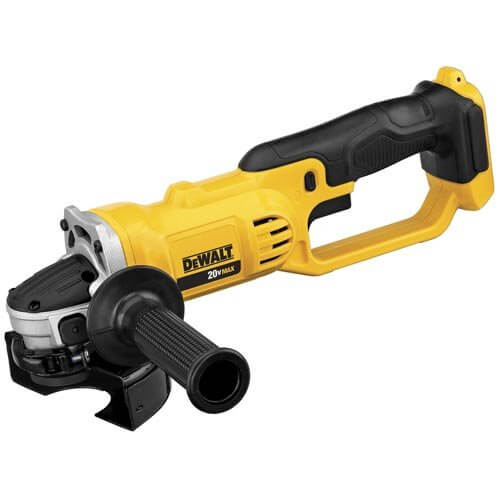 It accepts 4-1/2-inch grinding wheels and features a powerful motor that provides more than enough power to enable you quickly and easily power through several grinding and cutting applications. Other features guaranteed to sway your purchasing decision include the a wheel release (quick change), a switch with lock-off button, the tool's compatibility with other Dewalt 20V MAX tools, a lightweight and compact design, and one of our favourite features, a powerful, high-capacity XR 5.0Ah Lithium Ion battery.

Dewalt DCG412B brings together all the essential features that make for effortless and quick performance. It versatile, obviously, but its main focus is grinding. And as far as grinding goes, it doesn't play second fiddle. It has a high-performance 8,000 RPM motor that comes complete with a variable speed feature, a combination that makes its performance one of the best in the industry.

Expand to see more
Like all other options coming from the Dewalt manufacturing line, the DCG412B features a design that aims to give the user an indelible cutting and grinding experience. It's incredibly easy to use. The device is ergonomically designed and comes with a user-friendly handle grip to provide utmost comfort and an anti-slip rubber over-molding that eliminates the likelihood of accidental slippage while working. And you won't break a sweat changing wheels because the tool comes with a quick-change wheel release that simplifies the procedure. Also, since it's compact, lightweight, and well-balanced, it's easy to manoeuvre and the 2-position side handle accords you superior control, comfort, and ease of use.

The list of features would not be complete without mentioning the warranty. Most options come with warranties and this one has a 36-month warranty. That's enough proof that the brand is willing to stand by their product. So, if you're in the market for a high-quality, high power option, look no further than this one.

It can use accessories from other Dewalt models
Comes with a quick-change wheel release for added convenience
Boasts of a 2-position side handle for greater comfort when in use
Has a lightweight and compact design
Has a high quality construction
Battery tends to run out quickly
Takes a little practice to master operations
8. DEWALT DW758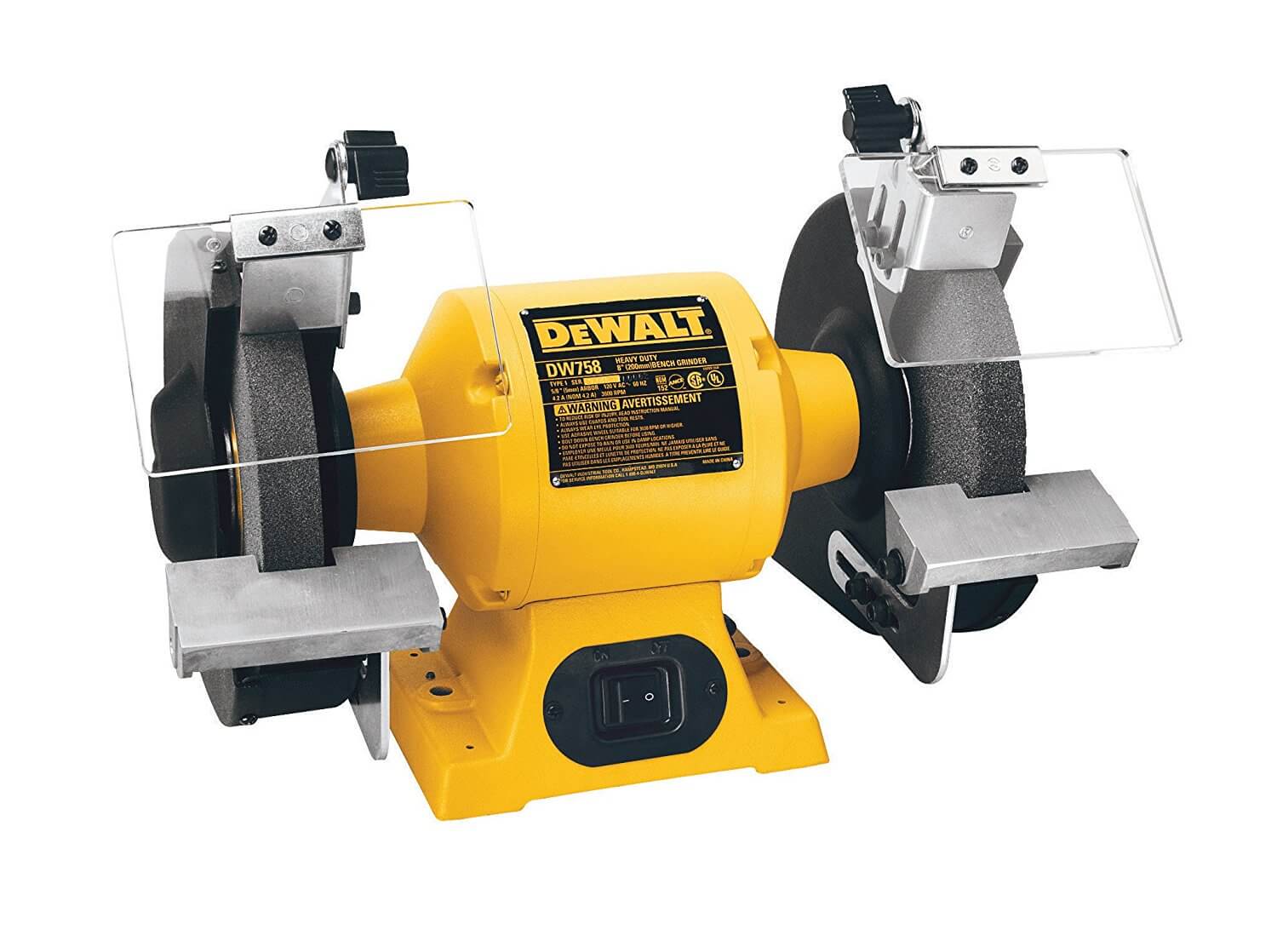 In addition to the typical features you'll find in a Dewalt grinder, expect to find even more in DEWALT DW758. Some of the features that stand out include overload protection for maximizing motor life and it has a 3/4-HP motor providing splendid power for commercial-grade applications. With heart-stopping speeds of up to 3,600 rotations per minute, it works fast and flawlessly, removing material and cutting through a wide range of materials. It also works accurately and leaves your workpiece with a high-quality finish. And it's easy to use.
Now let's dive into a brief but detailed review, shall we? It has a powerful 3/4 HP induction motor capable of running at 3,600 rotations per minute, which essentially means it removes material easily and reliably. The pro-grade performance also makes it an all-around performer. In addition to grinding metals, you can use it for sharpening tools, deburring,
removing rust
, shaping parts, and cleaning objects. And the construction quality is something to behold. Because of its construction from durable, high-quality materials, it can withstand the test of time, take all the hard work you throw at it for several years before anything gives.
Expand to see more
While it's feature-packed, the DeWalt grinder is also easy to use. An overload protection, for instance, maximizes motor life, allowing it to work seamlessly and without the slightest hiccup. A tool-free adjustable guard makes it easy and quick to install the guard and make adjustments.

Further, there are rear exhaust ports in the wheel guards and the wheels are 12-1/2 inches apart for smoothly and quickly finishing larger and longer grinding projects. And for durability, the DeWalt grinder comes with an industrial-grade cast-iron base and motor housing and a generous 36-month warranty seals the deal. The warranty covers any defects arising from the manufacturer's use of low-quality materials or craftsmanship.

DEWALT DW758 is powerful, reliable, a cinch to use, and durable. We simply can't recommend it enough.

Gives a powerful performance
Has ingenious overload protection which enhances motor longevity
Ideal for multiple use cases
Boasts of quality construction
Easy to handle and maintain
Runs at a fixed speed
The tool rest is non-adjustable
9. DEWALT DW756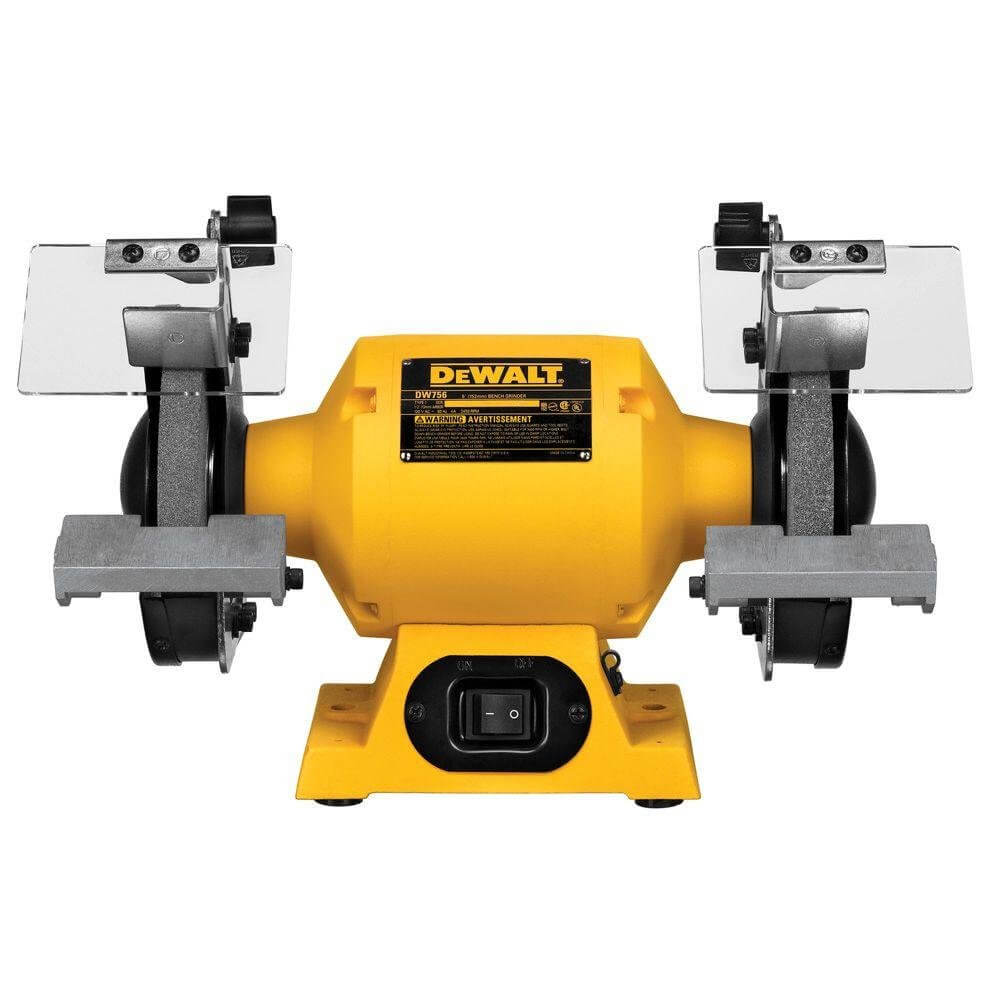 Dewalt enjoys a solid reputation and being a household name, it's a highly trusted brand. One of its several products that perfectly demonstrate this assertion is DEWALT DW756. Despite being a high-performance option, it's also competitively priced, making it an ideal choice for woodworkers working on a budget or want a taste of premium features without breaking the bank. It features a gentle learning curve and has a bunch of convenience features that make it a cinch to use, especially for greenhorns and novices just getting started.
The tool has a decent 5/8-HP motor which nonetheless offers incredible speeds for quick, accurate, and efficient material removal. Throw a tough project in its path and watch the heavy-duty
grinding
wheels grind or cut through with minimal effort. Thanks to the high-performance 5/8-HP motor that reaches up to 3450 RPM, the performance of the DeWalt grinder will invariably be exceptional, efficient, and smooth. Struggles and frustrations with grinding tasks, sharpening your tool or knife will be a thing of the past.
Expand to see more
The grinding wheels are high-quality and crafted from high-end materials, as is every nook and cranny of the tool. It can stand the test of time, providing you with years of smooth, efficient, and accurate grinding and cutting. Whether it's smoothing, polishing, material removal, DEWALT DW756 can do it all. And it's very easy to use. Noise levels are to a bare minimum, so you don't have to wear earplugs even though it's highly recommended and the all-cast-iron base offers splendid stability. Even though it's affordable, you can still pair it with a workbench if you don't want to take chances with stability.

For safety, the tool's distinguishing feature is spark deflectors that prevent accidents and the power switch is within easy and quick reach in case of an emergency. It is expensive for sure but in return, you get a high-quality, long-lasting, high-performance, and easy to use DeWalt grinder. For those who do a lot of grinding and are looking for stability, power, and versatility in a grinder, DEWALT DW756 should be up your alley.

Can be used for a wide range of grinding projects
Ideal for freelance and professional projects
Comes with a convenient and flexible protective spark guard
Durable and long-lasting thanks to quality construction
Features cast iron base for easy mounting
Has an efficient heavy duty motor
A little bit pricey as compared to its peers from other brands
5. DEWALT DW840


Tough grinding and cutting projects necessitate the use of an equally heavy-duty, no-nonsense option. If that's what you have your eyes trained on acquiring, we can't think of an option that best fits that bill than DEWALT DW840. It's lightweight and compact and therefore easy to manoeuvre and control and a perfect choice for grinding in tight or confined spaces. You can easily and efficiently control it with one hand, thanks to the ergonomic rear-handle design. Construction quality is also top-notch and given that it comes in Dewalt's trademark yellow colour, distinguishing it from other hand and power tools should be easy.

The pro-grade construction significantly contributes to its flawless, seamless performance. The inclusion of sealed-ball-and roller bearings does an amazing job keeping dust and metal shaving from interfering with the optimal performance of the delicate internal components. The fact that the brush caps are on the outside makes it easy to service it for prolonged shelf life. The tool can also withstand extreme, hardy years without any discernible drop in performance.

Expand to see more
Few options personify convenience like DEWALT DW840 does. It weighs just 11.6 pounds and has dimensions of 21.5 by 8.9 by 4.4 inches. Making one of the lightest and most compact grinders currently on the market. A rear-handle handle grip offers exceptional control and comfort you need to be a productive worker. To these features add an adjustable key guard which you can easily and quickly move to your preferred position for the best performance. In the same vein, changing wheels takes no effort and time at all as the spindle lock takes the hard work away from the process.

If you need an option that works as hard as you do, DEWALT DW840 is the tool to go with. It packs a litany of instrumental features for a heart-stopping performance and it cuts with speed and ease. It's comfortable, easy to use, and durable.

Offers great motor power and speed
Built for comfort
Ideal for long sustained use
Comes with a nice warranty package
Tends to heat up when used in heavy material
10. DEWALT DWMT70783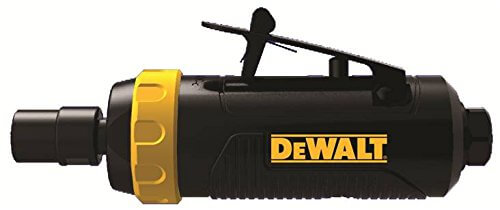 Rounding off our list is this DEWALT DWMT70783. It's bursting at the seams with a laundry list of features, which says a lot about performance, ease of use, practicality, and functionality. Expectedly, the tool is durable seeing as it's constructed with light-weight but high-quality aluminium. Using it takes no effort. It keeps your hands comfortable at all times and minimizes the likelihood of hand strain and exhaustion, thanks to the ergonomic design of cushion grip. It also gives you superior control with its intuitive and easy-to-use touch control trigger. Other features include a rear air exhaust, a long 36-month warranty, and speeds of up to 25,000 RPM.
If you want to complete any grinding,
tool sharpening
, or cutting project in record time with the right tool, reach for this DeWalt grinder. One of the outstanding features has got to be the high-performance, 25000 RPM motor. It's one of those features you just can't ignore considering that, among other things, it allows for quick material removal. Another feature that contributes to the overall performance of the tool is the rear air exhaust that directs hot air away from the machine, helping it staying cool throughout the duration of the project.
Expand to see more
As for convenience, the lightweight aluminium body provides for effortless, stress-free operation while the ergonomically designed cushioned grip translates to utmost comfort and minimal hand fatigue or strain. With the included touch control trigger, controlling it very straightforward while the safety throttle lever keeps you safe and protected at all times by stopping you from accidentally triggering the device.

For woodworkers and DIYers in search of a well-rounded option that expertly brings together power and comfort without sacrificing practicality, take a serious look at this DEWALT DWMT70783. It's tough, safe to use, and affordable.

Boasts of lightweight high quality Aluminium construction
Has an ergonomic design
Has superior control for hassle-free operation
Comes with a reliable motor for unhindered performance
Suitable for a wide range of tasks
Cleaning it may be a little messy
Criteria for Choosing the Best DeWalt Grinders
Performance
Perhaps one of the most important considerations while shopping around for a DeWalt grinder is performance. As a rule of thumb, grinders with big discs pack more power than their counterparts with smaller discs. Be careful not to go for one with the biggest disc just because you read about it here.
For optimal performance, ensure the size of the disc matches the job you want to undertake. Also, keep in mind that devices with stronger motors are ideal for extreme, high-intensity applications so for normal, everyday cutting and grinding around the house, consider going with a model with the most suitable motor size. The same goes for speed; leave the really fast options for professionals.
Convenience
If you don't want headaches using your device, choose carefully where you commit your money. A dust management system helps keep debris and dust from work area and workpiece, helping with productivity and efficiency. Secondly, consider the physical dimensions. Lightweight and compact options are a lot easier to use.
They keep your hands comfortable and give you hassle-free access to tight and confined spaces. If the handle has over-molding grip and is adjustable, you'll have superior control and manoeuvrability. If the DeWalt grinder dampens vibrations, that would be better. Another feature is the soft start.
Safety
You can discount the significance of safety when using one. A few essential safety features can be the difference between going back home with all ten fingers and ending up in a hospital finger with a severed hand or fingers.
Repositioning the guard and changing discs should be easy and tool-less. An automatic shutdown also comes in handy in case of unexpected mechanical issues and other performance hiccups.
Frequently Asked Questions
Q: What's the procedure for removing an angle grinder disc?
A: In most cases, manufacturers include a two-pronged fork for turning the drive bolt in an anti-clockwise direction. A second wrench is provided for stopping the fork from turning. There are several other options, too.
Q: Are DeWalt grinders ideal for cutting metal?
A: Yes. They are versatile and cut not just metal but also rebar tile, stucco. You can also use them to polish, clean, sand, and even sharpen various objects and materials.
Conclusion
The aim of the buying guide was to impart on you the knowledge and information necessary for making an independent, informed decision. The best DeWalt grinder is one with most or ideally all of the essential feature to enable you to perform optimally.
Whether you're a professional or DIY enthusiast, sacrificing quality, construction, ease of use, and practicality will be a costly mistake. The most important take away though is that you should ensure your choice of tool is suited to the project you intend to undertake.
Subscribe to our newsletter