Best Claw Hammers Reviewed and Rated
last updated:
Sep 17, 2021
A claw hammer is used to drive and pull nails and in light demolition work. It gets its name from the split claw one end, which can be either hooked or straight. The hooked model excels at pulling nails while the straighter "rip" version pries or rip board apart. While these hammers work the same, their unique differences will help you choose one that meets your needs. Our buying guide to the best claw hammers will help you decide which one to buy for your job.
Our Top 3 Picks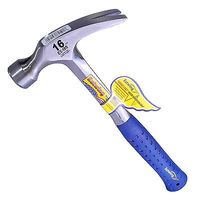 Estwing E3-16S

Our rating
UV coating
Price:

See Here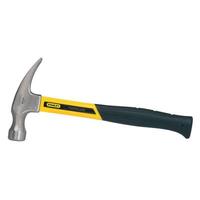 Stanley 51-624

Our rating
absorbs shock
Price:

See Here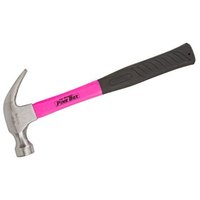 Pink Box PB12HM

Our rating
quality performance
Price:

See Here


Types of claw hammers

There are various types of claw hammers, including curved, straight, and framing claw hammers.
The hammer head's weight, shape, and material will impact the hammering results. Claw hammers with broad heads spread the entire force around, while narrow heads concentrate it in a small area. Standard claw hammers have heads that weigh from 8 to 16 ounces while framing hammers used in construction have heavier heads that weigh between 20 to 32 ounces and longer handles.
The material and length of your hammer are important too. Wooden handles can break but also be replaced, while steel ones are more durable. The most comfortable and durable ones have fiberglass or composite handles. The ideal claw hammer feels comfortable while using it, is easy to maintain, and falls within your estimated budget.
There are many great choices when checking out the best claw hammers on the market.
10 Best Claw Hammers
1. Estwing E3-16S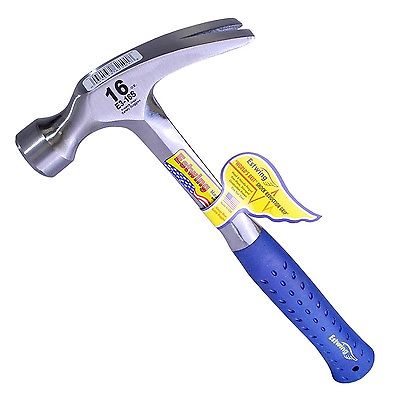 The Estwing E3-16S hammer features a forged and fully finished hooked head and handle with an attractive UV coating to eliminate loose heads. The forged steel is also best for strength and durability, but the Estwing's grip is made from nylon vinyl that feels like a dense rubber. The coating helps reduce vibrations caused by the nailing impact and provides increased comfort while being durable. The little flare at the base of the handle prevents the hammer from slipping out of your hands.

Variations on this hammer are available with 12,16, or 20-ounce heads with a curved, straight, and straight rip claw with increasingly long handles.

Expand to see more
Features and Specifications
Used for general, light to medium tasks


Available with 12,16, or 20-ounce heads


The grip cannot come off


Has a balanced hammer design for control and comfort


Comes with a forged head for increased strength


Has a smooth face


Weighs 1.6 pounds


Measures 13" x 6" x 1"


Comes in silver color
Price/Value
Running under $30 for all head weights, the Estwing E3-16S gives you good value for your money.
Conclusion/Verdict
Out of over 2,200 Amazon reviewers, 97% rewarded this hammer with 4 or 5 stars.
If you are looking for an ideal hammer for your DIY tasks around your house and garage, you will find that the reviewers are right. Worry no more. The Estwing E3-16S is your perfect fit as it is robust enough for lifetime use and light enough for comfort. You can use it to drive a nail, dismantle drywall, and also for self-defense.
The texture of the handle reduces any possibility of slipping during use
Made from high-quality materials
It is lightweight
Well-balanced
Has a high-quality design
Sturdy steel construction
Can be too much for household use
2. Stanley 51-624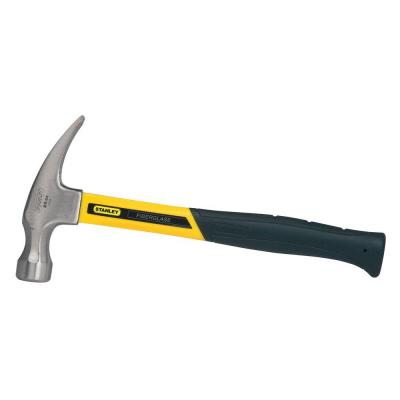 TThe Stanley 51-624 is made from fiberglass for strength, durability, shock and vibration absorption, breakage reduction. The hammer is a single-piece forged heat-treated and rim tempered steel for safety, durability, and reliability to reduce chipping and wear. Often, the hammer has polymer grips to decrease vibrations when nailing and add to their ergonomics.
Expand to see more
Features and Specifications
Comes in a yellow color for easy visibility


The head is made from forged high-carbon steel for durability


Comes with an ergonomic comfort grip with a flared end and a ribbed surface for a firm grip and to minimize slippage


The textured rubber gives a comfortable and secure grip


Weighs 1.8 pounds


Measures 12.8 x 6.3 x 1.4 inches
Price/Value
It is the best budget hammer in the market due to its affordability and its high performance and quality.
Conclusion/Verdict
If you looking for an affordable claw hammer that can carry out almost all household jobs, the Stanley 51-624 is your answer. It comes with a lightweight fiberglass handle ensuring your hand doesn't get fatigued while working.
It is well-balanced making it easy to swing
Straight claws to remove nails
Head and handle fully polished
It is affordable and versatile
Has no magnetic nail start, making it hard to retrieve nails
Has a round face, which can bend nails
3. The Original Pink Box PB12HM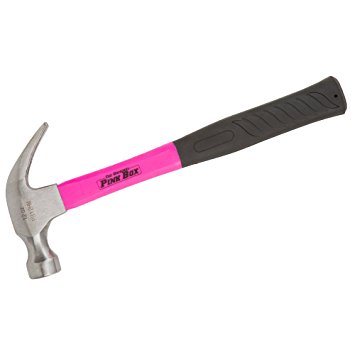 The Original Pink Box is well-known for designing robust products that combine high style with quality performance. It has a focus on producing unique, distinctive and durable pink tools and tool boxes. The Original Pink Box PB12HM comes with a fiberglass core handle to reduce vibrations when nailing. It does not decay or absorb water, but it does not dissipate shock like the wooden handles. The easy-to-grip rubber handle ensures that the hammer is dependable and simple.

The current model featured on Amazon is Original Pink Box PB16HM, which is available by itself or as part of a 40-piece toolset.

Expand to see more
Features and Specifications
Comes in a polished and hot pink color


Has a smooth face to make sure that the wood is not damaged


The current model featured on Amazon is Original Pink Box PB16HM, which is available by itself or as part of a 40-piece toolset.


Has a rubber handle, which prevents your hands from hardening


Comes with a limited lifetime warranty


Weighs 1.3 pounds


Measures 15.1" x 5.5" x 1.6"
Price/Value
The PB12HM comes with a limited lifetime warranty from and it is a great value for the price since it sells at an extemely cheap price.
Verdict/Conclusion
If you want to carry out light-duty repairs or home maintenance such as hanging pictures, this claw hammer is your perfect fit since it is lightweight at 12-ounces and comes with a superior design. The rubber grip increases comfort while the curved claw allows you to remove stubborn nails with ease.
The pink color is  easy to spot
It is affordable
The rubber grip is comfortable and strong for better handling
Excellent weight for light tasks
It is well balanced
Limited lifetime warranty
Ideal weight for small Do-It-Yourself jobs
12 oz. model not suitable for heavy-duty tasks
The head is glued to the handle, thus an unstable attachment
4. Stiletto TB15MC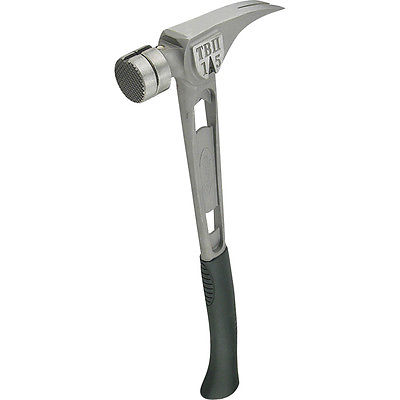 The Stiletto TB15MC is a 15-ounce framing hammer made of lightweight titanium, which is known for its strength-to-weight ratio so it performs like a 28 oz. steel hammer with 45% less weight. It offers a 1-1/2" face diameter, titanium head, curved handle, titanium handle, rubber grip, black handle, and replaceable steel nose piece.

Stiletto Tools was once known as the "standard of the West" as it supplied hand tools and agricultural implements to pioneers and gold-seekers in 19th century California. The company is now owned by Milwaukee Tool.

Expand to see more
Features and Specifications
Constructed with a forged and one-piece steel for durability and extra strength


The handle is covered with a rubber material for increased comfort


Comes with a limited lifetime warranty


Weight: 1.2Ibs


Size: 11.7" x 5.1" x 1"
Price/Value
Selling for over $20, this hammer is expensive, but it is a good value for the price.
Conclusion/Verdict
It has a solid titanium construction for durability, and the ergonomic injection-molded grip provides greater control and increased comfort.
The construction is of high-quality
Comes with replaceable heads
Perfect for heavy-duty work
Ergonomic design
Durable
The hammer is pricey
The milled face can tear very quickly
5. Dewalt DWHT51054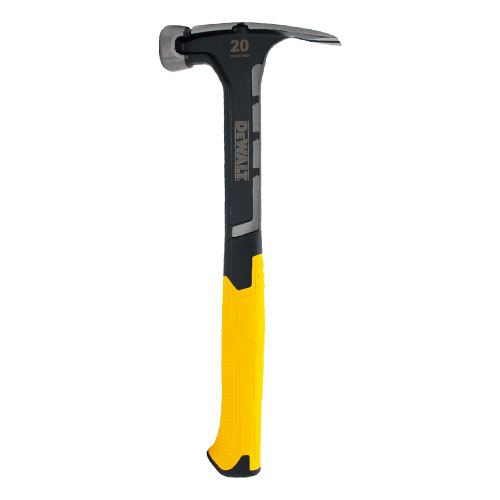 The Dewalt DWHT51054 20 Oz. has one-piece steel that makes it strong, durable and powerful. The weight is equally distributed, and it is perfect for heavy-duty tasks and controlled swing.

Expand to see more
Features and Specifications
Comes in bright yellow for easy spotting


Has graduated paws that make it easy to remove nails


The head has a side nail puller allowing you to pull nails with ease


The strike face is oval-shaped for easier nailing


The balance is optimally distributed


Weight: 1.8 pounds


Size: 14" x 5.4" x 1.5"


Made of steel
Price/Value
At less than $27, the hammer is reasonably-priced and worth every penny.
Conclusion/Verdict
If you are a homeowner looking for the best quality and a balanced claw hammer, the Dewalt is your tool. It is useful in inserting, replacing, and removing nails from your walls.
The head has a side nail puller allowing you to pull nails with ease
The strike face is oval-shaped for easier nailing
The balance is equally distributed
Has no magnetic nail start
The handle cannot dissipate vibrations, so it can be uncomfortable to swing
6. Dalluge 7180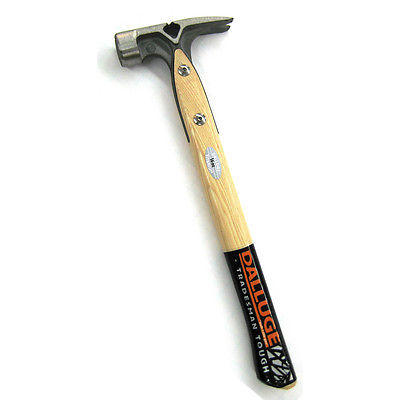 The Dalluge 7180 is a lightweight titanium hammer with a milled face head and an American hickory handle that absorbs shock. Built to last with an overstrike guard, side nail puller, and a well-balanced head and handle, has a patented V-head to provide concentrated power at the point of impact.

Designed for carpenters by a carpenter, this well-balanced hammer is an industry favorite. The maker, Vaughn Manufacturing, prides itself on making tools in the U.S. Currently, the head is made in China, while the hickory handle is made here, where the unit is assembled.

Expand to see more
Features and Specifications
Has a magnetic nail starter and side puller for comfort while using.


Designed for professionals


Has a smooth Face


Has a Patented Shock Absorber Nailoc Magnetic Nail Holder for holding both Duplex and Standard Nails


Unique overstrike guard for extra protection of the handle


Comes with a side nail puller for additional leverage


Has reinforced claws for extra strength


Weighs 11 ounces


Measures 5.6" x 17.3" x 1.3"
Price/Value
Although it's quite expensive at about $150 on up, it offers more for the price.
Conclusion/Verdict
If you are looking for the most versatile claw hammer with a wooden handle, then the Dalluge is your perfect choice, as 87% of Amazon reviewers who gave it 4- or 5-stars attest.
It is well balanced
it is versatile
The overstrike guard increases handle protection
It's lightweight and durable
A bit expensive
The handle chips easily
7. Maxcraft 60626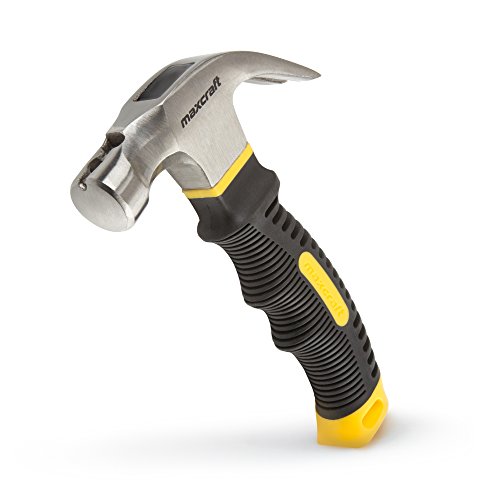 This is a durable claw hammer designed with handy features that make your home maintenance and renovations projects super easy. It has a stubby handle, which makes it an ideal choice if your working area is small and confined. Although it is smaller than other claw hammer models, it delivers powerful blows meaning it is perfect for everyday household tasks.

The claw head is composed of forged steel and a well-contoured, soft, non-slip black and yellow handle, which helps you to maintain a firm grip. Also, the head has a magnetic nail starter allowing you to position a nail into the groove and ensures it is held in place.

Expand to see more
Features And Specifications
Made of full size forged steel


The hand grip is soft, contoured and non-slip


Ideal for tight spaces and small projects since it is 6 inches long


Has a magnetic head for holding nails while starting


Weighs 12.8 ounces


Dimensions are 6.5" x 4" x 1"
Price and Value
The Macraft 60626 is very affordable. Currently, it is unavailable on Amazon, but there are well-rated, inexpensive alternatives available from Spifflyer and Heikio that perform as well.
Conclusion/Verdict
The Maxcraft claw hammer is the best choice if you are working in a small space. Although it is 6" long and lightweight at 8 ounces, the hammer is very strong and reliable when handling DIY projects. It has a smooth face, thus cannot damage your cabinet or trim materials. Also, it has a magnetic head that allows you to start your nails one-handed.
Has a comfortable size
Ideal for confined spaces
It is well balance
Has a magnetic nail holder
High-quality hammer
Comfortable for its size
Not ideal for heavy tasks

Evaluation Criteria
Our rigorous selection process before choosing the best claw hammers noted above relied on the following evaluation criteria:
Type
Materials, construction, and design
Prices
Type
The main types include curved, straight, and framing claw hammers. Choose the ideal one based on the type of work you want to handle. The features you want and need in a hammer depend on how you plan on using it. What you should look for when buying a hammer or have on hand to hang an occasional picture differs from what you would need if you are a carpenter or construction worker.
Curved Claw Hammer
A curved claw hammer has a double-sided head that allows you to drive or remove nails into surfaces with the curved side of the head. It is also slightly curved on the hammer side to reduce marring of the surface you are working on. Curved claw hammers are available in different weights including 20, 16, 13, and 7 oz. The heavier the claw hammer, the larger the force on the nail head.
Straight Claw Hammer
Also known a as rip claw hammer, the straight claw hammer is used to dismantle objects such as wood, plastic, and tile. The claws of this hammer are straight not curved, and it is ideal for separating materials and boards without the need for another tool. Curved claw hammers are lighter than straight claw hammers, and are available in different weights including 32, 28, and 20oz. However, the straight claw hammers can damage the surfaces you are nailing.

Framing Hammer
Framing hammers are similar to straight claw hammers in weight and are available in different sizes from 20 to 32 oz. They are mostly used in carpentry and to dismantle objects. Their heads are not curved, as this would damage the surface or the wood you are nailing.
Materials, Construction, and Design
For any hammer type, consider:
Head material: Most hammers are made of forged steel, while more costly ones often used by professionals are lightweight titanium. Some claw hammer models are corrosion resistant making them more suitable for both indoors and outdoors spaces without compromising the outcome of your work. Choose a hammer with a head made of a high-quality material(s) for increased durability and with the appropriate diameter for more accuracy when driving nails.
Head weight: Hammers with a head weight of 16 to 20 oz. is good for common home repairs and DIY use, with 16 oz. good for trim and shop use, 20 oz. better for framing and demo. . The added weight is suitable for rip clawing and framing the handles. Your goal is to find a perfect balance between length and weight of the handle.
Face Claw hammers are designed with different varying face diameters, smoothness, and shapes. Smooth, flat faces won't mar finished, but textured milled faces won't slip off the nail head – an asset for framing carpenters. A hammer with a round face ensures that the work surface is not damaged, while a hammer with flat faces has great chances of damaging your working area. A narrow-headed hammer produces more vibration since the force strikes on a small area, while a large-headed hammer spreads the force over a wide area minimizing vibrations. Though a larger strike face with a larger diameter may provide more accurate blows when driving in your nails, professionals don't see a major difference.
Handle Info: For general DIY and remodeling use, the best hammers handles are durable steel or light fiberglass; wood handles can break and are more slippery. Wood and fiberglass transmit less vibration to the user, though for most people, this is not a big concern. Some hammers, especially steel ones, are wrapped using different materials including nylon, rubber, leather, and vinyl to improve the grip, make them more comfortable, and prevent the hammer from leaving a mark if the hammer hits anything.

Handle Length and Shape: Most hammers are 14 to 18″ in length and can have straight, curved, or hatchet-style handles.Claw hammers with longer handles tend to produce the right amount of force with less strain and force. Plumbers, electricians, and mechanical workers who crawl around in tight spaces prefer short hammers because they're less likely to get hung up. Remodelers might like 16″ handles that help them locate studs behind drywall. Those who climb up and down ladders all day prefer shorter, straighter handles that won't catch on ladder rungs
Some claw hammer models are corrosion resistant making them more suitable for both indoors and outdoors spaces without compromise on the outcome of your work.
Prices
The retail price of the best claw hammers ranges between $5 to $50 for DIY models and into the hundreds for specialized hammers used by professionals. The prices are determined by the type of material used and color, as well as the features. However, there are cheap claw hammers that can still give the desired results.
FAQs
1. What Are the Parts of a Claw Hammer
A claw hammer is composed of the head, face, and handle. Some models also feature handle grips and a nail starter. This feature is convenient when you want to place a nail on a slippery material. Some hammers have a special groove and a magnetic head allowing you to hold a nail in place while still holding the hammer over your head and driving the nail in using one hand.

2. What's the difference between a curved and rip claw hammer?
A curved hammer offers leverage for pulling out nails while rip claw hammers are usually the ideal choice for professionals since they are heavy-duty tools for ripping apart woods that are nailed together.
3. What is the ideal weight and length?
Hammers are mostly categorized by weight since it determines the amount of force that the hammer delivers. The heavier the head of the hammer, the stronger the strike delivered. The length of the handle also determines the force of a hammer blow. With a long handle, you can swing the hammer faster, thus delivering a stronger strike. However, not all big claw hammers are ideal for all tasks, since they are not effective in small spaces. Most designs are a compromise between energy efficiency and practicality.
4. What materials are used to make the hammer head?
Different brands use different materials, but claw hammers are either forged from one piece of steel or two-pieces. One-piece hammers are ideal for tasks that require continued heavy-striking while two-piece hammers are perfect for light-duty use. The head and shaft of the one-piece hammers are forged steel while the head and handles of the two-piece hammer are made from titanium, metal, and steel, and are very strong yet lightweight. When choosing a claw hammer, you should also consider one with a shaft that is robust enough for your needs. Moreover, a handle with a rubber grip absorbs shock from the hammer blow. Also, a non-slip rubber provides added security.
5. If a titanium claw hammer is half the weight of a steel one, how does it drive or remove nails?
Titanium hammers are made with a light material that is very strong and pack the punch of a hammer almost 75% heavier. A 14-ounce titanium hammer can do the work of a 24-ounce steel one.
The ergonomic advantages are obvious. Light hammers do not strain the arms. According to the law of physics, the speed of the head affects the striking power of the hammer, and thus the total work efficiency is greater than the weight of the hammer. Since you can swing better a lighter hammer than a heavier one, the former puts less strain on your arms without affecting the work efficiency. However, sometimes you need a heavy claw hammer, for instance, when you are banging in a 6″ nail.
6. Can you repair a broken wood handle by yourself?
Many quality hammers with wooden handles have replacement handles available. If the replacement part does not come with directions, check online or on YouTube for step-by-step instructions and proceed caregull..
7. What rules of tool safety should you follow with claw hammers?
Although hammers are essential tools, they can inflict serious injuries if not used properly. Here are some of the key guidelines to
help you get the most from a hammer and keep you from breaking your wrist bone or cutting and bruising any body part:
To start with, clear any debris as well as other objects from your workspace that may lead to trip or slip dangers.
Check to confirm that the hammer's handle is not splintered, loose or cracked before using your hammer. Also, ensure that the handle fits securely for a better grip.
If you are working in an area with exposed electric cables, make sure that your hammer is properly insulated to prevent electrocution.
Put on eye protection to prevent flying debris from shattered materials from injuring your eyes.
Use a hammer with a cushioned handle to reduce the vibration, impact and squeezing pressure, protecting your hand from possible injuries.
Choose one with a weight that matches the job at hand and one that feels comfortable in your hand.
Make sure that you have great balance and secure footing while using a hammer.
Secure the object or piece that you're working on with a clamp or a vise before striking with a hammer.
Choose one with soft or rounded edges to maintain proper circulation in your finger even after prolonged use.
Maintain proper position and apply the right leverage when pulling nails to avoid strains and other stress.
If you're nailing a ladder, make sure that you do not extend your torso outside the ladder's side rails when hammering or striking.
Store your hammer as well as other tools in tool boxes or tool chests in an organized manner, to avoid leaving them strewn all over your work area.
Organize all your hand tools including the hammer by securing them in pegboards. This also saves you a lot of space.
Perform the necessary repairs or replacements to the damaged hammers before using them again.
Conclusion
Claw hammers are useful tools when doing simple household tasks, building a home, demolition work, and many other tasks. Finding the right one for the job is crucial to doing it right. Our guidewill give you important tips for selecting the best claw hammers to completing any task,.
Subscribe to our newsletter