Best Sprinkler Systems Reviewed & Rated
last updated:
Apr 06, 2021
Garden sprinklers are fantastic improvements from the traditional manual watering equipment. Currently, they are a must-have if you want to achieve unparalleled beauty and elegance in your garden or lawn. They can help you maintain even and consistent moisture rather conveniently bearing in mind most of them are automatic and cover larger areas at ago. The benefits are endless when you upgrade to a sprinkler system. For example, you will be able to save time and energy, not forgetting water conservation which essentially means further savings on water costs.
Our Top 3 Picks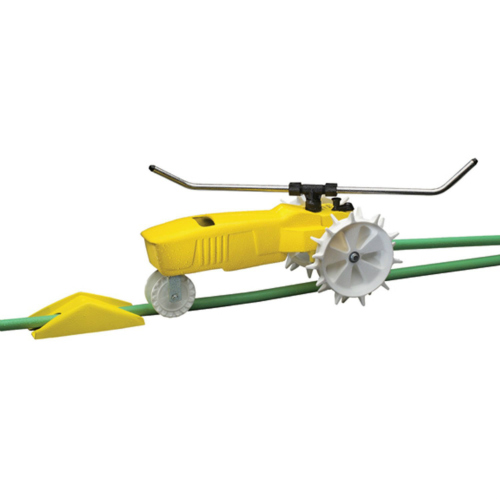 Nelson

Our rating
Convenient
Price:

See Here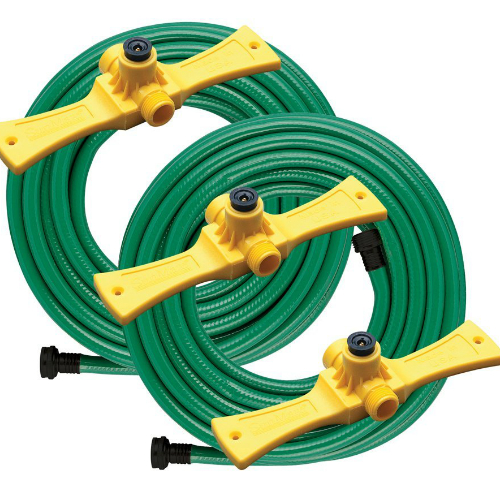 Orbit

Our rating
Durable
Price:

See Here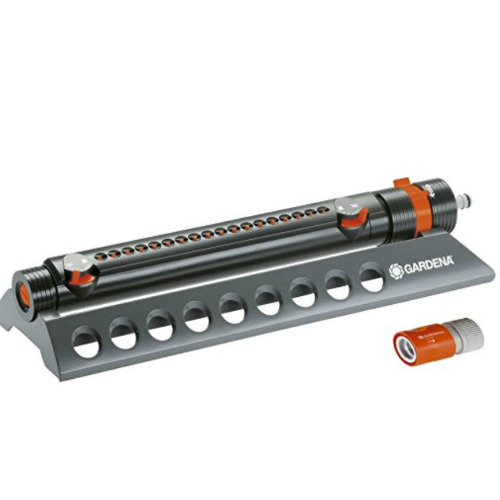 Gardena

Our rating
Silent
Price:

See Here


In the market today, there are varying types of sprinkler systems from numerous manufacturers built to offer incredible features and specifications. But how can you be sure what you are buying will live to your expectations? Well, you need to take into account several factors to avoid any disappointment immediately you install them. In the section below, have a look at some of the details that will guide you to get the best.
10 Best Sprinkler Systems
1. Nelson Raintrain 1865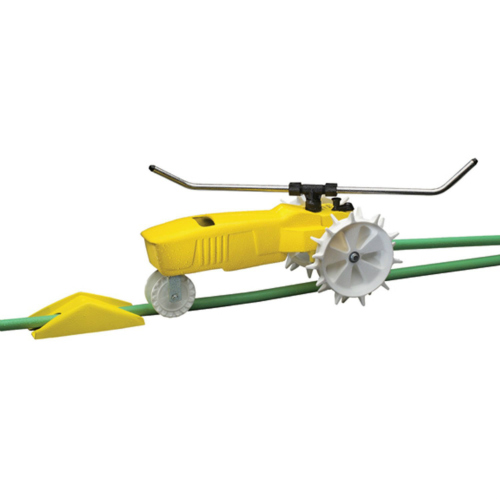 When you have a considerably sizeable area that requires watering when the weather has taken a toll on the green and fresh look of the environment, there is no better way to get everything done other than the Nelson Raintrain 1865 Traveling Sprinkler. Featuring a convenient moving design that allows efficient water spread, the sprinkler is a darling to many homeowners and gardeners as it offers the much-needed convenience anyone would wish to enjoy. Providing a prompt and easy way to keep your yard in the desirable form, its suitability for the role goes beyond what your average conventional sprinklers can help you achieve.

As a traveling sprinkler, it can move up to 200 feet providing watering coverage to the extent of 13,500 square feet. You only need to set it a chosen starting spot and let it roll through the area while you observe at a distance or go about other businesses. And with options of three-speed variations, you can make adjustments on the level of saturation in line with the needs of the area. Once the 200 feet hose has been laid and the terminal connected to the back of the unit, its front wheels stand on either side of the hose and follows its path. On the other hand, the back wheels get powered by the water pressure to keep in motion until it reaches the shutoff.

Expand to see more
The sprinkler arms are not fixed hence can get adjusted to specific arcs and angles thus allowing throws of between fifteen to fifty Feet. Again, when the wind appears to be messing up the process, the arms can be positioned horizontally, and the performance remains optimal. It also to interesting to note that, the Nelson Raintrain comes with is fitted with an automatic shutoff that stops any water wastage once it gets to the end. The attractive little yellow tractor is no doubt durable. Manufactured with a cast iron body that is also chip-resistant and with powder coated paint finish, it has been created to last for years under sustained use. Coupled with the brass hose fittings, it's a real deal that serves with no foreseeable hitches at least in years.

With a unique engineering that appears so simple yet very functional, the Nelson Raintrain 1865 weights about twenty pounds. All the same its reliability to navigate the lawn in a set hose path is out of the question. It has a two-speed gearbox that ensures it can keep on the job all day without the slightest hesitation. At face value, it may appear like an ordinary toy, but in reality, it is one of the best all-time automatic sprinklers.

Conclusion

The Nelson Raintrain 1865 is a fantastic buy not only due to its unique design but also because it will help you take care of your lawn or garden almost effortlessly. In fact, you will be glad to watch it move from one end to another while releasing water precisely and systematically. Although you will require a slightly hefty budget, with it, all your watering needs will be covered for years to come. The firm and quality construction ensure users get value for every penny spent.

No water wastage due to its ingenious shutoff
Very efficient, i.e., self-moving
Guarantees in-depth and even watering coverage.
Convenient to use-requires very little monitoring
Easy to set up
Quality and extremely durable
Wide coverage
Adjustable speed settings
Can get off the travel path if the hose track is placed too curvy or when the path has obstructions
2. Orbit 58092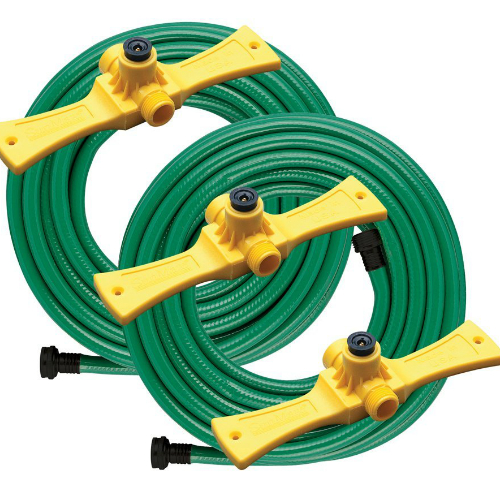 If you have been thinking of the easiest way to keep your garden or lawn consistently moist for fresh and more beautiful blooms, we bet the Orbit 58092 could be a good pick for you. With many desirable attributes and super-efficient performance orientation, the versatility of this sprinkler can never be exhaustively written down. It comes with a fantastic design that makes it a real gardening companion. Unlike some models or brands available in the market and are characterized by limited potential when it comes to watering capabilities, this is for sure dependable. It is professionally made to improve how individuals or entities water their gardens or lawns for better results. For experienced gardeners, they all understand what it means to have an efficient and functional sprinkler.

The one striking feature you will love about this sprinkler is the fact that it's quite simple. It comes as a perfect solution for all watering problems with a simple and straightforward operating mechanism. It works by attaching the system to a 15 Feet garden hose that it comes with, and then you can choose from one of the five freely substitutable nozzles and three rain sprinkler heads to get going. In fact, the system is customized in such a way that it can also work with any standard garden hose. In reality, it provides a hassle-free way to keep your home or garden in perfect shape at any point in time.

Expand to see more
Similarly, it comes as that chic and cool water sprinkler that will fascinate your kids to the extent of wanting to help out in every gardening work. Its spray pattern is both an intriguing and irresistible attraction to the eye, a feature that very few brands can boast to possess with the same level of precision. Equally, you will be able to realize a great depth of water coverage without any wastage because the fittings and nozzles are very efficient.

And if the area in question is large, still there is nothing to worry about because the sprinkler is lightweight and portable. As such, you can decide to water your yard from every perceived ideal location. The configuration of the lawn is not limiting because you can always find a spot to keep the sprinkler running.

Conclusion

If it is your first time having to utilize a sprinkler system, you will find the Orbit 58092 to be
incredibly fun. The beautiful and gentle, rain-like mist from it keeps all kinds of lawns healthy
while ensuring water is used most economically. Being quite affordable, you can accomplish
your desire to maintain green and attractive garden/lawn without buying something extravagant.

Durable and efficient sprinkler
Gentle rain-like spray
Lightweight and portable
Simple to install and easy to use
Very affordable
Reliable quality
At low water pressure, you may not get full water coverage
3. GARDENA 1975 Aquazoom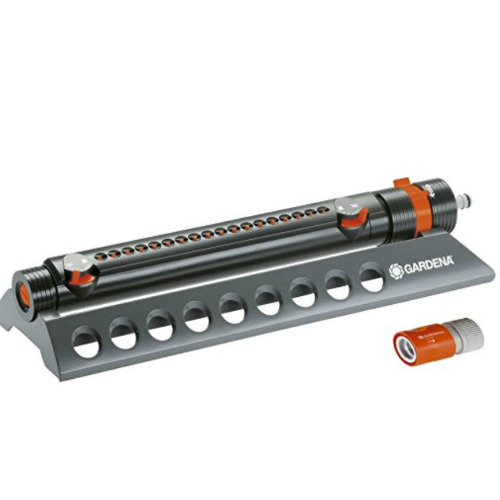 The 1975 Aquazoom Oscillating sprinkler from the esteemed Gardena brand comes as a simple yet so efficient garden and lawn watering solution. Manufactured to give variable coverage, this sprinkler is adequately equipped with adjustable width and flow controls so that it can effectively water different sized areas. Ideally, it can cover a space measuring approximately 3900-square feet. This is made possible with the adjustable width spray that ranges from 13-feet to 55-feet. As a result, it can quickly and efficiently serve for large or small yards without straining.

Talking about an all-around irrigation device, the Gardena 1975 is that ideal companion when it comes to sprinkling needs. It provides a convenient alternative to all of your watering, soil and lawn care concerns to a level very few other brands can accomplish. No doubt, this is reliable and high-quality equipment that will make light work in most gardening tasks. Consequently, it will allow you more time to relax and enjoy as the water is being sprayed at every desired spot and to in the right intensity. With this, you don't have to keep carrying the inefficient and time-consuming watering can because you have an equal to the task alternative.

Expand to see more
The sprinkler is built to irrigate rectangular constructed lawns but can all the same work at any other place the configuration not entirely limiting. You will be happy to note that the watering schedule is adjustable at various intervals ranging from 5 minutes to 120 minutes. Moreover, you also have the continuous option where you can switch it on and let it get to business without interruption. The adjustable features combined with the water stop connector timer and flow control capability ensures ease of use as you may deem fit.

The Gardena 1975 is also durable. With this device, you are less likely to experience any malfunctions at any time of the year no matter how frequent you use it. Also, when not in use, as long as you thoroughly drain the unit before storage, it will remain intact until a sprinkling need arises. The considerably compact nature and lightweight design with overall dimensions of 5" H x 8.5" W x 24" D make it rather simple to handle.

Conclusion

We all know how draining routine lawn and garden irrigation can get without the right equipment. However, you can now change your garden and lawn maintenance experience with this impressive sprinkler. Considering the price range that is for sure value for money, the GARDENA 1975 Aquazoom is a perfect fit for all water sprinkling needs. By far, this is one of the most customizable units that work on the job as the manufacturer specifies. If you have never tried an oscillating sprinkler, this is highly recommended for the start.
Easy to use with adjustable spray length
Great coverage
Silent, steady, and smooth operation
Value for money
Nice and even strokes
Durable
It makes you wet any time you have to make adjustments although it does a decent job after it all
May occasionally get stuck
4. Rain Bird GRDNERKIT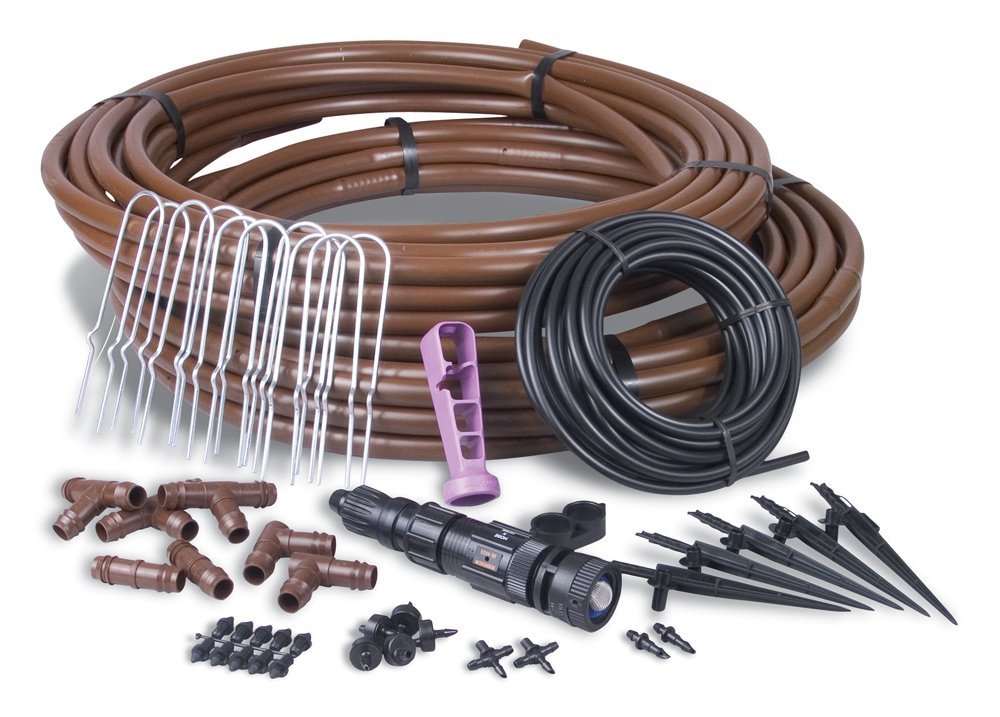 It is an open fact how manual hand irrigation is boring and tedious. And with the ever-emerging reliable methods, of course, anchored on technology, it is unreasonable to keep to the traditional watering can that is both dull and inefficient. So when the sun seems to be taking a toll on your lawn, flowers or young plants and you have to bring more taste and beauty to your compound, the Rain Bird GRDNERKIT is better placed to keep the situation in check. In fact, when it comes to maintaining green and fresh lawns or gardens, very few systems come close to this model from Rain Bird.

The Rain Bird GRDNERKIT uses a combination of the designated garden hose pipe, natural water pressure and resulting movement force to spray water along a pre-determined course. As a result, this system has the capability of producing spews identical to the usual rainfall patterns. To this end, you will be in position to keep the grass lawns irrigated uniformly to saturation levels mimicking natural rain.

Expand to see more
It offers a flawless way to keep tabs with garden watering requirements. The flexible watering unit comes loaded with accessories such as emitter tubing, connection kit, barbed couplings, barbed tees, and stakes just to mention. As such, it is self-sufficient and will not require any other attachments to be bought separately.

As opposed to what you are likely to experience with other irrigation units, this Rain Bird drip kit comes as a convenient one-stop solution that can cover an area measuring up to 75 sq. feet. So it is ideal for small yards that require restricted watering such as flower beds. Moreover, it is designed to supply water directly to the roots of the plants hence no drop can go to waste. Of course, this means the water consumption rate is equally low something that anyone seeking to reduce costs would appreciate.

On matters installing the system, it is not "rocket science" as many people would imagine. You will not require an expert to get the system running because the installation procedure is easy to follow through. The process is quite simple and can be done within a short time. Once put in place, be sure to enjoy a healthy and beautiful yard throughout the year. Furthermore, you will be more than impressed with the automatic hose-end timer that assists in managing the system quite efficiently.

Conclusion

For those familiar with gardening and yard watering equipment brands, Rain Bird no doubt get your attention as a reputable manufacturer. Through its dependable and performance oriented sprinklers, many owners and career gardeners have kept their space neat and in shape. In this light, the brand's Rain Bird GRDNERKIT model is no different and is therefore ideal for drip irrigation needs. And it gets better because the kit is affordable bearing in mind it provides quality performance. In essence, getting this system means doing away with the demanding watering hoses and cans.
Very easy to install and adjust
The design saves water
Comes with automatic hose-end timer for efficiency
Provides a practical and precise on the spot watering
Comes with sufficient accessories
Affordable quality system
It is not suitable for large lawns or gardens because the coverage is considerably small
The installation may be burdening to some people
5. Gilmour's Pattern Master 196SPB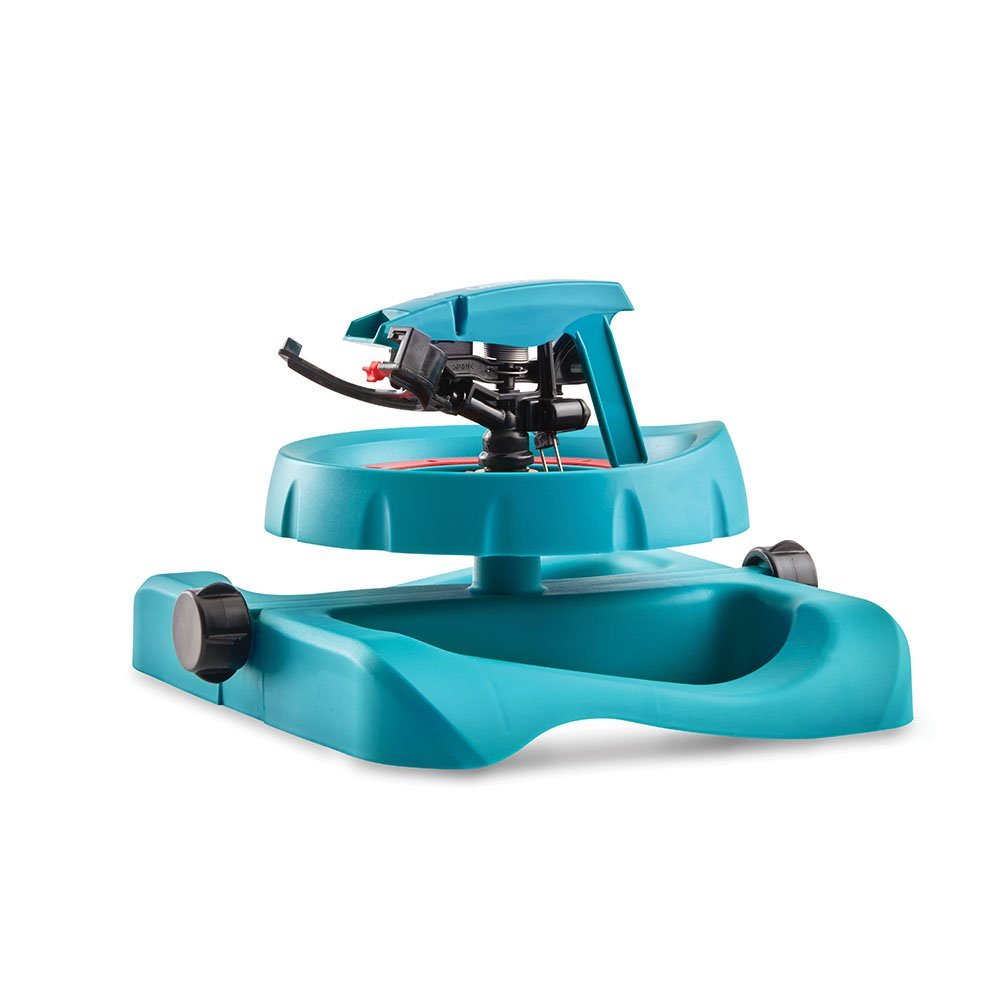 As far as achieving and maintaining a green and beautiful lawn is concerned, the Gilmour Pattern Master 196SPB is a valuable acquisition for homeowners and professional gardeners alike. While a majority of sprinklers available in the market will just rotate and spew water at random, this unit comes with an extra-edge over what you will ordinarily find in most models. It comes with an ingenious design that allows it to spray water precisely at the intended spots at the right time and in the desired intensity.

To begin with, the 196SPB is a remarkably versatile pulse style lawn sprinkler that can water up to a maximum range of 5800 sq. feet regardless of shape or area configuration. It is characterized by a unique and efficient water flow which allows the sprinkler to juggle with the pegs within its programming disc to ensure smooth operation. Ideally, the feature is further responsible for the easily adjustable and convenient distance control you can enjoy in the 12 point adjustment range and full 360° rotation mechanism.

Expand to see more
Similarly, it allows significant control concerning the amount of water utilized. You can flex about the distance of the spray and further dictate the rotation to a particular portion of your garden or lawn as you may wish. Moreover, it is also possible to determine the intensity of the sprays whether you desire a light or slightly heavy and steady flows.

The sprinkler gets crafted out of high quality and equally durable material. Consequently, you can benefit from long periods of service with a limited possibility of breakdown. Besides its general design provides a natural balance which ensures it cannot topple over when in use even under high-pressure sprinkling. So if you are too busy to monitor every spray, you can set it running and check it later when you think it's done and you will find it fixed at the same position.

Conclusion

Well, if you want your yard to be the focus of your neighbours, buying this sprinkler stands between you and the catchy and healthy looking lawn and garden that will be adored by onlookers. Although we can all agree that owning an irresistible lawn or a sparkling enclosure does not come easy, having the right equipment in the form of Gilmour's Pattern Master 196SPB goes a long way for those who want to get their compound in order. Whether your garden is small or relatively large, you have no excuse to leave it withered, dull, and unattended to once you have this sprinkler. Its coverage is even and will not starve some parts while flooding others. Above all, it is available at an affordable price range.

Durable- the unit is rust resilient to rust or falling impacts
Simple to set-up and use
Compact and sturdy construction
Gives even and precise coverage
Easy to adjust the thrust whether fine mist or the powerful jets
The sprinkler head may stick occasionally
For small sized areas you have to lower water pressure otherwise it will sprinkle outside the intended zone
6. Orbit's Yard Enforcer 62100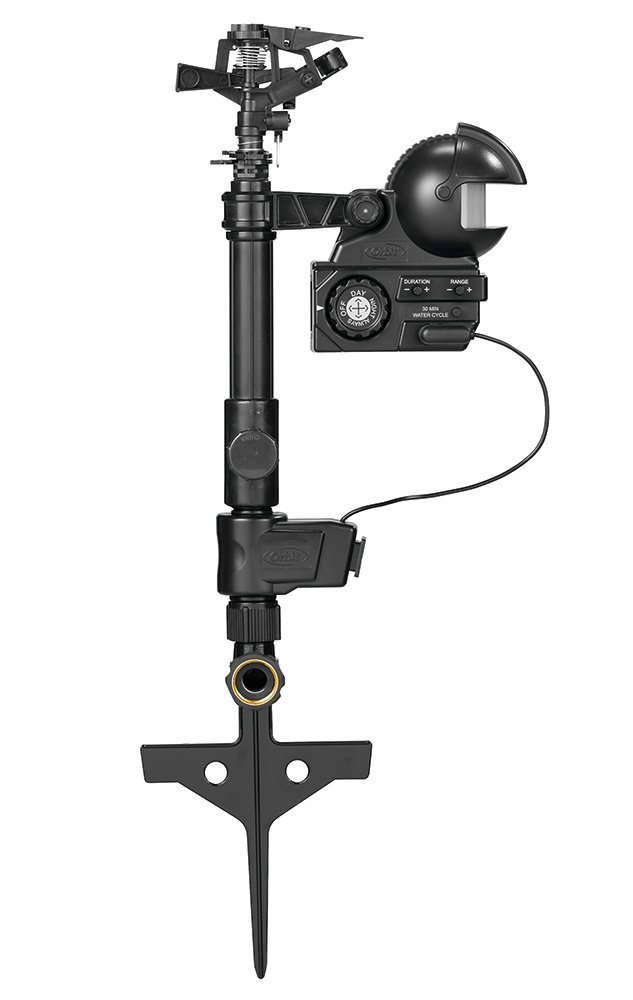 If you are experiencing constant problems with your garden hose, whether it is handling the water pressure or having to contend with leaking spray guns, the best way to find relief is by upgrading to a water sprinkler. In this light, the Orbit's Yard Enforcer 62100 Motion Activated Sprinkler is one of the few options available offering fantastic performance and is also very reliable. Your desire to own a top class lawn and a superb garden is best served by getting this device built to give you more flexibility when it comes to watering. With this sprinkler you will bid goodbye to the frequent need to purchase new garden irrigation equipment because it is created to last beyond consumer expectation.

One thing that set it apart from the typical pool of sprinklers is the fact that it is exceptionally hi-tech and efficient. It is a good choice if you have an irregular-shaped and considerably sizeable area to water. Its capability to perform under every circumstance is anchored on the blend of impressive features and functional design that allows smooth flow of water and release of precise sprays.

Expand to see more
It is also worth noting that its hosepipe can be laid up in a path and the water will follow the exact course as the user intends. Being a motion activated sprinkler, it features a circular-motion water spew pattern that can travel up to 200 feet and realize coverage of up to 13500 sq. Feet. That is indeed adequate for all manner of lawns or gardens whether in homes or institutions.

When it comes to controlling and making adjustments, the sprinkler comes with three-speed control levels. It means you will be in a position to regulate the sprinkling depending on the needs of the area. Whether you want light sprays or steady showering all that is possible without much any difficulty. Besides the unit comes with an automatic switch-off ramp that aids water management and minimises any chances of wastage or over-sprinkling.

Manufactured with chip-resist and durable cast iron this is a fantastic pick for those who desire to work with equipment that can stand the test of time. Featuring three working modes including the 120⁰ night mode, it comes with an intelli-sense technology that you will appreciate because it facilitates optimal water use while also saving power. The 62100 sprinkler can also work simultaneously alongside other sprinklers of a similar kind, so if you feel like getting more than one especially if the ground to cover is just too big, worry not because the systems can work together seamlessly.

Conclusion

To keep your yard fresh and full of life without straining, you need more than a watering can or a plain hosepipe. The Orbit's Yard Enforcer 62100 model in this regard comes in handy to help you fulfill the need. Offering great freedom in keeping your space watered, the sprinkler for sure is a classic case of money well spent for those who may decide to get a piece.

Suitable for any user because it is simple to set up and use
Compact build hence portable and easy to store
Professional design
Reliable performance levels
Easily adjustable
Stable and powerful spray
Value for money quality product
Nothing much to worry about
7. Gardena ZoomMaxx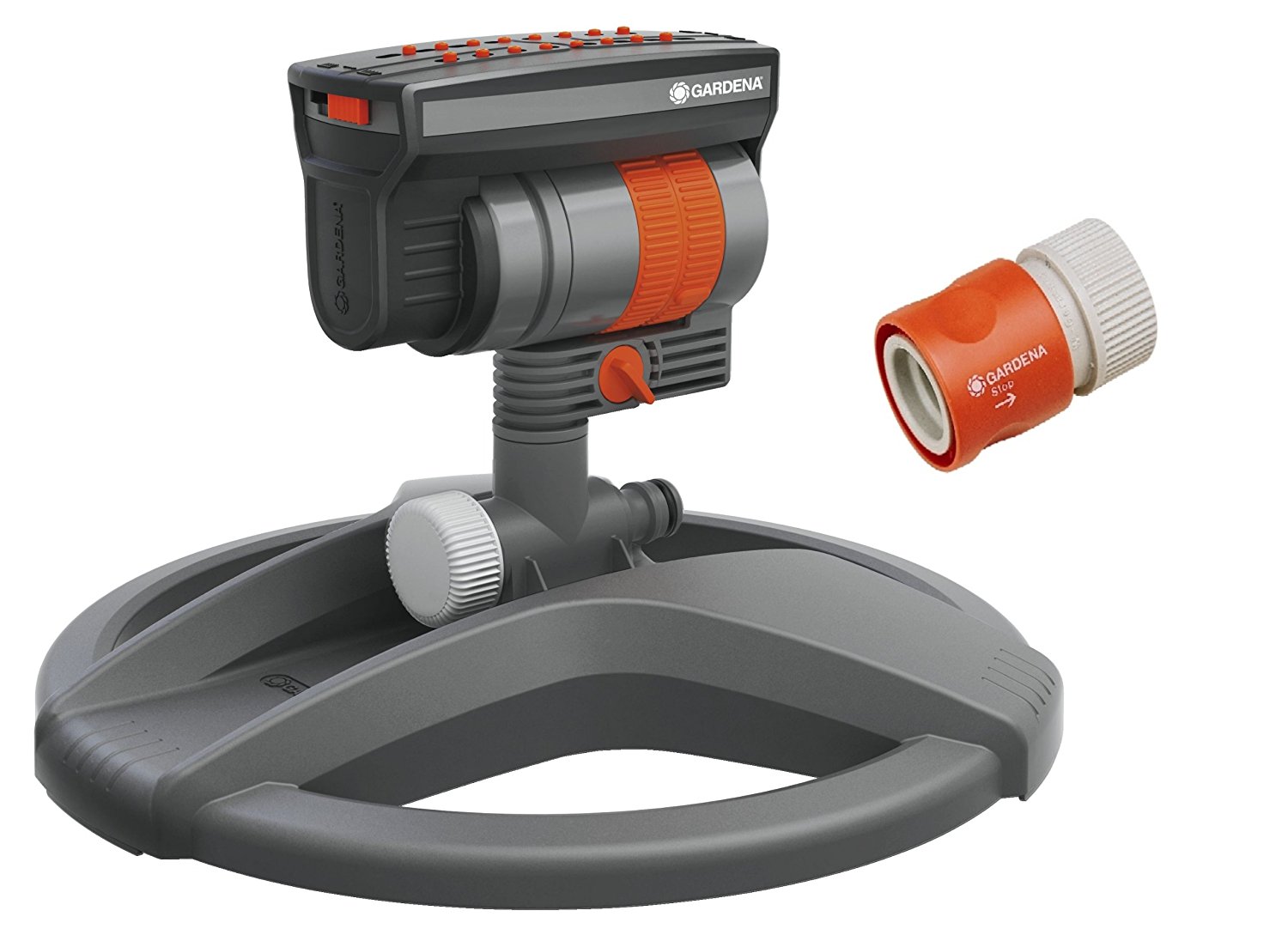 If you have been searching for a sprinkler that offers added directional control and is generally versatile, then your search might as well end with the Gardena ZoomMaxx Sprinkler. Made to provide excellent water coverage, you will get nothing short of an impressive performance by investing your money in this unit for all your gardening and water sprinkling needs. Its condensed nature makes it perfect for use in medium-sized gardens and lawns. And so, if you need to take care of small strips of grass in your compound, this would be ideal. Although the design seems centered on catering to the needs of narrow yards, it nonetheless has the ability to take on larger patches too.

The Gardena ZoomMaxx comes with a lot of beneficial features that you will be able to experience from the time you purchase it and for a long time going forward. As a heavy-duty creation that is turbo gear driven, it stands out with the directional control feature that allows spraying range of between 76 and 2,300 sq ft. It comes with adjustable controls that enable the user to set suitable width, length, and water flow magnitude. The coverage dimensions range at intervals of between 10 to 60 feet for the length and 10 to 40 feet for the width. It is, however, worth noting that the shape of the area to be watered is not really a big deal. The sprinkler also has a timer that further allows you to manage your sprinkling schedules in sheer convenience.

Expand to see more
Apart from the above, it has a solid resting base which makes it possible safe placing on irregular surfaces with a leeway of a 15% incline. The firm and weighted support base in combination with the circular design serve to prevent the sprinkler from falling over under high water pressure use. Similarly, the nozzles that allow water release and facilitate the right amount of water flow are fitted with fine mesh wire which prevents blockage by solid particles or dirt. As a result, you won't have to worry about anything that may compromise the unit for in any case you are using raw water.

Conclusion

Because the Gardena ZoomMaxx is of exceedingly high quality and also offers unprecedented performance you may have to spend more to acquire one. You will realize all the features are top notch and hence value for money. The versatility of the whole unit coupled with the convenience it brings to your lawn or garden makes the pricing reasonable. Overall this is a good bargain highly recommended for consumer purchase.

Works well for small and narrow areas
Easy to link with standard hose
Comes with a quick release connector
Impressive directional control
Has a reliable timer
Comes with a steady base with metal inserts hence cannot topple easily
Heavy duty
Compact and lightweight
Nice warranty package
Adjustments appear complicated
Nozzles can tilt up when you reduce the width
8. Rain Bird 32ETI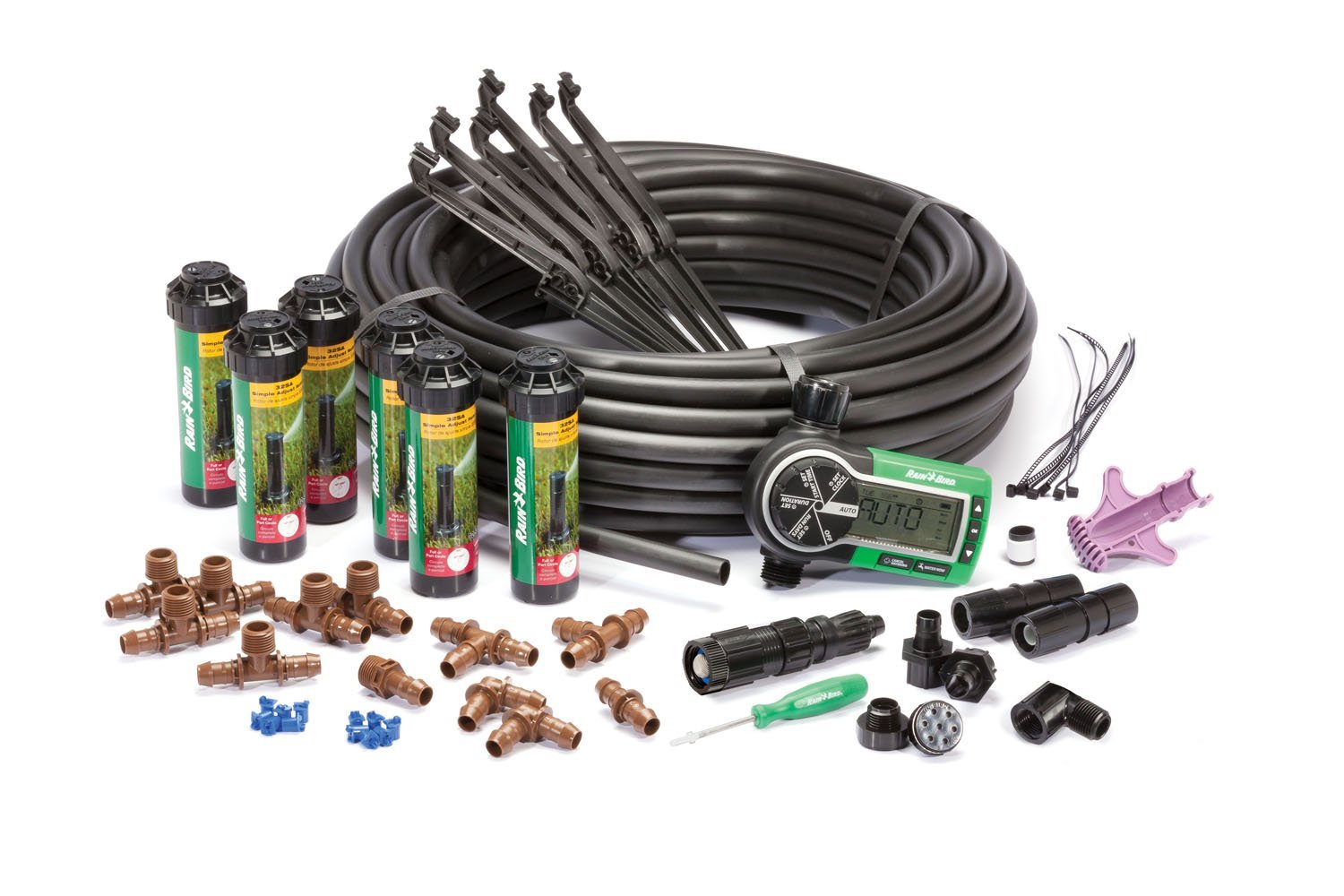 For those who find it overwhelming to maintain daily manual lawn and garden watering routine, the Rain Bird 32ETI is meant for you. As an irrigating device, it can help you take care of your plants or flowers within your home without needing your physical presence or involvement at every point in time. The 32ETI model is artistically designed to keep your area of interest watered all year long in a fascinating way.

To begin with, unlike other automated in-ground systems, it is super convenient and straightforward. The setup is not complicated hence will not take you much time to grasp how the whole unit operates. Once it has been set accordingly, the system will work efficiently to a level any gardener or homeowner will appreciate. You will be thrilled at the level of power and benefits it affords under low flow faucets and how optimal the performance can get. To this end, it is certain that you can forget about tedious day-to-day struggles with the watering can especially during dry months because this offers the much needed one-off solution.

Expand to see more
If you have been disappointed before by other systems on matters of durability, be sure the narrative will be different with the Rain Bird 32ETI. The system is manufactured to guarantee lasting use considering the structure can withstand water and UV damage even under regular and sustained use. Interestingly, being universal it is flexible enough and can work with most standard faucets without limitations.

Rain Bird 32ETI is perfect for gardens and lawns measuring from 1000 to 3000 square feet. To a great extent, the design makes it a multi-purpose model ideal for irrigation, general garden watering or garden house roof cooling. With its average flow and pressure achieved through the durable nozzles that can also retract fully into the ground during mowing, so much can be fulfilled by getting this system. As is typical with most systems from the Rain Bird brand, this also boasts of a superior edge in the form of close-in drop watering that is gentle and even.

Conclusion

Engineered by one of the industry's most reliable brand, the performance of the Rain Bird's 32ETI is not subject to debate. The pricing is just in line with the quality you get. It will satisfy your needs hassle-free. Therefore, you should go for it if you are looking for a one cut solution to garden or watering.

Durable design
Completely automated system thus very efficient
Nice flow pressure
Fits most standard external water faucets
Long lasting and retractable sprinklers
Impressive coverage
Effective close watering
It can be complicated before setup especially for those lacking experience with such equipment
9. Koram 1/4″ Blank Distribution Drip Kit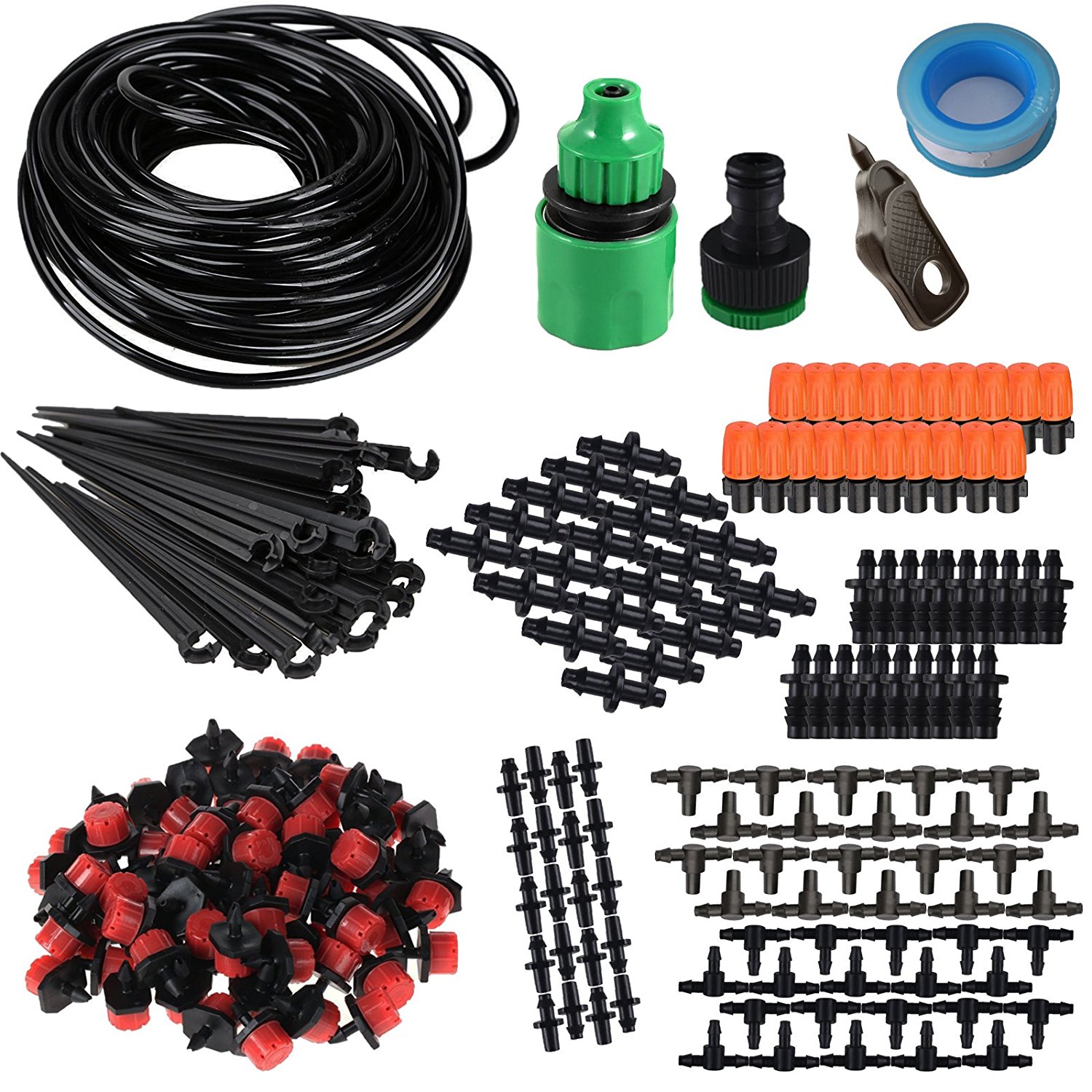 For those interested in a cheap sprinkler system that combines all the standard features that fit garden watering requirements, this Blank Distribution Kit from Koram will be a sure bet. During the summer season when rain is a rare guest, the Kit can come in handy to help you the fight for greener lawns, lively plants, and beautiful nature around your compound. It offers the easiest way to maintain consistent moisture in the yard when you need it. Unlike sprinkling from a hose or watering can which may wash away soil from around the roots especially for new lawns or young plants, this is different because the drips are very gentle and specific.

This drip irrigation technique is ideal for your garden and lawn for numerous reasons beyond being a mere irrigation system. To begin with, it is straightforward, easy to install and keeps running. In sharp contrast to what you may find in other units out there, you don't have to own a complicated electrical pump or watering system to have it operating. With standard water supply and the accessories that come with it, you will be ready to roll. Setting it up does not necessitate an expert. You can do it on your own maybe needing minimal help, and it will be ready to work within a short while.

Expand to see more
Similarly, the system is incredibly water efficient. Unlike the customized plastic bottles some people prefer, because they come at nearly no cost and are relatively functional, this distribution kit will help realize significant water savings considering it is designed for spot watering. The unit comes with a full package of accessories that are super efficient, durable, and maximise performance. To allow you to better manage the process of irrigation, it comes with a universal system that is compatible with most standard timers. It means you don't have to stay put monitoring the system after you switch it on. Instead, you can have it scheduled to your taste or in line with the needs of the lawn or garden in question. Besides, you have the freedom to add on emitter tubes for smooth and prompt results.

Conclusion

If you are looking forward to setting up a new watering system and move away from the modified containers or the famous watering can, then this kit is worth considering. Available at a pocket-friendly price, this system is a real deal if you want to enjoy satisfactory results. Getting it means enjoying a simple system that allows you customize water distribution without straining. No doubt any gardener or homeowner will love this equipment on the basis that it helps save on water bills while still guarantees a positive impact on their environment.

Quite affordable
The unit's plastic components are lasting
Has design that helps conserve water
Easy to install and use
Can work with a timer for convenient management
Great quality
Nicely constructed and comprehensive
Balancing flow being a non-pressured may be a challenge
10. Misting Cooling System Carry360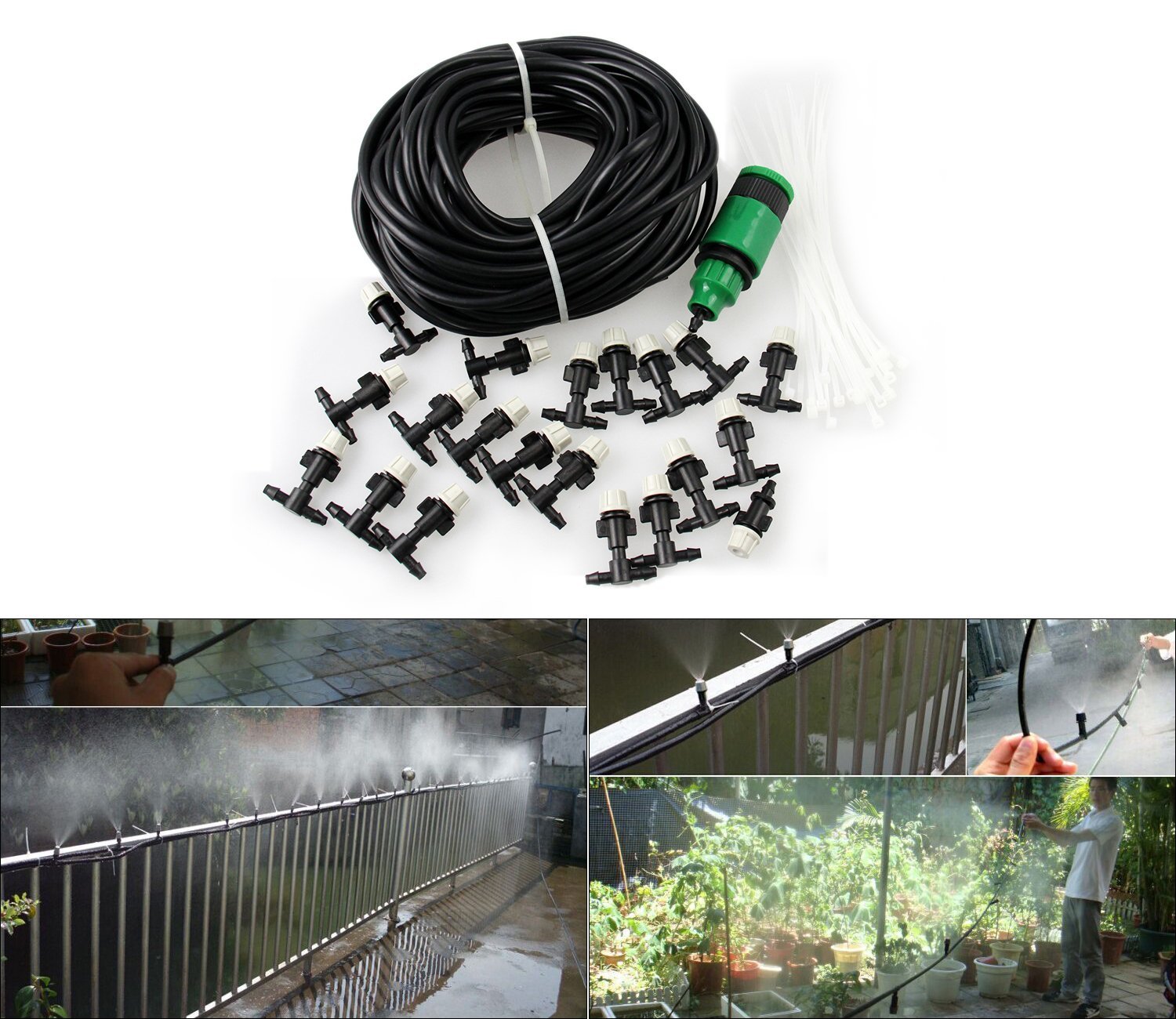 For those who desire a sprinkler with exciting features that releases fine mists and can wet your lawn efficiently, you will be safe by purchasing the Carry360 model. Coming with an exhaustive package of twenty plastic mist nozzles, it is ideal for sizable gardens and lawns. The unit is especially appealing considering it offers the versatility that most gardeners or homeowners are looking for at a reasonable cost.

What is more is that the components are manufactured using heavy-duty plastic implying that you will have them working for extended durations without blocking or disintegrating. In comparison to other equipment of similar grade, the Carry360 guarantees impressive water flow that you will be happy to have for your plants or lawn. Each of its nozzles has the capacity to release water at an approximate rate of two and a half litres per minute. Similarly, it emits at pressure levels of between 220 and 280Kpa. And as a result, you will be able to achieve desired levels of saturation within reasonable periods without spending much energy or wasting the precious commodity.

Expand to see more
The nozzles feature spray dials that give coverage ranging between 1.2 metres and 1.8 metres. Its water distribution pattern is even and smooth thus it will not flood some areas while starving others. The manufacturer for sure wanted this to optimise water landing at the right place and in equal proportions. That aside, the Carry360 further works optimally with either the ½-inch or the 3/4-inch male threaded faucets. It gives you room to make changes as may be appropriate.

Conclusion

For those residing in dry areas or experiencing seasonal dry spells during the year, do not think twice about this product because it will rescue your garden through precise watering. It is quite affordable and will not drain your pockets. You will be more than impressed because getting such quality is rare to come by at a modest price range. Whether you want to use it for outdoor watering, cooling or agricultural purposes, the system will for sure deliver.

Solid and durable having been crafted using heavy duty plastic
Impressive pressure output
Can be utilized for multiple purposes
Work well for large lawns
Cool flow design
Offers adequate coverage
Easy to install
Self-sufficient now that it comes with all the accessories
Can be connected to a timer
Parts can easily pop off if not properly connected
Leaks if you cut the tubes in angles
Criteria for Picking the Best Lawn/Garden Sprinkler Systems
Size of the garden/lawn
Top of the list, the size of the area you intend to water is very crucial while choosing the appropriate sprinkler. It is because while some have limited coverage, others are suitable for both small and large lawns. Therefore, you need to compare the measurement of the area in question and the ability of the device to cover the distances without necessarily requiring constant movement to every corner. Combined with other elements such as orientation and shape, not every unit out there can work for sizeable and irregular spaces which in reality is what a significant number seeks to keep green and healthy.
Design
A functionally good unit is that which is specifically built to spray the plants or grass gently and evenly. The design should enhance efficiency, ease of installation, making it friendly to utilise even by gardening amateurs. Furthermore, it should allow enough flexibility in setting flow regulation in addition to helping minimize waste. It is unreasonable to purchase something that increases frustrations instead of increasing comfort. A poorly designed system will flood some parts while leaving out some patches a scenario you wouldn't want to experience. In short, a perfect garden sprinkler should be self-sufficient, require little user intervention to work and remain spot on to the needs of the yard.
Durability

Apart from excellent features and ability to offer results, it becomes expensive when you get a system that can't last one dry season. You should always settle for a product made of heavy duty materials and boasting of an overall solid construction that will keep you off the stores for years or at least for a reasonable duration. For those who come from areas that experience intense sunshine, for instance, their choice should be a unit constructed with firm materials that are UV resistant. That way you will be safe from regular servicing requirements which may be very annoying and costly in the long run. Ideally, it is advisable never to compromise lasting quality just because it's slightly expensive.
Type of Sprinkler
There are several distinct types of sprinkler systems that are currently thriving in the market. Notably, the oscillating, pulsating, stationary and traveling alternatives lead the way. The nature of the sprinkler determines the waterfall effect which is essential when it comes to the intensity that gets to the ground. Depending on your garden, a fast, stable stream will wash away and interfere with the soil structure for new lawns. On the other hand, for typical a soft spew is less likely to penetrate the ground to desirable standards. Moreover, the efficiency of different spray patterns is also affected depending on wind and configuration of the garden or lawn. As a result, you need to buy the kind that provides the balance that suits your case.
FAQs
Q: How do I know the best type of sprinkler system for my case?
A: Most systems are tailored to meet particular needs, so you need to consider factors such as your water source, soil type, weather conditions, size, and the uniqueness of your landscape among other things to get the perfect blend. Of course, your personal preferences also play a role, but overall you should be guided by the needs of the lawn or garden.
Q: Is it true that a sprinkler system uses more water than a can or plain hosepipe?

A: No. Just like it is with most machines, sprinklers get designed to offer more efficiency, unlike handwork. By installing these units, you will not have to worry about wastage that flows over to the walkway. Instead, you will benefit from the precision of the system which conserves water and in turn help you save on water bills.
Q: When is the most appropriate time to have the system running?
A: Typically, early morning or in the evening when the sun is not too intense is advisable. Otherwise, under other circumstances such as when the lawn is newly-renovated, you can have it running as the situation dictates.
Conclusion
If you are tired of the inefficient hand-held sprinkling tools such as plain hose pipes or the traditional watering can, the above-listed models are lovely alternatives that can do all the hard work on your behalf. They are not only efficient and versatile in keeping your lawn or garden in top condition but are also affordable and durable. You will find massive relief from this list considering they come with professional-grade features that will help you accomplish the job stress-free. Although it is less likely to find the best fit for all, you can at least get something reliable for your case.
Subscribe to our newsletter