Best Pruning Shears Reviewed & Tested
last updated:
Oct 03, 2018
If you're thinking of planting a garden or already have one, pruning shears should be an indispensable part of your collection of essential tools. They'll come in handy every once a while for snipping, cutting, and pruning various overgrown limbs, stems, and branches that are threatening to take over all the space in your garden. They are better than outdoor scissors and knives because they pack adequate heft for precisely and quickly cutting through the toughest twigs and branches with little effort.
Our Top 3 Picks
[srpshortcode id="18471″][/srpshortcode][srpshortcode id="18472″][/srpshortcode][srpshortcode id="18473″][/srpshortcode]
Unfortunately, choosing the most suitable pruning shears in a market bursting at the seams with thousands of models of various sizes and shapes can prove to be an uphill task, especially for greenhorns. To help you make a prudent and informed decision, we've put together brief reviews of ten of the best models the market has to offer.
10 Best Pruning Shears
1. Felco F-2 Classic Manual Shears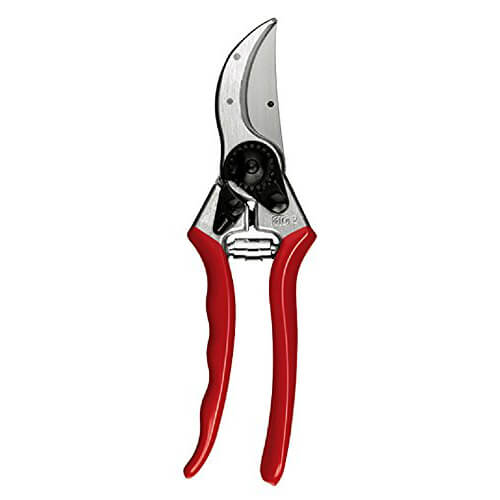 The Felco F-2 Classic shears is hands down the best pruning shears money can afford. It's a heavy-duty machine built to effortlessly and quickly tackle the most challenging projects and ergonomically designed to remove any frustration or hassles from the project. The exceptional cutting prowess pairs seamlessly with the fact that it comes with a generous lifetime warranty.

It, therefore, gives you the peace of mind and confidence to efficiently and quickly shear the toughest objects without the slightest worry.

If you want an option that cuts in a clean, efficient, and precise fashion, your search starts and ends with the Felco F-2.
Expand to see more
The fact that the machine comes with a high-quality riveted blade forged from industrial-grade hardened steel means it can effectively cut through the toughest and most abrasive limbs and branches without the slightest hesitation. Provided the twig or branch is not more than 1-inch in thickness, the pruning shears should be able to make quick and short work it.

The robust and rugged blades feature a wire cutting notch that enables you to confidently cut small wires without damaging the cutting edge. The machine has a hardened bolt and nut to guarantee a precise adjustment of both the cutting and anvil blades, allowing for precise and clean cuts.

For convenience, the shears come with long handles to provide sufficient leverage for effortlessly and quickly cutting the toughest branches, limbs, and twigs. For your comfort, the hands are forged from lightweight aluminium and have a shock absorber and rubber cushion to minimize hand fatigue and strain. And since the handle has a non-slip texture, the likelihood of the pruning shear slipping off your hand are remote, even when you're working in the rain or cutting through wet branches.

For homeowners searching for a high-quality, reliable, convenient, efficient, and ergonomically designed pruning shear for use around the garden, this option comes highly recommended. It has a sharp cutting edge, a snap groove, a wire cutting notch, and several other auxiliary features that make it a top choice.

Exceptional construction quality
Comes with a lifetime warranty
Lightweight and easy to use
A cinch to use
2. The Gardener's Friend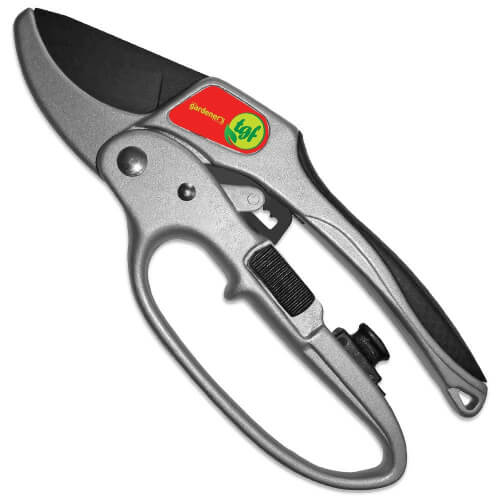 If you're looking for pruning shears for light- to medium-duty pruning of limbs, twigs, and branches around the house, take a look at the Gardener's Friend shears. The ingenious design of the machine together with its lightweight and compact construction makes it ideal for individuals with a weak grip or hand pain. It aims to make gardening a painless experience with such features as the thick rubberized grip and the already mentioned lightweight alloy construction.

Still, it's remarkably long-lasting and will maintain its structural integrity for the next several years even with heavy, everyday use. To these features add an ambidextrous design, a multi-stage ratcheting system, and affordability and it's easy to see why it's an all-time favorite of senior members of the society.

Expand to see more
The shears are crafted from commercial-grade titanium, a material renowned for raw ruggedness, durability, and great strength. The use of the material means the blades will maintain their sharp cutting edge for several years on end can take abuse in all manner of environments. As a result, they offer the user pro-grade cutting in an efficient, clean, and precision matter. The pruning shears also employ an innovative and effective multi-stage ratcheting system that in turn uses leverage to significantly reduce the effort it takes to cut down a limb, twig, or branch.

The mechanism transforms little effort on the handles to incredibly cutting power on the blades, enabling the user to quickly cut objects such as flower blossoms up to 1-inch in thickness.

Irrespective of your age group, you'll love the simplicity, safety, and hassle-free manner that the pruning shears work. The ergonomic design of the handles, for instance, makes cutting comfortable, easy and quick. There is minimal chance of slippage and the pruning shears are lightweight and compact, easily taking up a fraction of the space in your pockets.

The Gardener's Friend shears comes highly recommended for the homeowners with eyes trained on a cost-effective yet high-performance and easy-to-use pruning shears. They're sharp, durable, but a little pricey.

Easy-to-use ratchet action
Ambidextrous design
Pocket-friendly price tag
Heavy-duty, long-lasting titanium construction
Very sharp blades
Ergonomically designed handle
3. Power Drive Ratchet Anvil Shears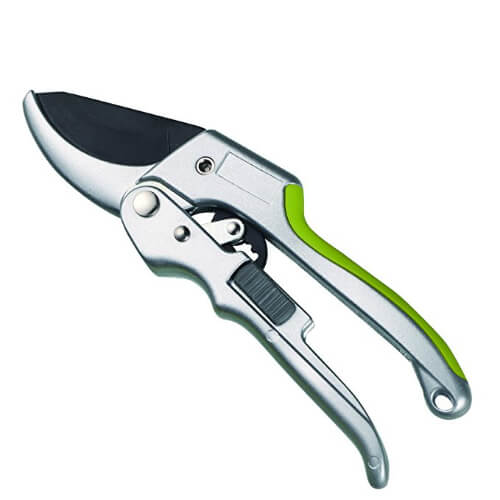 Like our previous pick, the Power Drive Ratchet Anvil shears features a useful time- and effort-saving ratchet mechanism by works by amplifying little effort on the handles to tremendous shearing power at the blades. The unit also boasts heavy-duty construction using high-quality materials, a fact that qualifies it for heavy-duty cutting projects around the house. While it's a relatively expensive model, it nonetheless packs a slew of instrumental features, and is, as a result, a solid choice for the value-conscious user.

As mentioned earlier, they are a high-quality model made from first-rate materials that can gracefully and easily stand up to hardy use in all manner of environments. The blades, for instance, are forged from industrial-grade hardened carbon steel and are further heat-treated so they can retain their sharp cutting edge for several years on end. Because they are ultra-strong, it'll be several years before they require re-sharpening, irrespective of the thickness of the branches, limbs, or twigs you cut with them. To the heavy-duty construction add a useful coating of non-stick Teflon that prevents sap and other sticky materials from sticking on the blades as you do your cutting.

Expand to see more
With the shears safely and securely within the palm of your hands, the days of gnashing your teeth while trying to squeeze the handles together with both hands to cut a branch are long gone. By employing the effort-reducing and time-saving multi-stage ratchet system, cutting the thickest branches should be a breeze as it amplifies the cutting power by up to 5 times. The pruning shears is therefore also a perfect choice for people with arthritis since it minimizes hand fatigue and strain.

The ratcheting action makes them a cinch to use. In addition to minimizing pressure you apply to cut a branch, it also minimizes wrist pain and hands strain and exhaustion. The implication is that the days of developing blisters all over your hands after a few hours in the garden are effectively behind you.

For homeowners looking for the perfect pruning shears for light- to heavy-duty cutting projects, we can't recommend this option enough. It's rugged, lightweight and compact, has a time- and effort-saving ratchet mechanism and Teflon coated blades for smooth performance.

Ergonomic, easy-to-use handle
Inexpensive
Non-stick finish
Generous lifetime warranty
Not perfect for large hands
No anti-slip loop
4. ARS HP-VS8Z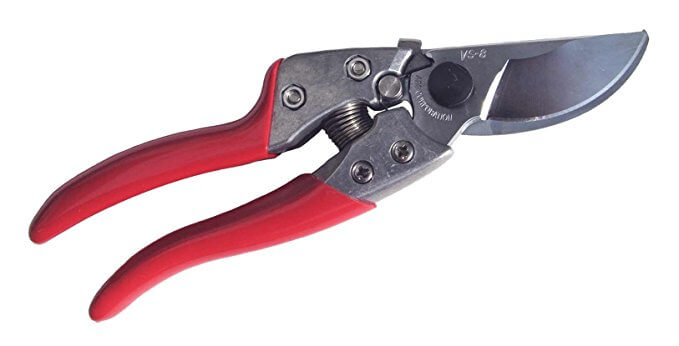 Few options epitomize performance, ease of use, and convenience like the ARS HP-VS8Z does. It's a high-end product jam-packed to the brim with several features, making it the benchmark against which industry performance is measured. This is a heavy-duty selection that should come in handy when your garden is overflowing with several twigs, branches, shrubbery or limbs that need immediate attention. Like the other choices, the blades can take some serious beating or face extreme hardy use before giving up, meaning that you'll be using them for several years before dullness even becomes an issue. And when the time comes, you can easily and quickly replace the blades with newer, sharper ones before hunkering down to work again.

There only a few options you can dependably count on to provide you with several years of smooth and trouble-free service. One of those is the ARS HP-VS8Z. It's a pro-grade choice made from high-quality materials, and it pulls no punches to ensure you have nothing but the best experience while cutting down branches of various sizes and shapes in your garden.

Expand to see more
The blades are a far cry from those you find on cheap, off-brand models masquerading as pruning shears on the market. They feature superior, durable sharpness from ARS, which is another way of saying they cut down the thickest and toughest branches as a hot knife would effortlessly go through a piece of cake. The fact that the machine comes with ergonomic handles and offset blades substantially helps with the endeavour by minimizing the possibility of hand strain or fatigue.

However expansive your garden or yard is, you won't have to worry about them rusting or sap accumulating on the blades considering that it comes with a heavy-duty chrome plating for maximum protection. Coupled with the offset features that help maintain the blade's natural hand strength while reducing carpal tunnel effects, you can confidently use the pruning sharpening for hours on end, or to your heart's content. And it's remarkably portable with a weight of just 8 ounces and dimensions of 8 inches by 2 inches by 1 inch.

You don't have to scour through the vastness of the Internet in search of a top-notch, sharp, and easy-to-use pruning shears because it's staring you right in the face. The model has blades that are ultra-strong, rust-resist and, in general, very cost-effective.

Long-lasting sharpness and durability
Has a locking mechanism
Works quietly and efficiently
Replaceable blades
Difficulty using the lock
5. Felco F-6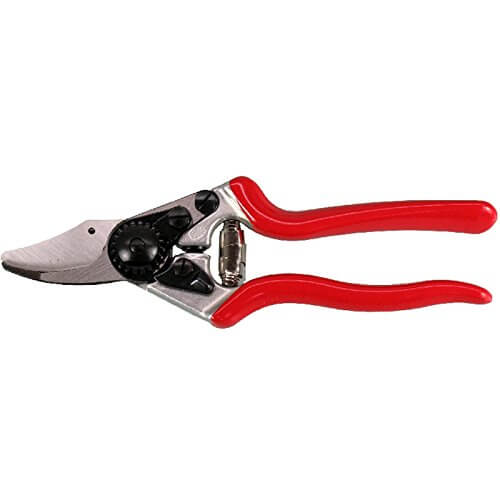 If we were to describe the Felco F-6 in one word, without blinking an eye we'd definitely go with excellent. The shears reek of modern sophistication and high-end construction quality, which is confirmed by the fact that each and every nook and cranny of its frame are forged from first-rate materials to guarantee incredible performance without breaking the bank. The machine perfectly and seamlessly blends more than a lifetime of durability with effortless and powerful performance to make it the go-to pruning shears for the vast majority of homeowners. To find out more, keep on reading.

The first feature to clue you in on the heavy-duty construction is the fact that it's crafted from industry-best materials, hardened steel to be specific. Hardened steel, as the name suggests, is ultra-strong and rugged, properties that it efficiently extends to the pruning shears. Boasting a cutting capacity of 0.8 inches, the product is a perfect choice for pruning a wide range of flowers, plants, and shrubbery in the garden, including but not limited to grape vines, shrubs, and small trees.

Expand to see more
Like our previous pick, the Felco F-6 is both lightweight and compact. Weighing a paltry 4.2 ounces and with dimensions of 11 inches by 1.5 inches by 3.8 inches, it fits firmly and securely into most small hands, leaving very little to no room at all for accidental slippage. The handle is similarly ergonomically designed and therefore comfortable and easy to use for several hours on end.

Because of its compact stature, it's perfect for accessing hard-to-reach spots around the garden. Despite its small and compact profile, the pruning shears are sturdy and powerful, built to provide the user with effortless and stress-free use. There's also a useful sap grove for preventing unnecessary sap accumulation the longer you work.

Patently, the Felco F-6 boasts volcanic performance in spite of its diminutive profile. Plus, it offers the user the best bang for their buck. You'll never look back.

Boasts exceptional cutting prowess
Effortless and quick cutting of thick stems and branches
Lifetime warranty
Ideal for heavy-duty trimming
6. PrecisionPRO Titanium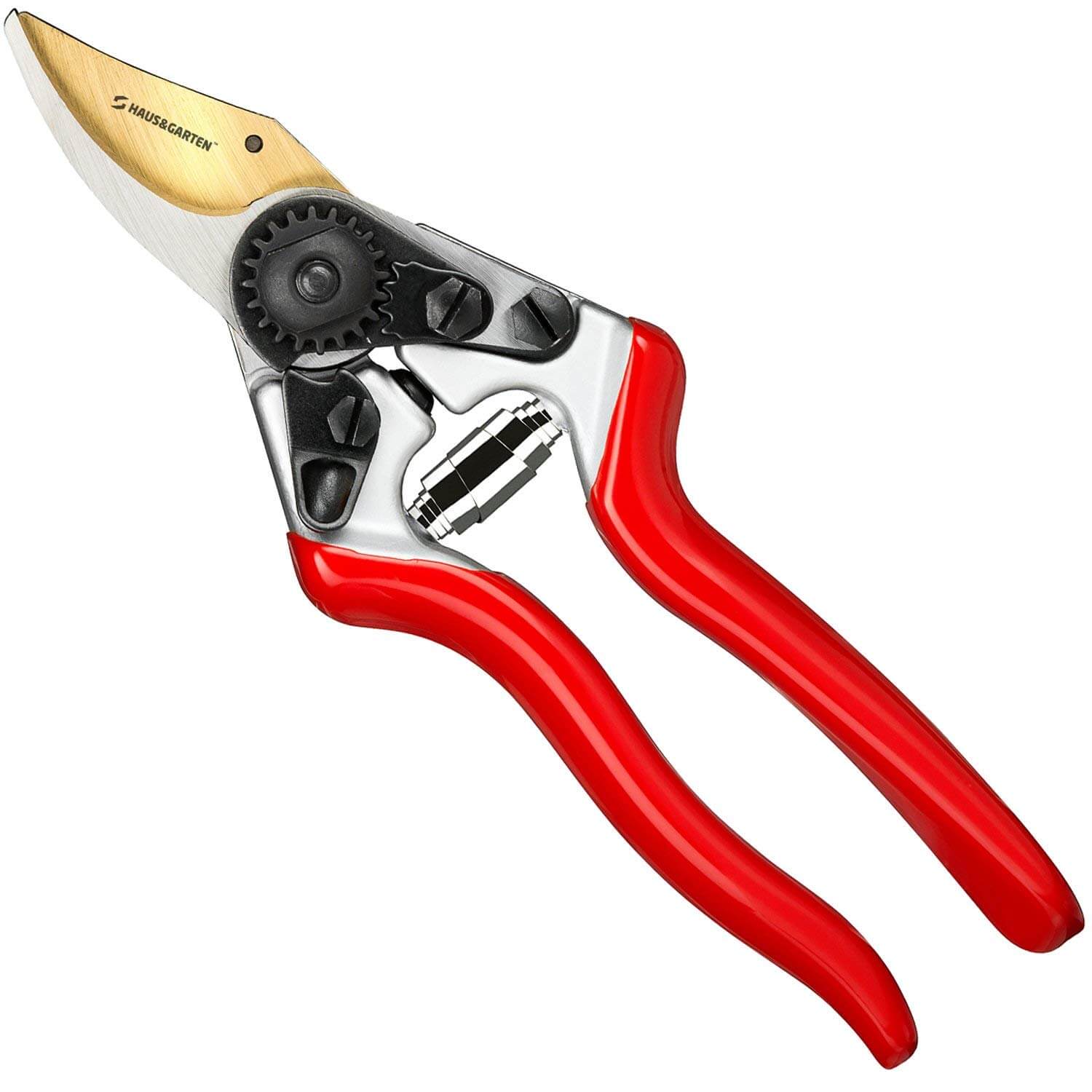 The PrecisionPRO shears is a versatile, cost-effective, and well-rounded pro-grade pruning shears that seamlessly bring together some of the best features the industry has to offer. The machine easily exceeds performance and longevity expectations and features a deceptively simplistic, humdrum appearance that completely belies its exceptional performance. Among other things, they come with titanium-coated blades for protection against rust and corrosion, heavy-duty steel blades with a cutting capacity of 0.8 inches, a useful and convenient micrometric adjustment system, a sap groove, and lastly a lightweight and compact design for convenience. Continue reading for a more comprehensive review.

Despite coming 6th on our list of ten of the best options, the pruning shears boasts a level of performance that easily overshadows that of its closest rivals.

Expand to see more
The fact that the blade is made from heavy-duty steel and finished with an equally high-quality titanium coating enables it to last more than a lifetime while maintaining its sharp cutting edge. The coating also makes cutting easy and quick in addition to protecting the blade against rust and corrosion for the long haul.

The ingenious inclined blades make quick and short work of the thickest and toughest branches, twigs, and limbs in your garden. And in light of its lightweight and compact design, it's a lot easier to control and maneuvre, even in tight and hard-to-reach spots. Adjusting the alignment and play of the blade is a cinch with the incorporation of a useful micrometric adjustment system. The result is a product that cuts optimally and precisely and with minimal effort.

To the above features add an ergonomically designed handle that is anti-slip and has shock absorbing pads to minimize the likelihood of straining or injuring your wrist while working. The handle is also lightweight, thanks to its all-drop-forged aluminium construction. And to cap it all off, they have a sap groove that conveniently prevents the accumulation of sap on the blade and a wire-cutting notch.

In all, the PrecisionPRO are packed to the brim with all the essential features a homeowner needs to prune various plants and flowers in the garden. Also, they're pocket-friendly, easy to use, sharp, and long-lasting.

Pro-grade performance
Rust- and tarnish-resist titanium-coated blades
A cinch to use
Cuts clean and precisely
7. Corona ClassicCUT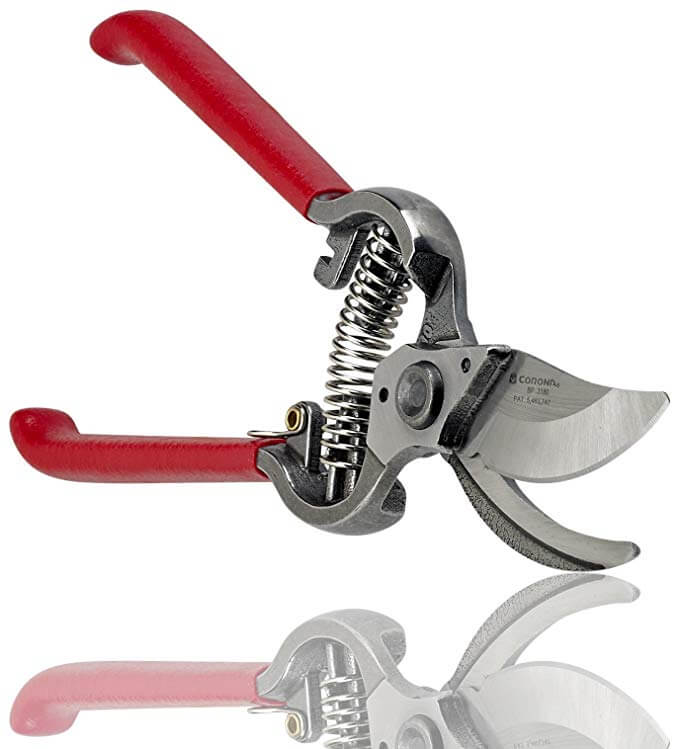 The Corona ClassicCUT is hands down one of the cheapest pruning shears on the market but don't let the laughable price tag deceive you considering there is no correlation between it and the product. The pruning shears are a high-end, solid choice capable of cutting through branches up to 1-inch in thickness without so much as a grunt or groan. Because of its heavy-duty construction, the blades' ability to maintain perfect alignment for long, and the innovative design, pruning various branches, flowers, twigs, and limbs has never been easier and quicker.

Despite the nondescript appearance, it comes with exceptional blades made from forged steel alloy and fully heat-treated to make cutting various objects and materials around the garden a quick and effortless endeavour. The top-rate performance means they are an ideal choice for not only homeowners but also professional gardeners out there. It gives you the confidence and self-assurance to tackle the toughest and most challenging pruning tasks. And in light of its lightweight and compact design, maneuvring it into tight and hard-to-reach spots will be a breeze. It'll also spare your hands the exhaustion and strain cheap, off-brand models put users through.

Expand to see more
And to simplify your work further, it has convenient sap groove that prevents the accumulation of sap and other sticky materials on the blade. The result is quick, effortless, and smooth cutting for several hours with minimal interruptions. Forged steel alloy used for construction is a hard and strong material that coupled with heat treatment allows the blade to retain its sharp cutting edge for several seasons, thereby reducing the frequency of re-sharpening.

They are also one of a handful on the market that will enable you to make clean, accurate, and close cuts. Because of the hand matching of the blade and hook, and the fact that the hook is slant-ground with a narrow profile, you won't require as much effort or expertise to make the most precise cuts. And you get a wire cutting notch for snapping small wires around the garden.

Overall, the Corona ClassicCUT has all the features you need in pruning shears. It's without a doubt a solid choice for the value-conscious in search of superb performance at a budget-friendly price.

Budget-friendly
Exceptionally durable construction
Perfect alignment of blades
Superb sharpness
8. Fiskars All Steel Shears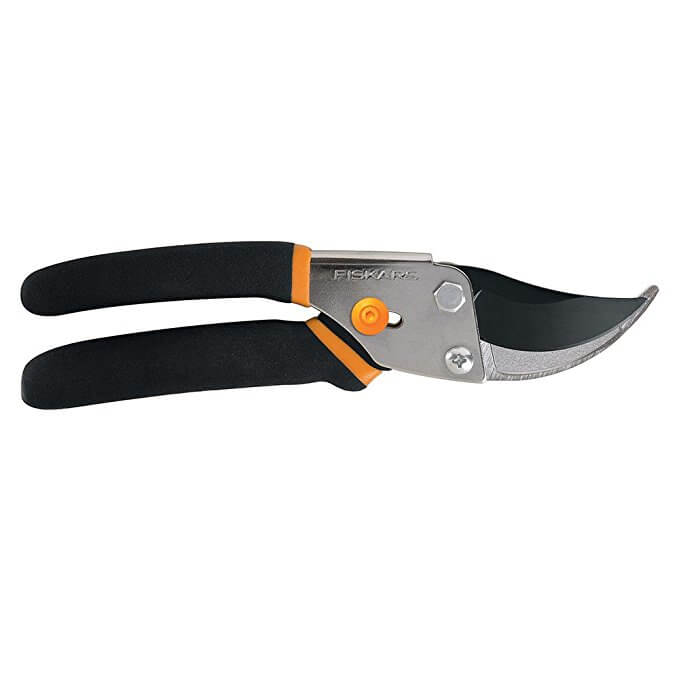 For users who need hassle-free, smooth performance, allow us to introduce you to the wonder that's Fiskars All Steel shears. Like its brother – or sister – we reviewed earlier, the pruning shears pull all the stops and packs all the essential features to make pruning a joyful, easy, and quick endeavour. They sports a ratcheting mechanism by substantially amplifies little effort on the handles to tremendous cutting power on the blades. Throw in the ergonomic design of the handles and you have yourself multi-functional pruning shears that deliver nothing short of the best performance.

Cutting stems and light branches have never been quicker and easier as it is with this option in safely and securely in the palm of your hands. The top-notch construction of the blade from first-rate fully hardened, precision-ground steel means it can withstand heavy-duty, everyday use for several years on end. It's also capable of retaining its sharp cutting edge for the long haul, irrespective of the number of stems and light branches you cut with it.

Expand to see more
Other features that help it maintain its sharp cutting edge are the low-friction coating of the blade and the incorporation of a useful sap groove. The latter feature provides for effortless gliding through the toughest woods and ensures maximum protection against rust and corrosion. The sap groove, on the other hand, ensures the blades do not gum up with sap and other debris as it comes into contact
with leaves
, stems, branches, and even twigs. You, therefore, won't have to stop every once a while to clean the blades before resuming with your cutting tasks.
Another instrumental feature is the easy-open lock for protecting the blade during transportation and while in storage. Also, with a maximum capacity of 5/8 inch diameter, they feature comfortable and easy-to-use non-slip grips. The likelihood of suffering hand exhaustion or strain is therefore kept at a bare minimum. And, you get a generous lifetime warranty to cover you against deficiencies in material and craftsmanship.
Clearly, this option is the whole package. It gives you the power and confidence to quickly and easily restore the beauty of your garden.
Works effortlessly and efficiently
High-quality construction
Easy and comfortable to use
Lightweight and compact design
9. TABOR TOOLS S821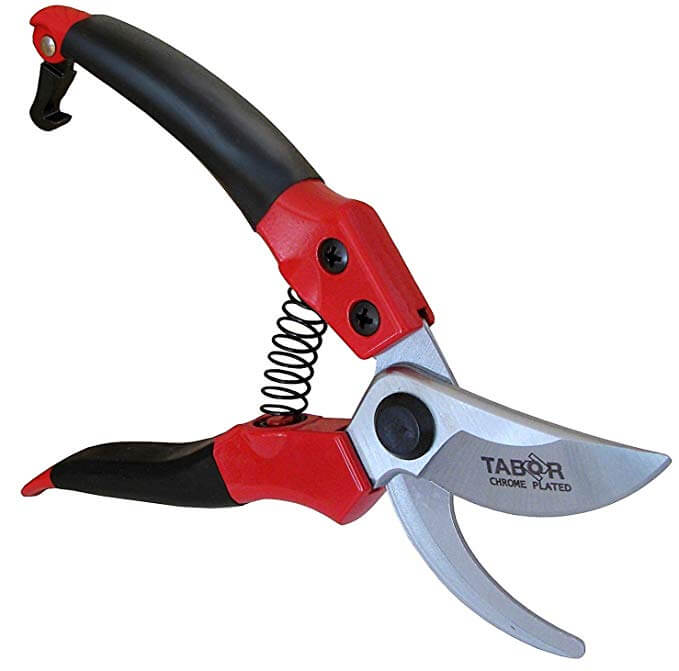 This list would not be complete without mentioning the TABOR TOOLS S821 shears. It's a workhorse that goes to great lengths to enable you to maintain a picturesque garden. The machine separates itself from other models on the market by bringing together functionality, quality, and design. The result is a lightweight, compact, and highly functional option. Other outstanding features include a contemporary and attractive design,
sharp blades
, shock-absorbing spring, and comfortable grip handles. Now, get ready for a comprehensive but brief review of the machine.
The pruning shears will strike you with its beauty, durability, and ergonomic design the second you lay your eyes on it. It's a versatile choice that works efficiently and quickly on a wide range of garden plants including but not limited to shrubs, grapes, plants,
and flowers
. Because of its lightweight and compact profile, the model is perfect for small to medium sized hands and greatly minimizes hand fatigue.
Expand to see more
As for construction quality, the blades are crafted from high-quality carbon stainless steel and have a chrome plating. Assuming normal, everyday use in the garden, it'll be several years before you have to re-sharpen or even replace the blades.

The long-lasting sharpness means you'll need minimal effort to make quick, clean, and precise cuts up to 3/4-inches in thickness. To further take the frustration and effort from pruning, the TABOR TOOLS S821 features a durable spring that dampens most shocks and vibrations thereby making for a smooth and easy cutting experience.

To the above features add the comfortable grip handles mentioned earlier. The soft grip on the handles enhances comfort that in turn allows you to achieve optimal performance. And the machine incorporates a useful open/close clip that enables you to store or transport the pruning shears safely and easily. You also get to enjoy a long lifetime warranty with every purchase.

Remarkably efficient and high-quality
Sleek, attractive design
Durable construction for powerful performance
Rust-resistant
10. ACE - Rotating Bypass Titanium Coated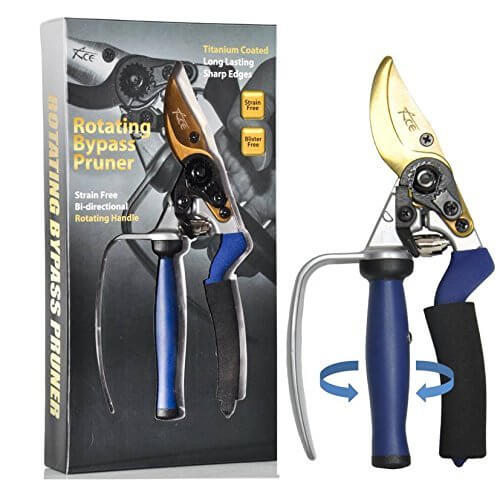 If you're a fan of powerful, quick, and precise performance, then the ACE option should be up your alley. The speed and efficiency with which the pruning shears cut down stems and limbs of different materials leave of models green with envy. It's a cinch to use and comes with a sharp, heavy-duty blade that coupled with the rotating handles enable you to finish the toughest pruning jobs in a fraction of the time and minimal energy as it would other cheap, humdrum options on the market. For solid quality at a cost-effective price, don't hesitate to take another look at this mode.

If the fact that the shears come with a heavy-duty SK5 blade does not sway your purchasing decision, maybe the fact that they also feature long-lasting titanium coating will do the trick. The coating means the blade will be able to retain its sharp cutting edge for several years and ensure rust- and corrosion-resistance. The result is pruning shears boasting three times the efficiency and durability of standard blades. The included sap groove on the other hand guarantees that no sap or other.
Expand to see more
The user-friendly design of the handles enhances ease of use and comfort. They feature substantially thick cushion grip that entirely eliminates the likelihood of hand strain or exhaustion even with several hours of heavy, everyday use. And because the handle is multi-rotational, it's ambidextrous and provides for comfortable use by both left- and right-handed people.

And using the locking mechanism, adjusting the width of the shears to accommodate your hands should be a breeze. The finger guard, on the other hand, protects your hands and fingers from the sharp pricks of thorny twigs and branches.

The bottom line is that the shears are a pro-grade choice that should be excellent for light- to heavy-duty pruning projects around the house. The quality is exceptional and the price is manageable.

Exceptional quality
Perfect for most pruning tasks
Cost-effective and lightweight
Rotating handles makes for easy use
Handles not ideal for small hands
Criteria for Choosing the Best Pruning Shears
Construction Quality
To ensure superb edge retention and guarantee a lifetime of use, manufacturers resort to using various high-quality, high-end materials to make pruning shears. The most commonly used are hardened steel, hardened carbon steel, stainless steel, titanium, and forged steel alloy, among several others. These materials come with their fair share of pros and cons but they are capable of retaining their cutting edge for much longer and withstand adverse pruning situations compared to cheaper and weaker materials.
Also, check that the handle is made from equally high-quality material so they don't break easily. To prevent rust and corrosion, go for a model that is coated with a rust- or corrosion-resistant material.
Ease of Use
It's prudent that the pruning shears you go for are easy to use. Check to ascertain that they are of the right size for your hands. The design should allow for one-handed operation, which makes cutting down large stems and limbs easy if you have to open it extra wide. Secondly, the pruning shears should be lightweight enough so as to not cause hand fatigue or strain with prolonged use. Keep in mind though that if your model is too lightweight, it may not be ideal for heavy-duty pruning. Third, the model needs to have a locking mechanism so it's easy and safe to store and transport it from one place to another.
Lastly, and this is especially true for individuals with weak wrists or arthritis, ensure your model has a heavy-duty spring to help you push the handles together and relax the grip after you've made the cut. It substantially reduces the workload and minimizes the likelihood of hand fatigue and strain.
Ease of Accessing Replacement Parts
Some options allow the user to replace some crucial parts as they age, such as the blades. Note, however, that not all models allow for replacement of such parts. It's highly recommended though to go for such a model as it guarantees optimal performance season to season without having to replace the entire model in case something goes wrong. Before going for such a design, check to see if the brand offers such parts within your locality or if they are readily available on online platforms.
Frequently Asked Questions
Q: Can I sharpen the blades of my pruning shears when they go dull?
A: For most options, you have total discretion to sharpen them in case they lose their cutting edge, especially in the case of those with irreplaceable blades. If you're up to the task, it's recommended you use a hand file or a knife sharpener and if you're not, it's prudent to call for professional assistance.
Q: Do they have any safety features?
A: Some options come with a locking mechanism for keeping the blades shut in between uses, thereby eliminating accidental cuts. The feature also makes them easy to store and transport from place to place.
Conclusion
Pruning shears take the time and effort away from cutting, snipping, or pruning the plants in your garden when they start overgrowing. The market offers hundreds if not thousands of them in various sizes and shapes, which may make it difficult to choose one that best suits you. We hope this article has armed you with the most pertinent and useful knowledge to help you make the right decision.
Subscribe to our newsletter