10 Best Surge Protectors Reviewed & Rated
last updated:
Jan 23, 2019
Power spikes and surges happen every once in a while. If you are unprepared for them the damage they cause could force you to purchase a new set of electronics. Given that most of these cost a large amount of money you probably don't want that to happen. The best thing you could do to prevent this is to have a surge protector. There are several options available by different manufacturers. If you are looking for one, here are some factors that you should consider before logging onto Amazon to buy one.
Our Top 3 Picks
[srpshortcode id="20323″][/srpshortcode][srpshortcode id="20324″][/srpshortcode][srpshortcode id="20325″][/srpshortcode]
The joule rating – Also referred to as the energy absorption rating. This will give a definite figure on the amount of energy the protector will take up before failing. The recommended rating is 700 joules although there is no rule against going significantly higher.
The clamping voltage – This is also another energy rating that you have to contend with. It is however different from the joule rating mentioned above. This indicates a level above which the surge protector starts absorbing energy and cuts the transmission to your electronic gadgets. Four hundred volts is the ideal rating here and if you can get a protector with a lower rating than that then all the better.
Response time – Once a power surge hits, the surge protector needs to react almost immediately and cut off energy transference. If it doesn't do this quick enough, it may be too little too late, and your gadgets will probably end up fried. The shorter the response time, the better a protector is and the more suited it is for your needs.
Indicators – Some protectors will have a light indicator to show when power levels are normal and when they are not. This way you won't be left confused when your TV and lamps suddenly go off. Some even go as far as producing an audible alarm that alerts you of the situation.
Back up – If you are going to be using a surge protector on a desktop computer it might be wise to pick one out that also serves as a backup battery. This is true if you use your computer to work. If you don't, you might find yourself having to restart a project from scratch.
Warranty – Warranties for surge protectors are a little different. You will notice that most of them fall in the inexpensive category. However, the household gear and gadgets they protect may be worth so much more. Since they claim to be able to preserve this gear, some of them have covers that pay back the user the value of what he lost. This could even go up to hundreds of thousands of dollars. Check to see the amount of the cover before going to the store.
You can now compare the various options available. Here are ten of the top surge protectors you can find in the market.
10 Best Surge Protectors
1. APC 11-Outlet Surge Protector 3020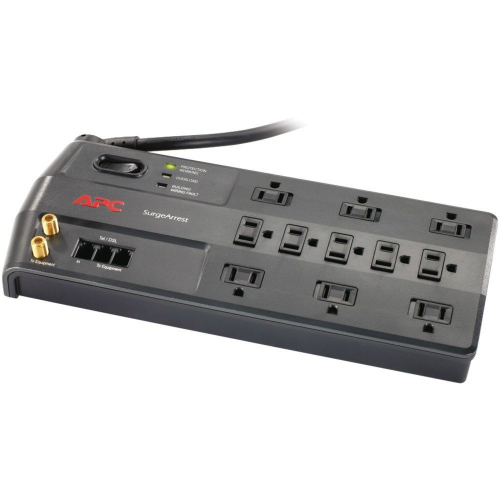 First comes the 11-outlet protector by APC with a coaxial style
cable
. Once you connect it to a
wall
socket, it displays a light showing whether the power coming through is just the right amount or an overload. The 11 outlets are divided into two sections. The first is the six block spaced outlets. These allow even the largest of adapters to be plugged in without compromising the space for other adapters. The other four are more closely spaced, and with any luck, you will find some adapters small enough to fit in here.
Phone and cable lines are also capable of carrying a surge and damaging telephones and other equipment. The APC has a few additional ports that cater to this. The most important features to note with this edition are as follows:
3020-joule rating
– This is not the highest rating out there, but it is by no means modest. This will be more than enough to stand most power surges you are likely to encounter in your home.
$100,000 warranty on attached equipment
– Nothing says confidence like the warranty that the APC manufacturer provides. If you have equipment connected to this surge protector during a power spike you are insured. The manufacturer will pay you back a value of $100,000 of the equipment damaged during a surge. In most scenarios, you will probably never need it. It does, however, calm your nerves knowing that there is a policy like that protecting you.
The eight-foot cord will likely be enough once you consider the size of most of the rooms in your household.
Expand to see more
Product Features

Telephone, co-axial and network protection
Eight-foot cord with a right angle plug
Lifetime warranty
$100,000 equipment protection
Eleven outlets with six block-spaced
3020-joule rating

Who is it for?

Most surge protectors will come at a price of less than $50. This version comes in at less than half of that price, so it is affordable. However, if you compare the price with that of other models in its class, you realize the pricing is in the moderate to high rating.

You will be able to fit in large adapters with ease
The joule rating is pretty high
The cord is enough for most rooms in your household
If you use the protector for your network connection, you will only use 10% of the potential data transfer rate
2. Belkin Pivot-Plug Power Strip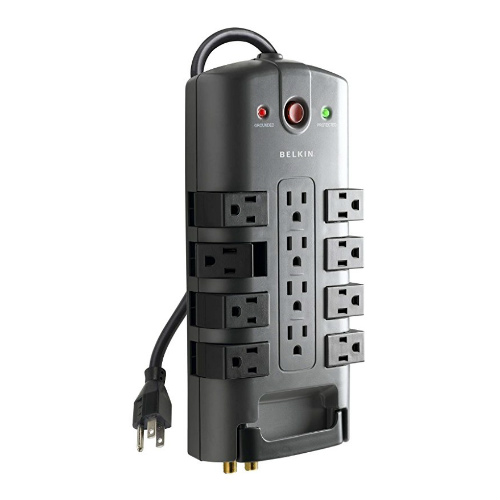 The manufacturer claims to have made sales past the $100 million for their products. It seems they are doing something right with the products they put forth. One of those top products is the Belkin BP112230. The joule rating is significantly higher than that of the APC in our first position. You get 1-in, 2-out telephone protection ports. You also get fax protection, but most people will rarely use it for that purpose. Like the APC, this model features the 8-foot heavy duty power chord.

However, this one doesn't have a right angle plug. Top features of the Belkin are as follows:

$300,000 connected equipment warranty – Most people are unlikely to have electronics worth that much in their households, and if they did, it would be unlikely that they would fit on one power strip. Nonetheless, if you buy a couple of these Belkins, you can be sure that all the equipment in your house has a protection policy against it.

Electromagnetic noise blockage – You have probably experienced static when making phone calls from your home. This is due to electromagnetic interference. Nonetheless, if you plug in your phone to this device, this will be an issue of the past.

Eight of the twelve outlets can rotate from one position to the next potentially increasing space for adapters.

Expand to see more
Product Features

Telephone and coaxial protection
$300,000 worth of connected equipment warranty coverage
Eight rotating and four stationary outlets
4320-joule rating
8-foot cord
Belkin lifetime warranty
Light indicators to show when you are protected

Who is it for?

If you are searching for top quality gear, this here is one of the best picks. In matters pricing, you will have to pay almost double the price of the APC above. However, this will likely not matter to most people as it still falls under the $50 mark.

The joule rating is pretty high and covers most power surges
Reduces noise in phone lines
A high number of outlets is enough to cover most uses
While the eight rotating outlets are a nice feature, it doesn't guarantee that you can fit in all your adapters
3. APC 11-Outlet Strip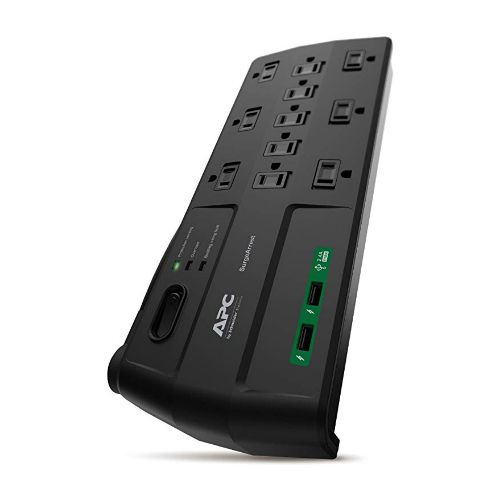 The third-place features another model by the APC manufacturer. As you will notice, this model has the same number of traditional outlet ports that the P11VT3 has.

Nonetheless, there is a significant number of differences. One such difference is in the cord. For starters, you get a six-foot cord with this model while the P11VT3 spots one that is eight feet in length. The cable also rotates at the point of contact with the power strip adding flexibility to how you can position it.

If you are worried that it won't fit on your wall socket, then the 90-degree angling of the plug should put those worries to rest. Some of the best features this gadget has could be summarized as follows.

Two USB ports – The number of portable electronic gadgets in our homes grows day by day. With you and your kid's smartphones needing charging the outlets might not be enough. Add in tablets, and you have a crisis on your hands. You can do away with the adapters and choose to plug in directly to the power strip's USB ports. Outlet congestion will, as a result, be a thing of the past.

Lifetime warranty and $250,000 equipment coverage – With this purchase, the surge protector is covered for the buyer's lifetime. Also added is coverage for the user's connected equipment. Think of it as insurance coverage for your electronics which you don't have to pay monthly premiums for. The catch is that any damage that is to be paid for must be caused by a power surge or a spike.

You can use it for computers, TVs, sound system or any other electronic equipment you have in your home or the office. The joule surge protection rating comes in at 2880 joules.

Expand to see more
Product Features

2880 joules surge energy rating
Lifetime warranty
$250,000 connected equipment coverage
Two USB ports
Eleven traditional outlets
Six-foot cord
Lights to indicate 1) protection working, 2) overload, and 3) a building wiring fault

Who is it for?

This gadget is moderate to high priced in comparison with some of its competitors. If you have multiple smartphones and tablets in your home, this might be one of the better options out there.

Excellent design
You get six widely spaced outlets for large adapters
Additional USB ports
Quick surge response time of less than one nanosecond
Most APC gadgets don't state their clamping voltage on the description
4. Belkin 8-Outlet Strip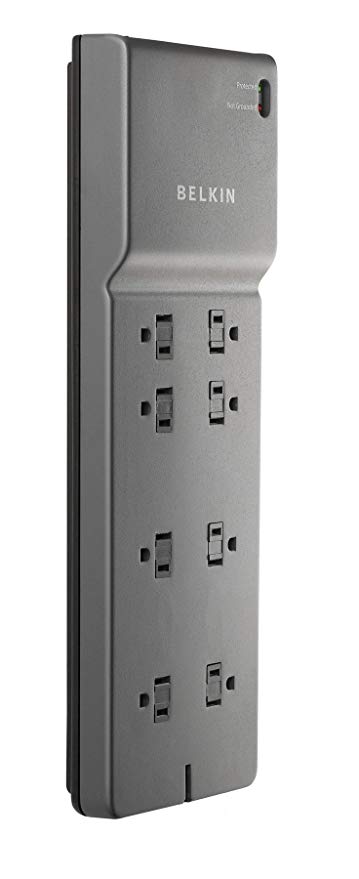 Belkin also has another model featuring on our list with only eight outlets. The commercial strip protector is geared towards office usage, but there is no rule against using it for home appliances. Like other Belkin products, the 8-outlet commercial has a lifetime warranty for the protector. Also, you get the value of $100,000 of equipment covered for all gadgets that you attach to this surge protector. Some other crucial selling points for this tool are as follows:

Clamping voltage of 330V – As we had mentioned earlier, the standard for clamping is 400V. We also suggested that the lower the value, the better. At 330V you are unlikely to find many other tools that perform better than this one.

2500 joule rating – This is the lowest value so far. Nevertheless, for regular power surges, this is more than enough.

The maximum spike voltage that this gadget can handle is 6000V. If you hear static regularly when you are using your phone, this tool could probably help reduce on that. It filters RFI noise up to 58 dB reduction.

Expand to see more
Product Features

Eight outlets
2500 joule rating
330V clamping voltage
Eight-foot heavy duty cord
Lifetime product warranty and $100,000 attached equipment warranty

Who is it for?

For lovers of the Belkin brand here is another robust tool that you can use in the office or at home. So long as you don't overload the protector, then your equipment will be safe for a long time to come. If you are worried about the price, you shouldn't be.

The noise filter is excellent for areas with a lot of electromagnetic interference
A high number of power outlets
High joule rating
Suitable for both home and office spaces
The 45-degree tilt on the plug may not be all that appealing to some
5. Tripp Lite 10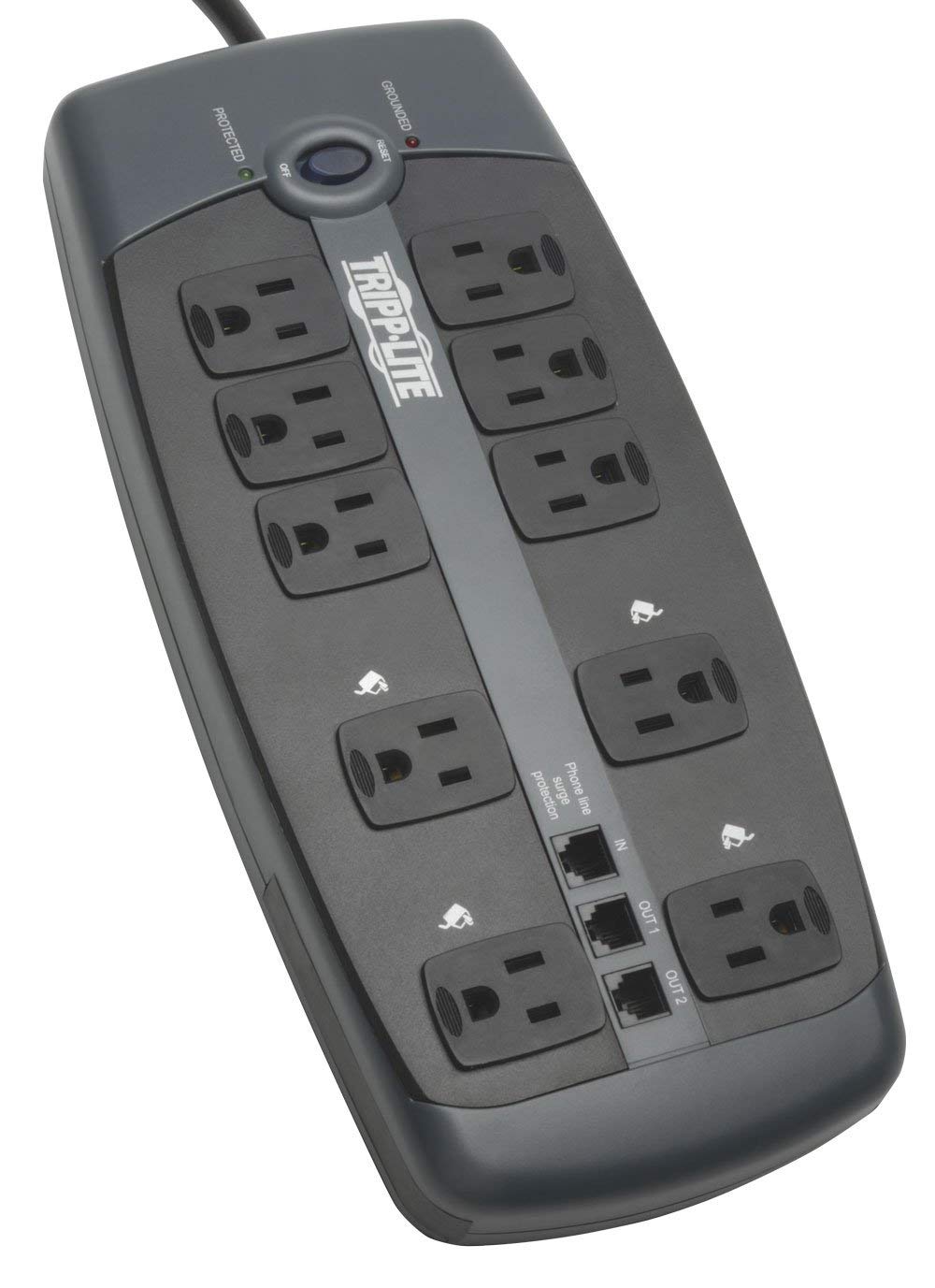 Another excellent tool for protecting
your electronics
is the TLP1008TEL. This gadget has a UL safety standards certification. Since Underwriters Laboratories (UL) is the primary standard for surge protectors, this must mean that the TLP1008TEL meets all the prerequisite requirements for quality. In addition to the 11 outlets, you also get ports for your phone/fax/modem connections.
The eight-foot cord helps to place the protector wherever you want in a room. You can even set it on your wall using the keyhole slots, so it takes up less space. Here are two critical selling points of this Trip Lite model:
Diagnostic LEDs
– You have two LED lights with one colored green while the other is red. As long as the green light is on you know that you are protected from potential power surges. Once the red one comes on it means that there has been a power surge or spike and that the protector is grounding the current. This also means that the surge is being kept away from your other electronic devices.
Automatic shutoff
– The protection circuit is what makes the surge protector so good at keeping your gadgets safe. If it were to be compromised your devices may get fried the next time a surge comes along. Luckily once the Tripp Lite detects such an anomaly, it automatically cuts off all power to the outlets keeping all electronics safe.
There are a few models with a surge protection rating that is 2395 joules or higher. Except for extreme cases, not many surges will go up to this level or even get close. However, it doesn't hurt to be prepared.
Expand to see more
Product Features

Eleven jack outlets
2395 joule surge rating
Diagnostic LEDs
Keyhole slots for mounting on walls or desks
Lifetime warranty
$150,000 connected equipment insurance
Eight-foot cord

Who is it for?

If you have a budget for getting a surge protector, this model should fit right in and leave you some change. Once you have used it for a while, you are bound to recommend it to friends and family.

Safety outlet covers are easy to use.
Long cord makes positioning the protector easy
Easy to mount to surfaces due to included keyholes
Your connected electrical equipment is insured against surge and spike damage
If it takes a lot of surge hits over time, the protection may wither out prompting you to get a new one, since you do have a lifetime warranty, it could be just a simple case of claiming a new one
6. APC 8-Oultet Strip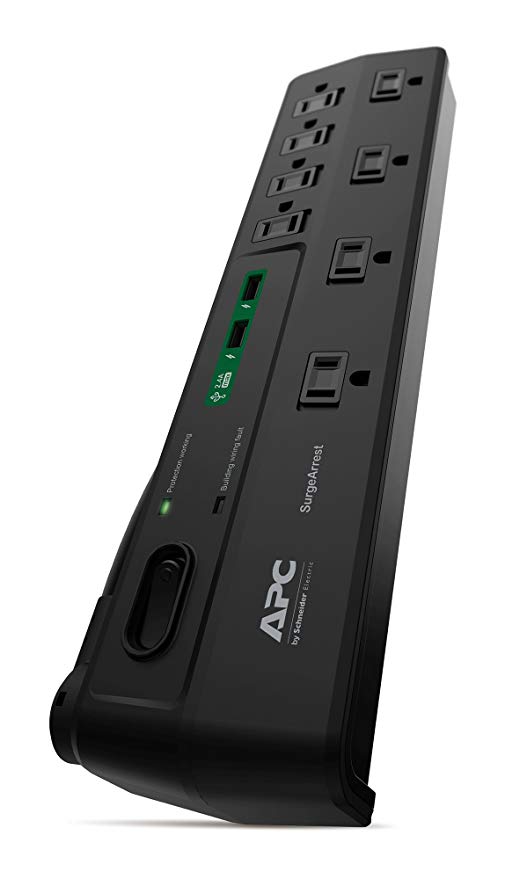 APC features yet again on our list. This time with an eight-outlet device. Four of those are block spaced while the other four are much closer together. Your mobile devices are not left out either. You get two USB ports to charge your tablets and smartphones. Unlike a few of the other top APC models, this one only has two diagnostic lights instead of three. One lights up to show that protection is ongoing and working while the other will show that your building has a
wiring
fault.
If none of these are on it must mean that your gear is unprotected. Here are two exceptional features that you receive when you buy this device:
Flat-end 90 degree plug
– If you want something that takes up as little space as possible on your wall sockets then this is probably it. With the 90-degree angling, you could place it at the top of the standard 2-outlet wall socket and still be able to set another adapter underneath.
2630 joules
– A high joule rating is a guarantee that no matter how high the power spikes or surges you are still going to be protected. Even if this fails, you have a $100,000 connected gadgets cover so you should rest easy knowing that.
Each of the two USB ports provides 2.4Amps of charging power. You could even do away with the adapters for your smartphone chargers.
Expand to see more
Product Features

Six-foot cord
Two USB ports
Lifetime warranty
$100,000 connected equipment protection
Eight outlets
Flat end 90-degree plug

Who is it for?

If you want an APC protector with USB ports, this could be it for you. The price is practically a bargain when you think about all the gear this tool will help you protect. The build is quality, and the joule rating is high enough that you won't have to worry about surges in your home. What more could you ask for?

Outlet spacing is suitable for most adapters
USB ports are quite handy in charging mobile devices
The LED lights show the state of protection from surges
Lots of energy is needed to push plugs into the outlets provided completely
7. Tripp Lite 7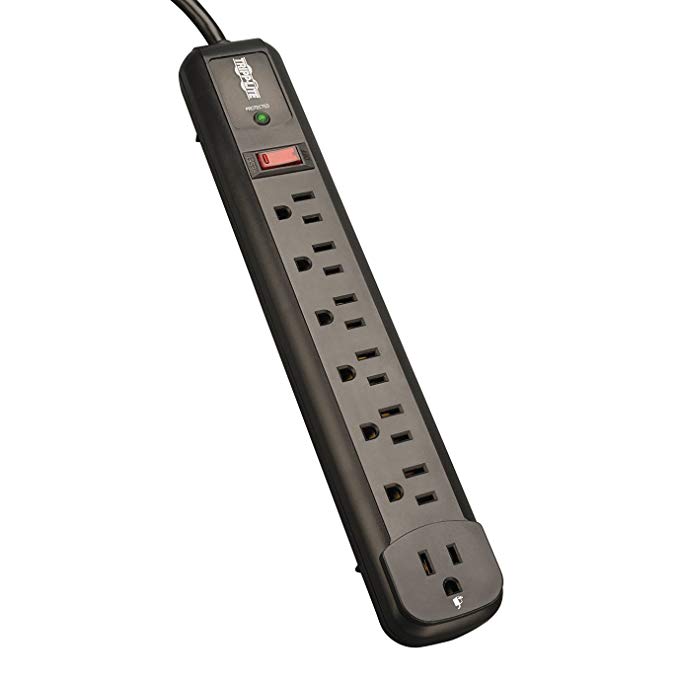 In seventh place, we have the 7-outlet Tripp Lite protector. Six of these outlets are placed at a right angle, and this should make it easier to set adapters. For those with a few large adapters, you will be disappointed as this only has one outlet catering to that. Nonetheless, if you only have large adapters, you can choose to use three of the right-angled outlets by leaving an empty slot between adapters. Despite the inconvenience for individuals with such adapters, this tool is one of the top gadgets in the market for protecting your electronic equipment.
With the following two key features it's not hard to see why people buy it:

Conformity to UL 1449 standards – As per the UL standards, this tool has an LED light that indicates the protection state of your equipment. Besides, you get automatic power shutoff if anything about the protector's protection circuit is not in its optimum state. The joule rating is low. However, seeing as though 600 joules surge protection is the standard, the 1020 surge protection by this tool will prove more than sufficient.

$25,000 connected equipment insurance – This amount is likely enough for a lot of your household goods. It is also coupled with a limited lifetime warranty for the protector.

The cord is also not as impressive at four feet but if you are going to buy this tool that cable length must be sufficient for your needs.

Expand to see more
Product Features

4-foot cord
1020 joule surge protection
Seven total plug outlets
Limited lifetime warranty

Who is it for?

This is one of those less expensive options. If you are looking for a gadget that won't burn a hole in your pocket, you can't go wrong with this pick.

Right angle outlets make placing adapters leisurely
The automatic shutoff protects your gear even when the tool isn't in optimum shape
The outlets are poorly spaced limiting their usage
8. Tripp Lite 2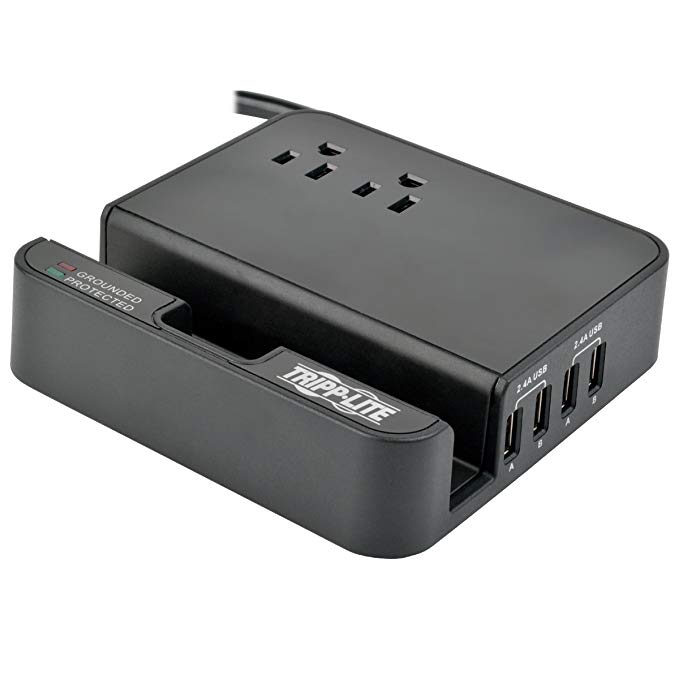 This unit has even more of a limited range of plug outlets than all other models that we have mentioned. However, this is geared more to use with mobile devices than it is with conventional electronics. Just like the other Tripp Lite model this one automatically shuts off whenever the innards of the protection circuit are damaged.
Your devices can't get damaged if the electricity surge is not coming through. The 6-foot cord is pretty standard, and most people will be content working with that length. Some features of the TLP26 make it exceptionally suited to its target market. They include:
4 USB ports
– The target market for this device is mobile device users. As such having a few USB ports makes it suited to charge multiple devices at the same time without the use of an adapter. Also since adapters are eliminated, it saves a lot more space on the protector itself.
Holding dock
– Also included is a slot to place your smartphone or tablet when it is charging.
The two
LED lights
give a diagnostic report of the situation. This means they show when your mobile devices are protected and when an electric current has been grounded.
Expand to see more
Product Features

1020 joule AC rating
Phone/tablet holder
4 USB slots
Diagnostic LEDs
Limited lifetime warranty
$50,000 connected equipment coverage

Who is it for?

If you have multiple mobile devices and you dislike carrying bulky adapters, this tool will help you a great deal. This is especially true if you travel or move around a lot. Whatever the case this is one of the higher priced models but it is definitely worth the money.

Makes storage of charging mobile devices easy
Great for travel with laptops, phones, and tablets
The number of plug outlets is quite limited at just two
9. AmazonBasics 6-Outlet Strip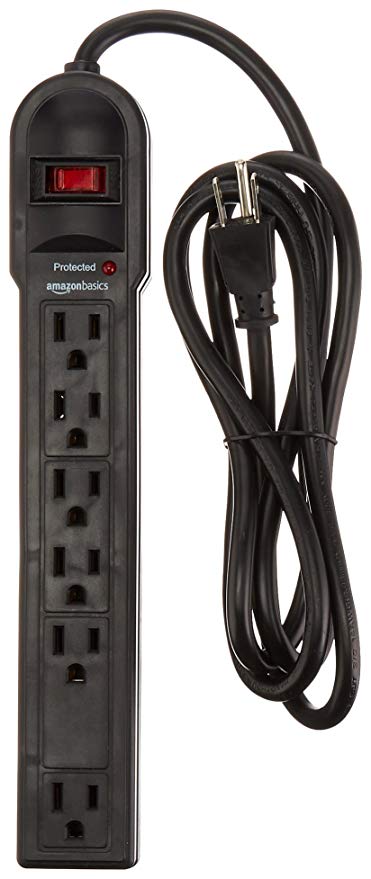 As you can tell by the name, Amazon has come up with their surge protector model. With the tool simplistic in design some individuals might write it off. It is however very effective at protecting electronics. If you have a transformer block adapter, you get one slot to plug in. The rest are more closely spaced and won't be able to accommodate that. Included in the purchase are these two exciting features.
Red LED indicator
– This shows status on whether you are protected or not. The circuit breaker is embedded in this light and will cut off a power spike.
790-joule surge rating
– This is almost 200 more joules than what is considered the standard joule rating.
It would be wise if you could only use this protector with
small appliances
. If you overload it, the power strip will likely not last long.
Expand to see more
Product Features

6-Foot power cord
6 Outlets
790-joule surge rating

Who is it for?

This is one of the most affordable surge protectors you will come across. You get tremendous value for money, and if you keep from overloading it, the AmazonBasics model will serve you for years.

Made from high-quality plastic
The cord is long enough to serve household needs
The outlets are not well spaced
10. BESTEK 8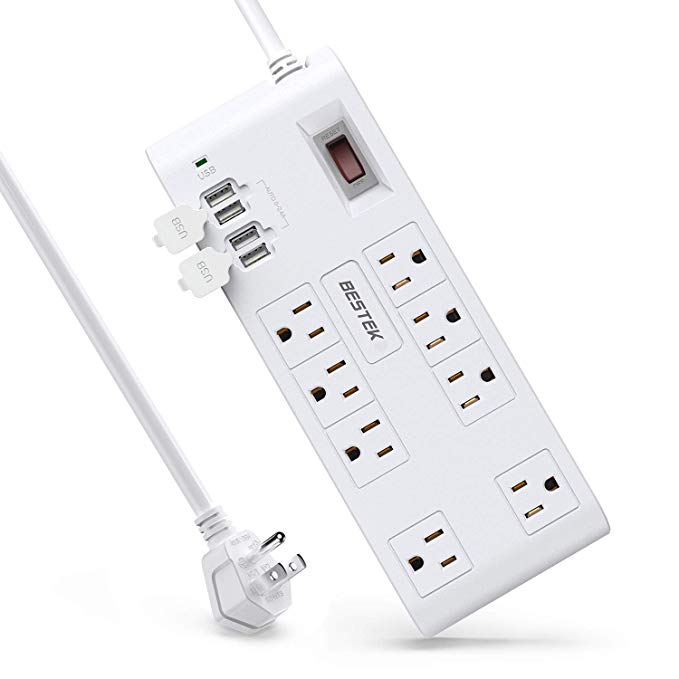 Of the eight outlets, two are widely spaced to fit large adapters. There is an integrated circuit breaker that comes with this device. This serves the purpose of cutting out the transmission of power to your electronics when a surge happens. Also, the
right angle
plug is likely to take just a little bit less space than regular plugs.
If your goal is to mount this protector on a wall or some other surface, then you are in luck. There are incorporated mounting holes for this purpose. Here are some top features of this Bestek model.
4 USB ports
– In addition to the eight regular plugs you get four USB ports for use with your mobile devices. This could sufficiently take the load off the plugs and save some space for other applications.
600 surge joule rating
– You are protected for surges with an energy level of 600 joules and below.
One of the least impressive features about this gadget is that you only get 18 months of warranty coverage.
Expand to see more
Product Features

18-month warranty coverage
4 USB ports
600-joule surge protection rating
Right angle plug

Who is it for?

You won't need to spend much if you have this model in mind. If your home area is not prone to extremely high power surges and spikes then this tool will serve you well.

Affordable
Holes at the back make it easier to mount on surfaces
There is no insurance on connected equipment
The words spikes and surges have been used interchangeably in this article. While they both refer to an increase in voltage they don't mean the same thing. A power spike will last less than three nanoseconds. A power surge may last significantly longer.
These power anomalies aren't supposed to happen and when they do there is usually a reason or reasons behind it. Listed are some of the reasons why this could happen:
✓

Faulty wiring

This could stem from a lot of factors. Maybe your electrician didn't know what he was doing. Then again, we are all human. He may have made a mistake in Whatever the case this should get sorted quick or else it will give you grief down the road. Some of the surge protectors mentioned above have features that will help you detect when this is the case. If yours doesn't have such a feature but you frequently experience these voltage anomalies; get an electrician to check this out for you.
✓

High-powered electrical devices

These include fridges and power tools. Anything that uses up a lot of energy to operate could potentially be disruptive to your voltage levels. Spikes and surges especially happen at the moment that these gadgets are turned off or on.
✓

Utility company issues

Your electricity is supplied by a utility company. If the company is experiencing any problems, these might be reflected in your home. Unfortunately, most of these do not share information when these things happen. You may need to be prepared just in case.
✓

The weather

The wind, and rain to be a little more specific. Strong winds may affect the integrity of the electrical apparatus in your area. For areas that use power lines, this is more common, and as a result of the damage caused, the electrical equipment may not be in the optimum state to transfer electricity. Due to this, voltage levels are bound to switch between high and low for the period of the stormy weather.

Lightning strikes are another reason. They are high energy electricity. If they were to hit a piece of electrical apparatus, then their energy is transferred into the power grid. This will then be shared with the homes and offices close by. Such events have been associated with extremely high power surges.
✓

Overburdened power sources

Just like you can overload a power strip you can also overload the power grid. This could be brought about by a lack of planning by the utility company. It may also be due to industries that take up a lot of the power in your area.

FAQs
Can a surge protector work on an ungrounded outlet?
Surge protectors need somewhere to transfer the extra energy from a spike or surge. Grounded outlets are necessary so the power surge can be transferred to the ground where there is no equipment to fry. If your wall outlets don't have a grounding wire, your protector is just a fancy power strip and won't offer any protection.
How often should you wait before replacing one?
Surge protectors take small spikes and surges often. Over time these affect the integrity of the device. You should replace a protector after a big surge or spike. If you don't experience power anomalies often try and replace yours every one to two years.
Conclusion
Surge protectors are almost like a necessity for every home. If you don't have one, you are risking quite a lot and need to get one right away. Most of you can attest to using a protector in your house. Do tell us your experience with them in the comments section.
Subscribe to our newsletter