Best Angle Finders Reviews & Comparison
last updated:
Aug 28, 2018
While you have the option of using the familiar, traditional, hand-held protractor for measuring angles, you'll be foregoing the accuracy, ease of use, and speed that comes with using a more modern alternative: angle finders.
They provide almost instant results and allow the user an incredible range of between 0 and 360 degrees. Coupled with their lightweight and compact design, they are suitable for undertaking a wide range of projects including woodwork and construction. Some models even come with embedded magnets that make them indispensable for measuring miter and bevel angles on a wide range of saw benches.
Our Top 3 Picks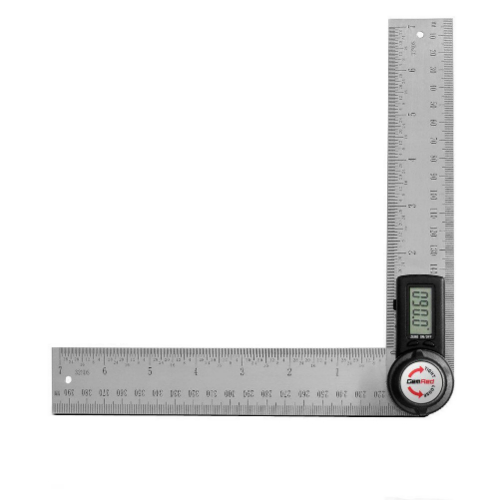 GemRed

Our rating
Accurate
Price:

See Here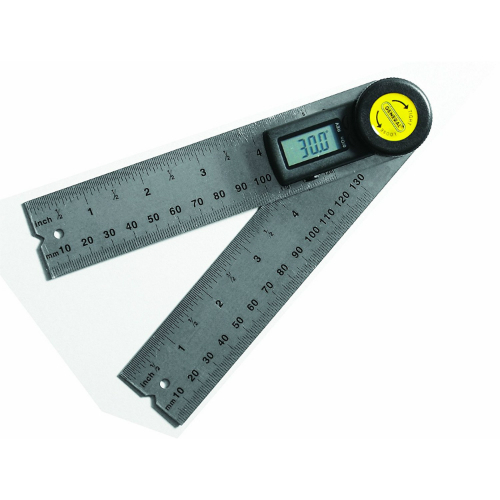 General Tools

Our rating
Fast
Price:

See Here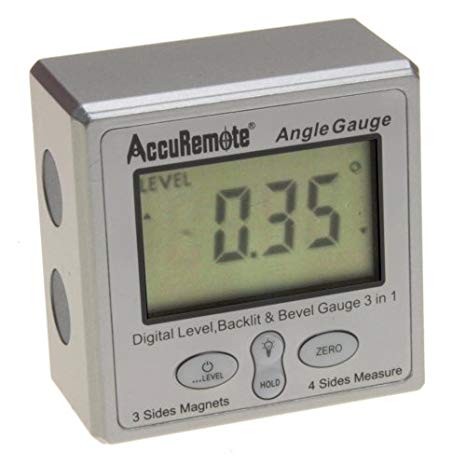 AccuRemote

Our rating
Powerfull
Price:

See Here


Before selecting an angle finder from the market, one needs to familiarize themselves with a few factors that will be helpful in making an otherwise tedious task a quick and effortless one. The section of the factors to take into consideration before making your choice is included below the reviews.
10 Best Angle Finders
1. GemRed 82305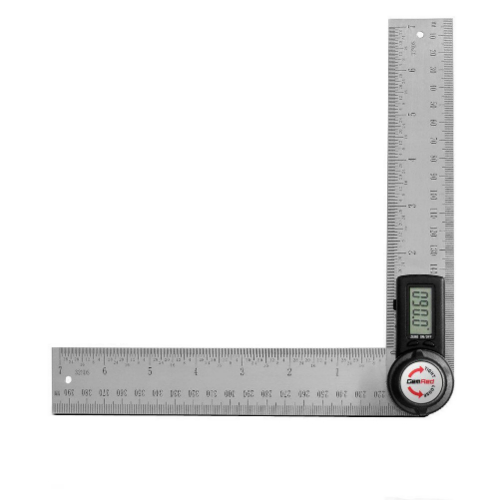 The GemRed 82305 is a feature-rich device that easily stands out in a fiercely competitive field filled to the brim with other equally excellent angle finders. Some of the outstanding features include ease of use, durability, accuracy, lightweight and compact design, and a prowess for outputting readouts quickly and clearly. To these features a pocket-friendly price tag that's immensely endearing to the many people.

In spite of their technological advancements, it easily beats Bosch and other high-end models on the strength of its simplicity and ease of use, plus the fact that at more than a hundred bucks, Bosch is only trivially more accurate than our first pick. This device is also stripped off all the bells and whistles so it concentrates on just one job, giving quick and accurate angle measurements, a fete it accomplishes in underwhelming fashion.

Expand to see more
The features arguably one of the simplest designs out there, coming with just two metal rulers and a very modest digital display. It boasts a length of just 200 mm and a hardy, durable construction using industrial-grade stainless steel, giving it the ruggedness to withstand the rigors of the trade. The finder is similarly a versatile choice that gives readings in either imperial or metric system, for the convenience of the user. And you can quickly and easily shift from one measurement system to another. Another highlight is the inclusion of a small hole on the frame for securing the device using a nail or a screw, thereby guarding against the likelihood of losing it if you work in a busy industrial setting.

The GemRed 82305 is accurate to +/- 0.3 degrees, which is honestly impressive for a machine that lacks all the bells and whistles that high-end options offer. And in spite of its lightweight and compact design, it invariably maintains its accuracy, even if you inadvertently drop it. It's sturdy and robust construction also means it'll provide you with several years of accurate, trouble-free use, more so because it also packs a long-lasting coin battery with a runtime of approximately 2,000 hours. You'll never regret your choice.

Locks securely
Lightweight and remarkably portable
Durable construction
Easy-to-read digital readout
Superb accuracy
2. General Tools 822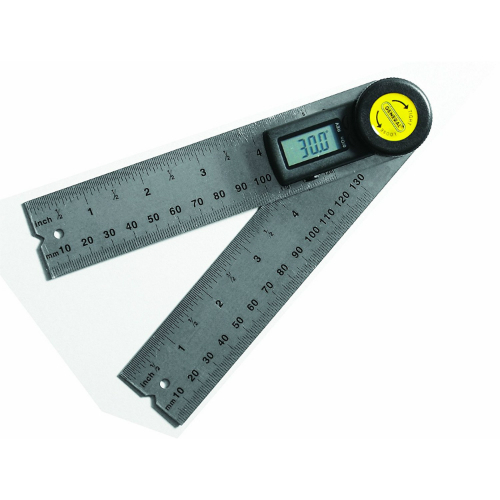 For serious woodworkers, carpenters and extreme DIYers, a
toolbox/chest
is never complete if it lacks a heavy-duty, efficient, and accurate device. And one of the most versatile and cost-effective options on the market that fits that description to a T is the General Tools 822 Rule. As the machine easily proves, you don't have to dig too deep into your pockets enjoy some of the premium features that have, until now, been the preserve of high-end angle finders. Enough with the overview. Now let's dive into the juicy, technical details.
Like the vast majority of option on this list and the market, this one features a hardy and rugged construction quality using stainless steel, a material that's both lightweight and resistant to rust and corrosion. The fastidious construction quality gives you the confidence and peace of mind to put the angle finder to task in all sorts of environments without worrying about wear and tear. Drop it accidentally and you don't have to gnash your teeth fearing for the worst, as is the case with cheap, off-brand models masquerading as angle finders on the market.
Expand to see more
Its accuracy is on a whole new level and completely takes guesswork out of the process of taking accurate angle measurements. The machine conveniently combines a ruler with an angle finder to give you the most precise measurements, which pairs nicely with its lock and reverse angle functions. To these add a convenient hinge mechanism that provides for quick and easy angle adjustments to a full 360-degrees. Also, the intuitive design of the machine allows for zeroing at any point in the swing. Consequently, the user will be in a position to take accurate and quick measurements internally, externally, and even at reverse angles, a fact that makes the angle finder one of the most versatile angle finders on our list. But that's not all.

Additional auxiliary features include a compact and lightweight design and a wide, clear LCD screen that quickly and accurately displays all the angle measurements. You can choose between standard and metric readings that you can similarly save for later analysis and comparisons.

This rule has it all. A compact and lightweight design, an accuracy of up to +/- 0.1 degrees, reverse and lock angle modes, a large and easy-to-read LCD screen and lastly a high-quality and durable construction. At its price, it's quite a steal.

Works fast and easy
Easy to zero
Large, easy-to-read LCD display
Very precise
Features lock and reverse angle
Ineffective locking system
Ambiguous user instructions
3. AccuRemote Digital Angle Gage Level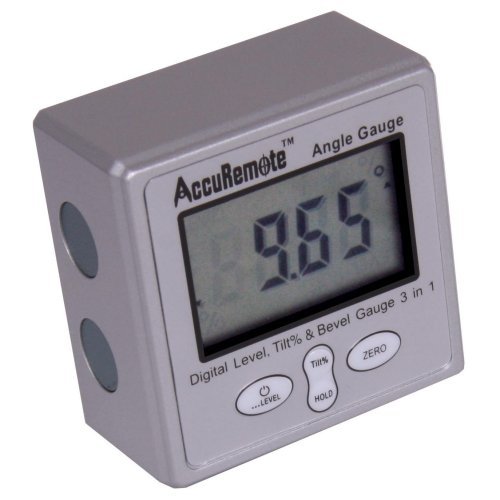 The 3rd slot deservingly goes to AccuRemote Digital Gage Level seeing as it's an all-around device that also lightweight and compact, comes in an easy-to-use square design, and best of all, a budget-friendly price tag. Of course, these are just a few of the outstanding features. The device packs a litany of several other features that make it a worthwhile consideration for the contractor, carpenter and enthusiastic DIYer who wants quick and accurate angle readings. Continue reading for a more comprehensive review of the angle finder.

The angle finder offers the user an accuracy level of plus or minus 0.2 degrees, which is slightly better than our previous pick. The accuracy, coupled with the ease with which it is to read the measurements on the device's large and clear display makes the product an all-time favourite of professionals who want to remove guesswork from taking angle measurements.

Expand to see more
It also sports a considerably sturdy and robust construction quality, inspiring the user to use it confidently to its full potential to achieve the best results. The utilization of metal for the construction of the angle finder means that with proper use and maintenance, it should be able to provide you with more than a lifetime of flawless and smooth use, invariably outputting the most accurate results. Additionally, it comes with a 12-month warranty to cover the user against deficiencies in material and construction.

The large display clearly shows the angle and level measurements and avoids a situation where the user has to lean in or strain to have a clear view. A unique feature is the manufacturer's thoughtful inclusion of three heavy-duty and super-strong magnets on three sides of the device's frame, a design that makes the device versatile to use. With your hands freed, you can do calculations, compare values, make adjustments or undertake some other related activity.

It come with their fair share of downsides, and the angle finder not an exception. Unlike the previous model that uses high-capacity coin battery with a runtime of up to 2000 hours, this model is however powered by a 9V battery with a paltry runtime of 250 hours. For heavy-duty use, therefore, it'll be necessary to have several backup batteries to last an entire week. Aside from this one mostly minor downside, the angle finder works like a charm.

In all, this option offers the user dead-on accuracy, affordability, ease of use, and remarkable portability. It nonetheless has a few downsides but nothing serious enough to hamper its seamless performance.

Powerful magnets for hands-free use
Very accurate angle measurements
Large, easy-to-read screen
A cinch to use
4. iGaging Digital Protractor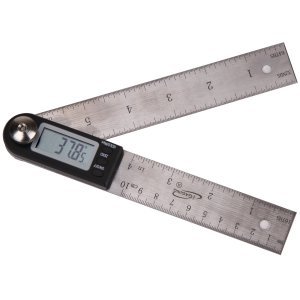 It's not every day that you come across a cost-effective and versatile angle finder with two blades made from commercial-grade and durable stainless steel unless of course, it's the iGaging Digital Protractor. The stainless steel blades, measuring 7 inches and 4 inches are joined together using a hinge mechanism, a design that allows for their quick and easy locking into position to find the most accurate reading. Another unique selling point of the angle finder is that it gives continuous angle readings as the user adjusts the arms, making it a handy and solid choice for undertaking a plethora of domestic and commercial-site tasks.

It features an innovative and intuitive design that makes using it a cinch. The hinge mechanism, for instance, features an all-stainless steel construction, as is the rest of the machine, allowing it to not only withstand the test of time, but also vagaries that come with using an angle finder in the tough and demanding setting that's a construction site. Another instrumental feature is the distinct design of the rulers. The fact that they're removable and vary in sizes, coupled with the lightweight and compact design of the machine, allows the user quick and easy access to awkward and hard-to-reach spots. The digital display is similarly sufficiently large and displays the measures clearly.

Expand to see more
While it does not pack some premium features found on top-end models, it does offer the convenience of displaying either the measures inside or outside the ruler by simply pressing a button. Also, it is lightweight and compact and therefore highly portable from one site to another. The device is energy-efficient and will turn itself off after more than five minutes of inactivity, helping you preserve your battery. As for accuracy, the angle finder exceeds expectations, offering an impressive +/- 0.05 degrees.

With this option in the palm of your hands, making the most accurate angle measurements will be both an accurate and quick endeavour. You'll also love the ease of use and affordability of the machine. It's definitely worth every penny.

Long-lasting battery
Provides for outside and inside angle measurements
Accurate with an easy-to-read display
Exceptional construction quality
Sensitive to minor movements
5. Bosch 4-in-1 GAM 220 MF


As far as quality, performance, and durability go, the Bosch 4-in-1 Finder is the undisputed king of the playground. The angle finder comes packed to the brim with several signature features that enable it to completely overshadow its closest competitors in virtually all aspects. For one, it's remarkably versatile, combining the functions of a finder, a protractor, a level, a cut calculator, a protractor. These features, together with several others, making it the go-to tool for
professional carpenters
, contractors, re-modellers, and even enthusiastic DIYers with eyes firmly trained on the absolute best performance. Inevitably, it's also a little expensive, considering its slew of performance and convenience features.
As indicated earlier, the angle finder is an economical, versatile, and space-saving device that combines four tools into one, making it an all-around tool for use in various construction and woodworking projects. Whether it's trimming or verifying various measurements on roofing, molding,
countertop
, and several other projects, it'll invariably accomplish the task.
Expand to see more
Now, let's break down the different possible functions of the various tools embedded therein. The angle finder, obviously, is for accurately measuring the precise angle of a structure and comes with a memory feature that records the various measurements for later use. The protractor is for helping you accurately position the cut line, while the level is for balancing and levelling everything. The cut calculator, on the other hand, is for determining the most precise bevel and miter angles. It conveniently stores the readings for later use, sparing you the time and effort of repositioning the tool every so often.

Additional features worth mentioning are the inclusion of a large, easy-to-read, illuminated, rotating flip display and durable, heavy-duty construction of the machine with an impressive IP54 protection rating. Consequently, it's resistant to both water and dust, and with proper use, should provide the user with several years of hassle-free and efficient use. In addition to the warranty, it also comes with four long-lasting AA 1.5 batteries.

When other options on the market just can't make the cut, it's high time you considered a model that has it all. The GAM 220 MF boasts all the bells and whistles the market has to offer. It's a little expensive but then again, you get what you pay for. You'll never look back.

Accurate angle measurements
Versatile
Easy-to-read large display
Long-lasting batteries
6. Wixey WR300 Type 2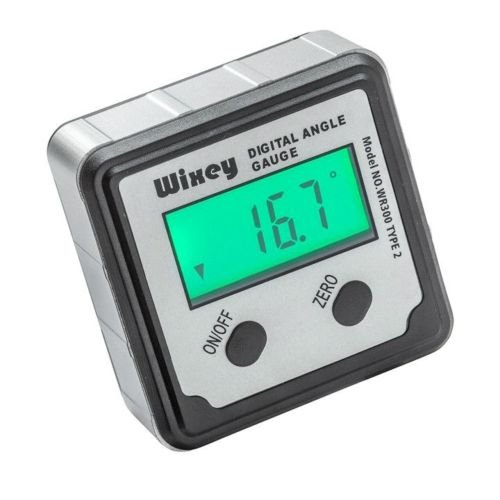 The Wixey WR300 is a hardy and a fastidiously built machine that takes on the toughest, most demanding projects without the slightest hesitation. The angle finder features a more attractive and intuitive block design. But then again looks are subjective and this particular one might not be up your alley.

Aside from the heavy-duty construction of the angle finder using high-end and durable materials, the manufacturers also goes a step further by reinforcing the enclosure. The lining of the face and back of the device, these being the two faces most prone to impact, is done using equally high-quality composite reinforced masks.

Together, these measures aim to provide the angle finder with the best protection against the rigors of the trade, ensuring the device does not succumb to heavy-duty use or being accidentally dropped on abrasive surfaces. However frequently you drop the angle finder, the likelihood of messing up with its optimal performance is remote at best. The rugged and robust construction quality ensures the angle finder continues to provide you with several years of flawless and trouble-free performance.

Expand to see more
It comes embedded with a powerful magnet on the bottom side that enhances ease of use by allowing for hands-free use. Professionals who frequently square up saw blades will find the features particularly time- and effort-saving, enabling them to complete their projects quickly and with minimal effort. The magnet is super-strong so you shouldn't worry about the possibility of it falling and interfering with the calibration of the angle.

It is accurate to +/-0.2 degrees and is a cinch to use. It calibrates with ease and quickly displays the angle measurement. Plus, you won't struggle to see the readings on the display as it's both large and features a useful backlight that conveniently illuminates the readings for those who'll be working in spaces where the lighting conditions are less than ideal. Also, the device is powered by a single AAA battery.

The Wixey WR300 is a perfect choice for professional woodworkers, contractors, and extreme DIYers in search of a multi-functional device for undertaking a wide range of projects. It'll quickly prove to be an indispensable addition to your burgeoning collection of tools. Plus, it's doesn't cost an arm and a leg despite its litany of superb features.

Magnetic base for compatibility with saw blade or tabletop
Easy-to-use interface
Very accurate
Large digital readout
7. Digital Angle Finder Tacklife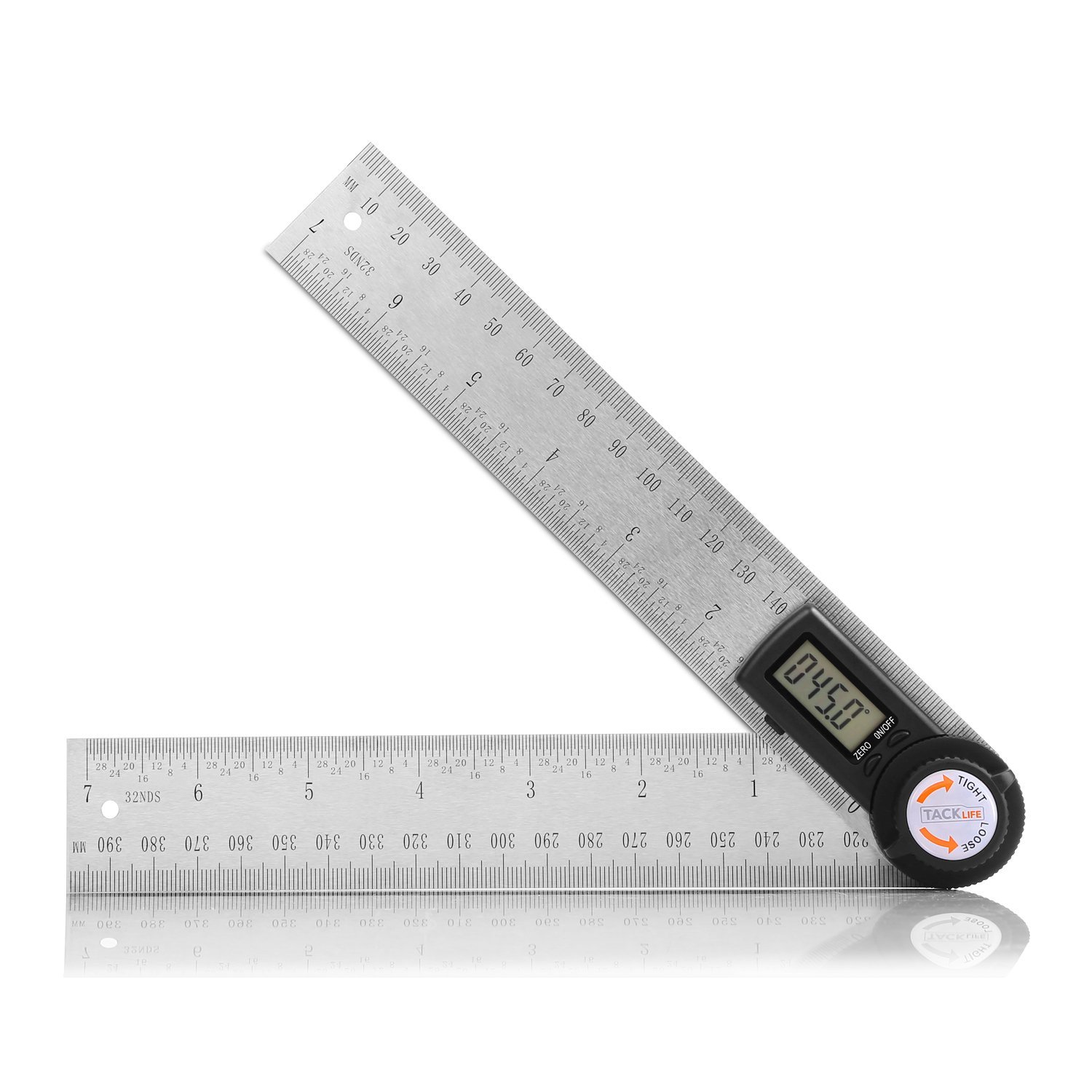 The only difference between the Tacklife and other established brands such as Bosch is that the former lacks the high reputation of the latter. Aside from that, it is one of its flagship angle finders, easily holds a candle to the high-end models on the market with regards to performance, ease of use, durability, and convenience. And in addition to being lightweight and compact, the angle finder also comes with several instrumental features. Read on to find out more.

It is not only easy to use, but also offers the user enviable accuracy. The machine is accurate to +/- 0.3 degrees, which is still impressive even though there are more accurate options out there. Couple the large digital LCD display and its 0.1-degree resolution and you won't have to strain to take readings ever again, whether you're taking relative or absolute angle measurements.

To top it all off, the machine boasts a zeroing and hold function to make it easy to work with positive and negative angles. The angle finder works optimally between temperatures of 0 and 50 Celsius and provides a superb full 360-degrees measuring range for accurately measuring inside and outside, as well as reverse angles.

Expand to see more
It borrows a leaf from most angle finders by sporting an all-stainless steel construction capable of withstanding hard falls and impacts without interfering with the product's accuracy. Aside from the zeroing feature, the angle finder also comes with a time-saving locking
screw
that provides for the easy holding of the angles at any time.
The angle finder uses a high-capacity and long-lasting CR2032 coin battery that provides at least 2000 hours of continuous runtime. To preserve the battery some more, you can use the handy on/off button for closing the LCD screen. Also, the device will automatically shut down after six minutes of inactivity. Plus, you get a generous 24-month warranty that entitles you to free repair or replacement of any defective parts resulting from poor workmanship or the use of low-quality materials.
Overall, it provides you with all the essential and premium features you need for quick, accurate and efficient angle measurements. At its price, it's simply one of the very best.
Energy-efficient
Heavy-duty stainless steel construction
Accurate
Useful locking screw
Auto-shut off saves power
Blades are prone to scratches
8. Capri Tools 20005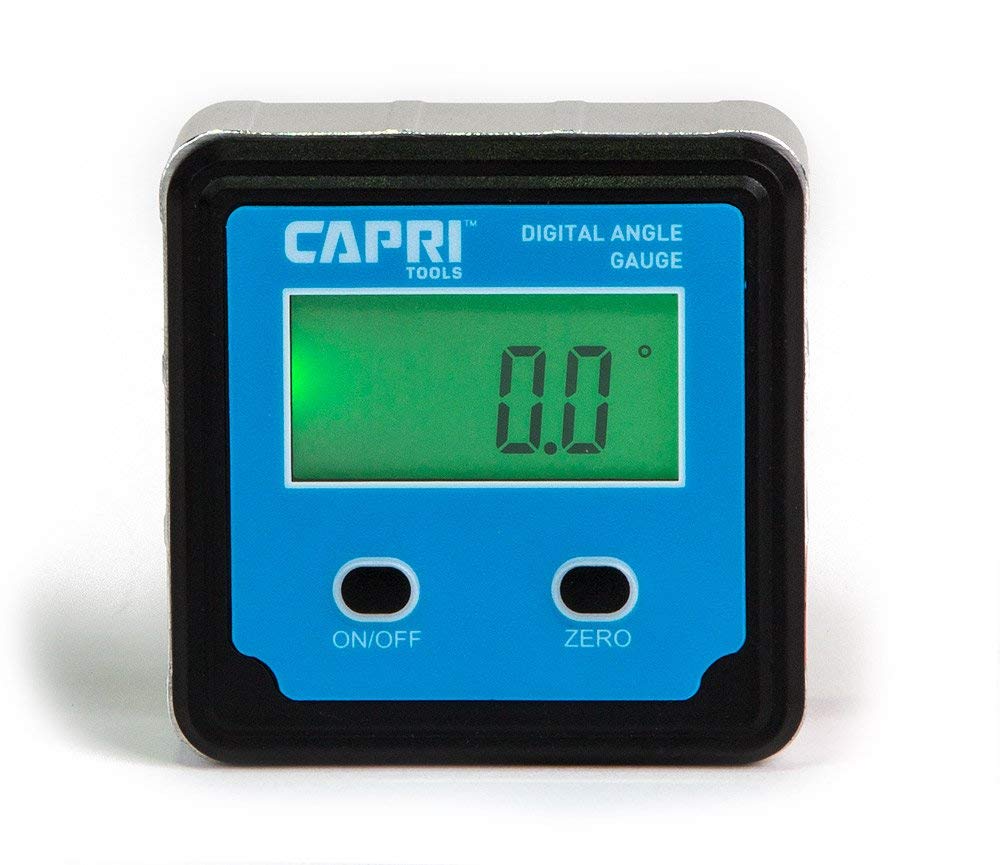 If you're in search of heavy-duty, rugged, lightweight yet high-performance angle finder for woodworking, repair, and construction projects, look no further than the Capri Tools 20005. The device is a versatile one that accurately measures angles, set angles, and tremendously helps with establishing the most precise alignments. Consequently, it's an ideal choice for working with such hardware as miter saws and table saws. Such versatility and accuracy make it the to-go tool for the vast majority of contractors, woodworkers, and enthusiastic DIYers.

It quickly and easily provides the user with the most accurate angle measurements, thus saving them the time and effort with their projects. It's also embedded with ultra-strong and long-lasting magnets on the sides for securely attaching it to saw blades and other metallic surfaces, thereby allowing for a hands-free operation. With your hands freed, you can proceed to analyze or compare the measurements it outputs on its automatic LCD backlight display. The display boasts an impressive 0.1-degree resolution and coupled with the backlight feature, enables you to see the readings clearly and without the slightest obstructions even when the lighting conditions are less than ideal.

Expand to see more
Like our previous pick, it also comes with a handy zero button for quickly and effortlessly calibrating the angle gauge to a broad range of surfaces, levelled or not. As a result, it eliminates the need for making sure your surface is perfectly levelled before taking measurements in order to get the most accurate, relative results. The angle finder is also energy-efficient and sports an automatic shut-down feature that kicks into play after a few minutes of inactivity. And did we mention that the angle finder is cost-effective and both lightweight and compact for hassle-free portability?

Woodworkers and contractors frequently working with miter and table saws will love the accuracy, practicality, and ease of using the Capri Tools 20005. And it's budget-friendly and features a design that takes the time and effort away from the toughest projects.

Large, easy-to-read display
Display backlight for visibility in poorly lit situations
Pocket-friendly pricing
Battery recharges quickly
9. Wixey WR418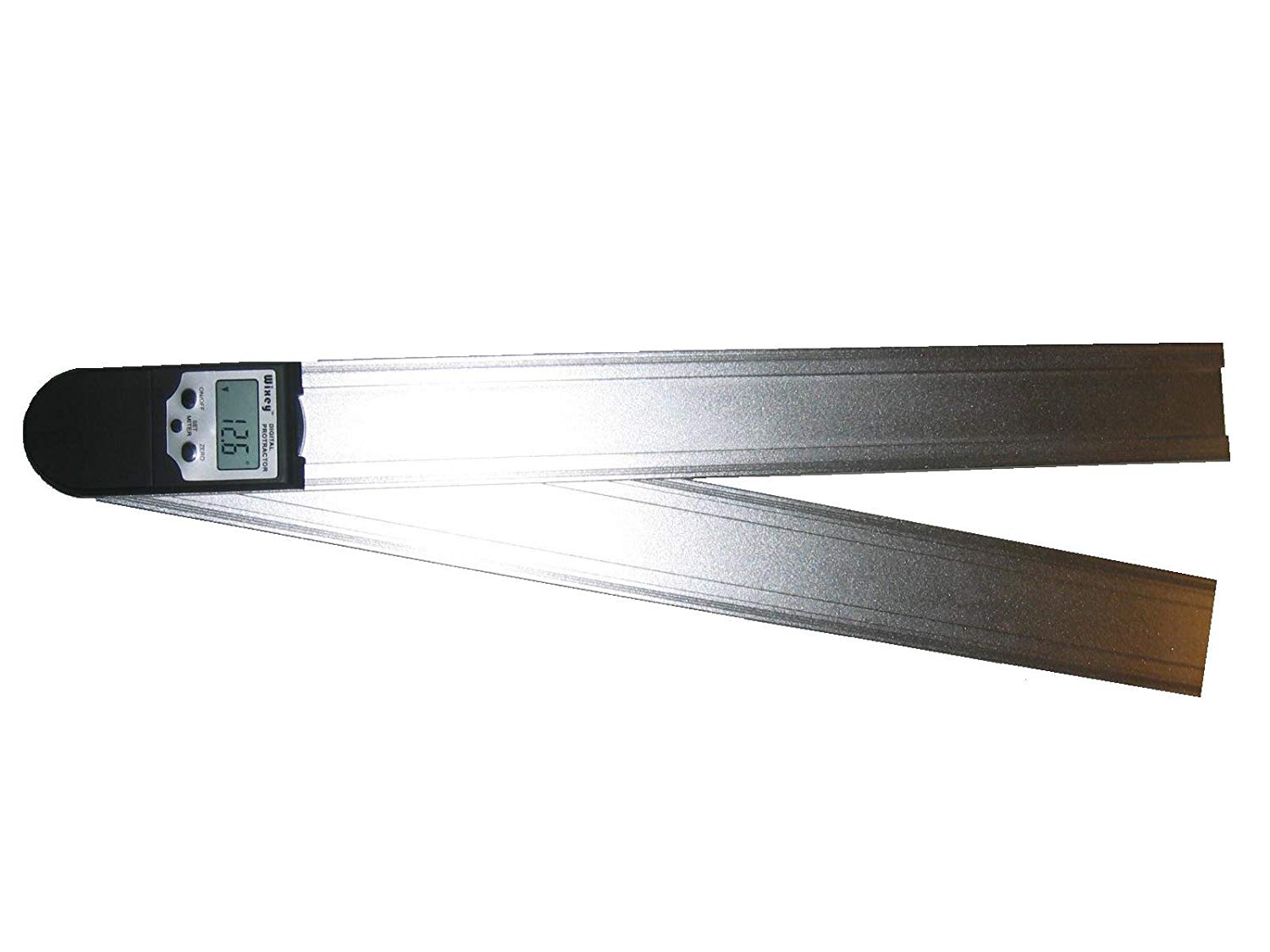 The Wixey WR418 is many things. If the features you value most in an angle finder are precision, versatility, and convenience, then it's the perfect fit for you. The machine boasts remarkable prowess at setting both miter and bevel angles, a fact that makes it one of the best options for carpenters and other professionals handling woodworking tasks.
The angle finder features two, 18-inch long blades made from industrial-grade and rugged aluminum, which inevitably lends the products not only its strength but also lightweight design. The device is arguably one of the most accurate in its class, offering a jaw-dropping accuracy of +/- 0.1 degrees and repeatability. Another unique feature is the incorporation of a time-saving "Miter set" mechanism that works by quickly calculating the most suitable angle for perfectly
cutting miters
, thus sparing the user the effort and hassle.
Expand to see more
A third concrete reason for why the angle finder is the product to go with is its wide and versatile range of between 0 and 180-degrees. As for ease of use, you get to take advantage of the powerful magnets embedded in strategic points of the device's frame to easily and conveniently attach it to different metallic surfaces, enabling you to take angle measurements with remarkable ease. You'll, therefore, have the easiest time working with cast iron tables, steel tables, jointers, and even
band saws
.
There is also a handy miter set-inch button for calculating the precise miter angle to ensure the most accurate fit. And the intuitive design allows for tightening of the blades so you don't lose the measurements. Additional outstanding features include an ON/OFF button, a zero button, and the already mentioned lightweight and compact design that makes the design highly portable and easy to fit into tight and hard-t0-reach spots. Essentially, the Wixey WR418 18-Inch Digital Protractor has all the premium features that make for quick and efficient angle measurement. Years from now, you'll be glad you went with your guts.
Versatile
Accurate
Auto shut-off feature
Large, easy-to-read display
A cinch to use
Not ideal for angle measurement on small projects
Brief battery life
10. General Tools 828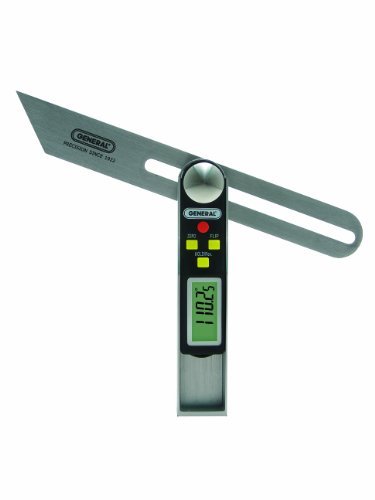 Our last pick, the General Tools 828 Digital Sliding T-Bevel Gauge & Digital Protractor in One, boasts what industry experts wax lyrically describe as "out-of-this-world" ease of use. It's a suitable choice for DIYers keen on growing their talent and realizing their potential. Similarly, it's affordable, compact, and comes with long-lasting blades made from high-quality stainless steel. Also, since the device also doubles as a T-bevel, it's an economic choice that'll make for great angle measurement.

The professional and heavy-duty design aims to provide you with smooth, seamless performance for several years on end. That explains why the product features hardy and fastidious construction using industrial-grade stainless steel and why it comes with an impact resistant ABS handle.

Expand to see more
While it's not the most accurate on the market, it nonetheless offers instrumental features that totally compensate for the downside. For instance, it comes with a hold button that allows the user to comfortably and confidently transfer measurements from one surface to another or from one project to the other. To this add a locking knob for hassle-free transferring of manual measurements in addition to a reverse display and flip display button. And there is a large digital LCD display that outputs large digits so you don't strain your eyes.

To top it all off, it also helps the user preserve their battery life by incorporating a useful automatic shut-down feature. If you want an angle finder that measures, stores, and transfers inside and outside angles with ease, this would be it. With an accuracy of +/- 0.3 degrees, an angle range of 0 to 360 degrees and a resolution of 0.05 degrees, it'll provide you with one of the best performances at an affordable price.

Durable and sturdy handle
User-friendly and intuitive
Accurate
Useful locking knob
Criteria for Choosing the Best Option
Measurement Accuracy
For projects such as woodworking and construction, being off by as little as 1 percent of an angle reading has the potential of throwing your whole project into a disarray. Which is why a super-accurate angle finder is a must-have.
Ideally, an angle finder for commercial use should be accurate to within 0.1-degrees while one for domestic or DIY projects can be allowed up to +/- 0.3 degrees. Closely related to accuracy is the locking feature. The locking feature enables the user to conveniently lock the arms at an angle of their choice, which preserves the measurement reading for later use.
Broad Measurement Range
A high-end angle finder needs to be a versatile one capable of measuring angles lying within the 0 and 360-degree range. There are some extreme angles that a conventional angle finder will definitely struggle with, which, their digital counterpart, on the other hand, can measure with utmost ease and impressive speed. The versatility of modern angle finders makes them incredibly easy to use for any project.
Speaking of versatility, also ensure your choice comes with a level. The feature saves you the hassle of going to and fro the level and finder with every cut.
Construction Quality
A third and equally critical feature to take into account while shopping for an angle finder is how strong and durable the device is. It should be able to withstand the rigorous task that's taking miter and bevel angles in sometimes awkward and hard-to-reach spots. Similarly, it should be able to withstand impact and other environmental conditions like extreme weather conditions.
It should be both rust and rust resistant so it continues providing you with several years of seamless and trouble-free service. Two of the strongest and most durable materials manufacturers tend to use are stainless steel and aluminum.
Additional Features
In addition to the features mentioned above, the angle grinder you're enamoured of needs to be easy to use. Features such as a large, easy-to-read LCD display, a memory feature, and an ergonomic, lightweight, and compact design go a long way. Additionally, an auto shut-off feature, a cut calculator, and even a Bluetooth technology can a lot of difference.
Frequently Asked Questions
Q: How do I stay safe while using an angle finder?
A: They come with strong metal arms can easily pinch your fingers or skin. If you can, make a point of using gloves. It is also highly recommended that you don't use the devices within the proximity of electrical cords.
Q: Any tips for prolonging the useful life of my device?
A: there are several tips beginning with being cautious enough not to drop or submerge them in water. Similarly, always keep them clean and dirt- and grime-free.
Conclusion
Our objective here has been to impart on you the requisite knowledge to help both professionals and greenhorns make an informed choice when shopping for an angle finder. Our choices are not only affordable, but also high-performance, reliable, accurate, easy to use, but also highly portable. In addition to taking the guesswork out of angle measurement, they also provide quick and accurate results. Irrespective of your choice, you'll never look back, ever again.
Subscribe to our newsletter