Best Angle Finders Reviews & Comparison
last updated:
Oct 02, 2021
Angle finders do just what the name implies: they measure angles and replicate them, which is handy for carpentry, construction, and other building projects. Unlike the handheld protractors familiar to anyone who's ever taken math and used a protractor, modern angle finders are often digital devices that provide almost instant results and allow the user an incredible range of between 0 and 360 degrees to prevent cutting and measurement errors. As our buying guide to the best angle finders shows, many handy options are available to DIYers and professionals alike.
Coupled with their lightweight and compact design, they are suitable for undertaking a wide range of projects including woodwork and construction. Jobs such as cutting crown molding, laying floorboard or tiles, or cutting a countertop require precision, as pieces must line up perfectly. When re-cuts and re-dos are not options, "eyeballing" where to cut is not enough. The angle finder used hinged arms and a protractor to measure inside and outside corners. Some models even come with embedded magnets that make them indispensable for measuring miter and bevel angles on a wide range of saw benches.
While you have the option of using the familiar, traditional, handheld protractor for measuring angles, you'll be foregoing the accuracy, ease of use, and speed that comes with using a more modern alternative: angle finders.
Our Top 3 Picks
[srpshortcode id="17359″][/srpshortcode][srpshortcode id="17360″][/srpshortcode][srpshortcode id="17361″][/srpshortcode]
Before selecting an angle finder from the market, one needs to familiarize themselves with a few factors that will be helpful in making an otherwise tedious task a quick and effortless one. The section of the factors to take into consideration before making your choice is included below the reviews.
5 Best Angle Finders
1. GemRed 82305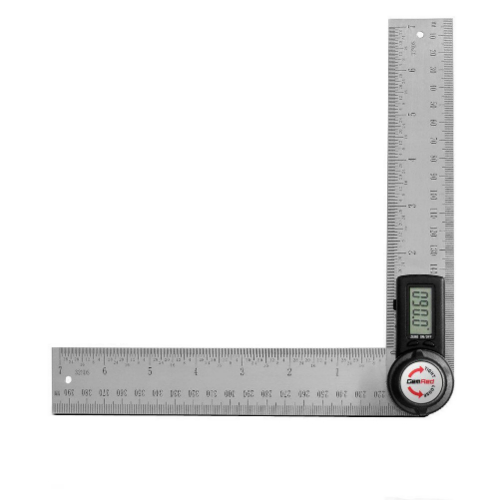 The GemRed 82305 is a feature-rich device that easily stands out in a fiercely competitive field of excellent angle finders. Some of its outstanding features include ease of use, durability, accuracy, lightweight and compact design, and prowess for outputting read-outs quickly and clearly. Despite the features, it offers a simple design with just two metal rulers and a very modest digital display.
It boasts a length of just 200 mm and hardy, durable construction using industrial-grade stainless steel, so it has the ruggedness to withstand the rigors of the trade.
Key Features:
Folded length: 220mm/8.5 inch


Expanded length: 400mm/15.75 inch


Ruler measurement range: 0~400mm;0~7 inch


Measuring range: 0°~999.9° (need to calibrate before every use)


Resolution: 0.1°


Accuracy: ±0.3°


Measurement: laser-etched


Working temperature: 0~50℃


Working humidity: ≤85%RH


Battery: CR2032 3V lithium battery
Expand to see more

The device is accurate to +/- 0.3 degrees, which is honestly impressive for a machine that lacks all the bells and whistles that high-end options offer. To users, ±0.3 degree means that the measurement result may be either larger or smaller than the real angle by 0.3 degrees at max, so the total difference between the two measurements may be as much as 0.6 degrees.

Despite its lightweight and compact design, it invariably maintains its accuracy, even if you inadvertently drop it. Its sturdy and robust construction also means it'll provide you with several years of accurate, trouble-free use, more so because it also packs a long-lasting coin battery with a runtime of approximately 2,000 hours. You'll never regret your choice.

It also features a pocket-friendly price tag that's a great bonus. At less than $25, it is 1/4 the price of high-end models such as the Bosch, yet just as accurate. This device is also stripped off all the bells and whistles, so it concentrates on just one job, giving quick and accurate angle measurements.

The finder gives readings in either imperial or metric systems, and you can quickly and easily shift from one measurement system to another. Another highlight is the inclusion of a small hole on the frame for securing the device using a nail or a screw, thereby guarding against the likelihood of losing it if you work in a busy industrial setting.

Locks securely
Lightweight and remarkably portable
Durable construction
Easy-to-read digital readout
Superb accuracy
Stainless scratches easily
Corners sharp
Offers more functional reading for millimeters than inches
Sharp edges
2. General Tools 822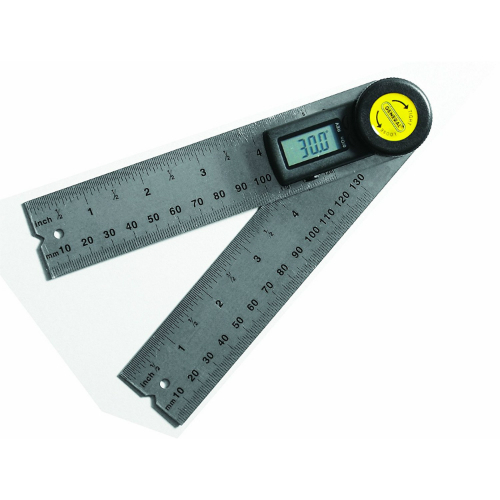 For serious woodworkers, carpenters, and extreme DIYers, a toolbox/chest is never complete if it lacks a heavy-duty, efficient, and accurate angle finder such as the General Tools 822 Rule. To enjoy the premium features that this unit has, you don't have to dig too deep into your pockets, technical details.
Key Features:
Digital protractor has lock and reverse angle functions that make all types of work easy and fast


Hinge mechanism on the angle rule allows a full 360-degrees to measure inside outside and reverse angles


Woodworking tool can be zeroed at any point in the swing; digital measuring stick has a length of 5 inches
Expand to see more

Like the vast majority of options on this list and the market, this one features a hardy and rugged construction quality using stainless steel, a material that's both lightweight and resistant to rust and corrosion. The construction quality gives you the confidence and peace of mind to put the angle finder to task in all sorts of environments without worrying about wear and tear.

The device conveniently combines a ruler with an angle finder to give you the most precise measurements, which pairs nicely with its lock and reverse angle functions up to +/-.3 degrees, which is adequate for many DIY projects. There is a discrepancy between the marketing literature which states .+/-1 degrees and what is printed on the package (.3 degrees.)

A convenient hinge mechanism provides for quick and easy angle adjustments to a full 360-degrees. Also, the intuitive design of the machine allows for zeroing at any point in the swing. Consequently, the user can take accurate and quick measurements internally, externally, and even at reverse angles, which makes the angle finder one of the most versatile angle finders on our

Additional auxiliary features include a compact and lightweight design and a wide, clear LCD screen that quickly and accurately displays all the angle measurements. You can choose between standard and metric readings that you can similarly save for later analysis and comparisons. list. Putting in the battery can be challenging.

The 5" version of this tool is $27 with free Prime shipping, while the 7" is $26 with exorbitant shipping; price shopping would be wise on this device.

Works fast and easy
Easy to zero
Large, easy-to-read LCD display
Very precise
Features lock and reverse angle
Packaging indicates accuracy to +/- 0.3 degrees
Ineffective locking system
No off button
Ambiguous user instructions
3. AccuRemote Digital Angle Gage Level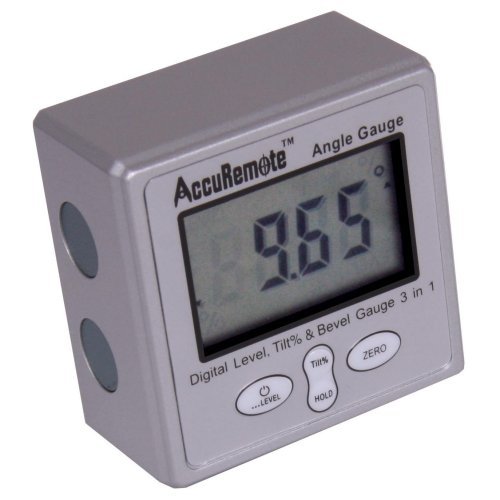 The 3rd slot deservingly goes to AccuRemote Digital Gage Level seeing as it's an all-around device that also lightweight and compact, comes in an easy-to-use square design, and best of all, a budget-friendly price tag. Of course, these are just a few of the outstanding features for the contractor, carpenter and enthusiastic DIYer who wants quick and accurate angle readings.
Key Features:
Super large reversible LCD display. Tracing absolute level


Flip display to view angle in any direction


Displays relative/absolute angles in degrees or tilt percent. Measure range: 360 degrees (4 x 90)


Embedded strong magnets on three sides


Dimensions: 2-3/8" x 2-3/8" x 1-3/8"
Expand to see more
The angle finder offers the user an accuracy level of plus or minus 0.2 degrees, which is slightly better than devices that only promise +/- .3 degrees. The accuracy, coupled with the ease with which it is to read the measurements on the device's large and clear display makes the product an all-time favorite of professionals who want to remove guesswork from taking angle measurements.
It also sports a considerably sturdy and robust construction quality, with metal construction that lasts. Additionally, it comes with a 12-month warranty to cover the user against deficiencies in material and construction.

The large display clearly shows the angle and level measurements so users do not have to lean in or strain to have a clear view. Three heavy-duty and super-strong magnets on three sides of the device's frame makes the device versatile to use as it stays in place for you to do hands-free calculations, compare values, and make adjustments.

Unlike some models that use high-capacity coin battery with a runtime of up to 2000 hours, this model is however powered by a 9V battery with a paltry runtime of 250 hours. For heavy-duty use, therefore, it'll be necessary to have several backup batteries to last an entire week.

For $34 this option offers the user dead-on accuracy, affordability, ease of use, and remarkable portability. It nonetheless has a few downsides but nothing serious enough to hamper its seamless performance.

Powerful magnets for hands-free use
Very accurate angle measurements
Large, easy-to-read screen
A cinch to use
Battery drains quickly
No low battery indicator
Complaints that angles are measured accurately
4. iGaging Digital Protractor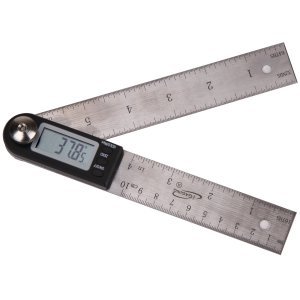 The iGaging Digital Protractor offers a twist on the usual angle finder. It has two stainless steel blades (7' and 4") joined together using a hinge mechanism, a design that quickly and easily locks the blade into position to find the most accurate reading. Another unique selling point of the angle finder is that it gives continuous angle readings as the user adjusts the arms, making it a handy and solid choice for undertaking many domestic and commercial-site tasks.
Key Features:
2 stainless steel rules with 7" and 4" blades


Inch and metric photo-etched graduations


0.05 degree (that's 5/100th of a degree!) repeatability


Large clear LCD display


Continuous display as arms adjusted


Hold function to retain measurements
Expand to see more

The tool features an innovative and intuitive design that makes using it a cinch. The hinge mechanism, for instance, features all-stainless steel construction, along with the rest of the device, so it meets the demands of the workplace. The rulers are removable, coupled with the lightweight and compact design of the machine so the user has quick and easy access to awkward and hard-to-reach spots. The digital display is similarly sufficiently large and displays the measures clearly.

While it does not pack some premium features found on top-end models, it does offer the convenience of displaying either the measures inside or outside the ruler by simply pressing a button. Also, it is lightweight and compact and therefore highly portable from one site to another. The device is energy-efficient and will turn itself off after more than five minutes of inactivity, helping you preserve your battery. As for accuracy, the angle finder exceeds expectations, offering an impressive +/- 0.05 degrees.

With this option in the palm of your hands, making the most accurate angle measurements will be both an accurate and quick endeavor for just $23.

Long-lasting battery
Provides for outside and inside angle measurements
Accurate with an easy-to-read display
Exceptional construction quality
Sensitive to minor movements
Battery hard to replace
Protractor can't be used in small space
5. Bosch 4-in-1 GAM 220 MF


As far as quality, performance, and durability go, the pricey Bosch 4-in-1 Finder aimed to be the king of the toolbox. The angle finder comes packed to the brim with several signature features that enable it to overshadow its closest competitors in virtually all aspects completely. Whether it's trimming. It is remarkably versatile, combining the functions of a finder, a protractor, a level, a cut calculator, a protractor which make it the go-to tool for professional carpenters, contractors, remodelers, and even enthusiastic DIYers with eyes firmly trained on the absolute best performance. Considering its many performance and convenience features, the high price may be reasonable.
Key Features:
4 tools in one including an angle finder, miter calculator, protractor, and level


Provides angle memory to provide the same angle measurement in different areas of the jobsite


Easy-to-read illuminated, rotating flip display. The miter cut calculation has an input measurement from 0-220 degrees


Features robust housing with IP54 protection, making the angle finder water and dust-resistant


Includes a 4-in-1 digital angle finder, 16". leg extension, hard thermoformed case, 4 AA 1.5V batteries
Expand to see more

The angle finder accurately measures the precise angles and records the various measurements for later use. The protractor helps accurately position the cut line, while the level is for balances and levels everything. The cut calculator determines the most precise bevel and miter angles and conveniently stores the readings for later use, sparing you the time and effort of repositioning the tool every so often.

Additional features worth mentioning include a large, easy-to-read, illuminated, rotating flip display and durable, heavy-duty construction of the machine with an impressive IP54 protection rating. Consequently, it is resistant to both water and dust, and with proper use, it should provide the user with several years of hassle-free and efficient use. In addition to the warranty, it also comes with four long-lasting AA 1.5 batteries.

While this model may be overkill for the average DIYers, it makes quick work preparing molding and baseboards on big projects. When other options on the market just can't make the cut, it's high time you considered a model that has it all. The GAM 220 MF boasts all the bells and whistles the market has to offer. It's a little expensive at $160, but then again, you get what you pay for.
Accurate angle measurements
Versatile
Easy-to-read large display
Long-lasting batteries
Expensive
Heavy to hold
Constant humming noise when turned on
Hard to draw accurate corners
Directions weak in explaining potential uses
Criteria for Choosing the Best Angle Finders
Measurement Accuracy
For projects such as woodworking and construction, being off by as little as 1 percent of an angle reading has the potential of throwing your whole project into disarray. In these cases, a super-accurate angle finder is a must-have.
Ideally, an angle finder for commercial use should be accurate to within 0.1-degrees, while one for domestic or DIY projects can be allowed up to +/- 0.3 degrees. Closely related to accuracy is the locking feature. The locking feature enables the user to conveniently lock the arms at an angle of their choice, which preserves the measurement reading for later use.
Broad Measurement Range
A high-end angle finder needs to be versatile, capable of measuring angles within the 0 and 360-degree range. There are some extreme angles that a conventional angle finder will struggle with, while their digital counterpart can measure with utmost ease and impressive speed. The versatility of modern angle finders makes them incredibly easy to use for any project.
For convenience, angle finders should come with a level. The feature saves you the hassle of going to and fro the level and finder with every cut.
Construction Quality
A final critical feature is how strong and durable the device is. An angle should withstand the rigorous task of measuring miter and bevel angles in sometimes awkward and hard-to-reach spots. Similarly, it should be able to withstand impact and other environmental conditions like extreme weather conditions.
It should be rust-resistant so it continues providing you with several years of seamless and trouble-free service. Two of the strongest and most durable materials manufacturers tend to use are stainless steel and aluminum.
Ease of Use
In addition to the features mentioned above, the ideal angle finder should be easy to use. Features such as a large, easy-to-read LCD display, a memory feature, and an ergonomic, lightweight, and compact design go a long way. Additionally, an auto shut-off feature, a cut calculator, embedded magnets, and even Bluetooth technology increase functionality.
Frequently Asked Questions
1. What Tool Do You Use to Find Angles?
An angle-finding tool can help you complete takes involving measurement, whether you're doing something big like building a garden shed or simply tackling around-the-house maintenance tasks like measuring for a storm window. If you are remodeling, an angle finder will help prevent cutting mistakes. The old adage—"Measure twice"—still applies.
2. Is an angle finder the only tool you will need to measure angles?
Angle finders, or digital protractors, are part of a family of measuring tools that includes pivot square, adjustable T-squares, three-sided squares, T-bevel setters, miter setters, and more. Each of these has a purpose in carpentry and other jobs where precision is a must.
3. How do I stay safe while using an angle finder?
Angle finders come with strong metal arms can easily pinch your fingers or skin. If necessary, using gloves can help.
4. How can you prolong the useful life of my device?
Do not drop or submerge your angle finder in water. Similarly, always keep them clean and dirt- and grime-free.
Conclusion
Our objective in presenting this buying guide to the best angle finders has been to point what to look for when selecting this tool. Our choices are not only affordable, but also high-performance, reliable, accurate, easy to use, but also highly portable. Even the high-end Bosch is well worth the cost to a professional or a skilled woodworker. These tools take the guesswork out of angle measurement, provide quick and accurate results, and belong in the toolbox of anyone dependent on precision angles.
Subscribe to our newsletter