Best Wood Glues Reviews & Editorial Ratings
last updated:
Feb 05, 2019
When it comes to working on professional or any random DIY woodworking tasks wood glue is a must-have. Whether it's filling some gaps, binding joints, fixing broken pieces of wood or preventing surfaces from disintegrating, there is no doubt that this characteristically sticky liquid is needed at some point in the process. But with so many options to choose from these days how do you know what works for a specific project? Well, selecting the perfect product is undoubtedly no walk in the park.
Our Top 3 Picks
[srpshortcode id="21463″][/srpshortcode][srpshortcode id="21464″][/srpshortcode][srpshortcode id="21465″][/srpshortcode]
To begin with, wood glue prices vary significantly. And with manufacturers trying to outdo each other any buyer can be left confused in the face of seemingly limitless options. In this guide, we take a look at some great products available in the market. But first, let's go through at some factors you need to consider to inform your purchasing decision.
10 Best Wood Glues
1. Gorilla Wood Glue, 18 ounce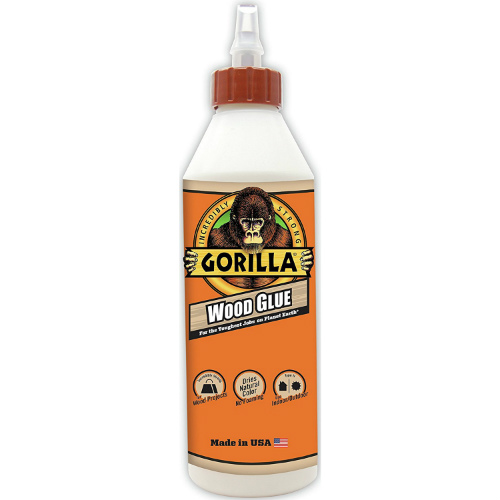 Irrespective of your occupation, the holding power of Gorilla Wood Glue will leave you with a big grin on your face. A perfect choice for professional carpenters, handymen, and hobbyists, the water-based adhesive works like a charm on a wide range of wood pieces. And because it dries quickly and in a natural colour, the bond line it leaves behind will be hard to see. The durable and strong bond the glue forms leave no room for future corrections and because it's a cinch to use, everyone from the professional to the greenhorn just starting out will have an easy time using it.

Hands down one of the best wood glues currently on the market, it is a versatile choice ideal for a wide scope of applications. The water-based adhesive is extremely popular and rates highly on the basis of its formidable performance and ease of use. Optimized for use on hardwoods, softwoods, and natural composites, it dries in record time. You'll only have to wait for just 20 to 30 seconds and it fully cures in just 24 hours.

Expand to see more
The glue is resistant to water and is designed for effortless and effective use in all seasons and temperatures. Besides the solid holding power, another highlight of the wood glue is how Gorilla Wood Glue dries in a natural colour after application.

It'll take an observant eye to notice the bond line it leaves behind after use. As for convenience, you'll only have to apply the glue on one side of the wood in case it's not very thick. For thick woods, though, it's highly recommended that you glue both sides for the best results. Make a point of thoroughly cleaning the surfaces you intend to stick together before applying the glue. To achieve a secure fit, you may need to clamp the pieces together for up to 30 minutes and wait up to 24 hours for it cure completely.

It comes with all the desirable features. It firmly and permanently glues together various wood types and hardly leaves behind a bond line after it completely cures in 24 hours. And it's easy to use.

Suitable for indoor and outdoor use
Delivers strong adhesive strength
Highly resistant to water
Works perfectly for both DIY and professional tasks
Works on a wide range of materials
Highly viscous
Dries quickly
Easy to use with an anti-clog nozzle
It's highly viscous nature makes it a little hard to dispense
2. Titebond 1414 lll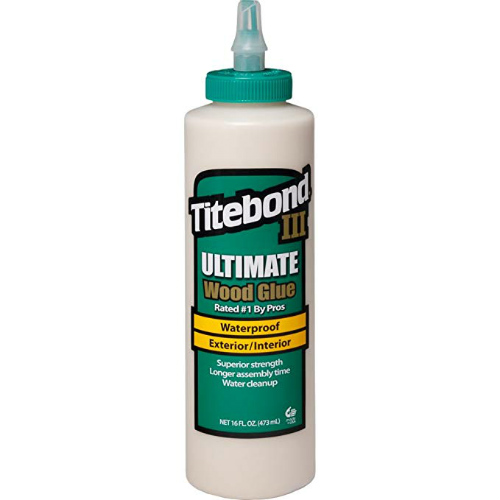 Titebond 1414 lll features a special formulation to provide its users with the best performance. Like aliphatic/PVAs, it's a cinch to apply and because it's water-based, it provides superb water resistance, playing second fiddle only to polyurethane glues. Similarly, its performance is on a whole new level, which in turn explains why we just could overlook or turn up our noses at it, as we often do with cheap, humdrum options out there. Continue reading for an in-depth review of its outstanding features.

A perfect selection for use on indoor and outdoor woodworking projects, Titebond 1414 lll comes with a bunch of features and specs for effortless, quick, and accurate bonding. One such feature is versatility. Besides its suitability for wood-on-wood joints, it also works as advertised with rubber, cloth, and leather. Its unique selling point though is the considerably long open time and higher viscosity, both of which substantially overshadow those of traditional PVAs. As a result, you don't need to wait for the perfect conditions like lower temperatures before using it.

Expand to see more
Another reason to consider going with this wood glue is the attendant ease of use. While it can't hold a candle to polyurethane glue considering the former's reputation for flexibility and massive strength, it nonetheless makes up for lost ground by offering the user ease of cleaning. Cleaning it off your hands and equipment after work should be a breeze.

The above features are just a tip of the iceberg. Another instrumental feature that stand out is its ability to clean up with water even while it's still wet. Further, it doesn't soften when sanding off especially after curing fully. It's impervious to various elements that include finishes, solvent, and heat and is also capable of resisting mildew. Plus, you can use it on both interior and exterior applications.
Titebond 1414 acts fast and dries quickly and is not only strong but also easy to use. It also cures quickly and doesn't soften when it sands off. It definitely a perfect choice.

It delivers very strong initial tack and bonding strength
It's waterproof hence can be utilized outdoors and indoors
It boasts high-level sandability
It's non-toxic and solvent-free
It does not expand once dry
Its residue can easily get cleaned with water
Has a long open assembly time
It's less viscous
Retains its tan coloring when dry
3. Elmer's E7010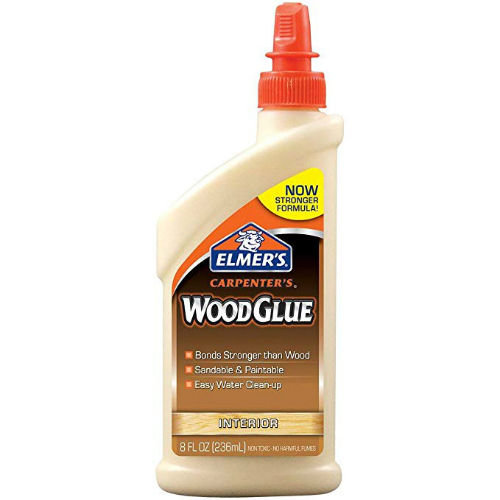 For wood lovers around the world in search of a versatile and high-performance wood glue for completing their wood crafts, take a serious look at Elmer's E7010 glue. A
carpentry
and home repairs staple, the wood glue brings together the best of all the essential features. As well as featuring a perfect formula that delivers utmost bond strength, it also happens to be non-toxic, devoid of dangerous fumes and makes it remarkably easy to clean your hands and tools with water after you finish with your project. If this sounds like the wood glue you've been looking for, then look no further.
Elmer's E7010 works exactly as the manufacturer advertises it; quickly and efficiently. Compared to its flimsy, off-brand counterparts, this glue creates bonds that are stronger than the pieces of wood it aims to join. This performance feature explains why Elmer's E7010 is a common sight in the vast majority of workshops and homes all around the world.
Expand to see more
The fact that it creates strong, permanent bonds quickly also accounts for its skyrocketing sales and impressive reviews on customer-trusted sites such as Amazon.com. Not only is it easy to sand off without it softening, but it's also easy to paint over and it dries to a natural tan colour that's barely noticeable if one lacks a keen eye.

In addition to delivering a perfect, smooth finish, it also easily and quickly cleans off with water. You won't need any special cleaning detergents to get your tools and hands clean after a hard day of joining various wood pieces. Its non-toxic formula means its safe to use both indoors and outdoors and conveniently reduces clamping time to just about 12 hours.

Elmer's E7010 is recommended to woodworkers in need of a wood glue that's non-toxic, forms strong bonds, easy to clean with water, sandable, and paintable. And it's cost-effective.

Delivers a clear and durable bonds
It's non-toxic
It's easy to use
It's sandable and paintable
Can easily be cleaned with water
It sets quickly
It's not ideal for light woods or materials
Lacks impact resistant capabilities
4. Titebond 5004 ll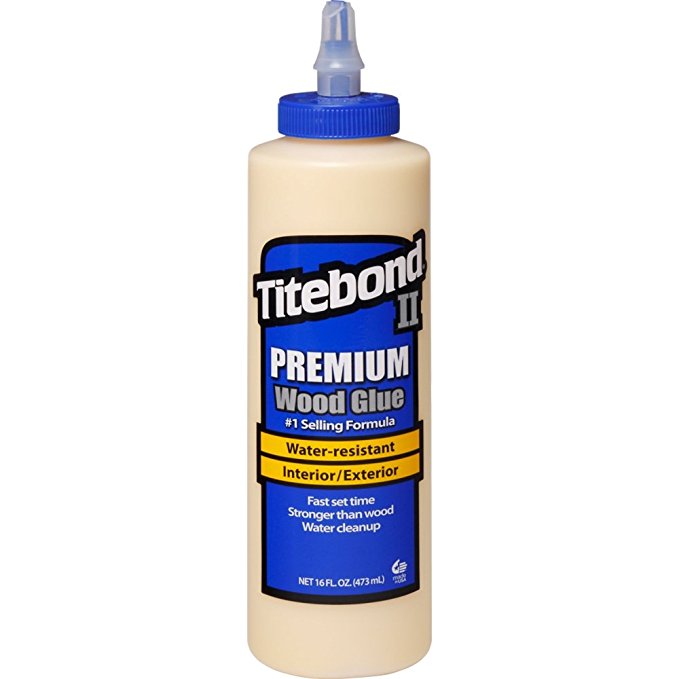 Titebond clearly has a knack for tough-sounding and ear-ripping names as its two flagship wood glues easily demonstrate. First, it was Ultimate and now Premium. The names have a motivating effect on the brand, motivating it to push the boundaries on innovation. Titebond 5004, for instance, comes with a plethora of features that put its performance at par with other high-end wood glues on the market. It's versatile, easy to use, easy on the pockets, and best of all, it easily exceeds performance expectations.

Like several other wood glues, the superior formulation of Titebond 5004 allows you to use it on multiple settings, including indoors and outdoors. It is exceptionally resistant to water and harsh external weather elements, giving you the confidence to apply it generously on a wide range of wood surfaces or objects.

Expand to see more
Another unique selling point is the strong initial tack, a feature you'll find only in a handful of wood glues on the market. Also, unlike them, it takes minimal effort and time to assemble the wood glue. It takes anywhere between 10 and 15 minutes, a fraction of the time you'll spend with other wood glues. This, in turn, means the clamping time will be considerably less while productivity will be greater.

Like virtually all our picks, Titebond 5004 elivers superb gluing, thanks to its attendant bonding strength. A perfect choice for a wide range of woodworking applications, it's not fazed by finishes, a fact that makes it highly flexible. Also, sanding off doesn't cause it to soften and because it is approved by the FDA, it's safe to use on kitchen appliances and other hardware.

Overall, it comes with all the flair you'd expect from a Titebond product.

Boasts of strong initial tack
Delivers great bonding strength
It's pocket-friendly
Can be used on different surfaces and material
It's resistant to moisture and extreme temperatures
Comes with anti-clog nozzle
Fast drying with excellent sandability
Ideal for indoor and outdoor application
Not very reliable under extremely low temperatures
5. Gorilla Super Glue 15 Gram, Clear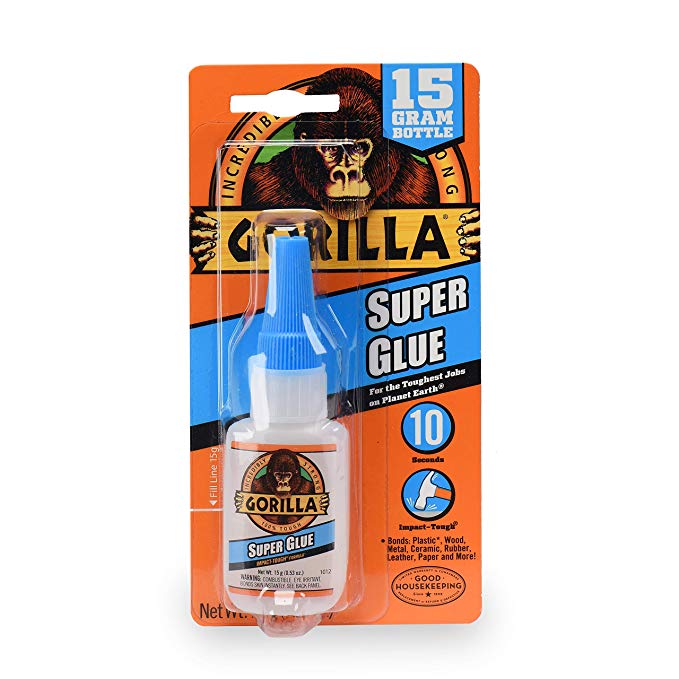 Like its cousin we reviewed earlier, this Gorilla Super Glue 15 Gram is packed to the brim with several performance-enhancing, time-saving, and convenience features. As Gorilla wax lyrically points out, their wood glue is impact tough, has an
anti-clog
cap, and boasts exceptional versatility. It also forms a permanent bond between various woods, significantly minimizing the likelihood of them separating even after years of extreme use.
And even though it's not recommended for use on polyethylene, polypropylene plastics, and similar materials, it's still a perfect choice for use on a wide range of other materials. Some of the materials it bonds wonderfully include plastic, wood, metal, ceramic, rubber, leather, paper, and several others.
Expand to see more
Its preference and popularity are informed by manifold factors, the most outstanding being performance. It boasts high strength and a quick set time, two features you'll be hard-pressed to find in cheap, off-brand options mushrooming all over the internet. Also, like our previous choices, it is incredibly versatile seeing as it works on a broad range of materials besides wood. The design enables you to make quick and permanent repair around the house and in your workshop.

Further, the expert and skillful design of the wood glue enhances its resistance to various impacts, meaning that it won't be fazed by bumps or drops or any other rough handling. The dependable bond easily weathers extreme use and loads of attrition, and even hardy, extreme use, which explains why it's the go-to adhesive for the vast majority of hobbyists, professionals, and extreme DIYers. Renowned for its thoroughness, Gorilla Super Glue goes one step further and adds an anti-clog cap complete with a metal pin on the inside. Its work is creating a perfect seal for preserving the strength and impact resistance of the wood glue, thereby maximizing reusability.

Boasting a quick dry time of between 10 and 45 seconds without having to clamp, Gorilla Super Glue 15 is not only powerful but also easy to use. It tough, impact resistant, and comes with a heavy-duty anti-clog cap for preventing the wood glue from drying out between uses.

It remains unaffected by extreme heat or humidity
Great for both indoor and outdoor repairs
Leaves a strong bond
It's versatile and easy to use
Dries quickly
Comes with an anti-clog seal for optimal reusability
6. Glue Master Instant Glue – Craft & Wood Adhesive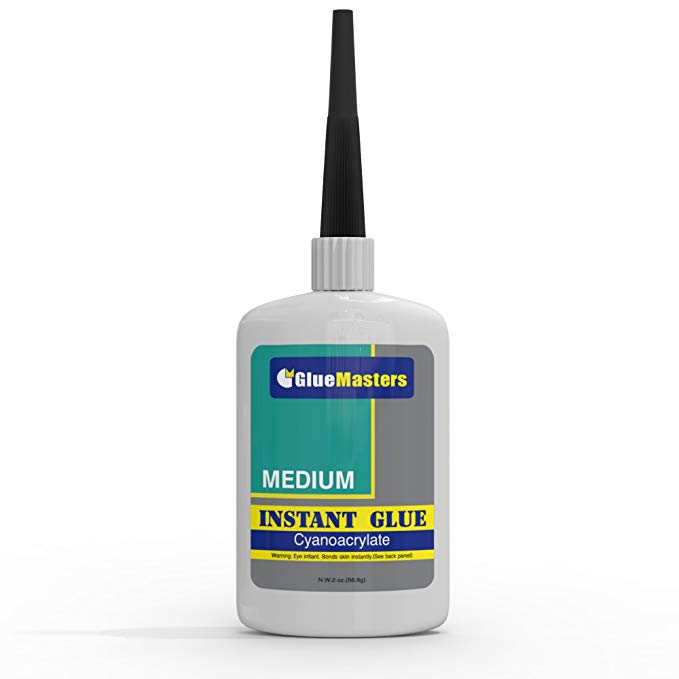 Glue Master Instant Glue features a commercial-grade Cyanoacrylate (CA) formulation that substantially expands its scope of application. Besides helping you strongly and permanently joint two pieces of wood together, it's also a perfect choice for fixing broken china, gluing your sole back together, and general home repairs involving glass, plastic, metal and several other materials. Thanks to its superior design, it takes less than a minute to settle and acts quickly and powerfully. A perfect choice for industrial-grade applications, the innovative design of the bottle allows you to easily and quickly use it for jobs that demand finesse.

The superior quality, commercial-strength of the glue's formula allows it to form the strongest wood-on-wood bonds. For users looking for the best bang for their back, you'll come to appreciate how fast and easy it cures and the prolonged shelf life. With a settling time of up to 30 seconds, few wood glues are as easy to use.

Expand to see more
A small quantity is just as potent and since it sports a professionally balanced medium viscosity, you'll always have perfect control over the application. It flows easily, enabling you to finish delicate projects without any hassles or creating any messes, which makes onerous tasks like working with planes, trains, and boats super fun and easy.

You're at liberty to choose a level of viscosity that best matches the project you intend to undertake. Irrespective of your choice, your gluing experience will be nothing short of exemplary considering how easy it is to use and manage the wood glue. It settles a lot faster than most of its competitors out there and it's of course versatile. Because it's also non-toxic, you can use it on indoor and outdoor projects and it easily and quickly cleans with water.
Delivers industrial grade adhesive strength
Value for money given its price
Dries quickly
Can be used for a wide range of bonding applications
Delivers a clear shiny finish
Has great viscosity guaranteeing ease of use
Settles quick enough
Has a comparably short shelf life after opening
It's toxic
7. Titebond 5063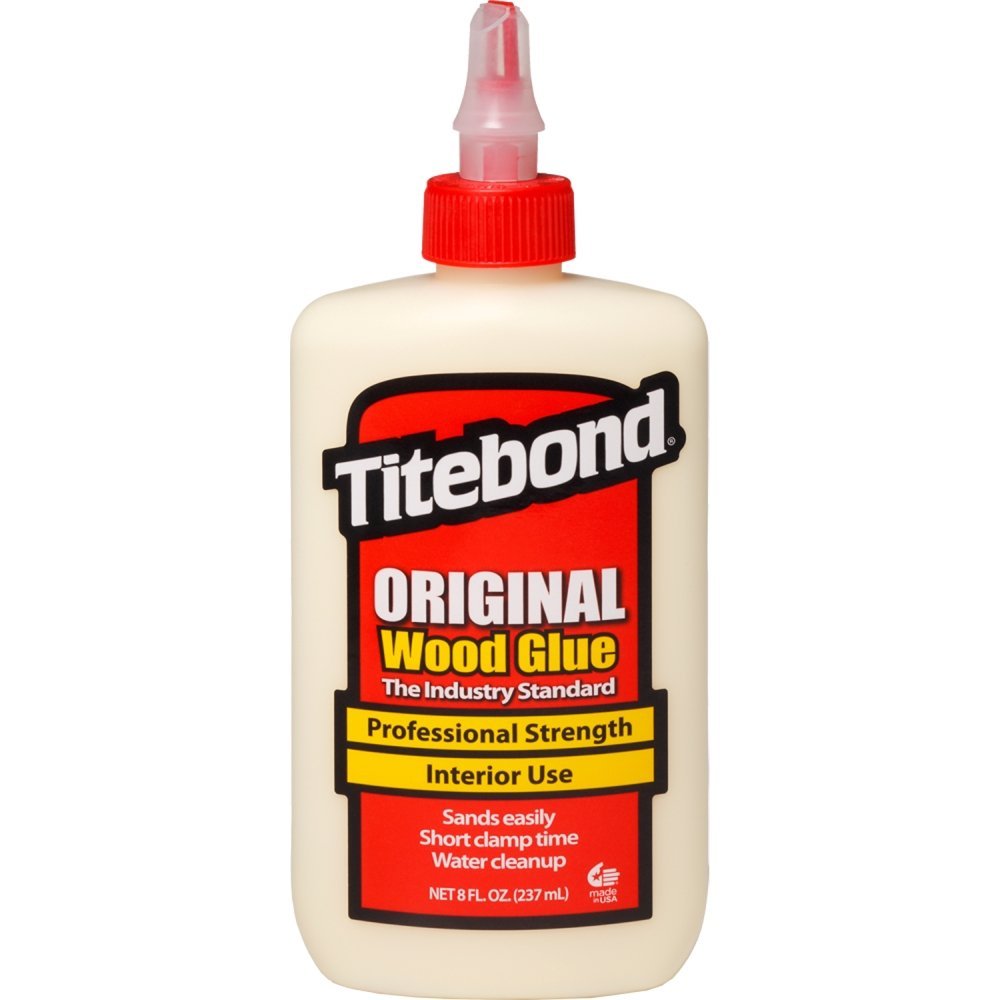 As we've all come to expect from Titebond wood glues, this Titebond 5063 reduces the clamping time, forms bonds that are stronger than the wood itself, and is a cinch to clean up after application. Further, it never leaves behind any ugly bond lines and sands perfectly without softening. Despite coming seventh on the list, the wood glue is the standard against which other industry giants measure performance, convenience, and practicality, partly explaining why the product strikes a chord with woodworkers from around the world. And it's versatile.

For more than 5 decades, professional woodworkers, extreme DIYers, and everyone else in between have always reached for this wood glue whenever they need to joint various wood pieces. The strong initial tack this original aliphatic-resign glue offer means it reduces clamp time to a fraction of what it takes with flimsy, run-of-the-mill alternatives found in every corner of the market and the Internet. Another beauty of the Titebond 5063 is that it strongly extremely strong bonds, stronger than the wood itself. The bond is as good as permanent.

Expand to see more
This glue ups the ante by offering exceptional versatility. Its applicability is not limited to just woods. It works just as great with hardboard, particleboard, leather, cloth, and a plethora of other porous materials. The glue also delivers superb sandability and finishes, heat, solvents, and mildew won't have any impact on its structural integrity and performance. The results are not only strong bonds but also professional-looking finishes, the kind that doesn't have unsightly bond lines.

It is also a breeze to apply. It spares you the frustration of rinsing or cleaning it off your hands and other materials or surfaces as it is solvent free and compatible with water. You can use it in confined spaces as it features a non-toxic formula.

In all, Titebond 5063 creates strong, unbreakable bonds between different materials and is easy to apply and clean off with water. It sands with ease and leaves a high-quality, smooth finish.


Comes with a non-clogging nozzle for seamless delivery
Creates a smooth strong bond when dry
Can easily get cleaned with water
It's highly heat resistant
It's versatile
Easy to sand
It's non-toxic hence quite safe
Ideal for indoor use only
May need clamping to hold better
8. DAP 00157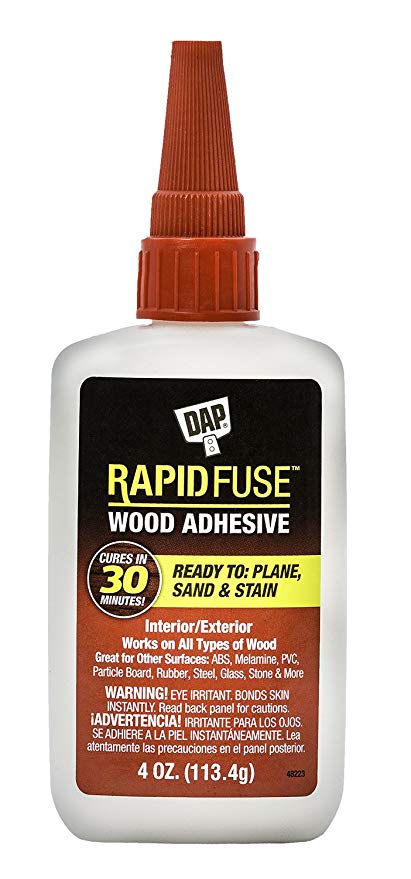 The DAP name may not ring a bell like Gorilla and Titebond do but compare their leading products and you realize there's no discernible difference in performance. As a matter of fact, DAP 00157 is on the same performance and convenience par as its high-end, costlier competitors. Compared to most wood glues that cure in about 24 hours, this model takes a paltry 30 minutes and sets in 30 seconds. Another perk to using the glue include the ability to reposition it up 3 minutes, which comes in handy when you make an error or mistake while woodworking.

DAP 00157 breaks new ground with its innovative cyanoacrylate formula that packs incredible bonding strength, enabling you to quickly and flawlessly make several repairs with impressive stretch. It's versatile, too. It's compatible with all types of wood, metals, rubber, and glass and because the formula doesn't contain any dangerous ingredients or toxins, you can comfortably use the wood glue in both interior and exterior environments.

Expand to see more
Like we indicated earlier, the wood glue sets in 30 seconds and cures fully in just 30 seconds, a fete the vast majority of wood glues on and off this list can't pull. Unlike some, it also forms ultra-strong bonds and doesn't leave any visible bond lines. To these attributes add the fact that it never foams nor drips during use, making it incredibly easy to use. The impressive design of the bottle makes it easy to apply and you can easily wash your hands after you're done. So you don't have to worry about it sticking dangerously to your skin.

Clearly, DAP 00157 is a solid and perfect choice for handymen, woodworkers, and hobbyists who want to create ultra-strong bonds capable of lasting a long haul.

Sets very quickly
It delivers incredible adhesive strength
It's versatile
Super easy to utilize
Forms clear bonds
Ideal for both professional and DIY tasks
Tends to produce a foul odor
Has relatively limited open time
9. Loctite Liquid Professional Super Glue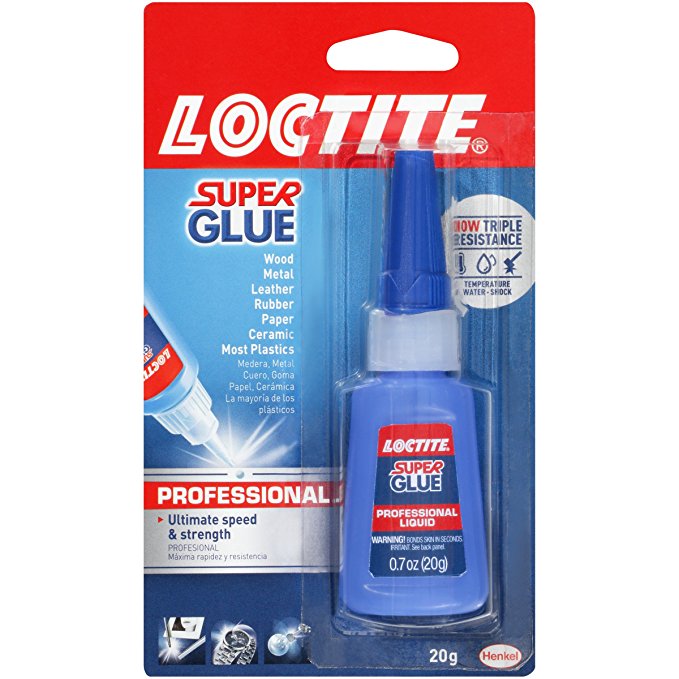 As the name suggests, Loctite Liquid Professional Super Glue is a super glue. It features a superbly strong formula that works quickly, effortlessly, and reliably. A perfect choice for heavy-duty applications and
DIY repairs
around the house, it's remarkably easy to use. The ergonomic design of the bottle gives the user superior control and delivers a firm, secure grip, allowing for a more accurate application on targeted surfaces. An epitome of versatility, this wood glue works exceptionally well with leather, ceramic, rubber, paper, metal, China, the vast majority of plastics, and of course, wood.
That Loctite glue comes with a super strong formula is not disputable. If you want to repair or bond leather, cork, paper, cardboard, wood, chipboard, fabric, metal, and several other bondable materials, it should be your go-to adhesive. It'll take massive force and some serious commitment to break the bonds the wood glue creates. It also acts fast and because it has low viscosity, it's a perfect choice for use on smooth, close-fitting surfaces.
Expand to see more
While it comes with a bunch of auxiliary features, the fact that it comes with a self-piercing, screw-on cap deserves a little more attention. The intuitive design does a remarkable job keeping air from interacting with the glue, preventing it from drying up between uses. The pinpoint design of the nozzle helps you control the flow of the glue and prevents it from clogging up, ensuring hassle-free, economical use. It has a longer shelf life seeing as it's resistant to most adverse elements like high temperature, heat, and moisture. Stored properly, it should provide with optimal performance whenever the need arises.

This product is exceptional in every sense. Its performance is top-notch, it's easy to use, and it costs a fraction of the price of its top-of-the-line competitors in spite of the negligible difference in performance.

Suitable for multiple bonding applications
Delivers firm and reliable performance
Has a handy nozzle design for precise delivery
It's super easy to use
Resistant to adverse environmental influences
Value for money
10. Elmer's E7310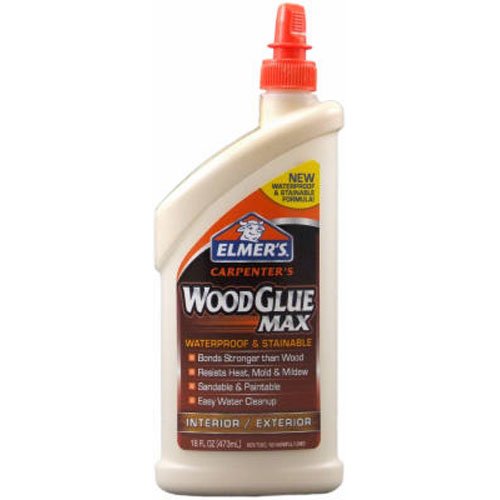 Our last pick has a lot going for it. Elmer's E7310 is one of a handful of wood glues designed to expertly combine water resistance and stainability and still feature a price tag industry pundits describe as laughable. It may be cost-effective but its performance is nothing short of exceptional. The glue offers excellent bond strength and stainability and is a cinch to use. Not to be left behind, it's also resistant to heat, mold, and mildew and because its formula is devoid of dangerous substances, ingredients, or chemicals, it's safe to use for interior and exterior repair projects. Continue reading for a detailed review of this workhorse.

Expand to see more
Elmer's E7310 is every woodworker's best friend. It delivers the results it promises each time and works dependably. Besides delivering an ultra-strong bond for wood-on-wood joints, it's also renowned for the superiority of its staining, which is quickly noticeable after a gluing project. Such head-turning performance is wholly attributable to the presence of real wood fibres in its strong formula.

As for convenience, Elmer's E7310 has no equal. The user-friendly design of the 16-ounce bottle enhances ease of application on various without any significant difference in results. Your quest to complete any woodworking projects successfully should be a breeze with this product. Whether you are working on the interior or exterior, the ElmerE7310 gets the job done.
Suitable for interior and outdoor use
Delivers superior bond and stainability
Easy to clean up
It's quite affordable
Highly resilient to adverse weather and environmental conditions
It's non-toxic
It may take some time to bond fully
Criteria for Choosing the Best Wood Glues
Adhesive Strength
The adhesive quality is perhaps the single most important feature you should look out for in a product. Different glues available in the market offer varying degrees of stickiness, so it pays to go for what ticks your boxes. The best way to go about your choices to this end is by looking at the threshold of initial tack, how long it takes to set and dry not to mention time allowed for reversibility.
Depending on the intensity of the hold you would like to achieve you can make relevant comparisons before picking what is likely to give an effective outcome. A quality product with excellent bonding abilities will not only help you fix whatever you want but it will make your work easier without any back and forth.
Type of Glue
In the market, the first thing you are likely to notice is that there are several kinds of wood glue. They are five to be precise- Polyvinyl acetate (PVA), epoxy based, Cyanoacrylate (CA), Polyurethane, and Hide glue. Each category is made of a particular line of chemical variants ideal for equally specific applications.
This makes each type different in lifespan, flexibility, toxicity, resistance, and more importantly versatility. For instance, while epoxy based glues do an excellent job in filling gaps, they may take a while to cure, unlike others which settle almost in no time. As such, your needs should give you the right signals for the best type of glue.
Nature of project
Another guiding factor anyone searching for a befitting wood glue for their project is what they intend to do with it. Do you want to join two surfaces or fill gaps? Do you want a permanent or temporary fix? How do you want to keep the aesthetics of the surfaces you are working on? Are you working on flat or vertical areas? Is the task indoor or outdoor?
These questions should inform the suitability of any given product. Matching the nature of application and features such as water resistance, the appearance of the finish, clamp time, consistency or viscosity among others should help narrow your options.
Resilience and versatility
The best wood glue should be able to perform in wide-ranging applications without wasting away to adverse influences over time. For this reason, in your search for the most suitable product, looking at metrics such as the ability to perform in DIY and professional woodworking projects, resistance to moisture and extreme temperatures, indoor and outdoor performance capabilities should help you avoid getting a raw deal.
Frequently Asked Questions
Q: What is the most common mistake when using wood glue?
A: The most common error many people commit while applying it is failing to ensure the surfaces are clean. Regardless of the size of the area, it is important to clear any dust or particles because they are likely to impede perfect results, especially where aesthetics matter.
Q: What is the best glue for woodworking?
A: It is almost impossible to rate any particular product or brand as the outright winner given the long list of options. Besides, there are five different types of wood glue each manufactured to suit specific purposes. The best way to get is to get what works for your situation.
Conclusion
Given the seemingly endless choice range, it needs no mention that getting the ultimate winner for any particular woodwork project takes careful consideration. First timers, for instance, may have to try out a few products before settling for a favorite. Nonetheless, if you lack the slightest idea where to begin, our guide should save you all the trouble.
Subscribe to our newsletter