Best Soldering Guns Reviewed & Rated
last updated:
Sep 11, 2018
If you are a techie, or you are just enthusiastic about repairing electronics, you need a soldering gun in your arsenal. It is a must-have tool for fixing, modifying or creating electronics. It works by melting solder on two conductive elements and leaving behind a robust link. It's also used in jewelry metalwork, but we will focus more on creating and repairing electronics.
If you are new to electronics, a soldering gun might be intimidating. However, it is easy to use, and you can learn the fundamentals in a few minutes. Also, advancing technology has made them more comfortable and more straightforward to operate.
Our Top 3 Picks
[srpshortcode id="17807″][/srpshortcode][srpshortcode id="17808″][/srpshortcode][srpshortcode id="17809″][/srpshortcode]
Picking a soldering gun that works for you can be an overwhelming and confusing task with the many options in the market. If you are looking for recommendations, you can pick one of the units below. However, you can also follow this guide to get a unit that suits you.
10 Best Soldering Guns
1. X-Tronic Model #3020-XTS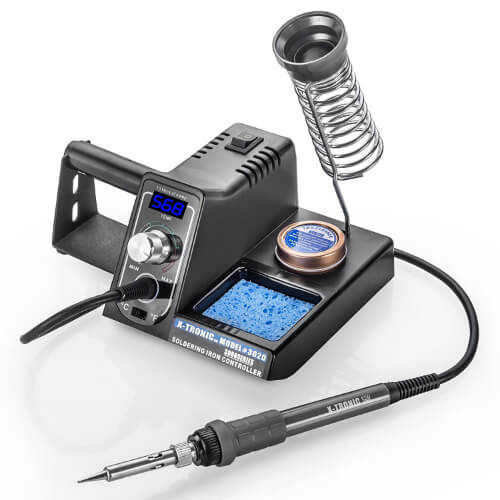 As a beginner or a hobbyist, you will love the experience of using the 3020-XTS. First, the station is sturdy, and there is a place to store every accessory of the set. The conical tip is ideal for delicate tasks, and it is easy to get replacements. What caught our interest though is that the iron is compatible with Aoyue and Hakko tips for those days you can't get replacements.

Another fascinating feature of the 3020-XTS is the digital temperature display. It enables you to control the heat while giving you the peace of mind that you will not destroy your components. The digital display is also a rarity at this price point. However, what piqued our interest was the speed at which the unit heats and the sponges.

Speed – The X-Tronic 3020-XTS takes about 49 seconds to heat up. This is well below the one minute which is considered the reasonable time for a unit to heat up. It also happens to be faster than most units as some can take well over 4 minutes to heat up. The max temp is 863® F which will do for most basic projects. However, you will need another iron for more delicate projects.

Blue and brass sponge – Most solders retail with a blue sponge and the brass sponge is a pleasant surprise. You don't have to dip the brass sponge in water before using it, and thus it doesn't cool the iron as the blue sponge.

Expand to see more
Product Features

Digital temperature display.
Power: 75 Watts
Has holders for all accessories

Who is it for?

We recommend the X-Tronic 3020XTS for hobbyists and DIY enthusiasts.

It's quite comfortable to use as the handle is padded and thin; also, the heat from the tip is barely noticeable
It is affordable and has the features that are only available on more expensive models
You have more control over the temperature thanks to the digital display
The silicone cord between the base unit and the soldering iron is heat resistant and memory free
Attaching the solder holder to the station is a pain, but this is a one-off task
The temp will dip when using it, but it recovers in a few seconds
2. Weller WLC100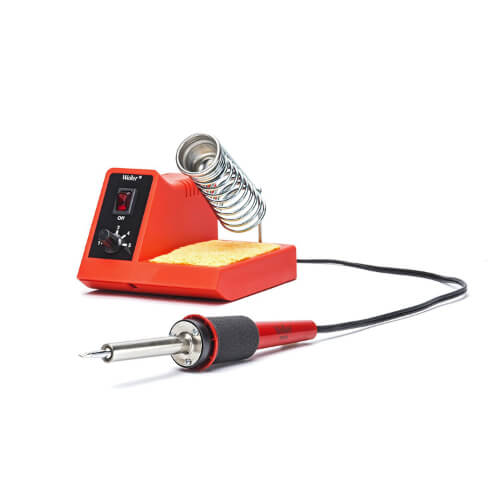 The WLC100 happens to be one of the most popular
welding stations
on the market. It also happens to be a great tool and affordable. The Weller WLC100 happens to be a consumer solder and thus has only the basic features. However, it will suffice for any DIY projects or repairs.
First, there is the chisel tip which is useful when working on tough projects. Though it is not helpful for delicate electronics, you can easily replace it with any thinner conical tip. The device is compact and will barely take any space on your desk. You will also appreciate the ergonomic handle which is padded and has a rim to prevent your hand from sliding down to the tip. Also, although the handle will warm up, it will not lead to any discomfort. Our best features though happen to be the ease of use and the long cord.
Ease of use
– The WLC100 has a knob you can use to control the wattage and subsequently the temperature. Though it doesn't tell the exact wattage, the five-dial settings will help you lower or raise the temperature.
Lengthy cord
– At 4 ft long, the cable of the WLC100 is enough to work without having to move the base station. Also, the soldering iron happens to be separate from the station which allows you to replace in the future should it be damaged.
Expand to see more
Product Features

Power: 5 - 40 Watts
Temperature: 350®F to 900®F
Input: 120V

Who is it for?

The Weller WLC100 is a basic unit which is best for beginners. Hobbyists can use it too, but we wouldn't recommend it for professionals.

The padding on the iron keeps the heat from causing any discomfort
It has everything you need from an iron holder, a sponge holder, and the temperature control knob
Has very high temperatures at 907®F. This is enough to solder through holes
The long cable allows you to work comfortably without yanking the station
Though the knob simplifies the unit, it is impossible to tell the wattage and subsequently the temperature settings as they are not indicated on the device
The unit takes about 4 minutes to heat up which is too long
3. Vastar Soldering Iron Kit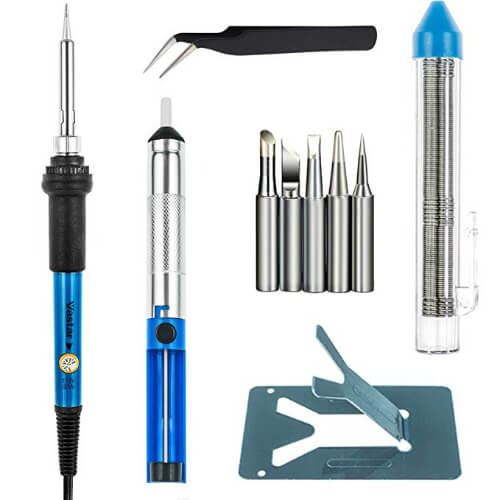 If you are on a limited budget, or you are shopping for an option for a one time project, we recommend you get the Vastar iron. The unit is affordable and is a best seller as a result. First, you will appreciate that no station is needed making it a highly portable unit. Just plug it into any outlet, and you are ready to play. The handle too is thin and ergonomically designed to prevent any slippage. The LED indicator is even better as it prevents any accidents from happening.

The unit has a Y-stand to hold the iron, and you might consider replacing it. Also, despite being an inexpensive unit, it has quite some accessories including a desoldering gun, a solder, tweezers, and five tips. However, our best features were the heat dissipation and upgraded PCBA.

Heat Dissipation – The Vastar soldering iron has better heat dissipation thanks to the steel pipe design. It reduces the temperature and protects the plastic handle. Also, it reduces the discomfort when the handle heats up.

Upgraded PCBA – Instead of relying on color ring resistance, the Vastar fullest uses a chip fixed resistor which heats the iron faster and maintains consistent quality. Even when the temperature dips, be assured it will recover more quickly.

You will also appreciate the 60W power on this unit which will suffice for any task around the house.

Expand to see more
Product Features

PCBA upgrade
Accessories: 5 tips, a desoldering gun, a basic stand, solders
Power: 60W

Who is it for?

We recommend the Vastar iron for beginners, or for people on a tight budget. Also, you can get the unit for one time projects.

It holds up its temperature pretty well; the consistency is quite handy.
The unit has five tips which is a rarity at this price point and increases the versatility of the gadget
It is one of the most complete kits available at this price
The stand is unstable, and we suggest you replace it; also, despite having better heat dissipation, there are instances the handle still heats up
4. Hakko FX888D-23BY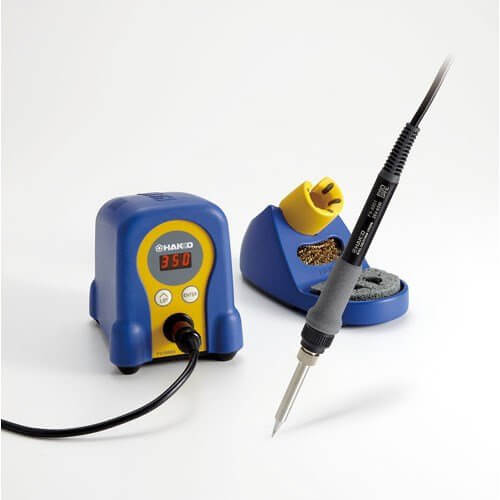 If you are looking for a product that can rival the best units, we recommend you get the FX88D-23BY. This Hakko is an upgrade of the FX888D. And although it is a bit expensive than most units on this list, we implore you to invest in one to save cash down the line.
First, this unit is user-friendly. It will not burden you with many controls, and it doesn't require any specialized skills. It is a premium quality tool that a novice can handle. Our top features though are the thermal recovery and adjustable temperature.
Adjustable temperature
– Quite often, you will be soldering items that require different temperature levels. Delicate electronics need lower temps while
through holes
will require higher temps. The ability to adjust the temperature as needed is crucial, and the Hakko FX888D-23BY does this splendidly. You can monitor the temperature through digital control and has a preset mode coupled with a password function for you to adjust the tool to your liking.
Thermal recovery
– Exceptional is the only way to describe this. First, the thermal recovery reduces the oxidation of the tip and increases the lifespan. Also, it increases the heater output by about 30% while the T18 series increases heat conductivity and thermal recovery. You can thus solder components at lower heat and reduce heat impact.
Expand to see more
Product Features

Adjustable temperature control
Weight: 2.6 pounds
Includes a manual, A1561 cleaning wire, a sponge, a soldering iron, and an iron holder

Who is it for?

This is a professional tool but one that beginners or DIY enthusiasts can use comfortably.

The build quality is excellent and will serve you well
The ergonomic handle is slim and padded to reduce the chances of slippage; also, it doesn't get hot allowing you to work for extended periods of time
The tip heats up fast allowing you to get to work more quickly
The sponge is durable
It happens to be pricey, but it is worth it
5. Weller D650PK Industrial Soldering Gun Kit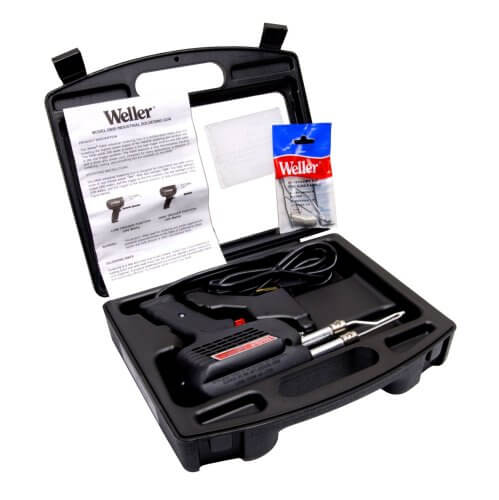 If you want an industrial tool, we recommend you get the Weller D650PK. This is a set that consists of the Weller D650 gun, two tips, a heavy-duty grounded cord, an instruction book, and a coil of lead-free solder.
You will appreciate the
fantastic insulation
on the cord as it prevents any accidents during usage. The thermoplastic housing is another reason why you should as it is heat resistant and can withstand the high working temperatures. The slender tip too allows you to get into any tight spot while still enabling you to work on higher gauge wires. The gun and accessories are housed in a plastic case. The case will give out under stress, so we recommend you get a new case.
Nevertheless, what stood out for us were how powerful the unit is and the ergonomics.
Ergonomics
– Comfort is crucial if any tool is to be considered as top-tier. With the gun-shape, the Weller D650 happens to be quite comfortable and allows you to work for extended periods with little fatigue. Also, it is lightweight, and thus there is very little strain on your hand. Finally, the heat-resistant thermoplastic keeps the handle from heating up.
Power
– The Weller D650 gun is powerful enough to weld outdoors. The wind will not wick away heat from a 300 watts gun as it will a 40-watt iron. As a result, you can solder 12 gauge wires with ease. The power is also adjustable between 200 and 300 watts.
Expand to see more
Product Features

Slender nickel-plated tip
Heat resistant thermoplastic housing
Kit contains a coil of lead-free solder, a D650 gun, a manual, and an extra tip

Who is it for?

This is an industrial tool, and we recommend it to professionals. However, if the bulk of your work is outside, the D650PK is the best tool for the job.

The power and efficiency of the D650PK is a rarity at this price
The device heats up quickly and is powerful enough to solder outdoors
The unit has a fingertip heat selector switch to select your preferred output
The D650 gun has LED lights in front to help see what you are working on
It has a 20% duty cycle which is too low for an industrial tool
It is made in Mexico, and thus there is little quality control
6. Wall Lenk LG400C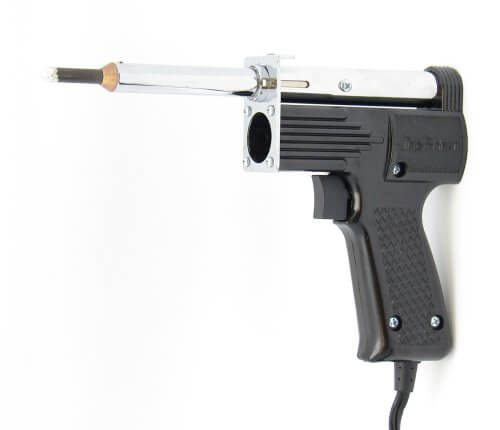 This is a heavy-duty tool, but it works equally well on medium and small projects.

First, you can use this item outdoors. It heats up quickly and gets to temperatures that are somewhat difficult to wick away. Therefore, soldering heavy gauge metal in windy conditions will be a walk in the park. The LG400C has a high temperature of 1000®F, which is enough to solder any sheet metal, automobiles, electrical wiring, etc.

Ease of use – We appreciated how simple to use the LG400C is. Though it is a professional tool, a novice can work with it too. Also, it has a one-inch work light to illuminate the object.

Ergonomics – Its appeal over irons and station is the pistol design. The pistol design of the Wall Lenk LG400C enables you to work for extended periods of time with very little fatigue. It is also lightweight, and there will be very little strain.

Expand to see more
Product Features

Dual wattage elements (400/150W)
Max temp: 1000®F
Built-in work light
TE tip assembly
Trig-R-Heat assembly

Who is it for?

Anyone can use the LG400C. Professionals will appreciate the high temperatures and novices will enjoy it as it works outdoors.

It is affordable
The unit heats rapidly allowing you to get to work faster; he recovery is also fast should the temperature fluctuate
The build quality is unrivaled and will outlast most units
The tip maintains its original form over the years
More of a flaw and not a deal breaker, the trigger spring has too much resistance and can be tiring to hold
7. Tabiger Soldering Iron Kit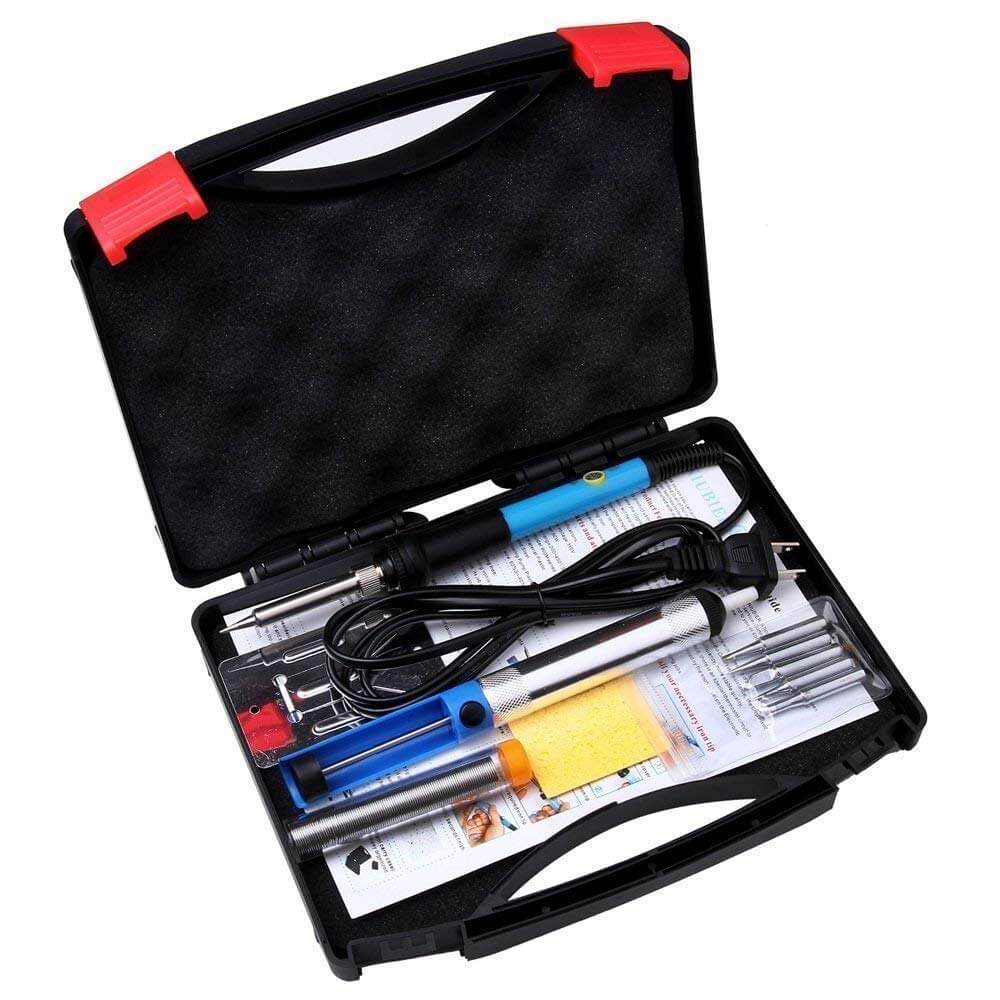 This is one of the best kits available in the market now. First, it is affordable making it ideal for beginners, DIYers or for a onetime project. It also retails with a case which keeps your items safe. It is also convenient to carry especially for electrical work. We loved the versatility of this item, and how quickly it heats up.

Versatility – The Tabiger is a 6 in 1 kit. It includes a soldering iron, a desoldering pump, five different soldering tips, a soldering iron stand, a solder, and a sponge for cleaning. We especially loved the desoldering pump; it is a high-pressure pump, and its aluminum body frame enables easy one-handed operation. It is especially agile for removing solder from PCB through-hole solder joints.

Heats up quickly – The Tabiger 6 in 1 takes roughly 2 or so minutes to between 200 to 450®C. This heat up time is reasonable and allows you to get to work quickly. Also, the efficient heat dissipation thanks to the upgraded steel-pipe design which prevents the handle from heating up when working.

Expand to see more
Product Features

Input voltage: 110V
Power: 60 Watts
Temperature: 200 - 450®C
2% flux

Who is it for?

The Tabiger 6 in 1 is a beginner tool. However, if you are looking for a tool for a one time project, this will do too.

The Tabiger offers superb user experience as you don't require a station
The unit is easy to store thanks to the plastic casing
The five different tips increase your range of application
The stand is a bit flimsy; it is just a Y-shaped metal that keeps the tip off the surface
8. Hakko Dial FX600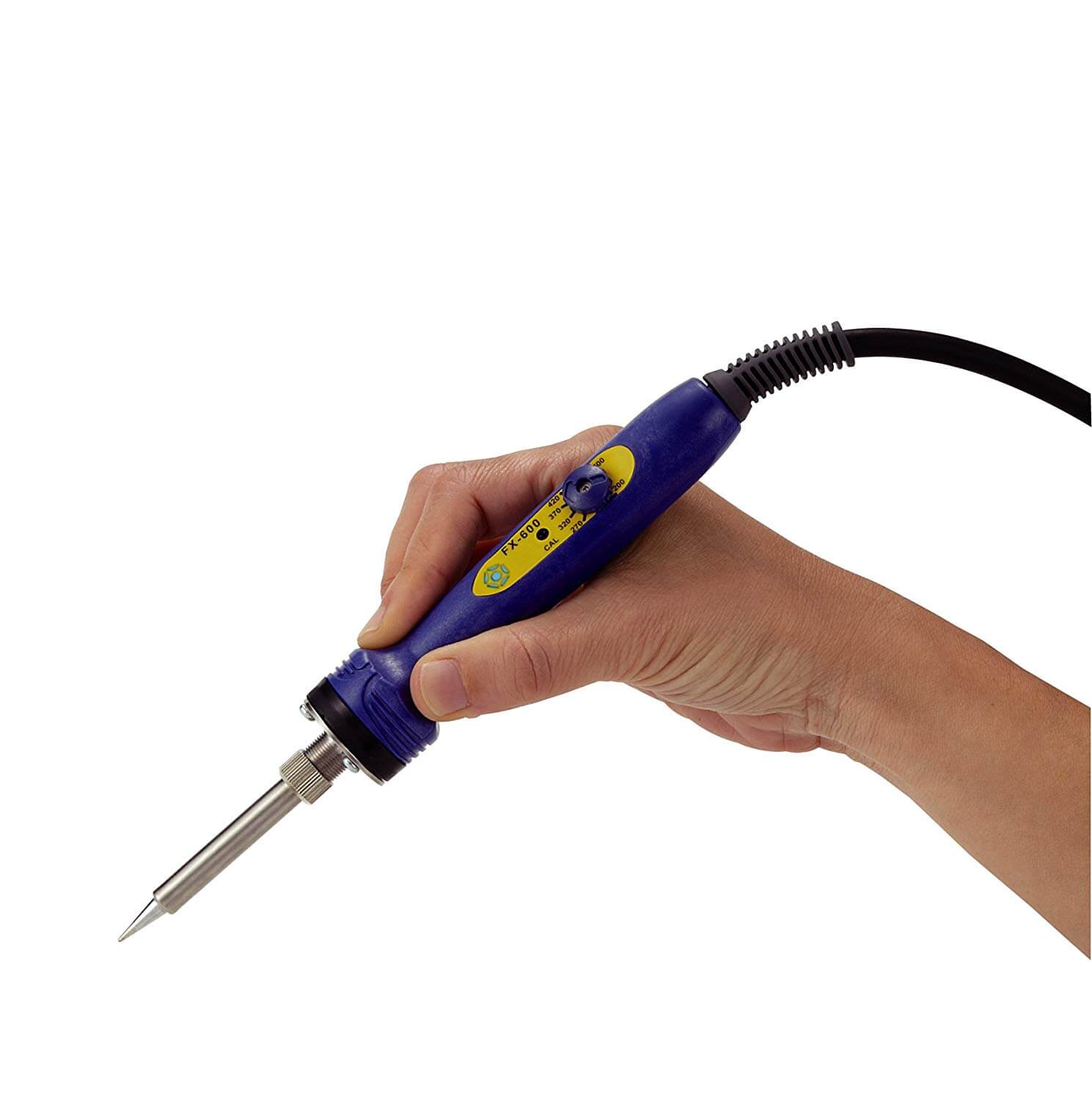 Hakko has released top quality items for about 50 years now, and the FX600 is a testament of the quality of their equipment. The FX600 heats up faster than most units, and the temperature is quite high. Higher temperatures allow you to solder robust metal with ease. It is the next best thing after a soldering station, and it can rival most premium products.

First, there are the upgraded T18 series tips; though these are available at most stores, those of the FX600 are refined. The improved internal structure allows for better heat conduction and heat recovery. Our best features though were the LED indicator and temperature control knob.

LED indicator – The LED indicator on the FX600, will do more than tell you when your set temperature is reached. If it is off, that shows you that your unit is cooling down, if it is lit and the light is steady, your gadget is heating up; however, if the light is blinking, then know that your set temperature has been reached.

Temperature control knob – Temperature control is an essential aspect of a soldering gun. However, this is not a feature you find in most pencil irons which makes this unit stand out. You can set your preferred temperature with the knob or disengage it if you prefer a dedicated temperature. You can still use the dedicated key to change it.

Expand to see more
Product Features

Best for soldering IC and PWB
Temp: 200 to 500®C
Has an LED indicator

Who is it for?

The Hakko FX600 is for beginners to intermediaries; people who are looking for something more than the primary beginner tool. It can also be used by professionals for light tasks.

It is a durable unit and equals the power of most premium products
Has superb user experience thanks to the improved T18 tips
Versatile and can be used to solder electronics and glass materials
For a pencil solder, it is a bit expensive
It gets a bit warm when soldering and the lack of padding makes it uncomfortable to use
9. Aoyue 469 Variable Power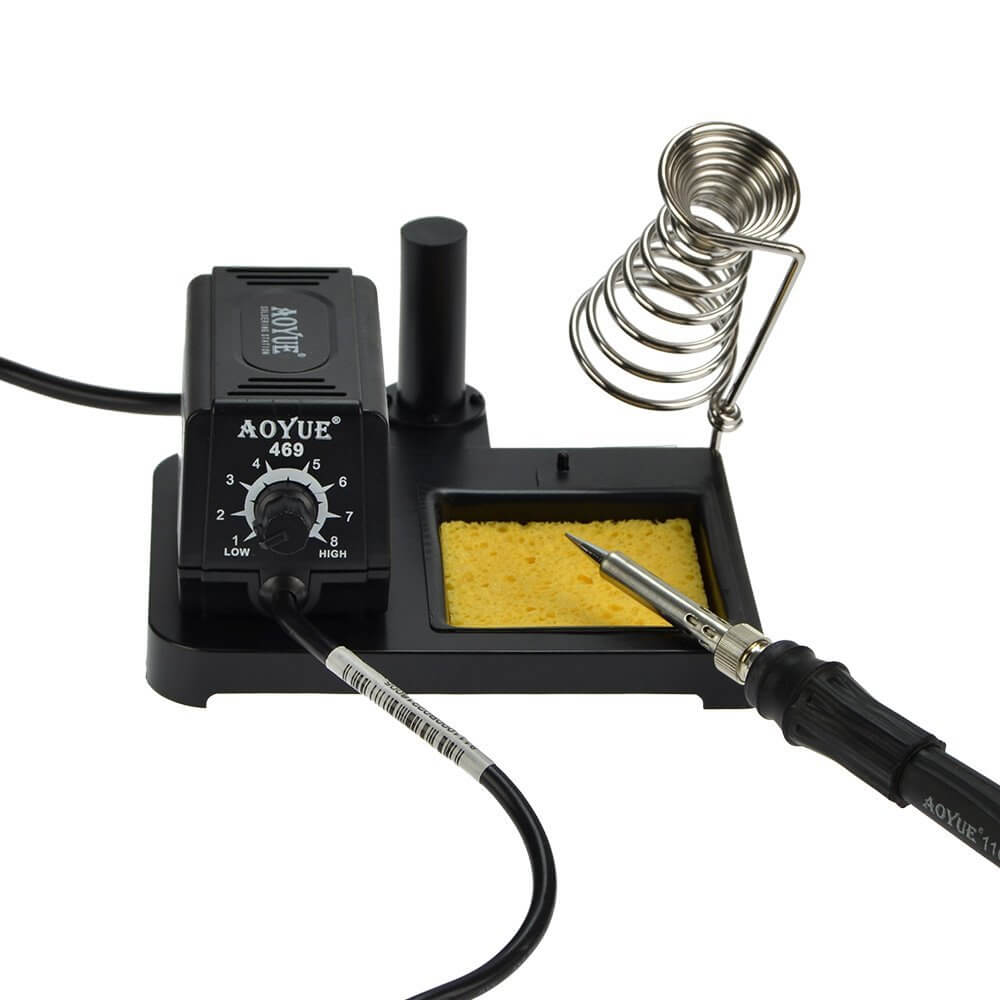 If you are looking for quality at a competitive price, you should get the Aoyue 469 station. They have been importing, manufacturing, and distributing, quality soldering stations and soldering items for well over half a century now. They have focused on tools that give quality but at a reasonable price, and the 469 is a testament to this.

The kit contains the central station, a 469 platform, a spring tire iron holder, a sponge, and a user manual. Other than the included accessories, you will appreciate the variable status control. You can get your preferred temperature at one of the dials. However, our best features were the versatility, the PTC heating element.

PTC heating element – Speed is crucial for most tasks, and a soldering gun that heats up fast allows you to get to work sooner. The PTC element ensures the iron heats up quickly and that there is accurate temperature control.

Versatility – First, this level of usability is unheard of at this price point. The kit can work 50 available tip sizes meaning you can solder both delicate and robust items. Couple this with the precise temperature control, and you have a soldering tank on your hands.

Expand to see more
Product Features

Power: 60 Watts
Tip type: T-series
Temperature range: 200 to 480®C

Who is it for?

We only recommend this tool for beginners or DIY enthusiasts. Professionals can use it for light tasks, but we would insist they get a professional tool.

It is quite affordable
Has dual color LED lights that show the temperature status
The 60 Watts power is enough to solder most simple tasks
The kit doesn't include an actual solder, and you will have to buy it separately
10. Sywon Full Set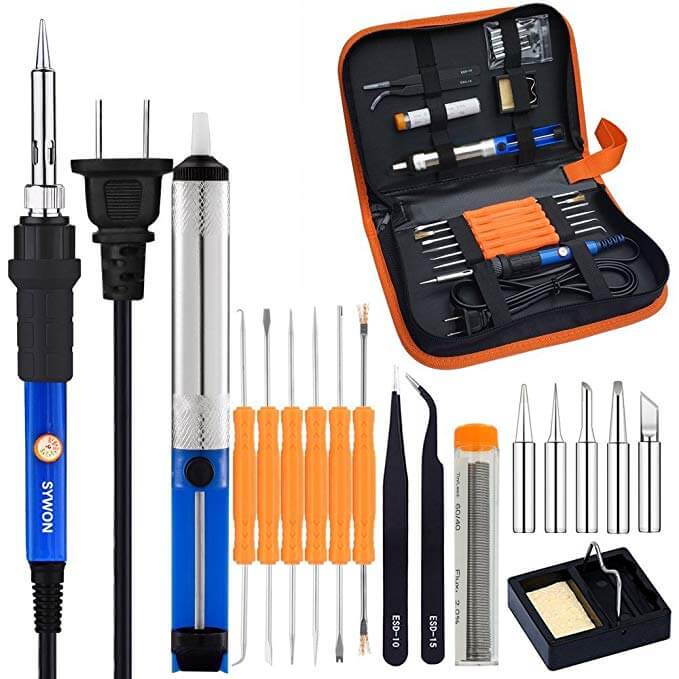 If you covet a tool to carry you through a few projects before you upgrade to a premium product, we recommend you get the Sywon 6-in-1. It works as good as the most excellent soldering irons, but it is uncomplicated and inexpensive. The kit consists of 6 aid tools including five interchangeable tips, a desoldering pump, a stand, tweezers, and a tin wire tube.
We especially appreciated the tips as they increase the versatility of your tool. However, the portability and aid-tools were our best features.
Portability
– Anyone would appreciate a quality bag to not only
carry your tools
but to keep them organized and safe. The sleek PU carry bag increases the transportability of your gadgets while keeping them safe. Also, it allows you to structure them increasing your productivity.
Accessories
– It is a wonder how Sywon provides these many accessories at such a low price point. First, there are the six pieces of double-sided aid tools that help you meet the requirements of press, cutting, hooks, and brushes, and scraping. The tweezers too increase the versatility of the kit. Finally, there is the sponge which incorporates a stand.
Expand to see more
Product Features

Power: 60 Watts
Temperature range: 200 - 450®C
Input voltage: 110V
Has an LED indicator

Who is it for?

This is a beginner tool or for one-time projects.
Has an LED indicator to show the temperature status
Has unmatched versatility thanks to the five tips that enable you to work on various materials and the six aid tools will help you with soldering needs
Compact with adjustable temperatures between 200 and 450 C
The carrying bag could be better but it is what you get at this price point
What to Consider when Purchasing a Soldering Gun
The various models are meant to handle different jobs, with some emitting intense heat for quick melting, and others are best left for small openings. The three major categories are:
Simple iron – This is the most common unit, and is the only one you will require if you are a hobbyist or DIY enthusiast as it is best for simple electronic repairs. We would suggest you pick an adjustable soldering iron as it has a temperature dial on the handle striking a balance between a soldering station and a simple iron.
Soldering station – We recommend a soldering station for professionals. The unit has an electrical power supply, a stand to store the iron when not in use, and a display control circuitry. Also, the set has a wet sponge to clean the drippings, a vacuum pump for desoldering, and a hot air gun.
Soldering gun – The soldering gun is the most popular with hobbyists, and it resembles a hand drill. First, it has an easy to grip handle and a convenient trigger and thus the best to use for extended periods of time. The wire looped tip cools down rapidly endearing it to most people. You don't require a holster for safe storage, and it doesn't pose a fire hazard.
There are other units such as cordless irons and torches. Though they are the best for portability, there are too many compromises with the device. First, they heat up slowly and consume the batteries rather quickly.
Soldering torches are ideal for their high heat, but they can destroy delicate work such as jewelry and electronics. By and large, always consider the tasks you intend to handle before you make a purchase.
Other issues to consider are:
Power – The power of your preferred device should be at least 30 watts. An item with lower power takes too long to heat which is frustrating. It also takes longer to recover should the temperature dip when soldering.
Consistent and adjustable temperature – First, you are looking for a reliable unit, and as such, the temperature should be adequate and consistent. Fluctuations in the heat levels can be devastating or frustrating. You have to wait for the iron to heat up in case the temperature drops, or it could destroy your work if it gets too hot. As for the adjustability, you require a unit that you can vary the temperatures for different wires and electronics. A device that you can lower the temperatures for those delicate items, and you can raise it as needed.
Portability – Rarely do most hobbyists and beginners have a dedicated workbench, and they end up working out of a makeshift. Therefore, as a DIY enthusiast, look for a unit that is easy to store and carry and has long enough cables to reach an outlet.
Tip compatibility – If you are soldering delicate electronics, you need thinner conical tips. If you are working on a through-hole project, you require thicker chisel tips. Therefore, your iron should work with a wide range of tips.
Comfort – The iron's grip should be comfortable and easy to control. They should preferably be thin and padded.
FAQs
How do I maintain soldering tips?
Soldering tips are quite sturdy. Having the ability to heat and cool down rapidly without sustaining significant wear and tear is quite commendable. However, they do need maintenance every so often. They are subject of the same oxidization as the solder and suffer from being repeatedly heated and rapidly cooled on the sponge.
For top results ensure your tips are in top condition. Ensure that it is clean and shiny before soldering and you can achieve this by cleaning it on the sponge. If that fails, you can use the flux in the solder. If it's still not clean, then we recommend you get a tip cleaner. It is a mixture of the flux in the solder, and powdered solder.
Heat the tip, and twist it in the tip cleaner. Afterward, wipe it off on the sponge. If it's still not clean after this, we suggest you get a new tip.
How long does a tip last?

There isn't a set timeline for how long a tip should last, but they should serve you for a couple of weeks with the proper maintenance. First, avoid using a sponge that is too wet as it rapidly cools the unit. These rapid temperature drops damage the exterior. The rapid contraction cracks the cover and subsequently destroys the copper inside. To avoid such occurrences, we recommend you set the heat to a minimum so that there are no rapid temperature changes.
Also, use a soft material when cleaning the iron tip. We recommend brass so as not to damage the tip. You can also increase the life of your tool by reducing the use of flux. Flux is acidic and affects the life of your tips.
How do I desolder?
You have to use the desoldering pump, and the iron when desoldering. We recommend you have a steady hand before doing this. Ready the desoldering pump by pushing the plunger down against the spring. Follow this by melting the joint to be removed, and then press the button on the pump to suck up the molten solder.
Conclusion
A soldering gun for most people is a tool they want to have but don't need. However, if you are a techie (professional or hobbyist), or you are involved in jewelry metalwork, a soldering iron is a must-have. There are tons of units in the market, and we have narrowed it down to our ten best. You can also use our buying guide to ensure you get a top tool.
In conclusion, feel free to ask any question or leave a comment below.
Subscribe to our newsletter